A lot of the fun of a Disney vacation is the food. Disney snacks are THE BEST! Disney World, because of its shear size, has tons of options. But, there are some "must try" items at Disneyland as well. There are many different lists of wonderful Disney snacks and treats at Disneyland out there. This is a list of what I think are some of the Best Things to Eat at Disneyland.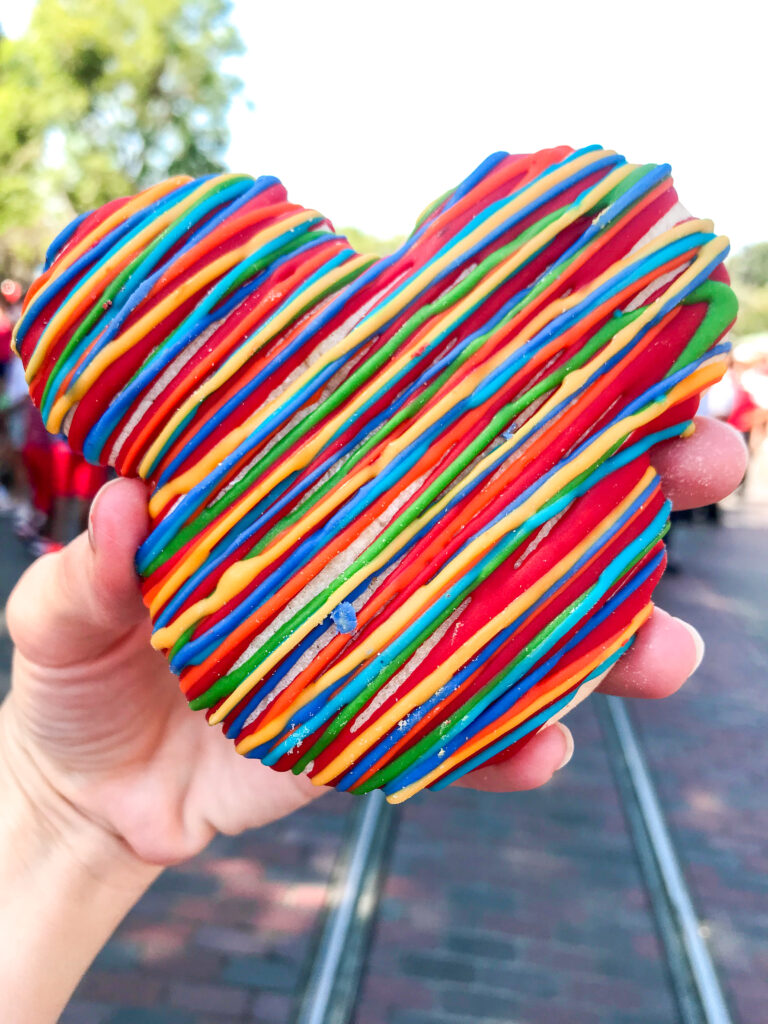 This post may contain affiliate links. When you click on these links, I get a small percentage back at no cost to you! For more information see my disclosure policy.
There are so many options for food at Disneyland that it can be overwhelming. What snacks should I buy? Do they have gluten-free food? Is there anything healthy? How much money will this cost me? Should I bring my own snacks or buy them there? Is mobile ordering available for any of these places?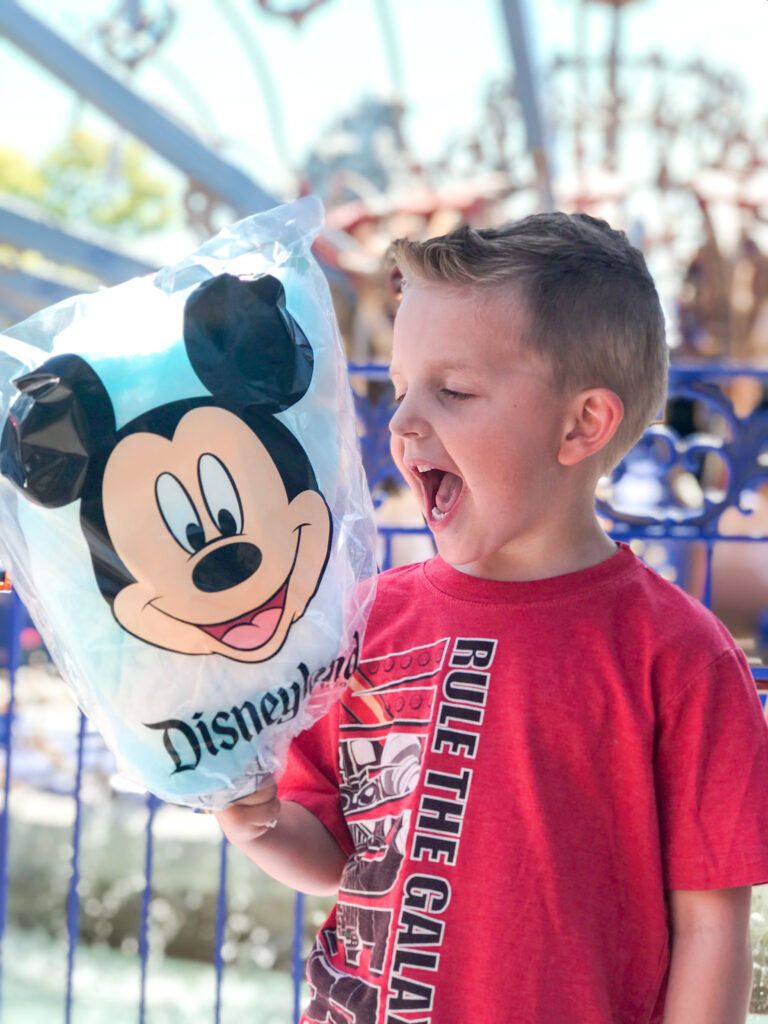 I've done all the delicious research for you! This article answers all of your questions about the best treats, snacks and meals to eat at Disneyland Resort in California. I've also included some tips on how to save money on food while you visit the parks!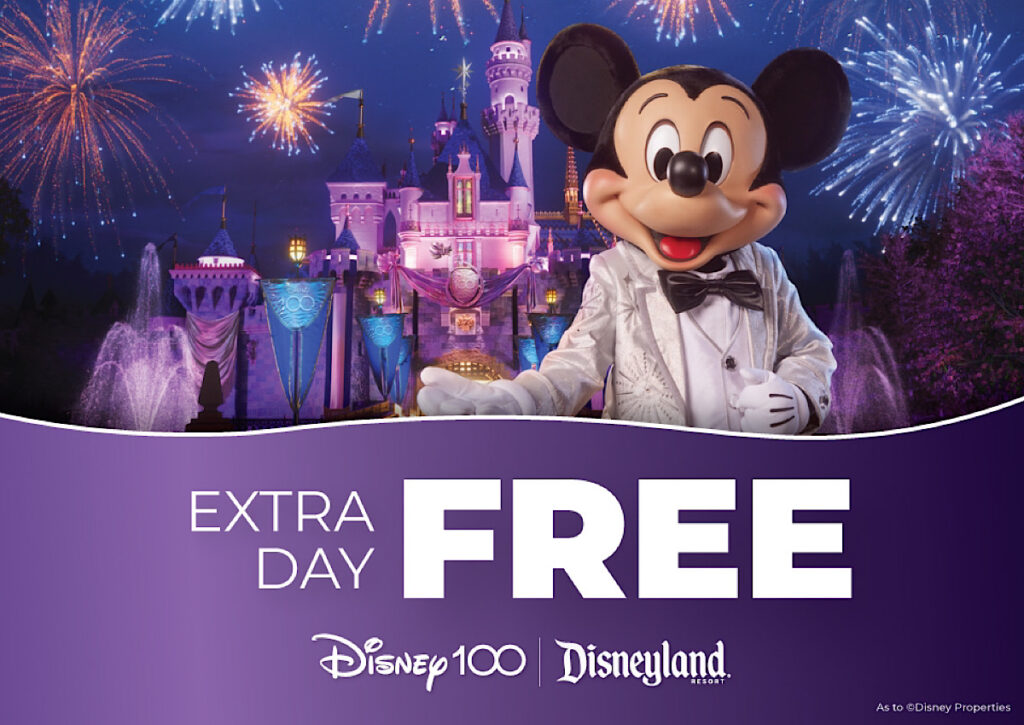 To celebrate Disney100, you can get an EXTRA DAY FREE when you purchase tickets from Get Away Today. Combine this deal with a hotel stay and use code: Clubhouse10 to save even more!
This list is in no way comprehensive. Disneyland is always coming out with new exciting snacks and treats which means that fortunately, my job of letting you know about these menu items is never done 😉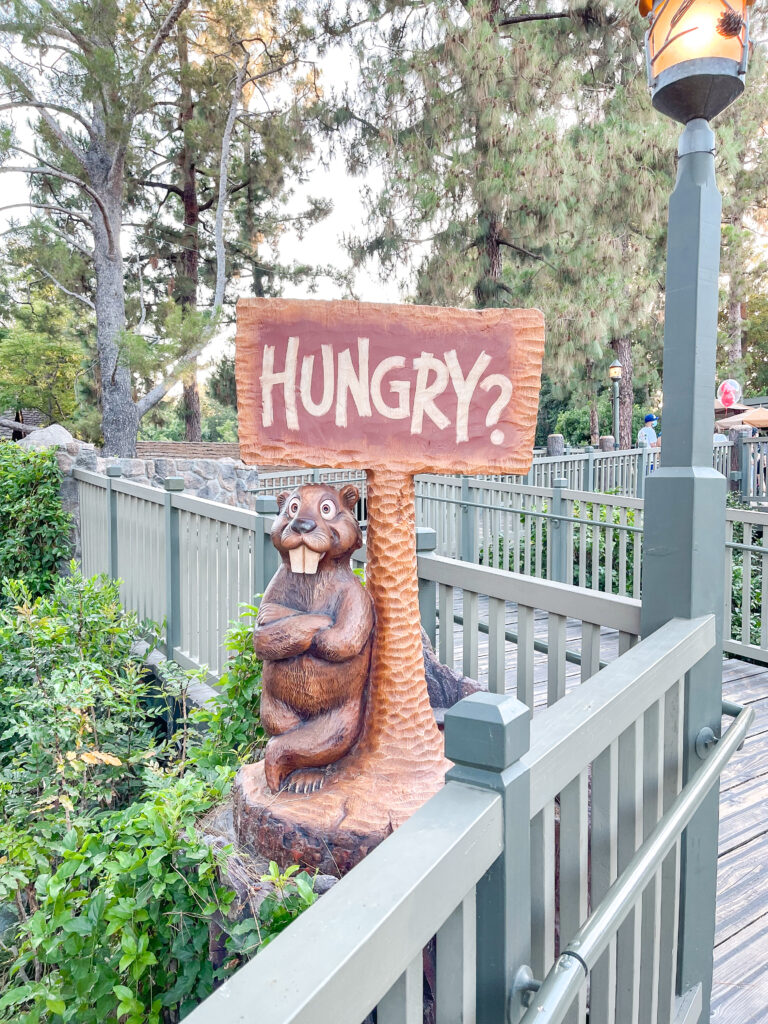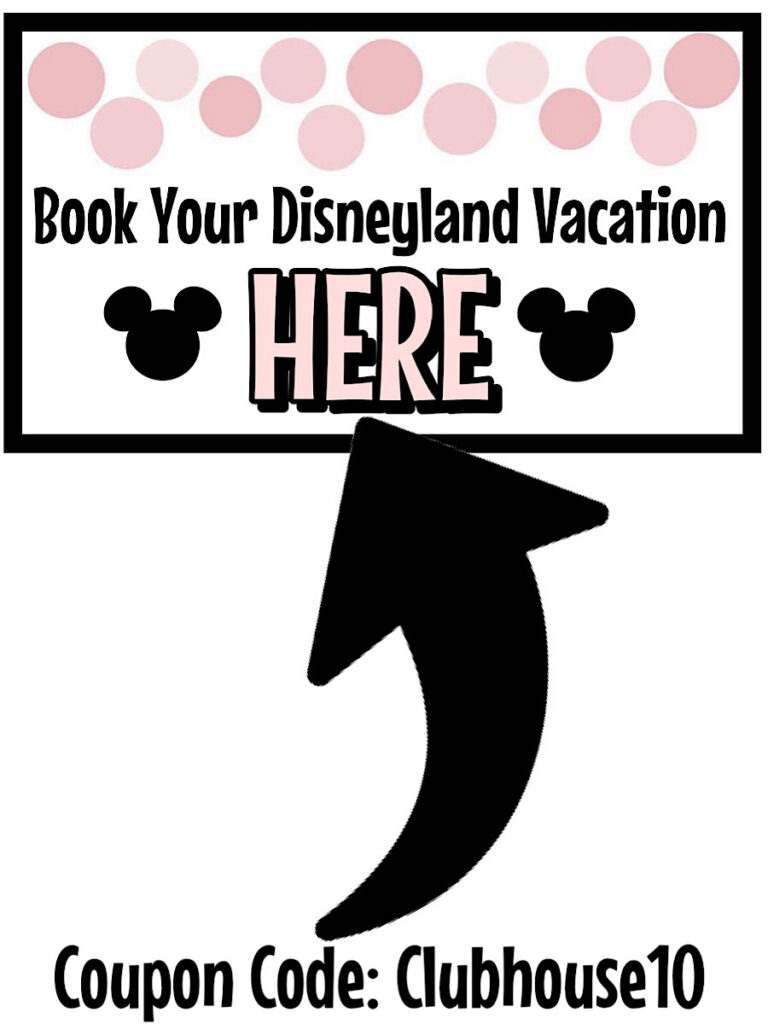 Disneyland Park
Let's start at Disneyland Park. Disneyland has been a family destination for families and foodies since 1955. I always allow room in my budget for snacks and treats at Disneyland, because that is part of the fun! Let's take a snack tour of Disneyland below, starting with Main Street U.S.A.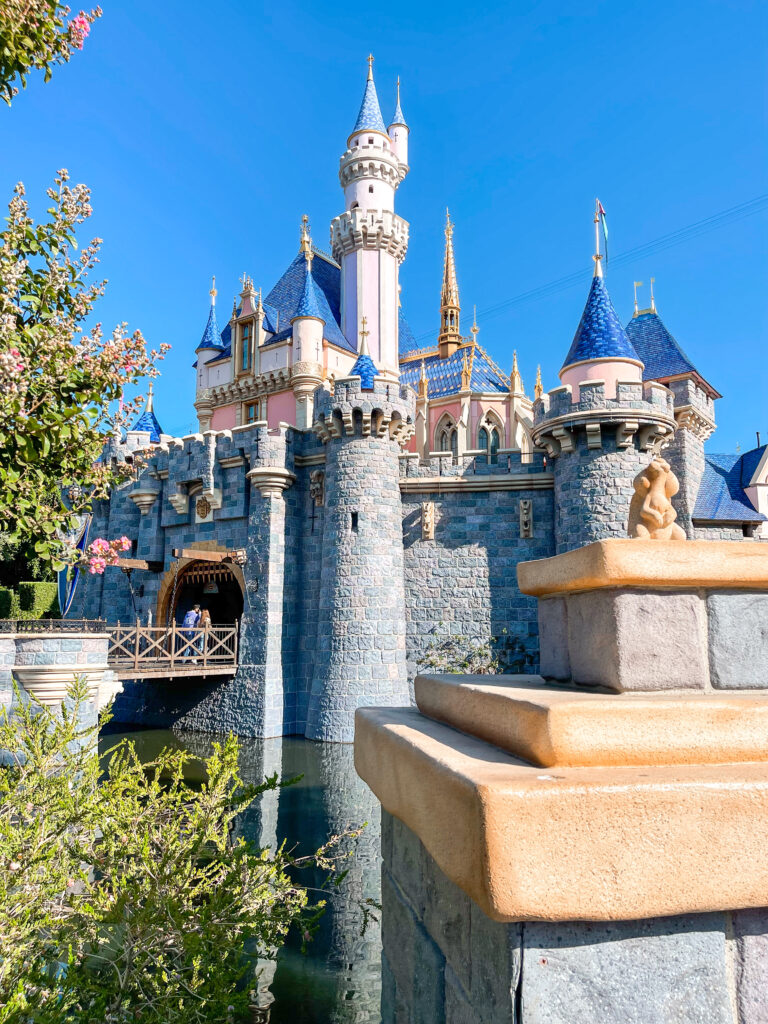 Main Street U.S.A.
Gibson Girl Cookie Sundae
As you walk into Disneyland and make your way down Main Street U.S.A., you will find Gibson Girl Ice Cream Parlor. There are ice cream cones, soda floats, etc. But, nothing beats the adorable Chocolate Chip Cookie Sundae for $6.99! Here is how it is described on the menu:
"Two scoops of Vanilla Ice Cream and two Fresh-baked Chocolate Chip Cookies, with Fudge Topping, Whipped Cream and a Cherry"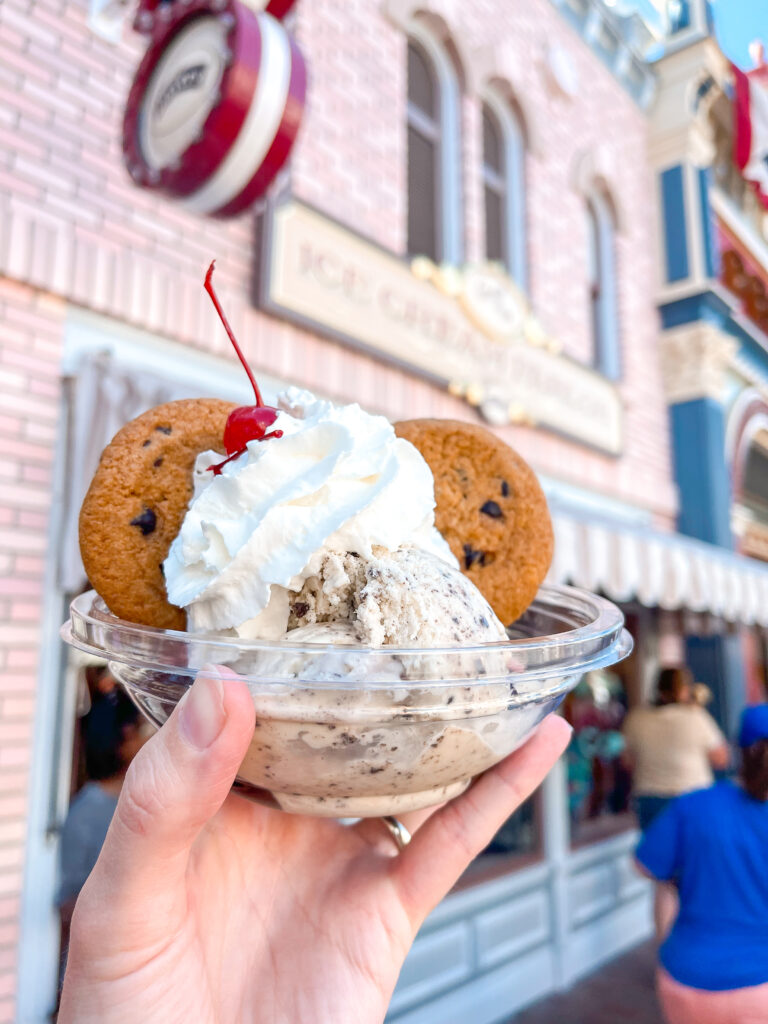 Mickey-Shaped Pretzel
This is a classic Disneyland treat that my kids must eat every time we visit. They are available at a few different locations throughout the parks, but we usually pick one up on Main Street at Refreshment Corner for $4.79. Make the easy version of Mickey Pretzels with this recipe.
You can also add a cup of dipping cheese sauce for $0.89. Here is a description from the menu:
"Warm Mickey-shaped Pretzel served dusted with Coarse Salt"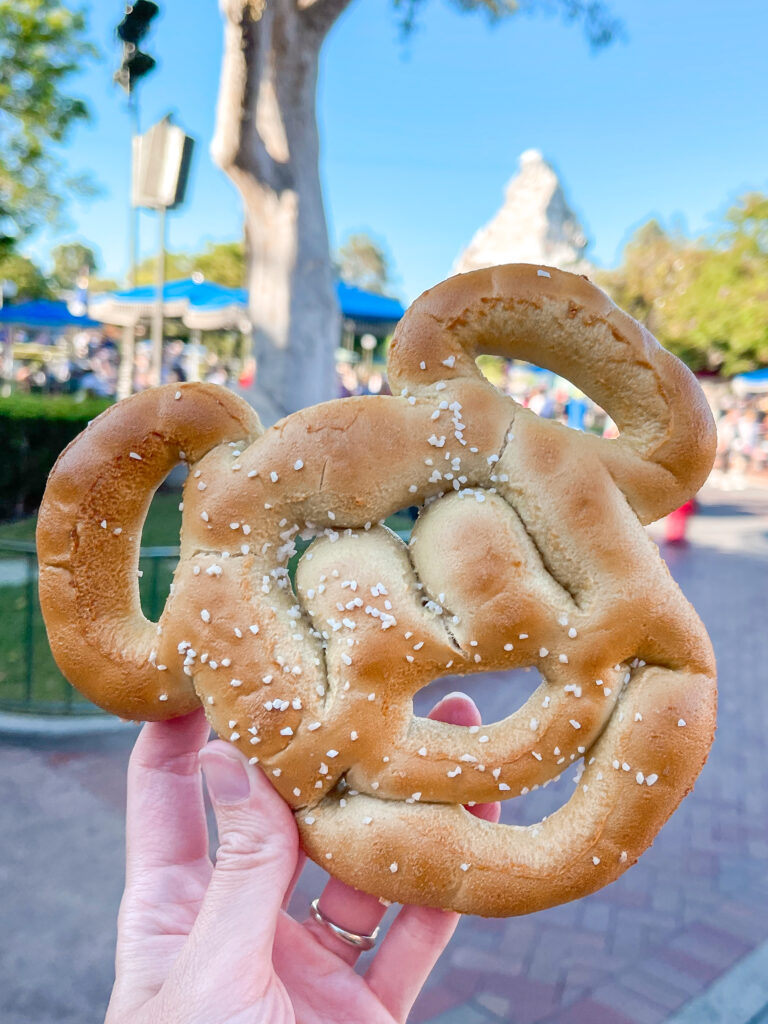 Jalapeno Cheese Stuffed Pretzel
This jalapeno cheese-stuffed pretzel is the perfect comfort food. It's available at Refreshment Corner as well, and features a spicy jack cheese blend stuffed inside of a warm, soft pretzel. It is available for $5.59 with a side of cheese sauce for dipping for $0.89.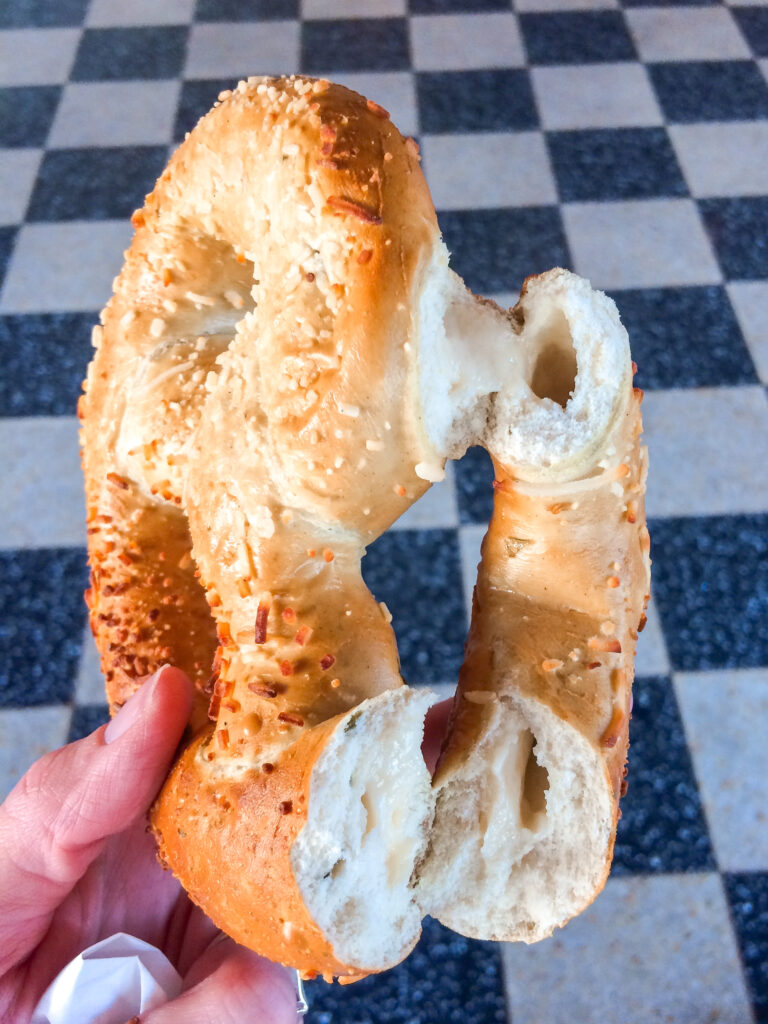 Plaza Inn Fried Chicken
If you're looking for a hearty meal for lunch or dinner, head over to Plaza Inn on Main Street and order a plate of fried Chicken for $18.49. This meal is great because it can easily be shared between two adults. Here is the description:
"Three pieces of Chicken fried to a golden brown and seasoned with distinctive Herbs and Spices, served with Mashed Potatoes, Buttermilk Biscuit and a mixture of Vegetables"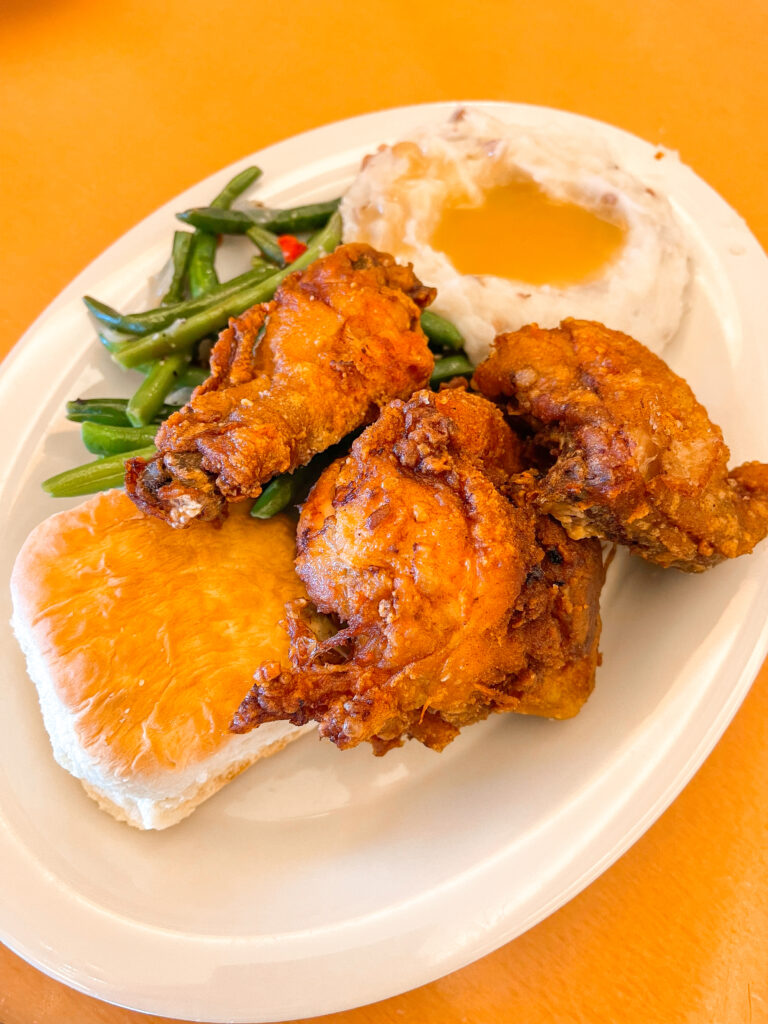 Mickey Sugar Cookie
A Mickey-shaped sugar cookie is another classic Disney treat. You can usually find them frosted, drizzled with white chocolate, or covered in sprinkles. You can find these cookies at Jolly Holiday Cafe on Main Street for $3.99. Get the recipe to make Mickey Sugar Cookies here.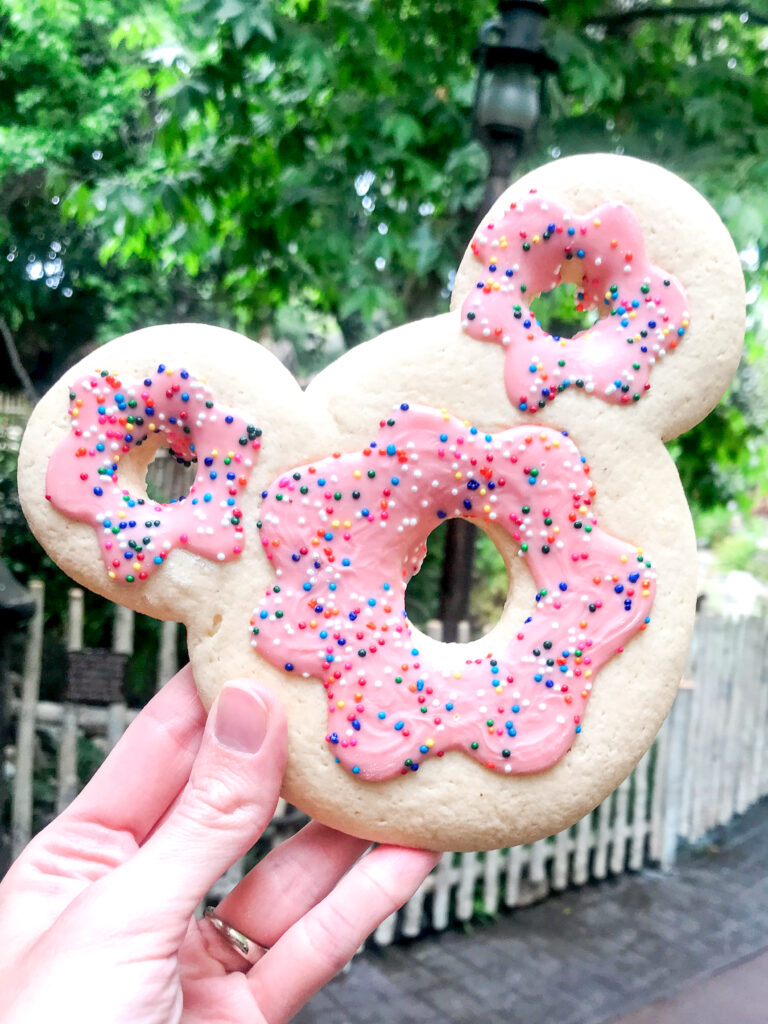 Macarons– Jolly Holiday Bakery & Cafe also has the most amazing Macarons! This Mickey Pants Macaron was delicious and filled with a cookies and cream mousse. It is available for $5.99.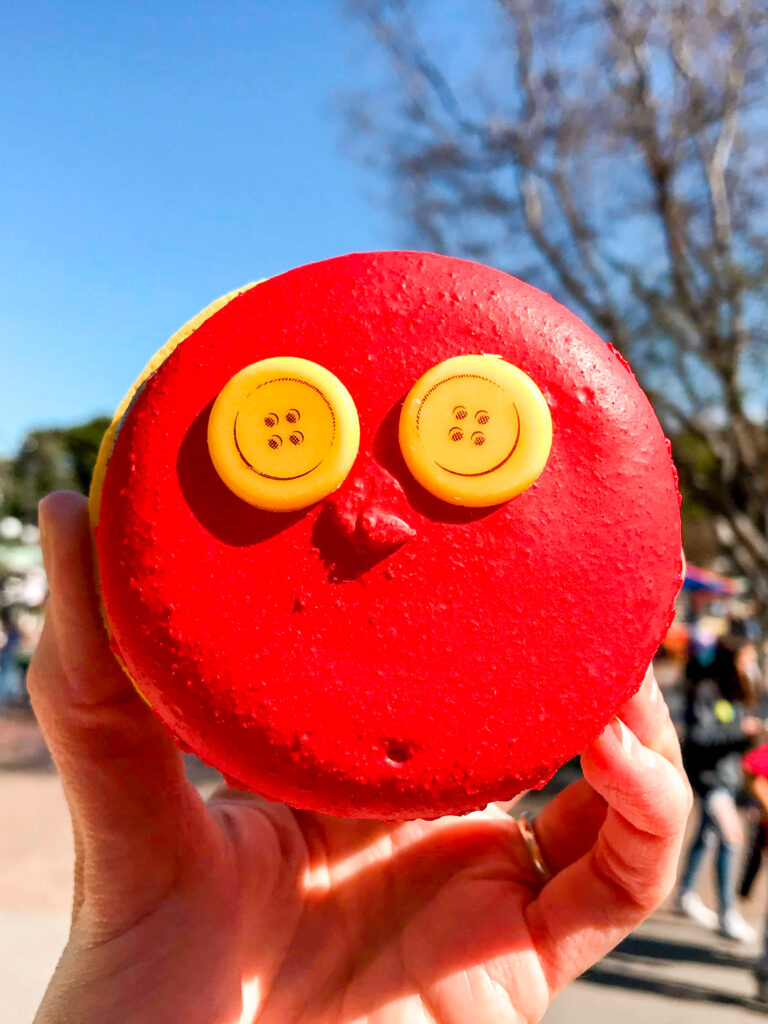 Raspberry Rose Mickey Macaron- Speaking of macarons from Jolly Holiday Cafe, this Raspberry Rose Mickey Macaron is a must-eat! It is also $5.99 and is described on the menu this way:
"Raspberry French Macaron filled with Raspberry Mousse"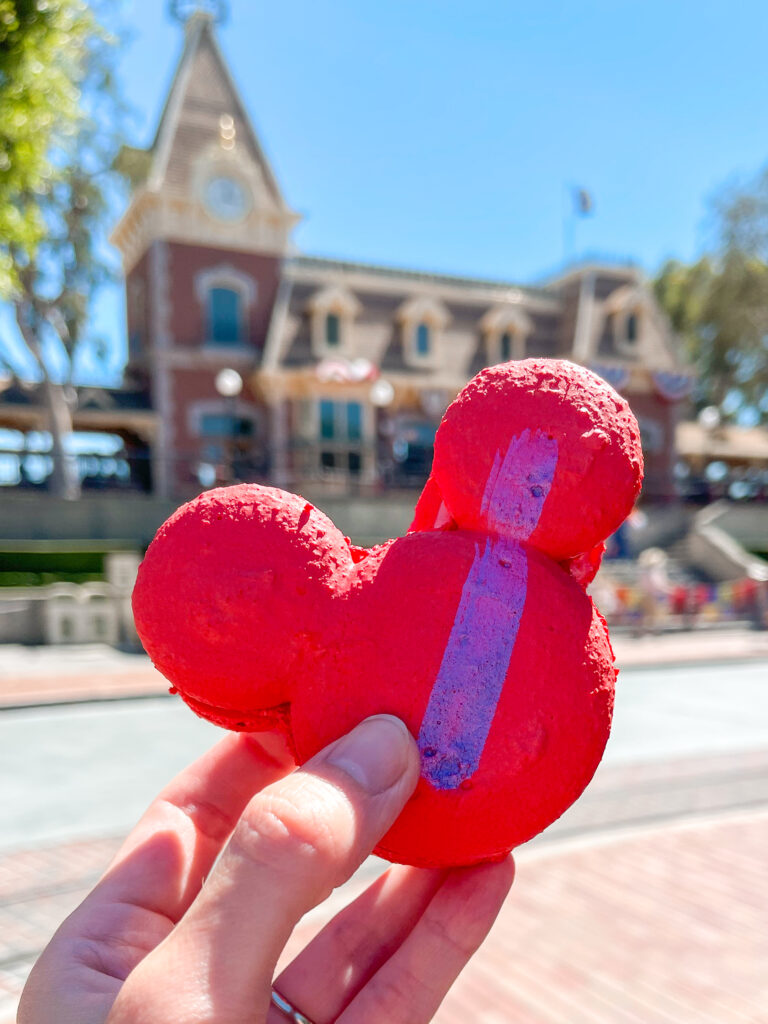 Matterhorn Macaroon
The Matterhorn Macaroon is a yummy, coconut macaroon cookie that is topped with white chocolate. It is shaped to resemble Matterhorn Mountain. You can get this cookie from Jolly Holiday Bakery & Cafe for $2.99.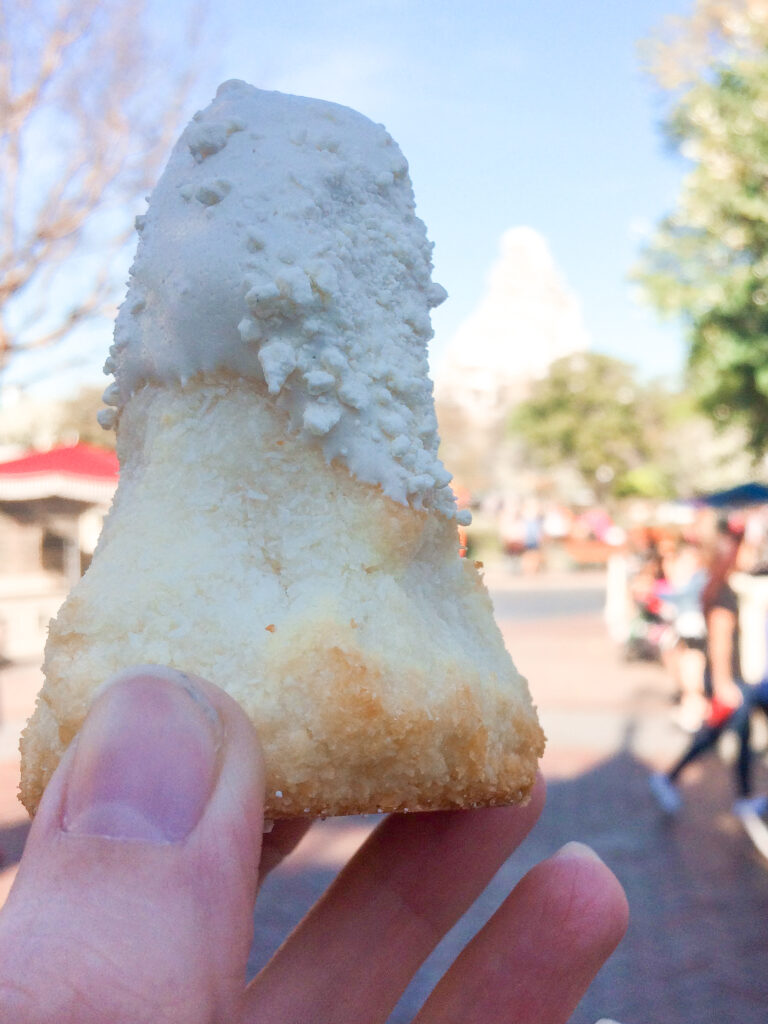 Adventureland
Dole Whip
Dole Whip can be found at the Tiki Juice Bar in Adventureland. It is a pineapple soft serve that is a great treat on a hot day! This is my all-time favorite snack/treat at Disneyland.
I have been getting this treat since I was a little girl. It was always a tradition in my family to get one while we watched the bird show in the Enchanted Tiki Room. Now that I have my own family, it is still our tradition. Get the recipe to make your own Dole Whip at home, here!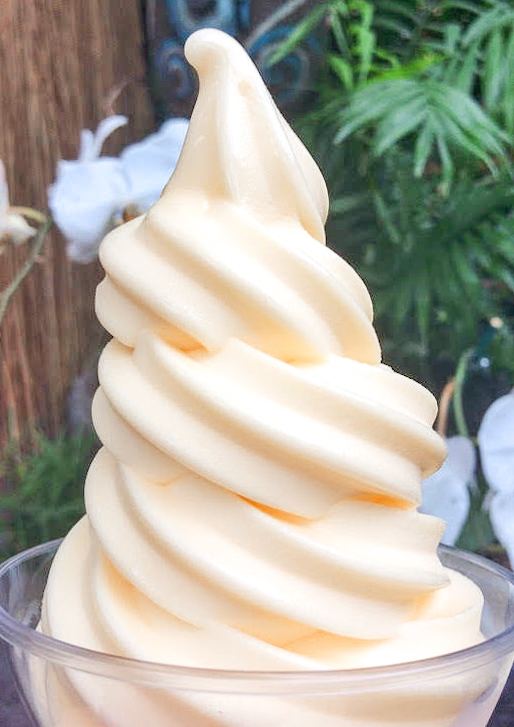 Flavored Dole Whip
If you head next to the Tiki Room you will find Tropical Hideaway that features many new Dole Whip Flavors. I really like the raspberry and pineapple twist for $5.99.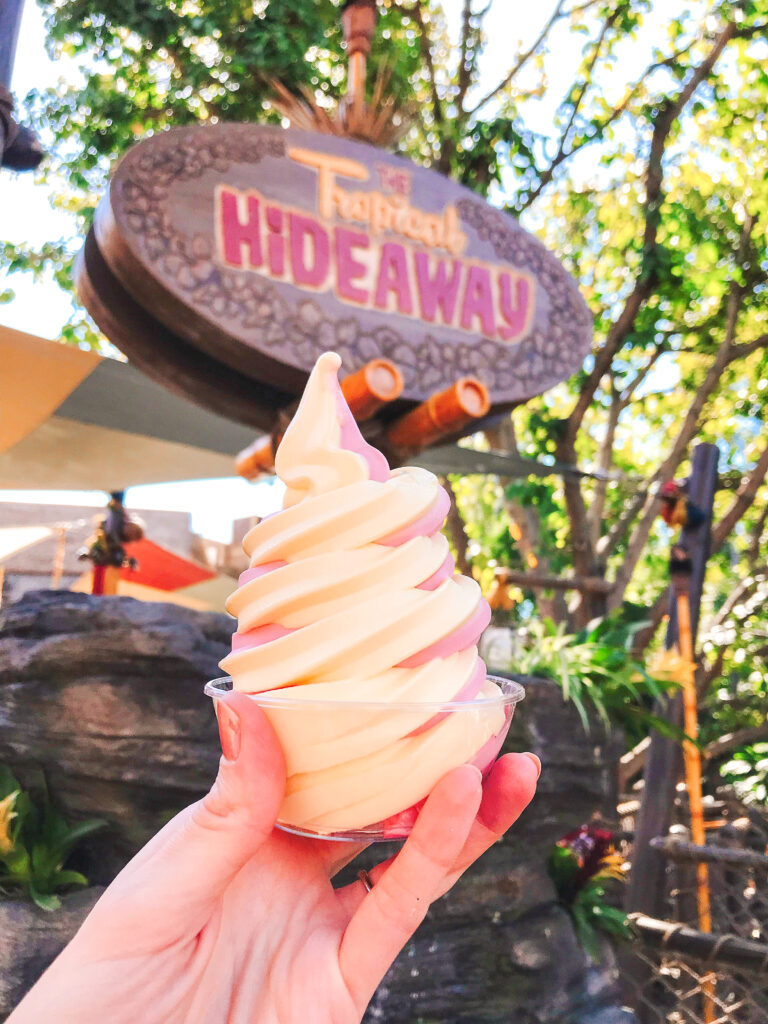 Dole Whip Float
My favorite way to enjoy this treat is Pineapple soft-serve in a cup with pineapple juice for $6.79. The juice and the soft-serve mixed together are pure heaven. The Pineapple Dole Whip Float is available at The Tiki Juice Bar located right outside the Enchanted Tiki Room and Tropical Hideaway for $6.79.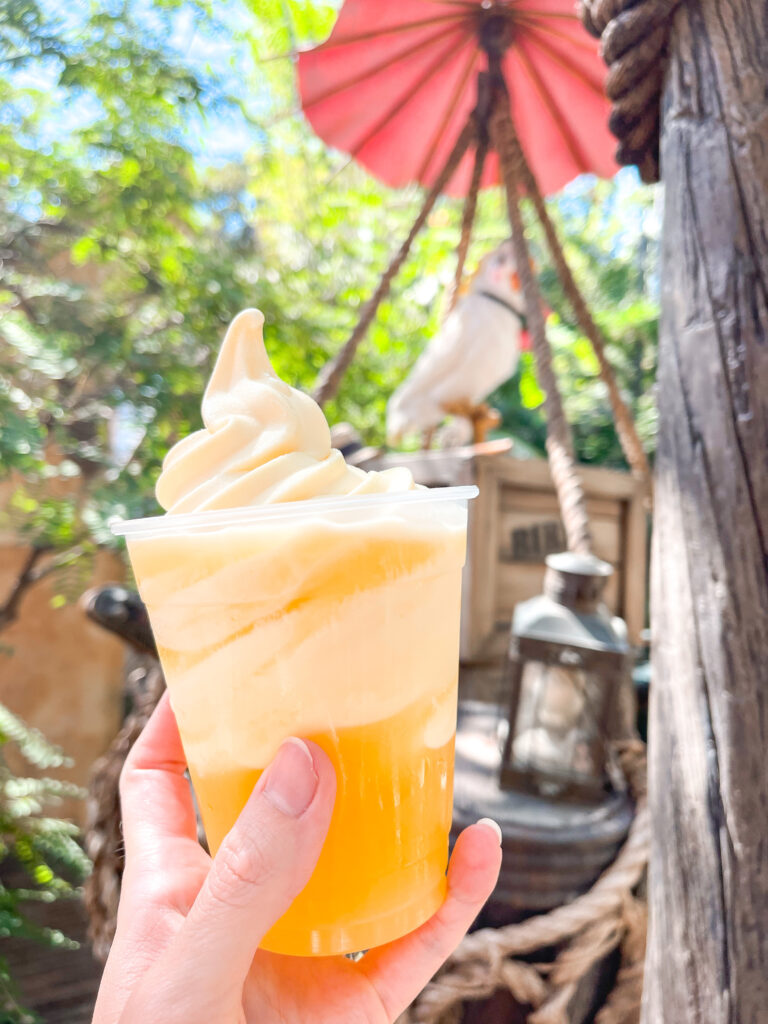 New Orlean's Square
New Orleans Mint Julep
Another classic Disney Treat, a New Orleans Mint Julep can be found in New Orleans Square at the Mint Julep Bar for $4.49.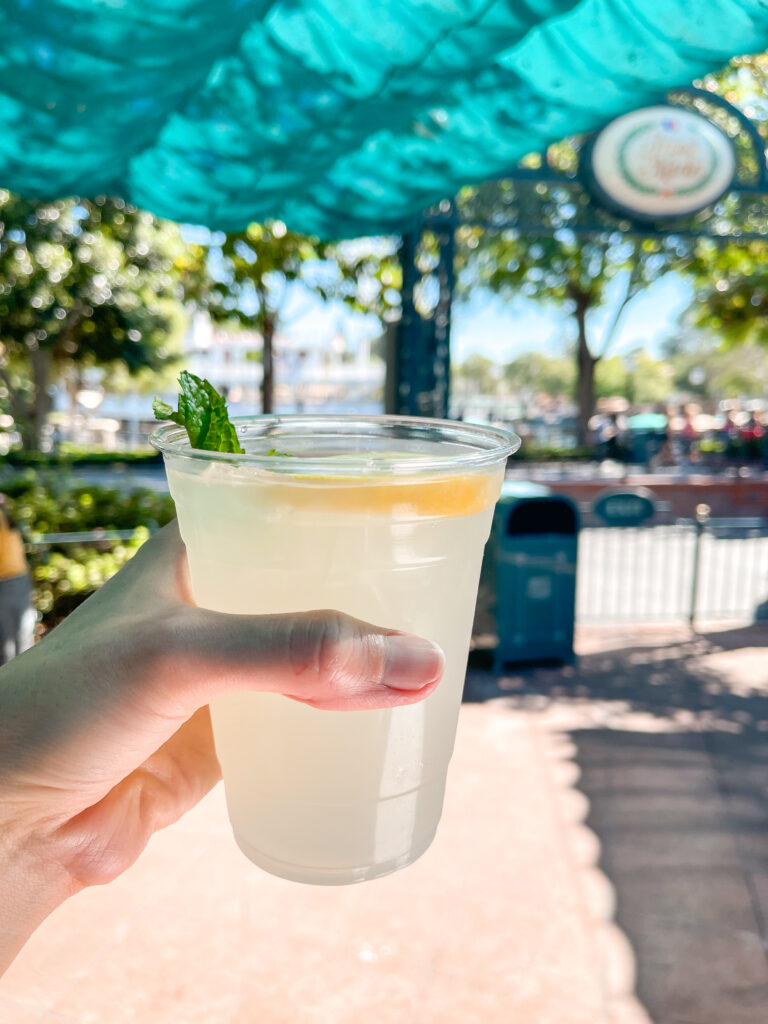 There are also seasonal varieties available throughout the year for $4.99. I have tried both a Strawberry Julep and a Watermelon Julep and they were both delicious!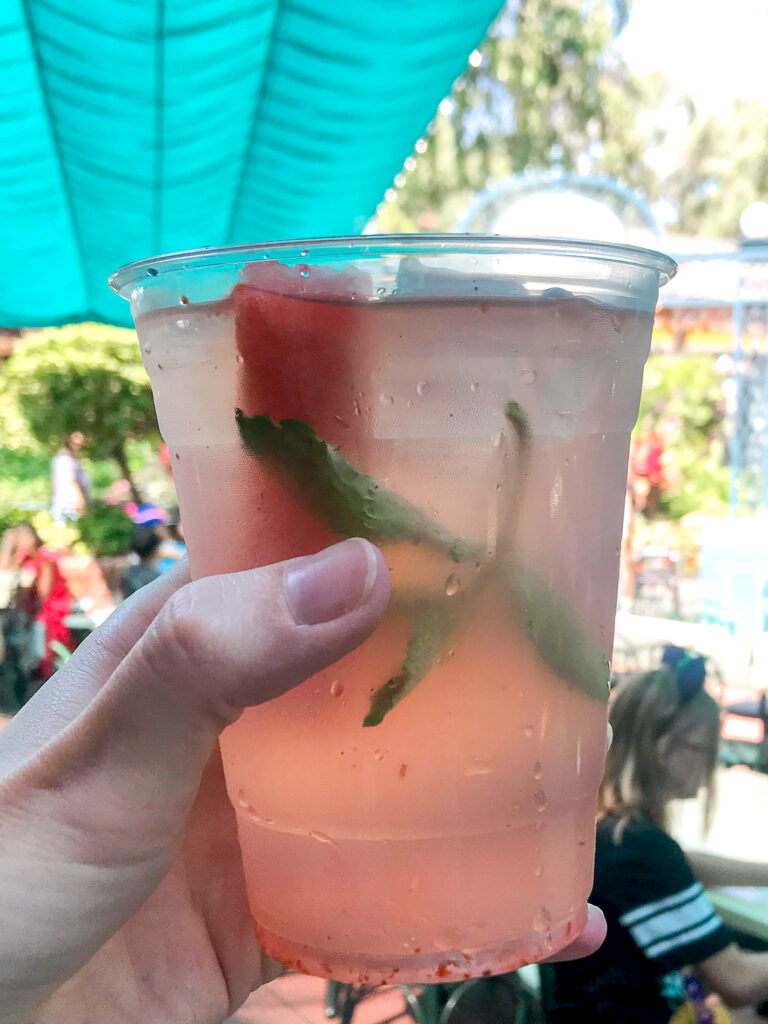 Mickey Beignets
Mickey Beignets are also available from the Mint Julep Bar. These are Mickey-shaped French doughnuts dusted in powdered sugar. They are a famous treat that you can get in New Orleans hence you can get them at Disneyland in New Orleans Square.
The beignets you get at Disneyland are different though. These little goodies come shaped like Mickey Mouse! There is something about eating a snack in the shape of that famous mouse that makes it taste that much better. It is magical. You can purchase a pack of 3 for $4.99 and a pack of 6 for $8.49.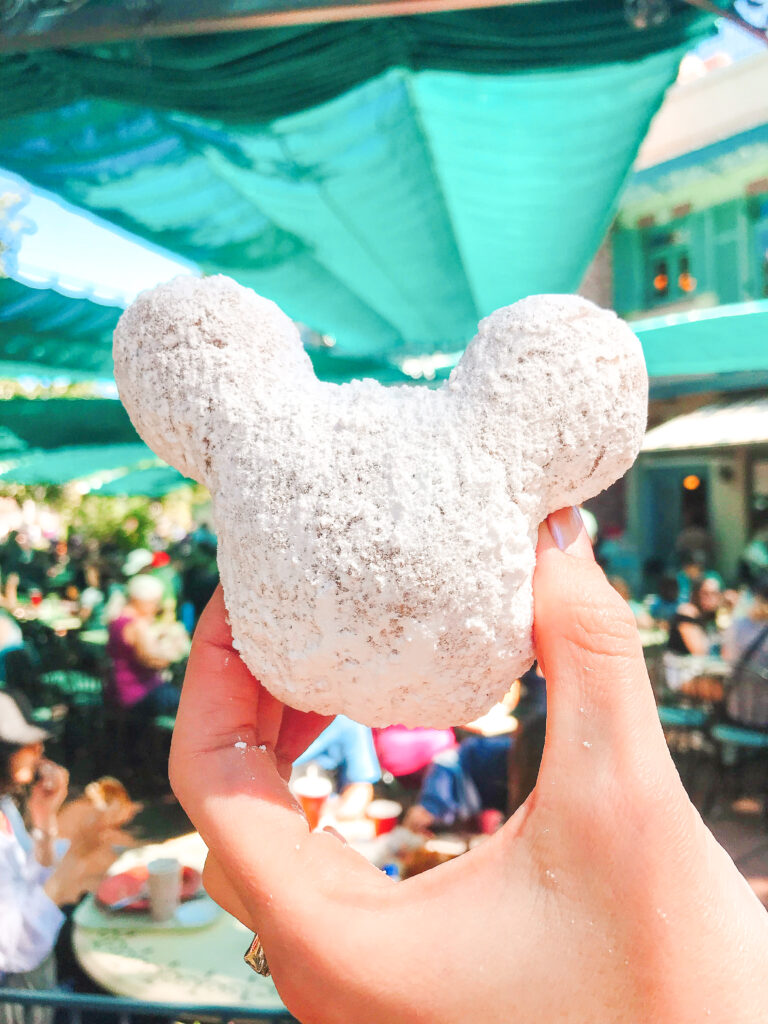 Make sure you stop by The Mint Julep Bar or Cafe Orleans located between Pirates of the Caribbean and The Haunted Mansion in New Orleans Square to get one of these delicious treats!
They're not hard to make at home either. Check out my recipe for Homemade Mickey Beignets and give them a try! They are totally worth it! You can also find my super easy Mickey Beignets recipe here.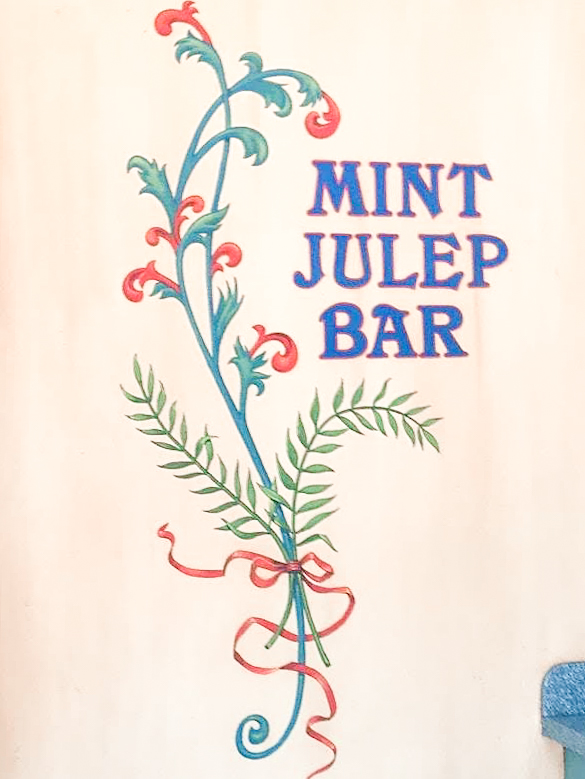 Monte Cristo
If you are looking for a Monte Cristo Sandwich at Disneyland, you can find one at both the Blue Bayou and Cafe Orleans. At the Blue Bayou, a Monte Cristo will cost $29.00. Here is the menu's description:
"Turkey, Ham, and Swiss, served with Crème Anglaise, Seasonal Preserve and Seasonal Fruit"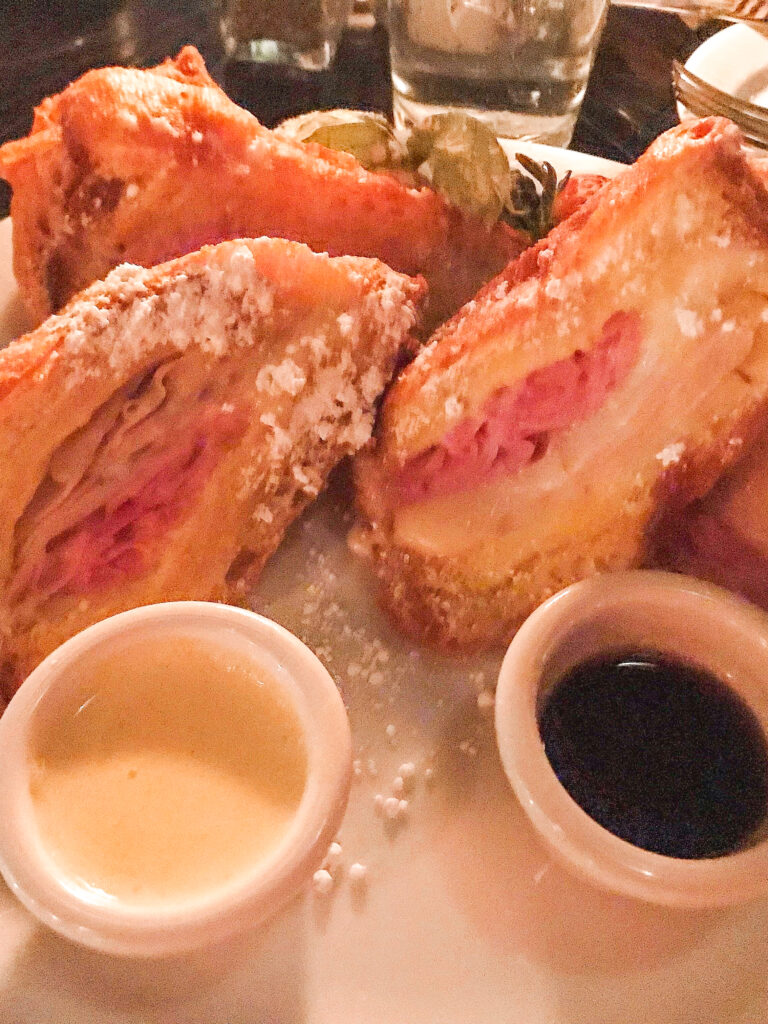 At Cafe Orleans, a Monte Cristo Sandwich will cost you $21.00. There are two versions available. The Classic is described as:
"Sliced Turkey, Ham and Swiss fried in a light batter, dusted with Powdered Sugar and served with Berry Purée, Parmesan-Garlic Pommes Frites and Cajun-spiced Remoulade"
The Three-Cheese Monte Cristo is also $21.00 and is described as:
"Swiss, Mozzarella, and Double Crème Brie fried in a light batter, dusted with Powdered Sugar, and served with a Berry Purée, Parmesan-Garlic Pommes Frites and Cajun-spiced Remoulade"
Critter Country
Watermelon Lemonade Freeze
Across from Splash Mountain is a yummy quick service location called Hungry Bear Restaurant. This location always has a few snack/treat jems like funnel cakes. But I have recently discovered the Watermelon Lemonade Freeze. And oh, my goodness! It is tasty. You can pick one up for $5.99 topped with whipped cream.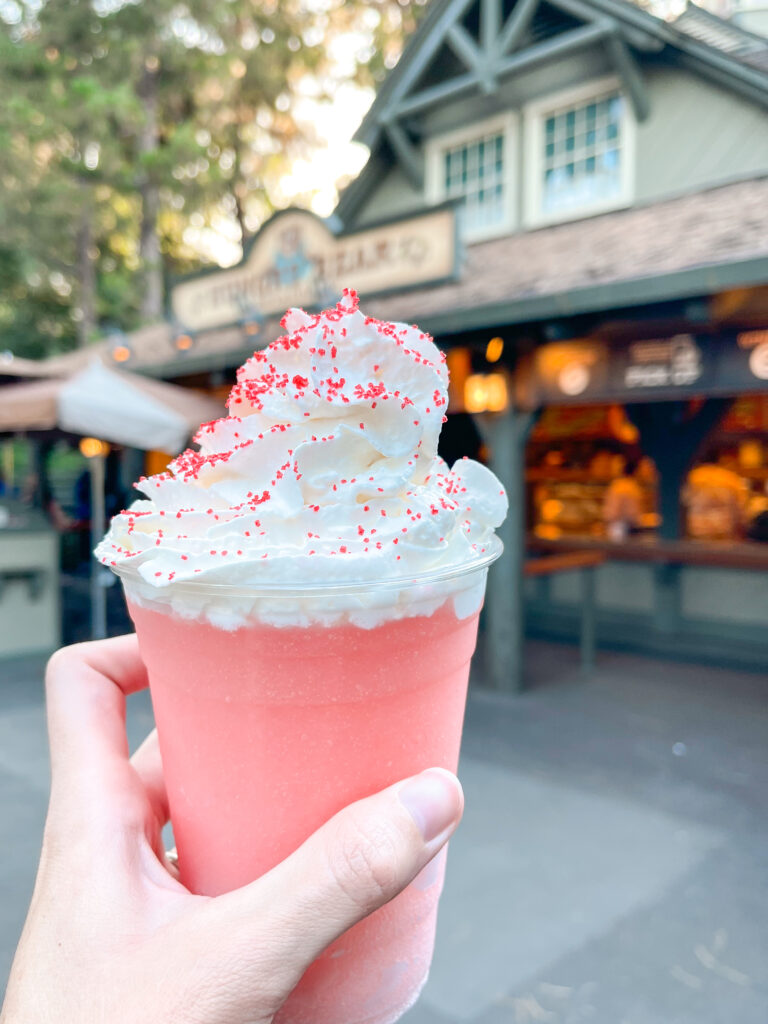 Churro Toffee
Also located in Critter Country, right outside of The Many Adventures of Winnie the Pooh is a sweet shop called "Pooh Corner". You can get an amazing piece of toffee covered in white chocolate and cinnamon sugar for $5.99 a piece. Get the recipe to make Churro Toffee at home, here!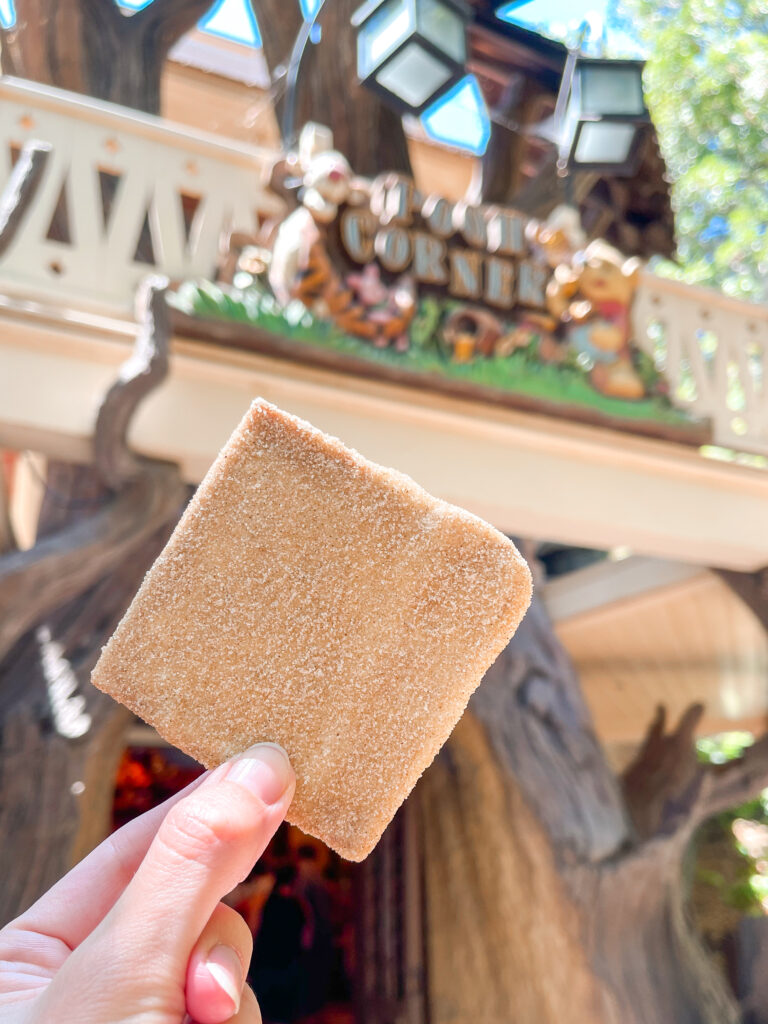 Caramel Apples
Caramel Apples are another treat that you can pick up at Pooh Corner. They are so adorable because they are shaped like Mickey or Minnie and come in a variety of flavors and range in price from $5.79 to $12.99.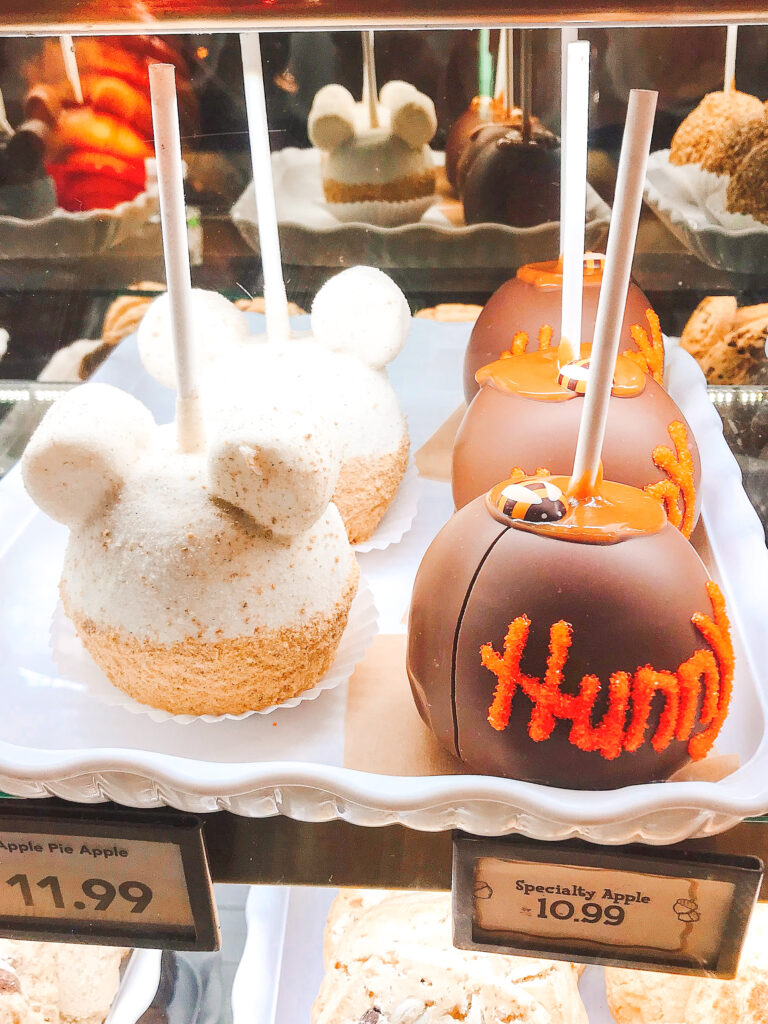 White Chocolate Raspberry Chocolate Chip Cookie
This cookie is absolutely delicious! It is a brown sugar based cookie dough with white chocolate chips, chocolate chips, and raspberry preserves. You can find this cookie at Pooh Corner for $3.99. Get the recipe to make them at home here!
Star Wars: Galaxy's Edge
Blue Milk
Ever since the opening of Galaxy's Edge, the Milk Stand has been a popular place to grab a snack. You can get a glass of Blue Milk for $7.99. Here is the description of Blue Milk from the menu:
"Plant-based blend of Coconut and Rice Milk with alluring fruity characteristics"
Green Milk
Green Milk is also available at the Milk Stand and is a little more tangy than the Blue Milk. Personally, I am Team Green Milk, but the rest of my family prefers Blue. A glass of Green Milk will also cost you $7.99.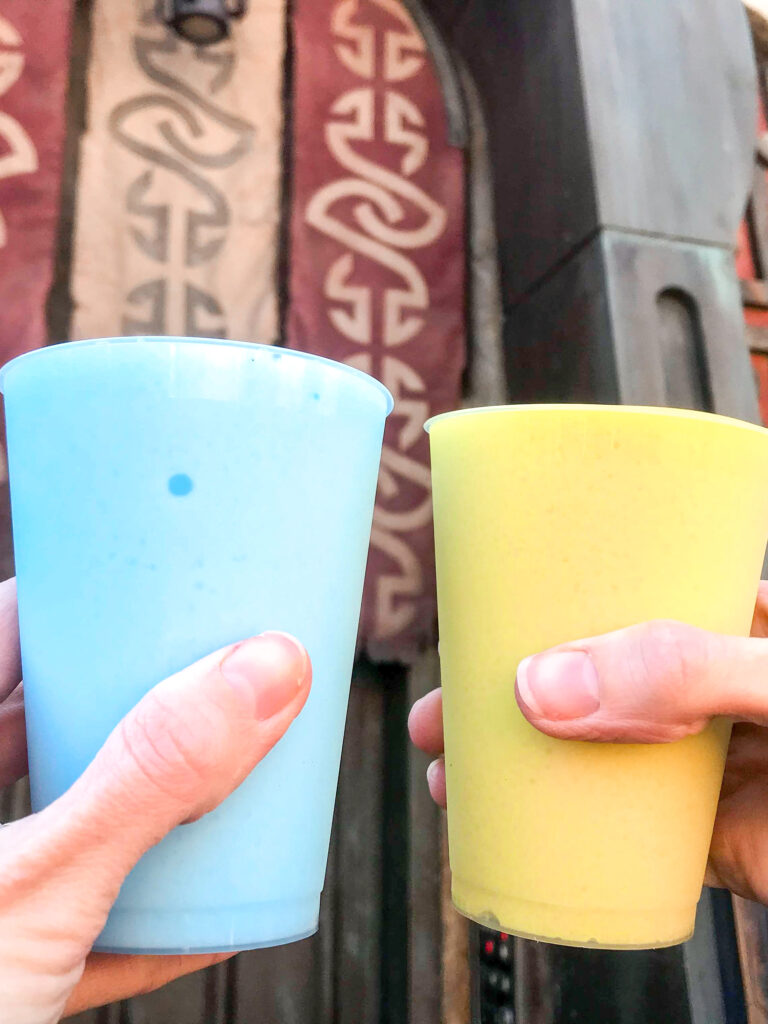 Fantasyland
Grey Stuff
"Try the grey stuff it's delicious, don't believe me? Ask the dishes!" But, seriously, try the Grey Stuff Gateau from Red Rose Tavern in Fantasyland! It is really delicious for $5.99! Here is the description on the menu:
"White Chocolate Cookies and Cream Mousse and Red Velvet Cake with a Raspberry Center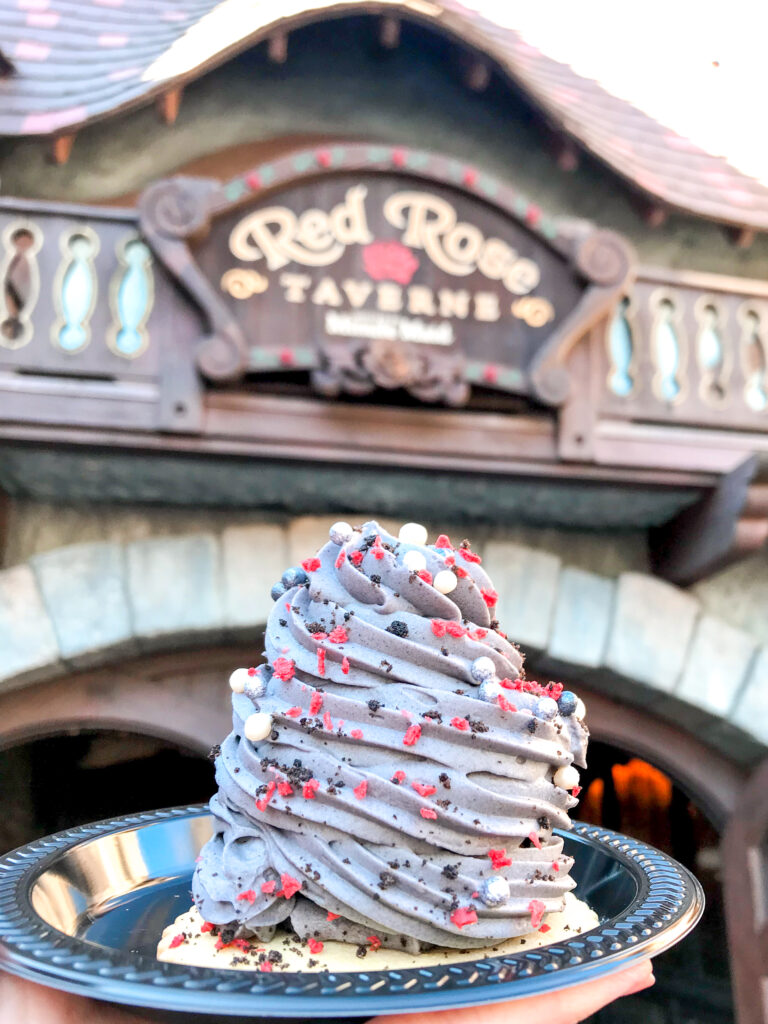 Churro
A classic churro is something that every Disneyland vacation needs. There are churro carts located all around the parks, but one of our favorites is right in front of Casey Jr. Circus Train in Fantasyland. A churro will cost you approximately $5.75. Make your own Disneyland churros with this recipe!
Here are the Disneyland Churro Cart Locations: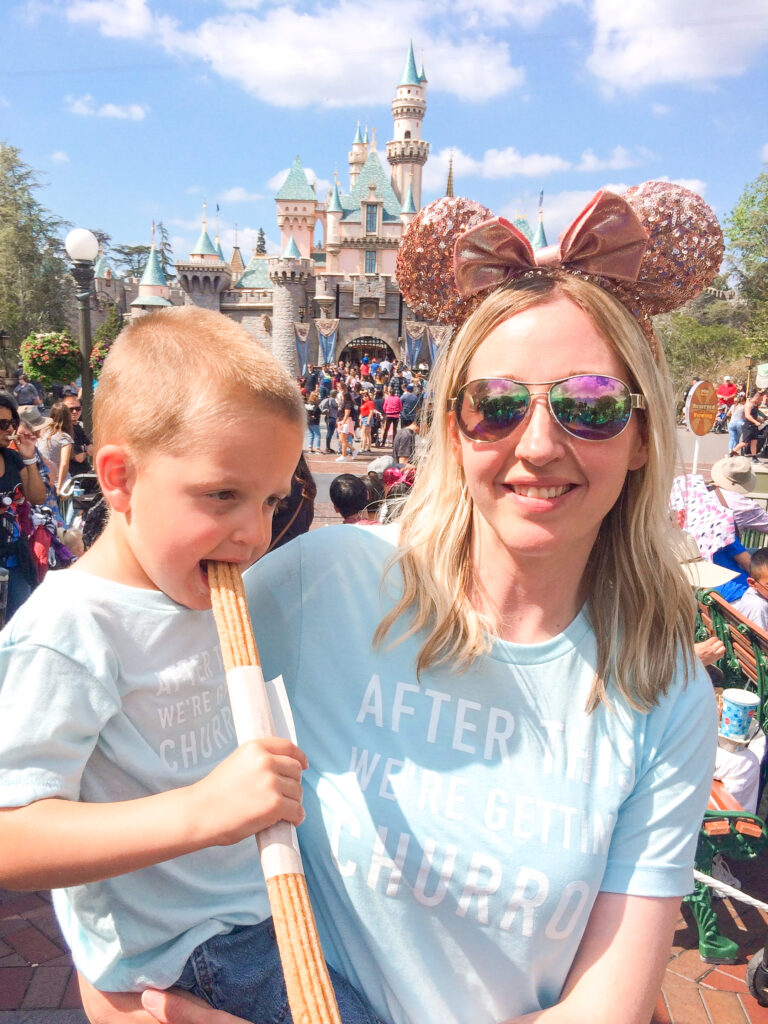 Disney California Adventure Park
Buena Vista Street
Fluffernutto Churro
Disneyland Churros are amazing on their own, but there is something about a specialty Disneyland Churro, and a Fluffernutter Churro from Willie's Churro Cart is a must-try snack!
Churros that are covered in peanut butter sauce, marshmallow sauce, and chocolate chips will change your life, all for $6.25.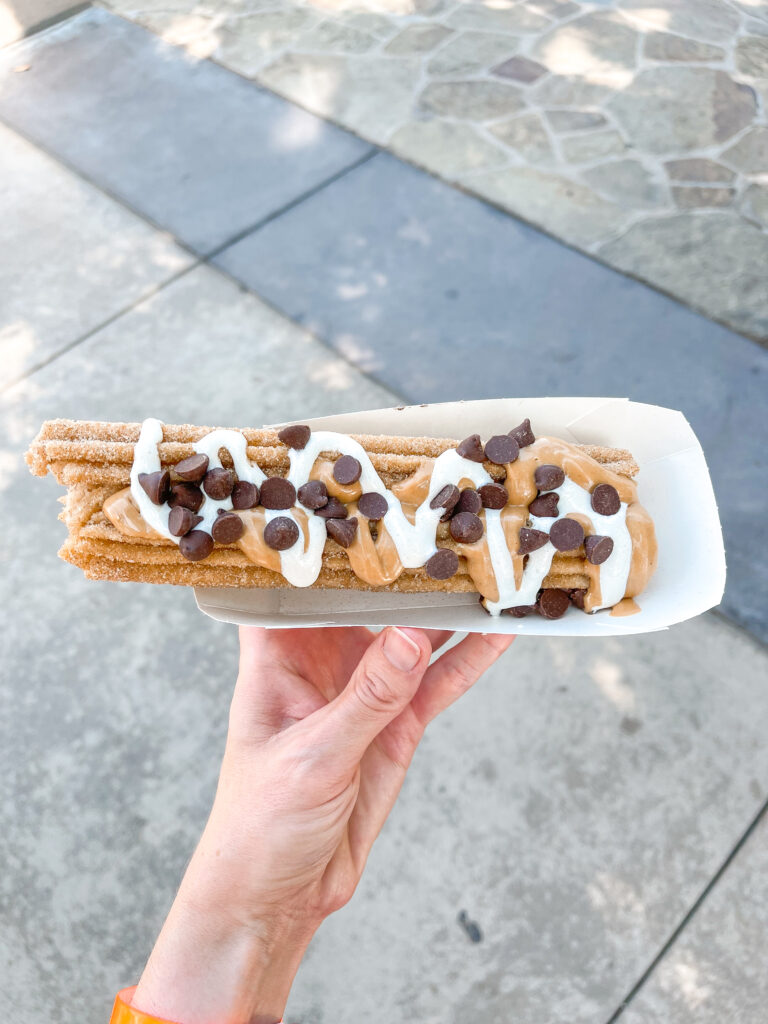 Classic Mickey Shake from Schmoozies
This shake from Schmoozies is absolutely adorable! It comes in a cup decorated like Mickey's Pants and includes Mickey Mouse ears! The price is $7.99 for one shake. Here is the description:
"Crème filled Chocolate Cookies blended with Vanilla Ice Cream and Milk, finished with Whipped Cream and Crème filled Chocolate Cookies"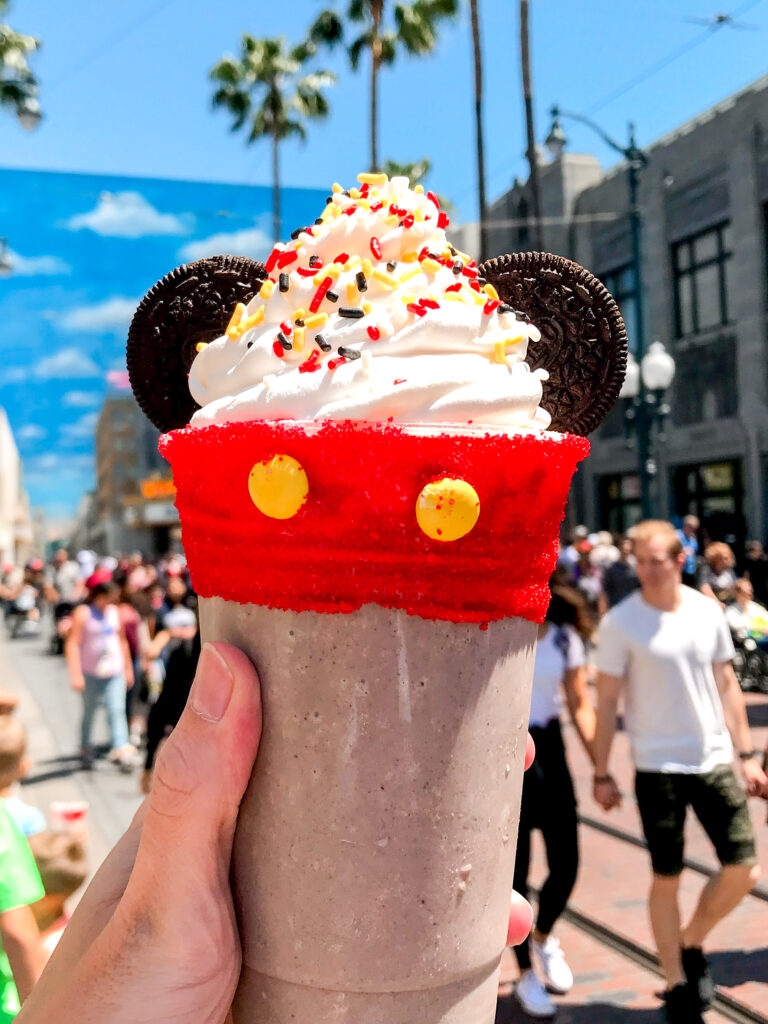 Clarabelle's Ice Cream Bar
On Buena Vista Street you can visit Clarabelle's Hand-Scooped Ice Cream and get many different ice cream treats. My favorite is the customizable hand-dipped ice cream bar for $5.69. My favorite combination is chocolate ice cream, dipped in dark chocolate, and covered with chocolate chips. Yum! Here is the menu description:
"choice of Ice Cream Bar flavor, Chocolate Coating and one Topping of choice, including The Whole Herd, a mix of all Toppings"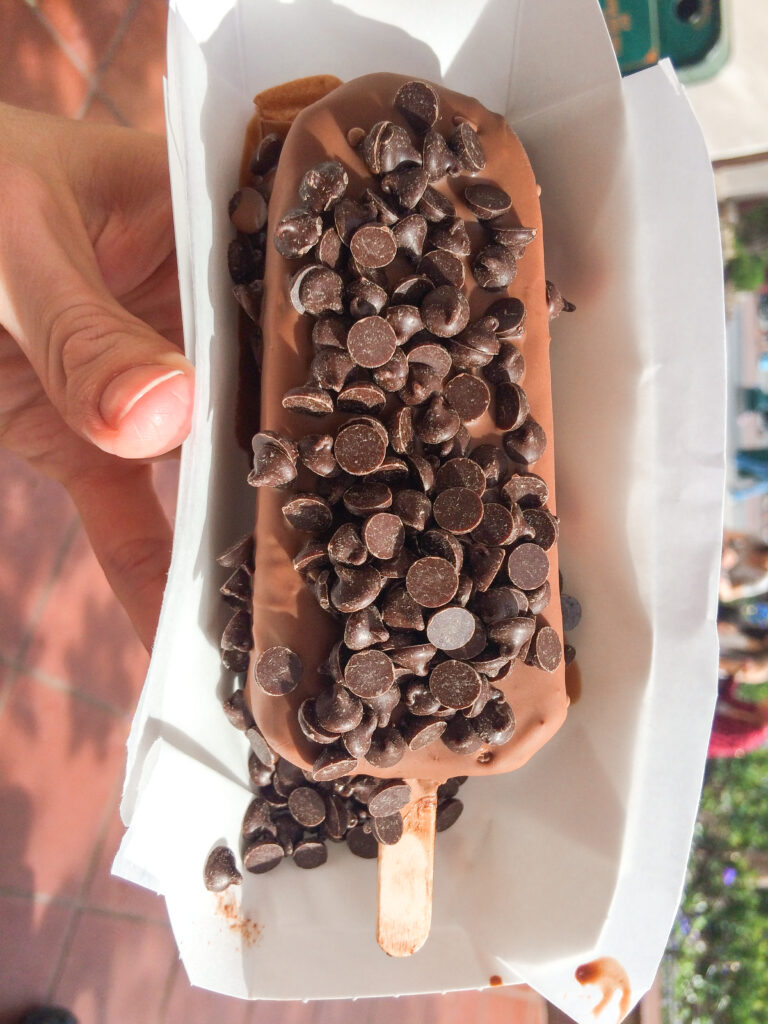 Avengers Campus
Quantum Pretzel
At Pym Test Kitchen inside Avengers Campus, there are a couple of treats that you need to try. The first is a Quantum Pretzel for $12.99 that can definitely be shared with a few people. I wasn't a total fan of the dipping sauce, but the pretzel was delicious. Here is what the menu says:
"453.8 grams, Bavarian-style, with Sharp Cheddar Cheese-Beer Sauce"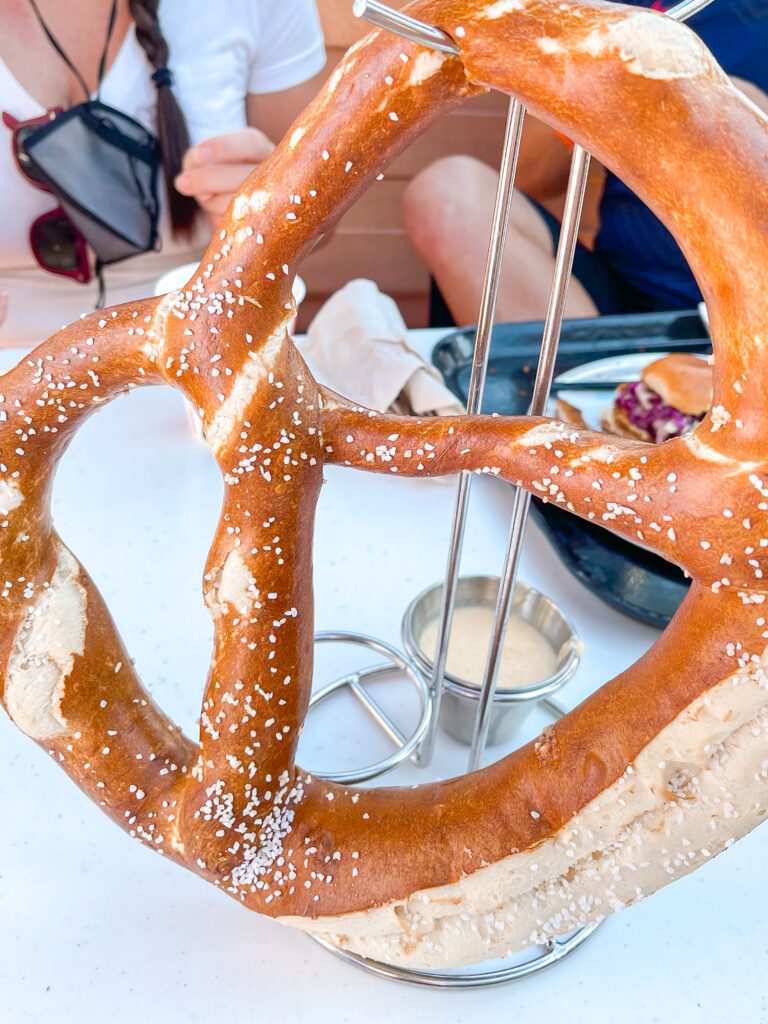 Not So Little Chicken Sandwich
This is definitely not a standard chicken sandwich. It is HUGE! You will find this on the Pym Test Kitchen menu for $15.49 and is described as:
"Fried Chicken Breast, Teriyaki and Red Chili Sauces, and Pickled Cabbage Slaw on Brioche, served with crispy Potato Bites"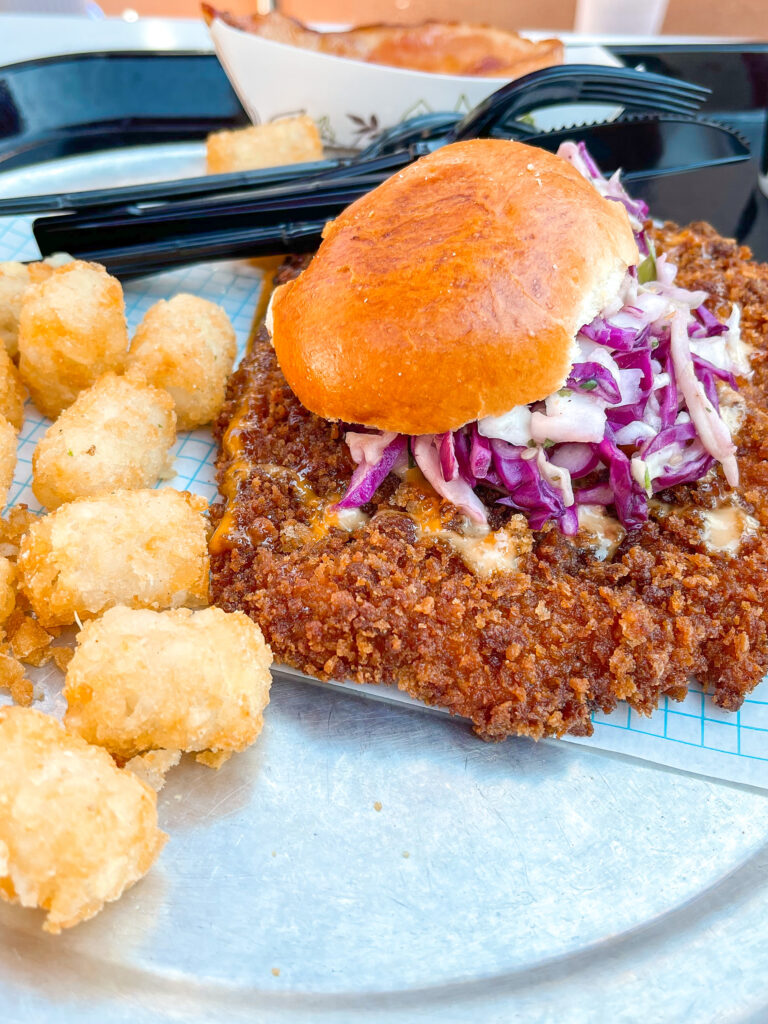 Celestial-sized Candy Bar: Choco-Smash CANDY Bar– This dessert was so good, I created a brownie recipe inspired by it! Also found at Pym Test Kitchen for $7.99, here is the description:
"Choco Smash Candy Bar with Dark Chocolate, Peanuts, Caramel, Nougat and Chocolate Brownie"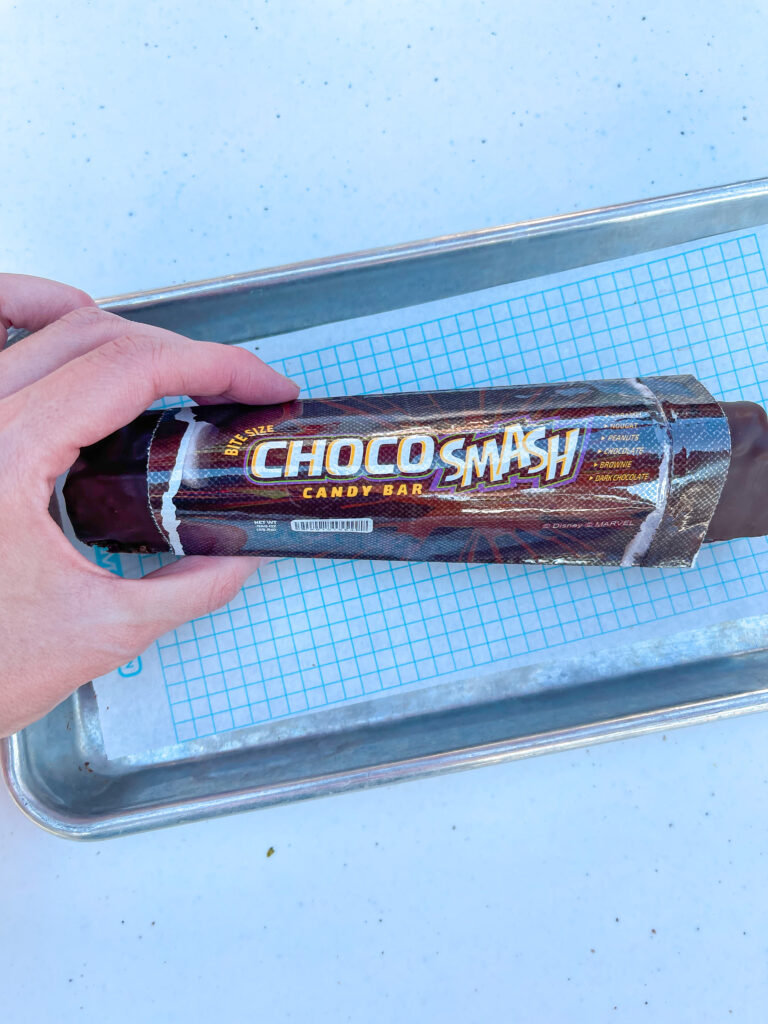 Cars Land
Cozy Cone Ice Cream Cone
The Cozy Cone Motel is a quick-service meal spot in Cars Land. Cozy Cone #2 is home to classic vanilla, chocolate and twist ice cream cones. My favorite is a chocolate & vanilla twist cone for $4.99 with "Junkyard" topping for an extra $0.99 which is a combination of cookie crumbles, rainbow sprinkles, chopped peanuts, and chocolate chips.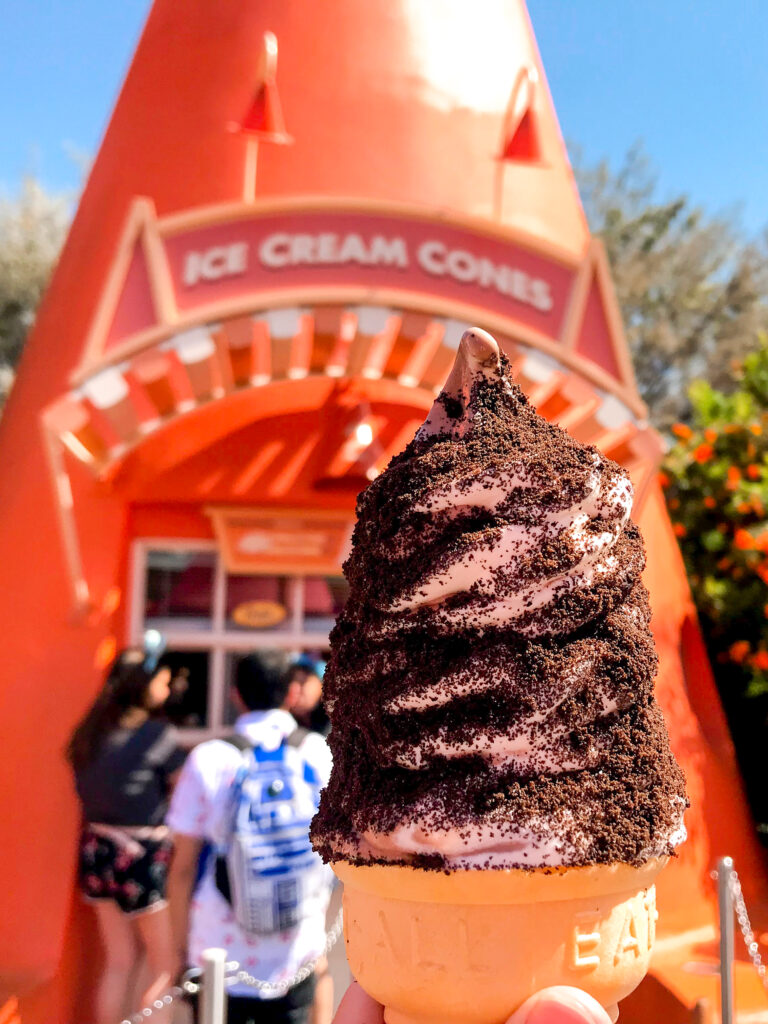 Pixar Pier
Jack-Jack Cookie Num Num
This fluffy, warm chocolate chip cookie is sold at a small stand called Jack-Jack Cookie Num Nums at the entrance/exit of the Incredicoaster for $6.00. I found out from a cast member that Disney pumps the smell of fresh chocolate chip cookies into the ride to entice guests to buy a cookie when they exit the coaster. It worked on me! Get the recipe to make these cookies at home, here!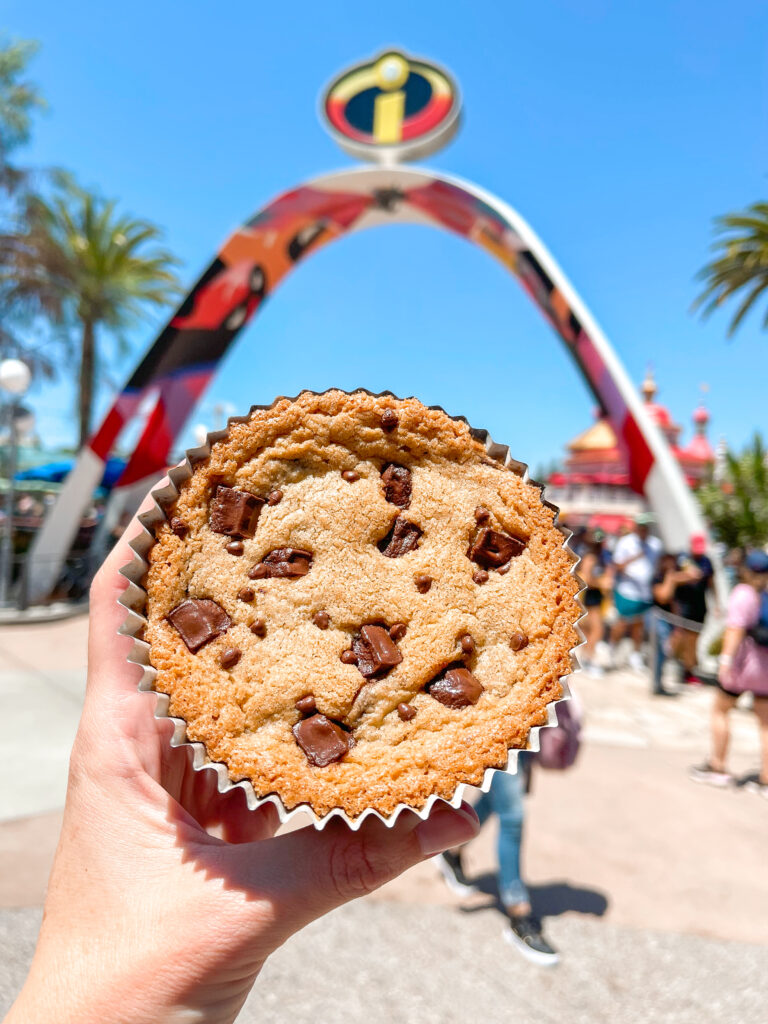 Lobster Nachos
If you can snag a reservation to Lamplight Lounge, you need to order the Lobster Nachos for $21. They are amazing! Here is how the menu describes them:
"warm Lobster with Black Beans, Aged Cheddar-Oaxaca Cheese Sauce, Pico de Gallo, and Chipotle Crema"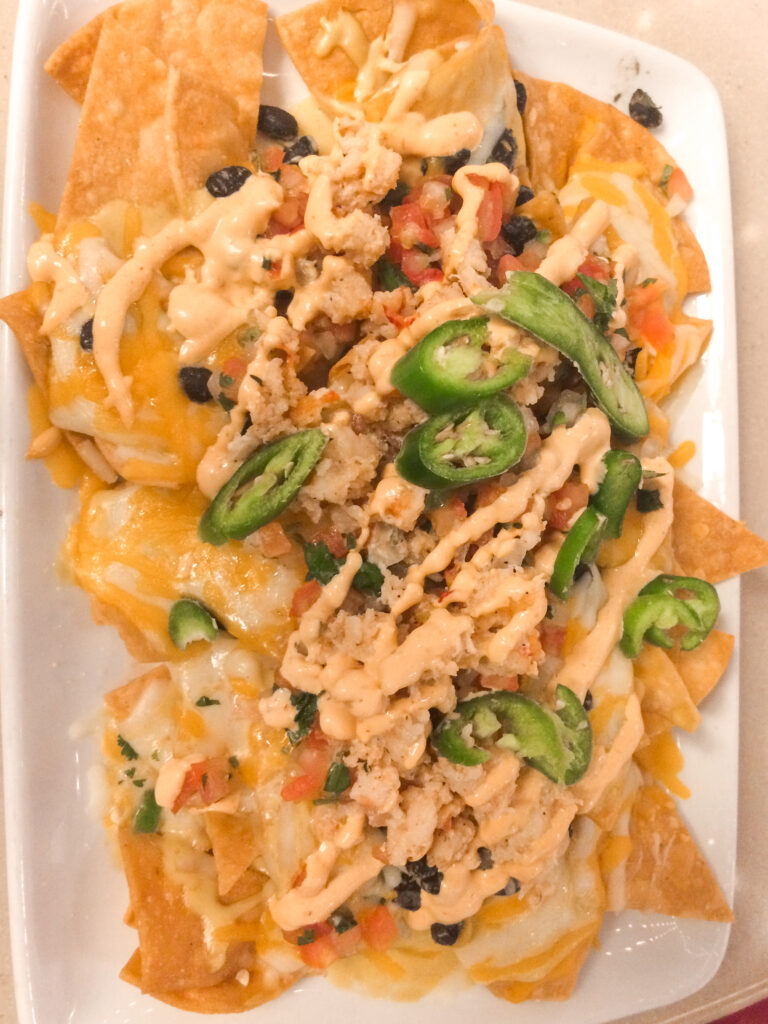 Pacific Wharf
Sour Dough Bread
Pacific Wharf is the place at Disneyland to find Boudin Sourdough bread. You can get soup or chili in a sourdough bread bowl $11.49 at Pacific Wharf Cafe or purchase a Mickey Mouse-shaped loaf.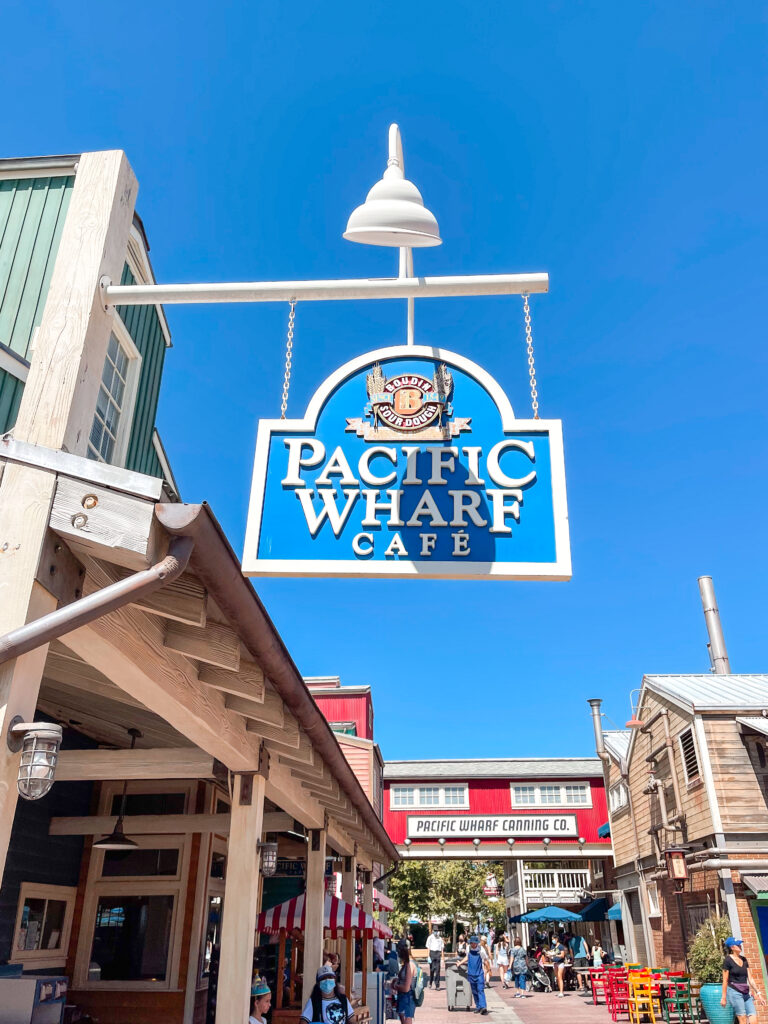 Salted Caramel Hot Chocolate
Salted Caramel Hot Chocolate from Ghirardelli Soda Fountain and Chocolate Shop really hits the spot when its cold outside. It is topped with "Whipped Cream, Sea Salt, and Caramel Sauce" and is available in size small for $5.50 and medium for $6.25. You can use this recipe to make your own Salted Caramel Hot Chocolate at home!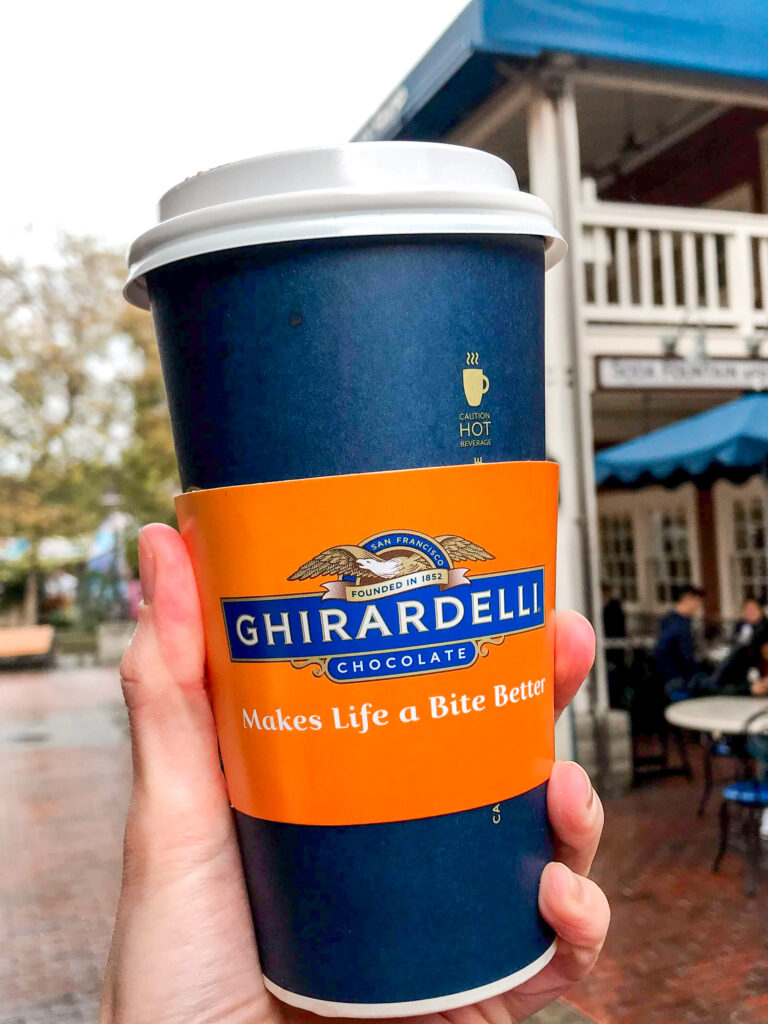 Magical Sundae
The Magical Sundae from Ghirardelli is one of our favorite Disneyland ice cream treats! You can pick one up for $14.25. Here is the description:
"Vanilla Ice Cream and handmade Hot Fudge topped with Whipped Cream, Sprinkles and dipped Waffle ears'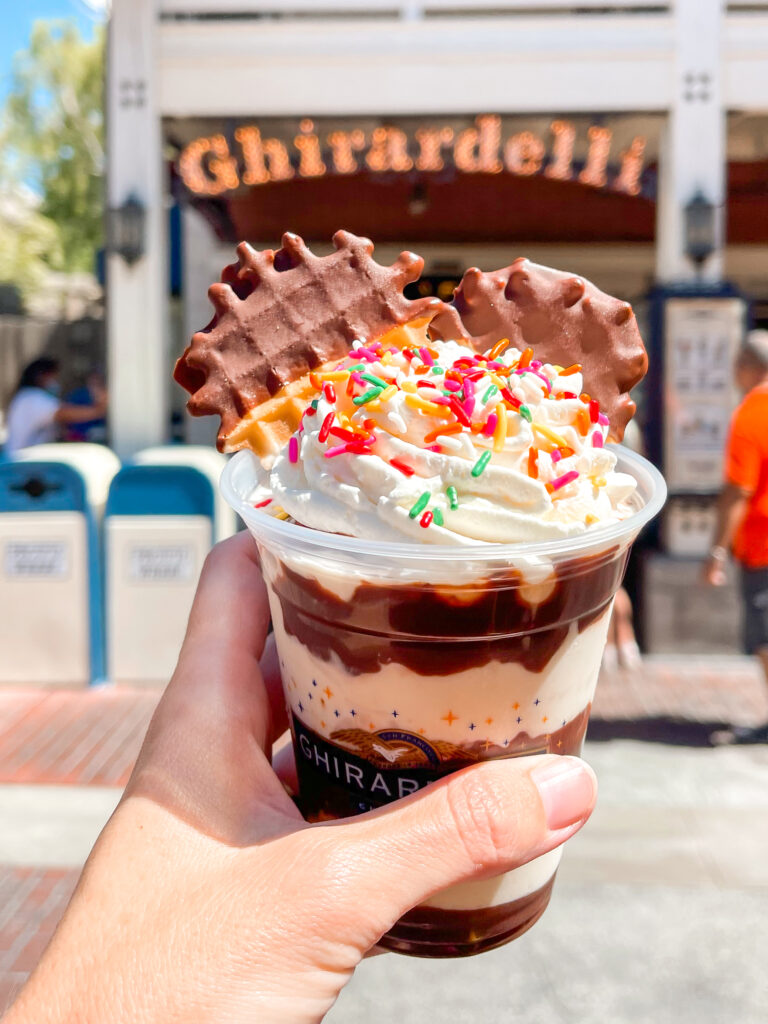 Lands End Salted Caramel Brownie Sundae
I love everything about this sundae, especially the brownies! It is available for $16.25 at Ghirardelli Soda Fountain & Chocolate Shop and is easily shared between two adults. We actually at this same sundae at Ghirardelli Square in San Francisco! Here is the description from the menu:
"Vanilla Ice Cream, a full-size Ghirardelli® Chocolate Brownie, Caramel Sauce, Sea Salt and handmade Hot Fudge topped with Whipped Cream, Caramel Sauce, Ghirardelli® Chocolate Sauce and a Cherry"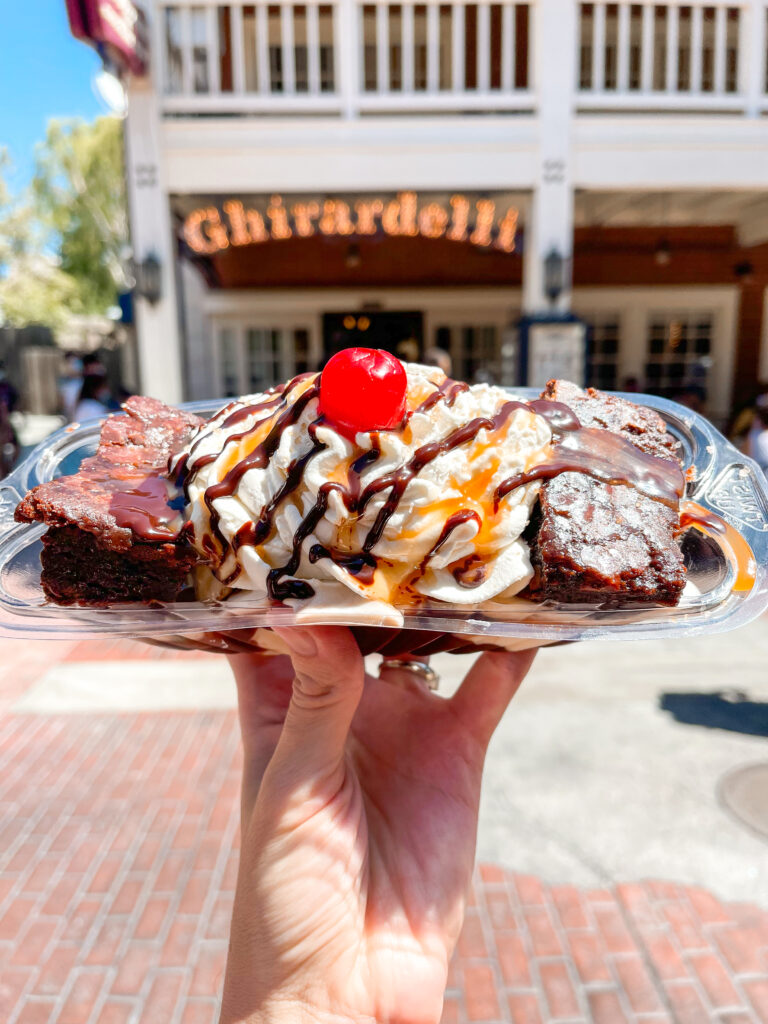 Ghirardelli Thick Shake
This is something my son orders each time we visit. It is available in chocolate, vanilla, cookies & cream and strawberry. My son's favorite flavor is Cookies & Cream. You can get a small for $7.50 or a large for $9.50.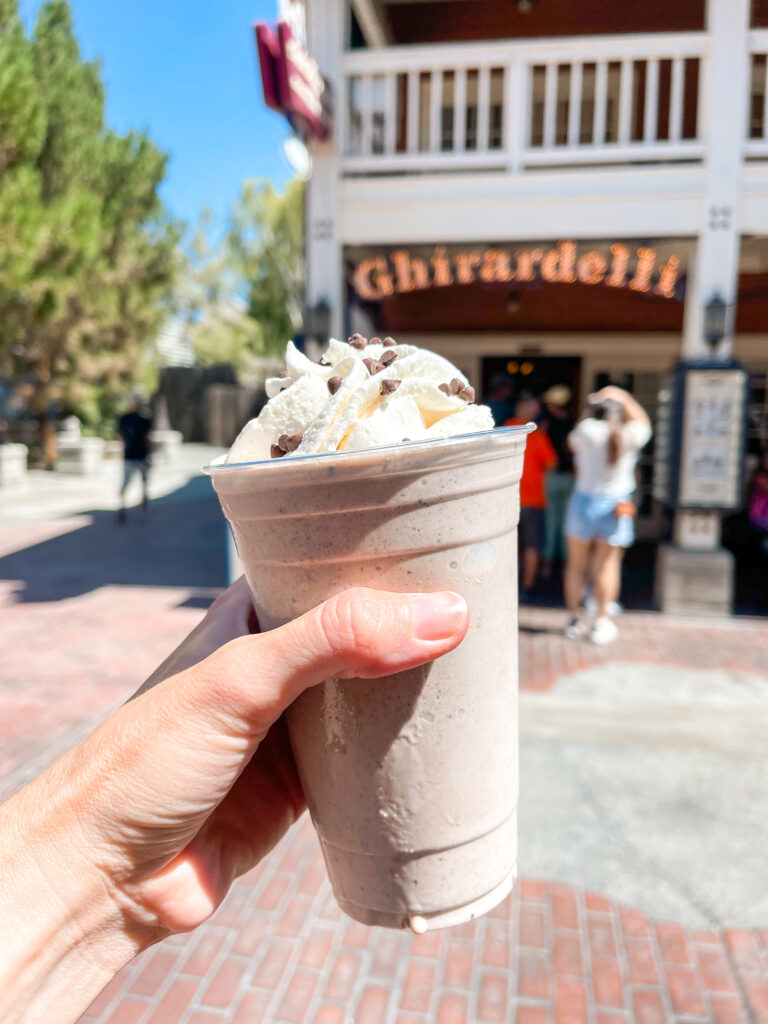 Paradise Gardens Park
The Hot-Link Corn Dog is definitely something I eat at Disneyland every time I go. This delicious treat is sold at Disney California Adventure Park at a place called Corn Dog Castle located right next to Goofy's Sky School and across from Jumping Jellyfish.
The Hot-Link Corn Dog is almost the same as the Original Corn Dog, but to me, the spiciness of the hot link raises the deliciousness of this Disney snack to a whole new level. The Corn Dog itself if huge. My kids usually share one because they are that big. You can purchase one for $9.99.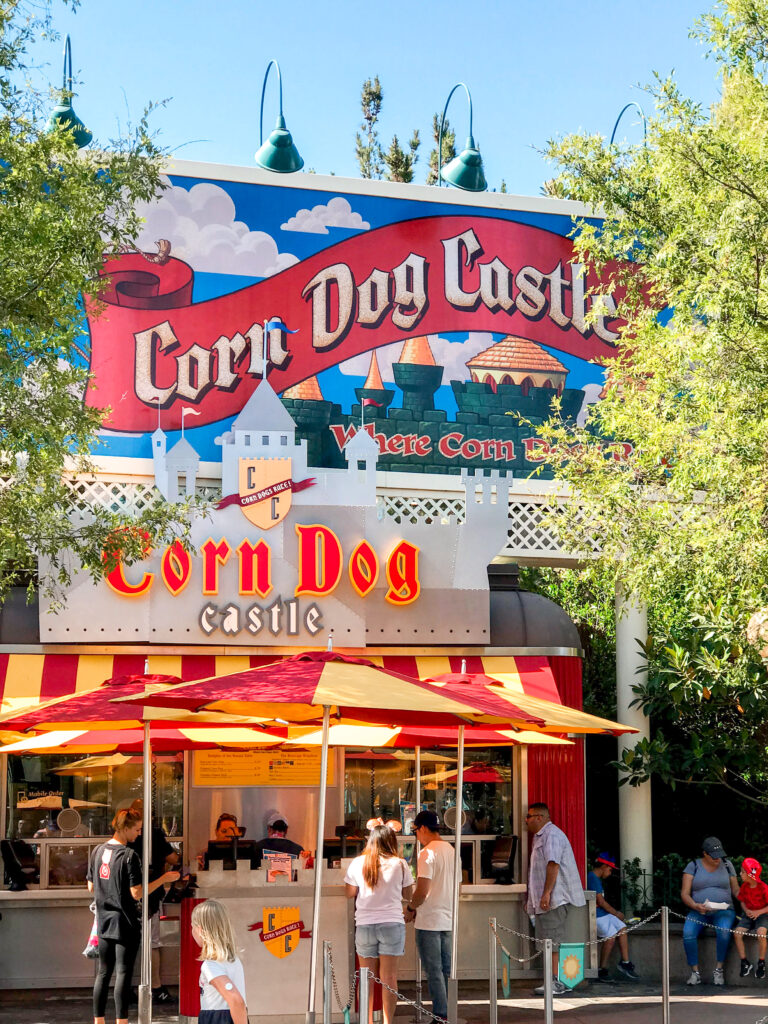 Ice Cream Carts (Both Parks)
Frozen Strawberry Lemonade
This is my 11-year-old's all time favorite Disneyland treat! You can pick one up at most ice cream carts for around $5.00-$6.00.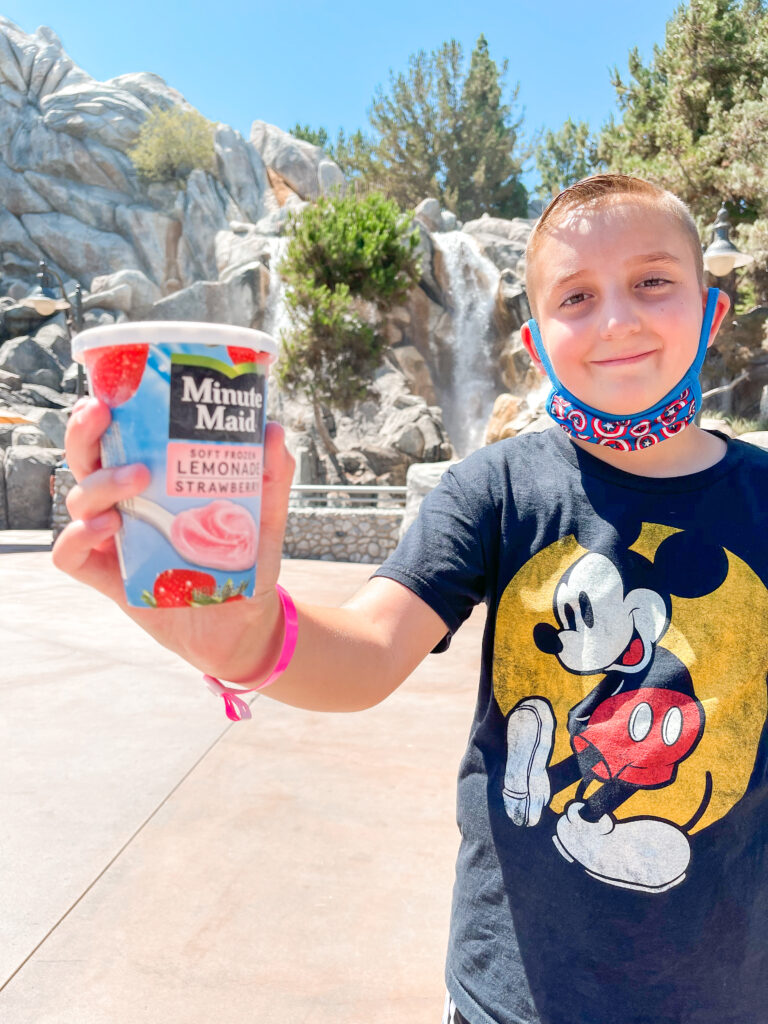 Cookie Ice Cream Sandwich
This is another ice cream cart treat that is popular in my family. It is vanilla ice cream sandwiched between two Nestle Toll House Chocolate Chip Cookies.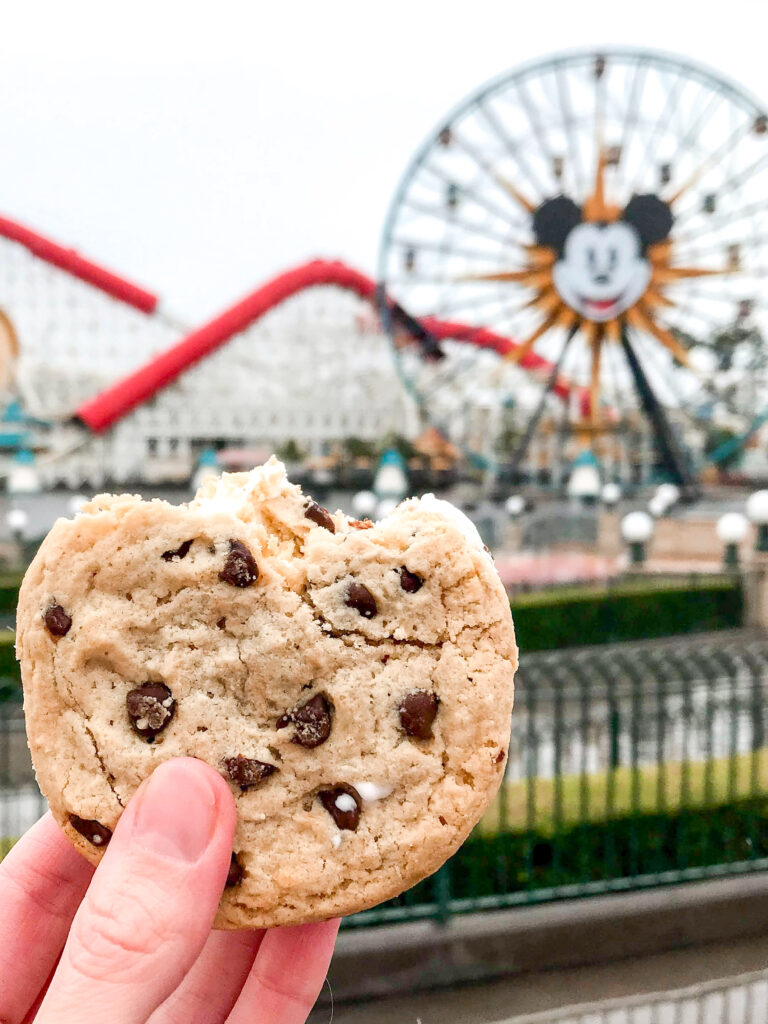 Mickey Premium Ice Cream Bar
This iconic chocolate covered vanilla ice cream bar is shaped like Mickey Mouse and can be purchased at almost every ice cream cart at Disneyland for between $5.00-$6.00.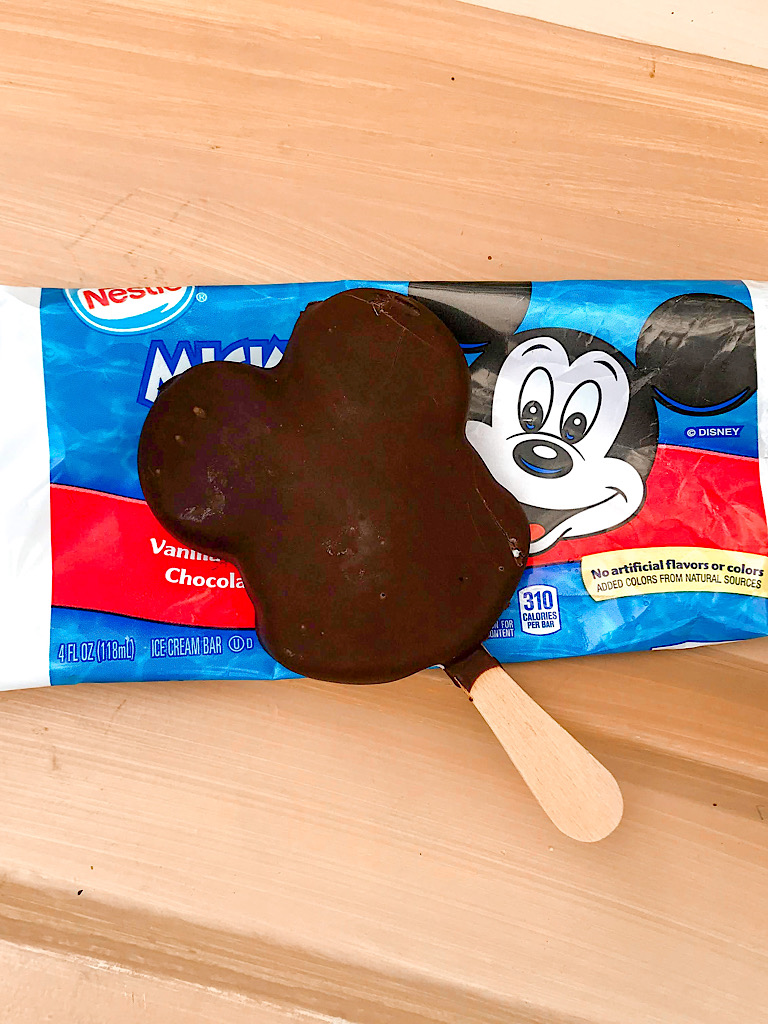 Gift Shops
Goofy's Candy– My boys are a sucker for bags of Goofy's Candy (pun intended). There are bags of gummy candies, sour candies, hard candies, etc. for about $6.00 a bag.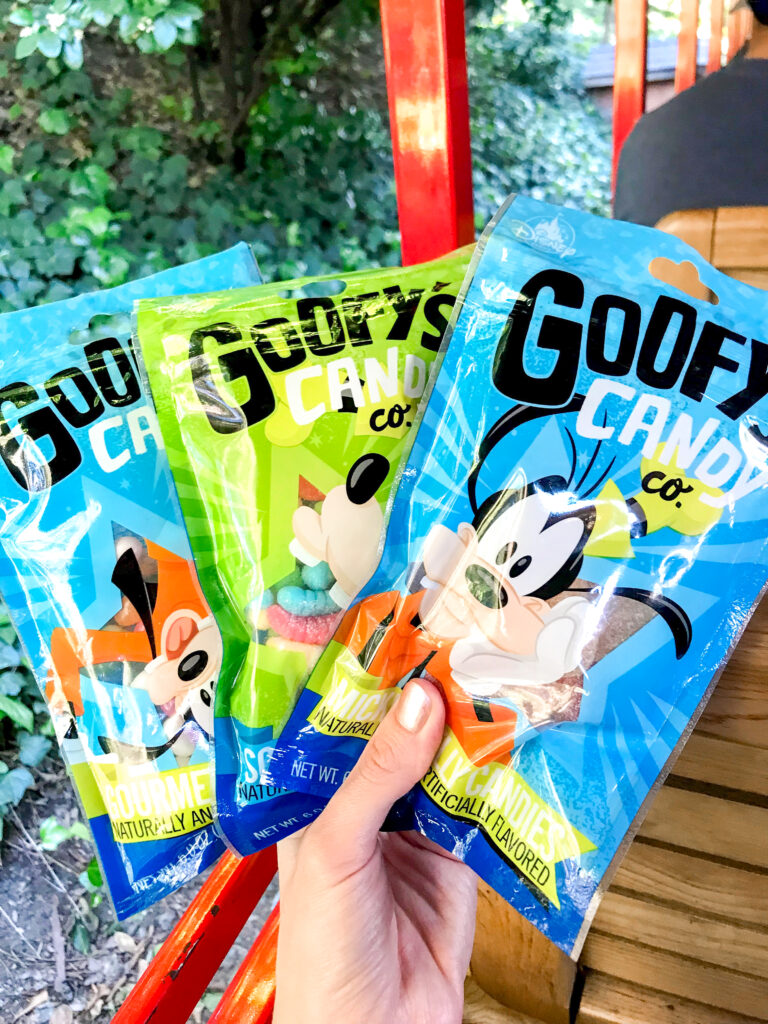 Downtown Disney District
Kayla's Cakes Macarons
If you are a macaron fan, you can pick up some delicious cookies without entering the parks! There are TONS of flavors to choose from. Check them out here.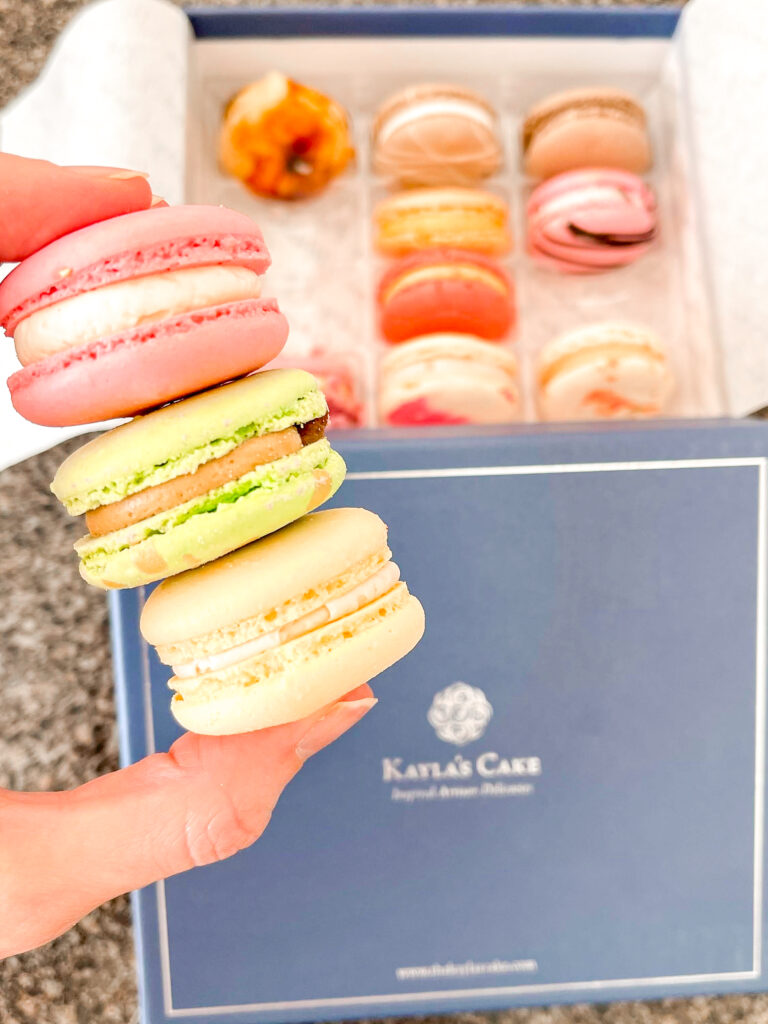 Black Tap Crazy Shakes
The crazy shakes at Black Tap Anaheim in Downtown Disney are amazing! We had a Churro shake, but I'm pretty sure that any flavor would be a winner! Check out the menu here.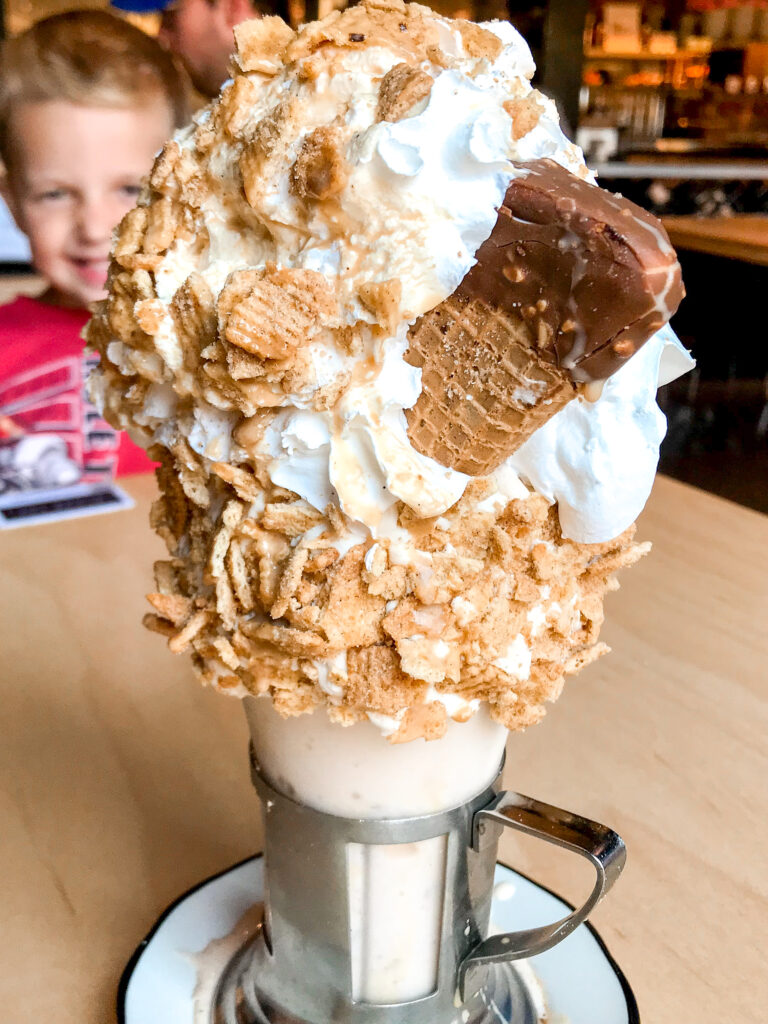 Sprinkles Cupcakes
No trip to Downtown Disney is complete without a stop at Sprinkles Cupcakes! They always have the perfect frosting to cake ratio. I don't think you could go wrong with any flavor!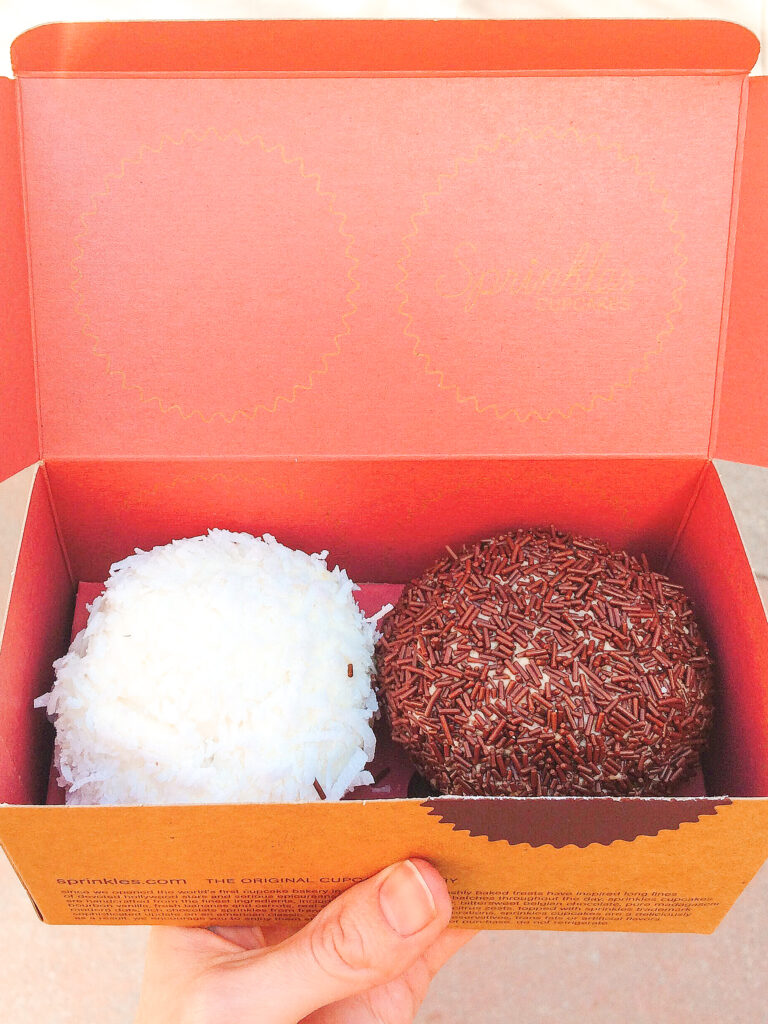 Disneyland has a lot of great food and snacks, but these are some of my favorites. They're so good I eat them every time we visit! If you want to enjoy some delicious treats at the Happiest Place on Earth, save this list so you'll know what not to miss out on! What's your favorite Disneyland snack? Let me know in the comments below!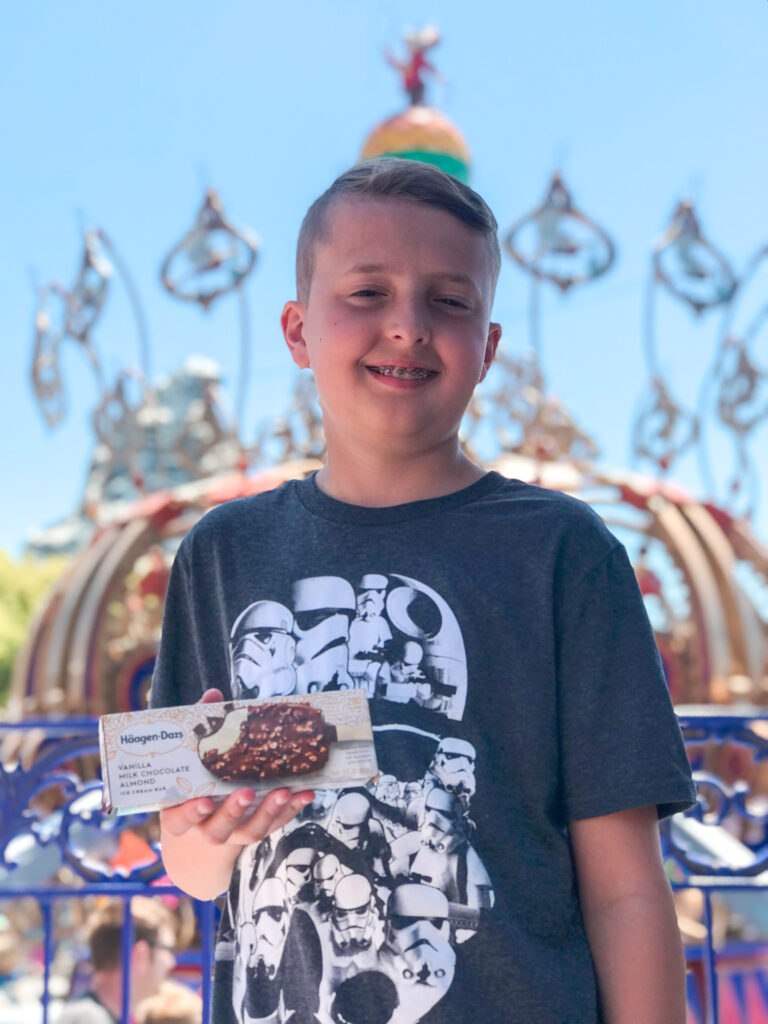 Must-Try Disneyland Treats
Chocolate Chip Cookie Sundae- Gibson Girl Ice Cream Parlor
Mickey Pretzel- Refreshment Corner
Jalapeno Cheese-Stuffed Pretzel- Refreshemtns Corner
Plaza Inn Fried Chicken
Mickey Sugar Cookie– Jolly Holiday Bakery & Cafe
Macarons- Jolly Holiday Bakery & Cafe
Matterhorn Macaroon- Jolly Holiday Bakery & Cafe
Dole Whip- Tiki Juice Bar & Tropical Hideaway
Mint Julep- Mint Julep Bar
Flavored Julep- Mint Julep Bar
Mickey Beignets- Mint Julep Bar
Monte Cristo- Blue Bayou & Cafe Orleans
Watermelon Lemonade Freeze- Hungry Bear Restaurant
Churro Toffee- Pooh Corner
Caramel Apples- Pooh Corner
Raspberry White Chocolate Chip Cookies- Pooh Corner
Blue & Green Milk- Milk Stand
Grey Stuff- Red Rose Tavern
Churro- Churro Carts (both parks)
Fluffernutto Churro- Willie's Churro Cart
Classic Mickey Shake- Schmoozies
Hand-Dipped Ice Cream Bar- Clarabelle's Hand-Scooped Ice Cream
Quantum Pretzel- Pym Test Kitchen
Not So Little Chicken Sandwich– Pym Test Kitchen
Choco-Smash Candy Bar- Pym Test Kitchen
Cozy Cone Ice Cream Cone- Cozy Cone Motel
Jack Jack Cookie Num Num- Pixar Pier
Lobster Nachos- Lamplight Lounge
Sour Dough Bread- Pacific Wharf Cafe
Salted Caramel Hot Chocolate- Ghirardelli Soda Fountain
Magical Sundae- Ghirardelli Soda Fountain
Lands End Salted Caramel Brownie Sundae- Ghirardelli Soda Fountain
Cookies & Cream Thick Shake- Ghirardelli Soda Fountain
Hot Link Corn Dog- Corn Dog Castle
Frozen Strawberry Lemonade- Ice Cream Carts
Cookie Ice Cream Sandwich- Ice Cream Carts
Mickey Premium Ice Cream Bar- Ice Cream Carts
Goofy's Candy- Gift Shops
Macarons- Kayla's Cakes Downtown Disney
Crazy Shake- Black Tap Ahaneim Downtown Disney
Cupcakes- Sprinkles Downtown Disney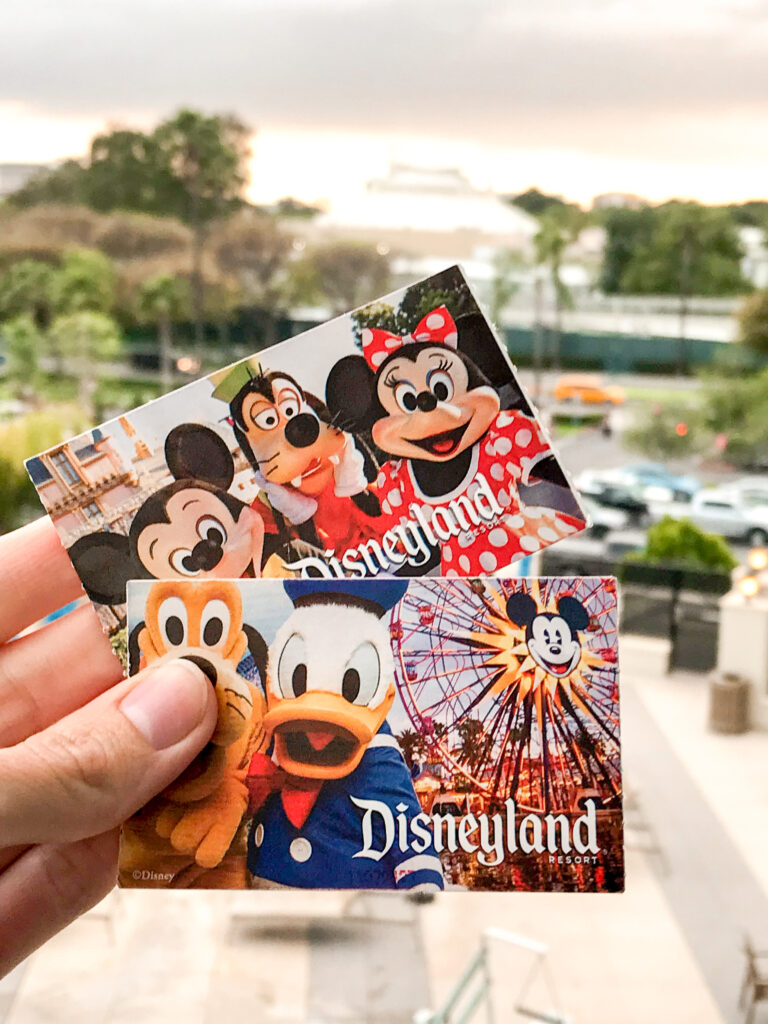 How to Save Money on Disneyland Tickets
When I go to Disneyland, I always book through Get Away Today! They always seem to have deals and specials going on that will help save on the price of tickets and hotel rooms.
Right now you can get a 5-Day Disneyland Resort Park Hopper Ticket for the price of a 4-Day ticket! That's a free day at Disneyland! As always, things can change so make sure you check Get Away Today's website for current deals.

They are also a great source for saving money on the Disneyland Resort hotels as well as all of the Good Neighbor hotels in the area. You can use the promo code Clubhouse10 to save an extra $10 off any 2-night or longer Southern California package. (Hotel and 2 ticket minimum purchase to qualify for the discount)
Check out my Disneyland Area hotel reviews here!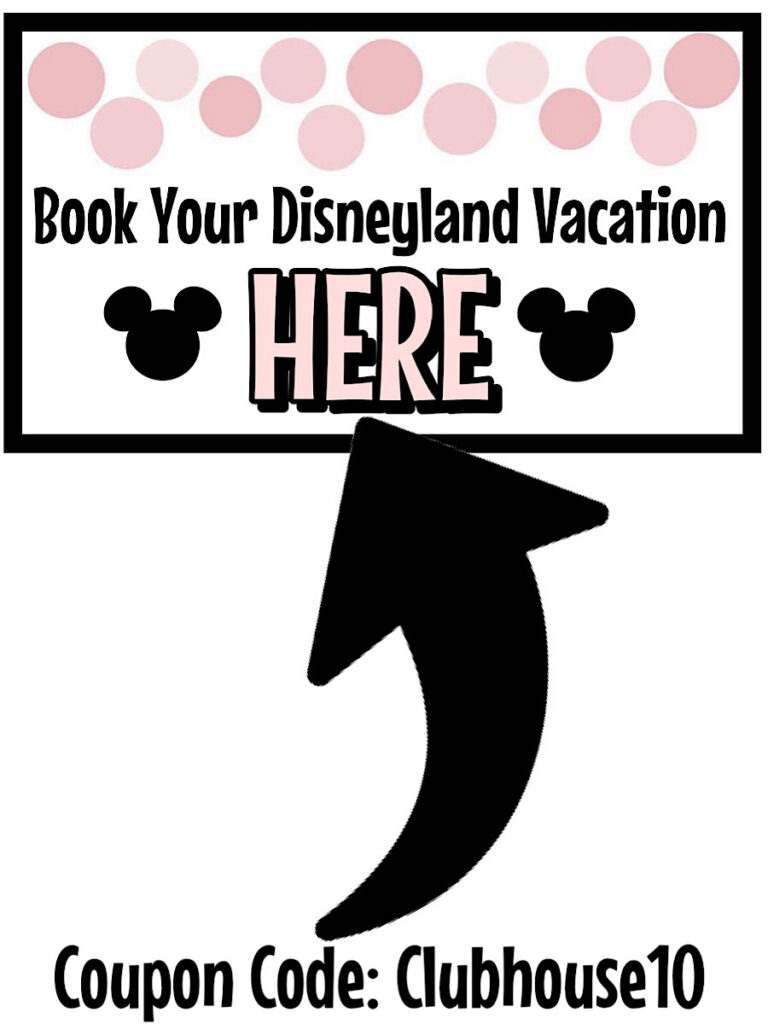 Watch the video here: