With all of the delicious food choices at the Disneyland Resort it is nice to have a list of the Five Best Disney Snacks, Meals, and Treats you can eat at Disneyland!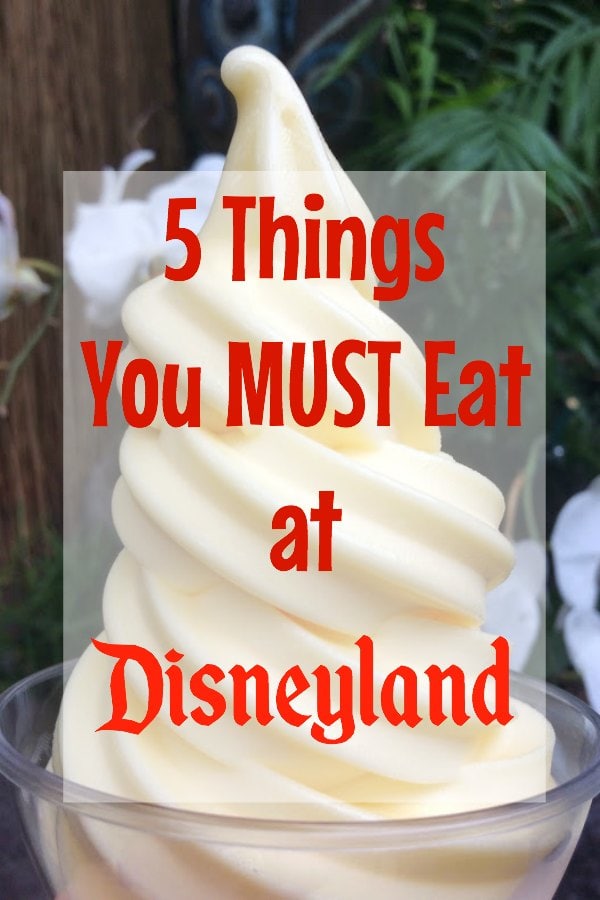 This post may contain affiliate links. When you click on these links, I get a small percentage back to me that helps me run my blog at no cost to you! For more information see my disclosure policy.
A lot of the fun of a Disney vacation is the food. Disney snacks are THE BEST! Disney World, because of its shear size, has tons of options. But, there are some "must try" items at Disneyland as well. There are many different lists of wonderful Disney snacks and meals at Disneyland out there. This is a list of what I think are the Five Best Things to Eat at Disneyland. These are Disney snacks and meals that are "can't miss" items. I eat them every time I visit. They are delicious and will have you dreaming about them long after your Disneyland vacation.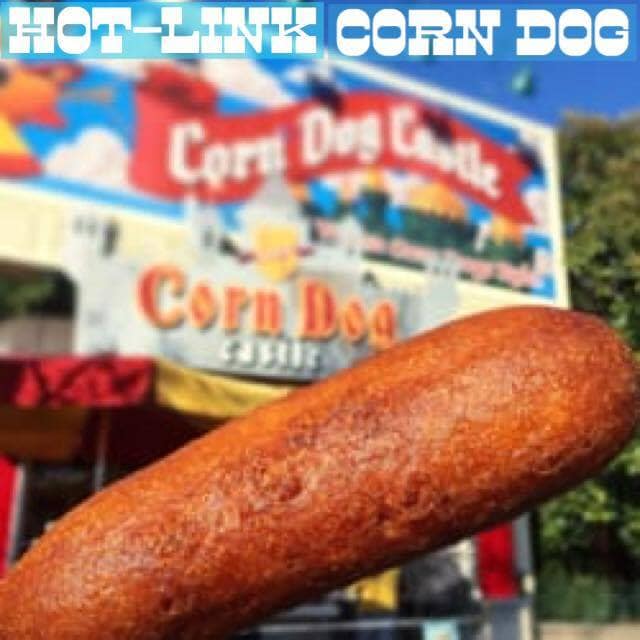 #5 Best Disney Snacks Hot Link Corn Dog
The Hot-Link Corn Dog is definitely something I eat at Disneyland every time I go! This delicious treat is sold at Disney California Adventure Park at a place called Corn Dog Castle. It is located right next to Goofy's Sky School and across from the Jumping Jellyfish on the Boardwalk. The Hot-Link Corn Dog is almost the same as the Original Corn Dog, but to me, the spiciness of the hot link raises the deliciousness of this Disney snack to a whole new level.  The Corn Dog itself if huge.  My kids usually share one because they are that big.
Most kids will probably not enjoy the Hot-Link, but luckily the Original Corn Dog and the Cheddar Cheese Stick are also available at Corn Dog Castle. When you order the Hot-Link Corn Dog it will come with your choice of Sliced Apples or a small Bag o' Chips. You can also order the Corn Dog a la carte and save a couple of bucks if you want. When you do order your Hot-Link Corn Dog, I highly recommend making sure you have a napkin and a drink nearby.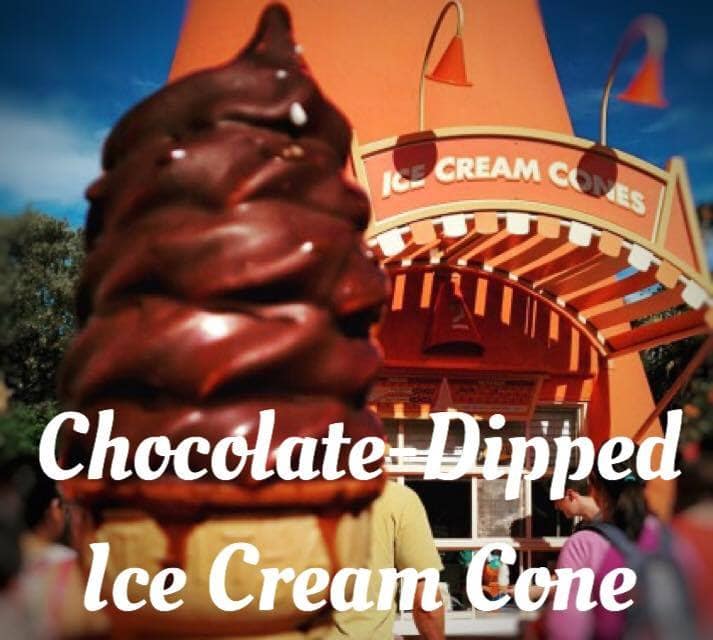 #4 Best Disney Snacks Chocolate Dipped Soft-Serve Ice Cream Cone
Also located in Disneyland's California Adventure park is the Chocolate-Dipped Soft-Serve Ice Cream Cone from Cozy Cone Motel in Cars Land. This cone is a must eat Disney snack at Disneyland! I love chocolate-dipped ice cream cones but the one from the Cozy Cone Motel is the best. Not only does ice cream make a visit to Disneyland that much better, but this ice cream cone is HUGE! The Cozy Cone Motel is also one of the cutest places to order food ever. You get to walk right up to a giant orange cone and order a cone! So cute. If you order this on a hot day, make sure that you eat quickly or have some help. You'll definitely need a napkin for this Disney treat!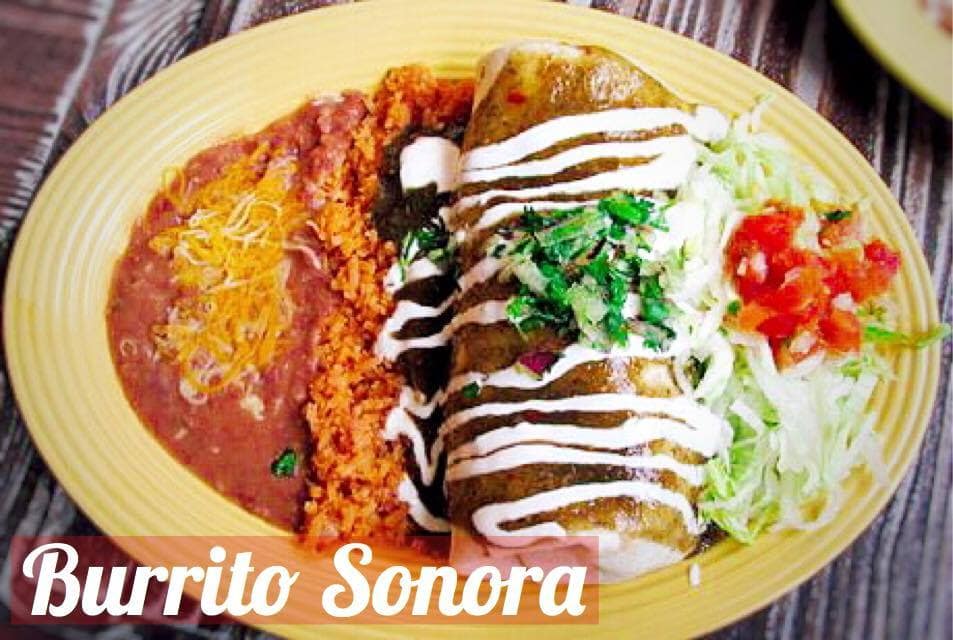 #3 Best Disney Meal Burrito Sonora
This is the only entree that made my top 5 list of best things to eat at Disneyland and it is because I eat the Burrito Sonora EVERY time I go. You can order this delicious burrito at Rancho del Zocalo in Frontierland or Cocina Cucamonga Mexican Grill at Disney's California Adventure. Here is the description from the menu: "with Refried Beans, shredded Cheese, Peppers and Onions topped with a traditional Guajillo Sauce served with Mexican Rice, Refried Beans, Pico de Gallo, Guacamole and Sour Cream." Sounds delicious, right? It totally is. It is a very large burrito and if you plan on riding more awesome rides after having this for lunch or dinner, I recommend that you share it with someone else. The Burrito Sonora is definitely one of my favorite meals at the Disneyland Resort and I love that you can get it in both parks.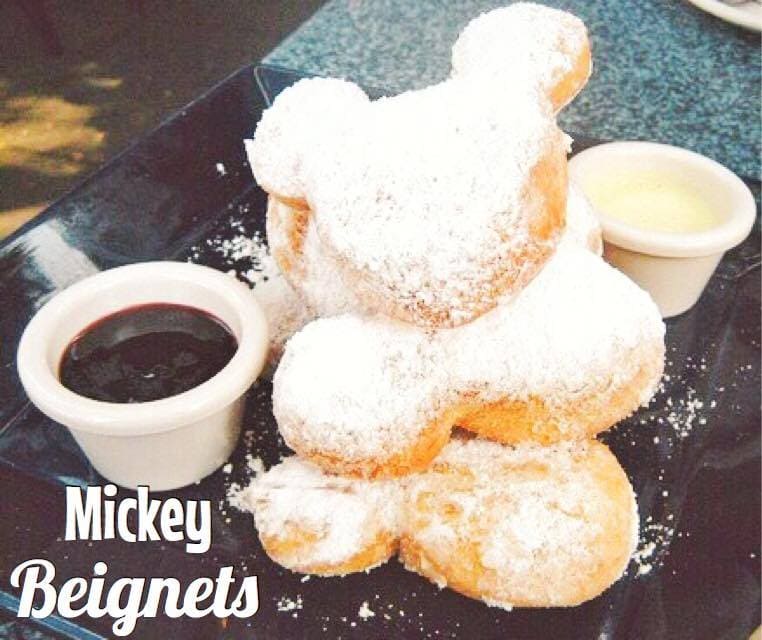 #2 Best Disney Snacks Mickey Beignets
If you haven't tried a beignet before. You. Are. Missing. Out. Beignets are a French doughnut. It is basically fried dough sprinkled with powdered sugar and it is delicious. They are a famous treat that you can get in New Orleans hence you can get them at Disneyland in New Orleans Square. The beignets you get at Disneyland are different though. These little goodies come shaped like Mickey Mouse! There is something about eating a snack in the shape of that famous mouse that makes it taste that much better. It is magical.
Make sure you stop by The Mint Julep Bar or Cafe Orleans located between Pirates of the Caribbean and The Haunted Mansion in New Orleans Square to get one of these delicious treats! They're ]not to hard to make at home either. Check out my recipe for Homemade Mickey Beignets and give them a try! They are totally worth it!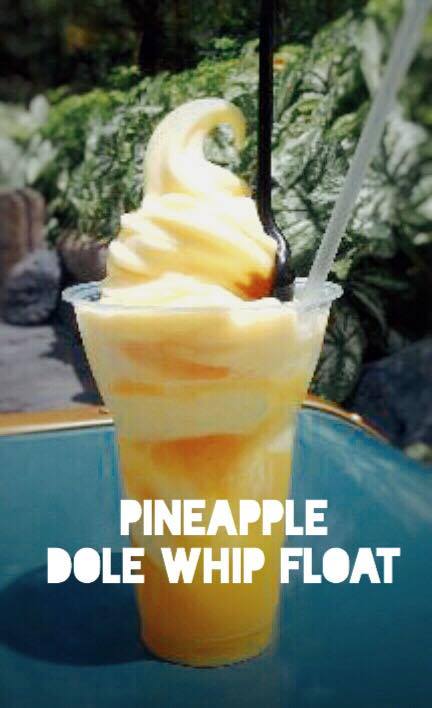 #1 Best Disney Snacks Pineapple Dole Whip Float
The Pineapple Dole Whip. It is legend -wait for it- dary. This is my all-time favorite snack/treat at Disneyland. I have been getting this treat since I was a little girl. It was always a tradition in my family to get one while we watched the bird show in the Enchanted Tiki Room. Now that I have my own family, it is still our tradition.
Growing up, the Pineapple Dole Whip Soft-Serve was our go to treat until we decided to venture out and get the float. The float is basically Pineapple Dole Whip Soft-Serve floating in a glass of Dole Pineapple Juice. Mind Blown. Once we tried that, we never went back. The juice and the soft-serve mixed together are pure heaven. The Pineapple Dole Whip Float is available at The Tiki Juice Bar located right outside the Enchanted Tiki Room.
A lot of people don't know that there are two lines at The Tiki Juice Bar. There is the main line and there is one inside the Tiki Room waiting area. Most of the time, the line on the inside is a little bit shorter and faster. You don't have to see the Tiki Room show to wait in that line, but why would you want to miss that classic Disneyland attraction?
Obviously, there are so many more snacks, entrees, beverages, desserts, etc. that are not on this list. This list is just my top Five Disney Snacks, Meals and Treats. I will definitely do more posts about what food is available at Disneyland and Disney World. I think I might need to take a trip to the parks to do some more research though (wink, wink).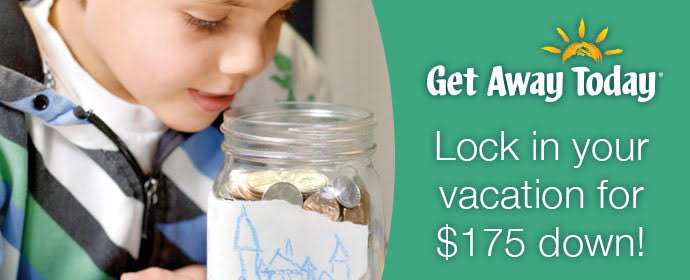 Savings at Disneyland
When I go to Disneyland, I always book through Get Away Today! They always seem to have deals and specials going on that will help save on the price of tickets and hotel rooms. Right now you can get a 5-Day Disneyland Resort Park Hopper Ticket for the price of a 4-Day ticket! That's a free day at Disneyland! As always, things can change so make sure you check Get Away Today's website for current deals. They are also a great source for saving money on the Disneyland Resort hotels as well as all of the Good Neighbor hotels in the area. You can use the promo code MommyMouse to save an extra $10 off any 2-night or longer Southern California package. (Hotel and 2 ticket minimum purchase to qualify for the discount)