Wondering what to bring along with you in your Disney backpack? I have a list of 10 things that you should never go into the Parks without!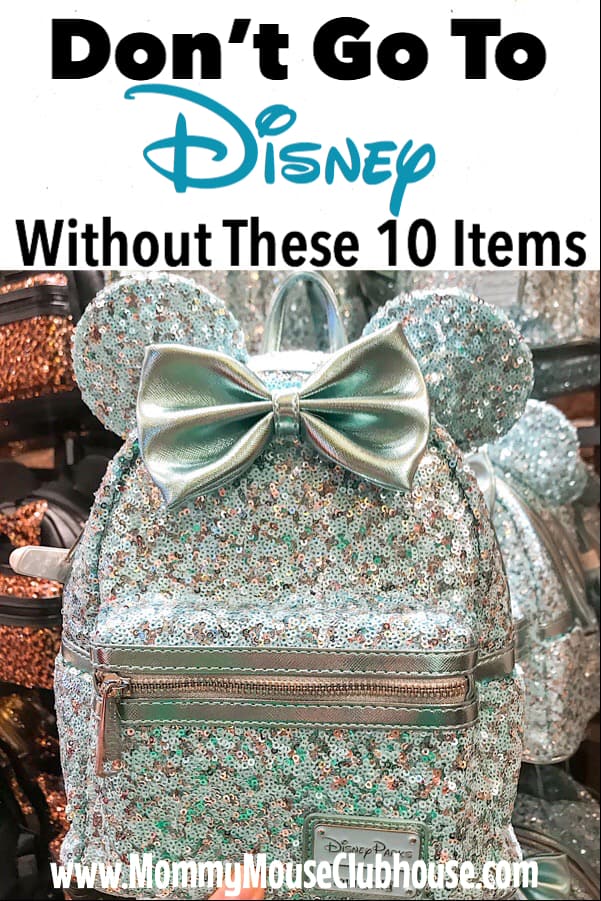 This post may contain affiliate links. When you click on these links, I get a small percentage back at no cost to you! For more information see my disclosure policy.
When visiting one of the Disney Parks, it's important to know what to pack in your park bag.
What is a Disney Park Bag?
If you're not familiar with the lingo, a park bag is the bag that you will carry with you into the theme parks themselves with all of the supplies you might need for you and your family.
What is the Best Disney Park Bag
Choosing which bag or backpack is right for you, will be different for each person. Are you traveling with babies or small children? Are your kids a little older? Or are you trying to pack light?
All of these things will determine which bag you'll want to choose.
The Best Diaper Bag for Disney
When I had babies, I really liked the Disney-themed bags from Petunia Pickle Bottom.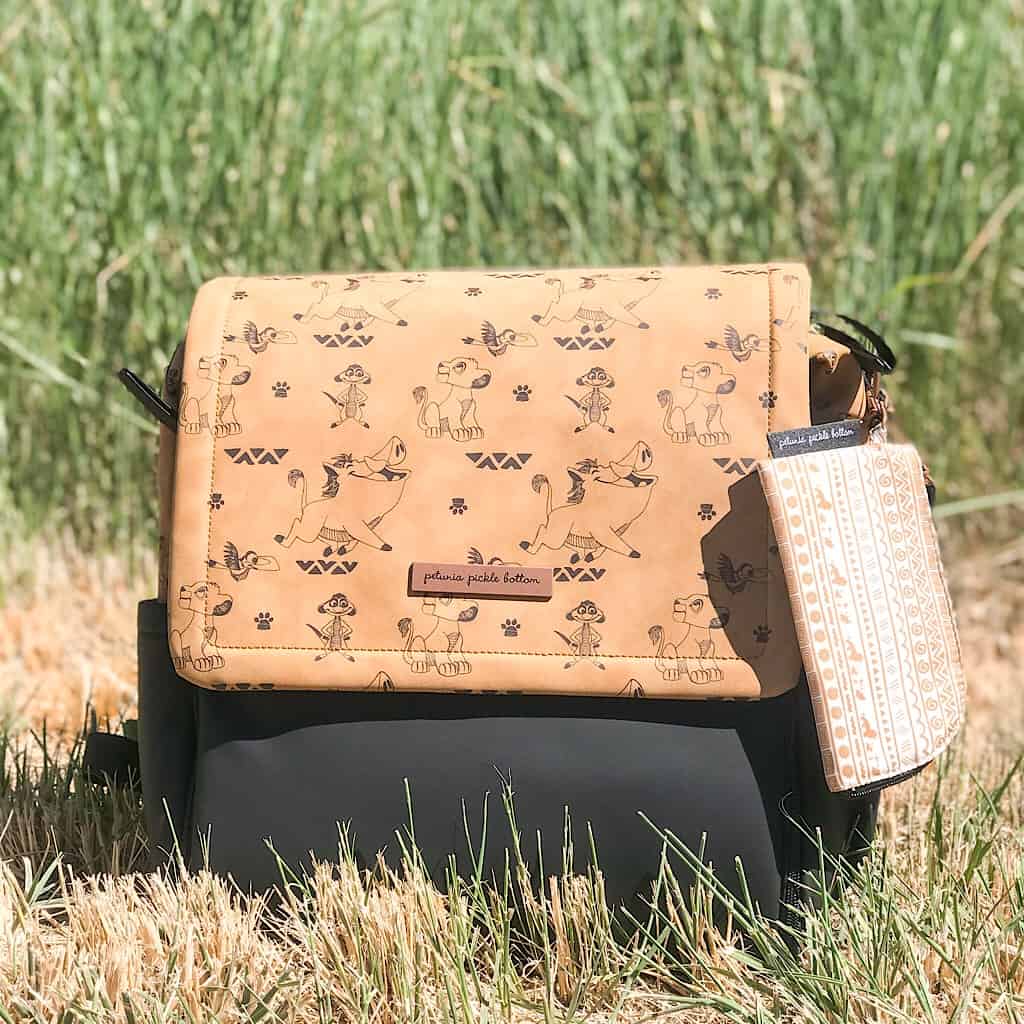 These bags are so roomy, have tons of pockets for organization, and have adorable Disney prints like Mickey Mouse and Lion King! Check out my full post on why I love this bag HERE.
They can easily be placed in the basket of a stroller or attached to the handles with one of these stroller hooks!
Get this Petunia Pickle Bottom Backpack Here
The Best Disney Backpack with Kids
Now that my boys are a little bit older, I have found that having a standard backpack with a lot of pockets is perfect for us.
Check out this charging backpack here.
We like to pack our lunch and some snacks while we are in the Parks. I love this backpack from Amazon because it is water resistant and comes with a portable charger! Check it out here.
Small Disney Park Backpack
My family and I go to Disney A LOT. There are times when I don't want to pack around a lot of stuff or that we won't be at the Parks all day, so I don't need a standard sized backpack.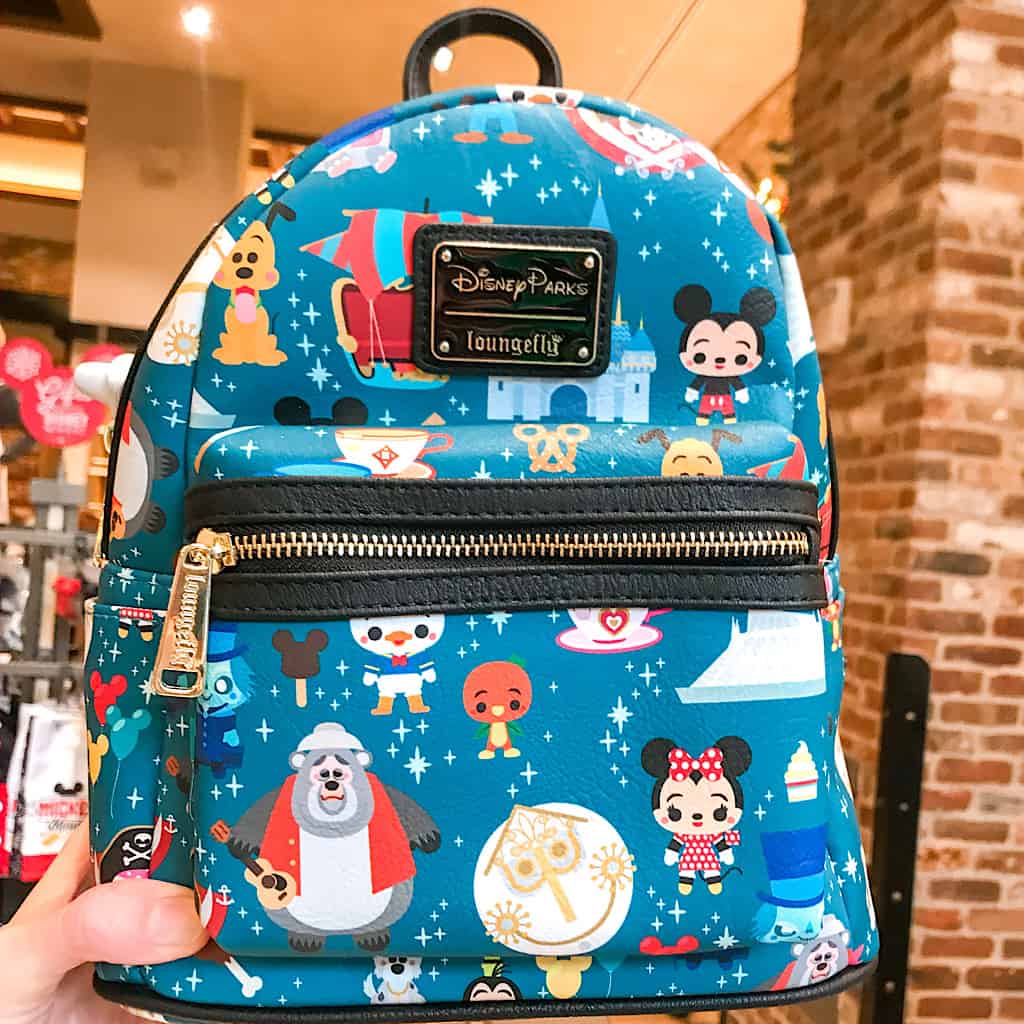 For days like this, I love the mini Disney-themed backpacks made by Loungefly.
They are just the right size to fit the absolute essentials. I also love that it is a backpack and not a purse, handbag, or crossbody bag. It's totally hands free.
You can see this Mickey Mouse mini backpack by Loungefly here.
This is important so that you will be able to hold all of your Dole Whips, Churros, and ice cream bars!
The items below are things I recommend you take into the parks. If you want a broader packing list for your entire trip, check out my list of items here.
What You Need in Your Disney Park Bag
Whether you are traveling with kids or without, these are things that are always a good idea to have on hand.
Find out how to get groceries delivered to you Disney resort here!
With all of the walking and traveling though, make sure you don't go overboard.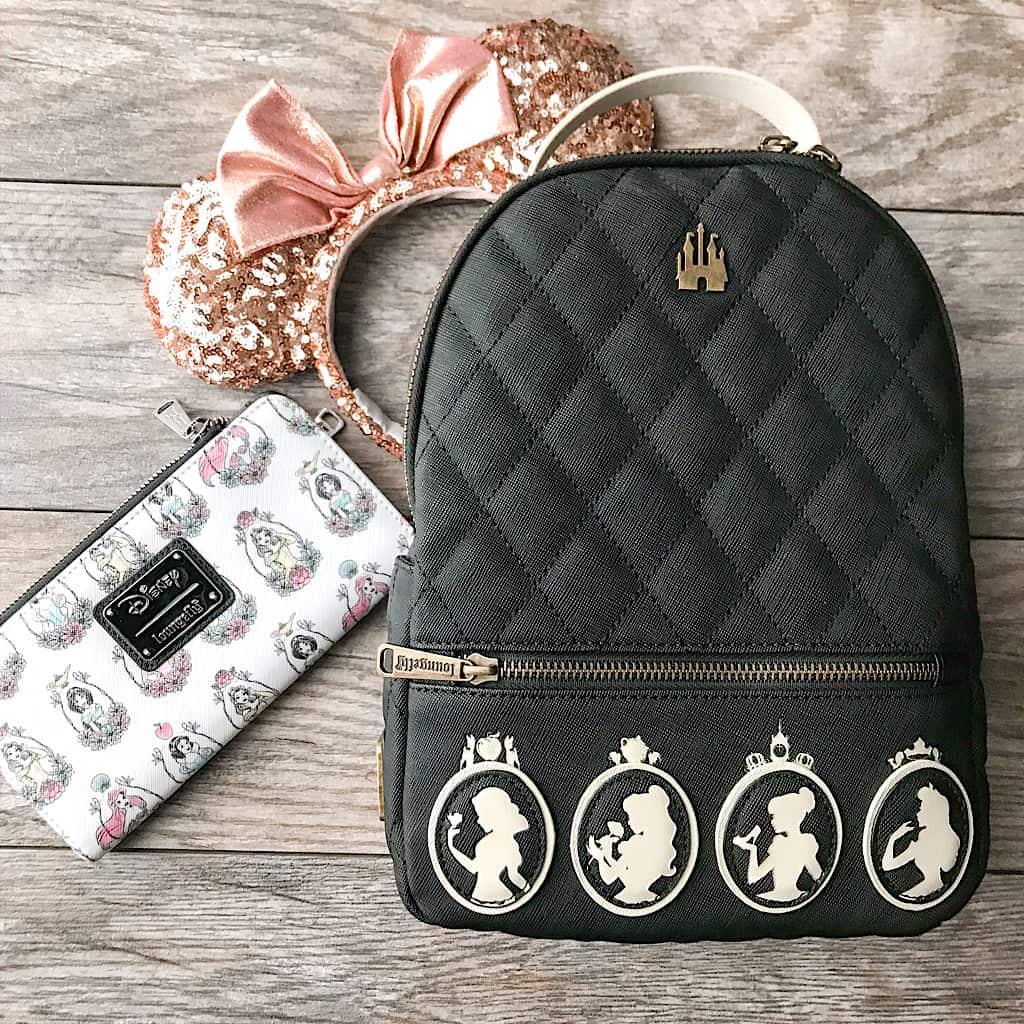 Below you will find items that I believe are essential to have in your bag as you tour a Disney Park.
1. Smart Phone
A smart phone is important to bring with you when visiting any Disney Park. Especially when visiting Walt Disney World, where using the My Disney Experience app is essential.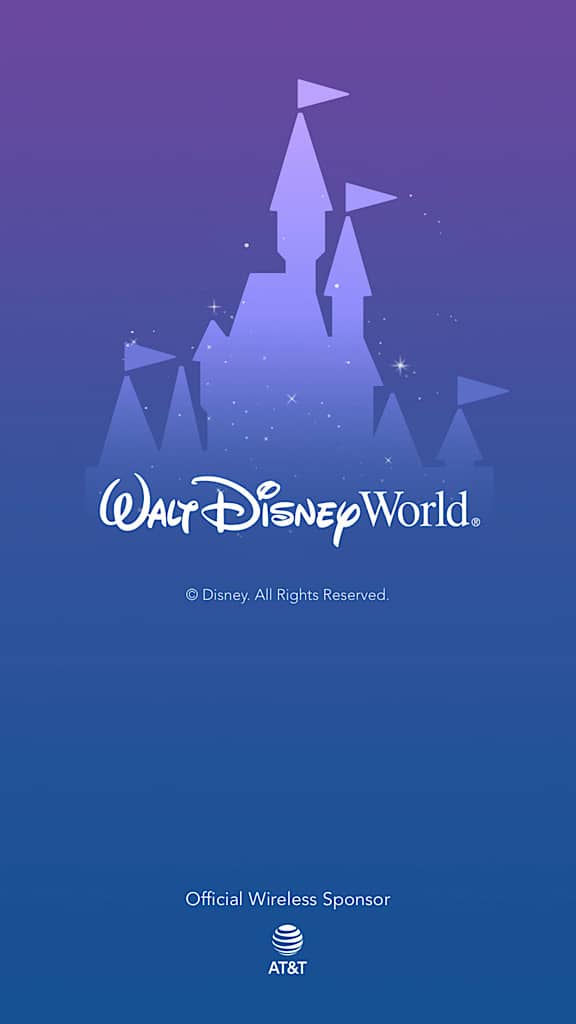 If you're going to Disneyland, you can download the Disneyland app. This app is very helpful, especially if you want to use the new MaxPass.
Read all about Disney MaxPass here.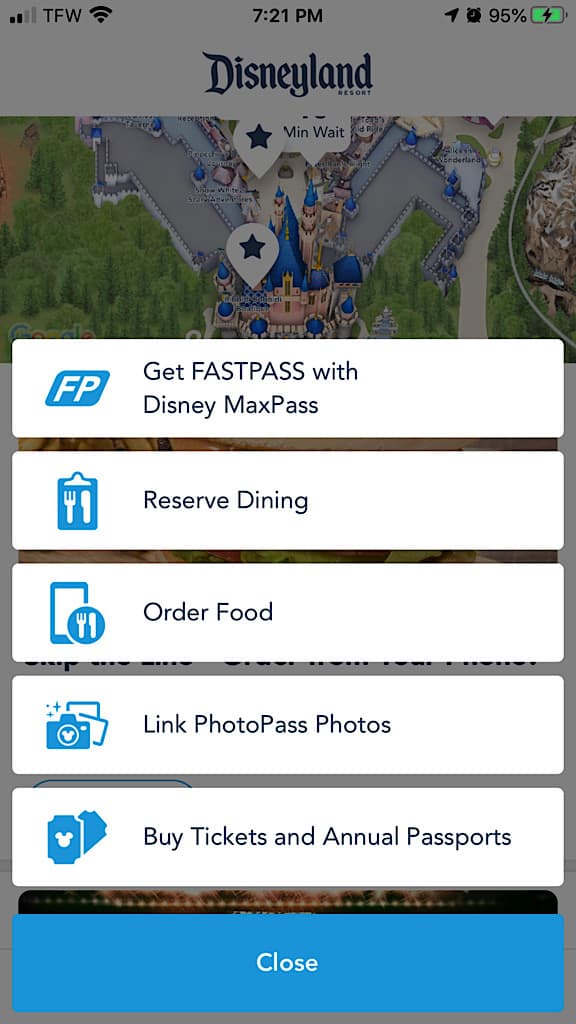 Both of these apps can be used to make FASTPASS reservations as well as dining reservations at your favorite restaurants. It's also great to check current wait times for attractions and shows.
A smart phone is great to keep in contact with other members of my group. Sometimes you might ride different rides and it is nice to be able to communicate when you're not together.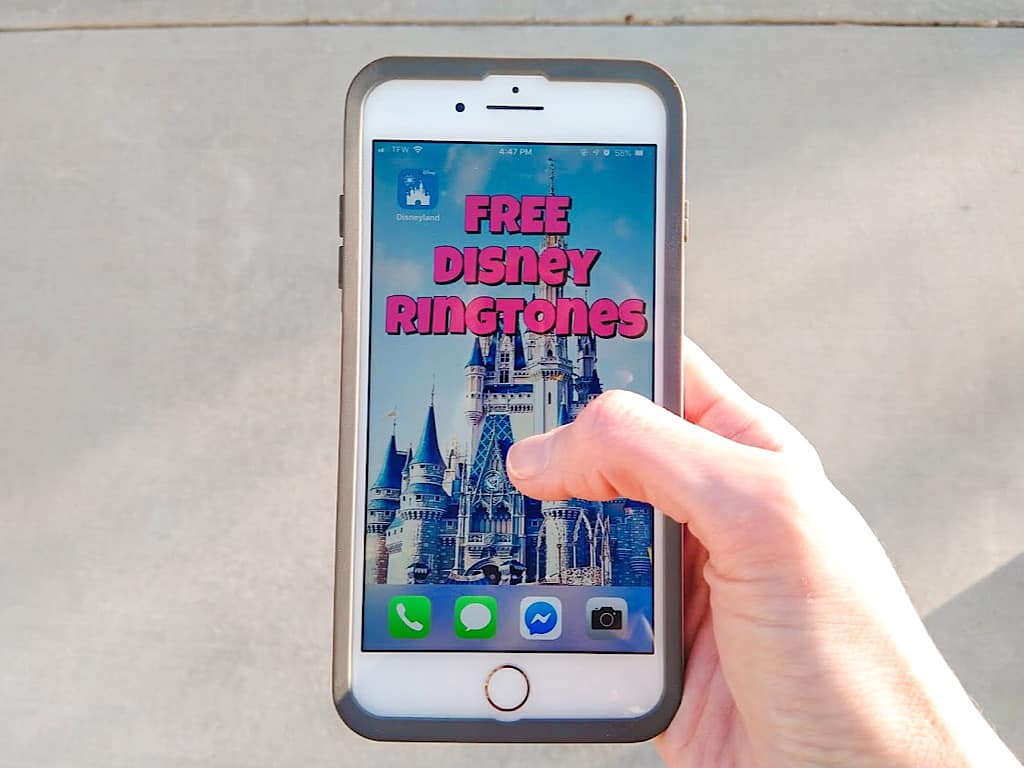 Find out how to get FREE Disney ringtones here.
If you are not taking a separate camera, make sure you know how to use your smart phone's camera. Now days, you can get amazing shots with an iPhone and many Android phones as well!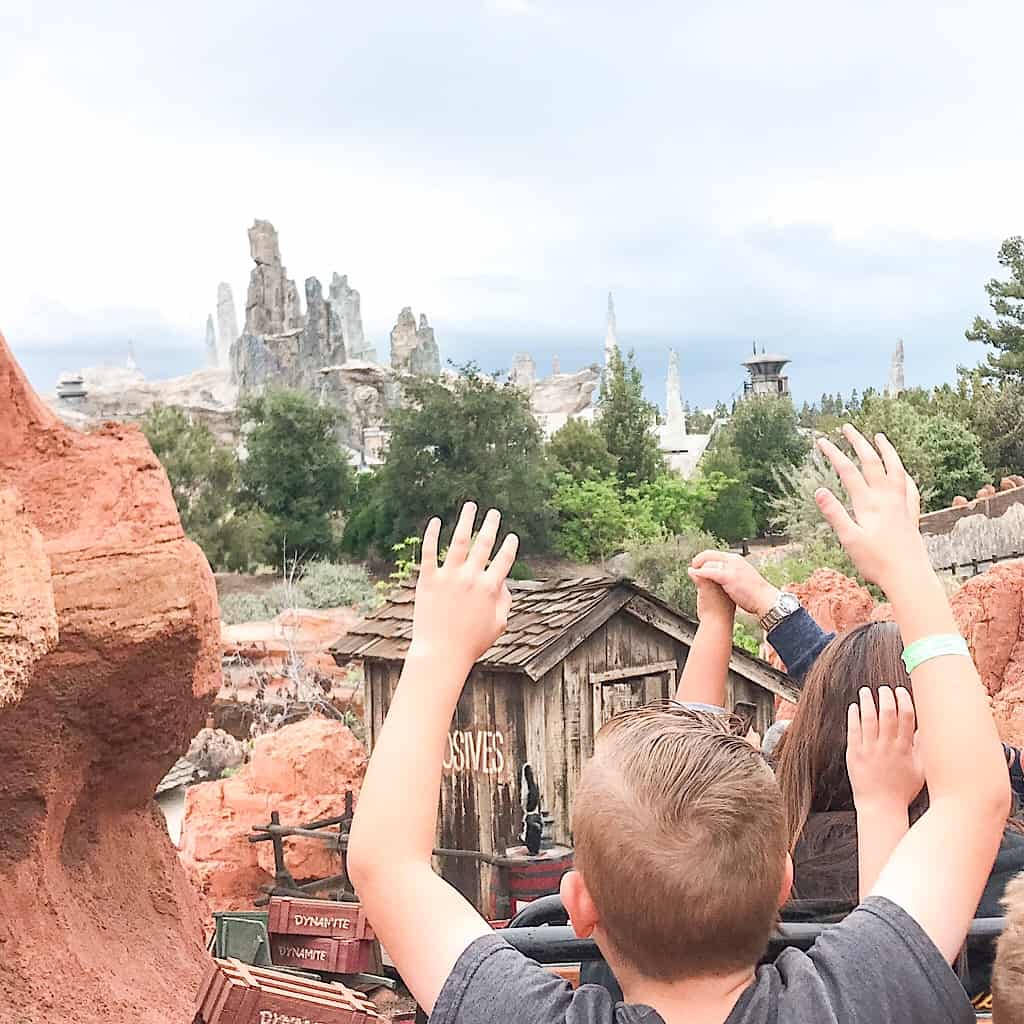 2. Portable Charger
With all of the uses for a cell phone and camera at Disneyland and Disney World, it's important to keep your phone charged!
This Anker PowerCore 10000 Power Bank is a great option. Check it out here.
Although there are a few select locations around the park that you can use to charge your electronics, I find it more convenient to carry a portable charger with me into the parks.
Portable chargers are nice because they are pretty compact and can help keep you connected no matter where you are in the park!
If you are in the market to purchase a portable charger, I recommend this one from Amazon.
3. Autograph Book & Marker
If you plan on meeting some of the amazing characters at a Disney Park, I suggest taking an autograph book.
Buy this Autograph Book on Amazon!
When greeting characters, it's fun for everyone to get a picture taken with their favorite characters.
Another great way to interact with the characters is to have them sign an autograph book.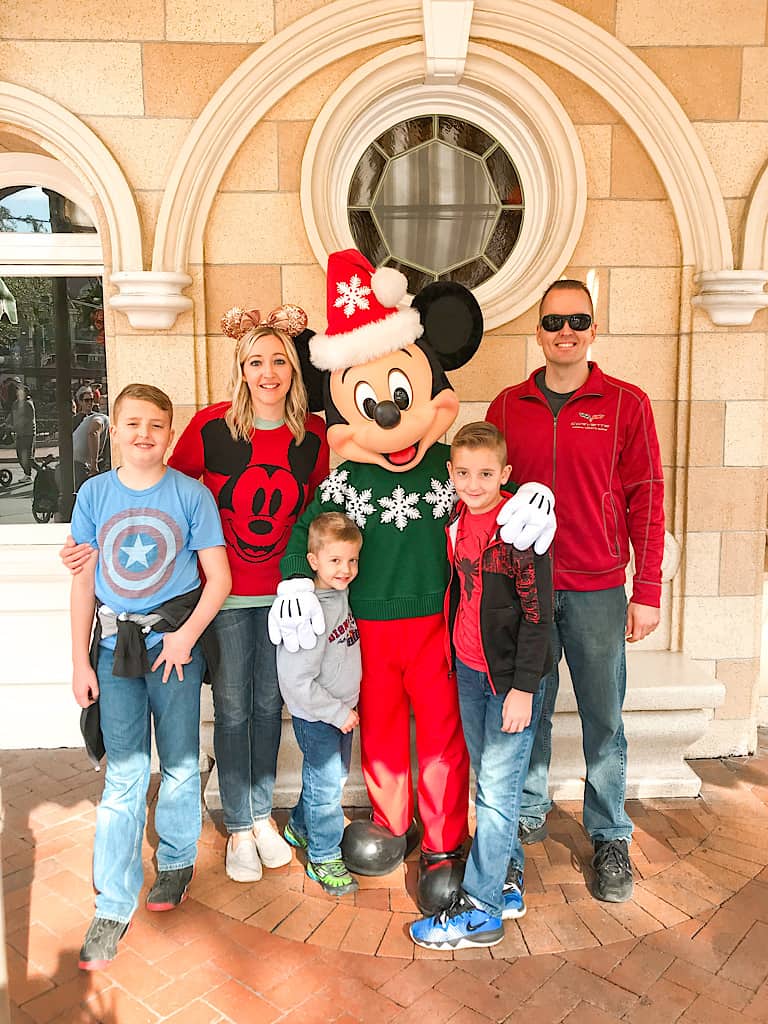 I've had many Cast Members tell me that the characters prefer to sign the books with a marker or Sharpie instead of a pen. It is easier for them to hold on to with their big hands!
4. ID, Cash & Credit Card
It's always good practice to have your ID with you at al times, even when visiting a Disney Park. You never know when you might need it.
Make sure you have some cash in your bag. Sometimes things come up and you might need a little cash for tipping or small items.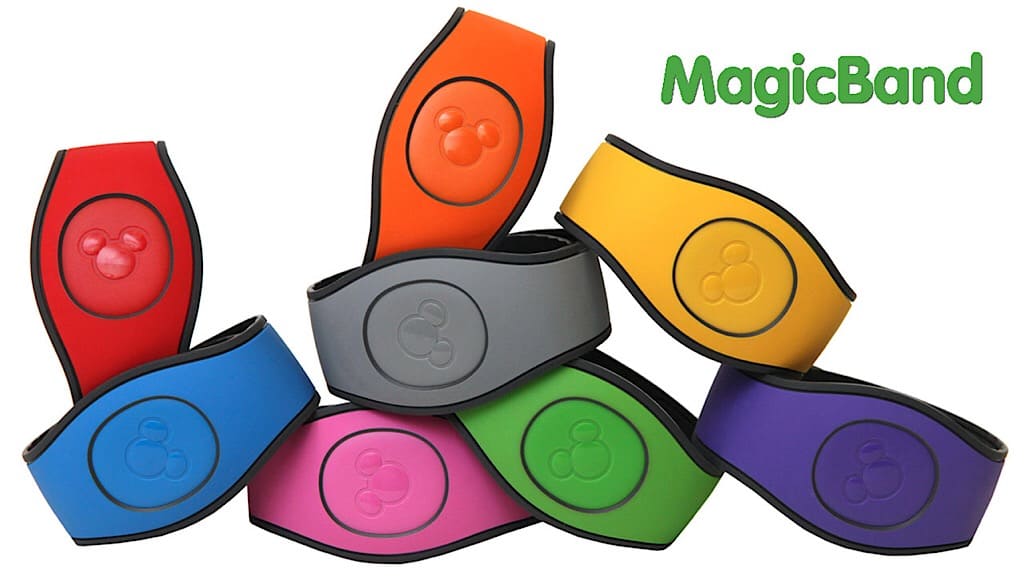 It's also a good idea to carry a credit card with you, even if you have a Magic Band. I like to have a different credit card than the one that is attached to Magic Band, just in case.
5. Zip Lock Bags
I can't even count how many times having a zip lock bag has come in handy for me at a Disney Park.
They are great when handing out snacks to your kids, saving leftovers from a meal or keeping your phone dry when riding on a water attraction.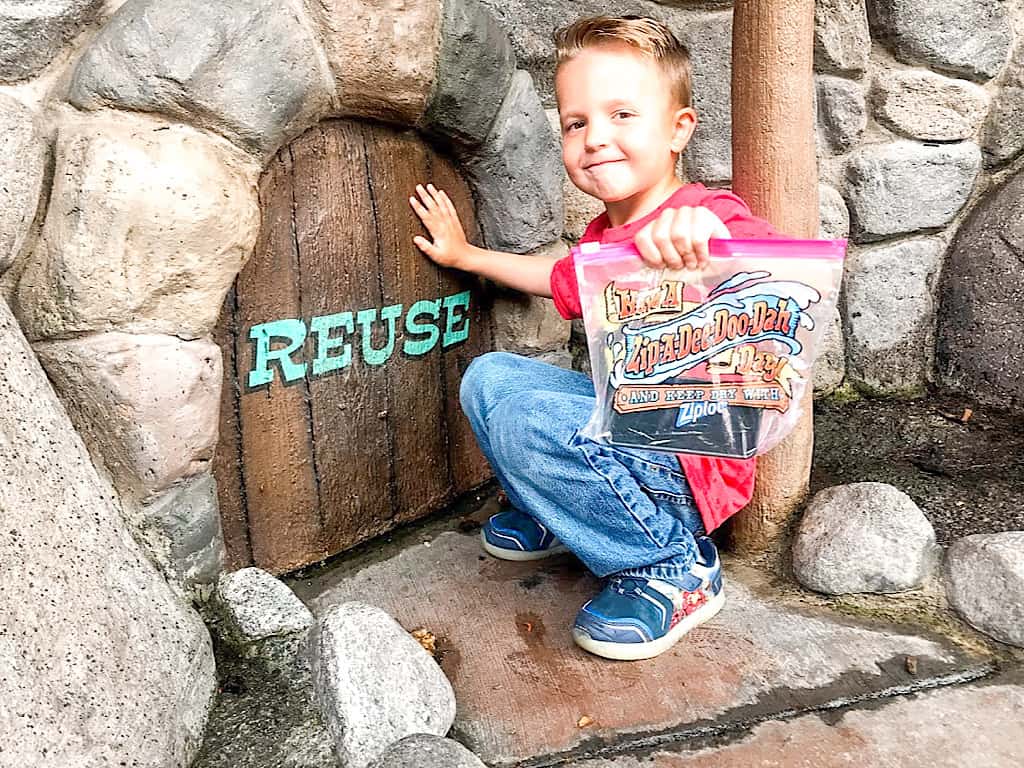 When I go into the parks, I usually grab a few gallon size, sandwich size and snack size. You can bring them from home or have them sent to your room.
This is what I did on our last trip and it saved so much room in my luggage! Check out my post How Amazon Can Save You Money at Disney to find out how to have these bags as well as snacks and other items, sent right from Amazon to your hotel!
6. Spray Fan
If you are planning a Disney vacation in one of the warmer months of the year, I highly recommend bringing along a spray fan.
On our last trip to Disney World, we ended up purchasing one at the parks after only being there for about 20 minutes. I forgot how hot and humid it can be!
Here is a cute Mickey spray fan for half the price of the one at the Parks!
Save yourself a few bucks and bring a spray fan or two with you from home. They can easily be refilled to keep you cool while standing in line or waiting for a parade.
7. Umbrella & Ponchos
It's always a good idea to bring an umbrella or two and some ponchos along with you to Disneyland and Disney World.
I have been at both parks when there has been a lot of rain. Boy was I glad that I had both.
You can find this adorable Mickey Mouse poncho on Amazon here.
Even if rain isn't in the forecast, things can always change.
If the Disney Park you are visiting has a water ride like Splash Mountain at Disneyland and Magic Kingdom or Kali River Rapids at Disney's Animal Kingdom, ponchos are a great thing to have.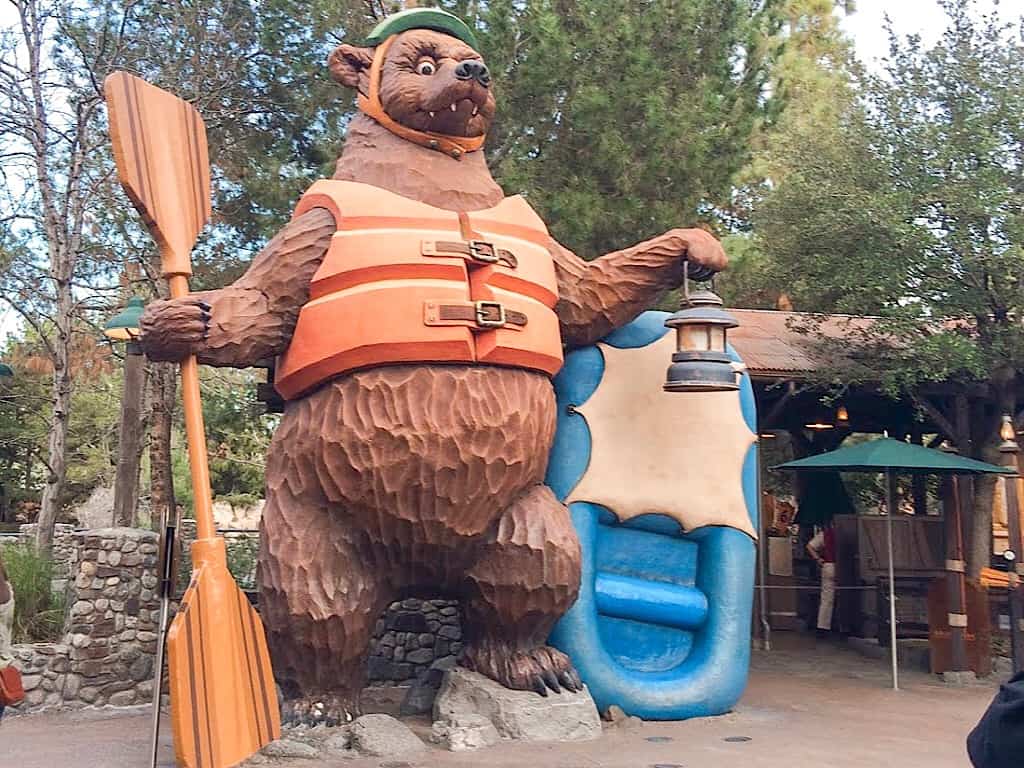 If you or your kids are like me, I don't like getting wet so a poncho allows me to stay dry and still enjoy the ride.
8. Sun Protection
I can't stress enough how important it is to be prepared with sun protection, including: sun block, sunglasses and a hat.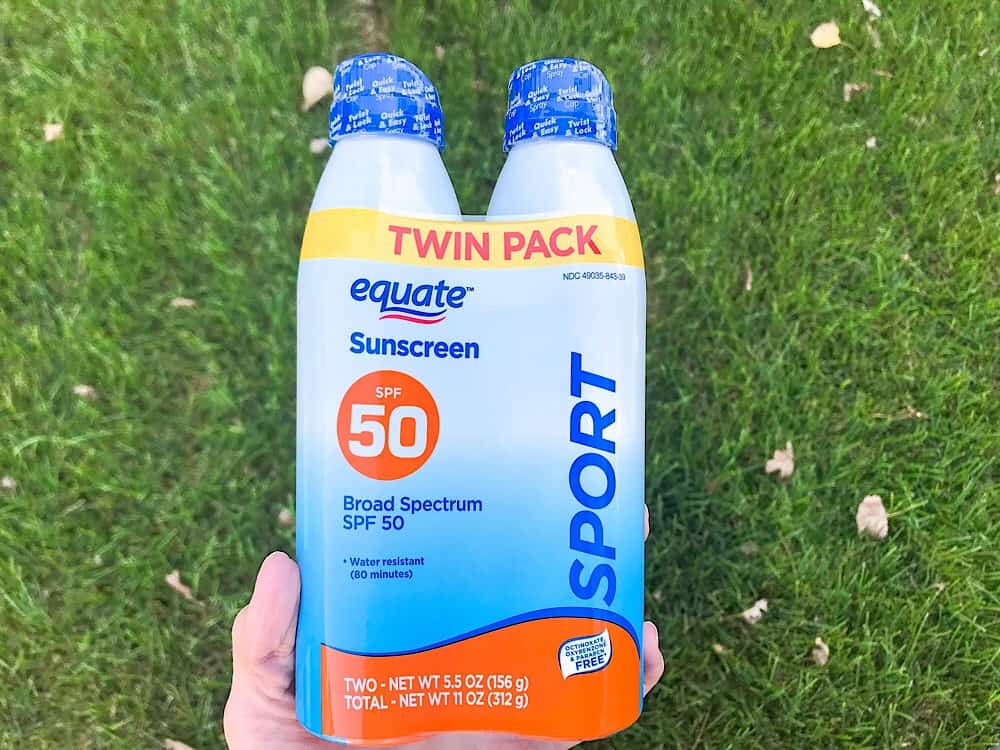 The sun in California and Florida can really beat down on you when visiting the parks. You don't want your magical vacation ruined by a sunburn!
9. Hand Sanitizer
With all of the thousands of people who visit Disney Parks each day, having some hand sanitizer handy is a MUST. Especially with little kids who are always putting their hands in their mouth!
Get a case of travel hand sanitizer here!
I definitely recommend having a small travel sized hand sanitizer in your park bag when you visit a Disneyland and Walt Disney World.
10. Snacks
It's important to not let yourself get hungry when you are on a Disney vacation. There are so many yummy treats and snacks available at the parks, but if you are not using the Disney Dining Plan, they might not be in your budget or convenient to get to.
Get Mickey Mouse Goldfish Crackers HERE.
Try taking some granola bars or trail mix along with you in your park bag. That way you'll be prepared between meals when hunger strikes and will help keep you and your kids happy!
I like to stock up on snacks using Amazon Prime Pantry and have them all sent to our hotel. That saves on space in our suitcase and our snacks are usually waiting for us when we arrive!
Disney Vacation Savings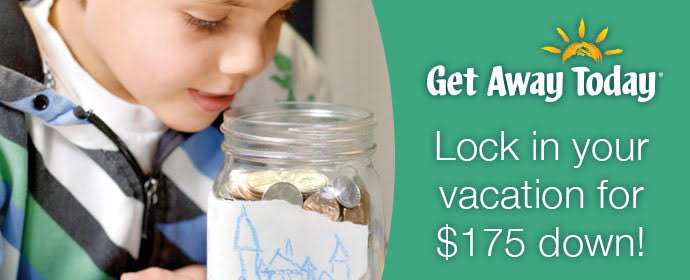 Find out about the Layaway Plan HERE!
If you would like to save money on your next trip to Disneyland or Walt Disney World, my friends at Get Away Today will be able to help you plan an awesome vacation!
My family has been booking our Disney vacations through with them since I was in junior high.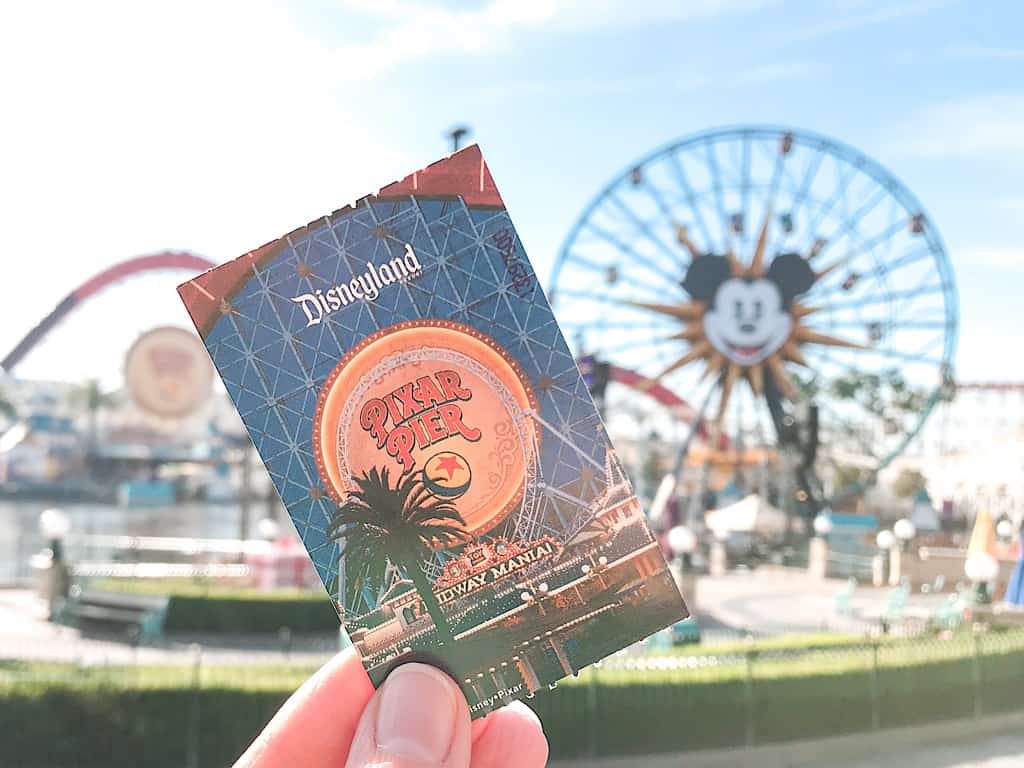 Their customer service is amazing and ticket prices are usually a few dollars cheaper than Disney gate prices.
Disneyland
Get Away Today is almost always running some kind of special on Disneyland tickets and hotel rooms.
And you can book without worry when you use their Peace of Mind Plan and Layaway Plan!
Get Discount Disneyland Tickets HERE!
If you book a 2-night or longer Southern California vacation package including hotel and tickets, you can use the promo code MommyMouse at checkout to save an extra $10 in addition to sales and discounts.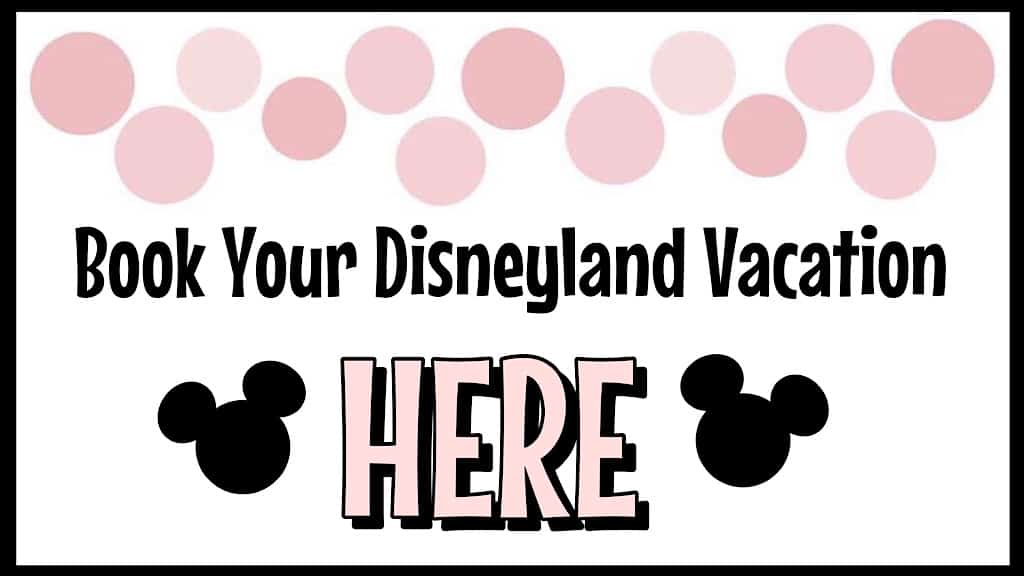 Walt Disney World
If a trip to Disney World is in your future, they can also help you plan an amazing vacation to "The Most Magical Place on Earth!"
Get Discount Disney World Tickets Here
Their customer service is THE BEST and they offer deals like: discounts on rooms, free dining and more!
Visit getawaytoday.com to get a FREE Disney World vacation quote or give them a call at 855-GET-AWAY for current deals!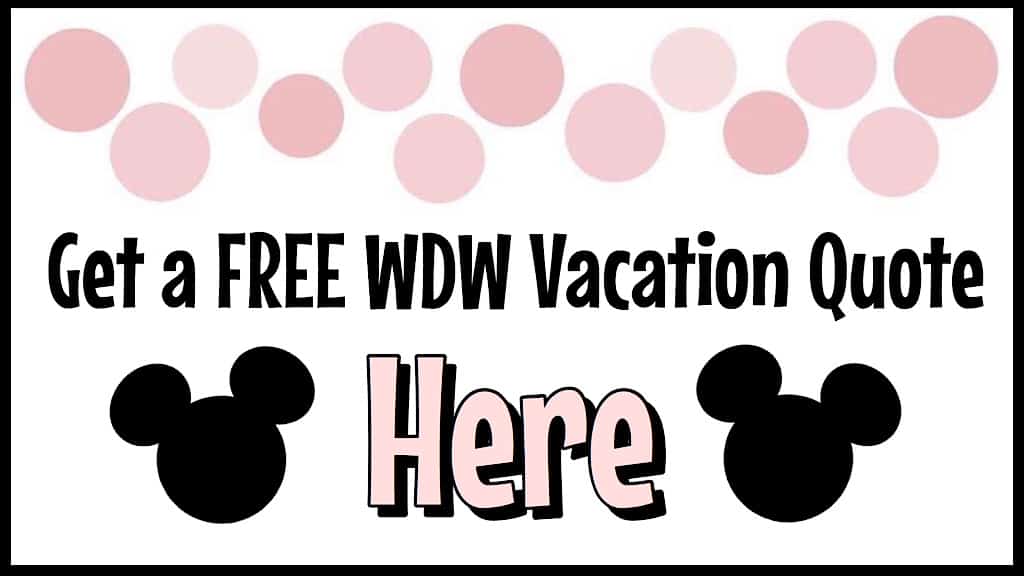 I hope that this list of Disney Park Bag essentials will help you be prepared for your Disney vacation.
There are many more things that you could add to your bags. Just make sure you don't over stuff your bag or make it super heavy.
Don't forget to Pin this list so that you will be prepared on your next trip! Also, check out my other Disney World and Disneyland tips!
Watch the video here: