So the question on everyone's mind is "is it worth visiting Disneyland in January?" The answer depends on who you are and why you're visiting. There are some pros but also cons that come with this decision. I'm going to give you everything you need to know about visiting Disneyland in January from weather, to what to wear, to help you have an amazing time!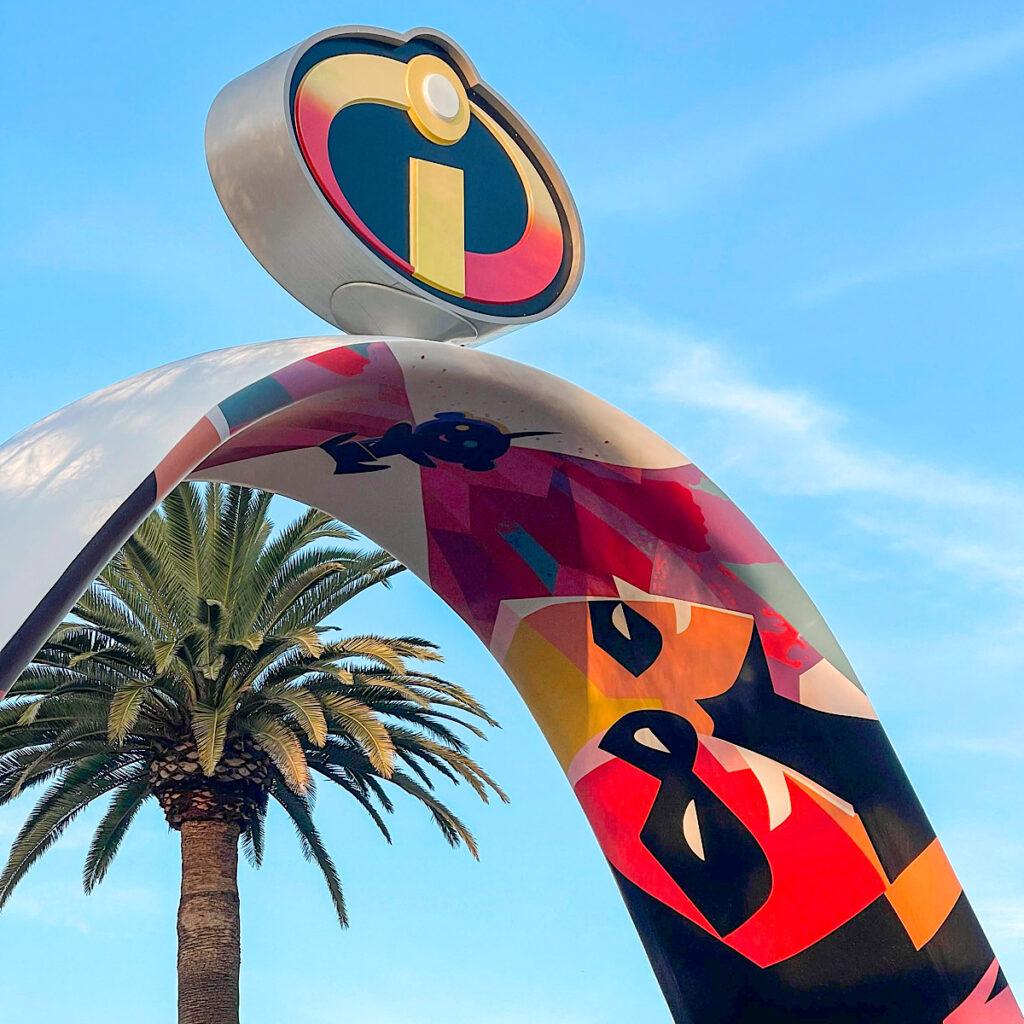 This post may contain affiliate links. When you click on these links, I get a small percentage back at no cost to you! For more information see my disclosure policy.
If you are reading this article, it must mean that you want to go to Disneyland in January. Yay! I'm so excited for you.
There is nothing more magical than a Disney vacation. Disneyland is one of my favorite places in the world! There is so much to see and do.
January can be an amazing time to go to Disneyland. Below, you will find tips and tricks that will help you prepare for what it will be like during January.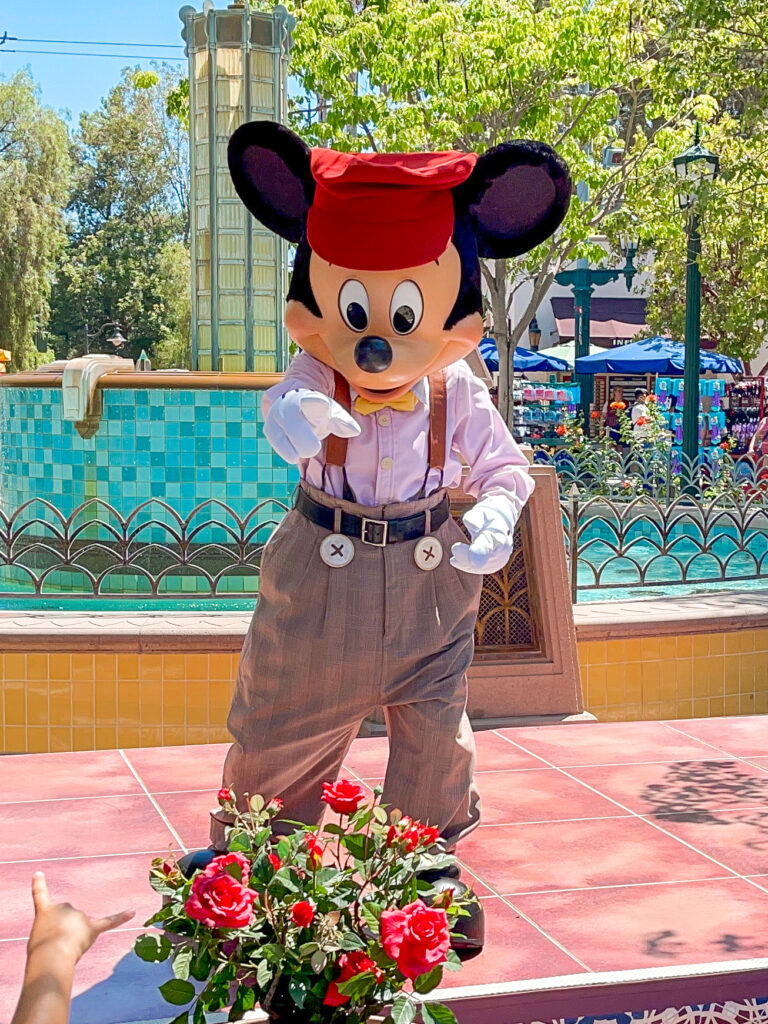 How to Get Discount Disneyland Tickets and Hotel Rooms
Disneyland vacations are EXPENSIVE. But, there are a few things you can do to save some money. You can stay in an off-site hotel, save money on food by bringing your own snacks into the park, and purchasing lower-priced souvenirs ahead of time.
In fact, you can check out my tips for going to Disneyland on a Budget here.
If you are looking to save some money on tickets and hotels, I recommend checking out my travel partner, Get Away Today.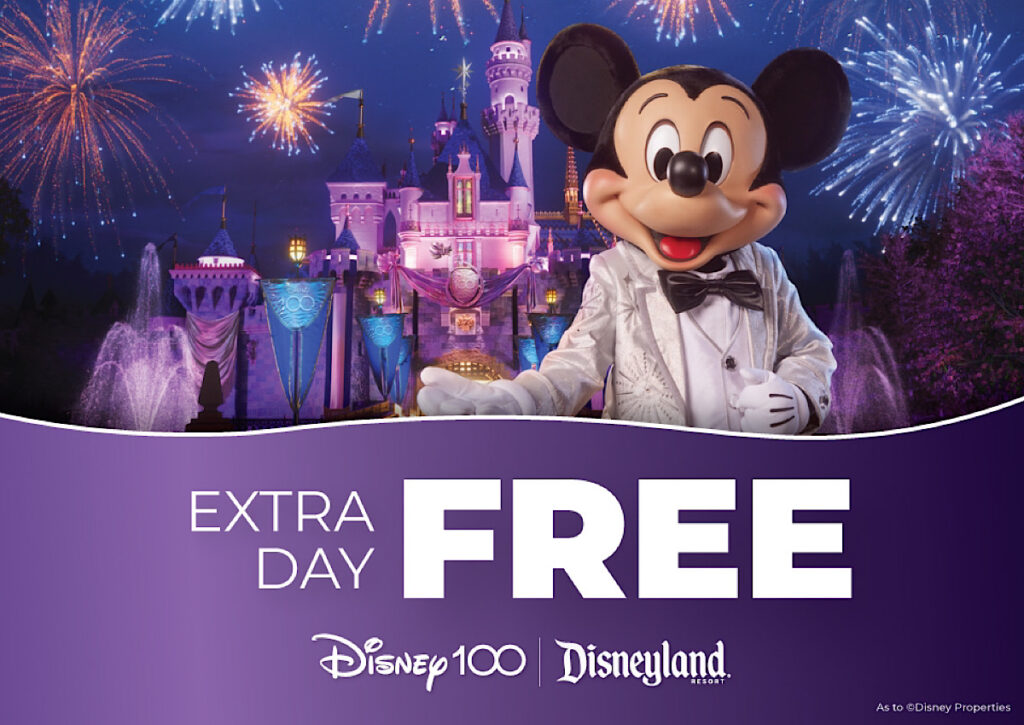 To celebrate Disney100, you can get an EXTRA DAY FREE when you purchase tickets from Get Away Today. Combine this deal with a hotel stay and use code: Clubhouse10 to save even more!
They have been working directly with Disney for 30 years to give their customers the best prices, and their ticket prices are cheaper than buying directly from Disneyland!
They also work with many hotels around Disneyland and can sometimes offer 3rd or 4th nights free at certain properties. I recently toured 8 different hotels around Disneyland within walking distance that you can check out here.
If you book a vacation package that includes at least a two-night hotel stay and theme park tickets, you can save even more by using the Get Away Today coupon code: Clubhouse10 to save even more!
Click the button below to check out hotel and package prices or give them a call at 1-855-GET-AWAY and let them know that Mommy Mouse Clubhouse sent you!
Disneyland in January
The Disneyland Resort a very popular destination during the Holiday season and these crowds tend to hangover into January as well. The beginning of January is a great time to still experience the holiday decorations at Disneyland with fewer people than December.
If you're considering visiting a different month, read my tips for Disneyland in December and January and every month here!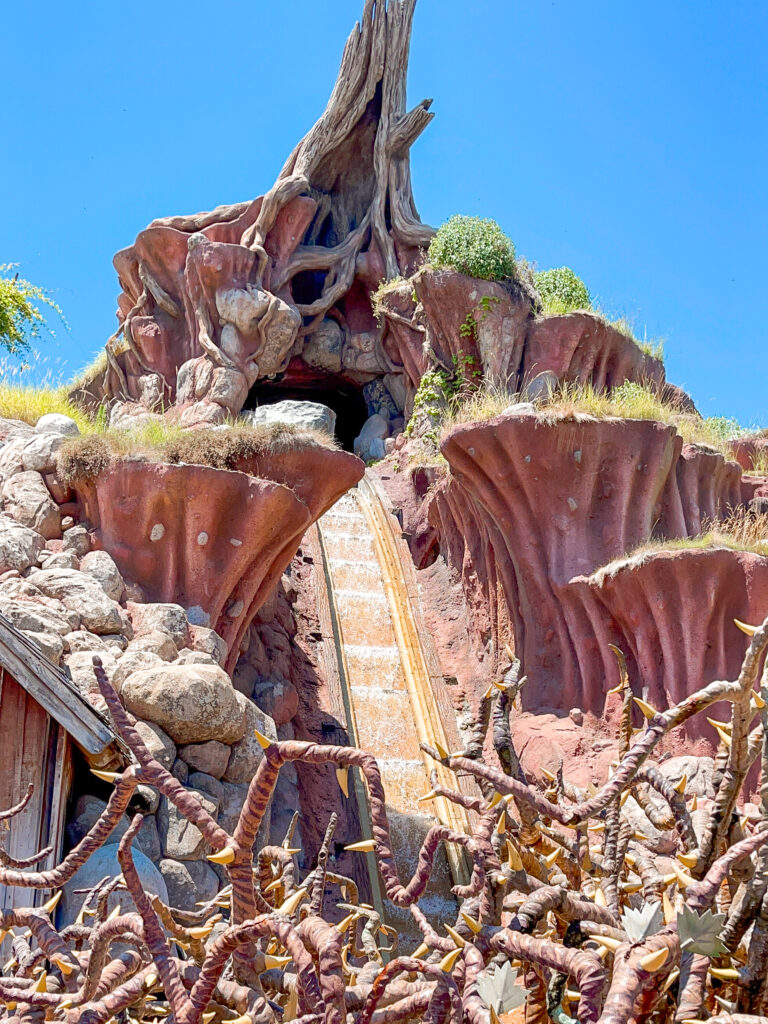 Is Disneyland Crowded in January
Some of the schools in Southern California are still on their holiday break through the beginning of January which usually means larger crowds than toward the end of the month.
If you want to visit early in the month, I have some tips on how to navigate through crowds and still enjoy your time at The Happiest Place on Earth.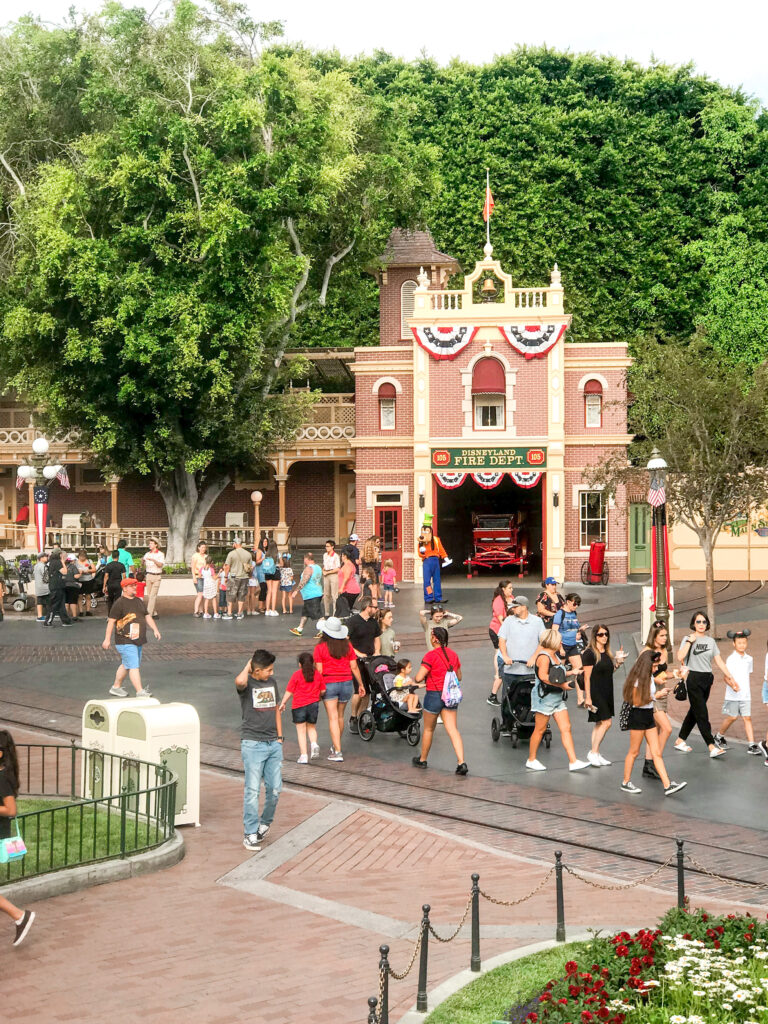 What to do if Disneyland is Crowded
Here are some tips that will help maximize your time and fun on busy Disneyland days.
Get to the Parks Early
You can get so much done, and have so much fun, just by getting to Disneyland early. In Disney lingo, this is called "Rope Drop". Plan to arrive 20-30 minutes before the park opens and you can experience so many attractions before the crowds arrive.
If you stay at one of the on property Disney hotels, (Disneyland Hotel, Disney's Grand Californian Hotel & Spa, Disney's Paradise Pier Hotel) you get the perk of entering the park 30 minutes before everyone else, which can really give you a great head start for busy attractions before the lines get long! Read my review of the Disneyland Hotel here.
You can enjoy shorter wait times on attractions, way less lines at the food carts, and you might even be able to see a few characters on your way into the park.
Use Disney Genie & Disney Genie+
Disney Genie is a really cool new ride-reservation tool that is available to all guests. This service will be able to help you create a personalized itinerary that will maximize your time at both Disneyland and Disney California Adventure Park.
Genie+ is a paid service that will work similar to the former Disney MaxPass where you can make ride reservations through the Disneyland app. Guests will be able to purchase this service for $20 per person per day. Read more about Disney Genie and Disney Genie+ here. Buy tickets with Genie+ here.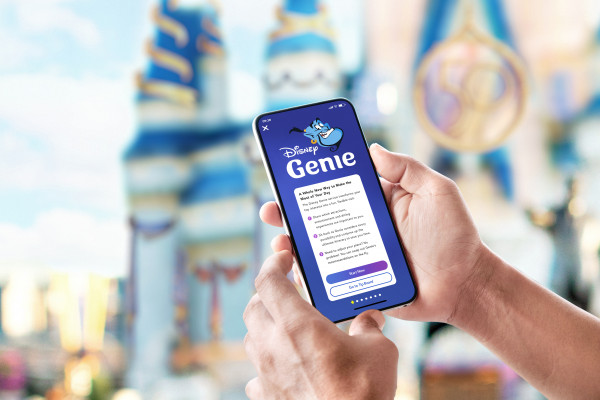 Disneyland Weather in January
The average high temperatures at Disneyland in January are usually between the upper 60s and low 70's. The cold is also strong with lows typically hanging around 40 degrees Fahrenheit during this time of year, so you might want pack an extra layer! As you get closer to your vacation, check here for up-to date weather conditions.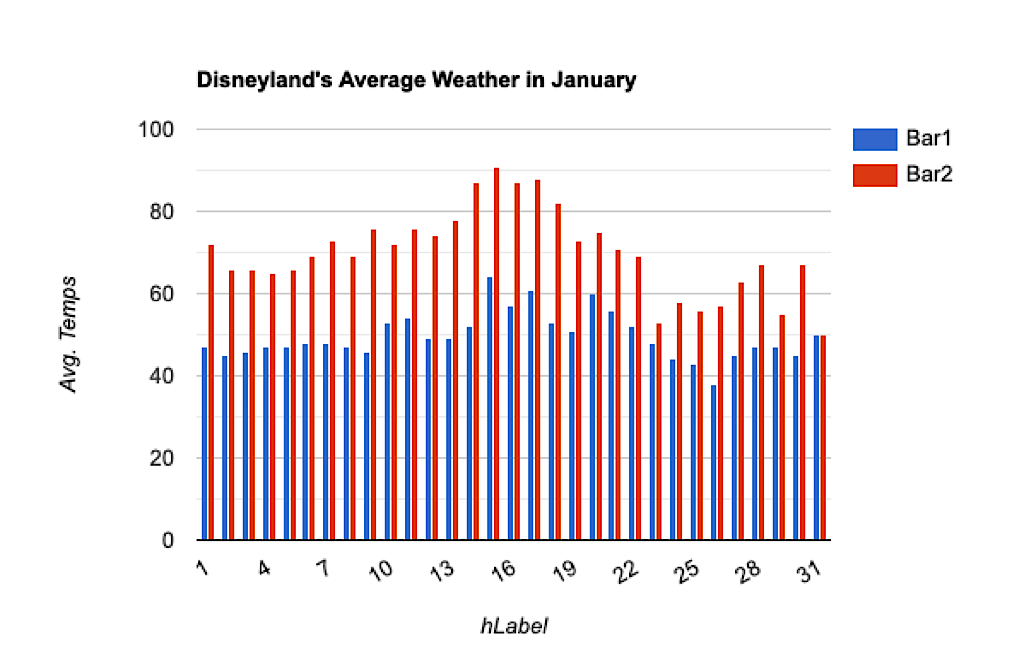 What are Disneyland's Hours in January?
Below are the projected operating hours for Disneyland Park and Disney California Adventure Park in January.
For a current schedule of the day you plan to visit, check Disneyland's website.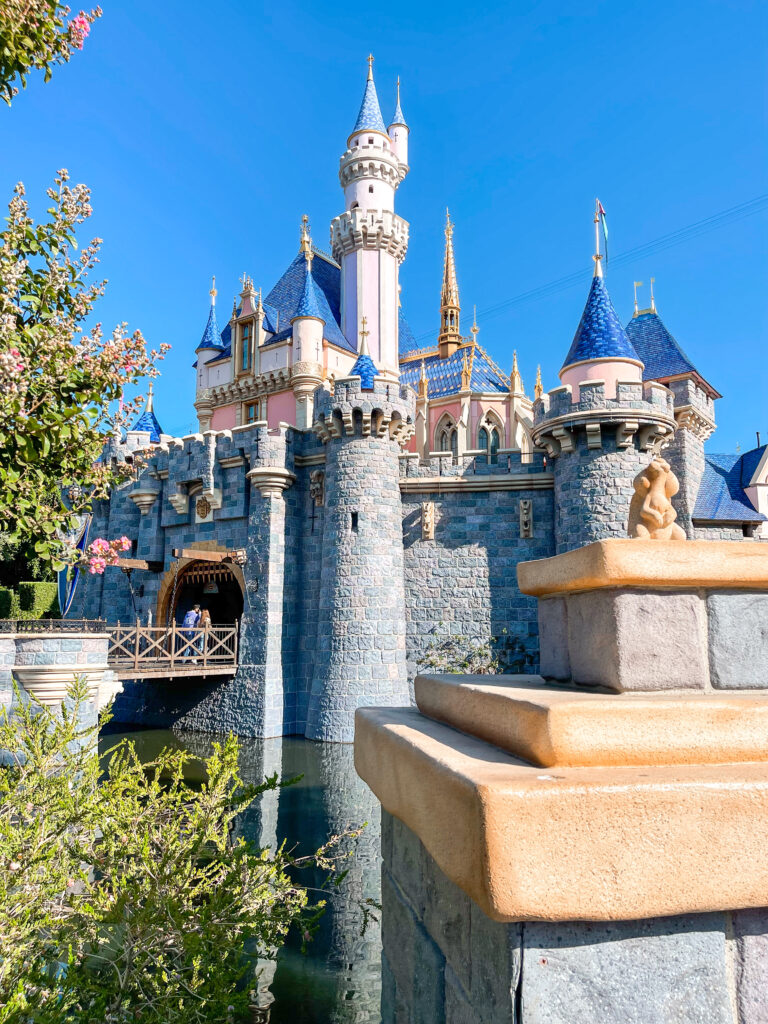 Disneyland
Monday – Thursday
Opens at 8:00 am or 9:00 am
Closes at 8:00 pm or 9:00 pm
Friday – Sunday
Opens at 8:00 am or 9:00 am
Closes at 11:00 pm or Midnight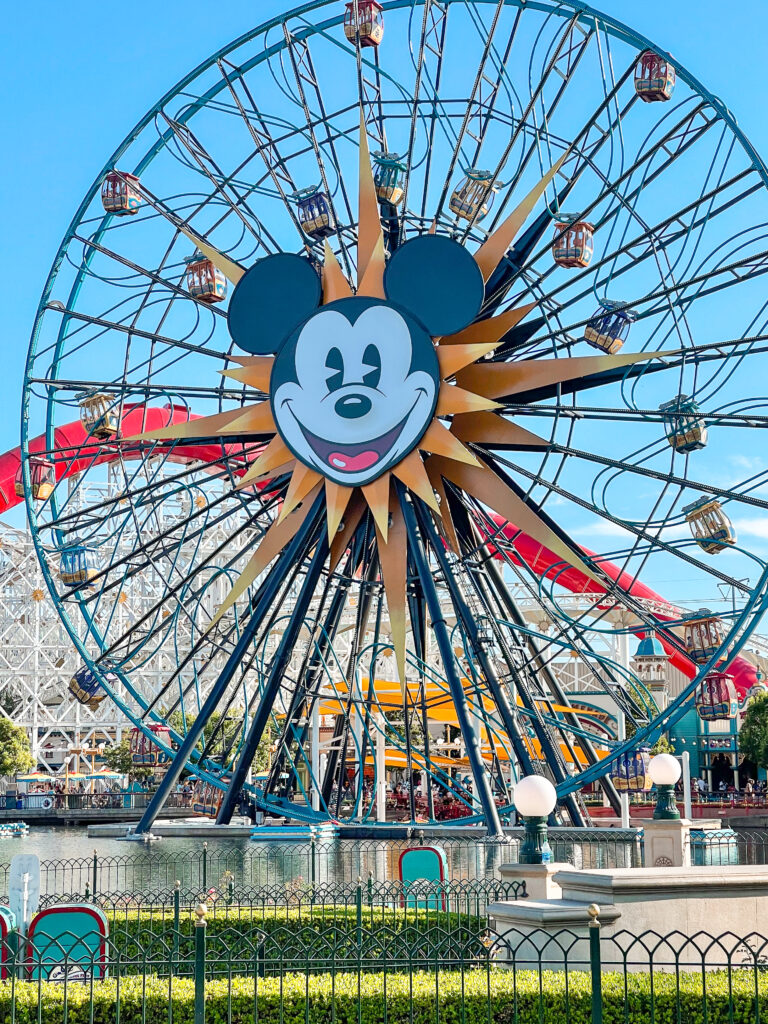 Disney California Adventure Park
Monday – Thursday
Opens at 8:00 am or 9:00 am
Closes at 8:00 pm or 9:00 pm
Friday – Sunday
Opens at 8:00 am or 9:00 am
Closes at 9:00 pm or 10:00 pm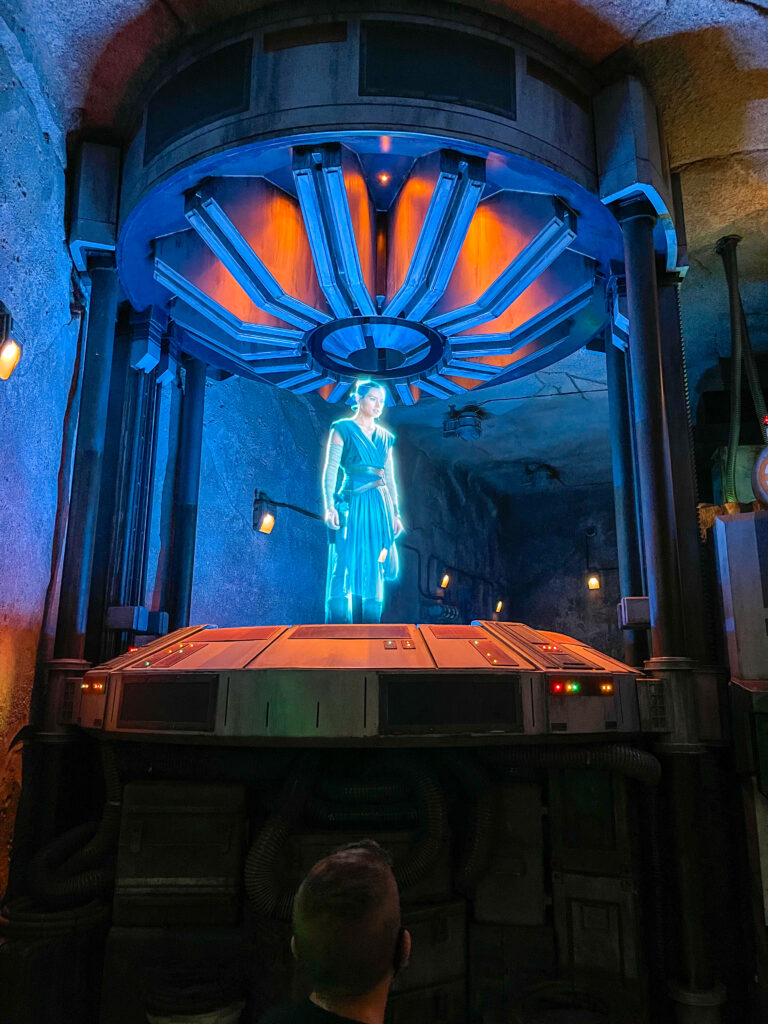 Ride Closures at Disneyland in January
Disneyland has a great reputation for taking pride in their parks and attractions. This means that they are always looking to refresh or refurbish some of the rides across both locations, which is why you'll often find them closed off during certain times throughout this slow season (January).
You can stay up-to date on all downtime closures by checking Disneyland's website one or two months ahead of time.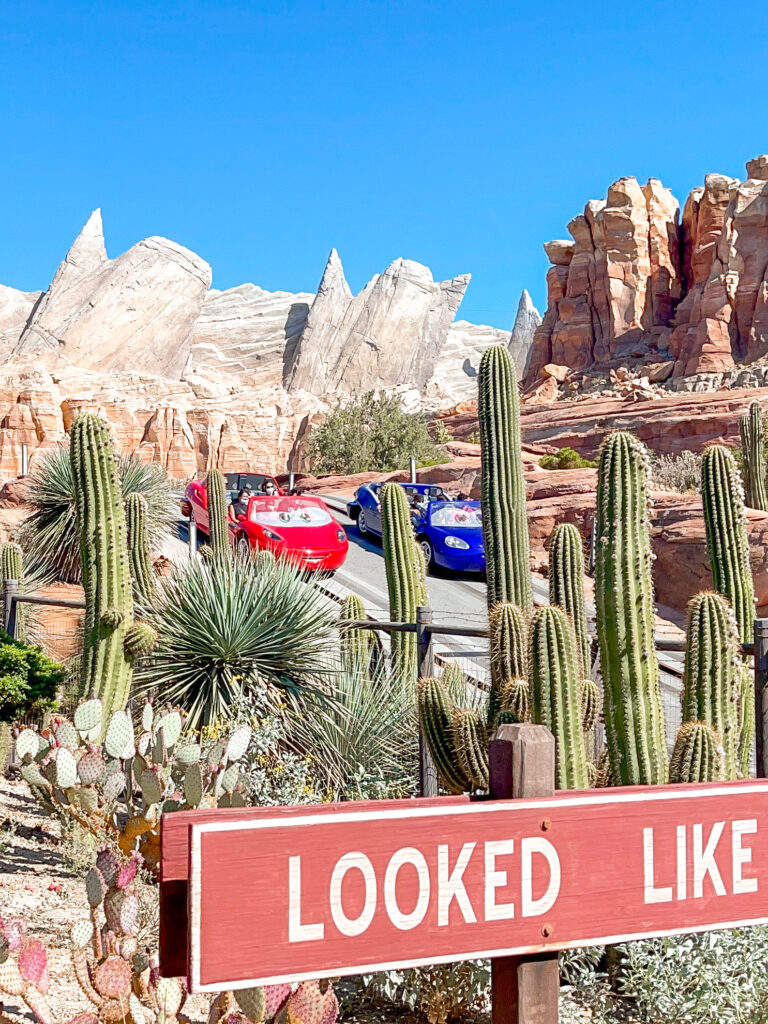 What Do You Need to Pack for Disneyland in January
Many of the items I will list below are things that you need to pack for Disneyland any time of the year. But I will also give you ideas on what you might want to bring along, specifically in January. Get my full Disneyland packing list here.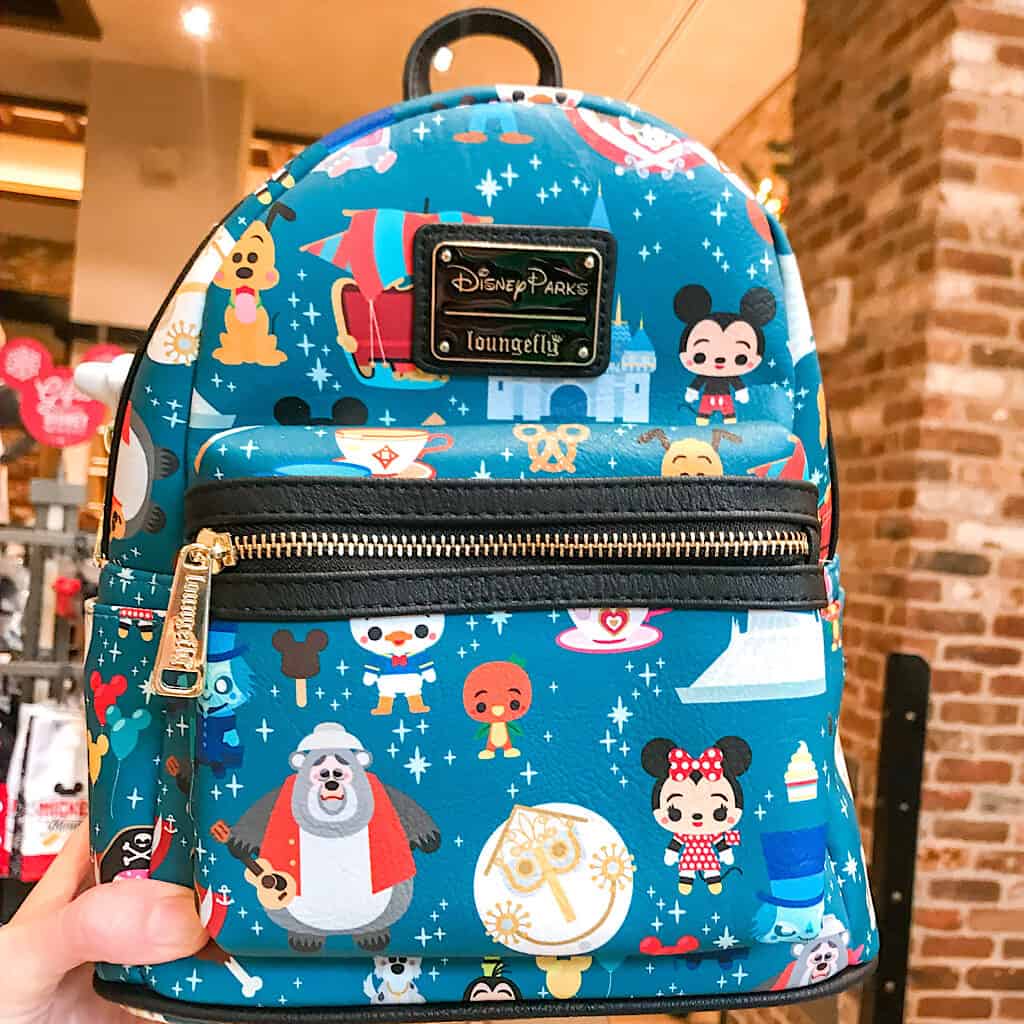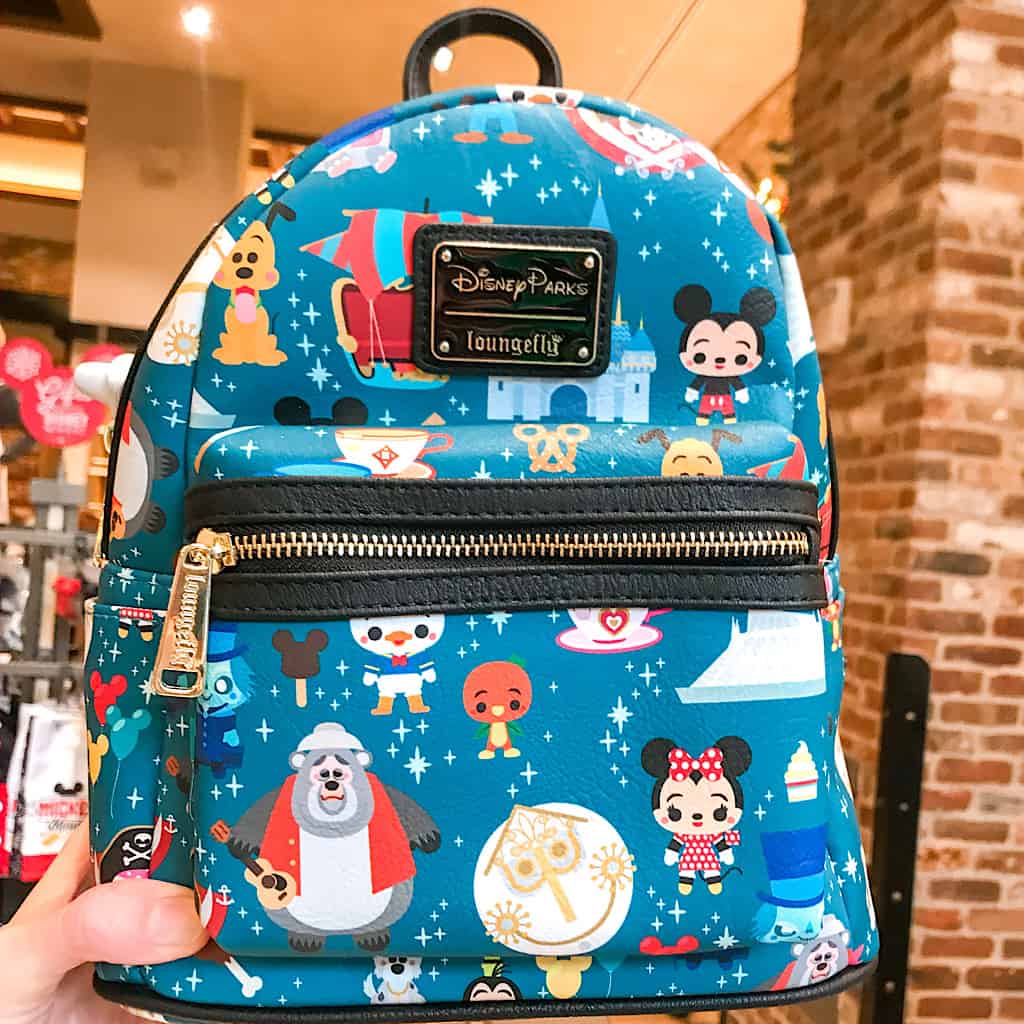 Rain Ponchos
I have been at Disneyland when it has rained. It was a lot of rain. Luckily, I had brought along inexpensive ponchos that kept my family dry, so we could still enjoy our day.
If you don't have a poncho, I would definitely recommend buying one or two before your trip. You can buy one at the parks for about $15-$20, but you can find some really cute Disney-themed ponchos online.
Sun Screen
The California sun still shines in January. To avoid sunburns and UV rays, make sure to pack sunscreen with you to Disneyland. You might also want bring along some sunglasses and a hat!
I always bring along lip balm with SPF as well.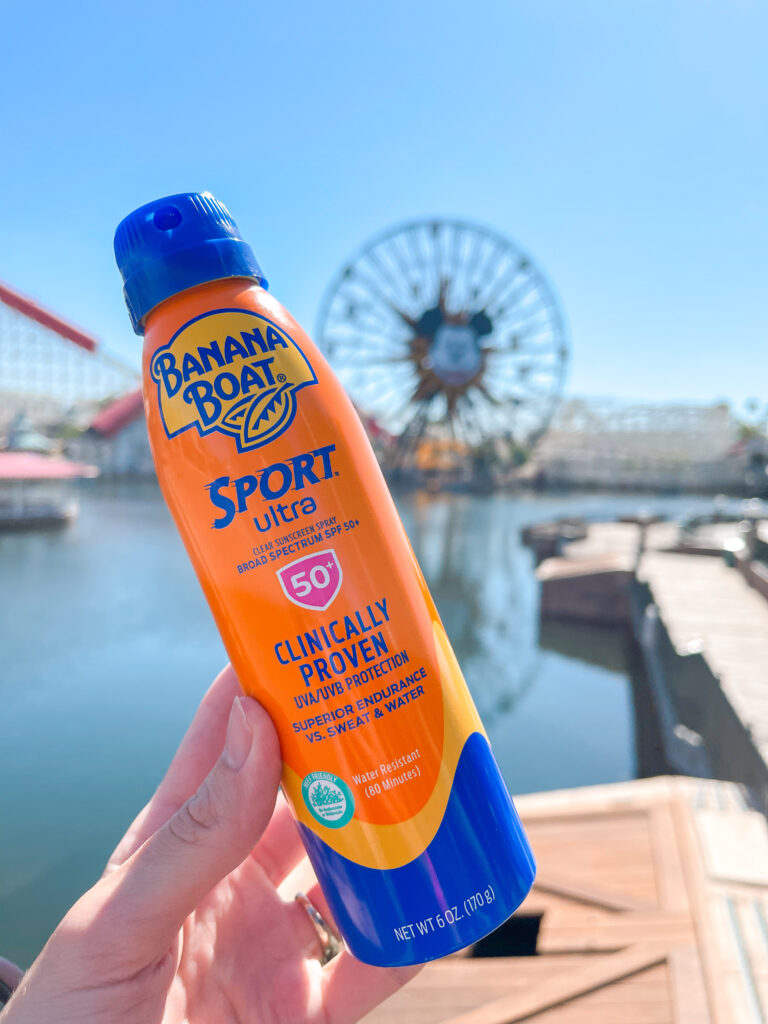 Comfortable Shoes
Another important item to pack with you is a pair or two of comfortable shoes. You will be doing A LOT of walking at Disneyland, there is just no way around it.
Comfortable shoes can make your break your magical vacation. These shoes are my FAVORITE to wear at the parks. I have used this type of shoe for years at both Disneyland and Disney World.
Water bottle
It's important to stay hydrated when you are navigating the parks, even in January. I like to bring along a water bottle on my day at Disneyland and fill it up for free at the quick-service restaurants located throughout the park. There are also a few water bottle refilling stations in the parks as well.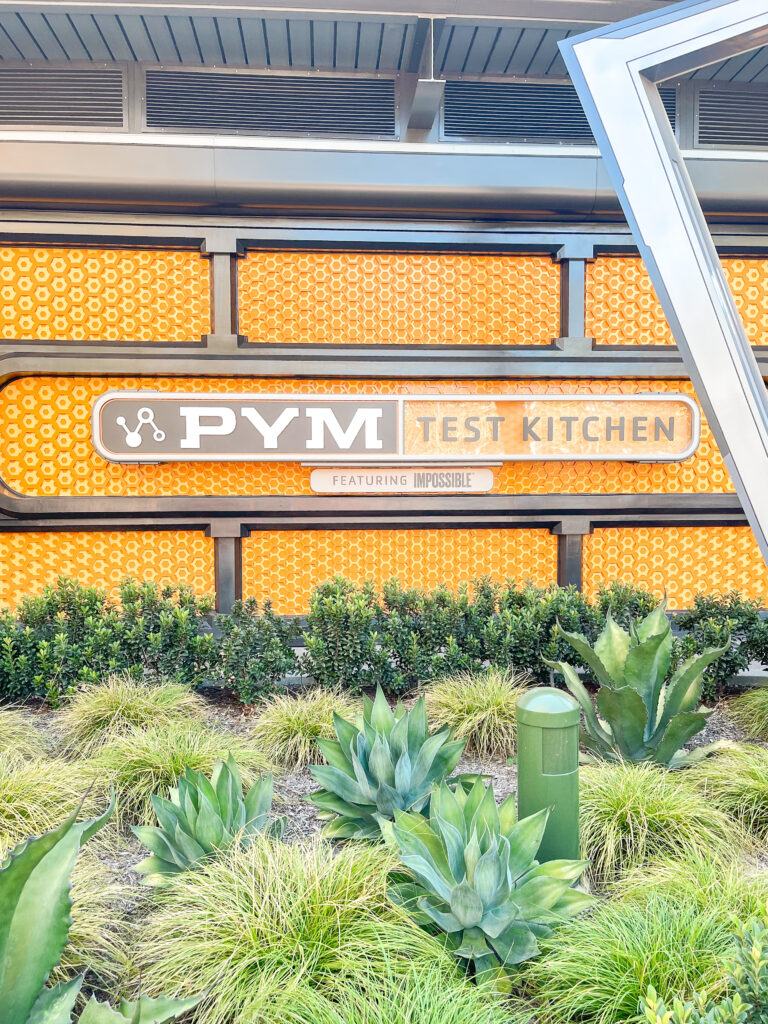 Backpack
Bringing along a backpack or fanny pack is another item I recommend bringing to Disneyland in January if you don't want to carry around your belongings in your hands.
You should choose one that is easy for you to access, has pockets to store smaller items, and can fit snacks and other smaller items if needed. I like to use this backpack because it is large, has lots of pockets, and has an insulated section at the bottom that is great for keeping water bottles and snacks cold. Get a list of items I recommend to bring in your Disneyland backpack here.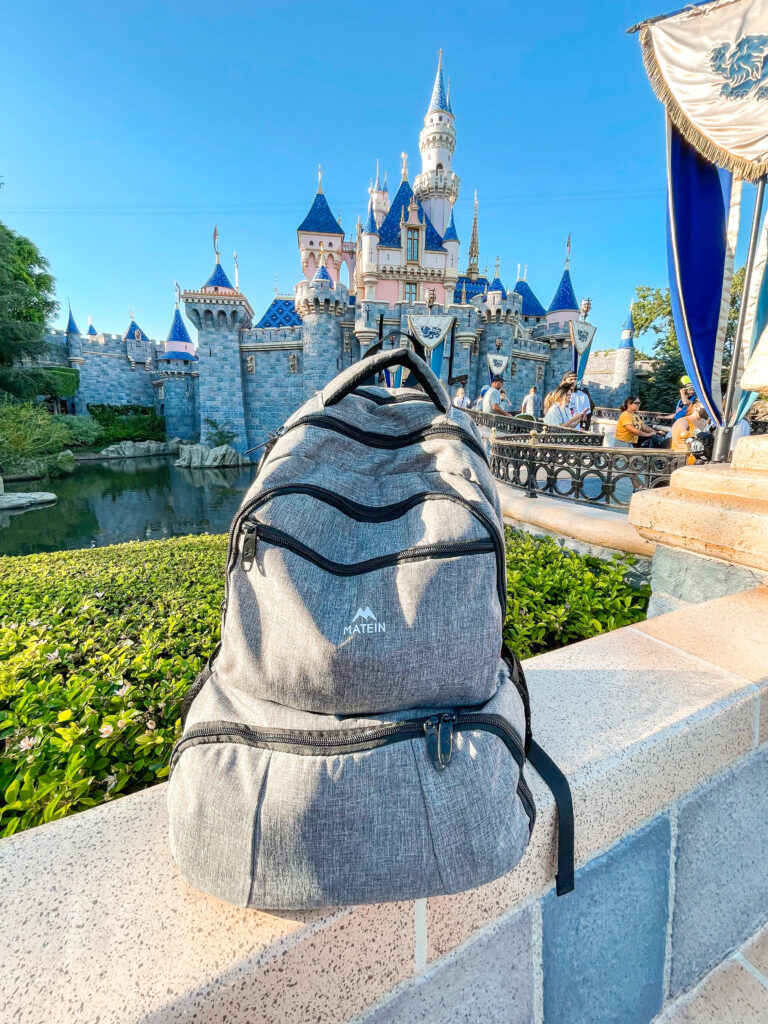 What to Wear to Disneyland in January
When going to Disneyland, the most important thing is to be comfortable and prepared for all different weather conditions in January. I like to dress my family in a pair of long pants, like jeans or leggings, and a cute Disney-themed t-shirt.
Because it is warm during the day, and cool in the morning and evening, you will want to bring along a sweatshirt or light jacket. Carry around something light so its easy to tie around your waist if needed.
Be sure to check the weather forecast a few days before your visit to see what the temperatures will be like. It doesn't happen often, but there have been some times in January where it would have been nice to bring a coat and a pair of gloves.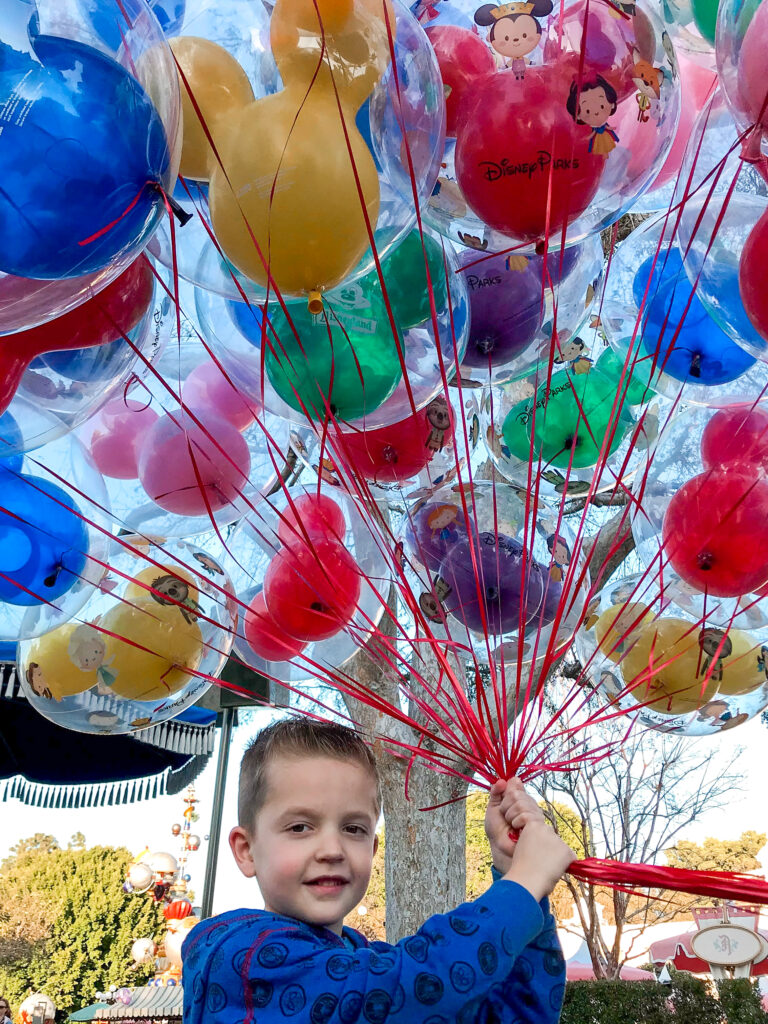 Where to get Cute Disney-Themed Apparel and Accessories
I'm always looking for deals to help me save on Disney-themed items that can make my family look cute at Disneyland. There are a few different websites and stores that I always check when I am planning our outfits.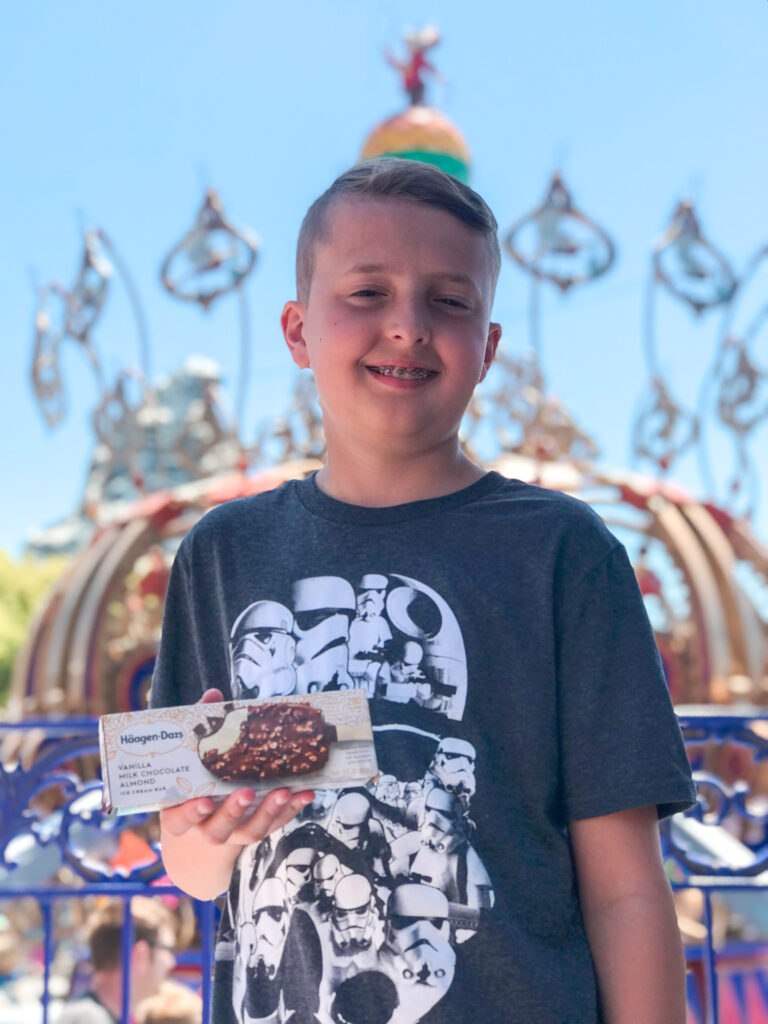 Jane.com
I have found so many cute t-shirts, accessories, and other Disney-themed apparel for a great price on Jane.com.
To find Disney-themed items, head to Jane.com and type "character" or "vacation" into the search bar.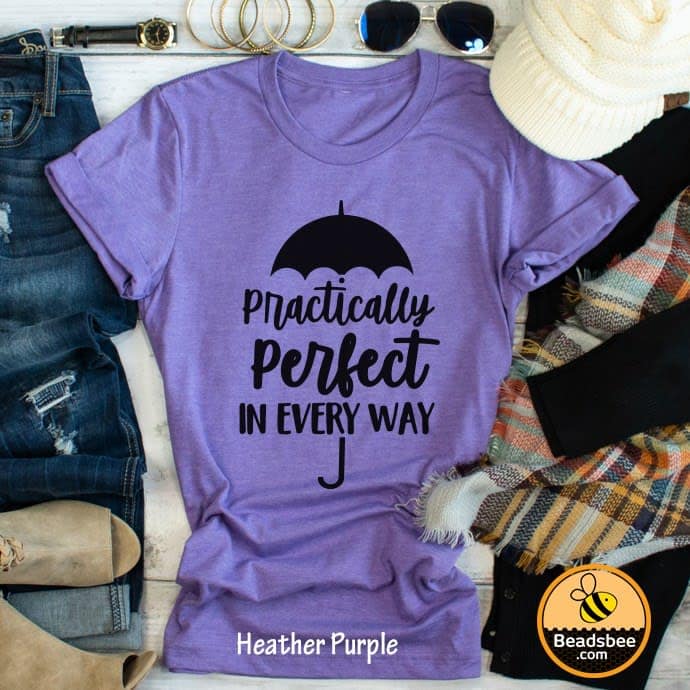 The deals on Jane.com change daily, so if you see something you like, make sure to grab it while you can!
Amazon
The best place to find Disney items for men, women and kids is at Amazon! I have hand-picked some of my favorite items from their vast selection. Check out my Amazon shop link here or search "Disney shirts" on Amazon.com to find what you are looking for.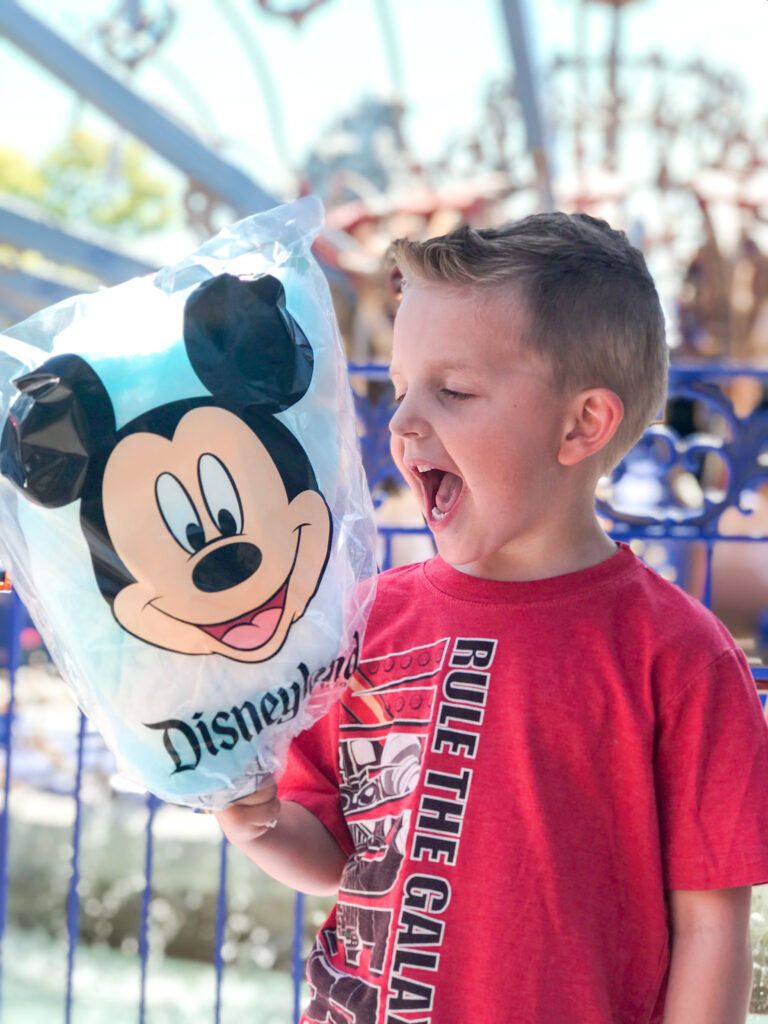 shopDisney.com
You can also find a lot of good deals at shopDisney.com, especially if they have a free shipping deal or a sale going on.
To stay up to date on Disney Store sales, I would sign up for their emails. I get emails monthly with codes for free shipping.
Click the shopDisney button below to see what is on sale right now!
Etsy
I also really like Etsy. You can find a lot of different Disney-themed products on Etsy and they often have free shipping as well. I've found gifts for friends and family and cute jewelry and other accessories to wear to the parks.
Walmart, Target & Kohls
Last but not least, Walmart, Target and Kohl's always have a fab selection of Disney items. I tend to look here for the best prices on kids' clothing.
Be sure to check each store's clearance section when shopping for your Disney outfits!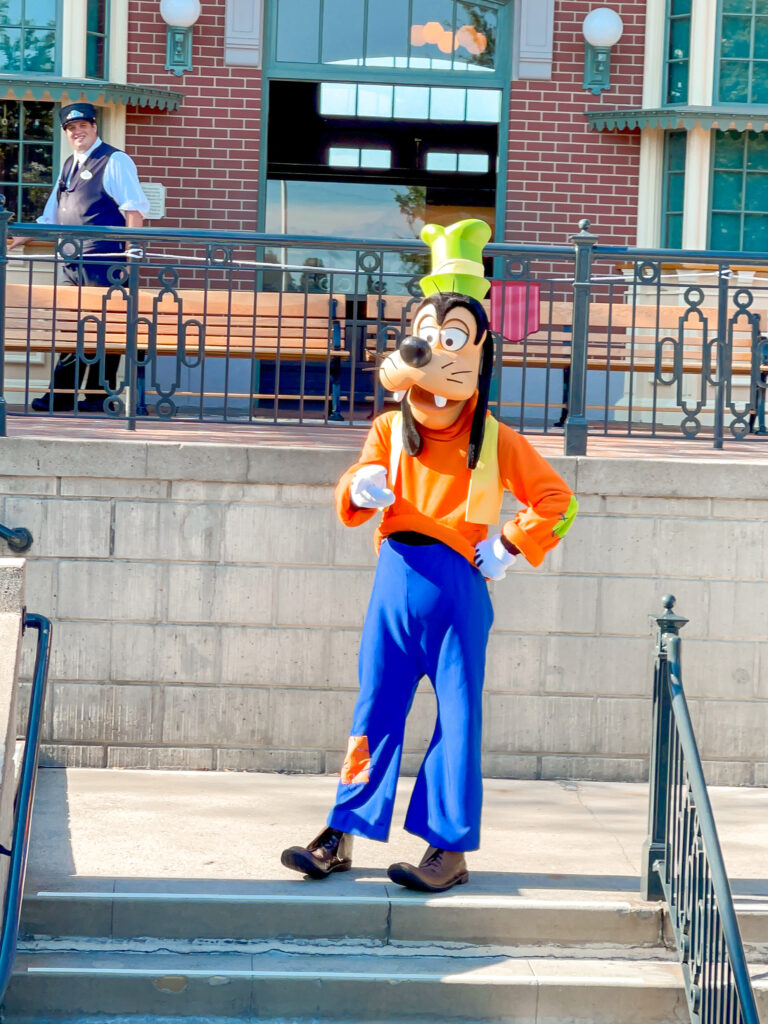 Pros & Cons of Disneyland in January
Is Disneyland In January Worth It? In my opinion, it really depends on your personality and what you want to get out of your experience. Below I have outlined some pros and cons of going to Disneyland in January to help you decide if this is the right time for you.
Pros:
Generally less crowded in general than summer time.
Kids are in school January through March, so it's less crowded with families who have left for the holidays.
The weather is generally very nice during the day-warm but not hot and nights can be cool (not cold). Usually has some rain this time of year, but most days are nice.
The parks are still decorated for the holidays early in the month! The Christmas trees are beautiful, especially at night when they are lit up. I love the Christmas music playing around the park as well.
You can often find better rates for hotels in January because it is not as busy as other times of the year. Read about going to Disneyland on a budget here.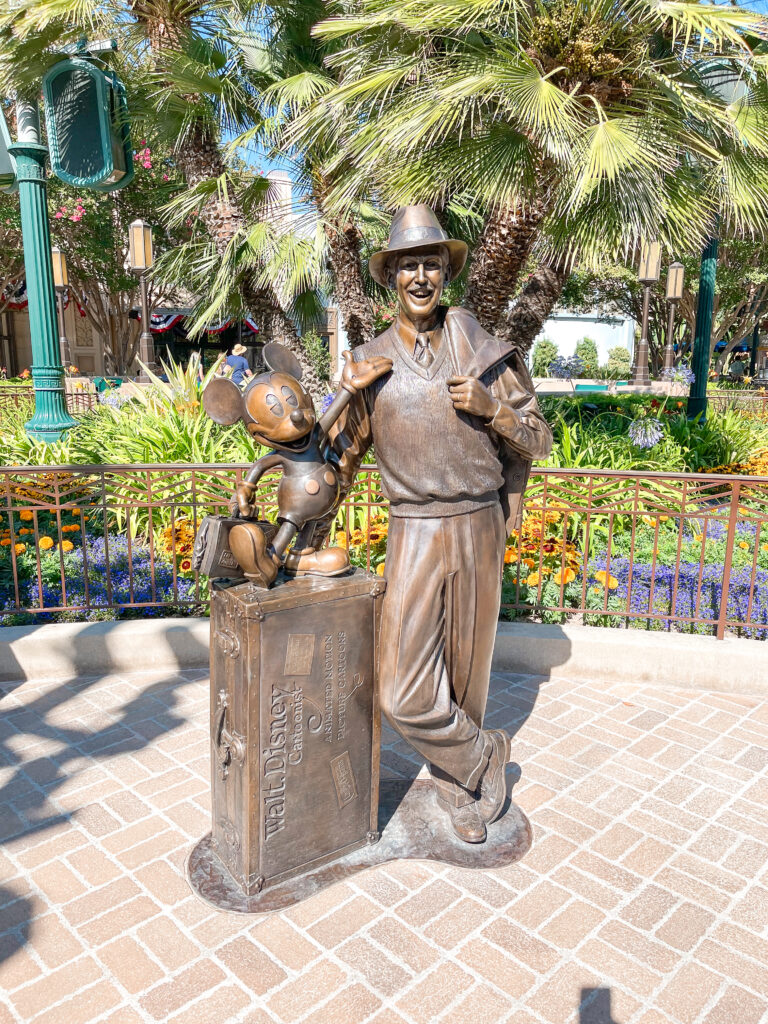 Cons:
The lines for rides tend to be longer, especially during the first few weeks of January.
It's colder! I would recommend bringing a sweatshirt or light weight jacket and wearing layers. There is something very fun about bundling up in my Disney sweatshirt and watching the parade while drinking hot chocolate in cold weather!
The weather can be unpredictable. It's not unusual to get a lot of rain and wind. I would recommend bringing a poncho and umbrella just in case!
There is a better chance that attractions will be closed for refurbishment because January is considered the slow season.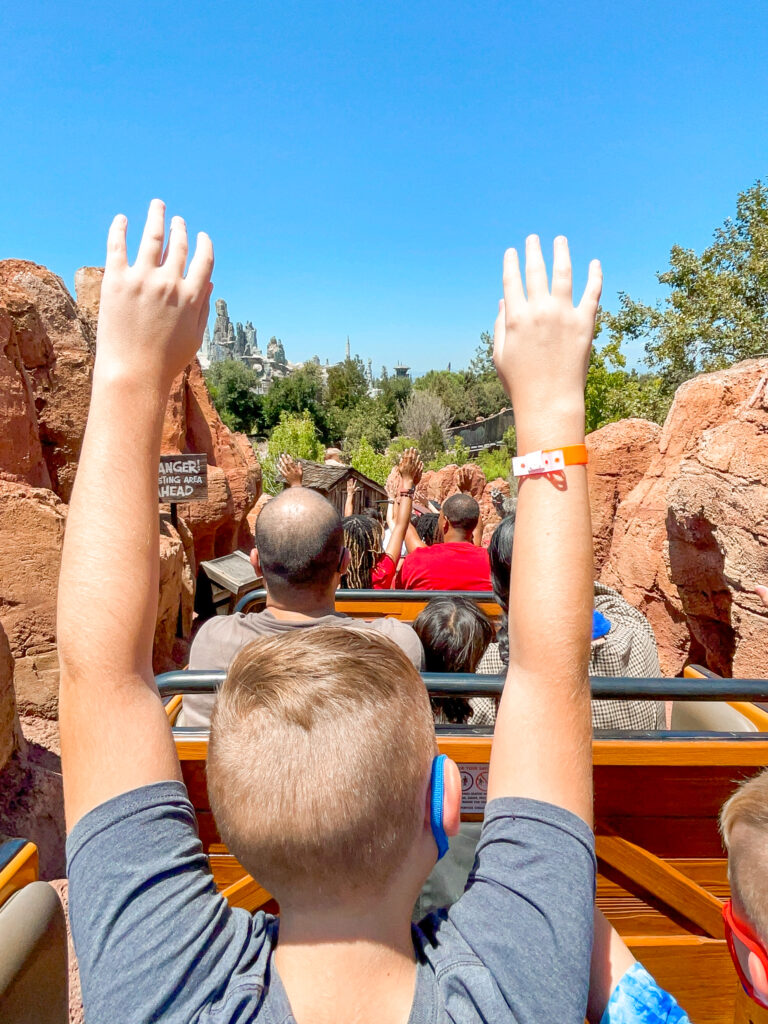 How to get Discount Disneyland Tickets
If you're looking to save on your next trip, be sure not buy your tickets from an unauthorized seller. I have found that Get Away Today has the best prices and will give you many perks if you book hotel and tickets together in a package.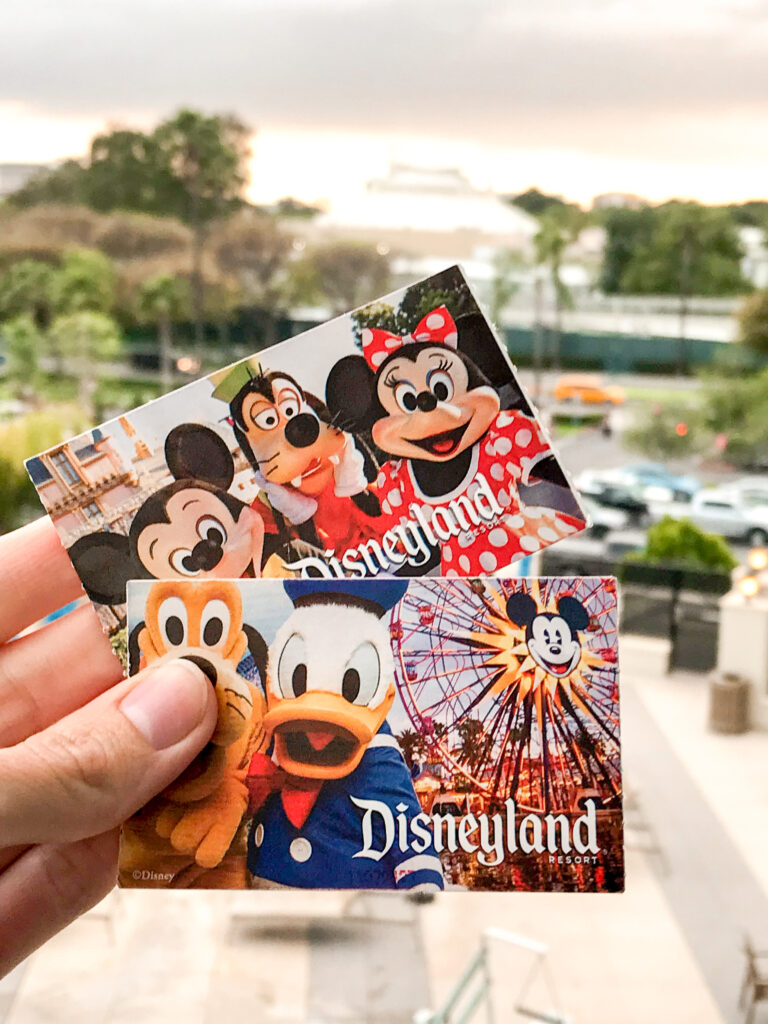 Not only can they get you Disneyland tickets at a lower price than what is available from Disney, but they are often able to get you rescheduled or refunded if something comes up and you aren't able to use your tickets.
Get Away Today has worked out deals with local hotels and can often get you a 3rd or 4th night for free and you can use the Layaway Plan to reserve your trip for $175 down!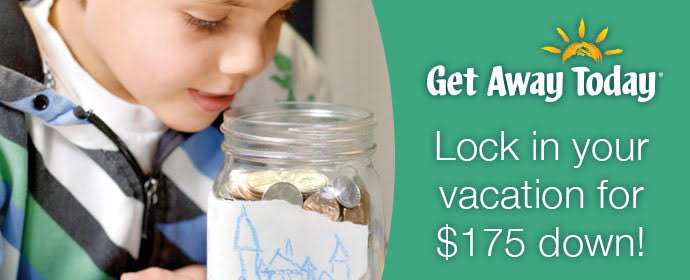 If you book a vacation package (2-night minimum hotel + tickets) through my special link here, www.getawaytoday.com, you can use the coupon code Clubhouse10 to save an additional $10
I hope you've found this post helpful and that it's given you some ideas on deciding if visiting Disneyland in January is worth your time. Let me know what you think below! And don't forget to share the blog article with all of your friends who are thinking about going too!
Pin for later: