Are you looking for an amazing place to stay for your next Disneyland vacation? You are in the right place. In this article, you will find a review of my family's stay at Courtyard Anaheim Theme Park Entrance & Waterpark Resort right across the street from Disneyland Park! Find out if this is the right hotel for you.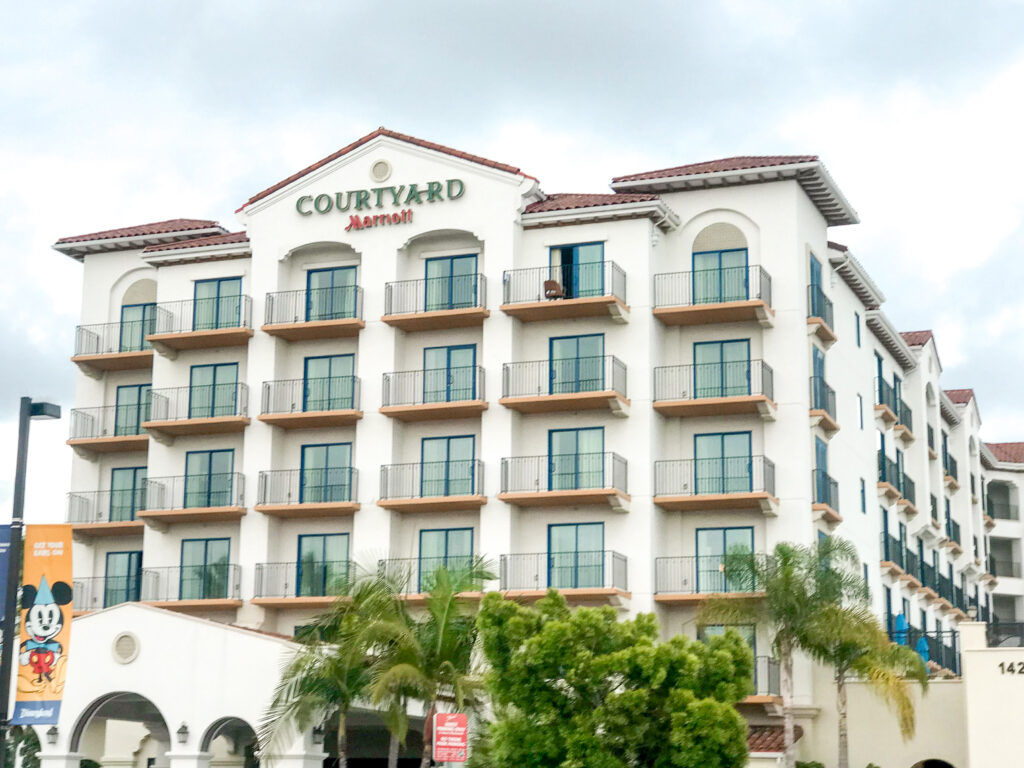 This post may contain affiliate links. When you click on these links, I get a small percentage back at no cost to you! For more information see my disclosure policy.
I have stayed at so many hotels around Disneyland, but I have to say that Courtyard Anaheim Theme Park Entrance is one of my favorite hotels!
There are so many amenities that make this the perfect place for families who want a nice relaxing place to come home to after a busy day at the parks.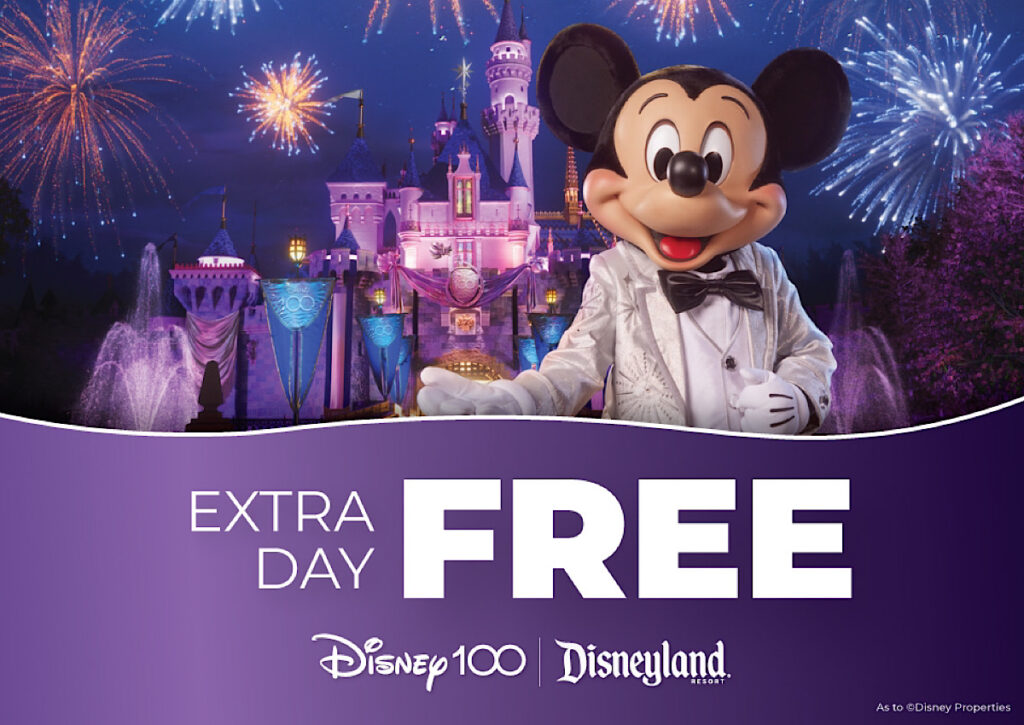 To celebrate Disney100, you can get an EXTRA DAY FREE when you purchase tickets from Get Away Today. Combine this deal with a hotel stay and use code: Clubhouse10 to save even more!
In this article, I will take you on a little tour of the property, show you around our room, and let you see how much fun the awesome water park is and give you a review of what I liked and didn't like.
Hopefully you'll be able to decide if this hotel is right for you and see why I think it is one of the best Disneyland Good Neighbor hotels!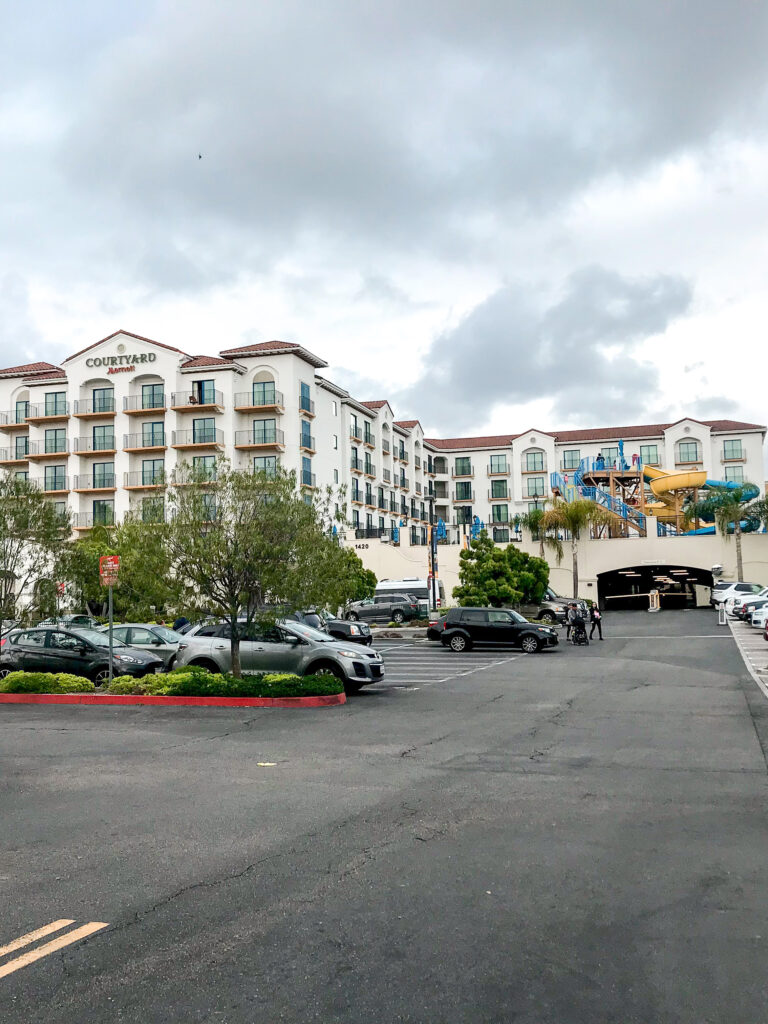 Courtyard Hotel Rooms
The size of guest rooms at Courtyard Theme Park Entrance are amazing! In fact, I they are more spacious that the Disney hotel rooms I have stayed in.
Each hotel room at Courtyard are family suites and has the same layout, so the tour below will let you know what to expect.
I toured this hotel again recently with my friends at Get Away Today, as well as 7 other hotels within walking distance to the theme parks. Check out that article here.
Bedroom
All rooms at Courtyard Anaheim Theme Park Entrance have two queen beds and a set of twin size bunk beds.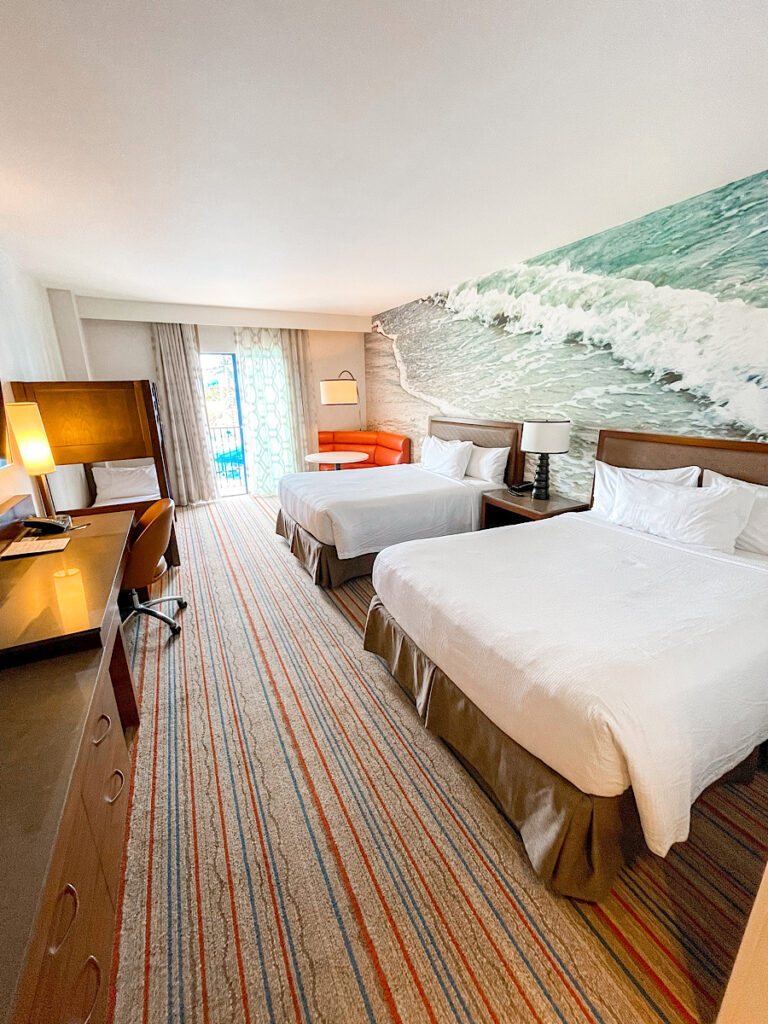 There is also a table with booth-style seating in the corner of the room.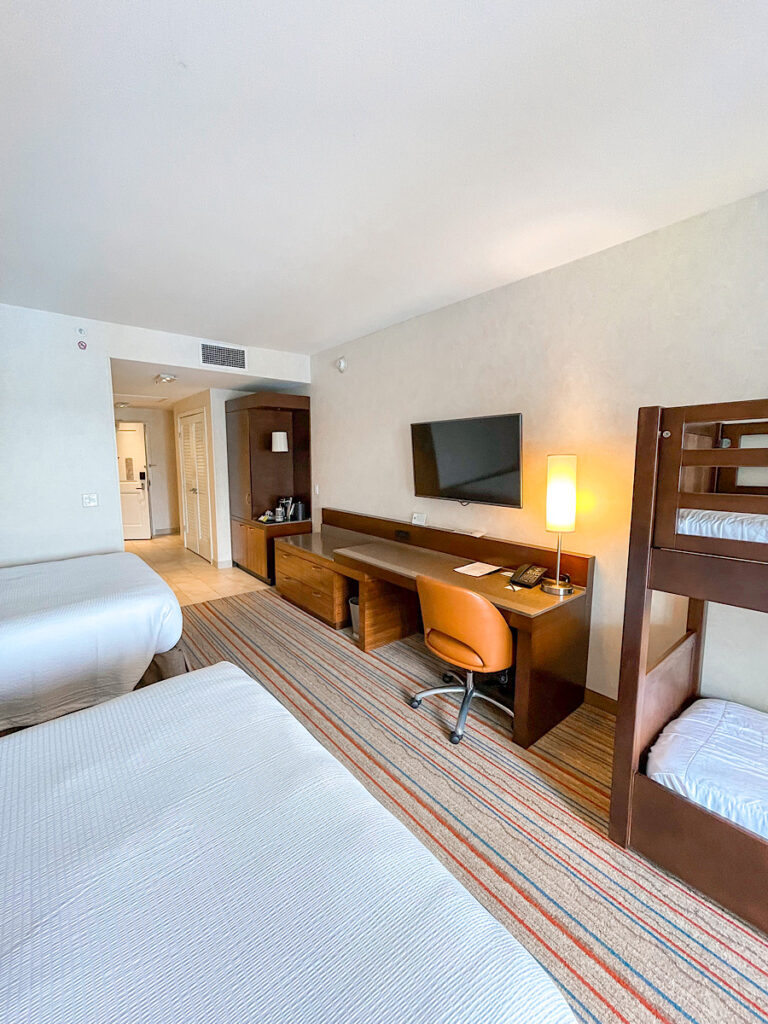 There is a large dresser for storage that has tons of usb charging ports and a large TV. I loved that we could login to our Netflix account right on the TV. It was great that my kids could watch their favorite shows before bed. Each guest room also comes equipped with free Wi-Fi.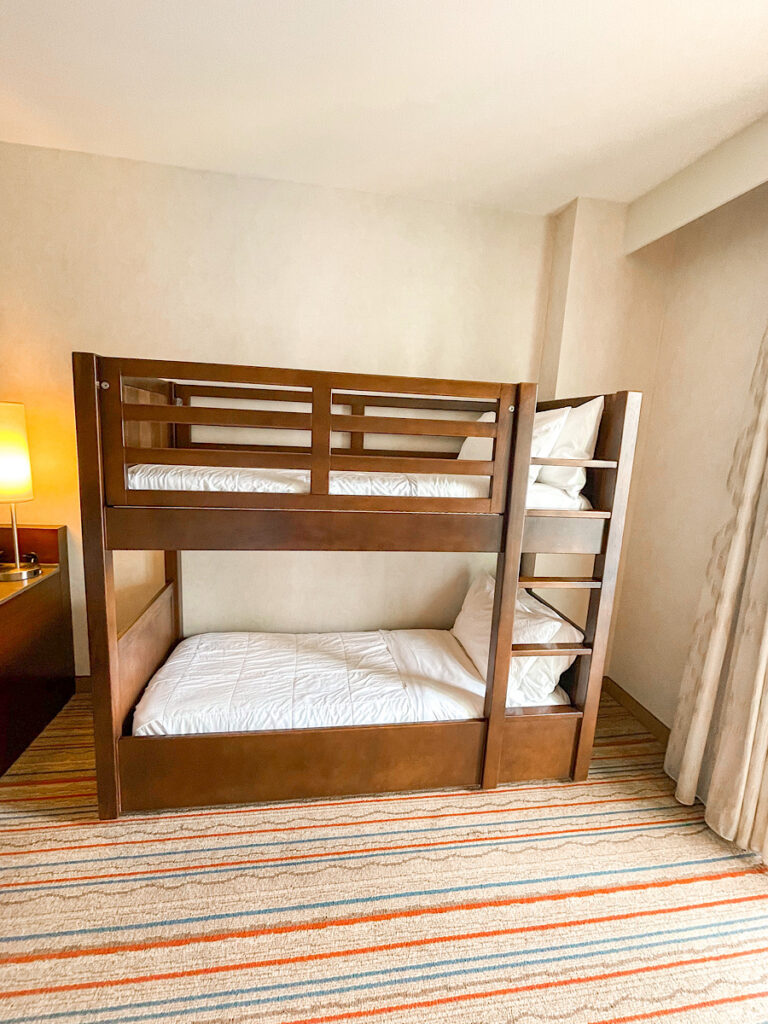 Bathroom
The bathroom in each guest room is amazing! There is a large vanity with two sinks and a large mirror with the most amazing lighting.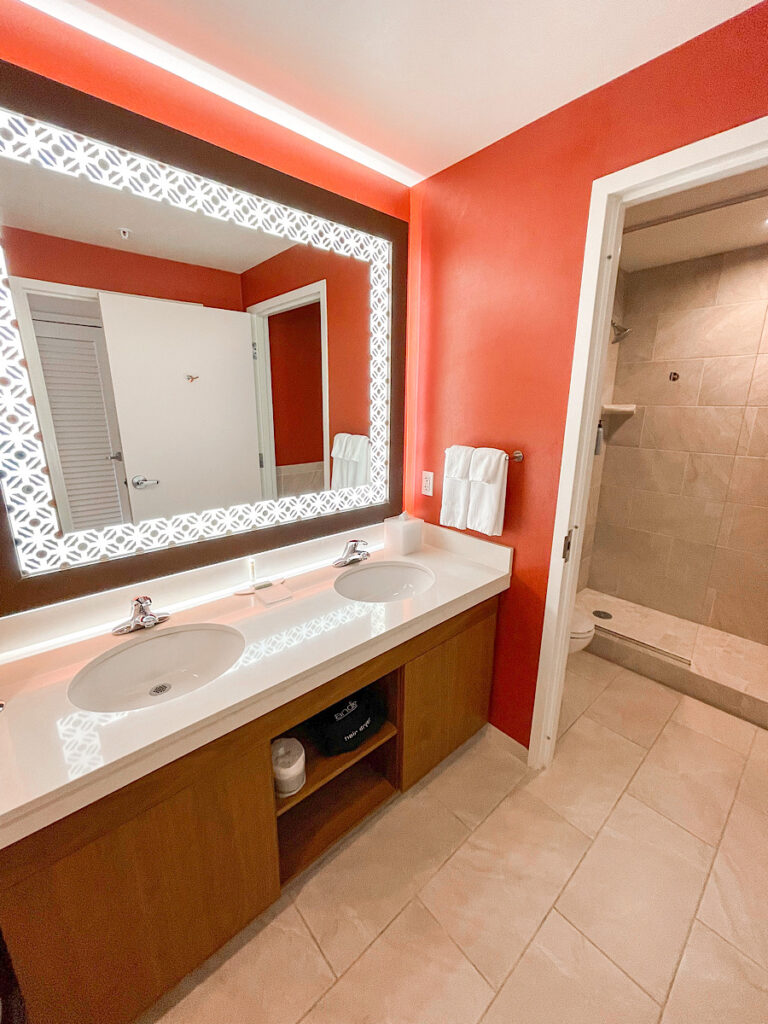 Next to the sink there is a full size bathtub/shower combination.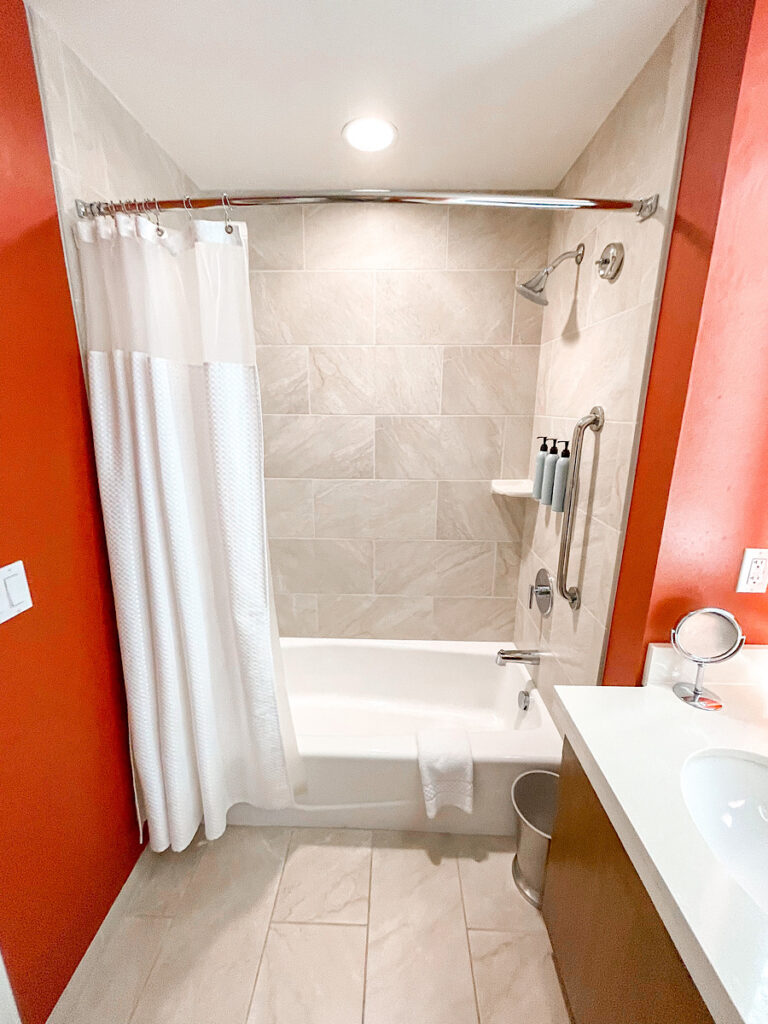 There is a separate room where you will find the toilet as well as a second stand-up shower! This is perfect when everyone is trying to get ready for the day at the same time.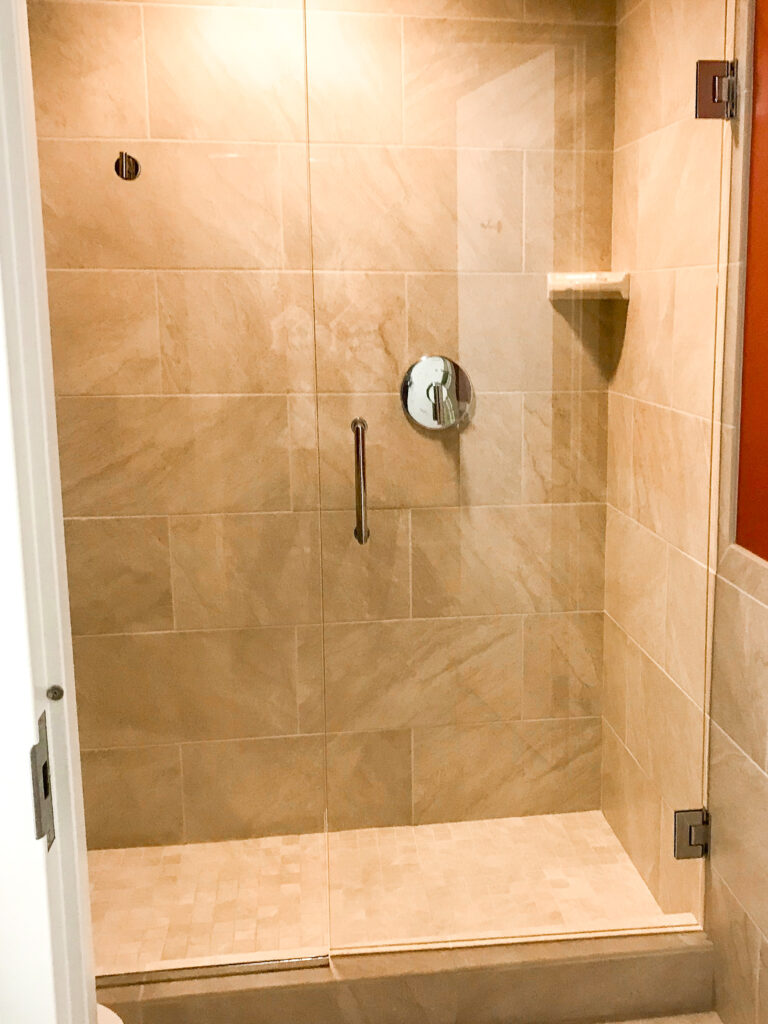 Storage
Another perk of staying in the rooms at Courtyard Anaheim Theme Park Entrance is that there is so much storage. As you enter the room, there is a large open area where we stored our suitcases and our shoes.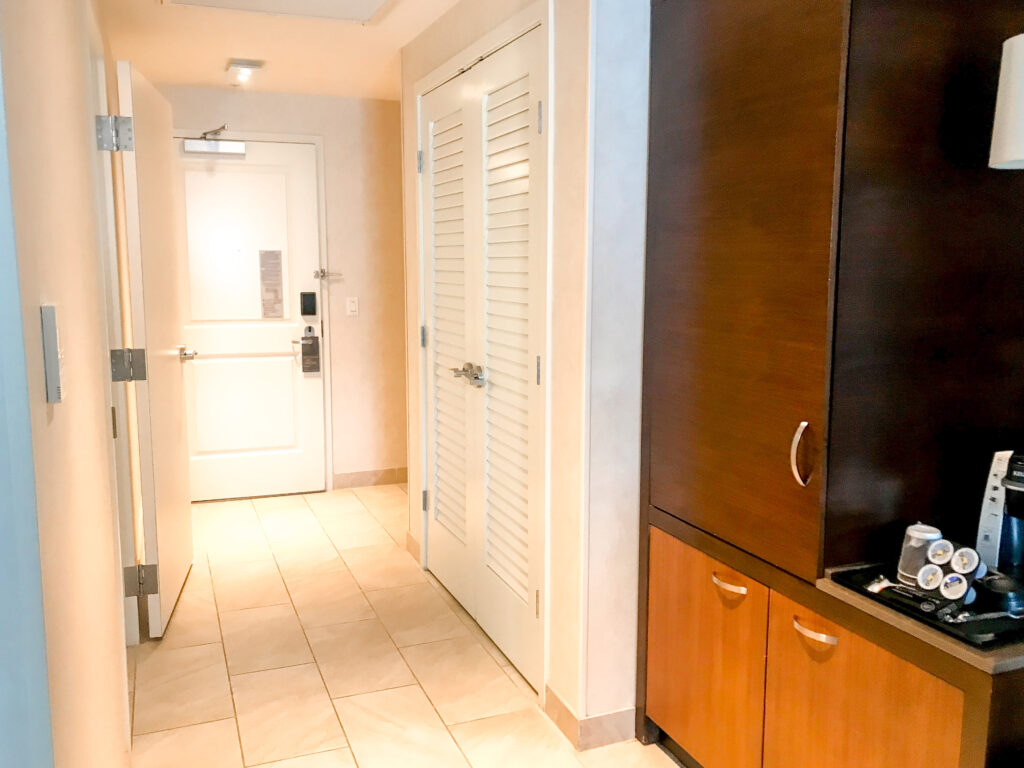 Next to this area is a full-size closet. The closet had some shelves, hangers, and an in-room safe.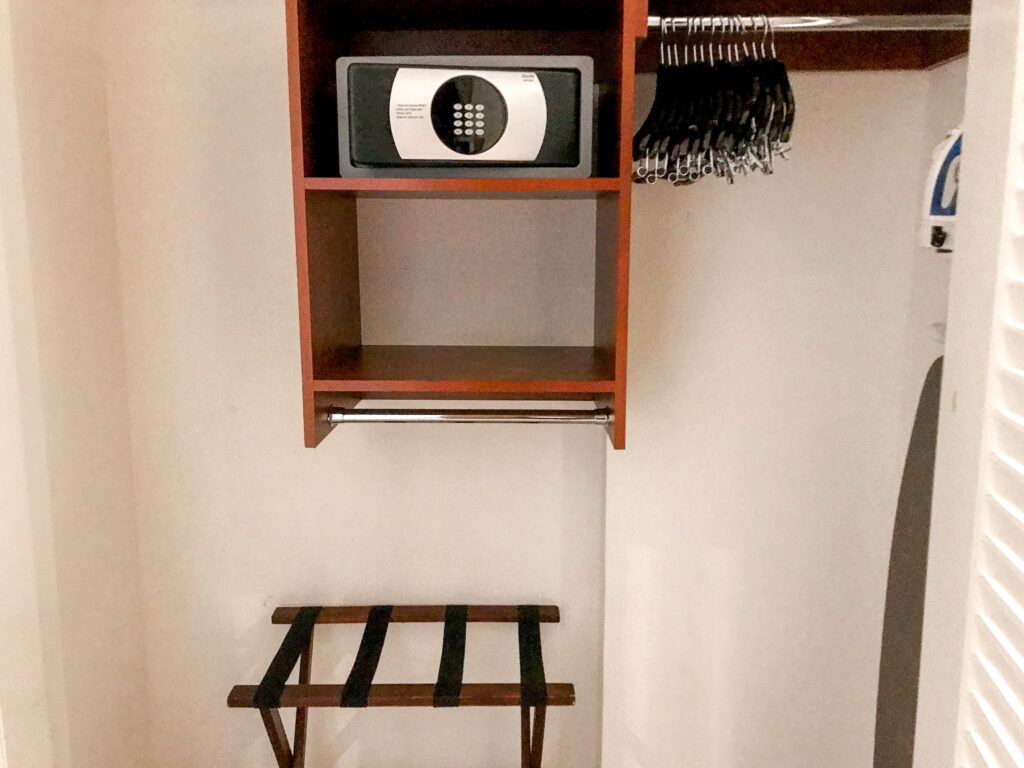 Next to this area is a microwave and small refrigerator, which is perfect to store cold water and snacks.
Where is Courtyard Anaheim Theme Park Entrance Located?
Courtyard Anaheim Theme Park is located directly across the street from Disneyland on Harbor Boulevard. If you are looking at a birds eye view map, it would be directly across from the Tomorrowland Train Station.
Here is a map showing the location of Courtyard Anaheim Theme Park Entrance in relation to Disneyland.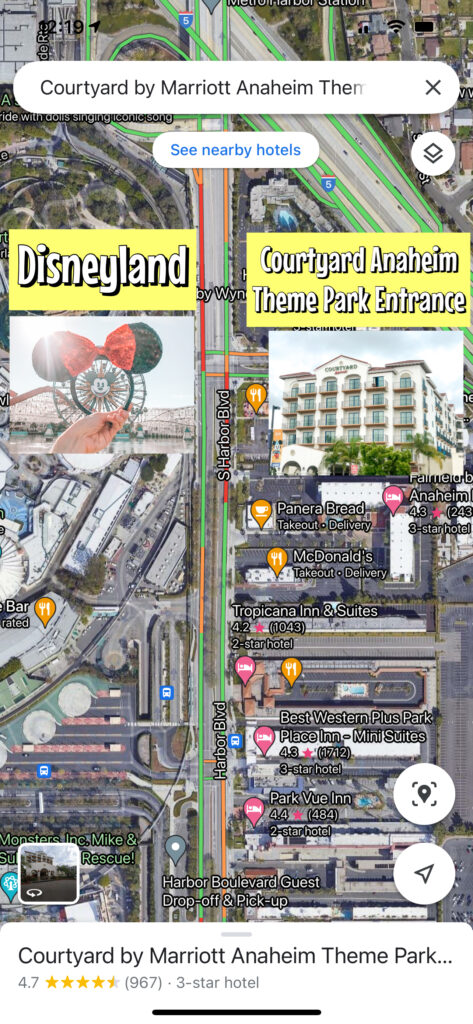 If you have a guest room that faces Harbor Blvd. you will be able to see the top of Space Mountain, Matterhorn Bobsleds, Sleeping Beauty Castle, and possibly Guardians of the Galaxy and Mickey's Fun Wheel at Disney California Adventure Park. You will also be able to see the fireworks!
Book a room or vacation package at Courtyard Anaheim Theme Park Entrance Here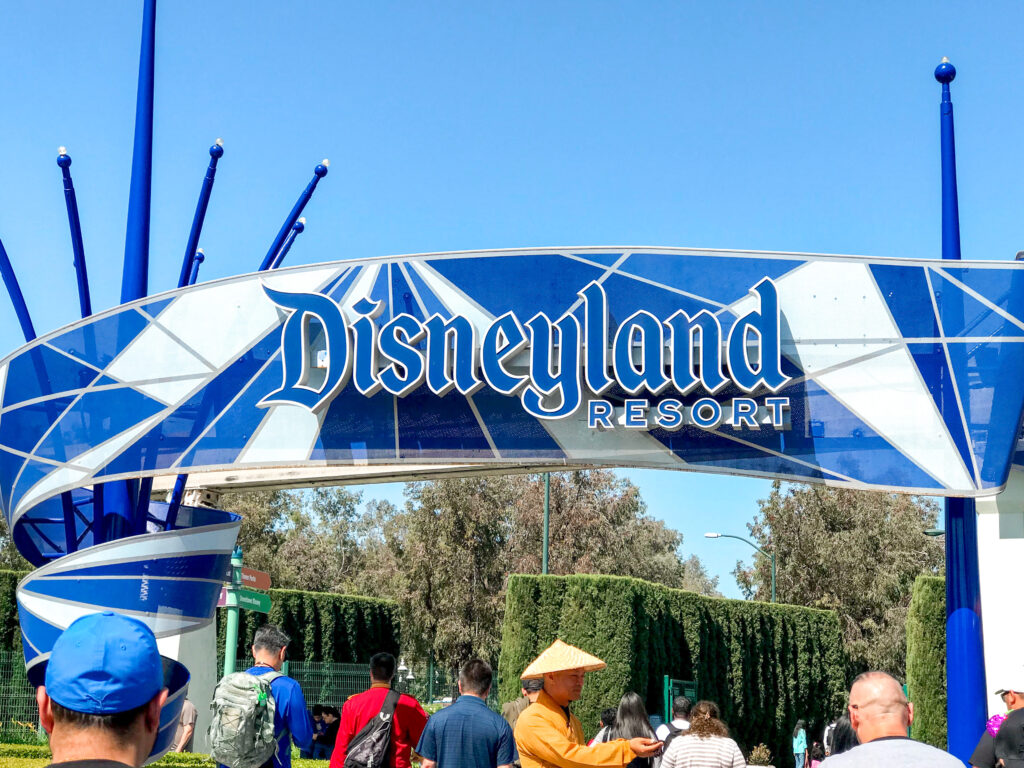 How Long is the Walk to Disneyland
Staying across the street from Disneyland definitely has its perks, like being able to walk from your hotel, to Disneyland's main entrance in just 10 minutes and Downtown Disney is just a little bit farther!
Here is a map of where Courtyard Anaheim Theme Park Entrance is in relation to Disneyland.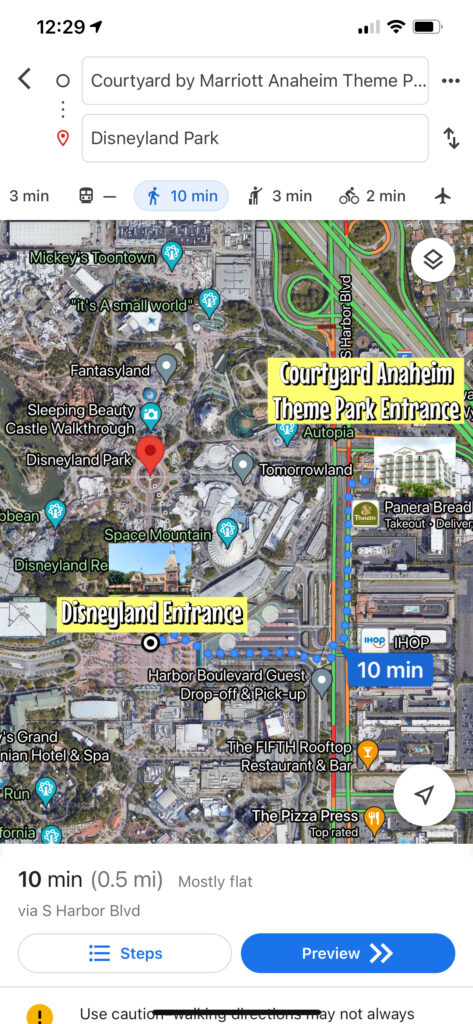 This definitely comes in handy if you need to run back to the room because you forgot something or need to take the kids back for a nap! I actually timed our short walk from Courtyard to Disneyland's entrance and it really was 10 minutes. Watch the video below to see our walk!
Watch the walking route to Disneyland here: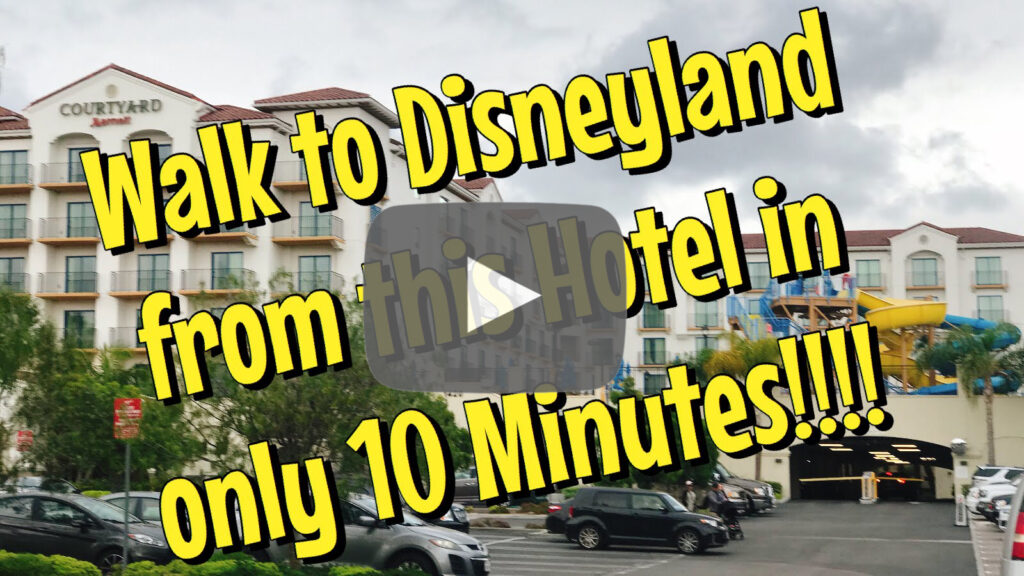 Waterpark & Outdoor Pool
Let's be honest, my kids loved Courtyard Anaheim Theme Park Entrance because of the Waterpark and pool area!
The water park truly has something for everyone in the whole family. As you enter, you can see a splash pad area, a water playground, and a small kiddie pool which are great for babies, toddlers, and preschoolers.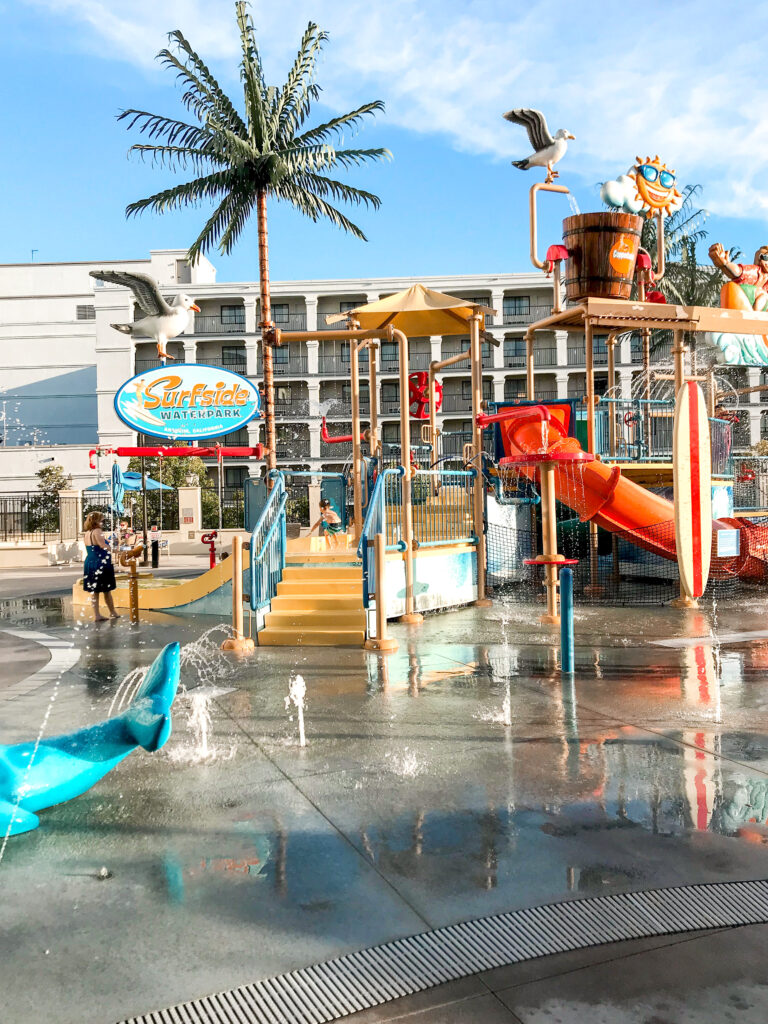 The swimming pool and a very large hot tub are great for older kids and adults.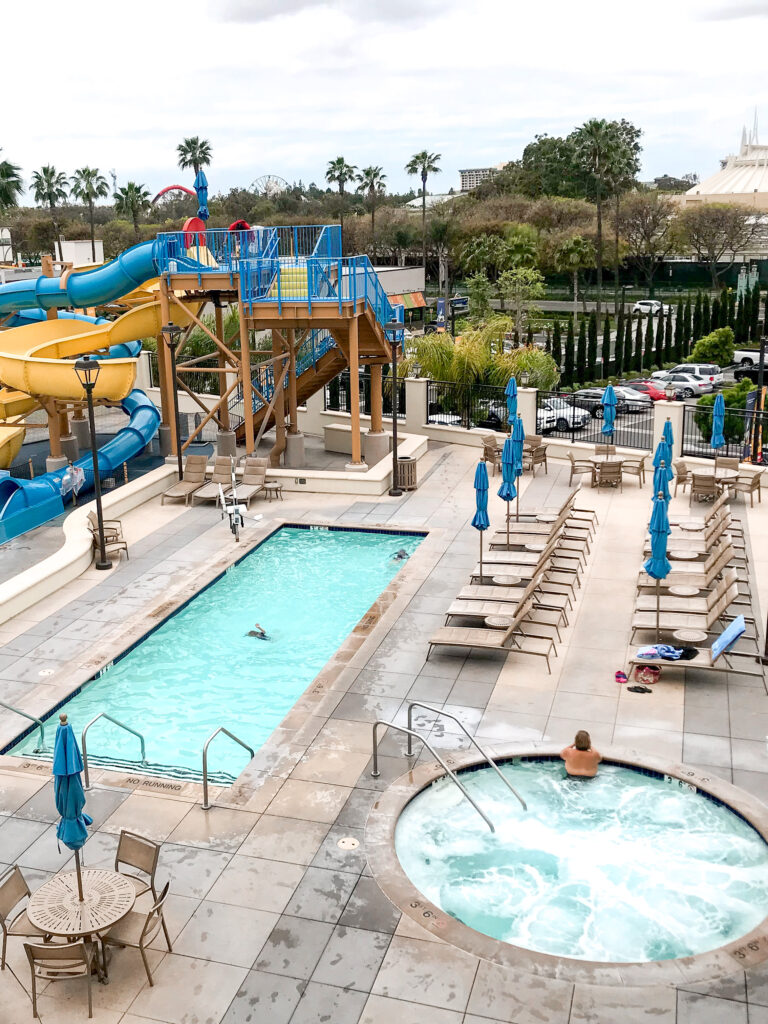 My family's favorite was the two water slides. My kids couldn't get enough of them. We swam at the water park at least once a day of our 6-night stay.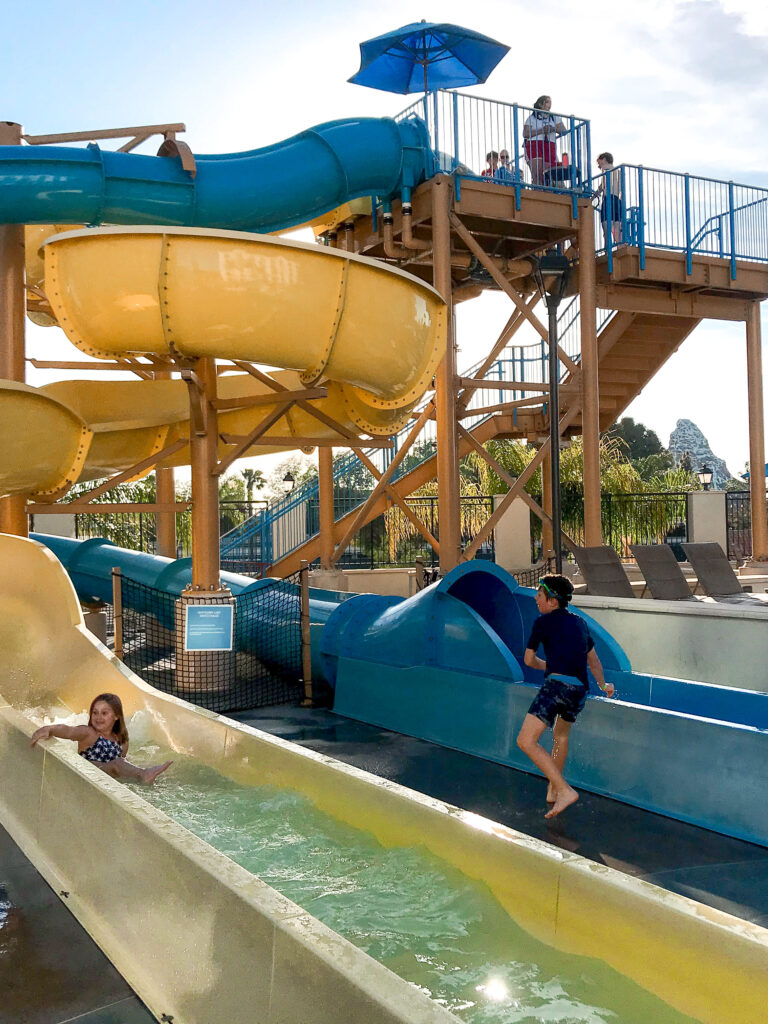 Dining
Unfortunately, Courtyard Anaheim Theme Park Entrance does not offer free breakfast, but that doesn't mean that you are out of luck. There are a couple of breakfast options available at the hotel.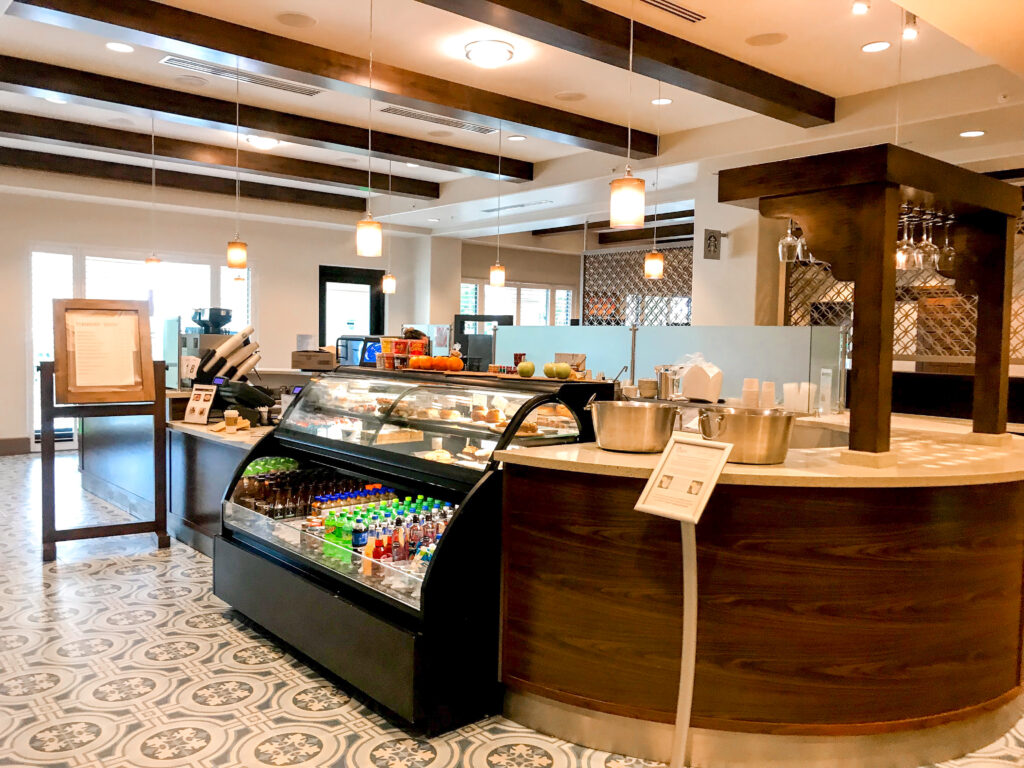 The Bistro
If you are looking to find something for breakfast, lunch, or dinner, you might want to check out The Bistro. They also offer Starbucks Coffee in the morning and cocktails in the evening.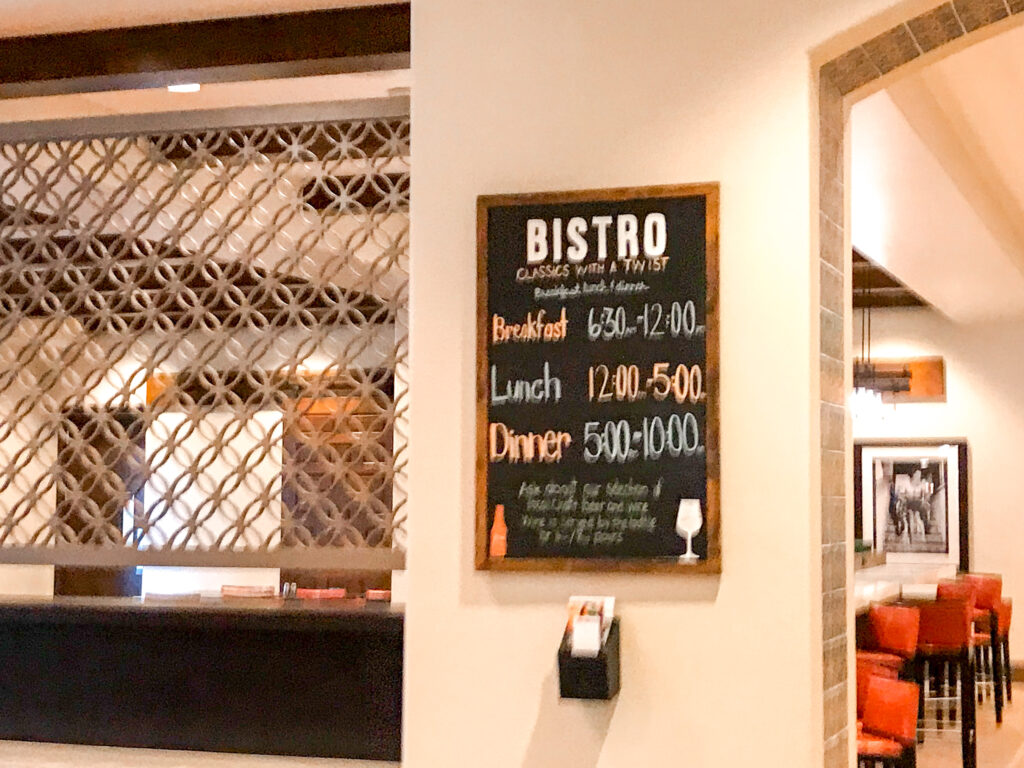 The Market
The Market is a gift shop in the lobby of Courtyard Anaheim Theme Park Entrance. Here you will find grab-and-go items, sundries, and an assortment of Disney-themed toys and t-shirts.
Other Dining Options
There are quite a few options to get breakfast, or lunch and dinner for that matter, right outside the hotel. There is a Mimi's Cafe that shares the same parking lot, as well as a Panera Bread and McDonald's in the parking lot next door.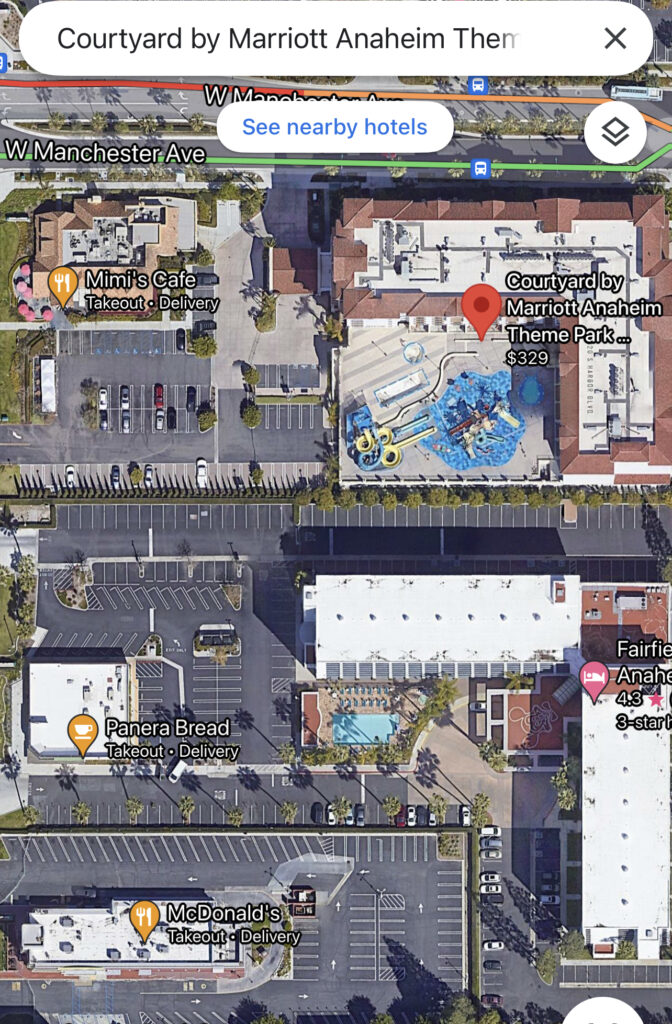 If you are trying to get to Disneyland for rope drop (early in the morning), you might just want to get breakfast in the park. Check out my list of all of the places to get breakfast at Disneyland here!
Grocery Delivery
Another option to get breakfast while staying at Courtyard Theme Park Entrance is to order your own groceries. Each guest room has a mini fridge and a microwave, which opens a lot of possibilities. Check out my how to order groceries to your Disneyland hotel here.
We ordered grocery delivery from Walmart on our last visit, but we have also used Instacart with great success. Some of the items on our list were cinnamon rolls, yogurt, cereal, milk, and items to snack on in the parks like Uncrustables and granola bars.
Fitness Center
Courtyard Anaheim Theme Park Entrance has a really nice fitness center. If you have the time to workout on your vacation, you will find cardio equipment, free weights, and a few weight machines.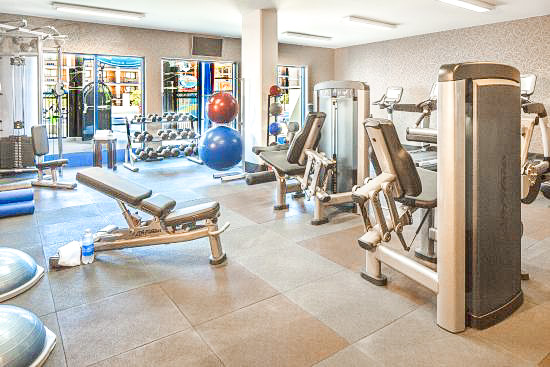 Parking
Parking at Courtyard Theme Park Entrance is valet only. The rate is $26 per night plus tax. My tip is to make sure you get everything out of your car when you arrive, because it is annoying to have the valet get your car, just to grab an item or two.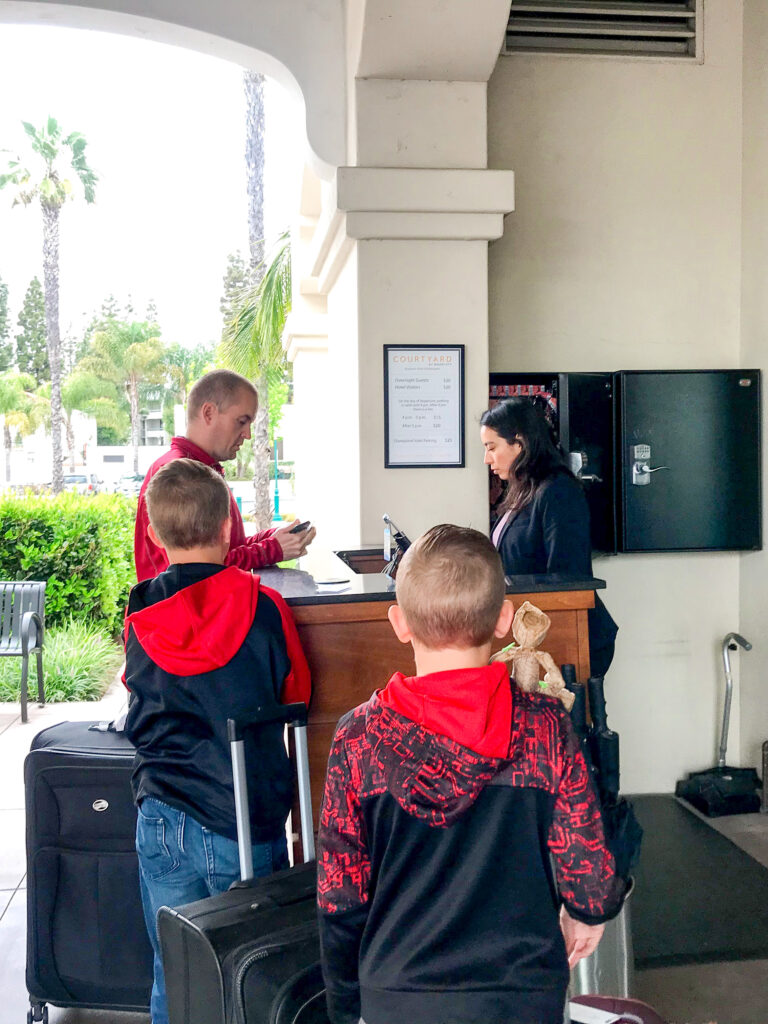 My Review of Courtyard Anaheim Theme Park Entrance
My family and I booked our stay at Courtyard Anaheim Theme Park Entrance through Get Away Today. We stayed for a total of 6 nights.
Things that I liked about this hotel are the proximity to Disneyland, the large rooms with bunkbeds, double showers in each room, and the waterpark!
It was also pretty cool to watch the Disneyland fireworks from our room and the pool deck. It is definitely one of the best hotels and closest hotels in the Disneyland Resort area compared to other off-property hotels.
If a stay at one of the Disneyland Resort Hotels is not in your budget, Courtyard Theme Park Entrance is great option!
One thing that I did not like about Courtyard was the price for parking and that valet parking was required. I also would have loved if breakfast had been included.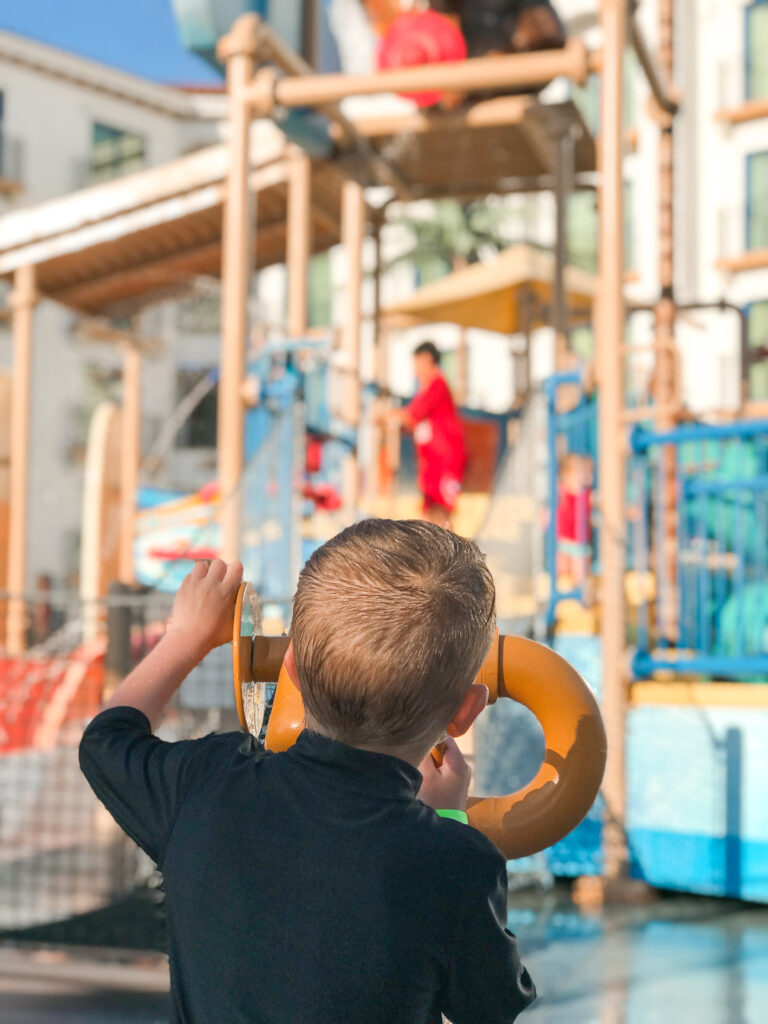 Courtyard Anaheim Theme Park Entrance is definitely not the most inexpensive hotel near Disneyland, but it is worth paying a little more if you need extra space.
If you are looking for a cheaper option, Howard Johnson Anaheim Hotel is right next door and is great! Read my review here!
How To Get a Discount at Courtyard Anaheim and Discount Disneyland Tickets
To potentially save some money on room at Courtyard Anaheim Theme Park Entrance, I recommend booking a vacation package with my friends at Get Away Today.
I have been booking with them for years because of their special deals, discount Disneyland tickets, and AMAZING customer service!
To price out your vacation package for Courtyard click here or tap on the button below, or head to www.getawaytoday.com to check prices for other hotels as well.
There are many hotels available that offer a third or fourth night for free! If you combine that with a Disneyland ticket sale, you can get a save so much money on a Disneyland vacation.
You can also use the Get Away Today coupon code: MommyMouse to save an extra $10 on any 2-night or longer package that includes hotel and tickets! Enter the promo code just before checking out!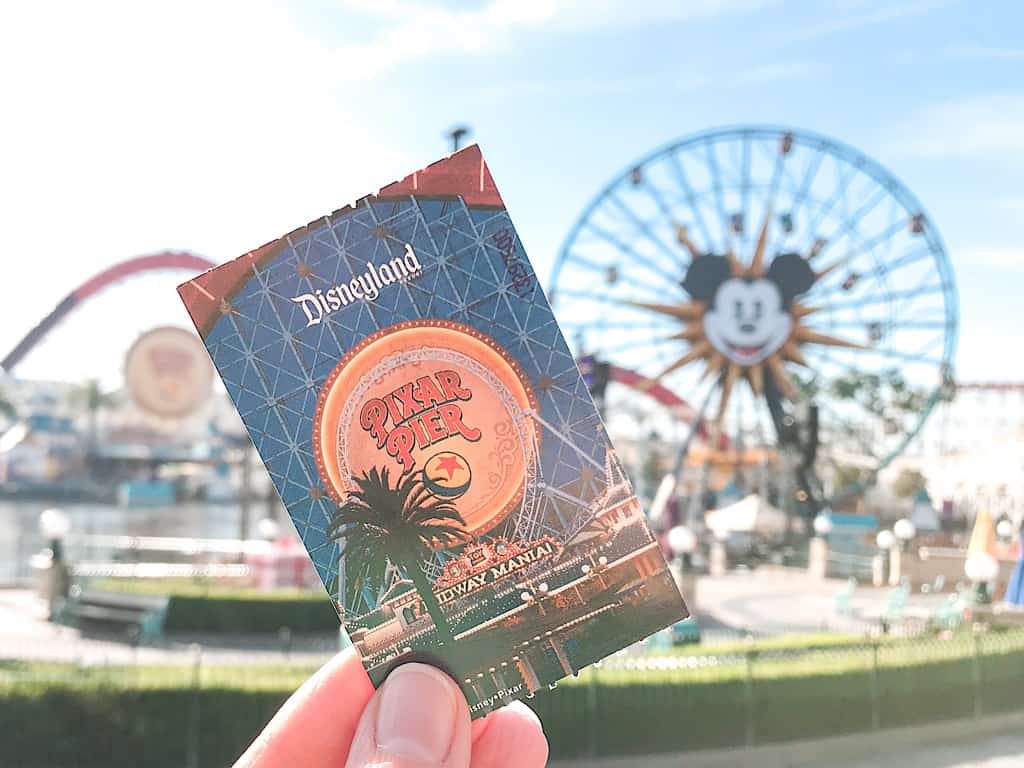 Another great reason to purchase your hotel and tickets through Get Away Today is their Layaway Plan, which allows you to pay over time for just $200 down and their Peace of Mind Plan that allows you to make changes or cancel if the need arises.
You can get Disneyland multi-day tickets (as well as single day tickets here) that include or don't include Disney Genie+. Let me know in the comments if you have any questions!

More Anaheim Hotel Reviews: