Are you trying to find the perfect hotel in Southern California near Disneyland? The Cambria Hotel & Suites Anaheim Resort is just what you're looking for. With spacious rooms, double showers, complimentary WiFi and a free breakfast buffet each morning! Looking for some fun in the sun? Check out the 30,000 square foot waterpark!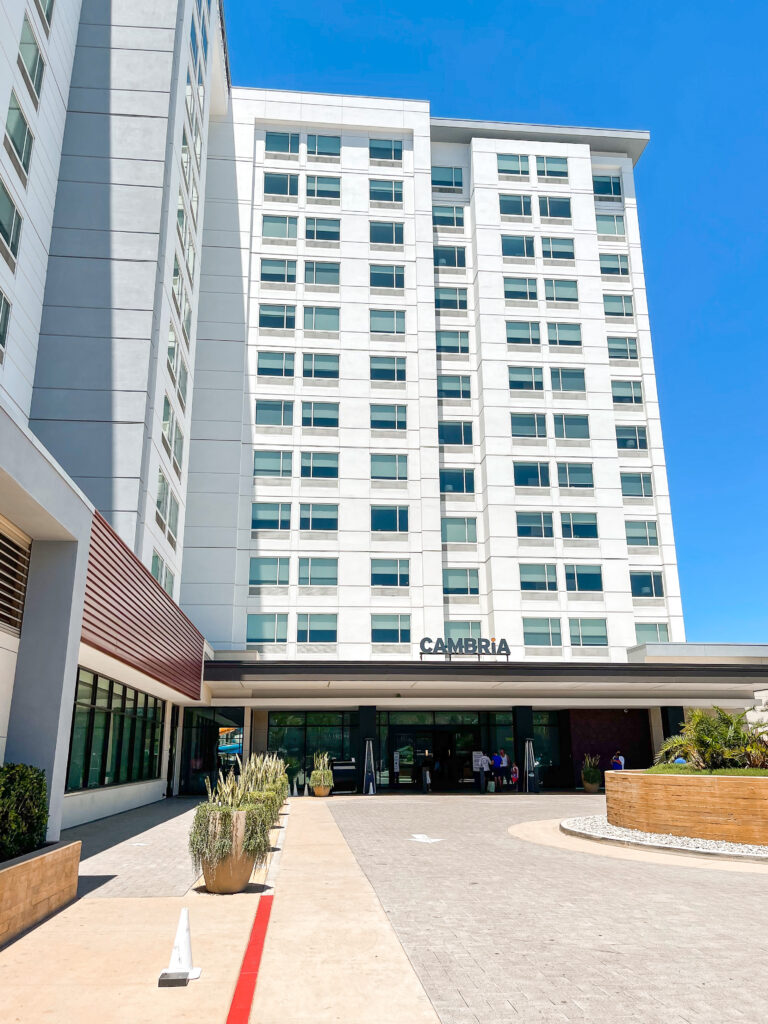 This post may contain affiliate links. When you click on these links, I get a small percentage back at no cost to you! For more information see my disclosure policy.
There are plenty of hotel choices around the Disneyland Resort. This article will focus on what I liked and didn't like about our recent stay at Cambria Hotel & Suites in Anaheim, California. Hopefully this review will help you decide if this hotel is right for you and your family!
Keep reading at the end to find out how you can bundle this hotel with discount Disneyland tickets and save even more money with a special coupon code! Let's get started with the review!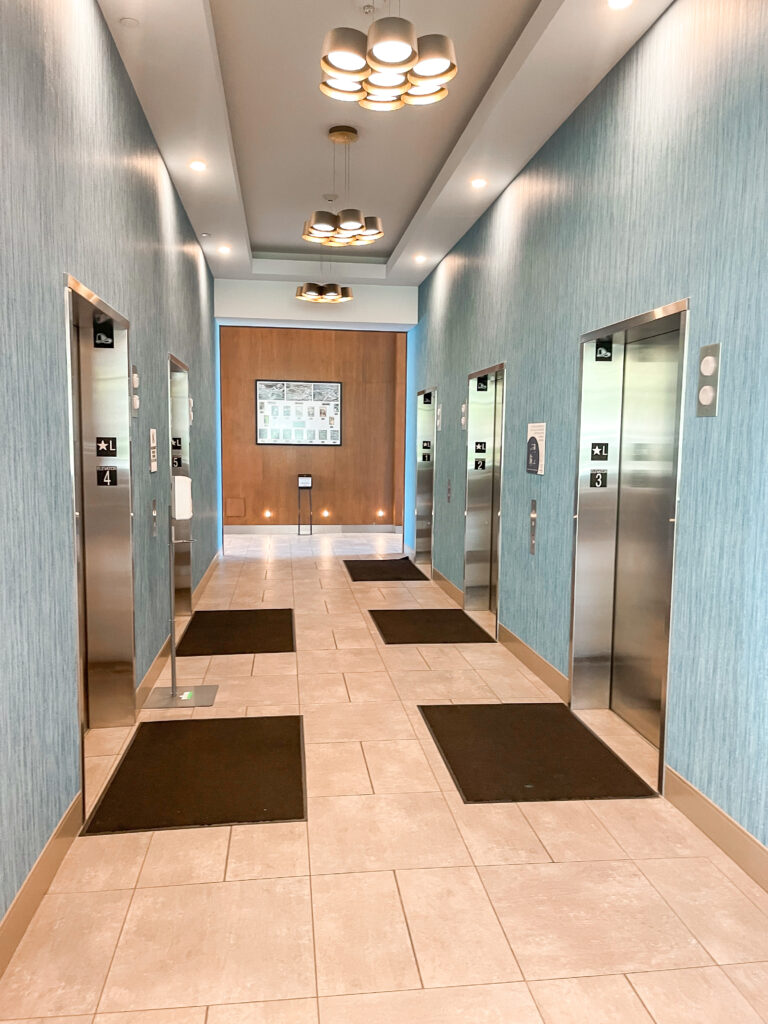 Hotel Rooms at Cambria Anaheim
There are three types of rooms at the Cambria Hotel & Suites in Anaheim. A standard 2 Queen room, a Kid's Suite, and a Queen Suite. Each of these room types have things in common as well as a few differences. Let's start with what they have in common.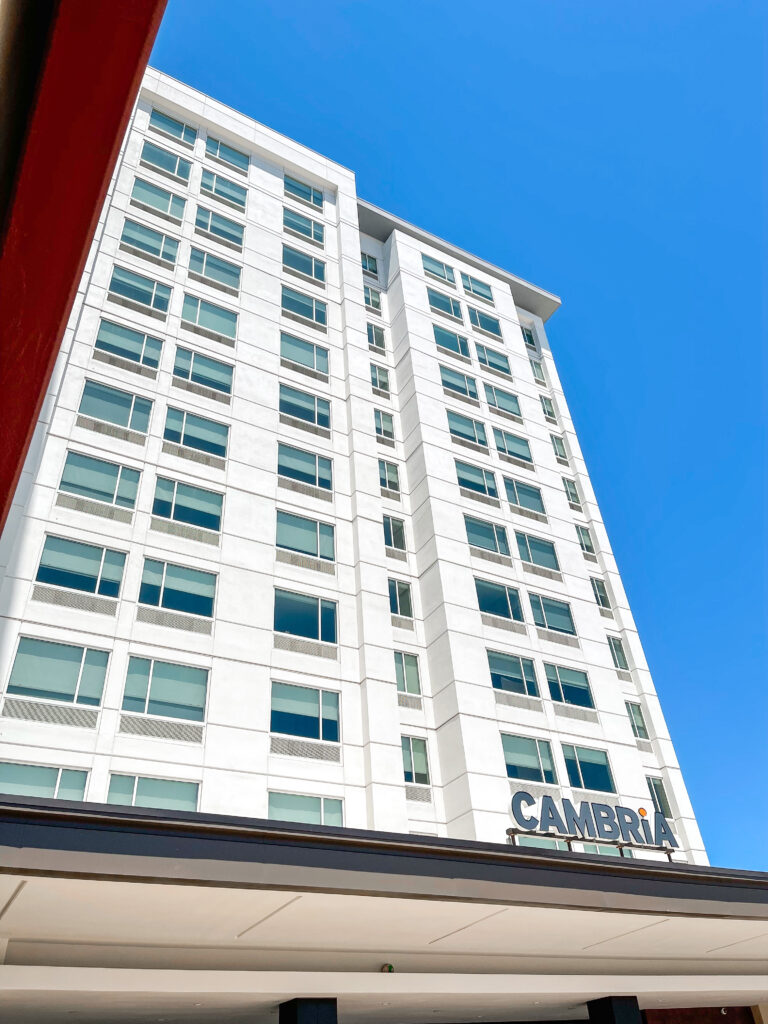 Bathroom
Each room at the Cambria features a bathroom with a double shower, which is an amazing perk for families.
As you walk in the bathroom, there is a vanity with a large mirror. The mirror lights up, which is amazing when putting on your make-up. It also has Bluetooth capabilities which allow you to play music while you get ready.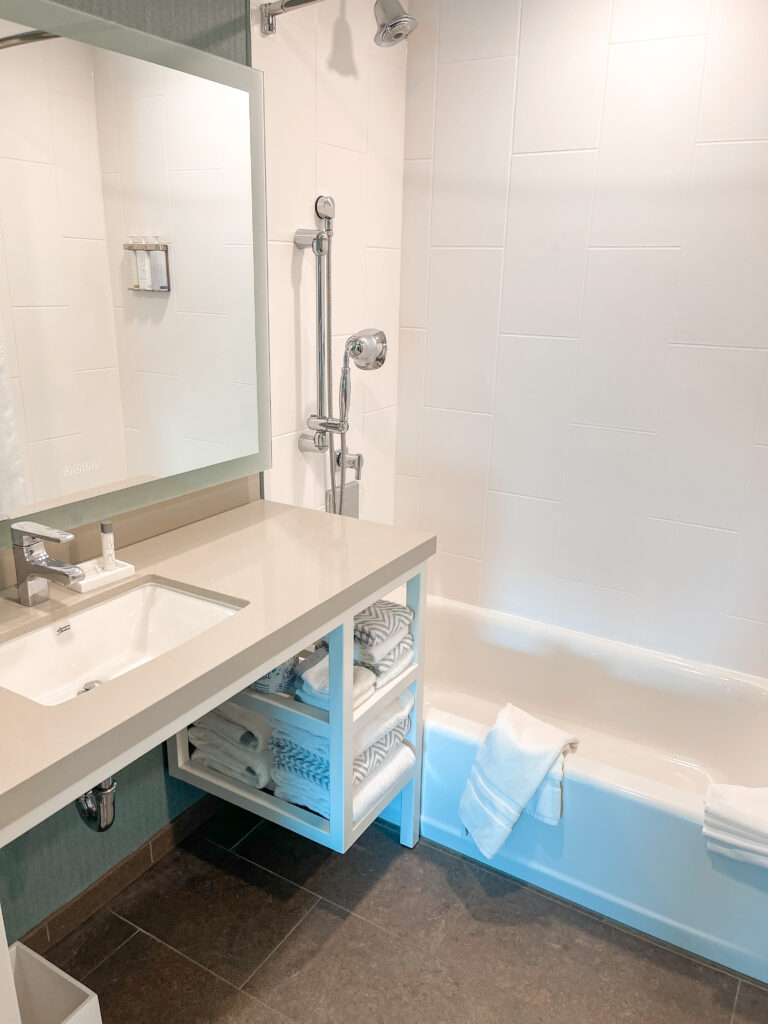 Across from the door is a shower/tub combination. We mostly used this shower to hang up our swim suits when they needed to dry.
The toilet and second shower are separated from the main bathroom with a pocket door. Both showers come equipped with shampoo, conditioner, and body wash.
The one complaint I had about this bathroom, is the door that separates it from the bedroom. It is a sliding barn-type door with frosted glass. Whenever the light was on in the bathroom, it would amplify and light up the entire bedroom, which made it really difficult to use the bathroom if other family members were sleeping.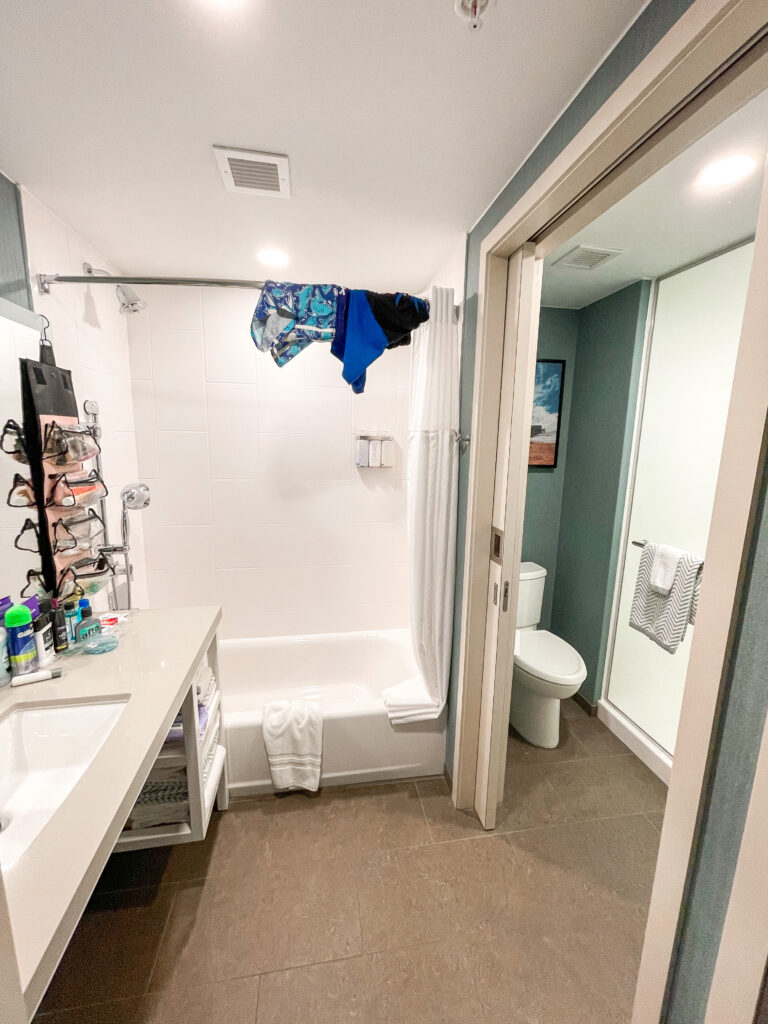 When my family goes to Disneyland, I like to get up and early, and get ready before everyone else wakes up. The door and light situation made that pretty much impossible. I ended up doing my hair and make up using a flash light to avoid disturbing my husband and kids.
Living Room & Mini Kitchen
The living room & mini kitchen area are only included in the Kid's Suite and the Queen Suite. The Standard 2-Queen room has a small microwave and refrigerator.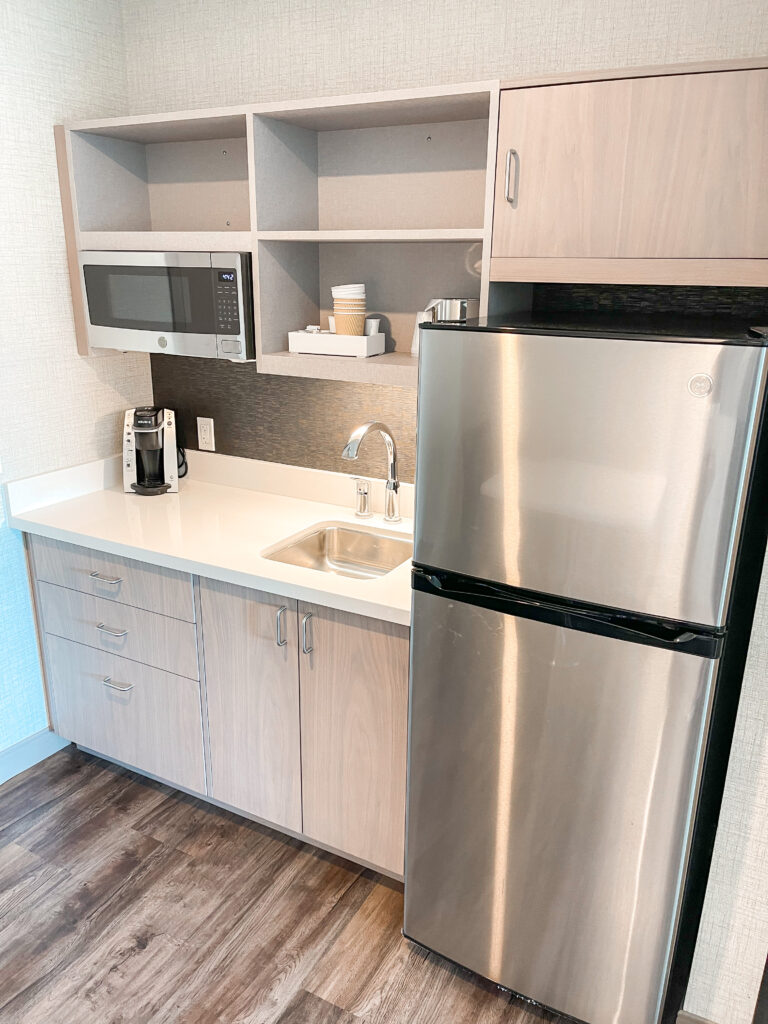 The mini-kitchen in our Kid's Suite, as well as our friend's Queen Suite featured a fairly large refrigerator, cabinet space, a standard size microwave, counter space, three drawers, and a small sink.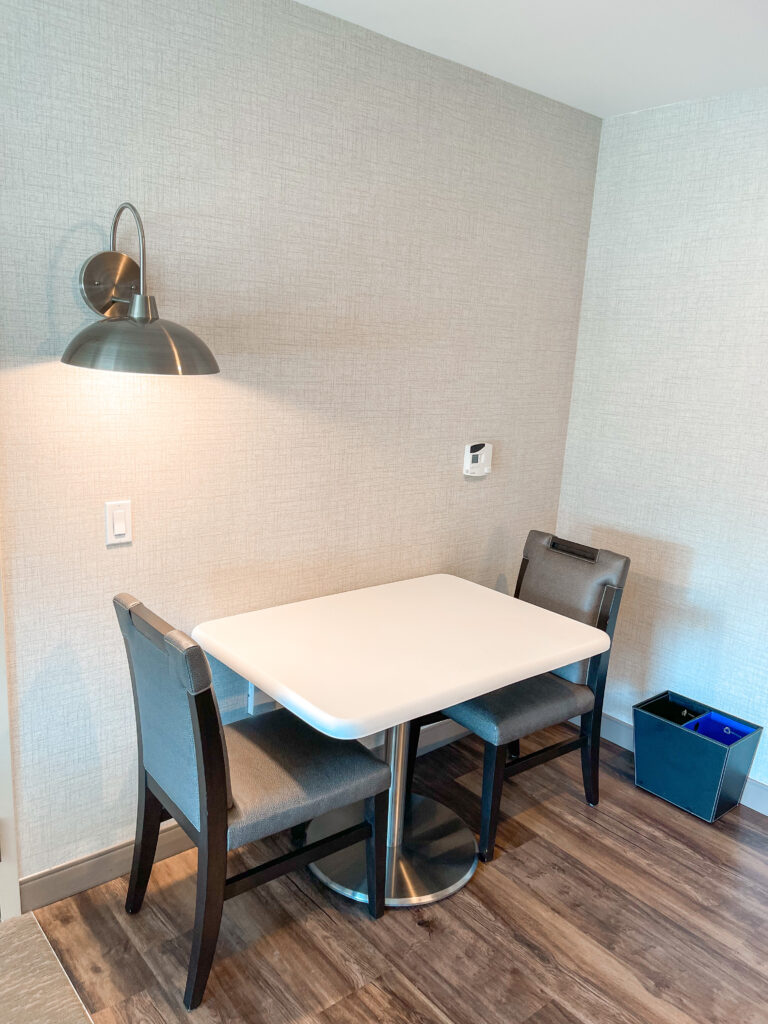 There was also a small dining table with three chairs and a lamp. There were no plates, cups, or flatware, so plan to bring those things with you if you need them.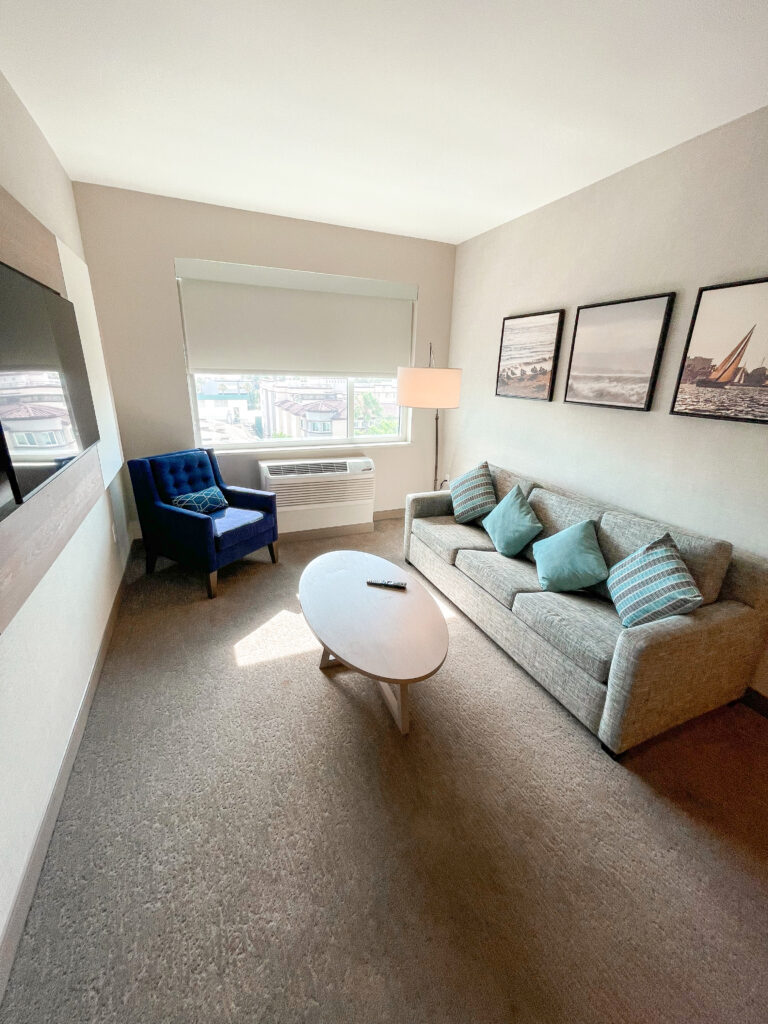 The living room in both the Kid's Suite and Queen Suite had a large flat-screen television, a large window, a chair, a coffee table, and a sofa with a full-size pull out bed.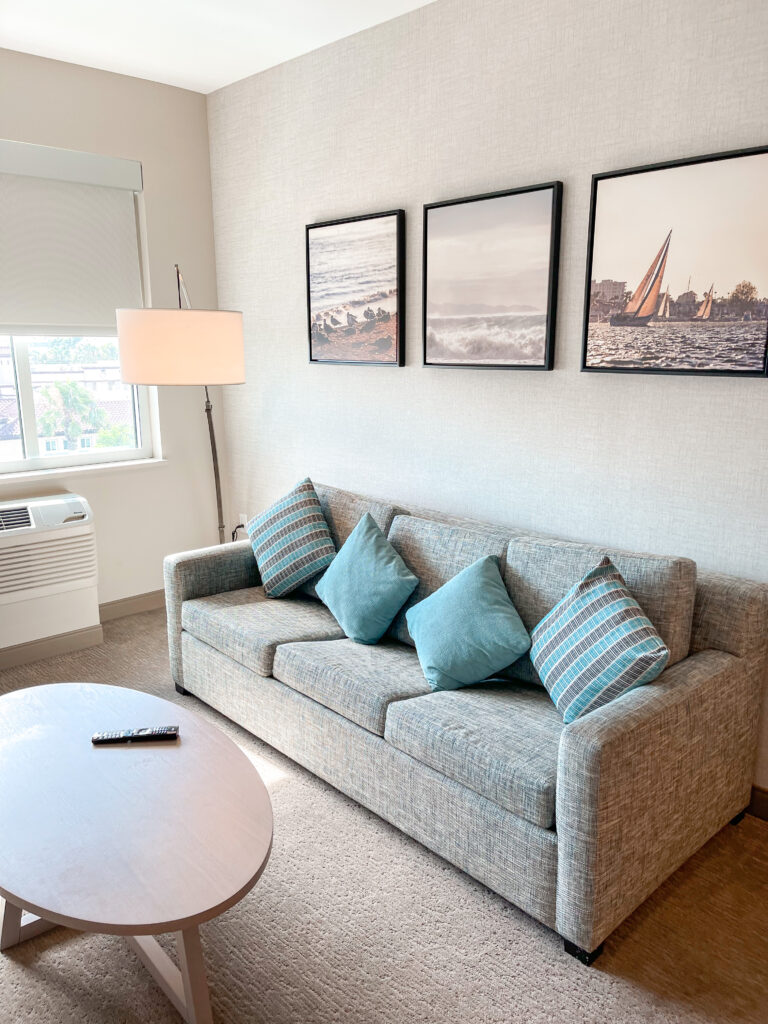 *Side note: The televisions in both the living room and bedroom are not smart tv's. If you want to watch channels like Netflix or Disney+, you will need to bring your own streaming device. We brought our own Roku device from home.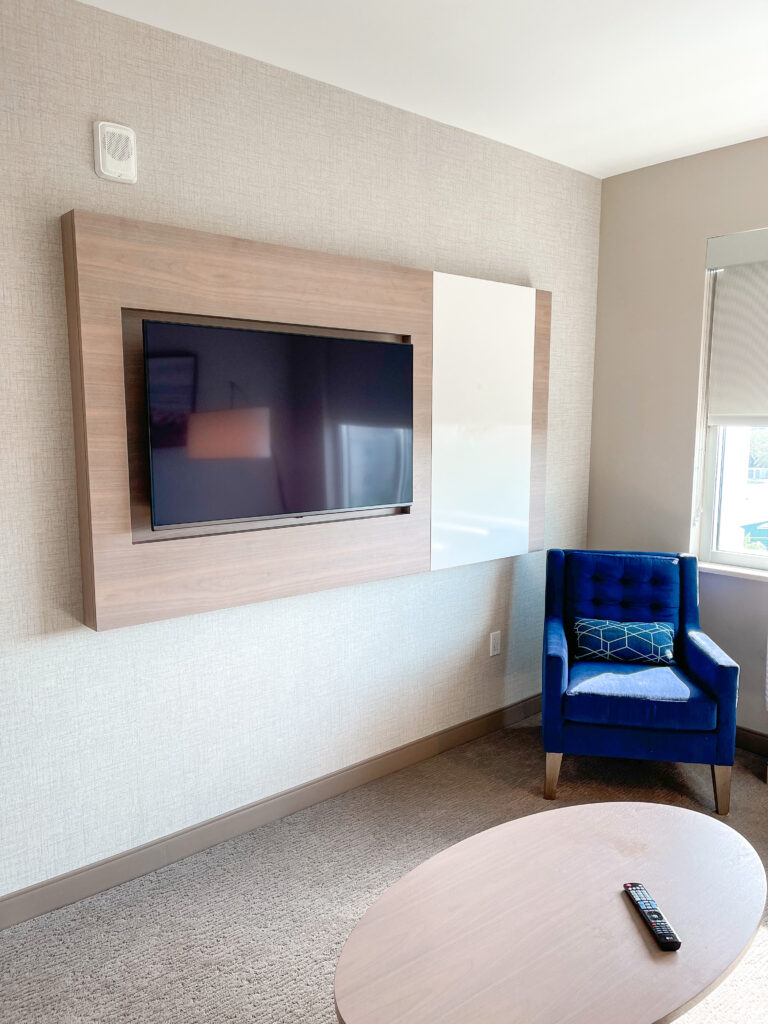 One Bedroom King Kid's Suite
The separate bedroom of this Kid's Suite has one King-size bed with two night stands. There were USB charging ports located on either side.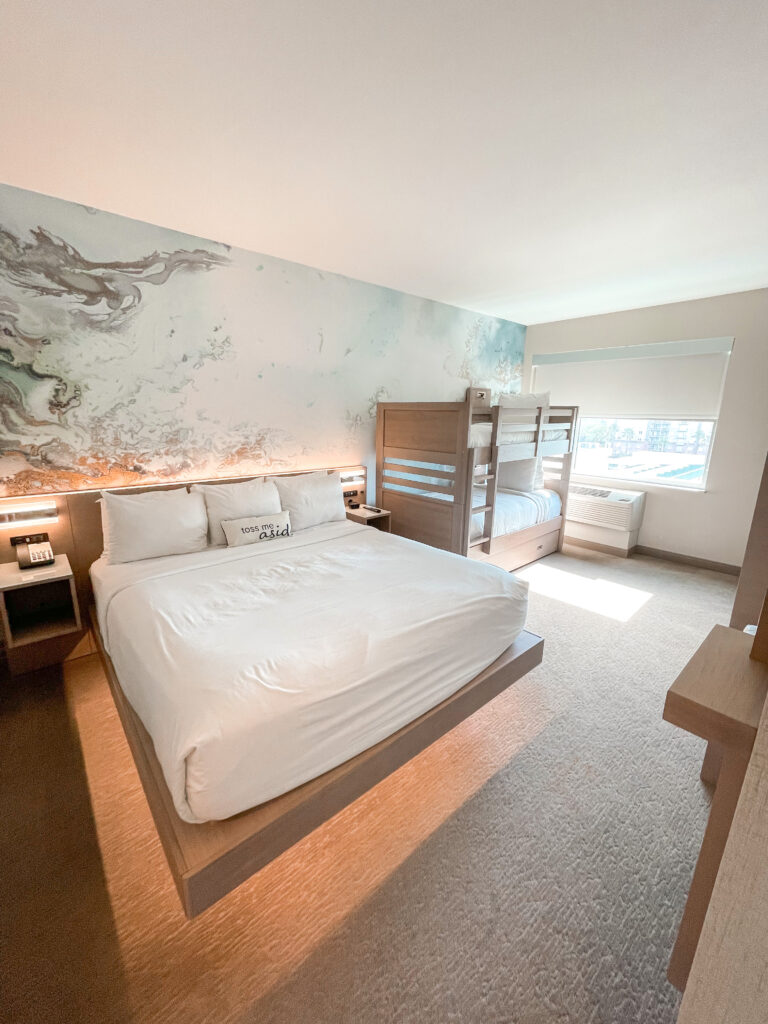 There is also a set of Twin-size bunk beds that can sleep up to three kids. A top bunk, a bottom bunk, and a pull-out trundle bed.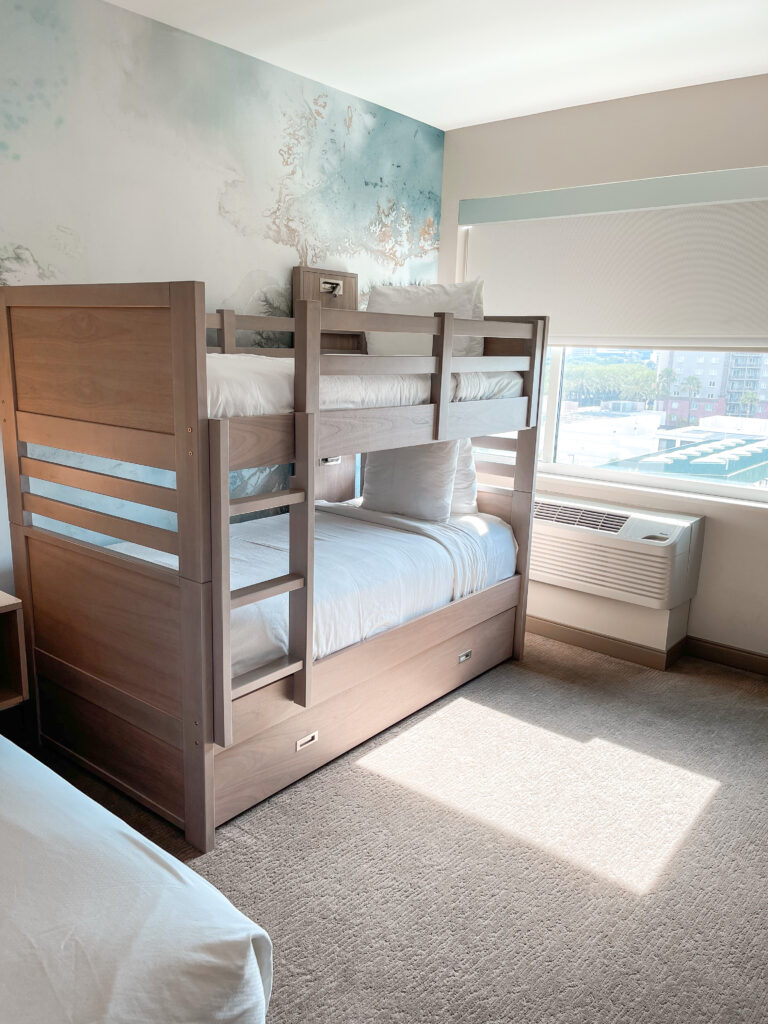 There is a wardrobe-style closet, a large flatscreen tv and a small bench.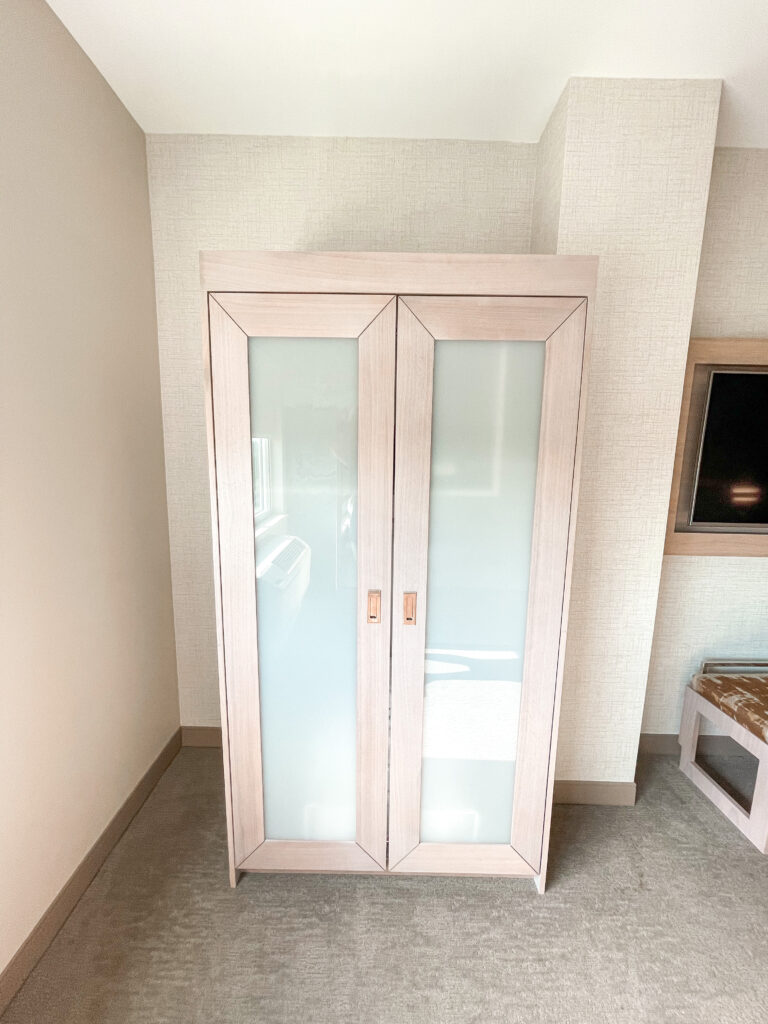 I had two complaints about this room. The first was a lack of storage space. For a suite that can potentially sleep up to 7 people, there was virtually no where to store clothing items.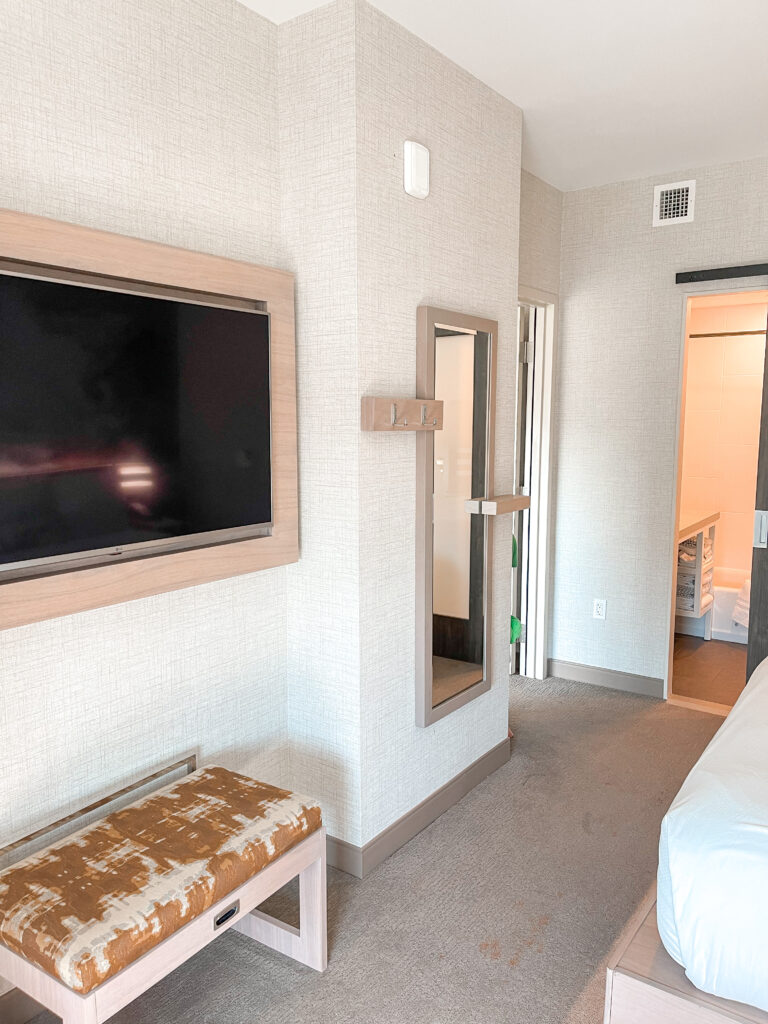 I ended up using the kitchen drawers for my three boy's clothes and kept my clothes in the suitcase at the bottom of the closet. My husband had his clothes on the shelf in the closet.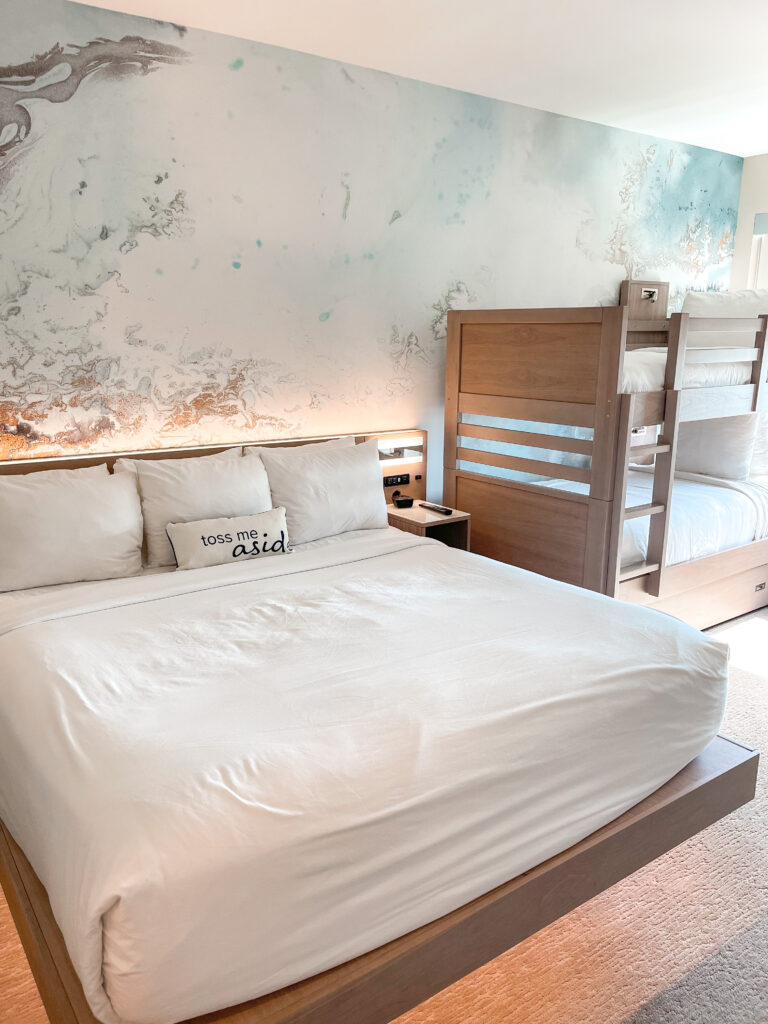 My second complaint was the closet doors on the wardrobe. They were a pain to open. I broke a couple of nails trying to open those doors. We thought about just leaving the doors open, but unfortunately if they were open, the light inside the closet stayed on. It was kind of annoying.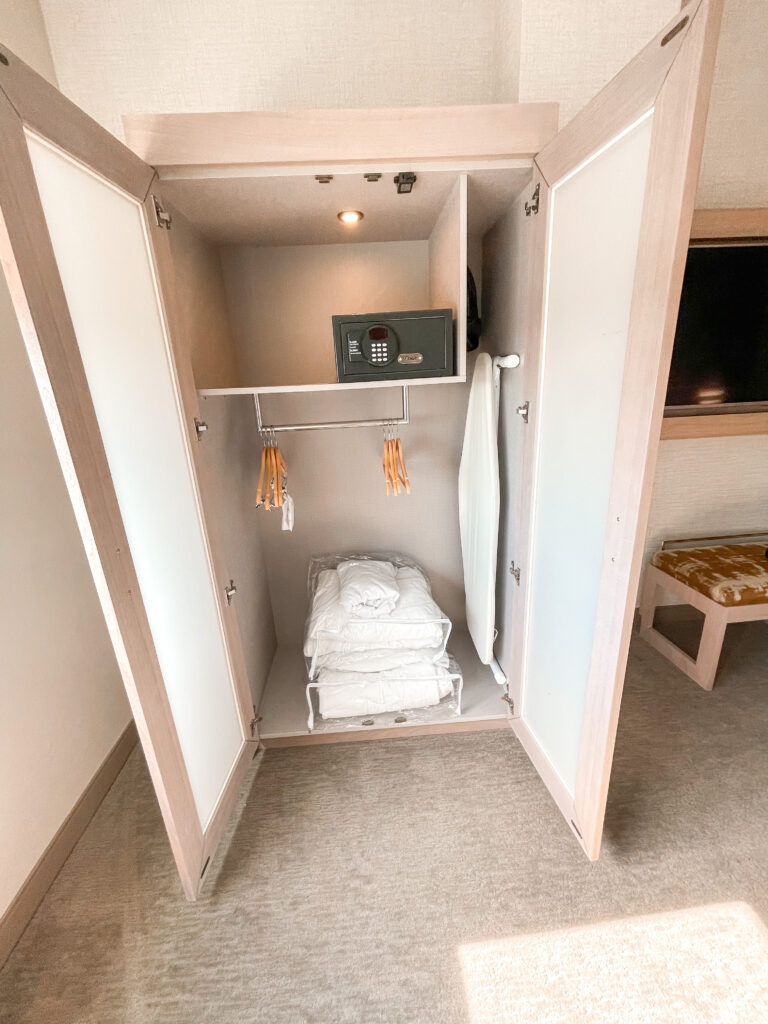 One Bedroom Queen Suite
Our friends stayed in the room next door to us which happened to be a One Bedroom Queen Suite. They were nice enough to let me take a look around and snap a couple of pictures.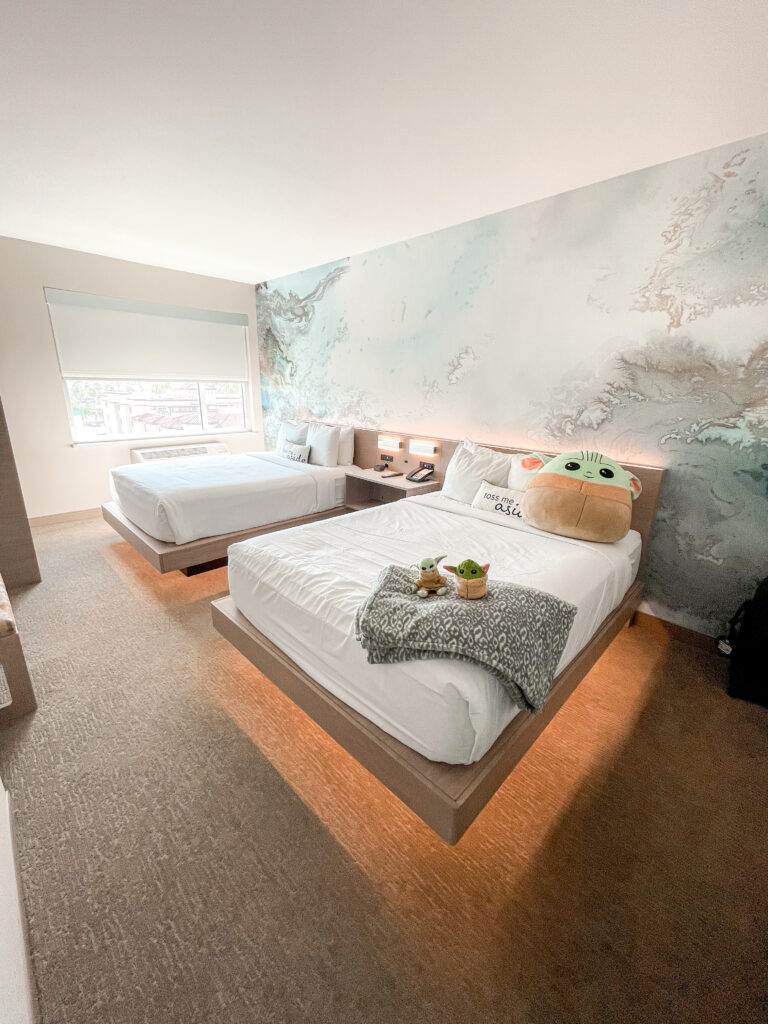 This separate bedroom was the same size as our Kid's Suite, but had two queen beds. There was also a tv, bench, and annoying wardrobe/closet.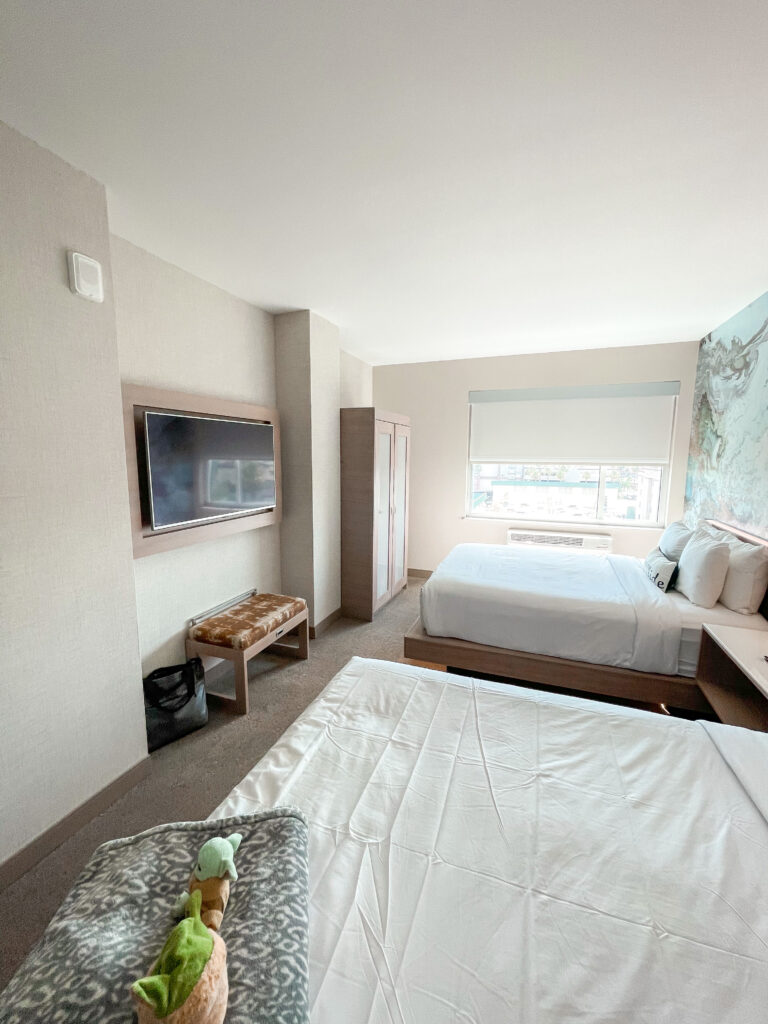 *Side note: I recommend booking or requesting a park-facing room. We were able to see Guardians of the Galaxy, Matterhorn Bobsleds, Sleeping Beauty Castle, and Galaxy's Edge at Disneyland from our room. We also had an amazing view of the fireworks show at night!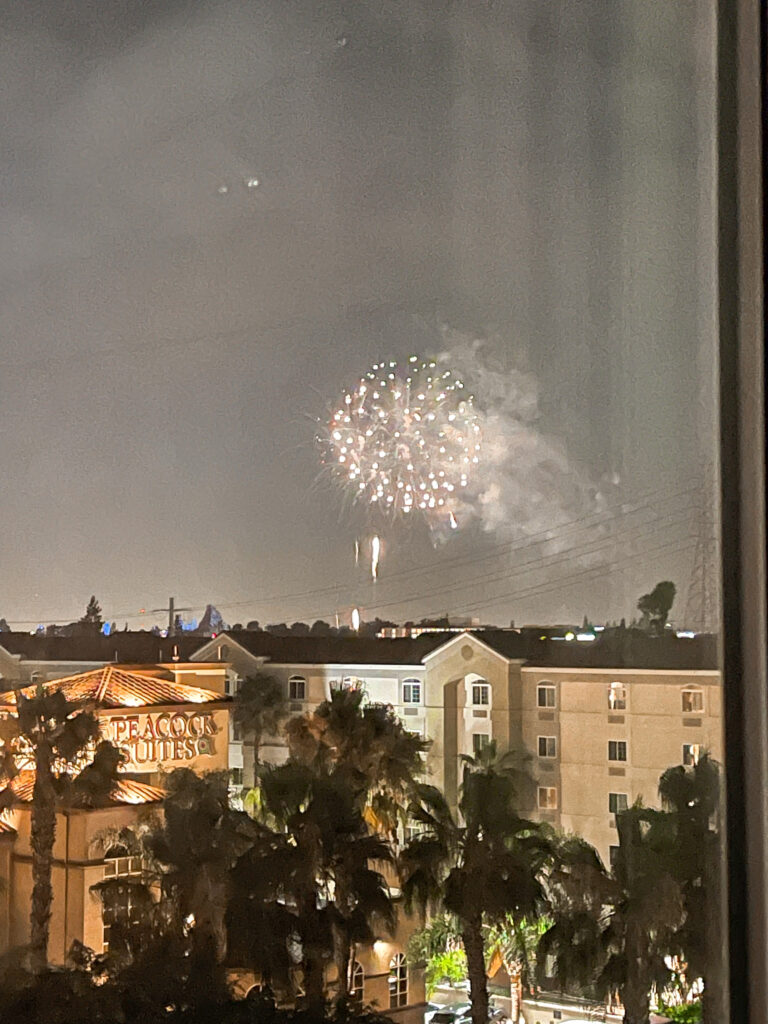 Lobby
The lobby at the Cambria Hotel & Suites in Anaheim was actually very spacious. As you walk in the doors, the front desk is located to the right. The check-in process was pretty smooth.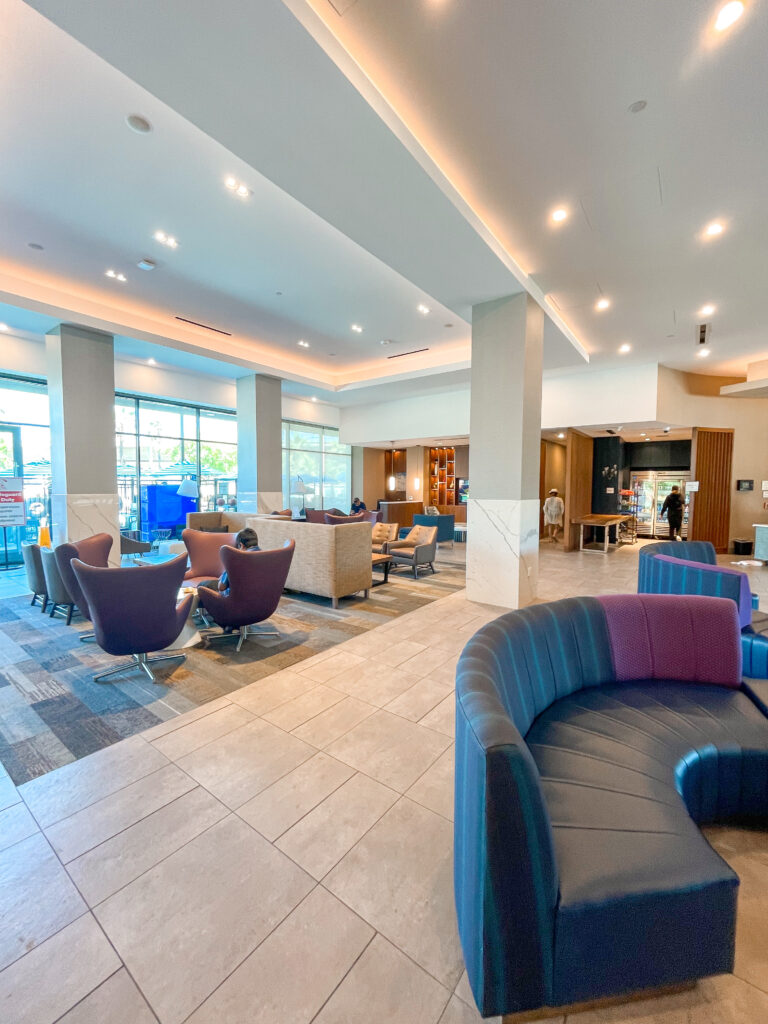 I had booked and prepaid for our room in a package with Disneyland tickets from Get Away Today, so I was only required to pay for parking at the time.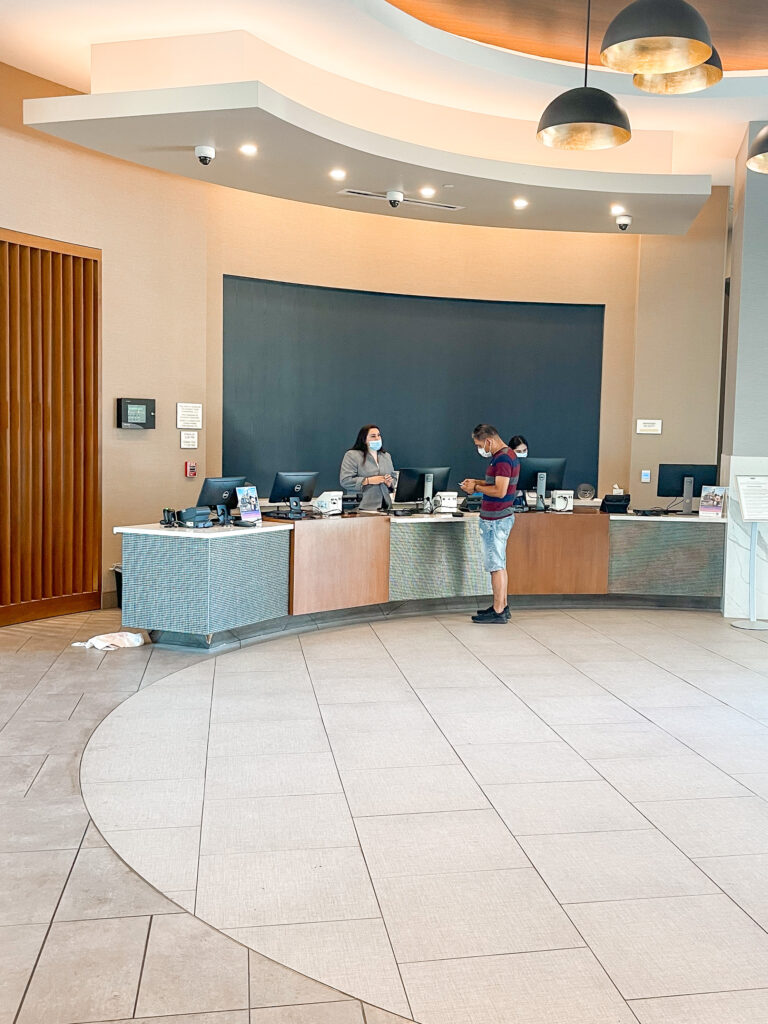 The lobby had a lot of seating areas as well as a few computers with complimentary Wi-Fi for guests to use. There were also a couple of large tv's that were playing the Disney channel.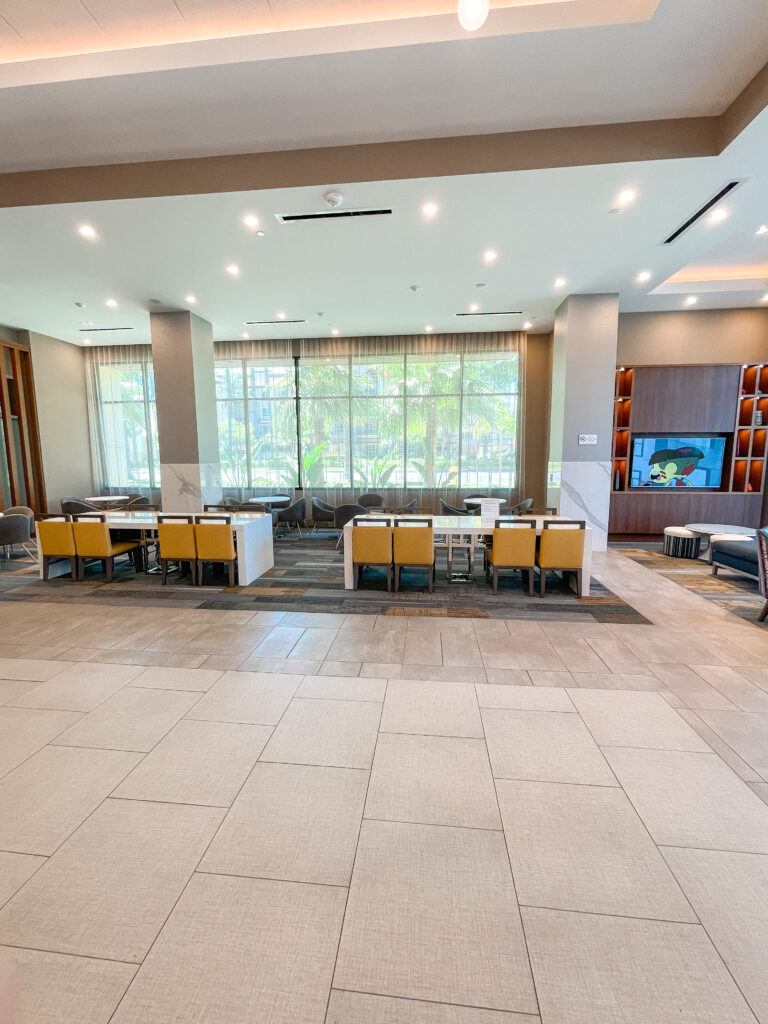 Hotel Amenities
Here are a few of the amenities available when staying at Cambria Hotel & Suites in Anaheim.
Snack Store
Located right next to the check-in area of the lobby is a small snack bar/store. This area had things like chips, cookies, soda, ice cream, and a couple of types of medications.
The prices for these items are about what you would expect. I actually used Walmart Grocery Delivery to have our own snacks and drinks delivered to for our stay and I think our kitchen area looked more stocked than the hotel's! (I may have over-done it with the snacks)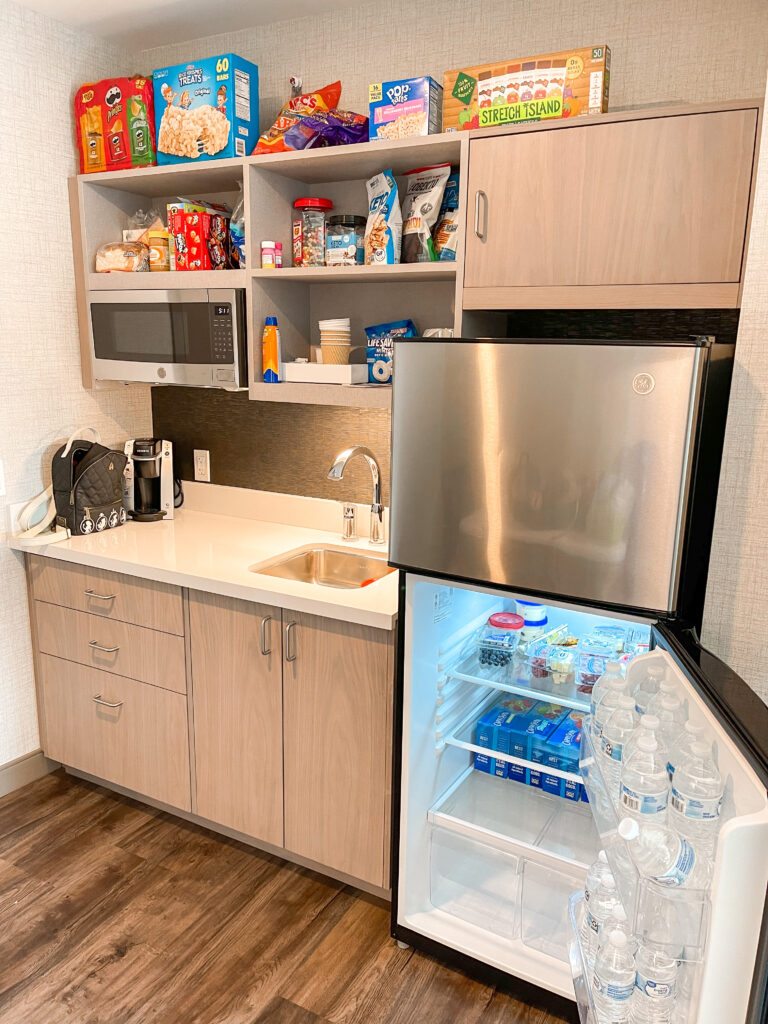 Laundry
The Cambria had on-site laundry facilities which really came in handy after our visit to the beach. The laundry room is located just off of the lobby on the first floor.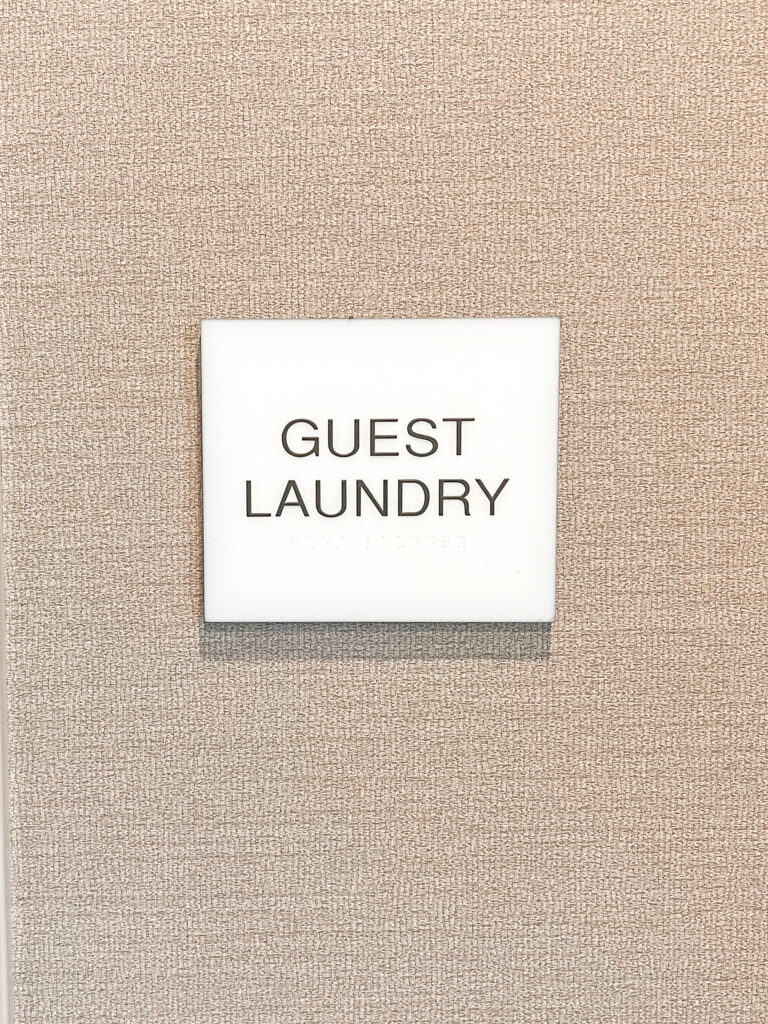 Both the washer and dryer were $4.00 per load, so to complete a load of laundry it would cost a total of $8.00. The washer took about 30 minutes and the dryer about 45 minutes.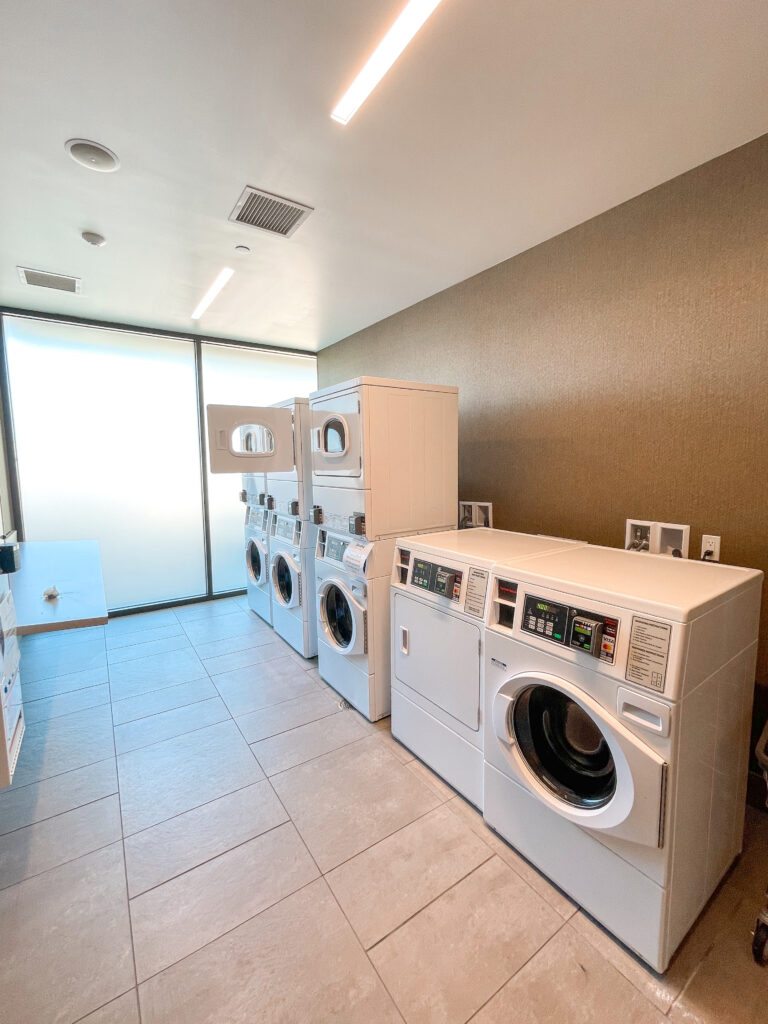 Fitness Center
There is a fairly large fitness center with a wall of windows. There are treadmills, elliptical machines, and plenty of weights. During our stay, you had to have someone at the front desk let you into the fitness center.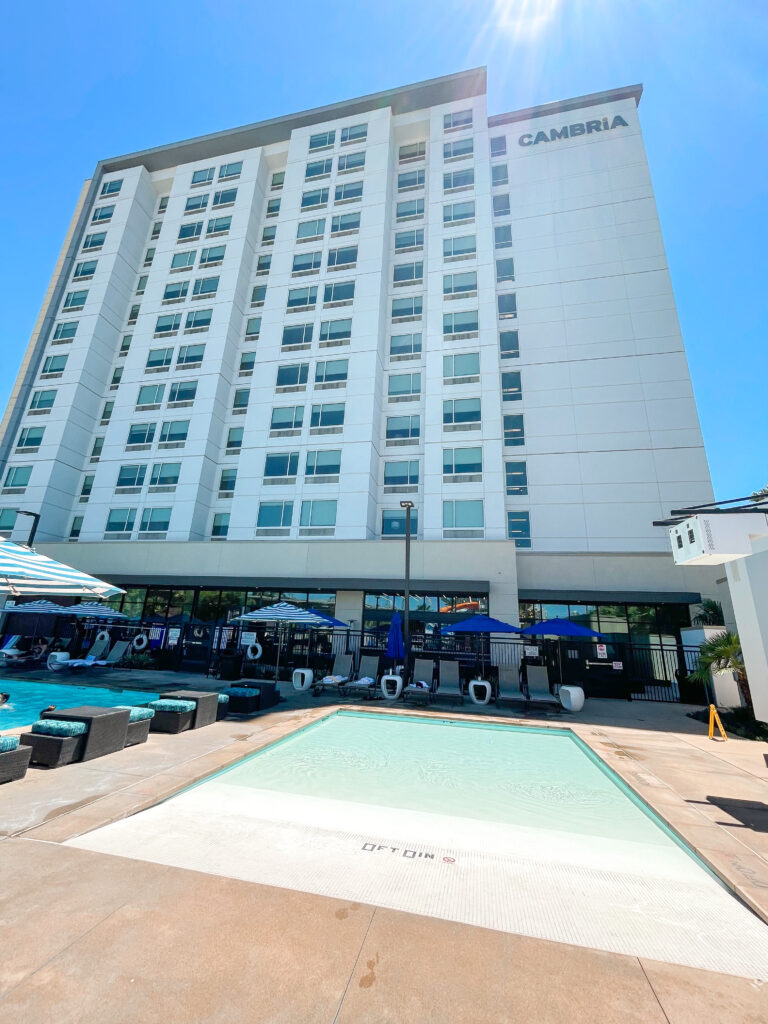 Breakfast
One of the reasons we decided to stay at Cambria Hotel & Suites was the included hot breakfast buffet. The breakfast experience is where I think the Cambria in Anaheim really dropped the ball.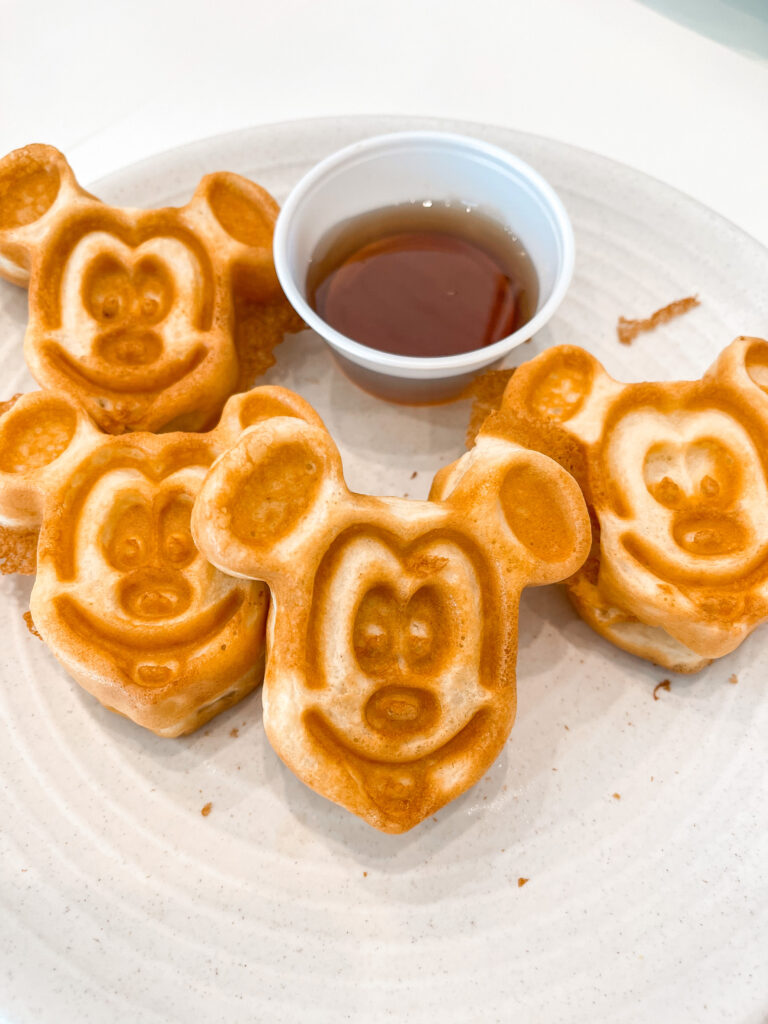 It could be due to post-pandemic procedures, but there are definitely many improvements that need to be made to increase the efficiency.
There were warm breakfast items available including sausage, eggs, and breakfast potatoes. To get these items, you wait in line and let an employee know what you wanted, then they would get a plate for you.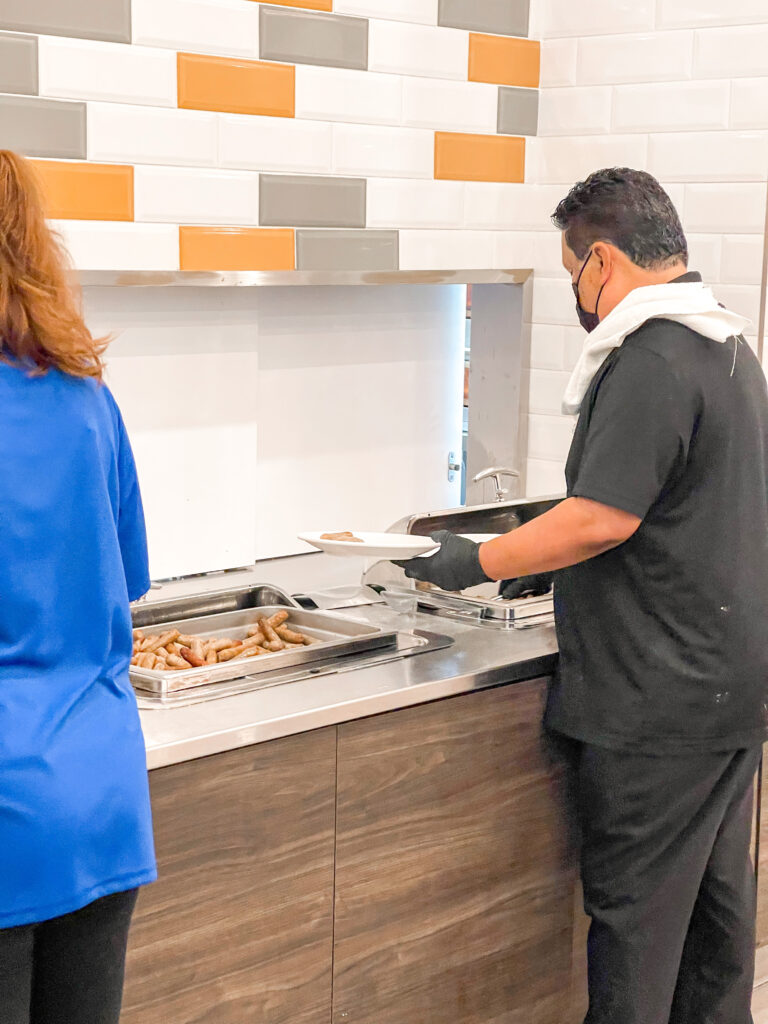 The problem with this is that those same employees that were getting food for guests, were also responsible for keeping the breakfast serving area clean and restocking items. Because of this, they were constantly out of all of the other breakfast items. This could be remedied with more employees.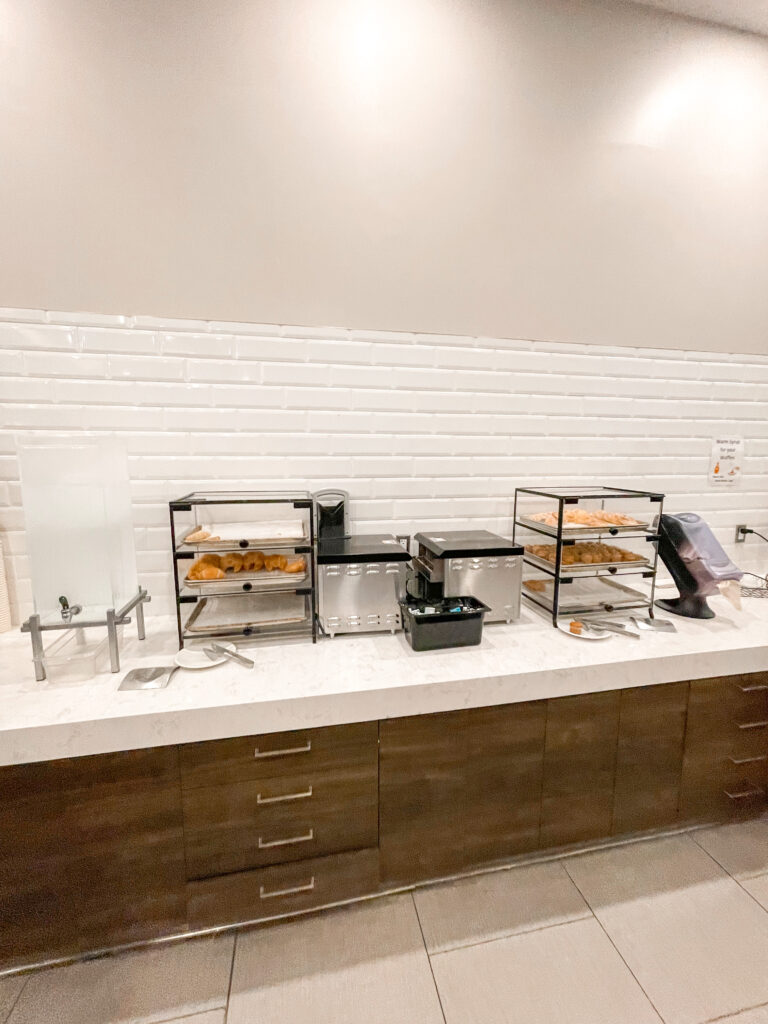 There were 8 self-serve Mickey Waffle irons which was a nice touch, but the execution was a disaster. Many of the guests making waffles did not spray the waffle irons with the provided nonstick, so the waffles would stick to the irons, making them unusable for other guests.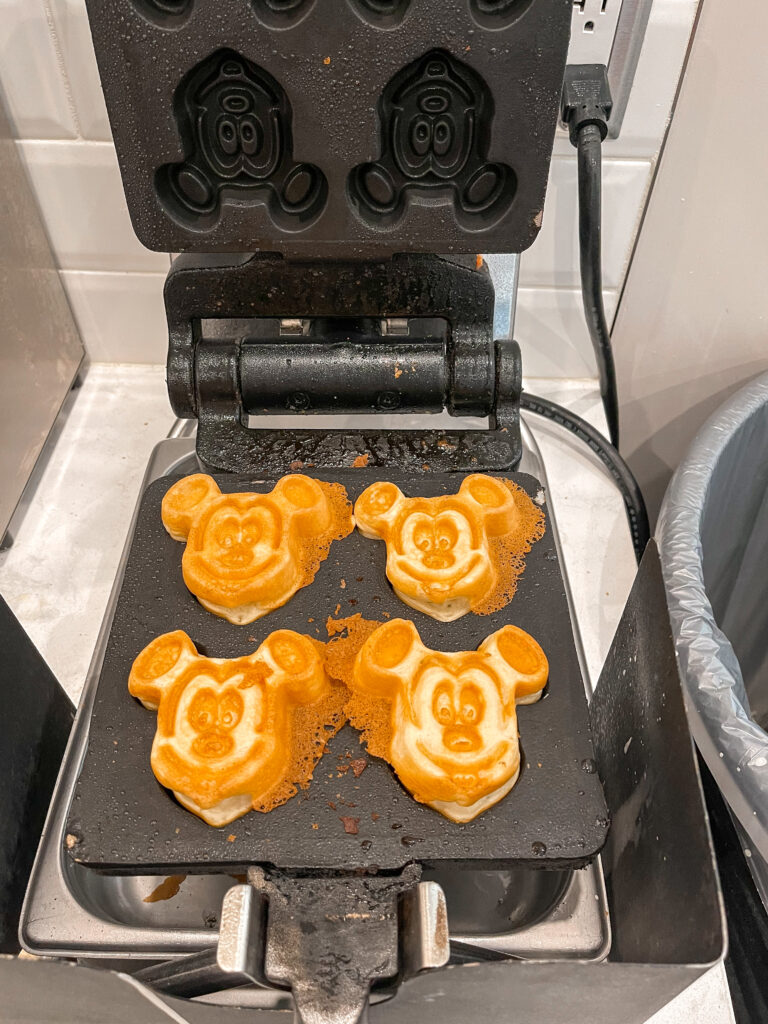 I think it would be much more efficient if hotel employees made waffles and served them along side the other hot items, like they do at all of the Disney breakfast buffets.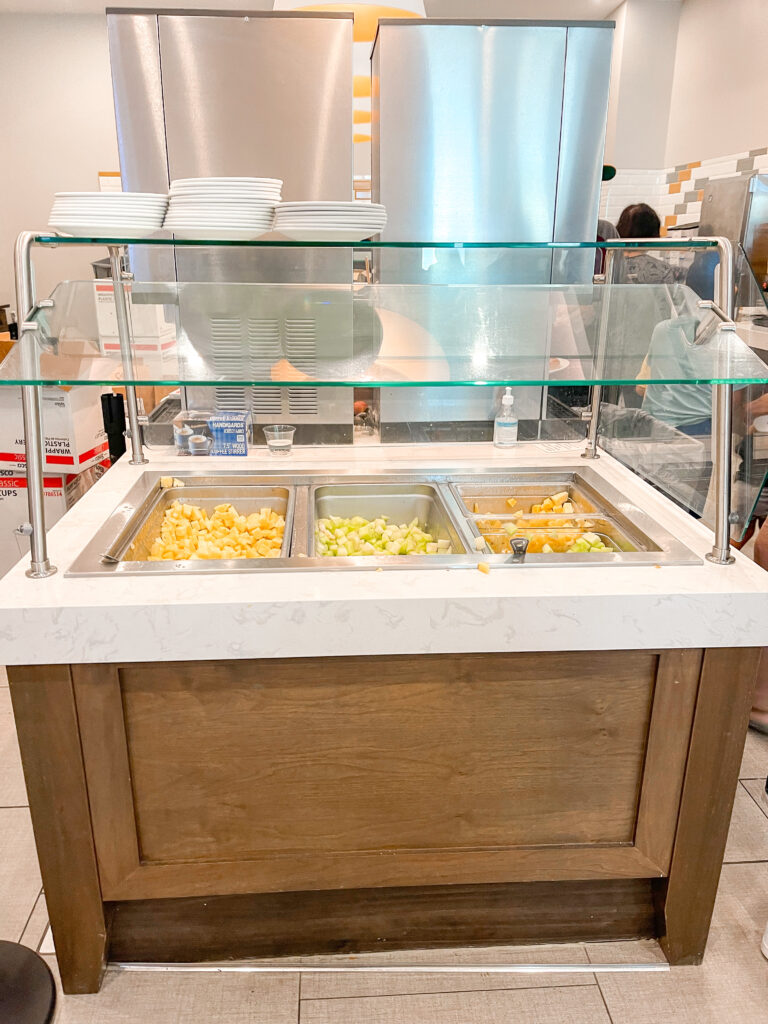 Other items that were available some of the time was cold cereal, milk, juice, fruit, croissants, danishes, muffins, toast, and bagels. But these items were available sporadically either due to the employees being too busy to replenish them or they were out altogether.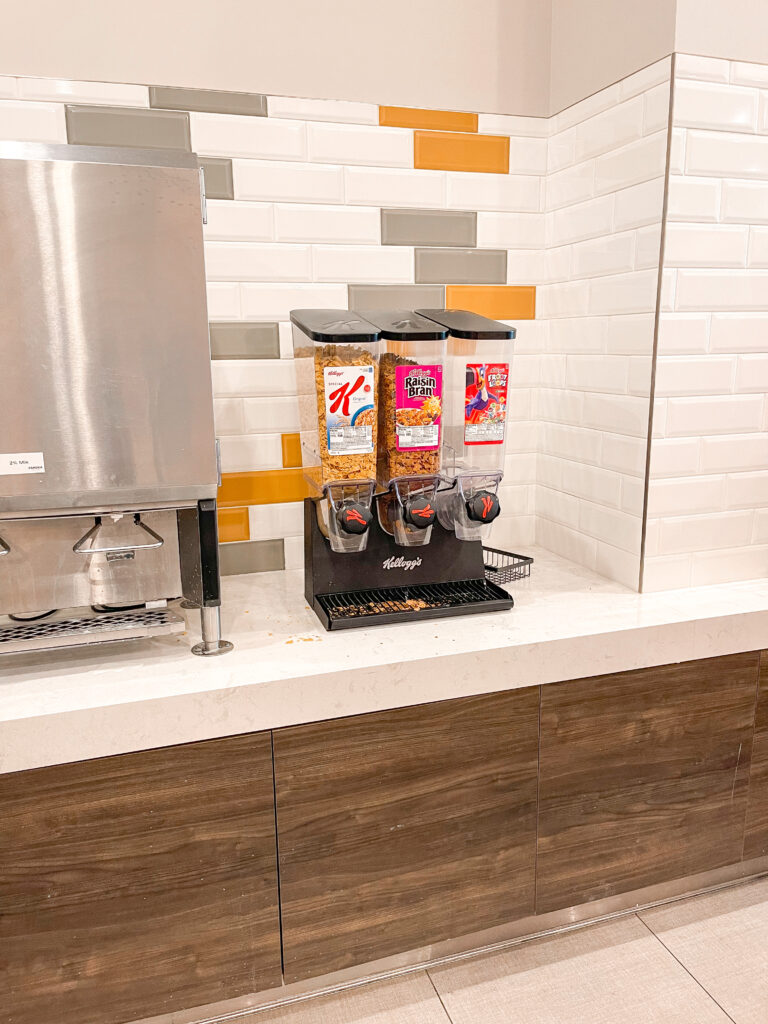 There were a couple of times when they were completely out of ketchup, milk, and juice. We were at this hotel a total of 7 nights and these were problems that we encountered every morning.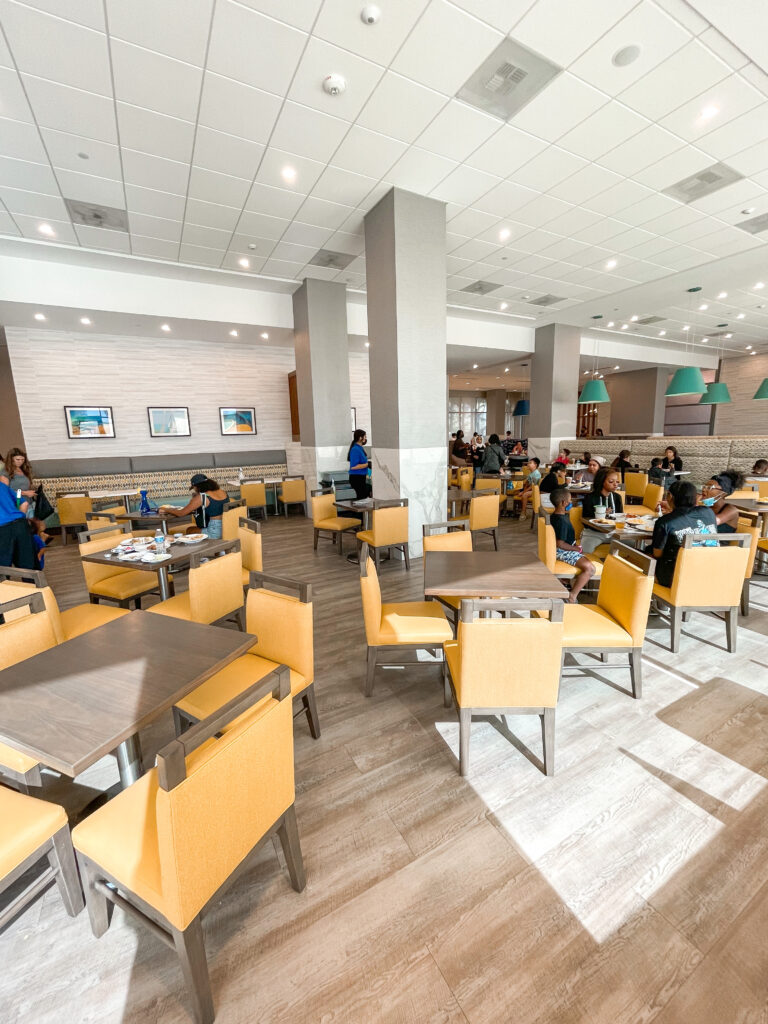 If I choose to stay at Cambria Hotel & Suites again, I will probably bypass the breakfast all together and just purchase something to be delivered, or eat breakfast at Disneyland.
Cambria Hotel & Suites Pool & Water Park
The pool area at the Cambria was definitely a highlight of our stay. My kids swam at least once a day while we were there.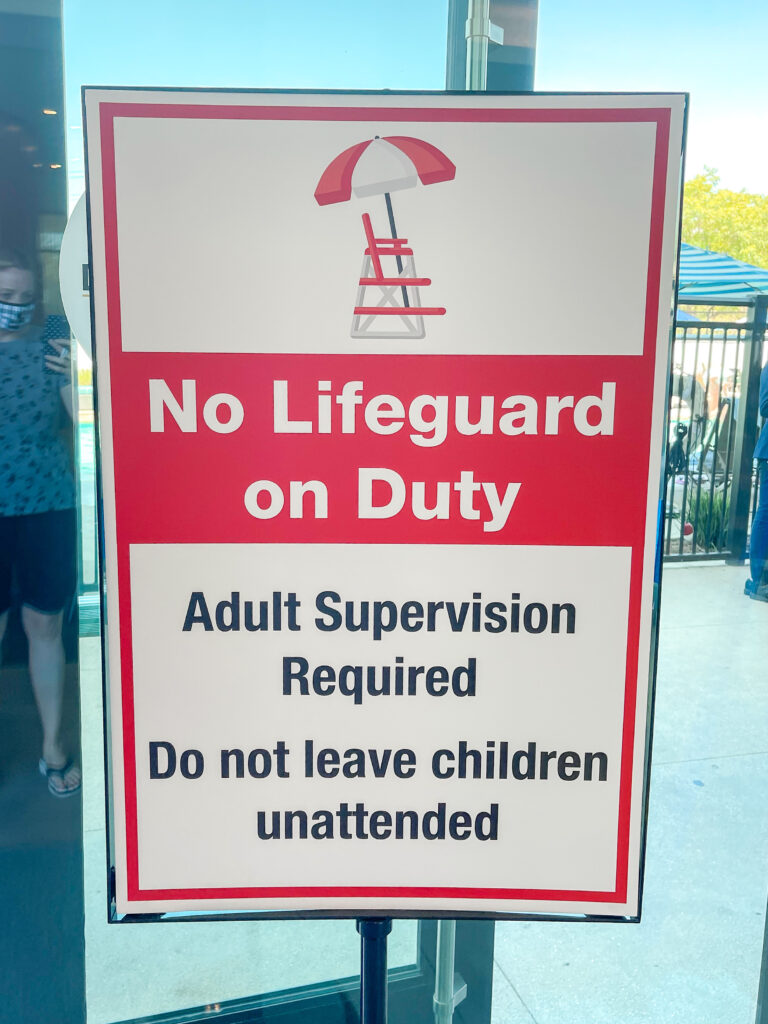 When you check in to the hotel, each member of your family is given a wristband that you must wear throughout the entire trip. In order to enter the the pool area, you need to show this wristband, and they are not very flexible about giving you a replacement.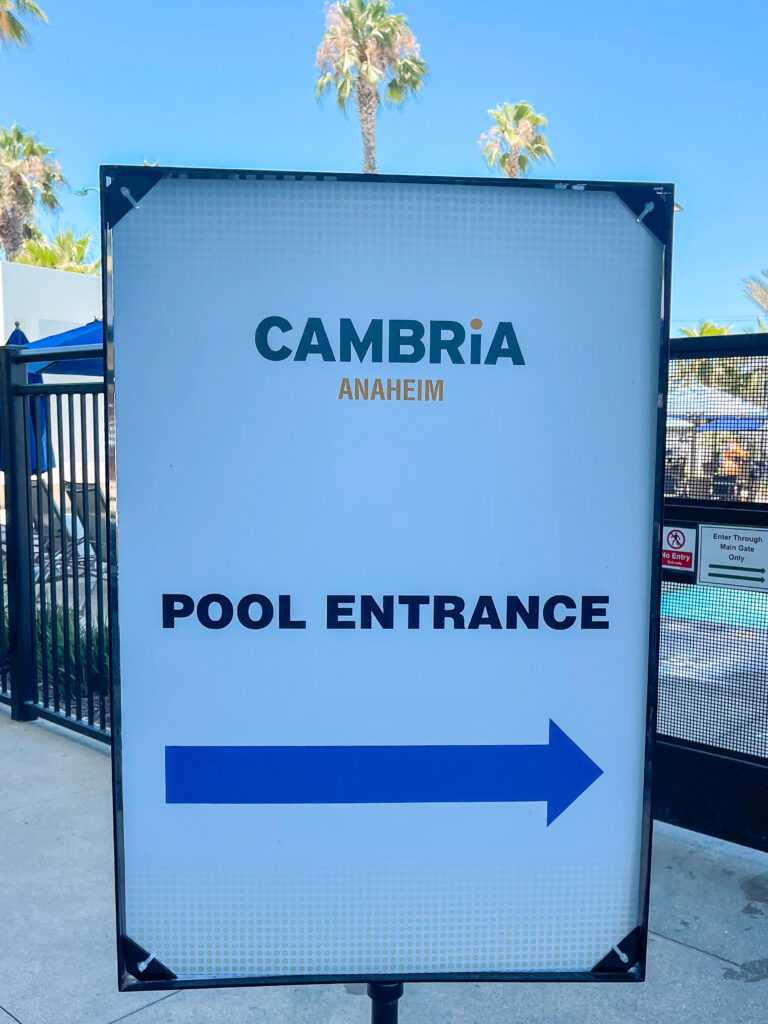 Pools
There was a large standard pool that ranged in depth from 3 feet to 5 feet. There is also a separate kiddie pool with a maximum depth of about 2 feet.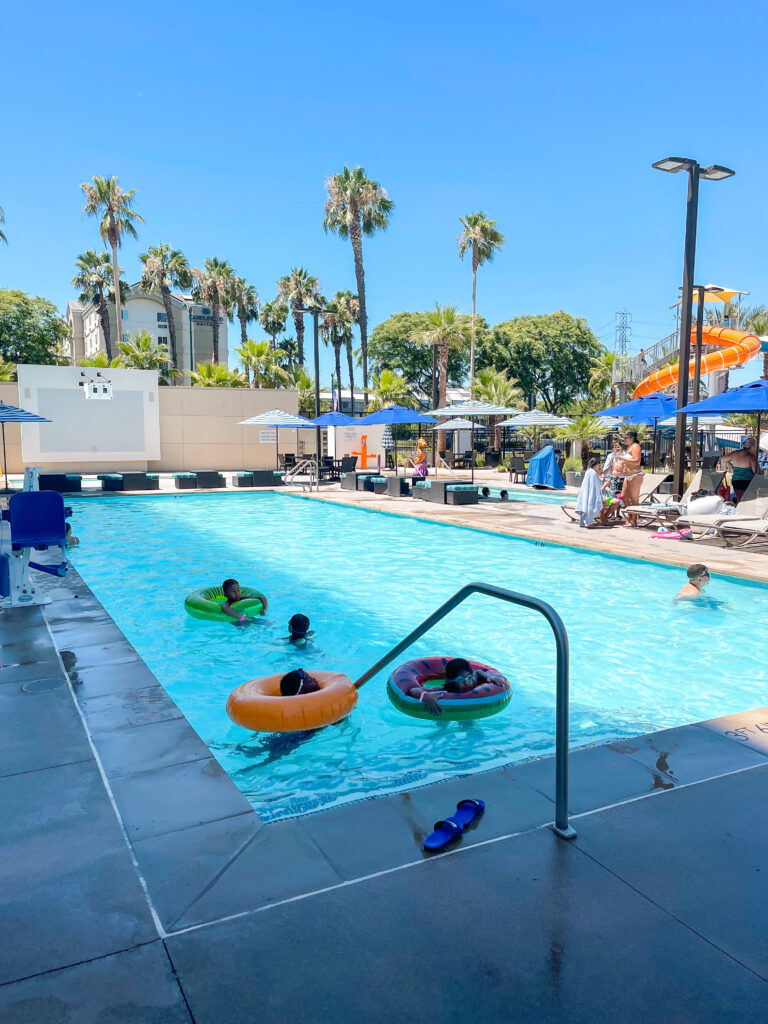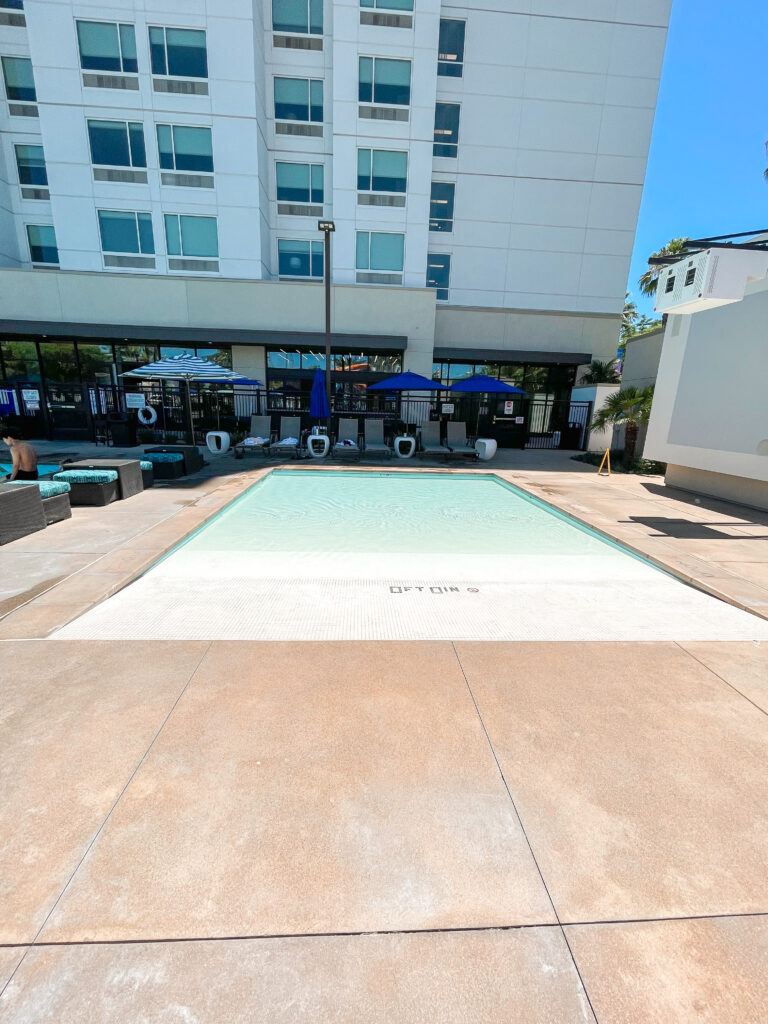 Hot Tub
The hot tub is located right next the the large pool and was fairly spacious. It could definitely accommodate 8-10 adults. It wasn't the hottest hot tub I've been in, but that is most likely due to the amount of kids that utilize the pool area.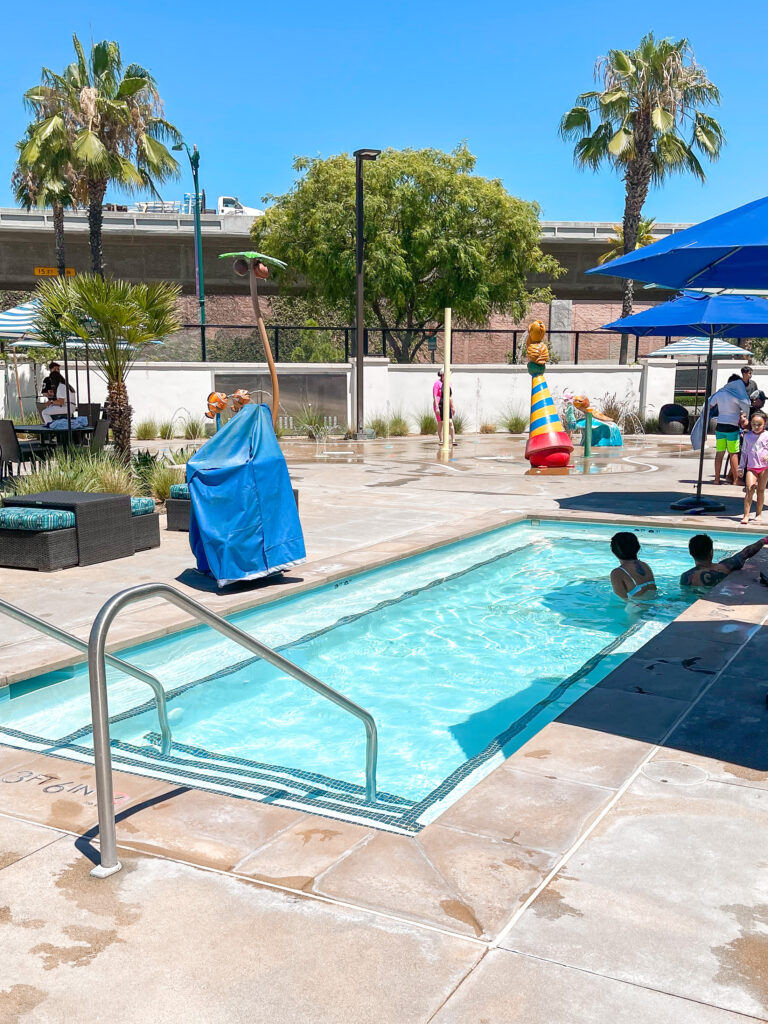 Splash Pads
The Cambria's water park has two splash pad areas that are super cute and would be really fun for younger kids.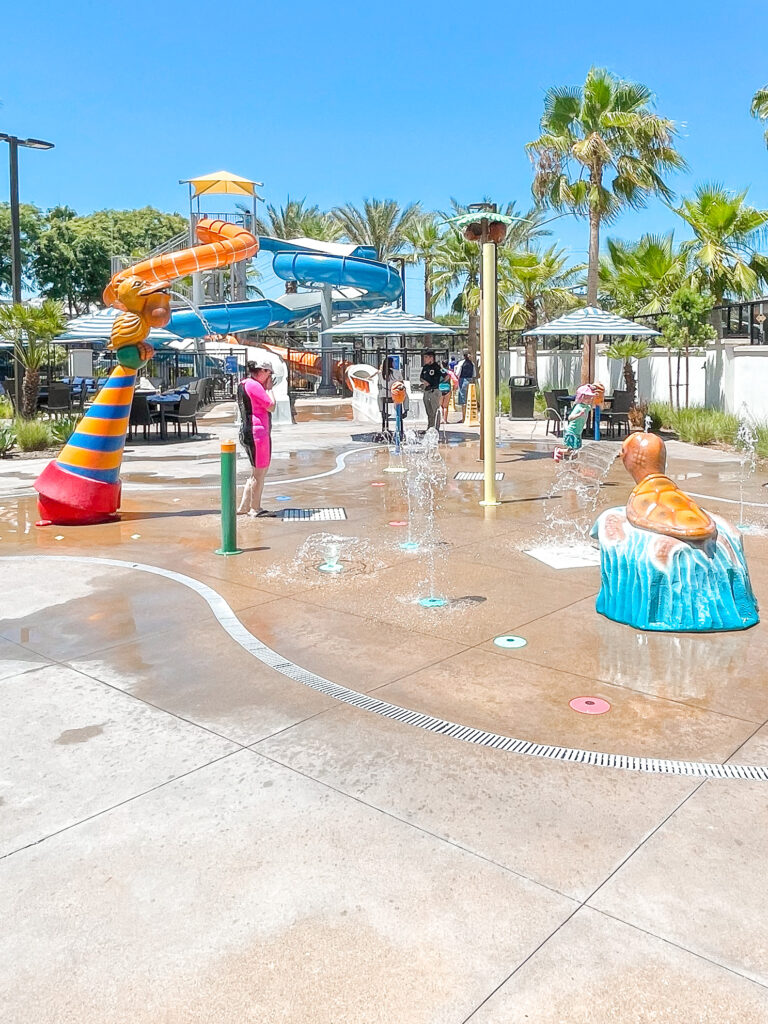 Water Slides
There are two water slides inside the pool area. The lines moved pretty quickly, so my kids rode them over and over. They did let me know that the orange slide was bumpy and was kind of uncomfortable to slide down, but the blue slide was great!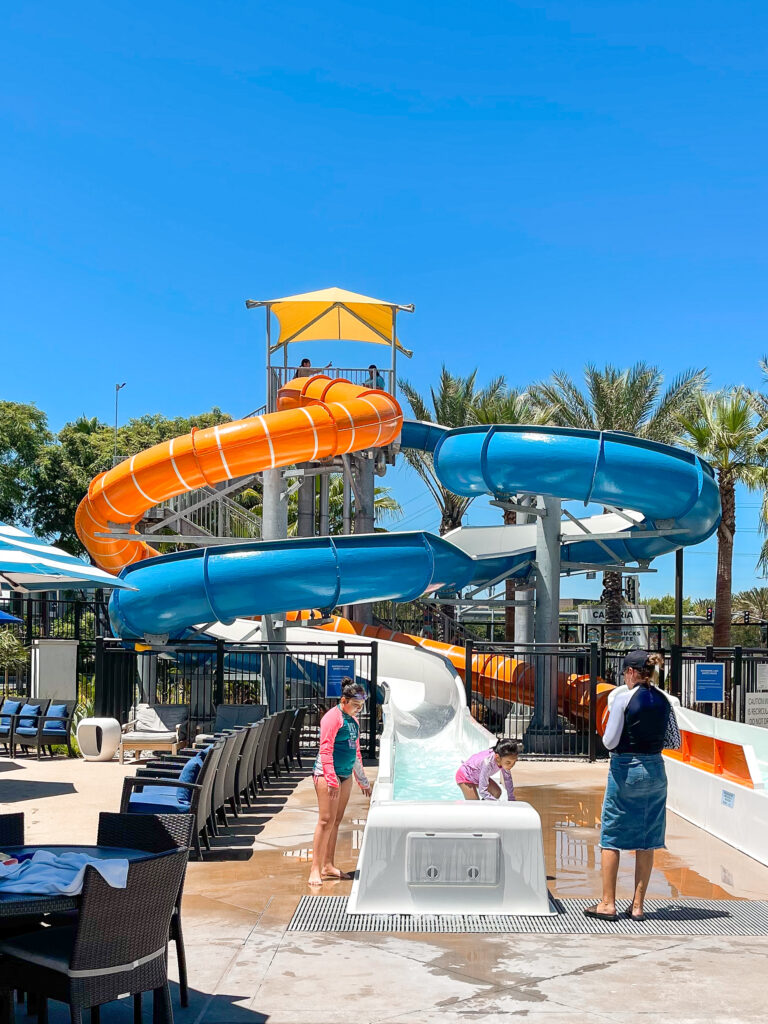 Putting Green
My kids were pleasantly surprised to find out there was a putting green in the pool area. There is no need to bring along golf clubs, the hotel has them for you to use complimentary. To obtain the clubs and a golf ball, just ask the security guard at the gate. You will be asked to leave your name and room number, before using the clubs.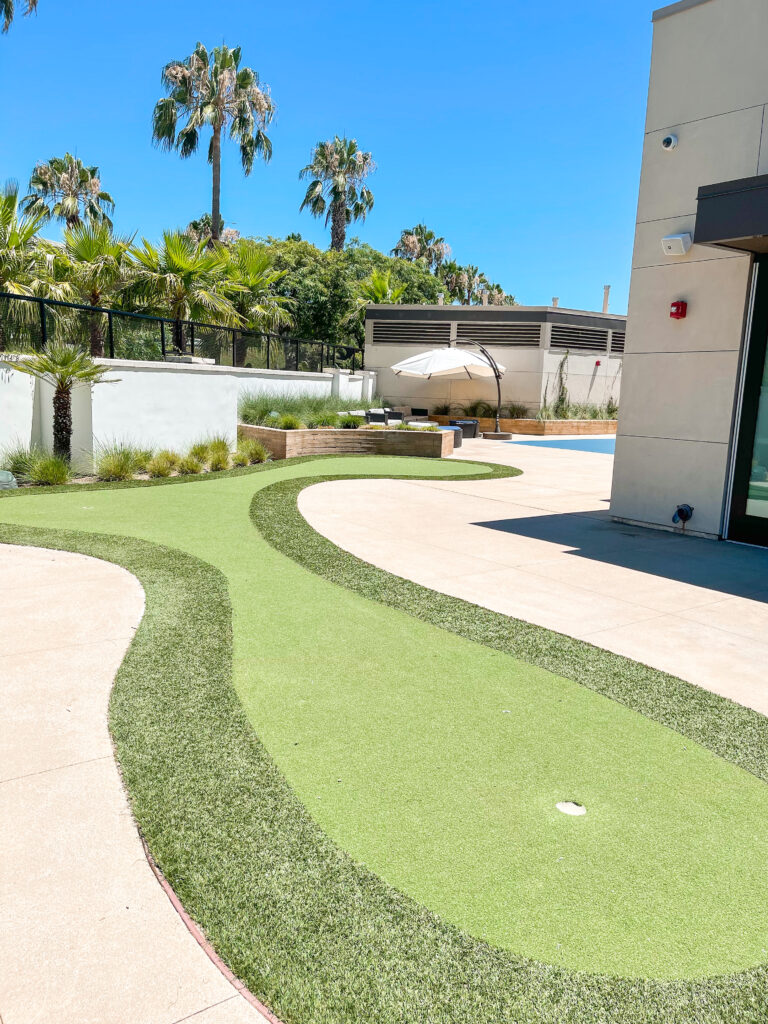 Basketball Hoop
The basketball hoop inside the water park was definitely a popular area during our stay. My 14-year-old used it every morning and every night and made a few friends while playing. Basketballs are also available for guests to use.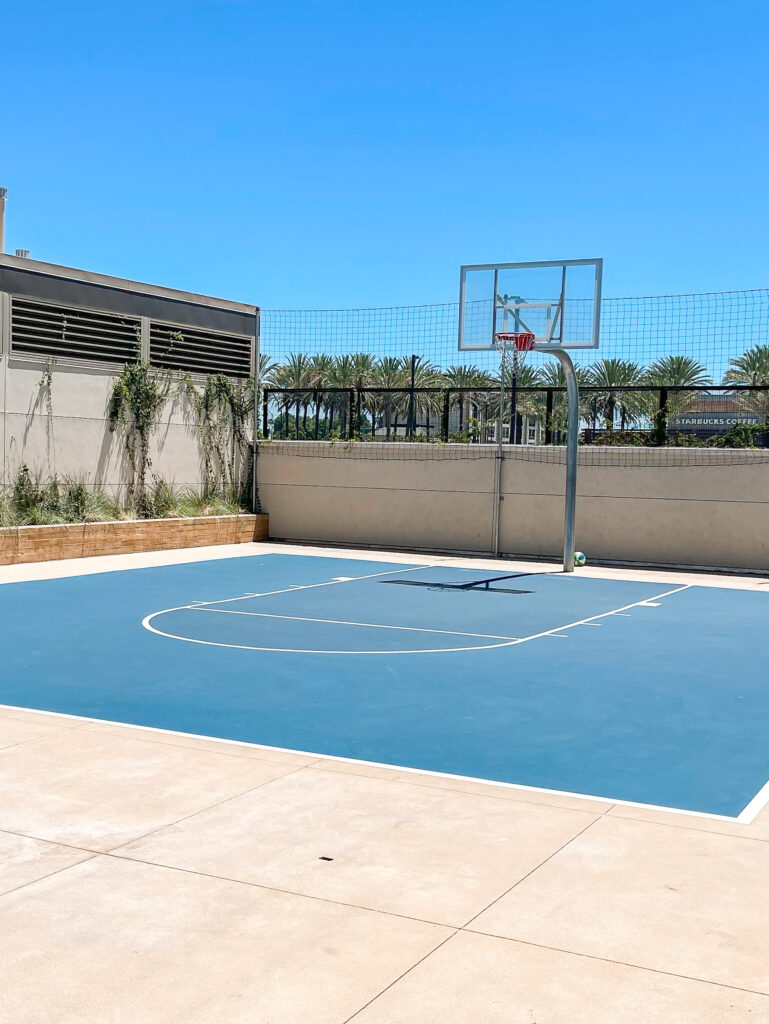 Entertainment
Each night at the Cambria Hotel & Suites in Anaheim, there is a different Disney movie that is played over the swimming pool. The movies begin at 8:00 pm. My kids were able to watch Frozen, Winnie the Pooh, and Lady and the Tramp.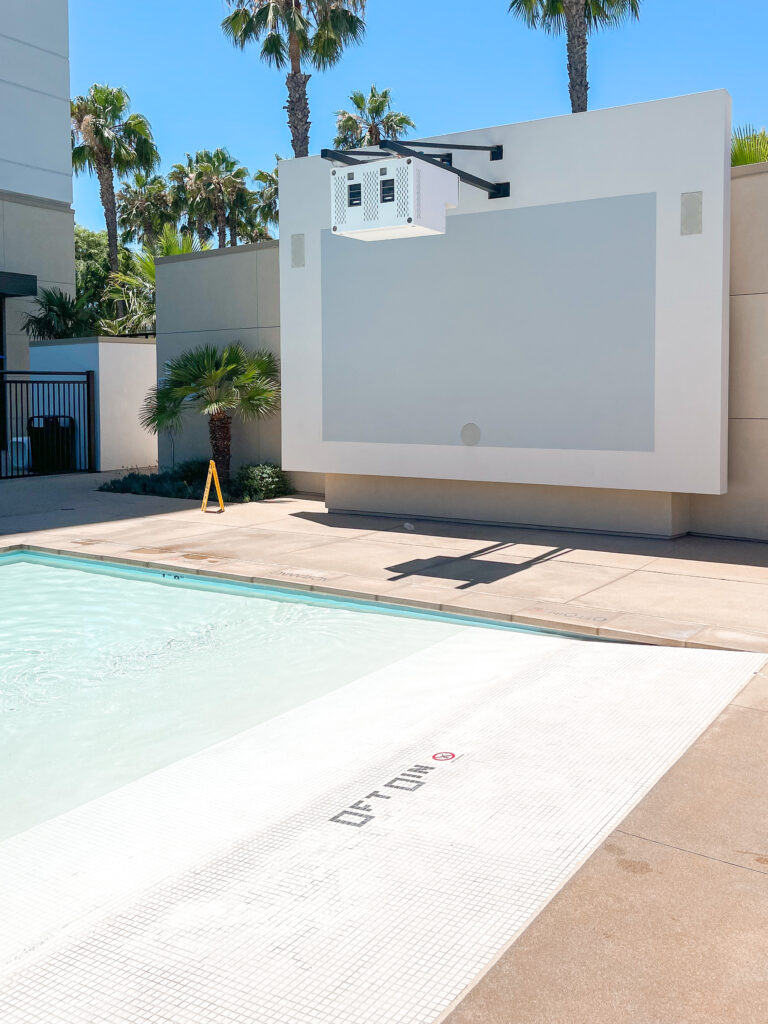 Parking
If you will have a car to park at Cambria Hotel & Suites in Anaheim, you can either self-park or valet park. Both methods are actually the same price of $24 + tax/per day. Unless, you book through my travel partner, Get Away Today. By booking with them, we saved $9 per night and only paid $15.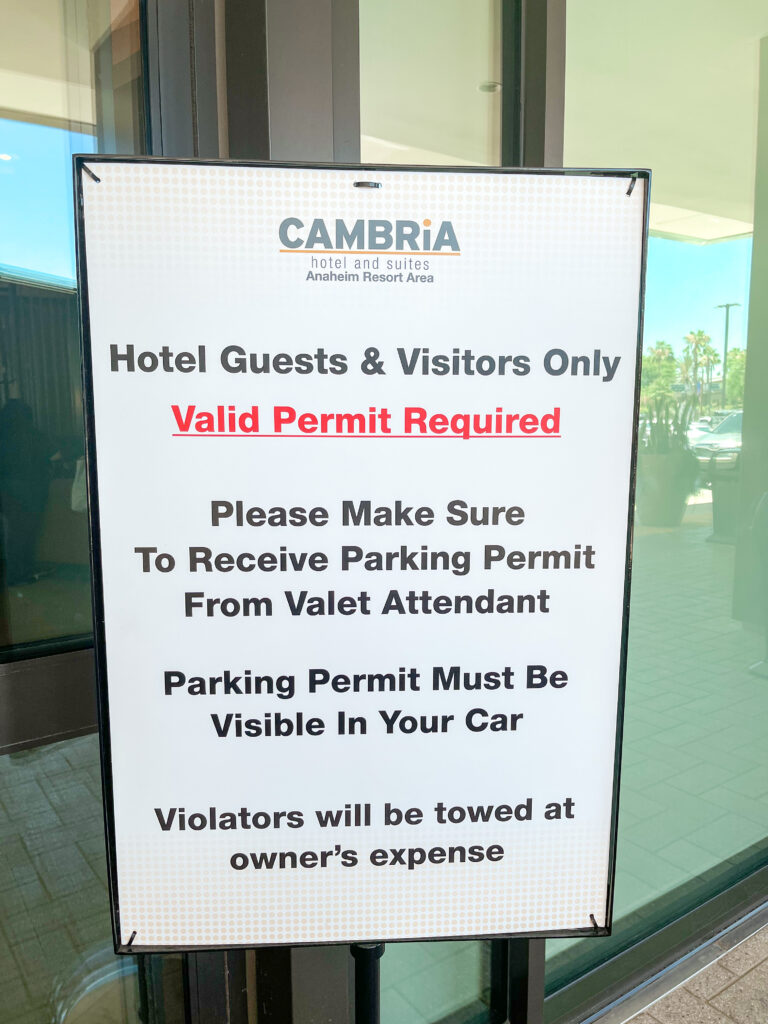 How to Get to Disneyland from Cambria Hotel & Suites (Transportation Options)
Cambria Hotel & Suites is a little over a mile from the entrance to Disneyland on Harbor Blvd. There are several ways you can get from the hotel to the Happiest Place on Earth!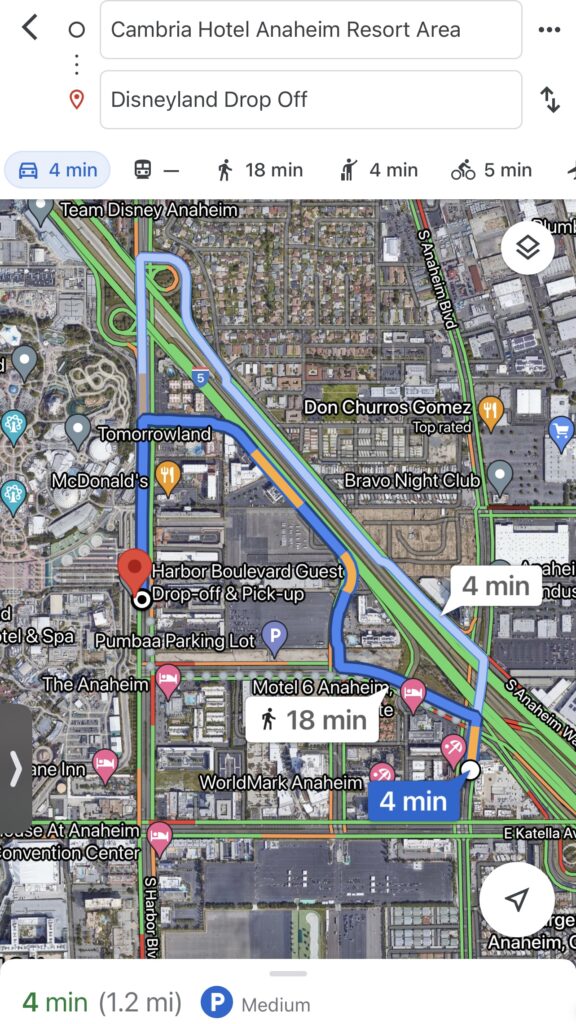 Drive to Disneyland
Driving to Disneyland from Cambria is pretty easy. To find the best/fastest route, use Google Maps. To get to the Mickey & Friends parking lot, it will take you about 7 minutes, depending on traffic.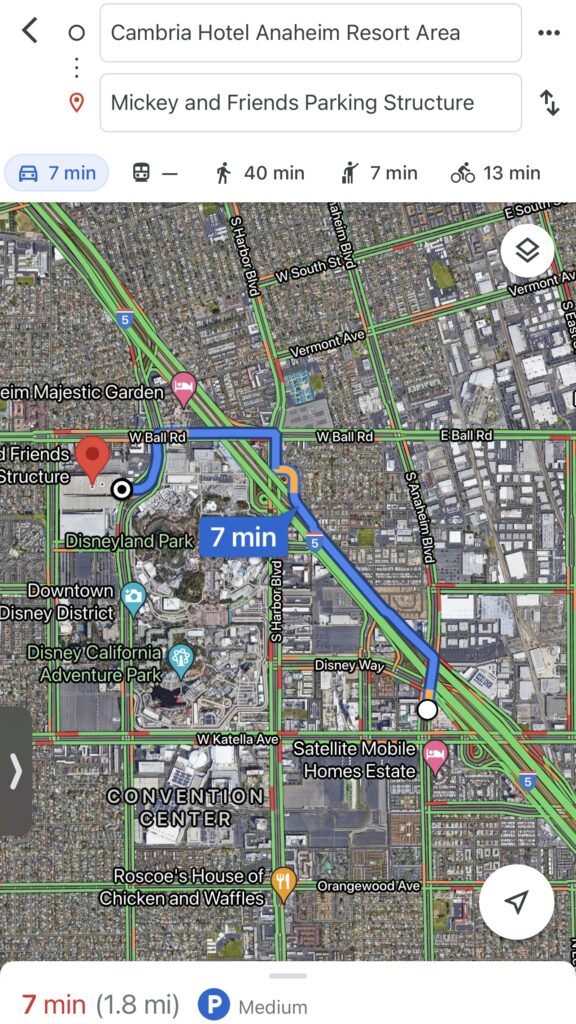 Walk to Disneyland
Walking to Disneyland from Cambria Hotel & Suites will take you about 18-20 minutes. Here are the two easiest routes below: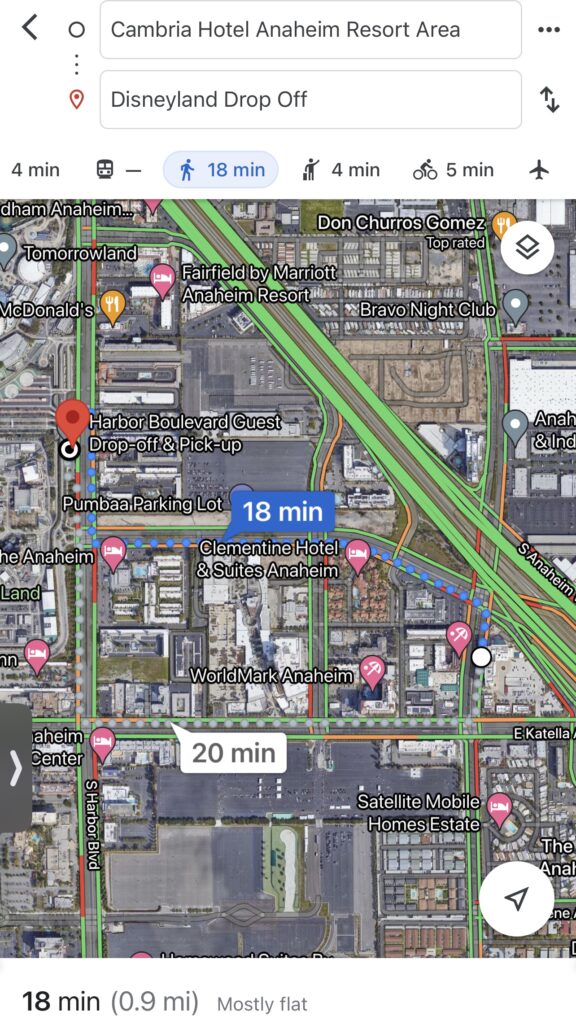 Walk to the Toy Story Parking Lot
One tip we received from the front desk staff to get to Disneyland is to walk across the street to the Toy Story Parking Lot, then catch one of the shuttles to Disneyland at no charge. The walk to this lot is about 7 minutes.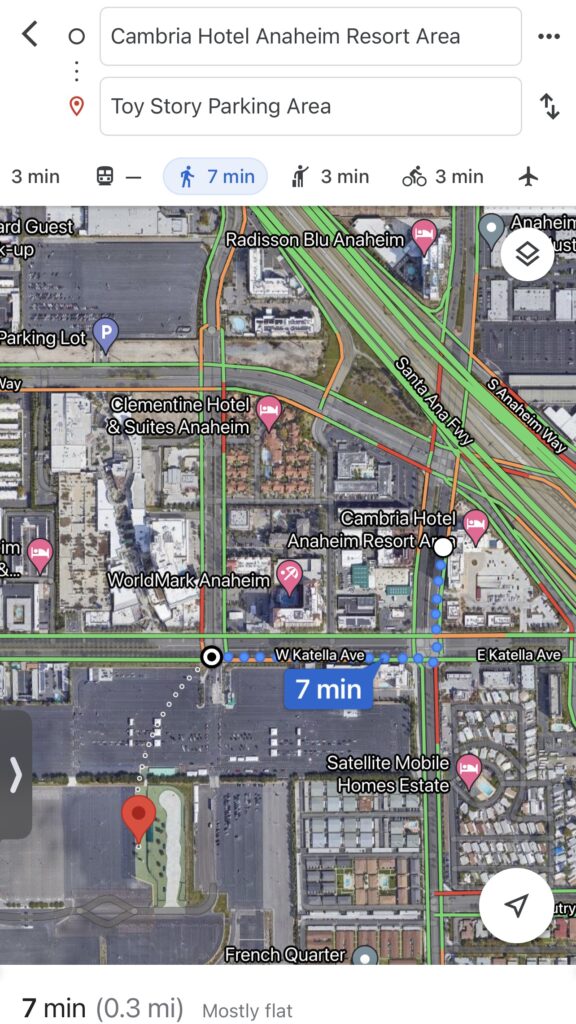 Anaheim Resort Transit (ART) to Disneyland
Anaheim Resort Transit (ART) is another way to get to Disneyland from Cambria Hotel & Suites Anaheim. There is a stop right outside the hotel. If you book a vacation package through Get Away Today, ART tickets can be added right to your package. Here is a list of fares below:
One Way Tickets – $4.00/adults (ages 10+), $1.50/kids (ages 3-9)
One Day Pass – $6.00/adults, $2.50/kids
Three Day Pass – $16.00/adults, $3.50/kids
Five Day Pass – $25.00/adults, $5.50/kids
Uber/Lyft to Disneyland
Uber and Lyft were life savers for us on our trip! This was the transportation method that we used each day to and from the parks. Pricing depends on the time of day and size of car you need. We generally spend around $9.00 to the parks in the morning and $15 back to the hotel in the evening for the 5 of us.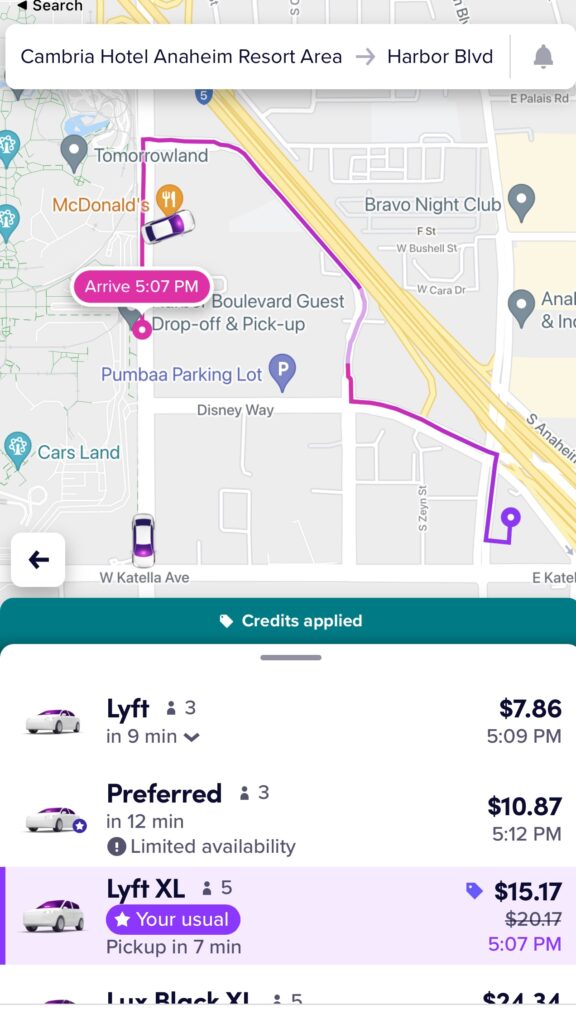 Dining Options
Grabbing something to eat while staying at the Cambria was pretty simple. The bar in the lobby also offers entrees and kids meals. My husband and I shared an order of nachos that were pretty good and my kids ordered chicken tenders and a grilled cheese sandwich.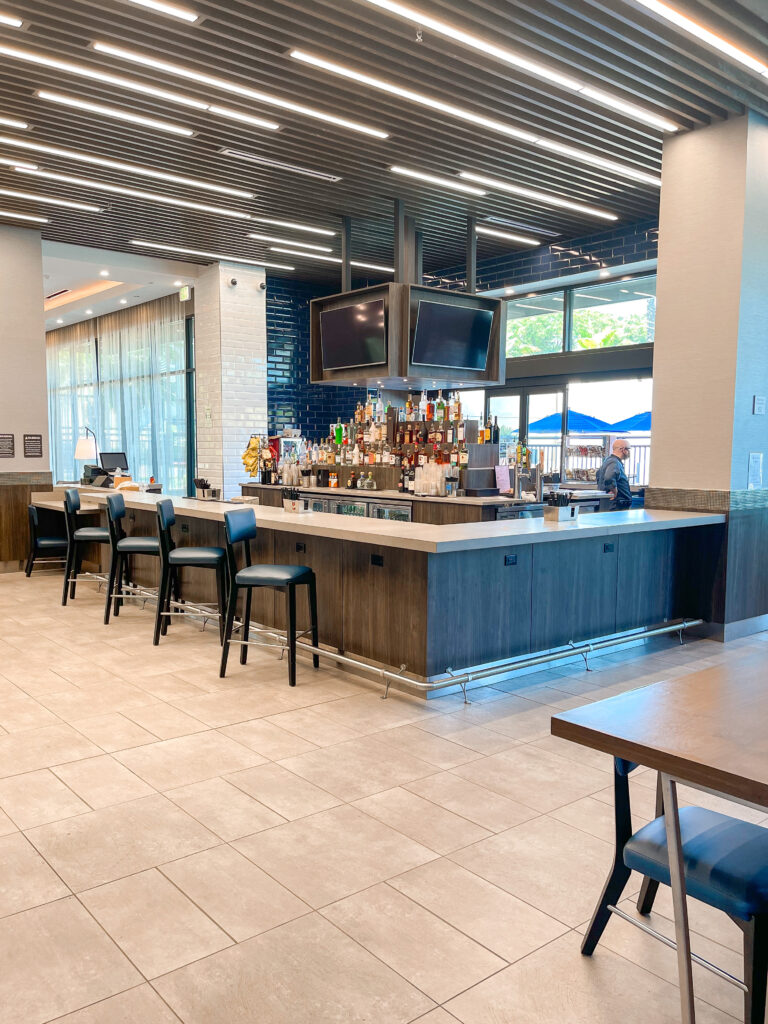 If you get hungry while at the pool, you can also order drinks and food from the bar with this outdoor window.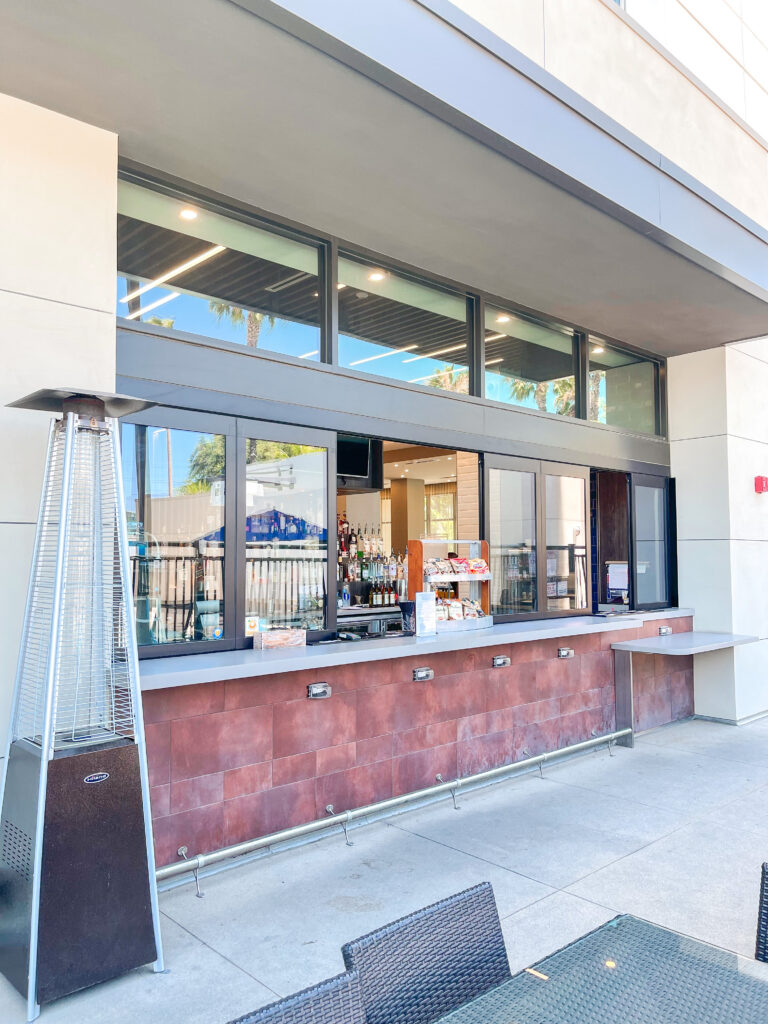 There are also dining options right outside the hotel doors. In fact, these locations share the same parking lot with the hotel! We took advantage of this convenience and at at Habit Burger for dinner one night.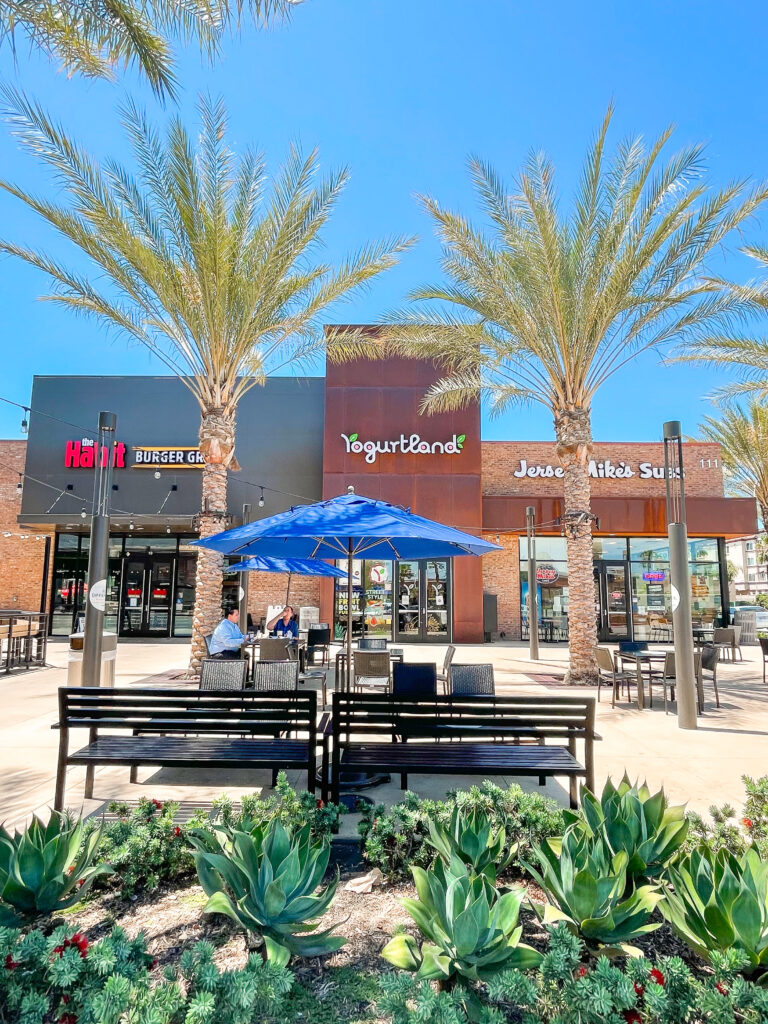 Other dining options available at the Cambria Hotel in Anaheim are:
Habit Burger Grill
Yogurtland
Jersey Mike's Subs
Luna Grill
California Fish Grill
Starbucks
Ono Hawiian Grill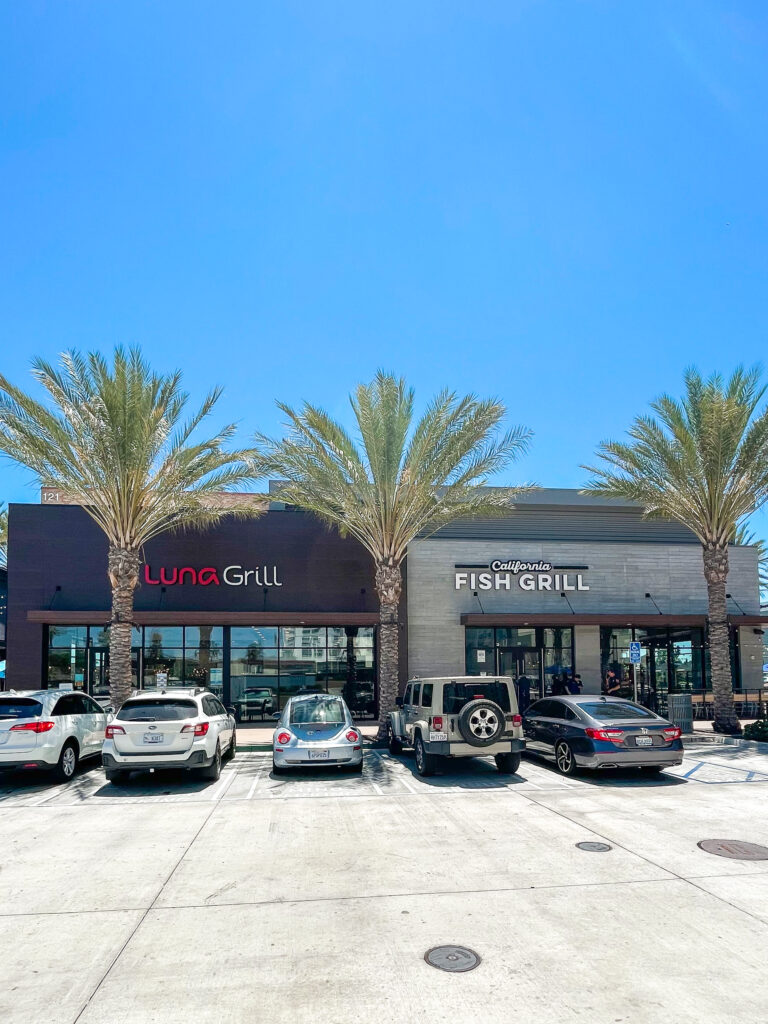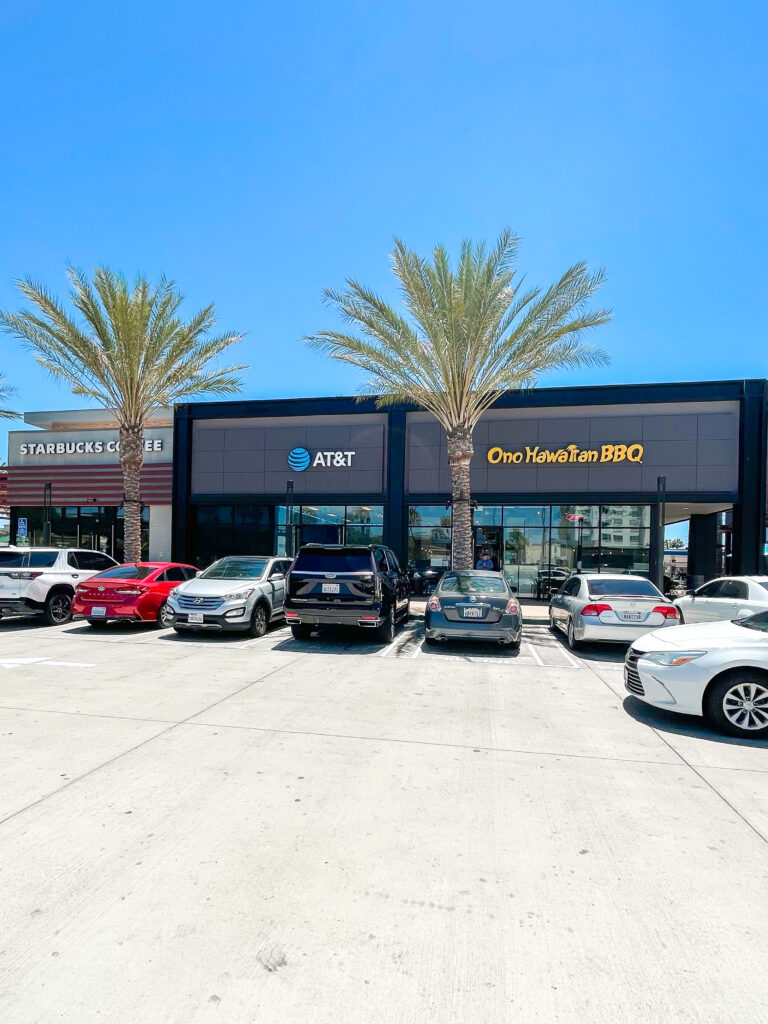 Overall Review
Taking all of the pros and cons of our stay at Cambria Hotel & Suites Anaheim Resort, I would stay at this hotel again. Our room was amazing, our view was too, and it was definitely fun to have water slides, pools, basketball, and a putting green for entertainment!
My only real issue with our stay was the quality and efficiency of the breakfast buffet. I hope that these things will improve as hotel operations return to normal in the future.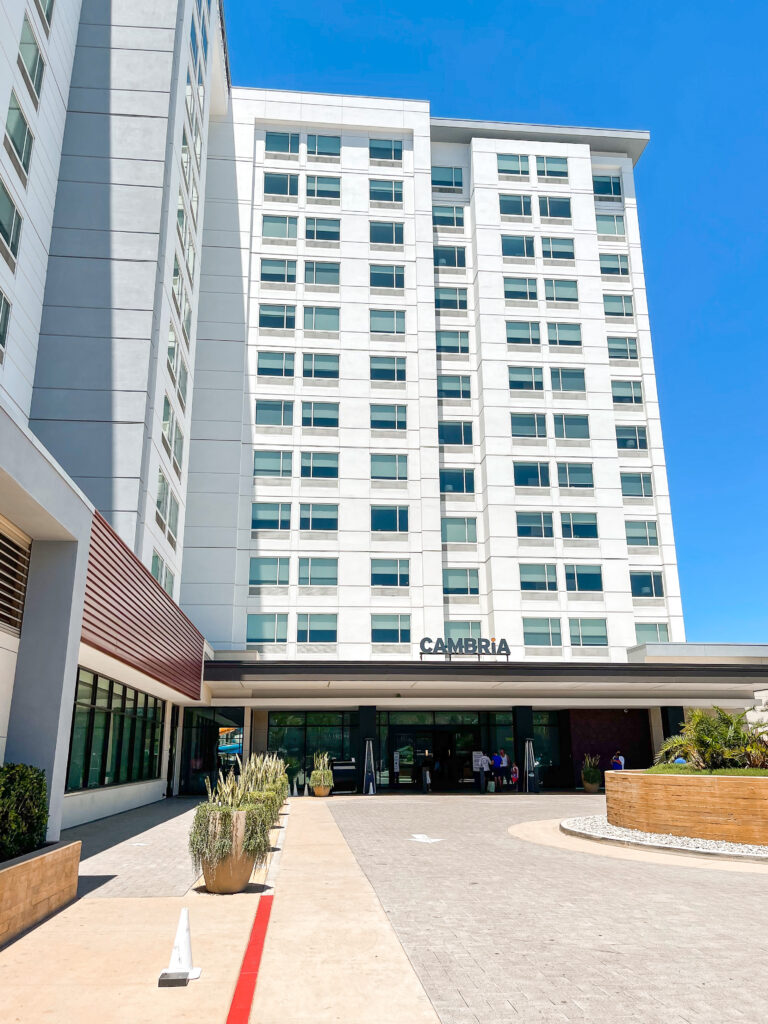 If you want to stay at Cambria Hotel & Suites or another amazing hotel near Disneyland, I highly recommend that you check vacation package prices with Get Away Today.
I have been booking my Disneyland vacations with them for years and have recently used them for a Disney World vacation as well. Their customer service is the best!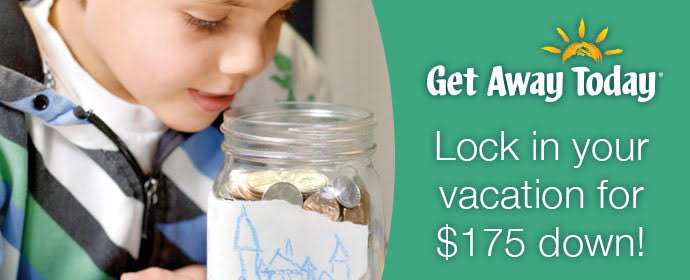 They often offer 3rd or 4th nights free at select hotels as well as discounted Disneyland tickets! You can use their layaway plan if you don't want to pay for the whole vacation all at once! And use the Peace of Mind Plan that allows you to make changes at any time.
Use the coupon code: MommyMouse on any 2-night or longer Southern California package that includes hotel & park tickets and save and extra $10 on Get Away Today's all ready discounted prices!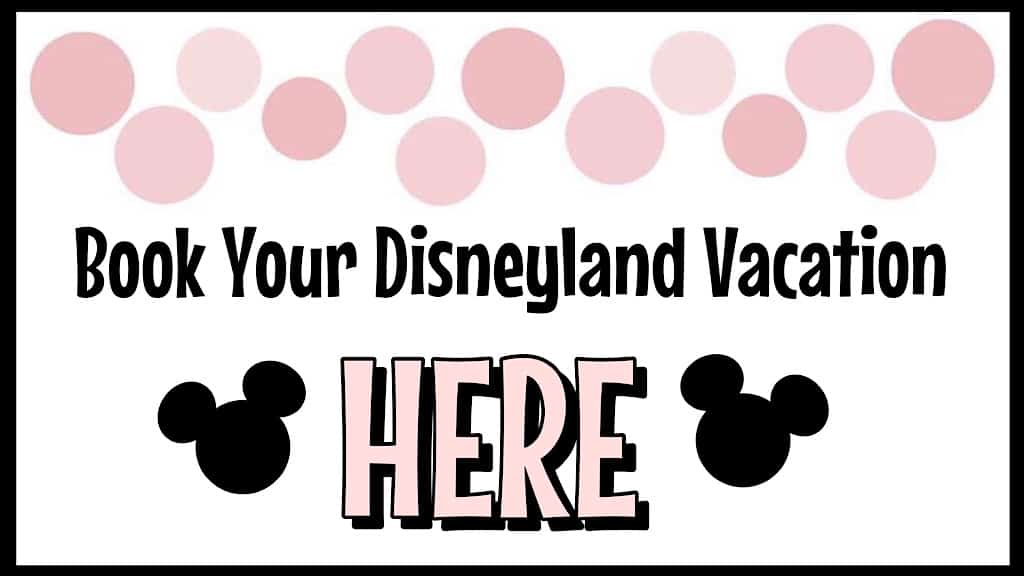 Let me know if you stay at the Cambria and what you thought of the hotel in the comments below and make sure to check out these other Disneyland area hotels below: