Disneyland is the most magical place on earth, and staying at the Disneyland Hotel makes the experience even more special. The Disneyland Hotel is located right on Disneyland property, so you can walk to the parks in just minutes. The rooms are spacious and well-appointed, and there are several dining options to choose from. Best of all, there are often great deals available on rooms! Whether you're visiting Disneyland for the first time or the hundredth, a stay at the Disneyland Hotel is sure to create lasting memories and these Disneyland Hotel tips can help you get the best deal!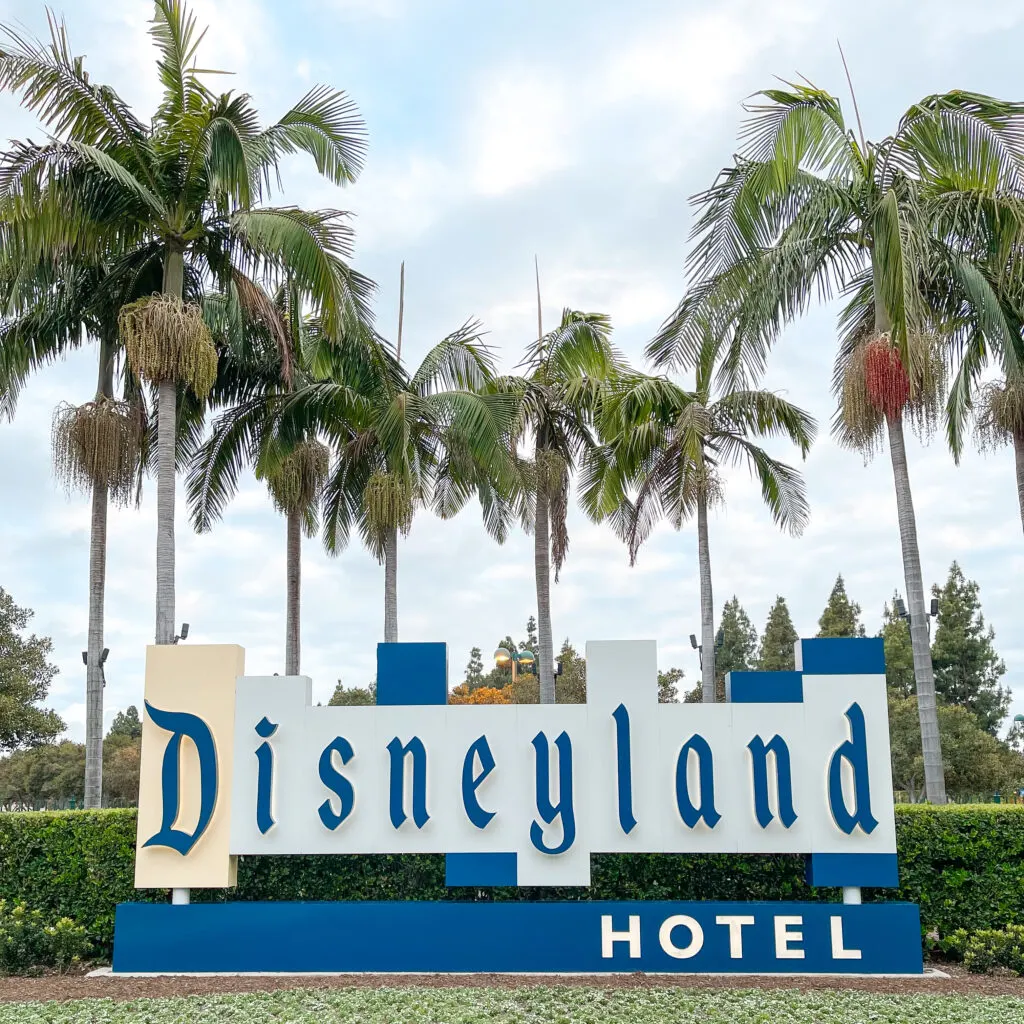 This post may contain affiliate links. When you click on these links, I get a small percentage back at no cost to you! For more information see my disclosure policy.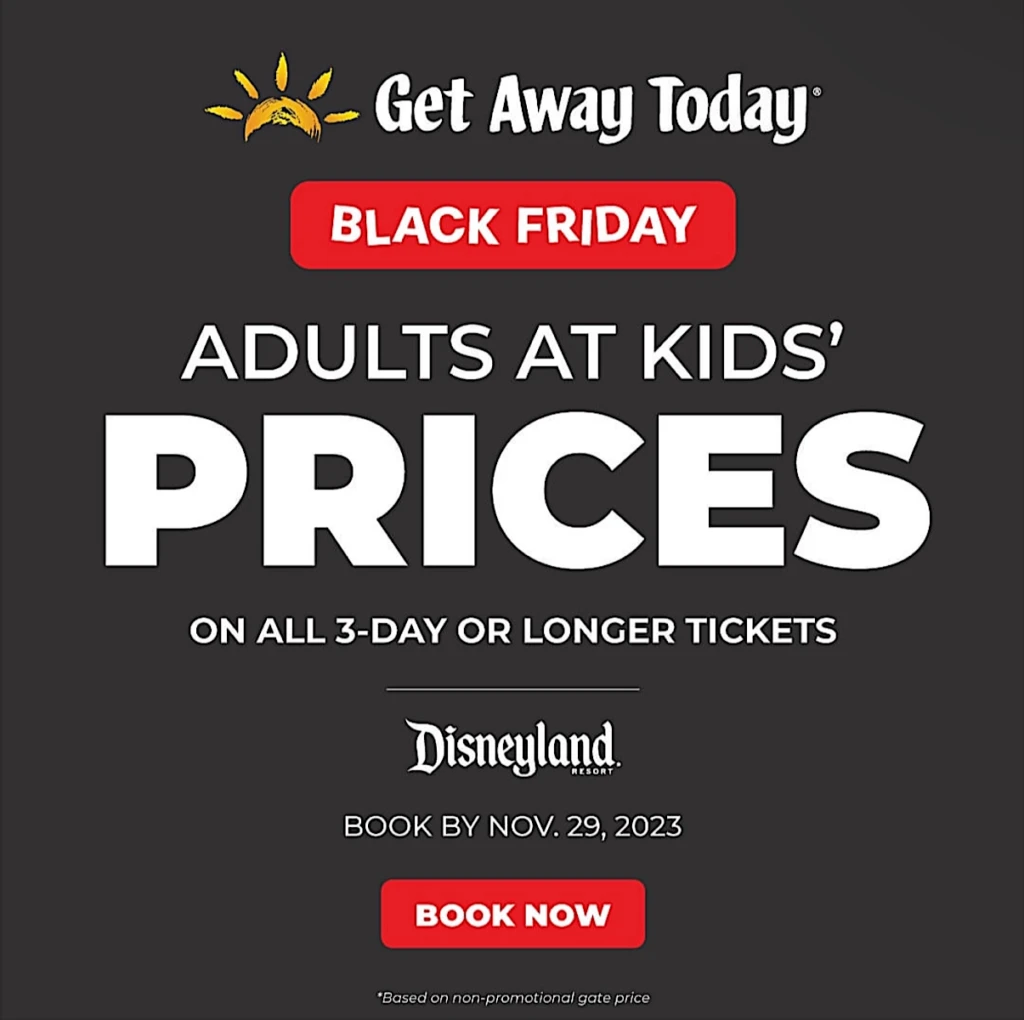 Get Adult tickets at Kid's Prices with this Disneyland Black Friday Ticket Sale from Get Away Today! Tickets are valid through December 31, 2025. Combine this deal with a hotel stay and use code: Clubhouse10 to save even more!
Where is the Disneyland Hotel?
The Disneyland Hotel is located on the west side of Disneyland Park, near the main entrance. The address is 1150 West Magic Way, Anaheim, CA 92802.
You can easily get to the front entrance to both Disneyland Park and Disney California Adventure Park by walking straight through the Downtown Disney District.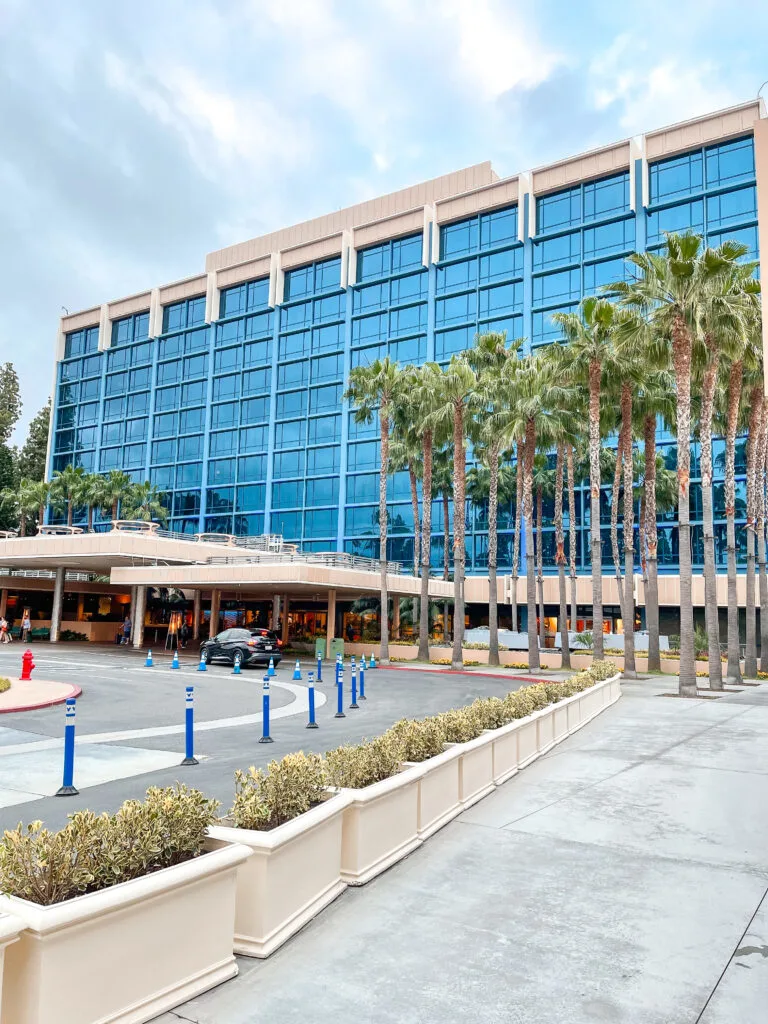 How Much Does it Cost to Stay at the Disneyland Hotel?
The cost to stay a night at the Disneyland Hotel can vary greatly by the time of the year you visit. During off-peak times in conjunction with a sale, I have seen prices as low as the $300 range per night.
On the other hand, during the peak season (summer, Christmas time, Spring Break, etc.) I have seen prices skyrocket to up to $800 per night.
How to Get a Deal at the Disneyland Hotel
As I mentioned above, the cheapest and best time to stay at the Disneyland Resort is mid-week during the off-season. However, if you want to visit during the peak season there are still ways that you can save money and go to Disneyland on a Budget.
The best way to get a deal at the Disneyland Hotel is to choose an off-peak time, wait for a sale, and book your stay as part of a vacation package. Off-peak months are usually September, November (except the week of Thanksgiving), January, and February.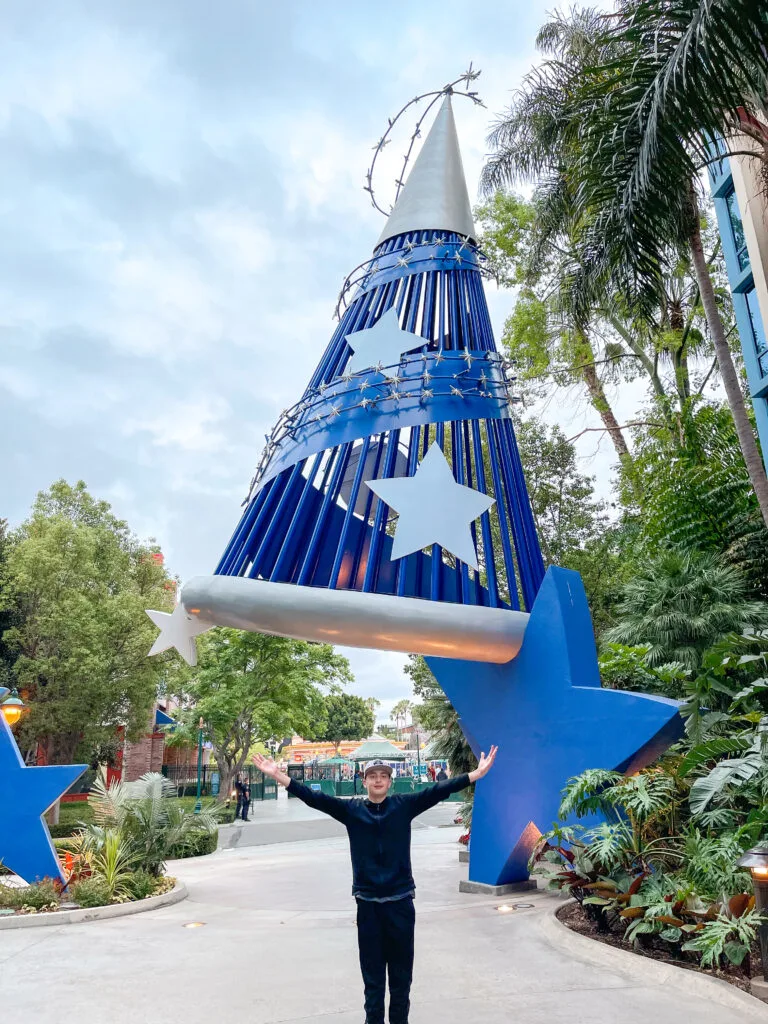 You can do this through the Disneyland website, but I happen to use my travel partner Get Away Today who is an authorized Disney vacation planner. I have been booking my Disney vacations with them for many years.
Their Disneyland vacation packages include park tickets and hotel rooms with the option to add other southern California activities as well. The great thing about booking with them is that they will have the same room prices as Disney, but their park ticket prices are always at least a few dollars cheaper!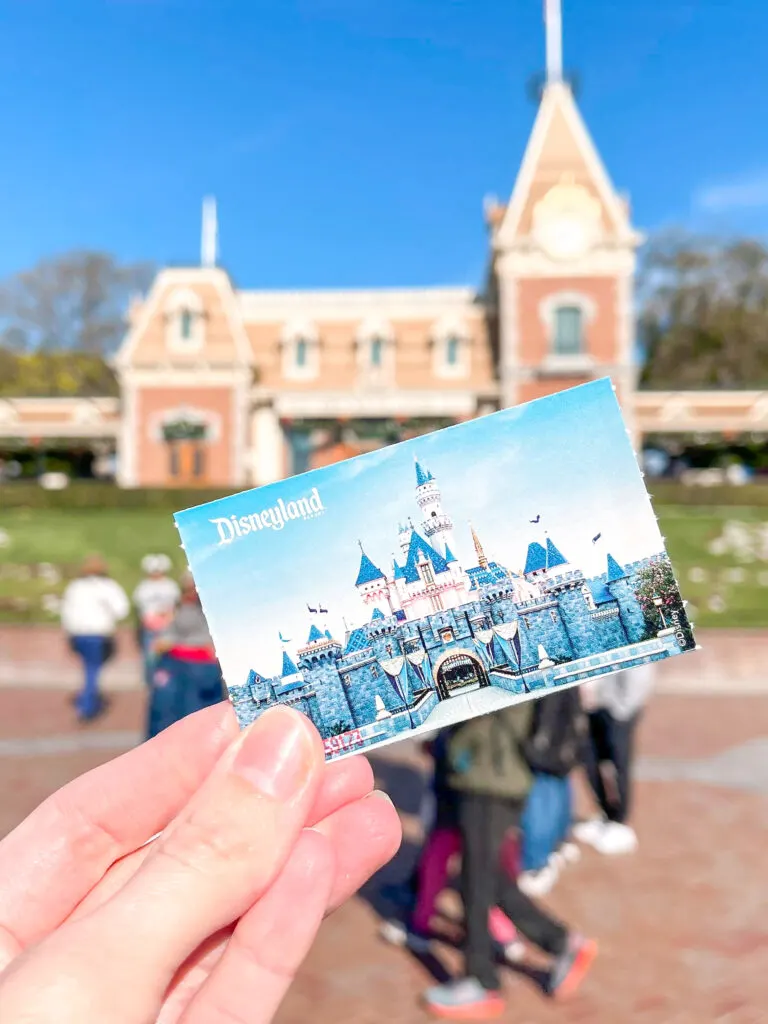 Another way to get a deal on your room is by using a discount code. If you book at least a 2-night package, you can use the Get Away Today coupon code: Clubhouse10 to save an additional $10. And you can pair that with their layaway plan and peace of mind plan.
You can also give them a call at 855-GET-AWAY (855-438-2929) and tell them Mommy Mouse Clubhouse sent you! They will help you get the best deal possible!
Online Check In
When staying at the Disneyland Hotel, you can now check in online or in the Disneyland app up to 5 days before your arrival. I love this feature because I don't have to stop at the front desk, I can head directly to my room.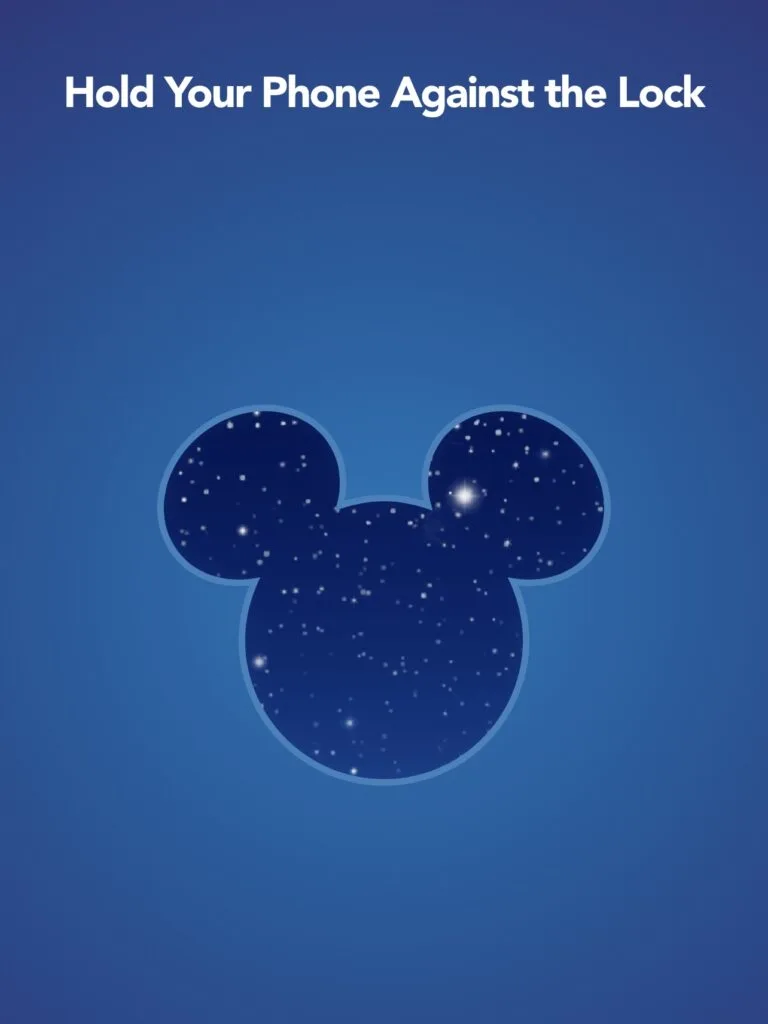 When you check in, you will add all of your personal information as well as your credit card information. On the day you arrive, your room number will appear in the app and you can use the Disneyland mobile app on your phone as a key to check in!
You can still stop by the front desk for an actual key card if you want to.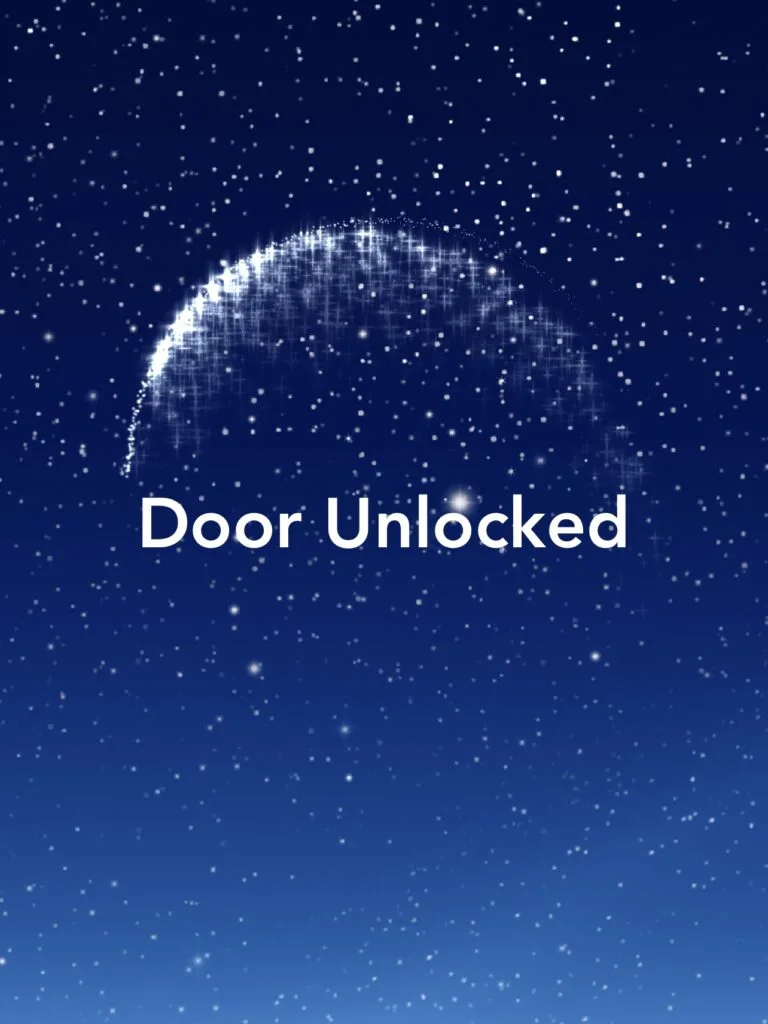 Disneyland Hotel Lobby
The first thing you see when you enter the Disneyland Hotel is the whimsical lobby. There is a giant map of the Disneyland resort and there are even chairs that are just like the teacups from the Mad Tea Party ride inside the park!
The lobby is also home to the concierge desk, where you can make restaurant reservations or ask for help with anything else during your stay.
Hotel Buildings
Another fun thing about the Disneyland Hotel is that each tower is themed after a different land at Disneyland.
Fantasy Tower
Our room happened to be located in the Fantasy tower. It was adorable and you could definitely feel the Disney magic! This tower also has a couple of gift shops.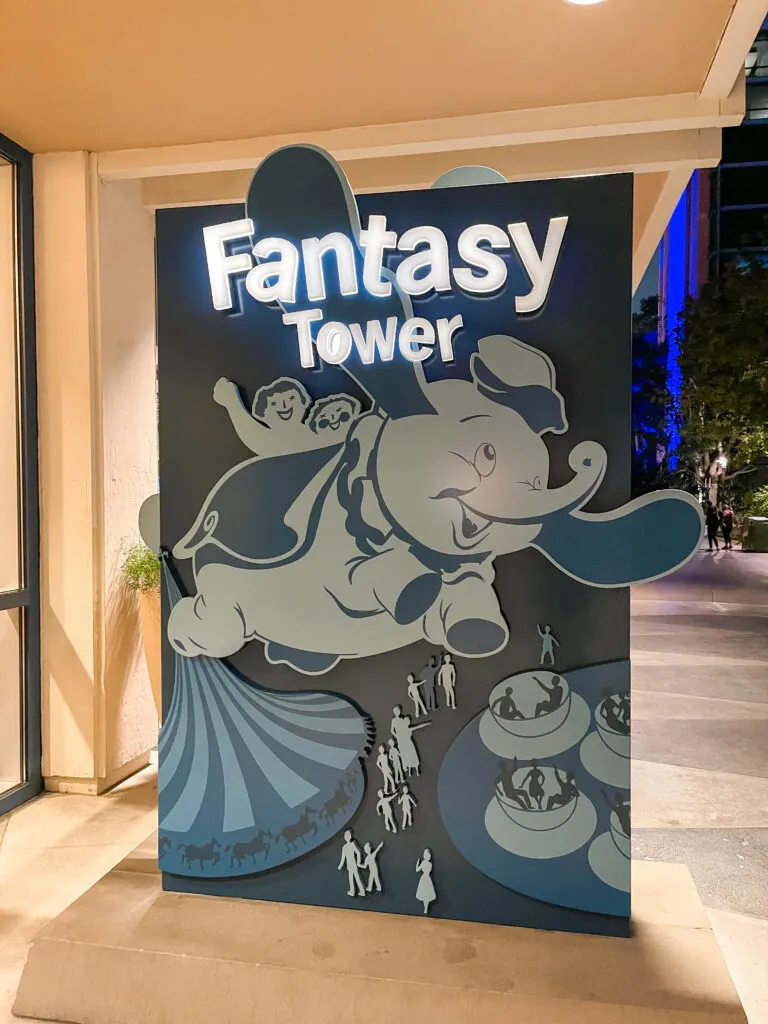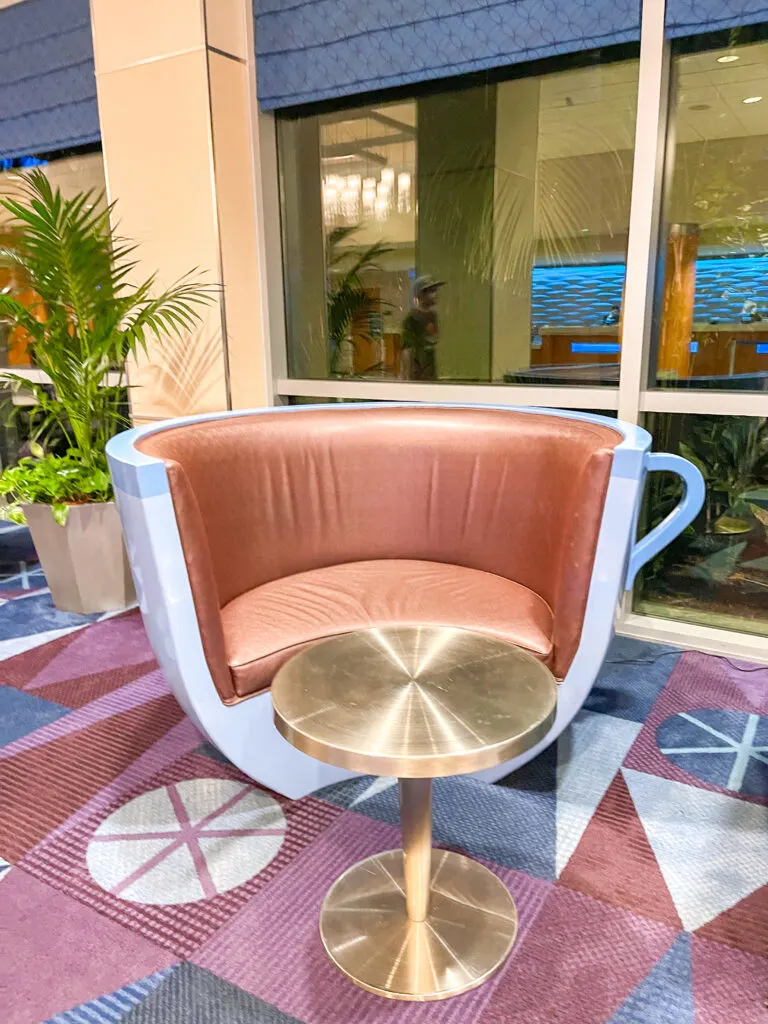 Adventure Tower
Inside the Adventure Tower are some artifacts from the Jungle Cruise and other areas in Adventureland.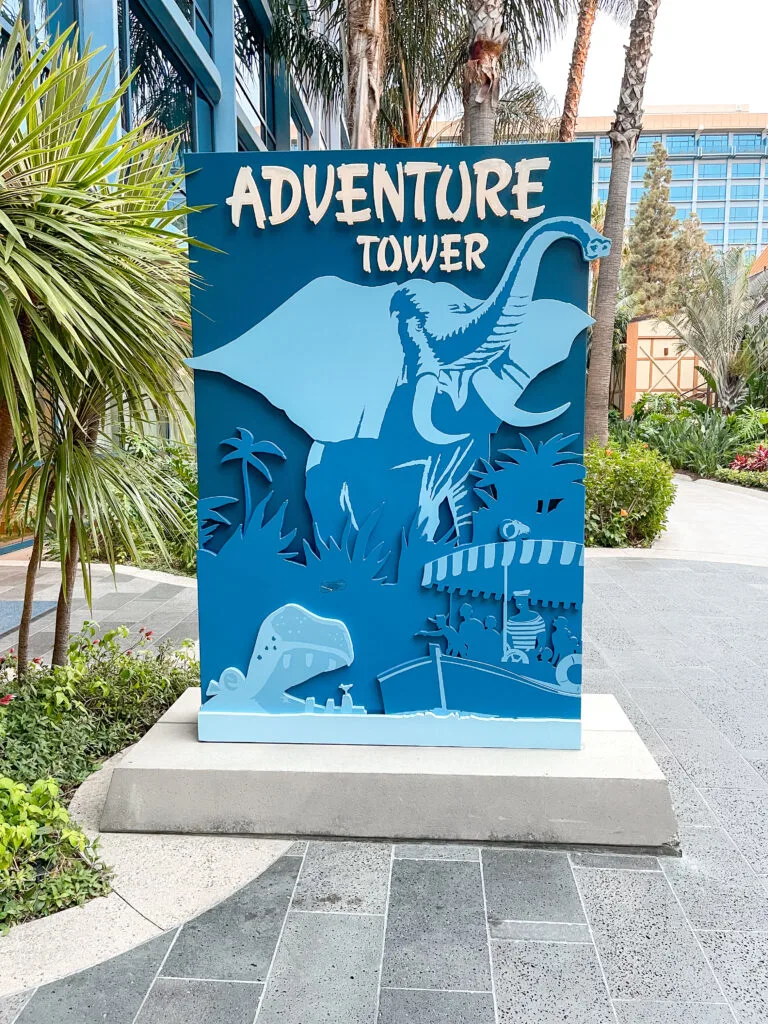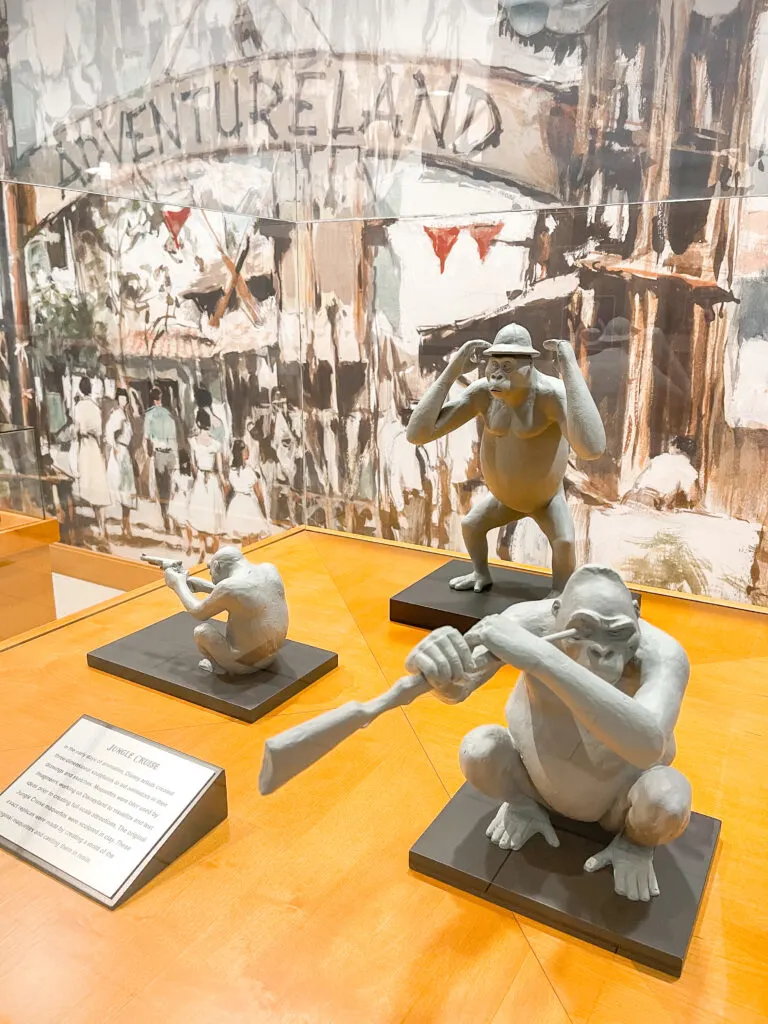 Frontier Tower
This was a cool tower to visit. There was a miniature replica of Big Thunder Mountain under glass for guests to view. Frontierland Tower is also where you will find the Fitness Center.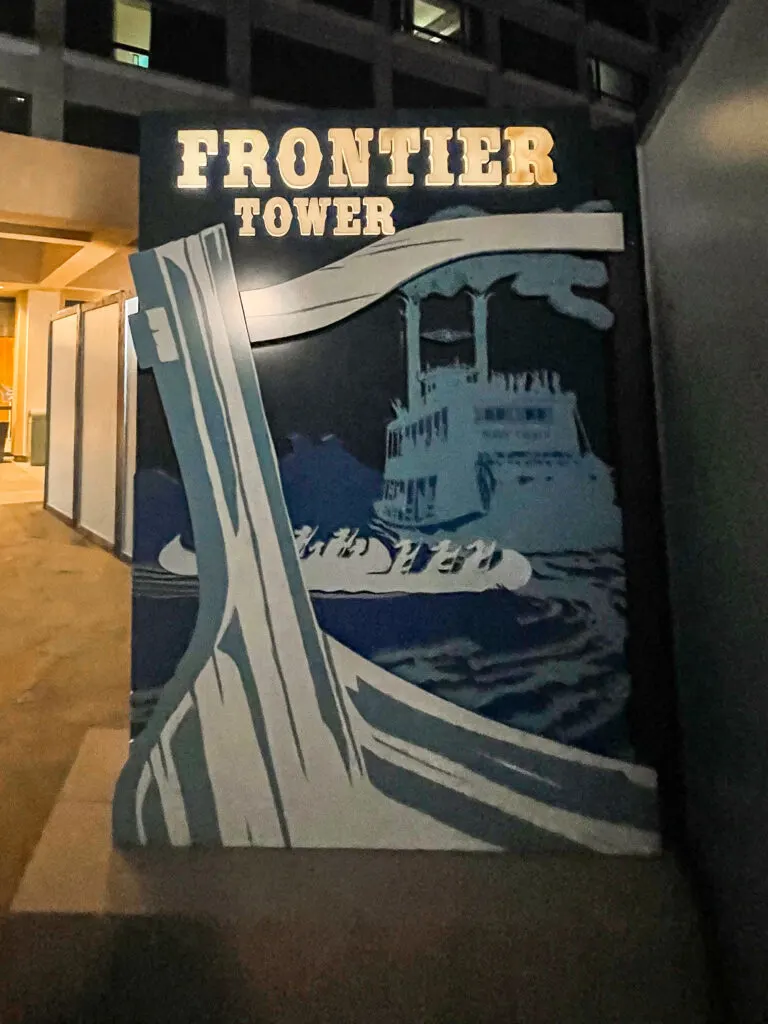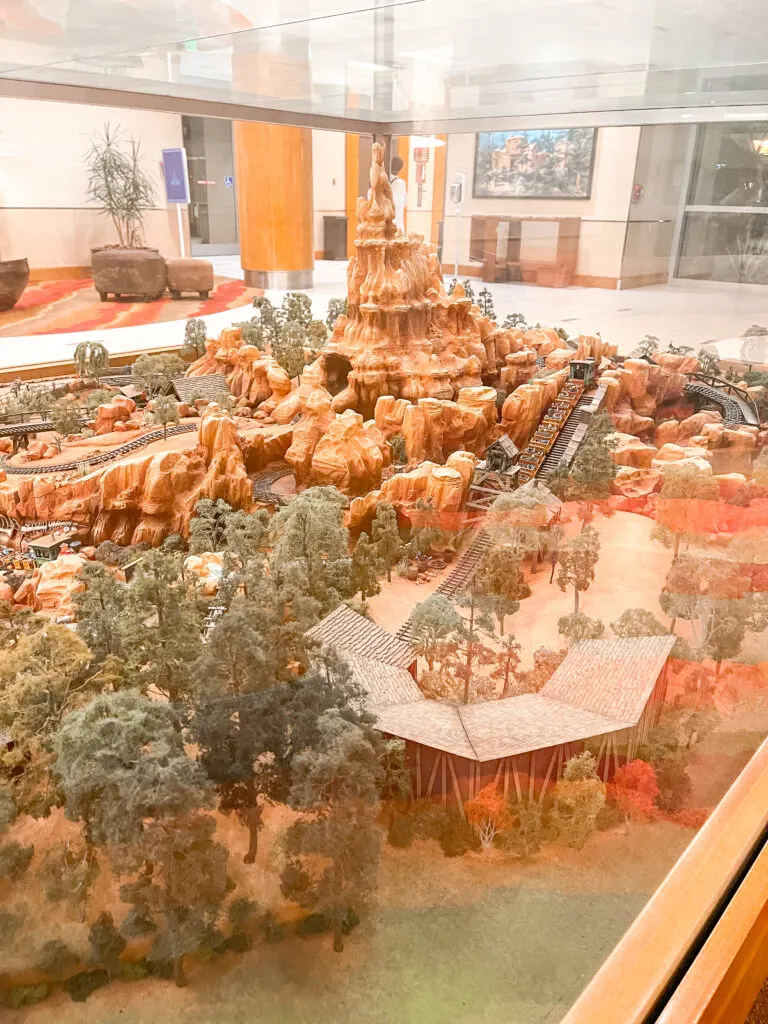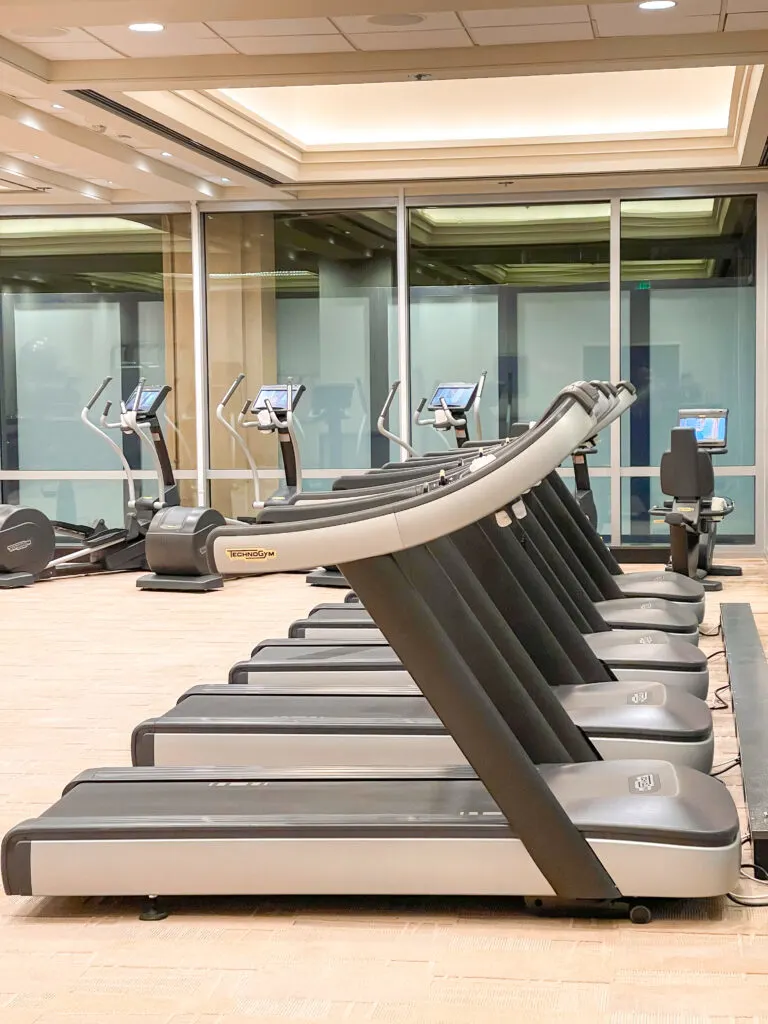 Disneyland Hotel Rooms
At the Disneyland Hotel there are standard rooms with one King or two Queens and some have a daybed to accommodate a 5th guest. Our hotel room had two queen beds and a pool view.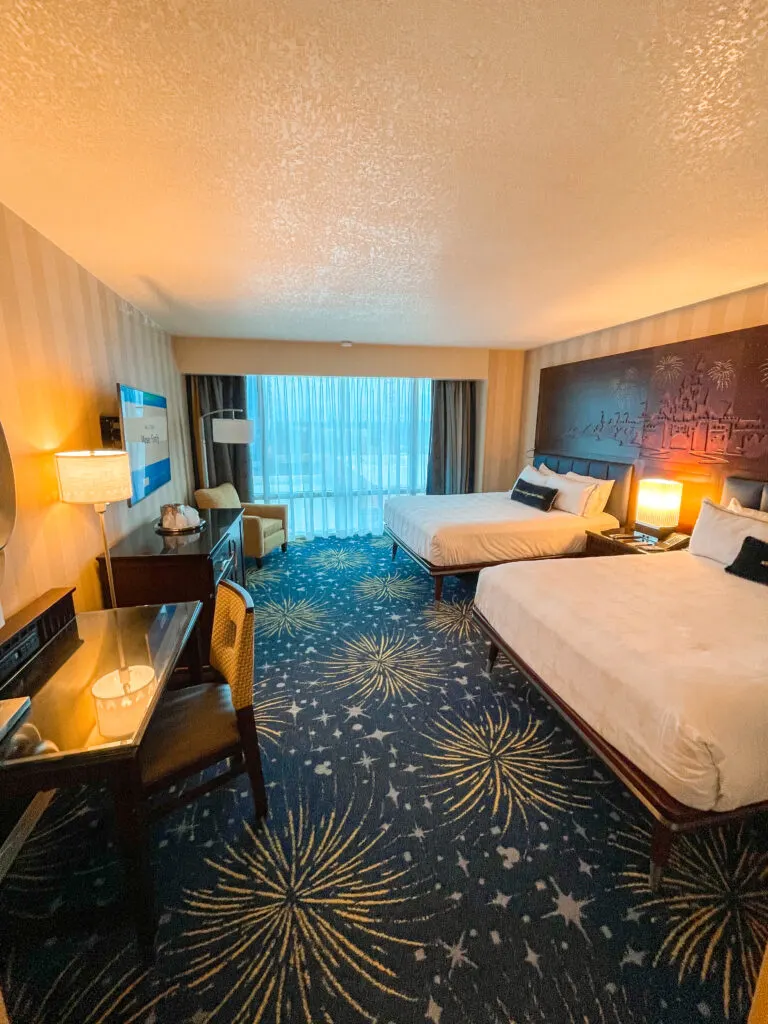 The price differences in these rooms is usually based on the view which ranges from standard view, pool views, and views of Disneyland.
There are also suites and rooms at club level available.
Photo Tour of a Queen Room with a Pool View
Queen Beds
These beds and pillows are extremely comfortable. In fact, I have purchased the same brand of pillows used at the Disneyland Hotel for my own home!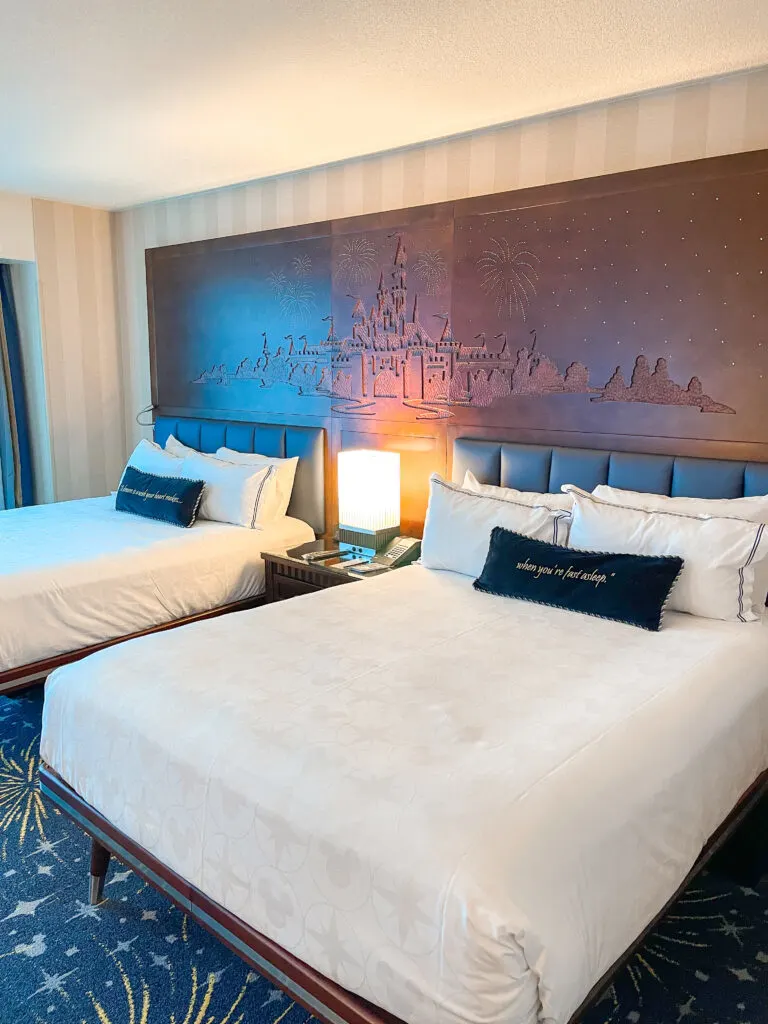 TV & Vanity
Directly across from the beds is a chair, TV, dresser with a mini fridge, and a vanity with a large mirror.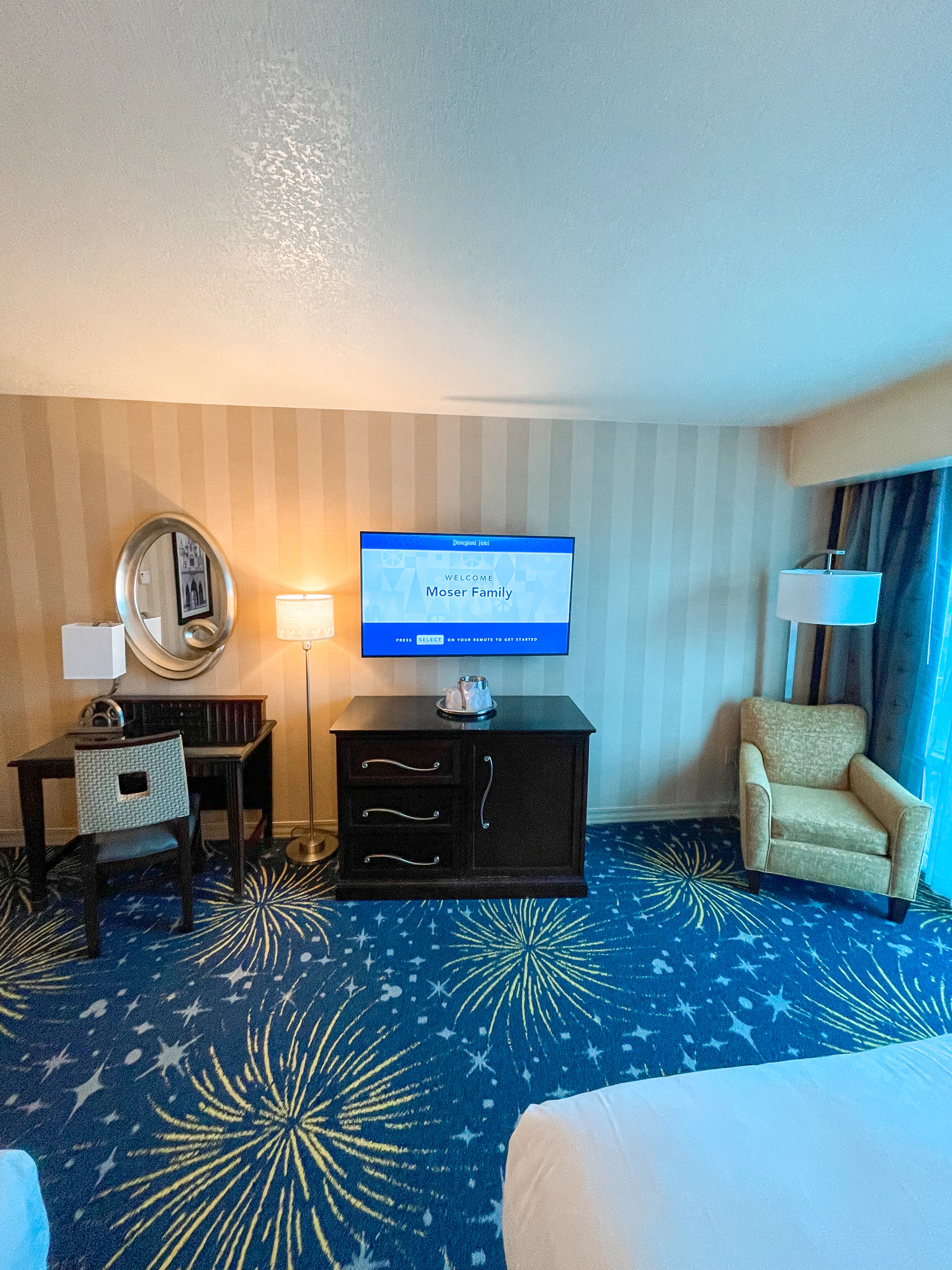 Second Vanity and Closet
This area was right outside the bathroom and is a great place for multiple people to get ready in the morning. There is an in-room safe inside the closet.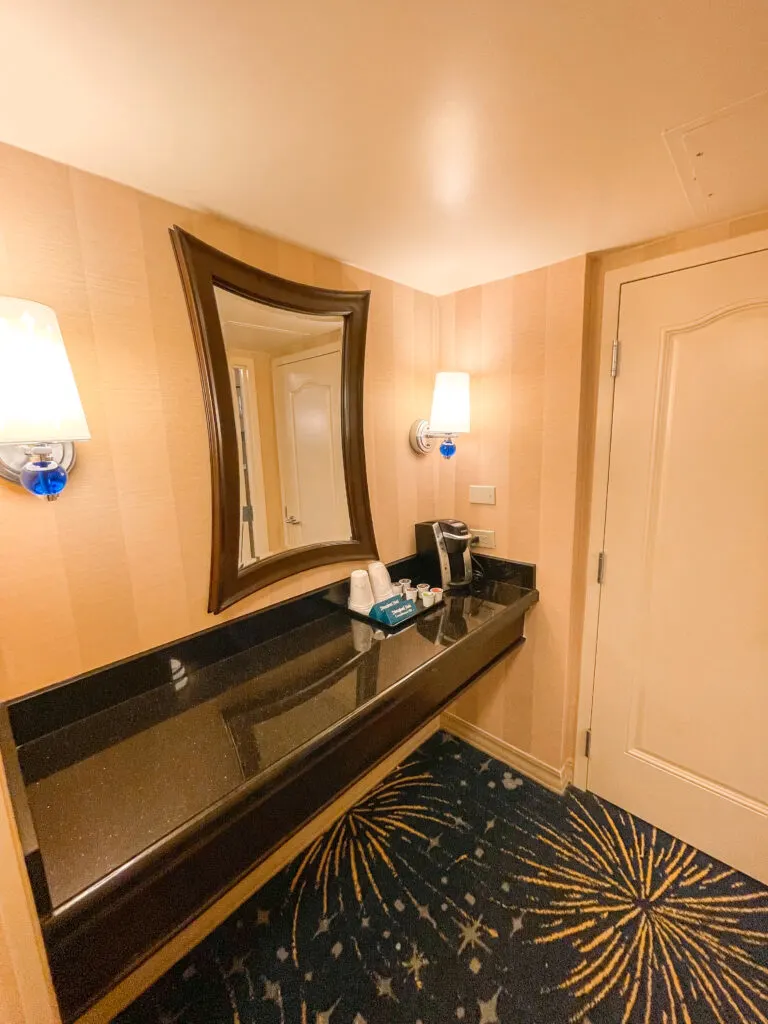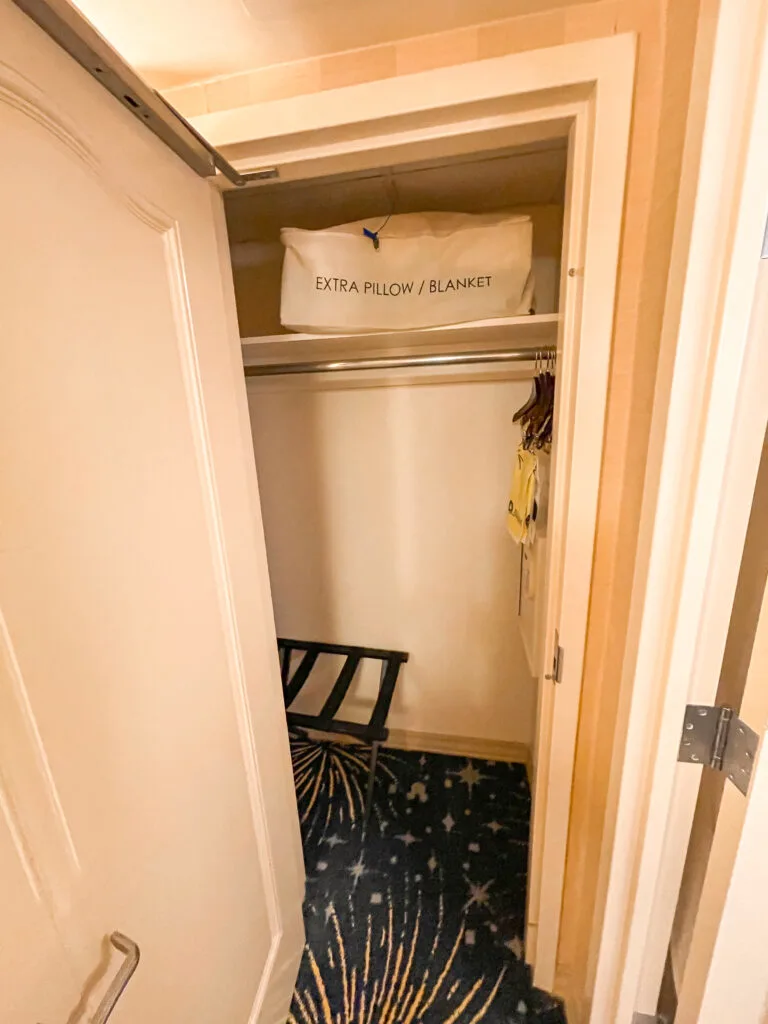 Coffee Maker
Here is a picture of the coffee maker and complimentary coffee in the room.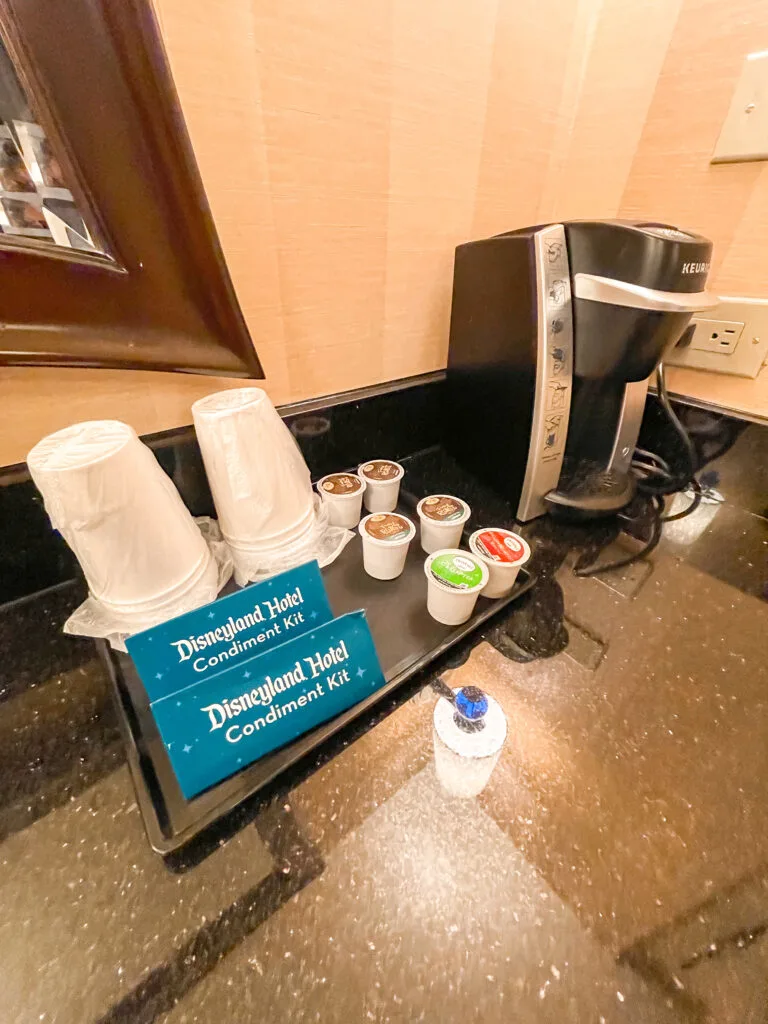 Bathroom
The bathroom in the room was kind of tight, but felt bigger because of the extra vanity, just outside.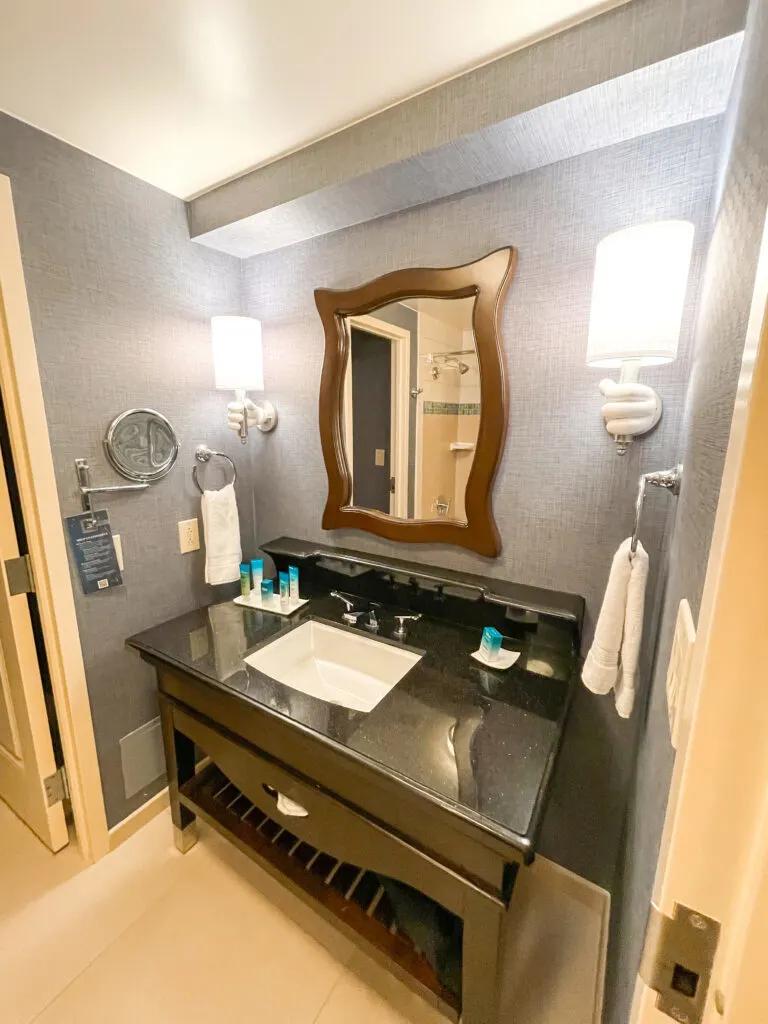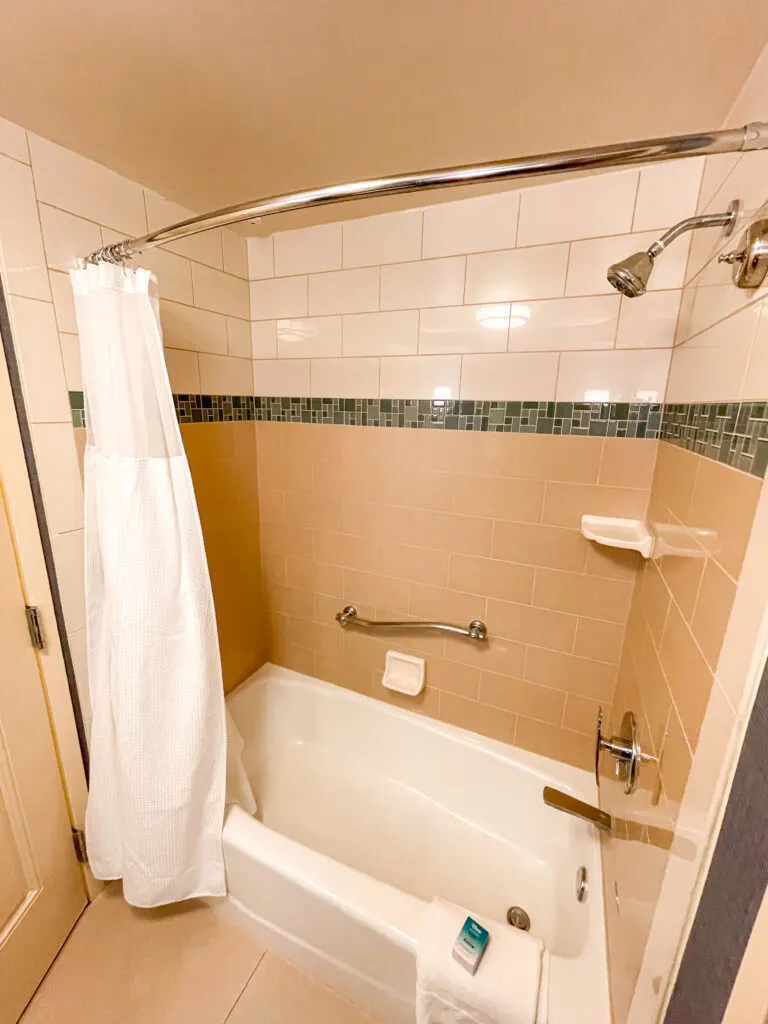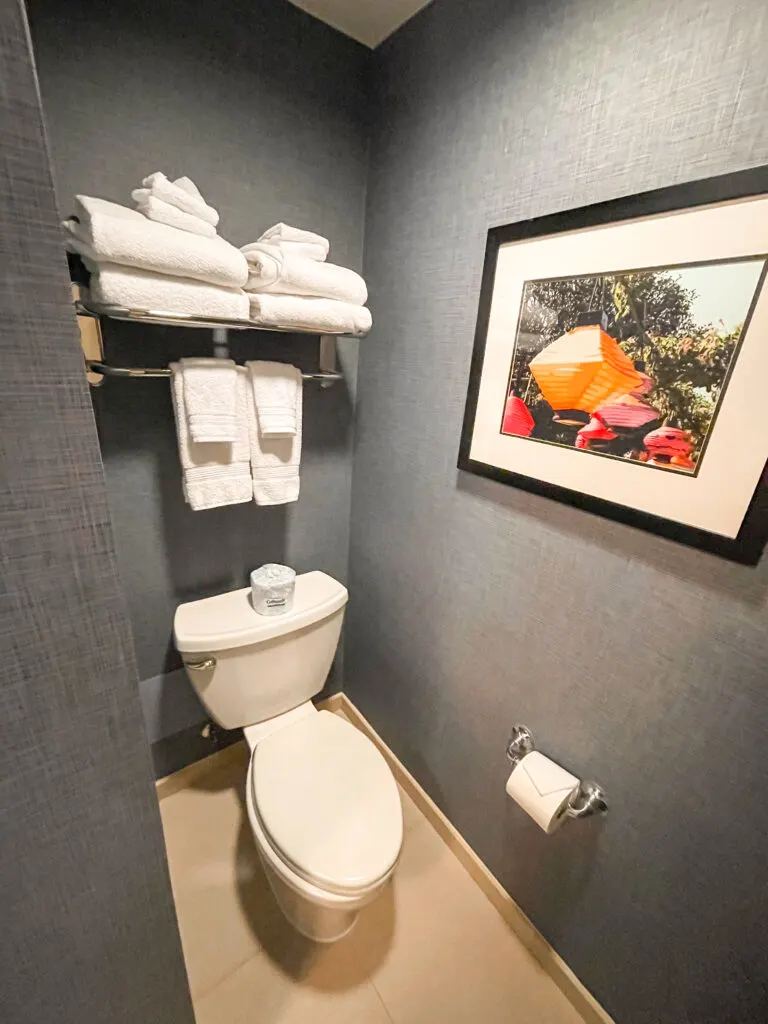 Pool View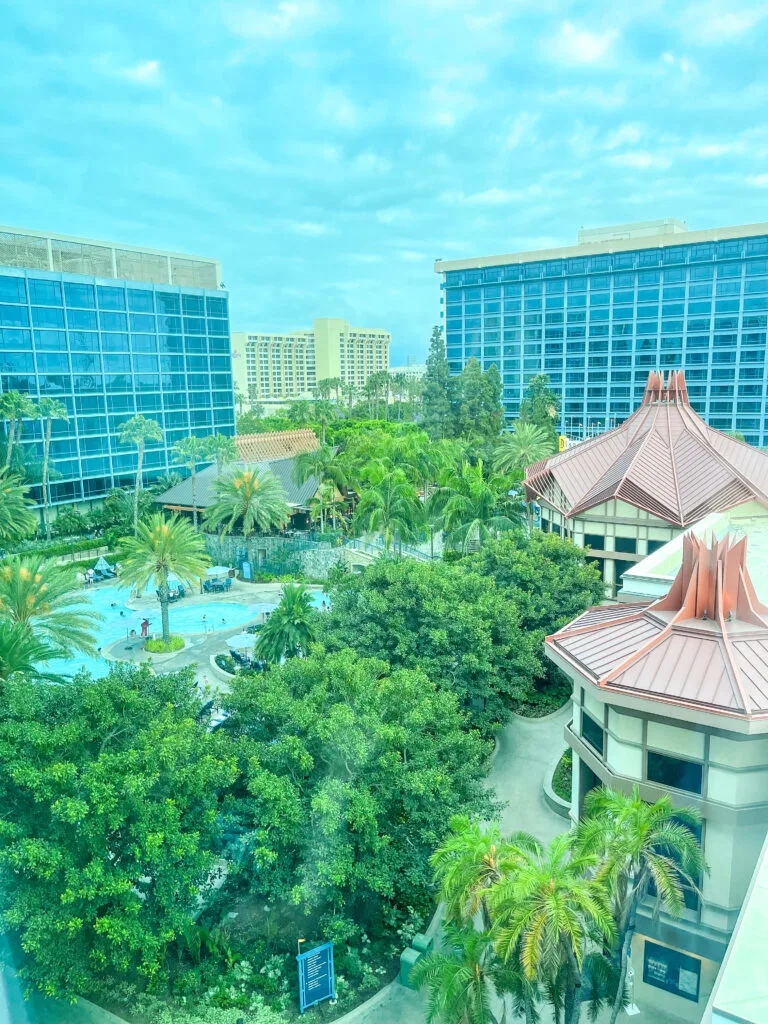 Pool & Water Slides
Disneyland Hotel has the best pool complex out of the three Disneyland Resort hotels. There are two large pools, a large hot tub, and two waterslides that are themed to look like the monorail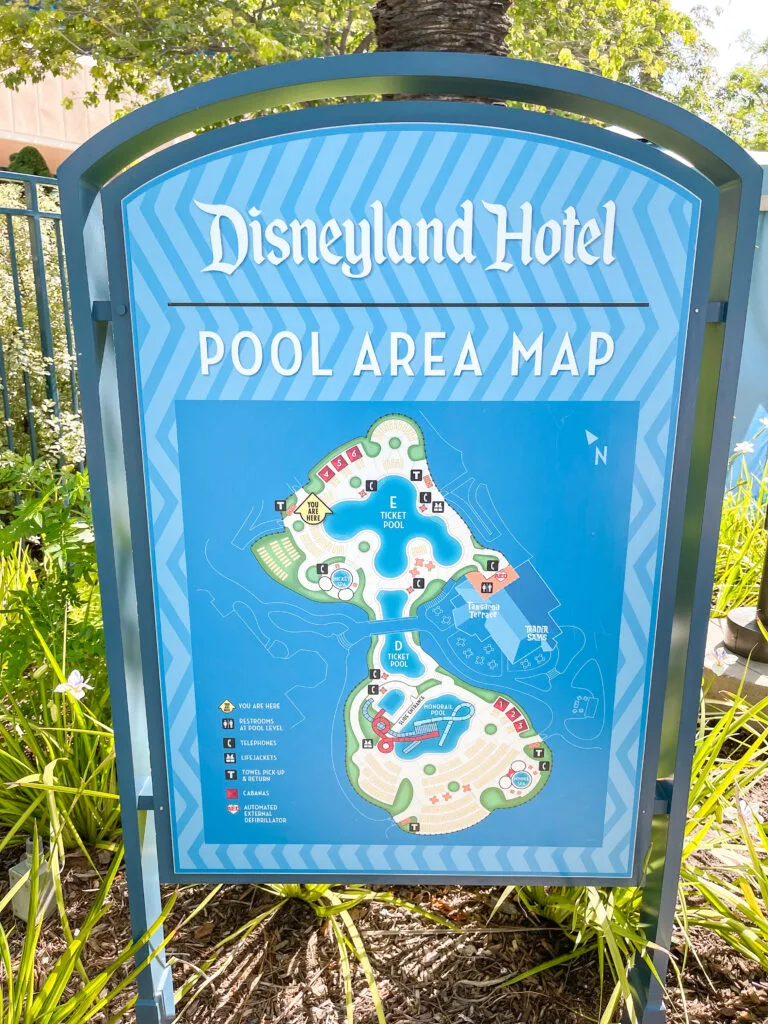 I also love that there is a vintage looking Disneyland sign at the top of the water slide tower!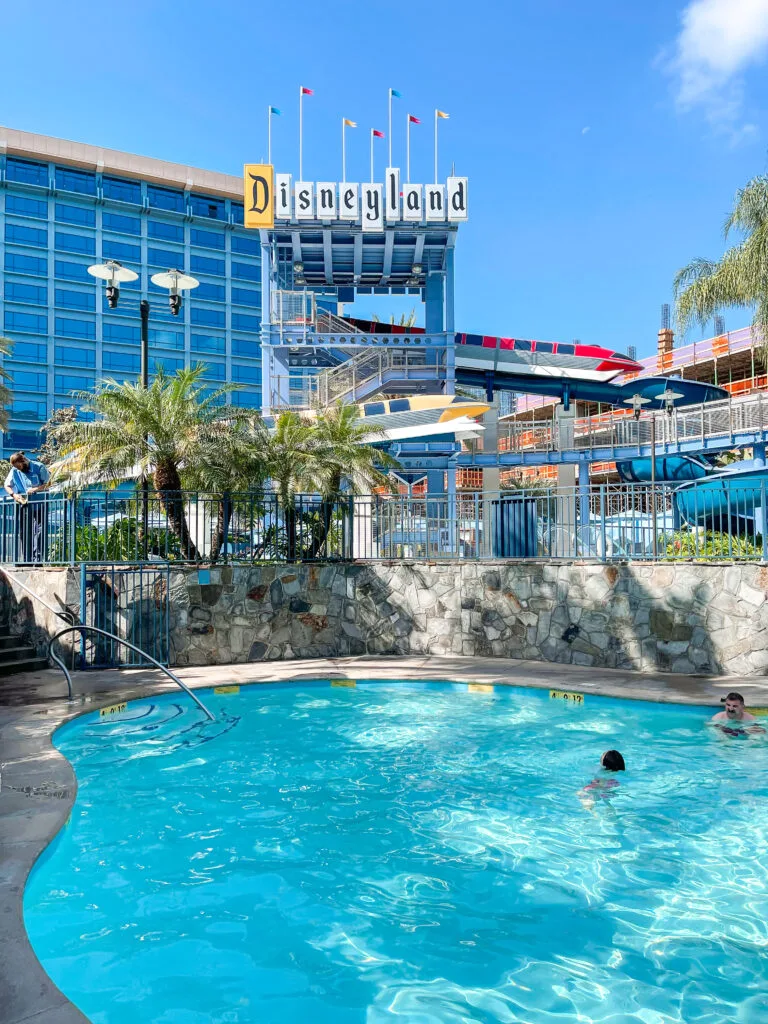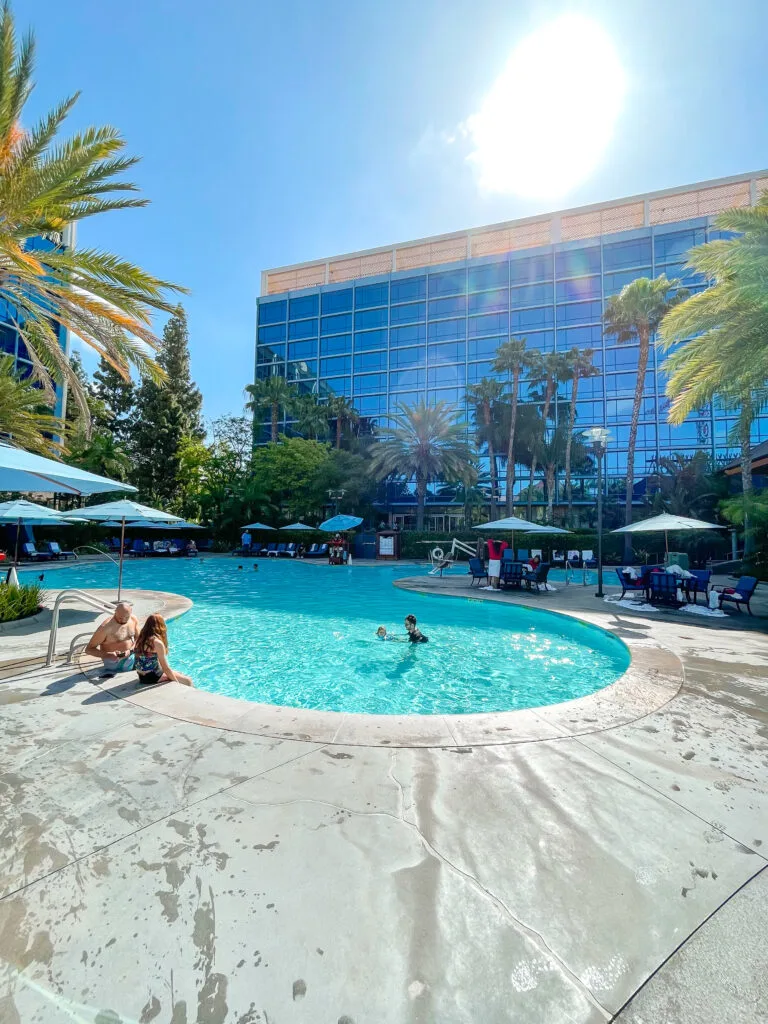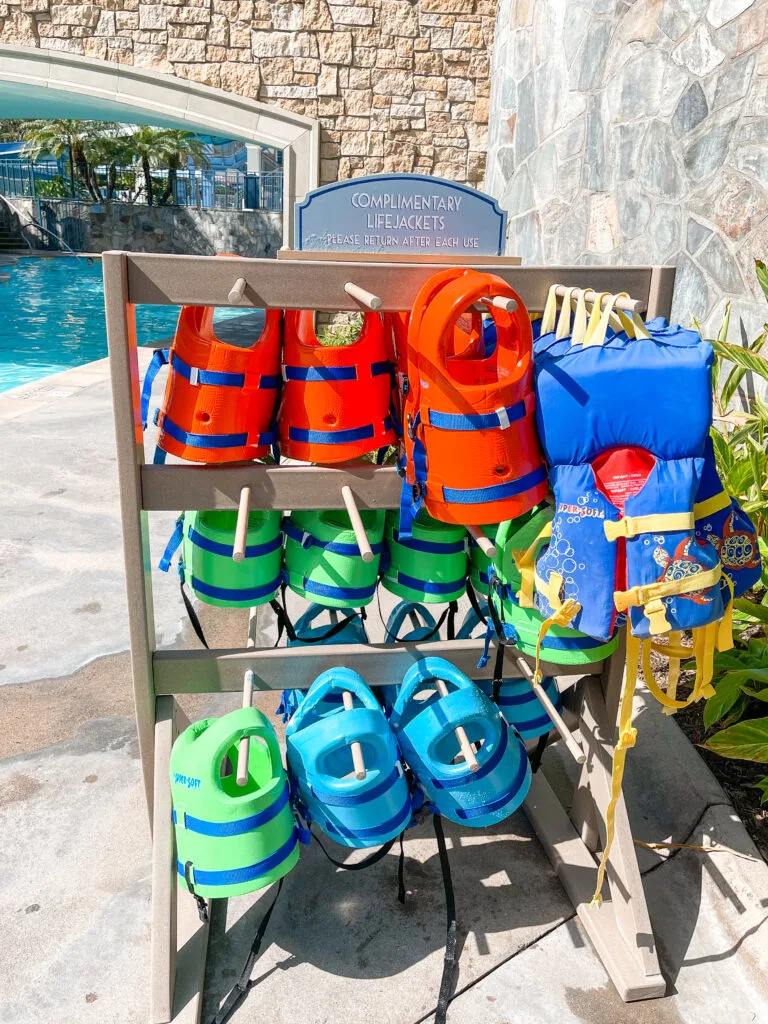 Disneyland Hotel Restaurants
A perk of staying at the Disneyland Hotel, is that it has several restaurants to choose from. It also so close to Downtown Disney, that all of those restaurants can be easy options as well.
Goofy's Kitchen
This restaurant is located at the Disneyland Hotel and offers character experiences for guests. This is a great option for breakfast or dinner.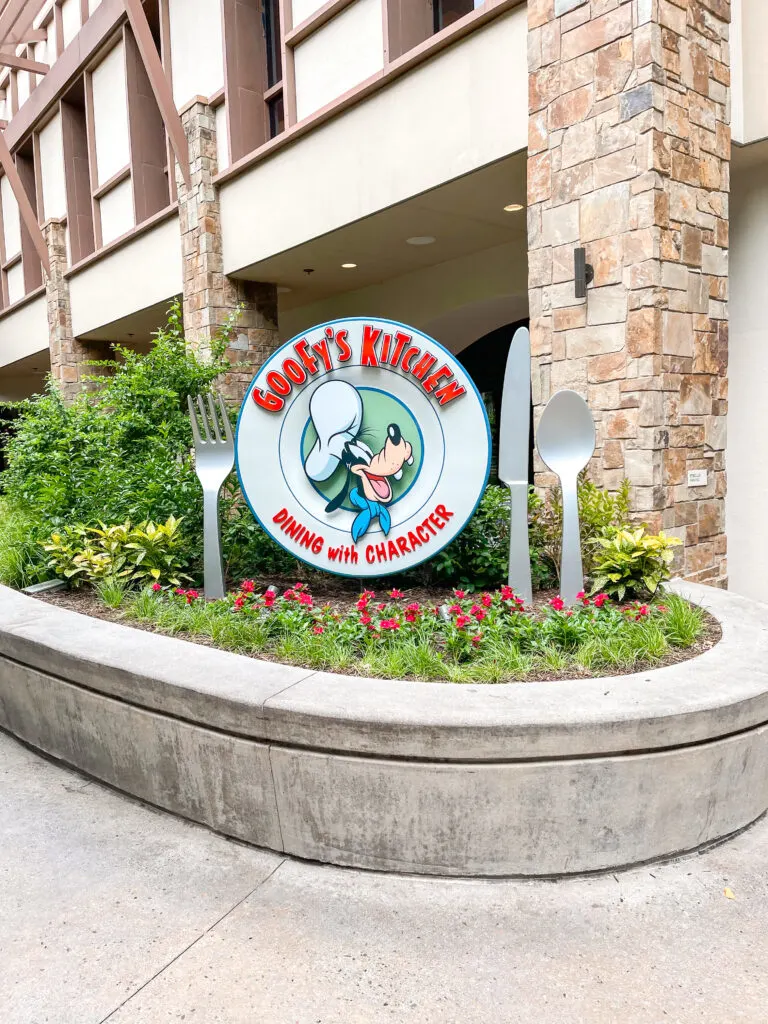 Tangaroa Terrace Tropical Bar and Grill
This is a quick service option that is open for both breakfast and dinner. My son and I ate the Tangaroa Toast for breakfast twice because we liked it so much. You can head here to see the Tangaroa Terrace menu and here for the recipe to make Tangaroa toast at home.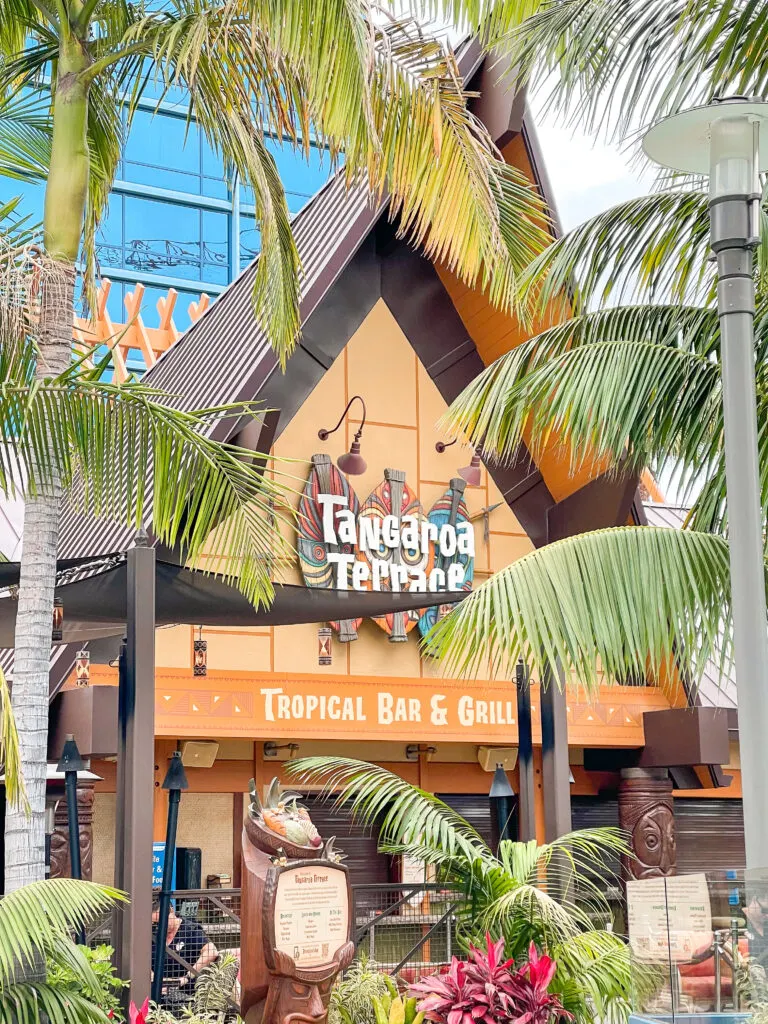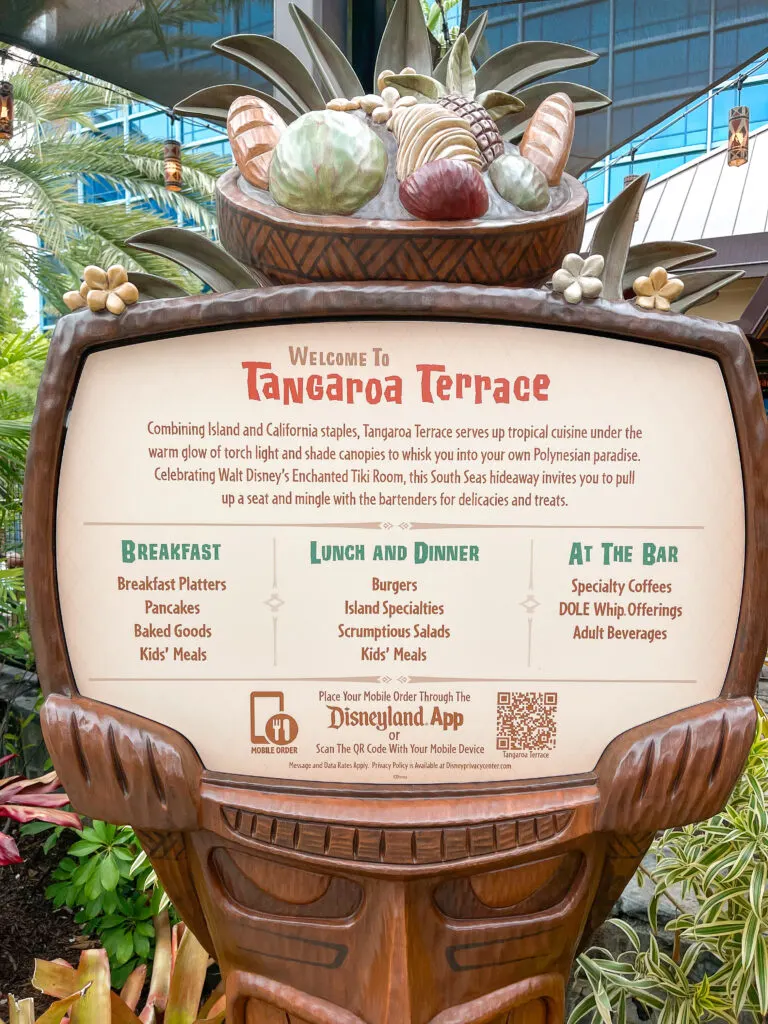 The Coffee House
This is a great place to relax with a cup of coffee or tea. They also have some pastries and other light snacks available.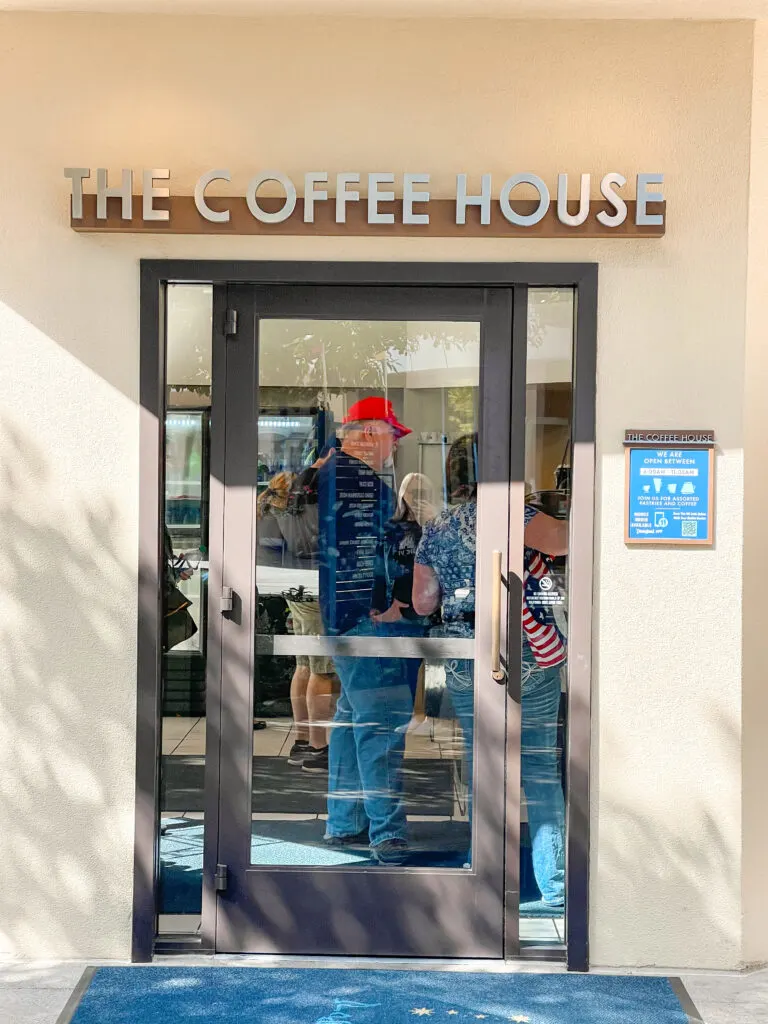 Trader Sam's Enchanted Tiki Bar
This bar is located at the Disneyland Hotel and it's a great place to relax with a tropical drink. Trader Sam's is where you can get a Dole Whip without being in the park!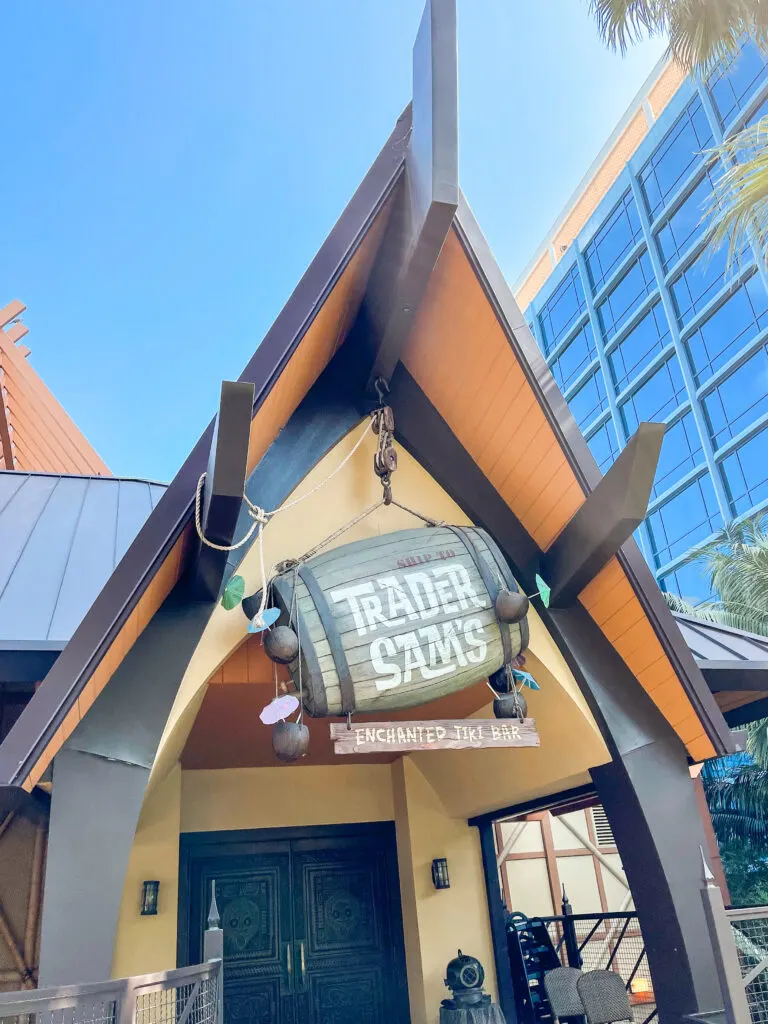 Early Entry (Formerly Extra Magic Hour)
Staying in Disney hotels is fun, convenient, and gives you special access to the theme parks and popular rides. Early Admission is available for Disneyland Resort Hotel guests 30 minutes before the park opens to the general public and is a great way to help you avoid long lines later in the day.
You need a valid theme park ticket and to be checked into your hotel to enter during this time.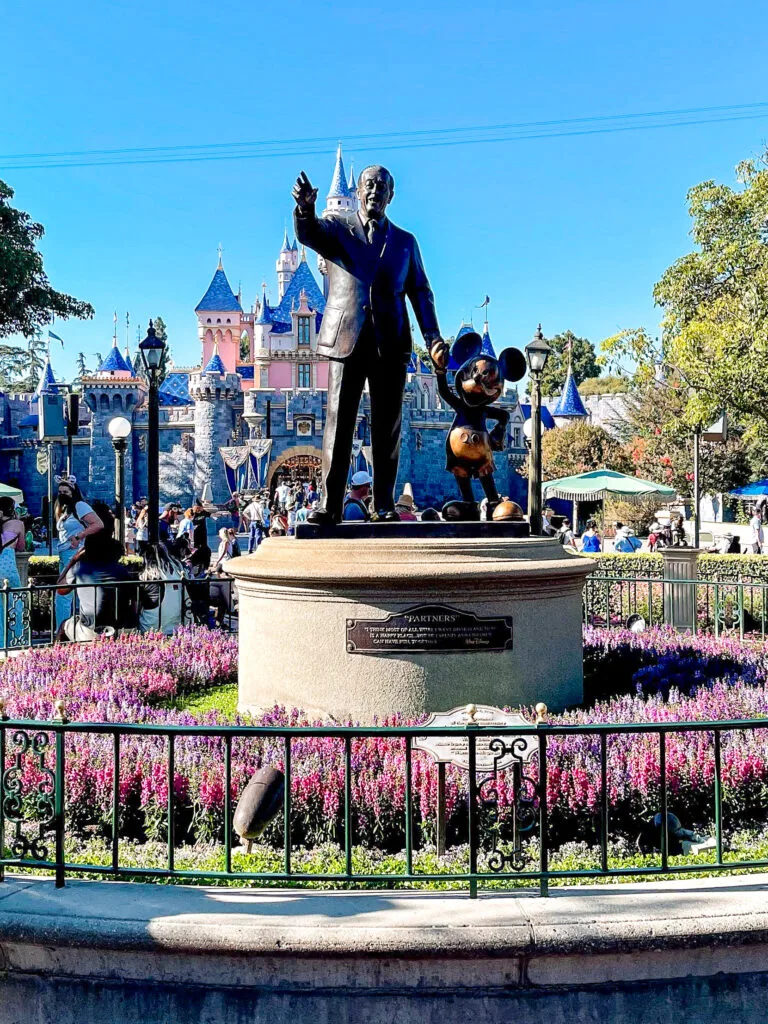 Early Admission Attractions Available
Disneyland Park
Alice in Wonderland
Astro Orbitor
Buzz Lightyear Astro Blasters
Disneyland Monorail
Dumbo the Flying Elephant
King Arthur Carrousel
Mad Tea Party
Mr. Toad's Wild Ride
Pinocchio's Daring Journey
Snow White's Enchanted Wish
Space Mountain
Star Tours – The Adventures Continue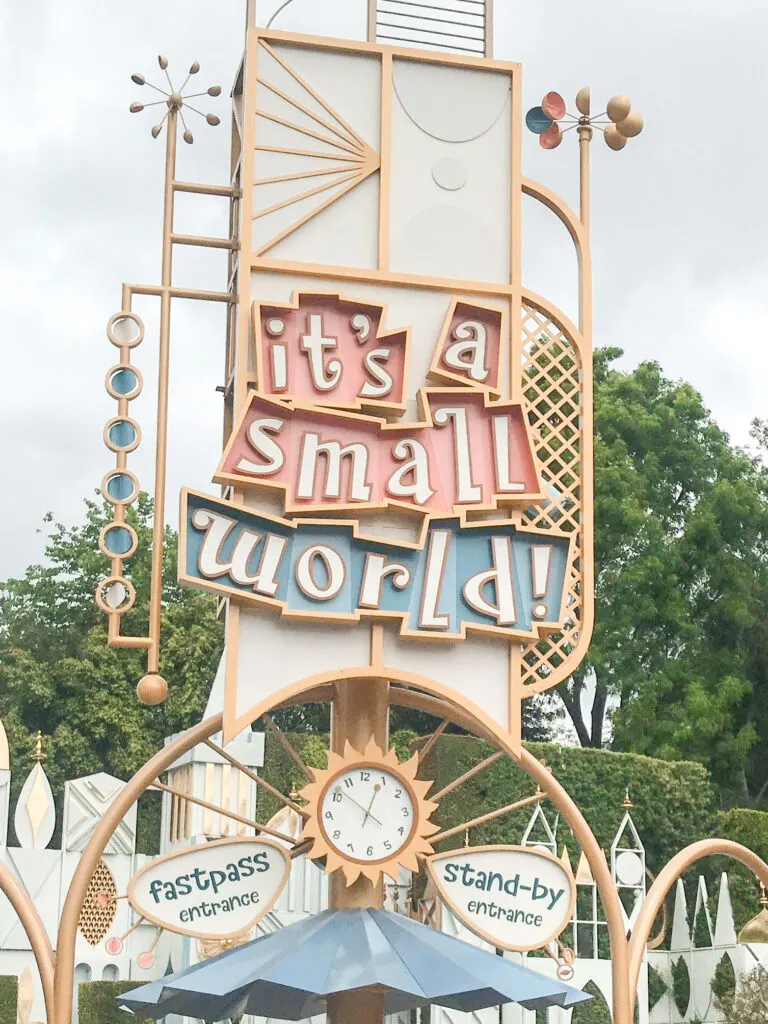 Disney California Adventure Park
Guardians of the Galaxy – Mission BREAKOUT!
Incredicoaster
The Little Mermaid ~ Ariel's Undersea Adventure
Mater's Junkyard Jamboree
Monsters Inc. Mike & Sulley to the Rescue!
Soarin' Around the World
WEB SLINGERS: A Spider-Man Adventure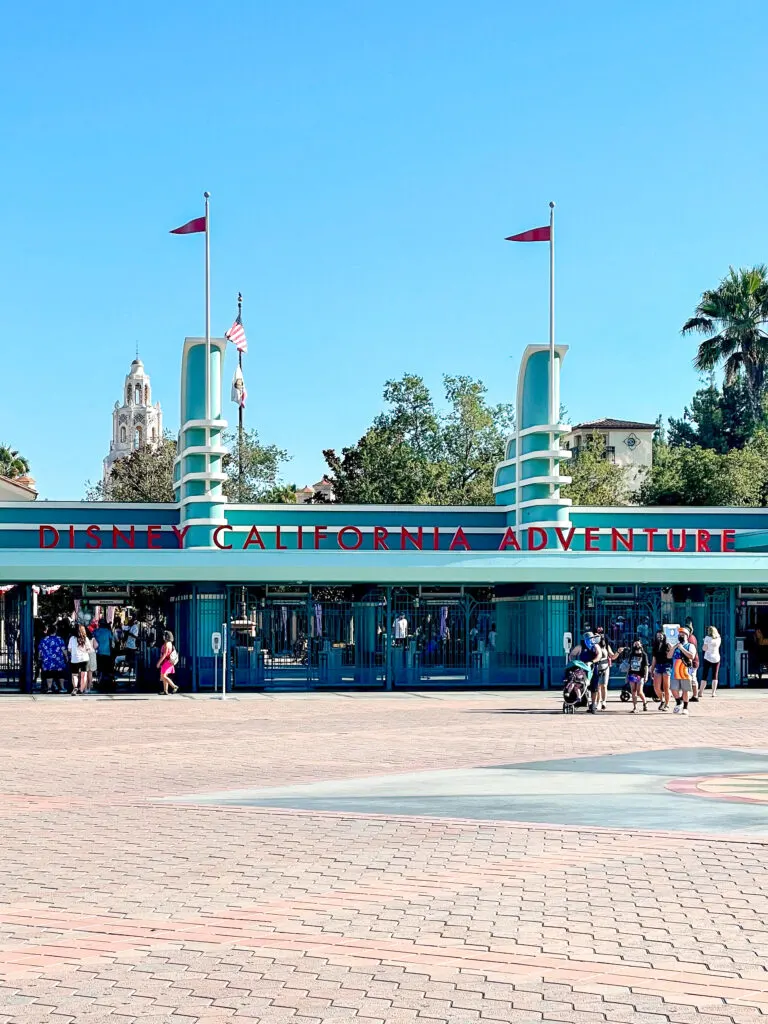 Early Lightning Lane Reservations (30 Minutes)
With the perk of early admission that I mentioned above, this also gives you the opportunity to get a 30 minute head start for booking popular Lightning Lane and Genie+ attractions. You can purchase discount Disneyland tickets that include Genie+ here.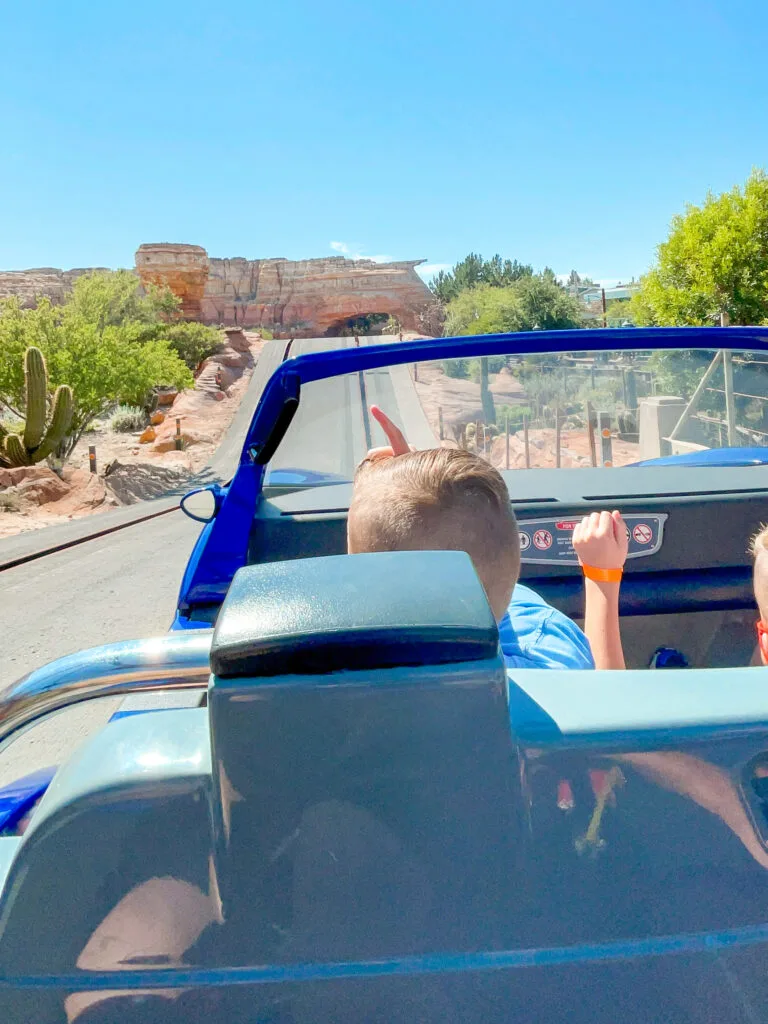 Disneyland Hotel = Stay in the Magic
Disneyland is know as the Happiest Place on Earth and to me, the Disneyland Hotel is the Happiest Hotel on Earth and is my favorite of the three on-property hotels.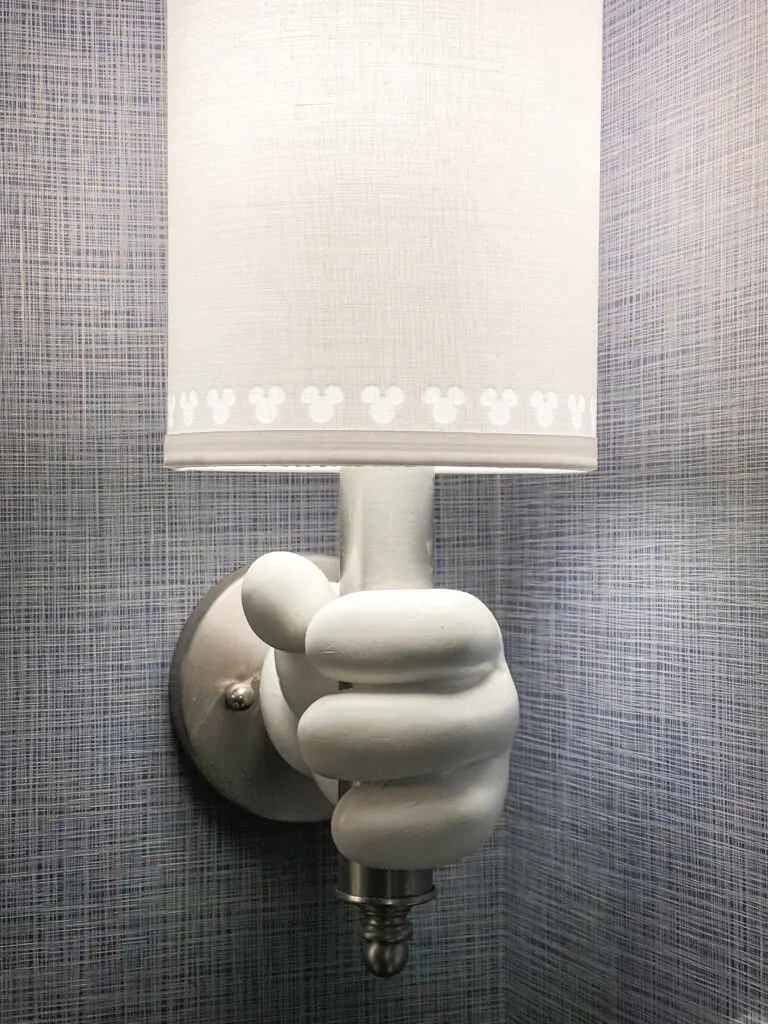 From the moment you drive up, you feel like you're entering a special place. The lobby is stunning and there are often fun photo opportunities set up for guests.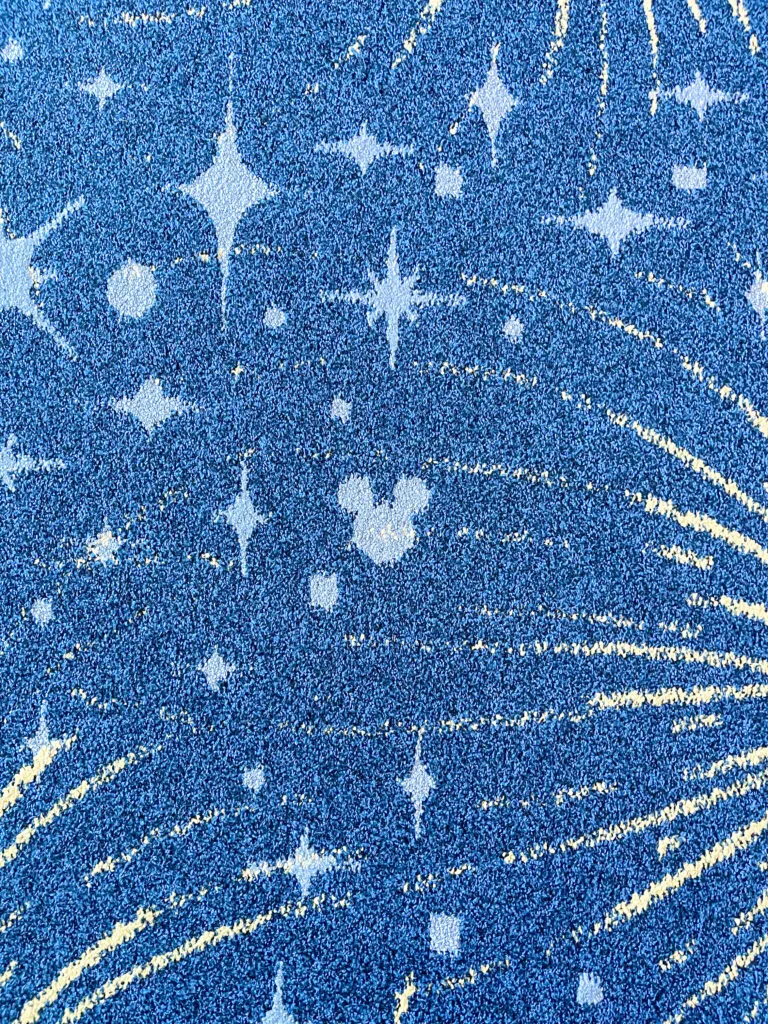 Everywhere you look, there is Disney magic. From the teacup chairs in the lobby to the Disney character shaped topiaries by the pool, you will be totally immersed in Disney magic when you stay at the Disneyland Hotel.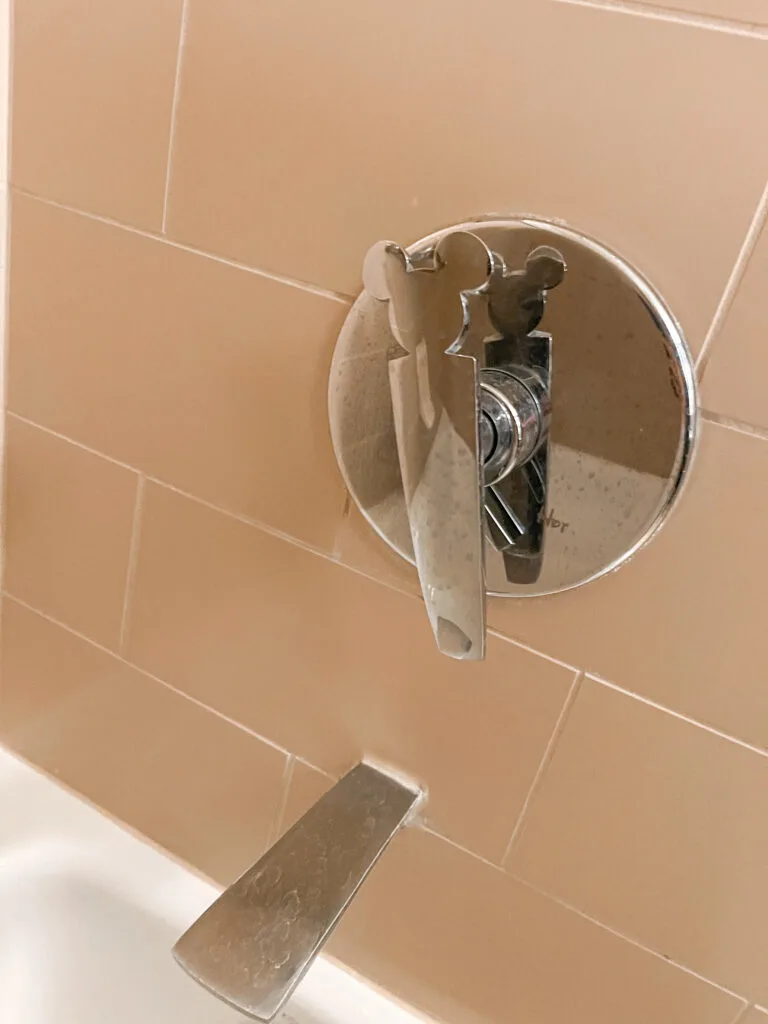 Walking Distance to Front Gate
The walking distance from the Disneyland Hotel to Main Street USA at Disneyland is about 1/2 mile. According to Google Maps, it will take about 11 minutes to walk. This short distance is great at the end of the day when the park closes and your feet are tired.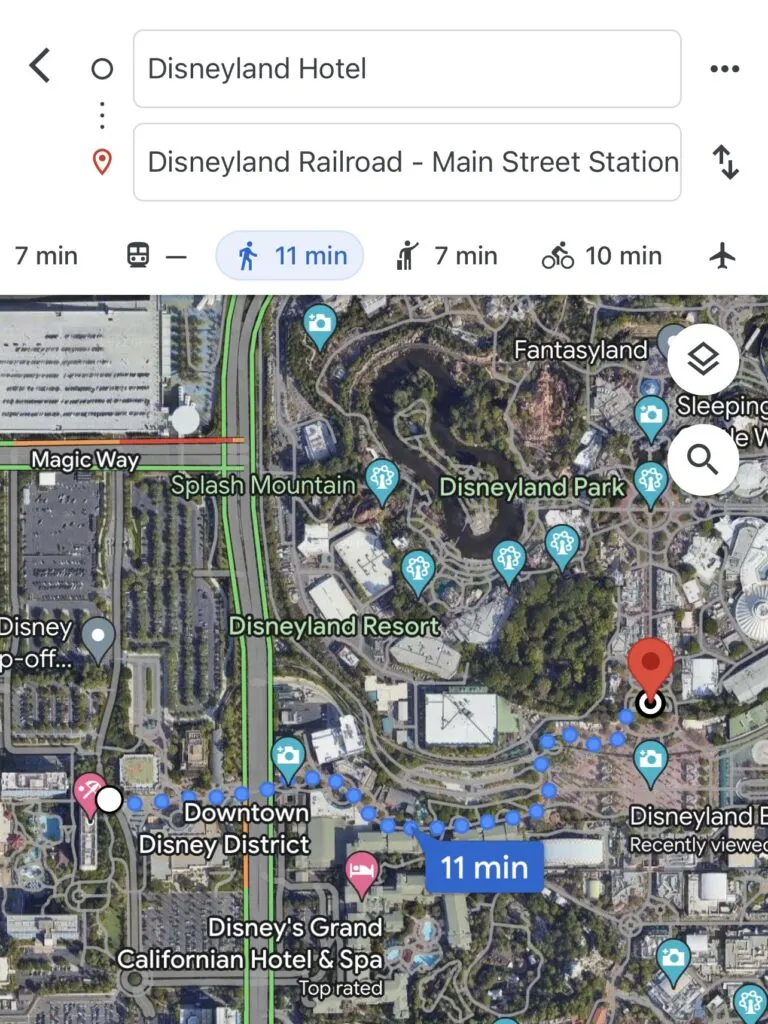 Monorail Entrance
If you're staying at the Disneyland Hotel, you can use the Monorail entrance located just inside the Downtown Disney District. The Monorail is will take you inside the park, right to Tomorrowland!
The walking distance from the Disneyland Hotel to the monorail station is about 0.1 mile and is about a 2 minute walk.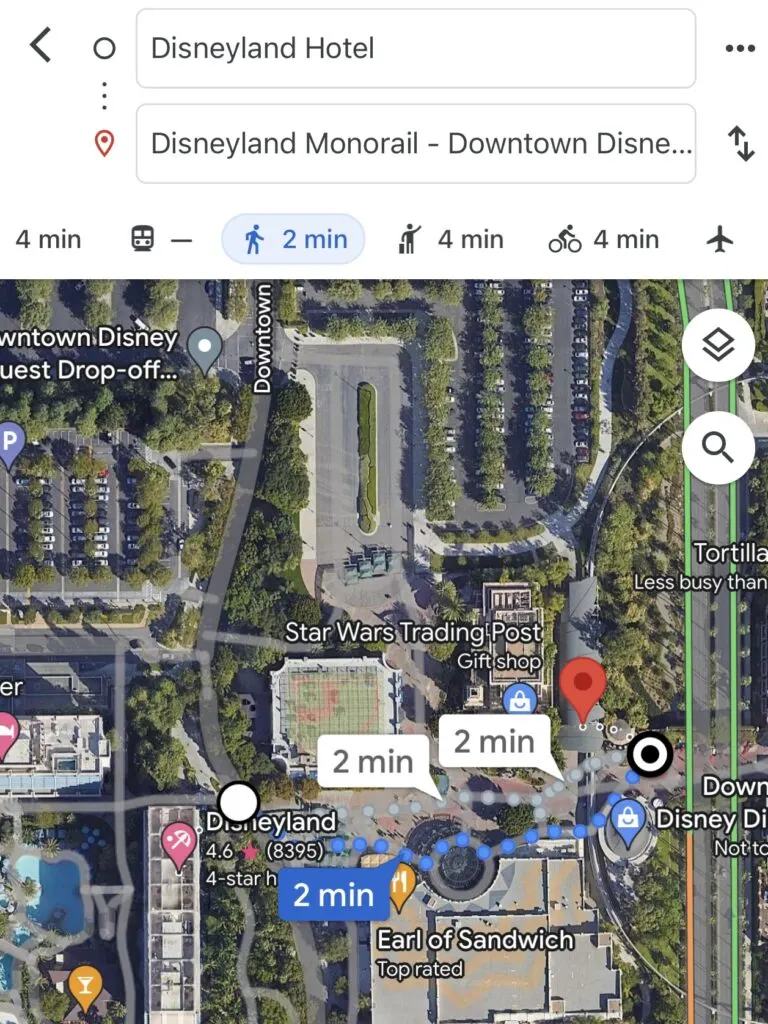 Disneyland Hotel Gift Shops
The Disneyland Hotel has two gift shops, both of which are located in the Fantasyland Tower. Fantasia Shop has everything from Disney luggage and Disney shirts to bubble wands and keychains.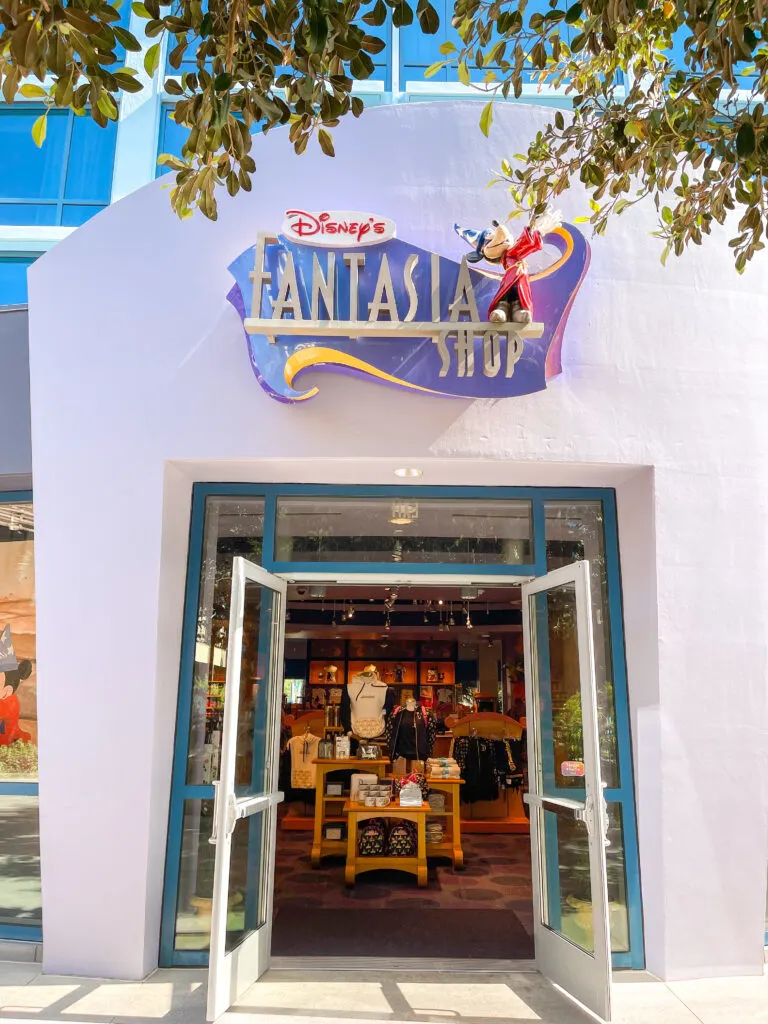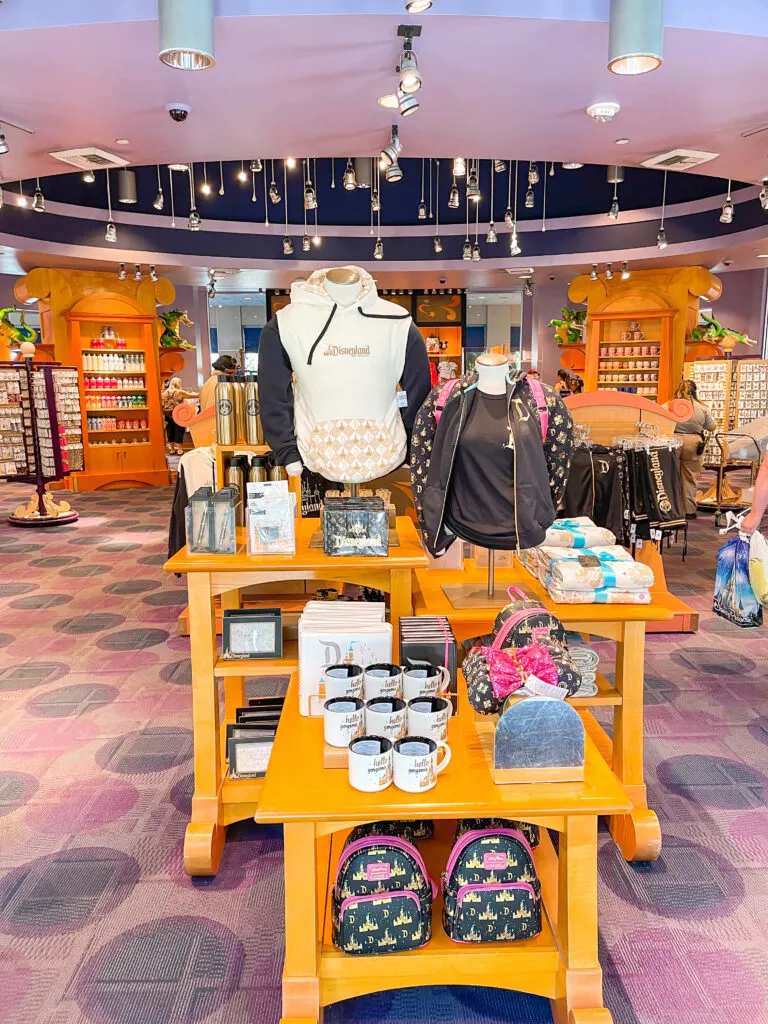 The second gift shop, Small World Gifts & Sundries, is located just past the lobby, before you exit to the pool area. This shop mostly has snacks and drinks.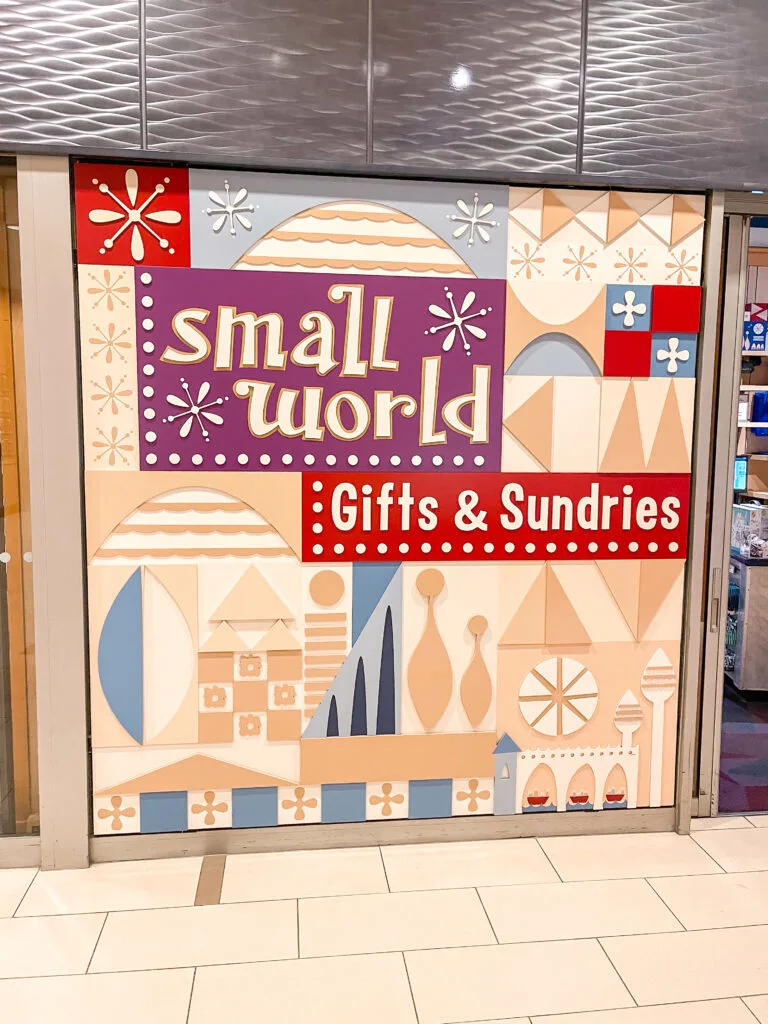 Is The Disneyland Hotel Worth It?
Whether or not the Disneyland Hotel is worth the cost, is totally subjective. The location can't be beat and the walk to the parks is only about 10-11 minutes. The rooms are spacious and beautiful and there are plenty of dining options. Plus, there are often deals and discounts available on rooms!
I loved every minute of my stay there, but I don't think that I would choose to stay there every time. Maybe as a splurge. There are so many great Good Neighbor Hotels in the are that much less expensive and are also within walking distance.
Some of my favorites are Howard Johnson Anaheim Hotel & Water Playground and Courtyard by Marriott Theme Park Entrance. You can read all of my Disneyland area hotel reviews here and check prices through Get Away Today here.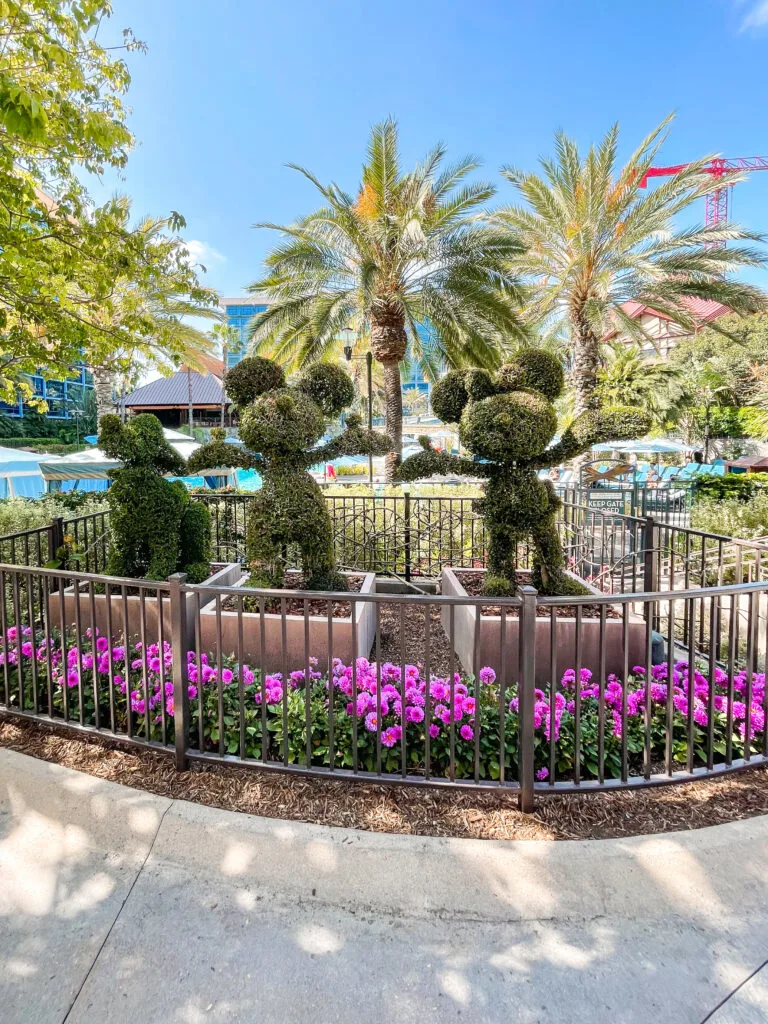 What Are The Three Disneyland Hotels?
The three Disneyland hotels are Disney's Grand Californian Hotel & Spa, the Disneyland Hotel, and Disney's Paradise Pier Hotel (soon to be Pixar Pier). All three hotels offer unique Disney experiences and are located within walking distance of the parks.
The Grand Californian is the most expensive of the three hotels and offers luxury accommodations and dining. The Disneyland Hotel is my personal favorite and is located right on Disneyland property. Paradise Pier is the least expensive of the three hotels and has a fun, beachy theme.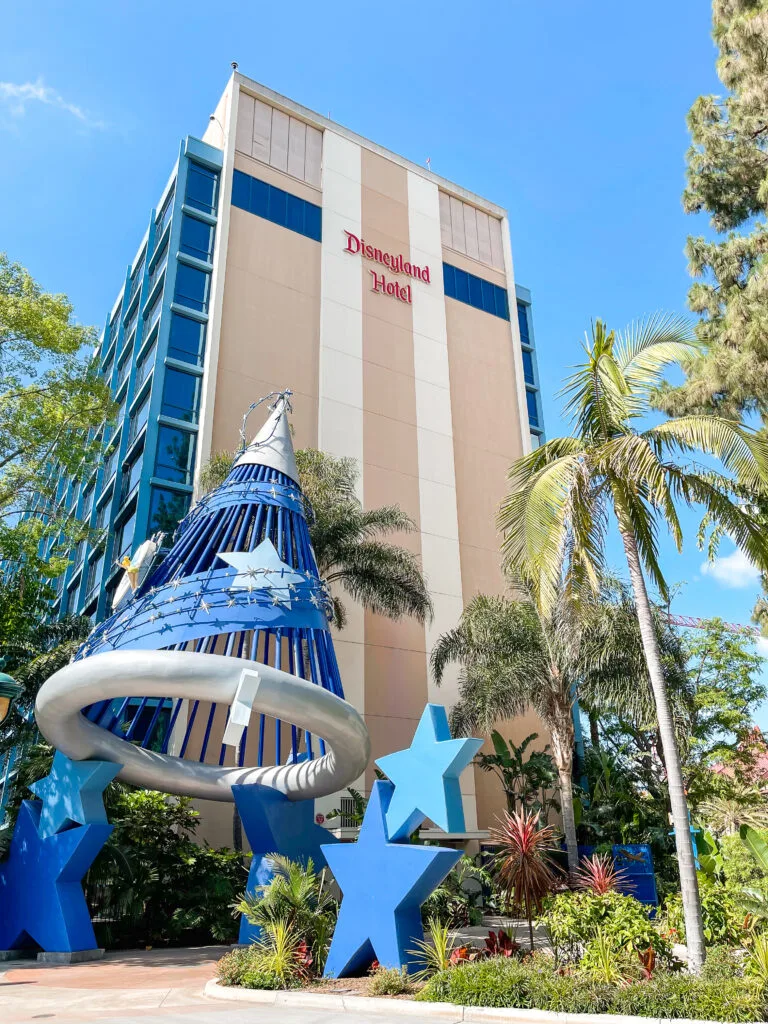 Good Neighbor Hotels
As I mentioned previously, there are so many hotel options right around the Disneyland Resort which is definitely different from Walt Disney World. Many of these hotels have rooms to accommodate larger families, including rooms with bunk beds!
You can definitely choose one of these hotels instead of staying on property and still have a Disney-filled magical time! Almost all of these hotels have Disney theming and gift shops as well.
Here are the Good Neighbor Hotels I have written reviews about: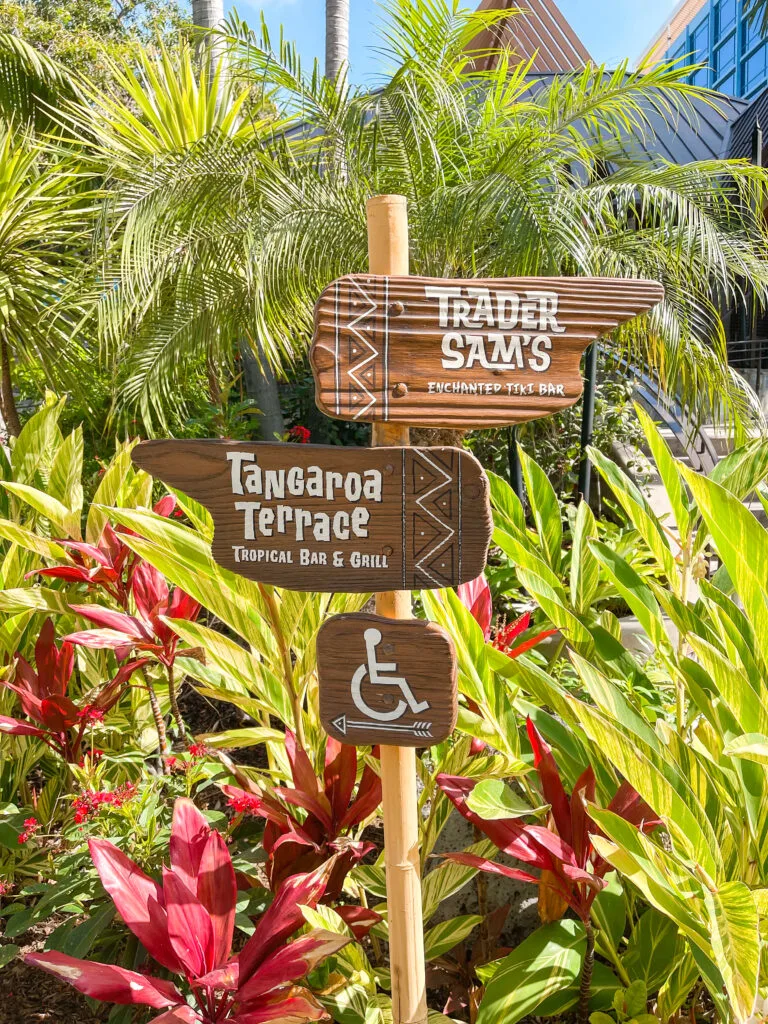 FAQ's About the Disneyland Hotel
Does Disneyland Hotel Have Dole Whip?
Yes! You can get a Dole Whip at Trader Sam's Enchanted Tiki Bar located near the Disneyland Hotel pool.
Can you see the Fireworks from the Disneyland Hotel?
Yes, you can see the fireworks from the Disneyland Hotel. You will want to request an east facing room in the Adventureland Tower.
Can you walk around the Disneyland Hotel?
Yes! You are welcome to walk around the Disneyland Hotel. In fact, there is a walking path that will take you right into Downtown Disney! Take a look around the pool area, visit a gift shop, and get a bite to eat!
How old is the Disneyland Hotel?
The Disneyland Hotel opened on October 5, 1955. It is the original hotel of the Disneyland Resort!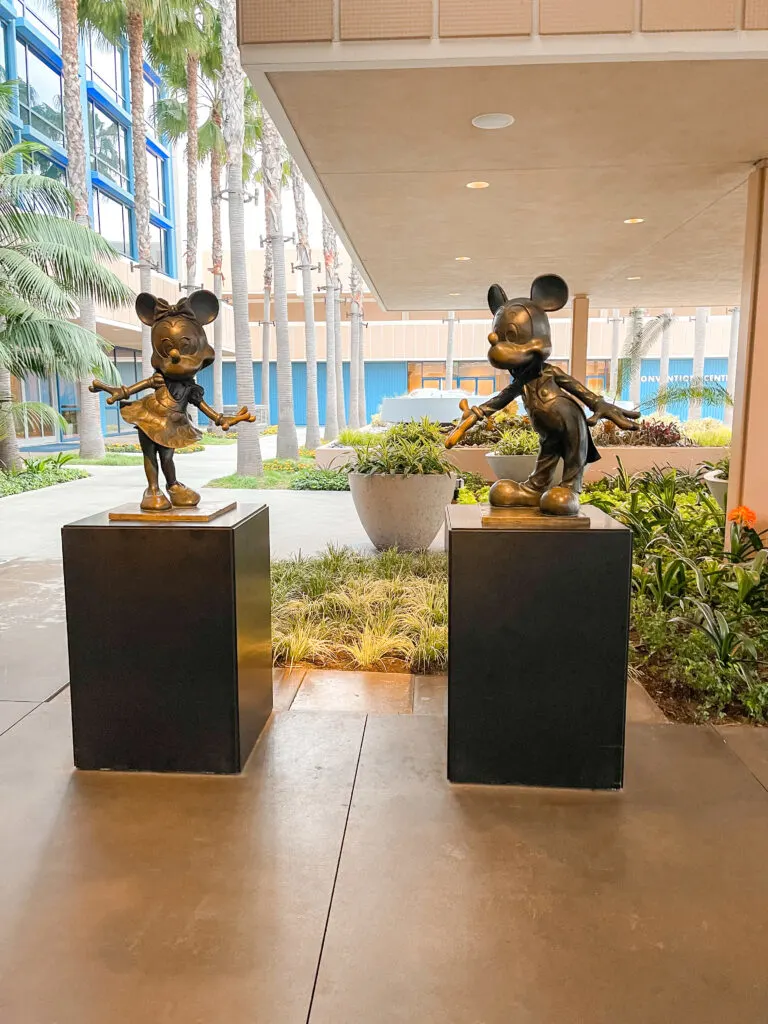 What time is check in and check out?
Check-in time at the Disneyland Hotel is 3:00 pm and check-out time is 11:00 am.
What if I arrive early?
If you arrive early, you can store your luggage with a cast member at bell services and explore the Disneyland Resort until your room is ready.
How much is parking at the Disneyland Hotel?
Self parking at the Disneyland Hotel is $35 per night for registered guests. If you have a dining reservation, you can have free parking for 3 hours with a validation.
Does the Disneyland Hotel Have Free Breakfast?
Free breakfast is not offered at the Disneyland hotel, but you can purchase breakfast at Goofy's Kitchen (character dining reservations required), Tangaroa Terrace (I recommend the Tangaroa Toast) and The Coffee House.
You can read about all of the breakfast options at the Disneyland Resort here. Another option would be to have groceries delivered to you at the Disneyland Hotel. Read all about how to do that here.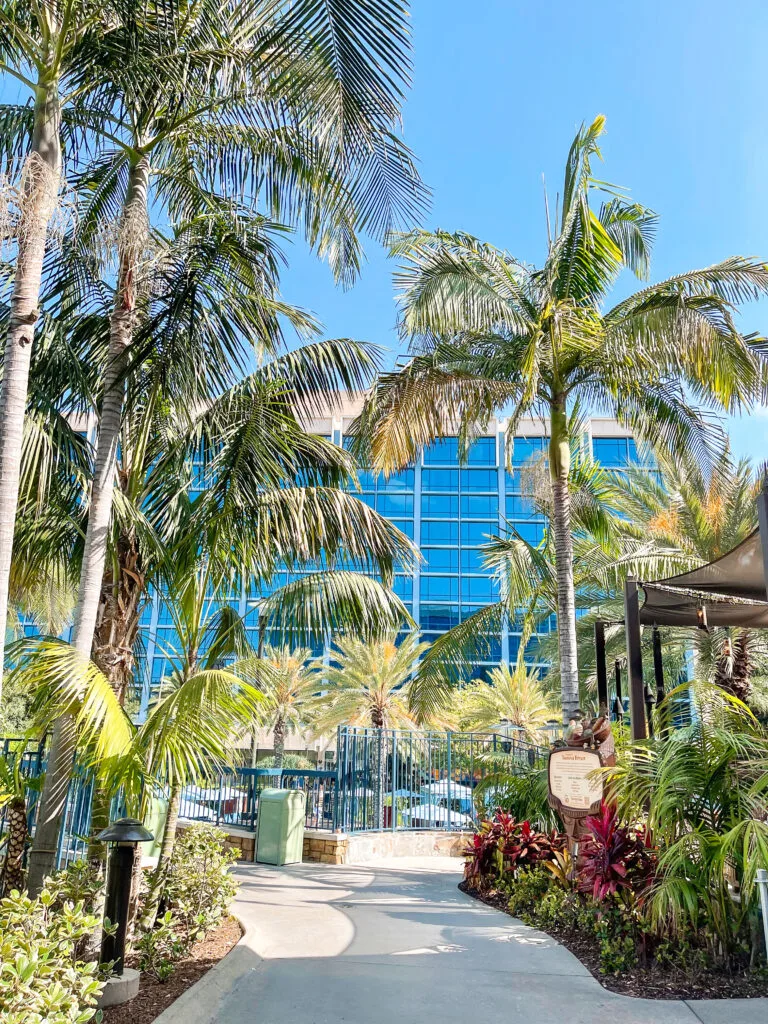 Disneyland Hotel Review Final Thought
I hope you enjoyed these Disneyland Hotel Tips! If you have any questions that I didn't answer, please feel free to ask in the comments below or on Instagram @mommymouseclubhouse. And, if you are looking for more tips and information on visiting the Disneyland Resort, be sure to check out my other blog posts and more Disneyland tips here!
Happy planning!
Bonus: Disneyland Tips for Buying Your Park Tickets
1. Arriving at the gate and purchasing same-day tickets at a ticket booth is basically a thing of the past.
2. You don't need tickets for children under 3.
3. Decide whether or not you need a Park Hopper ticket.
4. If you do buy a one-park ticket in advance, you can still upgrade it to a Park Hopper when you arrive.
5. Multi-day tickets do not need to be used on consecutive days.
6. I highly recommend buying Genie+ to decrease wait times.
7. There are bonus perks for purchasing a 3, 4, or 5-day Park Hopper
8. Do not buy tickets off Craigslist or EBay!
9. Check park reservation availability before purchasing your tickets, then make sure to make park reservations yourself, one you have purchased your Disneyland tickets. You will not be allowed in the parks without a reservation!