Want to find a great hotel, that can easily accommodate larger families and is packed full of amenities? Embassy Suites by Hilton Anaheim South may be the hotel for you!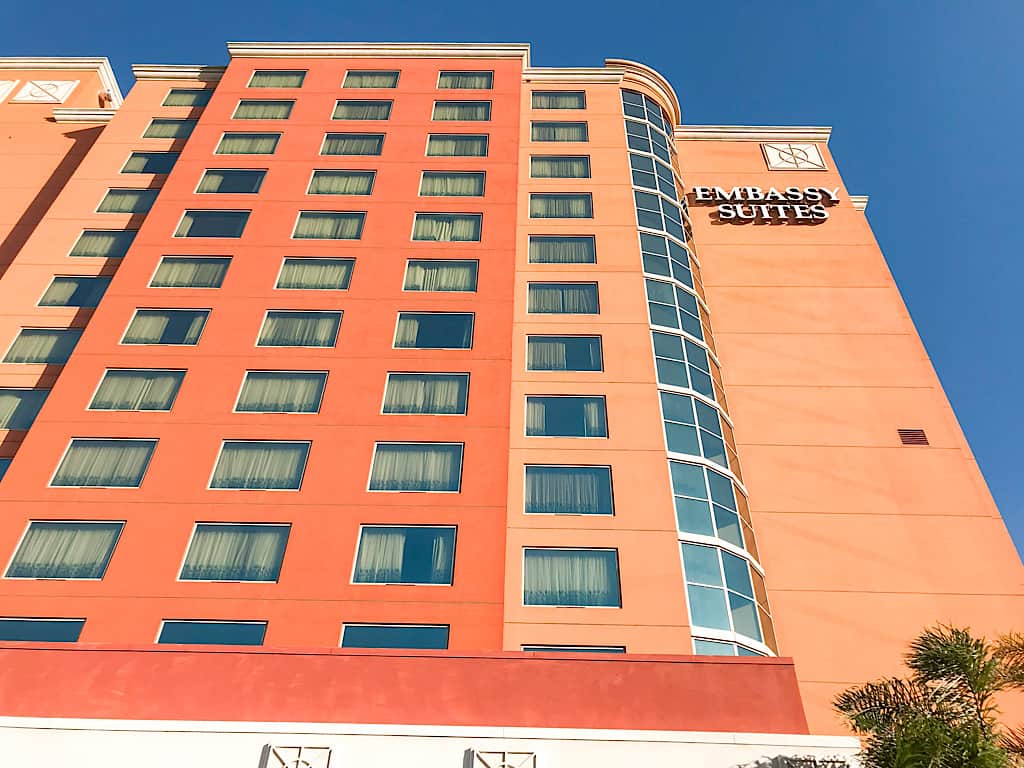 This post may contain affiliate links. When you click on these links, I get a small percentage back at no cost to you! For more information see my disclosure policy.
Accommodations were provided complimentary for my family. All opinions are my own.
With a family of 5 who loves to go to Disneyland, I am always looking for hotels that can accommodate larger families and offer amenities that will make our stay more comfortable.
We recently had the opportunity to stay at Embassy Suites by Hilton Anaheim South while visiting Disneyland.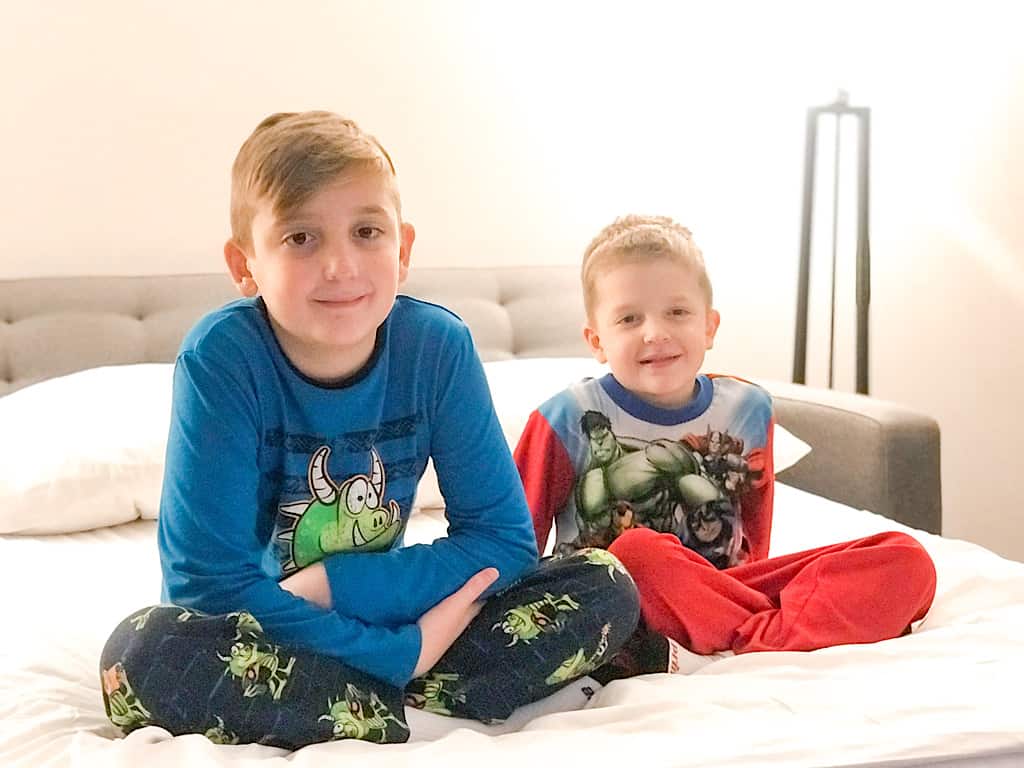 This is my review of our experience that will hopefully help you decide if this hotel is right for you and your family.
Don't forget to check out my video at the end of this post with a tour of the hotel, our room, and the amenities offered!
Embassy Suites Anaheim South Overview
Embassy Suites Anaheim South is the closest Embassy Suites property to the Disneyland Resort and is only a mile away from all of the fun.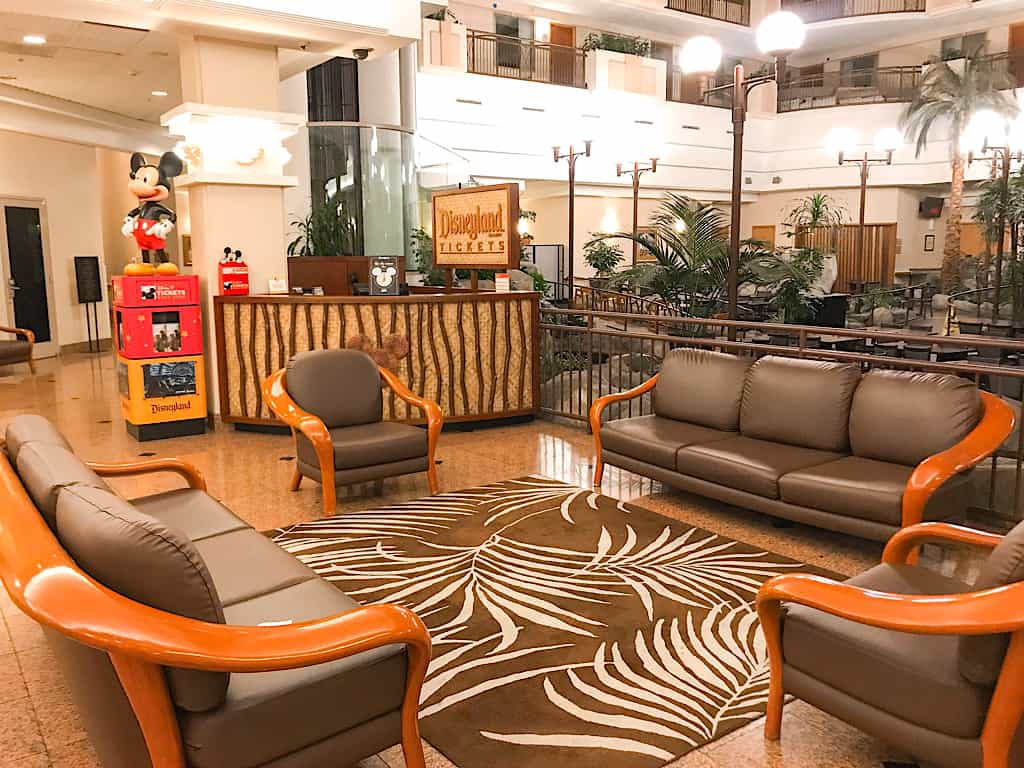 In the hotel's lobby, you will find a Disneyland ticket desk. Here you can ask any questions you might have about your stay or your visit to Disneyland.
You can also purchase Disneyland tickets here, allowing you to bypass the ticket counters at the park, but I recommend purchasing from my travel partner, Get Away Today to save a few dollars! Read more about discount Disneyland tickets here!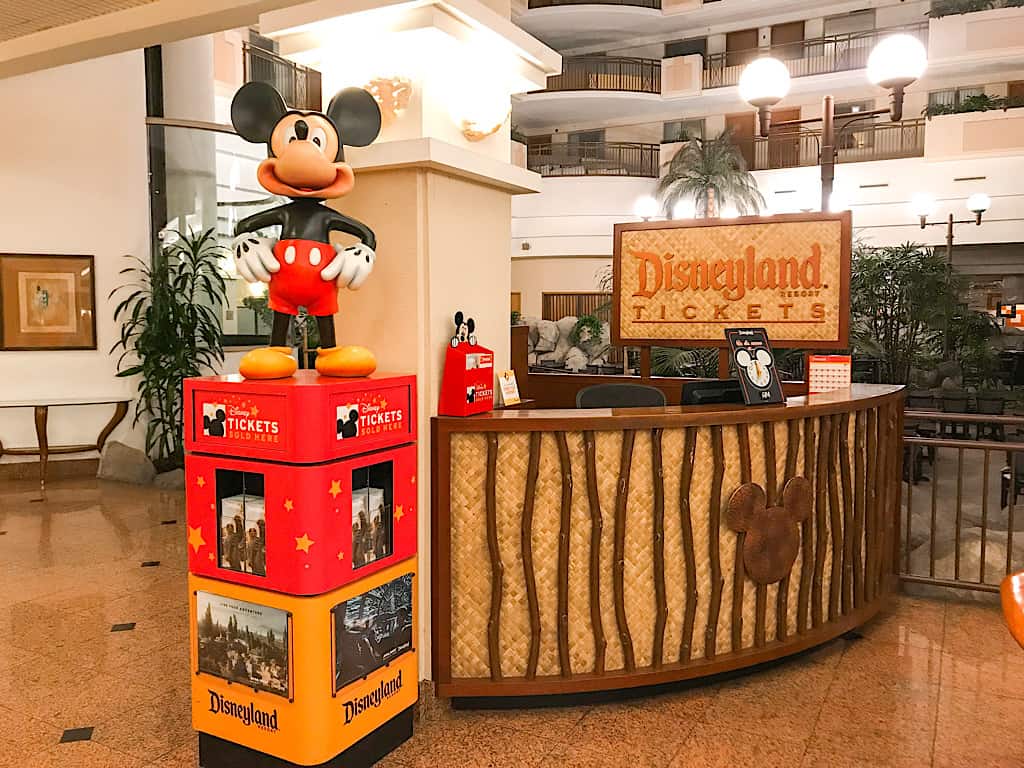 What are Check In and Check Out Times at Embassy Suites Anaheim South?
Check in time at Embassy Suites Anaheim South is 4:00 PM and Check Out time is 11:00 AM.
If you will be parking your car at Embassy Suites, be aware that there is no valet service available.
There is parking charge of $20 per night, but if you book through Get Away Today, that fee will be waived!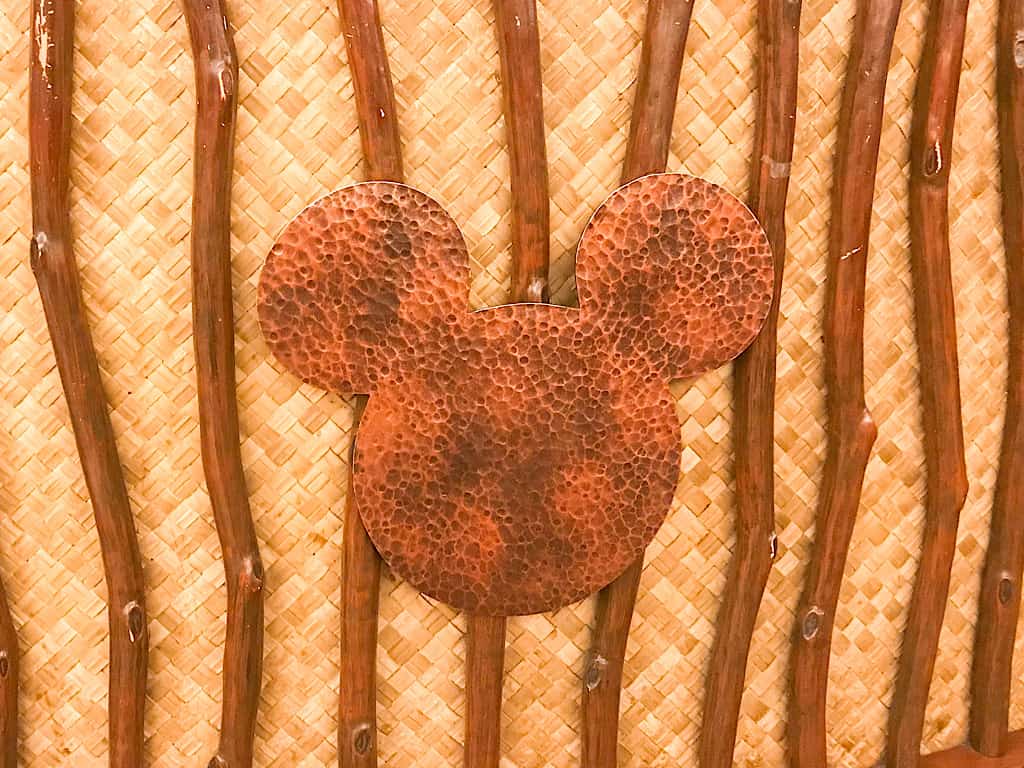 Embassy Suites Anaheim South Guest Rooms
Embassy Suites by Hilton Anaheim South is an all suite hotel. Each room is a spacious two room suite. Let's take a quick tour!
Living Area
Each suite at Embassy Suites has a separate living area from the bedroom. This is great for families who have little ones who need to take a nap and need some peace and quiet.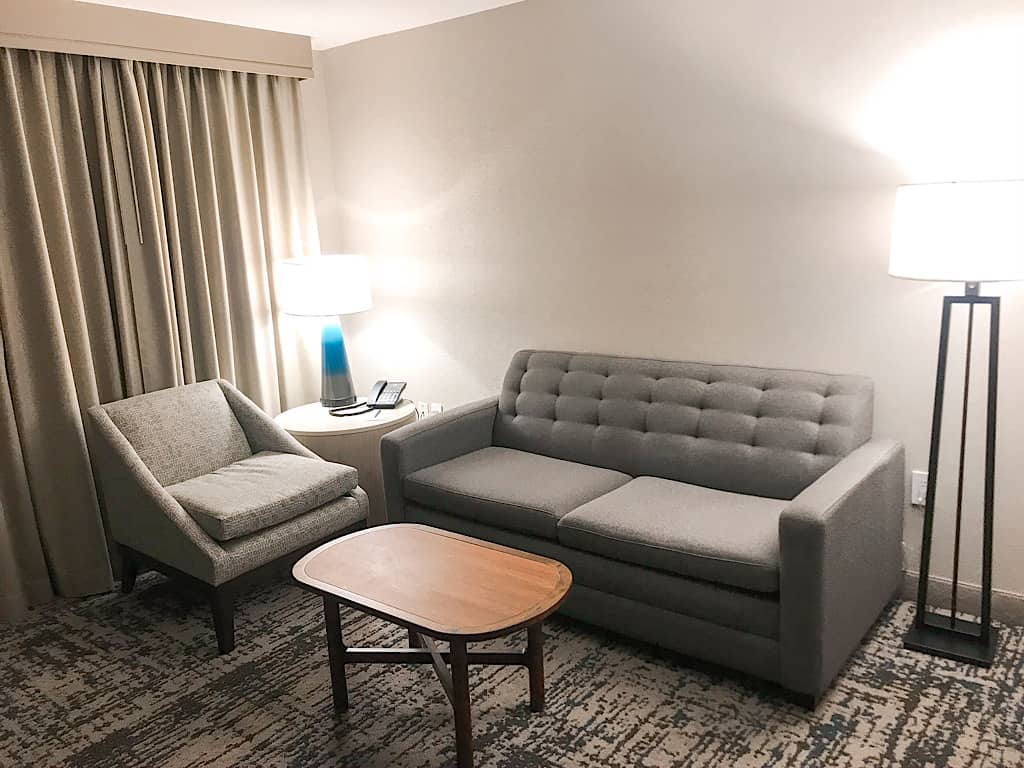 It also gives you and your family ample space to spread out and relax with many of the comforts of home.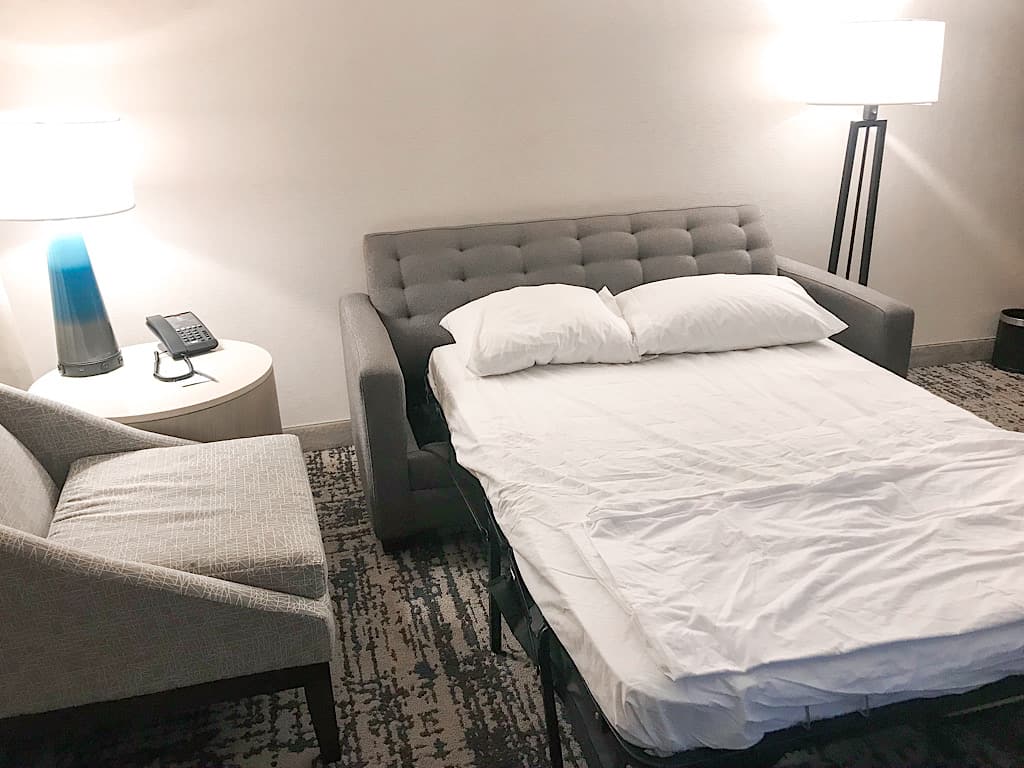 The living area consists of an arm chair, sleeper sofa, work/dining table with chairs, a television and a wet bar.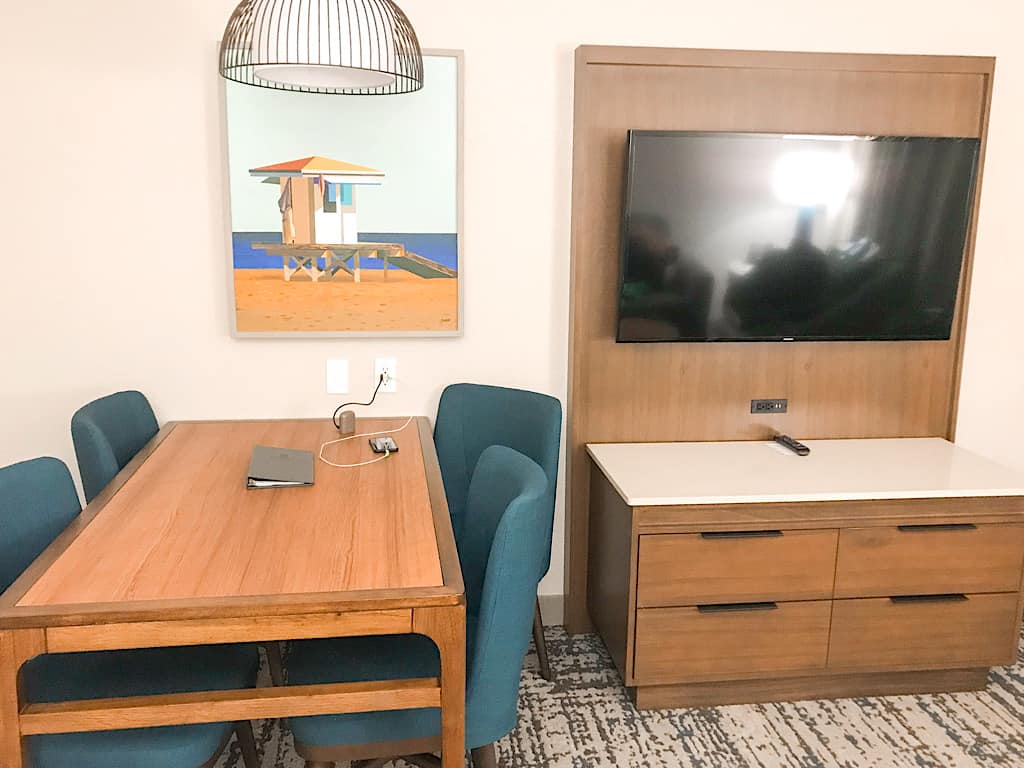 There was more than enough space for my family in this area. It was nice to have a large table for eating snacks in our room and space to prepare our items for a busy day at Disneyland.
Wet Bar
The wet bar area in each suite is conveniently located right next to the seating area.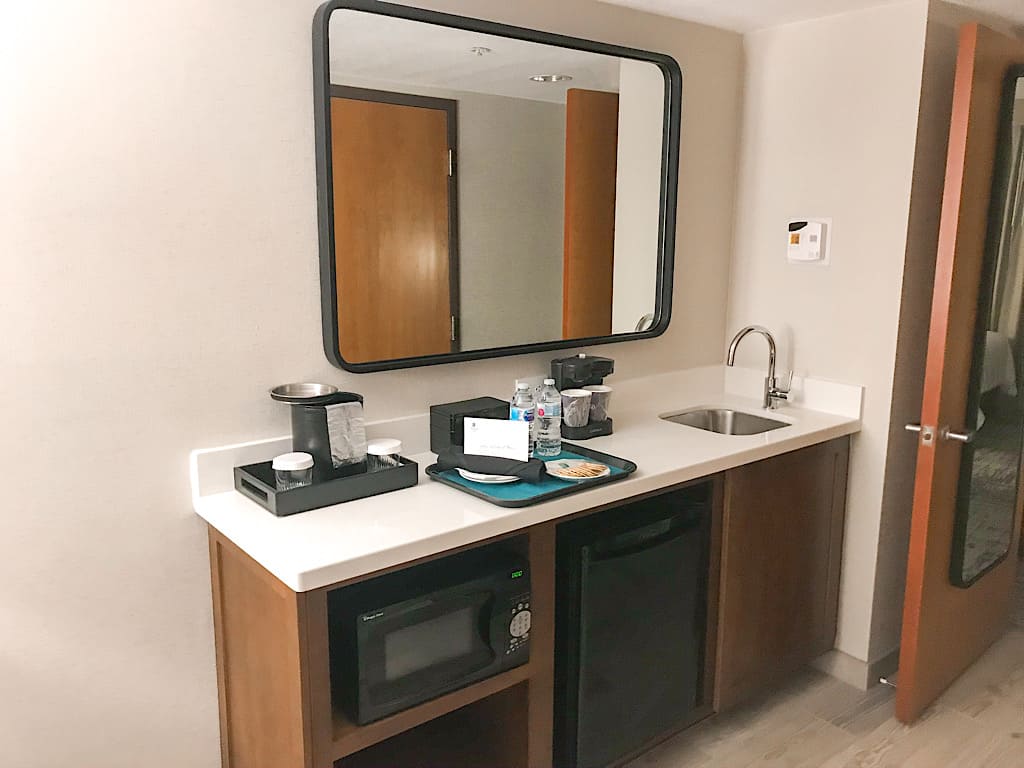 It comes equipped with a mini refrigerator, a microwave, coffee maker, sink, mirror, counter space, and storage.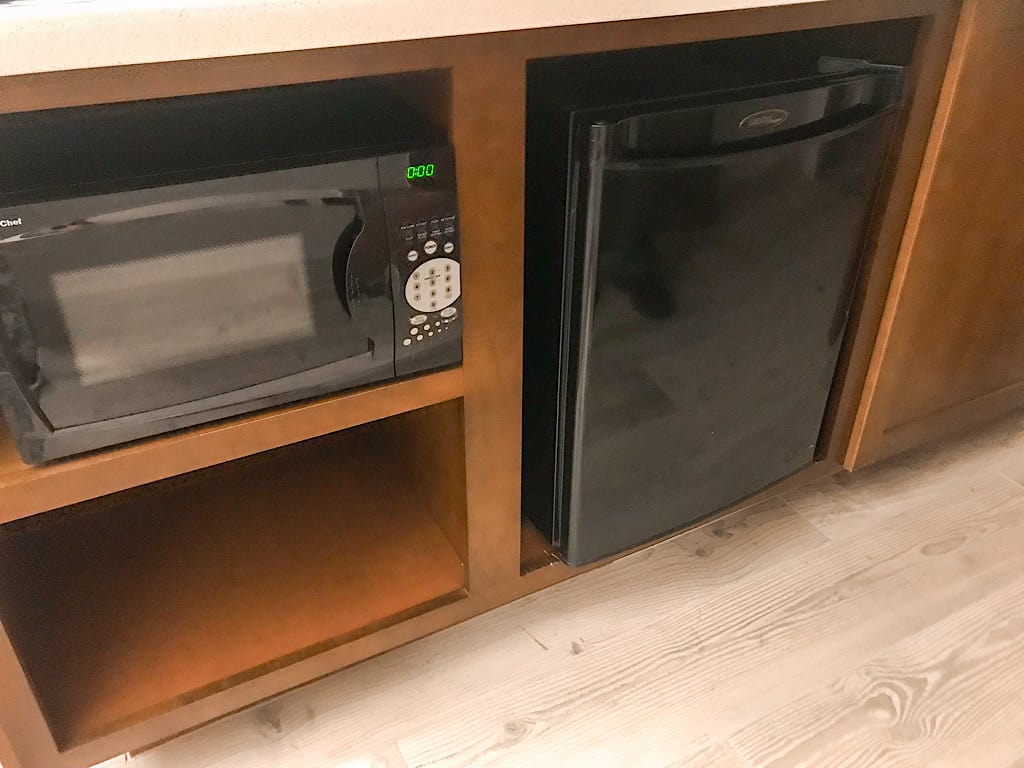 The wet bar is the perfect place to prepare snacks for yourself or your little ones and having a small refrigerator is a great perk!
Bathroom
Inside the spacious bathroom, you will find a large vanity a plenty of counter space which is perfect for larger families.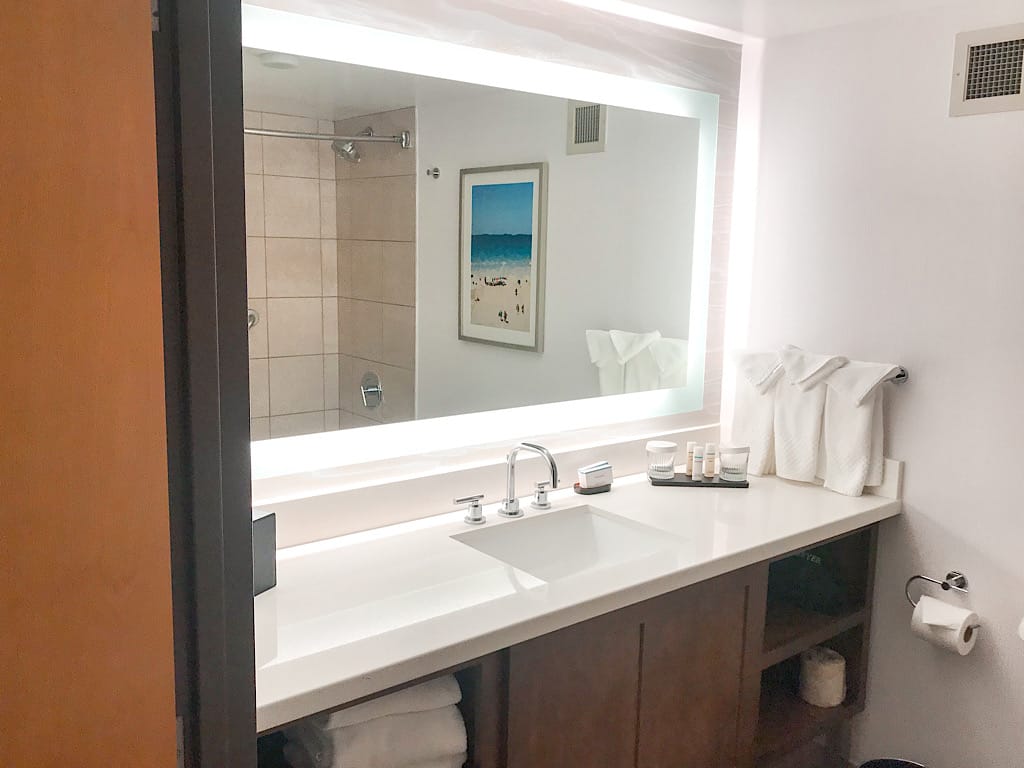 The vanity also offers an abundance of shelving for storage, an oversized mirror with amazing lighting, complimentary toiletries (shampoo, conditioner, and body lotion) as well as a hair dryer that can be used during your stay.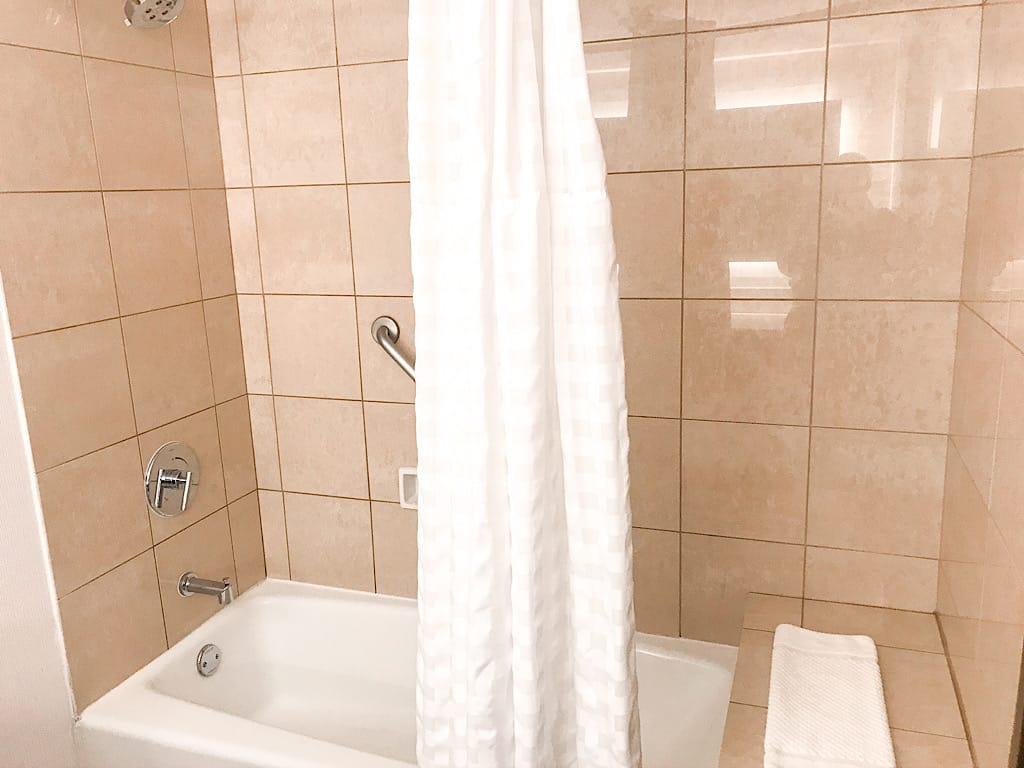 The bathroom also provides a large shower/bathtub combination. You'll love that the shower curtain rod extends outward giving you extra space during your shower!
Bedroom
The great thing about the rooms at Embassy Suites Anaheim South is that they are able to accommodate larger families. Our room could easily sleep up to 6 guests.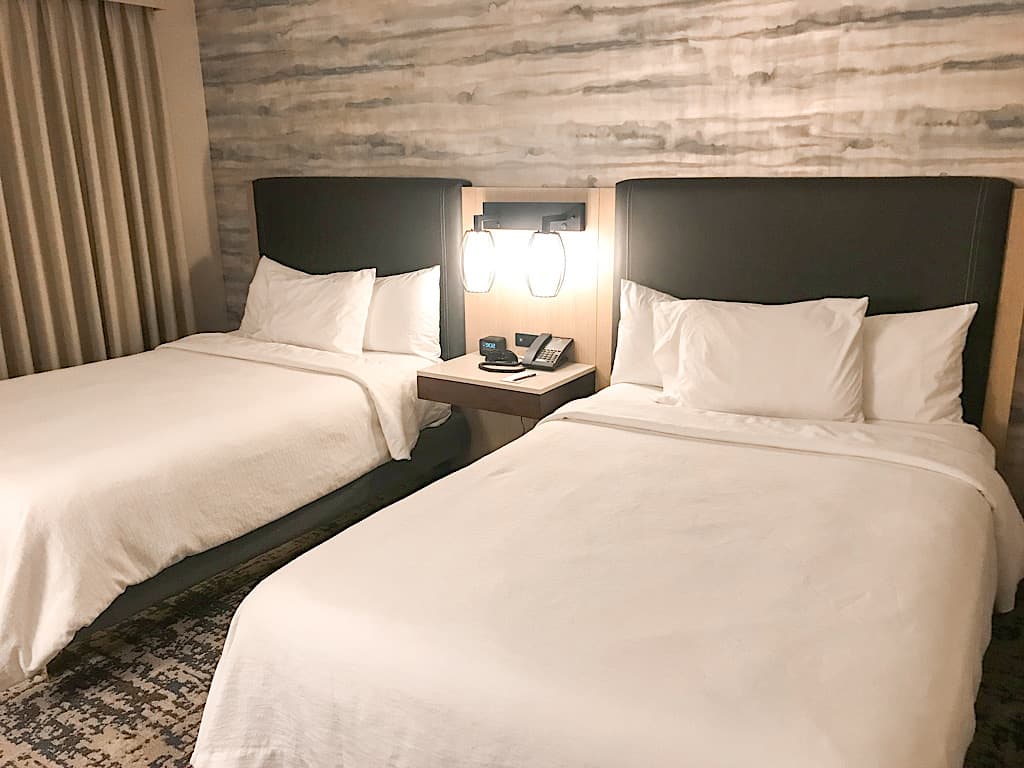 Each suite bedroom has either two double beds or one king-sized bed, which are so comfortable!
There are plenty of drawers for storage too, if you like to unpack from your suitcase like I do.
There is also a large flatscreen television. While on the subject of electronic devices, there is an abundance of electrical outlets and USB charging ports to help you stay connected.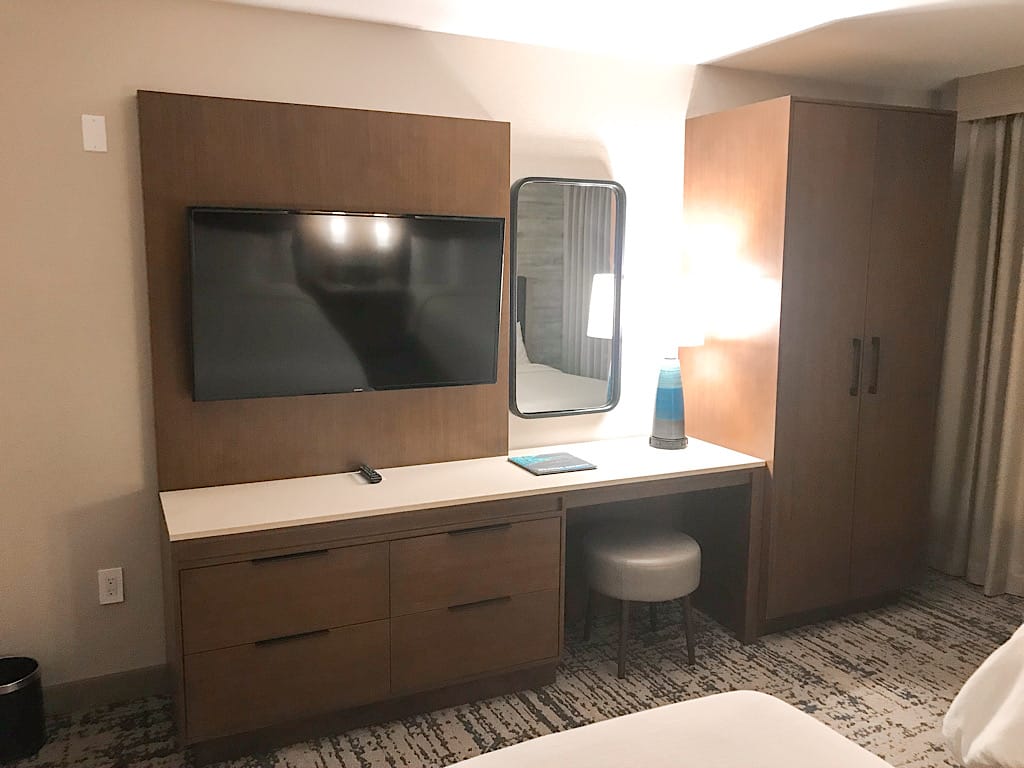 The spacious closet contains an iron, ironing board, multiple hangers, and an in-room safe.
Dining Options at Embassy Suites Anaheim South
One of the main perks of staying at Embassy Suites is the many dining choices that are available to hotel guests.
Complimentary Cook-to-Order Breakfast
I love when hotels include a free breakfast for their guests. It definitely adds value and convenience to your stay.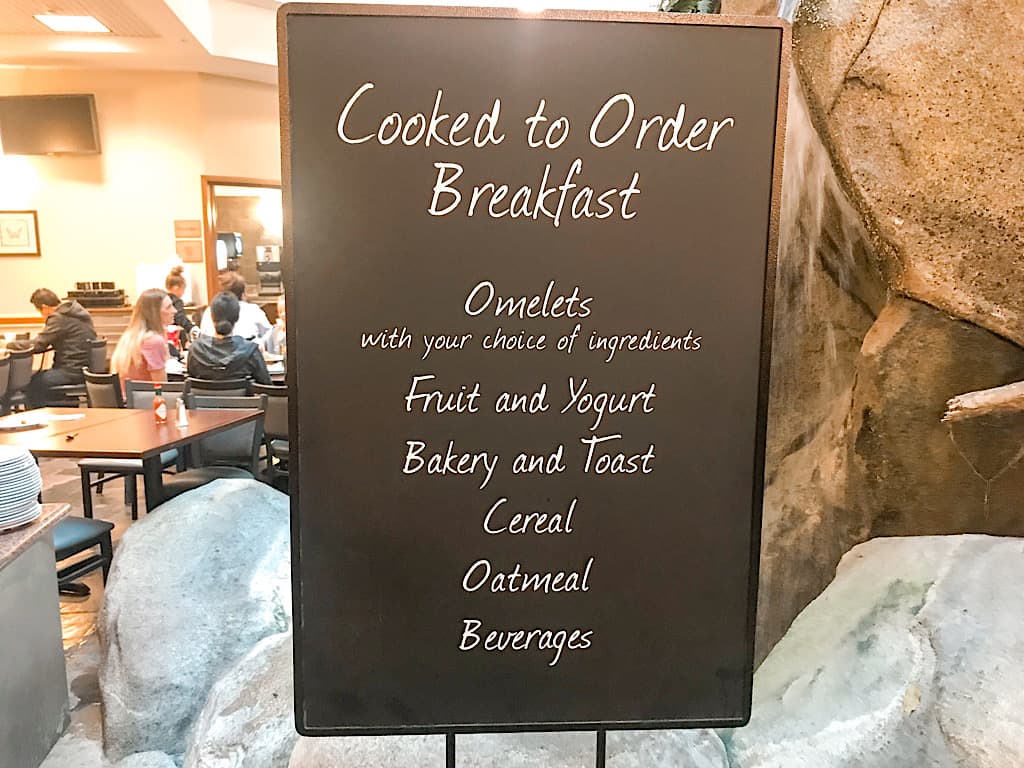 Embassy Suites takes this amenity up a notch and provides a complimentary made-to-order breakfast.
Complimentary breakfast is available in the atrium from 6:30 am to 9:30 am on weekdays and from 7:30 to 10:30 am on weekends.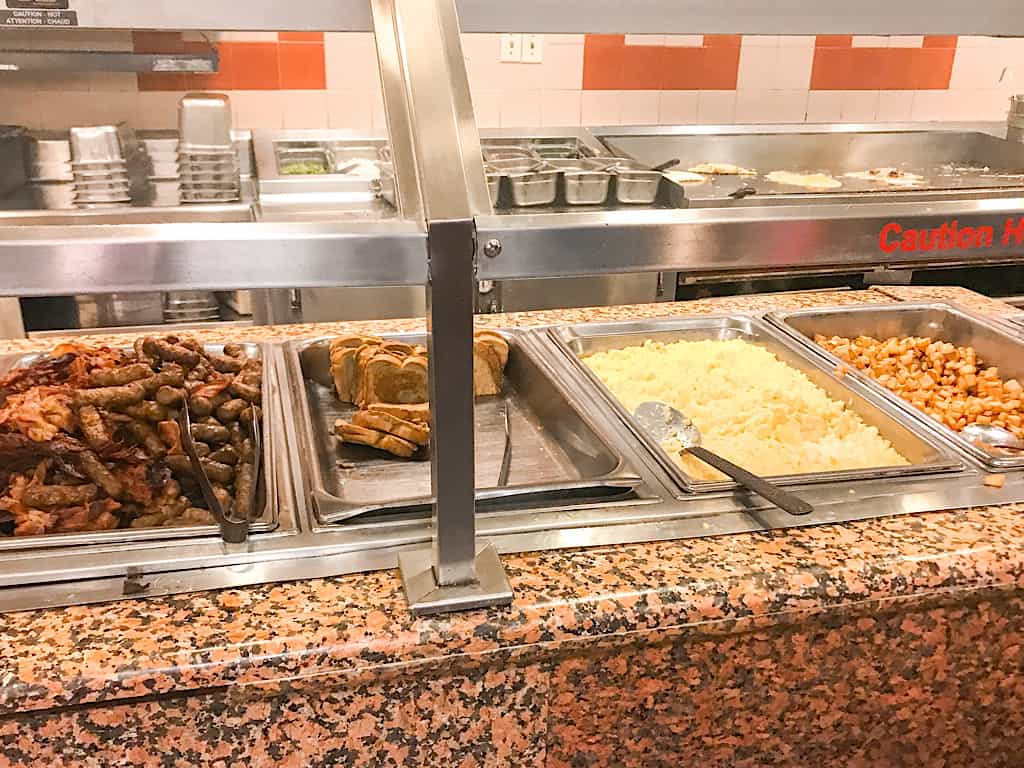 Some of the items available are:
Oatmeal with assorted toppings

Cold cereal

Coffee, milk, and assorted juices

Baked goods including: pastries, muffins, toast, and bagels

Fresh fruit and yogurt

Bacon and sausage

Scrambled Eggs

Breakfast Potatoes

French toast, waffles, or pancakes

Custom made omelettes
My favorite thing to order is a bacon and cheese omelet! There are many different omelet toppings. You can find out more about Embassy Suites famous omelette's at www.MyOmelet.com.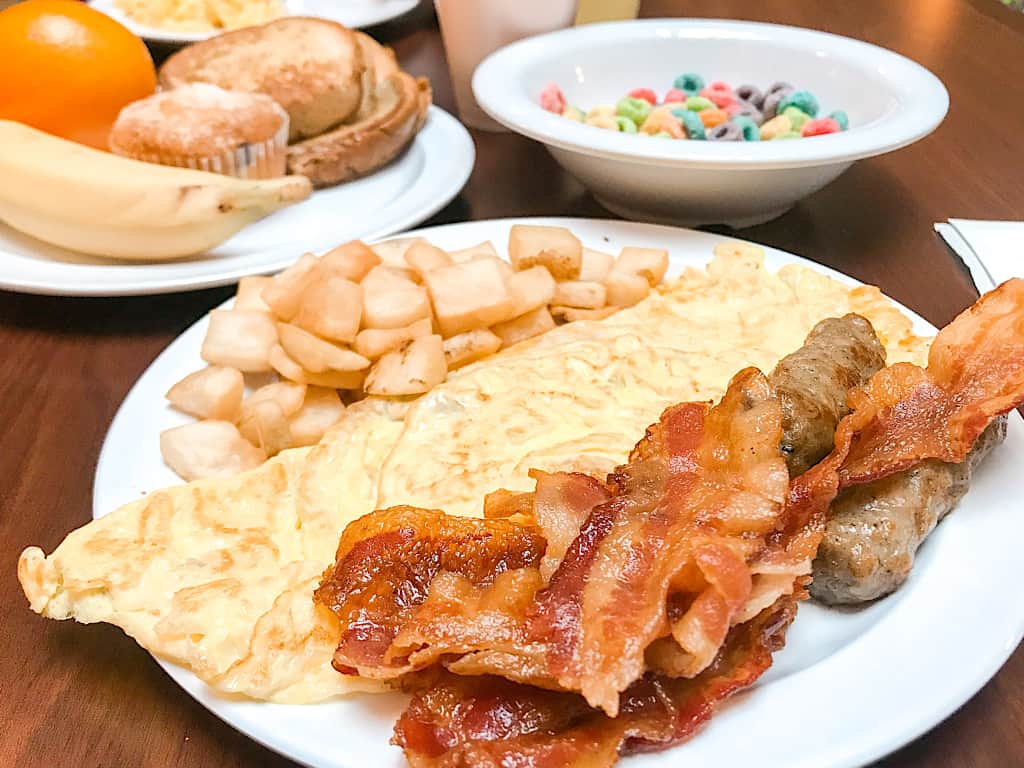 Embassy Suites complimentary breakfast definitely provides something for everyone with all of the choices available, even if you have picky eaters!
Complimentary Evening Reception
Guests staying at Embassy Suites Anaheim South can enjoy a complimentary evening reception each evening from 5:30 pm – 7:30 with complimentary drinks and snacks.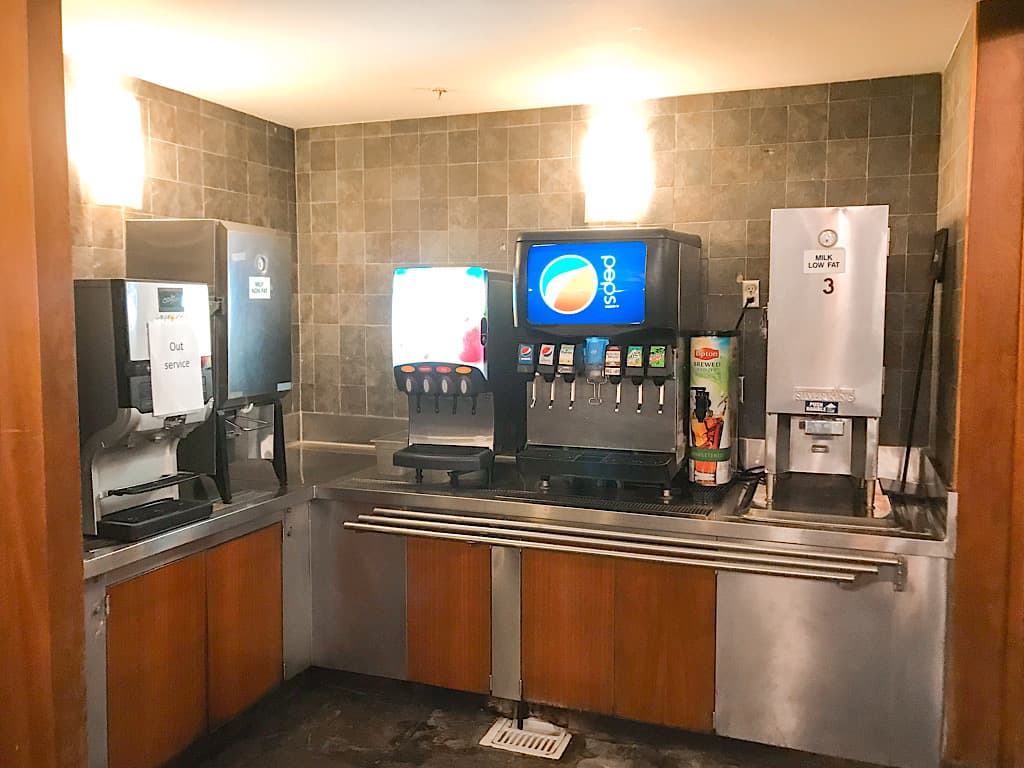 Free drinks include:
Beer

Wine

Cocktails

Soft Drinks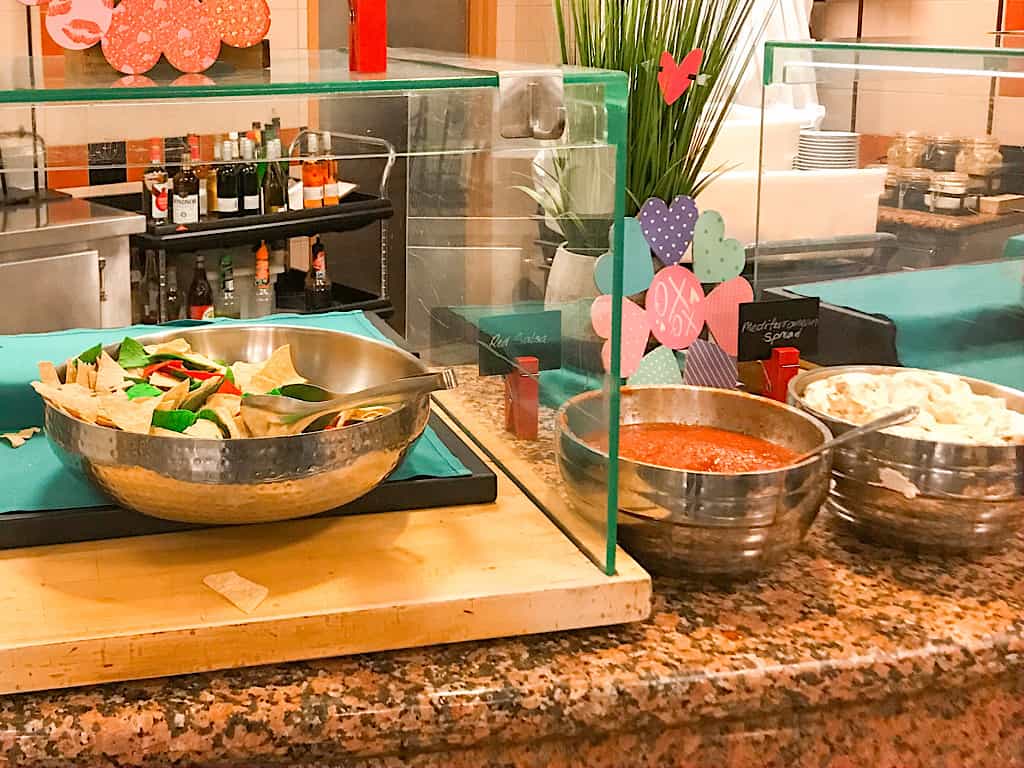 Snacks that were offered during our stay included:
Tortilla Chips

Salsa

Nacho Cheese

Potato Chips

Mediterranean Dip

Fresh cut vegetables

Ranch Dip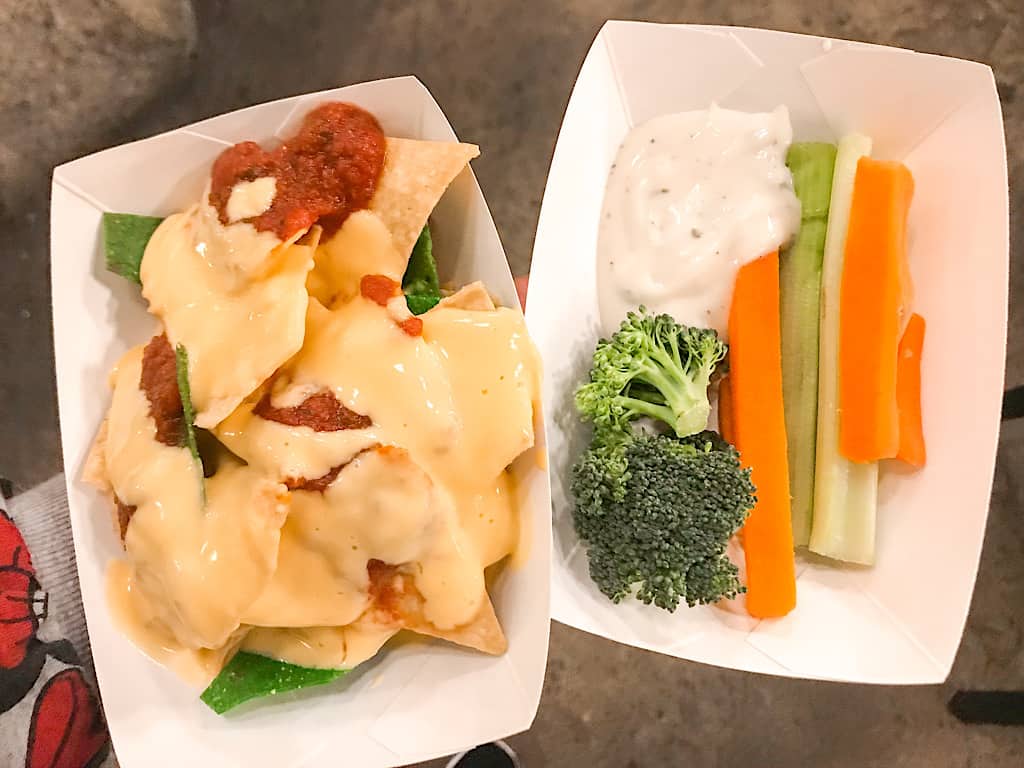 Serengeti Grill (In-House Restaurant)
If hunger strikes at other times of the day, the Serengeti Grill is a great place to grab a bite to eat.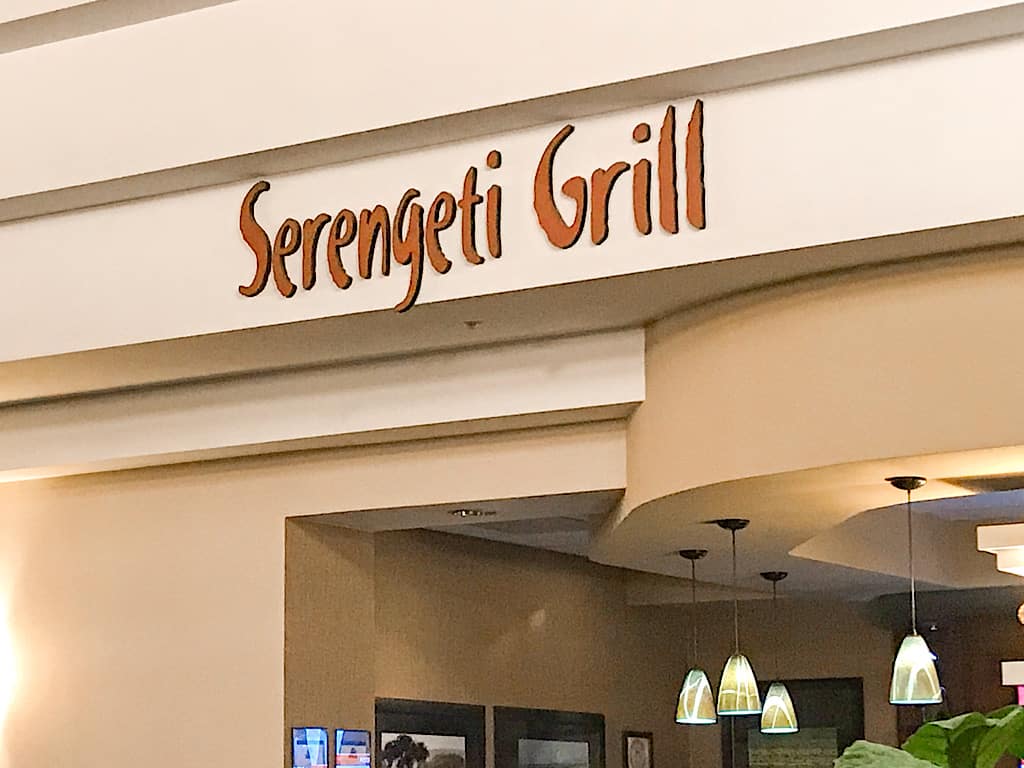 The in-house restaurant is located in the atrium of Embassy Suites Anaheim South and is open daily from 11:30 am – 11:30 pm.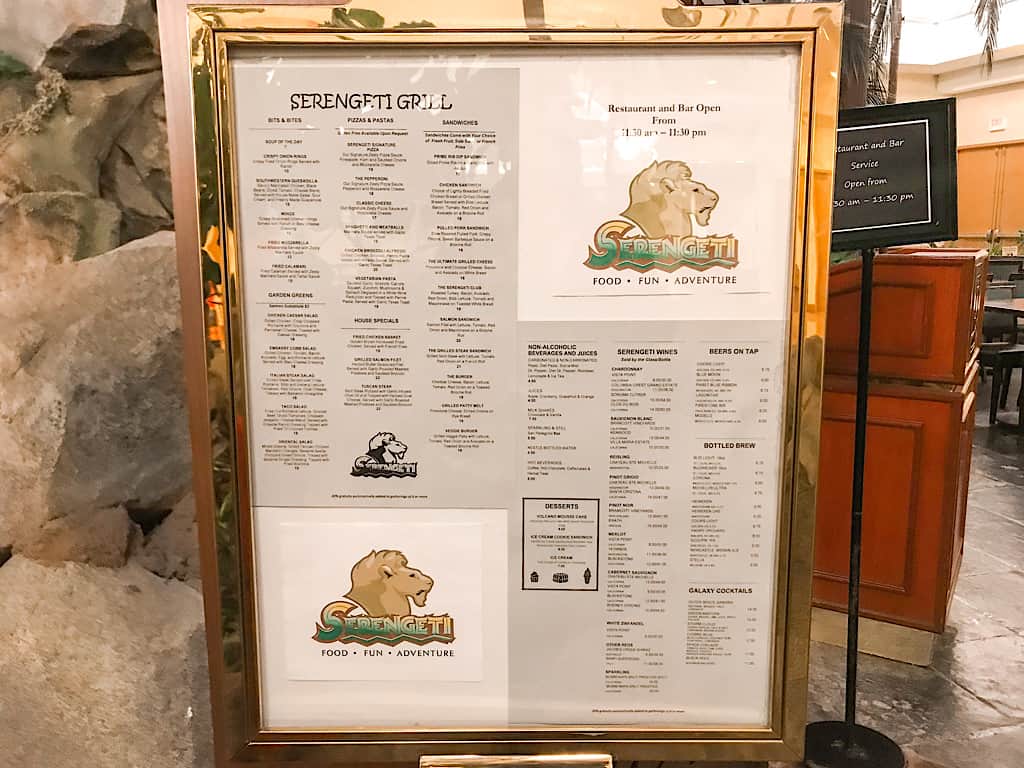 Their menu items include appetizers, salads, pizza & pasta, sandwiches, and burgers, as well as a full bar serving a selection of alcoholic and non-alcoholic beverages.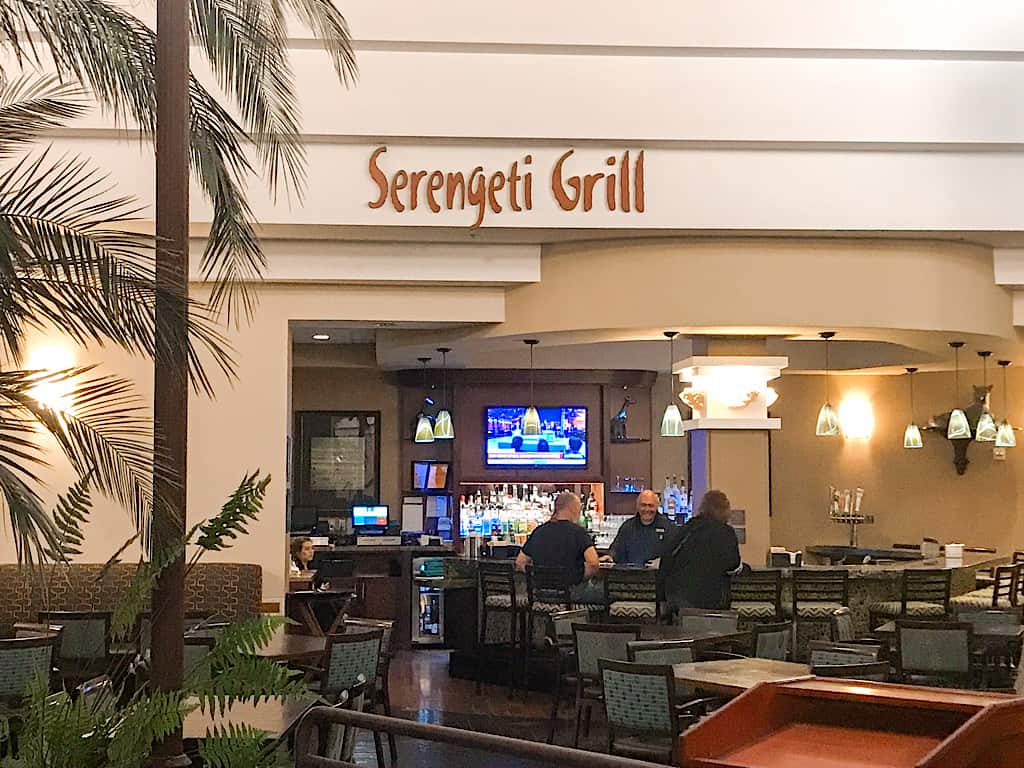 Other Near-by Restaurants
If you want to head to another restaurant close to Embassy Suites in Anaheim, here are a few choices:
Bubba Gump Shrimp Co.

Bucca di Beppo

California Pizza Kitchen

PF Changs Chinese Bistro

Roys Restaurant
Pool, Spa, & Outdoor seating
You can't visit Southern California without enjoying the amazing weather outside! Fortunately, the Embassy Suites hotel in Anaheim provides a large spacious swimming pool and hot tub.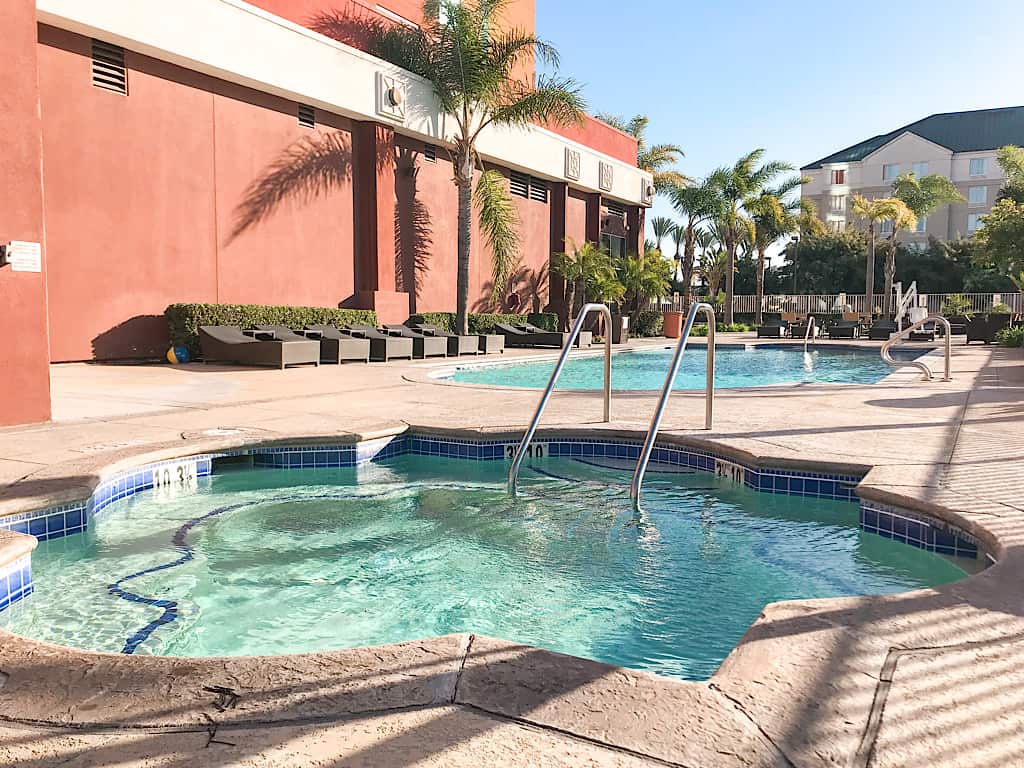 You can take a break from Disneyland in the afternoon and head back for a quick swim or unwind from a long day while relaxing in the spa.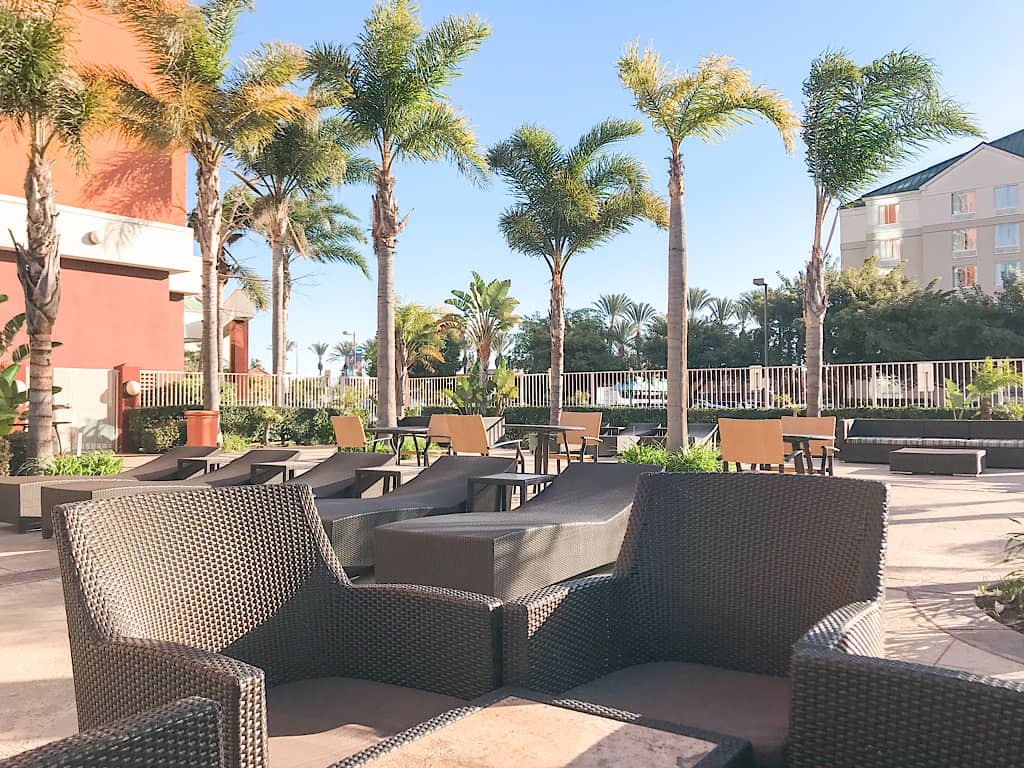 We also enjoyed sitting outside on the patio in the comfortable seating areas after breakfast to enjoy the sunshine.
Fitness Center
The fitness center has recently been renovated and includes a selection of cardio machines including treadmills, a stationary bike, and elliptical machines.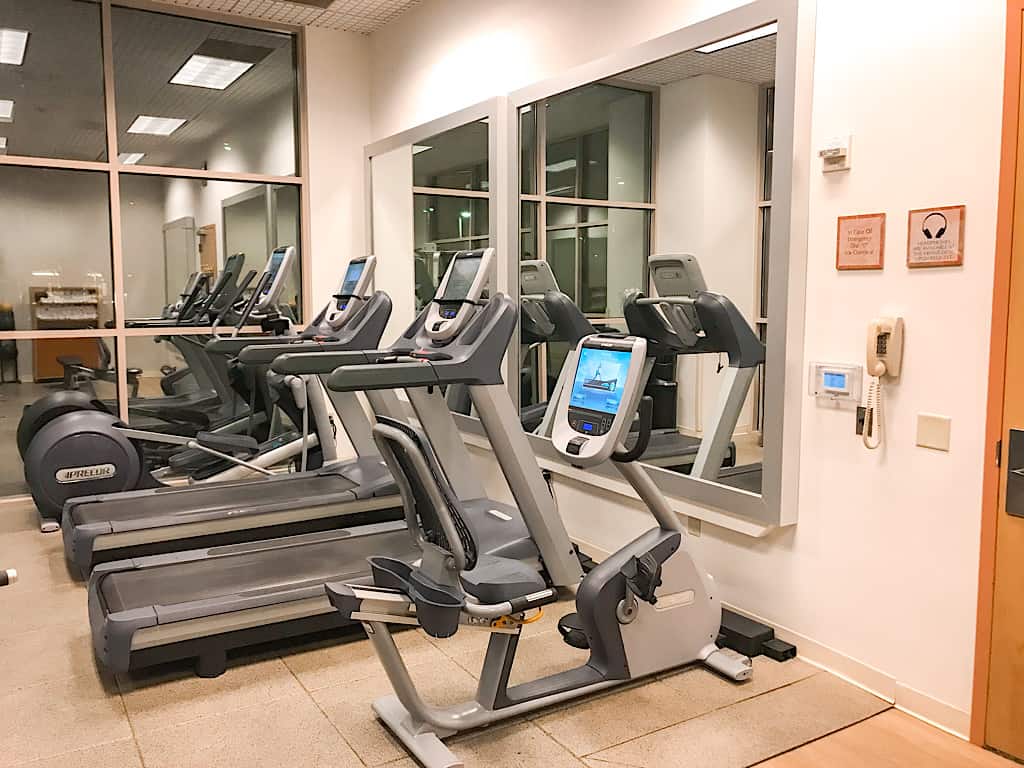 There is also an assortment of free weights and a television for entertainment while you work out.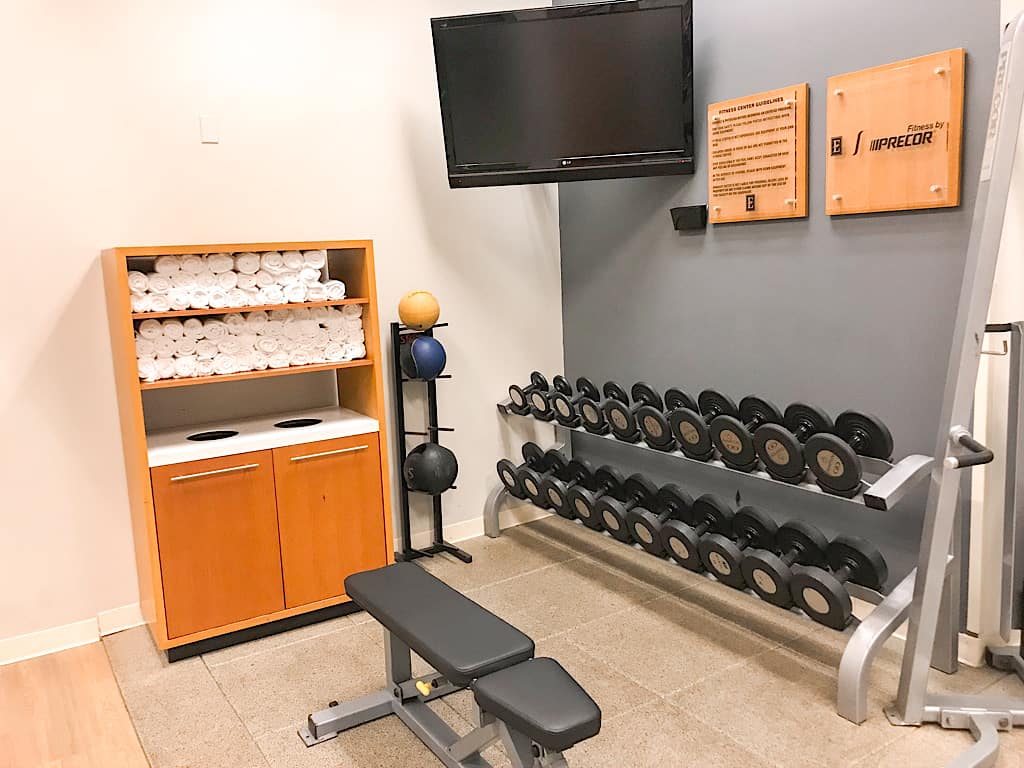 Gift Shop
If you forgot to pack your favorite Mickey Mouse t-shirt for your trip to Disneyland, have no fear! There is a fully-stocked gift and snack shop right inside the hotel for your convenience.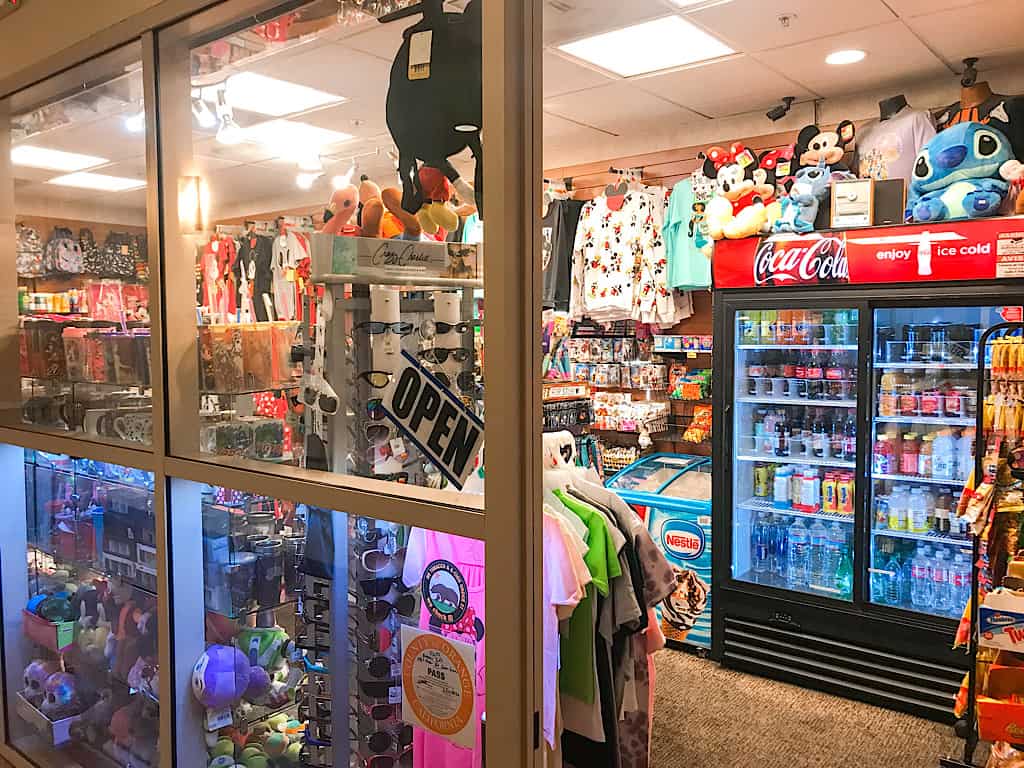 The gift shop had everything from Minnie Ear headbands, autograph books, lanyards, hats, pins, and shirts. Anything a Disney fan would need for the parks!
Embassy Suites Anaheim South Atrium
The atrium at Embassy Suites Anaheim South is probably the best I've seen of any Embassy Suites property for kids.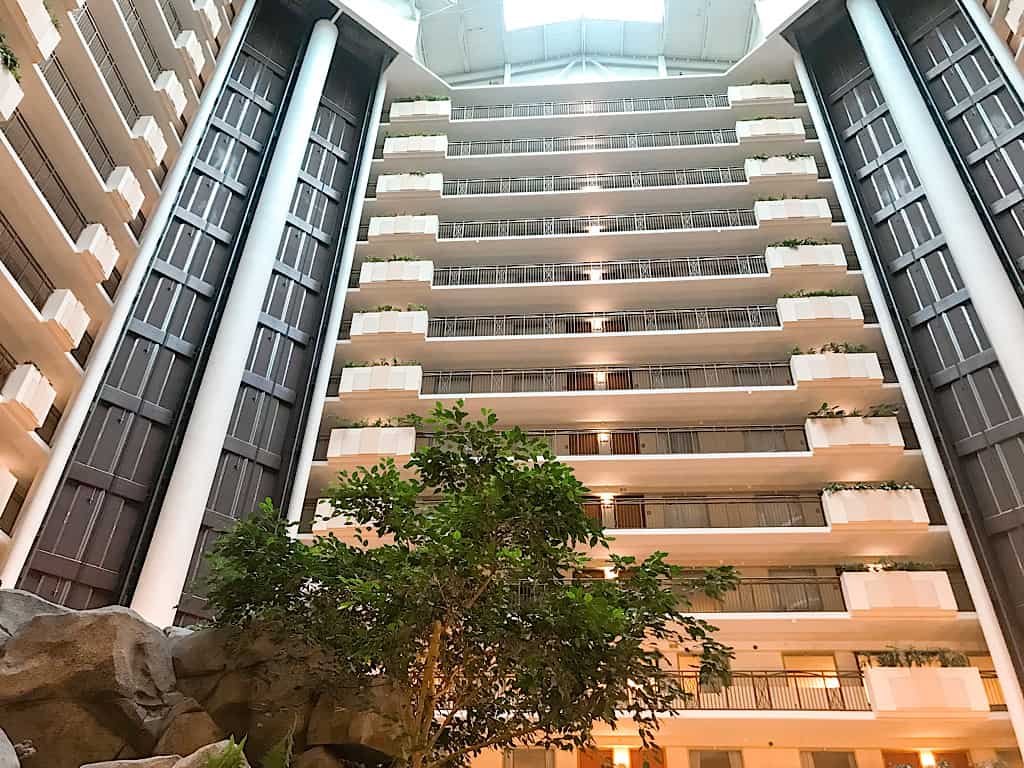 It has a jungle theme, complete with a fish pond, a sea turtle, a bridge, and a lion that overlooks the area!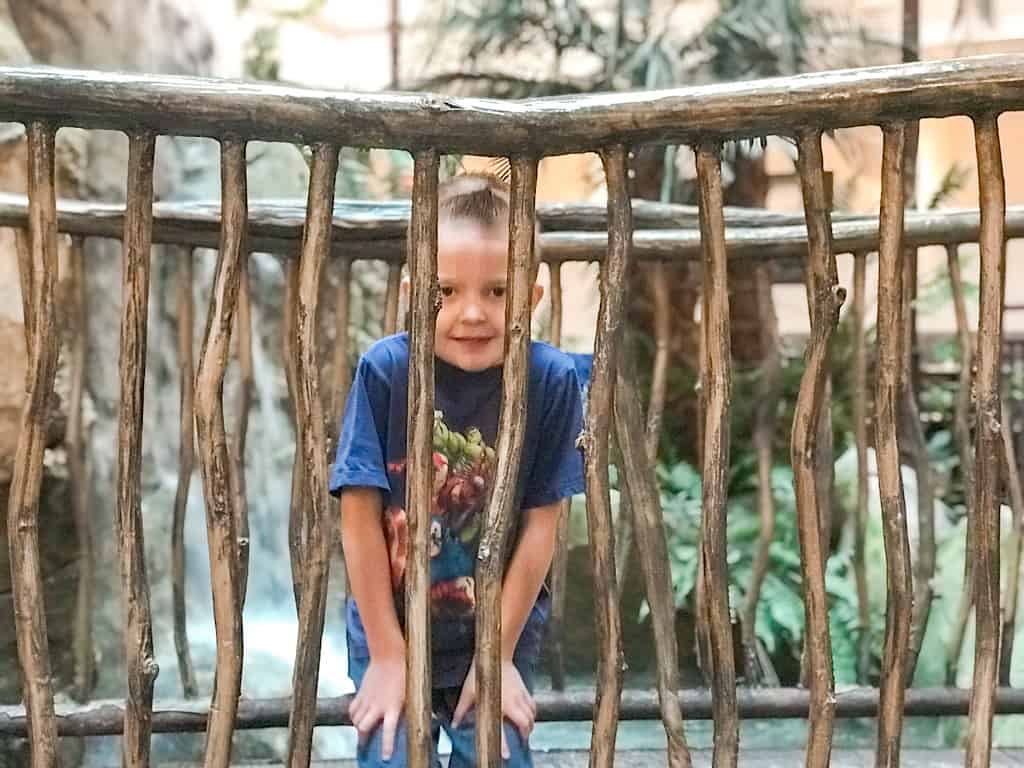 My boys loved that the lion would occasionally wave to guests and every so often, let out a roar! The atrium was definitely a fun part of our stay.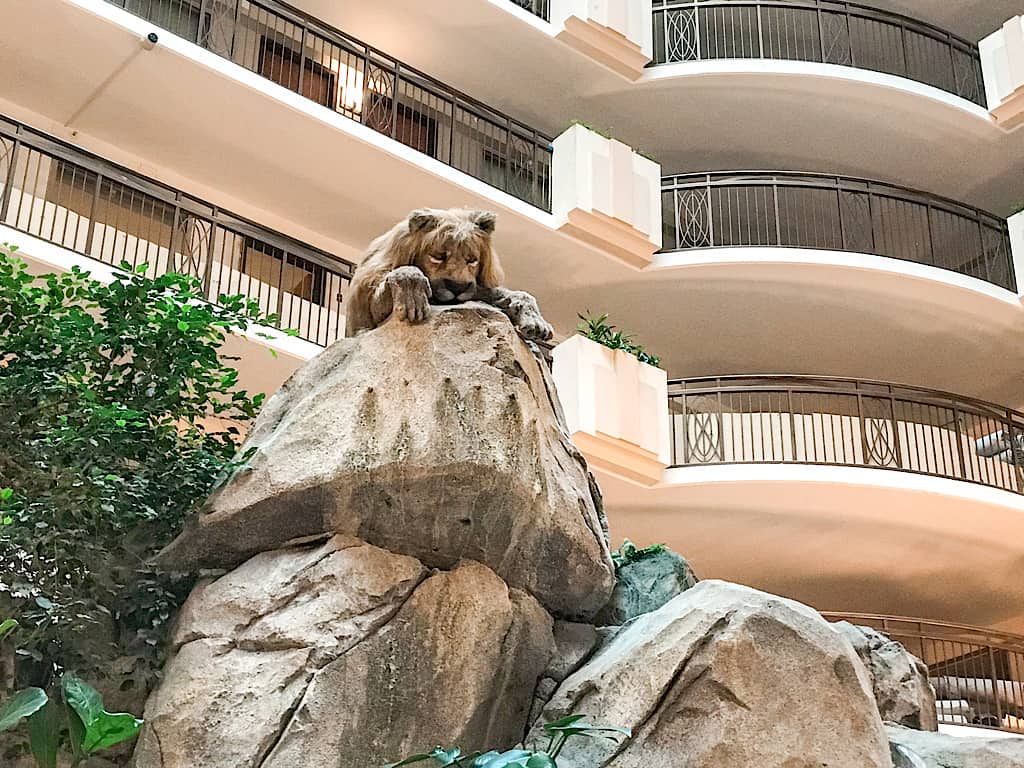 How Far is Disneyland from Embassy Suites Anaheim South?
Our main purpose for our visit to Anaheim, as it is with most visitors, was to go to Disneyland. It's important to know the proximity of this Embassy Suites location to Disneyland.
As I mentioned earlier, Embassy Suites Anaheim South is the closest Embassy Suites property to the Disneyland Resort and approximately 1.4 Miles from the entrance gates of Disneyland.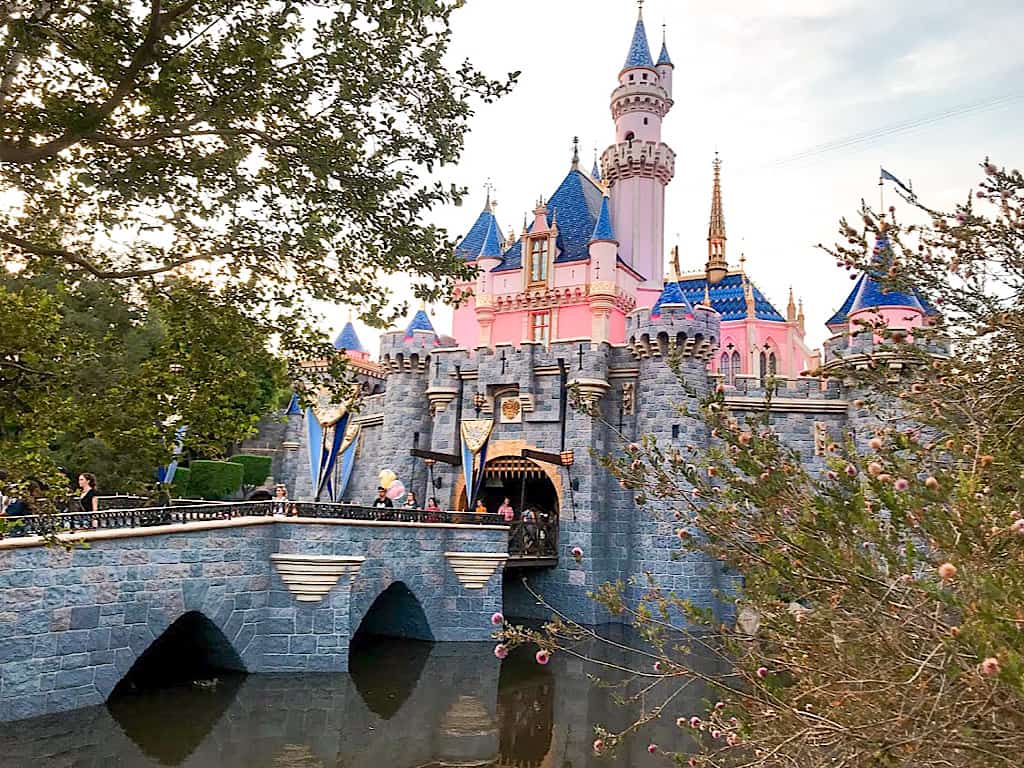 How to Get to Disneyland from Embassy Suites Anaheim South
With Embassy Suites close proximity to the Disneyland Resort, there are a few transportation options to get you to the Happiest Place on Earth.
Walking to Disneyland
If you choose to make the 1.4 mile trek to Disneyland on foot, you will head directly down Harbor Blvd. You will reach the security line at Disneyland in about 30 minutes.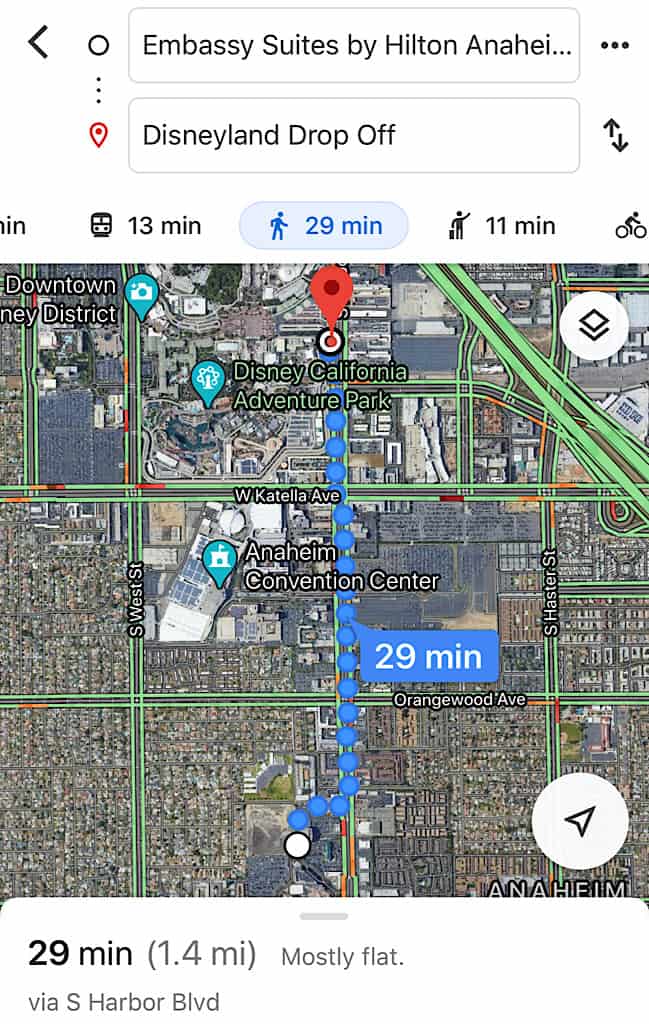 Here's a walking tip: You can walk to the Toy Story Parking Area, located less than a mile from the hotel on Harbor Blvd. and take the Disneyland parking shuttle to the Parks. This route will save you 10-15 minutes of walking time and about 1/2 mile.
Driving to Disneyland
If you have a car with you and plan to drive and park at Disneyland, there are three options.
Toy Story Parking Area
Disneyland's Toy Story Parking Area is located at 1976 S Harbor Blvd, Anaheim, California.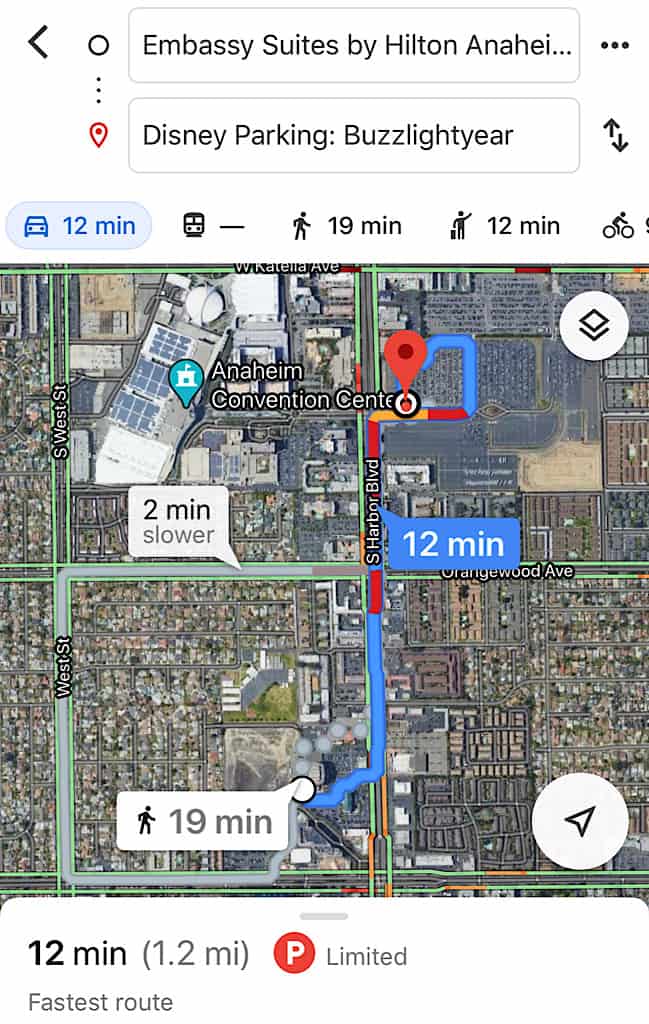 The quickest way to get there is to turn left onto Harbor Blvd. from the hotel parking lot and head north for one mile until you see the signs on the right side of the road for the parking area.
This drive will take you about 10 minutes. Be aware that Disney will charge you $25 per day for standard vehicles and $30 per day for oversized vehicles and motorhomes to park in this lot.
Mickey & Friends Parking Structure
Another lot available for you to park at Disneyland is the Mickey & Friends Parking Structure. The price to park here is $25 per day.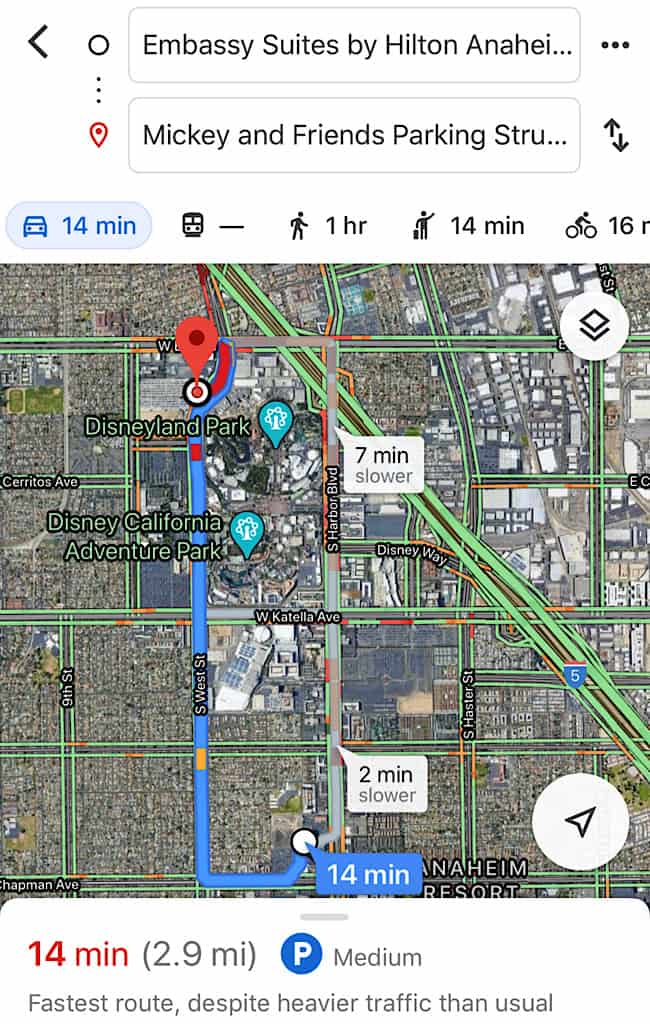 There are a couple of different ways you can drive to this parking area, so I recommend checking Google Maps for the quickest route.
Embassy Suites Anaheim is located about 3 miles from the Mickey & Friends Parking Structure. It will take you about 10-15 minutes to get there.
Pixar Pals Parking Structure
The Pixar Pals Parking Structure is the newest addition to Disneyland parking options. This structure is located about 2.5 miles from Embassy Suites Anaheim South and will take you about 10 minutes to drive there.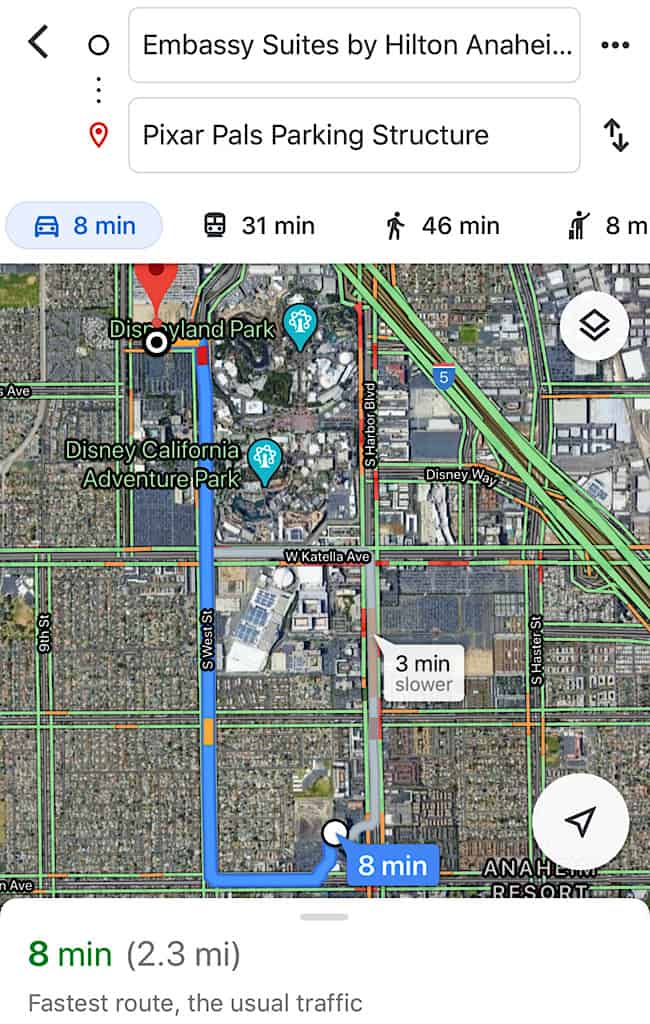 For the quickest route, check Google Maps before you leave the hotel parking lot.
Lyft or Uber
Another way to get to the parks is to take a Lyft or Uber ride. We used Lyft this trip for each trip to and from the Parks.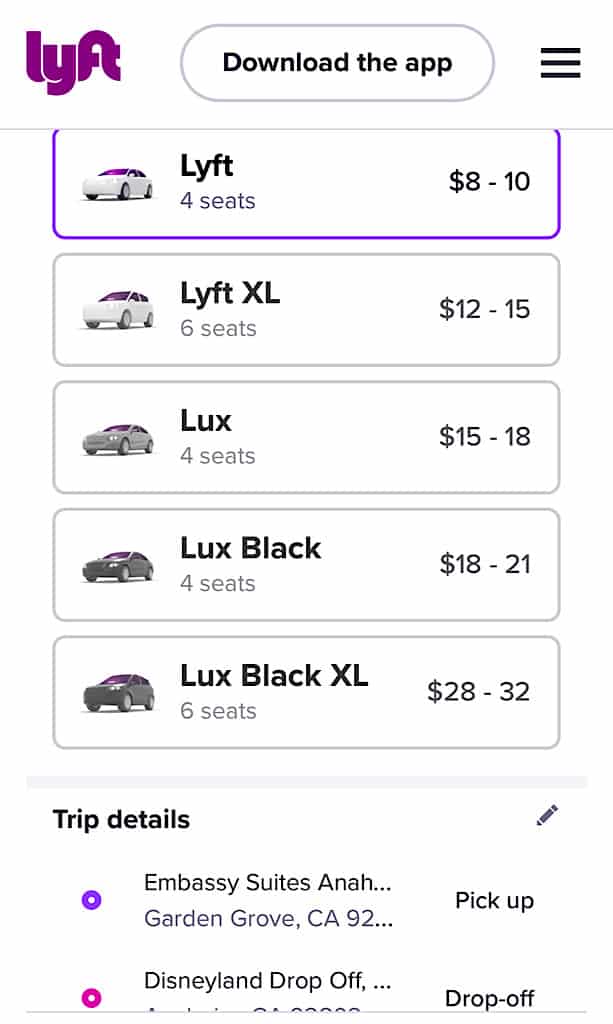 I found out that I was able to link my Lyft account and my Hilton Honors account to earn Hilton Honors points for each ride we took!
There is a special drop-off lot for Disneyland just outside the entrance on Harbor Blvd.
The price for both Uber and Lyft was around $8 – $9 each way, so roughly the same cost as parking at Disneyland.
Disneyland Shuttle
Disneyland shuttle service from Embassy Suites Anaheim South is provided by PCA Management. The fare is $6 per day for guests over 10 and $3 for children. The shuttle departs every 30 minutes.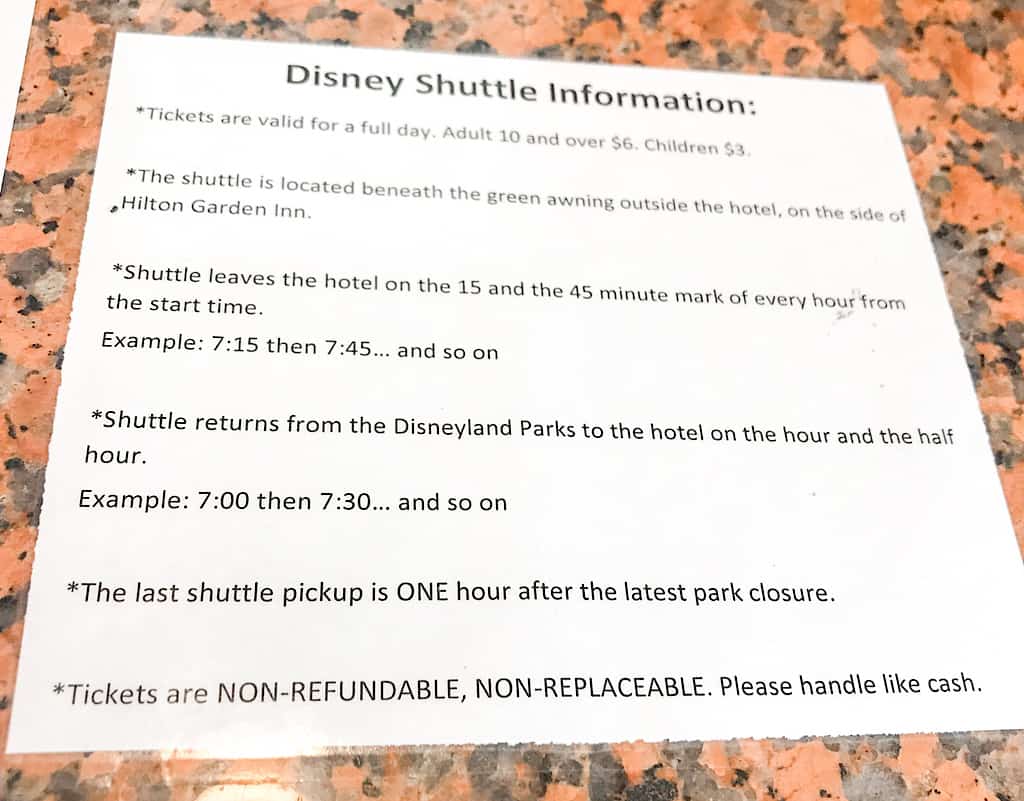 To purchase tickets for this shuttle to Disneyland, please se the front desk for more information.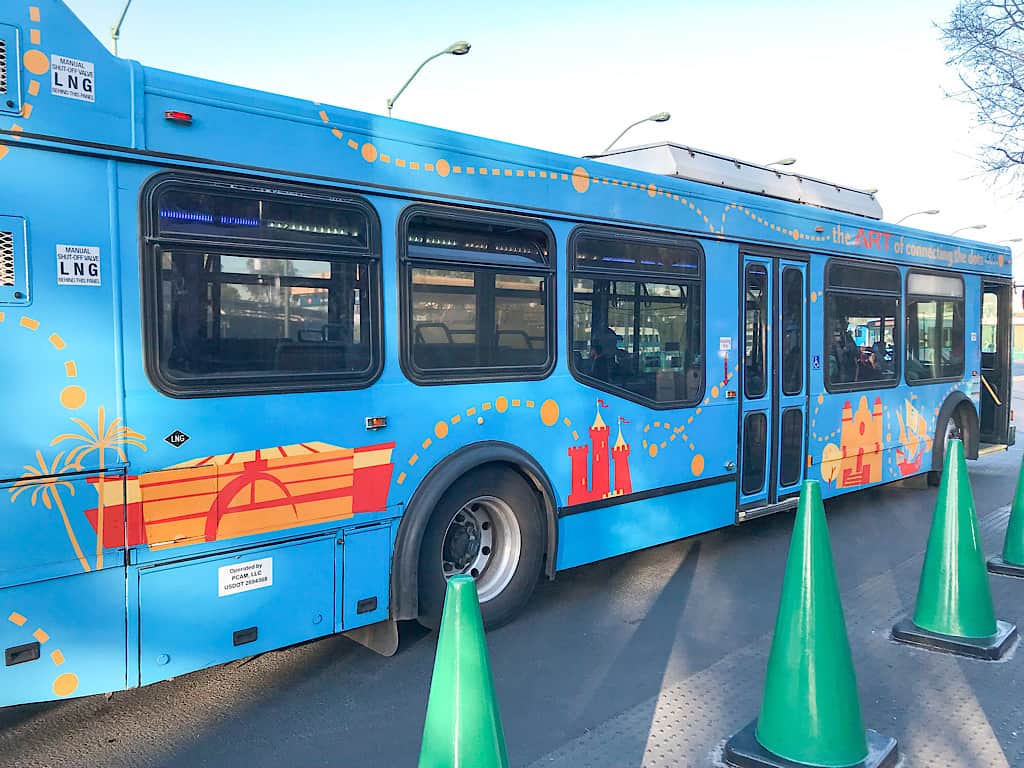 Embassy Suites by Hilton Anaheim South Review
Overall, I would say that our stay at Embassy Suites in Anaheim near Disneyland was amazing!
My family had a great time, plenty of space, and plenty of food to eat. By the end of our stay, we felt like we were at home.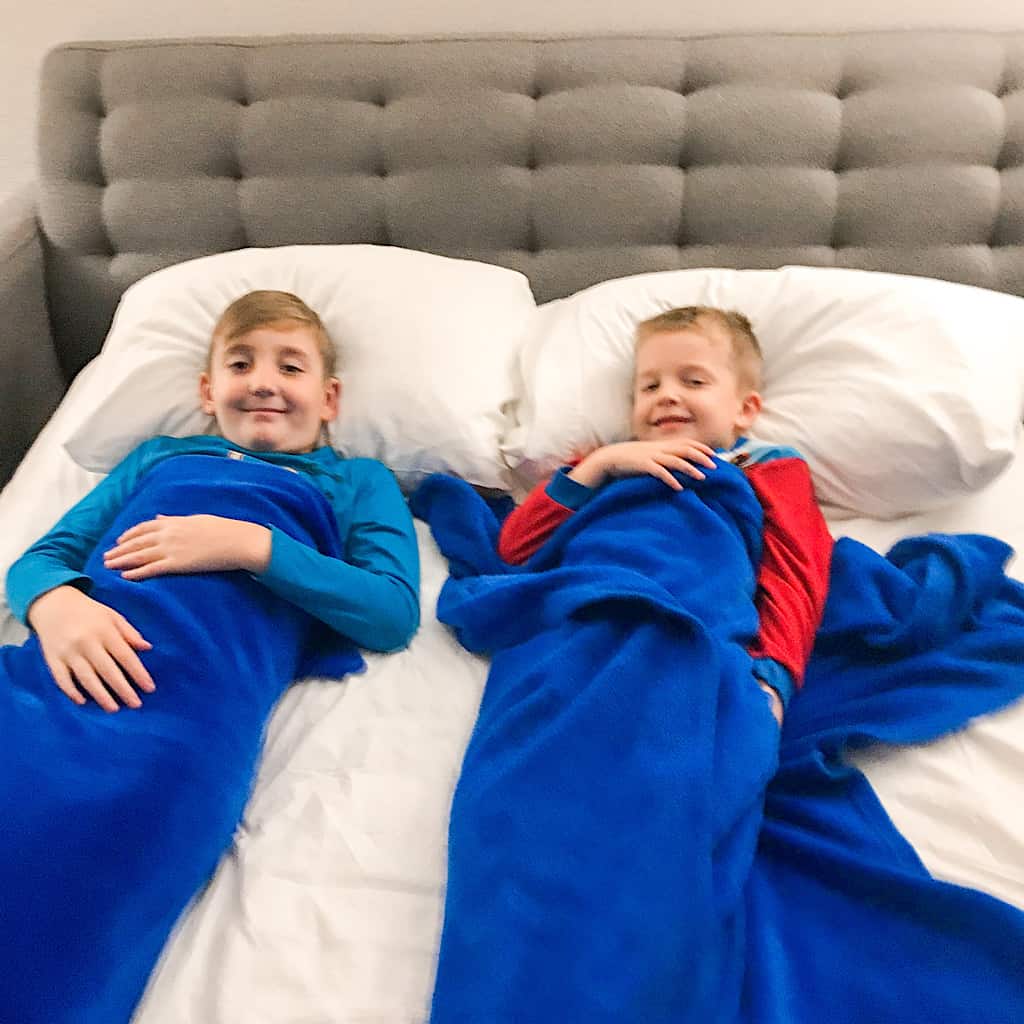 If you are looking for a place to stay during your trip to Disneyland, I highly recommend this Embassy Suites location, especially if you have a larger family.
Make sure you check out my video tour of Embassy Suites by Hilton Anaheim South, below!

Disneyland Ticket Savings
There aren't a lot of Disneyland ticket discounts out there, but they can be found if you know where to look.
Get Discount Disneyland Tickets Here
Make sure that if you buy Disney tickets from a third party, that they an authorized ticket seller.
I buy my tickets from Get Away Today. Their ticket prices are always a few dollars cheaper than Disneyland's gate prices and you can now purchase tickets from them that include Disney MaxPass!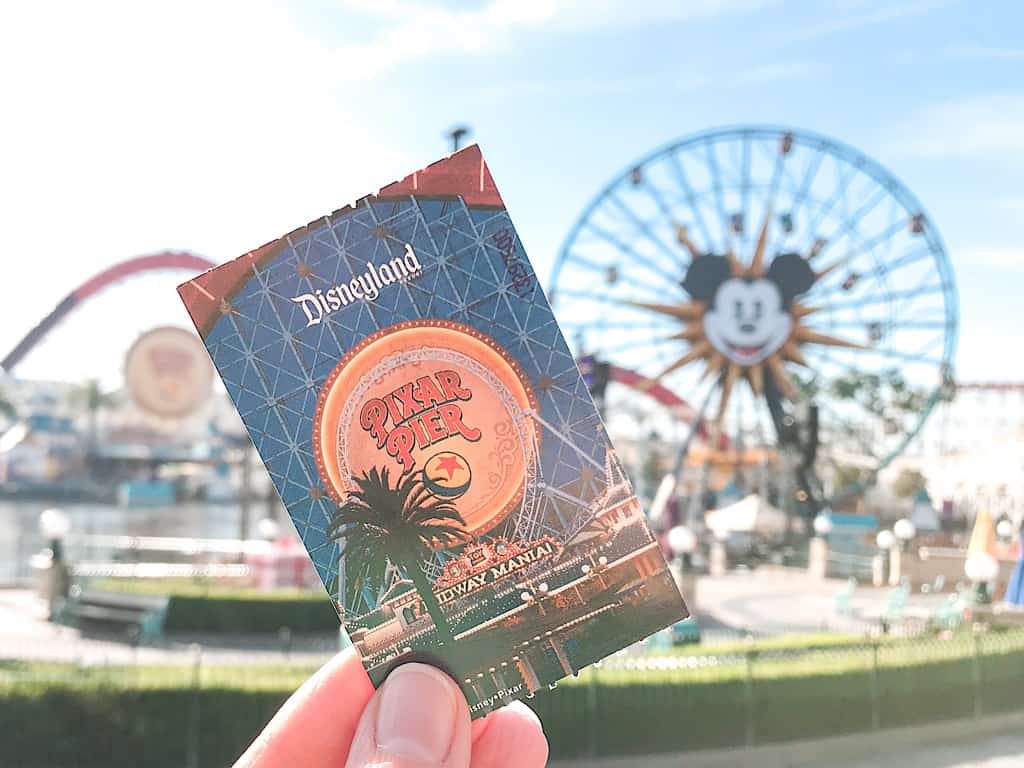 Get Away Today is almost always offering some kind of special on tickets and/or hotel vacation packages.
Use the promo code: Clubhouse10 to get an extra $10 off any 2-night or longer Southern California vacation package. (Hotel and 2 ticket minimum purchase to qualify for the discount.)

More Disneyland Area Hotels: