Find out all of the dining options available at Embassy Suites by Hilton Anaheim South near Disneyland!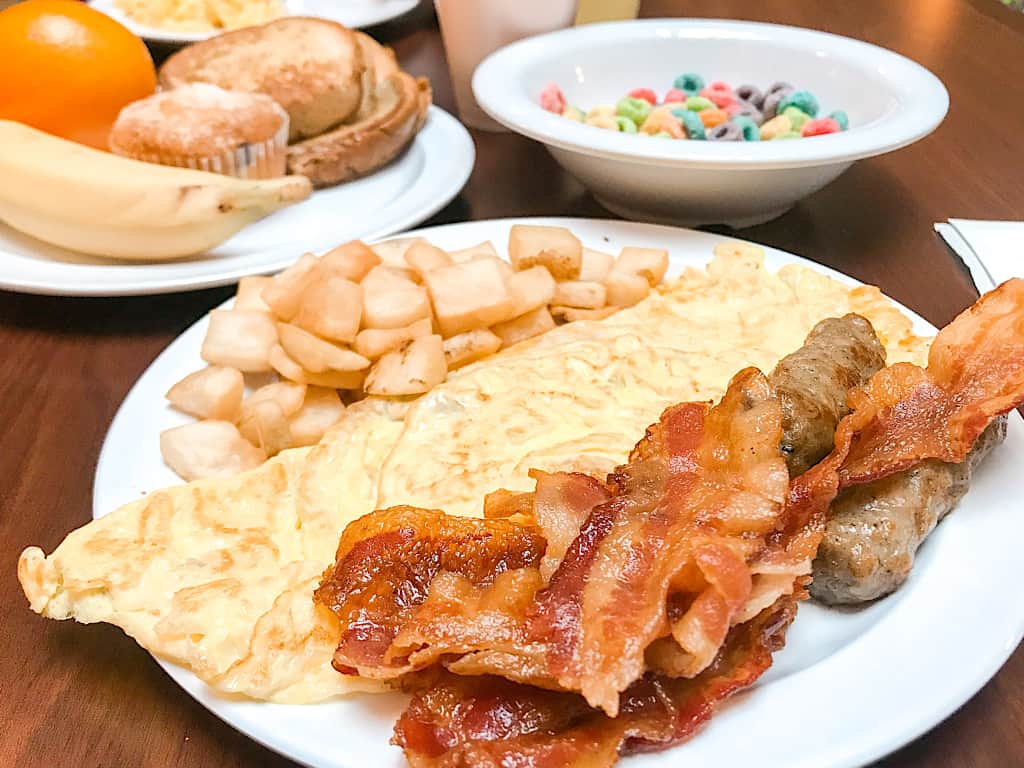 This post may contain affiliate links. When you click on these links, I get a small percentage back at no cost to you! For more information see my disclosure policy.
Hotel accommodations were provided complimentary for my family. All opinions are my own.
I love when hotels provide extra value to their guest by providing dining options right on site! They earn extra points with me if some of those dining options are complimentary.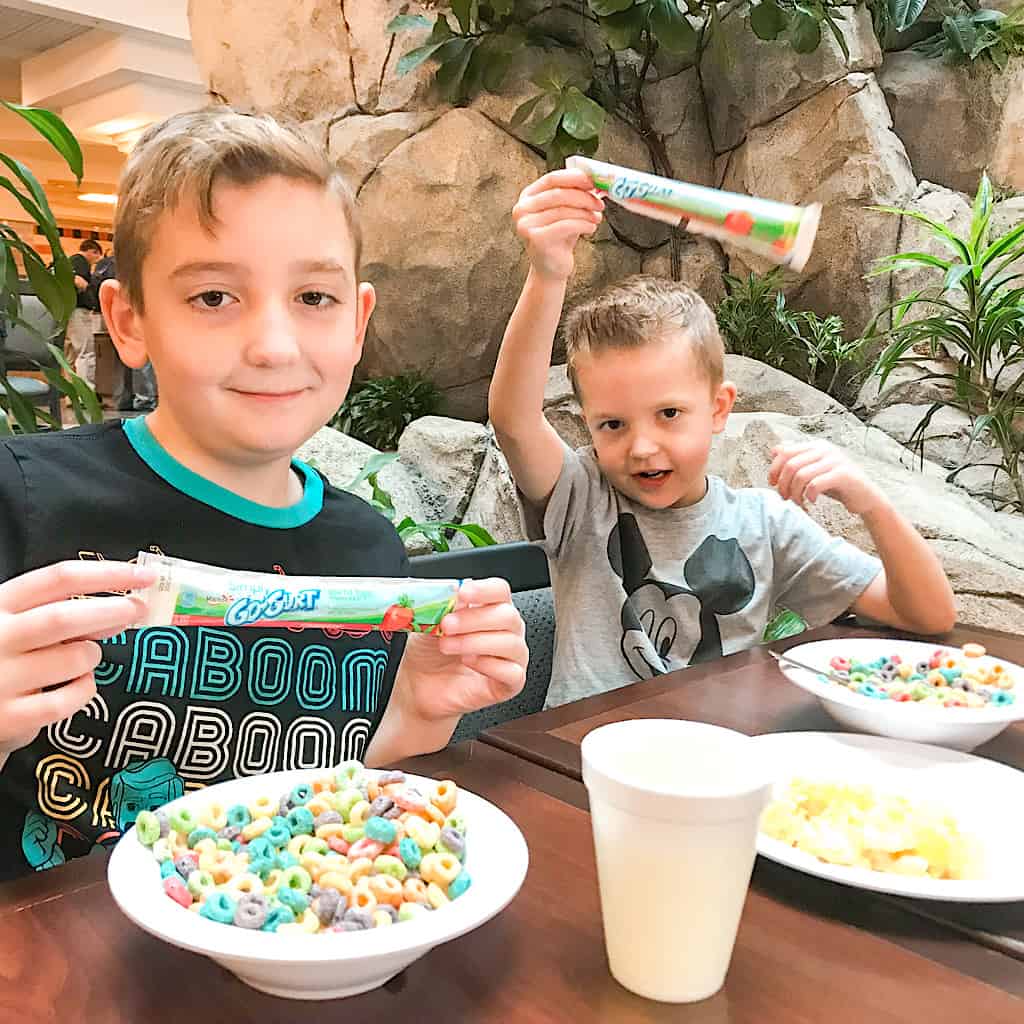 On our recent trip to Disneyland, I was able to check out all of the dining options available at Embassy Suites by Hilton Anaheim South and want to share my experiences with you!
Dining Option #1 Complimentary Cook-to-Order Breakfast
Embassy Suites Anaheim South does not only provide a free breakfast, they offer a complimentary made-to-order breakfast.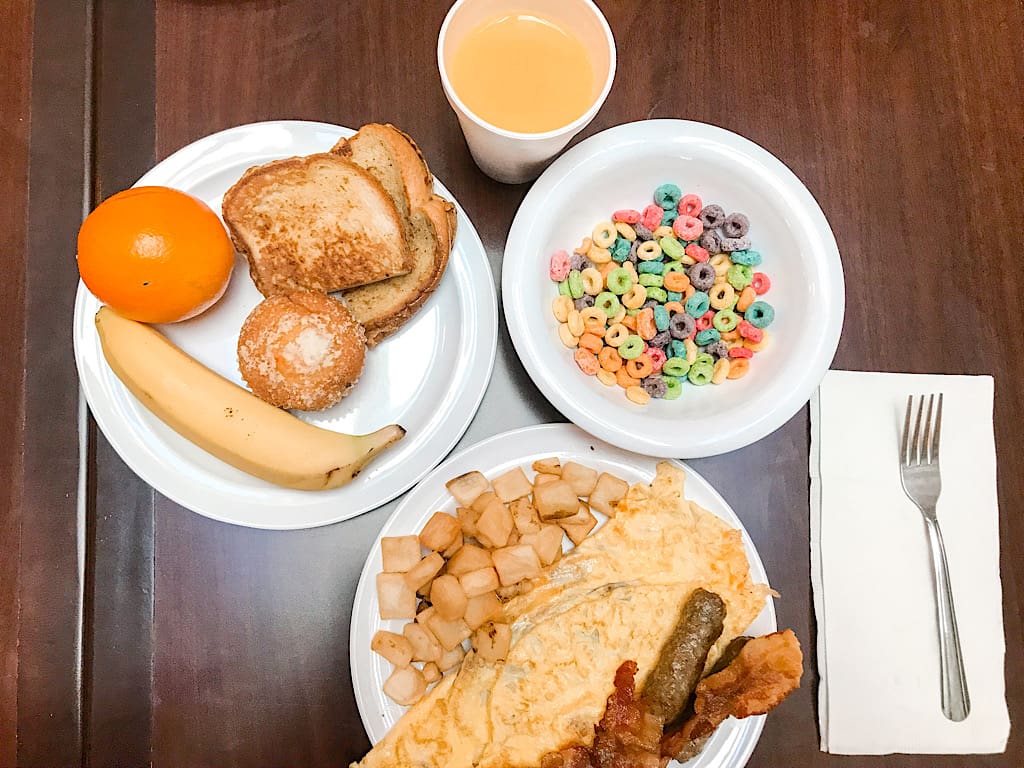 Breakfast is served in the atrium of Embassy Suites Anaheim South and is served Monday – Friday from 6:30 am – 9:30 am and 7:30 am – 10:30 am on Saturdays, Sundays, and Holidays.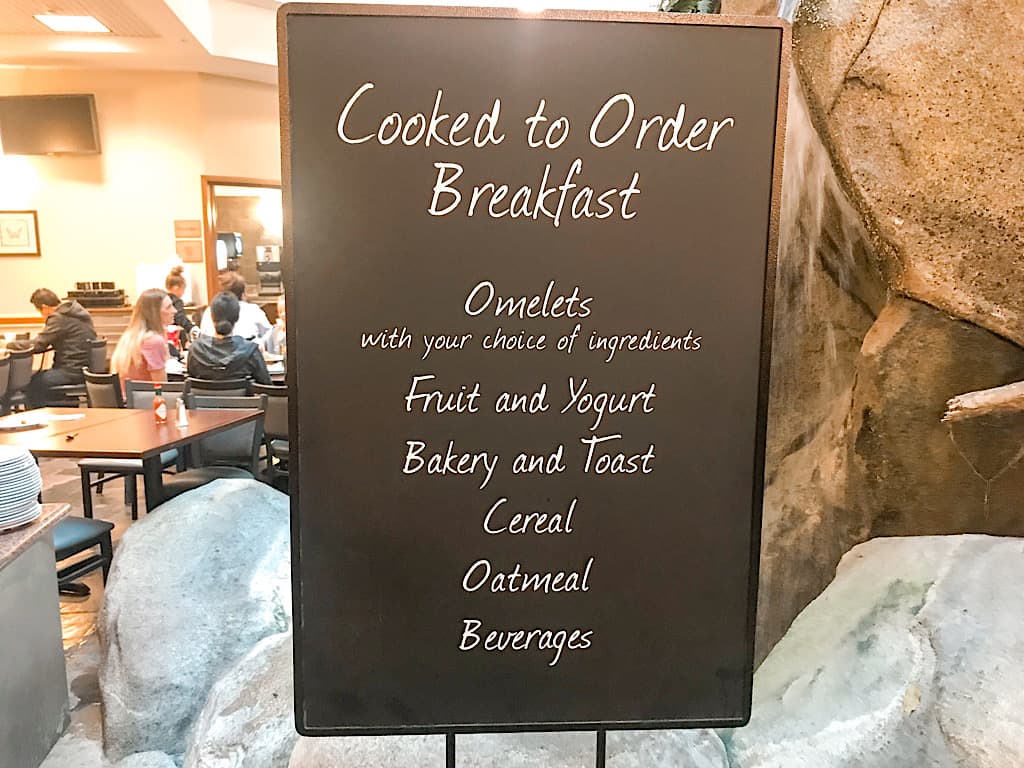 Beverages offered during breakfast time include assorted juices, milk, soft drinks, hot chocolate, tea, and coffee.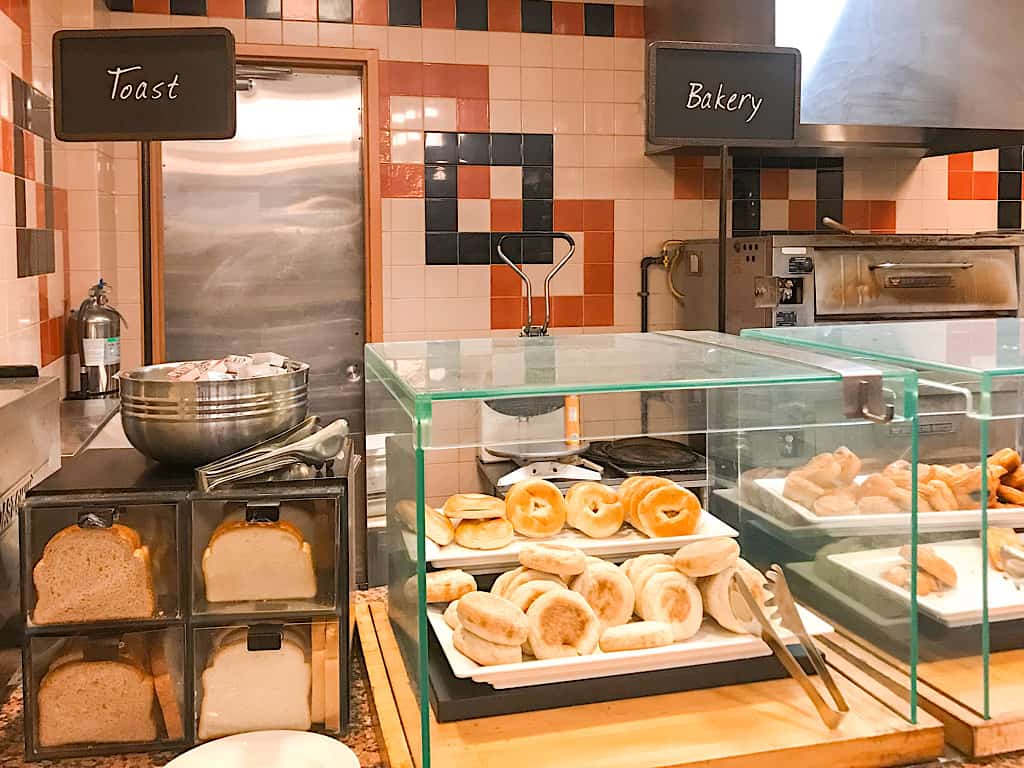 In the baked good area, you will find sliced bread and a toaster, bagels, english muffins, pastries, donuts, and muffins.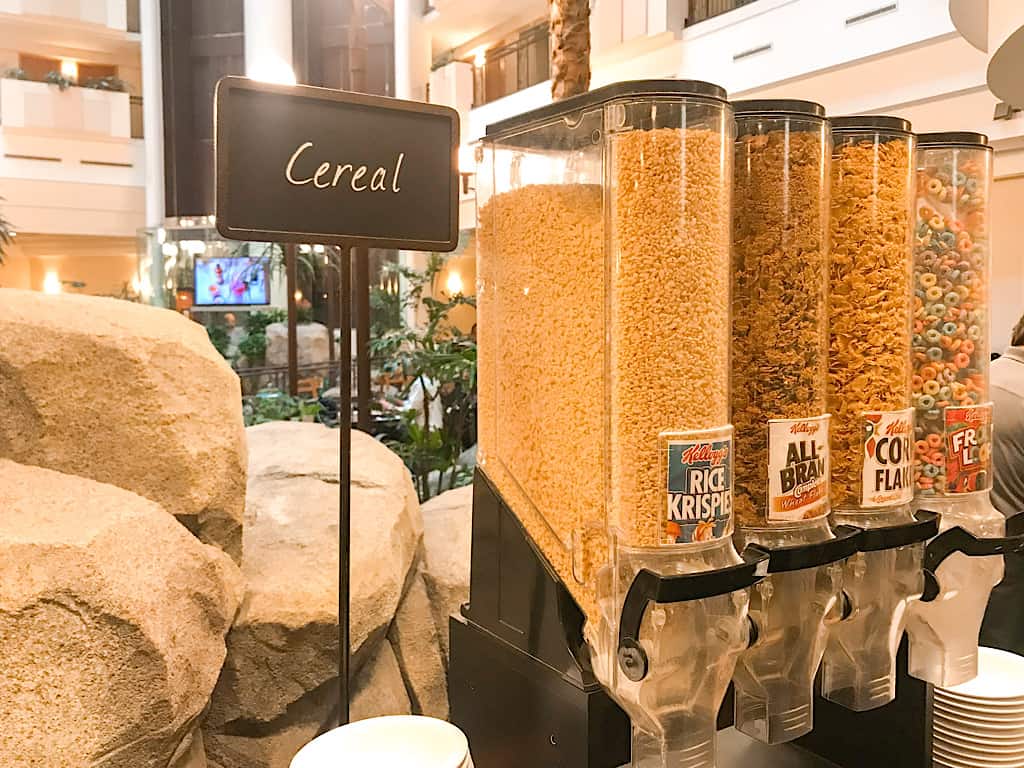 My kids loved the selection of cold cereal and I was fond of the oatmeal station that provided toppings like brown sugar, raisins, chopped peanuts, dried cranberries, granola, and coconut flakes.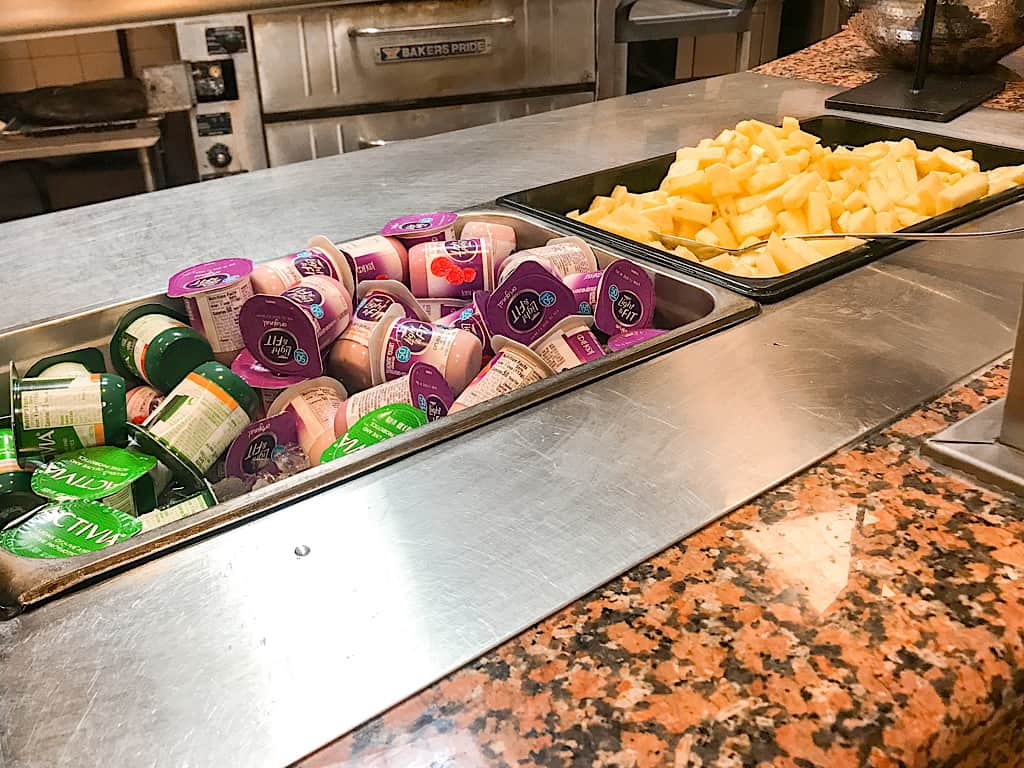 At Embassy Suites complimentary breakfast, you will also find yogurt an assortment of fresh cut fruit including pineapple, honeydew melon, and cantaloupe, depending on the day.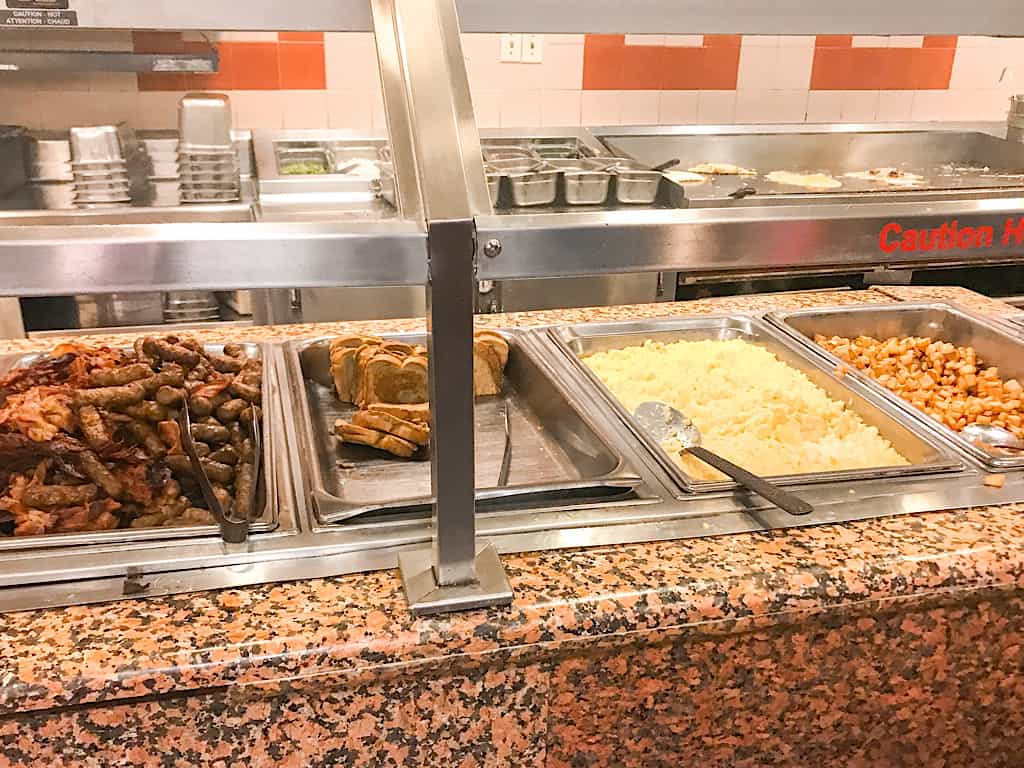 The hot buffet included freshly made scrambled eggs, perfectly seasoned sausage, crispy bacon, breakfast potatoes, and either French Toast, pancakes, or waffles.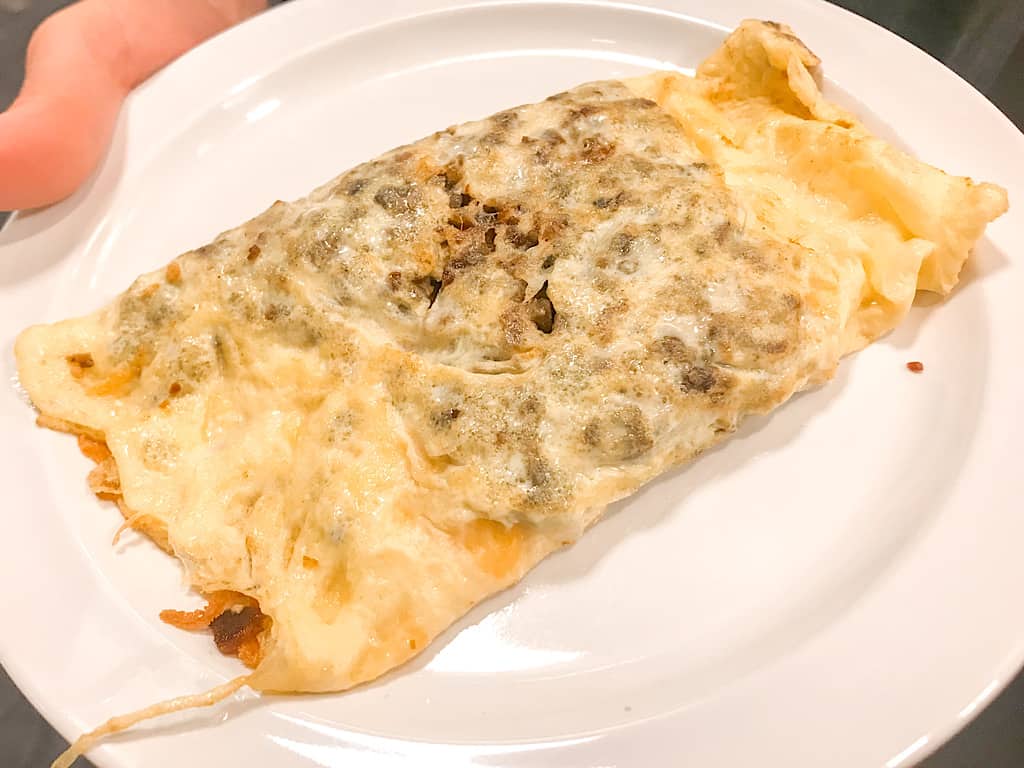 The best part of the breakfast offerings is the omelet station. Embassy Suites has a chef on staff that will whip up a custom omelet with your choice of toppings!
Some of the toppings available are:
Bacon

Sausage

Mushrooms

Jalapeno

Spinach

Cheese

Onions

Tomatoes
My choice of toppings is pretty simple. I love to order an omelet with bacon and cheese.
Embassy Suites famous omelet's even have their own website. Visit www.MyOmelet.com to find out more!
Complementary Evening Reception
Guests staying at Embassy Suites Anaheim South are able to enjoy a manager's reception each evening offering complimentary drinks and snacks.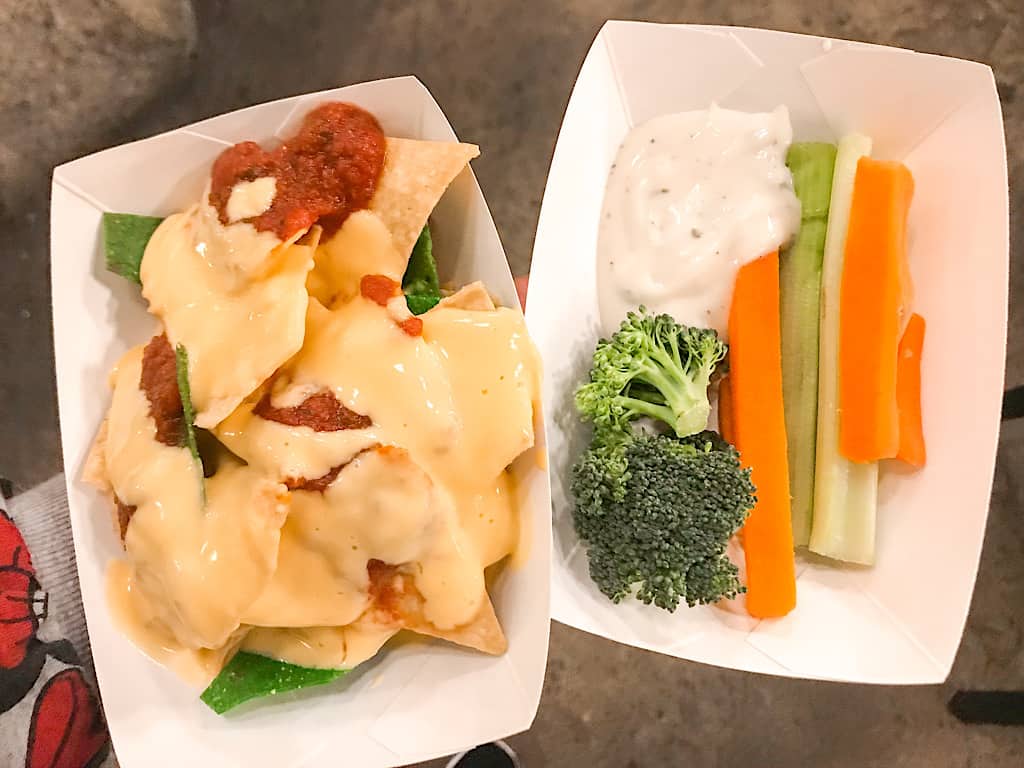 This was a nice little perk for us. We usually take a break from Disneyland in the afternoon and head back to the hotel.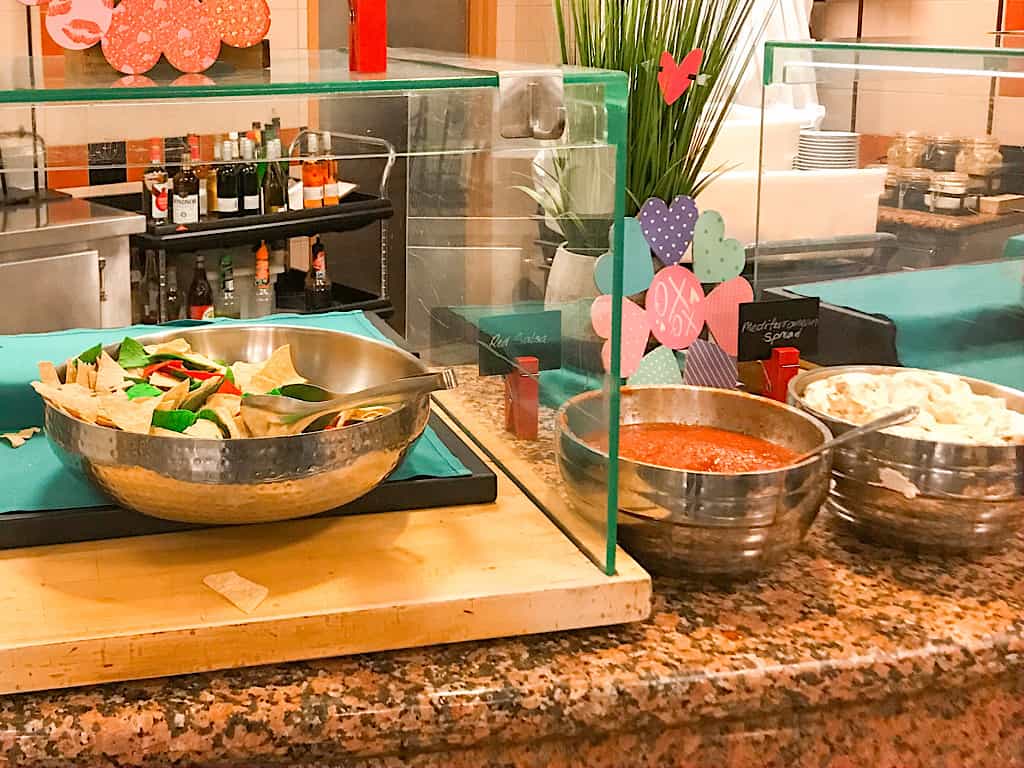 After a little nap, it was great to go down to the atrium and have a little bite to eat before spending the evening back at the Parks.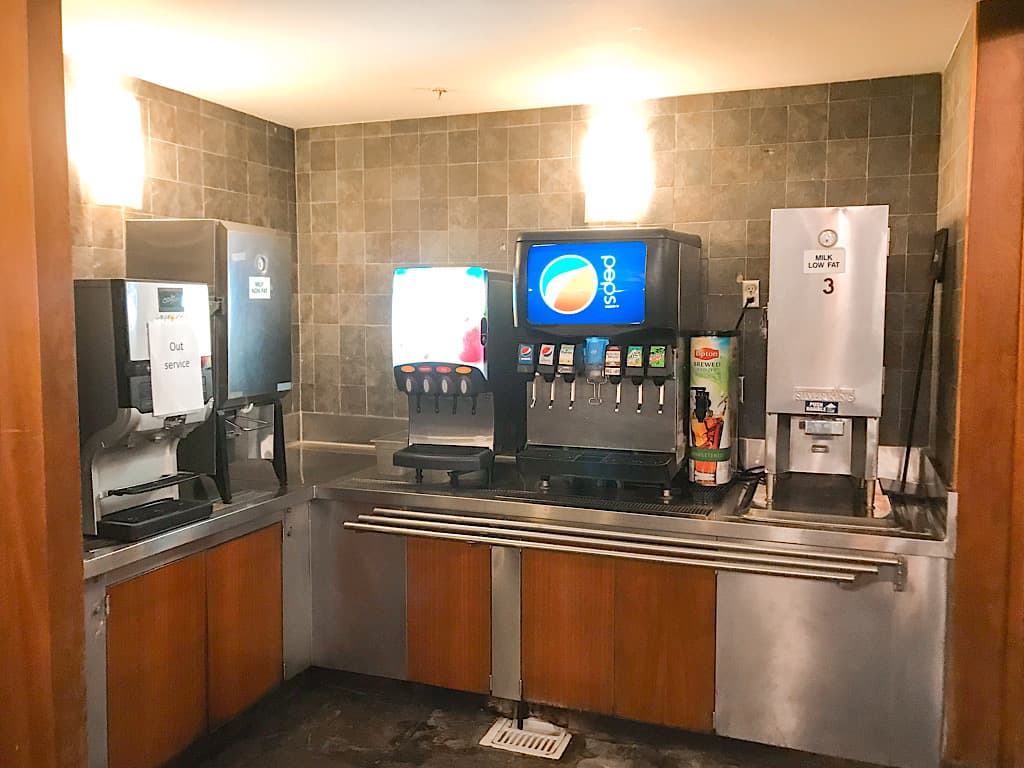 Drinks that are served include:
Beer

Wine

Cocktails

Soft Drinks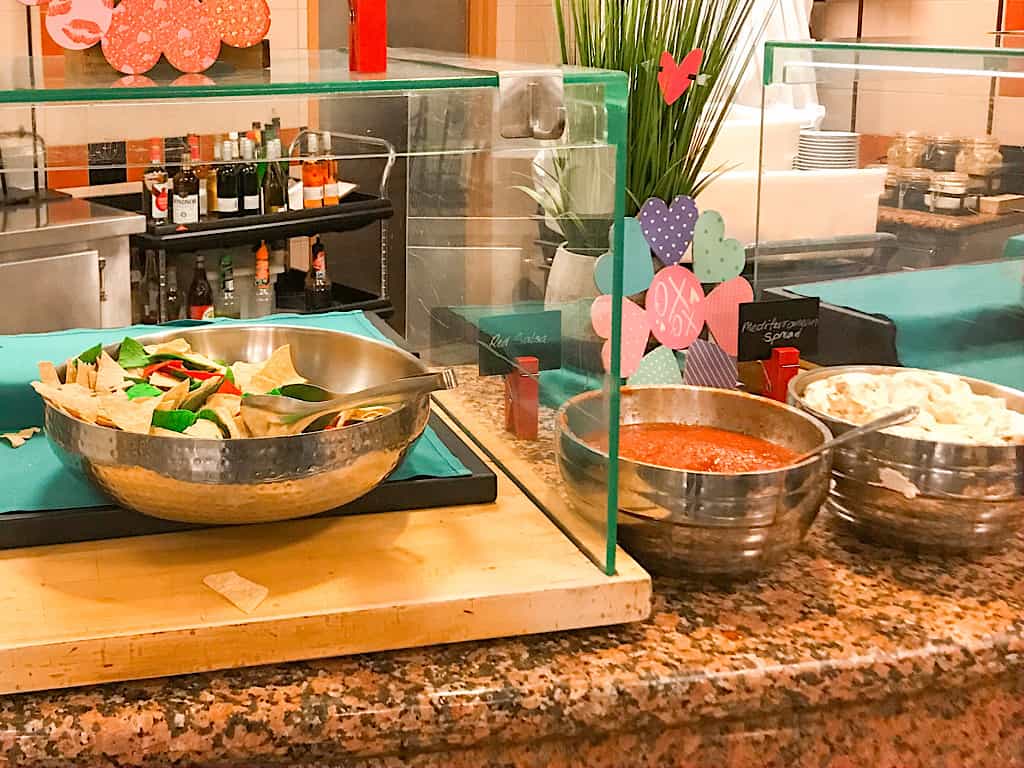 There was an abundance of snack choices available for the complimentary evening reception as well. some of the options were:
Tortilla Chips

Salsa

Nacho Cheese

Potato Chips

Mediterranean Dip

Fresh Cut Vegetables

Ranch
Serengeti Grill: On-Site Restaurant
Located in the atrium of Embassy Suites Anaheim South is the in house restaurant, Serengeti Grill.
The Serengeti Grill is open daily for both lunch and dinner from 11:30 am to 11:30 pm.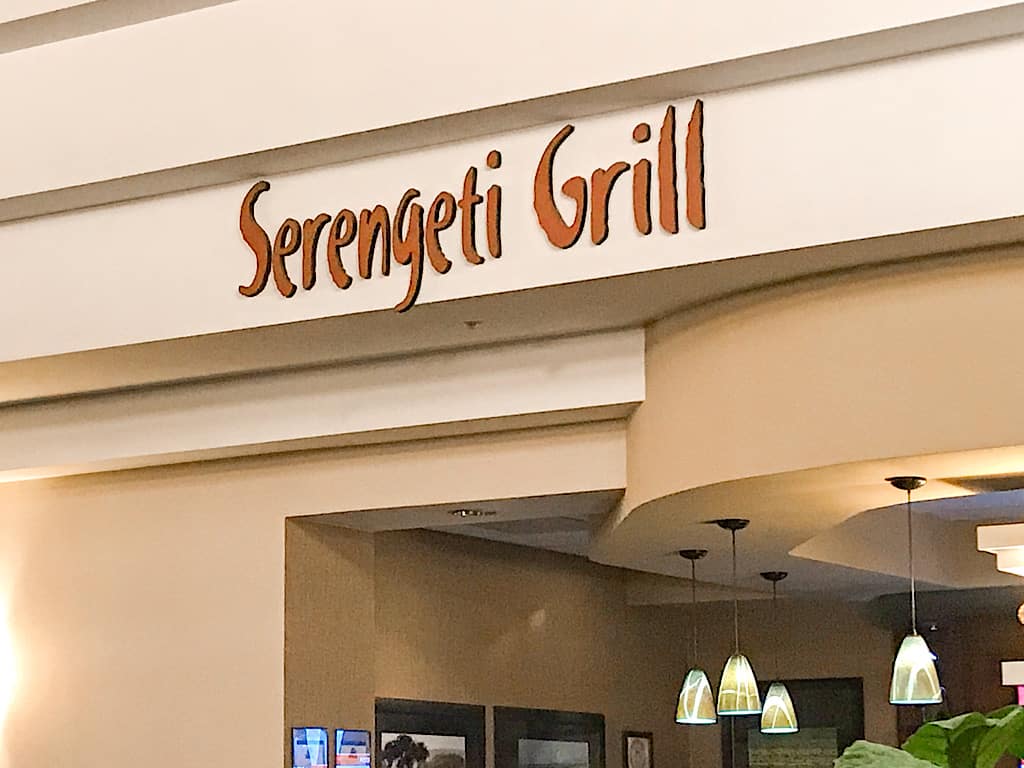 There menu is pretty expansive and provides options for every taste. Here is a list of some of the items available.
Appetizers
Soup of the Day

Onion Rings

Southwestern Quesadilla

Wings

Fried Mozarella

Fried Calamari
Salads
Chicken Caesar Salad

Cobb Salad

Italian Steak Salad

Taco Salad

Oriental Salad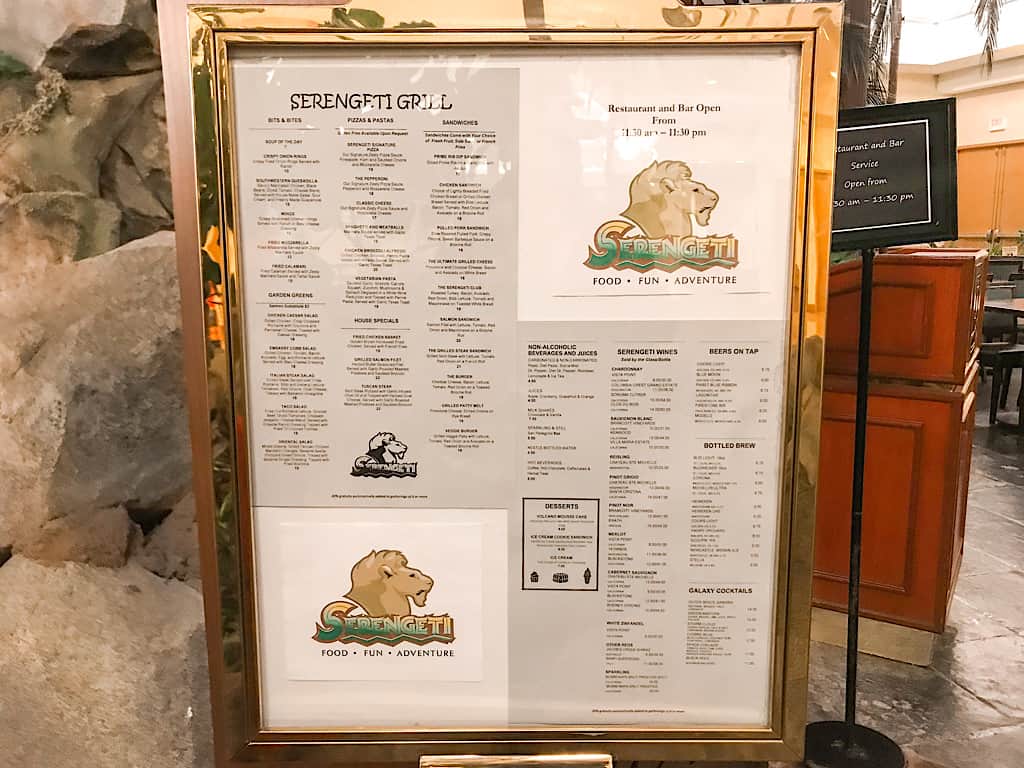 Pizzas & Pastas (Gluten free options available)
Serengeti Signature Pizza

Pepperoni

Classic Cheese

Spaghetti and Meatballs

Chicken Broccoli Alfredo

Vegetarian Pasta
House Specials
Fried Chicken Basket

Grilled Salmon Filet

Tuscan Steak
Sandwiches
Prime Rib Dip Sandwich

Chicken Sandwich

Pulled Pork Sandwich

Ultimate Grilled Cheese

Serengeti Club

Salmon Sandwich

Grilled Steak Sandwich

The Burger

Grilled Patty Melt

Veggie Burger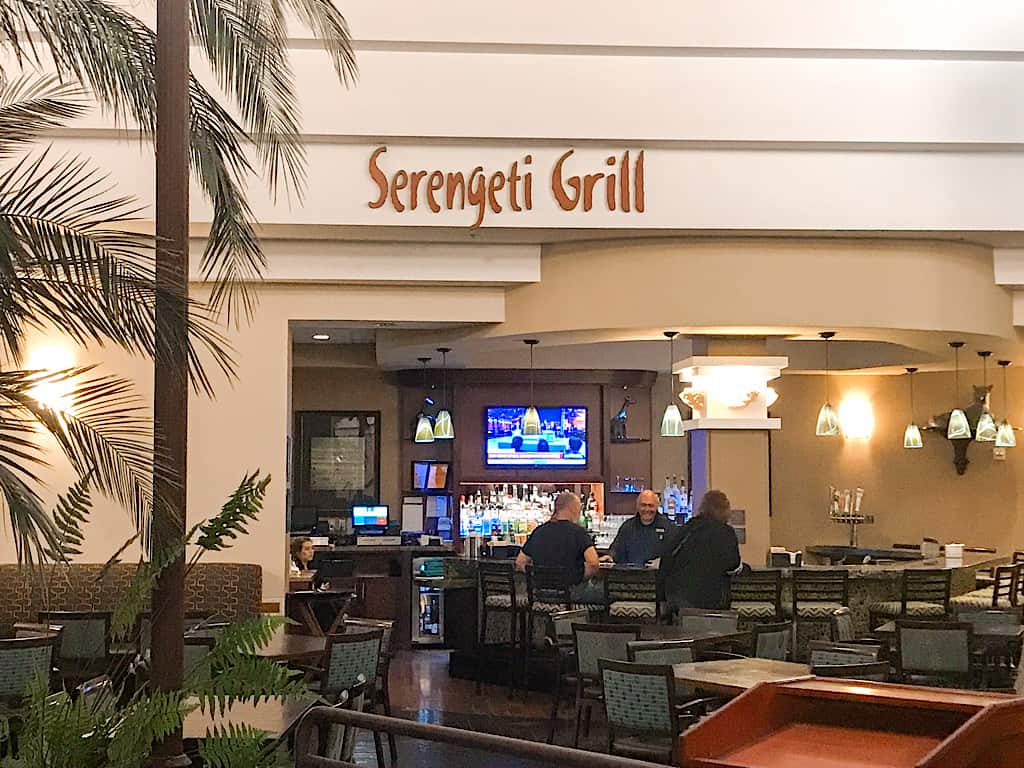 Desserts
Volcano Mousse Cake

Ice Cream Cookie Sandwich

Ice Cream
Assorted Alcoholic Beverages and Non-Alcoholic Beverages
I hope that this list of dining options at Embassy Suites by Hilton Anaheim South has been informational and helpful to you in planning your next Disneyland vacation.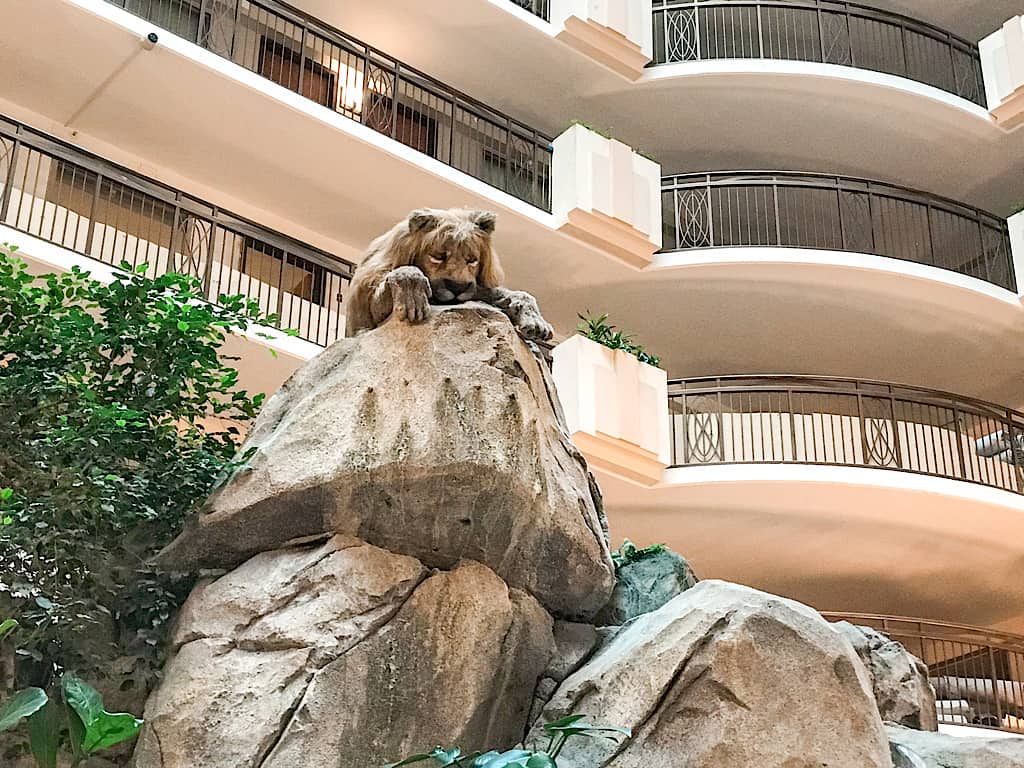 Make sure to watch my video below with a complete tour and review of Embassy Suites Anaheim South and check out all of my Disneyland tips and tricks!