Want to make your trip to Disneyland unforgettable? Check out the Fantasmic Dining Package at Hungry Bear Restaurant! Enjoy a delicious meal before the show and receive VIP reserved seating for the performance. Take in all of the sights and sounds of this beautiful show from a prime location right in front. Whether you're looking for an unforgettable family experience or just a night out, this package is sure to create lasting memories. Read my review below to find out if it's right for you!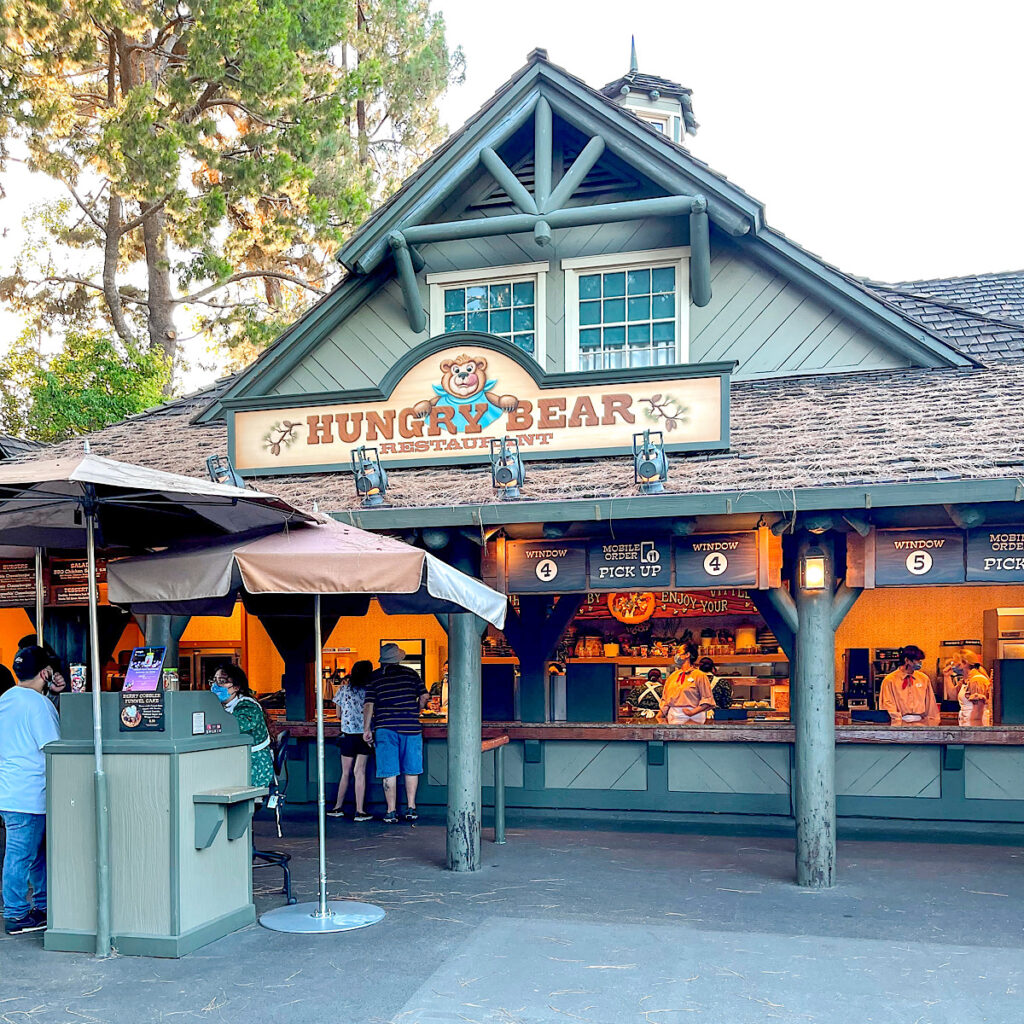 This post may contain affiliate links. When you click on these links, I get a small percentage back at no cost to you! For more information see my disclosure policy.
What is the Fantasmic Dining Package?
The Fantasmic Dining Packages at Disneyland let you enjoy a delicious meal and also receive reserved or VIP seating for the Fantasmic! show later in the evening. Currently, these packages are available through Hungry Bear Restaurant, Blue Bayou, and River Belle Terrace.
Hungry Bear Fantasmic! On-The-Go Package
This package is the one I decided to purchase for my family on our recent trip. I liked that I didn't have to use park time for a sit-down dinner, but if that is what you like, you might want to consider dining at Blue Bayou or River Belle Terrace.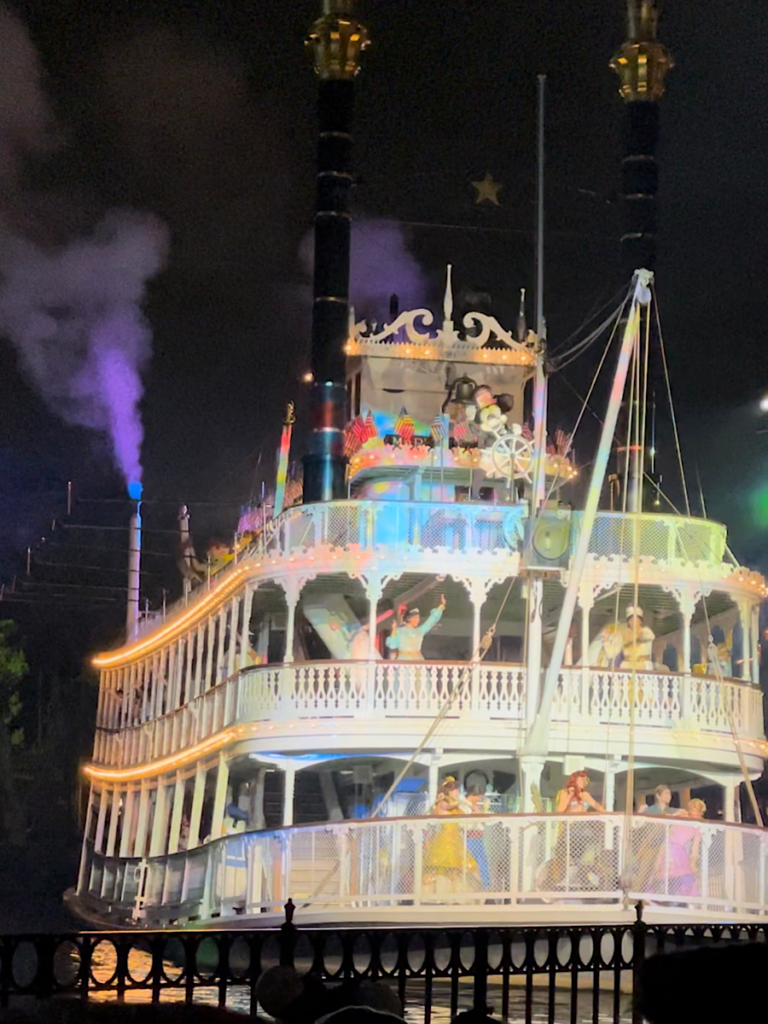 I booked this package 60 days before the day we planned to use it. The reservations were released on the Disneyland website at 6:00 am Pacific Time.
I found that for booking this package, it was easier to use the website over the app.
How Much is the Hungry Bear Fantasmic Package?
For this on-the-go dining package, the price for adults was $35 and $25 for kids.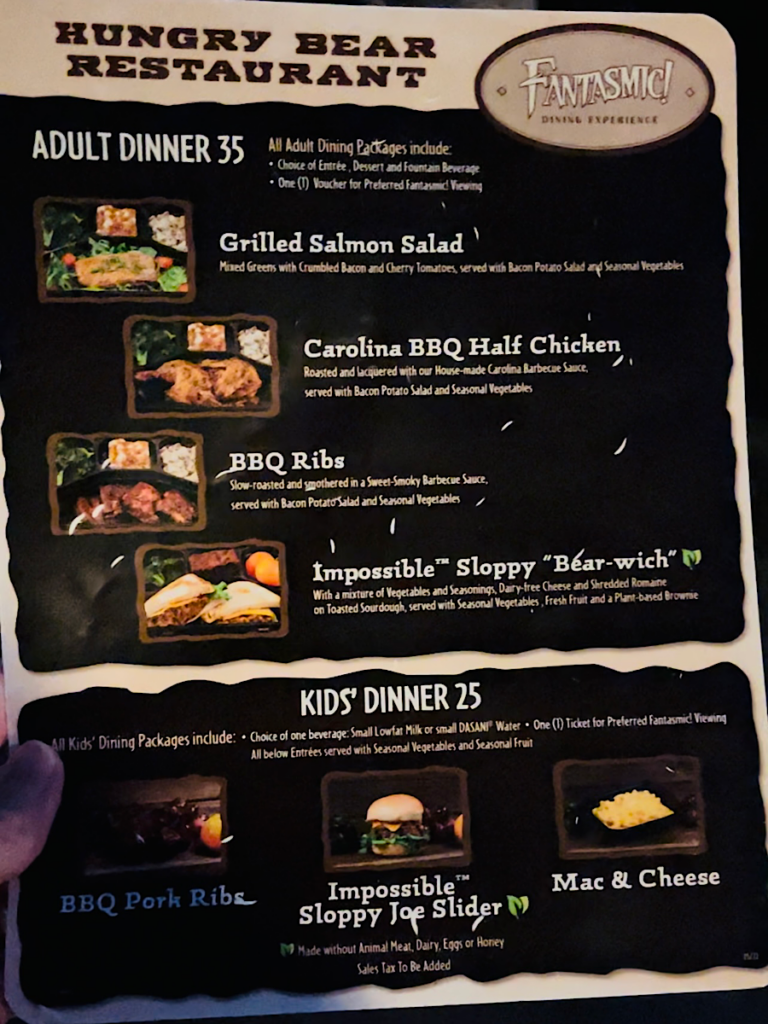 Hungry Bear Fantasmic Package Menu
Adult Dinner $35
Each adult dinner includes: choice of entree, dessert, and a fountain beverage.
Adult Entree Choices
Grilled Salmon Salad: Mixed greens with crumbled bacon and cherry tomatoes, served with Bacon Potato Salad and seasonal vegetables.
Carolina BBQ Half Chicken: Roasted and lacquered with house-made BBQ sauce, served with Bacon Potato Salad and seasonal vegetables.
BBQ Ribs: Slow-roasted and smothered in a sweet-smokey BBQ sauce, served with Bacon Potato Salad and seasonal vegetables.
Impossible Sloppy "Bear-which": With a mixture of vegetables and seasonings, dairy-free cheese and shredded romaine on toasted sourdough, served with seasonal vegetables, fresh fruit and a plant-based brownie.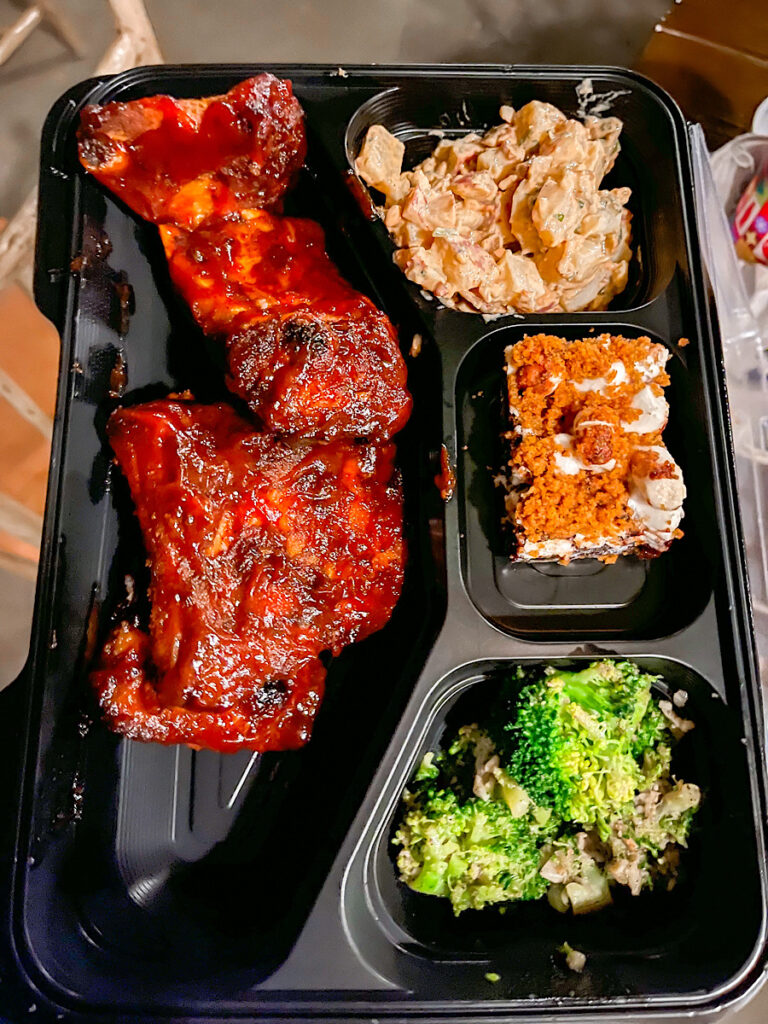 Kids Dinner $25
Each child dinner includes: choice of one beverage, seasonal vegetables and seasonal fruit.
Kids Entree Choices
BBQ Pork Ribs
Impossible Soppy Joe Slider
Mac & Cheese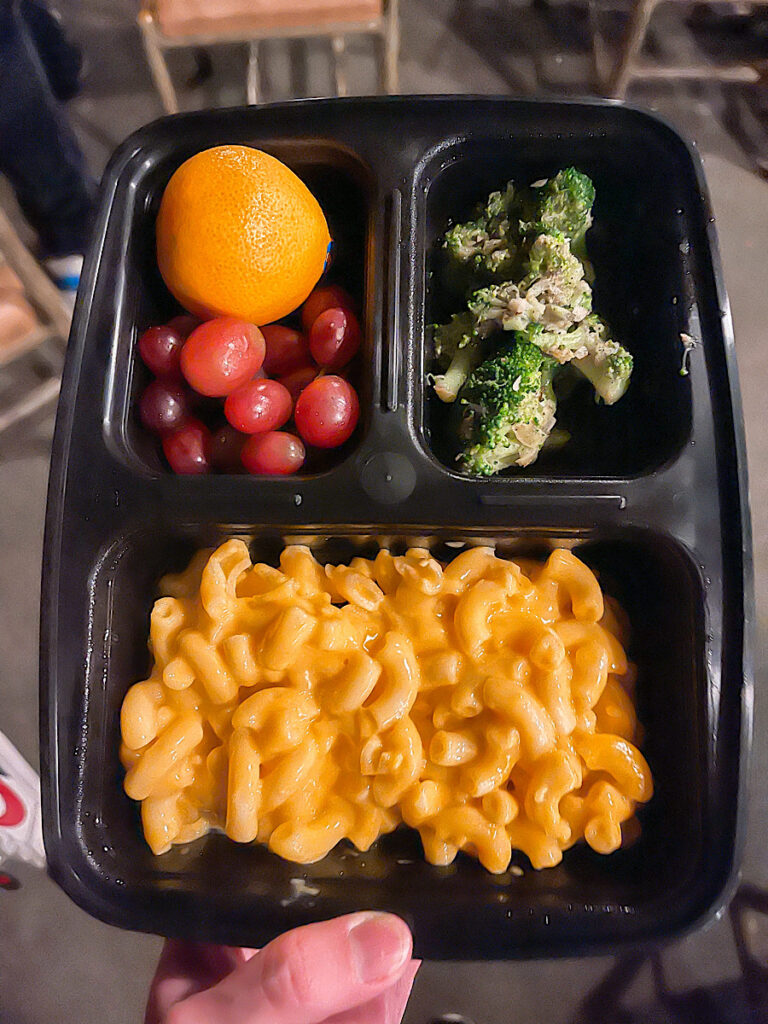 Hungry Bear Dining Package Food Review
Two of my sons and I ordered the BBQ Ribs dinner. I thought it was delicious! The BBQ sauce was sweet and tangy, the food was warm, and the ribs were fall off the bone!
My husband ordered the Half Chicken and thought it was moist and flavorful. He finished the rest of my son's ribs though, and said that he wished he had ordered that instead of the chicken.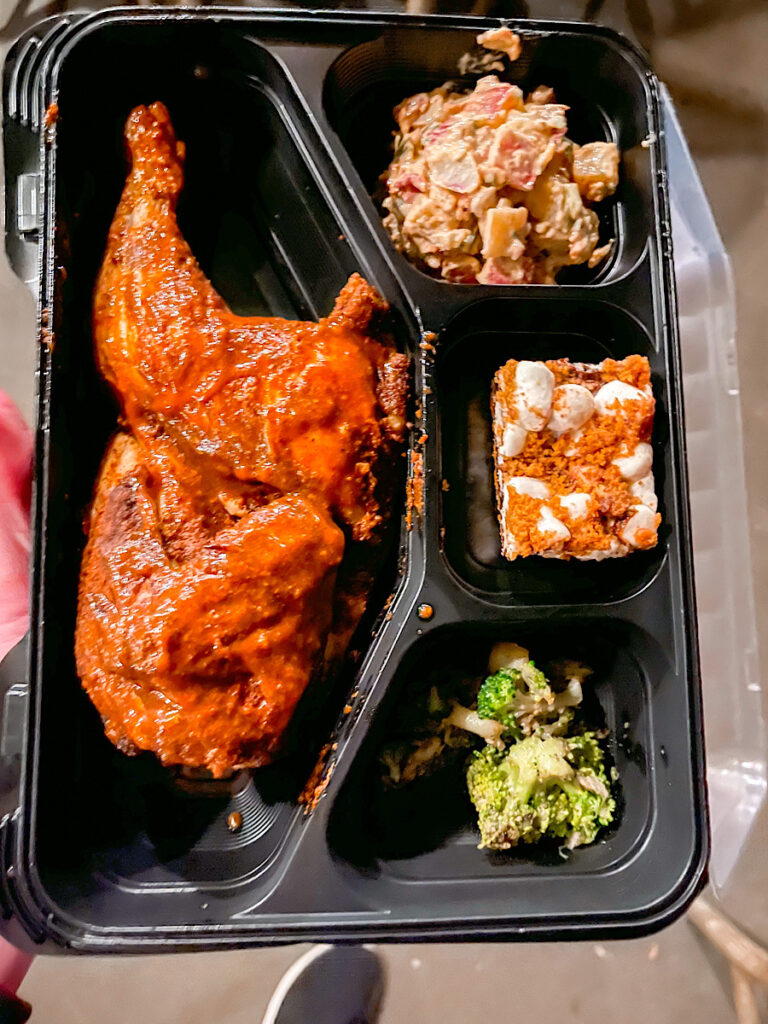 The potato salad was delicious and the broccoli was seasoned well. The S'mores dessert wasn't my favorite. I would say that it was just ok.
My 8-year-old had the Mac & Cheese and said it was great! He just wished that his meal had come with a dessert as well.
Reserved Viewing Location
The reserved viewing area is right up front, across from Tom Sawyer Island. I would say we were a little to the left of the exact center. Check out my video here to see what the view was like.
Be aware that if you do book this package, your will be sitting on the ground to enjoy the show.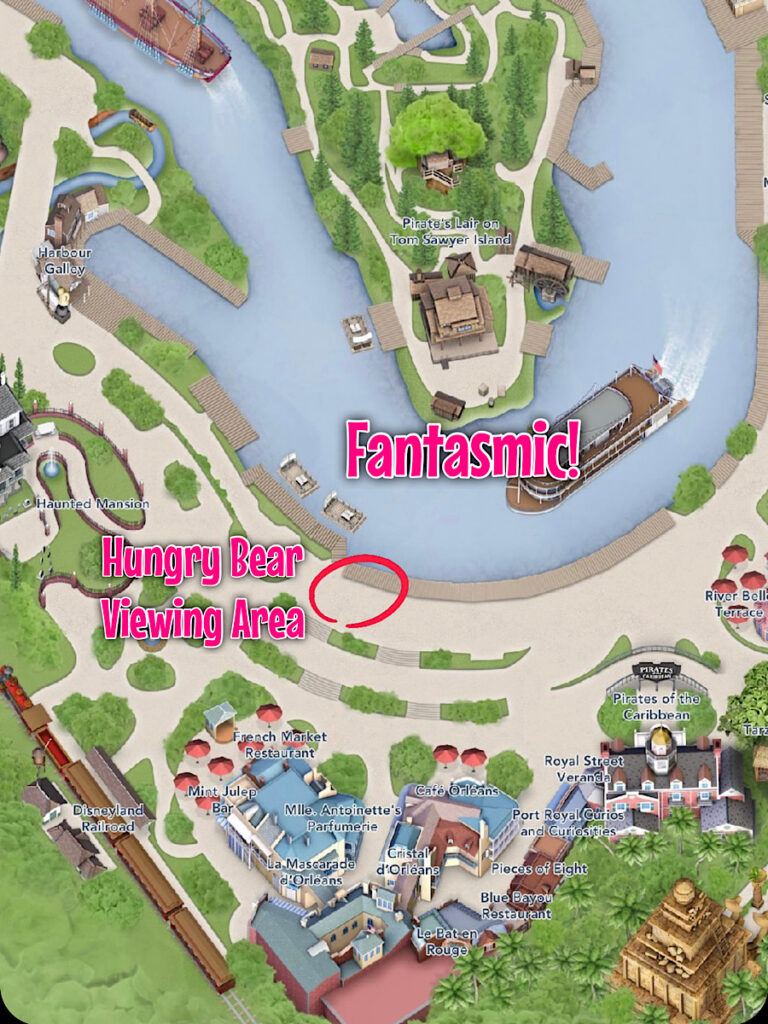 When to Arrive at the Viewing Location
The night we purchased the dining package, Fantasmic! was set to begin at 9:00 pm. Our ticket for the viewing area said to arrive about 30-45 minutes before showtime, so between 8:15-8:30.
Fireworks
If you want to view the fireworks after Fantasmic! the show will usually start about 10 minutes later. It was great to just stay in our spot because the castle projections are also projected onto the water in front of Tom Sawyer Island and the music is played there as well.
It even began to "snow" over us, just like it does on Main Street!
Is the Hungry Bear Fantasmic Dining Package Worth It?
I would say that depends. I honestly have not seen Fantasmic in years, mostly because I am not a fan of trying to fight others to save a spot for the show.
So for me, the Fantasmic Dining Package was totally worth it. It relieved the stress of finding a spot for the show and allowed me to enjoy more park time with my family.
Frequently Asked Questions
How much does Fantasmic Dining Package cost?
The adult dinner costs $35, and the kids dinner costs $25.
Is the on-the-go package available for all showtimes?
No, it is only offered during certain show times. You can check the Disneyland website or app to see which time works best with your schedule.
How early do we need to arrive at the viewing location?
The dining package includes reserved seating for Fantasmic, so you will need to arrive about 30-45 minutes before showtime.
Will we be able to sit on the ground or need to bring our own chairs/blankets?
For the Hungry Bear Dining Package, you will be sitting down directly in front of the viewing area. There are no chairs or blankets included in the dining package.
Can you cancel Fantasmic Dining Package?
Yes, you have up until 24 hours before your reservation to cancel with no penalty. You can also change the time of your reservation as long as it is within the same day.
Does Fantasmic require reservations?
The Fantasmic show does not require reservations, but the Fantasmic Dining Package does.
How much does Fantasmic cost?
Fantasmic is included with the price of your Disneyland admission. Only the dining package has an extra charge.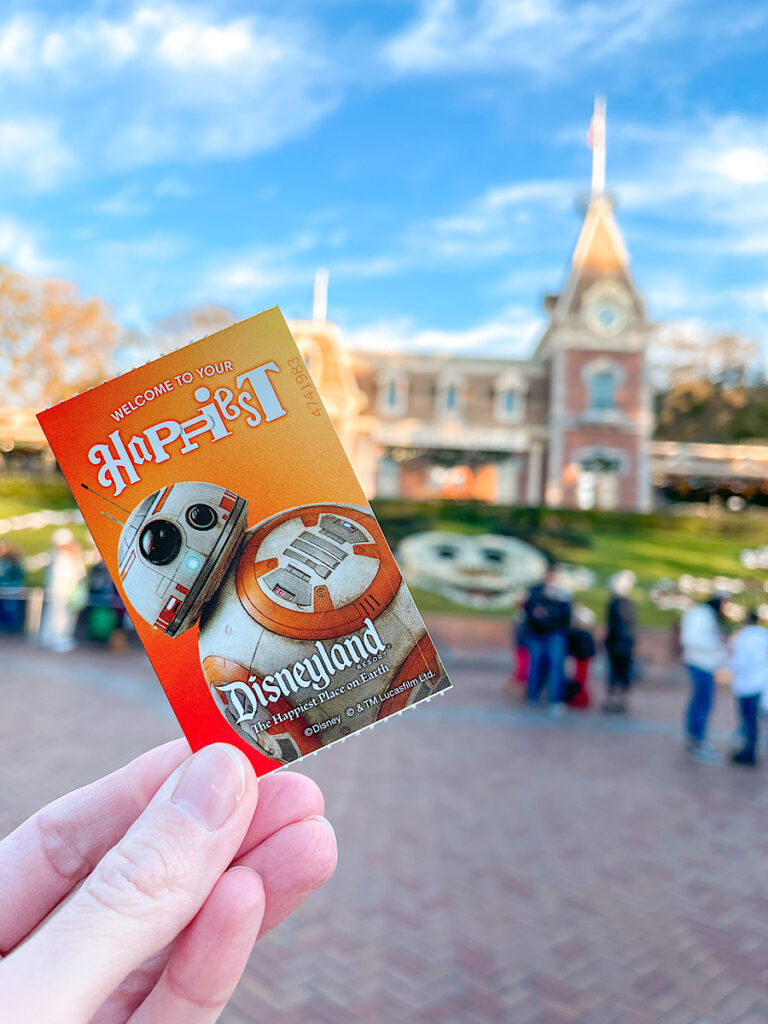 Get a Discount Disneyland Tickets
If you haven't booked your Disneyland vacation yet, I highly recommend checking prices with my travel partner Get Away Today.
I have been booking with them for many years, and they have the best sales and customer service.

Not only are their tickets cheaper than tickets bought directly from Disneyland, but when you book you tickets in a vacation package along with your hotel, you can often get a 3rd or 4th night free!
You can check prices here and use the Get Away Today coupon code: Clubhouse10 on a a 2-night or longer vacation package or give them a call at 855-GET-AWAY and tell them Mommy Mouse Clubhouse sent you!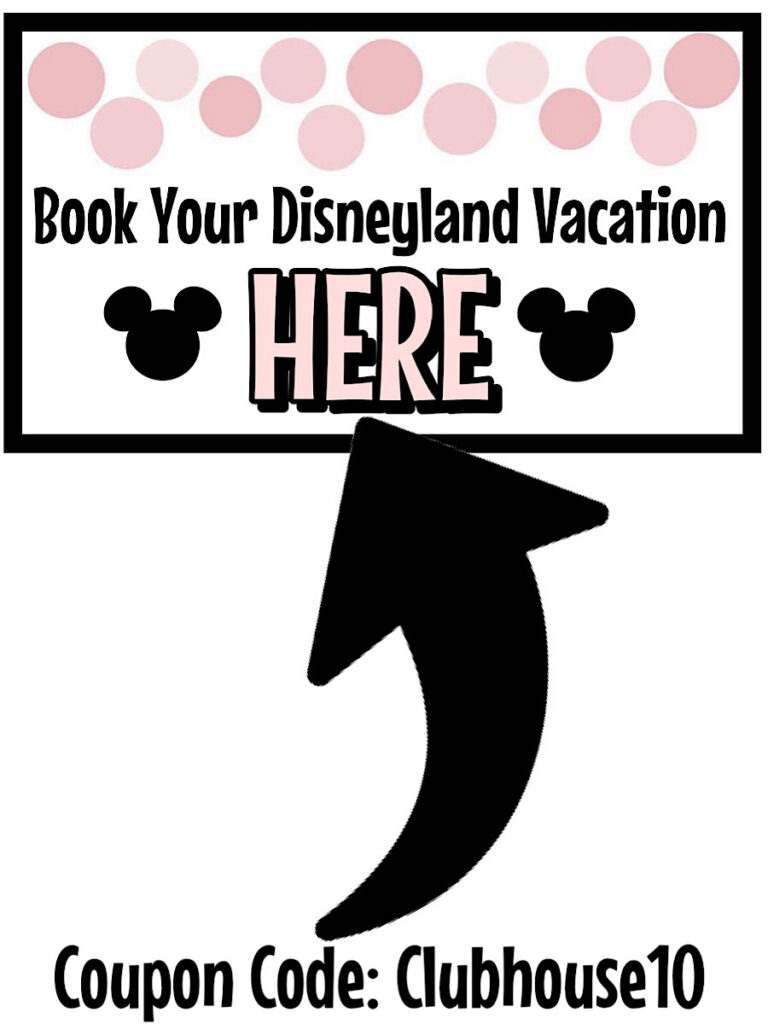 Disneyland Area Hotels I Recommend:
Final Thoughts
With the Fantasmic Dining Package, get it all: delicious meals and VIP seating to one of Disneyland's most beloved shows. Enjoy a magical experience that will create memories for years to come.
Whether you're looking for an unforgettable family outing or just a night filled with entertainment, the Fantasmic Dining Package is sure to please. Don't wait – book your package today!
More Disneyland Dining Packages