Looking for a modern, amazing hotel near Disneyland? Read this review of the beautiful Viv Hotel Anaheim (formerly Radisson Blu Anaheim) to see why this hotel is a great option for families when visiting the Disneyland Resort in California!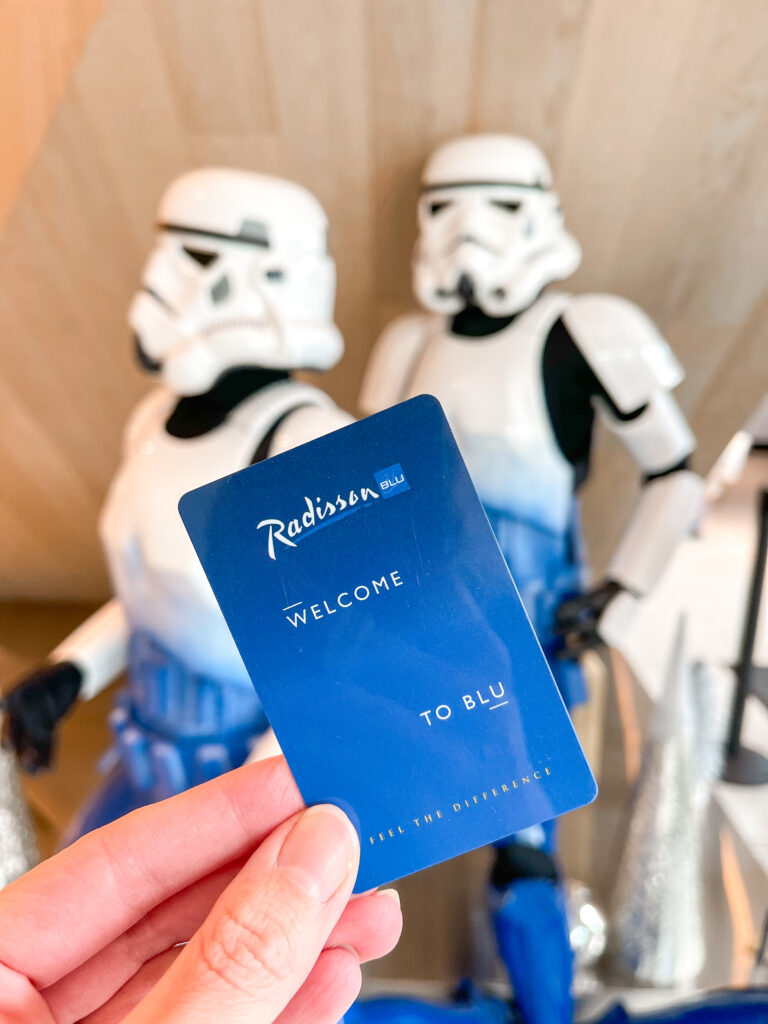 My family was given a reduced rate and a complimentary breakfast by Radisson Blu Anaheim. All opinions are my own.
Today I am going to show you around the new Radisson Blu Anaheim hotel near Disneyland and tell you about my family's recent stay.
The Radisson Blu Anaheim hotel is located about a mile and a half from Disneyland and is a great option for families visiting the Anaheim area.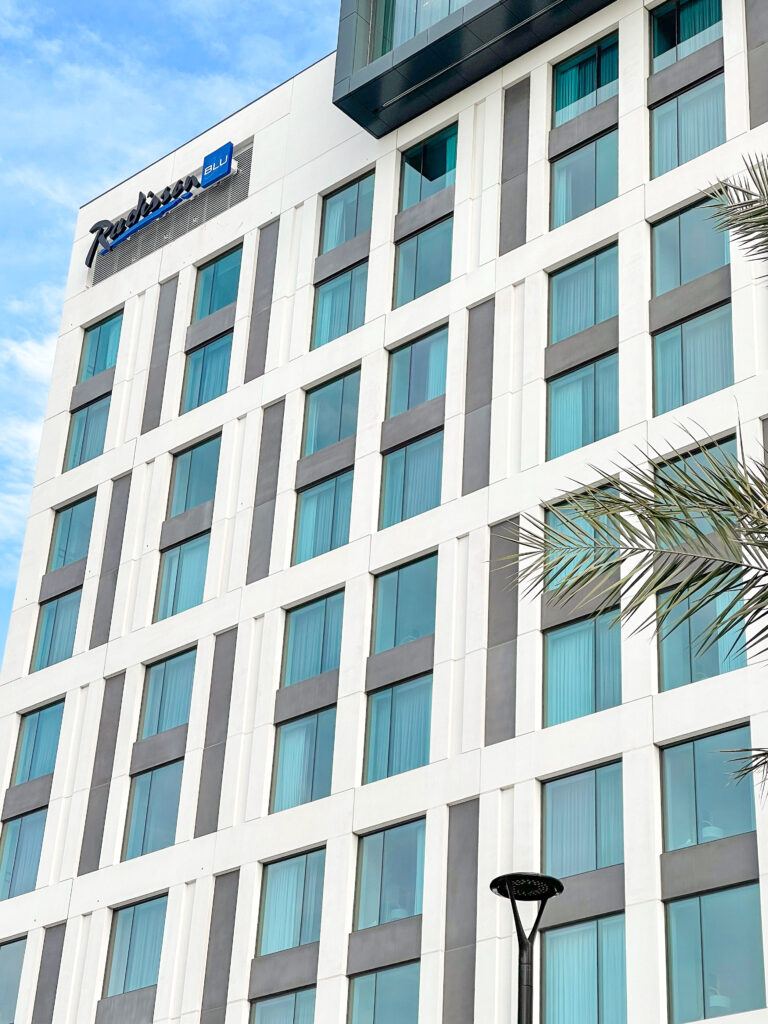 If you are planning a Disneyland vacation, make sure to subscribe to my channel on YouTube and turn on notifications, so you won't miss any Disney fun.
You can also visit the menu above for Disney tips & tricks as well as other hotel reviews from the area.
Now, let's get started!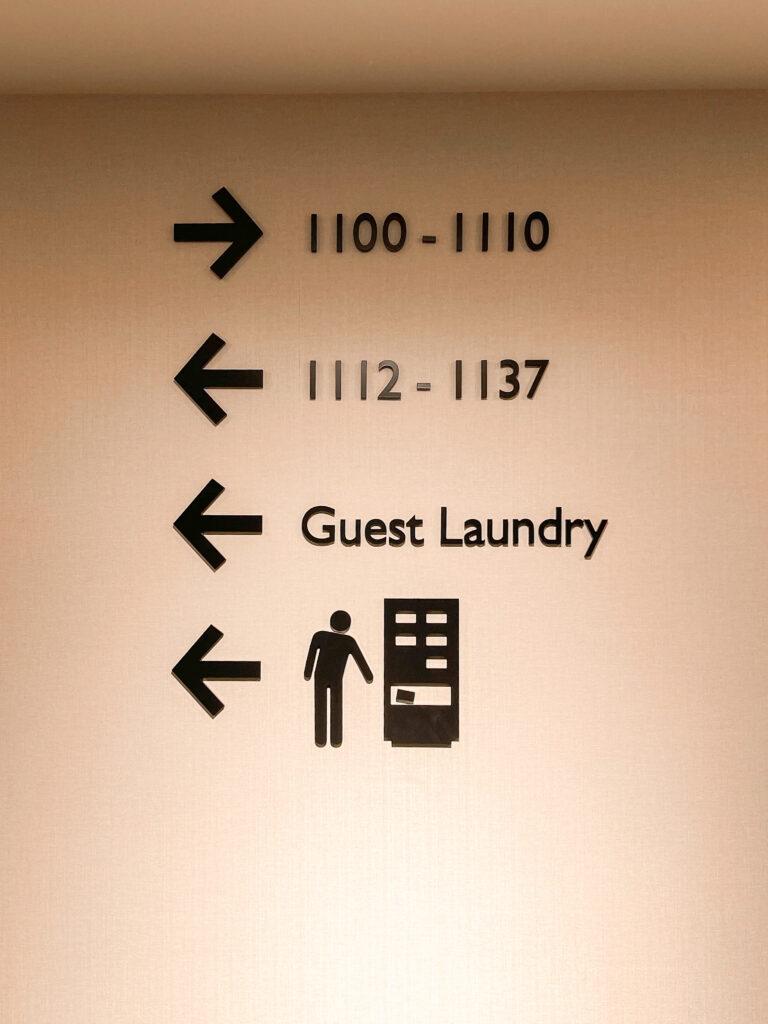 Radisson Blu Room Tour
Let's start by taking a tour of our room. We stayed on the 11th floor with a room that faces Disneyland.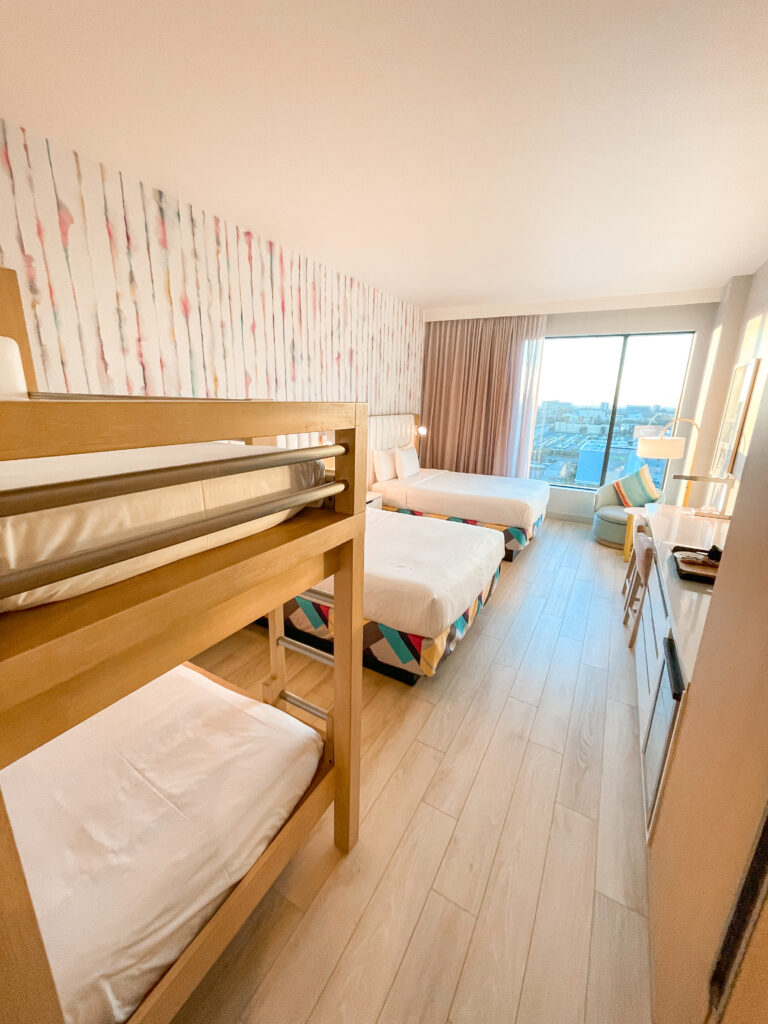 I highly recommend that you book a room with this view, because it was so much fun to see the parks at all times.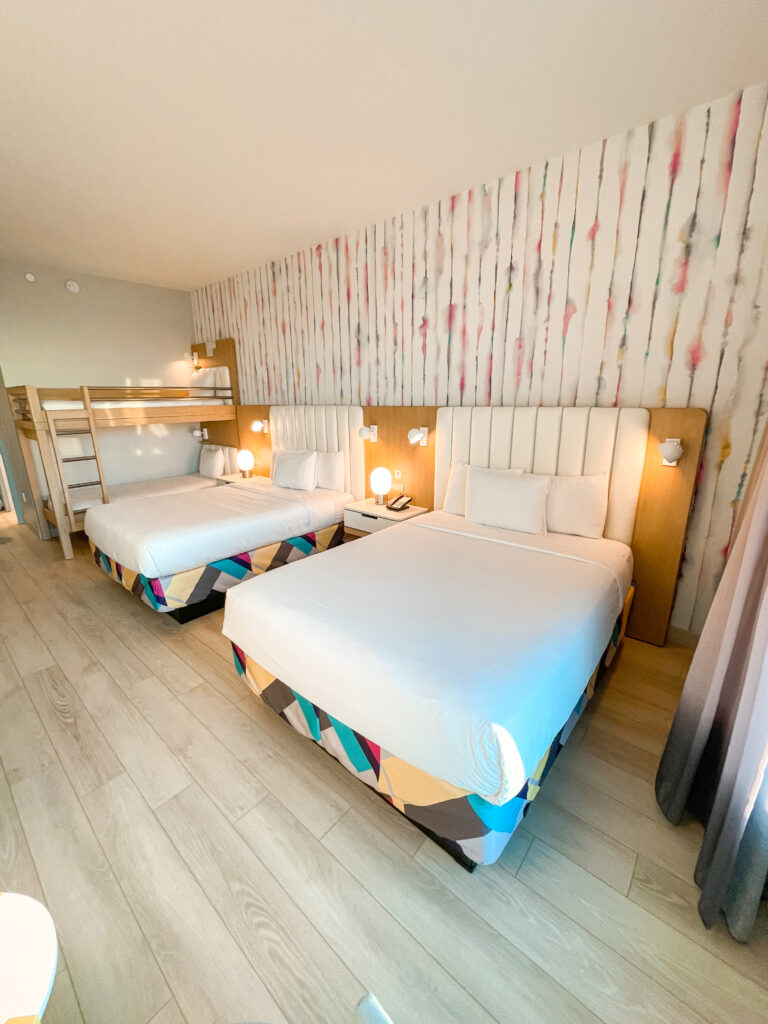 This room had two queen beds, as well as a set of twin bunk beds, which was perfect for our family of five.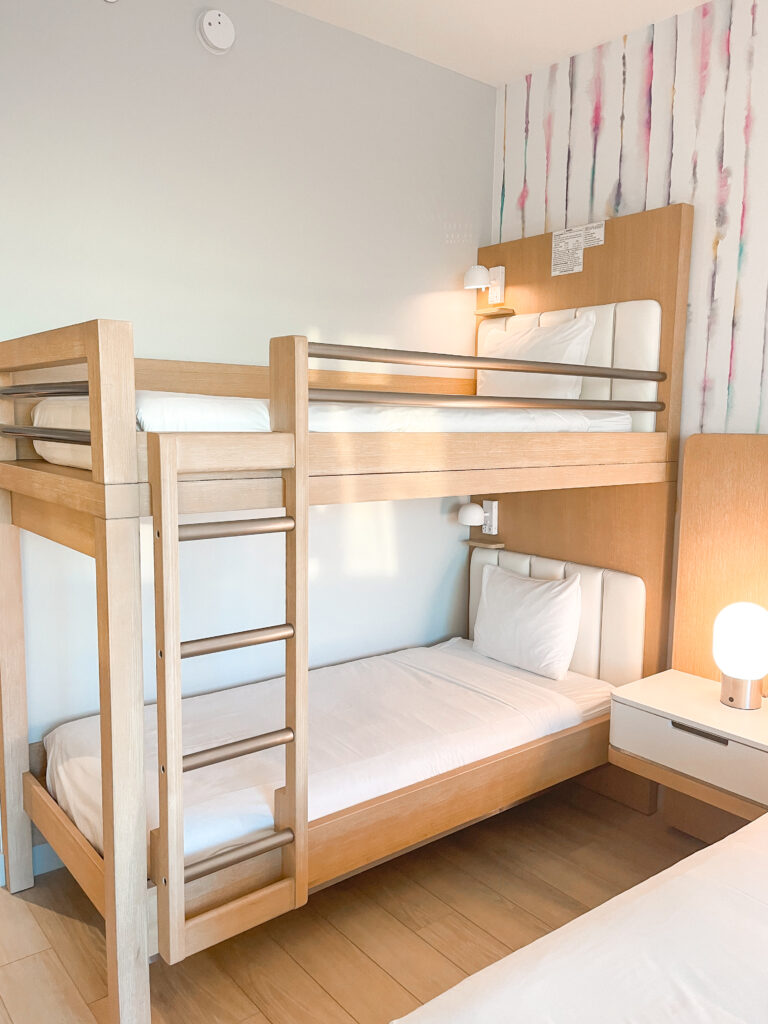 There was a chair and table near the window, as well as a desk with two bar stools.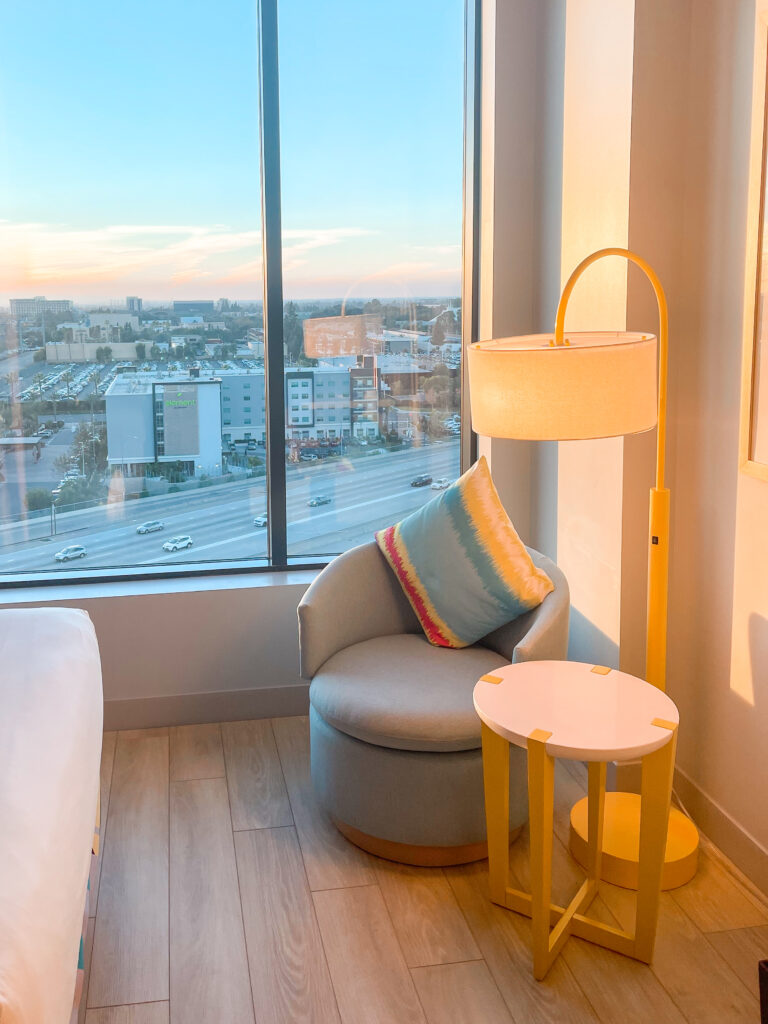 The large tv had Chromecast capabilities, which my boys loved, so they could watch all of their favorite YouTube channels when we were hanging out in the room.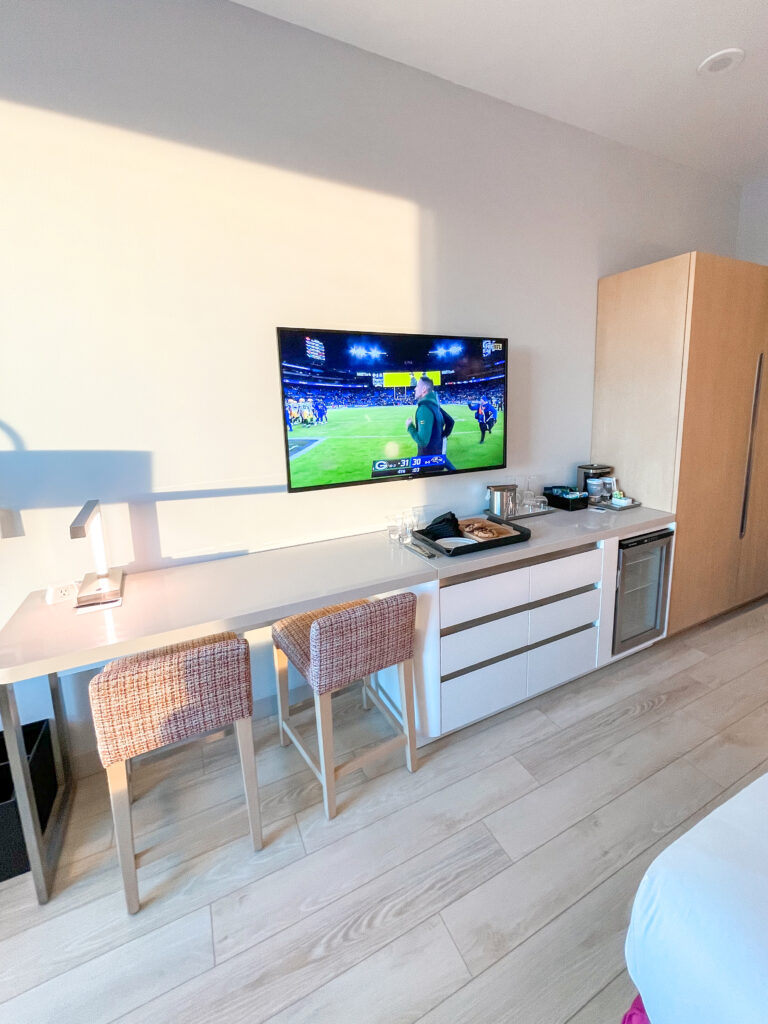 One thing I loved about this room was all of the available storage. There was a set of six spacious drawers as more storage in the closet.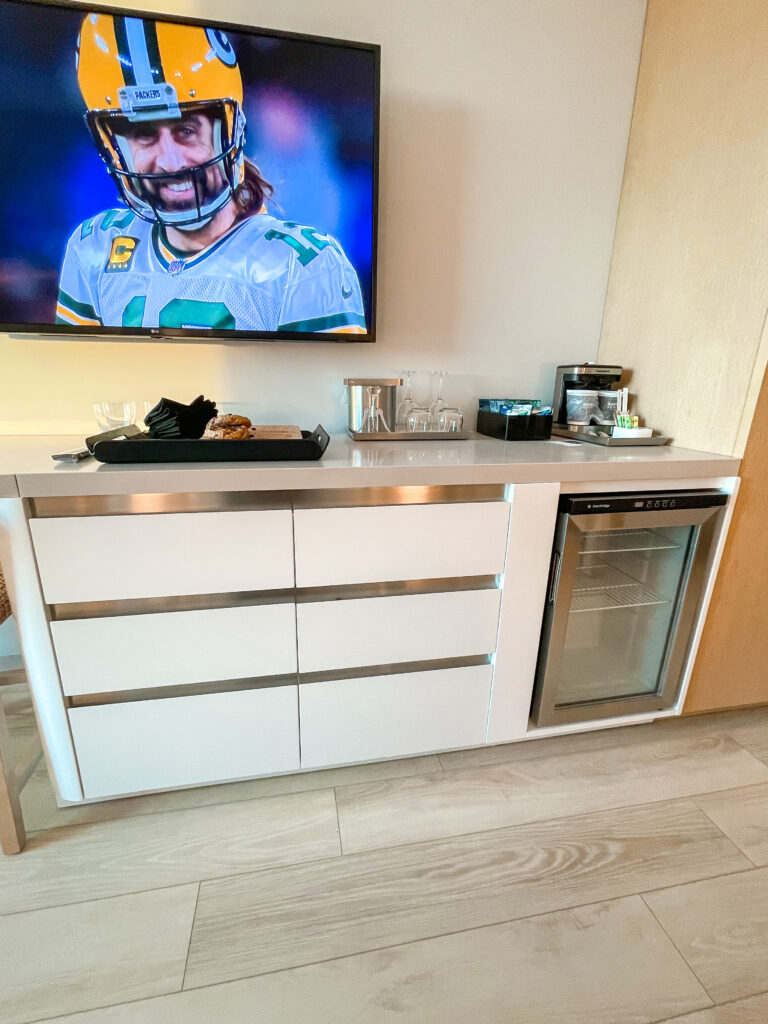 The room had a small refrigerator which was great because we had ordered some groceries to be delivered during our stay.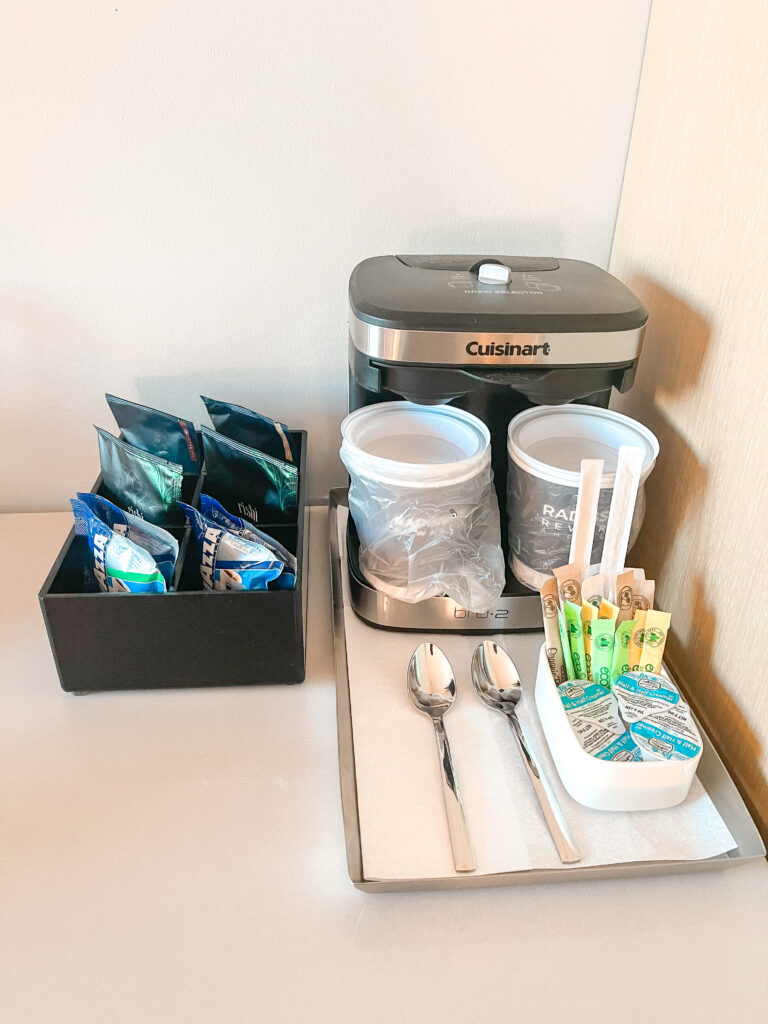 The closet had four drawers, as well as some shelves, a safe, and hangers to hang up clothes. It was the perfect size to store our pop up hamper to keep our dirty clothes organized and out of the way. There were also two robes, an iron, and an extra blanket and pillow.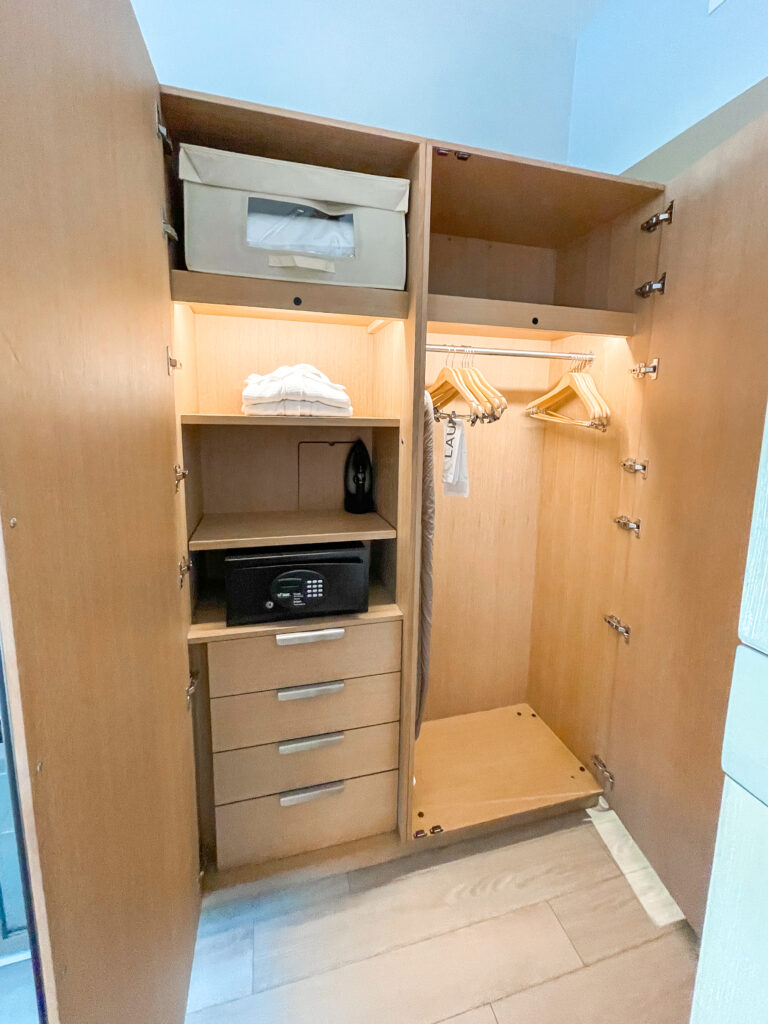 The bathroom was very spacious. There was a double vanity and plenty of counter space. I loved that there were drawers that could be used to store your toiletries.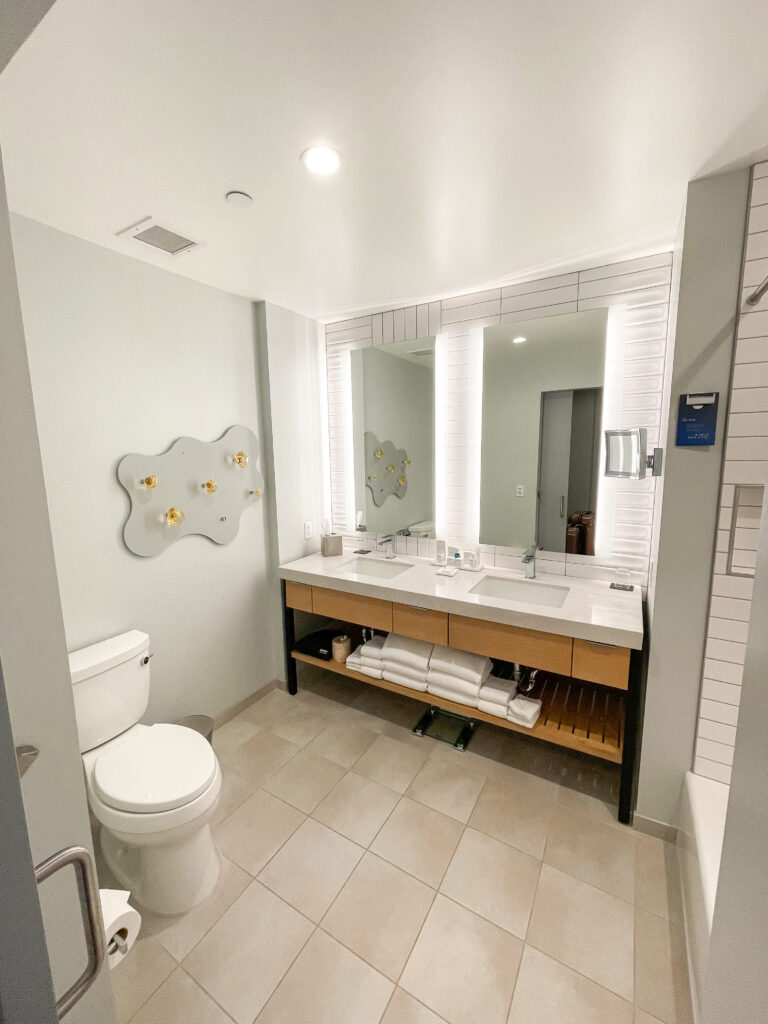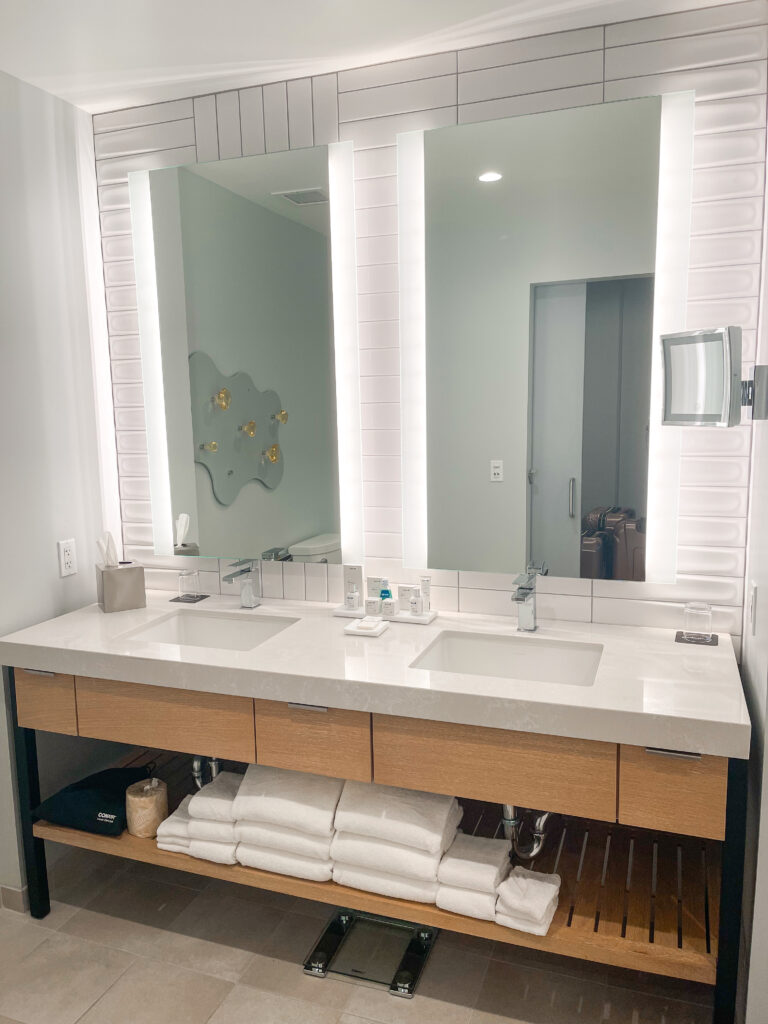 The shower/tub combo was nice with white subway tile and came equipped with shampoo, conditioner, and body wash. I really liked the shelf to place my own items on.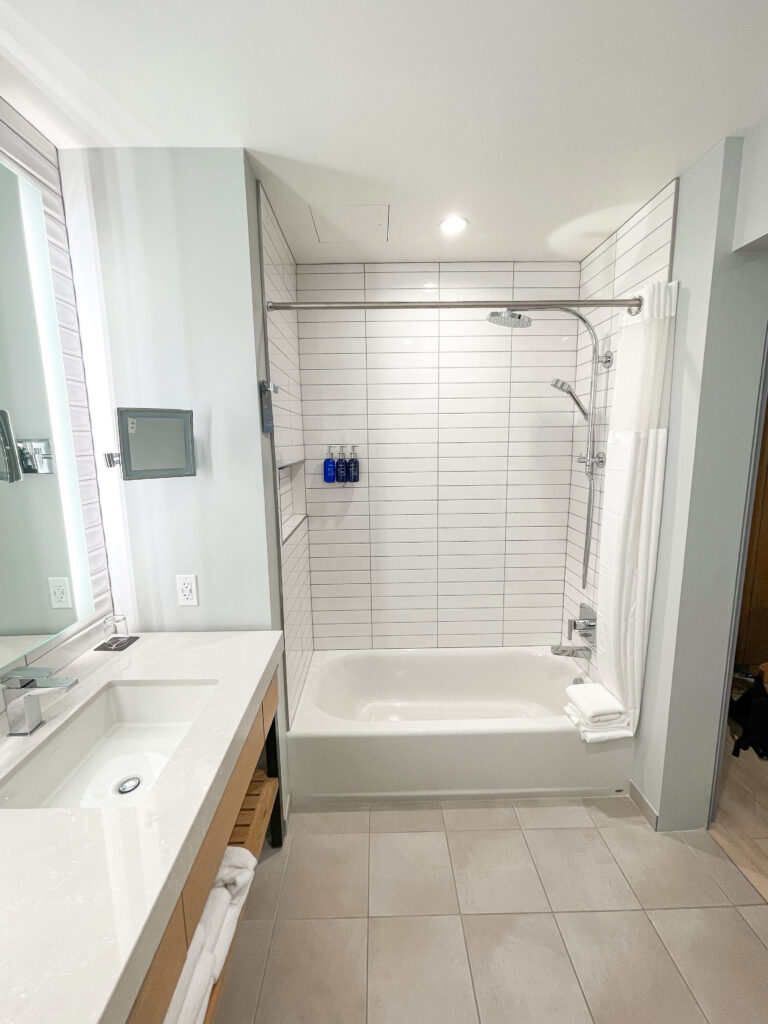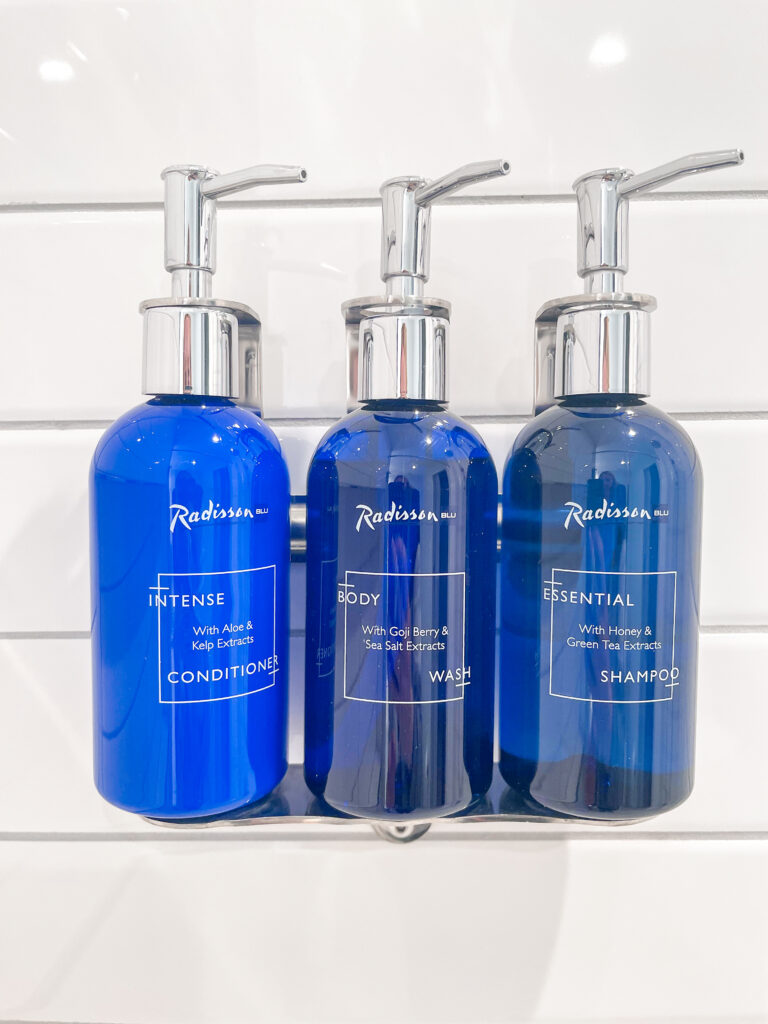 Here is a great view from our room of a sunset over the Disneyland resort.
Lobby
Now let's head down to the lobby and the main floor of the hotel. The lobby is large and modern and has plenty of seating. There were four spots for check in which seemed just right, as I never saw a line when I was in the lobby.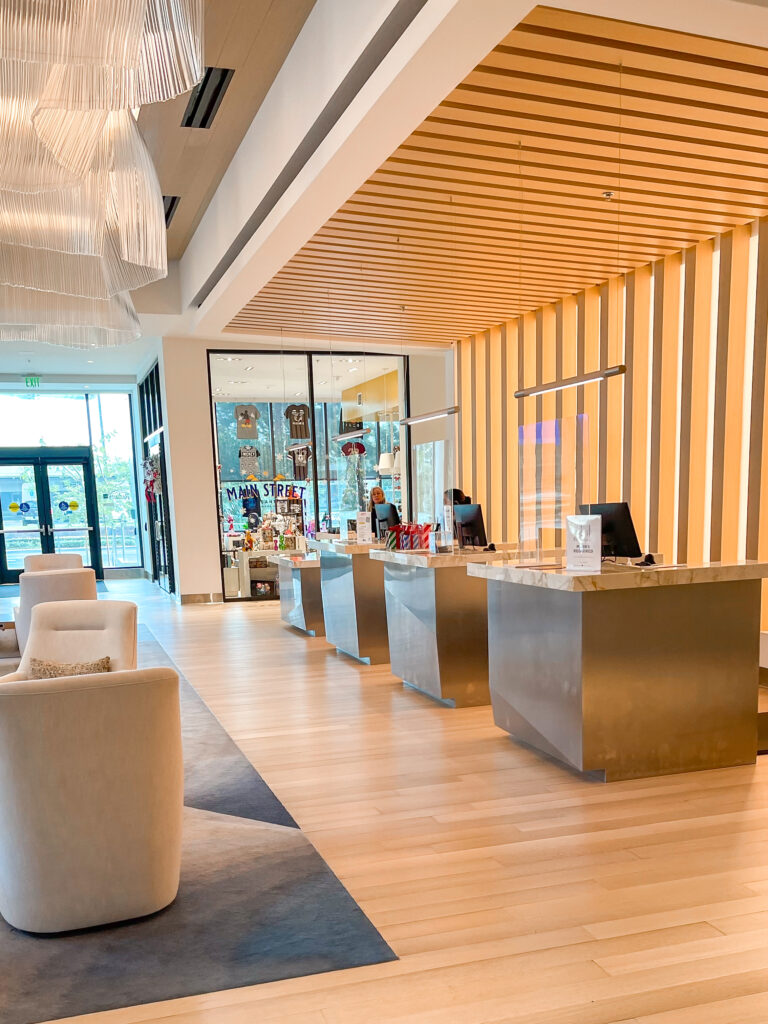 There are fun little details on the main floor, that I thought were really fun, like this view finder featuring pictures from the area.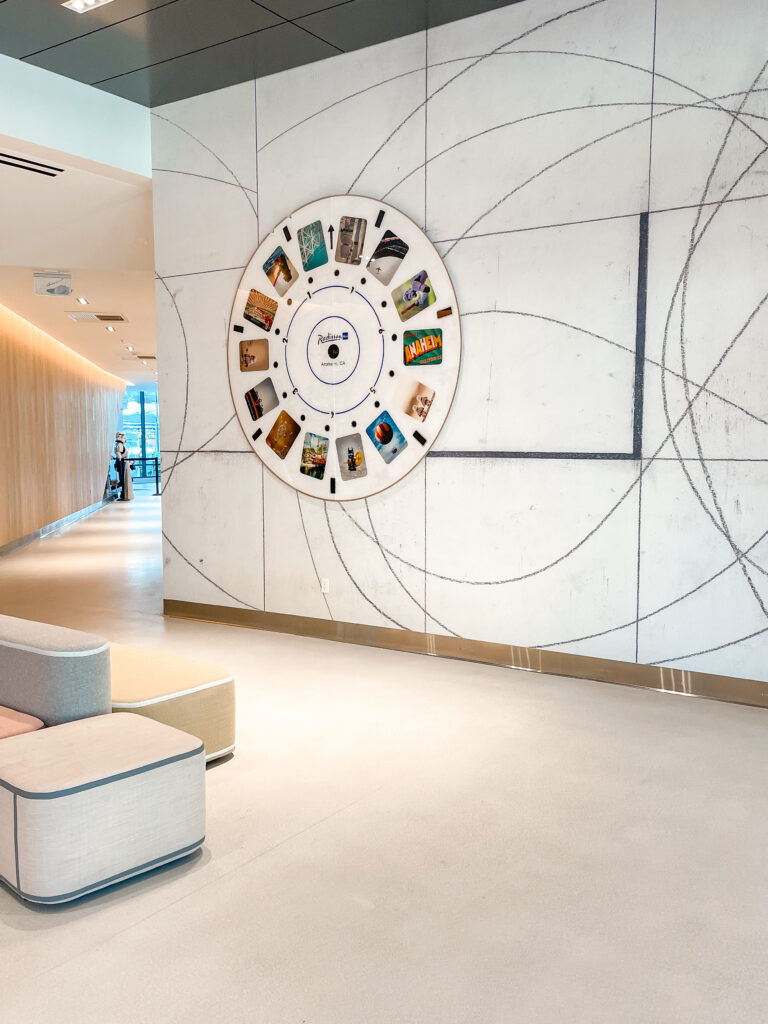 At the end of the hallway you will find three storm troopers which my boys thought was pretty cool.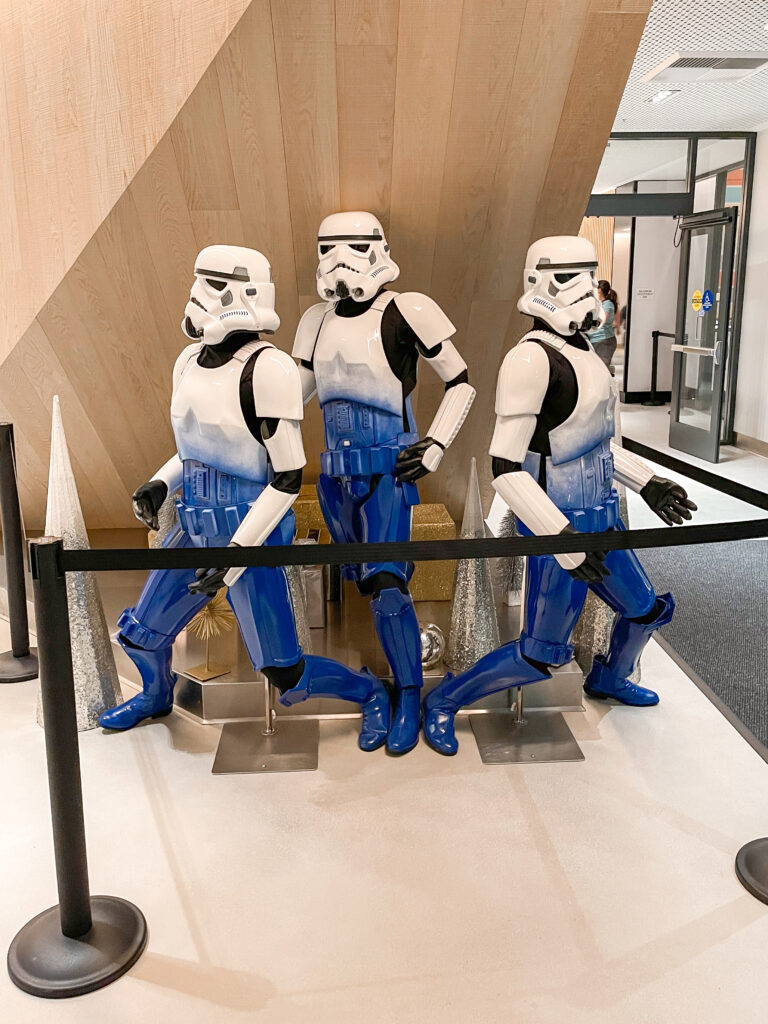 There is also a wall of Disney Lego Mini Figures. We thought it was fun to stop and look at them on the way to the pool to see if we could find our favorite characters.
Check out this giant Lite Brite roller coaster that was on the wall near the elevators. I would totally have one of these in my own house, if I could figure out how to pull it off.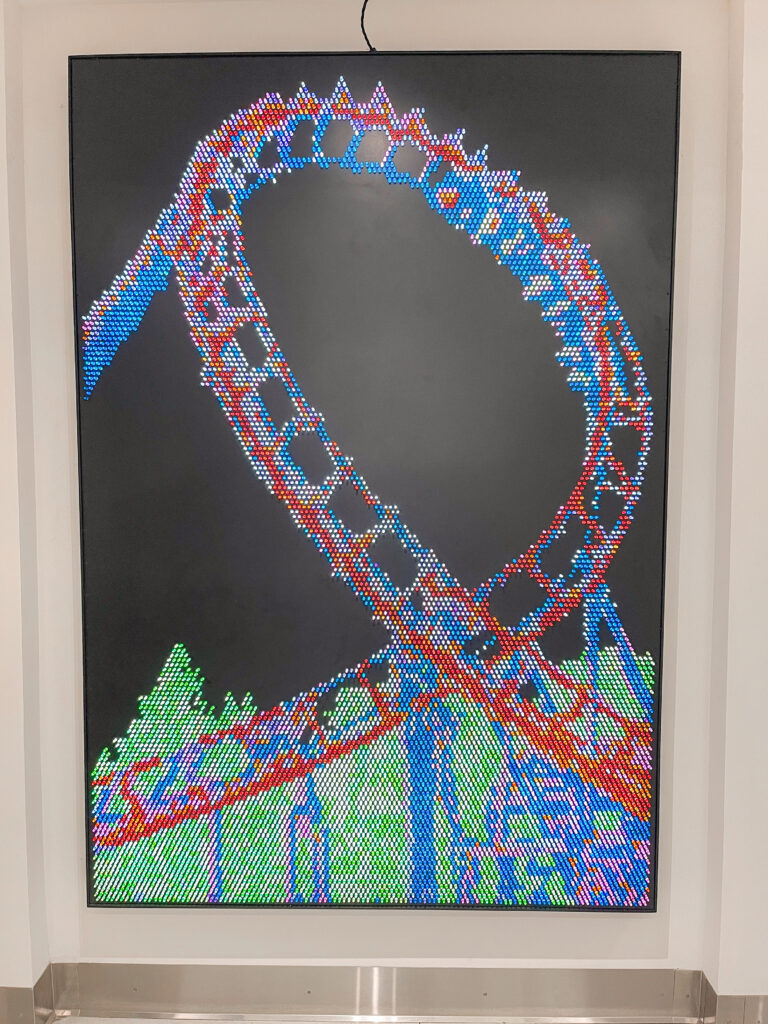 The main floor also has two conference rooms as well as a computer available for guests to use.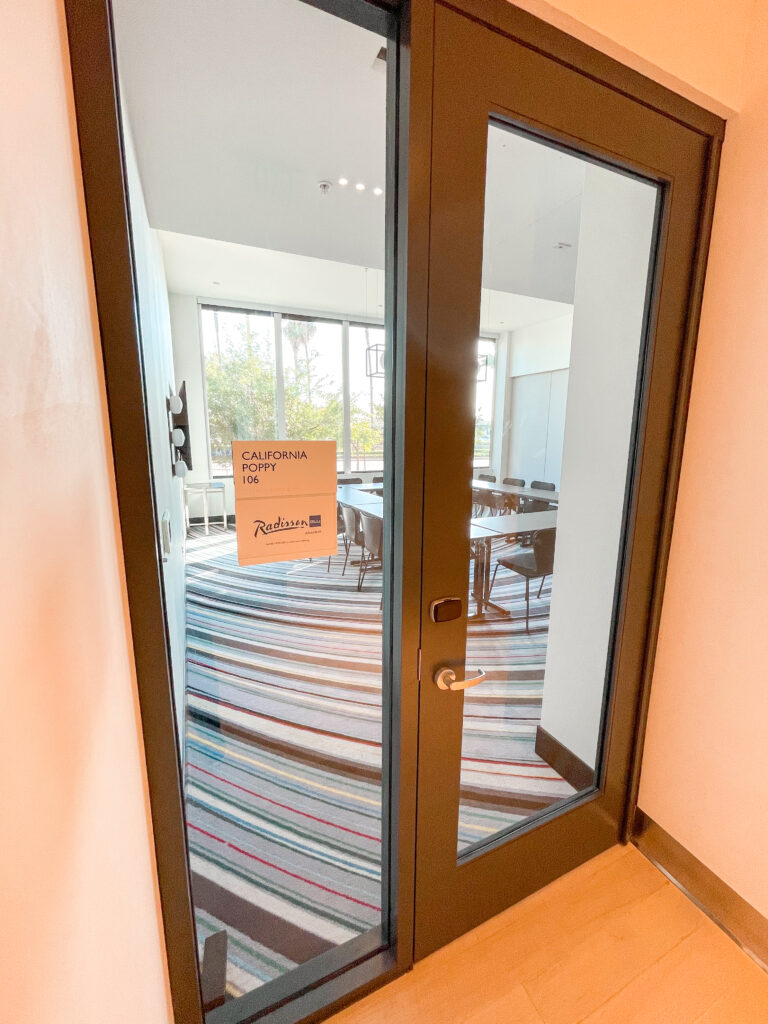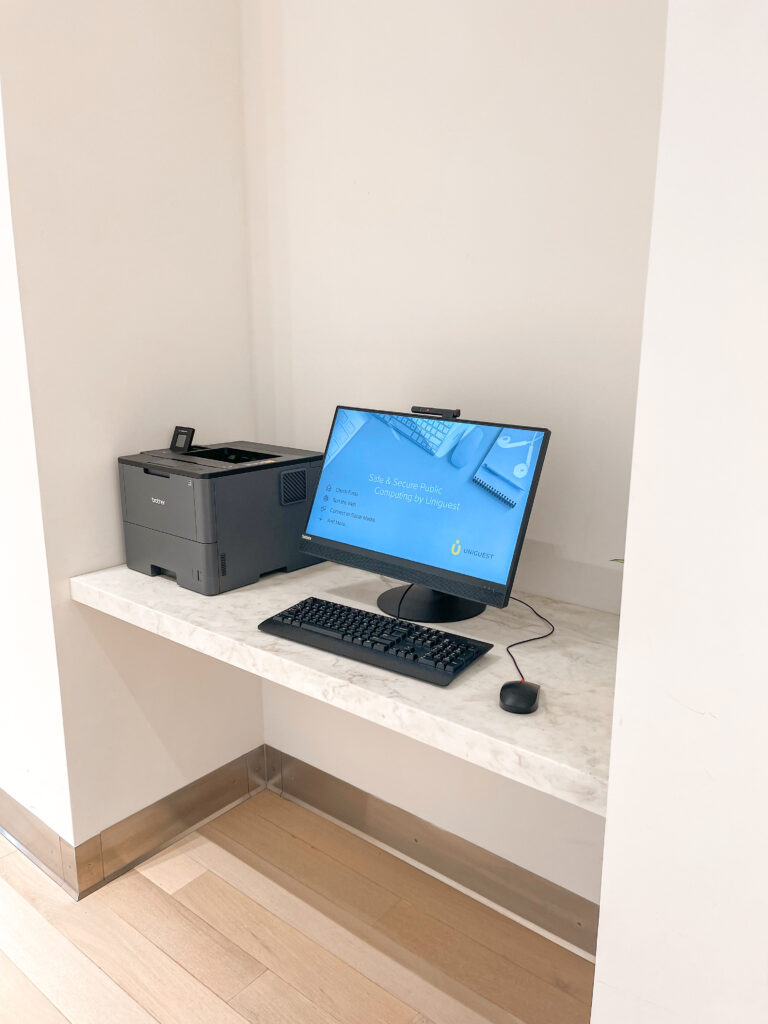 Main Street Mercantile Gift Shop
The hotel's gift shop was amazing. They had everything from Disney t-shirts and hats to Disney lounge fly backpacks. There were also drinks and snacks available to purchase.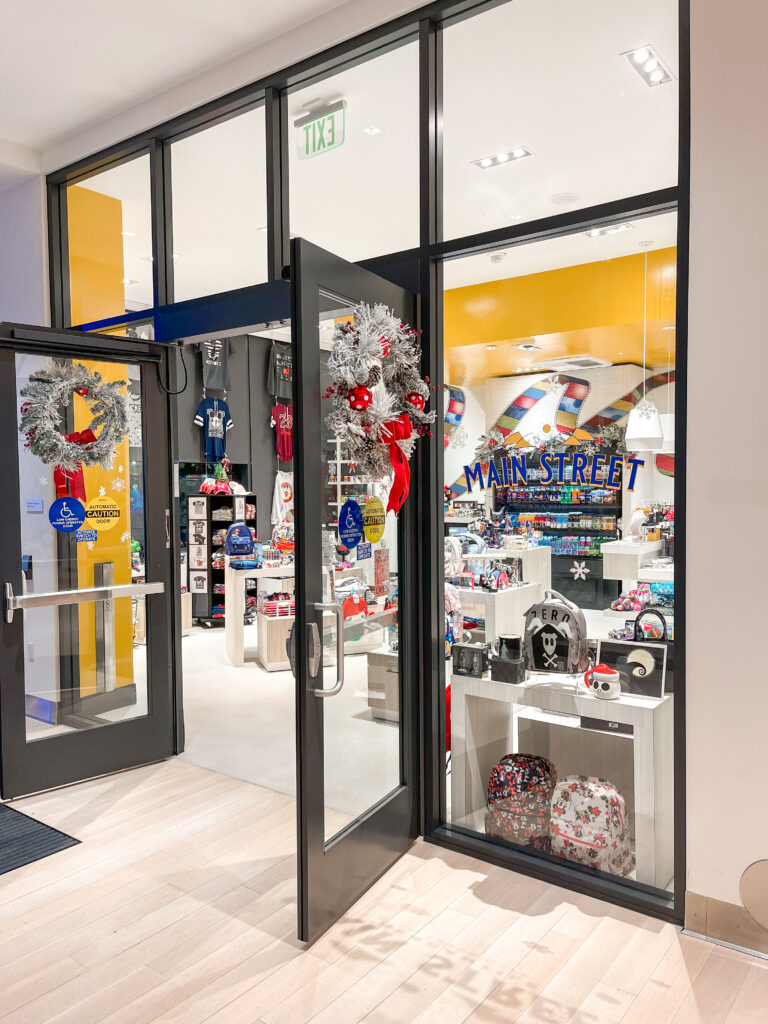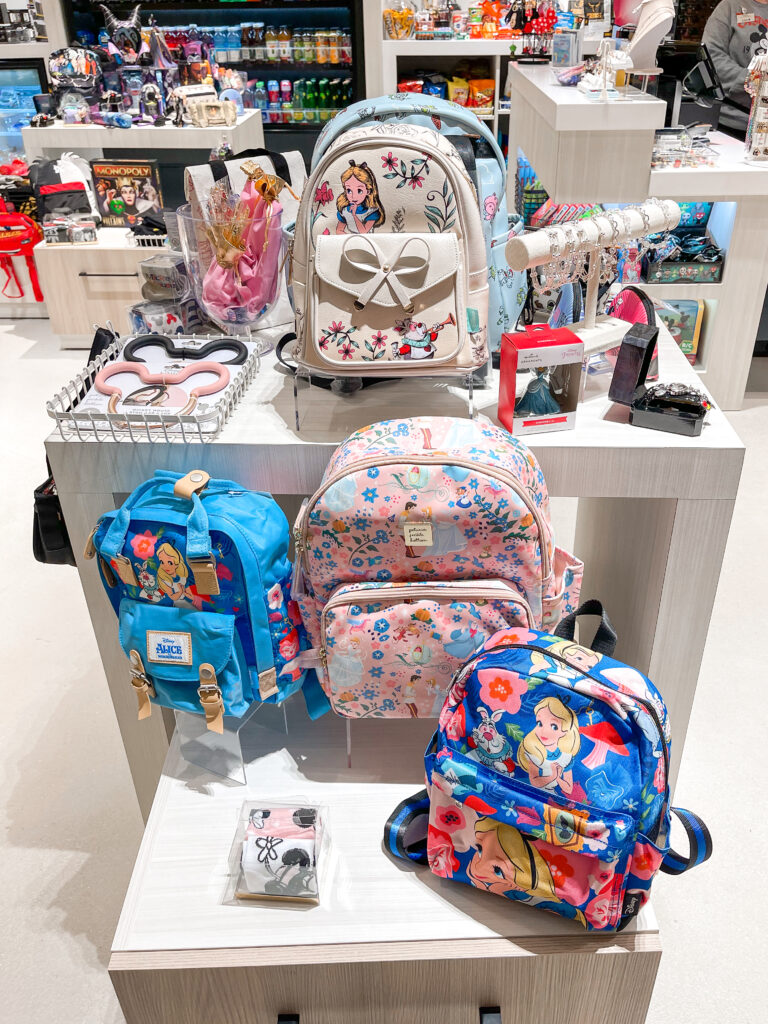 My boys usually earn money to spend at Disneyland before our trip. My 7-year-old decided to use his money to buy this cool storm trooper water bottle with a built in bluetooth speaker.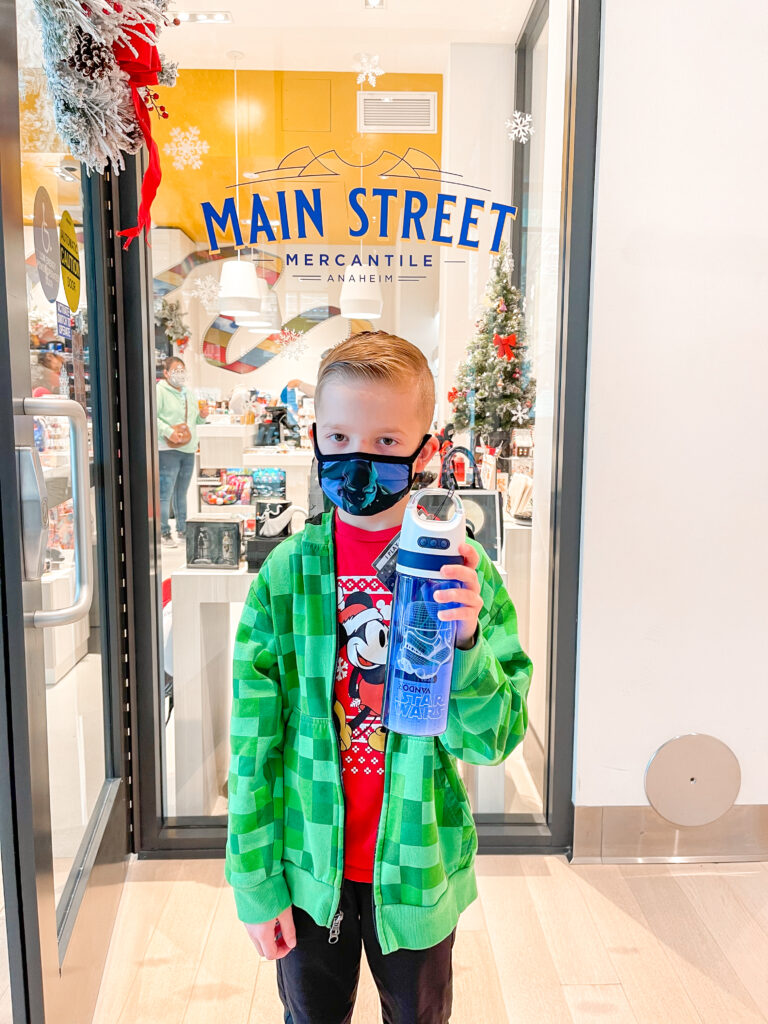 The gift shop is open daily from 8:00 am to 8:00 pm.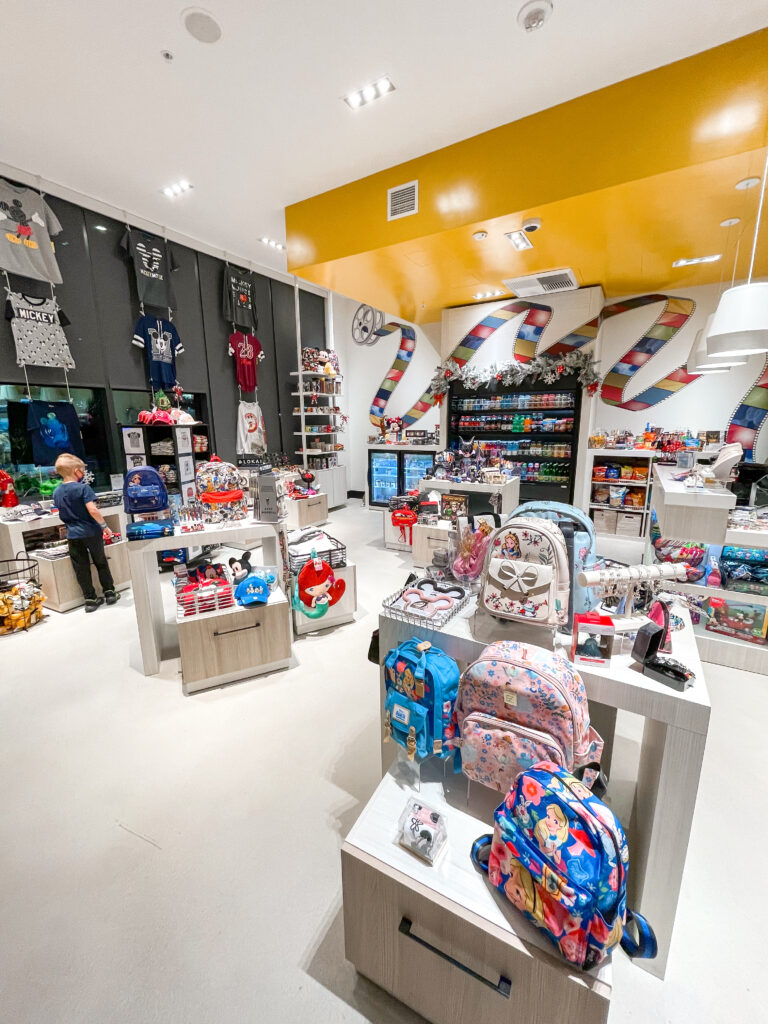 Fitness Center
The fitness center was located on the main floor, down the hall from the lobby and gift shop.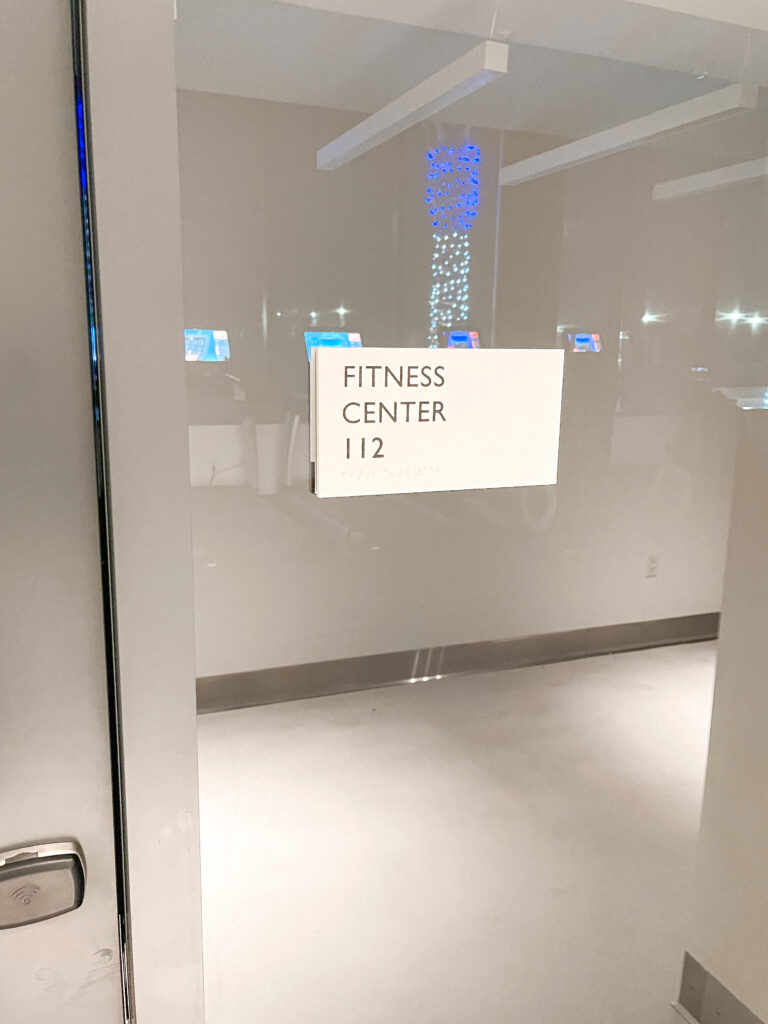 It is very spacious and is equipped with three treadmills, two elliptical machines, free weights and more.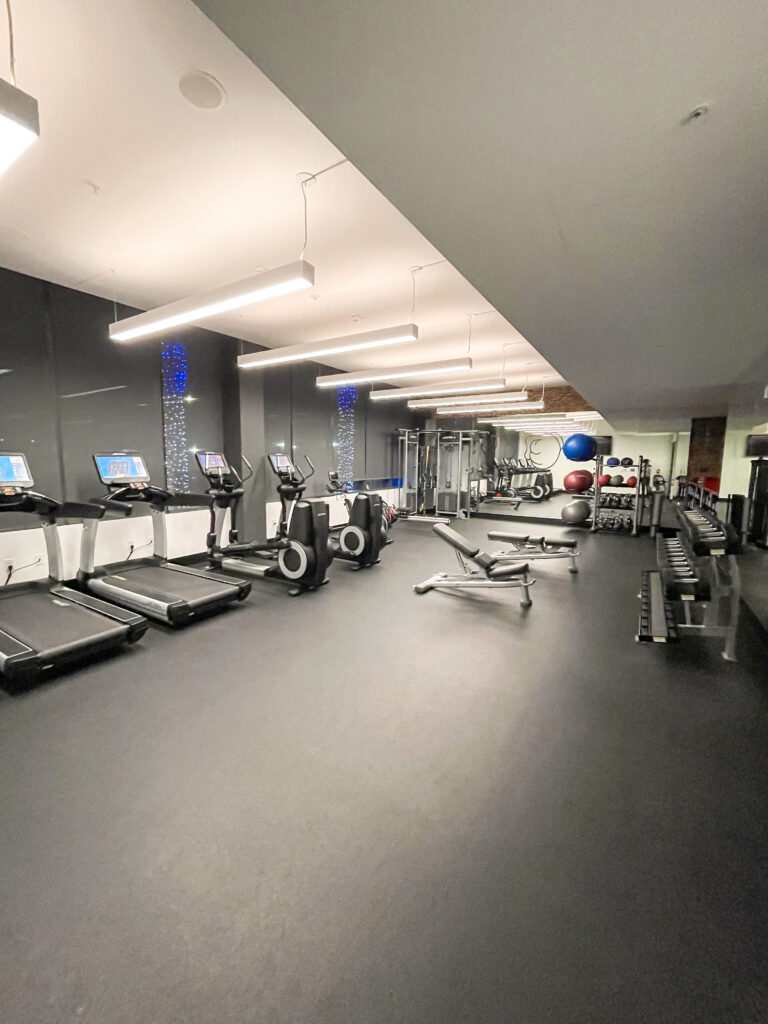 I loved the Mickey Mouse hands on the mirror, it was a great touch!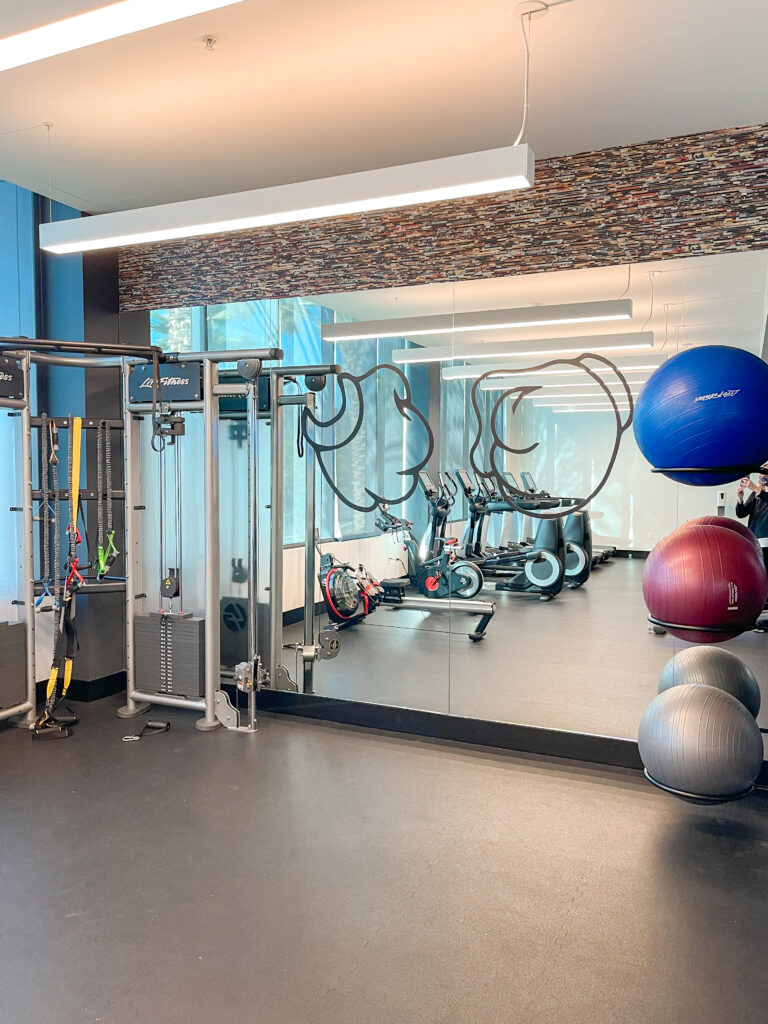 Oasis Pool
The Oasis Pool area was really nice and spacious. There was a large round pool, with really warm water.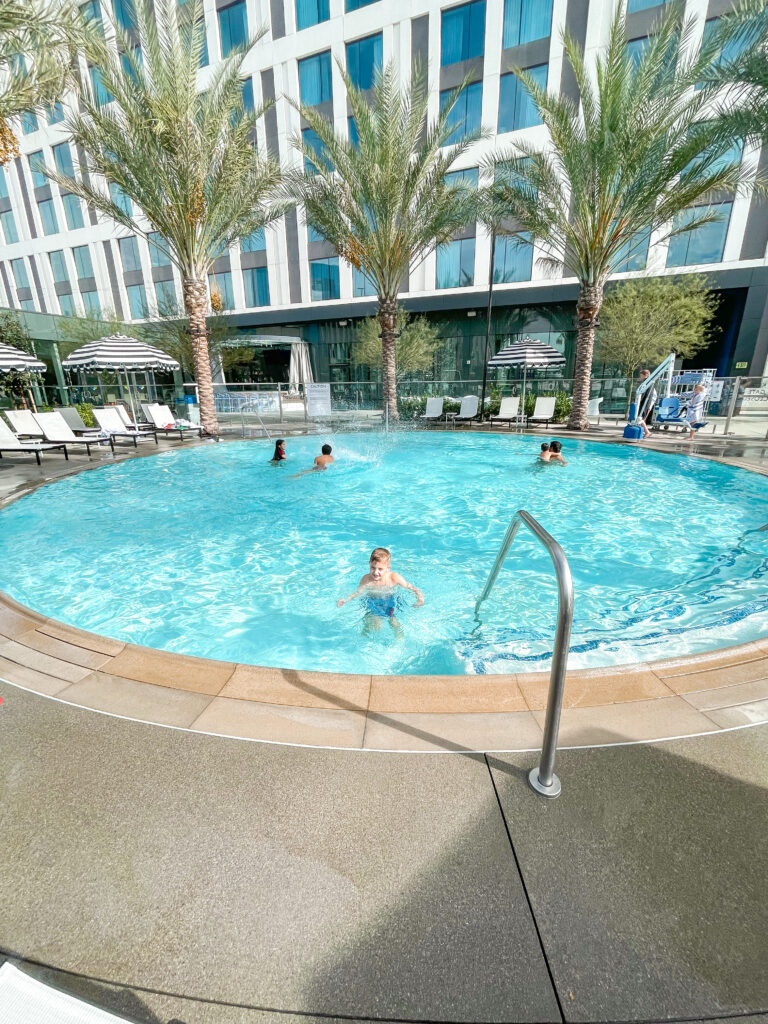 There was also a large hot tub. My boys loved the splash pad, especially at night because they said the water looked like lightsabers.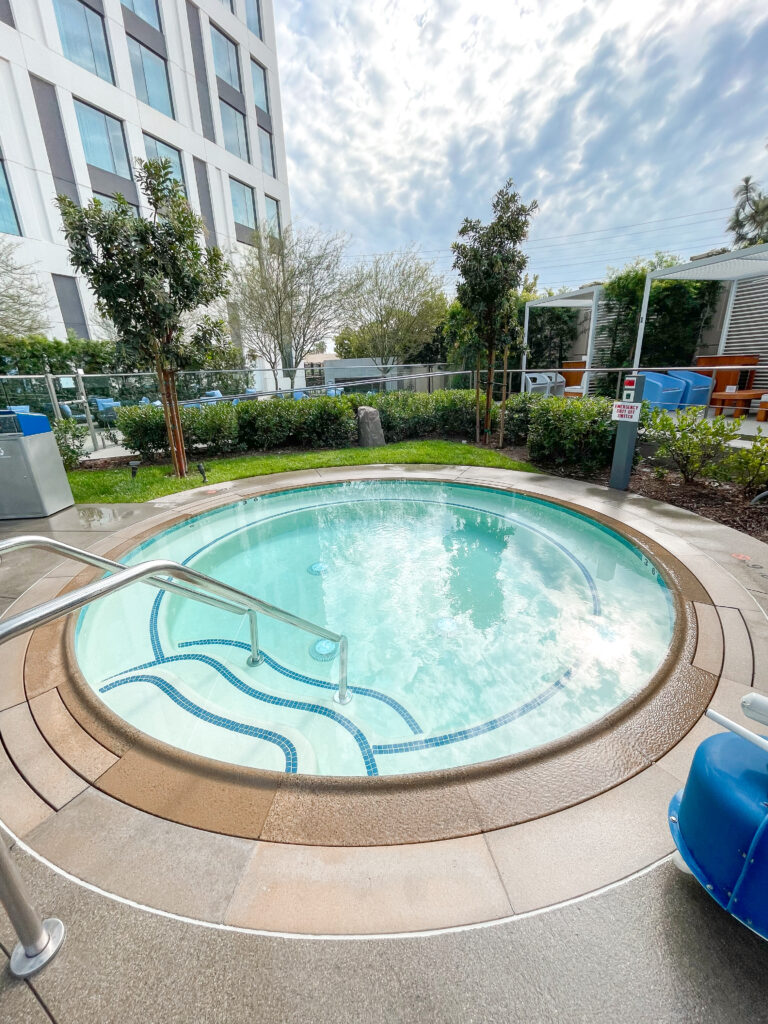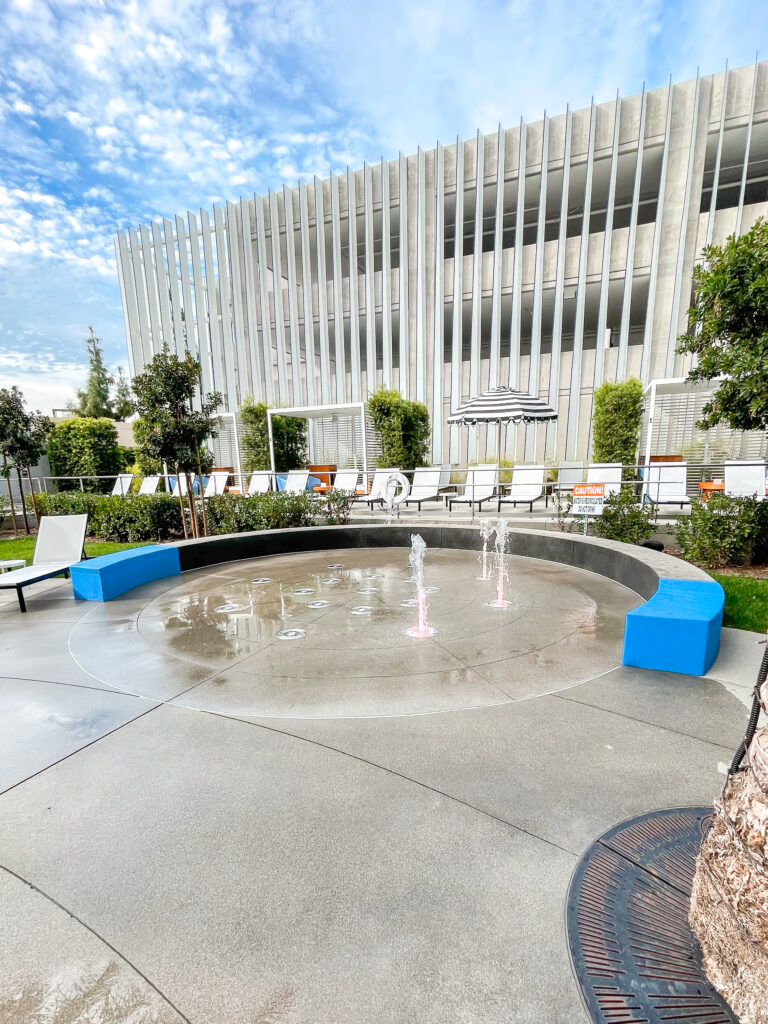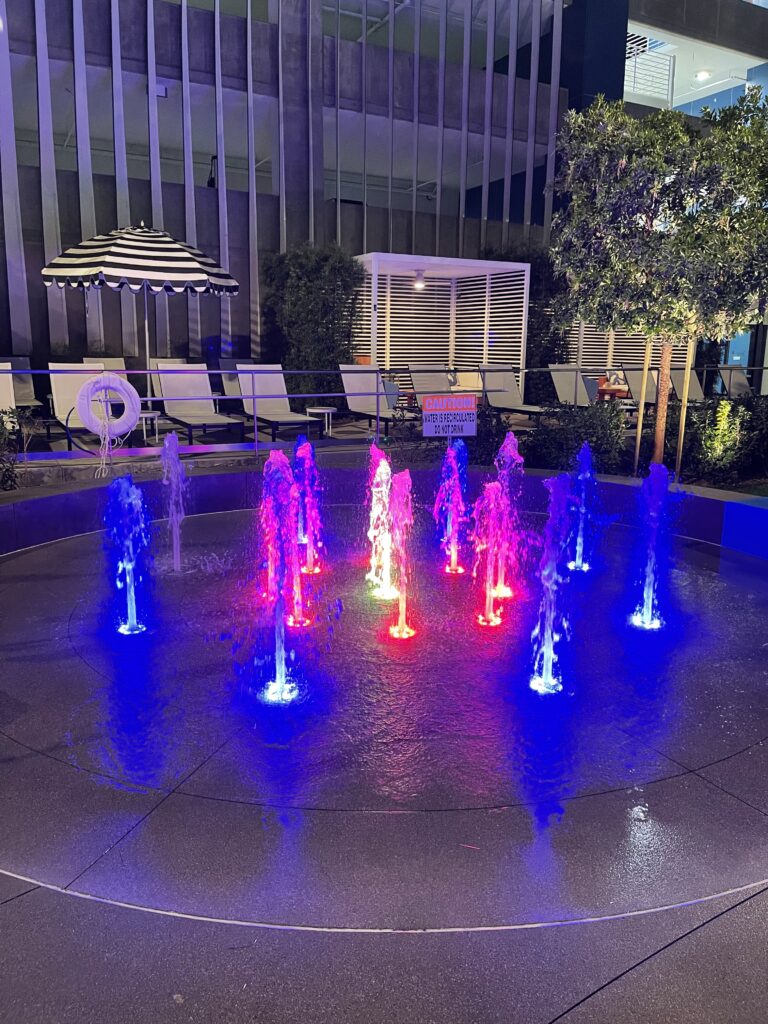 If swimming is not your thing, there were a lot of lounge chairs and umbrellas around the pool.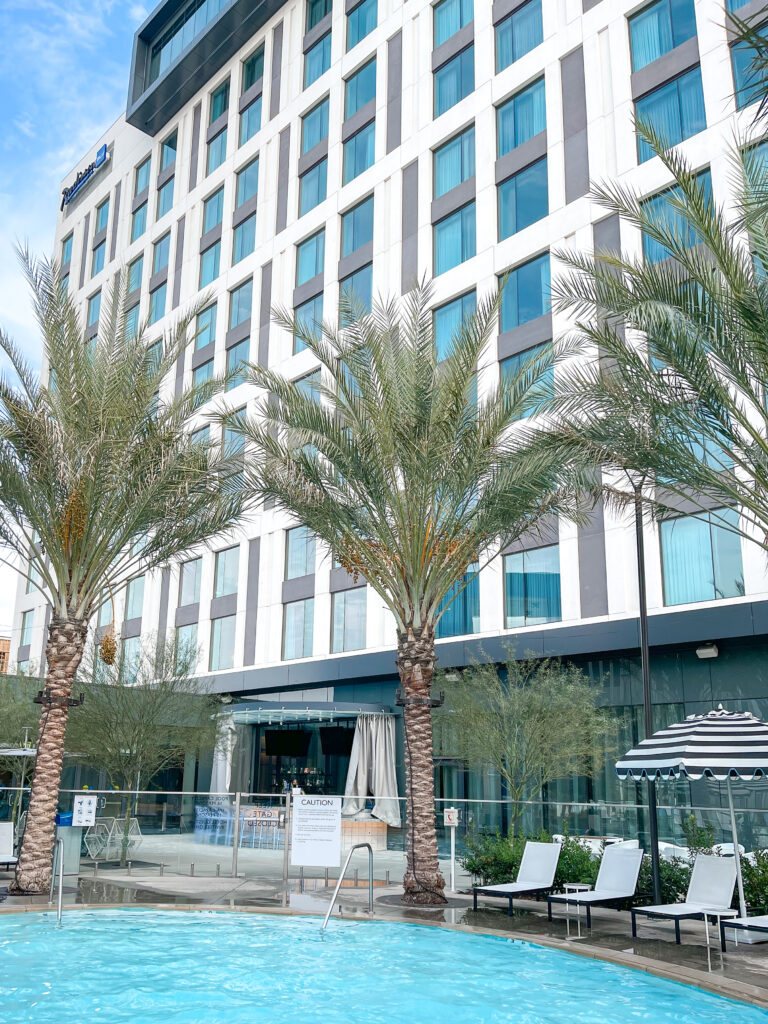 Surrounding the pool area are cabanas with fans and mini refrigerators that are available for rent from the hotel.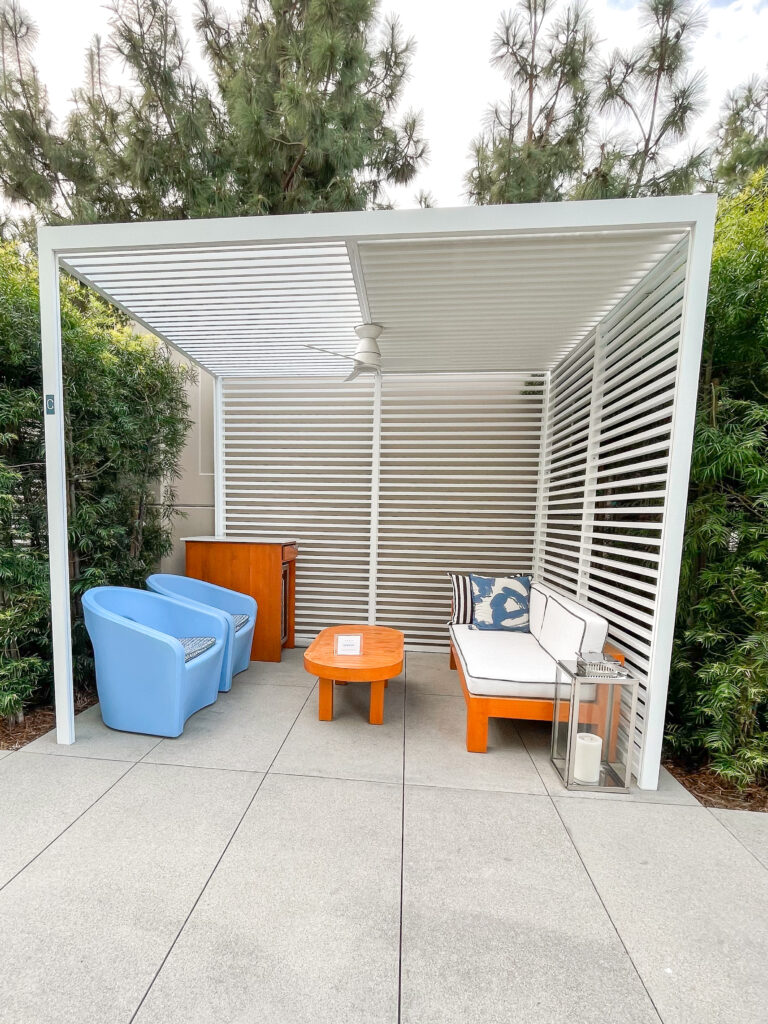 Disneyland Fireworks
Earlier, I gave you a glimpse of the amazing view from our room. One of there perks of having a theme park view is that you can watch the Disneyland fireworks, right from your hotel room!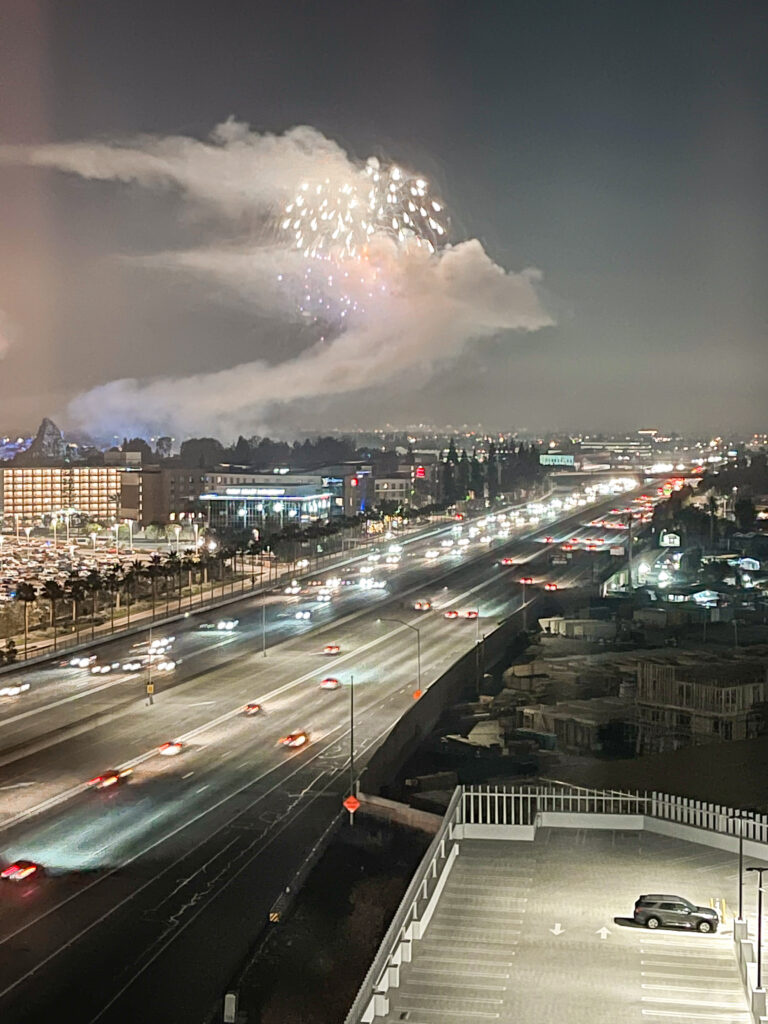 Fire Lake Grillhouse & Cocktail Bar
The hotel was nice enough to offer us breakfast at Fire Lake Grill House & Cocktail Bar located on the first floor at Radisson Blu Anaheim.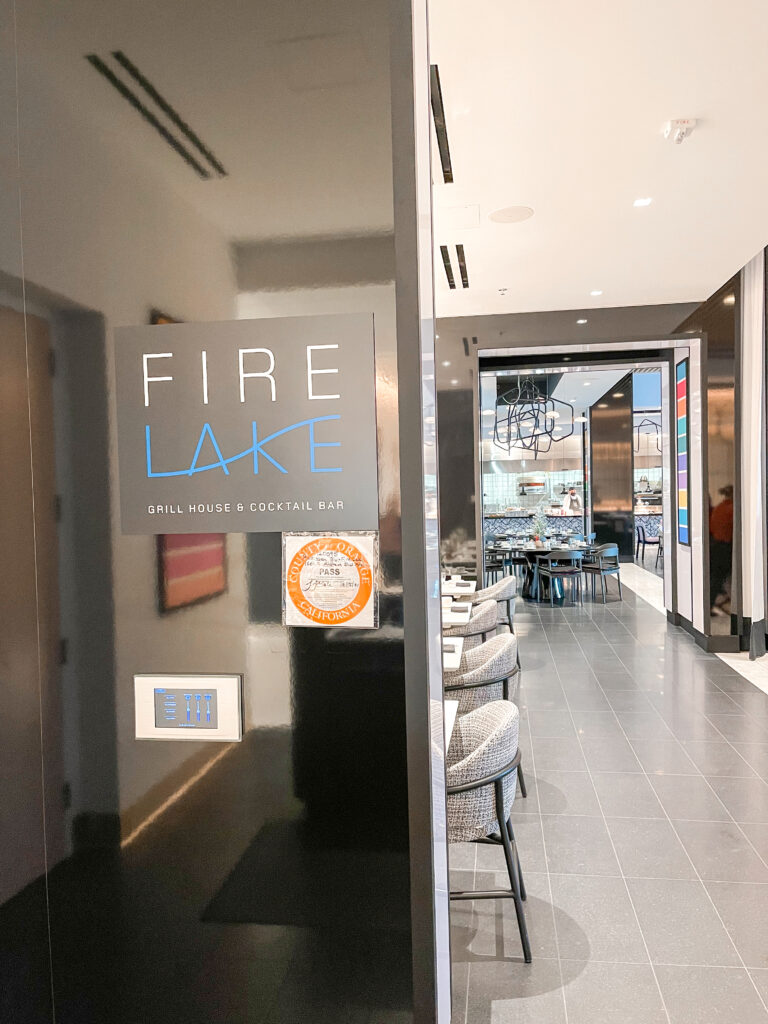 Some of the menu items include: yogurt and granola, egg dishes, pancakes, and more.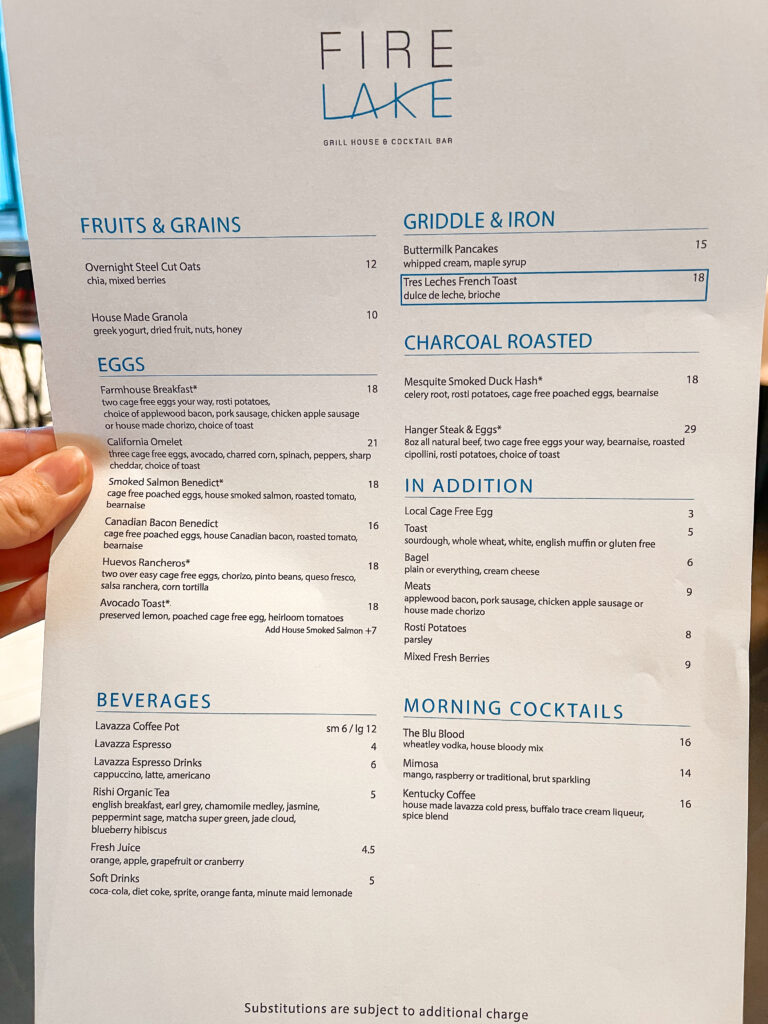 Two of my boys and I ordered the buttermilk pancakes, my husband ordered the overnight oats, and my youngest son ordered the Fire Lake breakfast from the kids menu.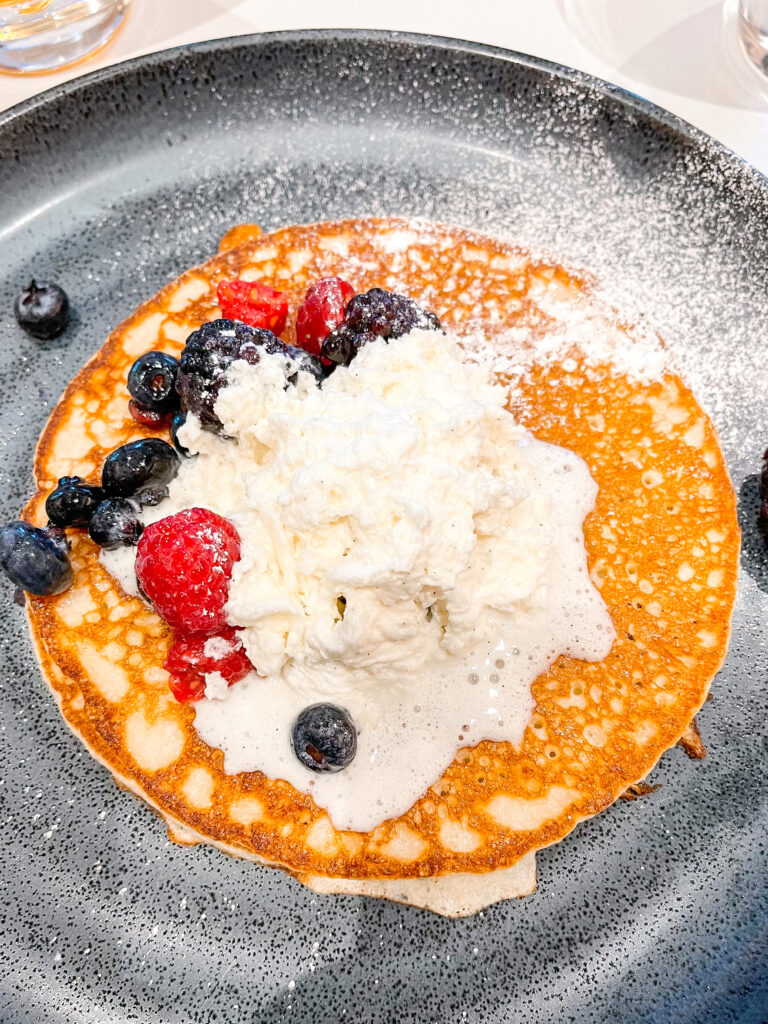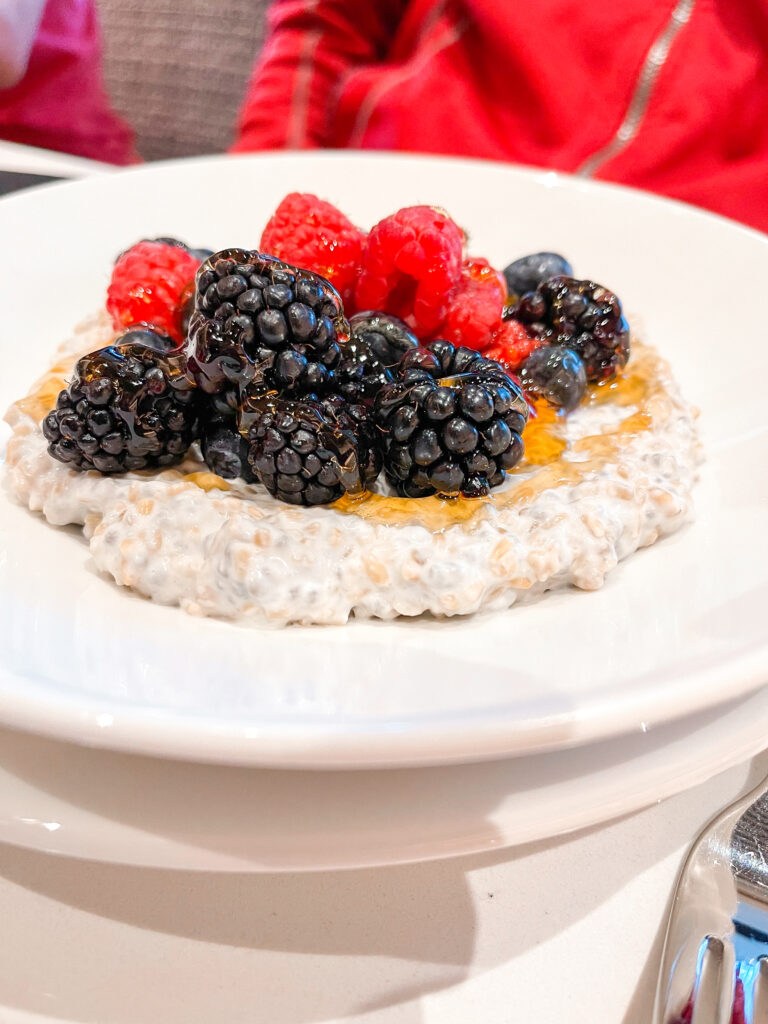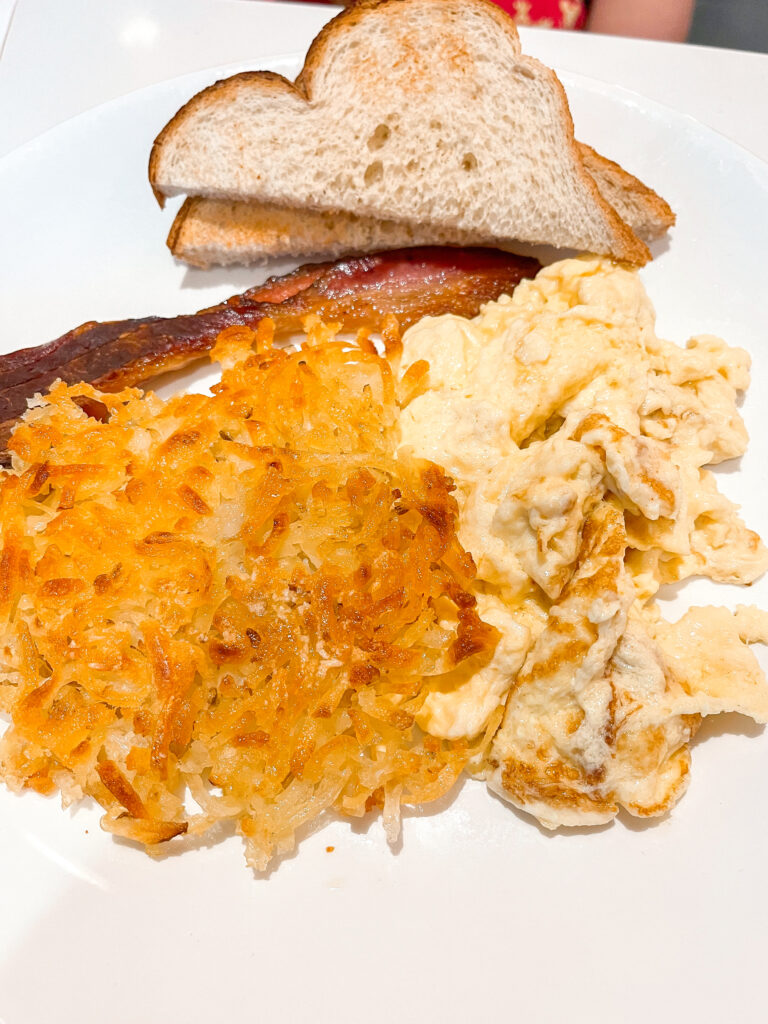 Fire Lake Grillhouse is open Thursday through Monday from 7 am – 10:30 am for breakfast and 5:00 pm – 10 pm for dinner.
Blu Marketplace
Also on the first floor is the Blu Marketplace. Located in the lobby, you will find coffee & tea, pastries & sandwiches, and to go snacks from 6:30 am to 2:00 pm.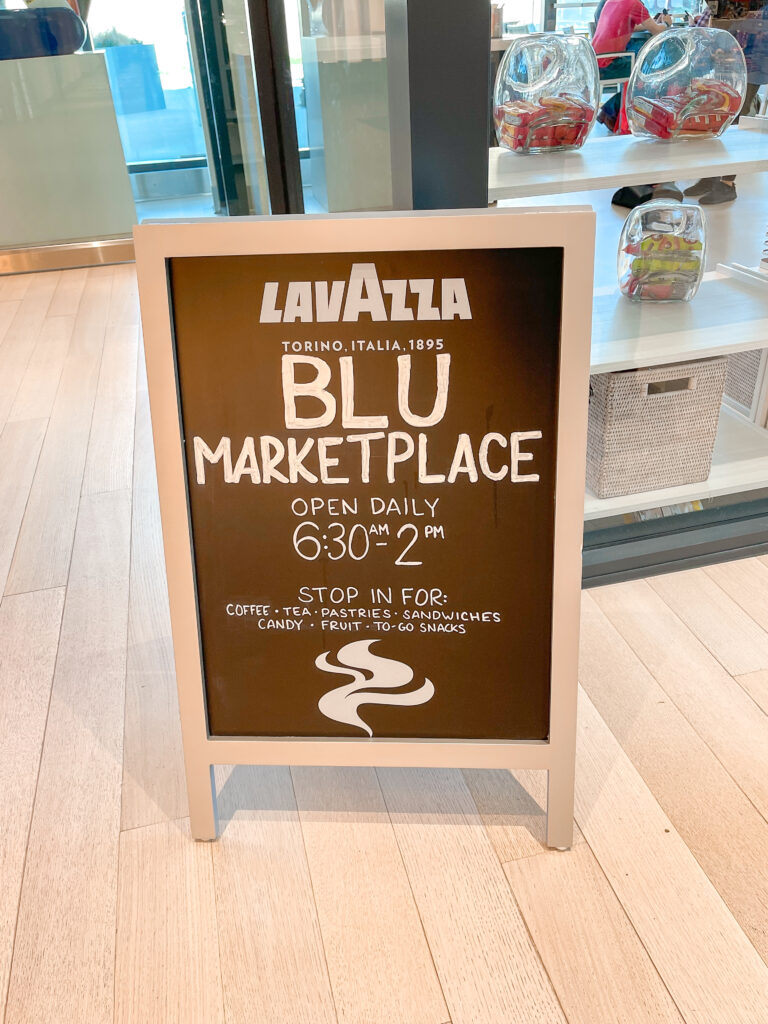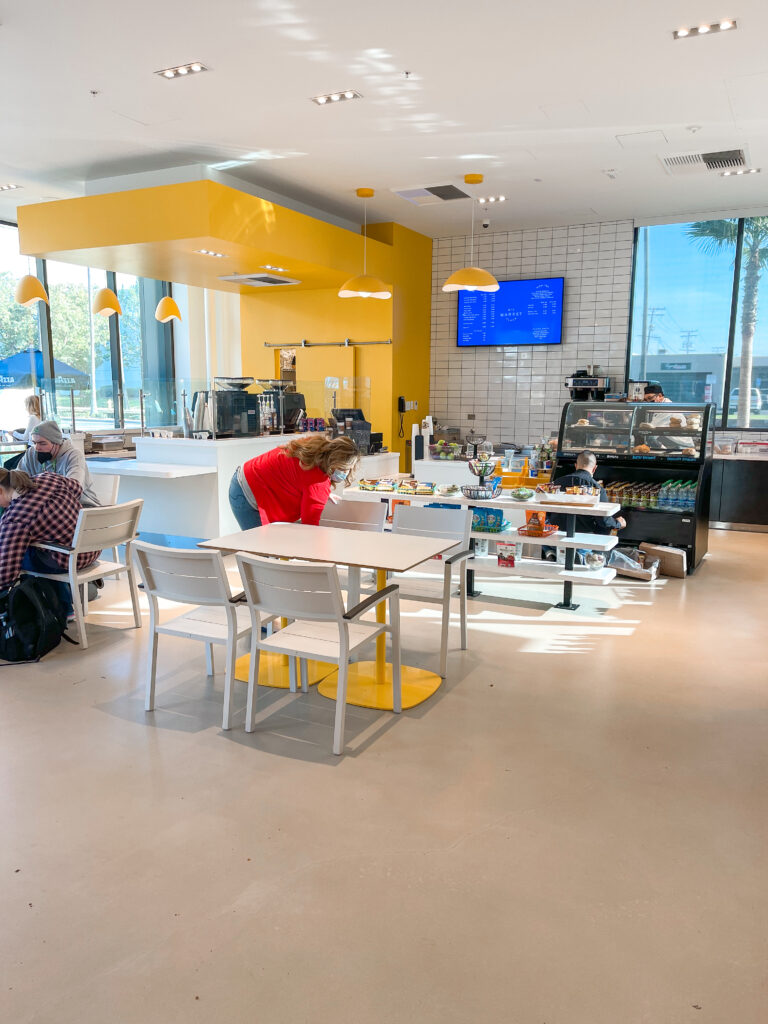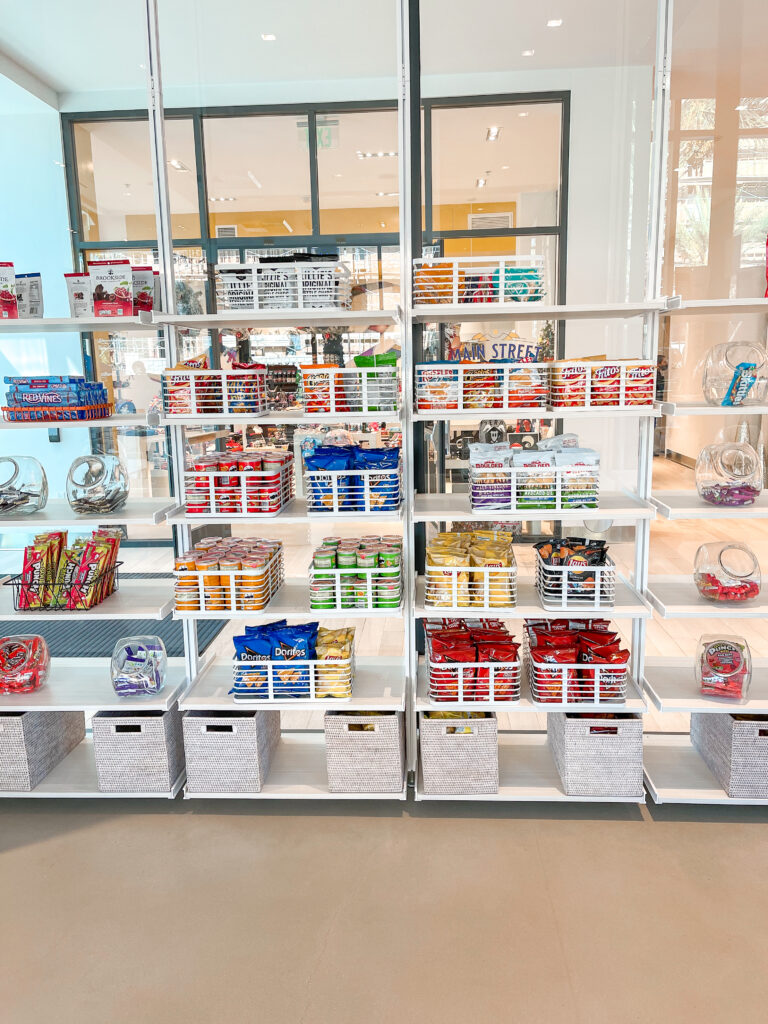 Distance to Disneyland
Radisson Blu is located about a mile and a half from Disneyland. We decided to Uber to the parks and for the five of us it was about $10 each way and only took about 4 minutes.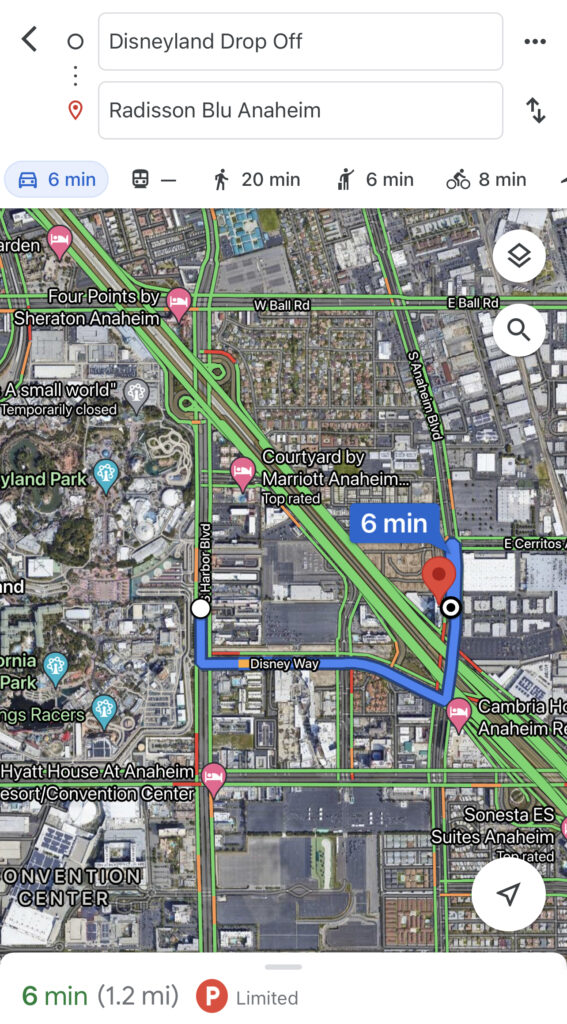 If you prefer to take the Anaheim Rapid Transit shuttle to Disneyland, pick up and drop off is located directly outside the main lobby. A day pass will cost $6 for adults, and $3 for children. Passes may be purchased from the front desk.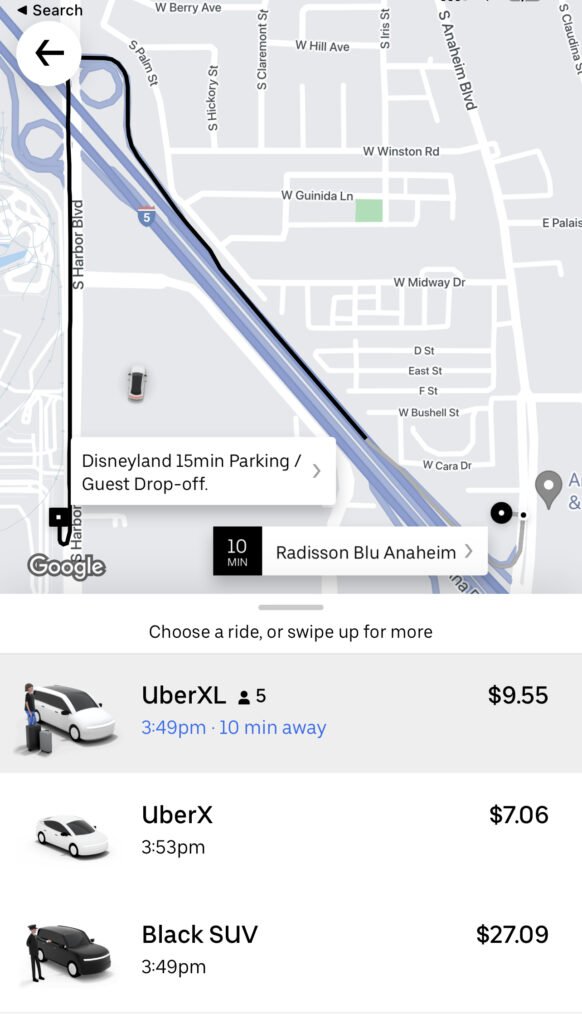 Blue Sky Restaurant & Bar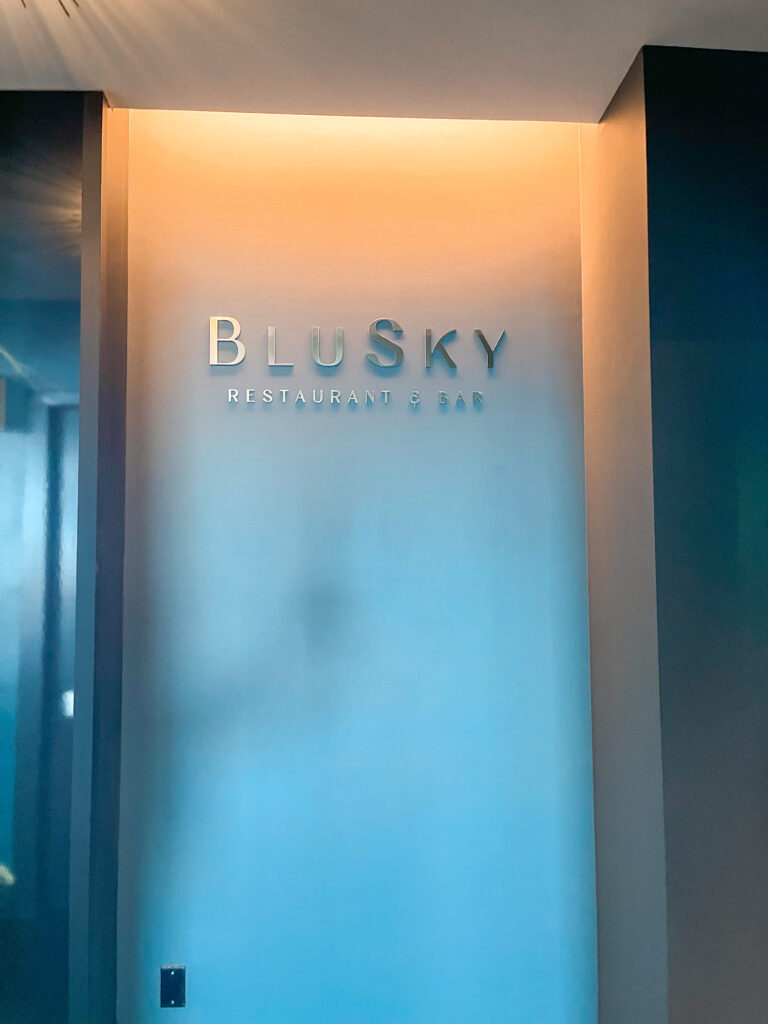 BluSky Restaurant & Bar is located on the 12th floor of Radisson Blu Anaheim and is open Tuesday through Saturday from 5:00 pm to 10:00 or 11:00 pm.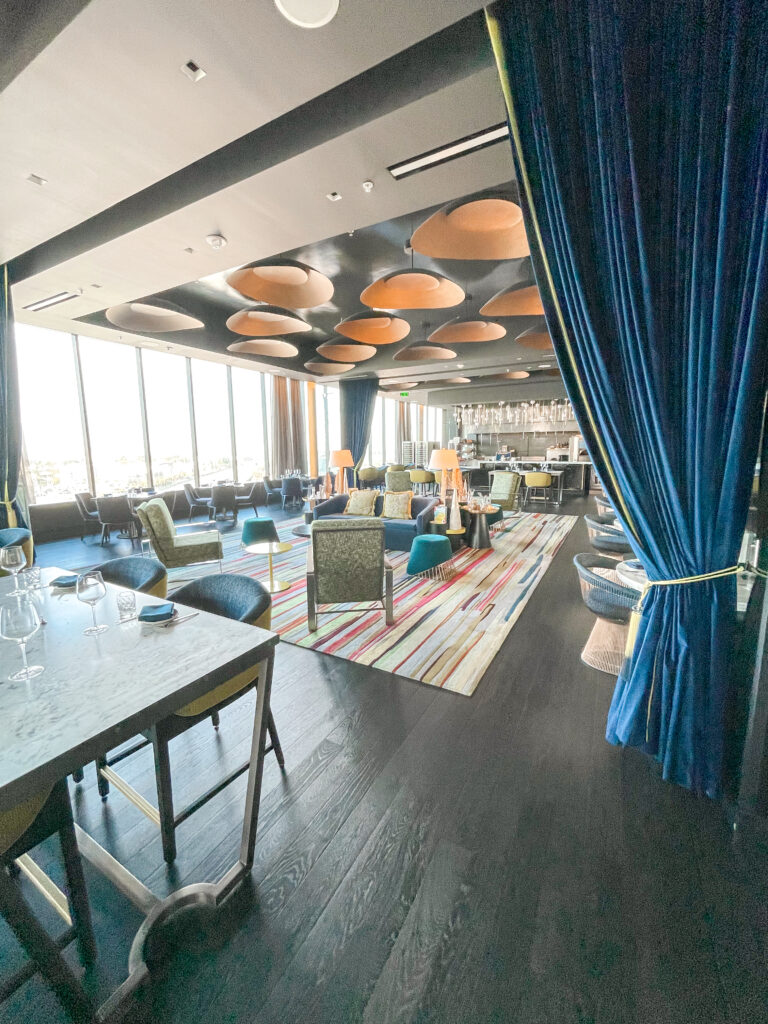 This restaurant offers amazing views of Anaheim and specifically Disneyland.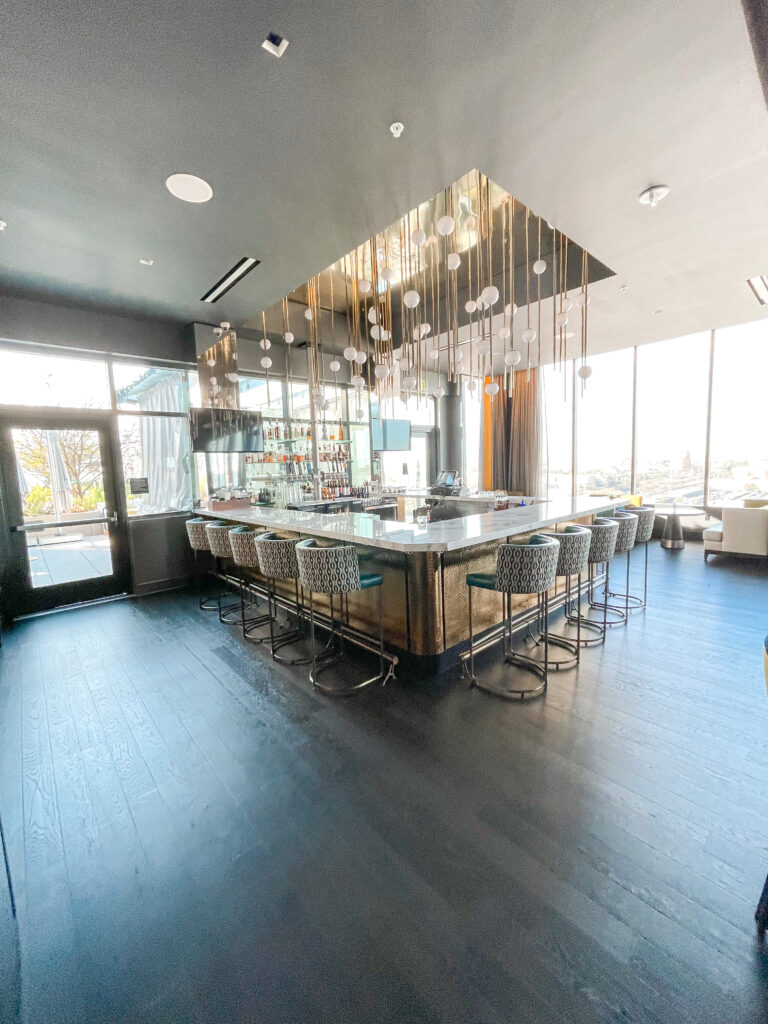 Rooftop Pool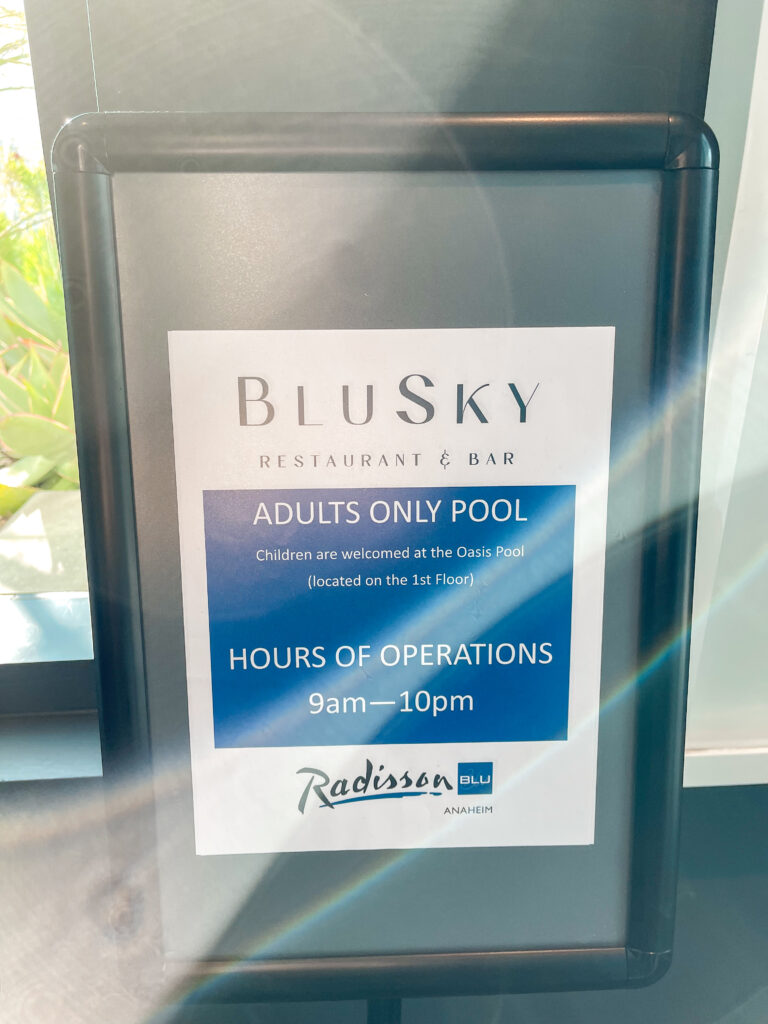 Also located on the 12th floor of the hotel, is the Rooftop pool. This pool and hot tub are open daily from 9 am to 10 pm and are for adults only.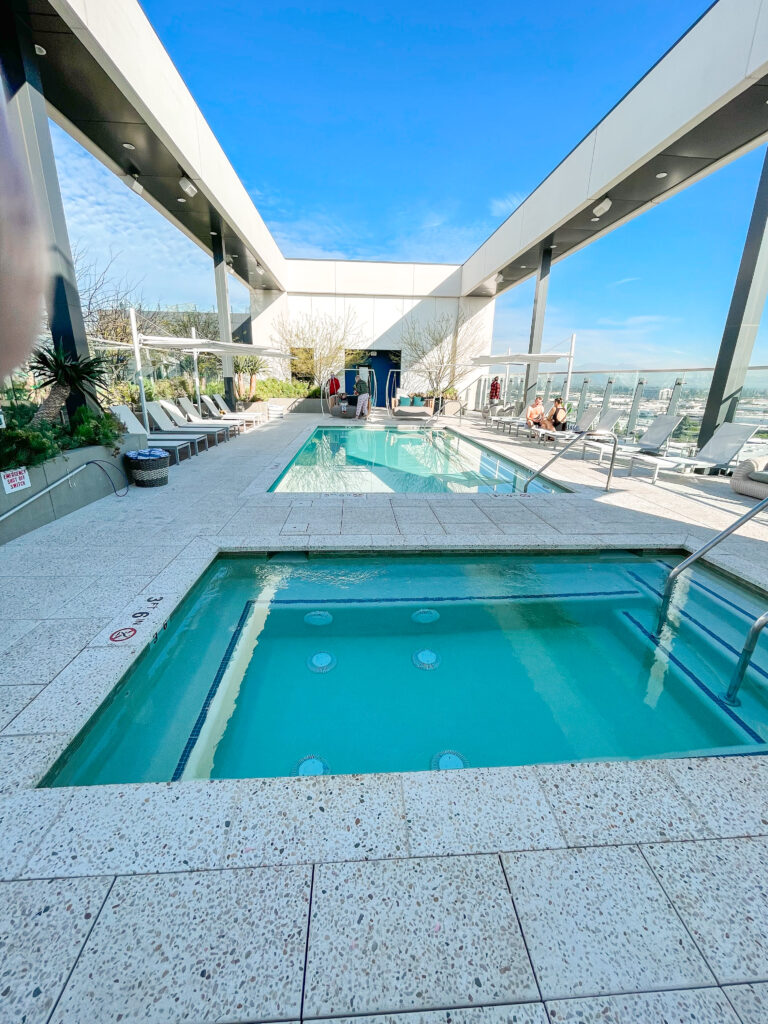 There is also outdoor seating on the roof top with outdoor heaters that will allow you to enjoy the views of Disneyland as well.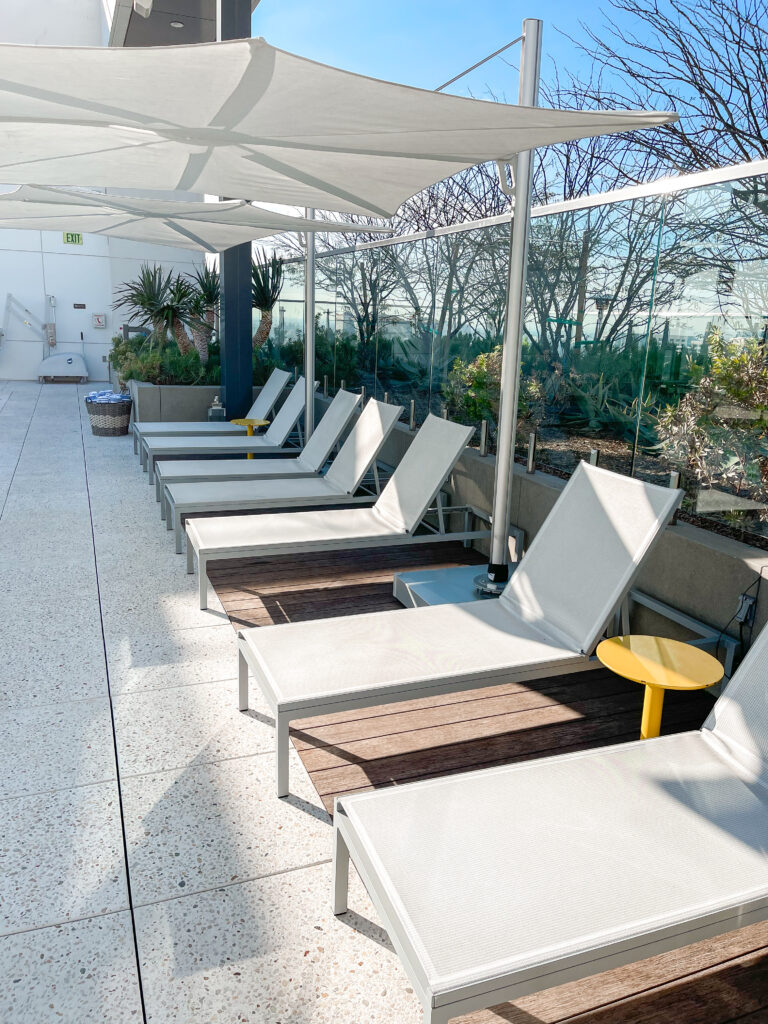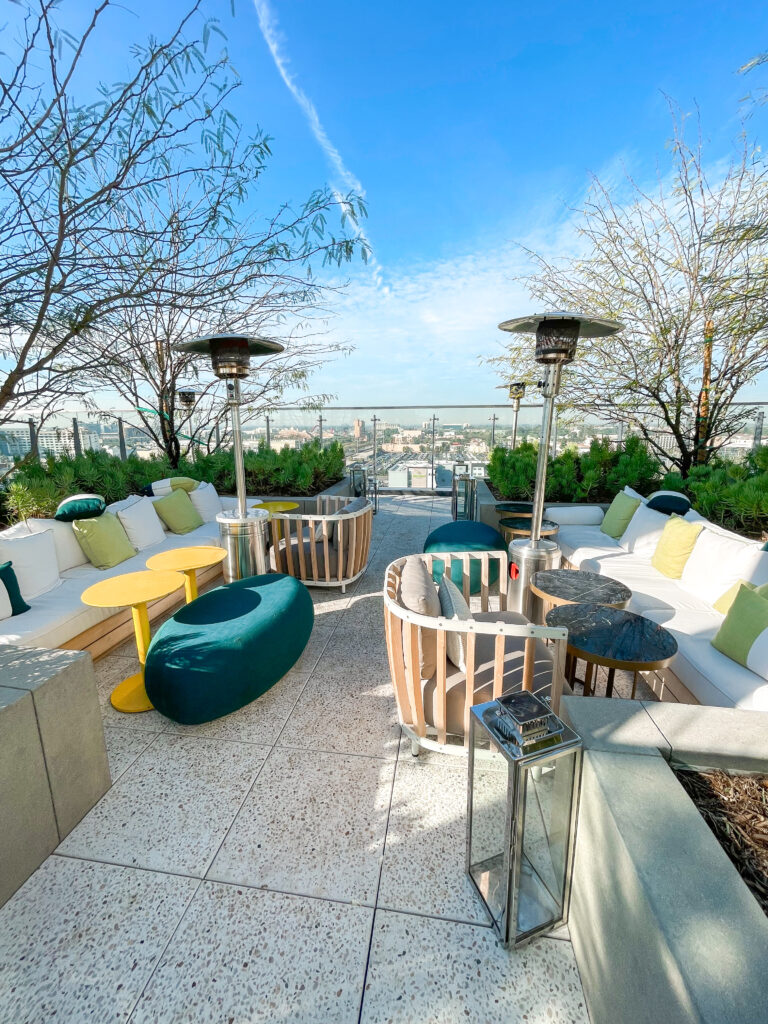 Guest Laundry
Laundry facilities for hotel guests are located on the 11th floor. The cost is $2.00 per load to wash and $2.00 per load to dry.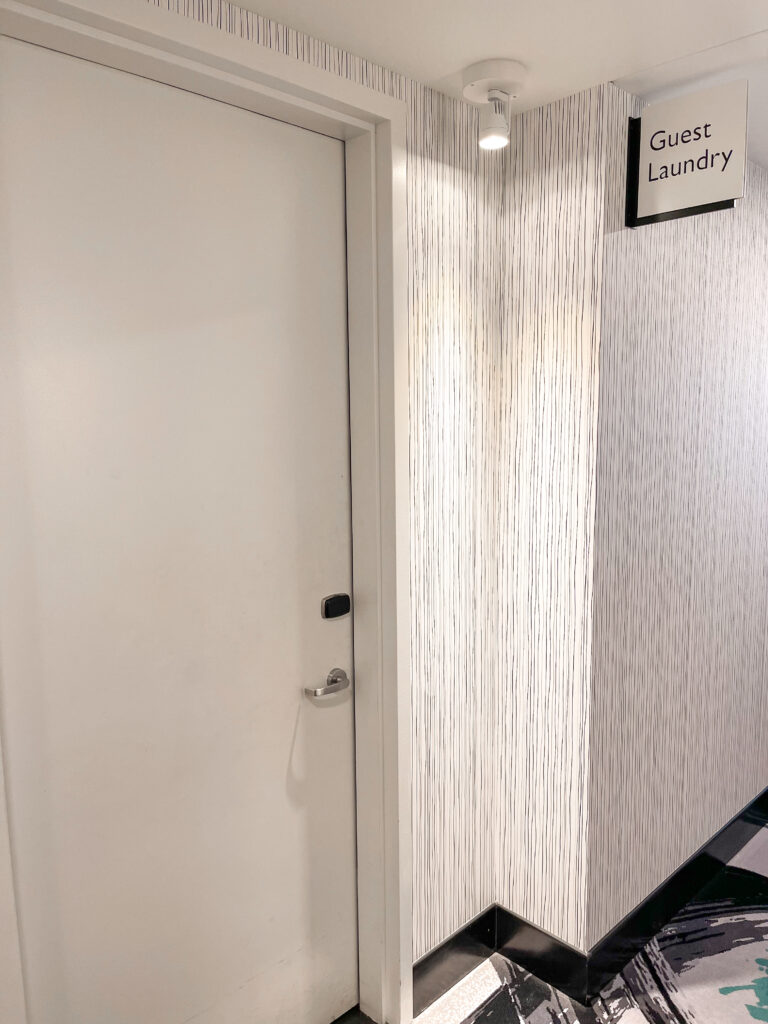 Dry cleaning and professional laundry service is also available.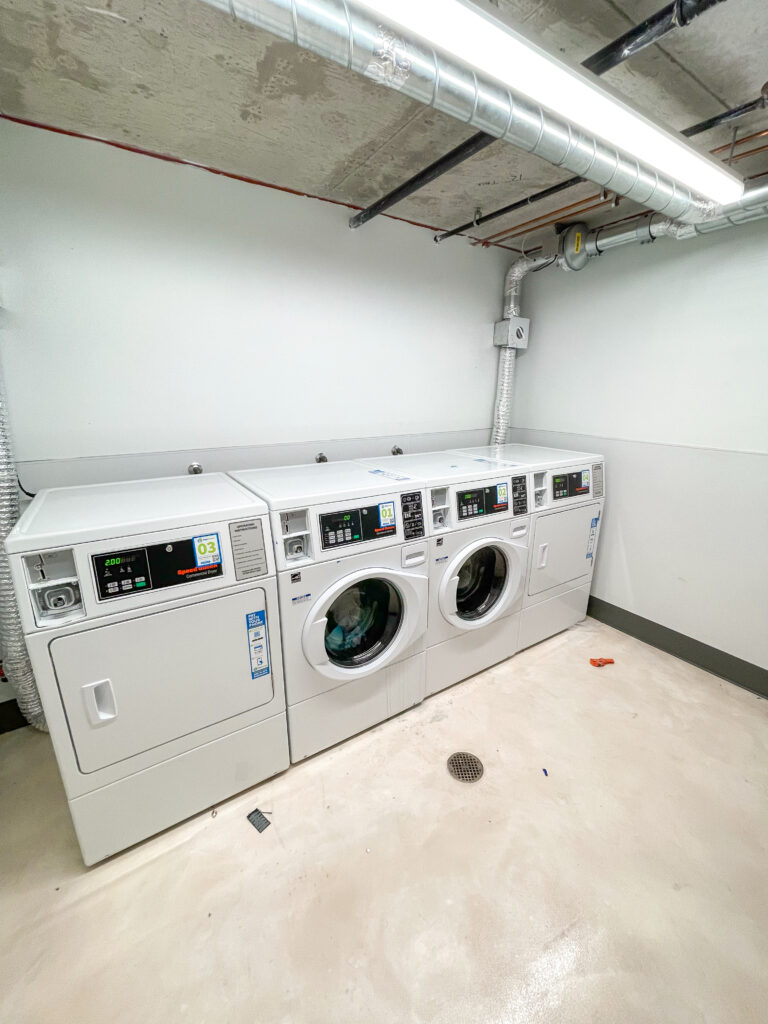 Radisson Blu Anaheim Helpful Information
A few more things to know about Radisson Blu Anaheim is that a daily housekeeping refresh is offered each day that includes new towels and trash removal. Full housekeeping service will occur after the 3rd day of your stay if applicable.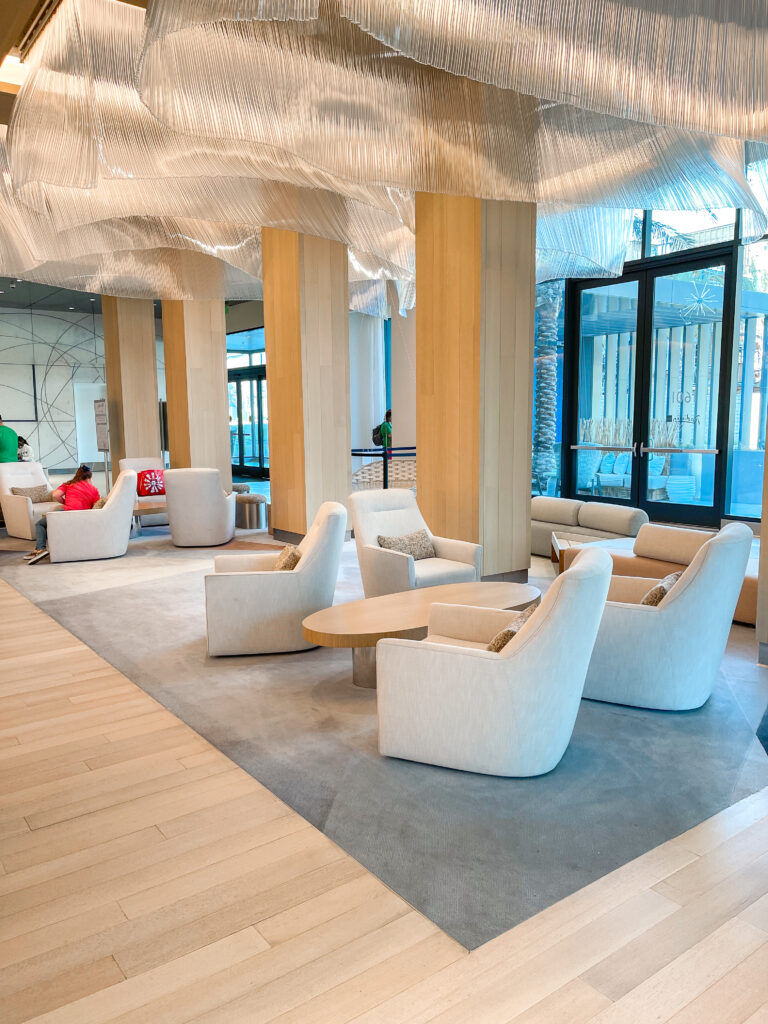 Radisson Blu is a pet-friendly hotel and will collect a $100 non-refundable pet fee charged to your room. No fee is charged for service animals.
I hope you enjoyed this tour of Radisson Blu in Anaheim. We really liked our stay here and will definitely stay again. If you have and questions about our stay, feel free to leave them in the comments below and I will be happy to reply.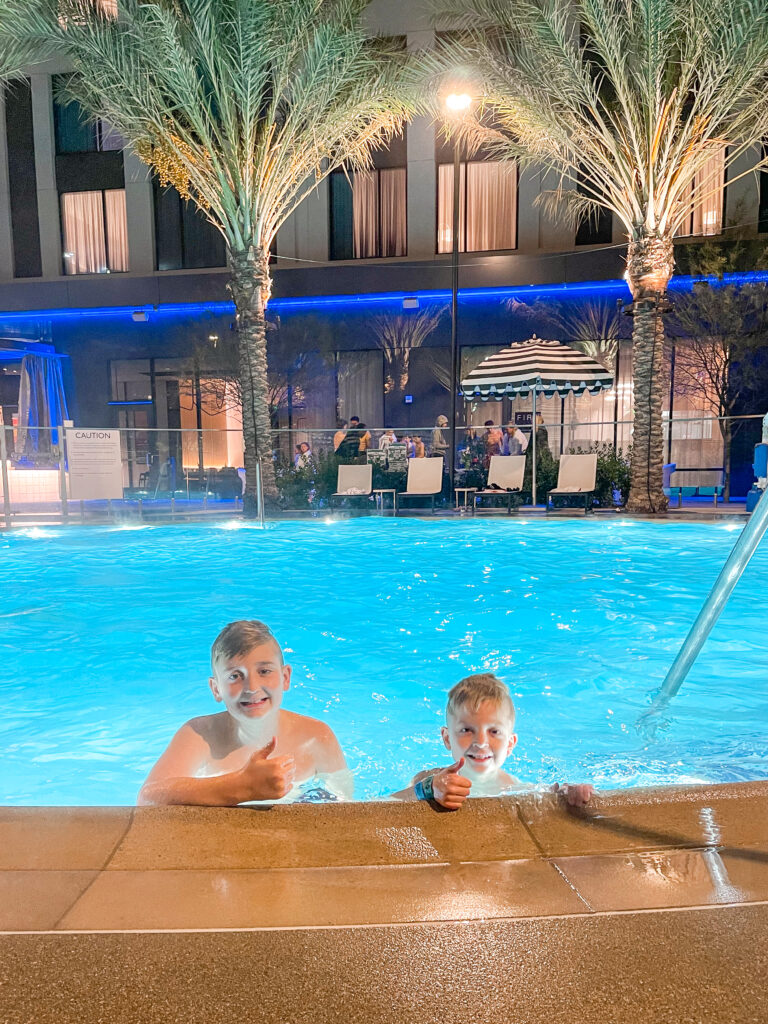 For Disney tips, hotel reviews, and recipes, head to my website www.MommyMouseClubhouse.com and also follow along on social media @MommyMouseClubhouse on Instagram, TikTok, and Facebook.
Check out my previous video to see how we spent our day at Disneyland park during our stay at Radisson Blu. See you next time!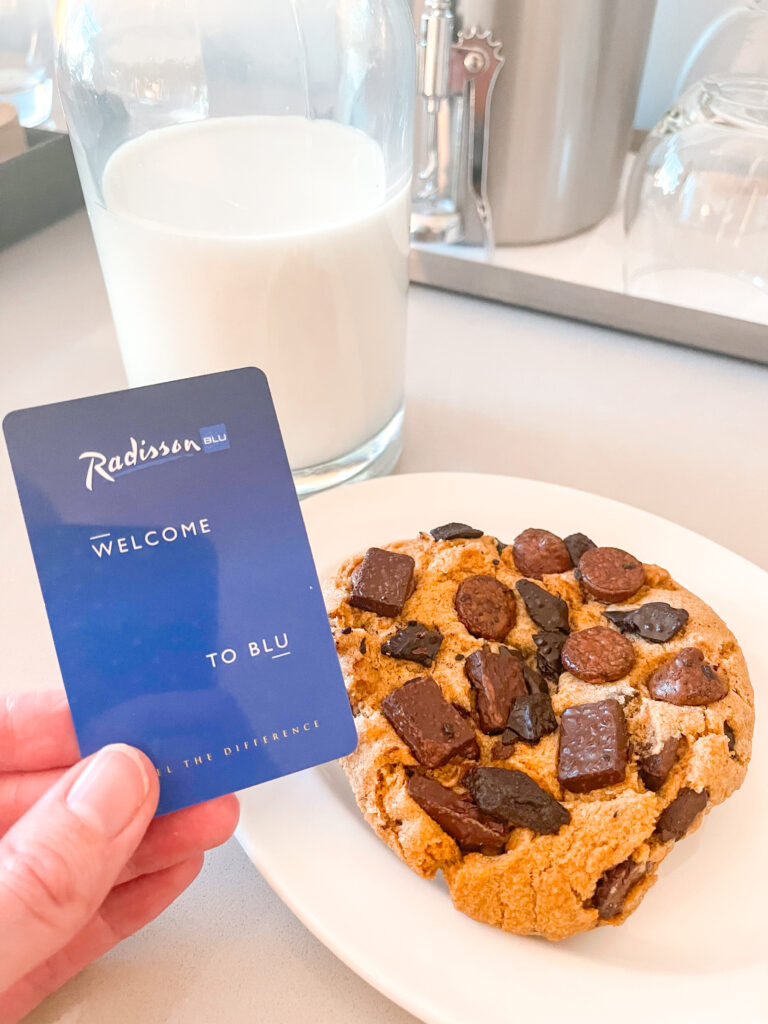 How to Get a Room Discount
My favorite way to book a Disneyland vacation is through my travel partner, Get Away Today. Fortunately, Radisson Blu is one of the hotels that works with them!
They often have deals where you can get a 3rd or 4th night free! Currently, if you book a room at Radisson Blu through Get Away Today, you can get a 4th night free as well as free parking, which is a $25 savings!
If you book this room in a vacation package that includes Disneyland tickets, you can use the Get Away Today coupon code: MommyMouse to save an extra $10 (2-night or longer vacation package).
Read more Disneyland area hotel reviews here!
Watch the video: