These amazing buttermilk pancakes are delicious, easy, and made from ingredients already in your pantry! Plus, how to make a buttermilk substitute! This really is the best fluffy buttermilk pancake recipe ever!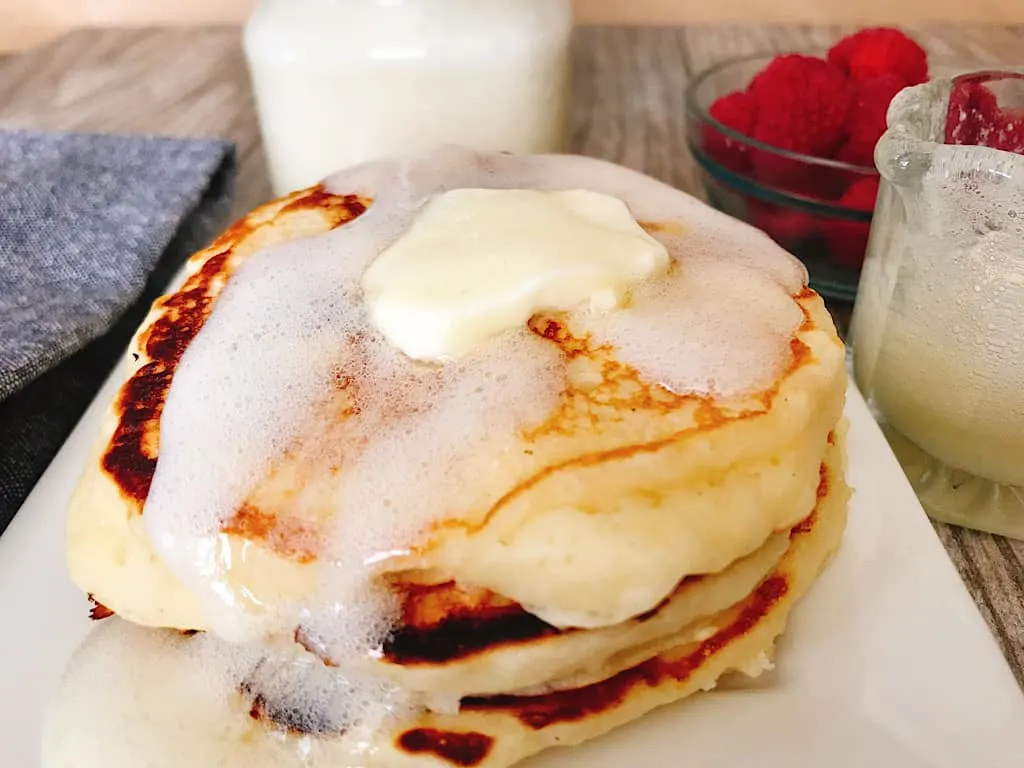 This post may contain affiliate links. When you click on these links, I get a small percentage back at no cost to you! For more information see my disclosure policy.
Below you will find tips, tricks and helpful hints for making this recipe including step by step instructions with pictures. If you would like to go directly to the recipe, scroll down to the recipe card or tap "Jump to Recipe" at the top of the page.
Why I Love These Pancakes
We make A LOT of pancakes in our house! My kids are definitely picky when it comes to their breakfast food.
Between the Sweet Cream Pancakes, Perfect French Toast, and Crispy Mickey Waffles, we also go through A LOT of syrup.
I was looking through my recipes and realized that I have never shared my buttermilk pancakes recipe.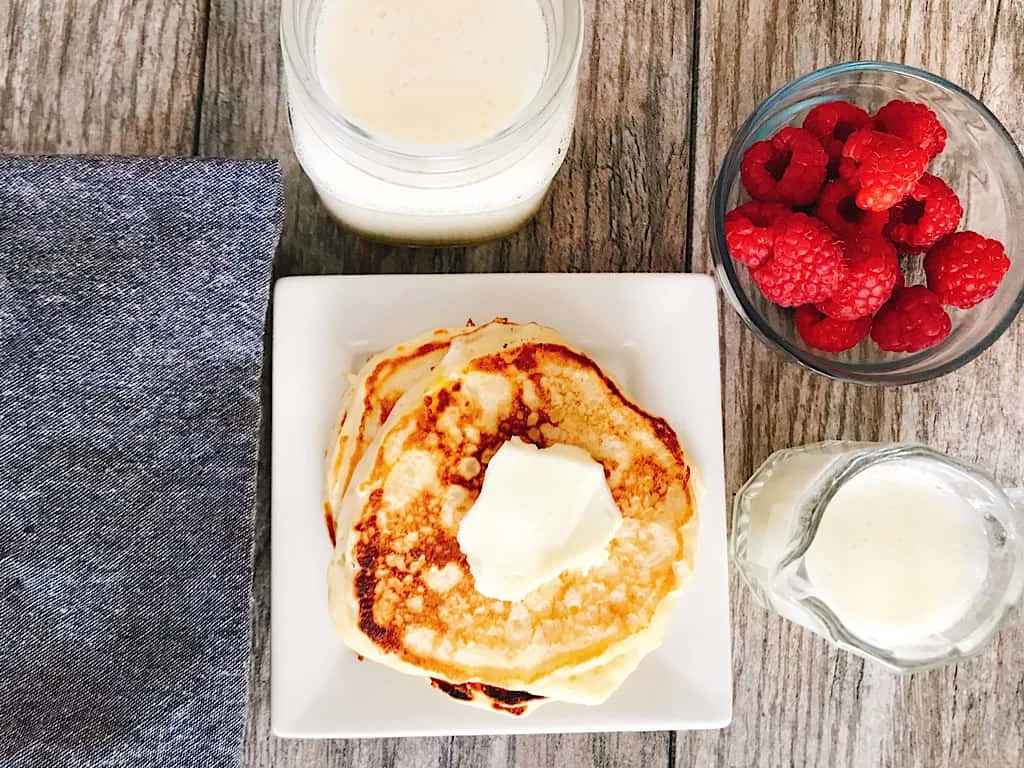 The Best Fluffy Buttermilk Pancakes
These pancakes are not just regular pancakes, they are the BEST Fluffy Buttermilk Pancakes!
Many of the recipes I've tried come out heavy and flat. Not this one. These pancakes are fluffy but still have the tanginess of buttermilk.
Pair them with my recipe for Homemade Buttermilk Syrup and you will be in breakfast heaven!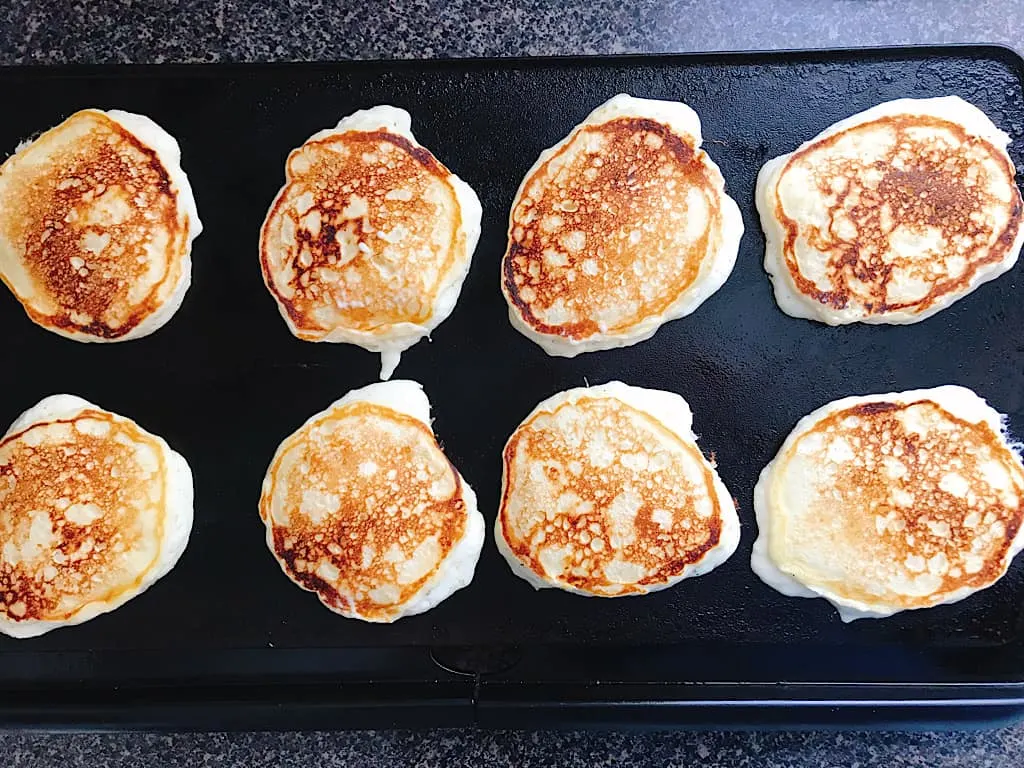 Buttermilk helps activate the baking soda in pancake batter that gives them height and also breaks down gluten to make the pancakes more tender.
How to Make Buttermilk Substitutes
There are many times when I have wanted or needed to use buttermilk, but didn't have any on hand.
Fortunately there is a way to make a buttermilk substitute.
For every cup of buttermilk needed, add 1 Tablespoon of white vinegar or lemon juice to a measuring cup.
Fill the rest of the cup up to the 1 cup line with milk. Let that sit for about 5 minutes and you will have a great substitute for buttermilk!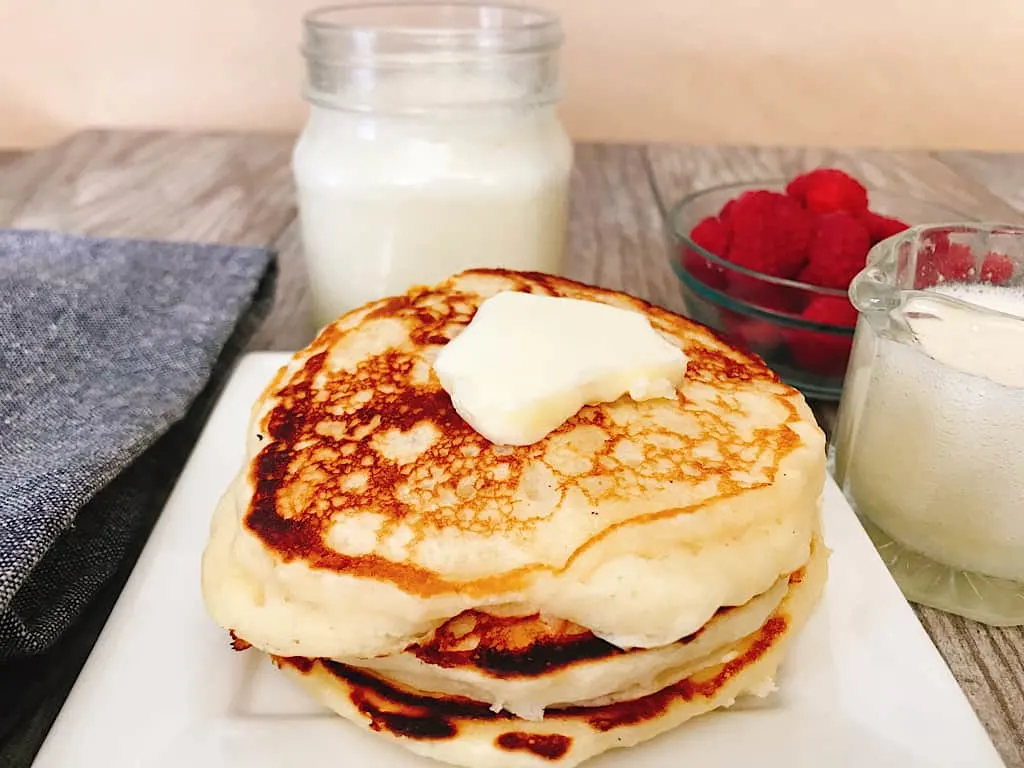 How to Get Buttermilk Pancakes to be Fluffy
I mentioned earlier that many of the recipe for buttermilk pancakes that I've tried in the past, were heavy and flat.
Do you want to know the secret to getting buttermilk pancakes to be fluffy? Let the batter rest!
After mixing all of the ingredients, let the batter sit at room temperature for at least 15-20 minutes to let the buttermilk and baking soda do its magic!
Ingredients for the Best Fluffy Buttermilk Pancakes
*Ingredient amounts are located in the recipe card at the end of this post.
All-Purpose Flour

Sugar

Baking Powder

Baking Soda

Salt

Buttermilk

Eggs

Melted Butter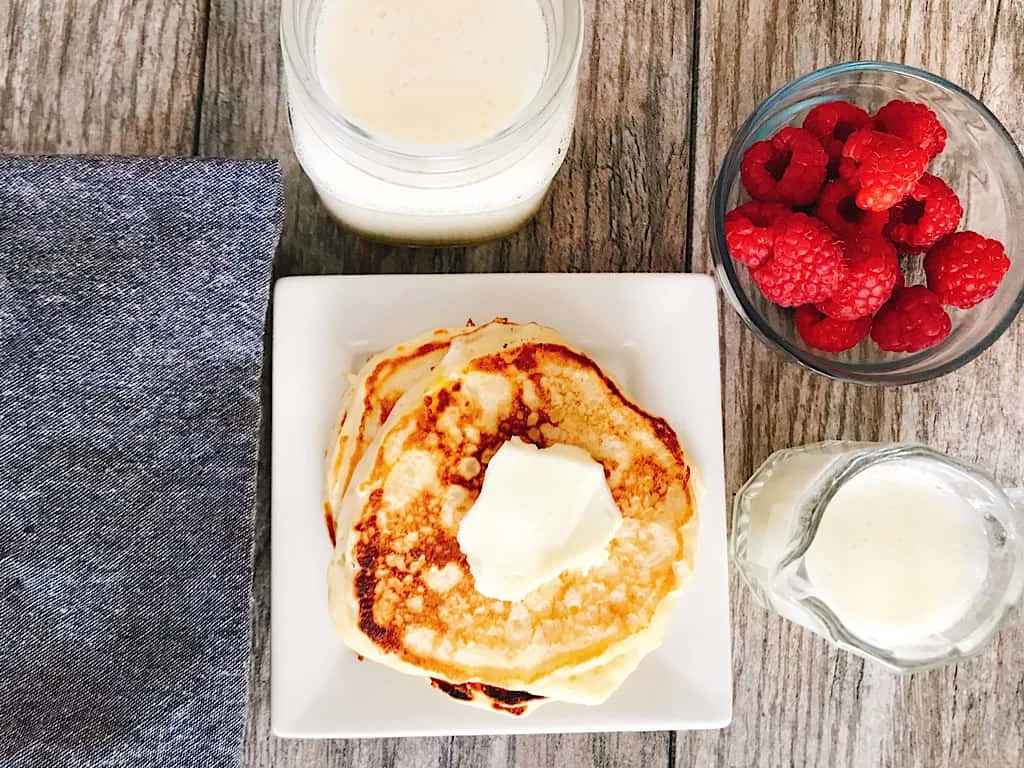 Helpful Kitchen Tools
How to Make the Best Fluffy Buttermilk Pancakes
Place the flour, sugar, baking powder, baking soda, and salt in a large mixing bowl.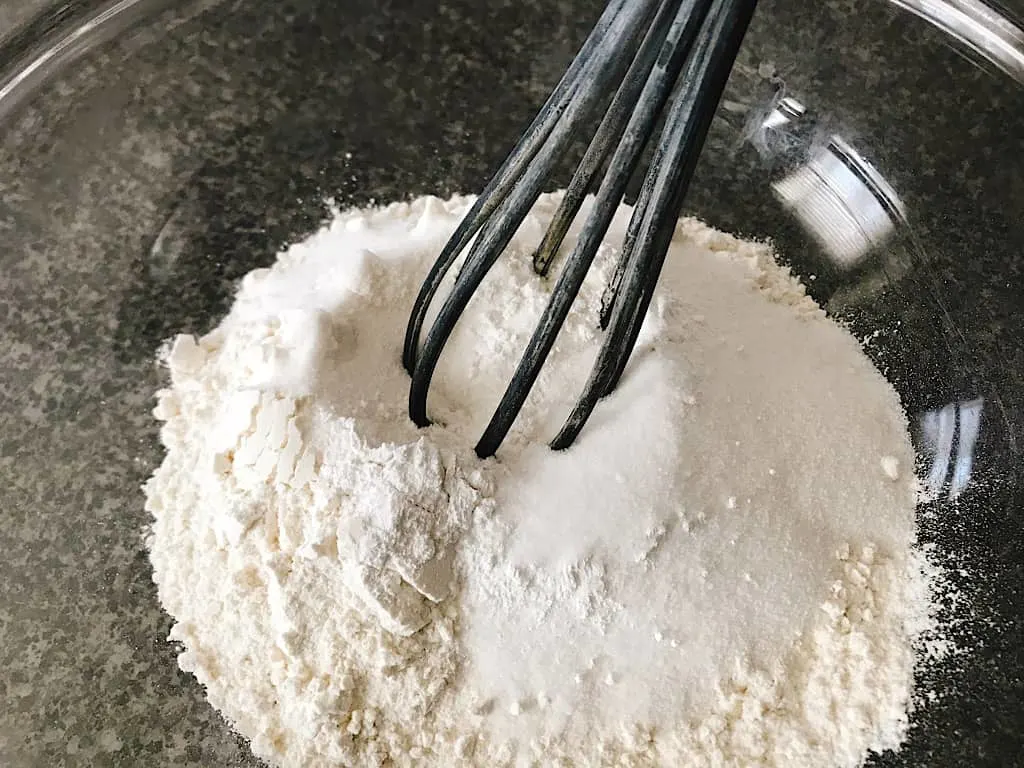 Use a whisk to mix together and then create a well in the center.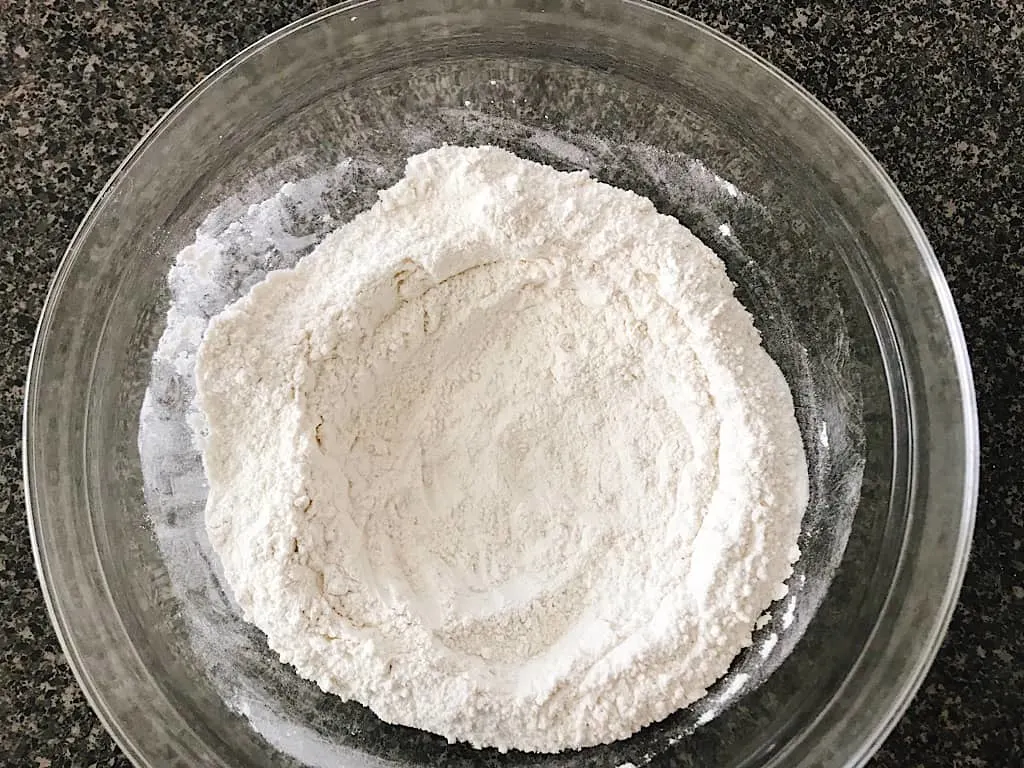 Pour the buttermilk, beaten eggs, and melted butter in the well.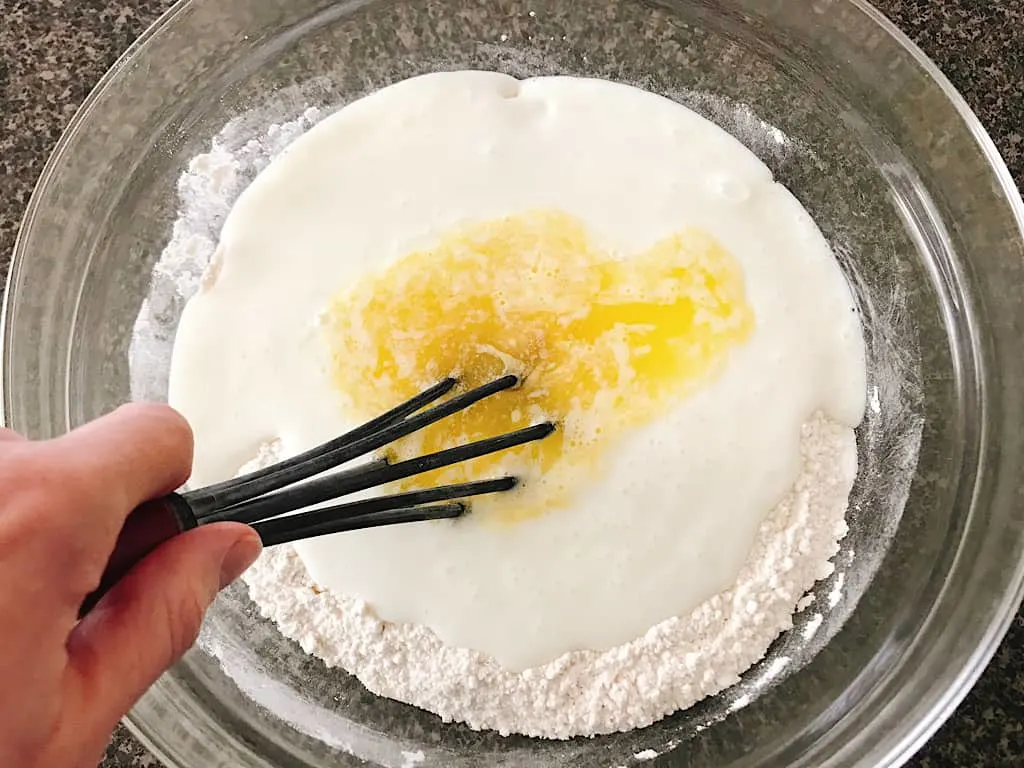 Use the whisk to mix together the wet ingredients into the dry ingredients. Make sure to not over mix. The batter will be lumpy.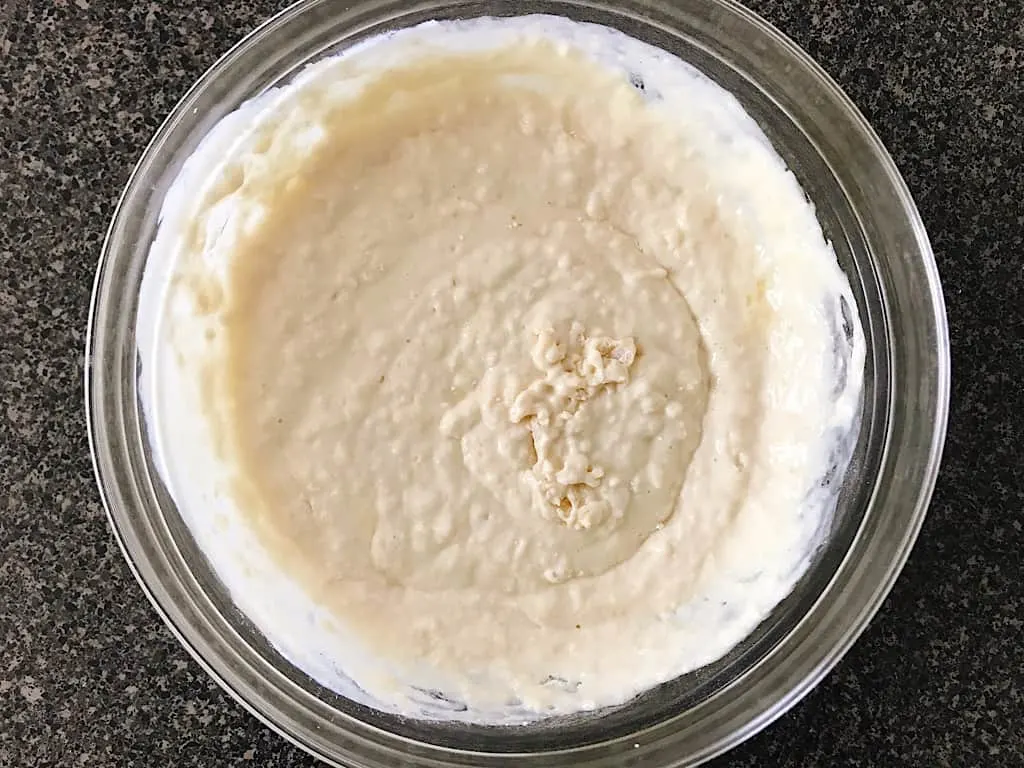 Heat an electric griddle at medium heat, about 325 degrees and spray with cooking spray.




Use a 1/4 measuring cup to pour batter on to the griddle.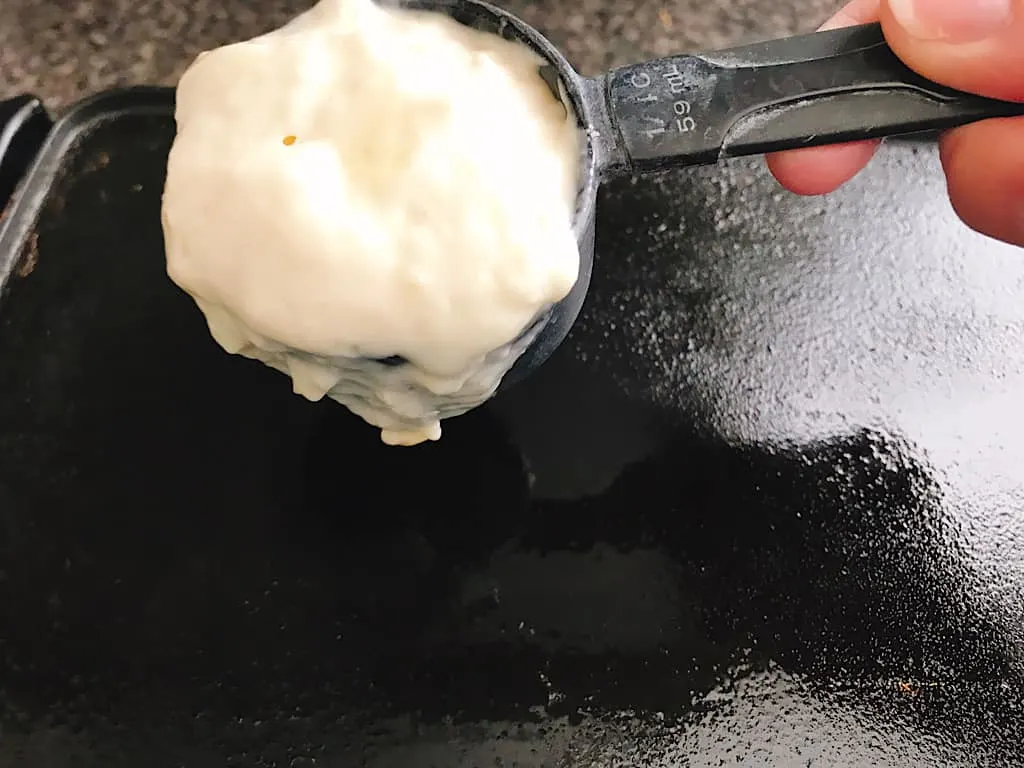 Once the pancakes begin to bubble, use a spatula to flip the pancakes.
Cook for an additional 1-2 minutes until the pancakes are golden.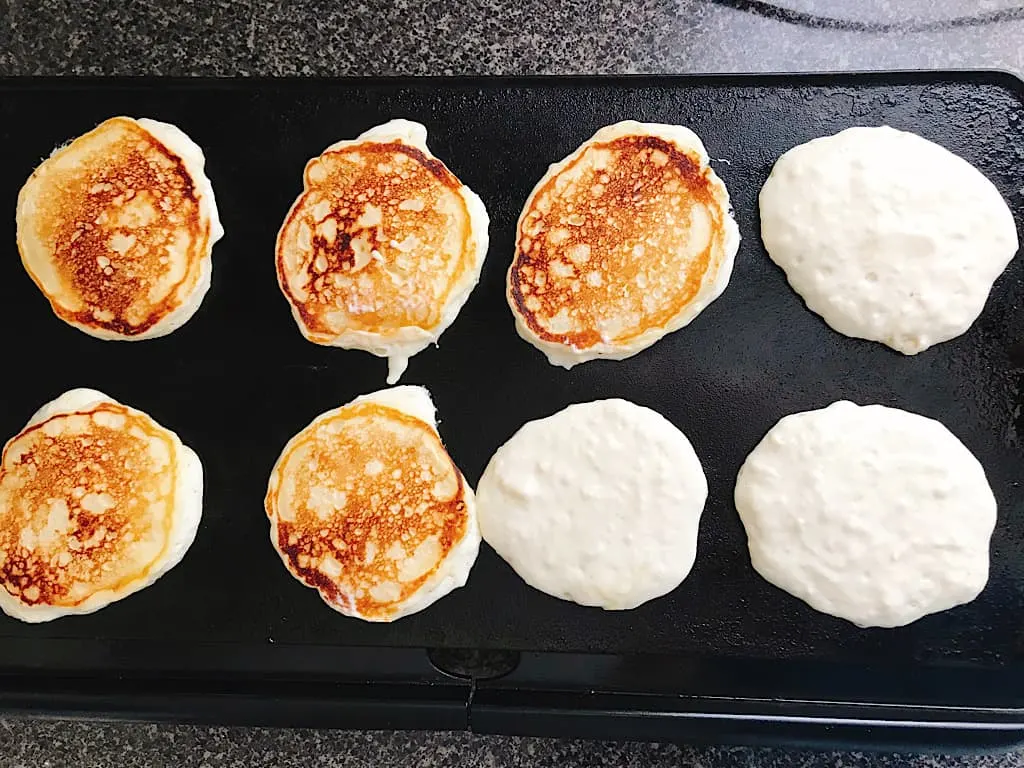 More Breakfast Recipes To Try: