The perfect made from scratch crispy Mickey Mouse waffles recipe! Crispy on the outside, soft and buttery on the inside. Just like at the Disney Parks and Disney Resorts made right in your own kitchen!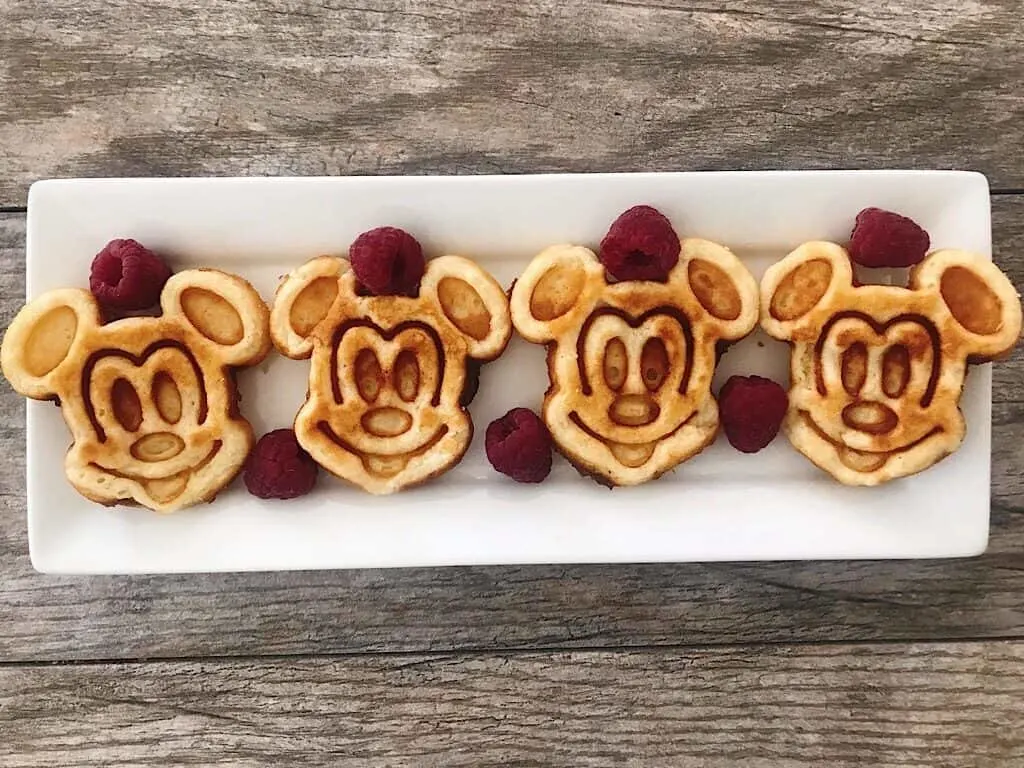 This post may contain affiliate links. When you click on these links, I get a small percentage back at no cost to you! For more information see my disclosure policy.
Below you will find tips, tricks and helpful hints for making this recipe including step by step instructions with pictures. If you would like to go directly to the recipe, scroll down to the recipe card or tap "Jump to Recipe" at the top of the page.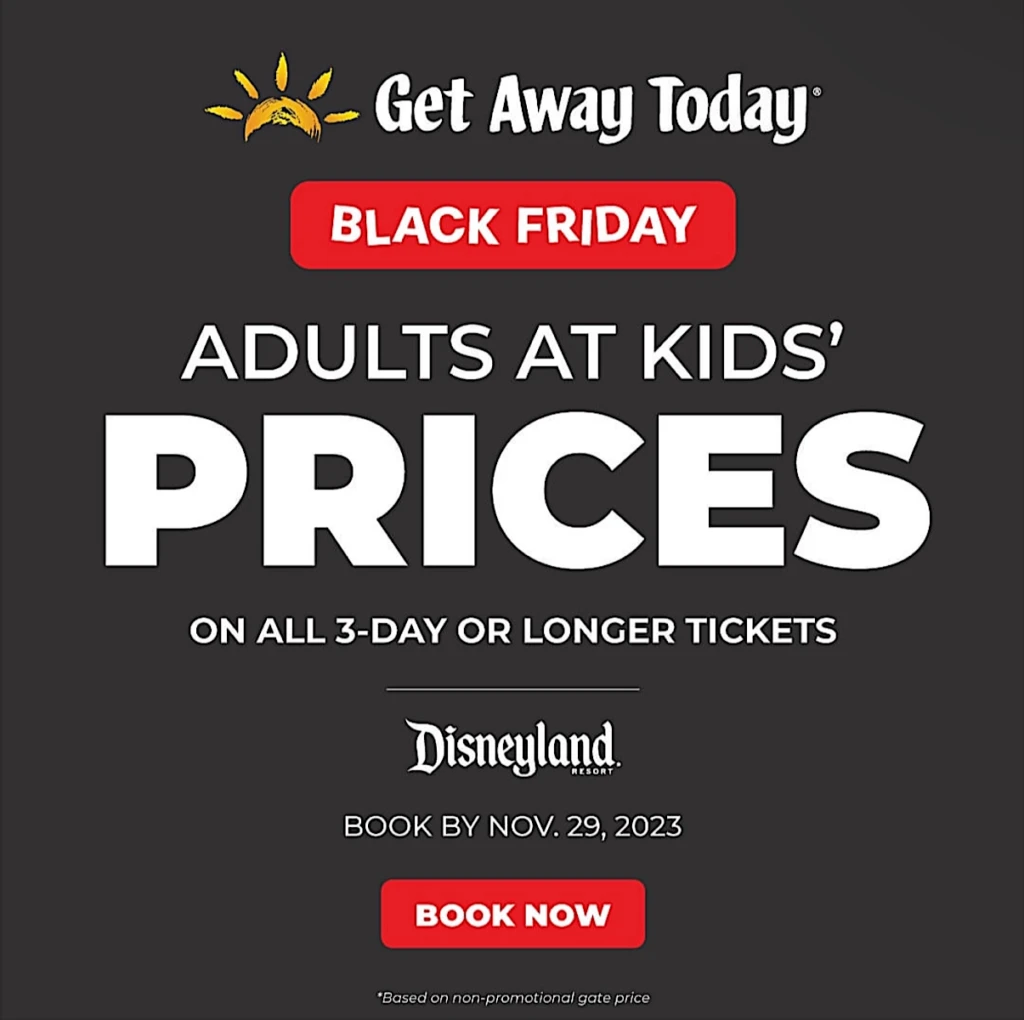 Get Adult tickets at Kid's Prices with this Disneyland Black Friday Ticket Sale from Get Away Today! Tickets are valid through December 31, 2025. Combine this deal with a hotel stay and use code: Clubhouse10 to save even more!
Why You'll Love Mickey Mouse Waffles
My love of Mickey Waffles began when my husband and I were at Walt Disney World and stayed at Disney's Pop Century Resort on our first anniversary. Every morning while I was getting ready for the day, my husband would go down to the food court and get us each a giant Mickey Waffle. I was in love with the delicious Mickey Waffles that were crispy on the outside and soft and buttery on the inside.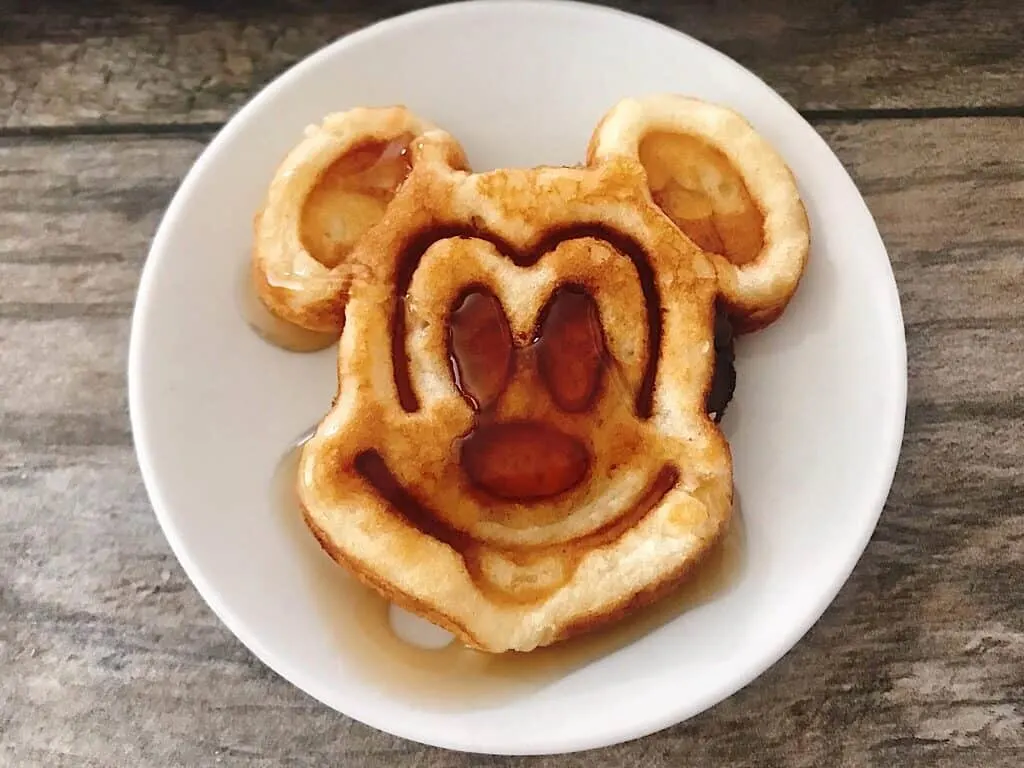 You can also find these waffles on the west coast at Disneyland Park. I had my mouse-shaped waffles at Red Rose Tavern in Fantasyland and Plaza Inn on Main Street. Find out all of the breakfast options at the Disneyland Resort here.
​Mickey Waffles can also be found on a Disney Cruise in the main dining rooms as well as the breakfast buffet at Cabanas or Marceline Market.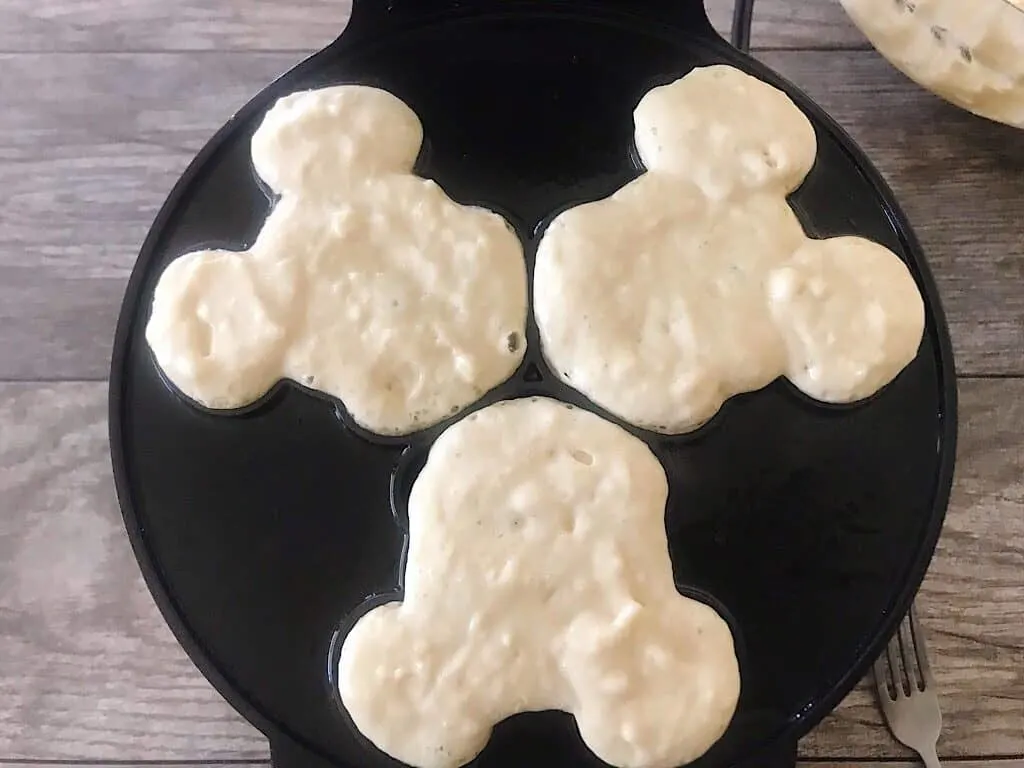 You'll love these waffles because they will remind Disney fans of a trip to the Disney Parks and resorts and they can bring some Disney magic right to the comfort of your own home. They will soon become your go-to warm family-favorite breakfast!
What is Disney's Recipe for Mickey Waffles?
I have been wanting to make my own Mickey-shaped Waffles at home, but found out that Disney actually uses Carbon's Golden Malted Waffle mix to make their waffles at the resorts and parks.
The mix they use does tastes like it has something a little extra that your standard waffle mix does not have, but the price tag is a little too much for me to justify for waffle mix.
So I have created a homemade copycat recipe that with the perfect balance of crispy and soft that replicates the same taste as the mix, right at home!
Try these waffles with Sweet Cream Cheese Syrup. It's so good!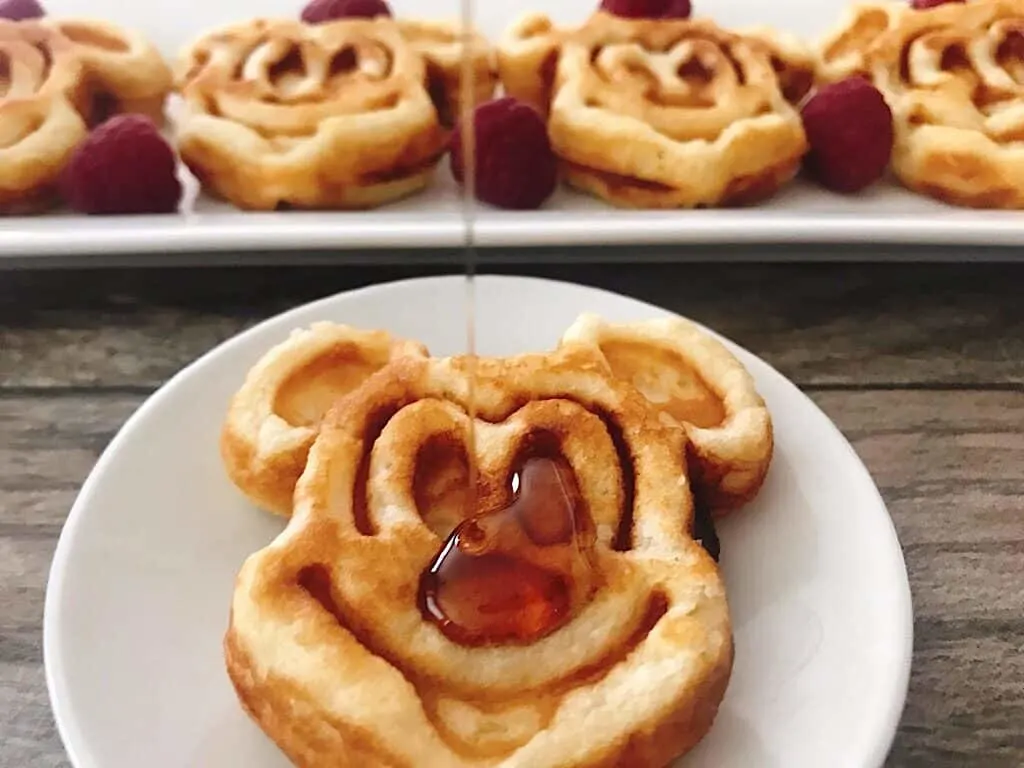 What is the Secret Ingredient in Mickey Waffles?
The different taste that you get with the Disney Mickey waffles is Malted Milk. So I tried to add it to standard pancake mix, but the texture was just not the same.
When you get a perfect Mickey waffle at Disney, they are crispy. The waffles I was making at home were floppy. Not the same.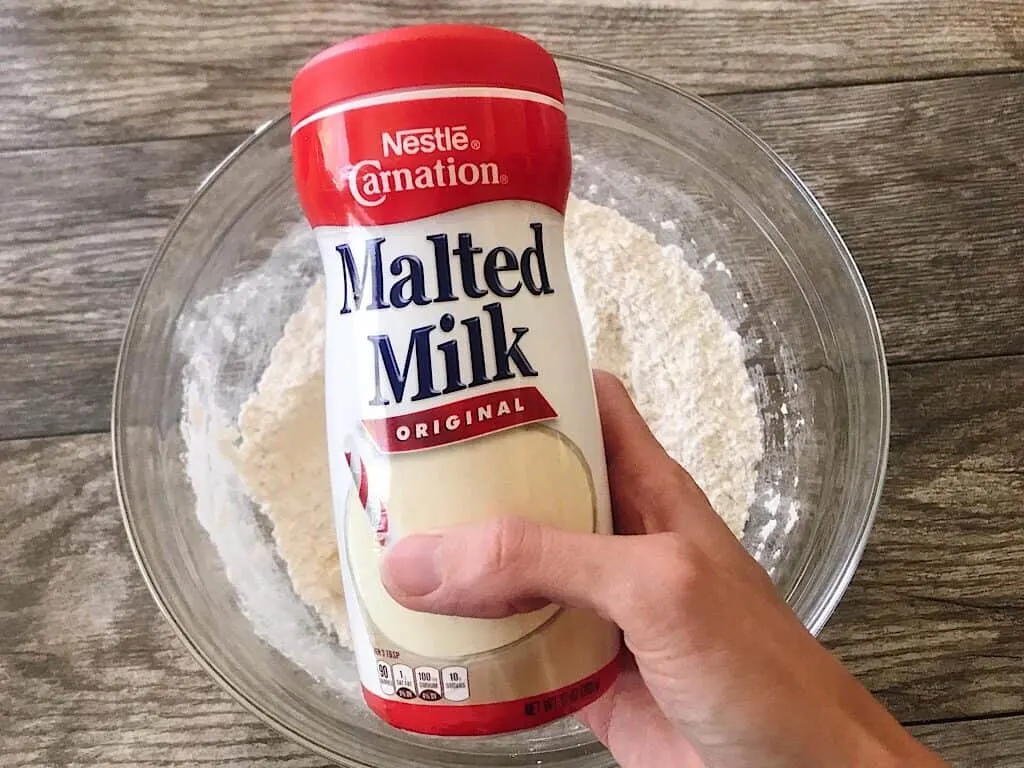 How to Make Mickey Mouse Waffles Crispy
Here are a couple of things you can do to achieve crispy waffles:
Use corn starch
Use Oil instead of Butter
Separate the eggs and whip the whites
Place the cooked waffles in a 200 degree oven to get crispy
Add them to an 200 degree air fryer for a few minutes to get that crispy texture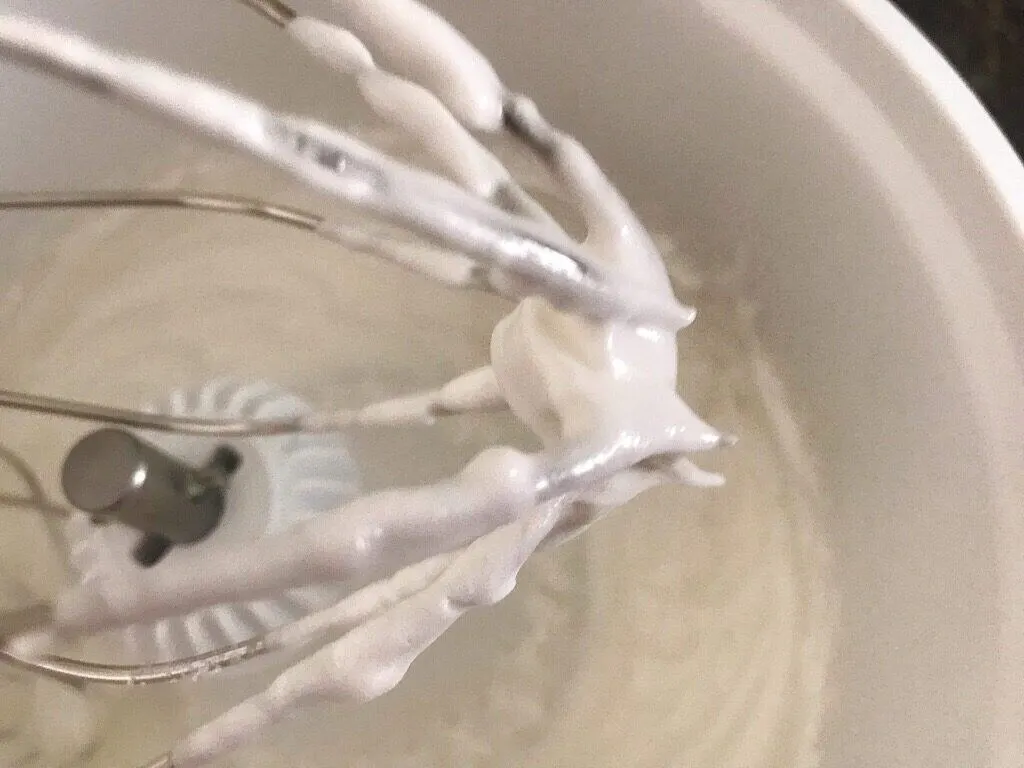 Mickey Waffle Iron
The most important tool for making iconic Mickey Waffles is a Mickey Waffle maker. The one I used in this recipe, which looks the most like Mickey waffles you get at Disney, I purchased from shopDisney.
Unfortunately, it isn't in stock very often. But I have found it at Hot Topic as well as here on Amazon.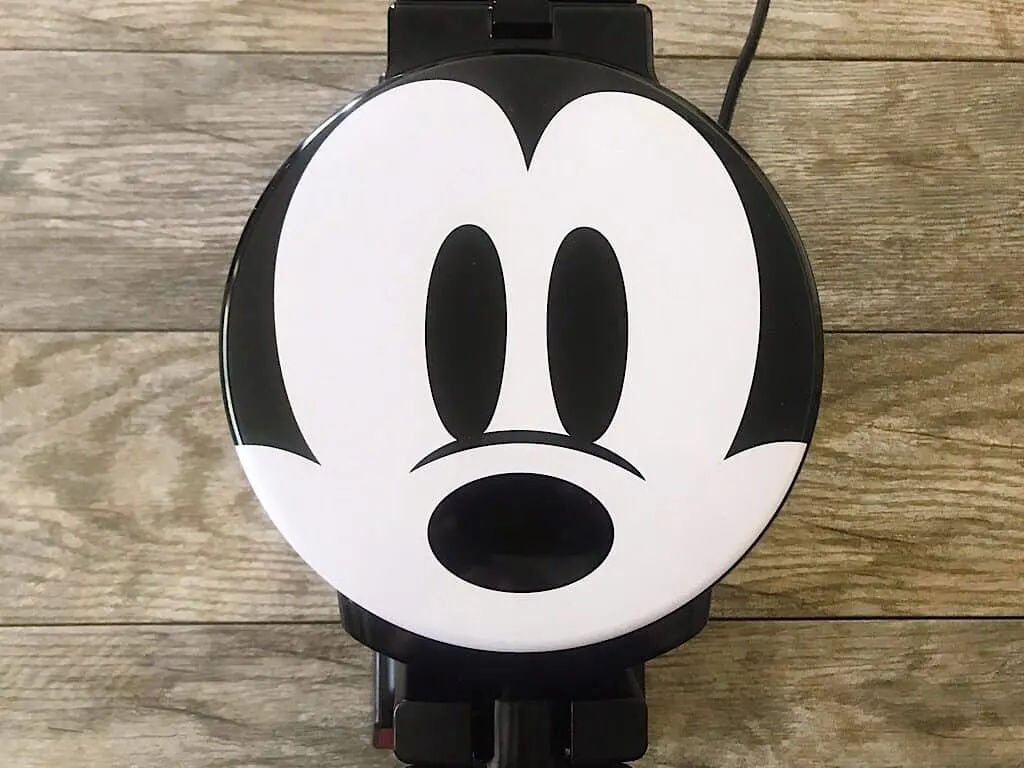 Click Here to get this cute Mickey Waffle Iron on Amazon!
There are also a couple of other options as well. This Mickey Waffle Iron is a great alternative to get a mickey shape waffle, and I happen to own it as well.
This waffle maker makes mini Mickey Waffles at an affordable price, which could be really fun!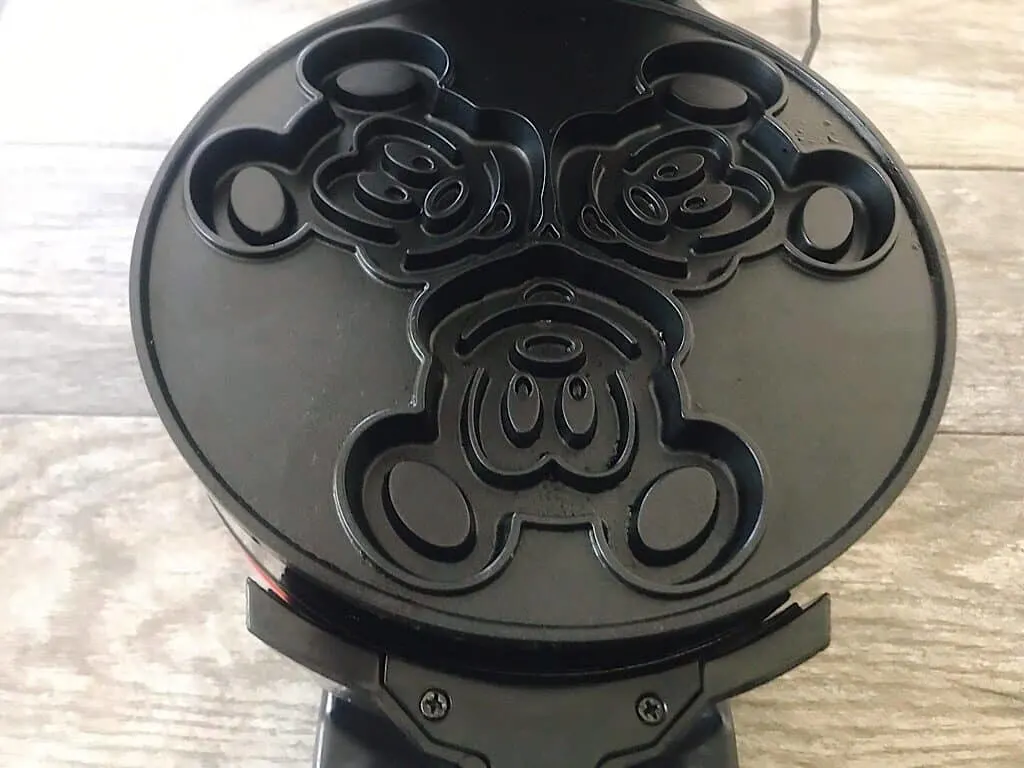 The great thing about this recipe is that your waffles don't have to be shaped like Mickey Mouse.
You can use any standard waffle iron and still get the same delicious waffles as a result.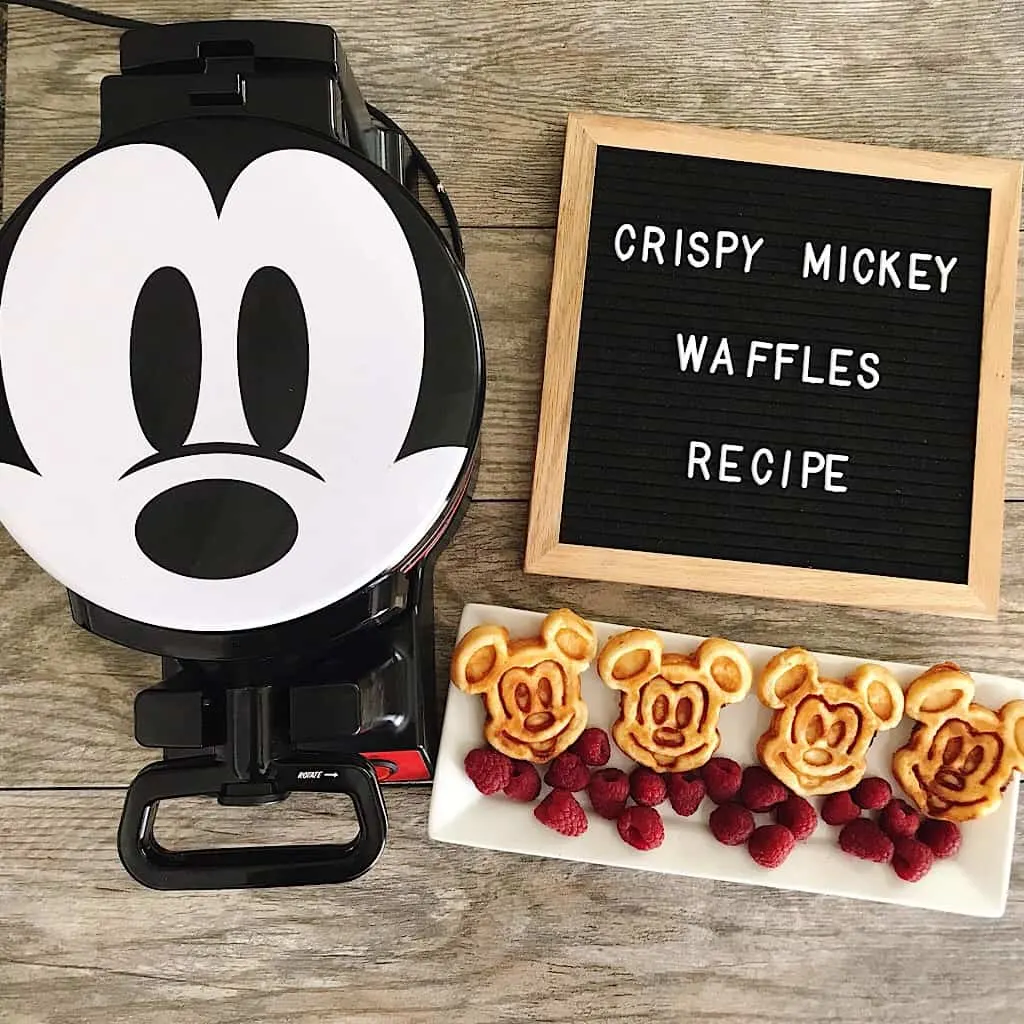 What You'll Need to Make Golden Malted Mickey Waffles
*Ingredient amounts are located in the recipe card at the end of this post.
Flour: For these waffles, you will want to use basic all-purpose flour that you probably already have in your pantry. If not, it can be found in the baking aisle at the grocery store.
Corn Starch: The corn starch helps to achieve the crispy texture.
Salt: Salt is used to enhance the flavor of the waffles.
Baking Powder: This is a leavening agent that helps the waffles rise while baking.
Baking Soda: This is also a leavening agent, but it helps to make them extra crispy.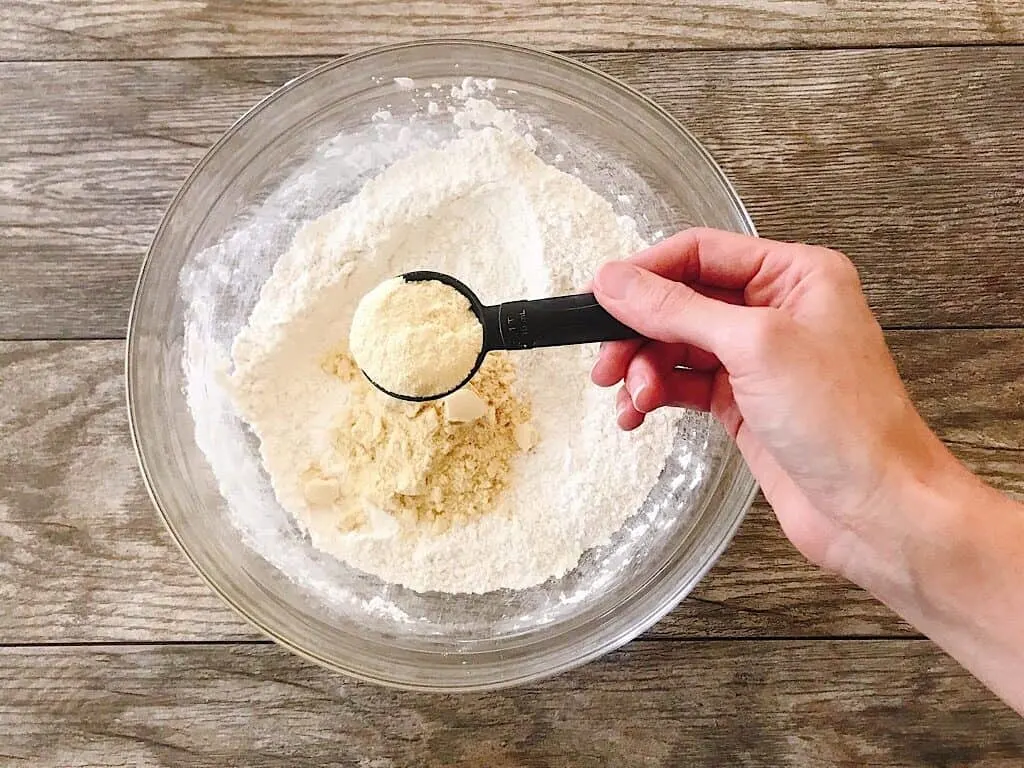 Malted Milk Powder: This is the secret ingredient that gives Mickey Waffles their unique flavor and helps them stay crispy. It can be found in your grocery store, usually where they keep hot cocoa mix and other flavored coffee creamers.
Oil: Oil can be used instead of butter in this recipe to give a crispier texture. Use a neutral tasting oil like vegetable oil or canola oil.
Buttermilk: Buttermilk gives the waffles a delicious flavor and helps to make them soft on the inside.
Milk: Use whole milk or 2% milk for the waffles.
Eggs: Eggs are used to bind all of the ingredients together and give structure to your waffles. You will need to separate the yolks from the egg whites.
Sugar: Sugar is used to give a little bit of sweetness to the waffles.
Vanilla Extract: This adds a subtle sweet flavor that pairs perfectly with Mickey Waffles.
How to Make Mickey Mouse Waffles at Home
[Step 1] Preheat your oven or air fryer to 200° F and turn on your Mickey Mouse waffle iron.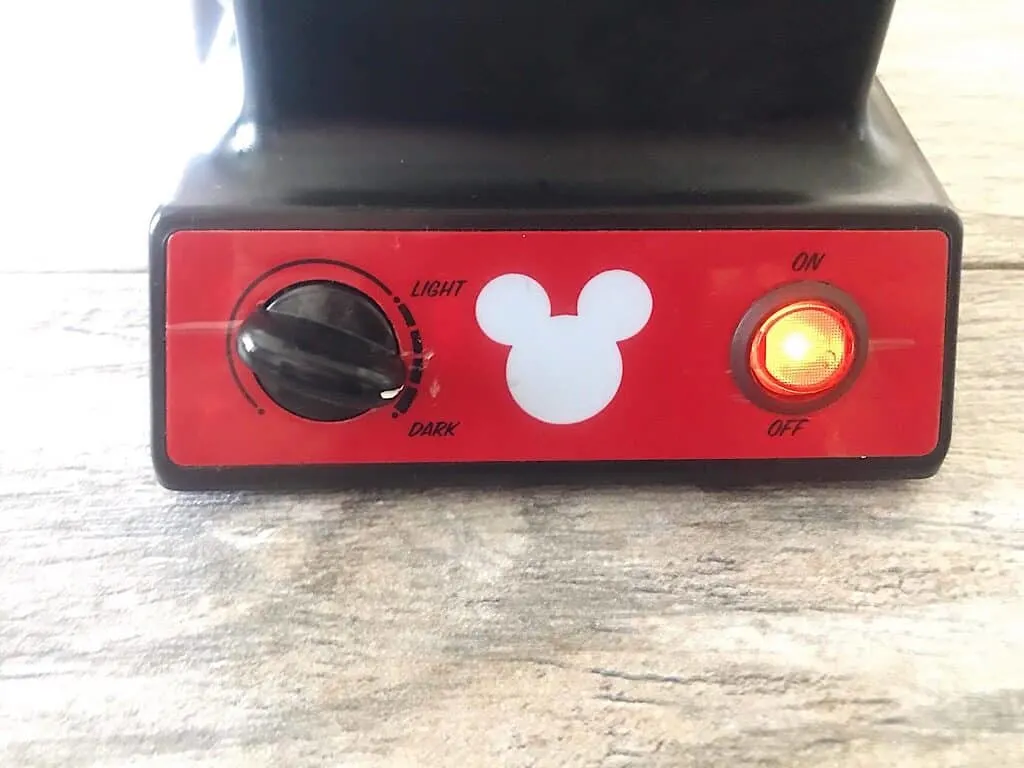 [Step 2] In a large bowl, sift or whisk together the flour, corn starch, salt, baking powder, baking soda, and malted milk. Set aside.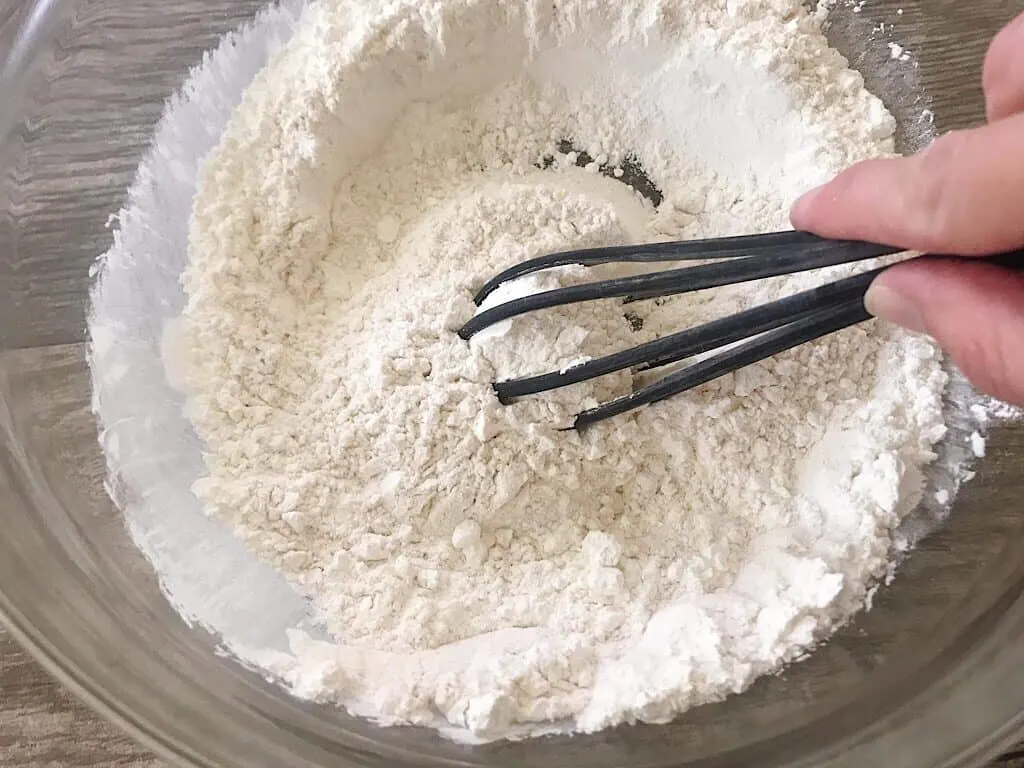 [Step 3] In a separate bowl, beat the buttermilk, oil, egg yolks, and vanilla together. Set aside.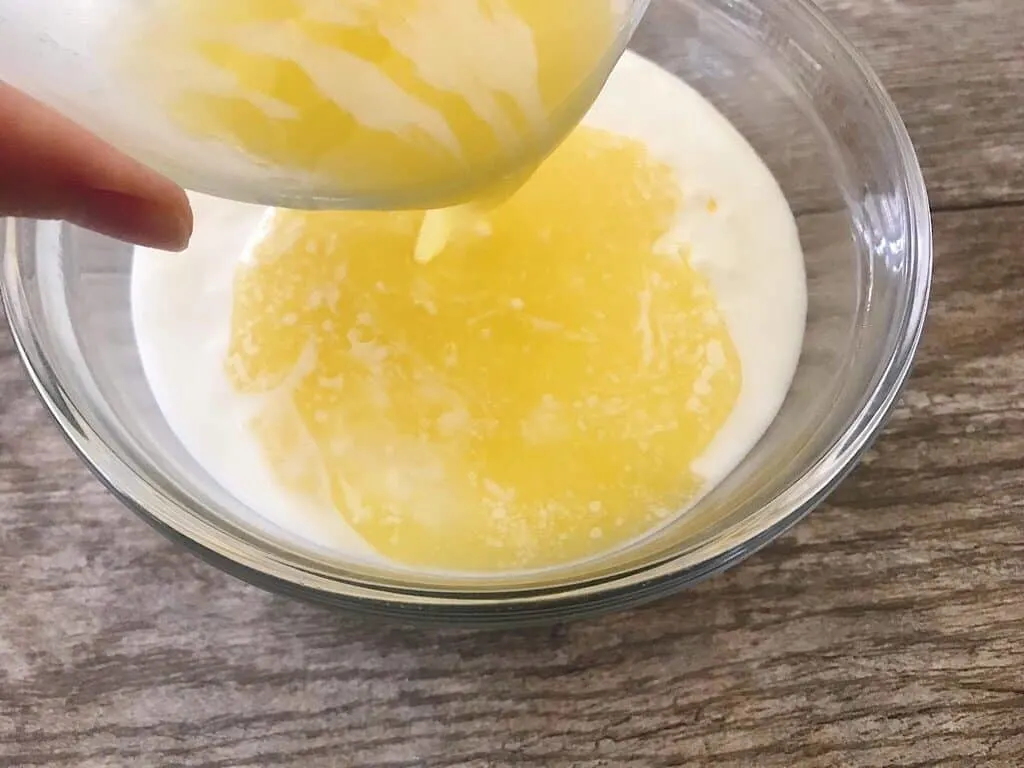 [Step 4] Use a stand mixer with a whisk attachment or a hand mixer to beat the egg whites to soft peaks.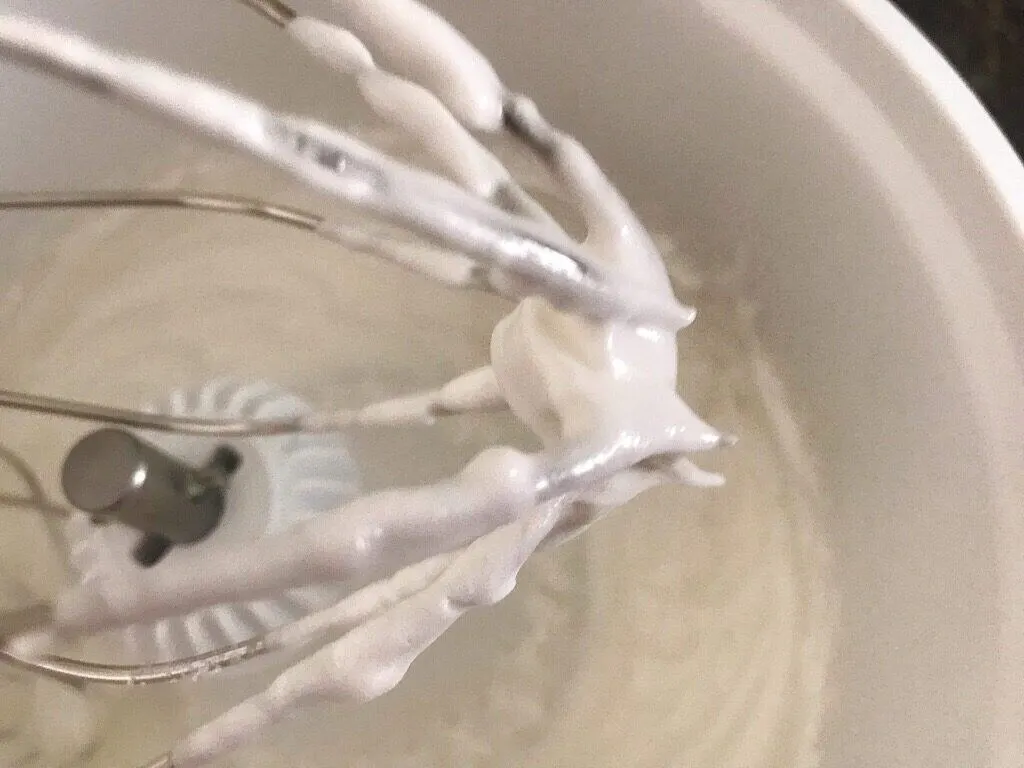 [Step 5] Sprinkle the sugar over the egg whites then beat again until firm peaks have formed.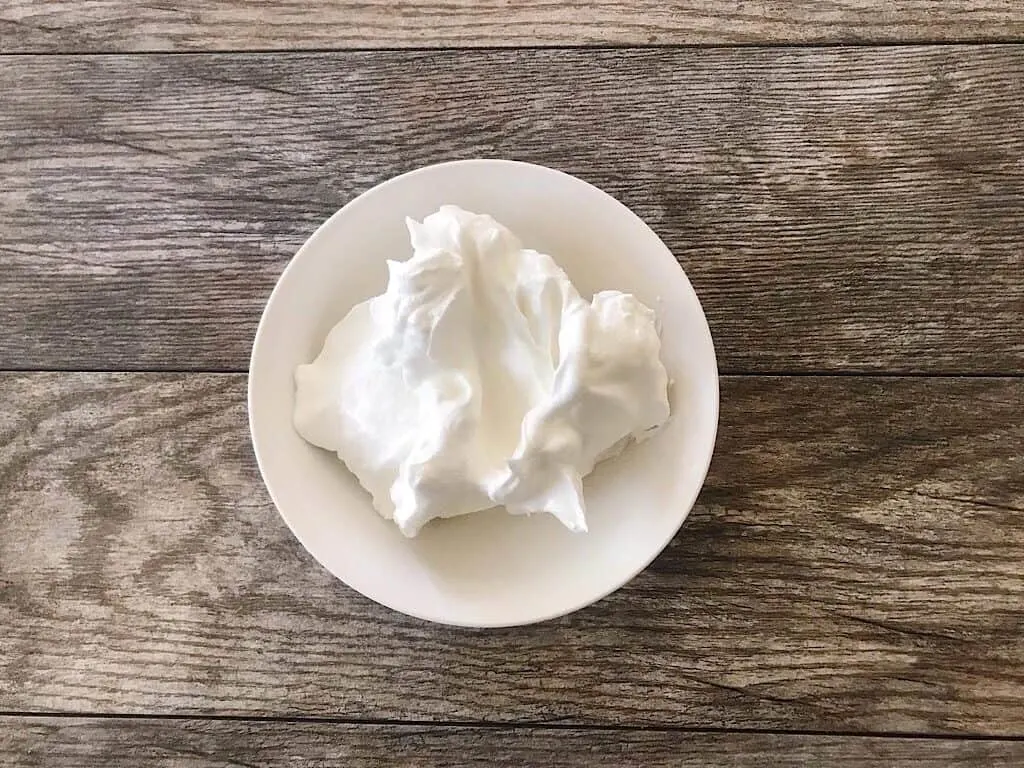 [Step 6] Pour the wet ingredients into the dry ingredients and stir until just moistened.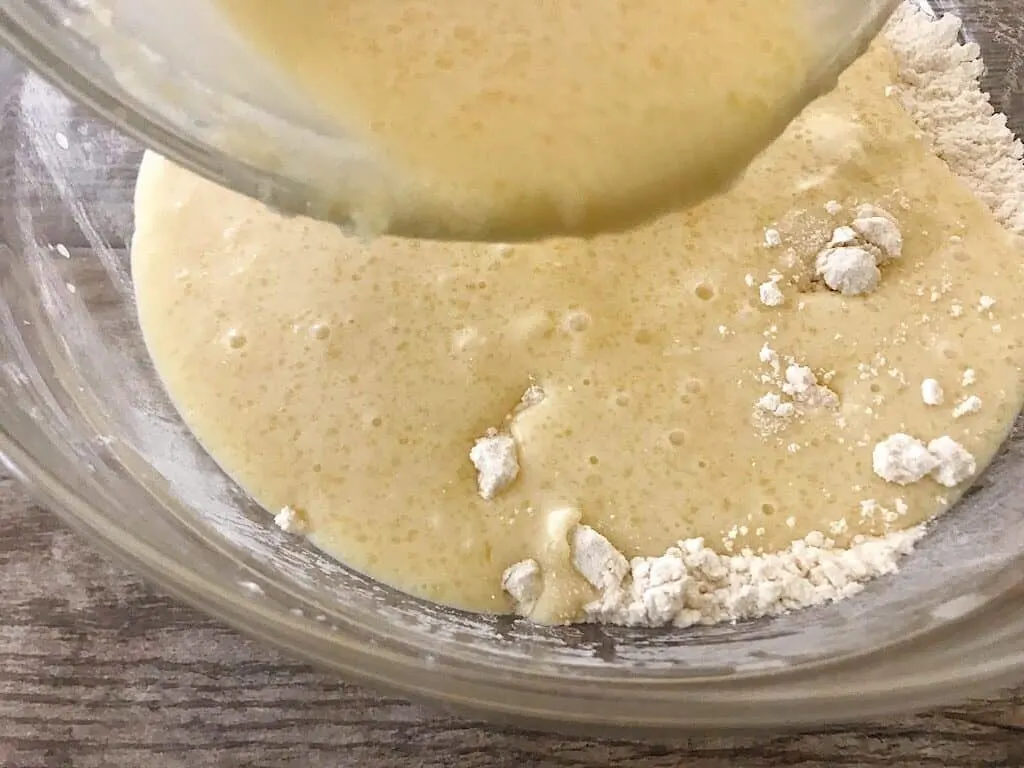 [Step 7] With a spatula, gently fold the egg whites into the batter being careful not to over mix.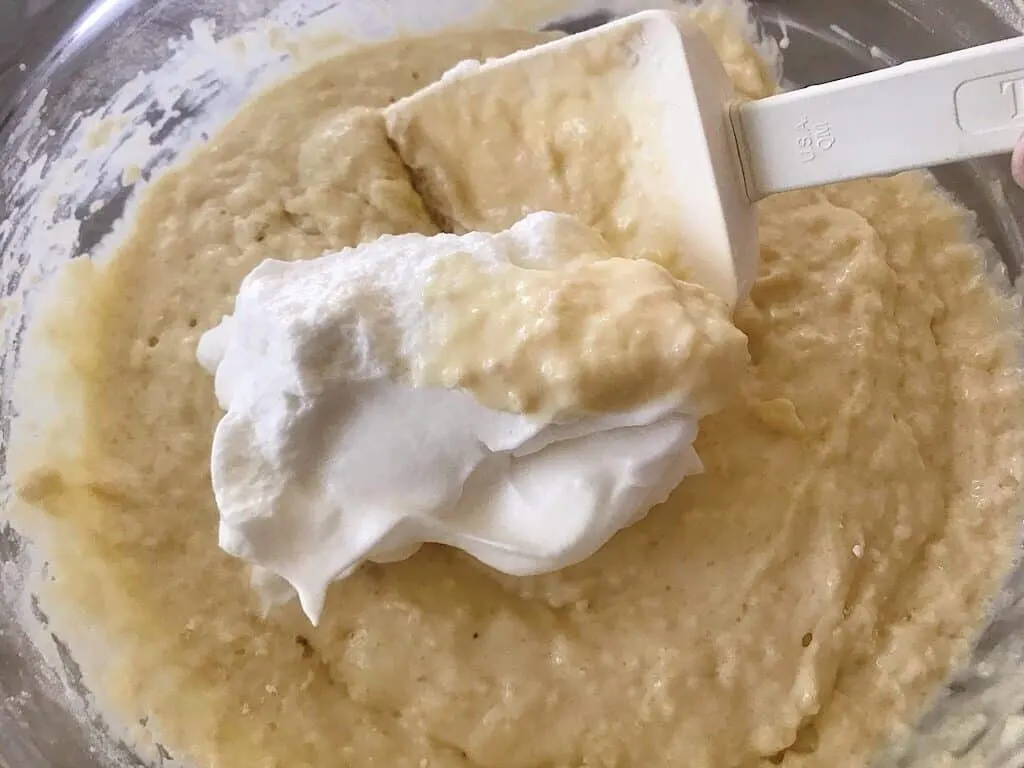 [Step 8] Spray your hot waffle iron with nonstick spray and add the batter. I Used about 3 Tablespoons of for these Mickey Waffles. Use the appropriate amount for the size of your waffle iron.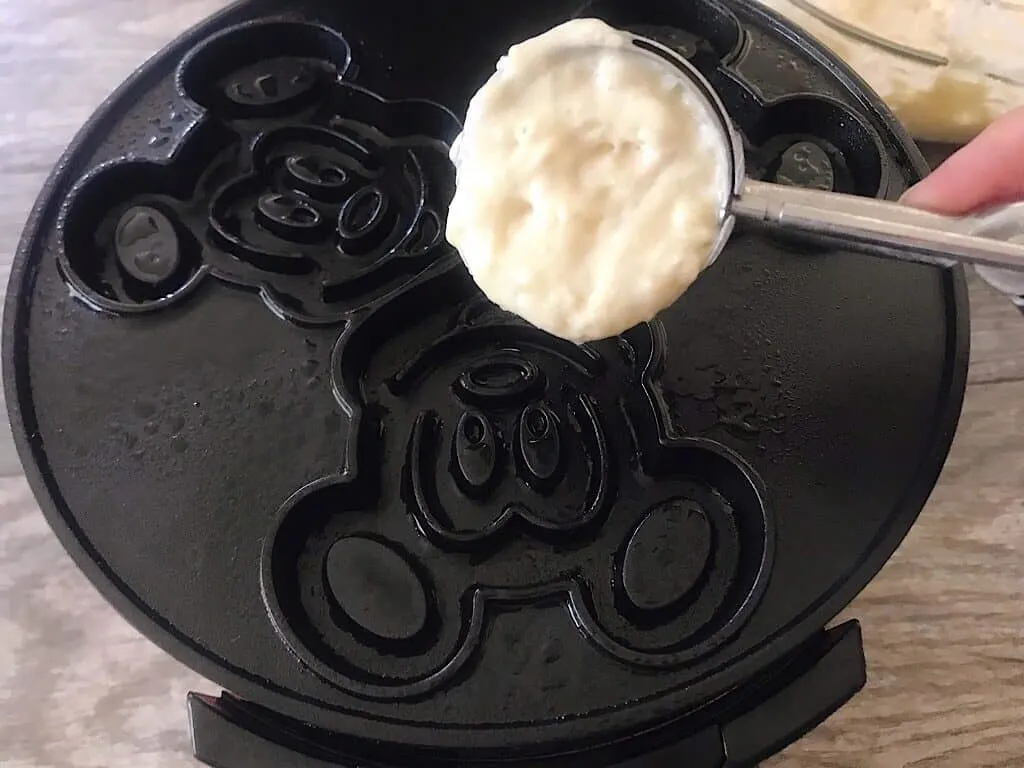 [Step 9] Bake your waffles until brown and crispy.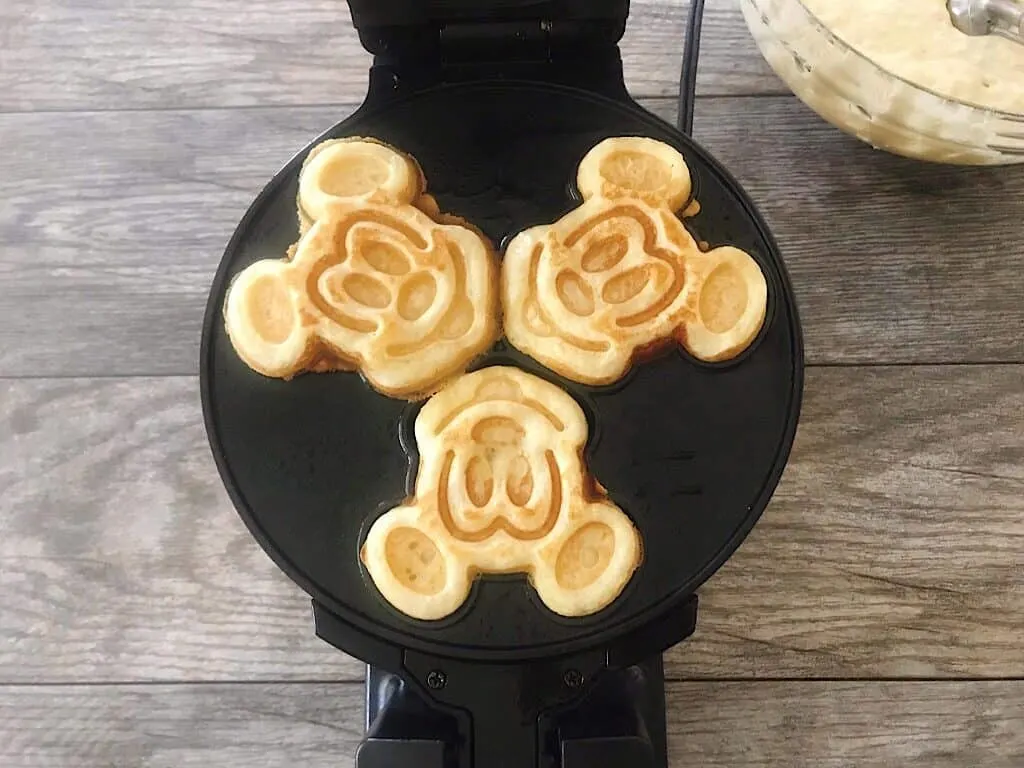 [Step 10] Remove the golden brown Mickey waffles from the waffle iron and place them on a baking sheet in the warmed oven or in the basket of your air fryer until ready to serve.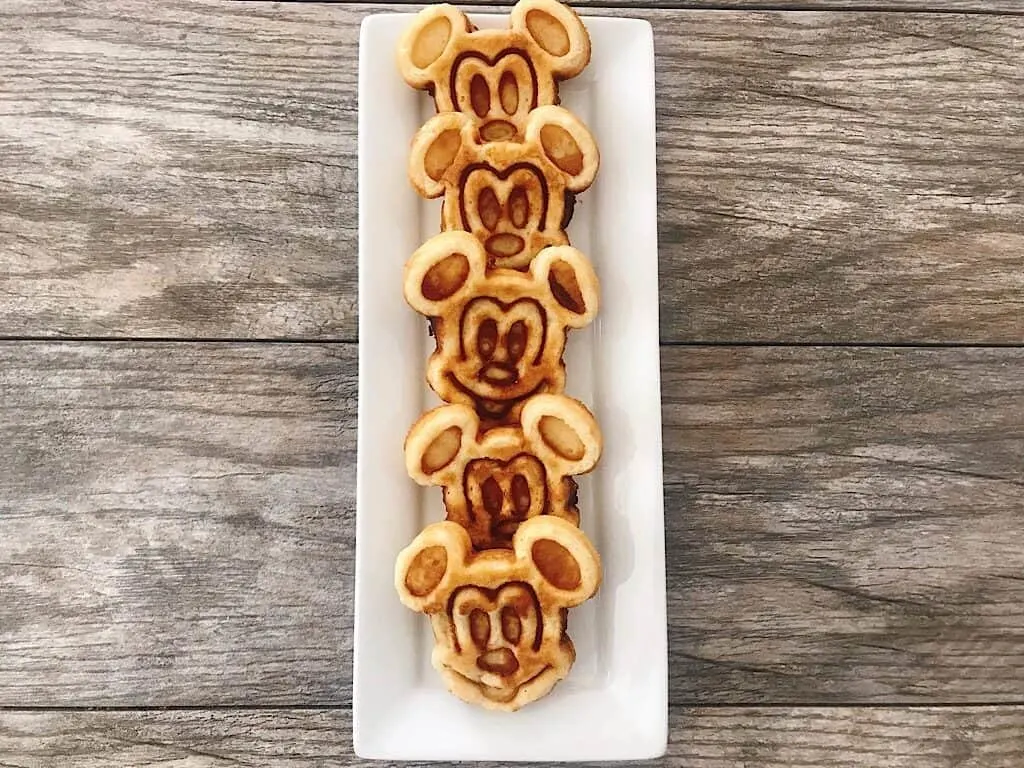 Helpful Kitchen Tools
How to Store Leftover Waffles
Leftover waffles can be stored in an airtight container at room temperature for up to two days. To reheat, place them in a 200° F oven or air fryer for about 5 minutes or until warmed through and crispy.
More Disney Waffles to Try:
Favorite Morning Toppings for Mickey Waffles
Caramel Syrup: This homemade syrup will compliment your homemade Mickey Mouse waffles. Try adding some chopped pecans as well. Get my homemade caramel syrup recipe here.
Peanut Butter Syrup: This is an easy syrup that only requires two ingredients: peanut butter and maple syrup. Find the recipe here.
Chocolate Ganache: Use this classic topping to give your Mickey Waffles a sweet makeover. Get my Salted Caramel Chocolate Ganache recipe here.
Whipped Cream: Everyone loves a little extra fluff on their waffles. Try adding some homemade whipped cream for a special treat. Get my recipe for Peanut Butter Whipped Cream here.
Fresh Fruit: Top your waffles with some seasonal fruit like strawberries or blueberries. This is a healthy topping that everyone will love.
Sweet Cream Cheese Syrup: This is my family's absolute favorite breakfast topping made with cream cheese, powdered sugar, and milk. Get the recipe here.
Homemade Raspberry Syrup: This syrup is super easy to make and the flavor will blow you away. Try it on your Mickey Waffles. Get the recipe here.
3 Ingredient Strawberry Sauce: If you're in a pinch and need something quick, this is the perfect topping for your waffles. Get the recipe here.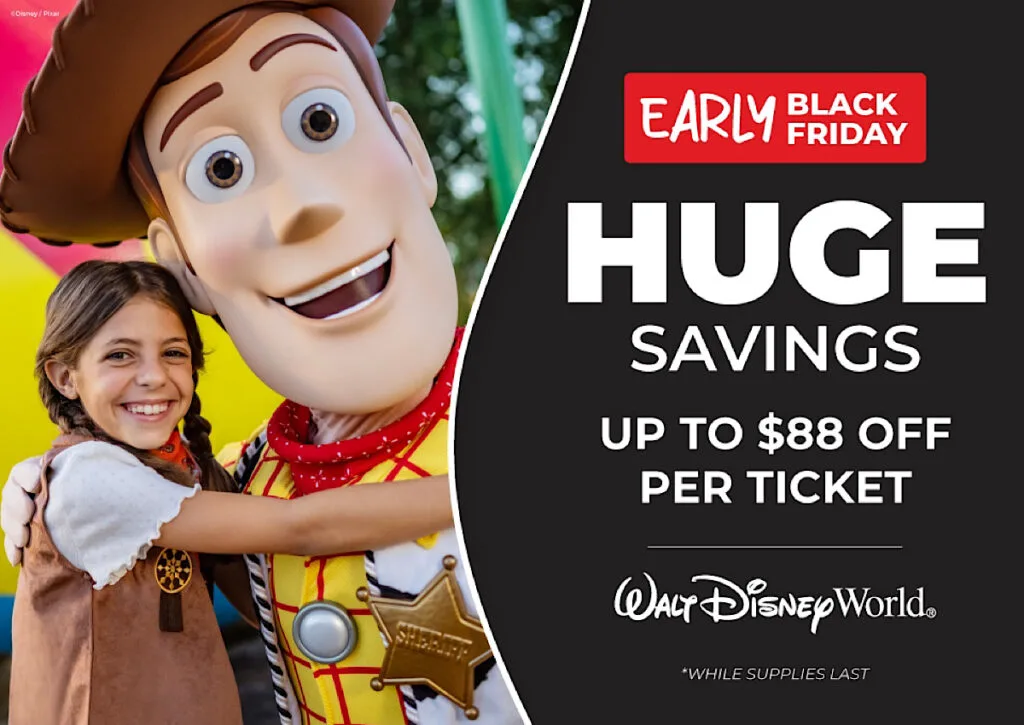 Take advantage of this Early Black Friday Sale with HUGE savings at Walt Disney World from Get Away Today. Check prices & book here: www.GetAwayToday.com (use coupon code:Clubhouse10 or call 855-Get-Away and tell them Mommy Mouse Clubhouse sent you!
Final Thoughts
Making homemade Mickey Waffles at home can be just as delicious as the ones you get at Disney. All you need is the right ingredients and tools, and a little bit of patience for your waffles to turn out perfectly crispy on the outside and soft within. Don't forget all the fun toppings like homemade caramel or chocolate ganache! Enjoy!
Other Breakfast Recipes You Will Love: