The perfect made from scratch crispy waffles recipe shaped like Mickey Mouse! Crispy on the outside, soft and buttery on the inside. Just like at the Disney Parks and Resorts!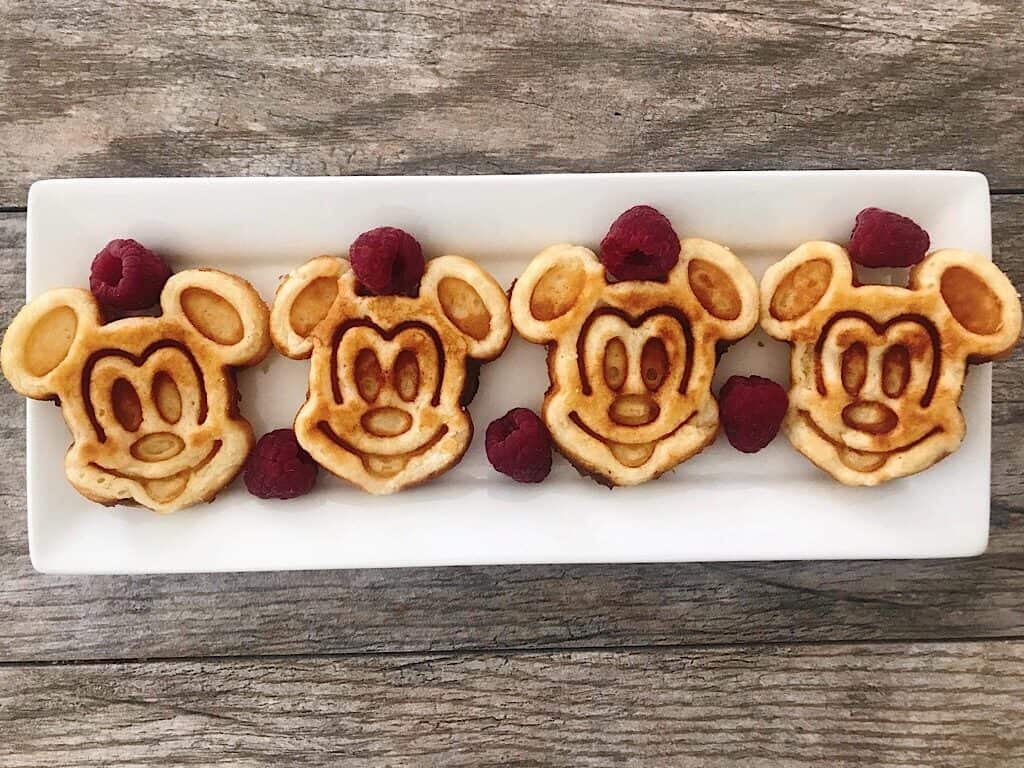 This post may contain affiliate links. When you click on these links, I get a small percentage back at no cost to you! For more information see my disclosure policy.
Below you will find tips, tricks and helpful hints for making this recipe including step by step instructions with pictures. If you would like to go directly to the recipe, scroll down to the recipe card.
We kind of have an obsession with Mickey Waffles at our house. It began when my husband and I visited Disney World on our first anniversary.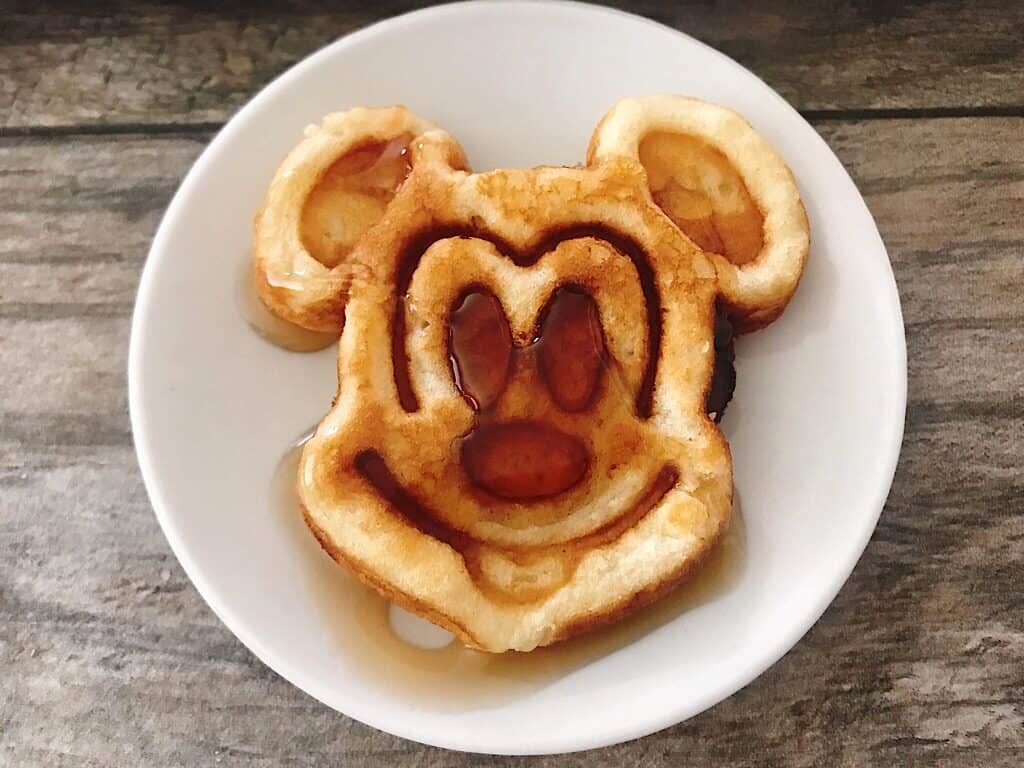 We were staying at Disney's Pop Century Resort and every morning while I was getting ready for the day, my husband would go down to the food court and get us each a Mickey Waffle.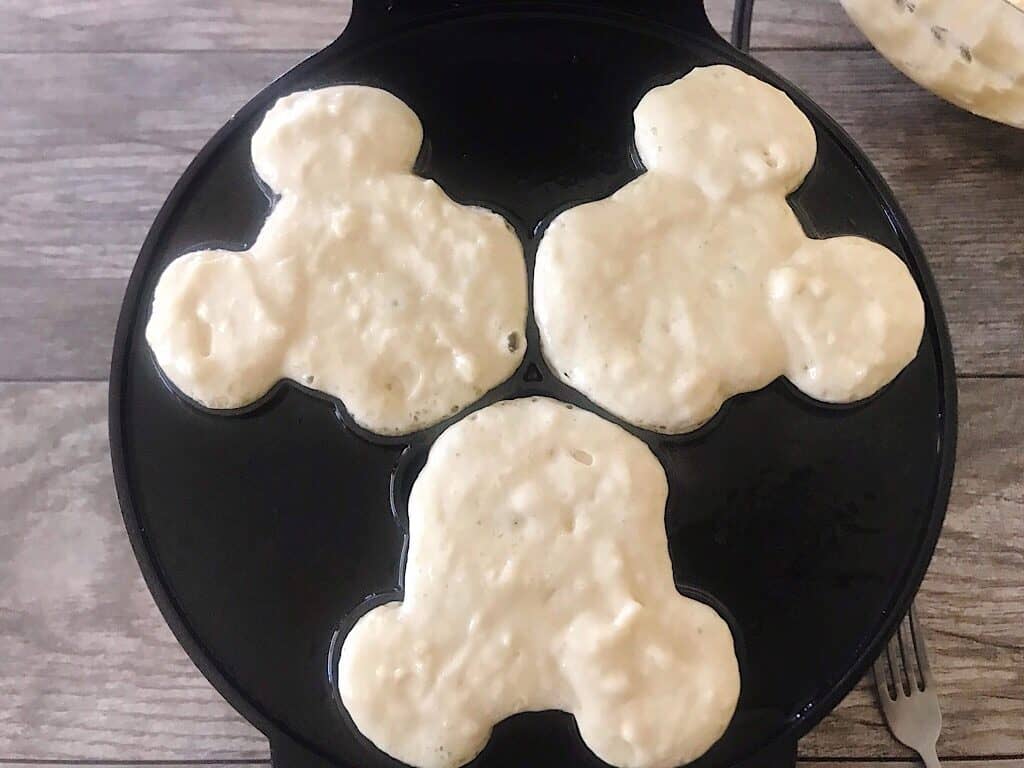 I was in love. Not only with my husband, but with the delicious Mickey Waffles that were crispy on the outside and soft and buttery on the inside.
What is Disney's Recipe for Mickey Waffles?
I have been wanting to make my own Mickey Waffles at home, but found out that Disney actually uses a baking mix to make their waffles at the resorts and parks.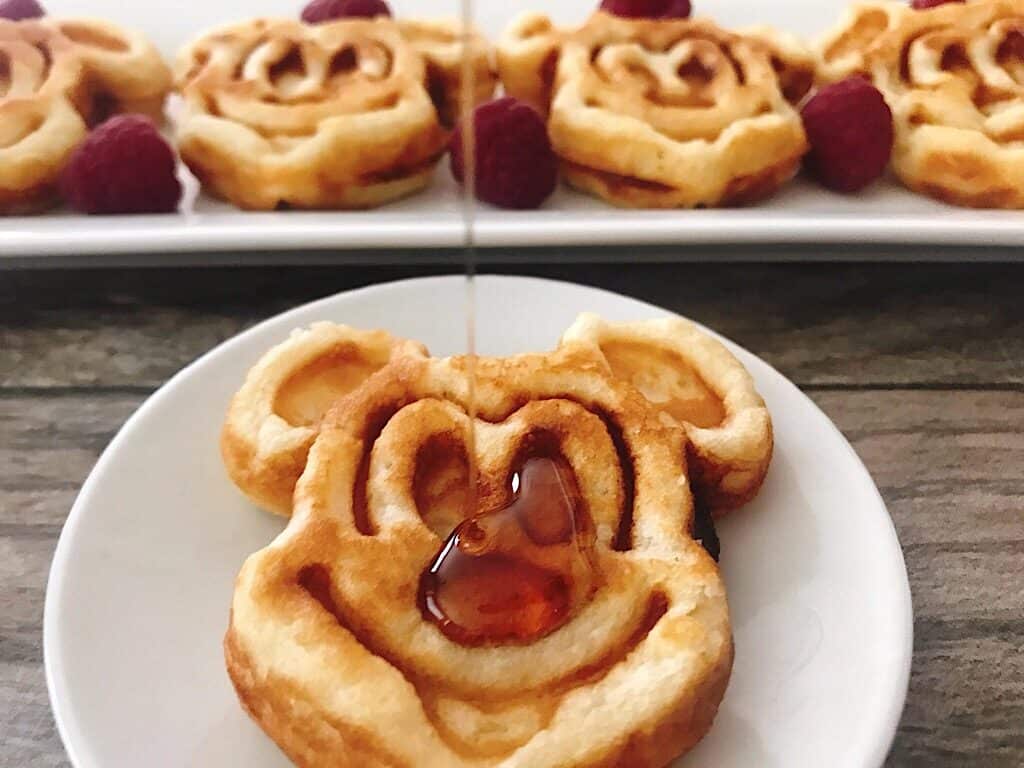 The mix they use does tastes like it has something a little extra that your standard waffle mix does not have.
Try these waffles with Sweet Cream Cheese Syrup. It's so good!
What is the Secret Ingredient in Mickey Waffles?
The different taste that you get with the Disney Mickey waffles is Malted Milk.
So I tried to add it to standard waffle mix, but the texture was just not the same.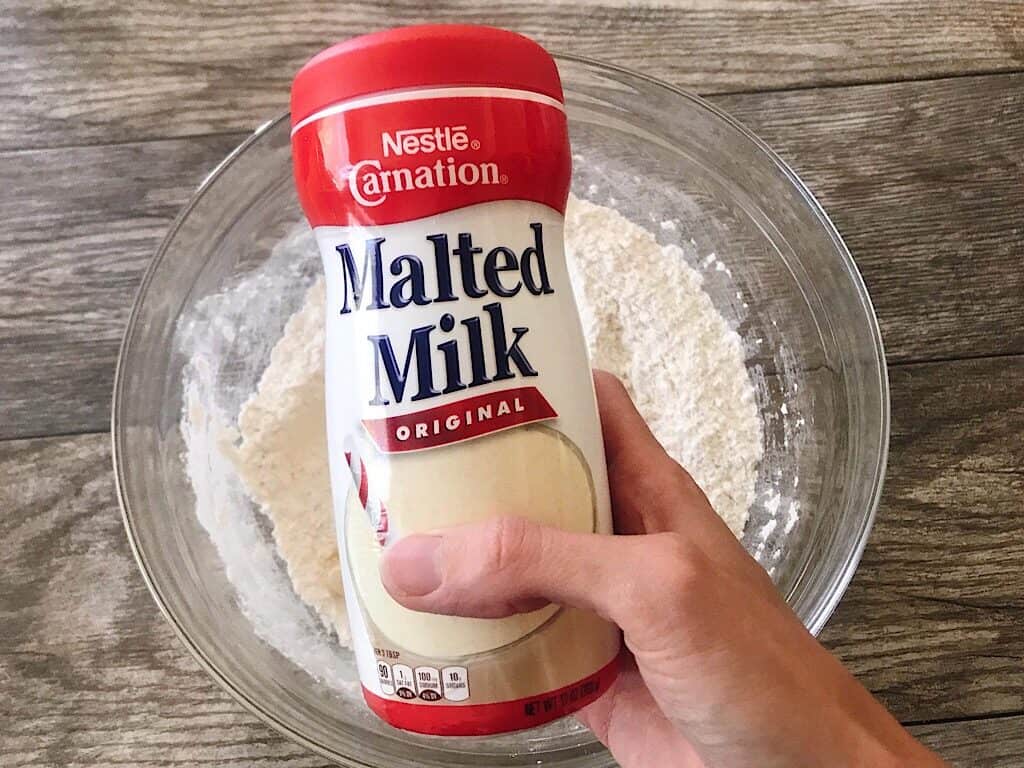 When you get a Mickey waffle at Disney, they are crispy. The waffles I was making at home were floppy. Not the same.
How to Make Crispy Waffles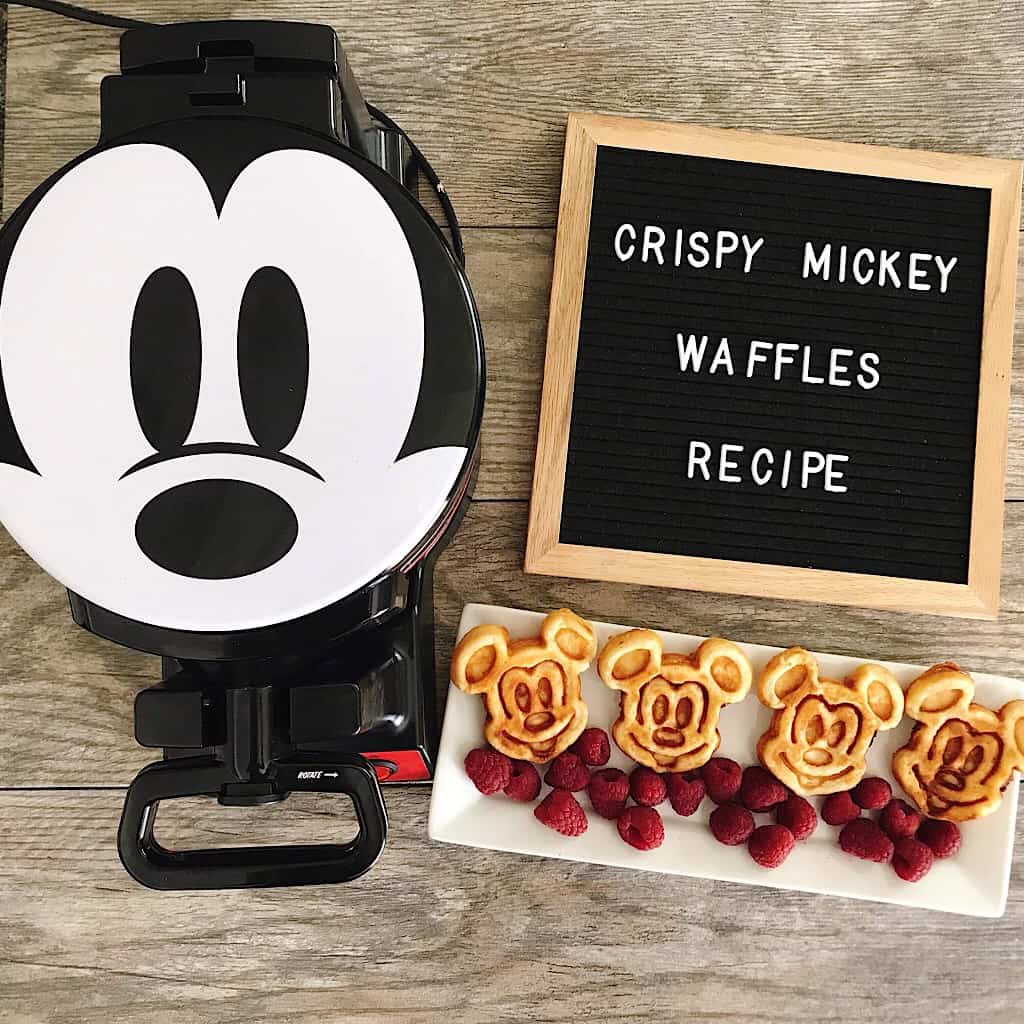 I have been unable to find a mix that produces the same result as the one at Disney, but I think I have perfected a "from scratch" recipe that is pretty darn close!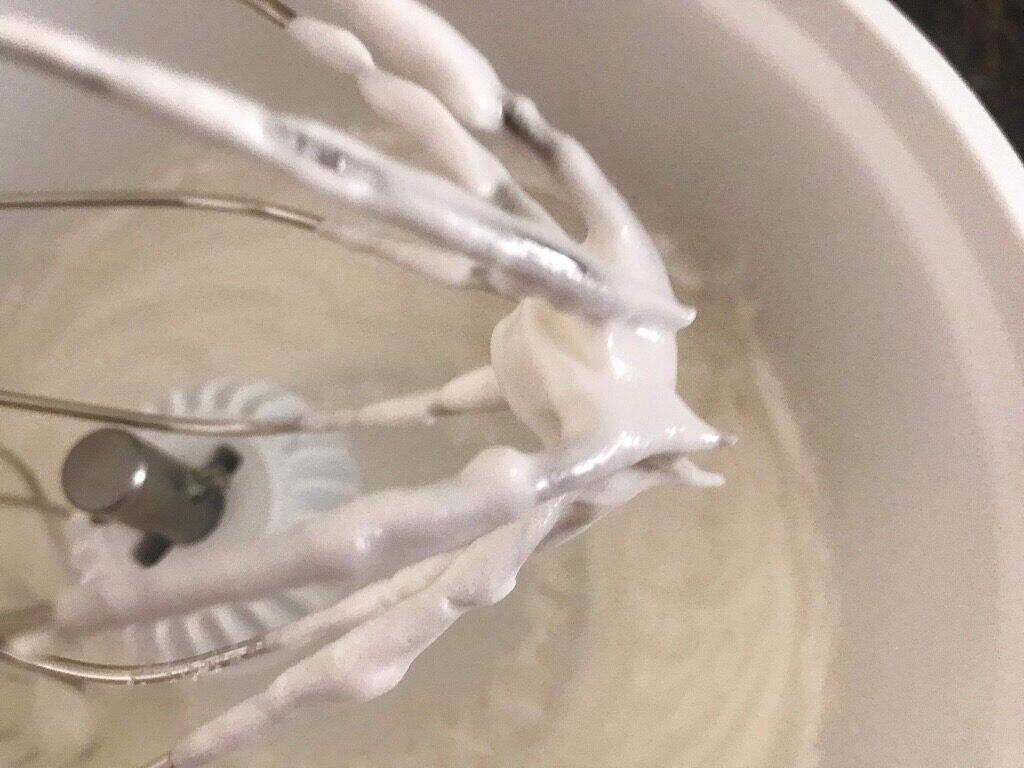 Here are a couple of things you can do to achieve crispy waffles:
Use corn starch

More butter

Separate the eggs and whip the whites
Ingredients for Crispy Mickey Waffles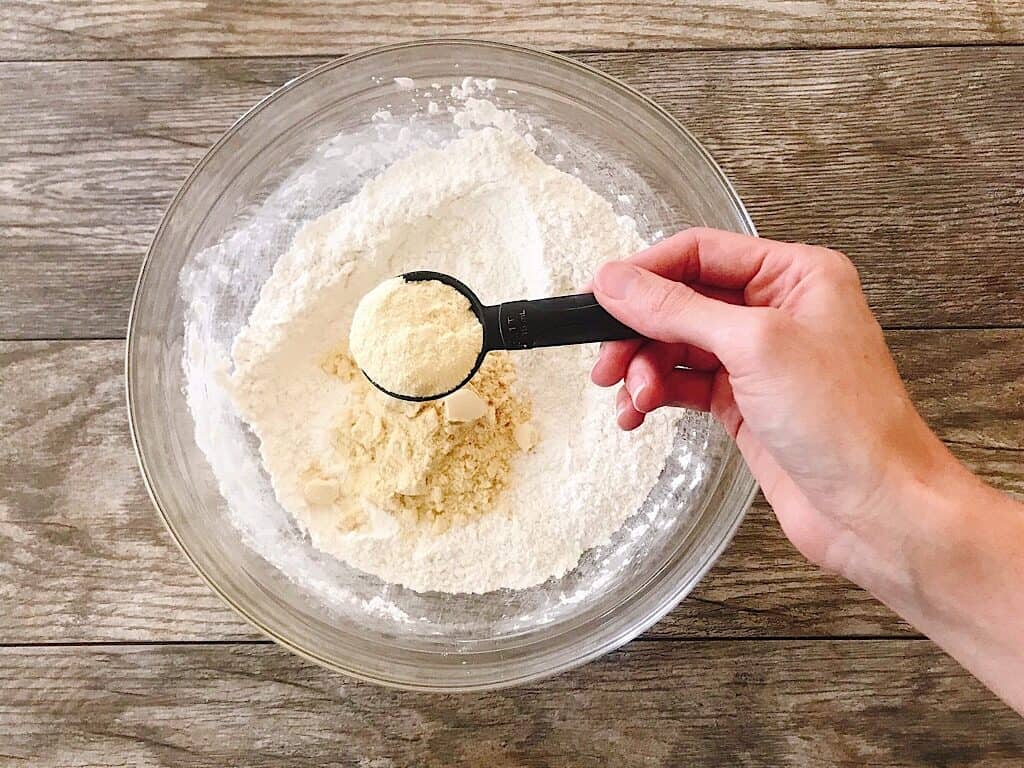 1 1/2 Cups All-Purpose Flour

1/2 Cup Corn Starch

1 Teaspoon Salt

1 Teaspoon Baking Powder

1/2 Teaspoon Baking Soda

1/4 Cup Malted Milk

1/2 Cup Butter, melted

1 1/2 Cups Buttermilk

1/2 Cup Milk (Whole or 2%)

2 Eggs, separated

1 Tablespoon Vanilla Extract

2 Tablespoons Sugar
Helpful Kitchen Tools
The most important tool for making Mickey Waffles is a Mickey Waffle Iron.
The one I used in this post, which looks the most like Mickey waffles you get at Disney, I purchased from shopDisney.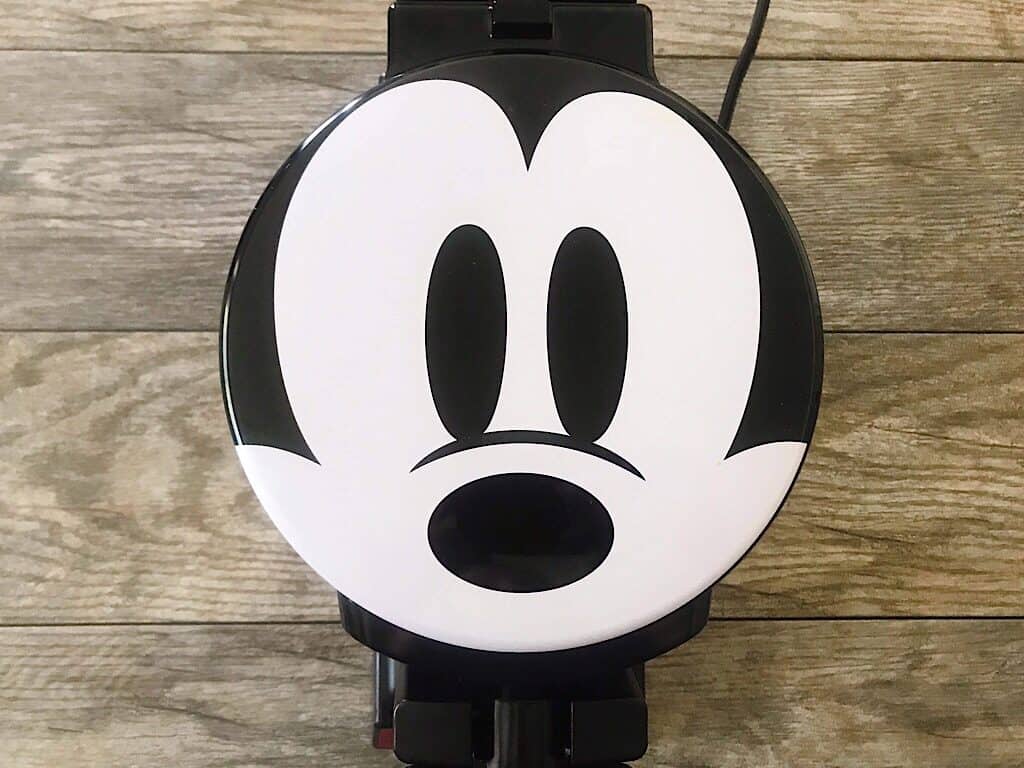 Unfortunately, it isn't in stock very often. But I have found it at Hot Topic as well as here on Amazon.
Click Here to get this cute Mickey Waffle Iron on Amazon!
There are also a couple of other options as well. This Mickey Waffle Iron is a great alternative, and I happen to own it as well.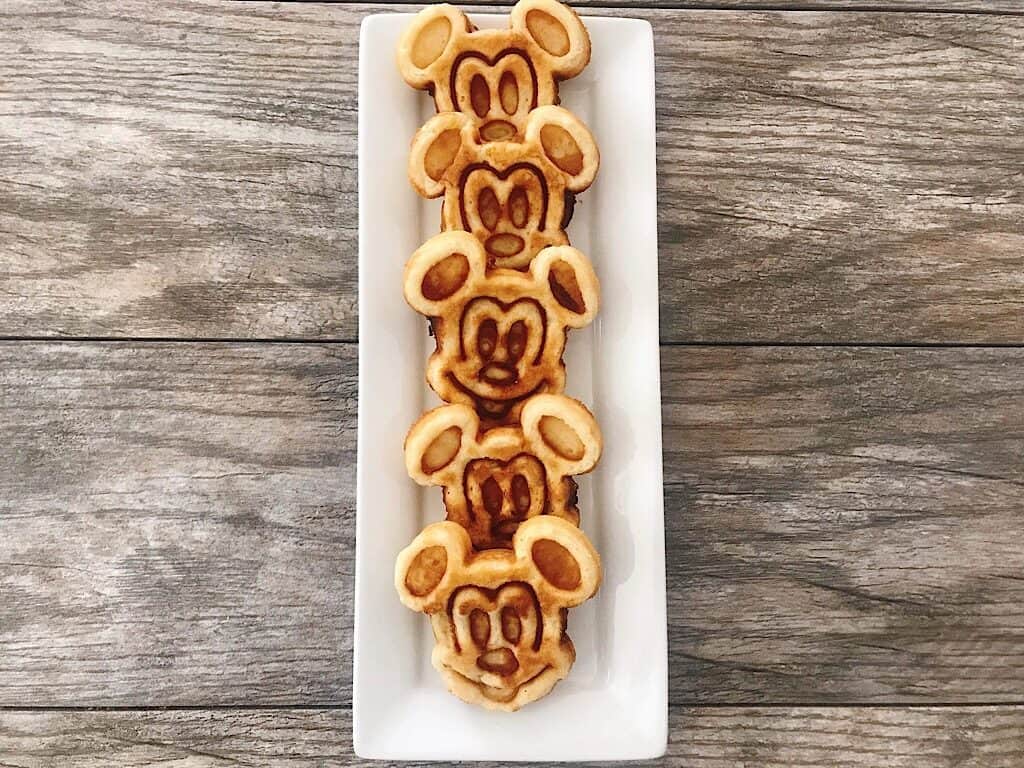 This waffle maker makes mini Mickey Waffles at an affordable price, which could be really fun!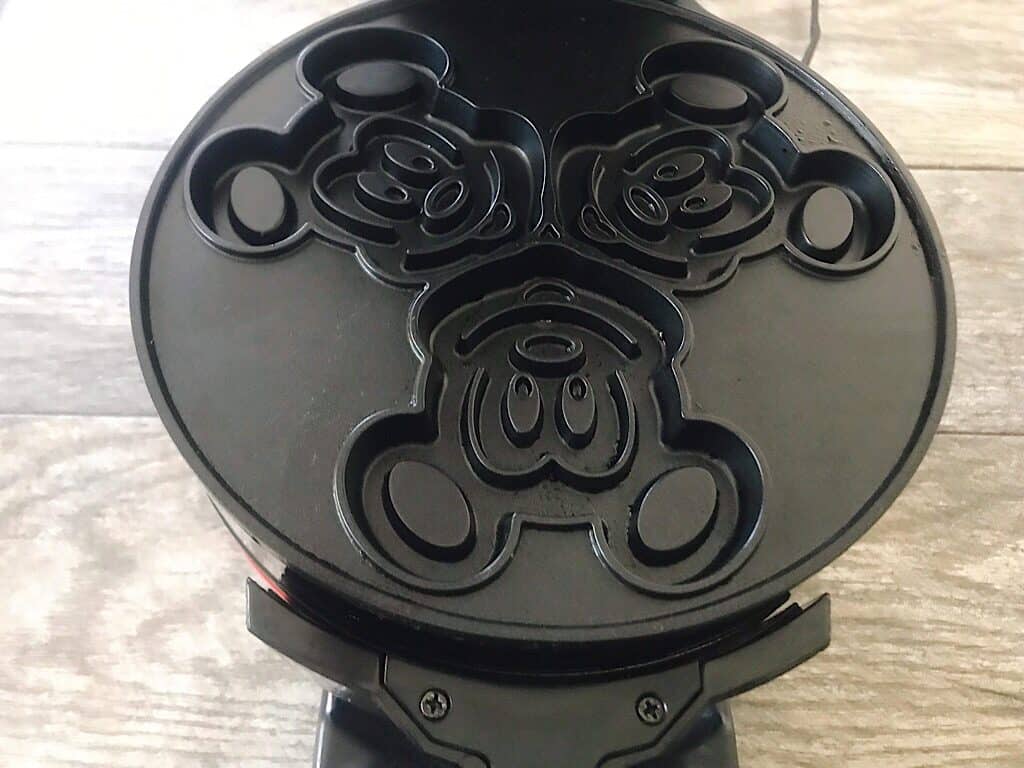 The great thing about this recipe is that your waffles don't have to be shaped like Mickey Mouse.
You can use any standard waffle iron and still get the same delicious result.
Other Helpful Tools:
How to Make Crispy Waffles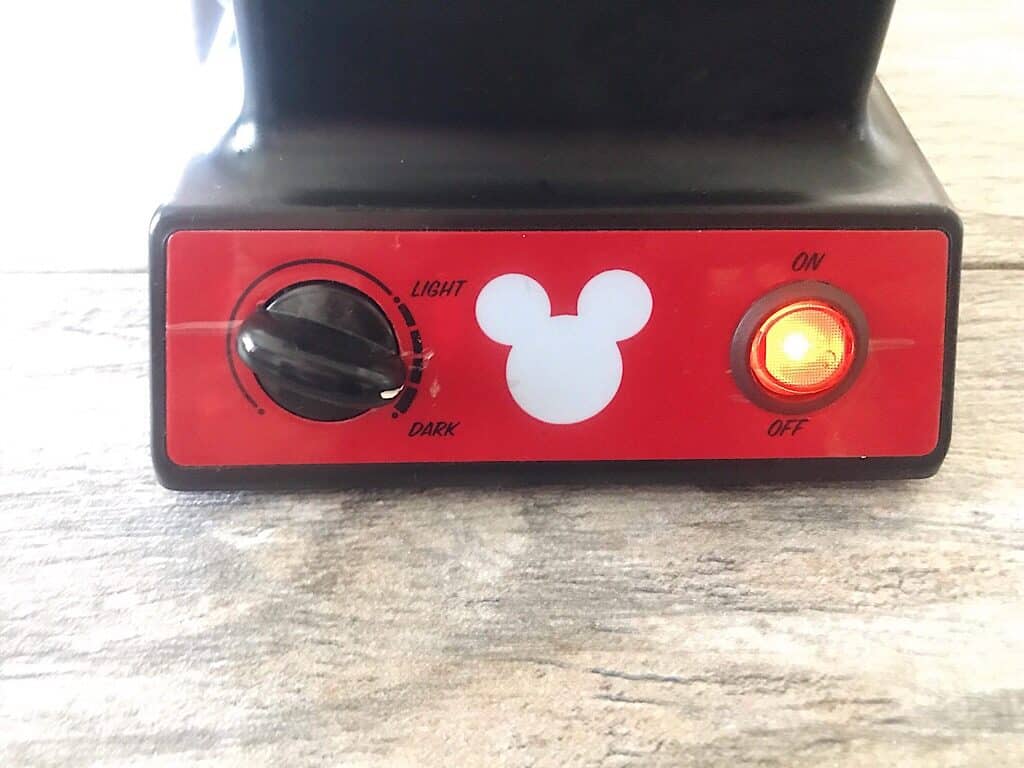 In a large bowl, sift or whisk together the flour, corn starch, salt, baking powder, baking soda, and malted milk. Set aside.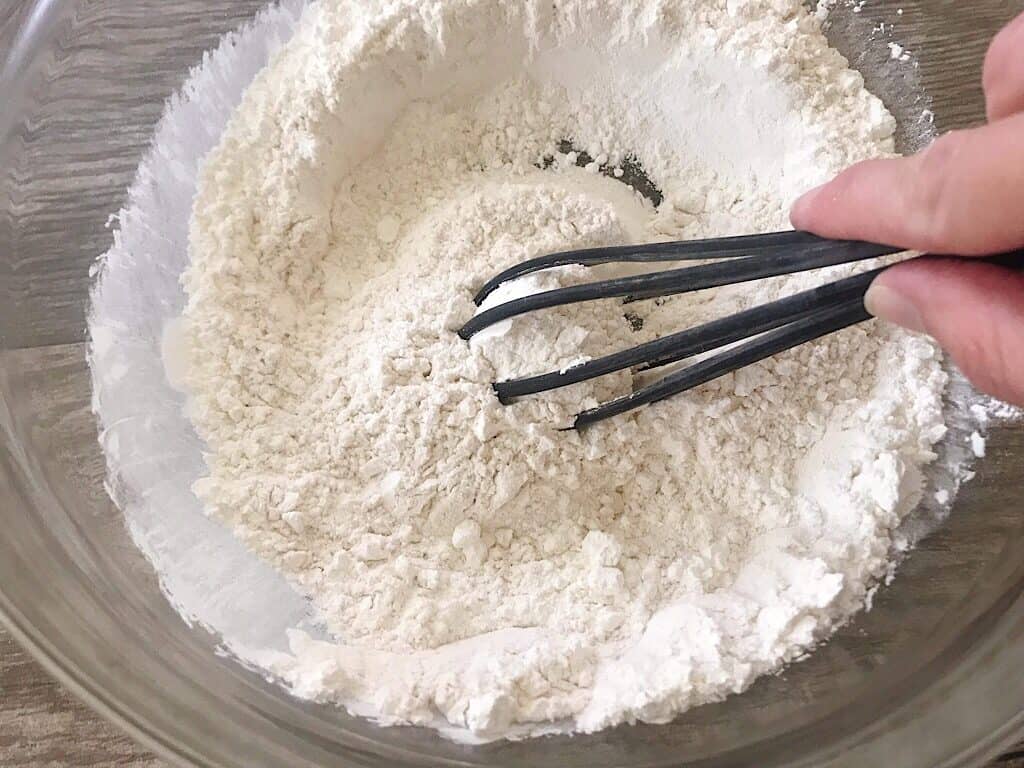 In a separate bowl, beat the buttermilk, melted butter, egg yolks, and vanilla together. Set aside.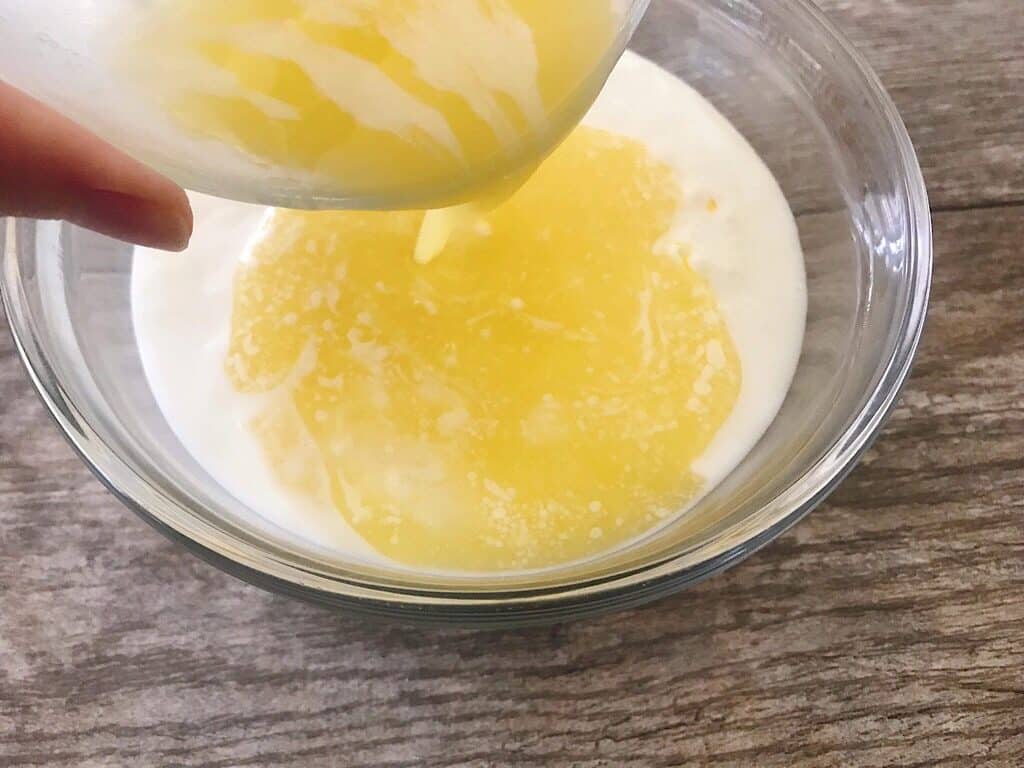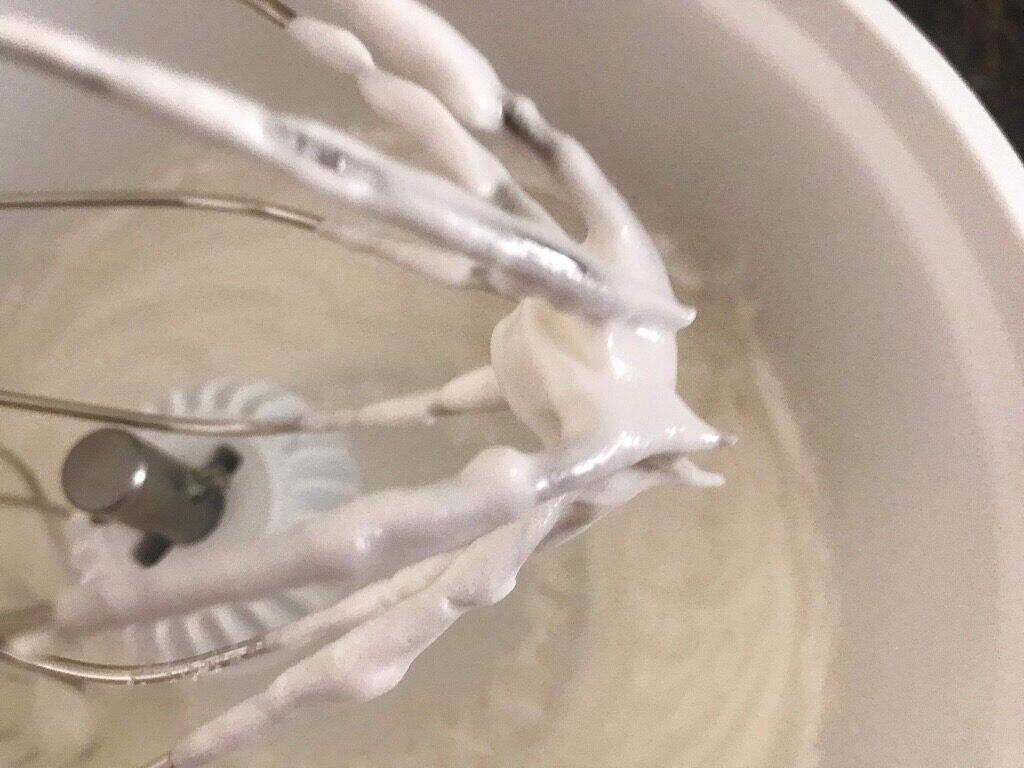 S

prinkle the sugar over the egg whites then beat again until firm peaks have formed.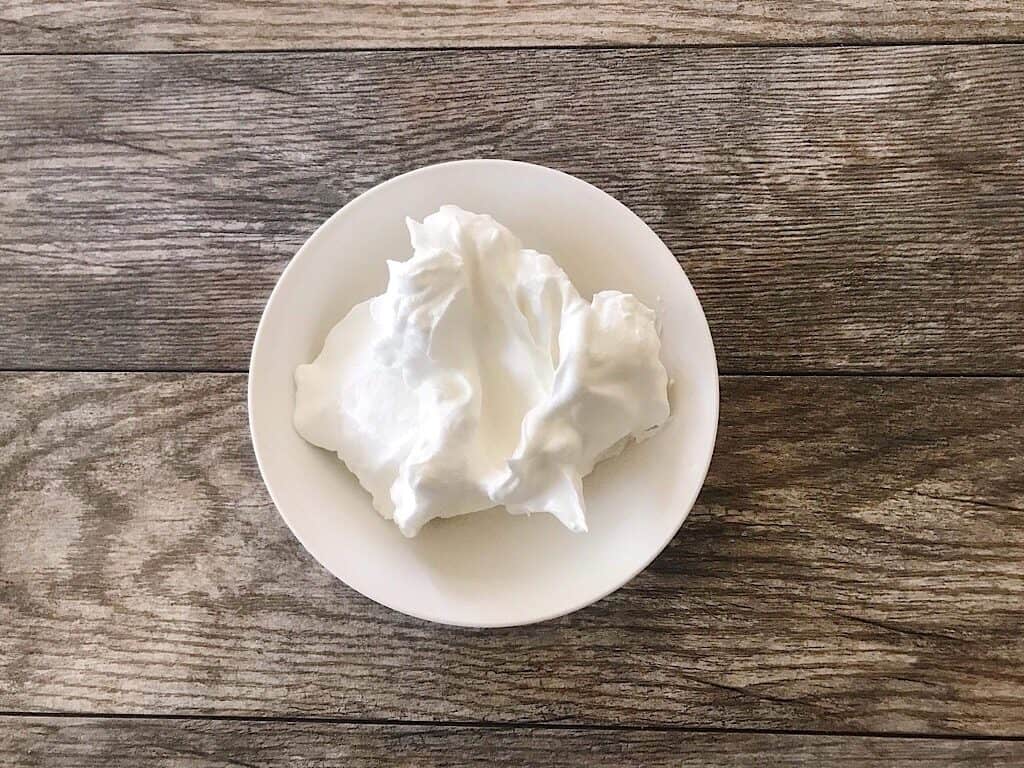 Pour the wet ingredients into the dry ingredients and stir until just moistened.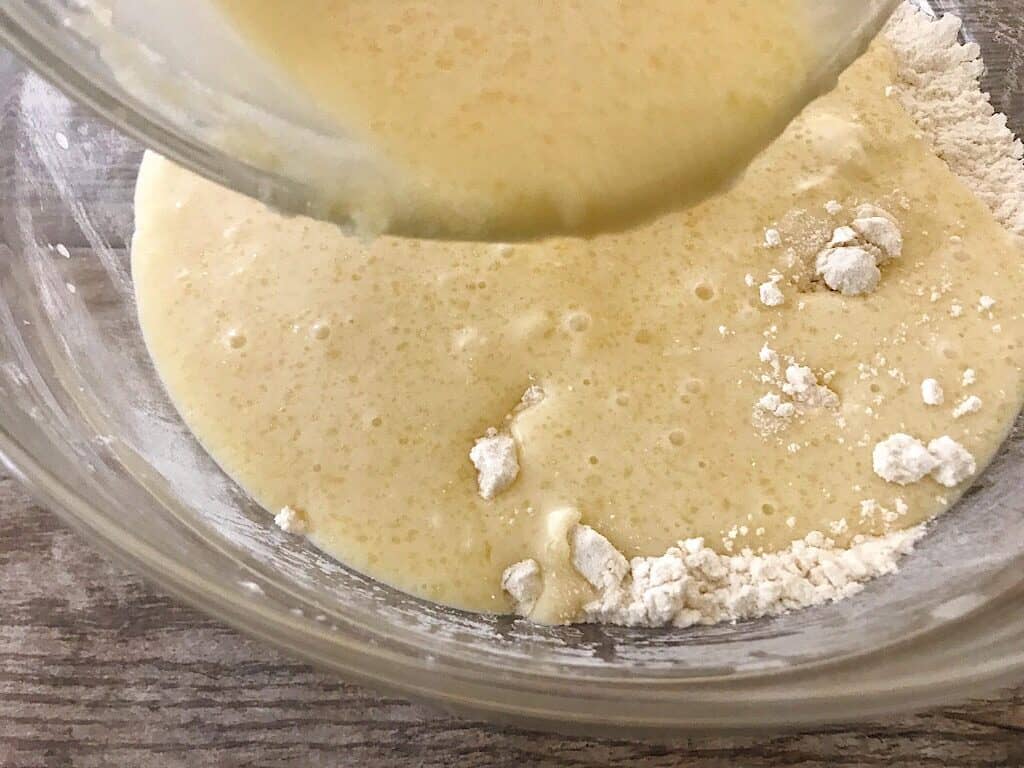 With a spatula, gently fold the egg whites into the batter being careful not to over mix.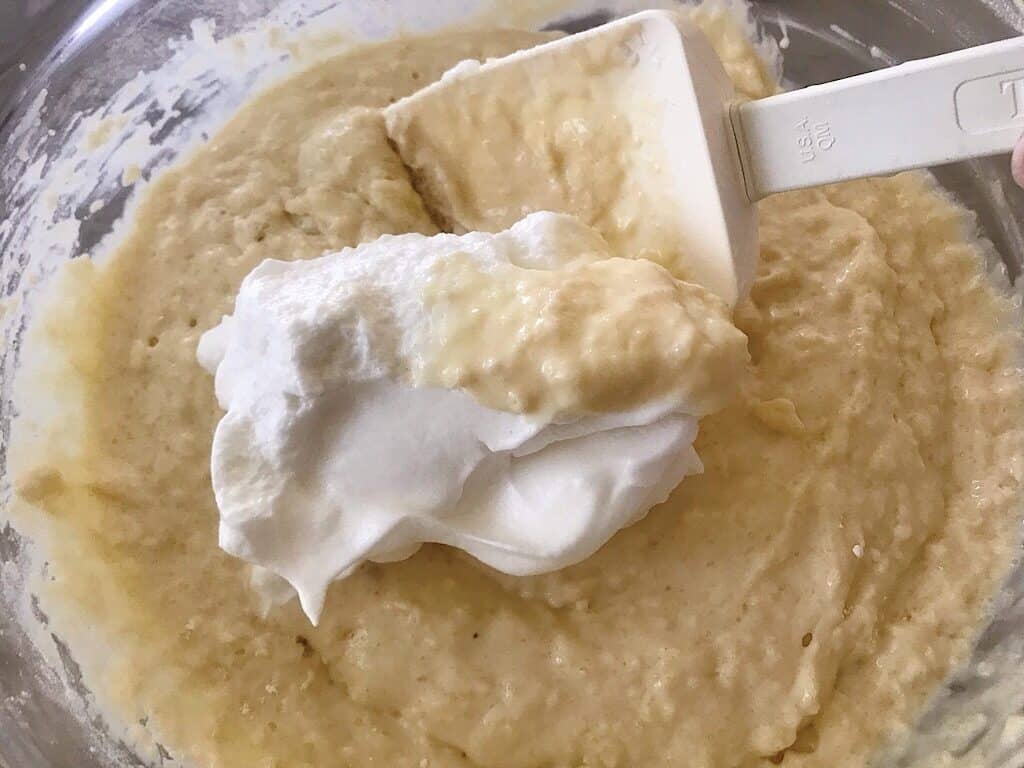 Spray your waffle iron with nonstick spray and add the batter. I Used about 3 Tablespoons of for these Mickey Waffles. Use the appropriate amount for your waffle maker.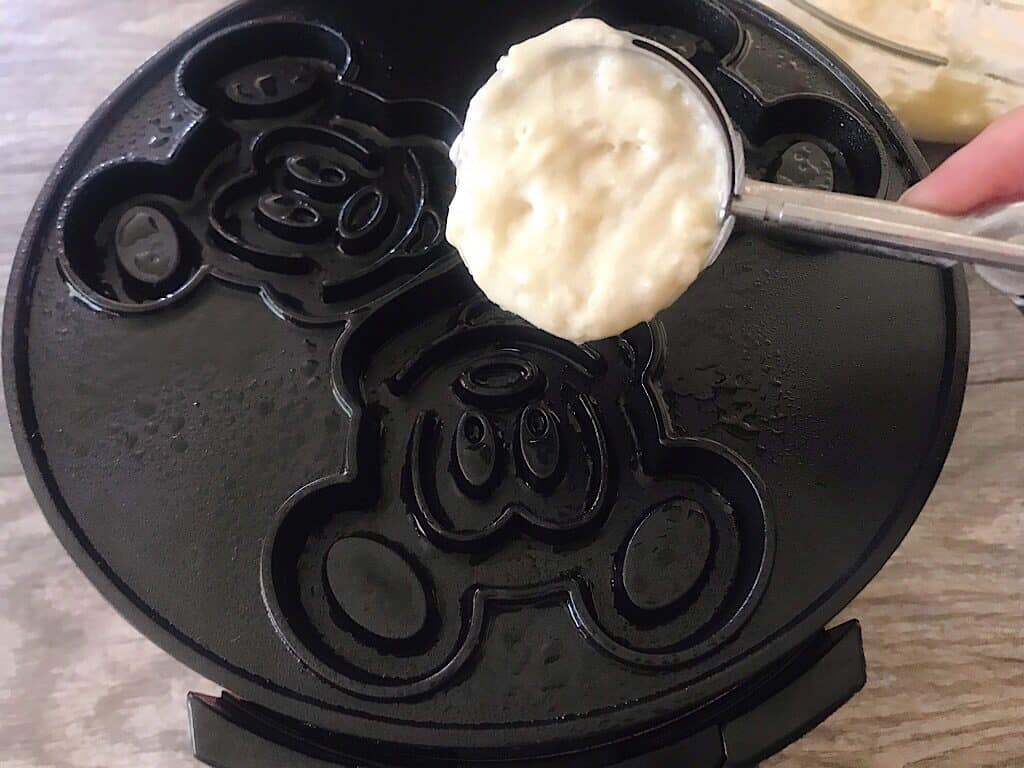 Bake your waffles until brown and crispy.
Remove them from the waffle iron and place them on a baking sheet in the warmed oven until ready to serve.
Other Breakfast Recipes You Will Love:
Pin for later: