Kodiak Protein Waffles are a delicious and easy way to start your day. Made by combining Kodiak Cakes Pancake mix with greek yogurt and topped with decadent peanut butter syrup to create a satisfying breakfast that will keep you full all morning long. Kodiak Cakes Pancake mix can be found at most grocery stores and the peanut butter syrup can be made with pantry staples right at home! Give Kodiak Protein Waffles a try today!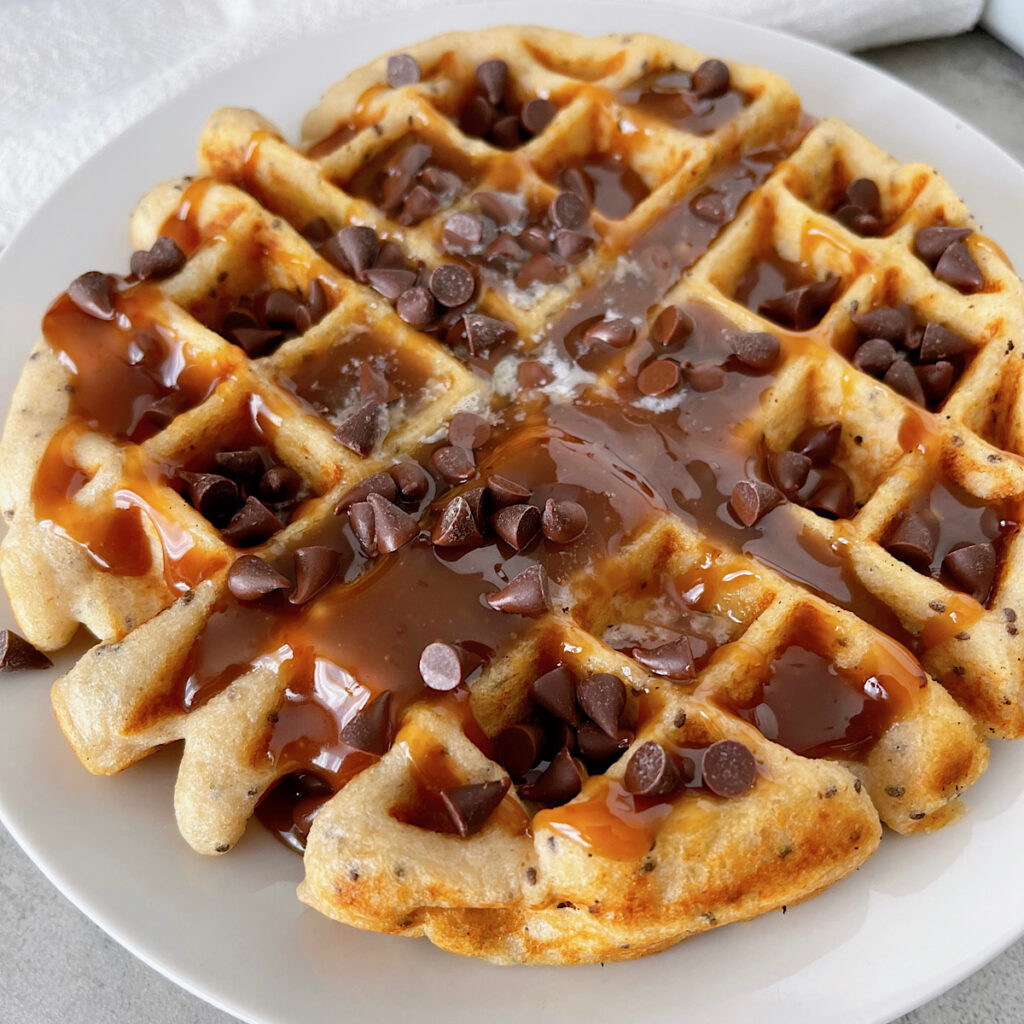 This post may contain affiliate links. When you click on these links, I get a small percentage back at no cost to you! For more information see my disclosure policy.
Below you will find tips, tricks and helpful hints for making this recipe including step by step instructions with pictures. If you would like to go directly to the recipe, scroll down to the recipe card.
Why You'll Love These Waffles
Kodiak Cakes waffles are already delicious and packed with protein, but why not take your breakfast game up a notch with a few ingredient additions that make these protein-packed waffles out of this world?
Topping these waffles with a decadent peanut butter syrup does just that. The combination of rich maple syrup and nutty peanut butter is a match made in heaven, and takes these waffles to a whole new level.
Not to mention, the addition of mini chocolate chips makes for a fun and tasty topping that kids (and adults!) will love.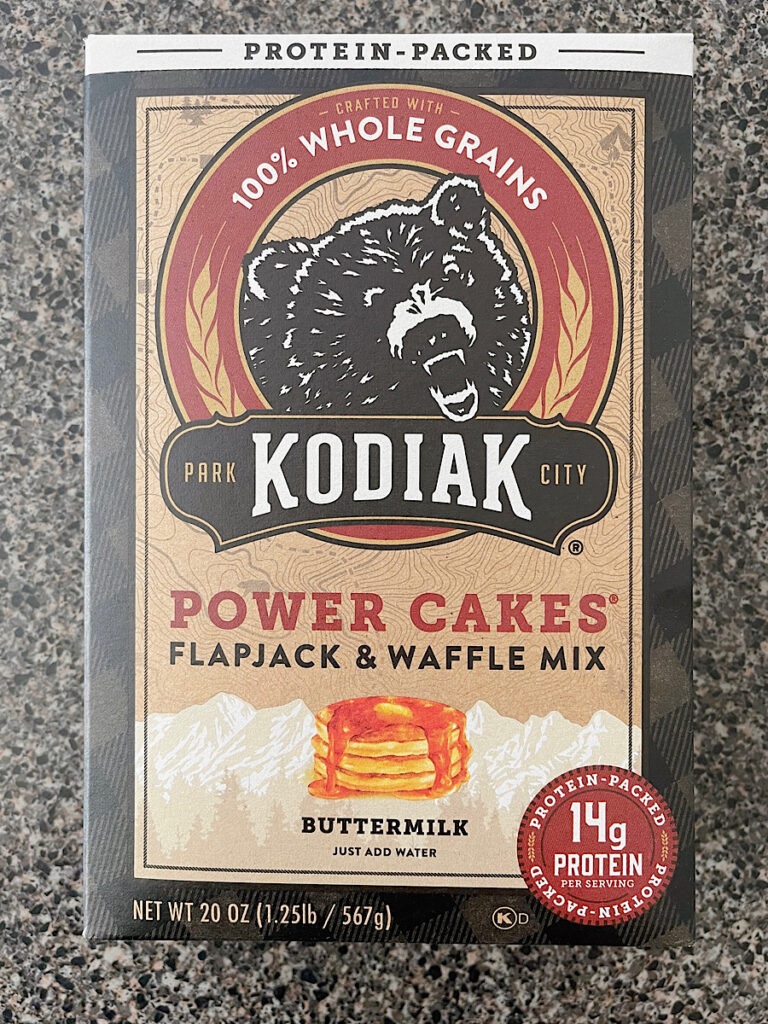 Benefits of a Protein-Packed Breakfast
A protein-packed breakfast is a perfect way to start your day, and these Kodiak Protein Waffles are a great option. Protein helps to keep you full and satisfied all morning long, so you're less likely to reach for unhealthy snacks later on in the day.
Protein is also essential for repairing muscles after a workout, so if you're looking for a post-workout breakfast option, these waffles are perfect.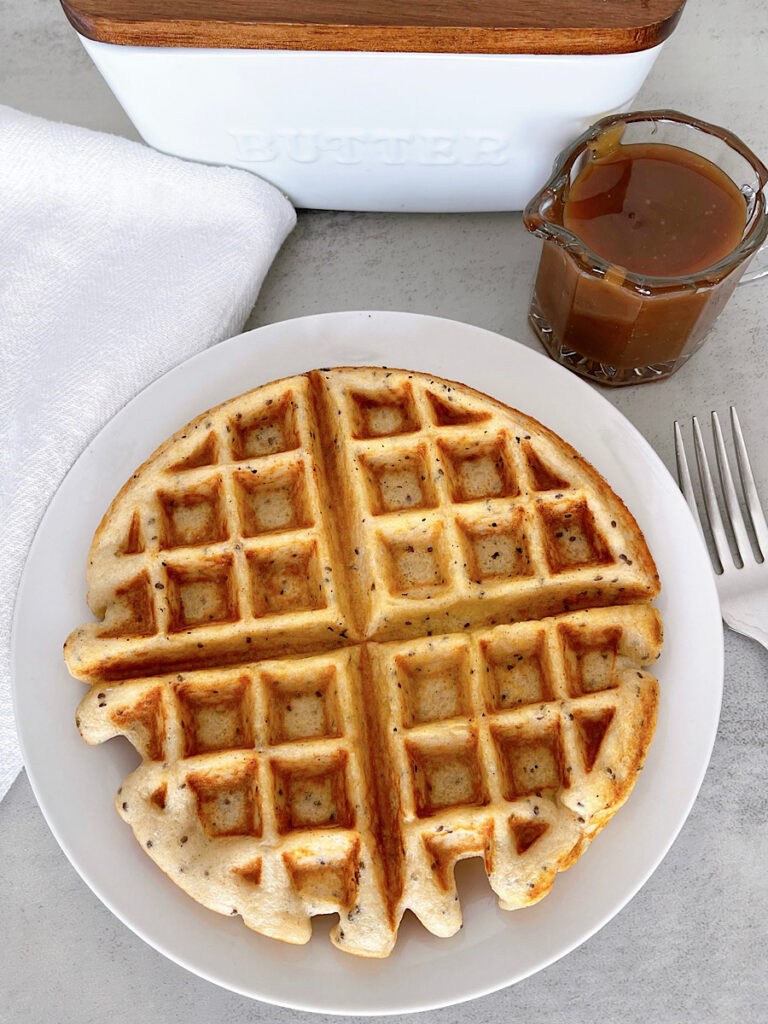 Kodiak Protein Waffles Ingredients
*Ingredient amounts are located in the recipe card at the end of this post.
Kodiak Power Cakes Flapjack & Waffle Mix: This Kodiak waffle mix can is the foundation of this recipe and can be purchased at most grocery stores or shop now on Amazon.
Greek Yogurt: Greek yogurt is a great source of protein and helps to keep these waffles moist and fluffy.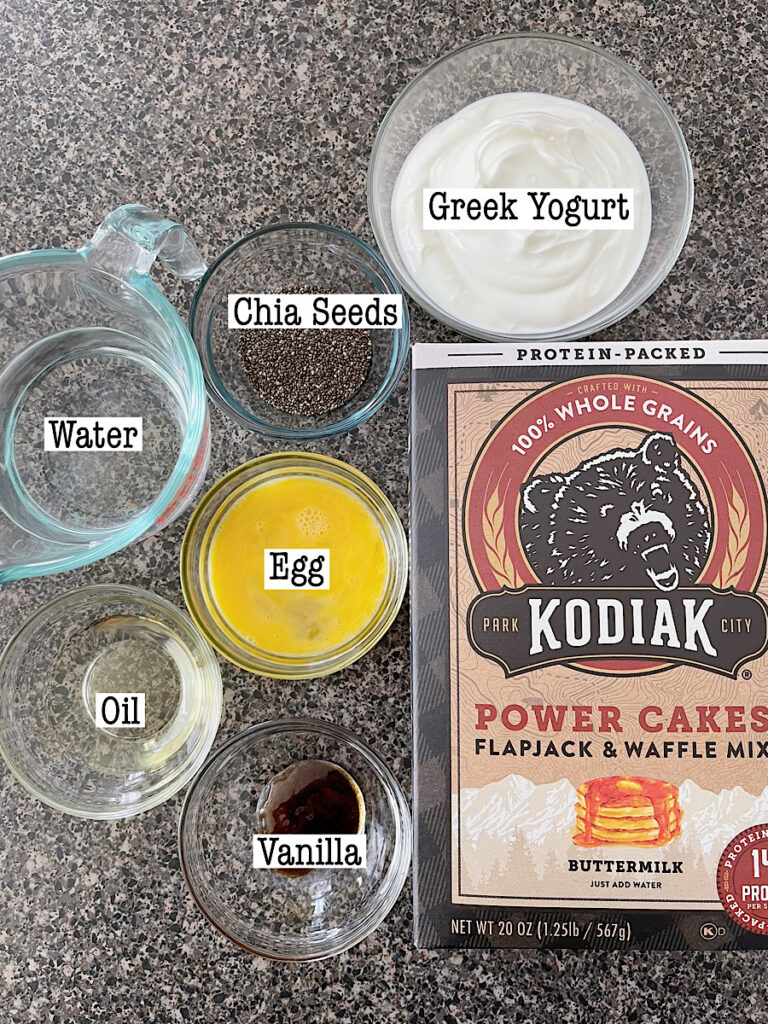 Water: You'll need just 3/4 cup of water to bring the batter together.
Egg: One egg is all you need to bind the ingredients together.
Chia Seeds: Chia seeds are a great source of fiber and add a boost of nutrition to these waffles.
Oil: You'll need just 2 tablespoons of oil to help the waffles cook up nice and crispy. Use a neutral-tasting oil like canola, vegetable, or coconut oil. Do not use olive oil.
Vanilla Extract: A teaspoon of vanilla extract adds a delicious flavor to these waffles. Almond extract can be substituted if you prefer the taste.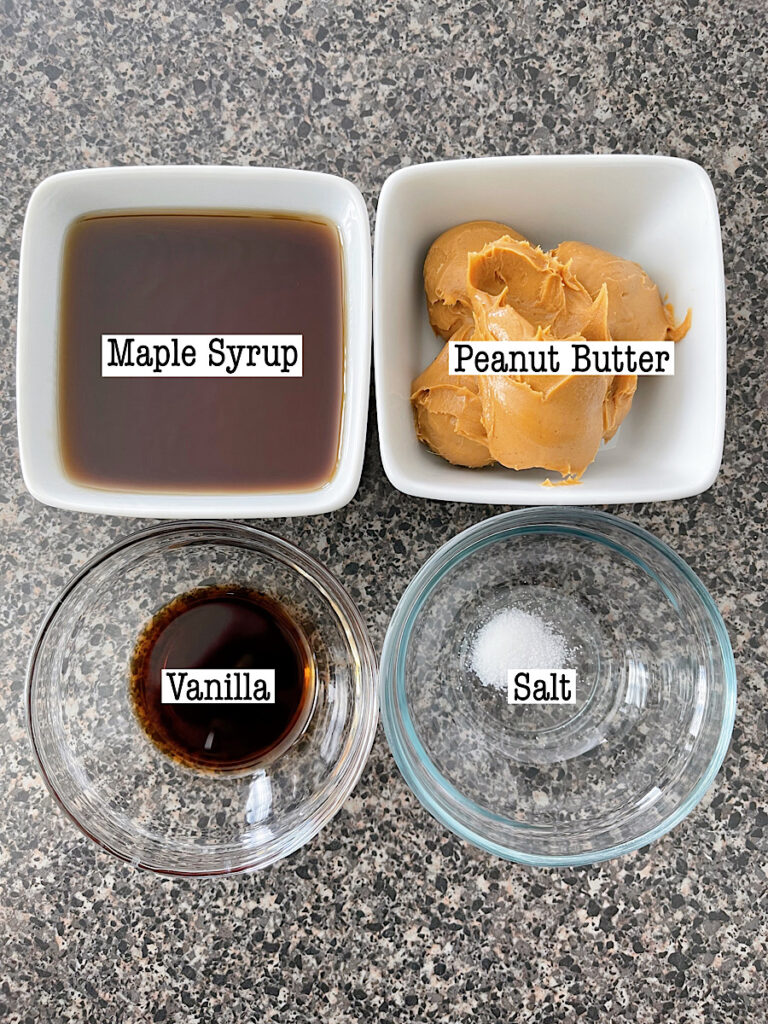 Peanut Butter Syrup Ingredients
Maple Syrup: Maple syrup is the base of this syrup and provides a delicious, rich flavor.
Peanut Butter: You'll need just 1/4 cup of peanut butter to add a nutty flavor to the syrup. You can use creamy peanut butter, crunchy, or natural. I used honey roasted peanut butter and it was delicious.
Vanilla: A teaspoon of vanilla extract rounds out the flavors of this syrup.
Salt: You only need a pinch to balance out the sweetness of the syrup.
Topping
Mini Chocolate Chips: These little chocolate chips make for a fun and tasty topping. I prefer dark chocolate chips.
How to Make Kodiak Protein Waffles (Step by Step)
[1] In a medium bowl, whisk together the greek yogurt, water, egg, oil, and vanilla extract.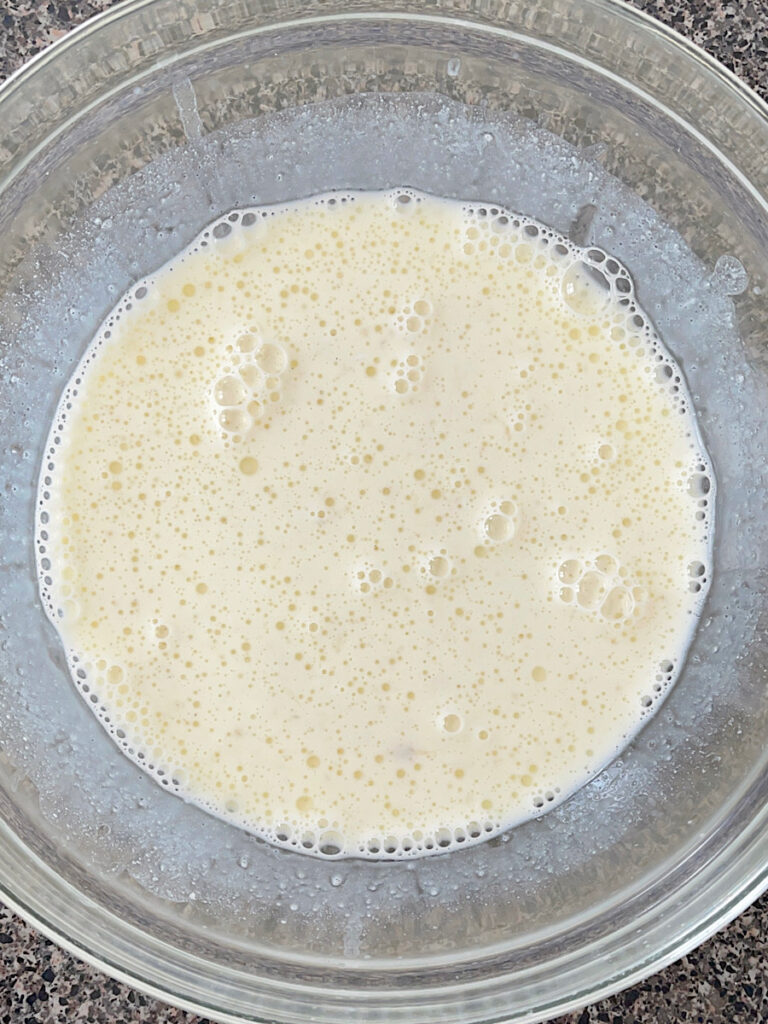 [2] In a large bowl, combine the protein pancake mix with the chia seeds.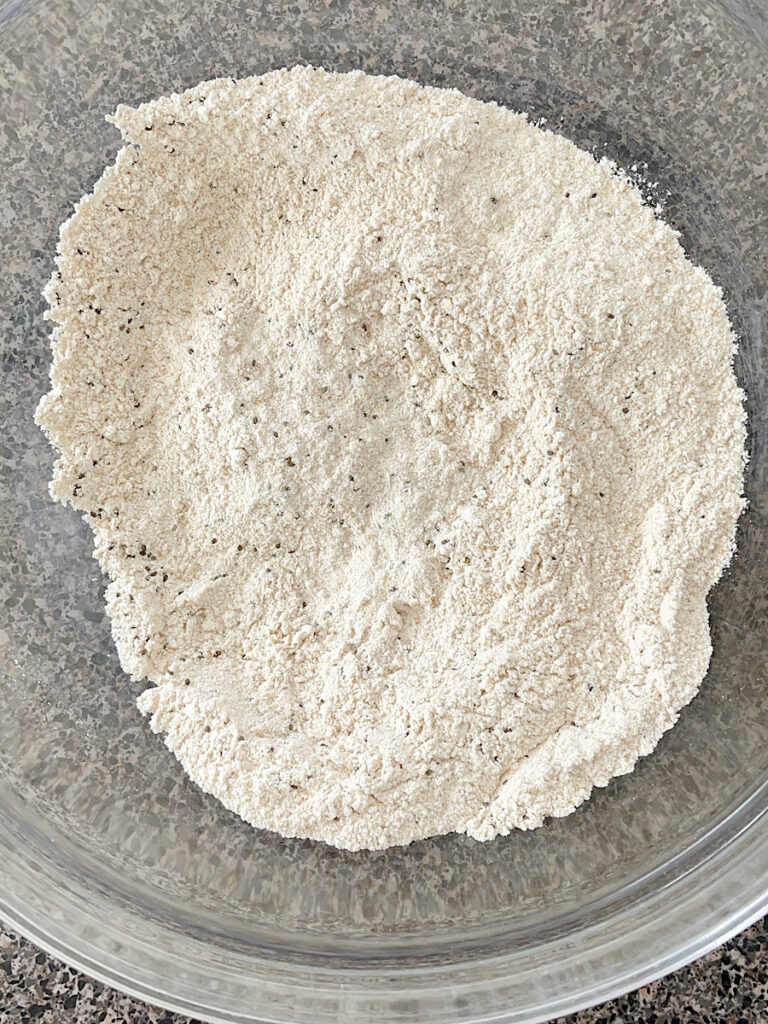 [3] Add the egg mixture to the dry ingredients and stir until just combined. Do not overmix.
[4] Spray a preheated waffle iron with non-stick spray or brush with oil. Then scoop the batter onto the waffle iron (the amount will differ by waffle iron) and close to cook waffle.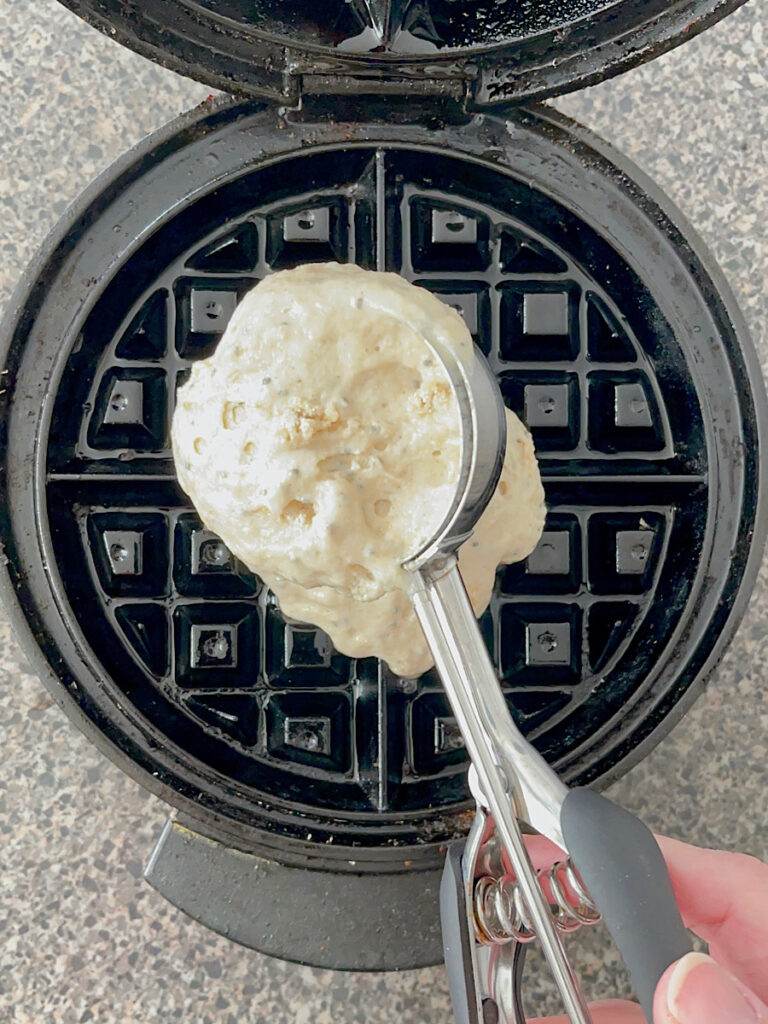 [5] When the waffle is golden brown, remove and serve immediately or keep warm until ready to serve.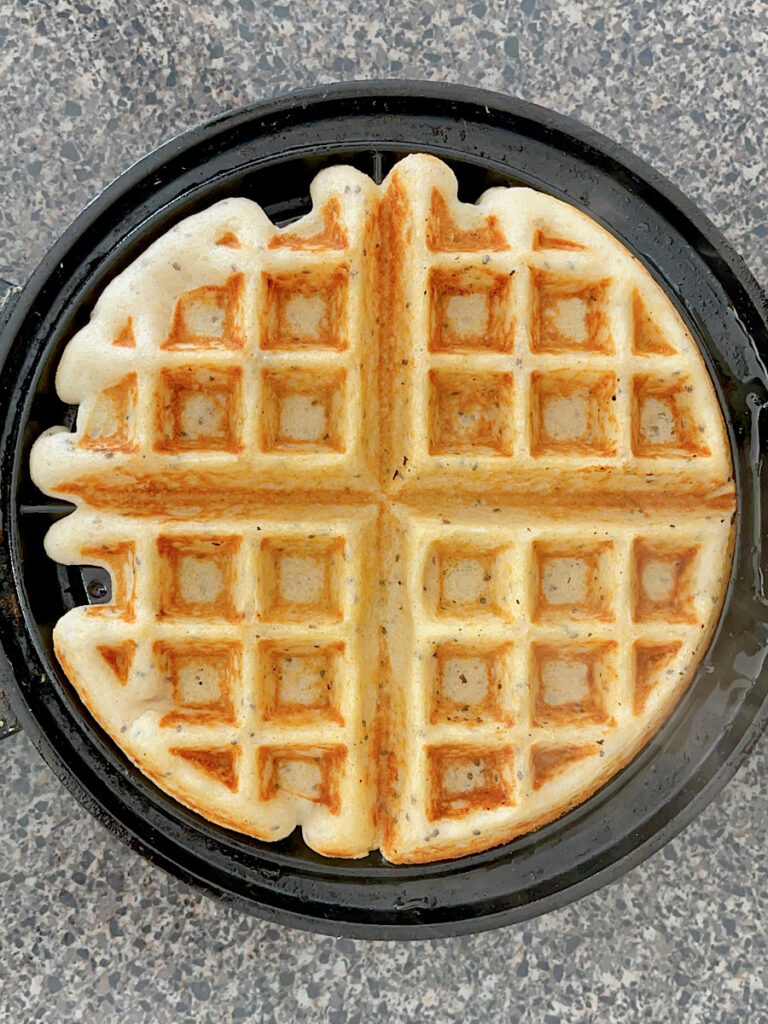 How to Make Peanut Butter Syrup
[1] Add the maple syrup and peanut butter to a medium saucepan and turn the stove to medium-high heat.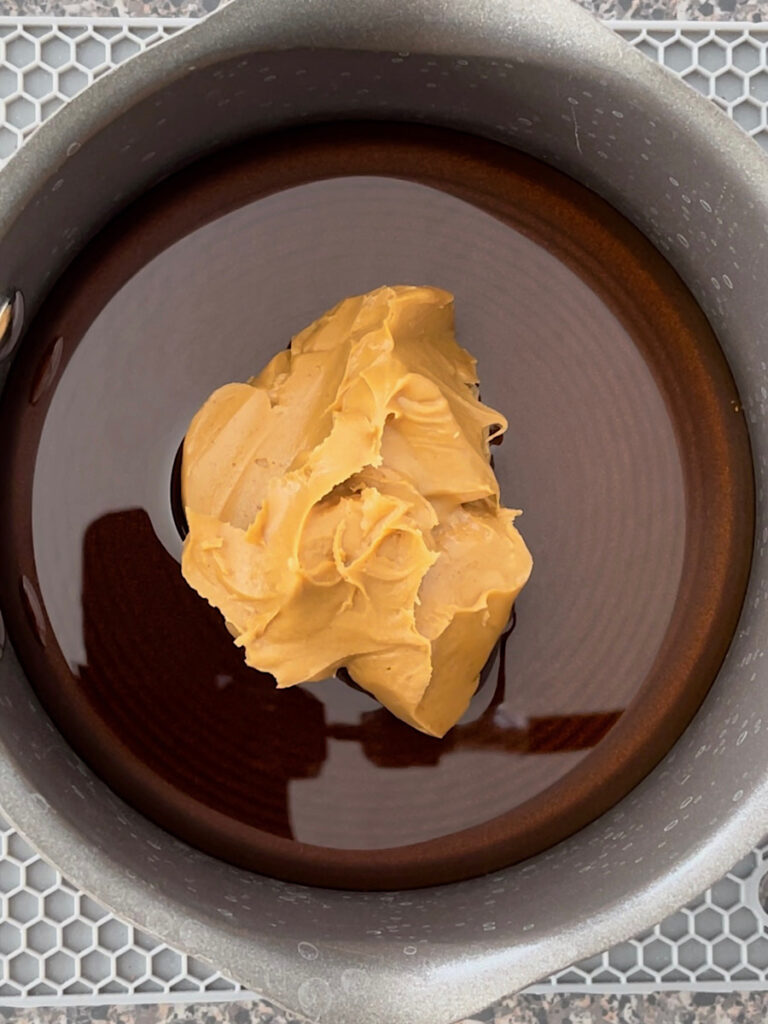 [2] Bring the mixture to a boil, then turn the heat down and simmer for 5 minutes.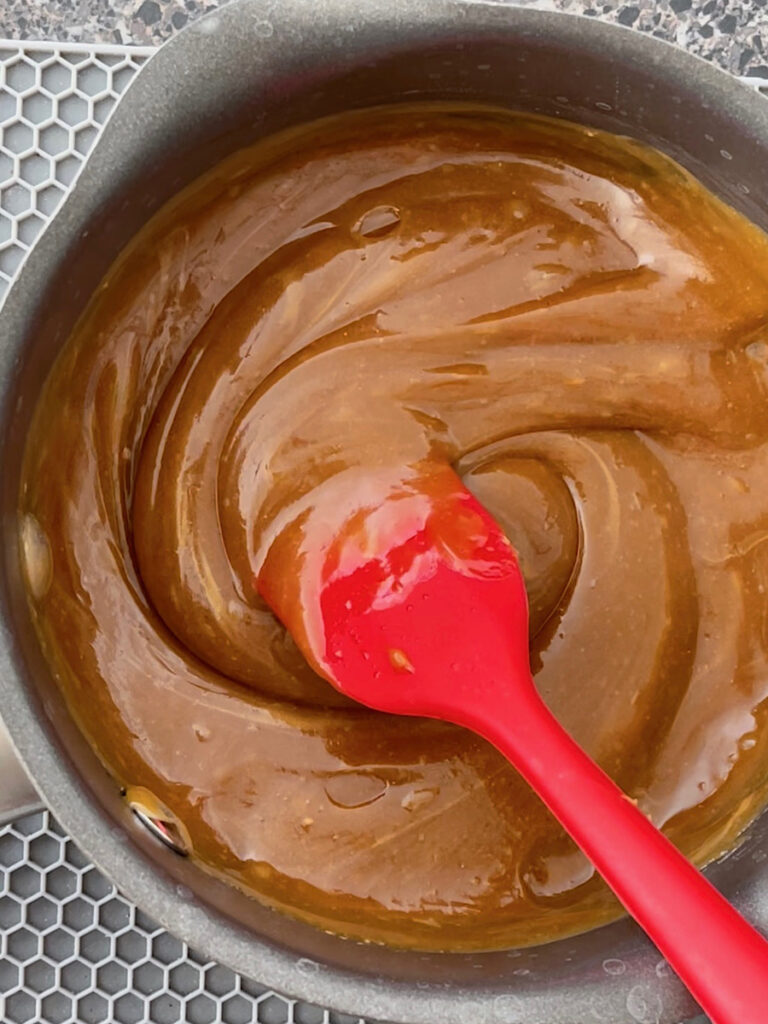 [3] Remove from heat and stir in the vanilla.
[4] Drizzle over the waffles and add mini chocolate chips.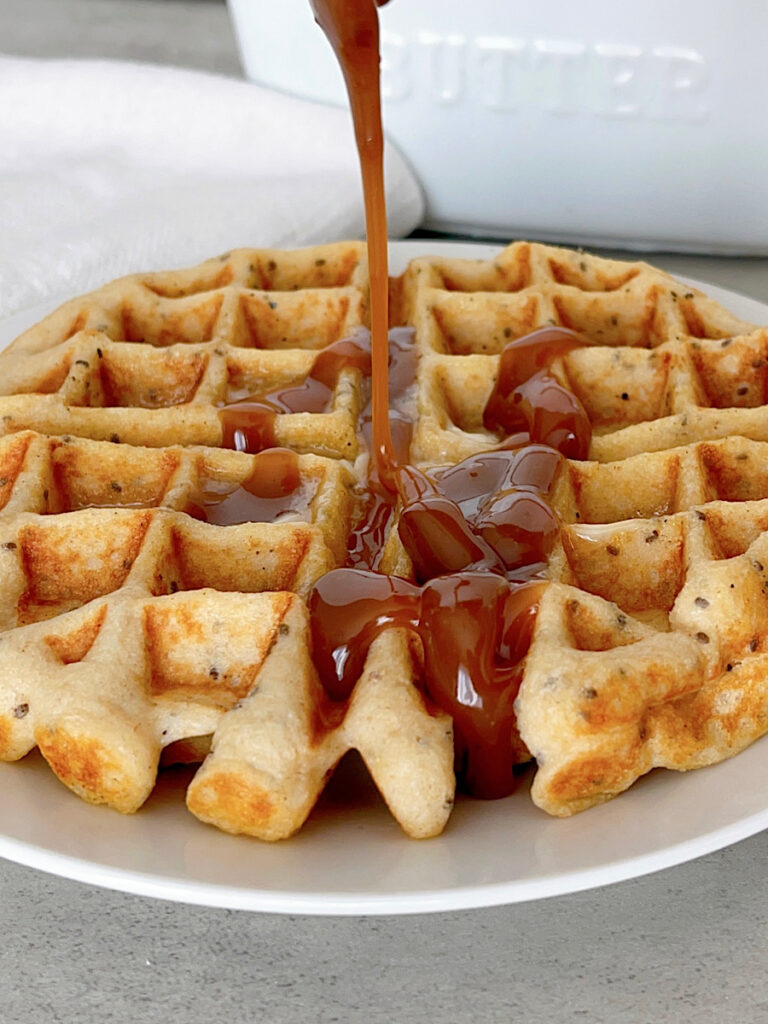 Waffle Topping Ideas
Whipped Cream
Fresh Fruit
Maple Syrup
How to Keep Protein Waffles Warm
If you're making a big batch of waffles for a crowd, or want to make them ahead of time, you can keep them warm in an oven set to 200 degrees.
Place the cooked waffles on a wire rack set over a baking sheet and place in the preheated oven.
How to Store Leftover Waffles
These waffles are best enjoyed fresh but can be stored in an airtight container in the fridge for up to 3 days.
Reheat in a toaster, toaster oven, or under a preheated broiler for best results. They can also be reheated in an air fryer.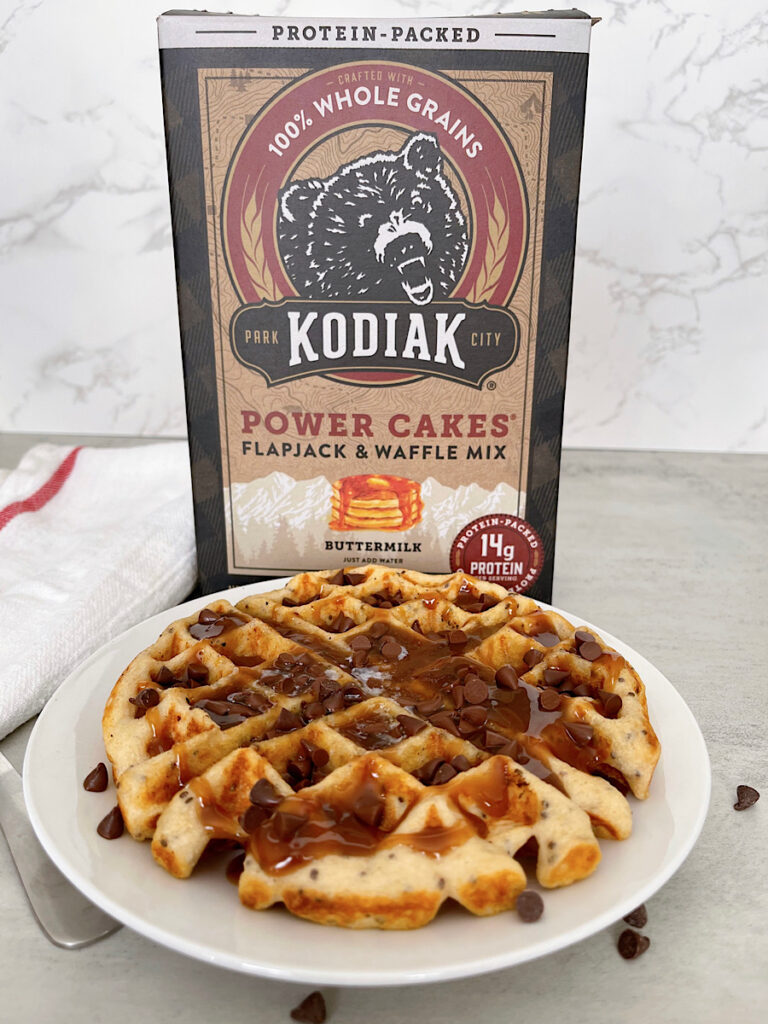 Helpful Kitchen Tools
Frequently Asked Questions
Are Kodiak Cake waffles a healthy breakfast?
Yes, Kodiak waffles are a healthier option than traditional waffles because they're made with 100% whole grains and have more protein.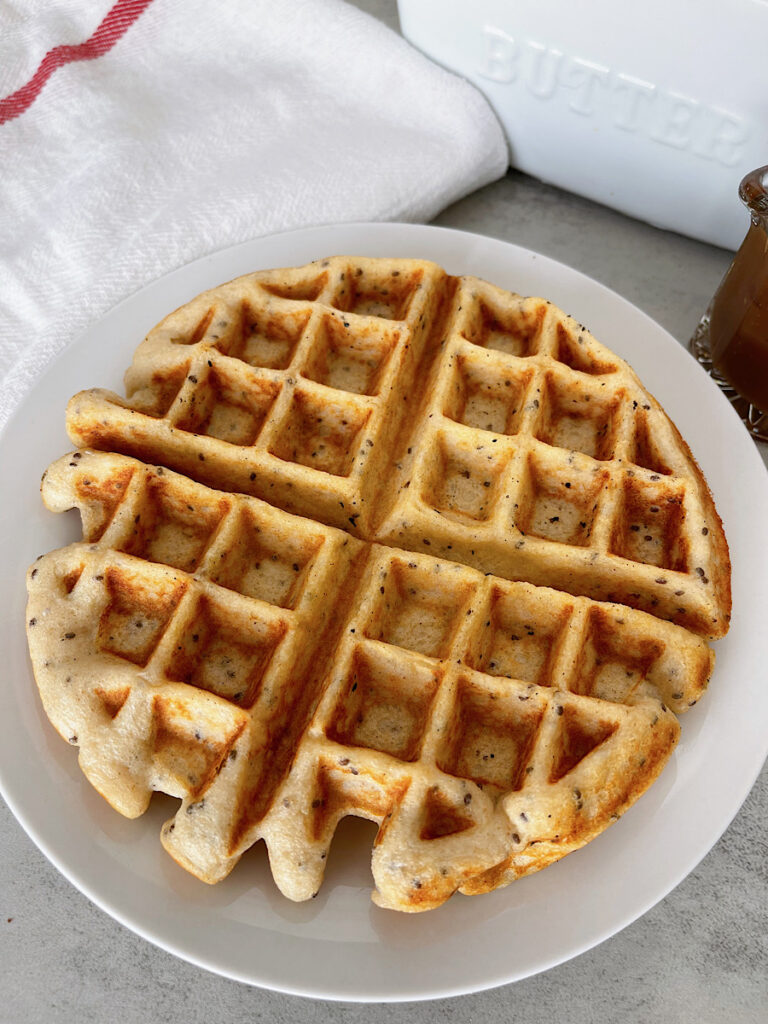 Do I need a special waffle iron to make these?
No, you don't need a special waffle iron to make these. Any standard waffle iron will work.
Can I make these without the chia seeds?
Yes, you can make these without the chia seeds. The chia seeds are added for nutrition and texture but won't affect the overall taste or texture of the waffles if omitted.
Are Kodiak Cakes Power Waffles filling?
Yes, Kodiak Power Cakes are filling because of the protein and whole grains. They're also a good source of fiber which helps to keep you full.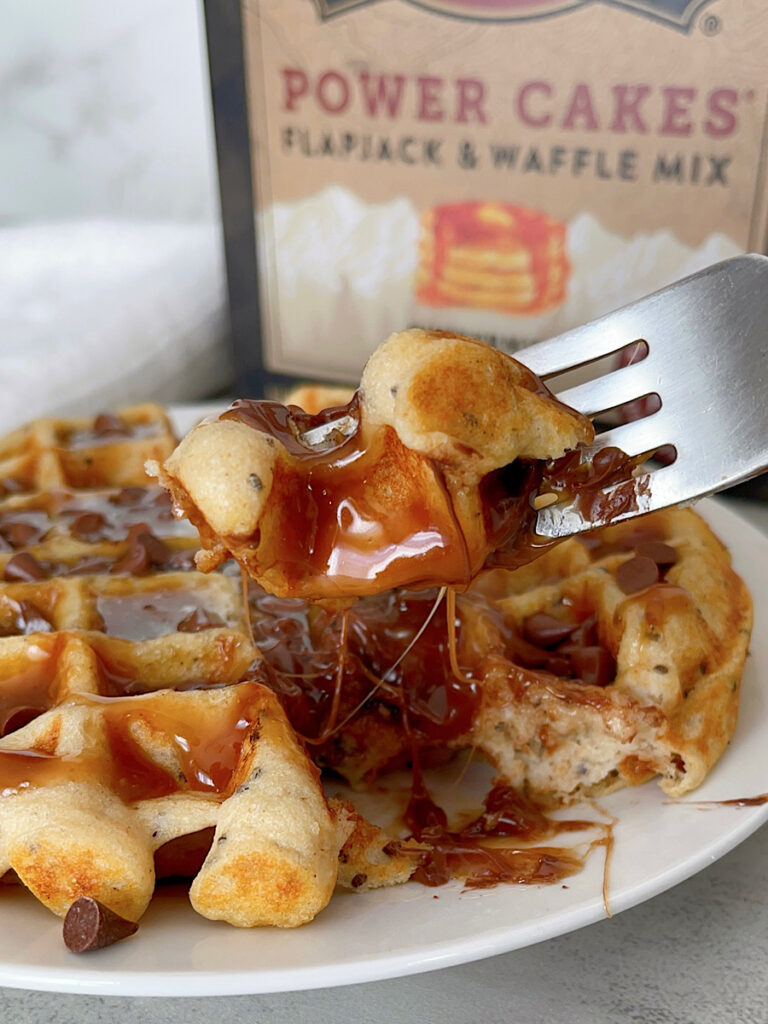 Are Kodiak Cakes Protein Waffles gluten free?
No, Kodiak Cakes Protein Waffles are not gluten free. The pancake mix contains whole wheat flour.
How many waffles does this recipe make?
This recipe makes 3-6 waffles depending on the size of your waffle iron.
More Delicious Waffles Recipes
Final Thoughts
Kodiak Protein Waffles are a great way to fuel your body before a workout or enjoyed as a treat after a long day. This recipe is easy to make and can be enjoyed by all.
If you try these Kodiak Cakes Protein Waffles, make sure to leave a review and a comment down below!
Watch the Video: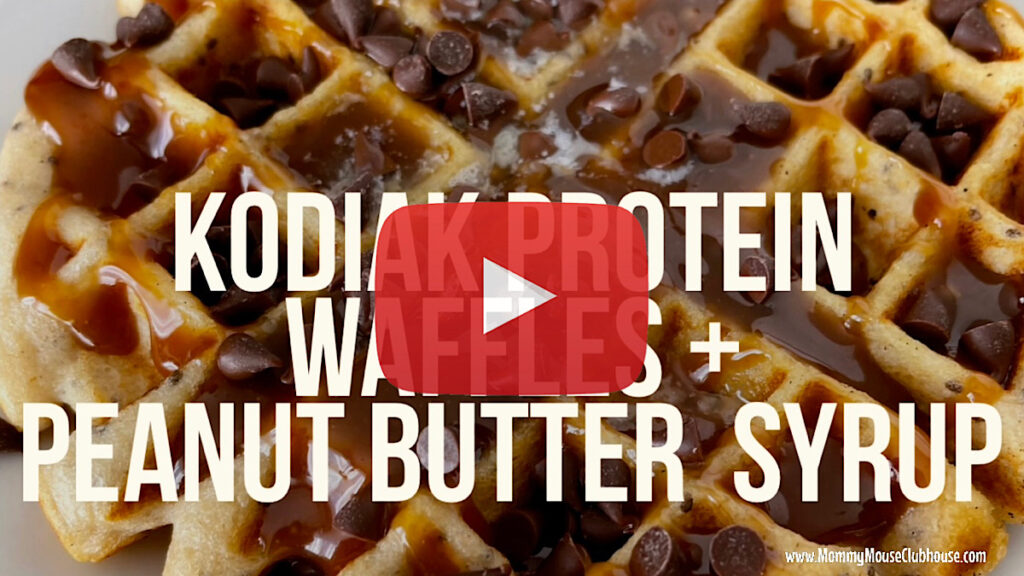 Pin for later: