Get ready to experience a heavenly treat with this Whipped Honey Butter recipe! It's like magic in your mouth, turning any ordinary food into a drool-worthy masterpiece. This stuff is seriously divine, with its light and airy texture and a touch of sweet deliciousness that's just right. Whether you're spreading it on warm toast, drizzling it over fresh-out-of-the-oven goodies, or piling it high on fluffy pancakes, you're in for a taste sensation like no other.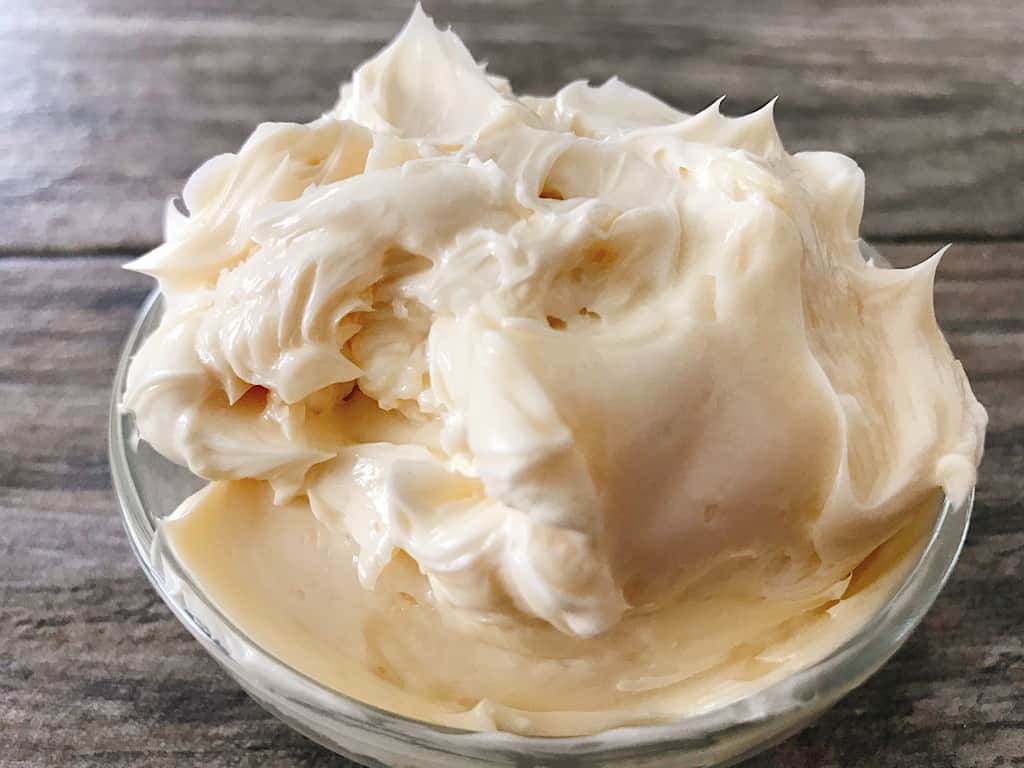 This post may contain affiliate links. When you click on these links, I get a small percentage back at no cost to you! For more information see my disclosure policy.
Below you will find tips, tricks and helpful hints for making this recipe including step by step instructions with pictures. If you would like to go directly to the recipe, scroll down to the recipe card or tap "Jump to Recipe" at the top of the page.
Why You'll Love Homemade Whipped Honey Butter
This easy recipe fo whipped honey butter is great because the flavors of golden honey and creamy butter come together in perfect harmony, making each bite an absolute delight that'll keep you coming back for more with just three simple ingredients.
I love this homemade honey butter recipe because it is so creamy and dreamy and works with so many different items for breakfast, lunch, dinner, and dessert!
Not only can you make your own honey butter, but you can mix it up by adding some cinnamon or raspberry jam too! There are so many possibilities! Try my recipe for Texas Roadhouse Cinnamon Honey Butter here.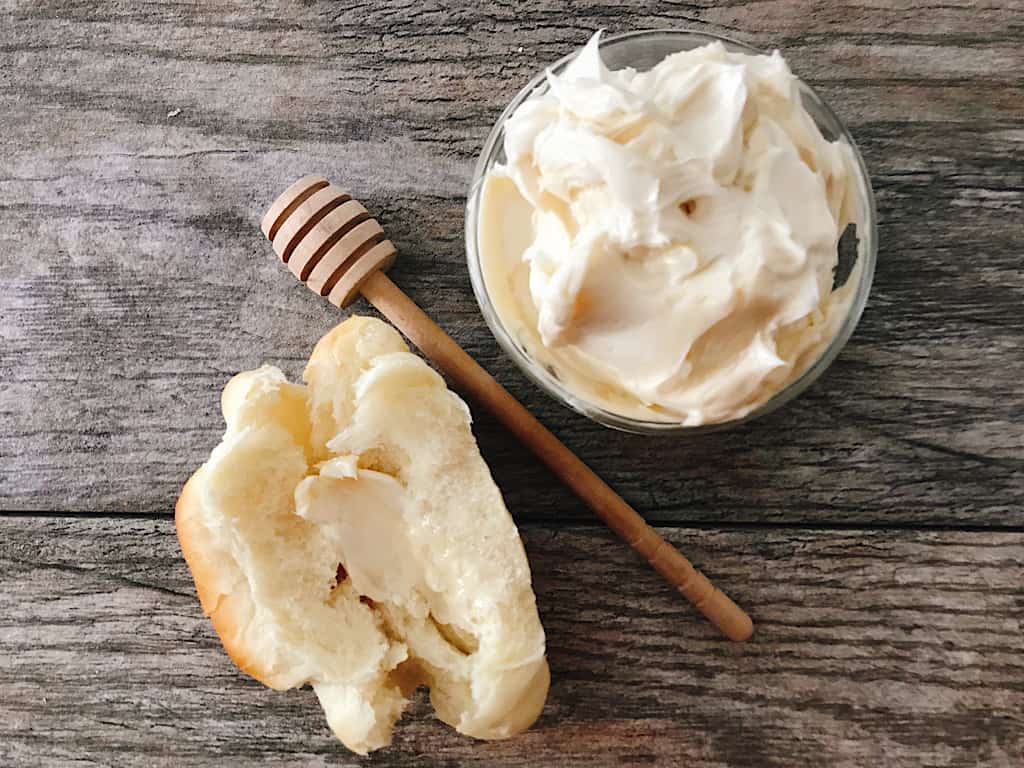 Whipped Honey Butter Ingredients
*Ingredient amounts are located in the recipe card at the end of this post.
Butter: You can use unsalted butter or salted butter to make honey butter. I prefer salted butter because the salt enhances the flavor and sweetness of the added honey. Make sure that your butter is softened to room temperature. You will need 1/2 cup or 1 stick of butter.
Honey: I always use raw local honey for my whipped honey butter because it is the most natural and has a light, sweet taste that comes through in every bite.
Vanilla Extract: Adding vanilla extract gives this homemade whipped honey butter an even more robust flavor. I like to use a good quality pure vanilla extract for maximum flavor.
How to Make Whipped Honey Butter
[Step 1] Place the softened butter in the bowl of a stand mixer with a whisk attachment or a large mixing bowl. Whip the butter for about 30 seconds in the stand mixer or with an electric hand mixer.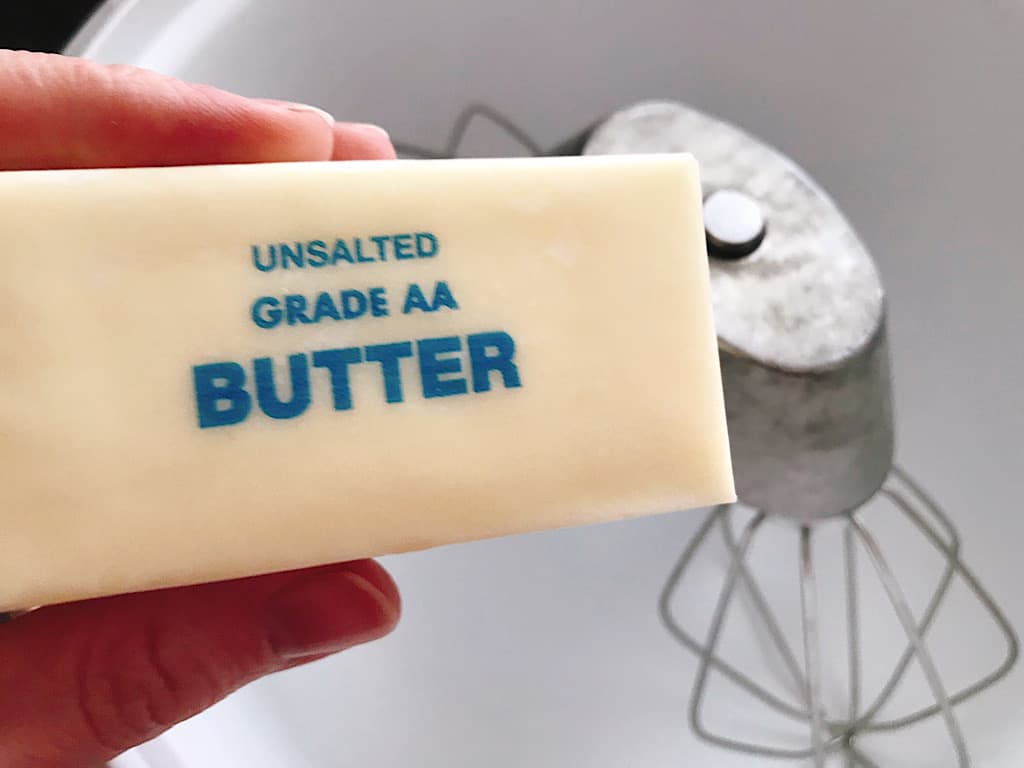 [Step 2] Add the honey followed by the vanilla extract.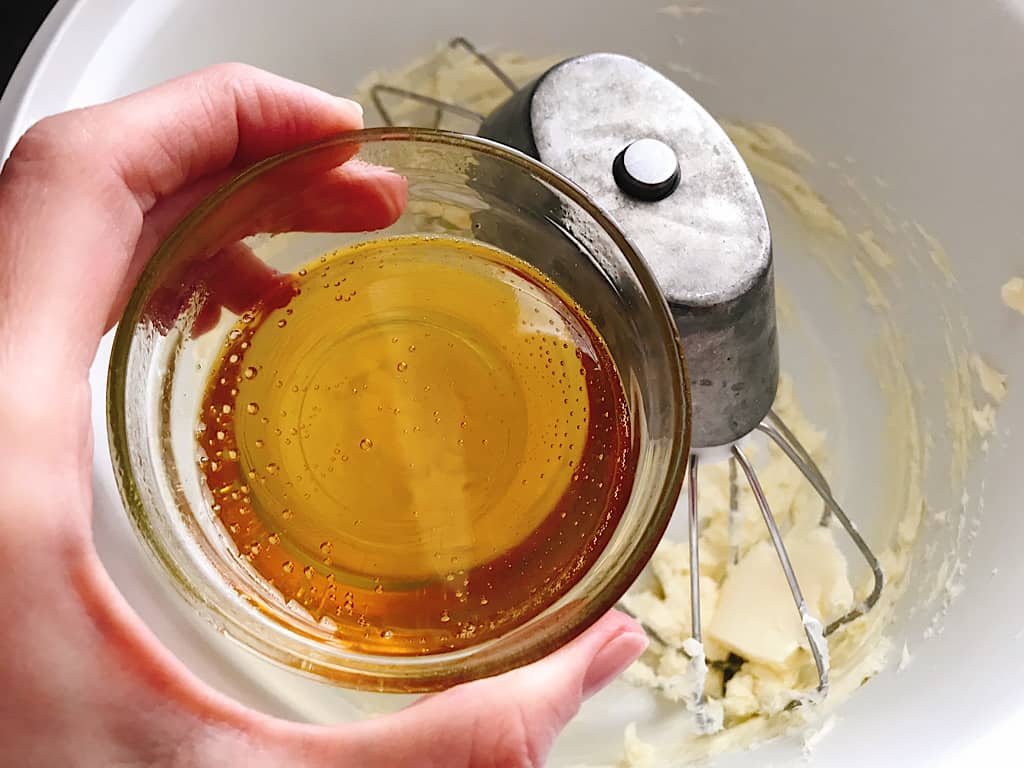 [Step 3] Whip the ingredients on high for at least 5 minutes scraping the sides of the bowl as necessary. Continue whipping the honey butter until it is light and fluffy.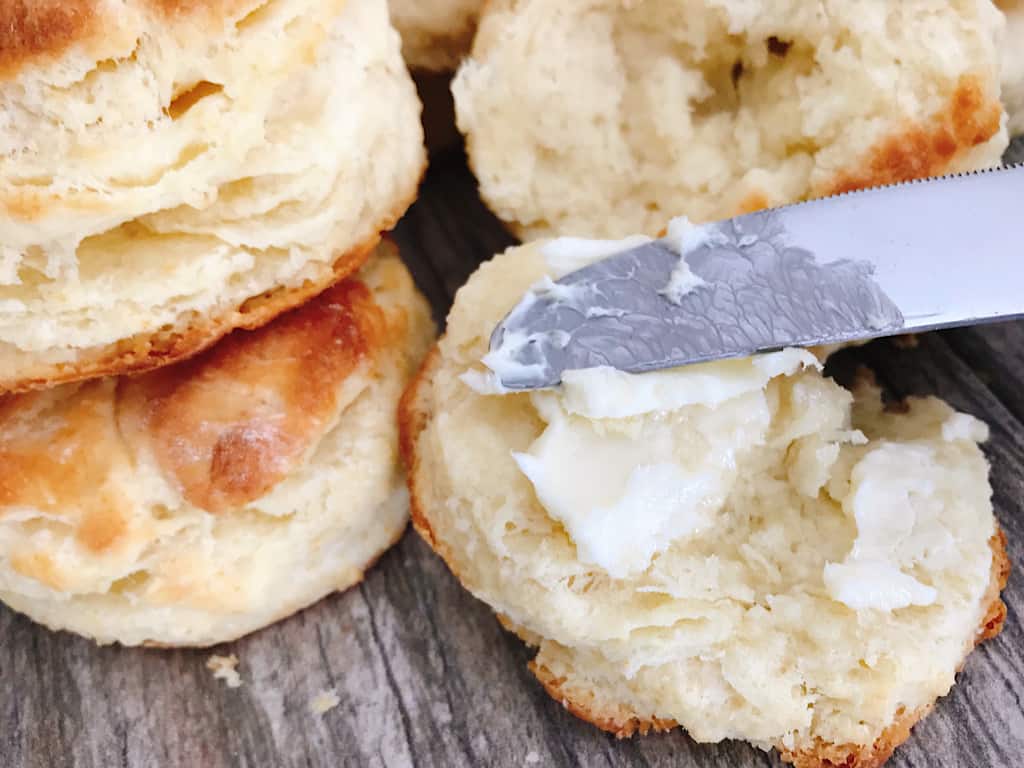 Helpful Kitchen Tools
How to Store Whipped Honey Butter
This sweet butter will stay safe at room temperature for 2-3 days. After that, keep it covered with plastic wrap or in an airtight container in the refrigerator for up to a week.
When ready to use, allow it to come to room temperature and then re-whip if necessary. You can also freeze whipped honey butter for longer storage times. Just be sure to thaw it in the refrigerator before serving.
Tips & Tricks
Make sure the butter is softened to room temperature before starting.
Use a good quality raw honey for maximum flavor.
Whip the ingredients on high speed for at least 5 minutes, or until light and fluffy.
If necessary, re-whip the honey butter after thawing it from the refrigerator or freezer.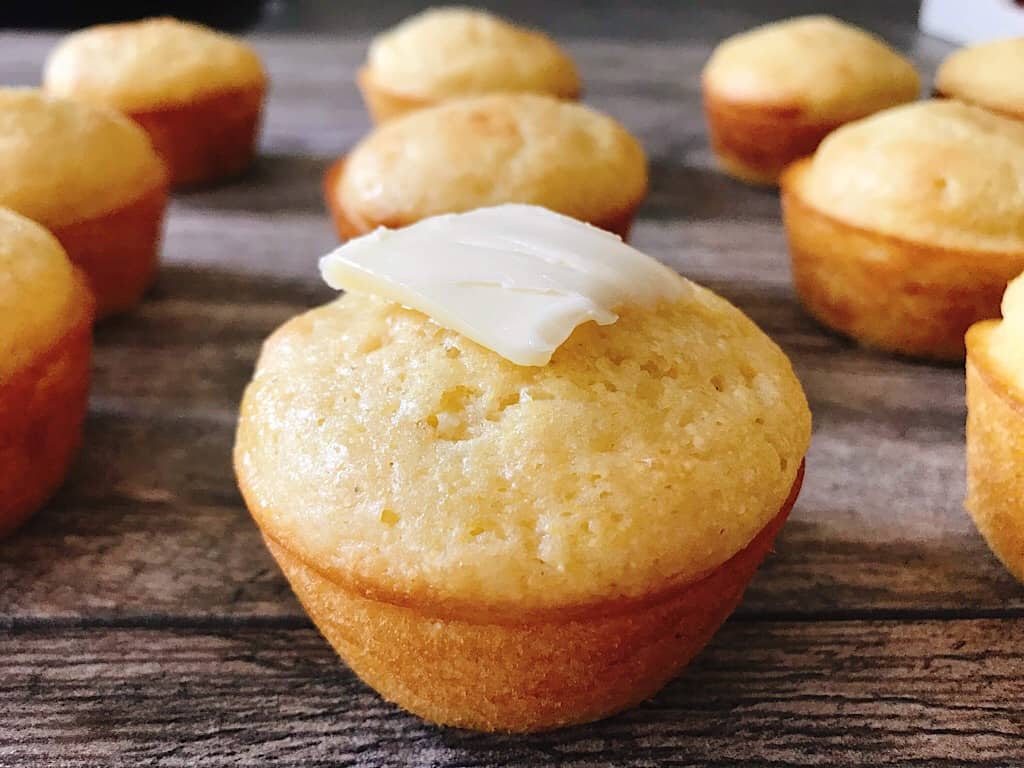 What to Serve with Whipped Honey Butter
Lion House Rolls: Lion House Rolls are my favorite way to serve this Honey Butter. They are a staple in our house, are light and fluffy, and are the perfect dinner rolls for family and holiday meals like Christmas, Thanksgiving, and Easter!
Sweet Moist Corn Bread: This corn bread recipe is one of the most popular on my website and it is absolute perfection! I love to whip up some of this honey butter to take this corn bread to the next level! Give it a try with some Creamy Chicken Chili.
Honey Buttermilk Biscuits: These buttermilk biscuits turn out amazing every time I make them! They are flaky, buttery and go perfectly topped with this Whipped Honey Butter.
Sweet Cream Pancakes: My favorite pancake recipe ever, they taste even more delicious topped with a dollop of honey butter. They go so well together, you might not even need syrup!
Fluffy Buttermilk Pancakes: Just like sweet cream pancakes, this whipped honey butter makes a great topping for fluffy buttermilk pancakes. The sweetness of the honey is complimented by the tanginess of the buttermilk. Yum!
Crispy Mickey Waffles: Whipped honey butter tastes amazing on these Crispy Mickey Waffles. Don't have a Mickey Waffle Maker? Don't worry, this recipe tastes just as good on a Belgian Waffle Iron, it just might not be as fun!
Whipped Butter Variations
If you're looking for a change of pace from the classic honey butter, try mixing in some fun add-ins. Here are a few ideas to get your creative juices flowing:
Cinnamon and Sugar: Add 1/4 teaspoon of ground cinnamon and 2 tablespoons of sugar to the whipped honey butter for an extra sweet and spicy kick!
Raspberry Jam: Stir in some raspberry jam for a delicious fruity twist!
Brown Sugar and Pecans: Whisk together 1/4 cup of brown sugar and 1/4 cup of chopped pecans into the honey butter for added sweetness, crunch, and texture.
Chocolate Chips: Add a handful of mini chocolate chips to create a sweet and creamy honey butter that will satisfy any chocoholic's craving.
Lemon Honey Butter: Add some lemon zest to the honey butter for a fruity taste.
Orange Honey Butter: Orange zest can also be added for a bright citrus flavor.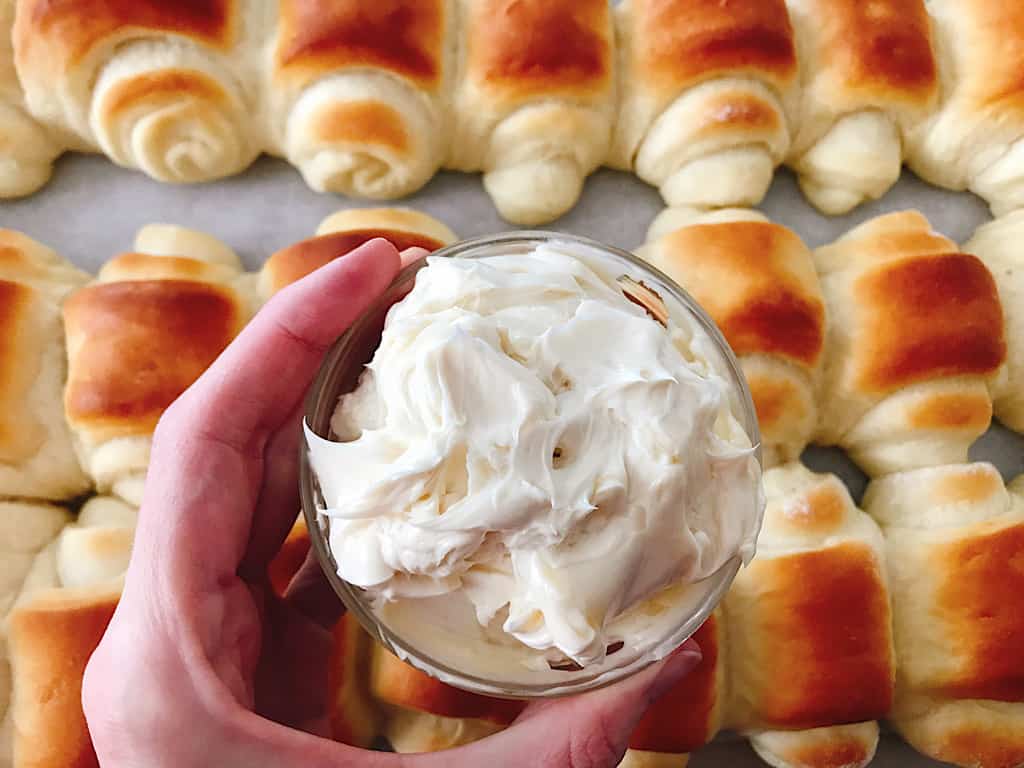 Frequently Asked Questions
Can I use this honey butter for baking?
Absolutely! You can use it in place of regular butter in many recipes, or add a dollop on top of muffins, cupcakes or other baked goods.
Is there a difference between honey butter and whipped honey butter?
Yes! Whipped honey butter is much lighter and fluffy texture than regular honey butter, as the whipped butter incorporates air which gives it a delightful light texture. It also has more of a spreadable consistency, which makes it perfect for spreading on toast, biscuits, and other baked goods!
Does honey butter need to be refrigerated?
As mentioned above, leftover honey butter will stay fresh at room temperature for 2-3 days, but will need to be stored in an airtight container in the refrigerator after that. It will keep for up to a week when stored properly.
Can I make this whipped honey butter ahead of time?
Yes! You can make this whipped honey butter ahead of time and store it covered in the refrigerator for up to a week. When ready to use, just take it out of the refrigerator and allow it to come to room temperature before serving. If necessary, re-whip the honey butter prior to serving.
Are there other ways to use this honey butter?
Absolutely! Aside from spreading it on toast, biscuits, and other baked goods, whipped honey butter makes a wonderful addition to pancakes, waffles, oatmeal, sweet potatoes, and more. You can also use it as an ingredient in recipes like sauces for chicken or pork dishes. It can even be used in cake.
Final Thoughts
This homemade whipped honey butter recipe is an easy to make, delicious spread that can be used in all sorts of recipes. It only takes a few ingredients and minutes to whip up this smooth and creamy delicacy!
With so many variations, you can create the perfect topping for pancakes, banana bread, waffles, homemade bread, homemade dinner rolls and more! Enjoy!