A tried and true recipe that will show you how to make Lion House Rolls with Whipped Honey Butter. Rolls that are light and fluffy and perfect for Sunday dinners or holiday meals like Thanksgiving, Christmas, and Easter!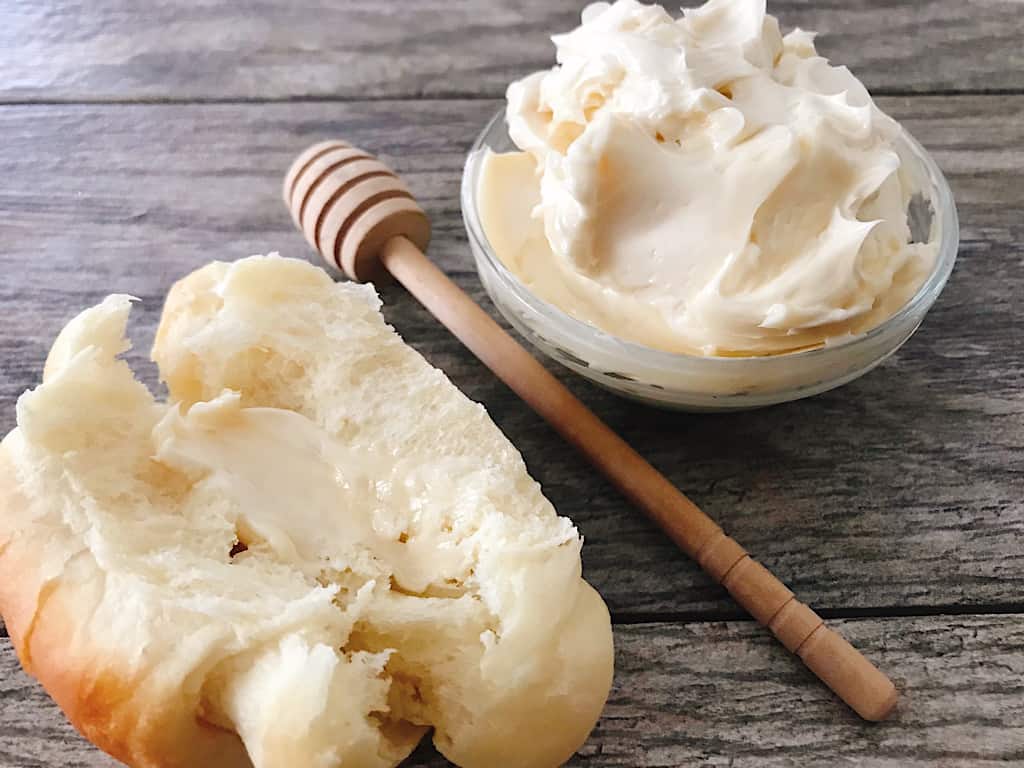 Lion House Rolls are probably my FAVORITE rolls of all time. They are kind of a legend here in Utah.
In fact, my husband and I were married at the Lion House and I made my mom run inside and buy a pack of rolls to snack on between the ceremony and taking pictures!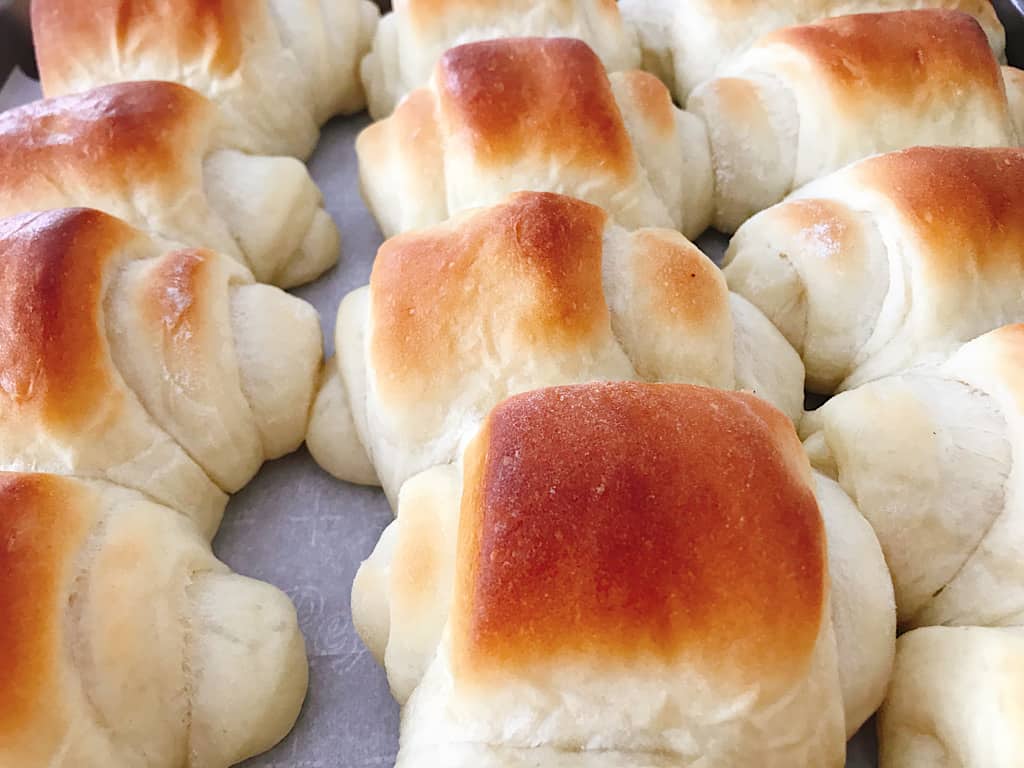 This recipe is pretty easy to follow and I have never had any problems with my rolls not turning out fantastic!
While these rolls are amazing, enjoying them with whipped honey butter takes them to a whole new level. I hope you enjoy the recipe!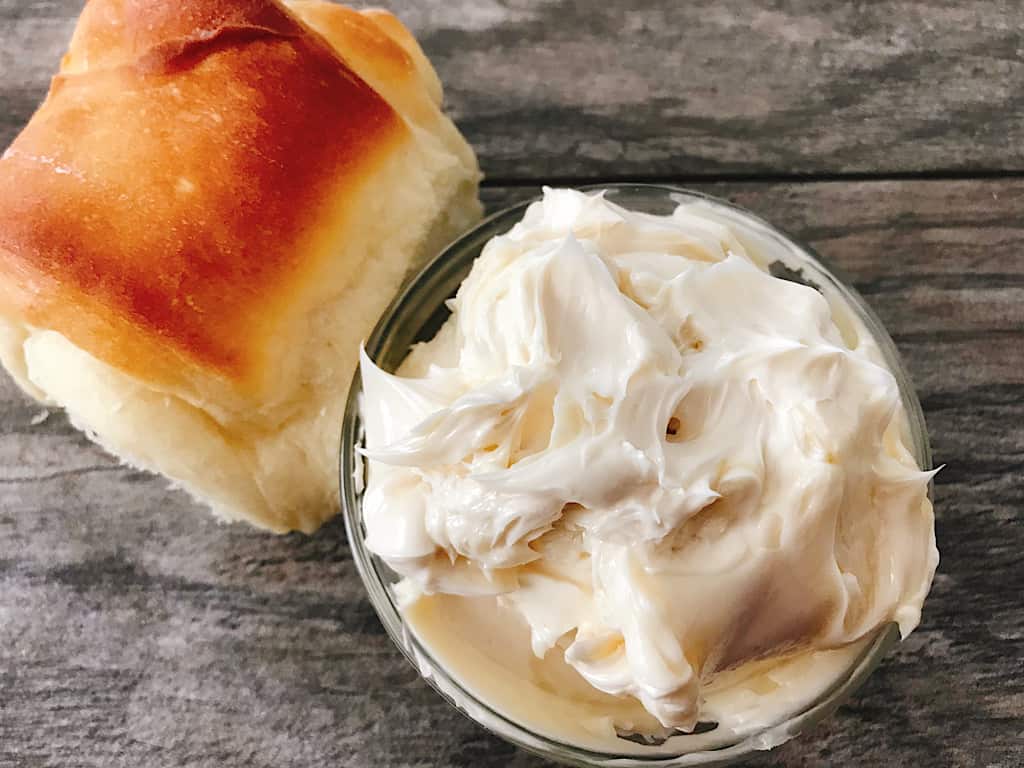 Helpful Kitchen Tools
Lion House Rolls Ingredients
2 Cups Warm Water

2 Cups Nonfat Dry Milk

2 Tablespoons Yeast

1/4 Cup Sugar

2 Teaspoons Salt

1/2 Cup Butter, softened

1 Large Egg

5-5 1/2 Cups All-Purpose Flour
How to Make Lion House Rolls
Add the warm water and milk powder to the bowl of a stand mixer. Mix together until it dissolves.
Add in the yeast, sugar, salt, butter, egg, and 2 cups of flour. Mix on low until the ingredients are wet, then for 2 minutes at medium speed.


Add 2 more cups of flour and mix on low until wet, them on medium for 2 minutes.

If the dough is still sticky, add the remaining flour 1/2 cup at a time. The dough should be soft, not sticky or stiff.

Place the dough in a greased bowl and cover it with greased plastic wrap. Let it rise until double in size.

When the dough has doubled, punch it down to release the air.

Pour out the dough onto a floured surface and use a rolling pin to roll it into a large rectangle.

Use a pizza cutter to cut the rolls into smaller rectangles. Each rectangle should be about 2 inches wide and 4-5 inches long.

Roll up each rectangle to form the classic Lion House roll shape and place on a parchment lined baking sheet.

Cover lightly with greased plastic wrap and allow  them to rise until they double in size, about 20-30 minutes.

Bake the rolls at 375 degrees for 15-20 minutes or until they are browned on top.

Remove from the oven and brush the tops with melted butter. Cover with foil after they have cooled, until you are ready to serve.
Whipped Honey Butter Ingredients
1/2 Cup Butter, softened

1/2 Cup Honey

1/4 Teaspoon Vanilla Extract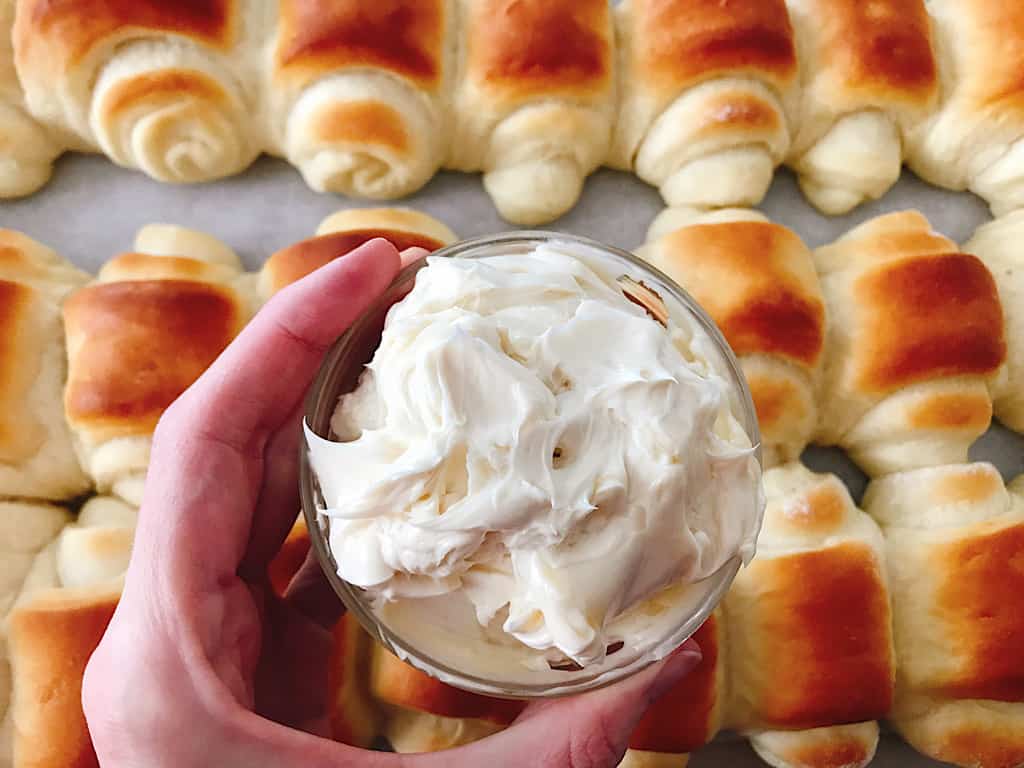 How to Make Lion House Whipped Honey Butter
Add softened butter to the bowl of a stand mixer with a whisk attachment. Beat for 30 seconds.

Pour the honey over the butter.

Add the vanilla extract and whip the butter until it is light and fluffy. The amount of time will vary depending on your desired consistency and the mixer you are using. For my Bosch mixer, it took about 10 minutes.
We make these rolls quite often, almost every Sunday, and my kids gobble them up!  They are also great to serve for a holiday meal like Thanksgiving, Christmas, and Easter!
More Christmas Recipes:
Cookie Butter No-Bake Cheesecake
Mickey Mouse Gingerbread Rice Krispie Treats