This viral TikTok recipe for an Easy Tortellini Bake is the ultimate comfort food. With just a handful of ingredients, this cheesy and savory dish can be ready in no time. It's perfect for busy weeknights or when you're craving a hearty meal without spending hours in the kitchen. Give it a try and prepare to be impressed!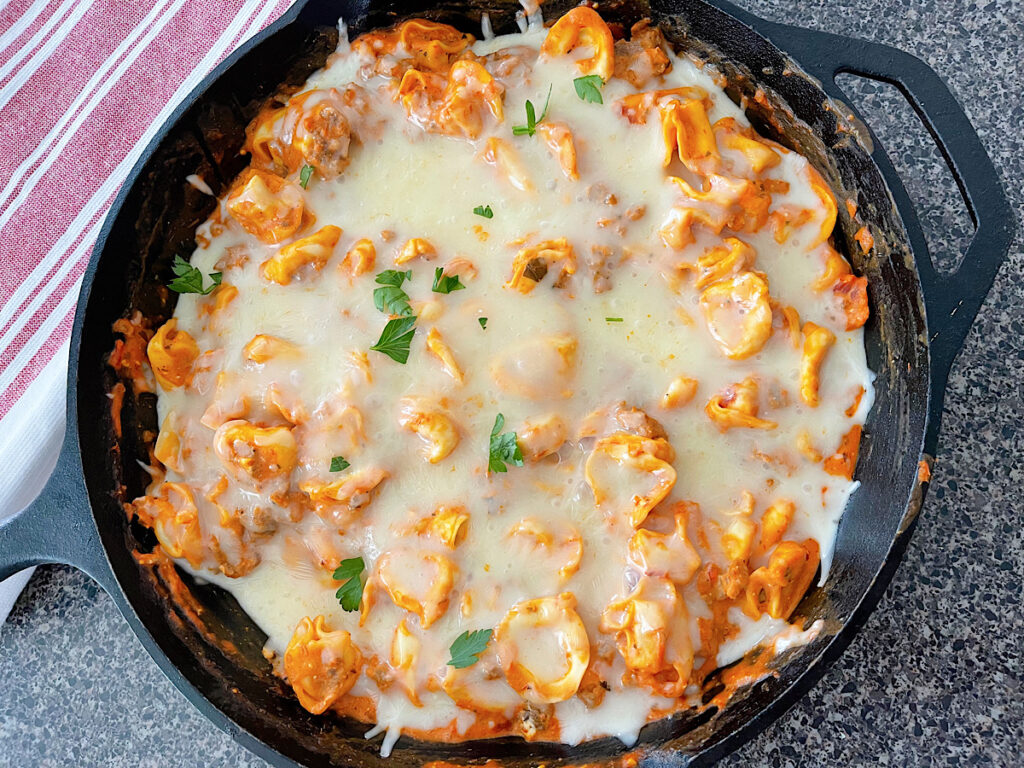 This post may contain affiliate links. When you click on these links, I get a small percentage back at no cost to you! For more information see my disclosure policy.
Below you will find tips, tricks and helpful hints for making this recipe including step by step instructions with pictures. If you would like to go directly to the recipe, scroll down to the recipe card or tap "Jump to Recipe" at the top of the page.
Why You'll Love This Recipe
Are you tired of spending hours in the kitchen after a long day of work? Look no further than this easy tortellini bake recipe that can be made in about 20 minutes!
With just a few simple ingredients, you can create a delicious and hearty meal that will leave you feeling satisfied. Plus, the cheesy goodness of the tortellini combined with the savory flavor of the sauce is sure to be a hit with the whole family.
Get ready for a quick and easy dinner that will become a staple in your meal rotation!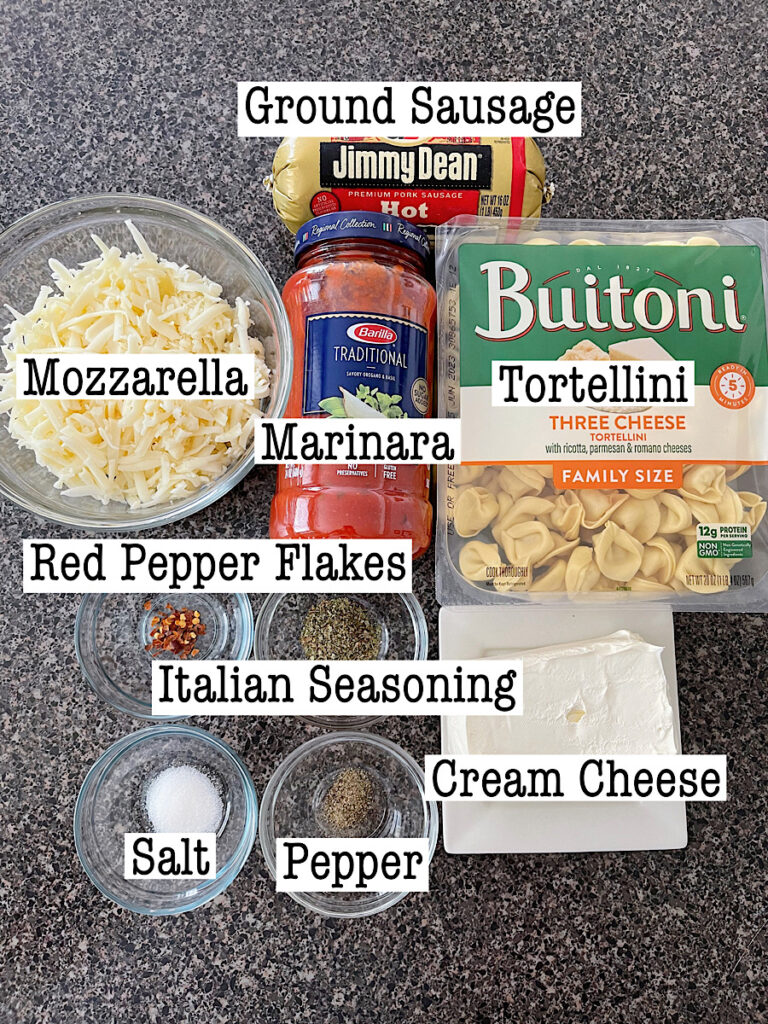 Easy Tortellini Bake Ingredients
*Ingredient amounts are located in the recipe card at the end of this post.
Ground Beef or Ground Sausage: Use your preferred protein to give the dish a boost of flavor. I like to use hot sausage or Italian sausage.
Marinara Sauce: Choose your favorite spaghetti sauce for a delicious tomato-based flavor.
Cream Cheese: This ingredient helps add creaminess and richness to the dish.
Tortellini: Any type (frozen or refrigerated pasta) of tortellini will do, just make sure to use about 20 ounces of it.
Mozzarella Cheese: Shredded mozzarella gives the dish a cheesy and delicious topping.
Spices: Italian Seasoning, Salt, Black Pepper, and Red Pepper Flakes add flavor to the meat.
How to Make Tortellini Bake (Step-by-Step Instructions)
[1] Over medium-high heat, brown the ground beef or Italian style sausage in an oven-safe skillet with a little olive oil and season with Italian seasoning, salt, pepper, and red pepper flakes. Drain the meat.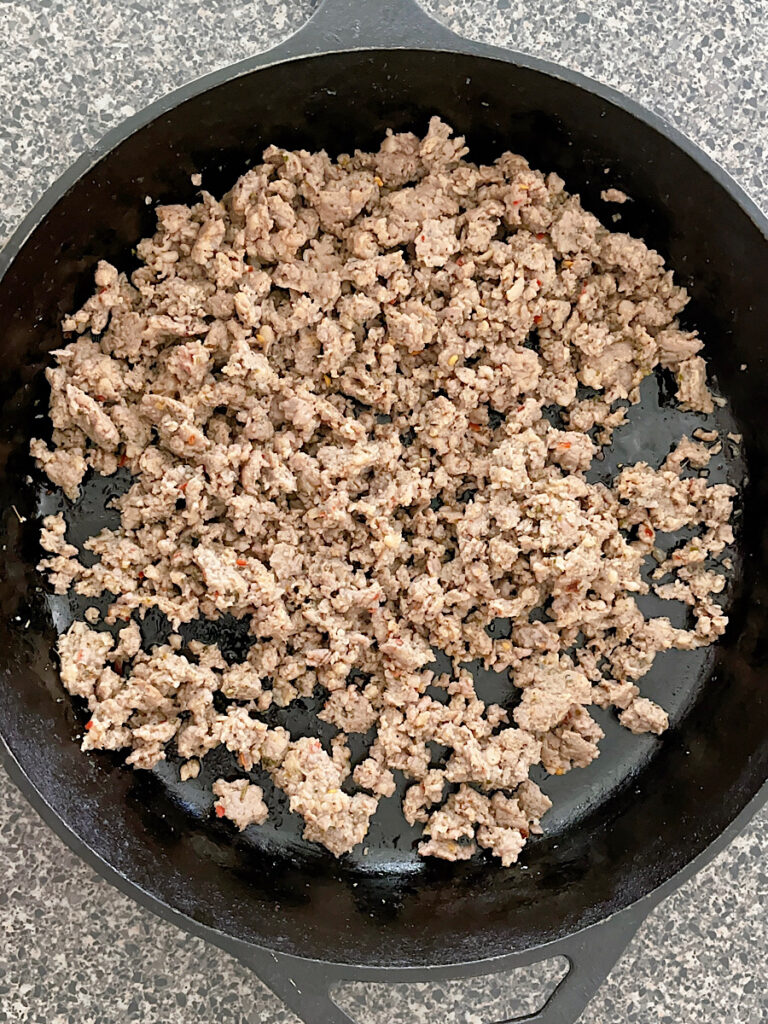 [2] Add the marinara sauce and cream cheese to the large skillet and heat over medium heat until the cream cheese has fully melted.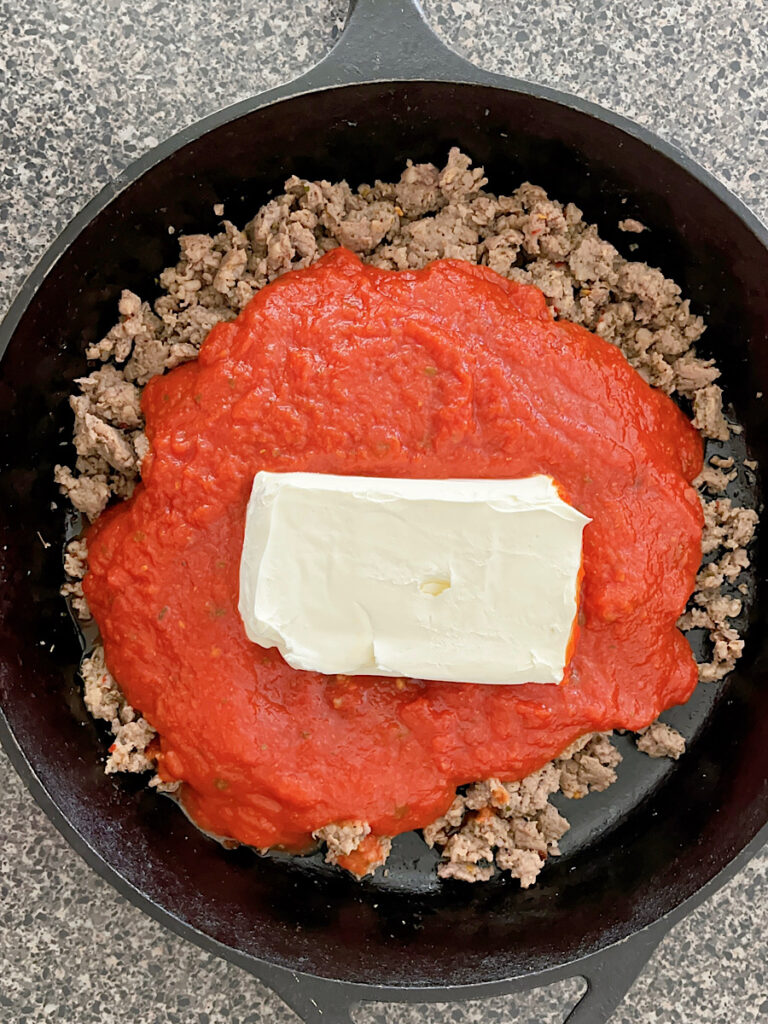 [3] While the cream cheese is melting, boil a pot of water and cook the tortellini al dente according to the package directions. Drain.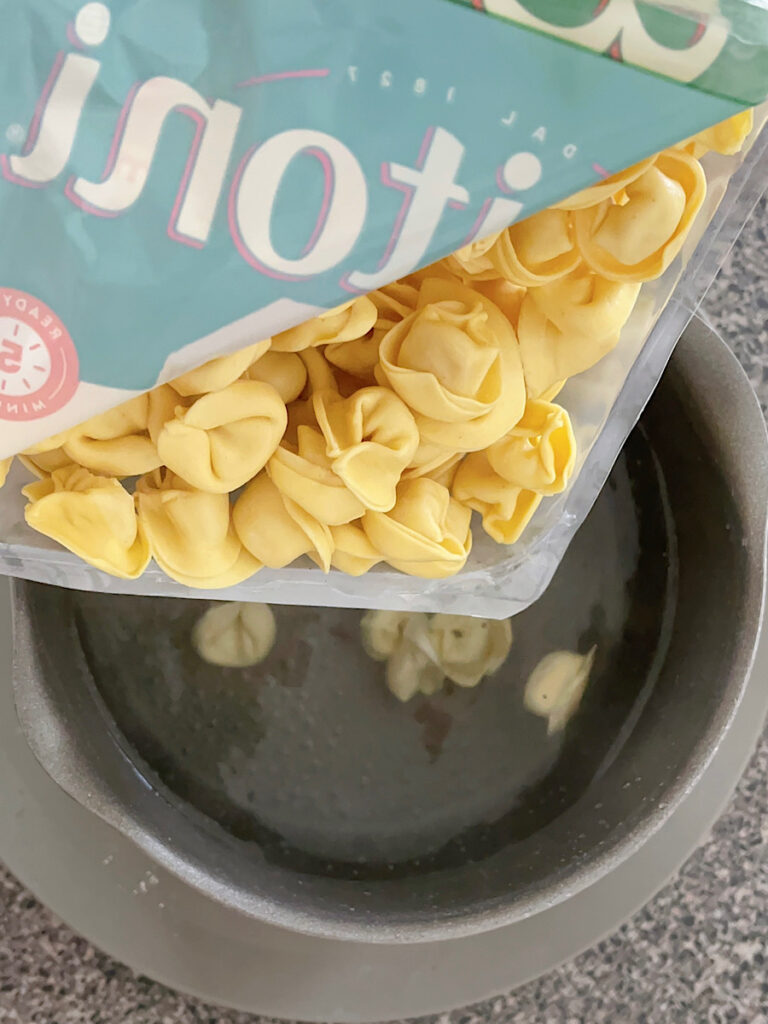 [4] Add the cooked tortellini to the sauce and stir to combine.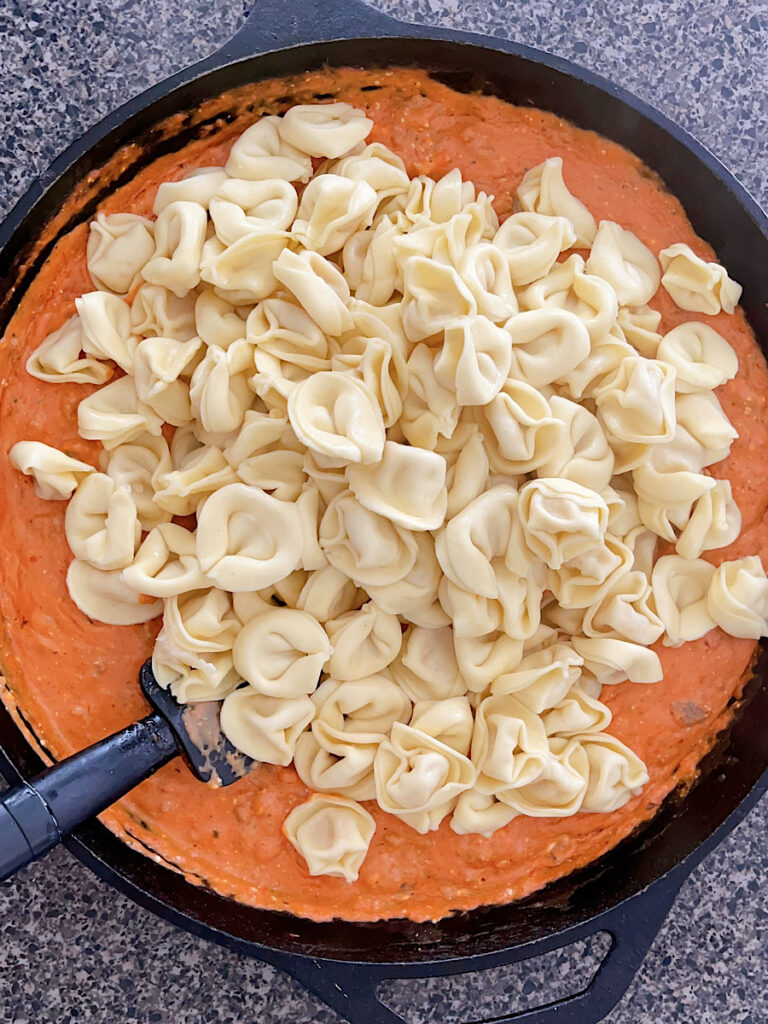 [5] Sprinkle the shredded mozzarella over the top of the tortellini and sauce and bake in a preheated oven at 350 degrees for 10 minutes to melt the cheese.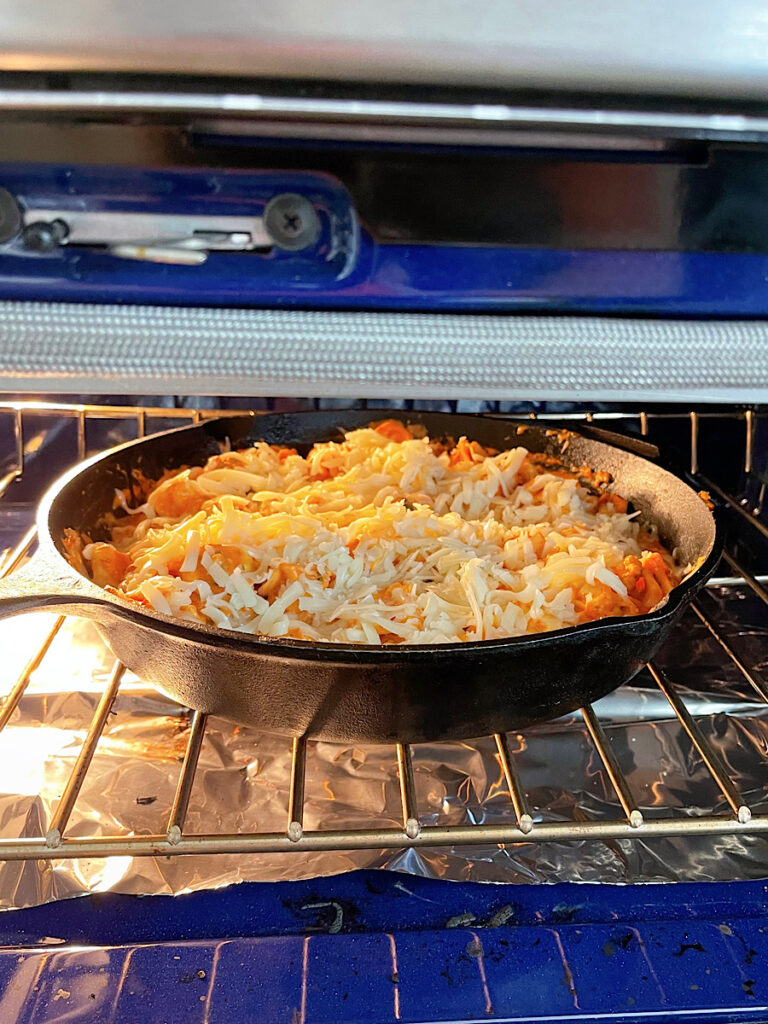 [6] Serve with your favorite side salad and garlic bread.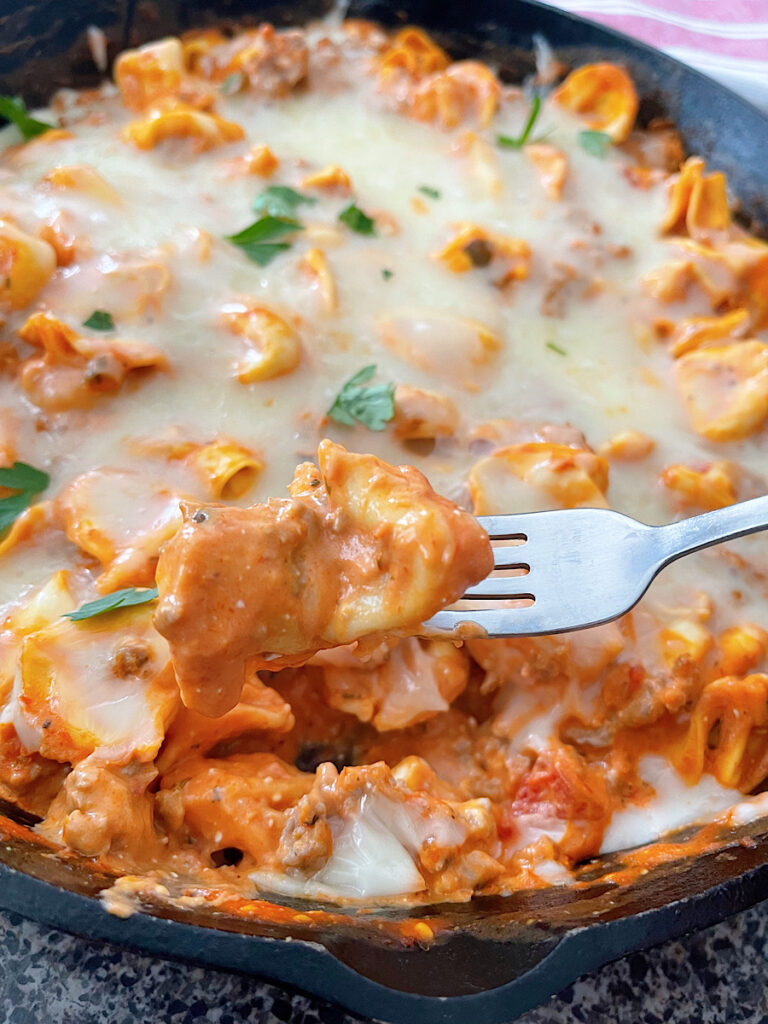 Helpful Kitchen Tools
How to Store Leftovers
Storing leftovers from this cheesy baked tortellini casserole is easy and convenient! First, make sure to let the dish cool completely before transferring it to an airtight container. From there, store it in your fridge for up to 3-4 days.
You can also freeze any leftovers for a quick and easy lunch or dinner idea later on! When you're ready to reheat, simply pop it in the oven or microwave until it's heated through. With this simple storage technique, you can enjoy your tasty tortellini bake for days to come.
What to Serve with Tortellini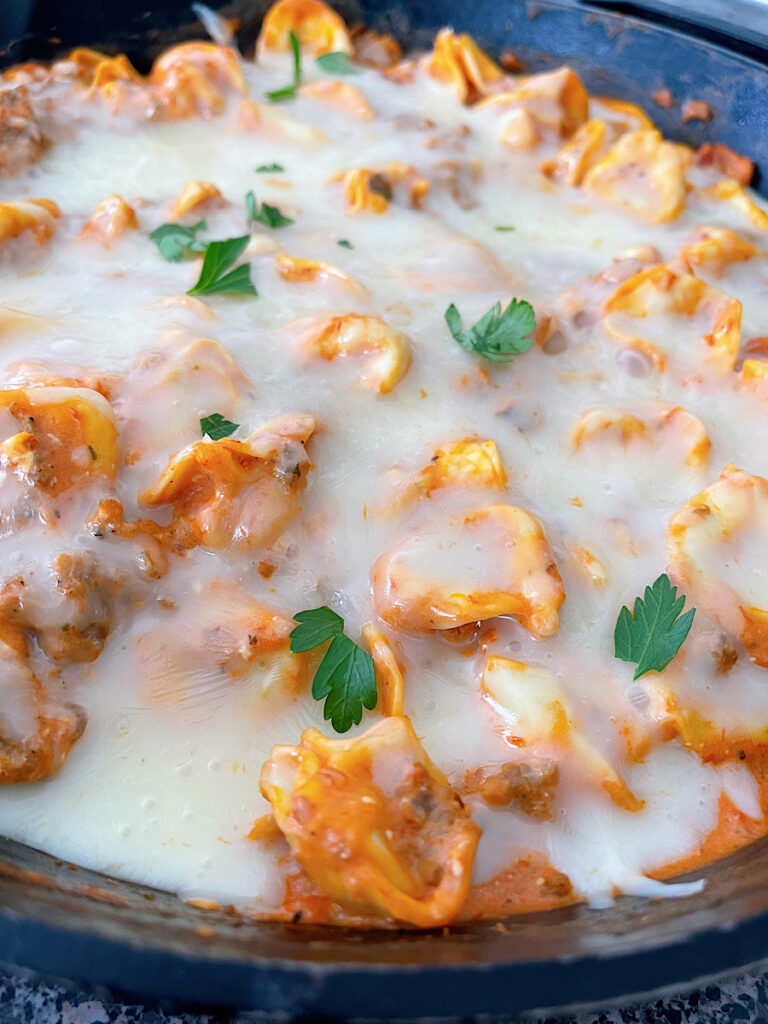 Tips & Tricks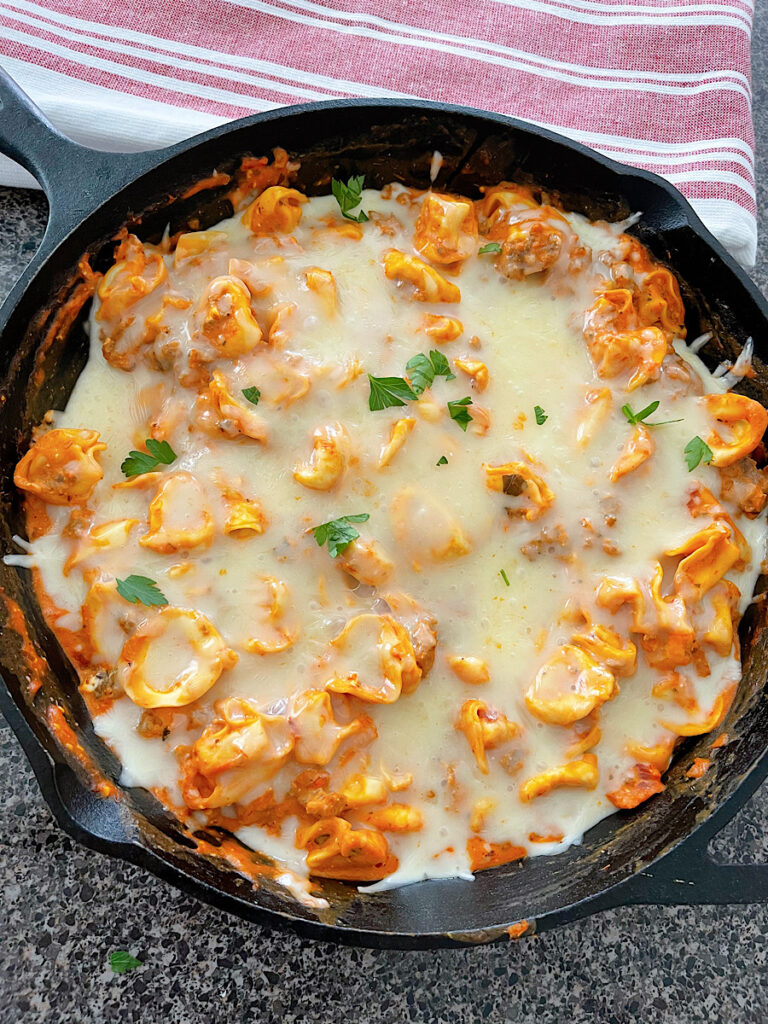 Frequently Asked Questions
Can I use frozen tortellini for the recipe?
Yes, you can certainly use frozen tortellini! Just make sure to cook it according to the package instructions before adding it to the dish.
Can I substitute the ground beef for another meat?
Absolutely! Ground turkey or chicken would work well in this recipe.
What type of sauce should I use?
You can use any type of pasta sauce that you prefer. Marinara, tomato basil, or even Alfredo sauce would all work well.
Can I add vegetables to this dish?
Yes, you can definitely add veggies like spinach, mushrooms, or zucchini to the dish to make it more nutritious.
Is it possible to make this dish ahead of time?
Yes, you can make the dish ahead of time and store it in the fridge until you're ready to bake it. Just make sure to adjust the baking time accordingly.
Final Thoughts
This easy cheesy tortellini bake is an easy dinner idea that comes together in just 20 minutes! With a few simple ingredients and minimal prep work, you can whip up this delicious dish in no time.
From the cheesy goodness of the tortellini combined with the rich flavor of the sauce to the added boost of protein from your preferred meat, this hearty dish
More Easy Pasta Recipes
Pin for Later