Introducing the ultimate Thanksgiving showstopper: a three-layer, no bake pumpkin pie extravaganza! This delectable dessert combines the best of both worlds – a creamy cheesecake layer, a rich and velvety pumpkin layer, and a fluffy cloud of whipped cream on top. The best part? It's incredibly easy to make!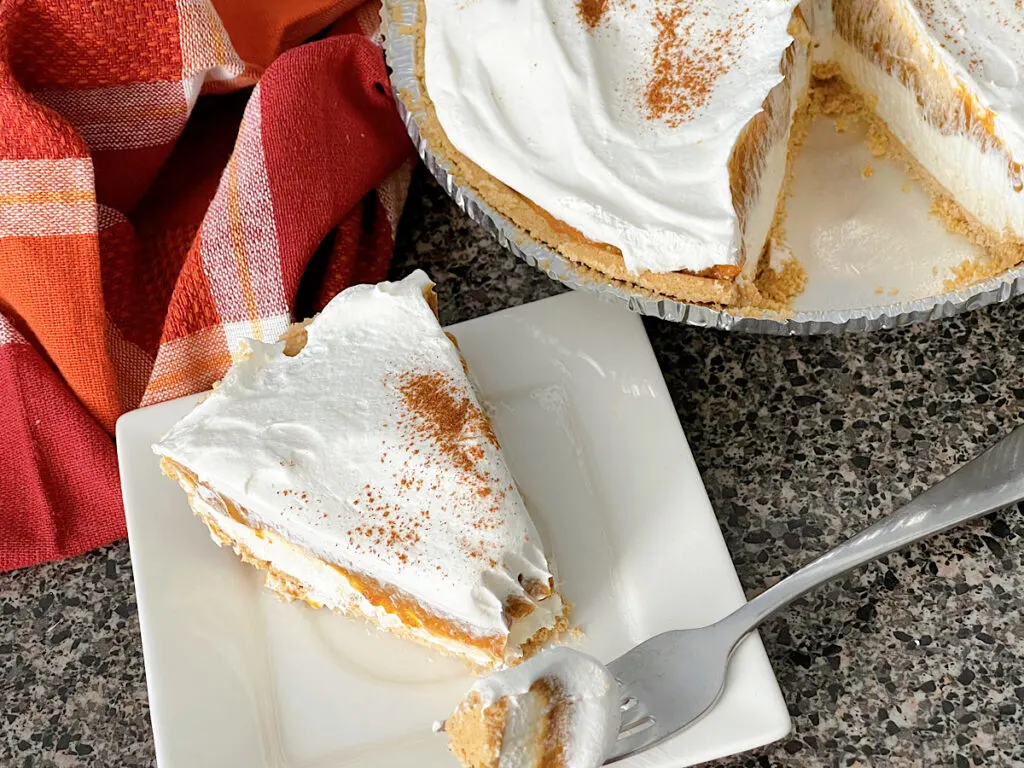 This post may contain affiliate links. When you click on these links, I get a small percentage back at no cost to you! For more information see my disclosure policy.
Below you will find tips, tricks and helpful hints for making this recipe including step by step instructions with pictures. If you would like to go directly to the recipe, scroll down to the recipe card or tap "Jump to Recipe" at the top of the page.
Why You'll Love This Pie
This no bake pumpkin pie recipe is packed with creamy flavor and so easy to make with pre-made graham cracker pie crusts, canned pumpkin, cream cheese, and Cool Whip. The result is a harmonious blend of flavors that will leave your taste buds dancing with joy.
This delightful Thanksgiving dessert is guaranteed to be the highlight of your Thanksgiving feast, impressing everyone at the table beyond measure.
The Difference Between No Bake Pumpkin Pie and Traditional Pumpkin Pie
The main difference between no bake pumpkin pie and traditional pumpkin pie is the texture. Traditional pumpkin pies are smooth, dense, and custardy while no bake pumpkin pies have a light yet creamy consistency. The lack of baking also means that you don't have to worry about burning your crust or undercooking your filling.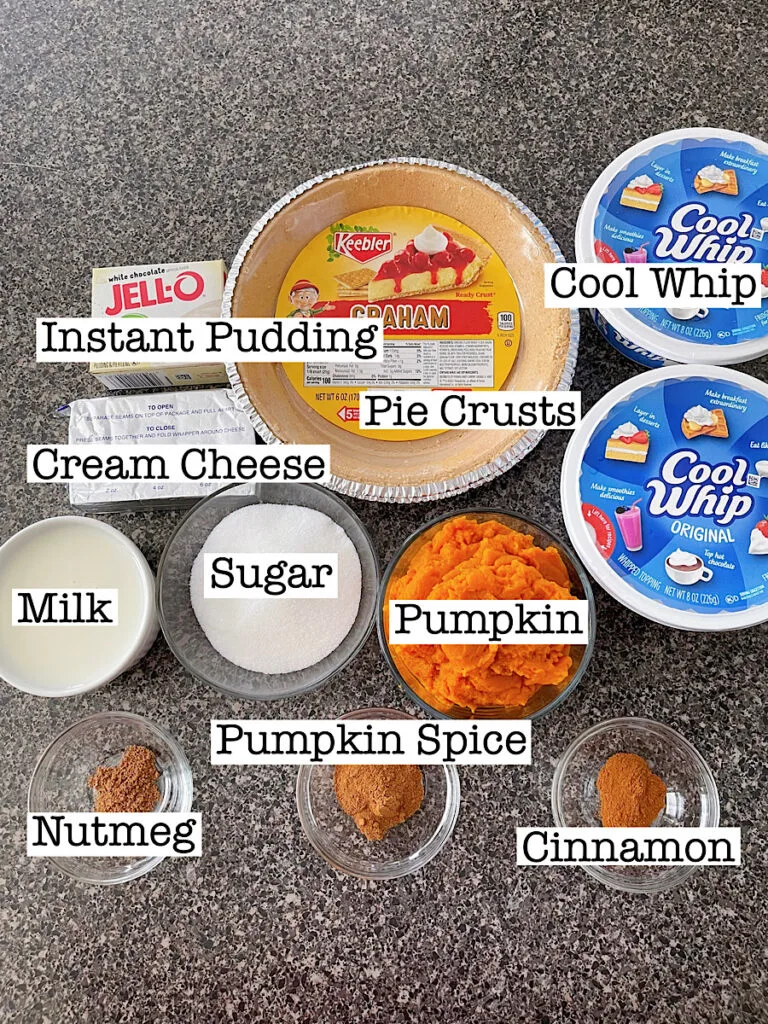 No Bake Pumpkin Pie Ingredients
*Ingredient amounts are located in the recipe card at the end of this post.
Pumpkin: Use a can of pure pumpkin puree found in the baking aisle at your local grocery store. Make sure that it is not pumpkin pie filling as the cans can look very similar.
Sugar: This will be used to sweeten the no bake cheesecake layer of the pie.
Cream Cheese: You will need one package of softened cream cheese for the cheesecake layer. You can use regular or low-fat cream cheese, but make sure it is at room temperature before you begin.
Cool Whip: You'll need two 8 ounce containers of Cool Whip to top off the pie and provide a light, fluffy finish.
Pumpkin Pie Spice, Cinnamon, and Nutmeg: This will provide a warm, spicy flavor to the pumpkin layer.
Vanilla or White Chocolate Instant Pudding: Use either white chocolate or instant vanilla pudding because they offer a neutral complimentary flavor to the pumpkin pie.
Milk:This will be used to mix with the instant pudding mix.
Graham Cracker Pie Crust: Two pre-made 9-inch graham cracker pie crusts will provide a crunchy, sweet bottom layer for your no bake pumpkin pie.
How to Make a 3-Layer No Bake Pumpkin Pie
[Step 1] Add the softened cream cheese and sugar to a mixing bowl and use an electric mixer to combine them until smooth.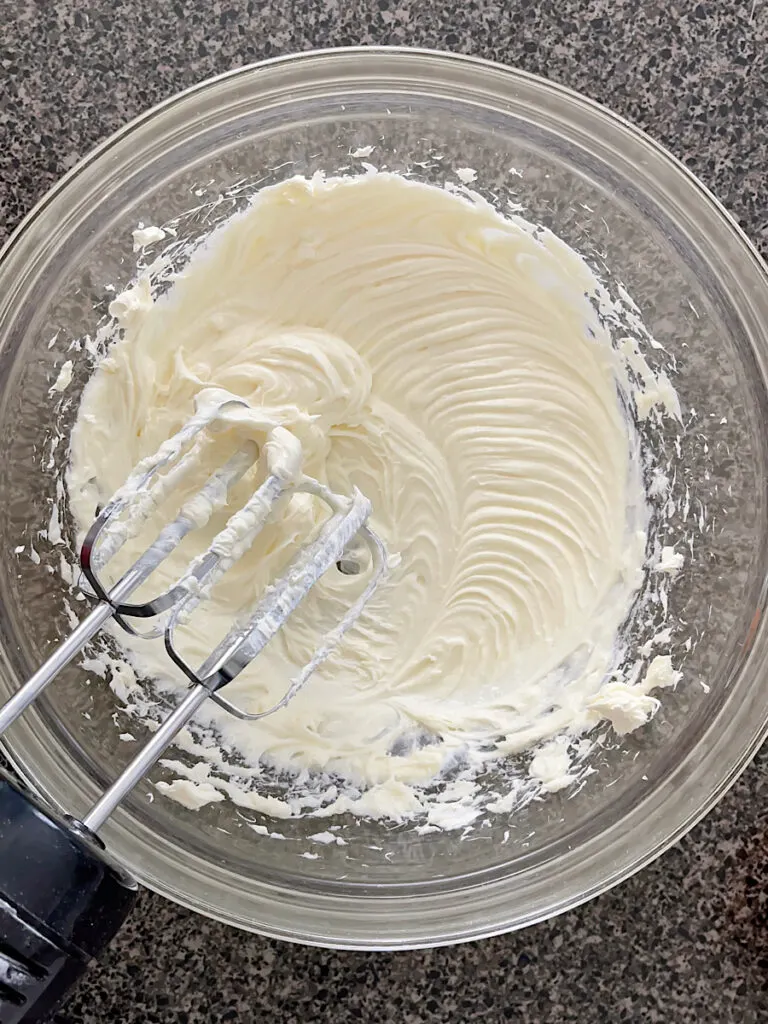 [Step 2] Gently fold one of the tubs of cool whip into the cream cheese mixture and spread on the bottom of both store-bought graham cracker crust.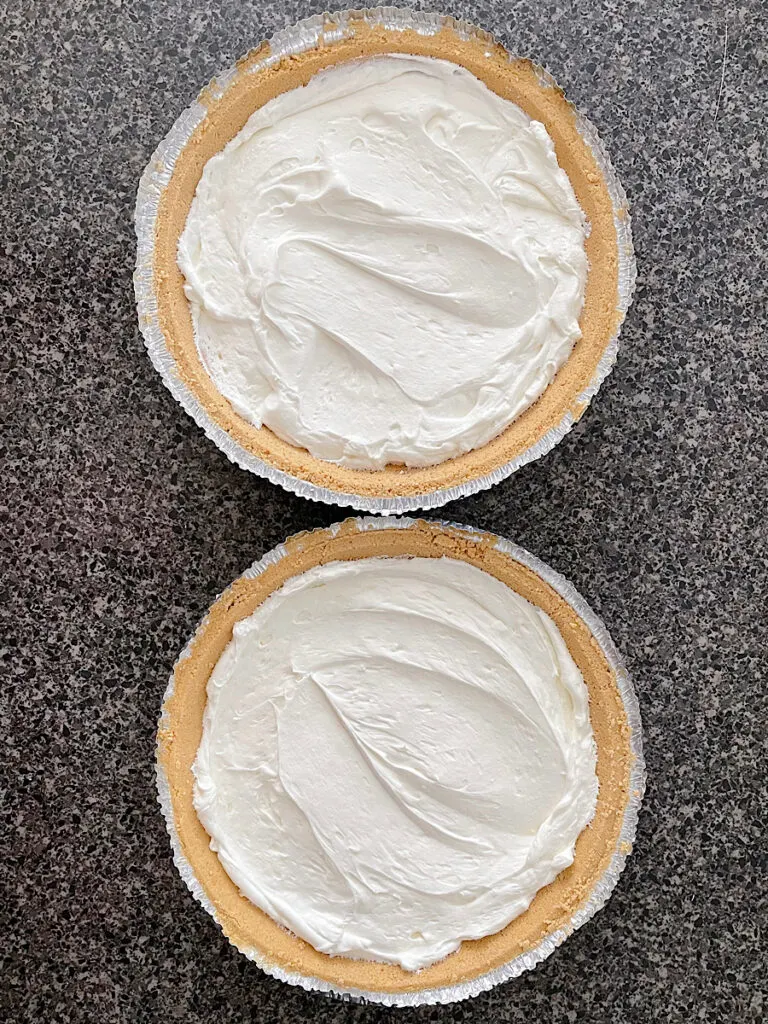 [Step 3] In another large bowl, beat the pudding mix and milk with the hand mixer until thick.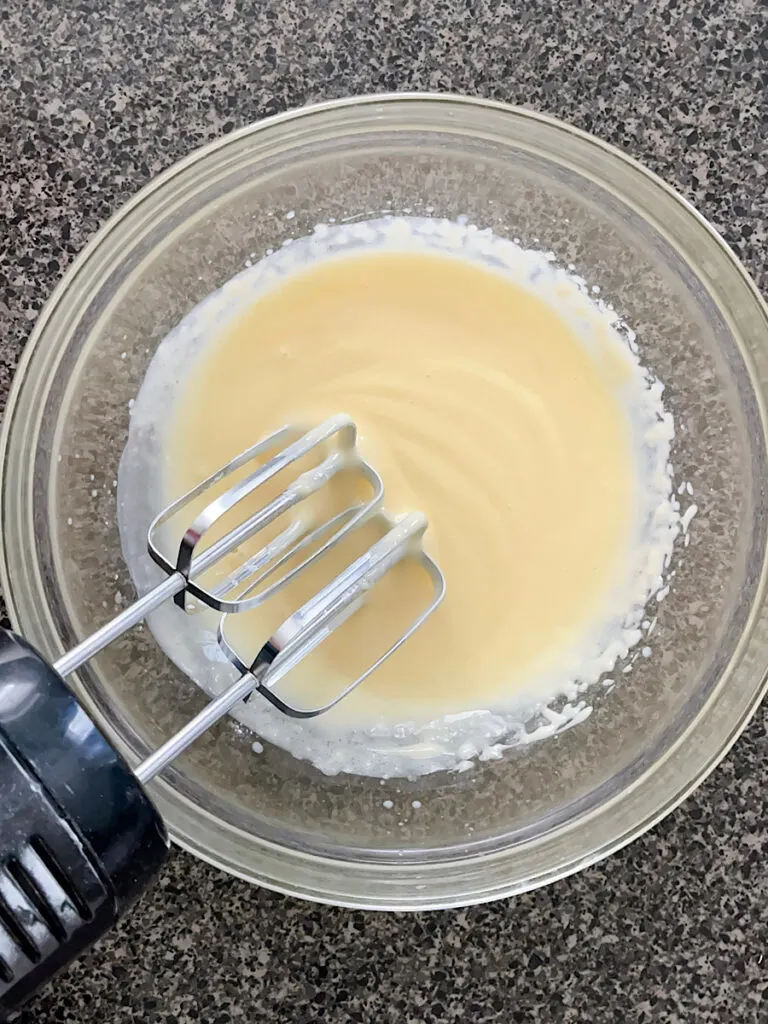 [Step 4] Add the pumpkin puree, pumpkin spice, nutmeg, and cinnamon to the pudding and mix until blended. Layer the pumpkin mixture on top of the cream cheese layer.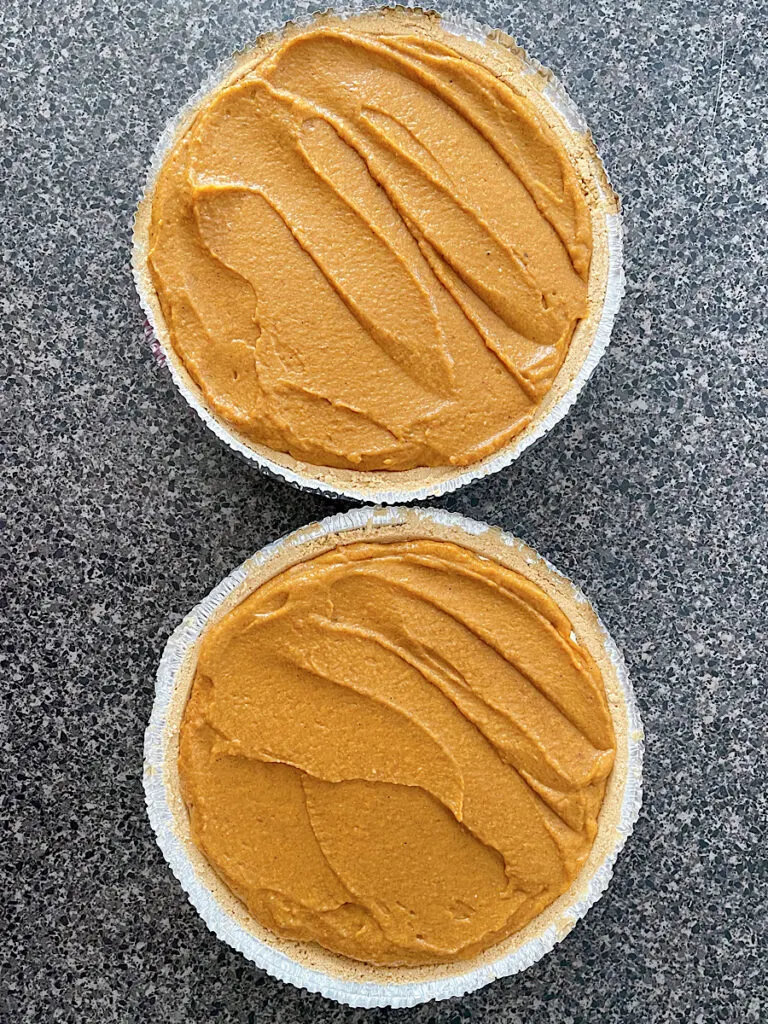 [Step 5] Top the pies with the second container of cool whip sprinkle with cinnamon or pumpkin spice. Refrigerate for at least 3 hours before serving.
Helpful Kitchen Tools
How to Store No Bake Pumpkin Pie
The no bake pumpkin pie can be stored in an airtight container, or covered with plastic wrap, and kept in the refrigerator for up to 3 days. You can also freeze individual slices of the pie if you'd like to keep it longer. The pie will stay good for up to 6 months.
More Pumpkin Recipes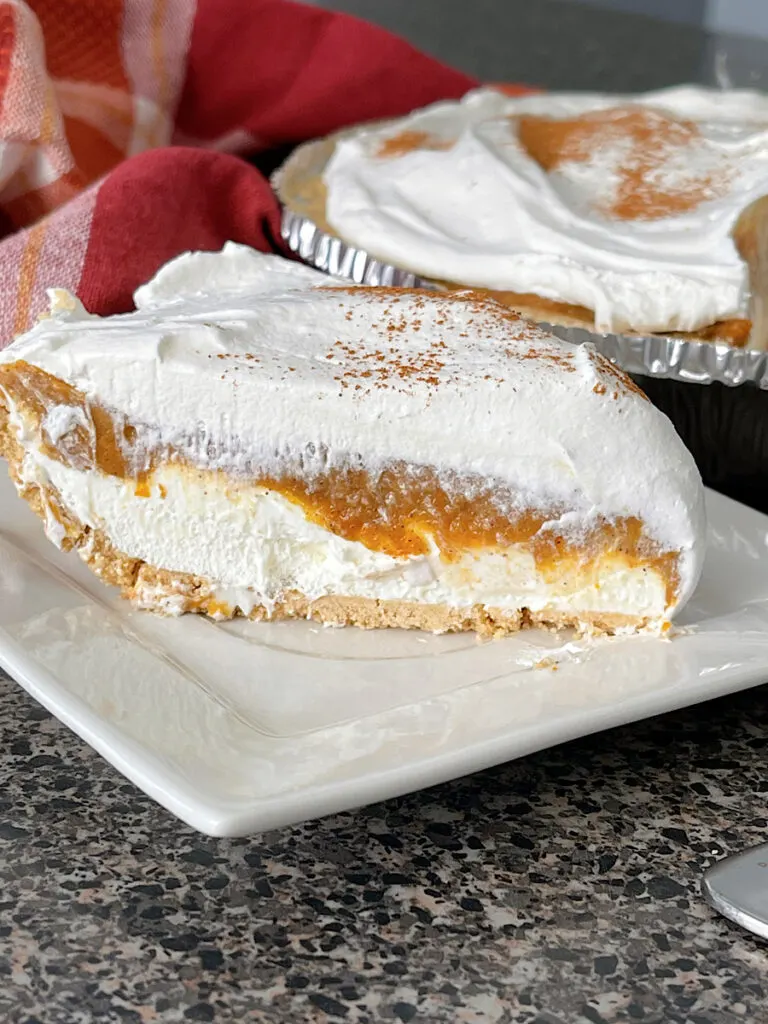 Frequently Asked Questions
Can I make this without Cool Whip?
Yes, you can substitute the cool whip with homemade whipped heavy cream or your favorite non-dairy alternative.
Do I need to cook the pumpkin pie filling?
No, there is no cooking involved in making this delicious dessert! All you need to do is combine the ingredients and layer them in the pie crusts.
How many servings does this recipe provide?
Each pie will yield 8 slices. The entire recipe provides 16 servings.
Can I make my own crust for this easy pie?
Yes, you can make your own homemade graham cracker crust for this easy and delicious dessert. Just crush graham crackers in a food processor to make to cups and combine with 1/2 cup of sugar and 1/3 cup melted butter in a bowl and press into the bottom of a 9-inch pie plate. Bake at 350 degrees for 10 minutes and allow to cool before adding the no bake cheesecake and no bake pumpkin pie.
Tips & Tricks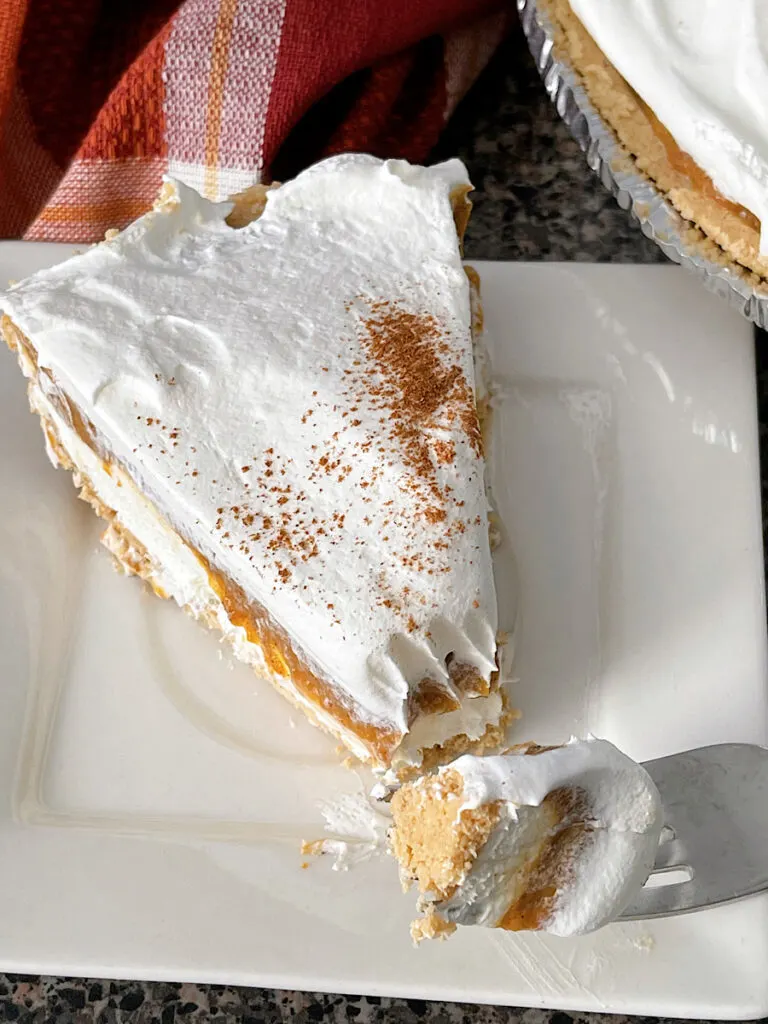 Final Thoughts
This easy pumpkin pie recipe is sure to be a hit at your next holiday gathering or Thanksgiving dinner! With just a few simple steps, you can have this delicious dessert ready to go in no time. Try it today and let us know what you think! Enjoy!
More Pie Recipes