Sharing is caring!
These chewy pumpkin bars are packed with pumpkin spice flavor in every bite and are topped with the most amazingly creamy, cream cheese frosting. They're incredibly easy to make and they're perfect for autumn gatherings with your friends and family!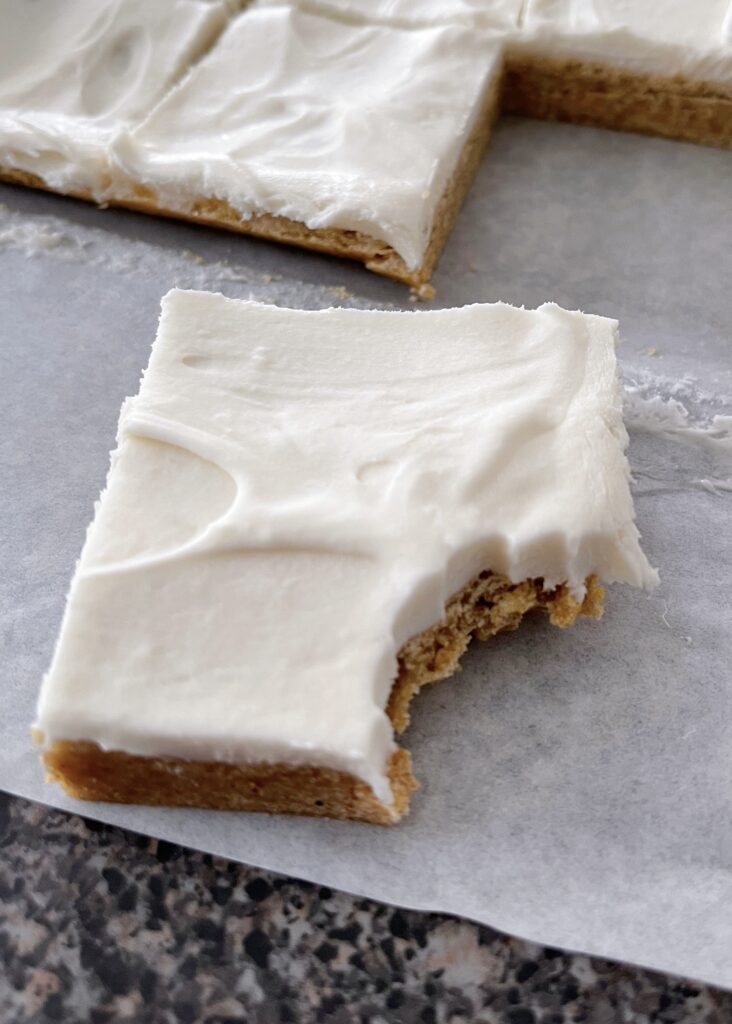 This post may contain affiliate links. When you click on these links, I get a small percentage back at no cost to you! For more information see my disclosure policy.
This recipe for Pumpkin Sugar Cookie Bars recipe will give you delicious homemade sugar cookie bars with cream cheese frosting that are ready in less than one hour!
The best part about this dessert is that it's made without any rolling out of dough or cutting into shapes – just mix everything together and pour into a pan! These bars are super moist thanks to the addition of cream cheese frosting on top too.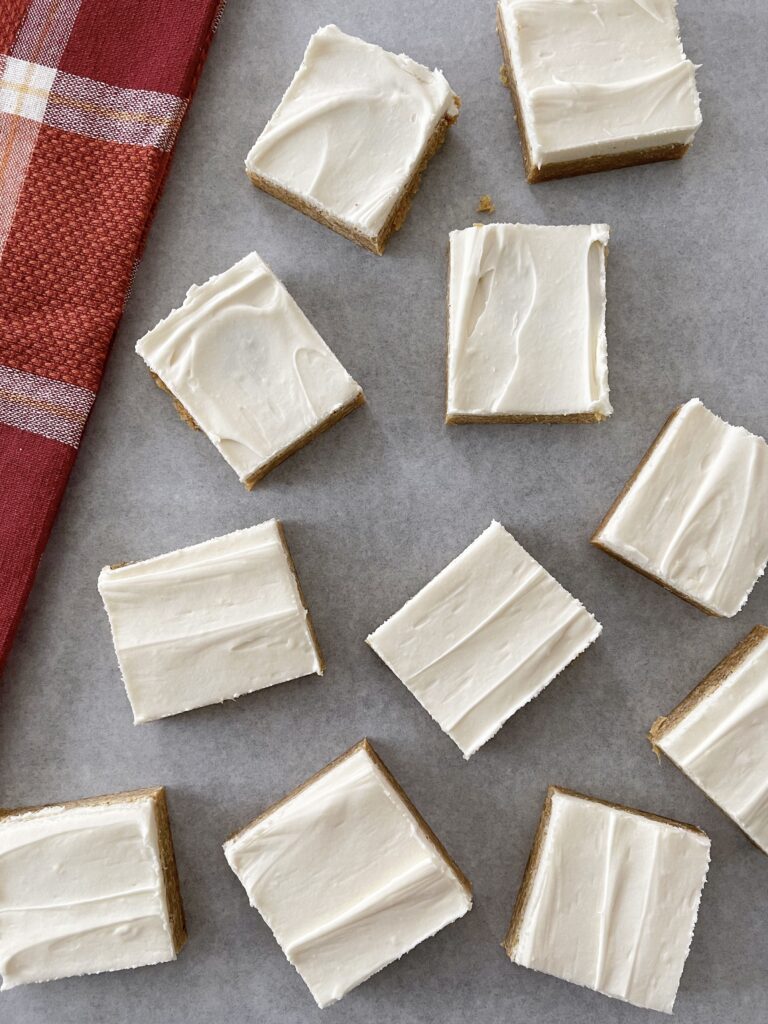 They taste great at room temperature after baking but I prefer them after they have been in the refrigerator. My kids say they taste like a slice of pumpkin pie!
Other Sugar Cookie Recipes
How to Store Pumpkin Sugar Cookie Bars
You can store these pumpkin sugar cookie bars in an airtight container in the refrigerator for up to seven days, or in the freezer for up to three months.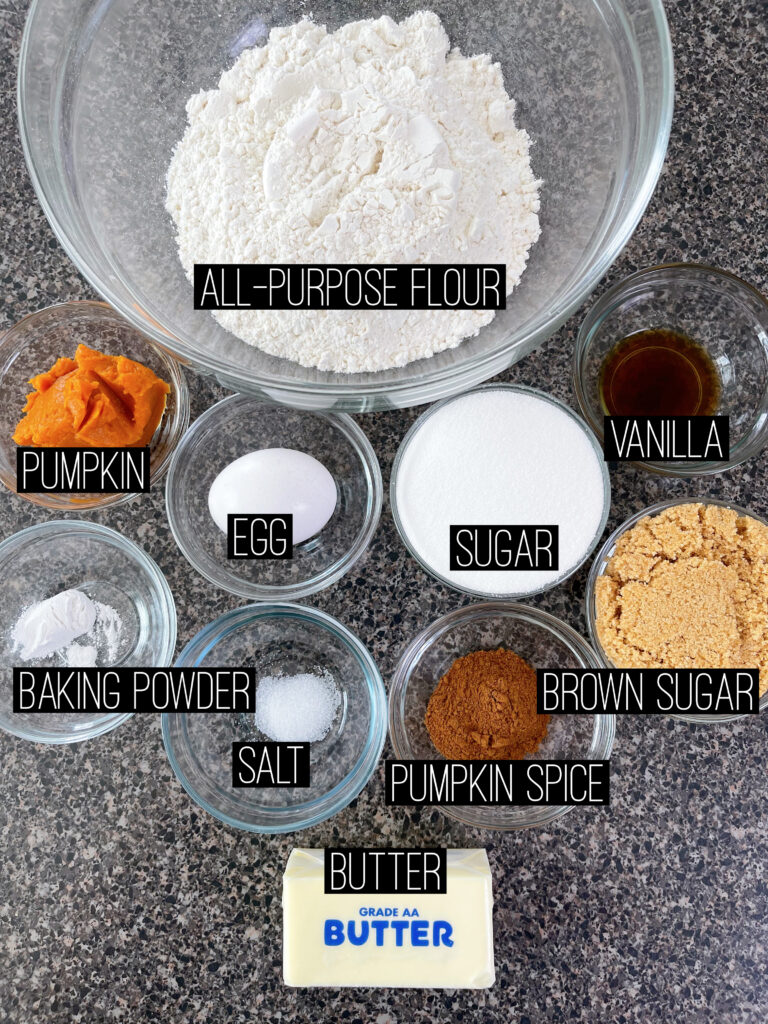 Pumpkin Cookie Ingredients
Softened Butter- You can use salted or unsalted butter for this recipe. I used unsalted.
Pumpkin Puree- You can use fresh pumpkin puree or canned. I used Libby's 100% Pure Pumpkin Puree. Do not use pumpkin pie filling.
Brown Sugar- You can use light or dark brown sugar in this recipe. I used light brown sugar.
Sugar- Standard white granulated sugar is what is used in these cookie bars.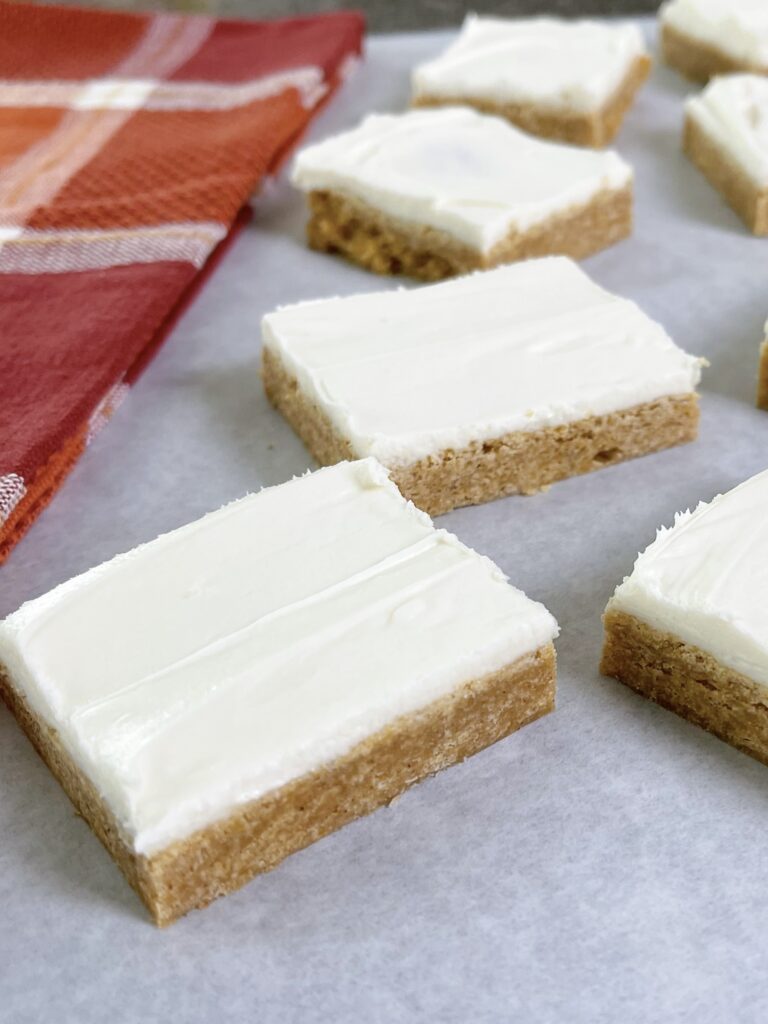 Eggs- You can use size large eggs or extra large eggs.
Salt- Table salt is what is used in this recipe.
Baking Powder- Baking powder is essential to make these pumpkin sugar cookie bars lighter and airy!
All Purpose Flour- All purpose flour is what is used in this recipe.
Vanilla Extract- Pure vanilla extract is called for in this pumpkin sugar cookie bars recipe to enhance all those flavors!
Pumpkin Spice- Pumpkin spice is the only spice called for in this recipe. Find my recipe for homemade pumpkin spice here.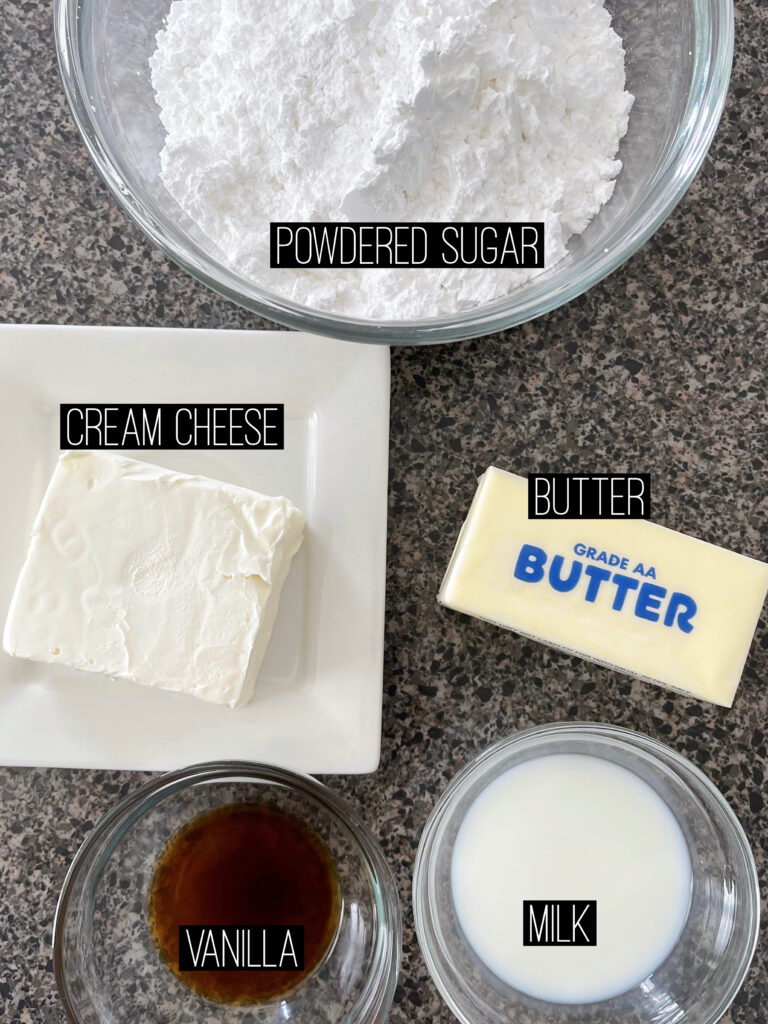 Cream Cheese Frosting Ingredients
Unsalted Butter- I always use unsalted butter when making frosting. This gives you the flexibility to control the amount of salt and the taste of your frosting.
Cream Cheese- Make sure to used room temperature cream cheese when making cream cheese frosting. This will help it hold its texture. Read my tips for making perfect cream cheese frosting here.
Powdered Sugar- Standard powdered sugar, also known as confectioners sugar, is used in this cream cheese frosting recipe.
Vanilla Extract- I always use pure vanilla extract when making recipes with cream cheese. It enhances the flavor!
Milk or Heavy Cream- You can use milk or heavy cream for your cream cheese frosting.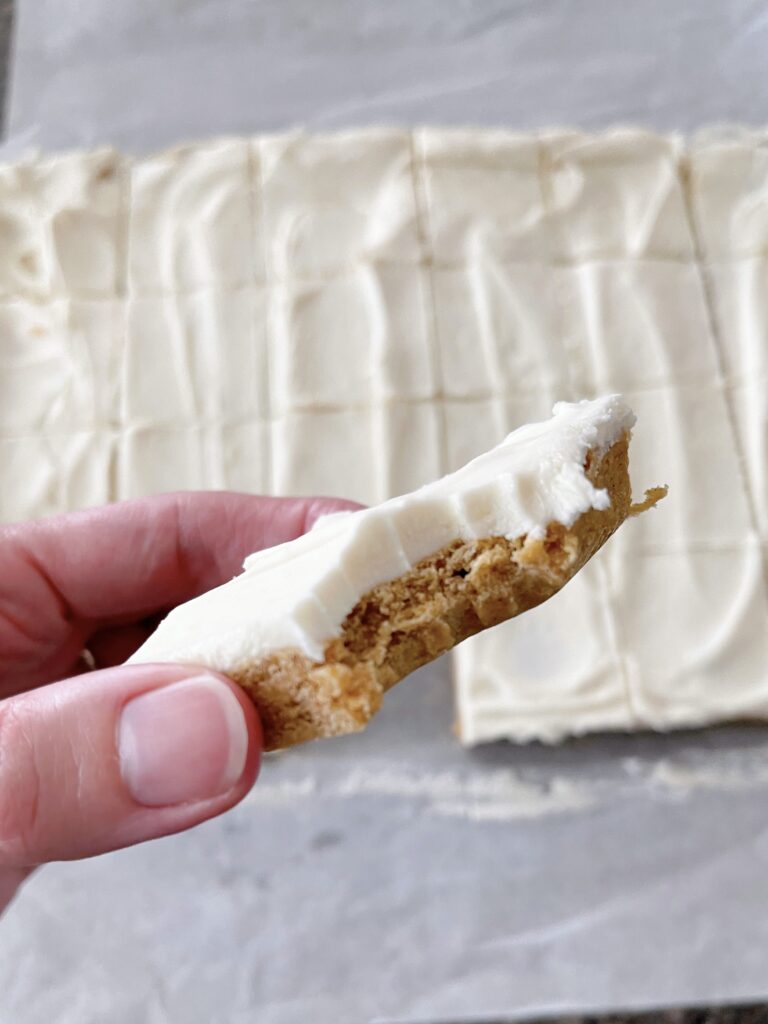 How to Make Pumpkin Sugar Cookie Bars
[1] In a mixing bowl, whisk together the flour, salt, pumpkin spice, and baking powder.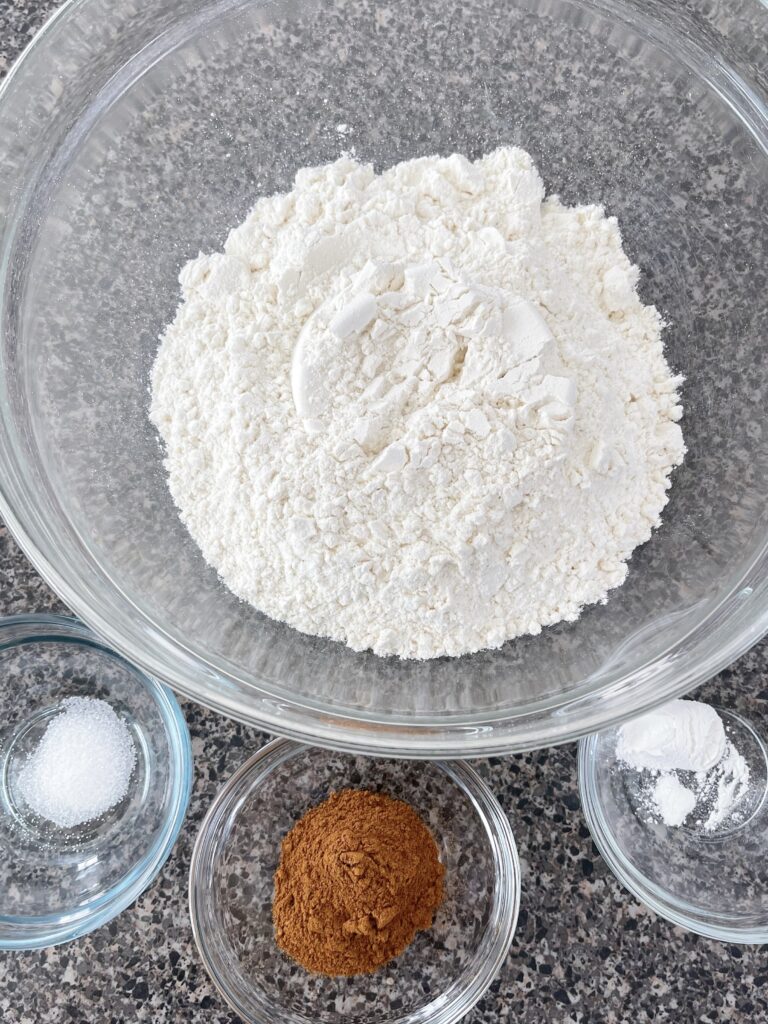 [2] Place the softened butter, sugar, and brown sugar in the bowl of a stand mixer. Whip until light and fluffy.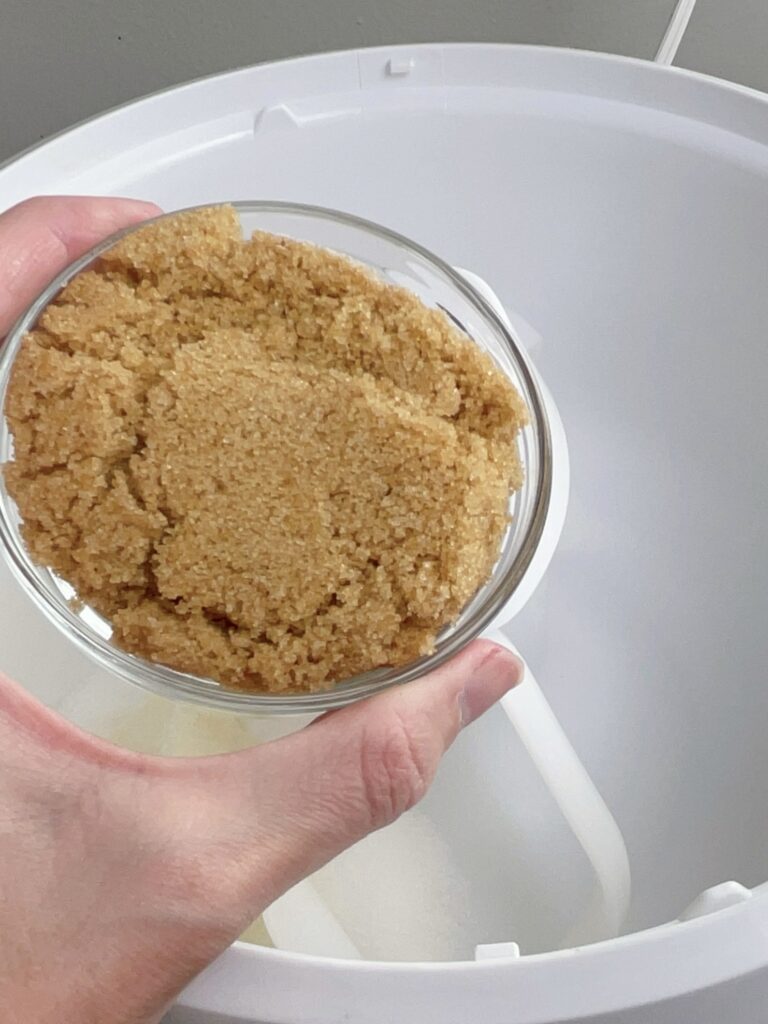 [3] Mix in the eggs, vanilla, and pumpkin puree.
[4] Add the dry ingredients to the butter and sugar mixture and stir to combine.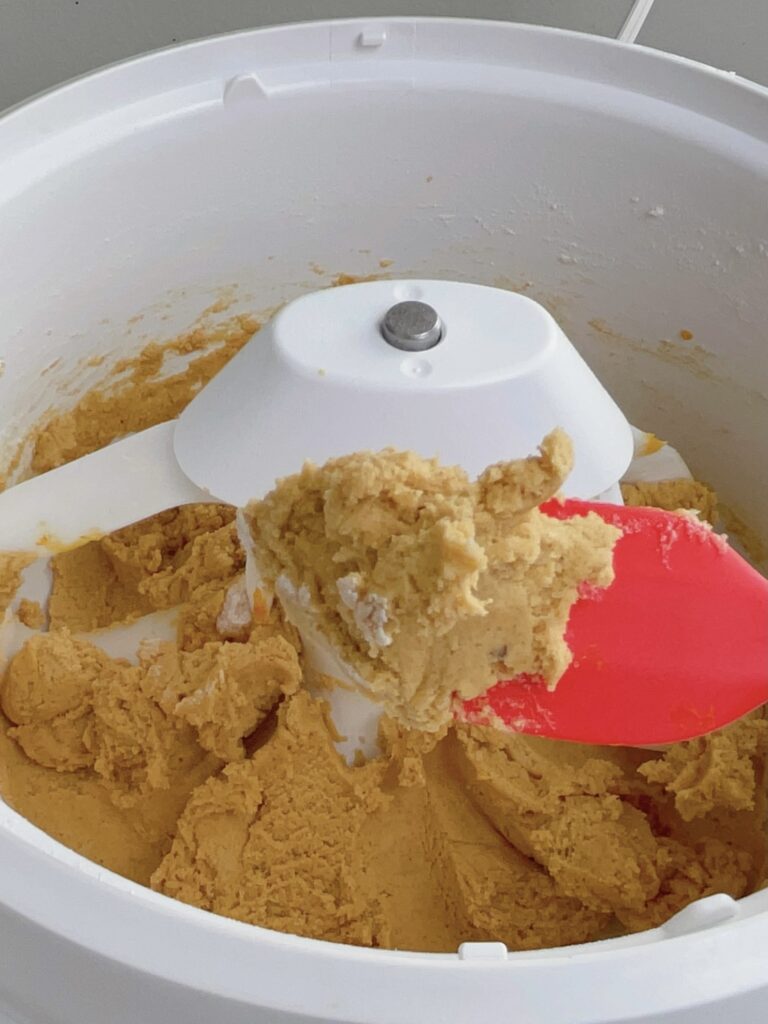 [5] Place a sheet of parchment paper on a 9×13 jelly roll pan with the edges hanging over the sides.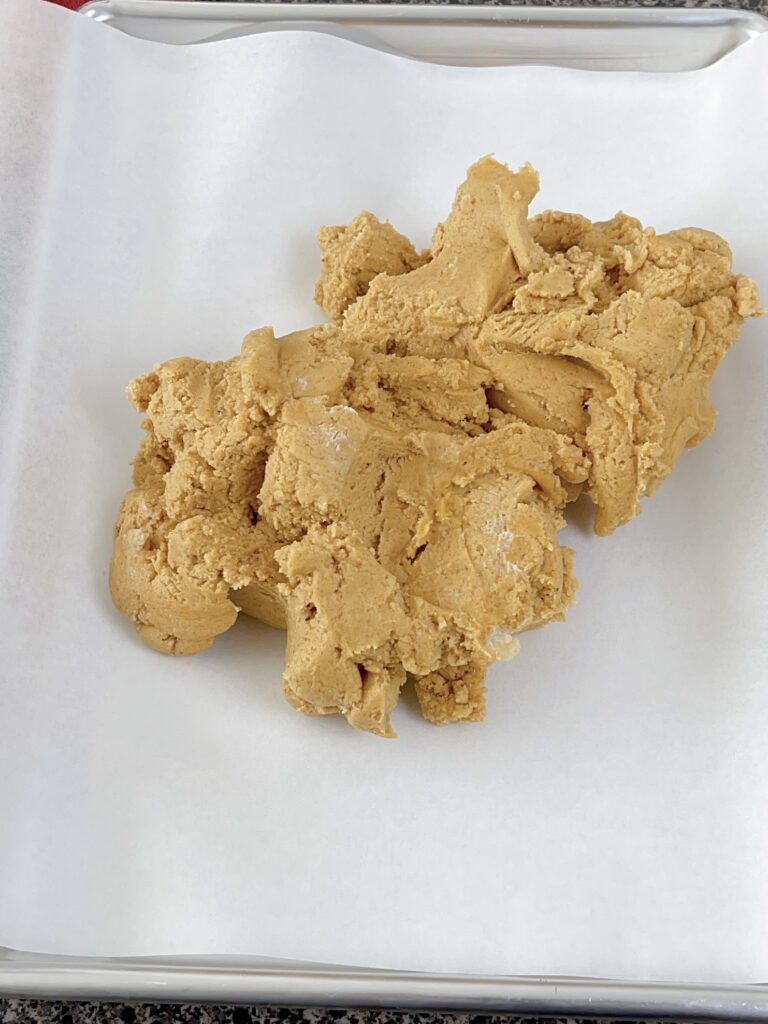 [6] Spread the cookie dough over the parchment paper and bake at 350 degrees for 25-30 minutes. Remove the cookies and allow them to cool completely before frosting.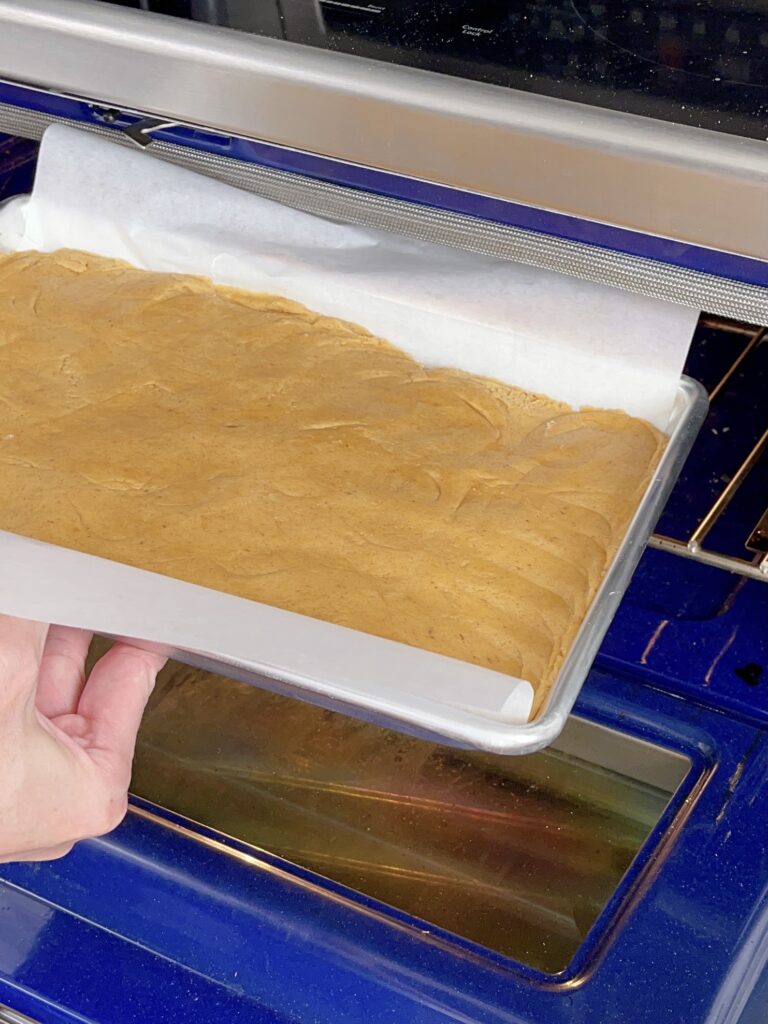 Directions for Cream Cheese Frosting
[1] Whip the butter and softened cream cheese in a stand mixer until fluffy.
[2] Add the powdered sugar and vanilla and whip together for 2-3 minutes.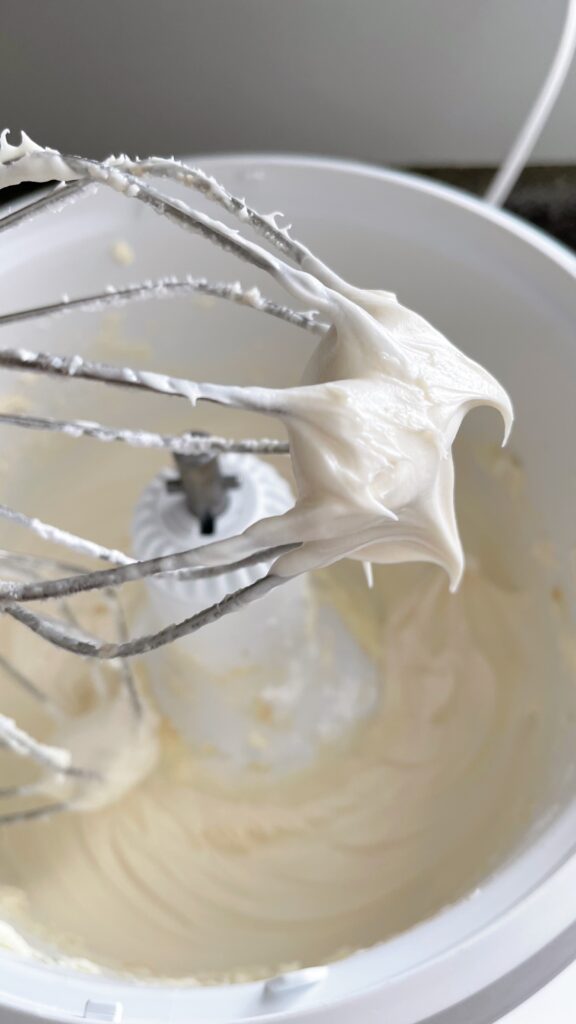 [3] Spread the frosting over the top of the pumpkin sugar cookie bars and refrigerate until the frosting sets. Cut and serve!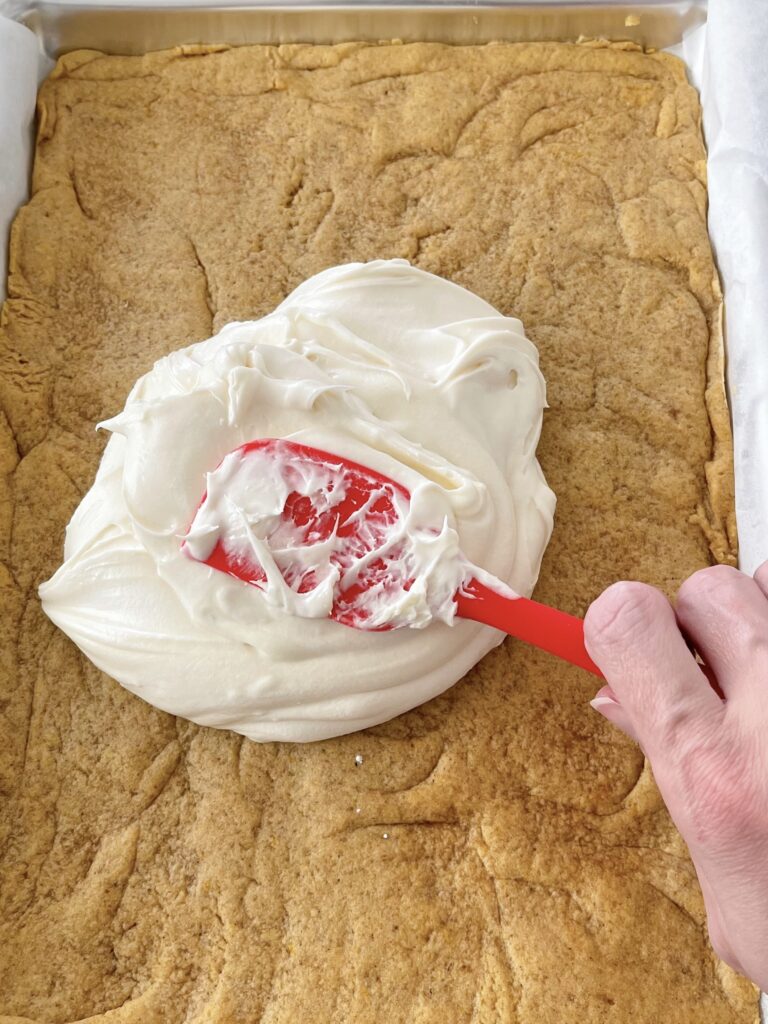 Helpful Kitchen Items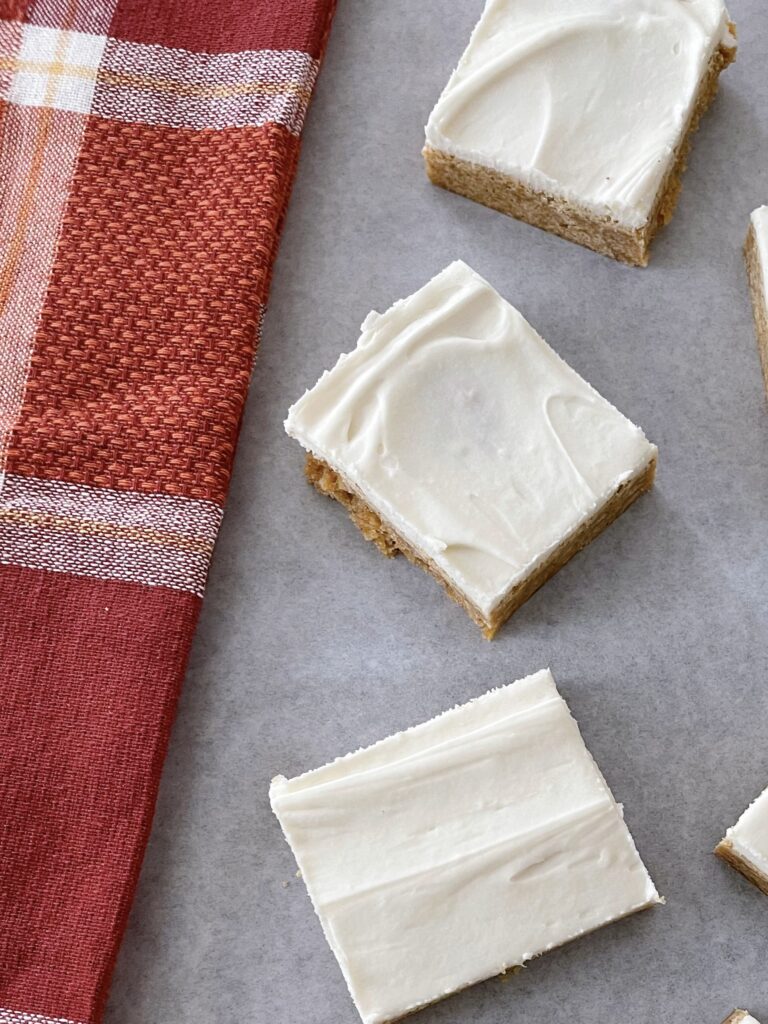 Other Pumpkin Recipes
I hope you enjoy these Pumpkin Sugar Cookie Bars with Cream Cheese Frosting! If you make them, leave a comment and let me know how it goes. And don't forget to follow me on Pinterest and Instagram too! Happy baking, friends!
Watch the video here: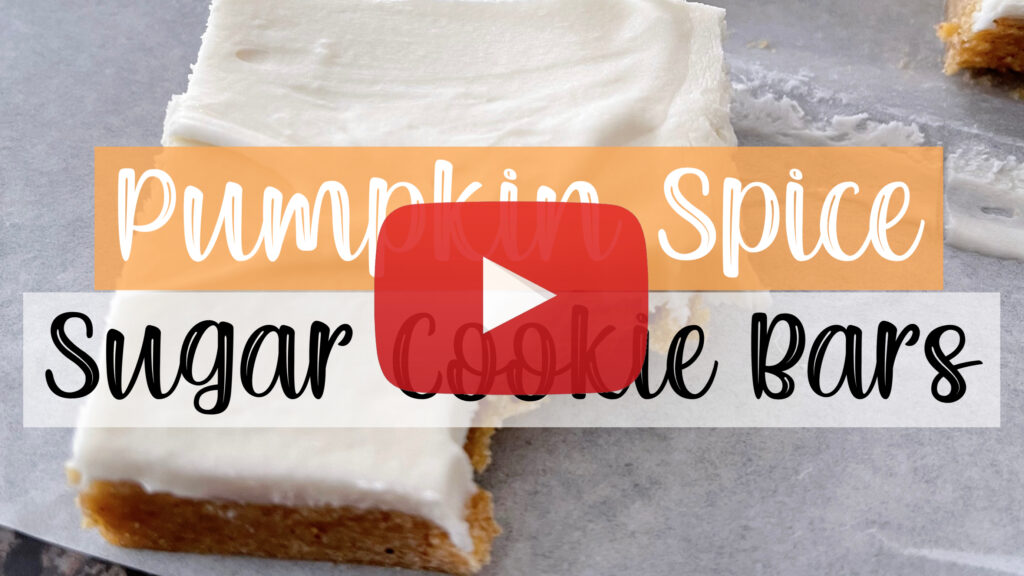 Sharing is caring!