Do you love strawberry desserts? Then you'll love this Sugar Cookie Strawberry Dump Cake recipe! It's so easy to make, and it's always a hit with family and friends. The best part is that you only need a few simple ingredients and you'll be enjoying dessert in no time!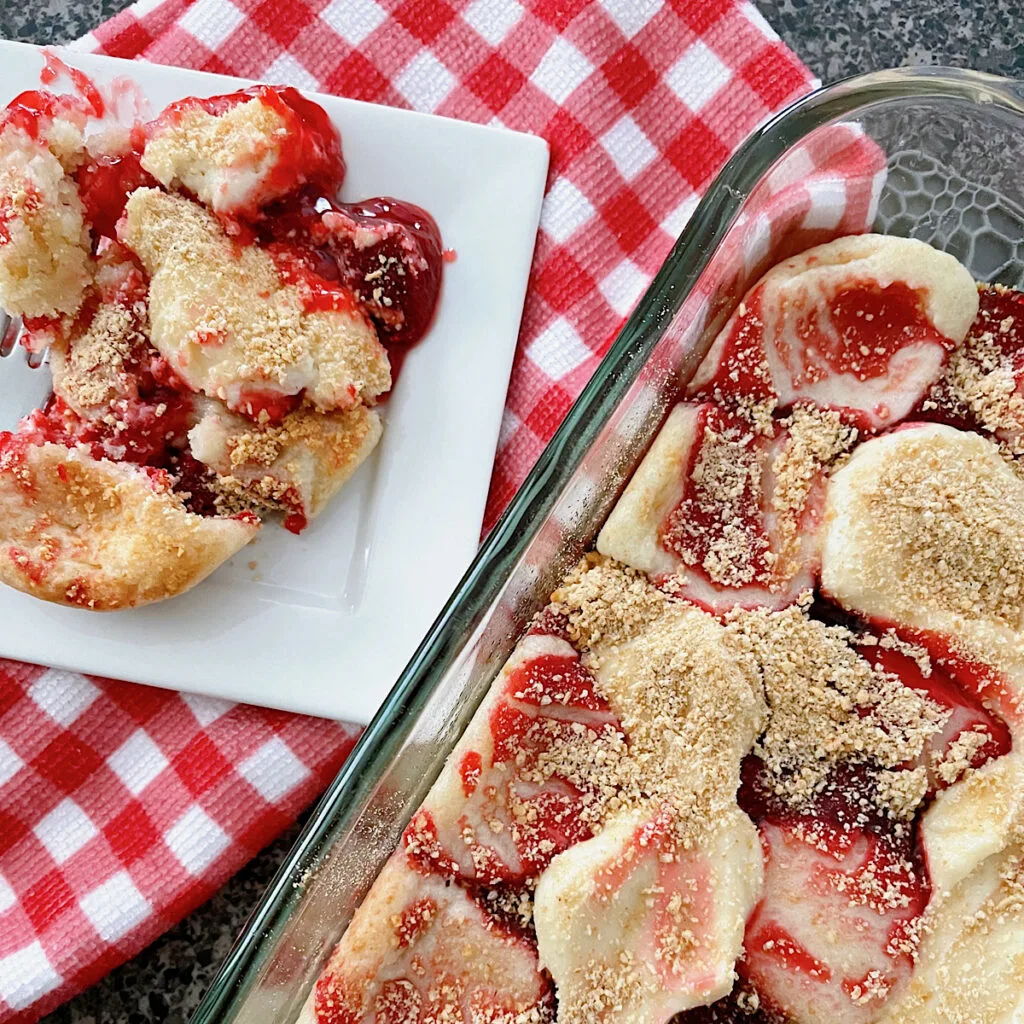 This post may contain affiliate links. When you click on these links, I get a small percentage back at no cost to you! For more information see my disclosure policy.
Below you will find tips, tricks and helpful hints for making this recipe including step by step instructions with pictures. If you would like to go directly to the recipe, scroll down to the recipe card or tap "Jump to Recipe" at the top of the page.
Why This is the Best Strawberry Dump Cake Recipe
The great thing about this easy dump cake recipe is that all of the ingredients are pre-made, so all you have to do is "dump and go!
But, if you want to take it to the next level, you can add the delicious cream cheese topping that is only one additional step.
This delicious dessert is one of the easiest recipes and also perfect for feeding a large crowd because it makes 12-16 servings.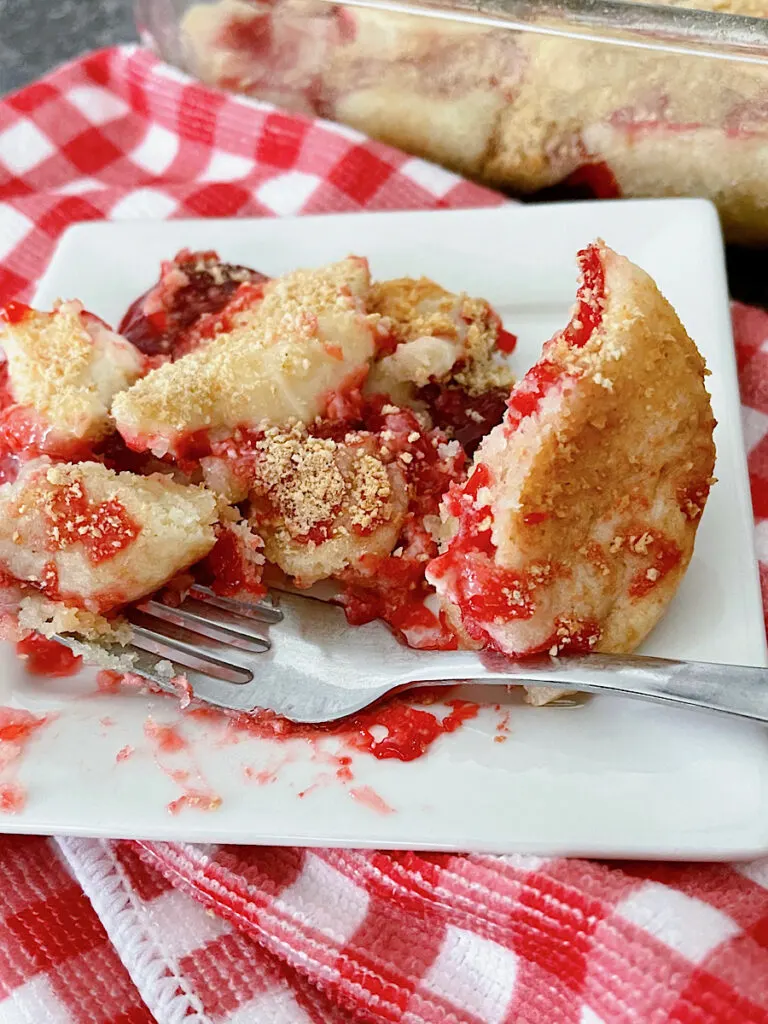 Why do they call it Dump Cake?
Dump cake gets its name because you "dump" all of the ingredients into the pan and then bake. It's one of the easiest desserts to make because there is no need to measure or mix ingredients together.
Most dump cake recipes use a dry cake mix sprinkled over fruit.
Assemble all ingredients before beginning.This recipe comes together quickly, so it's important to have everything measured out and ready to go before you start.
A Note on Cooking Time
I've seen this recipe a few times on TikTok, but have noticed that their cooking time is not long enough. After some trial and error, I have found that 40-45 minutes is the right amount of cooking time to ensure that the cookie dough has a chance to cook all the way through.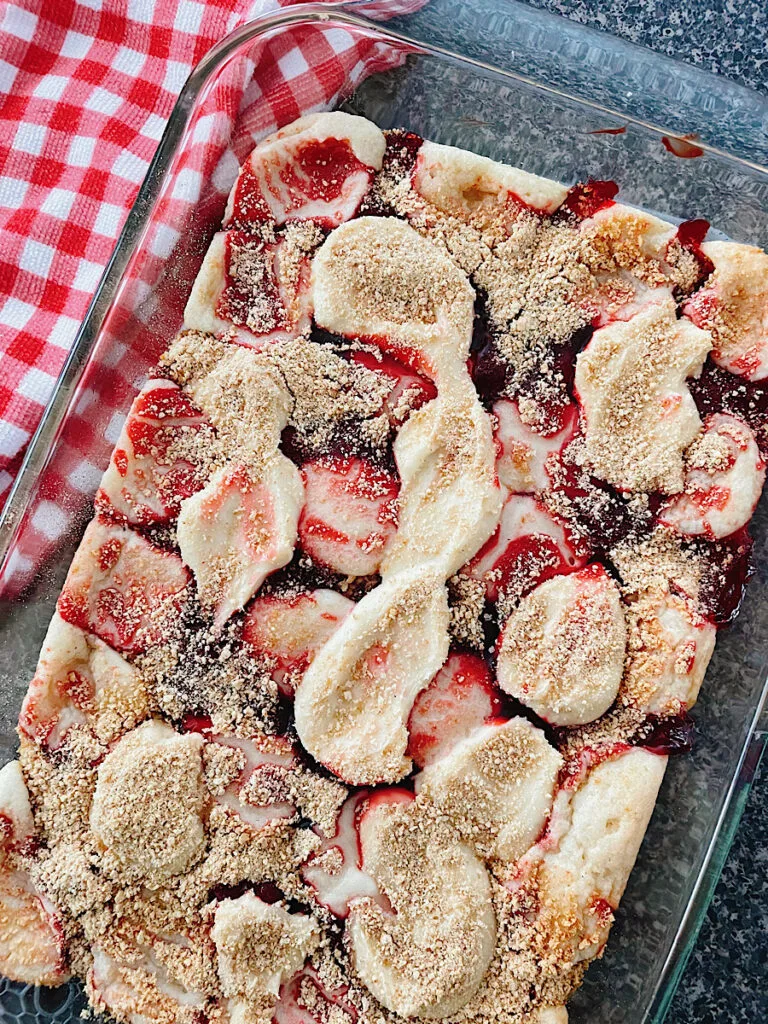 Ingredients for Sugar Cookie Strawberry Dump Cake
*Ingredient amounts are located in the recipe card at the end of this post.
Sugar Cookie Dough: I used pre-made Pillsbury cookie dough that has been portioned into 12 cookies. The size and shape of the cookies is similar to the 9×13 baking dish that is required. You can find this dough in the refrigerated section of the grocery store.
Strawberry Pie Filling: One can of strawberry pie filling is all you need for this recipe. You could also use blueberry, cherry, or raspberry pie filling if you prefer. I find that the store-bought pie fillings work just as well as the homemade versions.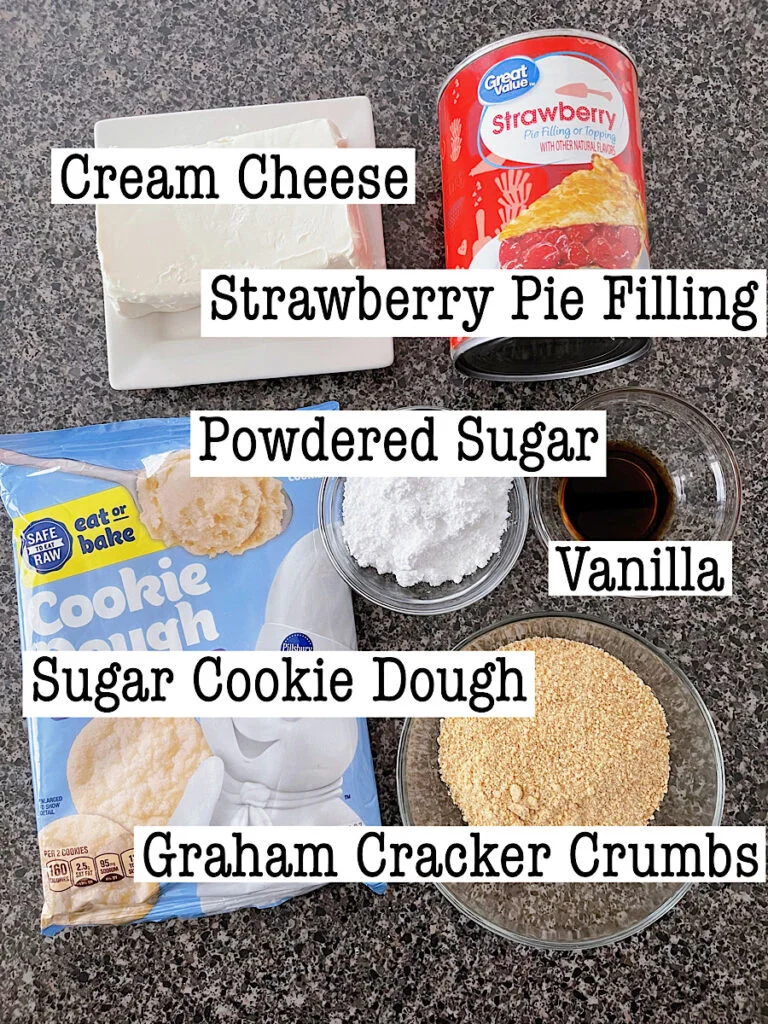 Cream Cheese: The cream cheese topping is optional, but it really takes this dessert to the next level. I used 8 ounces of cream cheese that I softened in the microwave for about 30 seconds.
Graham Crackers: I used 2 sheets of graham crackers that I pulsed in my food processor until they were crumbs. You could also use store-bought graham cracker crumbs.
Powdered Sugar: This will be used to sweeten the cream cheese.
Milk: Add a little milk to the cream cheese mixture, if it is too thick.
Vanilla Extract: This is optional, but a little bit of vanilla can be added to the cheesecake mixture for flavor.
How to Make this Easy Strawberry Dump Cake Recipe
[1] Preheat your oven to 350 degrees and grease a 9×13 baking dish with nonstick cooking spray.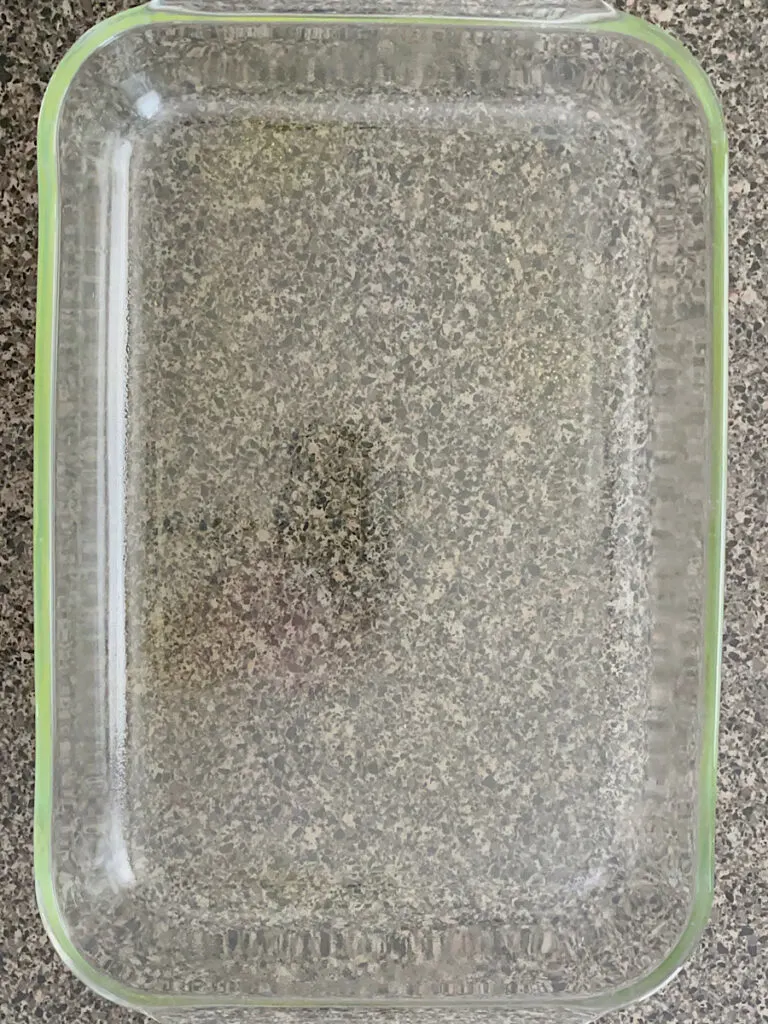 [2] Open the package of pre-made sugar cookie dough and dump the pieces into the cake pan.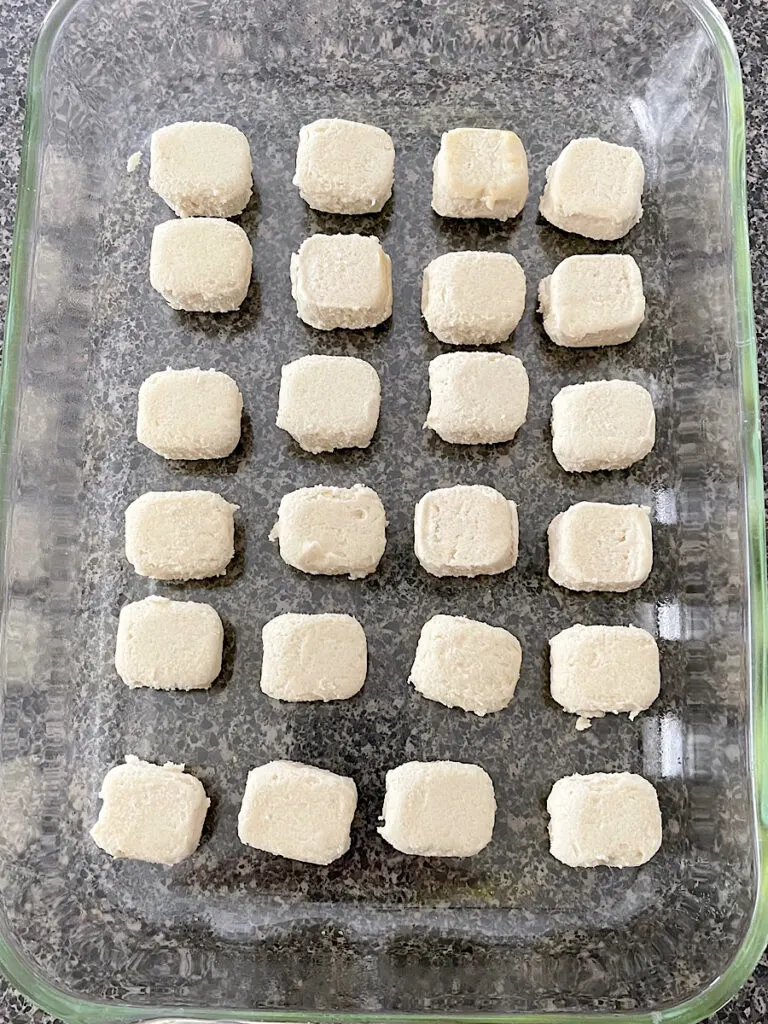 [3] Spread the can of strawberry filling over the sugar cookies.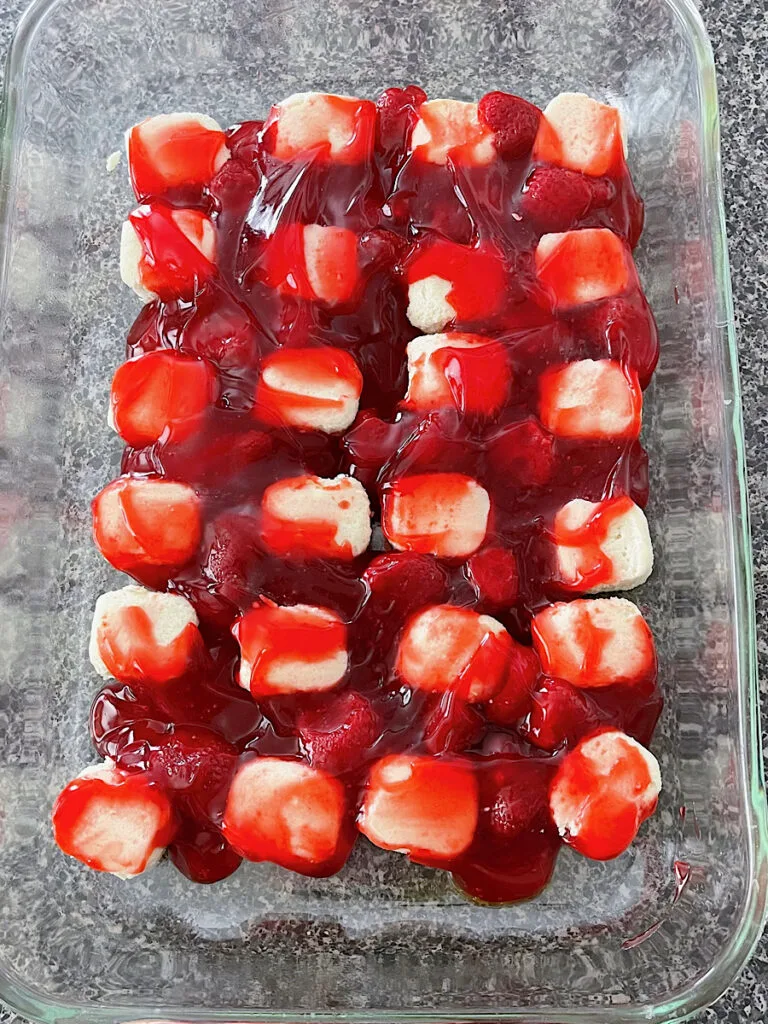 [4] In a separate bowl, use a spoon or a hand mixer to combine the softened cream cheese and powdered sugar. Use a spoon or cookie scoop to add dollops of the cream cheese mixture over the top of the fruit filling. Sprinkle with the graham cracker crumbs.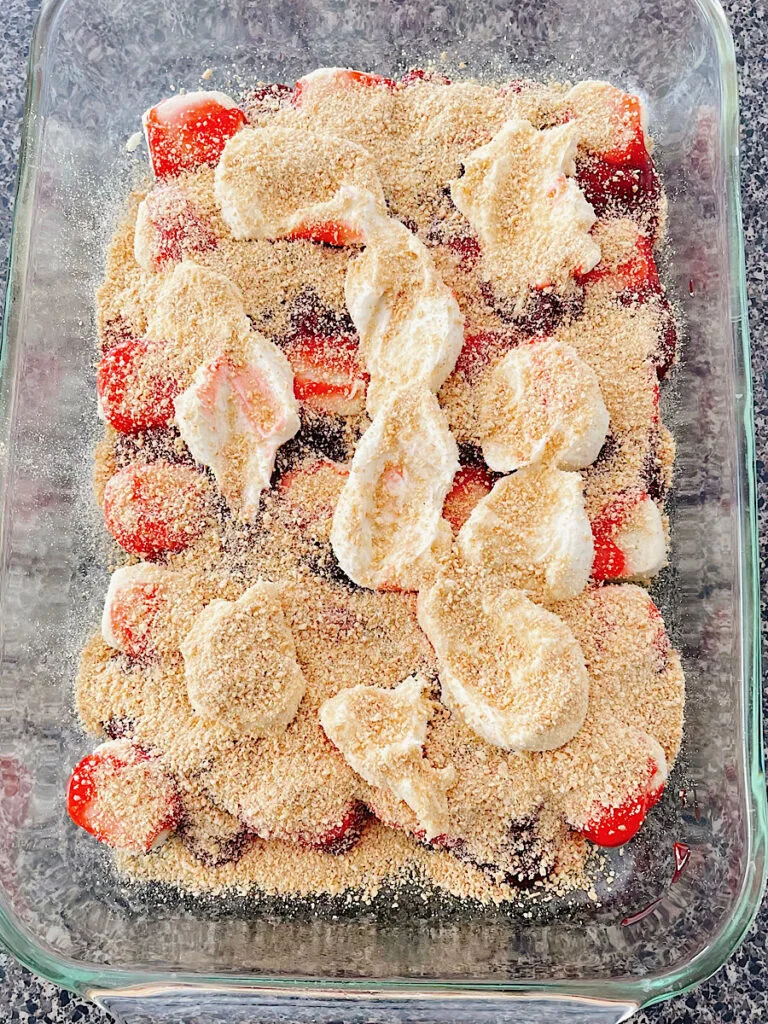 [5] Bake the cake in the preheated oven set to 350 degrees F for 40-45 minutes, or until the top of the sugar cookies begin to brown. Remove and enjoy warm out of the oven, or let the cake cool on a wire rack.
Helpful Kitchen Tools
How to Store Leftovers
This Sugar Cookie Strawberry Dump Cake is best enjoyed the day it is made. However, you can store any leftovers in an airtight container in the fridge for up to 3 days. Just reheat in the microwave for a quick and easy dessert!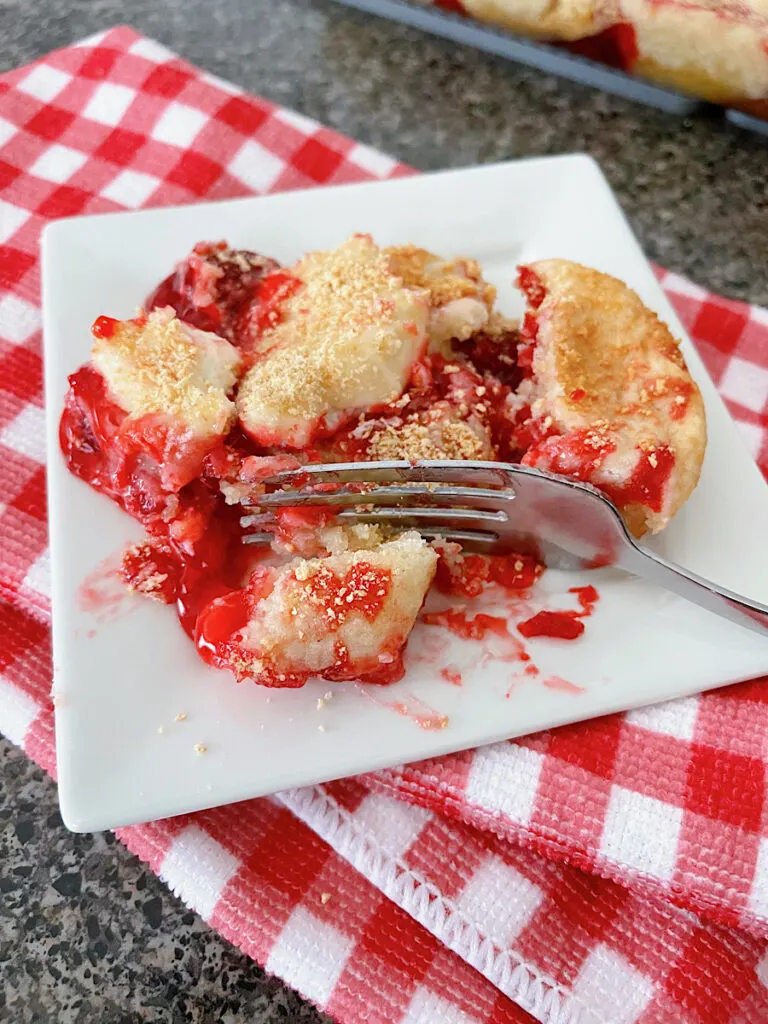 Frequently Asked Questions
Can I Freeze this Dump Cake?
Yes, you can! This Sugar Cookie Strawberry Dump Cake freezes well for up to 3 months. Just wrap tightly in plastic wrap or aluminum foil and store in the freezer. When you're ready to enjoy, thaw overnight in the fridge and reheat in the microwave.
Can I Use a Different Flavor of Pie Filling?
Absolutely! If you don't love strawberry, you can use blueberry, cherry, or raspberry pie filling instead.
Do fruit dump cakes need to be refrigerated?
Fruit dump cakes generally do not need to be refrigerated, although you may want to store leftovers in the fridge. The cream cheese topping may need to be refrigerated if it is made ahead of time.
Topping Ideas:
More Recipes to Try: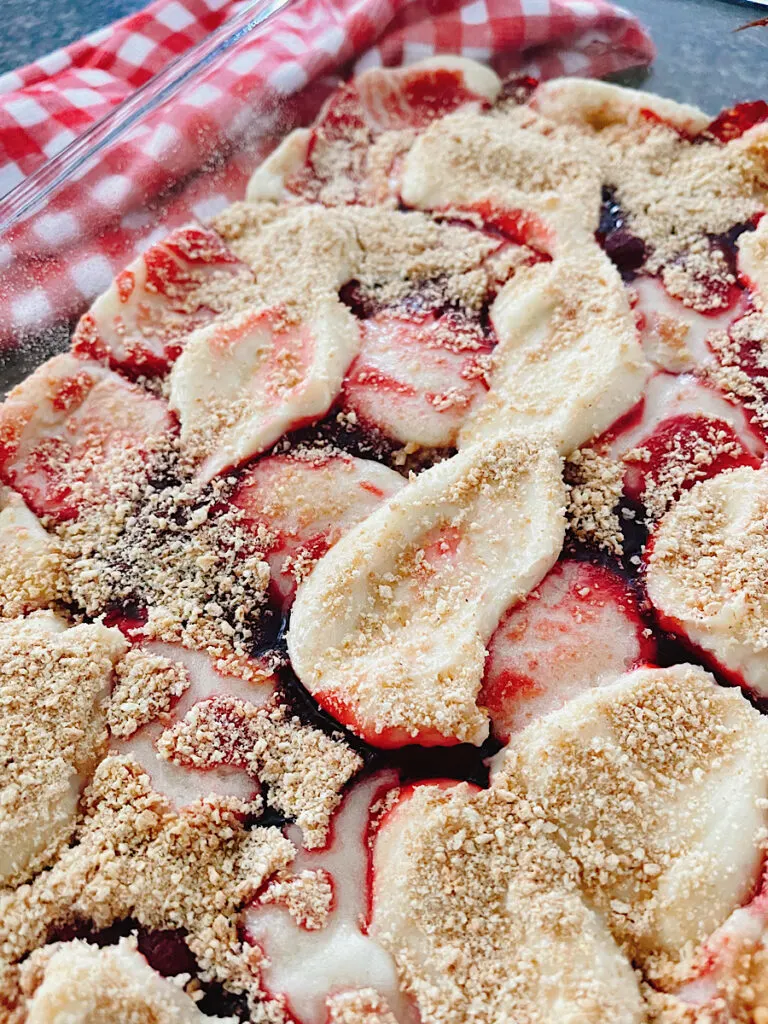 Final Thoughts
This Strawberry Cheesecake Dump Cake is the perfect no-fuss dessert! It's so easy to make and only requires a few ingredients. Plus, it's always a hit with family and friends. Be sure to try this recipe today!
Other Types of Dump Cakes
Watch the Video: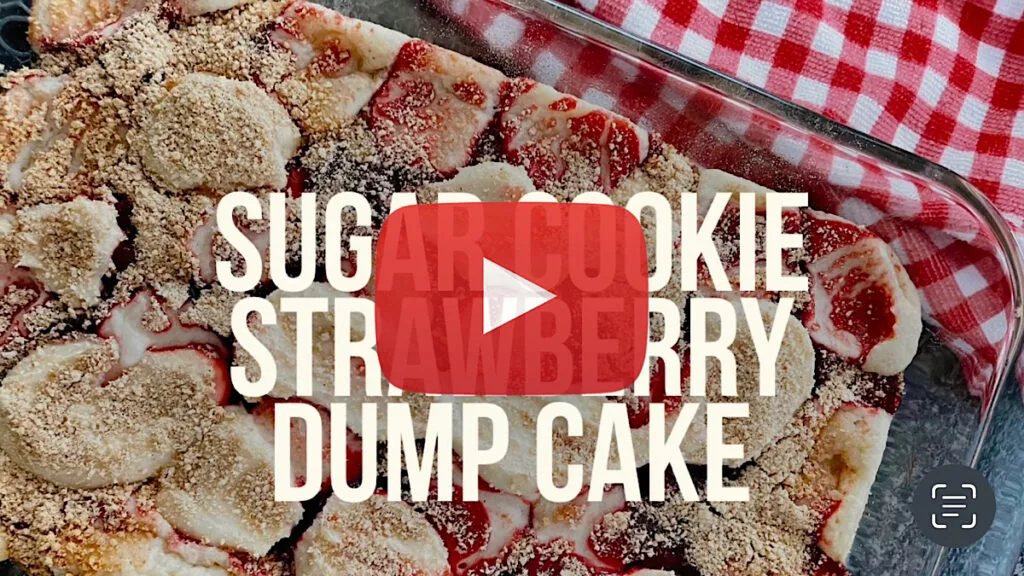 Pin for Later: