Disney's Cream Cheese Filled Pretzels are a delicious snack available at Disney World and Disneyland and can now be made right in your own kitchen! Made with frozen dinner roll dough and finished off in an air fryer or traditional oven, these pretzels are easy to make. The sweet cream cheese center makes them a decadent treat for kids and adults alike! Plus, they're perfect for packing into lunchboxes or taking with you on the go.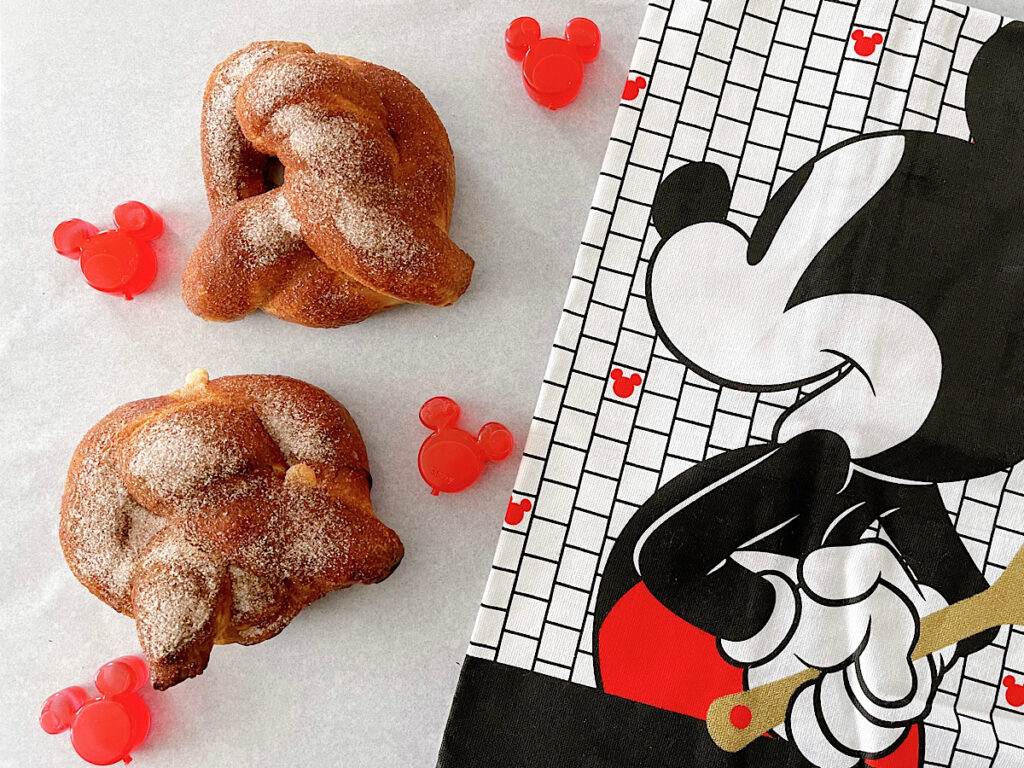 This post may contain affiliate links. When you click on these links, I get a small percentage back at no cost to you! For more information see my disclosure policy.
Below you will find tips, tricks and helpful hints for making this recipe including step by step instructions with pictures. If you would like to go directly to the recipe, scroll down to the recipe card or use the "Jump to Recipe" button at the top of the page.
Why You'll Love These Homemade Pretzels
Disney's sweet cream cheese-filled pretzels are a delicious snack for any occasion. Not only can you make them at home in an air fryer or oven, but they are also unbelievably easy to make!
By using pre-made dough, making these pretzels is not only easy, it's also very convenient.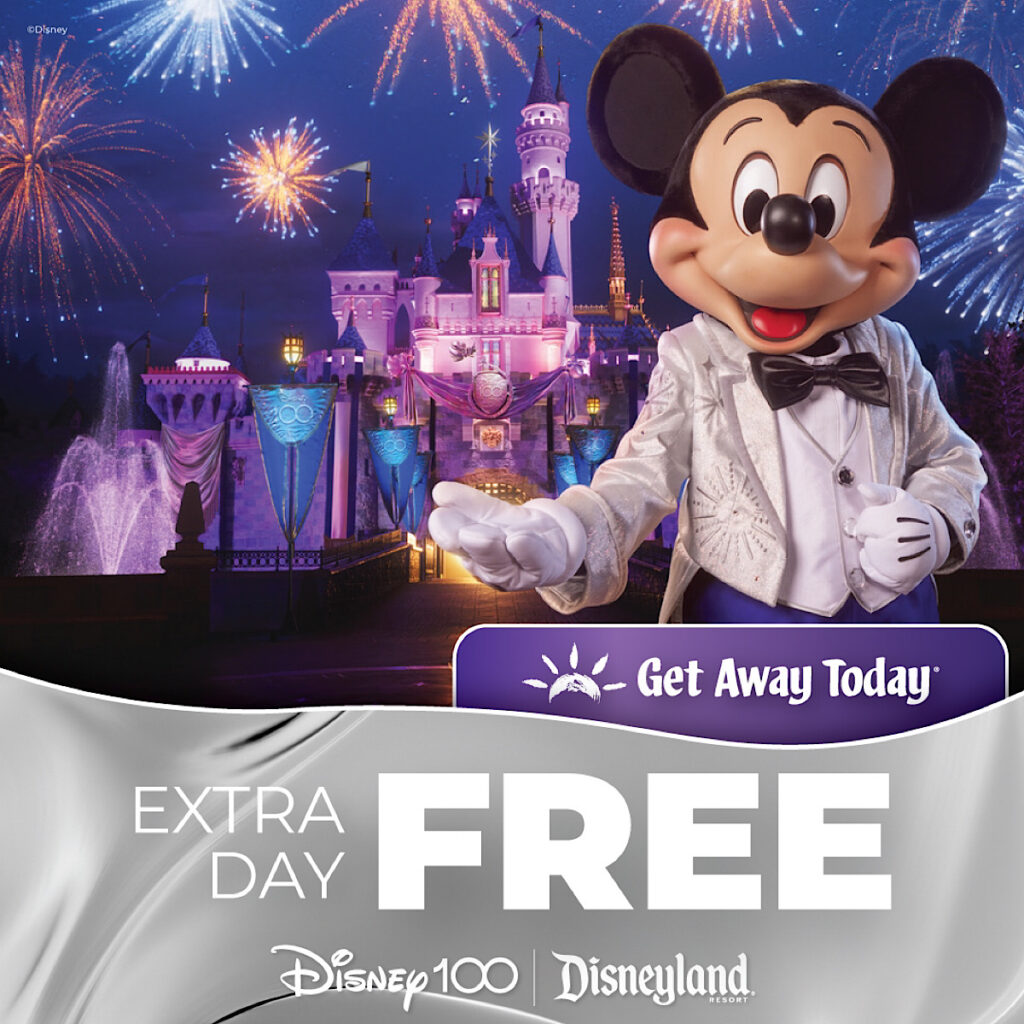 To celebrate Disney100, you can get an EXTRA DAY FREE when you purchase tickets from Get Away Today!
The air-fryer can give the pretzel a crunchy texture while the oven will produce a soft fluffy texture that melts perfectly in your mouth.
Best of all, the sweet cream cheese filling will satisfy your cravings and bring a smile to your face. You'll love how quick, easy and tasty these pretzels are!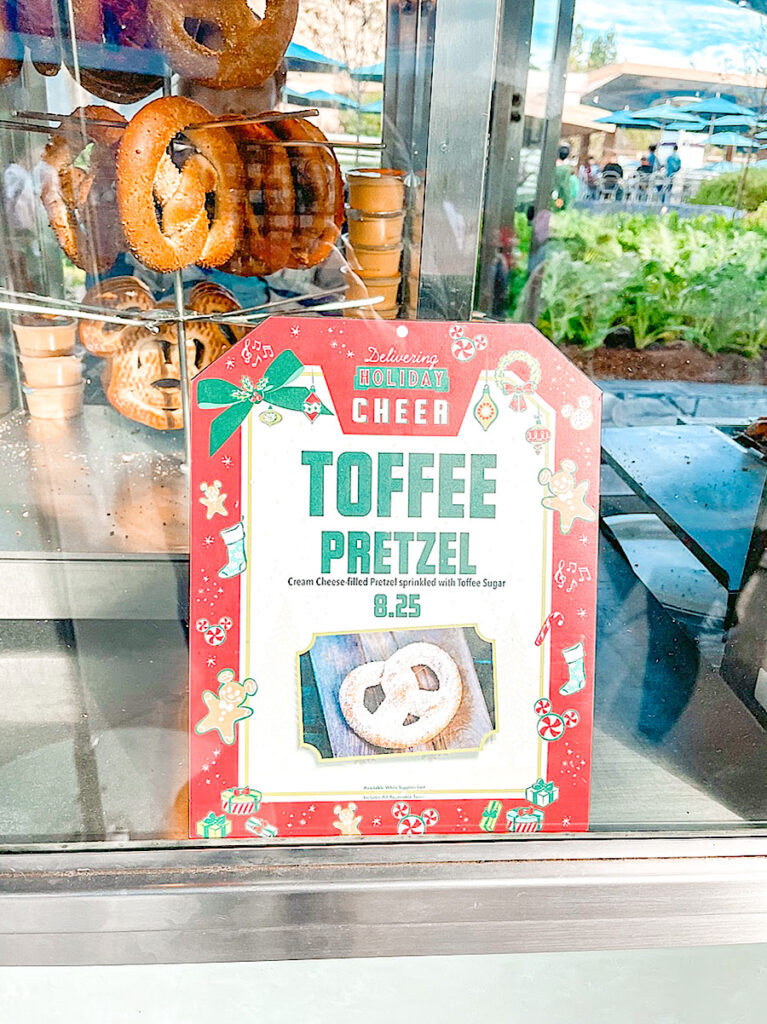 Where to Find Sweet Cream Cheese Pretzels at Disney
Cream cheese stuffed pretzels are one of those treats my family gets every single time we visit the parks. Kind of like Dole Whip (recipe here) and Mickey Beignets (recipe here). Check out all of the best snacks and treats at Disneyland here.
They even have a version sold during the holidays that is dusted with toffee sugar, and it is absolutely amazing! Below, I will let you know where you can find this delicious treat on your next visit to Disneyland or Disney World.
Cream Cheese Filled Pretzels at Disneyland
If you want to get a cream cheese filled pretzel at Disneyland, you will find it on Main Street U.S.A. at Refreshment Corner for $6.49. You can also find them at certain pretzel carts located around Disneyland and Disney California Adventure Park.
Cream Cheese Stuffed Pretzels at Disney World
If you find yourself at the Most Magical Place on Earth, you can head to Tomorrowland in Magic Kingdom and pick up one of these pretzels at The Lunching Pad for $7.49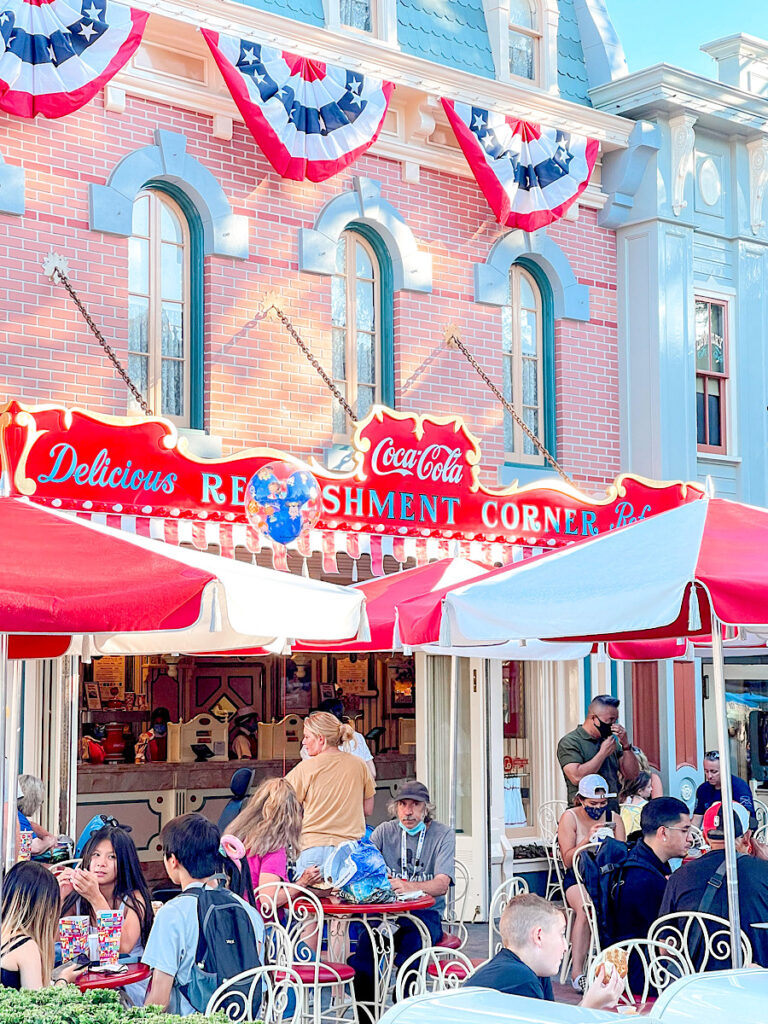 Air Fryer Pretzels vs. Oven-Baked Pretzels
Both the air-fryer and oven produce delicious pretzels. The air-fryer can give the pretzel a crunchy texture while the oven will produce a soft fluffy texture that melts perfectly in your mouth.
You may find that using an air fryer is faster, but it really depends on how large of a batch of pretzels you are making. For individual servings, an oven is likely the better choice as it will heat up faster and more evenly than an air fryer. This recipe can also be cooked in both devices for maximum flavor!
Why Soak the Dough in Baking Soda and Water?
Soaking the dough in water and baking soda bath before baking is recommended to give the pretzels a crispy texture and classic pretzel flavor on the outside. This results in a pretzel that has both a soft inside and crunchy exterior, which is exactly what you want!
Plus, this step helps speed up the cooking process, so your pretzel will be ready in no time!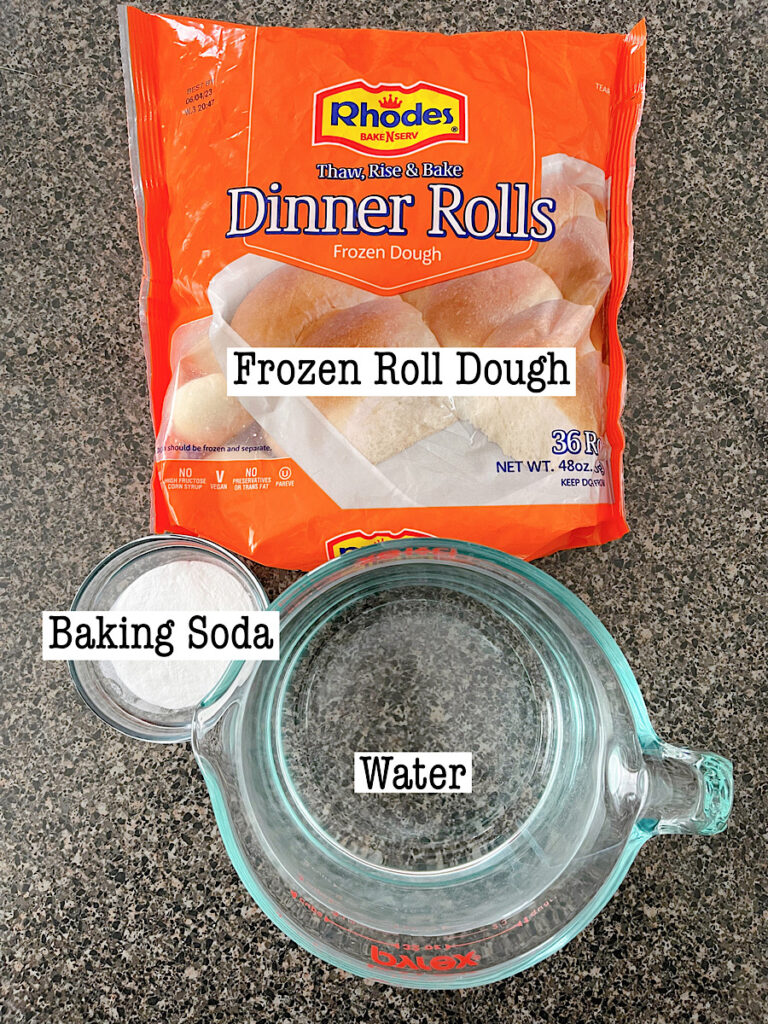 Cream Cheese-Filled Pretzel Ingredients
*Ingredient amounts are located in the recipe card at the end of this post.
Frozen Roll Dough: I used Rhodes Rolls brand, but any brand of frozen dinner rolls will work.
Baking Soda and Water: These will be mixed together and used for the pretzel dough to soak in.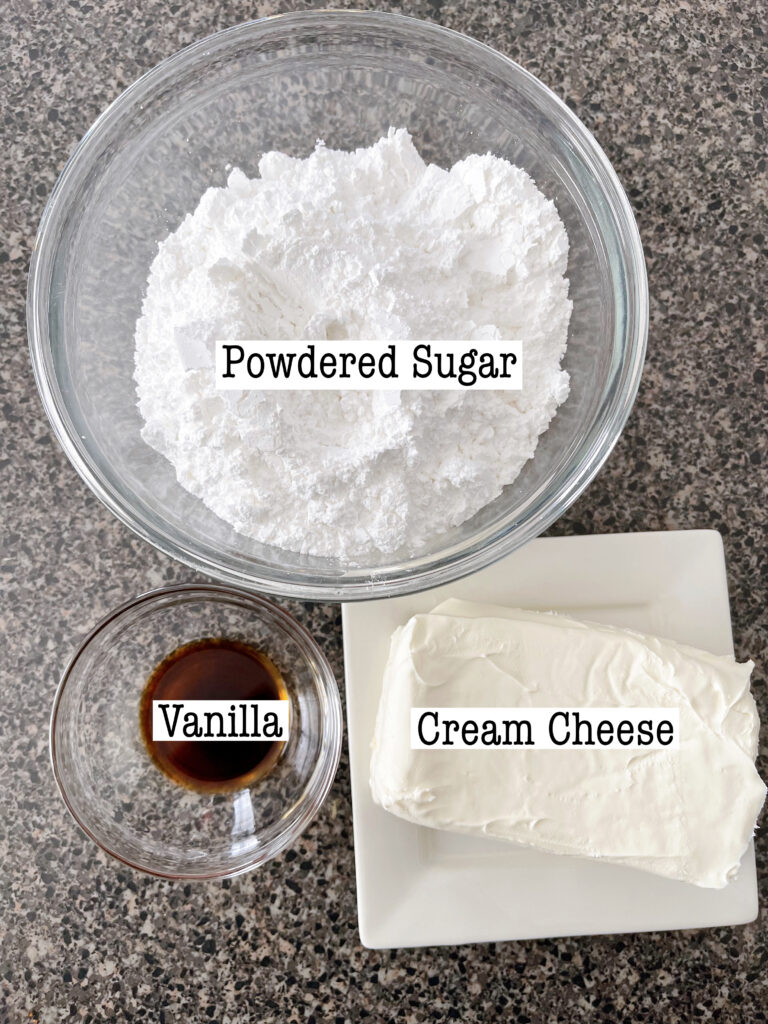 Cream Cheese: For best results, use full fat cream cheese for the pretzel filling.
Powdered Sugar: Sometimes called confectioners sugar, this will be used to sweeten the filling.
Vanilla Extract: This will be used to add flavor to the sweet cream cheese filling.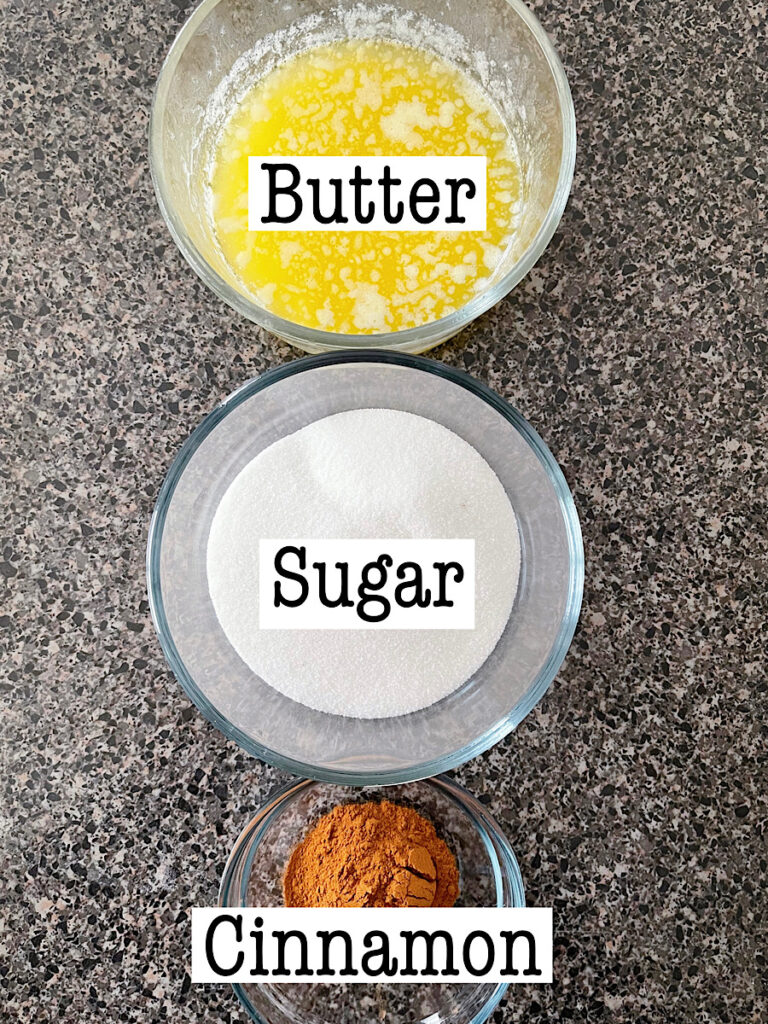 Egg and Water: These are optional and can be whisked together and brushed over the pretzels before air frying or baking to help the pretzels turn brown.
Melted Butter: You will dip the baked pretzels in melted butter before covering in cinnamon sugar.
Sugar and Cinnamon: These will be mixed together to coat the finished pretzels.
How to Make Sweet Cream Cheese Pretzels
[1] Cream cheese filling: In a mixing bowl, mix the softened cream cheese, powdered sugar, and vanilla with an electric mixer. Add the filling to a large ziplock bag or piping bag. Set aside.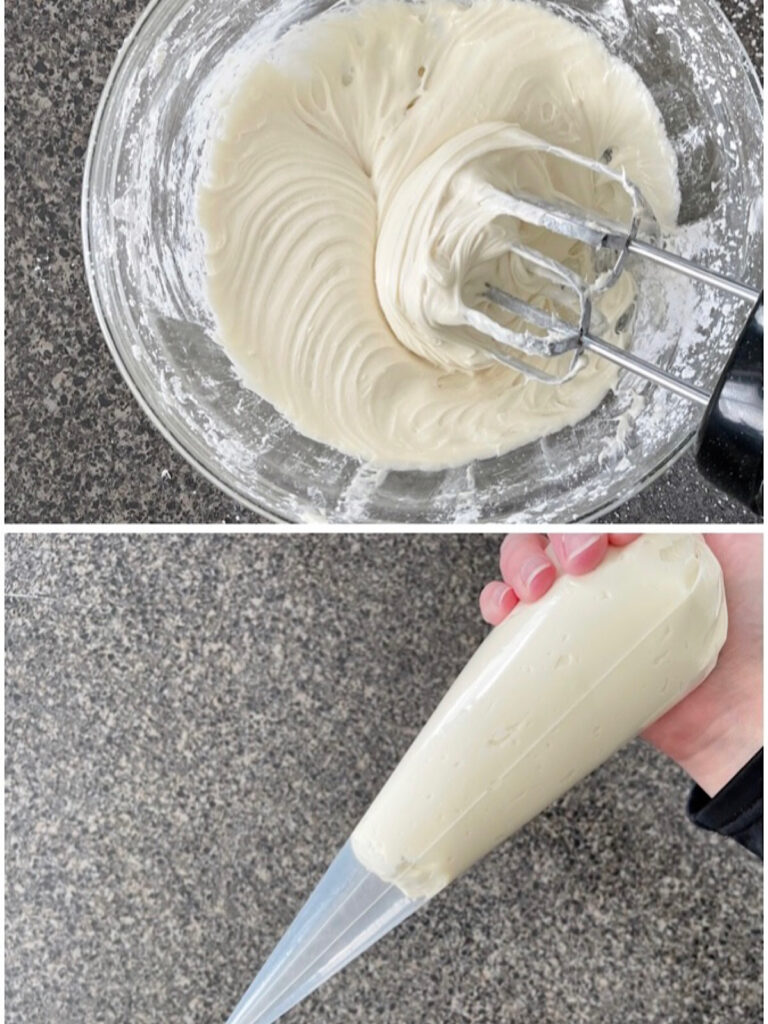 [2] Thaw the dinner rolls on a baking sheet sprayed with nonstick cooking spray. My rolls thawed were ready in 3 hours.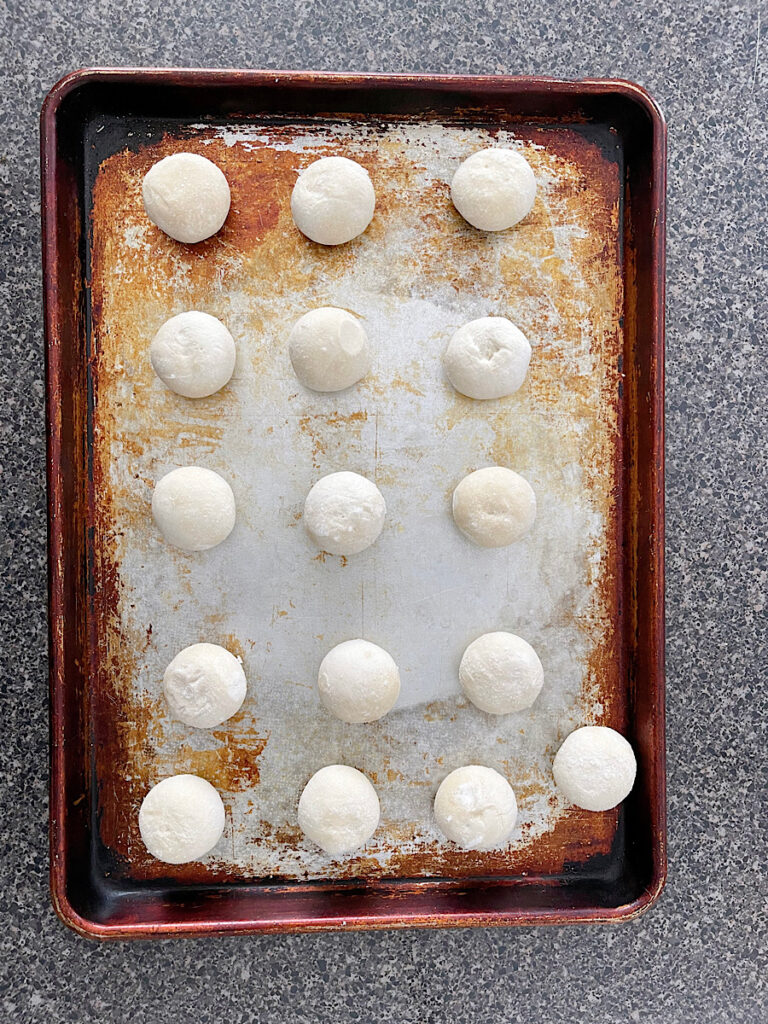 [3] Once thawed, stretch and roll two dough balls into a long rectangle on a counter dusted with a little bit of all purpose flour.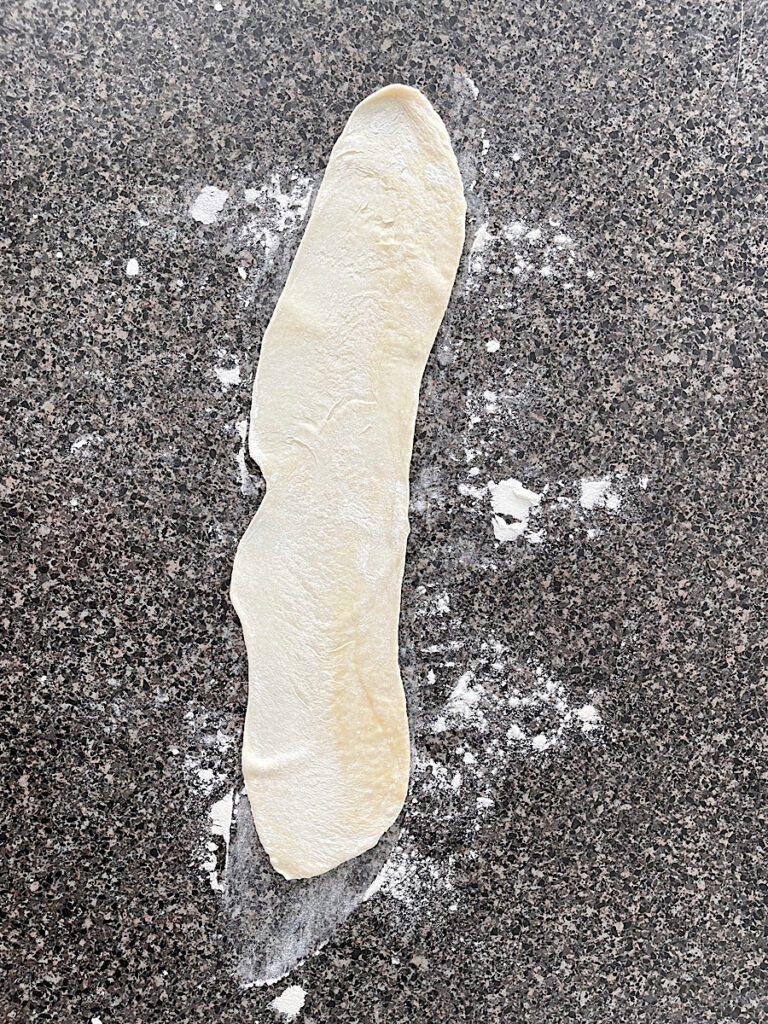 [4] Cut the end off of the filled ziplock bag or piping bag and pipe a line of cream cheese filling down the center of the flattened long ropes of dough.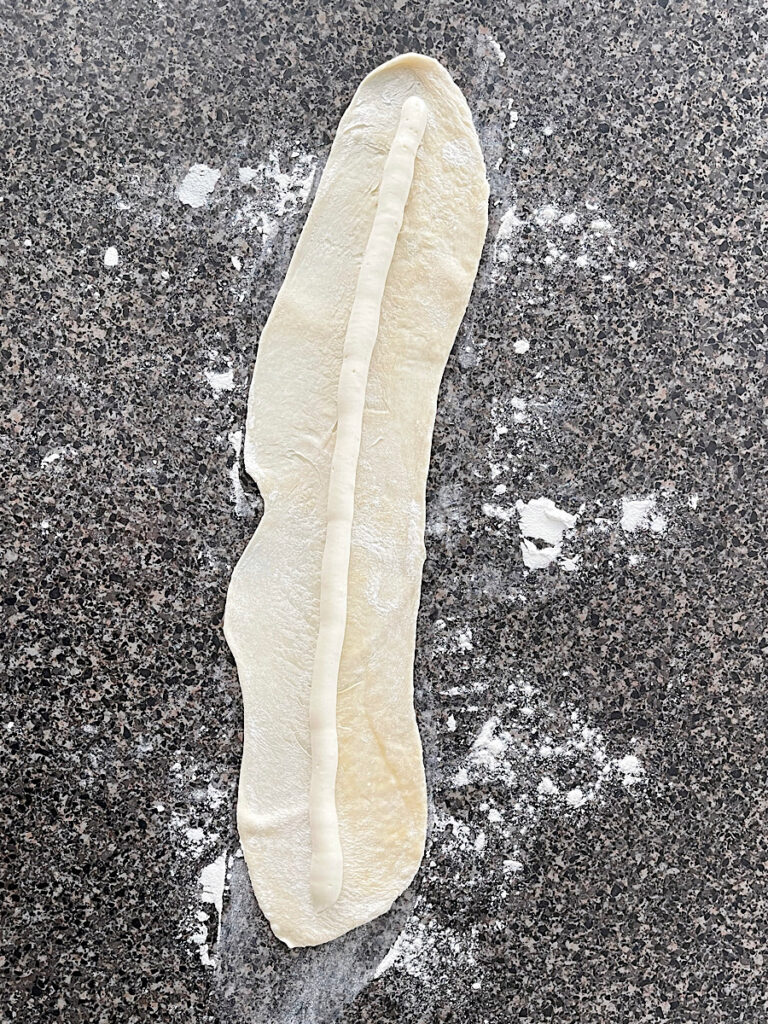 [5] Carefully cover the filling with the dough on either side and pinch the sides of the dough and ends together so no filling is showing.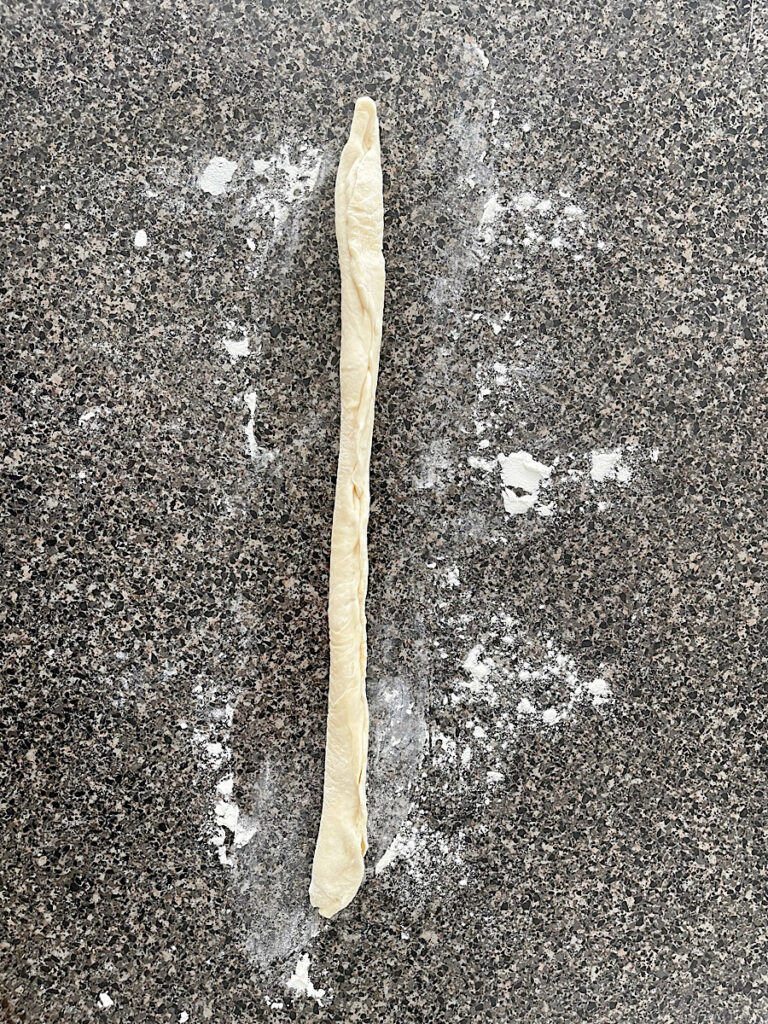 [6] Shape the dough into a pretzel shape by twisting the two ends together, then folding it over. Pinch the ends of the dough into the pretzel.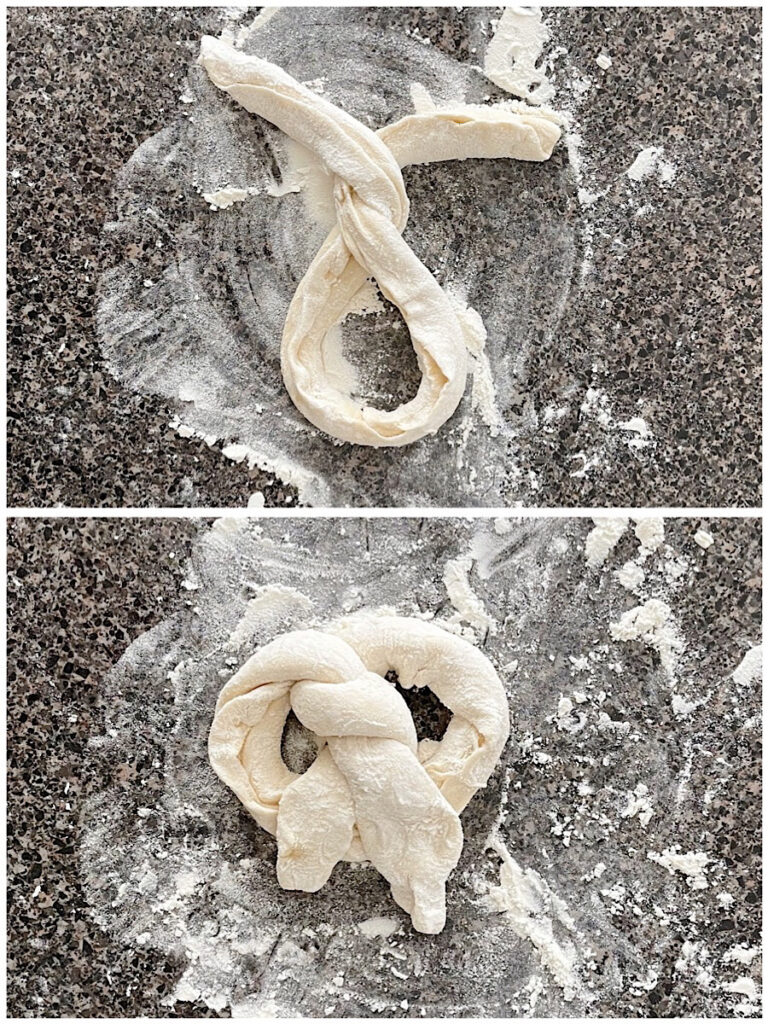 [7] Allow the pretzels to rest for 10 minutes, while you prepare the baking soda wash.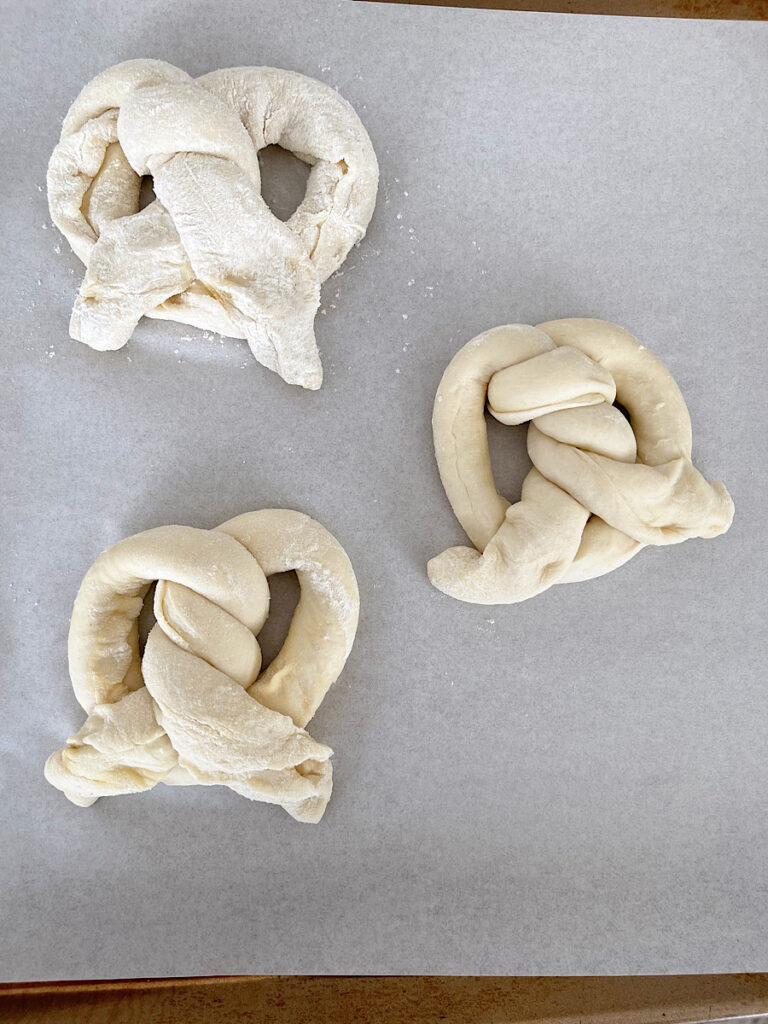 [8] Baking Soda Water Bath: Bring the water and baking soda to a rolling boil in a large saucepan, then reduce the heat so that the mixture is simmering.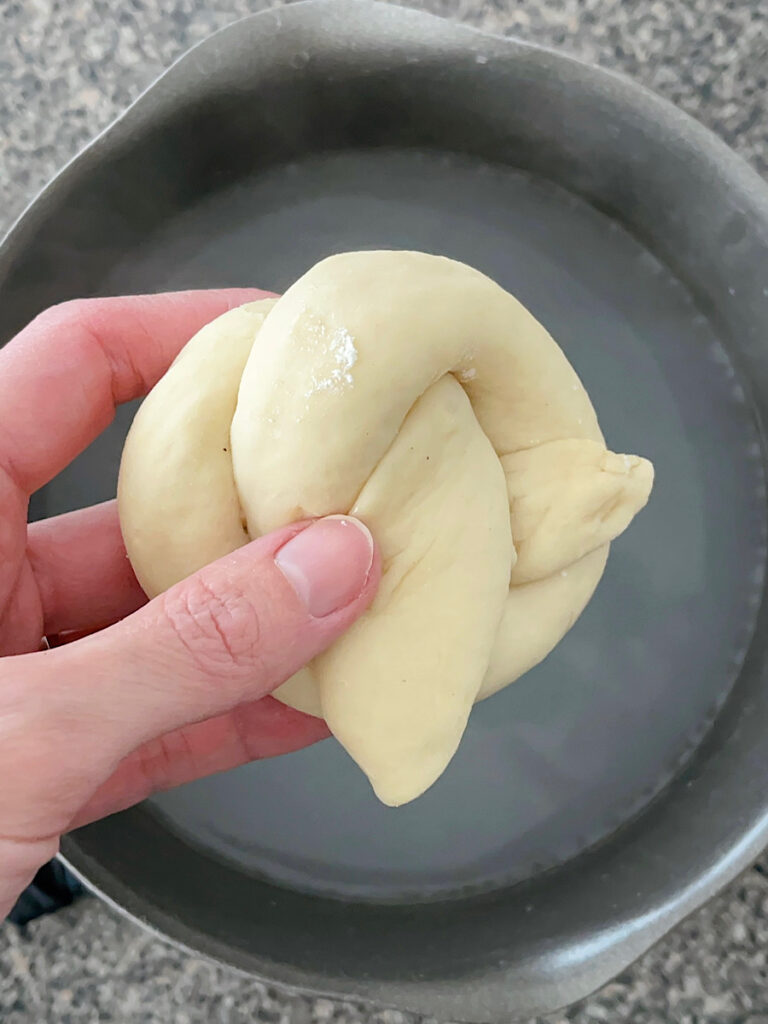 [9] Place a pretzel in the boiling/simmering baking soda water for about 45 seconds. Then remove the pretzels with a slotted spoon and place on a wire rack. Repeat with the remaining pretzels.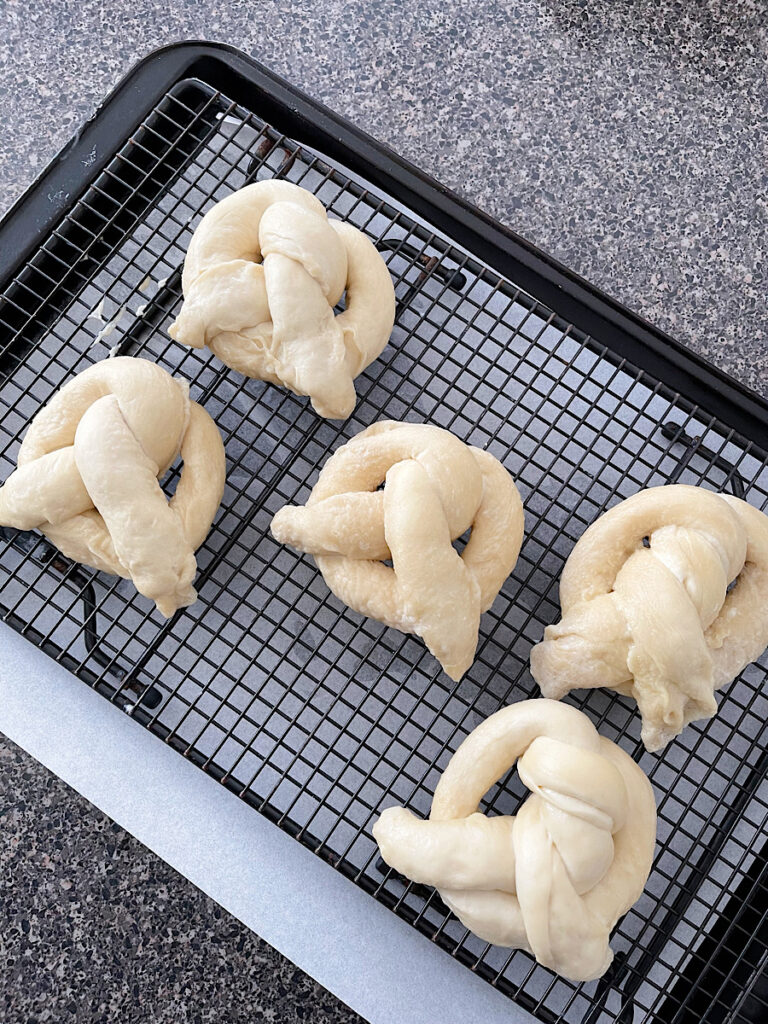 [10] Egg Wash: beat an egg with about 1 tablespoon of water. Use a pastry brush to brush the egg wash on top of the pretzels.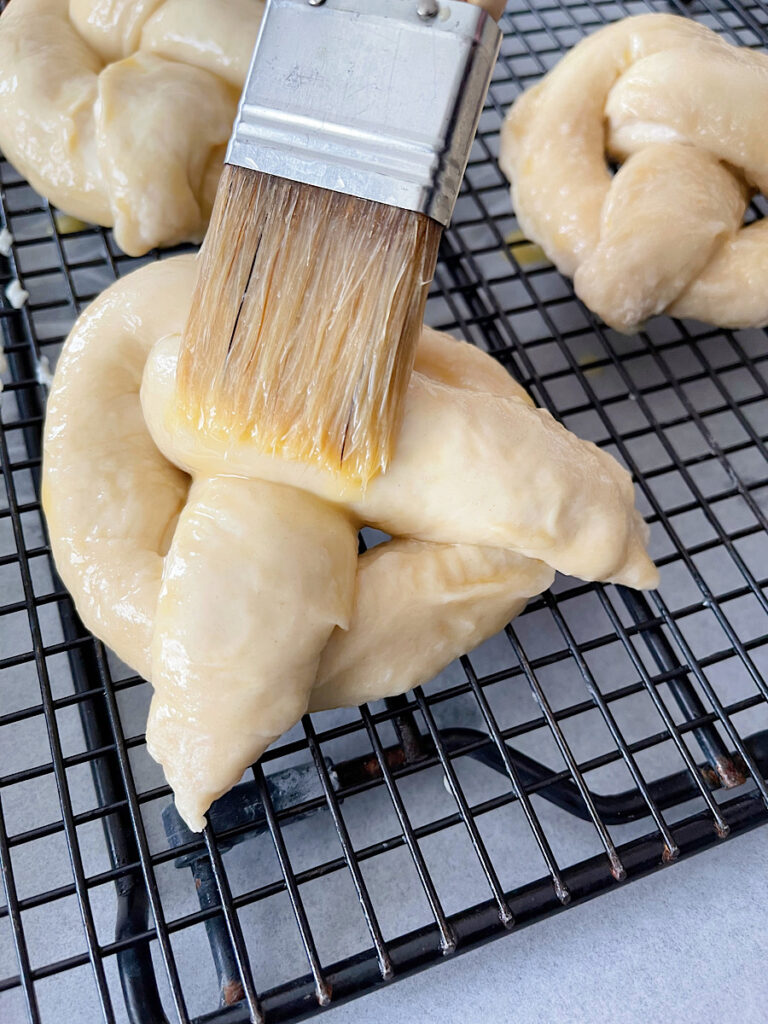 [11] Air Fryer Instructions: Preheat the air fryer to 350 degrees and spray the basket with nonstick cooking spray. Place the pretzels, in a single layer, on the bottom of the air fryer basket. You may have to cook them in batches. Air fry them for 8-10 minutes until they are golden brown.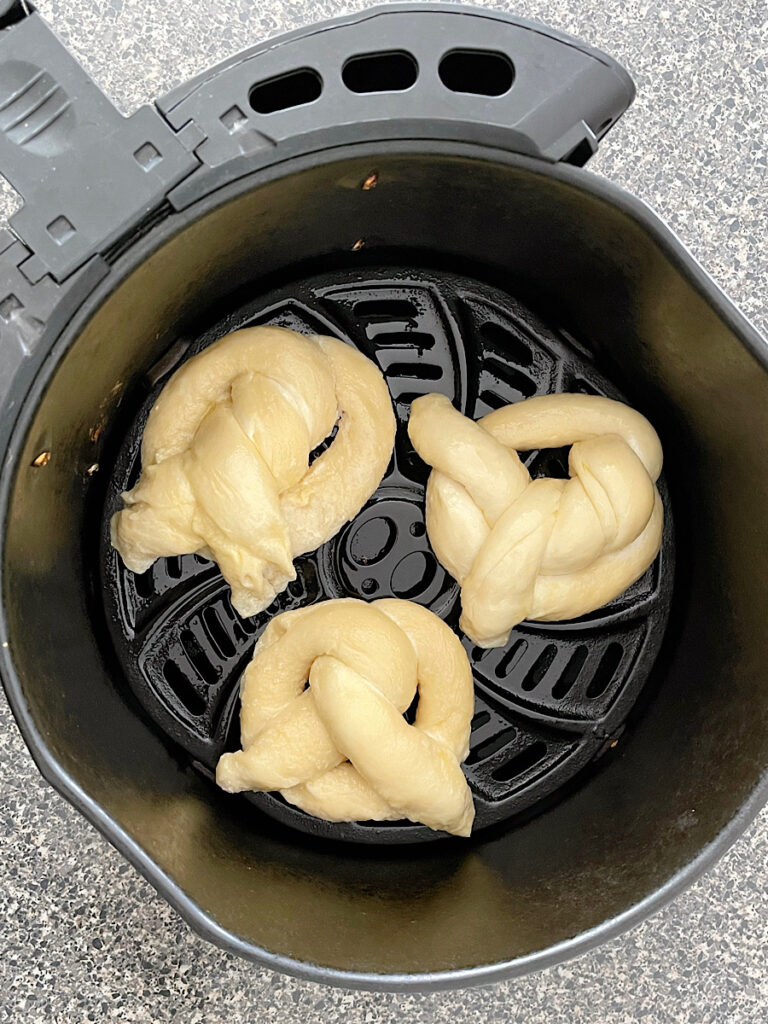 [12] Oven Instructions: Place the pretzels on a parchment paper-lined baking sheet and bake at 425 degrees for 8-10 minutes, until the pretzels are golden brown.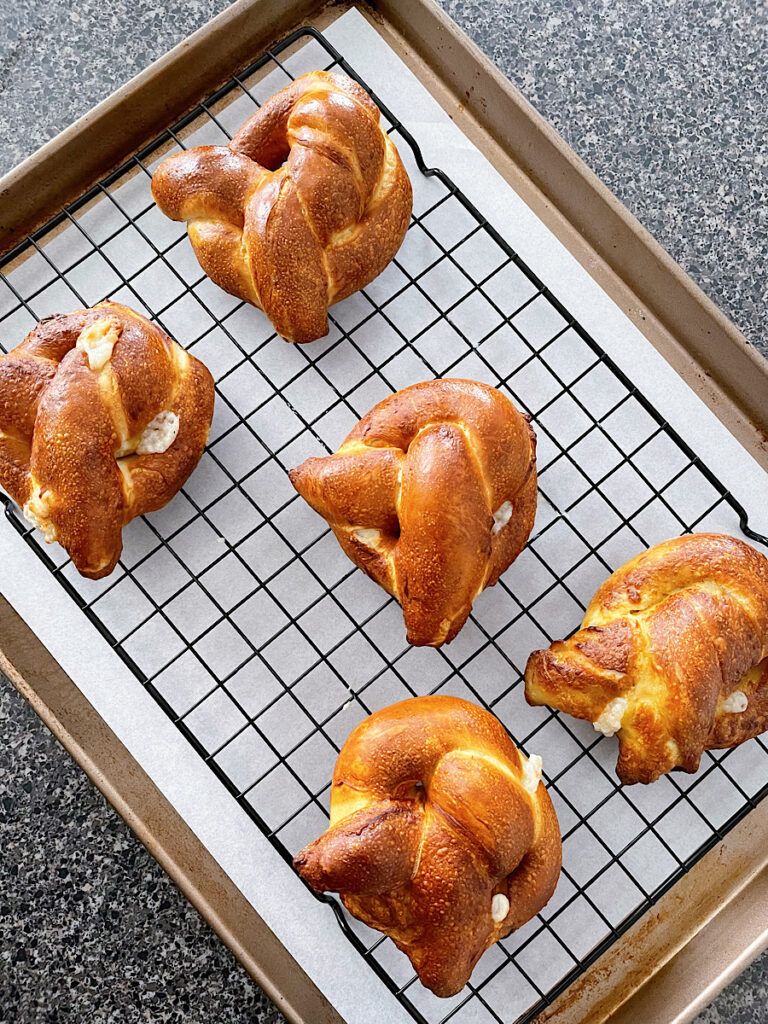 [13] Cinnamon Sugar Topping: Mix the cinnamon and sugar together in a small bowl. Use a pastry brush to brush the tops of the pretzels with melted butter. Then use a spoon to sprinkle the cinnamon sugar over the pretzels. Serve the warm soft pretzel warm.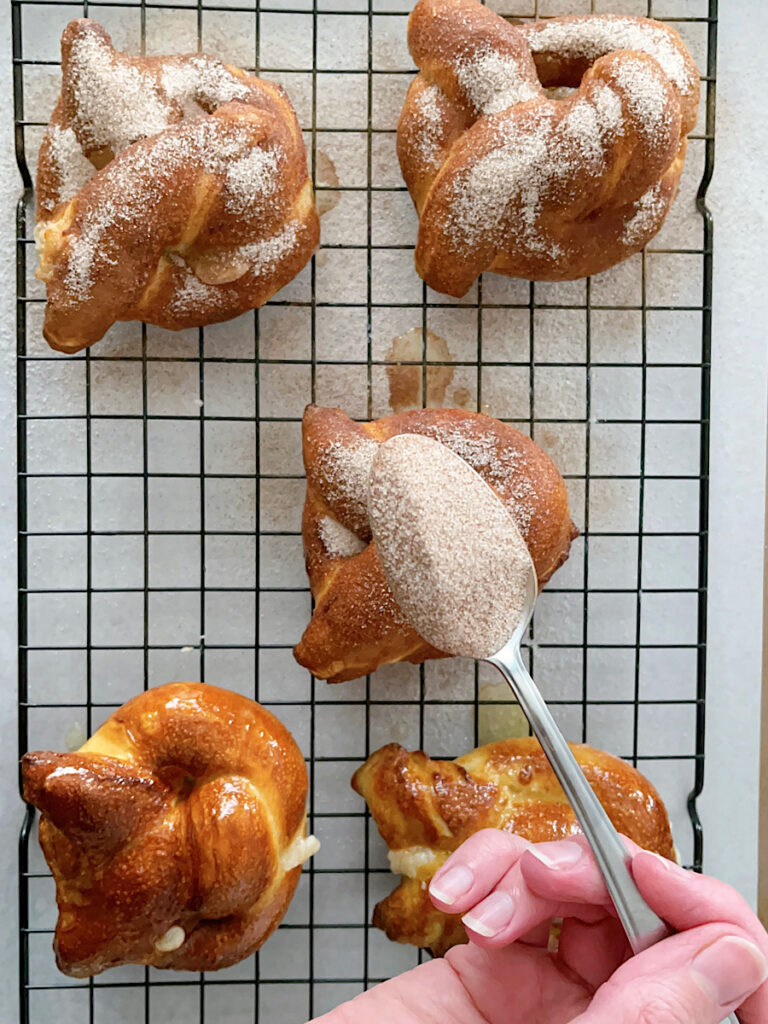 Helpful Kitchen Equipment
How to Store Air Fryer Soft Pretzels
These almost homemade soft pretzels can be stored in an airtight container for up to 5 days. I like to refrigerate them, because of the cream cheese filling.
To reheat: Place the pretzels on a parchment paper-lined baking sheet and bake at 350 degrees for about 5 minutes, or until warm.
You can also microwave them for about 30 seconds if you don't want to heat up the oven or air fry at 350 for 3-4 minutes.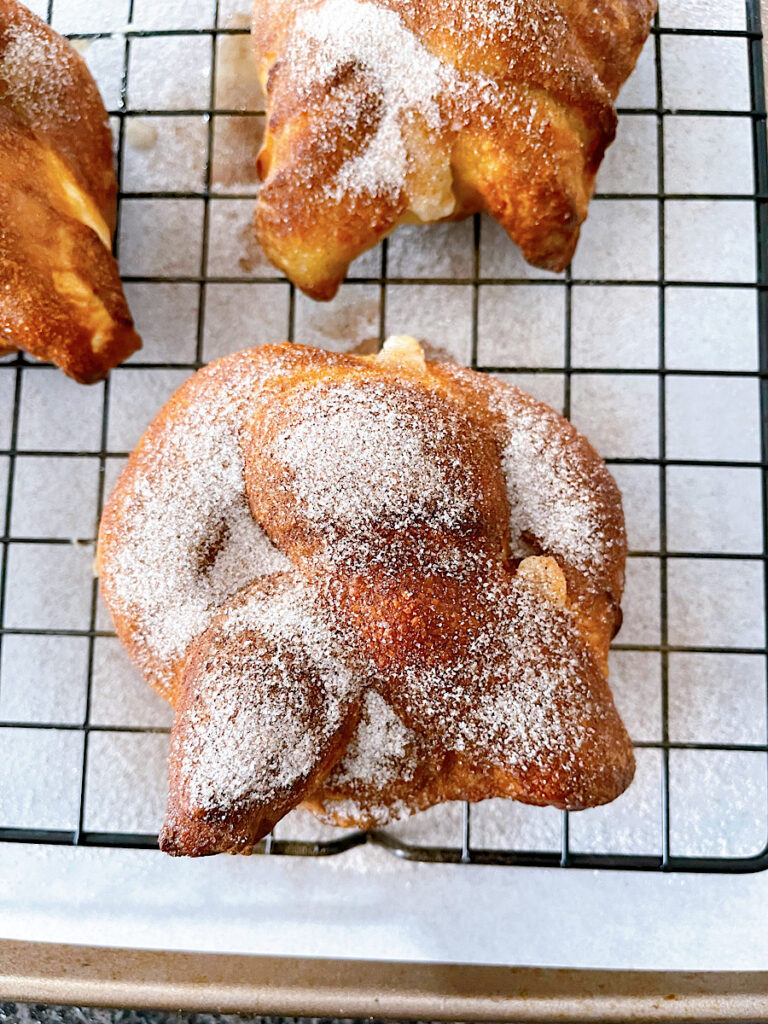 How to Freeze Cream Cheese Pretzels
[1] Place the finished pretzels on a baking sheet and place in the freezer for 2 hours.
[2] Place the frozen pretzels in a freezer bag and store in the freezer for up to 3 months.
[4] To reheat the frozen soft pretzels, place the frozen pretzels on a parchment paper-lined baking sheet and bake at 350 degrees for 10-12 minutes, or until heated through, heat in the microwave for 30-60 seconds, or place in an air fryer at 350 degrees for 3-4 minutes.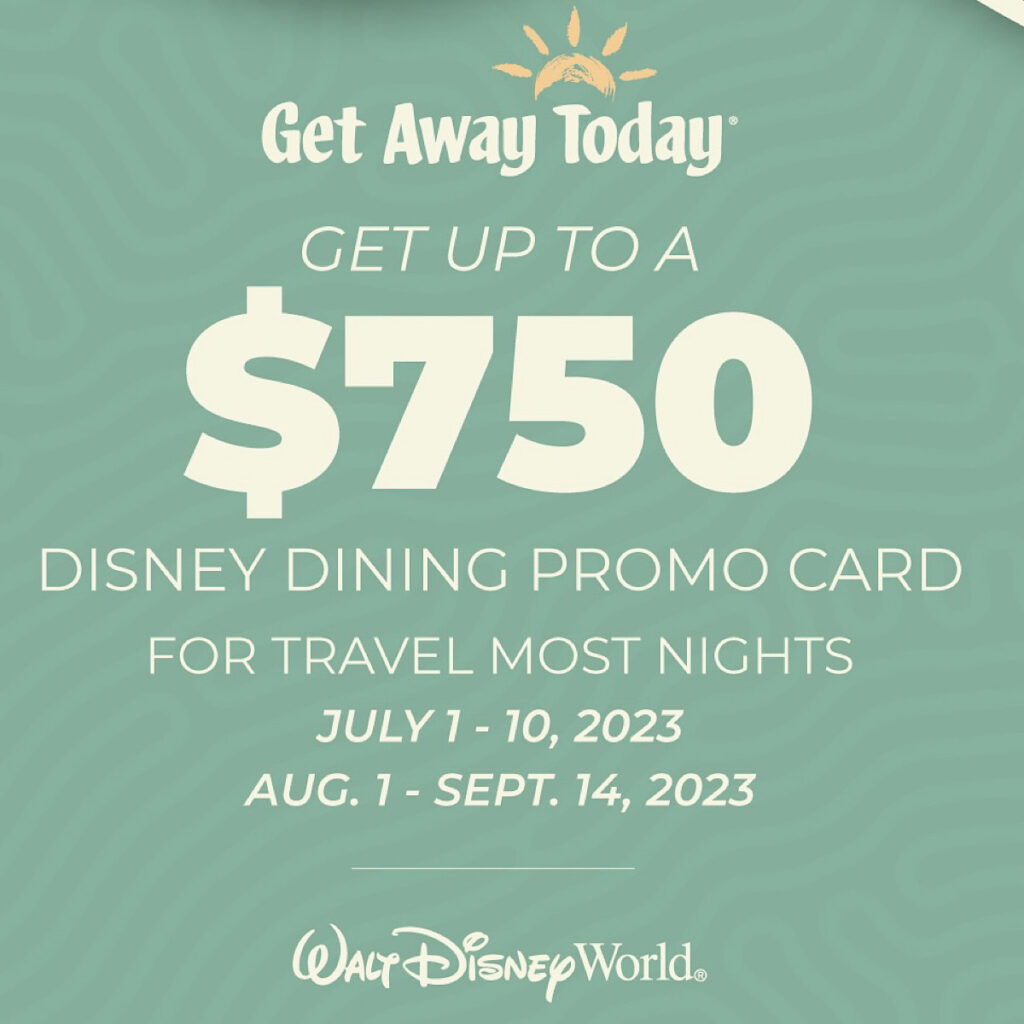 Disney is currently offering this amazing promotion to get up to a $750 dining card with a Disney World Package! Get a free vacation quote here!
Additional Tips for Making Disney's Cream Cheese Pretzels:
To ensure the cream cheese center does not leak out, be sure to roll it up tight and seal the edges.
If you don't have an air fryer, preheat your oven to 375 degrees Fahrenheit before baking.
Try adding a sprinkle of cinnamon sugar or coarse sea salt to your pretzels for an extra special topping.
Get creative with the filling and try different flavors, such as caramel sauce or Nutella or serve with your favorite dipping sauce!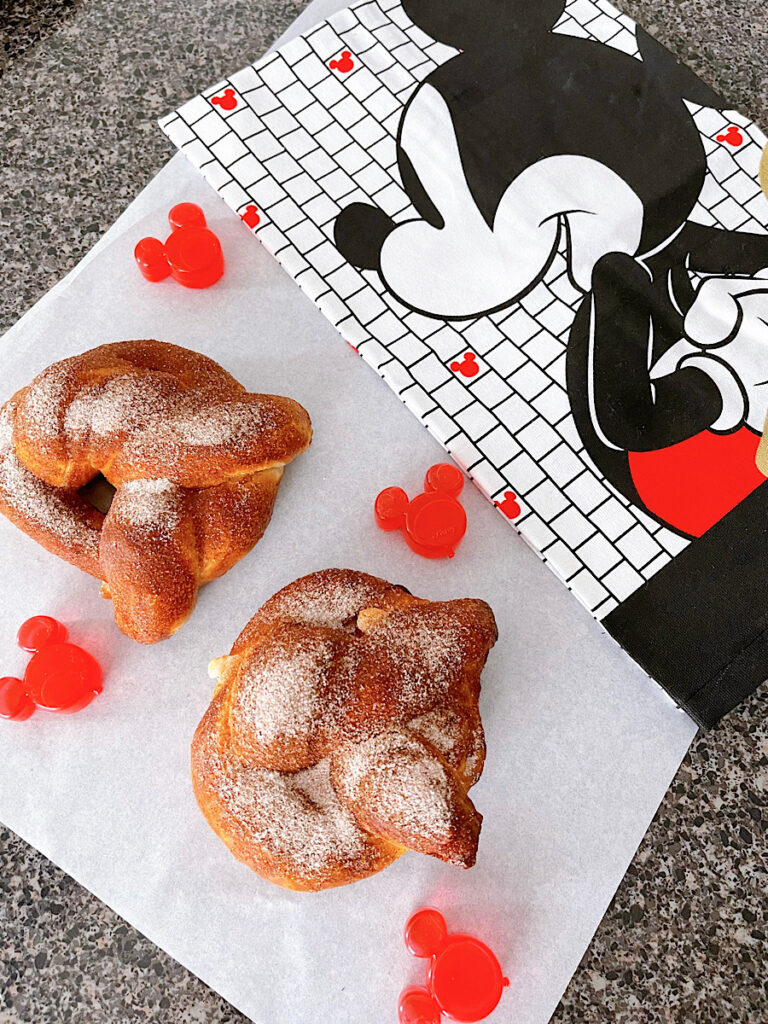 Frequently Asked Questions
Does Disney still have cream cheese stuffed pretzels?
Yes, Disney still has cream cheese-stuffed pretzels available at the parks. Disneyland has them at Refreshment Corner and you can find them at Disney World at The Lunching Pad. You can also find them in pretzel carts around the parks.
Can I make these pretzels ahead of time?
Yes, you can definitely make these pretzels ahead of time. Just prepare them according to the instructions and store in an airtight container for up to 5 days. When ready to serve, heat them in a 350 degree oven or air fryer until warm and crusty on the outside.
Do they sell cream cheese pretzels at Downtown Disney?
As far as I know, they do not sell cream cheese pretzels in Downtown Disney.
Final Thoughts
Disney's Cream Cheese Filled Pretzels are a delicious, easy-to-make snack. Whether you're making them for yourself or for a crowd, these pretzels are sure to please everyone.
They can be made in advance and stored in an airtight container for up to 5 days. The best part is that they can be reheated in an oven, air fryer, or microwave for easy enjoyment. Have fun and get creative with the fillings! Enjoy!
More Disney-Inspired Recipes:
Disney Cream Cheese Pretzel Video: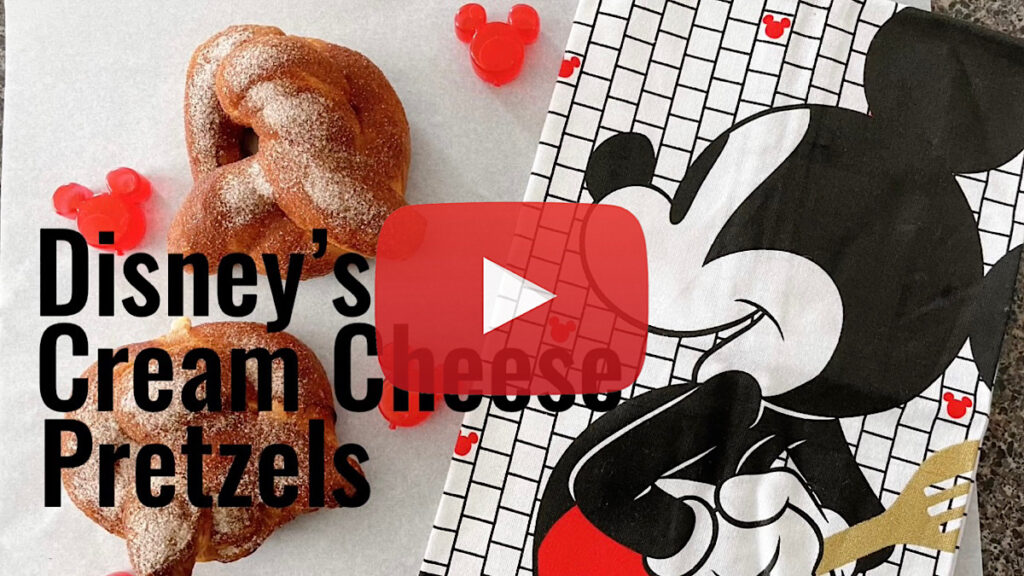 Pin for later: