Want to know how to make brownies from a chocolate cake mix? This is the perfect recipe for you! These fudgy brownies are chewy, chocolatey, and loaded with chocolate chips for an extra special treat! Plus, you'll only need 4 simple ingredients and about 30 minutes to make this delicious treat!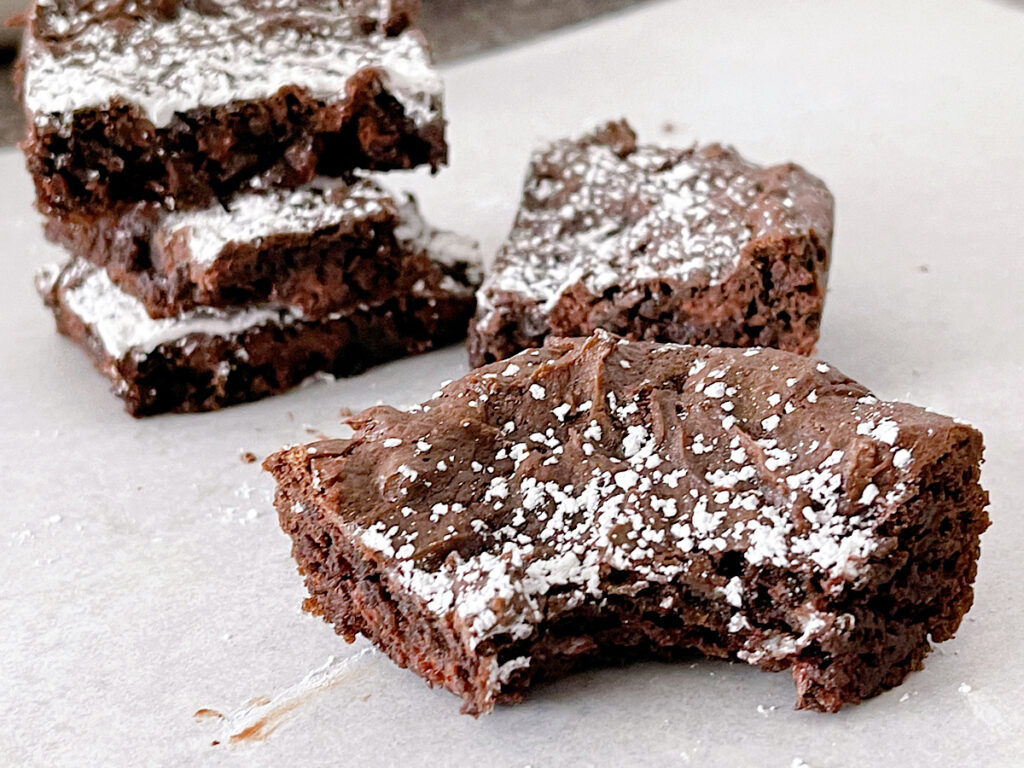 This post may contain affiliate links. When you click on these links, I get a small percentage back at no cost to you! For more information see my disclosure policy.
Below you will find tips, tricks and helpful hints for making this recipe including step by step instructions with pictures. If you would like to go directly to the recipe, scroll down to the recipe card or tap "Jump to Recipe" at the top of the page.
Why You'll Love This Recipe
If you want homemade brownies, but don't want to go through the hassle of measuring out a bunch of ingredients in order to make them at home, then this cake mix brownies recipe will help you do that.
By using a chocolate cake mix, you can cut down on the prep time of baking your own brownies. Plus, you get the added benefit of extra chocolate chips for an even more decadent treat!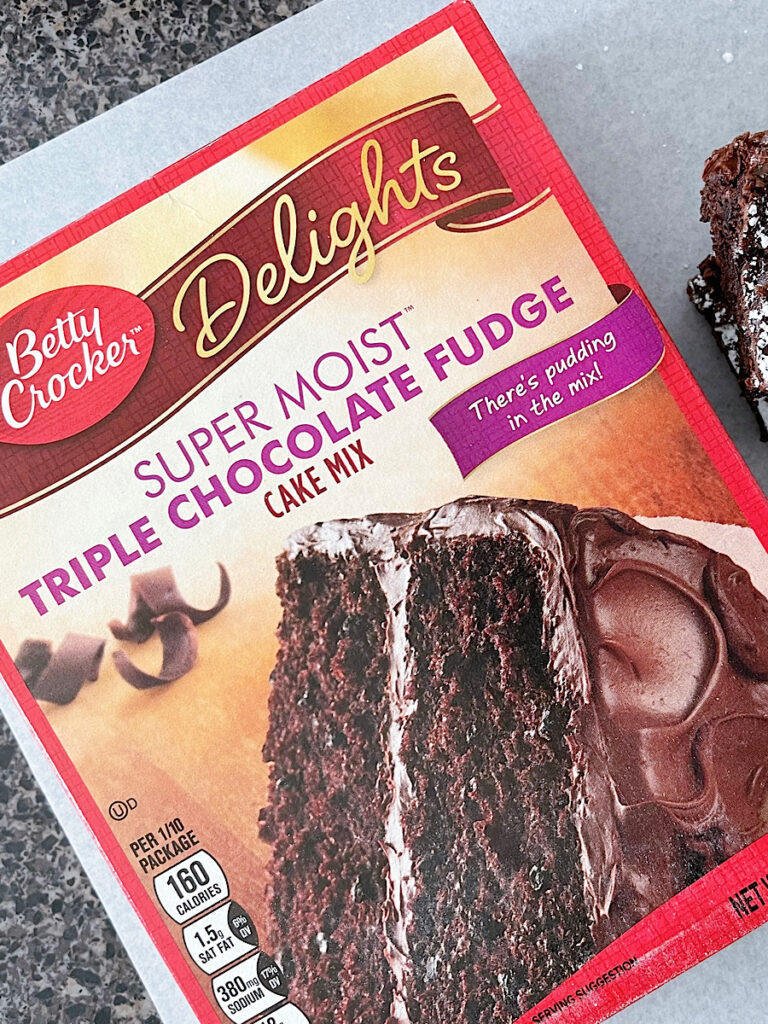 Cake Mix or Brownie Mix?
The great thing about cake mixes and brownie mixes is that all of the dry ingredients are already measured out for you! You can make delicious brownies with both a brownie mix and a cake mix. The only difference is that you will add more vegetable oil or butter to the cake mix to make them chewy and fudgy.
If you don't have a brownie mix, this cake mix brownie recipe is a great substitute!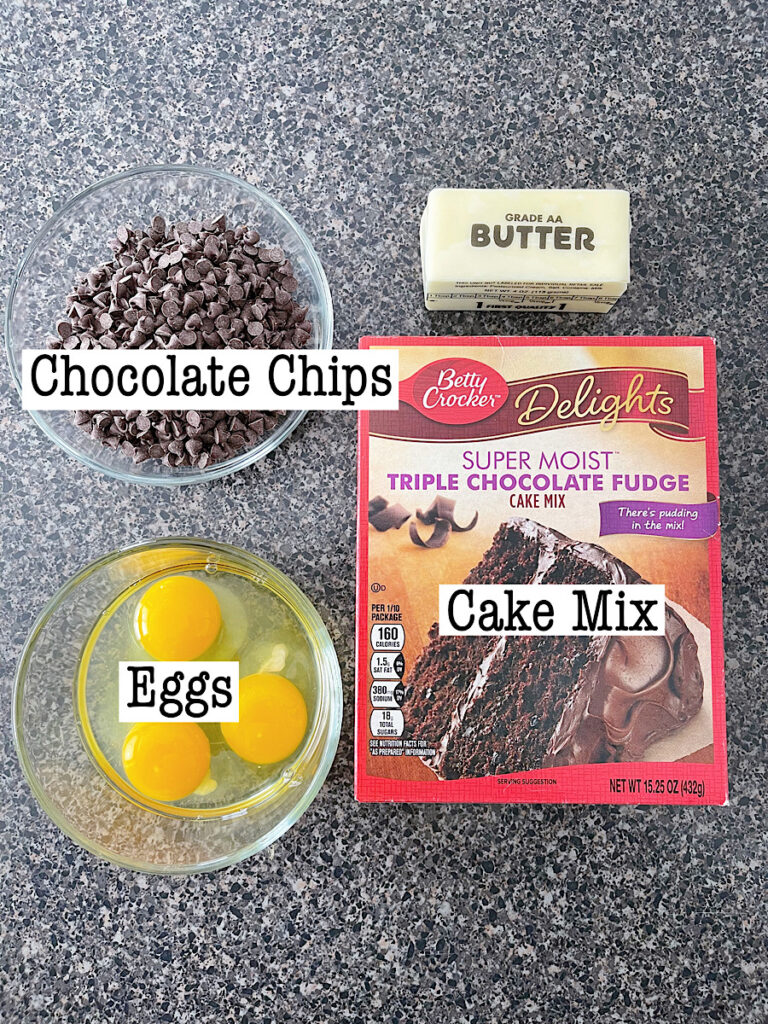 Cake Mix Brownie Ingredients
*Ingredient amounts are located in the recipe card at the end of this post.
Chocolate Cake Mix: I used a Betty Crocker Triple Chocolate Cake Mix for these brownies, but you can use any box of chocolate cake mix.
Butter: You'll need 1/2 cup of softened butter to make these brownies. Salted or unsalted will work. You can also melt the butter for easier mixing.
Eggs: You will need three large eggs for this recipe.
Chocolate Chips: The 3/4 cup of chocolate chips add an extra layer of decadence to these brownies. I used 3/4 cup of semi-sweet chocolate chips, but you can use dark, white or milk chocolate chips as well.
How to Make Brownies with a Cake Mix
[1] Add the softened or melted butter, cake mix, and eggs to a large bowl. Mix the ingredients by hand with a wood spoon or use an electric mixer. THE BATTER WILL BE THICK.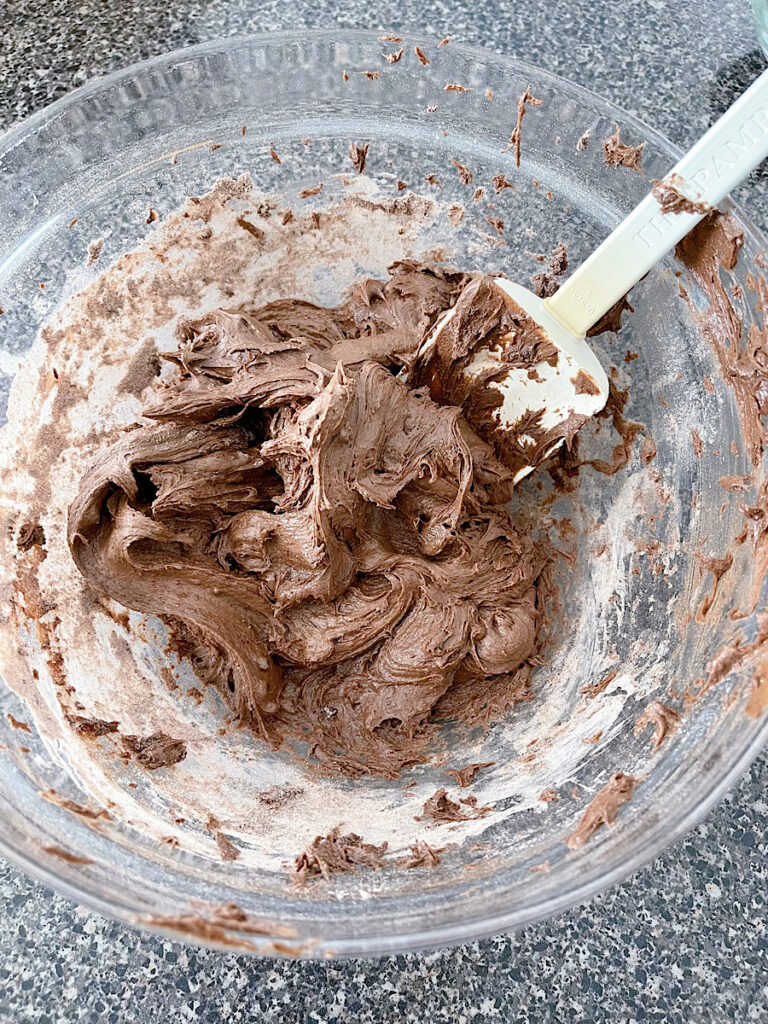 [2] Stir in the Chocolate Chips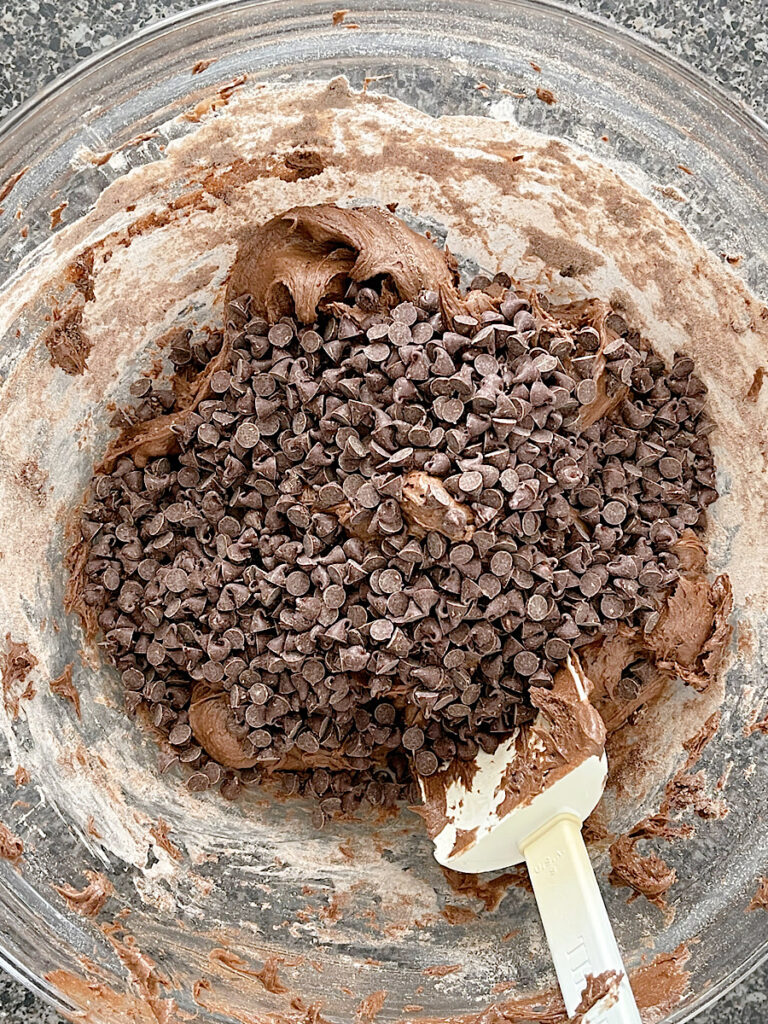 [3] Pour the very thick batter into an 8×8 inch pan or 9×13 prepared pan sprayed with nonstick cooking spray. (The batter may not fill up the entire bottom of the pan, but will spread as it bakes.)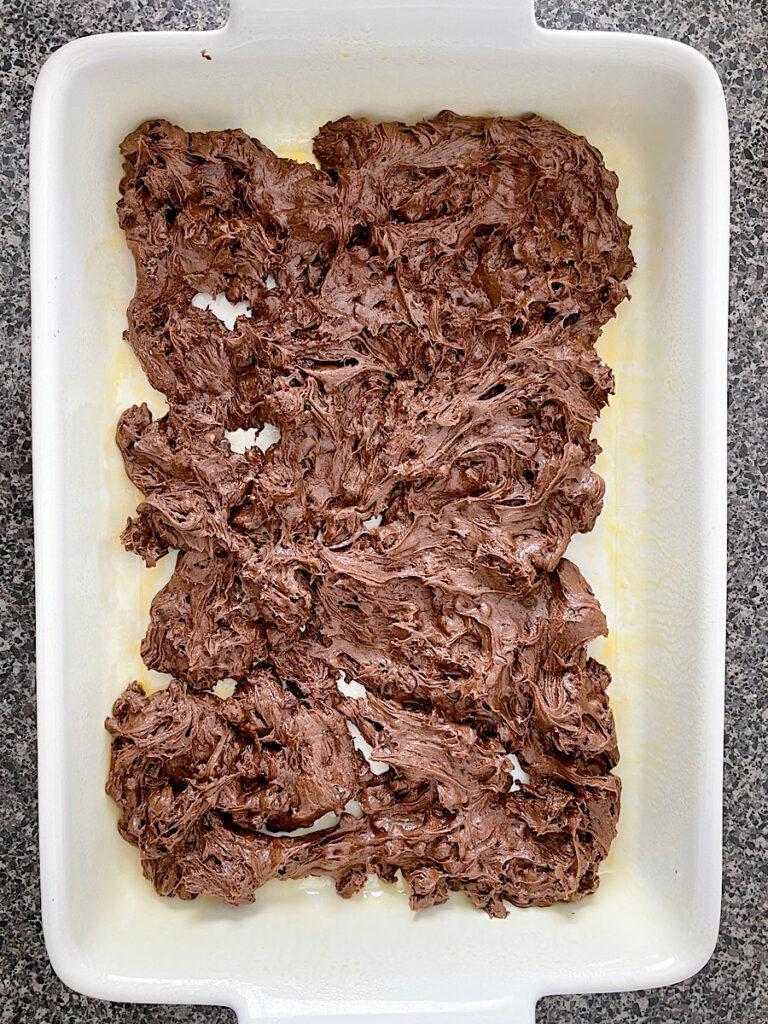 [4] Bake the pan of brownies in a 350 degree oven for 18-20 minutes for an 8×8 pan and 26-30 minutes for a 9×13 dish. Allow the brownies to cool on a cooling rack.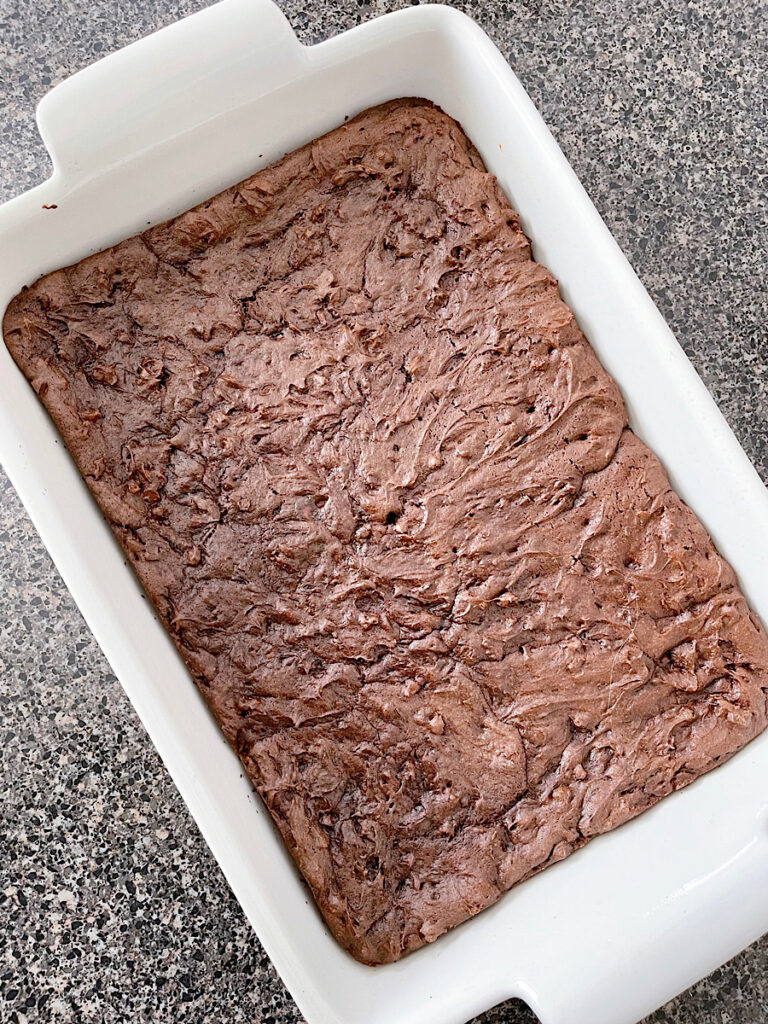 Helpful Kitchen Tools
Tips and Tricks
The brownie batter will be very thick. When spreading the batter in a 9×13 dish, it may not cover the entire bottom of the dish. This is ok, as the batter will spread out as it bakes.
Brownie Variations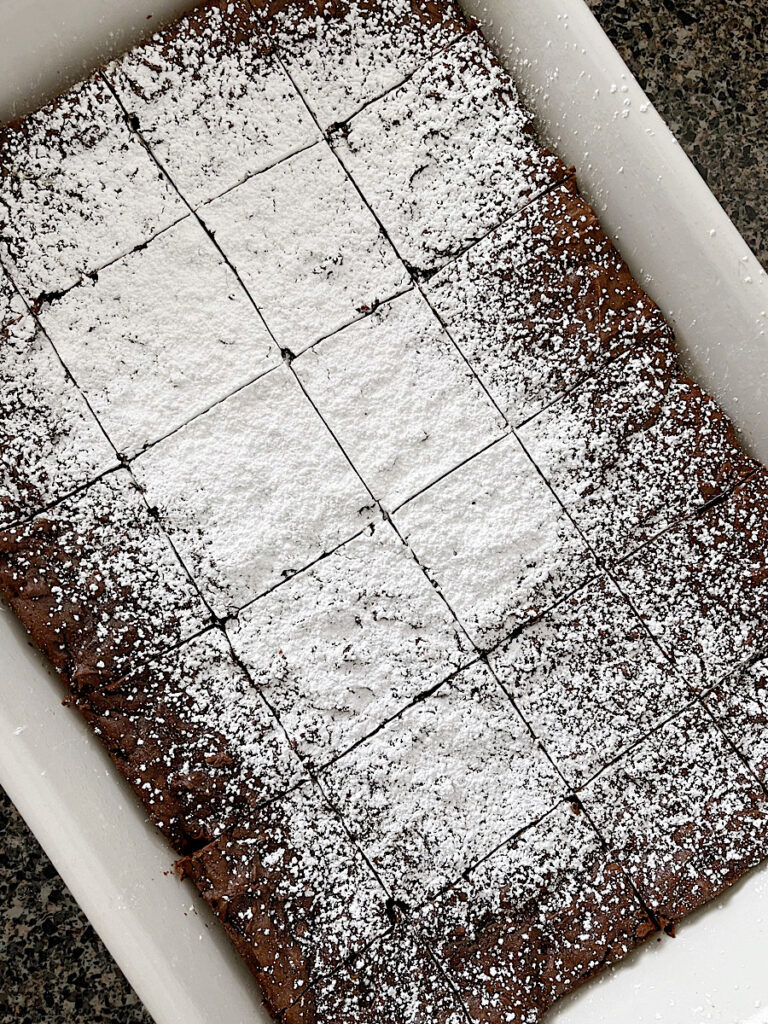 How To Store Leftovers
These chocolate brownies are best enjoyed the day of baking. If you have leftovers, cover the pan tightly with aluminum foil or plastic wrap and store at room temperature for up to 5 days.
You can also freeze them for up to 3 months. Cut the brownies and store them in a freezer bag. Let the brownies defrost in the fridge overnight before serving.
Frequently Asked Questions
What is the difference between cake and brownie mix?
A cake mix contains ingredients such as flour, sugar, baking powder, and cocoa powder. A brownie mix is a combination of these ingredients plus additional oil or butter to make them fudgy and chewy.
Can I make these brownies in the microwave?
No, these brownies must be baked in the oven for best results.
Can I use a different flavor of cake mix?
Yes, you can! Try strawberry or yellow cake mix for a fun twist on the classic brownie recipe. Just make sure to add the extra oil or butter to make them chewy and fudgy.
How do I know when my brownies are done baking?
The best way to check if your brownies are done baking is by inserting a toothpick into the center of the brownies, often called the "toothpick test". If it comes out clean, then they're done! If not, bake for a few more minutes and check again. You don't want to overbake the brownies or they will be dry. Let the chewy brownies cool before cutting and serving.
What is the secret to moist brownies?
The secret to moist brownies is to slightly underbake them. You also want to make sure not to overmix the batter and add extra chocolate chips for an even more decadent treat! This will help keep your brownies from drying out. Finally, make sure you cover the brownies with foil or plastic wrap if stored overnight.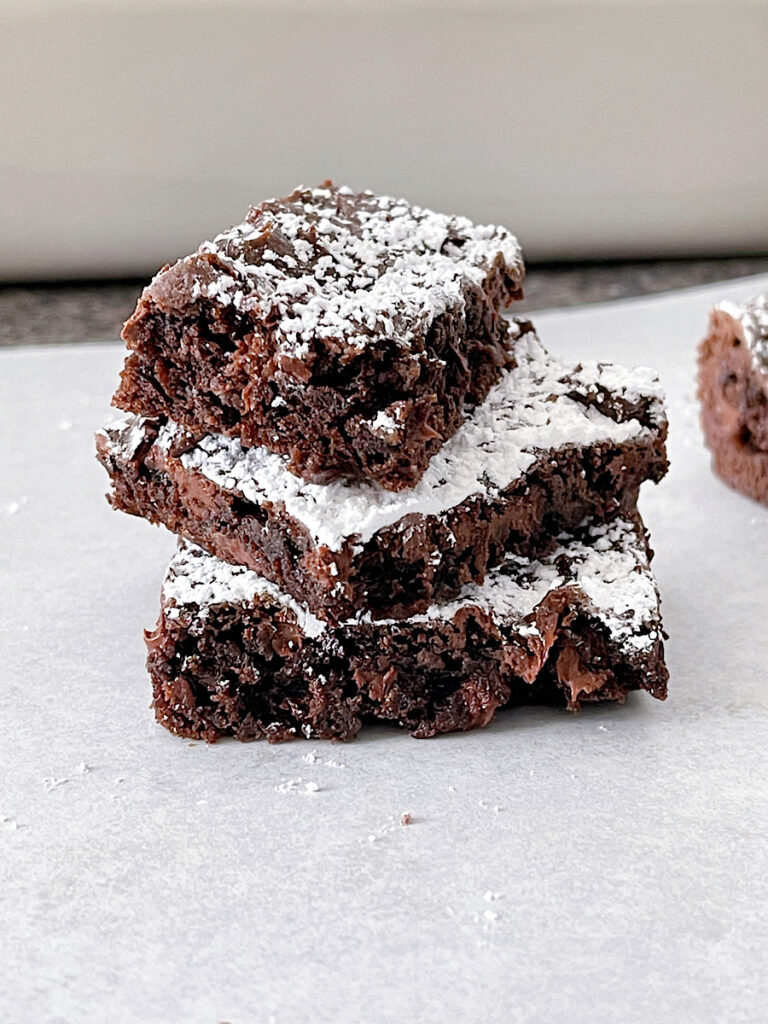 Final Thoughts
Baking brownies with a cake mix is an easy and delicious way to satisfy every chocolate lovers sweet tooth. With just a few simple ingredients, you can make the perfect batch of fudgy and chewy brownies in no time! So grab your mixing bowl and get baking these easy cake mix brownies! Enjoy!
More Cake Mix Recipes
Pin for later: