This easy chocolate toffee poke cake starts with a simple cake mix, but transforms into something truly extraordinary. Once baked, it's carefully infused with a luscious combination of sweetened condensed milk and rich caramel sauce, resulting in a decadent and moist chocolate cake. But the goodness doesn't stop there – a generous layer of fluffy Cool Whip is spread on top, adding a light and creamy touch. Finally, the cake is sprinkled with irresistible Heath toffee bits, delivering a delightful crunch with every bite. Prepare to be captivated by the perfect balance of chocolate, toffee, and creaminess in this scrumptious concoction. It's a dessert that will leave chocolate lovers craving more!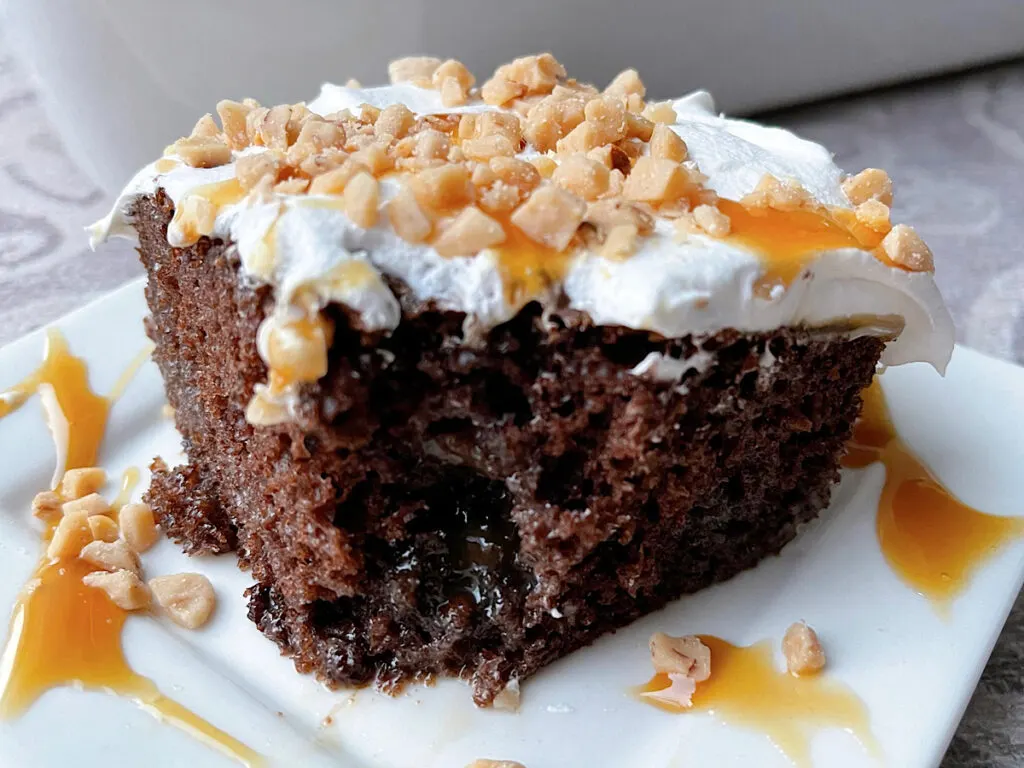 This post may contain affiliate links. When you click on these links, I get a small percentage back at no cost to you! For more information see my disclosure policy.
Below you will find tips, tricks and helpful hints for making this recipe including step by step instructions with pictures. If you would like to go directly to the recipe, scroll down to the recipe card or tap "Jump to Recipe" at the top of the page.
Why You'll Love This Easy Chocolate Poke Cake Recipe
It's incredibly easy to make with just a few simple ingredients.
The combination of chocolate, caramel, and toffee is a classic flavor pairing that never disappoints.
The texture is perfectly moist and creamy, with a satisfying crunch from the Heath bits.
This cake can be made ahead of time and kept in the fridge until ready to serve – making it a great option for parties and gatherings.
It's versatile and can be customized with different toppings, such as chopped nuts or additional chocolate sauce.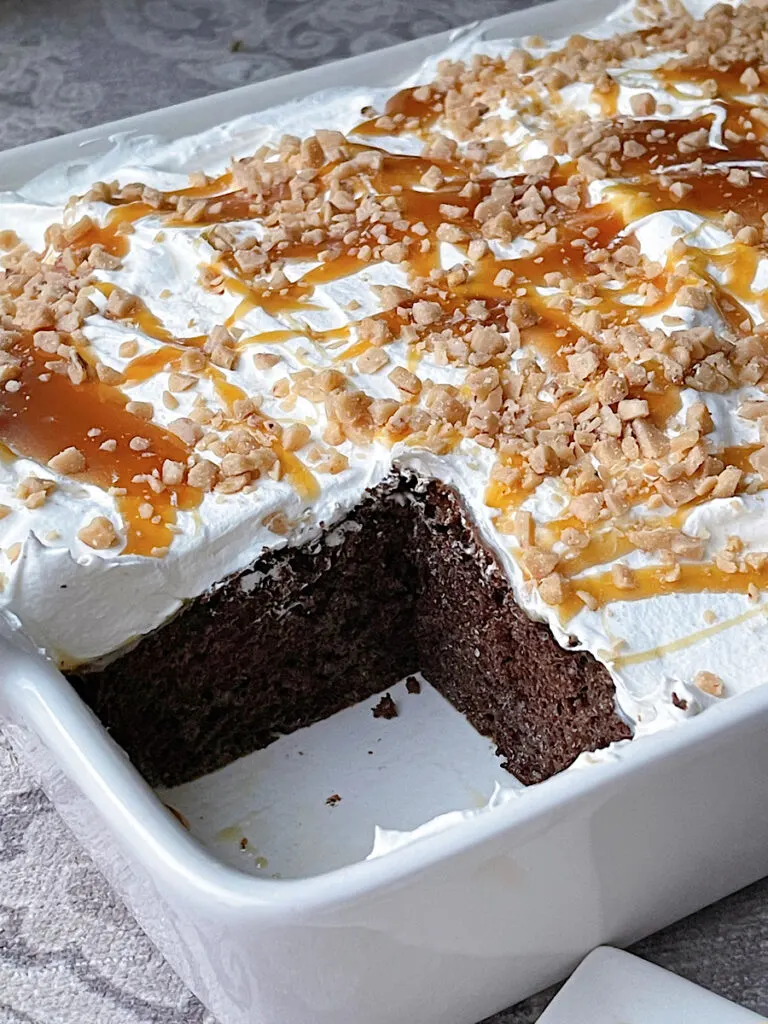 Tips for Making the Perfect Poke Cake
Use room temperature ingredients: Make sure your eggs, milk, and vegetable oil are all at room temperature before starting to bake. This will ensure that they mix together smoothly and result in a tender and evenly baked cake.
Poke holes while the cake is still warm: The best time to poke holes into the cake is when it's still warm from the oven. This will make it easier for the sweetened condensed milk and caramel sauce to seep into the cake.
Refrigerate before serving: Letting the cake chill in the fridge for a few hours before serving allows all the flavors to meld together and creates the perfect texture.
Get creative with toppings: While this recipe calls for Heath toffee bits, feel free to experiment with different toppings such as crushed Oreos, chocolate chips, or sliced almonds.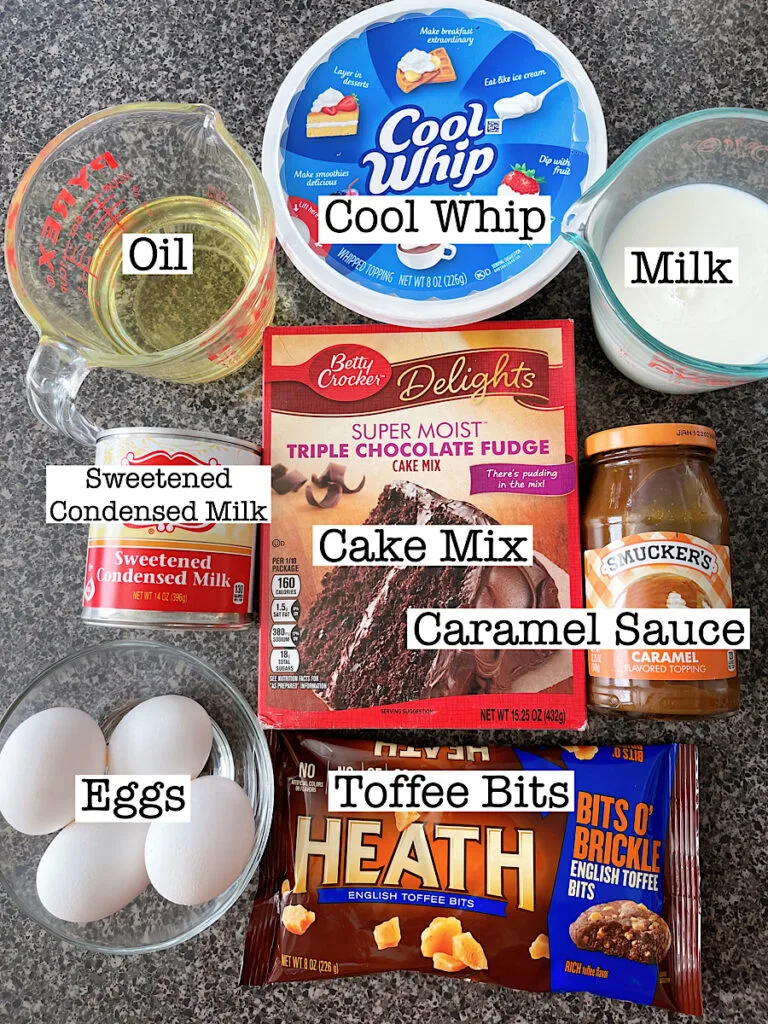 Chocolate Poke Cake Ingredients
*Ingredient amounts are located in the recipe card at the end of this post.
Cake Mix: Use your favorite brand of chocolate boxed cake mix. I like Betty Crocker's Triple Chocolate Cake Mix or Devil's Food cake mix, found on the baking aisle at grocery stores.
Eggs: To make your cake more dense, use one more egg than is called for on the back of the box. My cake mix called for 3 eggs, so I used 4.
Milk: Milk is used instead of water with this cake mix which results in a rich chocolate cake. You will want to use the same amount of milk as water listed in the package directions on the back of the box.
Oil: I used vegetable oil in this recipe, but you can use any mild-flavored oil such as canola or avocado oil.
Condensed Milk: This ingredient will be used to drizzle over the cake after holes have been poked. this will make the cake ultra moist.
Caramel Sauce: The caramel sauce adds a delicious layer of sweetness and flavor to the cake. You can use store-bought or homemade caramel sauce.
Cool Whip: This whipped topping is used to add a light and airy layer on top of the cake. You can also use homemade stabilized whipped cream, if preferred.
Toffee Bits: These sweet and crunchy bits are the perfect finishing touch for this poke cake.
How to Make Chocolate Toffee Poke Cake
[Step 1] Beat the eggs in a mixing bowl with an electric mixer or in the bowl of a stand mixer. Add the box of cake mix, oil, and milk, and beat again at medium speed until light and fluffy.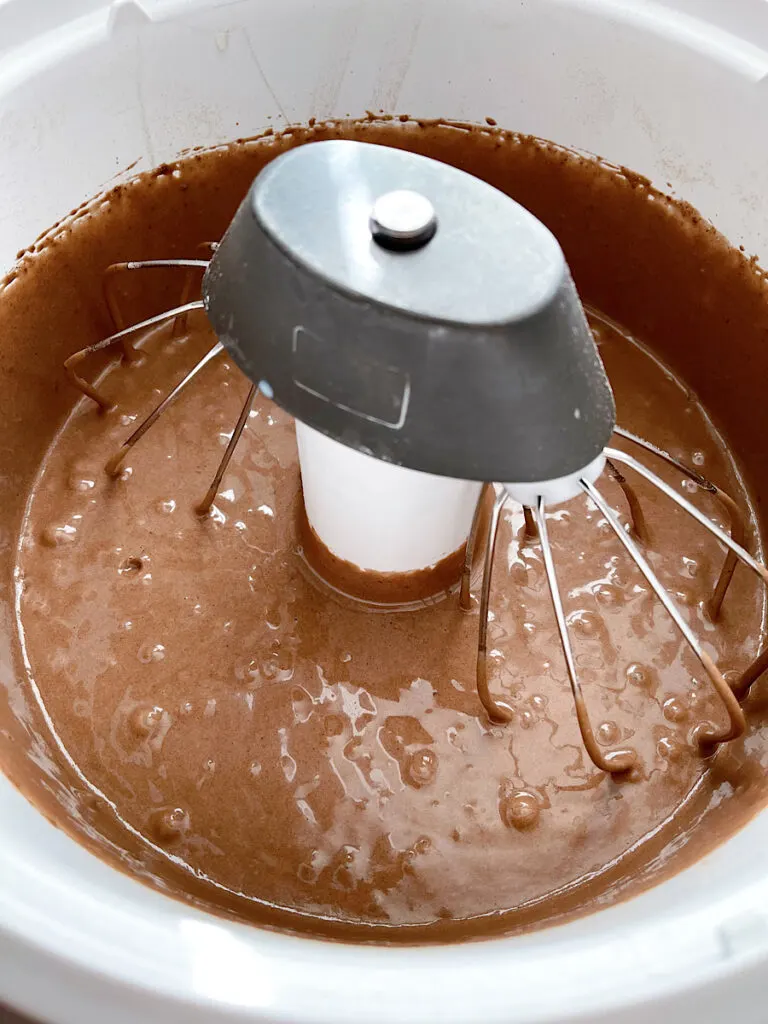 [Step 2] Pour the cake batter into a 9×13 baking dish that has been sprayed with nonstick cooking spray and bake at 350 for 30-35 minutes until a toothpick inserted comes out clean.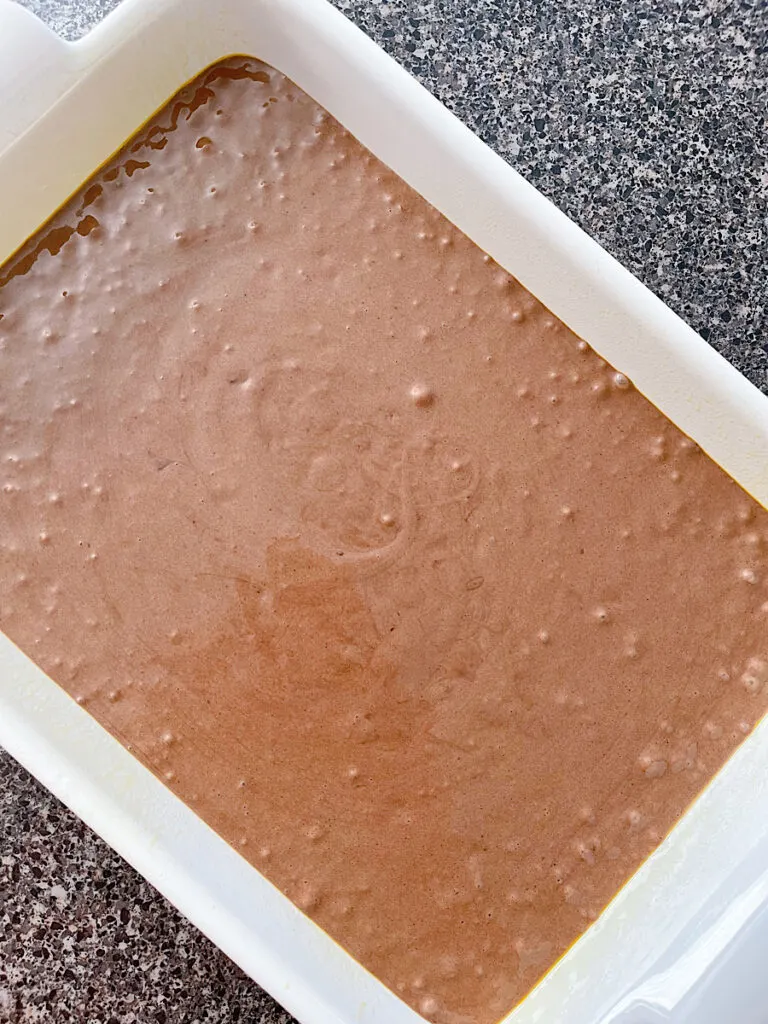 [Step 3] Let the cake cool for 5-10 minutes, then use a fork or the end of a wooden spoon to poke holes in the cake. Try not to poke the holes too close together or so deep that they reach the bottom of the cake.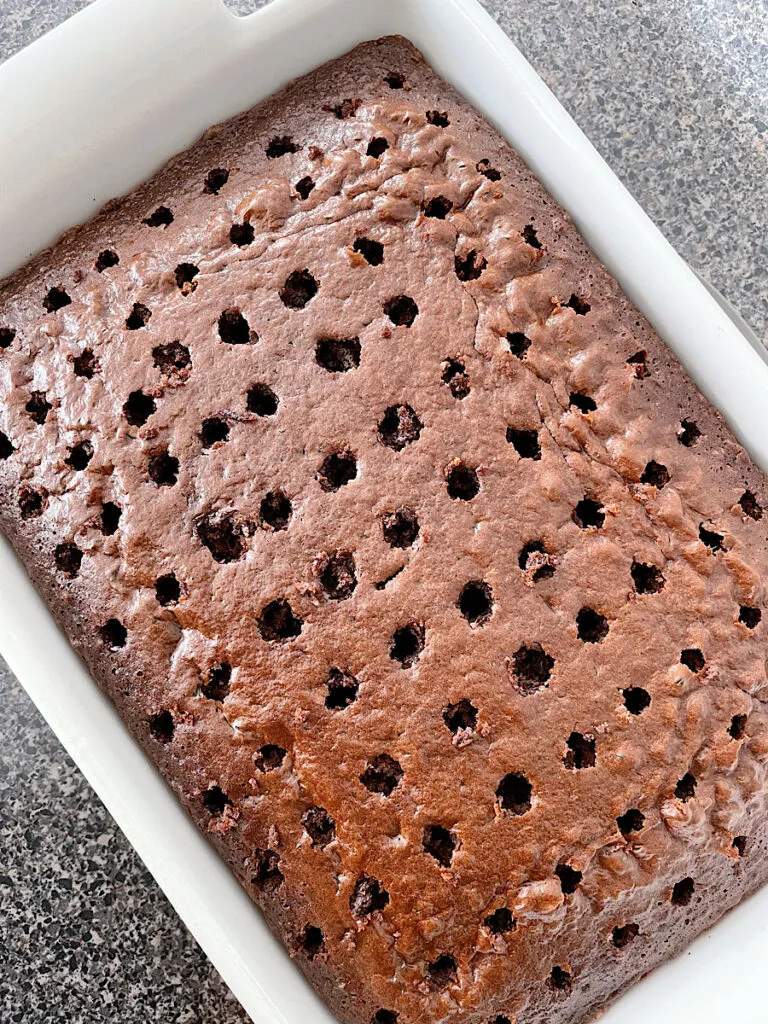 [Step 4] Drizzle the sweetened condensed milk over the top of the cake, making sure to get the milk into each of the poked holes. Repeat with the caramel sauce, reserving about 1/4 of the jar to drizzle on top. Cool the cake completely.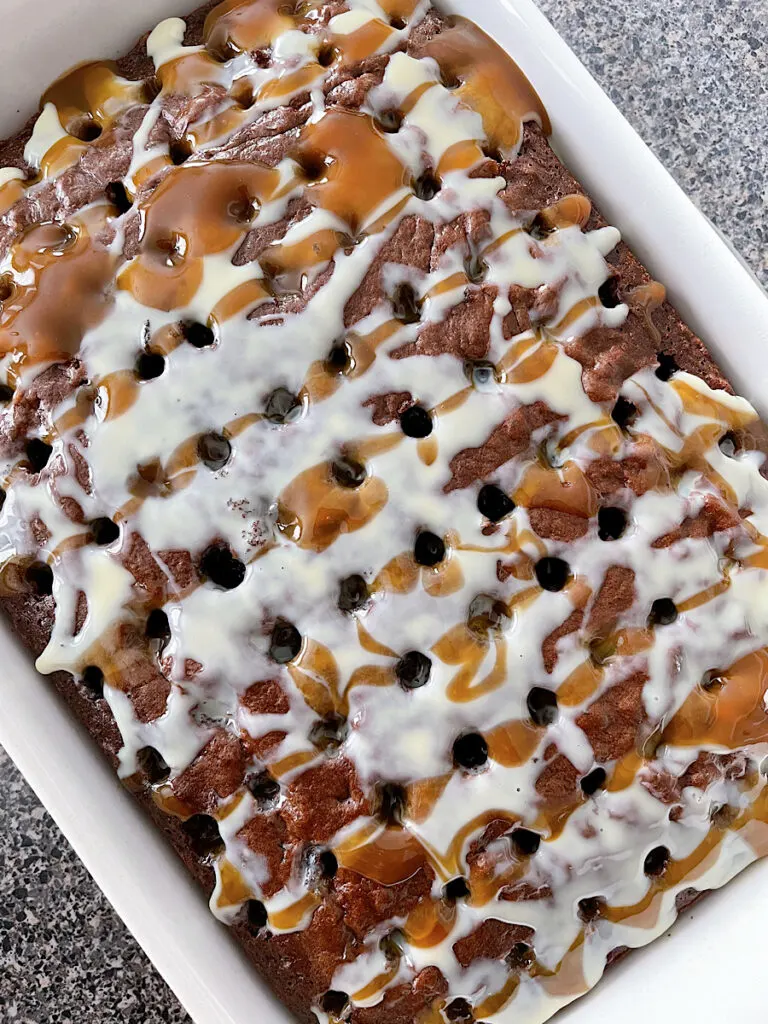 [Step 5] While the cake cools, thaw out the Cool Whip. Once the cake has cooled to room temperature, spread the thawed Cool Whip evenly over the top of the cooled cake. Then drizzle the remaining caramel sauce and sprinkle the entire cake with the toffee bits. Refrigerate the cake for an hour before serving.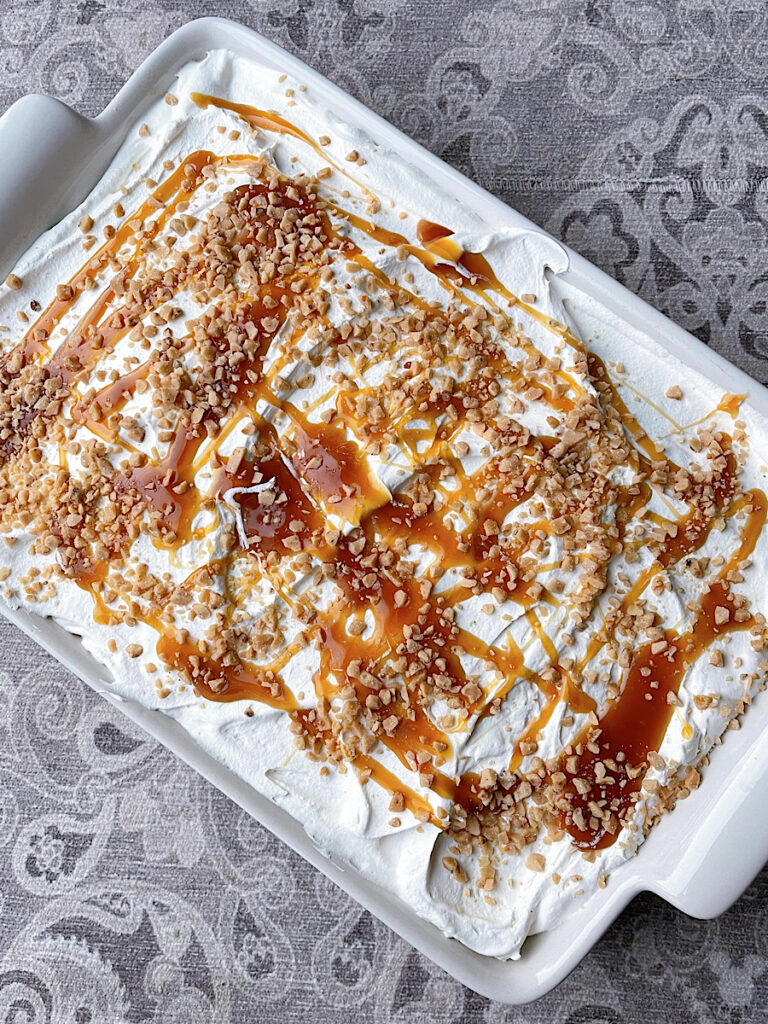 Helpful Kitchen Tools
How to Store Leftovers
If you have any leftovers of this decadent chocolate cake (which is highly unlikely!), store them in an airtight container or covered with plastic wrap in the fridge for up to 3-4 days. The cake may become slightly denser as it sits, but it will still be delicious!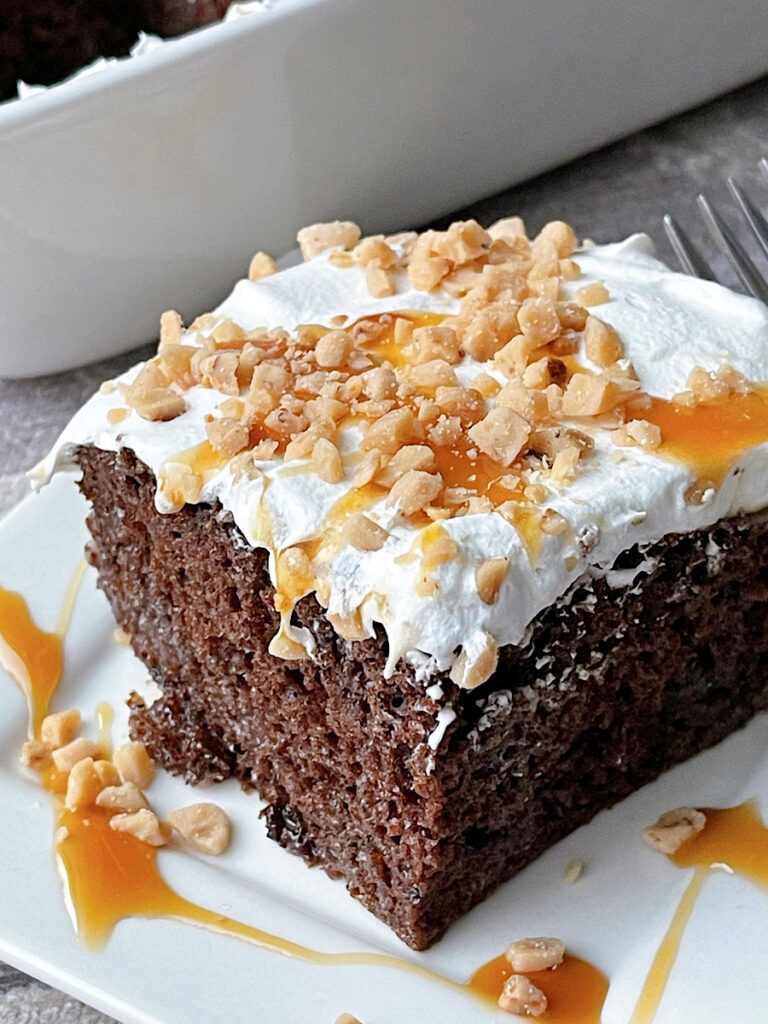 Frequently Asked Questions
Can I use a different flavor of cake mix?
Absolutely! While this recipe calls for chocolate cake mix, you can experiment with different flavors such as vanilla or red velvet. Just make sure to adjust the toppings accordingly.
Can I make this without Cool Whip?
Yes, you can substitute homemade stabilized whipped cream or even regular whipped cream made from heavy cream, if desired. Just keep in mind that the texture may be slightly different.
Can I make this cake ahead of time?
Yes! This poke cake is a great option for making ahead of time. Simply prepare and assemble the cake, then cover and refrigerate until ready to serve. You can also prepare the cake a day in advance just wait to add the Cool Whip and toppings until right before serving. This cake will also keep well in the fridge for 3-4 days after it's been made, making it a great option for meal prep or busy weeknights.
Final Thoughts
Poke cakes are a fun and easy way to jazz up a classic cake mix and create a mouthwatering dessert. This decadent chocolate poke cake with toffee is no exception, with its irresistible combination of rich chocolate flavor and textures. Whether you're looking for a quick and delicious dessert for the serious chocolate lover or an impressive treat for a special occasion, this recipe is sure to please. So go ahead and give it a try!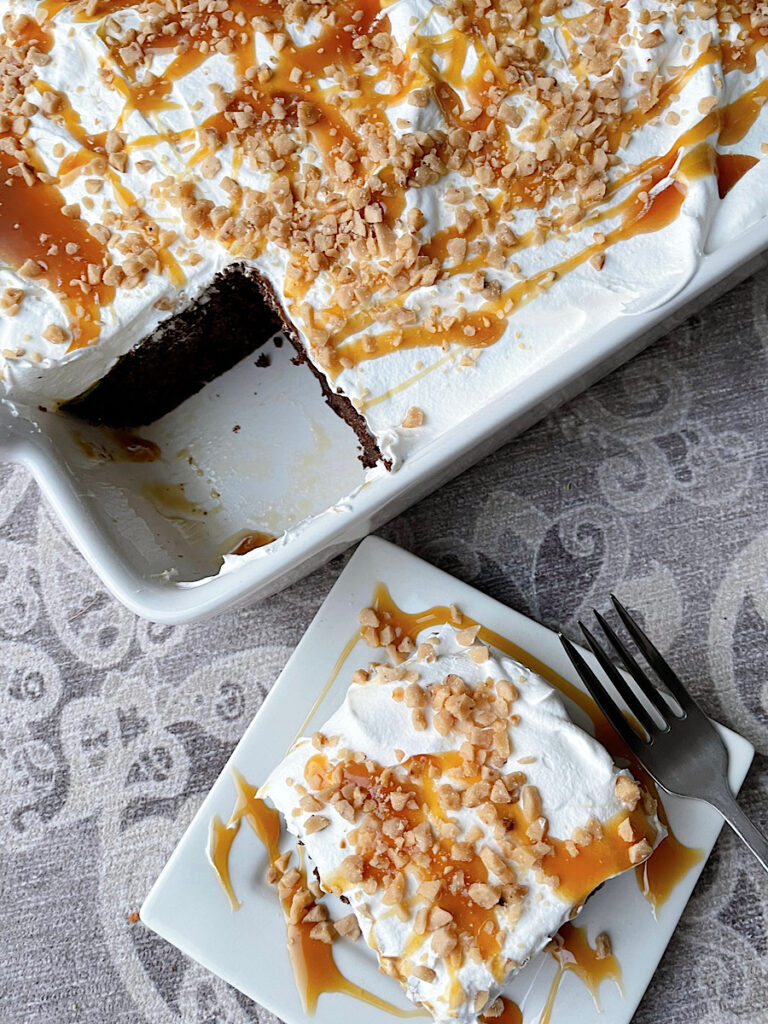 More Easy Cake Recipes