Classic Rice Krispie Treats are such a fun and delicious treat to make! Imagine adding rich melted chocolate to a batch of rice crispy treats and you will have a match made in heaven! That's why you need to try this recipe for Chewy Chocolate Rice Crispy treats. They're the perfect way for chocolate lovers to satisfy their sweet tooth!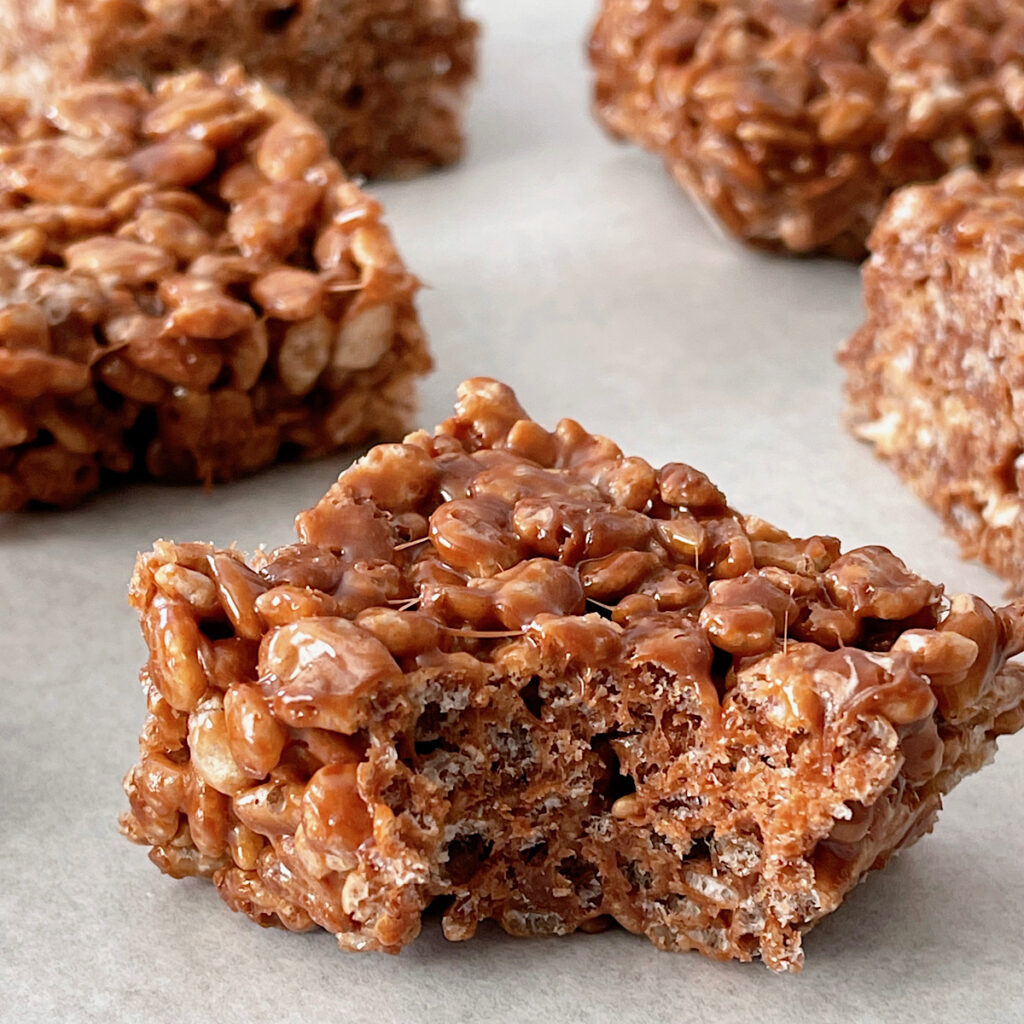 This post may contain affiliate links. When you click on these links, I get a small percentage back at no cost to you! For more information see my disclosure policy.
Below you will find tips, tricks and helpful hints for making this recipe including step by step instructions with pictures. If you would like to go directly to the recipe, scroll down to the recipe card.
Why You'll Love this Recipe
As I mentioned above, Rice Krispie Treats a one of my favorite snacks because they are quick to make and require just a few ingredients.
In fact, one of the most popular recipes on my website is for Rice Krispy Treats which are made even better by adding extra marshmallows! You can get that recipe here.
If you're a chocolate lover, this recipe will knock your socks off! So don't wait any longer! Get the ingredients together and make them now!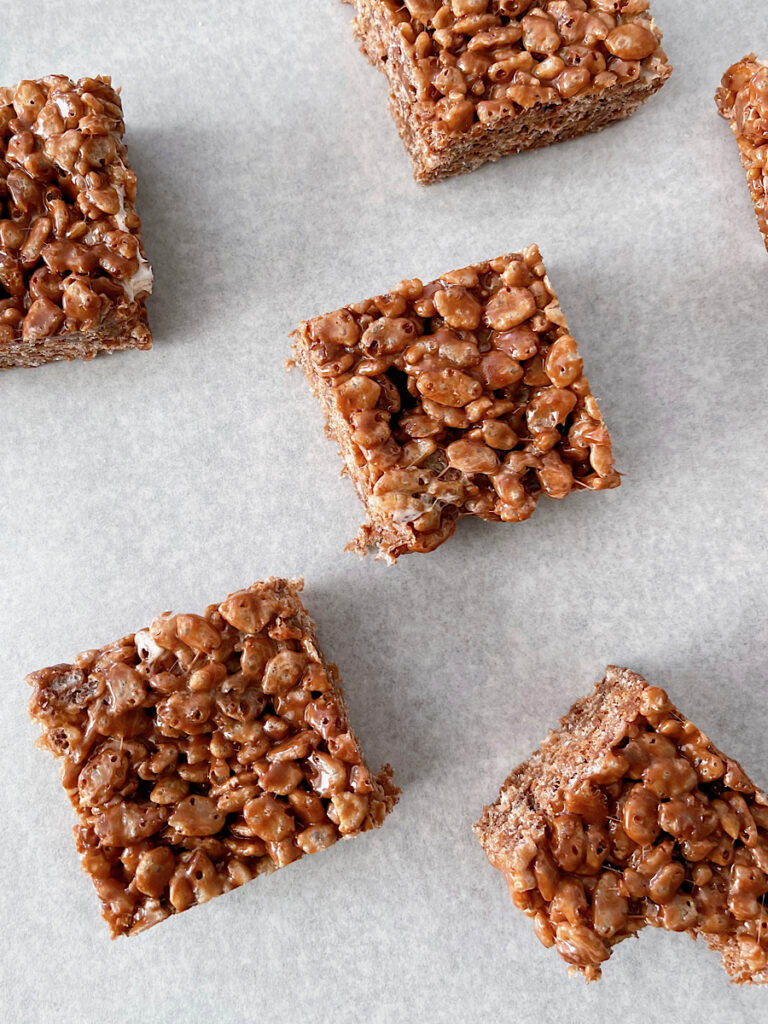 Ingredients Needed For Chewy Chocolate Rice Krispie Treats
*Ingredient amounts are located in the recipe card at the end of this post.
Butter: This recipe uses a little bit more butter than is usually called for, but the extra flavor is definitely worth it. You can use salted or unsalted butter.
Mini Marshmallows: To make these treats extra chewy, you will want to purchase the large (16-ounce) bag of mini marshmallows.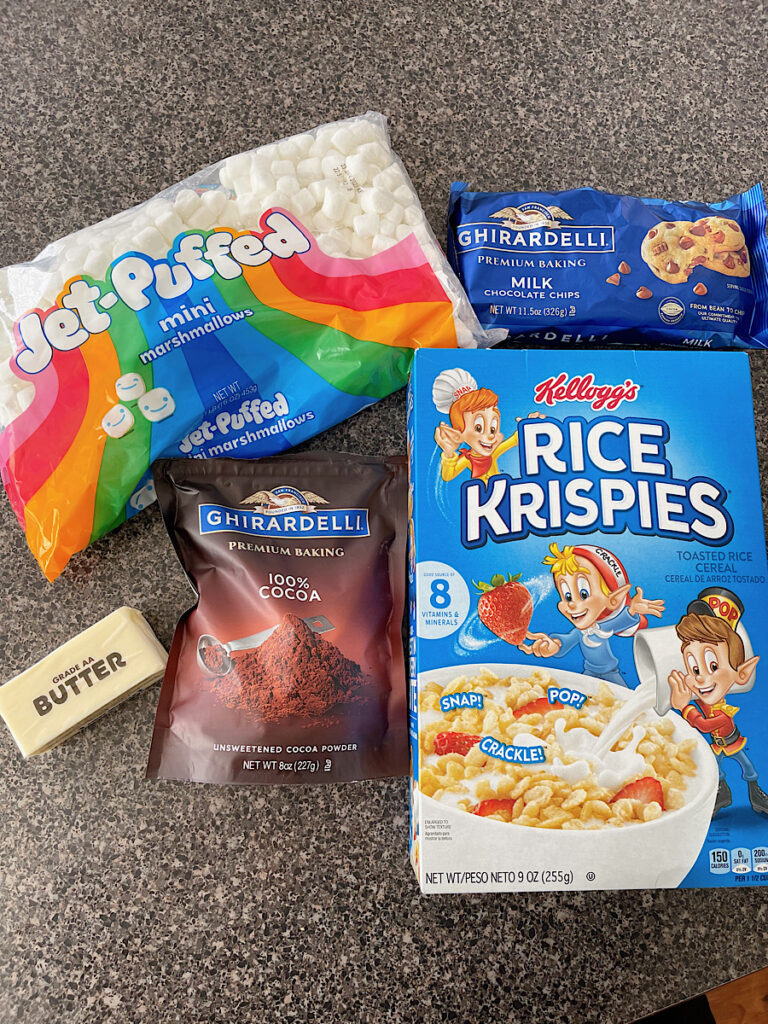 Chocolate Chips: You can use any type of chocolate chips that you like. I usually use semi-sweet chocolate chips, but milk chocolate or dark chocolate would be delicious as well!
Unsweetened Cocoa Powder: This ingredient is optional, but it does give the treats a more intense chocolate flavor. If you don't have cocoa powder on hand, feel free to leave it out.
Rice Krispies Cereal: Be sure to use Rice Krispies cereal and not another brand.
How To Make Chewy Chocolate Rice Crispy Treats
[1] Start by melting the butter in a large saucepan over medium-low heat on the stove top.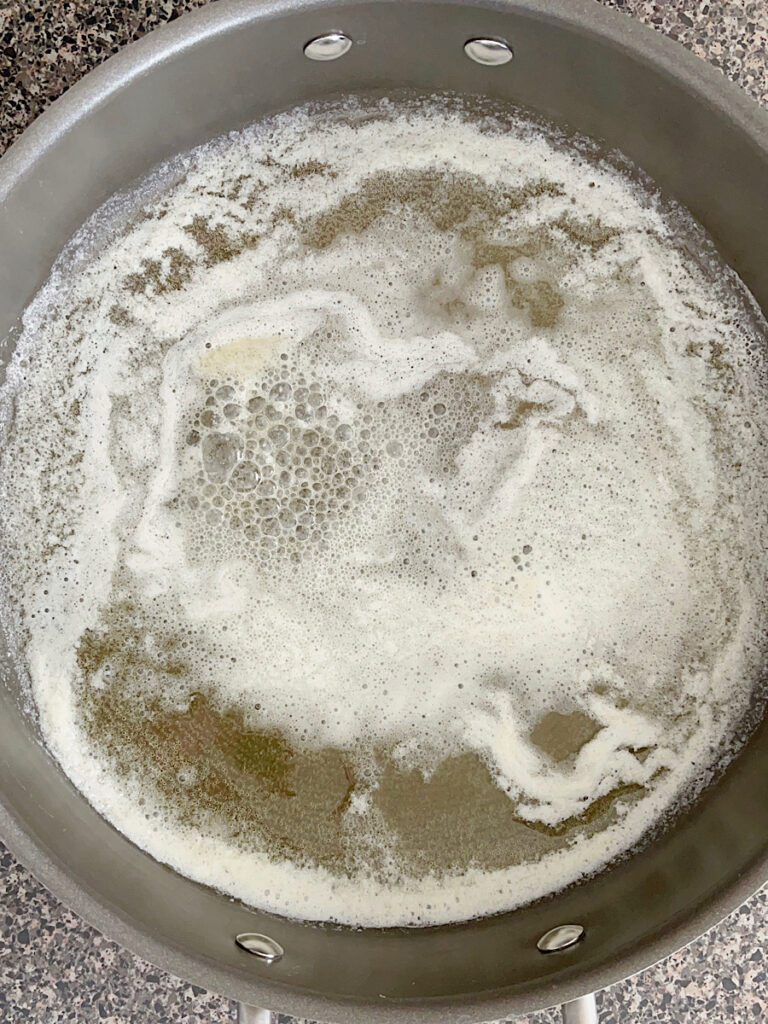 [2] Add chocolate chips and cocoa powder to the large pot. Stir until the chocolate is completely melted and smooth.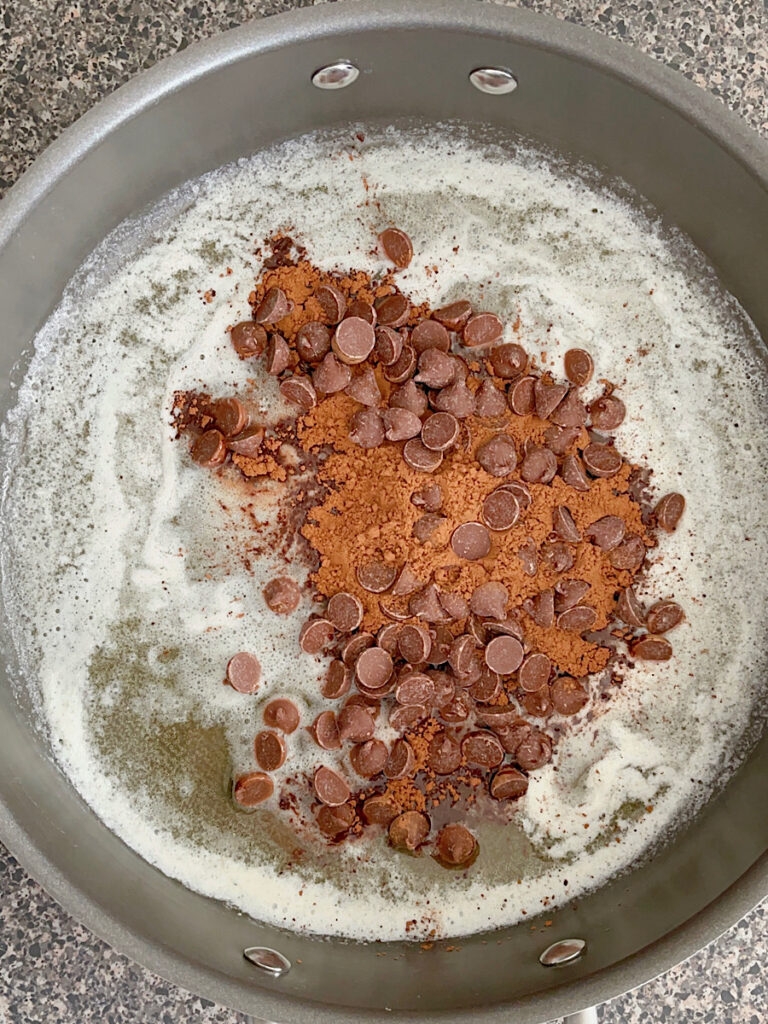 [3] Remove 1 cup of mini marshmallows from the package and set it aside. Pour the remaining marshmallows into the pan and stir until all of the marshmallows have melted over medium heat.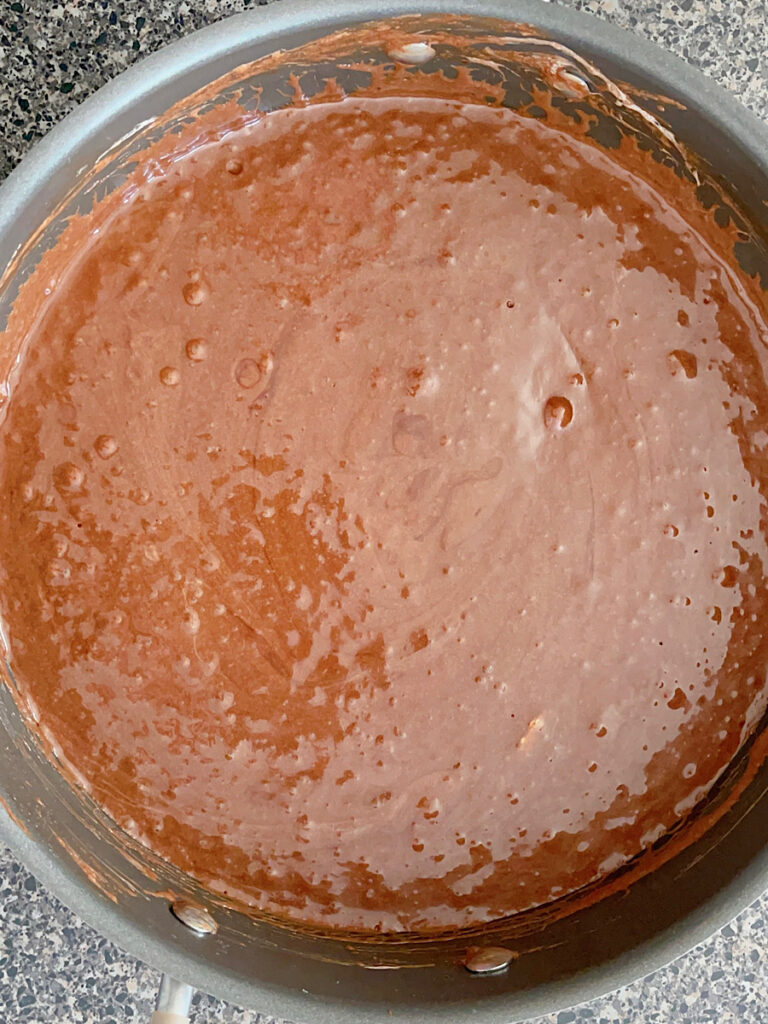 [4] Measure the rice Krispies cereal into a large bowl add add the extra one cup of marshmallows. Pour the chocolate marshmallow mixture over it. Stir until all of the cereal is covered in chocolate.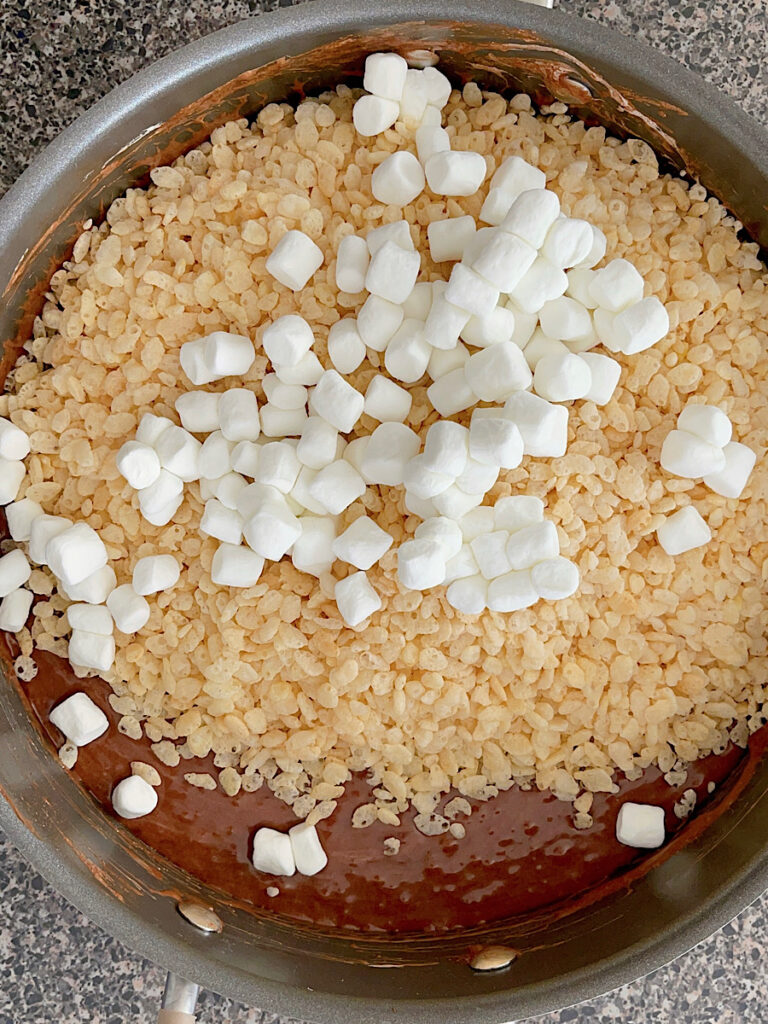 [5] Spray a 9×13 baking dish, or a Jelly Roll pan with nonstick cooking spray. Or, line with a parchment paper sheet. Pour the cereal mixture into the prepared pan.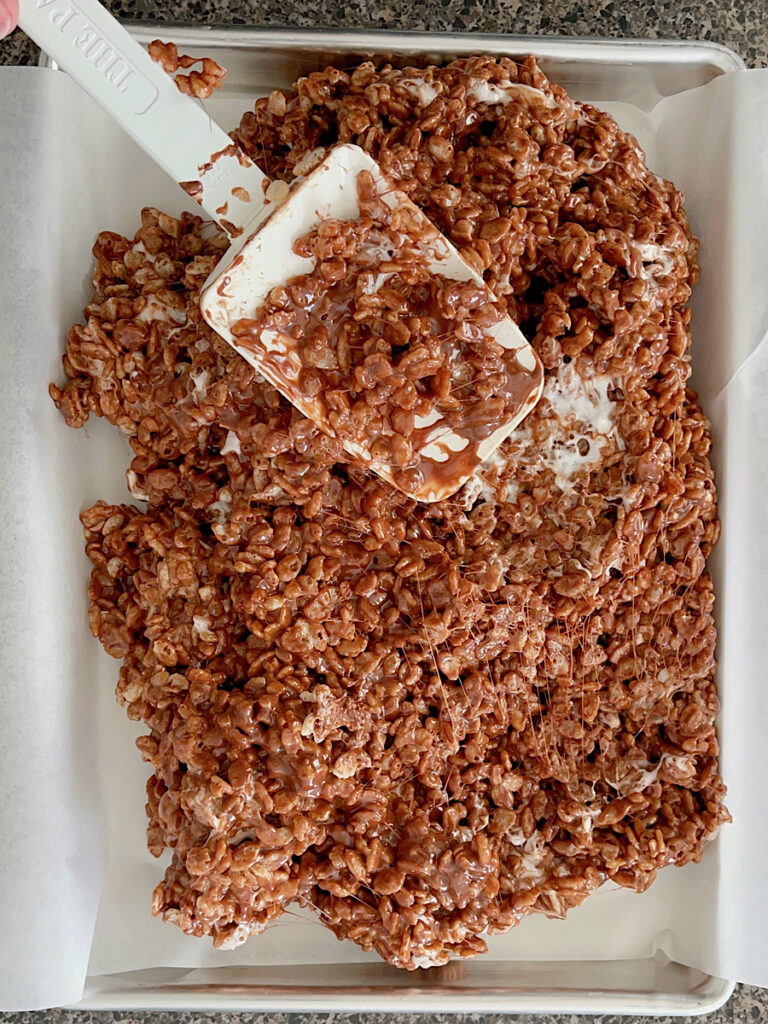 [6] Use a greased spatula to press mixture until it covers the bottom of the pan.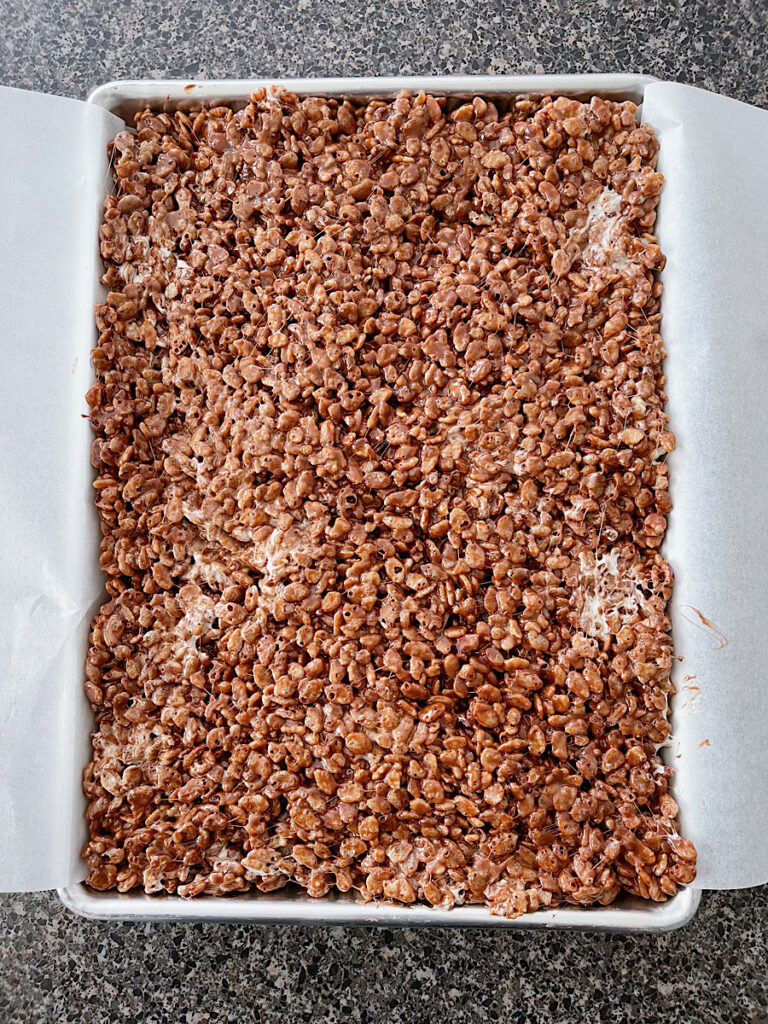 [7] Allow the treats to set for at least an hour, before cutting into bars.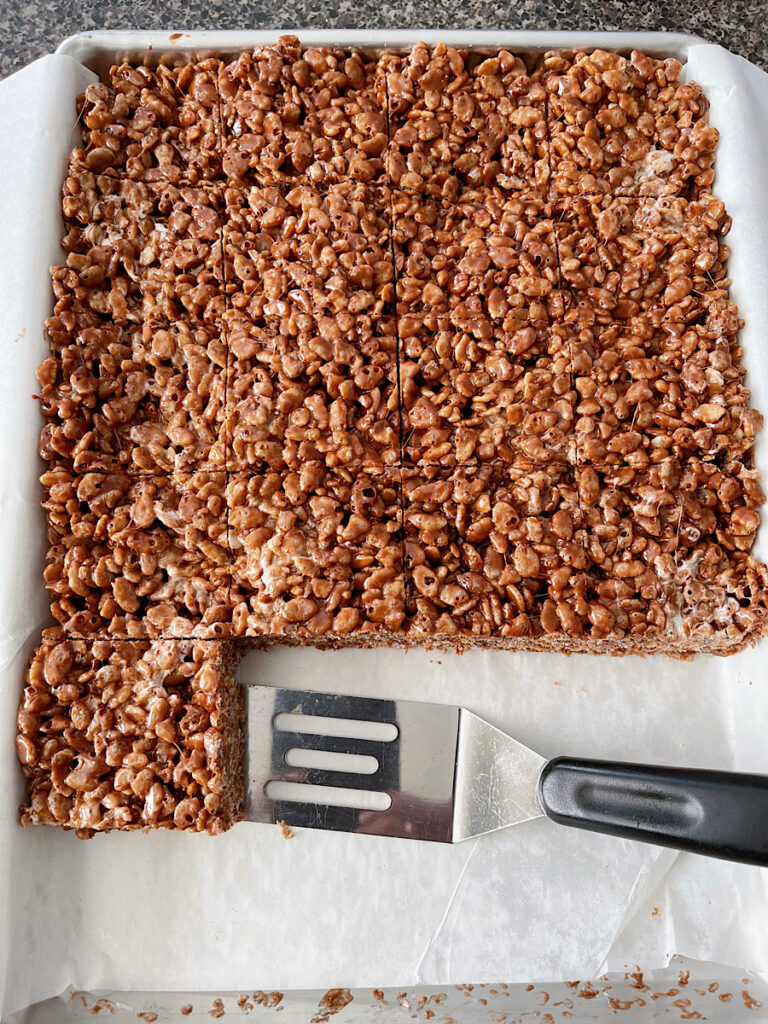 Helpful Kitchen Tools
How To Prevent Chocolate Rice Krispy Treats From Getting Hard
If you are planning on making these treats ahead of time and storing them, there are a few things that you can do to prevent them from getting hard.
First, be sure to store them in an airtight container. This will help to keep them fresh and moist.
Second, you can place a piece of wax paper or aluminum foil between the layers of treats. This will also help to keep them from drying out.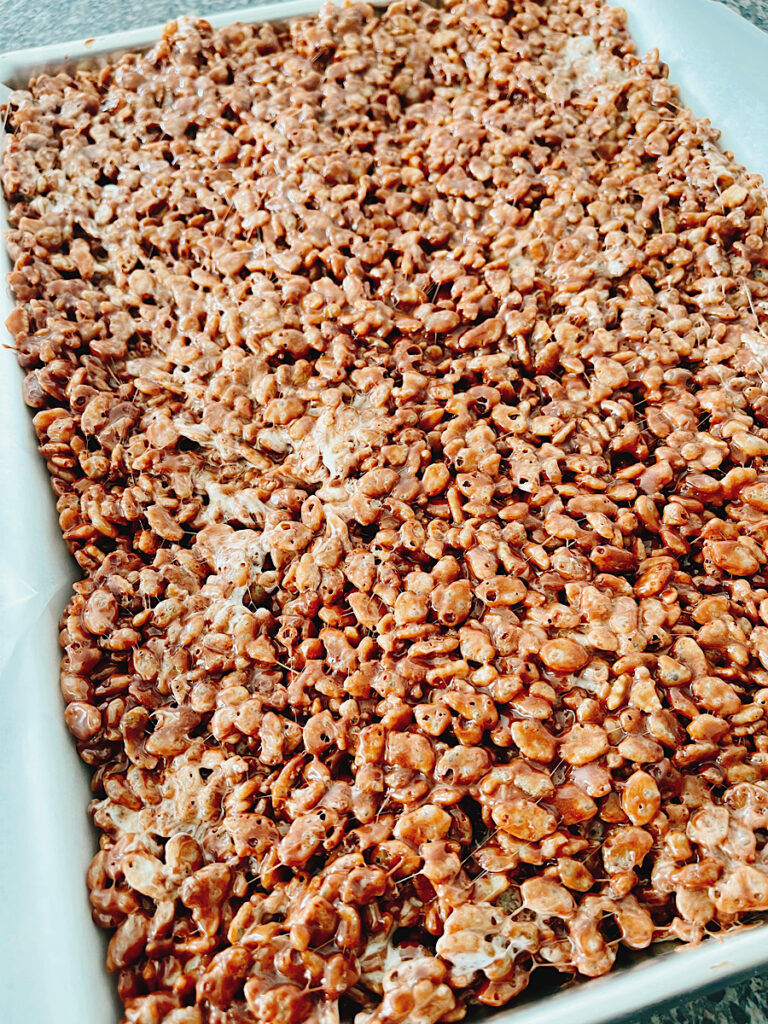 How to Freeze Rice Crispy Treats
These Chocolate Rice Crispy Treats can also be frozen. Wrap them tightly in plastic wrap then place them in a freezer-safe container and they will last for up to 2 months.
When you are ready to eat them, thaw them at room temperature or pop them in the microwave for a few seconds.
Frequently Asked Questions
Can I Use Cocoa Krispies instead of Rice Krispies?
You can use Cocoa Krispies, Cocoa Pebbles or other chocolate rice krispies cereal, but I was not a fan of the taste.
Can I Use Large Marshmallows, Marshmallow Fluff, Or other Sizes Of Marshmallows?
Other sizes of marshmallows can be used, including large marshmallows. Just make sure you have 8 cups or 16 ounces.
You can also substitute 16 ounces of marshmallow cream or marshmallow fluff.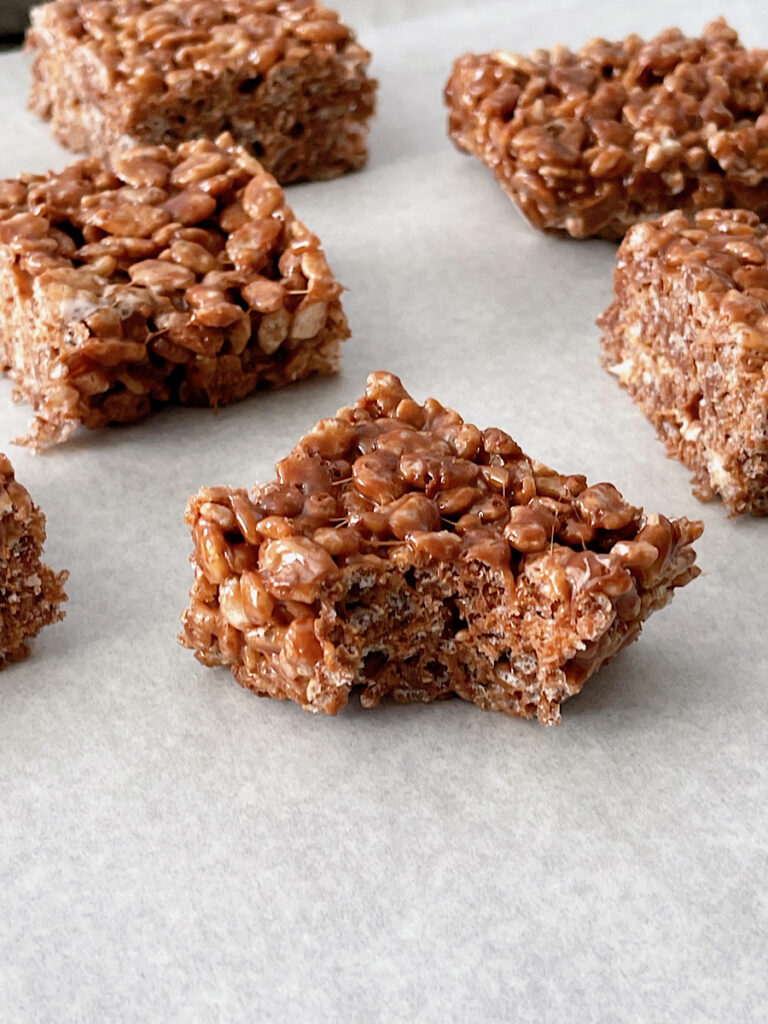 Will Rice Krispie Treats Stick To Wax Paper?
Rice Krispie Treats will stick to wax paper if they are fresh out of the oven. However, once they have cooled completely, they can be easily removed from the wax paper.
Can I Double The Recipe?
Yes, this recipe can easily be doubled. Just use a larger pot and double all of the ingredients. Place the treats in a parchment lined cookie sheet instead of a 9×13 pan.
Final Thoughts
Even though Rice Krispie Treats are already a delicious snack, adding melted chocolate makes them even better!
These Chewy Chocolate Rice Krispies Treats are the perfect way to satisfy any chocoholic's sweet tooth. They're simple to make and will be gone in no time!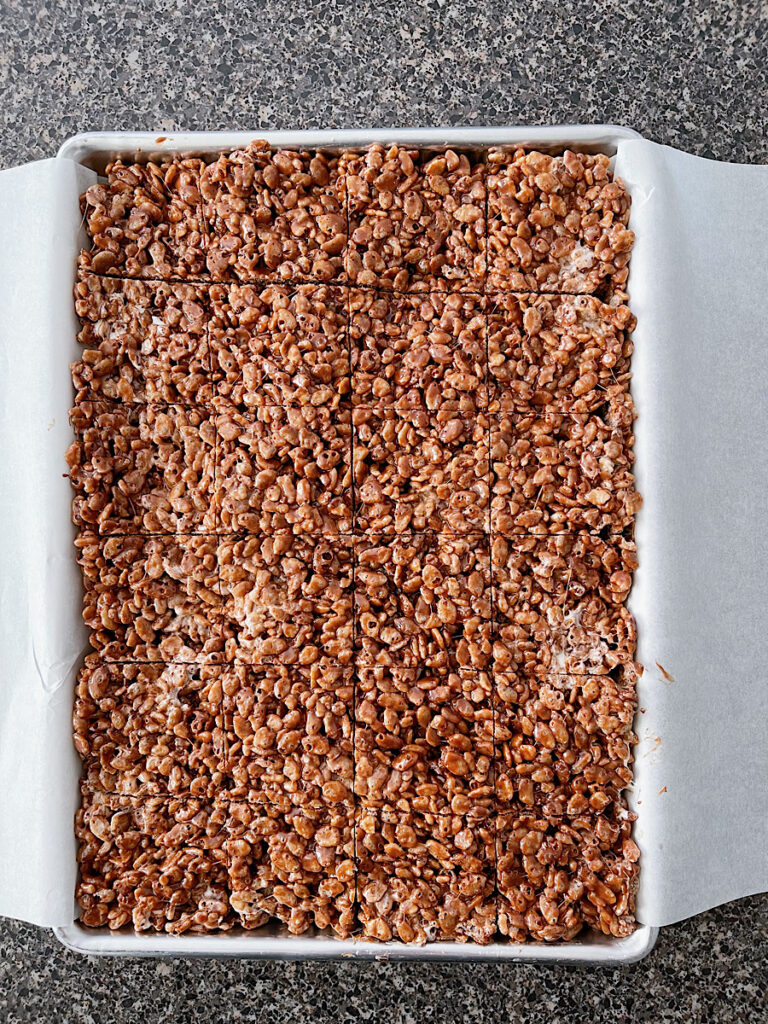 More Cereal Treat Recipes:
Pin for Later: