Find out how to make adorable Bunny Tail Easter Rice Krispie Treats using a few simple ingredients and a Mickey Mouse-shaped cookie cutter!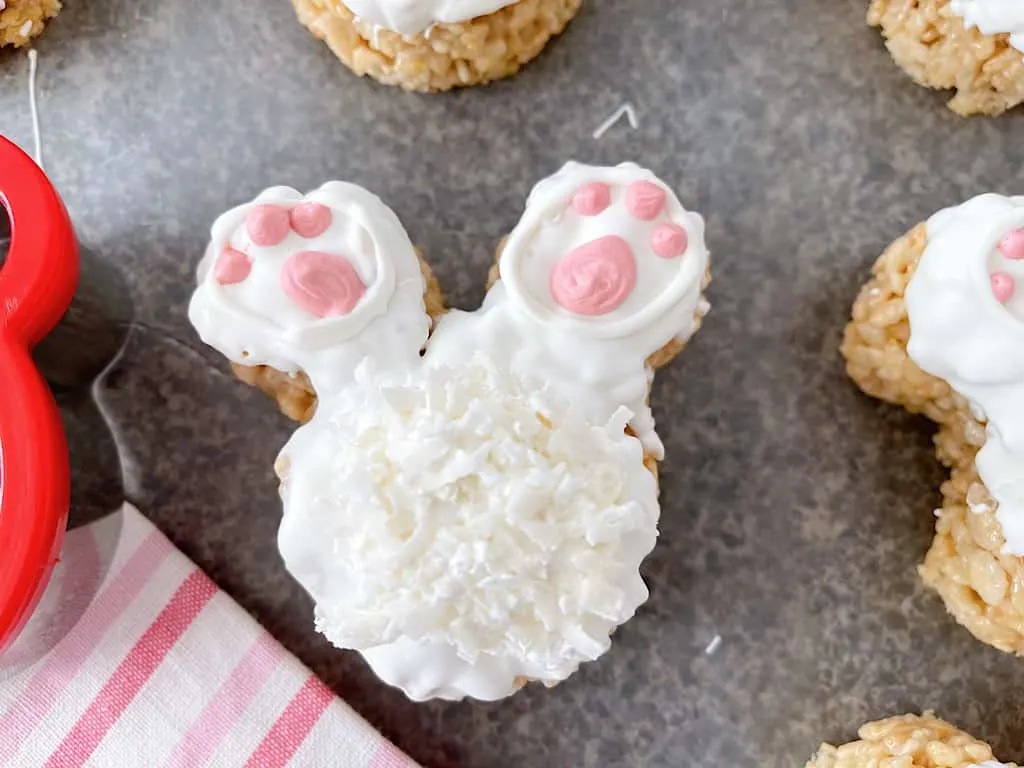 This post may contain affiliate links. When you click on these links, I get a small percentage back at no cost to you! For more information see my disclosure policy.
Below you will find tips, tricks and helpful hints for making this recipe including step by step instructions with pictures. If you would like to go directly to the recipe, scroll down to the recipe card or tap "Jump to Recipe" at the top of the page.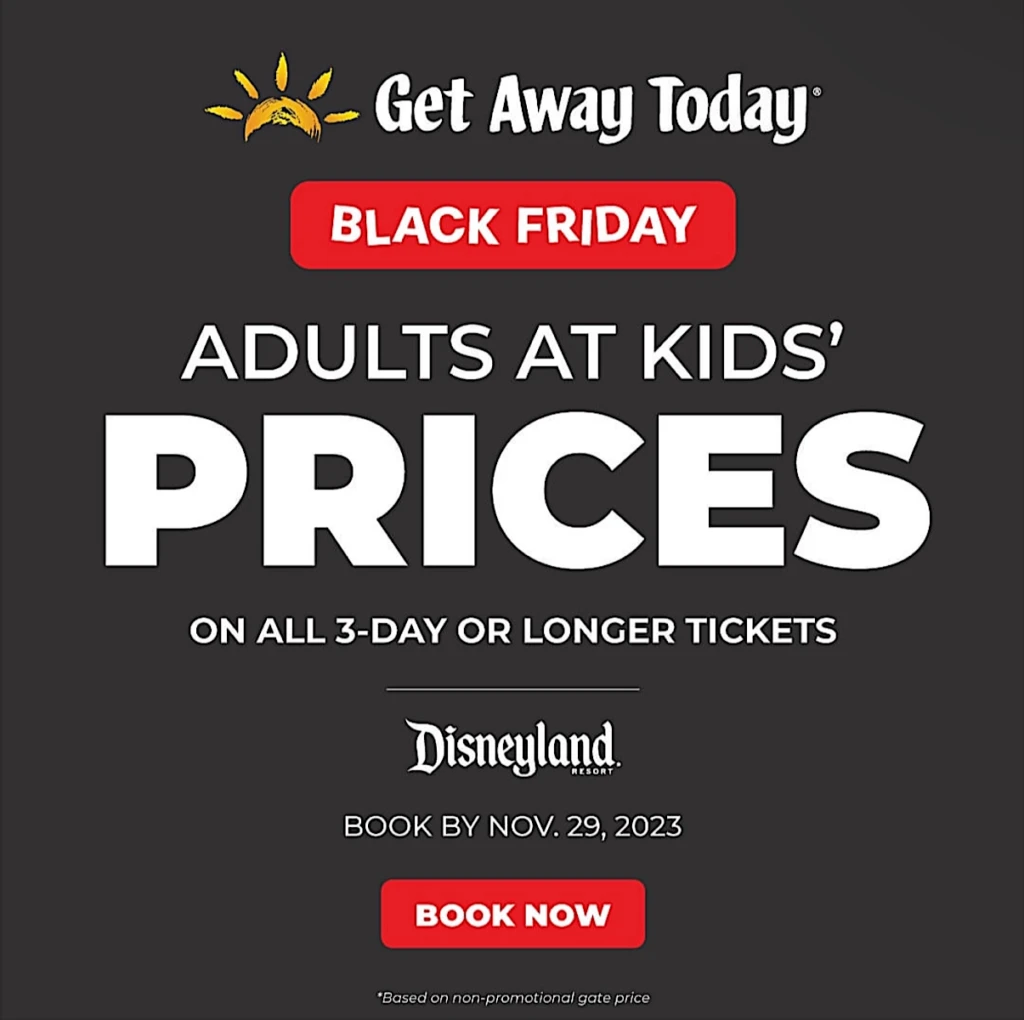 Get Adult tickets at Kid's Prices with this Disneyland Black Friday Ticket Sale from Get Away Today! Tickets are valid through December 31, 2025. Combine this deal with a hotel stay and use code: Clubhouse10 to save even more!
Why You'll Love This Recipe
I am a big fan of re-creating fun Disney treats at home. Especially when I can't get to the parks as much as I would like. So when I saw these Mickey-shaped Easter Rice Krispie Treats from Disneyland all over Instagram, I thought it was a cute idea and knew I had to make them at home.
Do you love Disney treats too? Check out my recipe for Mickey & Minnie Gingerbread Rice Krispie Treats here!
These Bunny Tail Easter Rice Krispie Treats are a fun way to add some Easter cheer to your dessert table. They're super easy to make and will be sure to bring smiles to all of your guests' faces. Plus, they look so cute with their bright pink bunny tails!
Another great thing about these treats is that they are no bake treats, which means no baking is required!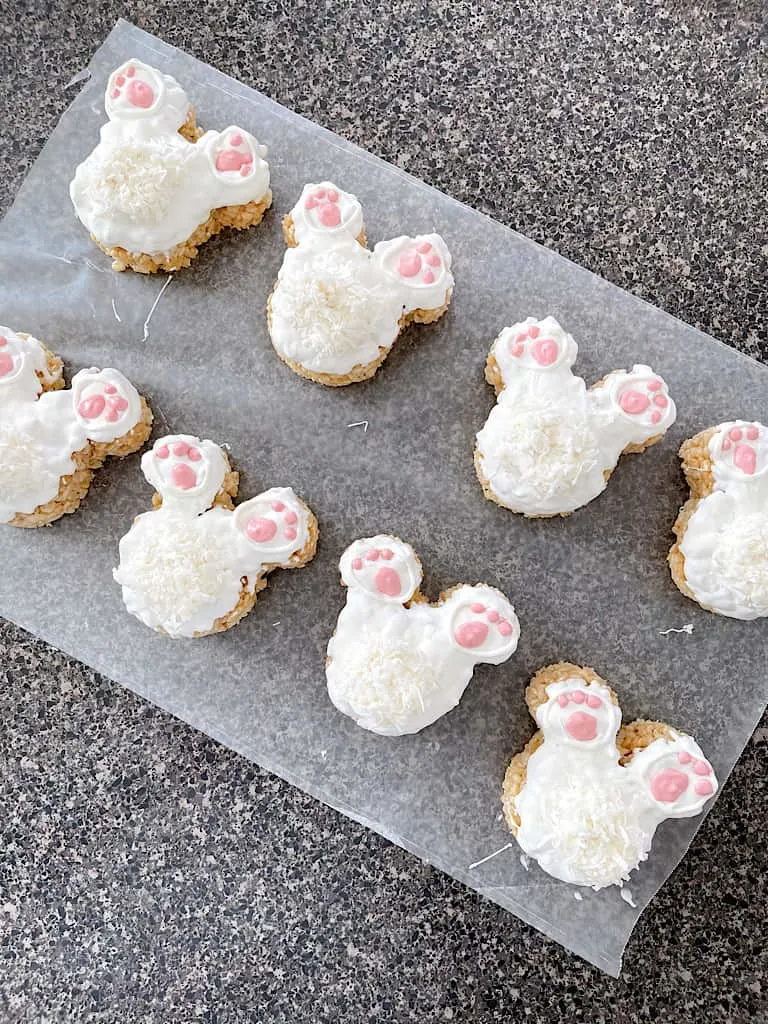 More Easy Easter Treats:
Rice Krispie Treats Recipe
I have used my favorite Rice Krispie Treats Recipe (sometimes called cereal treats) to create these Easter bunny tails. You might have many of these items already in your pantry, but if not these items are more than likely available at your favorite grocery store, Walmart, Michael's, or Amazon.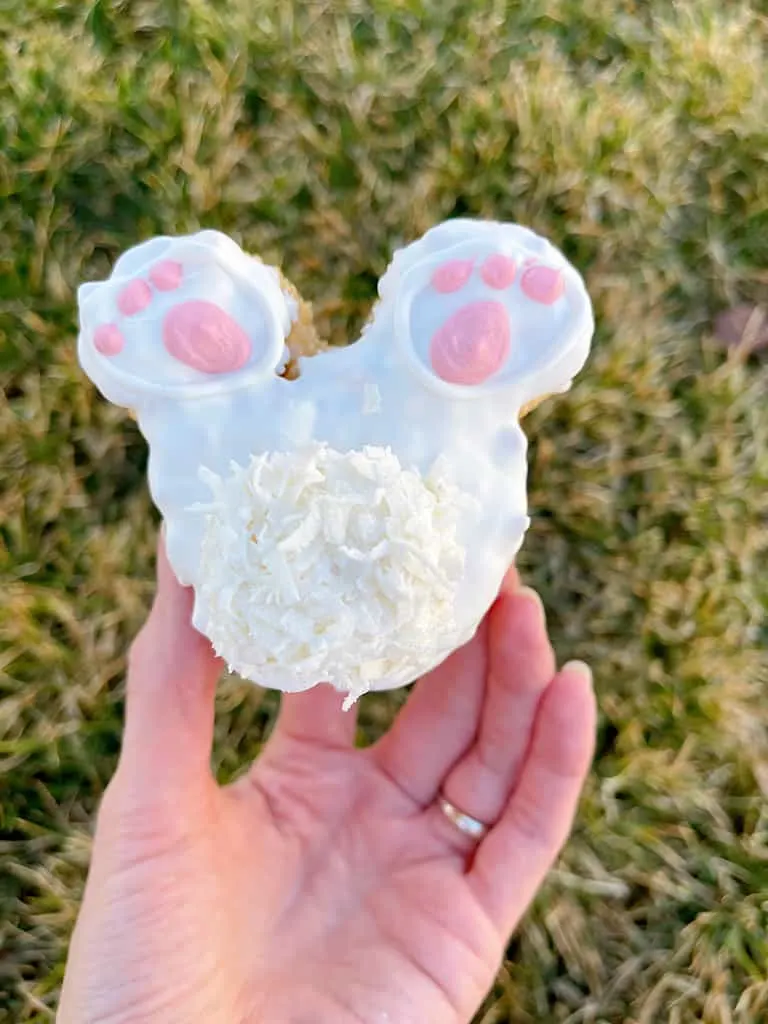 Ingredients for Bunny Tail Easter Rice Krispies Treats
*Ingredient amounts are located in the recipe card at the end of this post.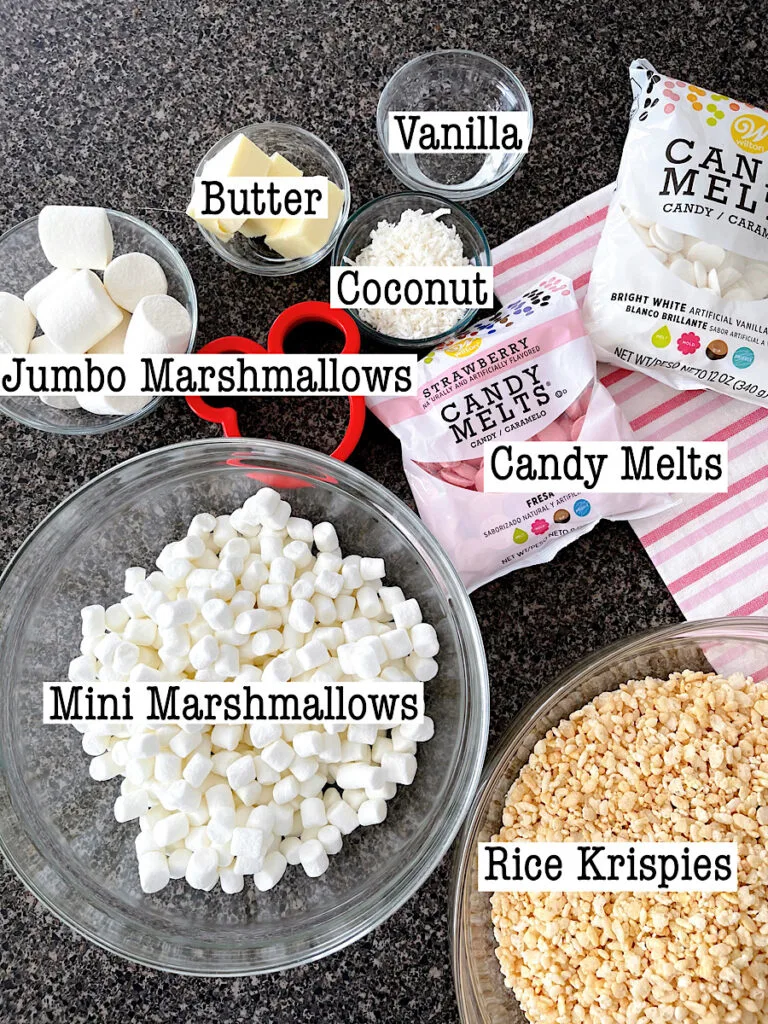 Butter: For this recipe, salted or unsalted butter can be used. It is your preference. I like to use salted butter in baked goods and sweets because the salt tends to bring out the sweet flavor.
Mini Marshmallows: I have found that mini marshmallows work best when making Rice Krispie Treats. They tend to melt quickly and with fewer lumps. My favorite brand is Kraft Jet Puffed Marshmallows. However, you can use larger regular marshmallows or marshmallow creme as well.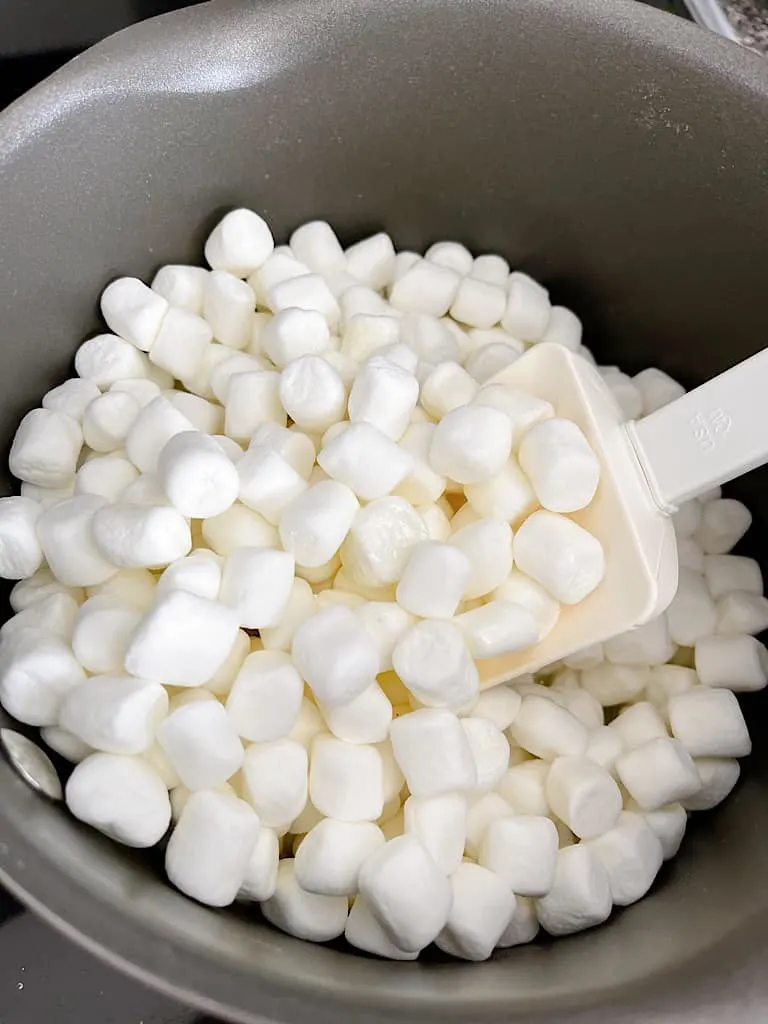 Vanilla Extract: Vanilla Extract really enhances the flavor of these Mickey Bunny Tail Rice Krispie Treats. You can use imitation vanilla extract, but you will definitely see a difference when using pure vanilla. You can get a pretty good deal on it at Costco.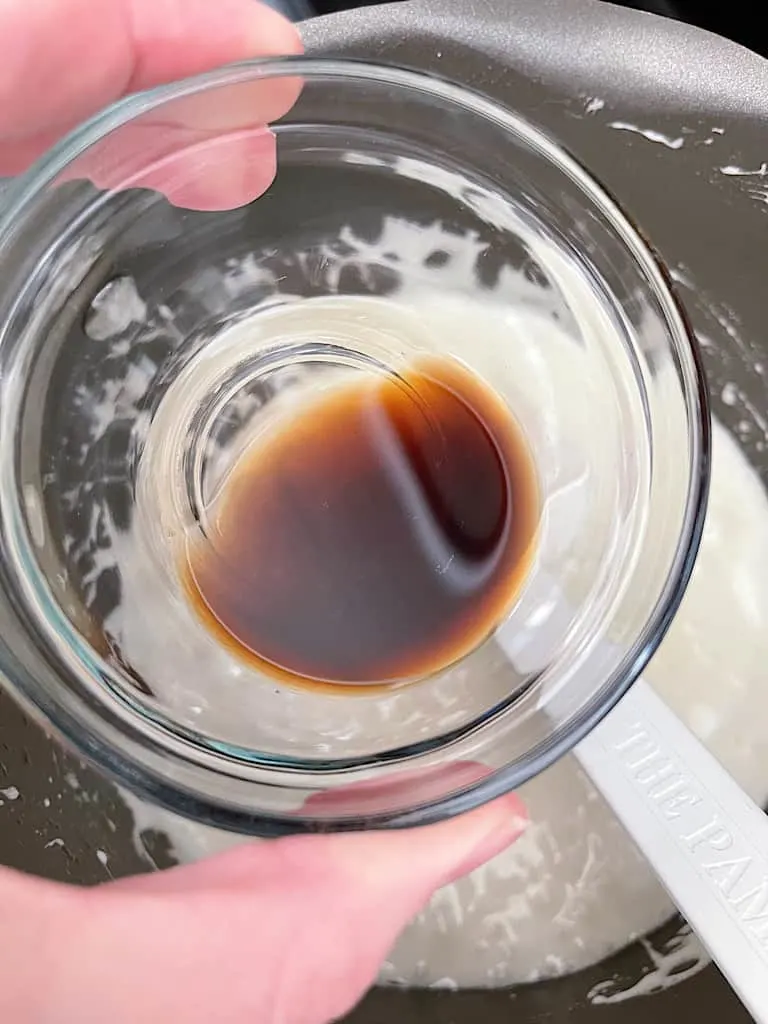 Rice Krispie Cereal: For the cereal, you can use name brand Rice Krispies or you can use your favorite store brand. I haven't noticed a difference between the two.
White Candy Melts: To get the Bunny Tail treats to look just like Disneyland's I used Wilton Candy Melts in Bright White. You will be dipping one side of the Mickey Rice Krispie Treat in white candy melts to create the base of the bunny. You will also dip the jumbo marshmallows in order to get the coconut flakes to stick.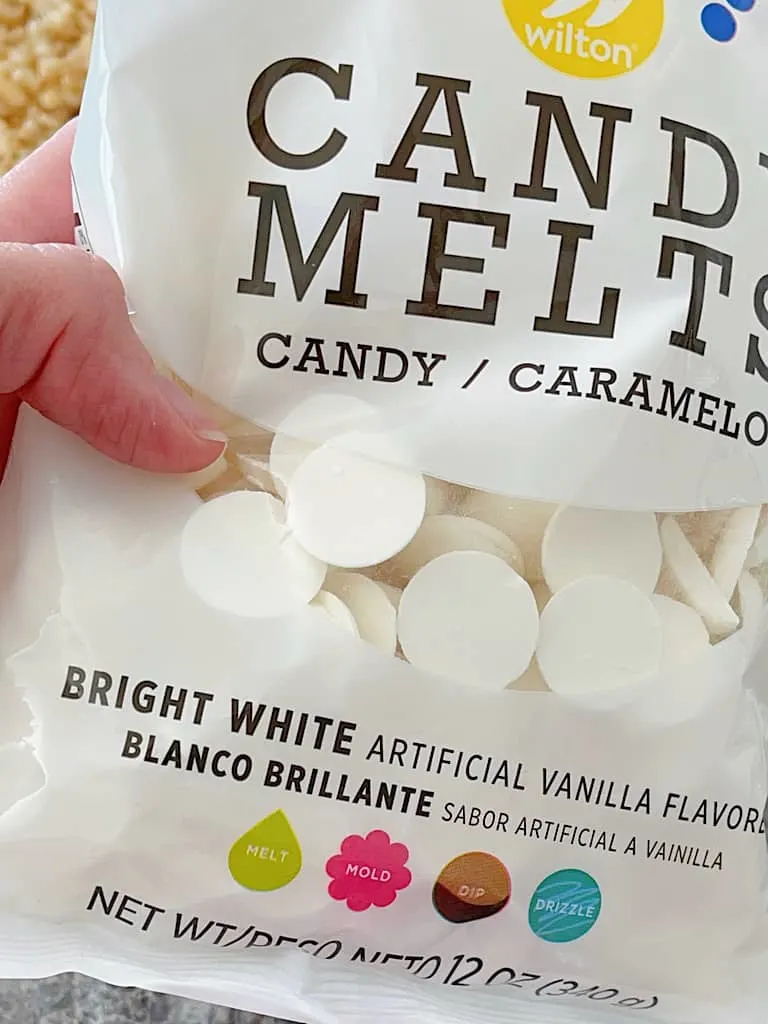 Pink Candy Melts: These pink candy melts will be used for the bunny paws. In this recipe I used Wilton Pink Candy Melts. The bag I purchased happened to be strawberry flavored, but they are generally vanilla flavored. Either flavor will work.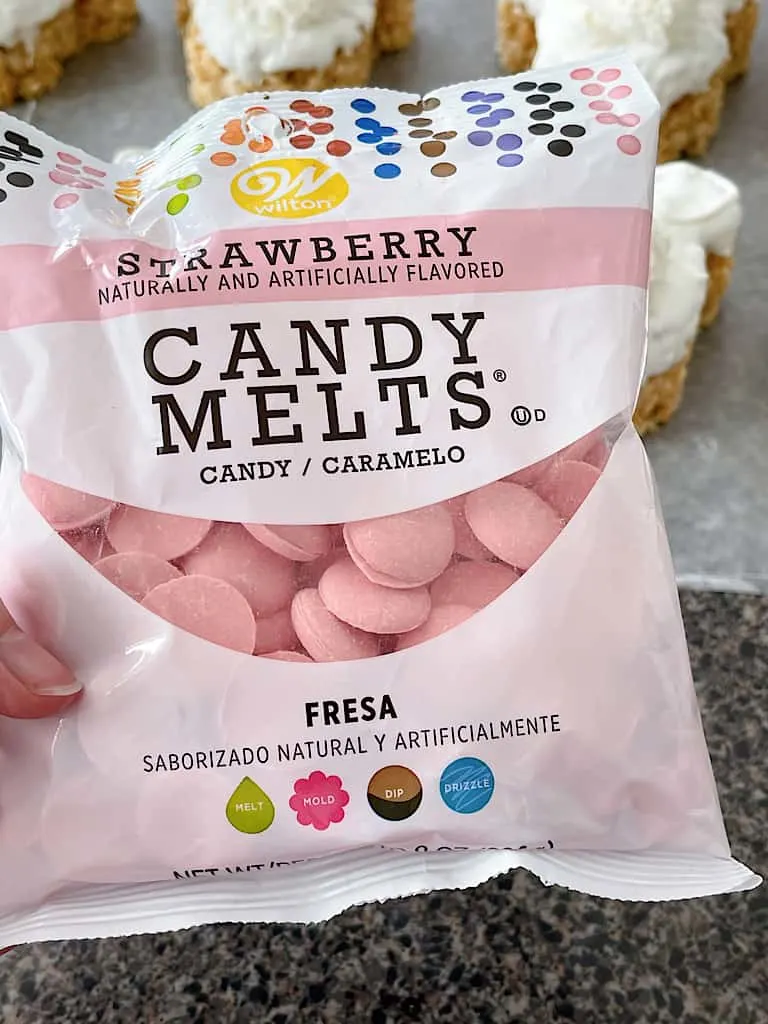 Jumbo Marshmallows: You will use jumbo marshmallows to make the bunny tails on the Rice Krispie Treats.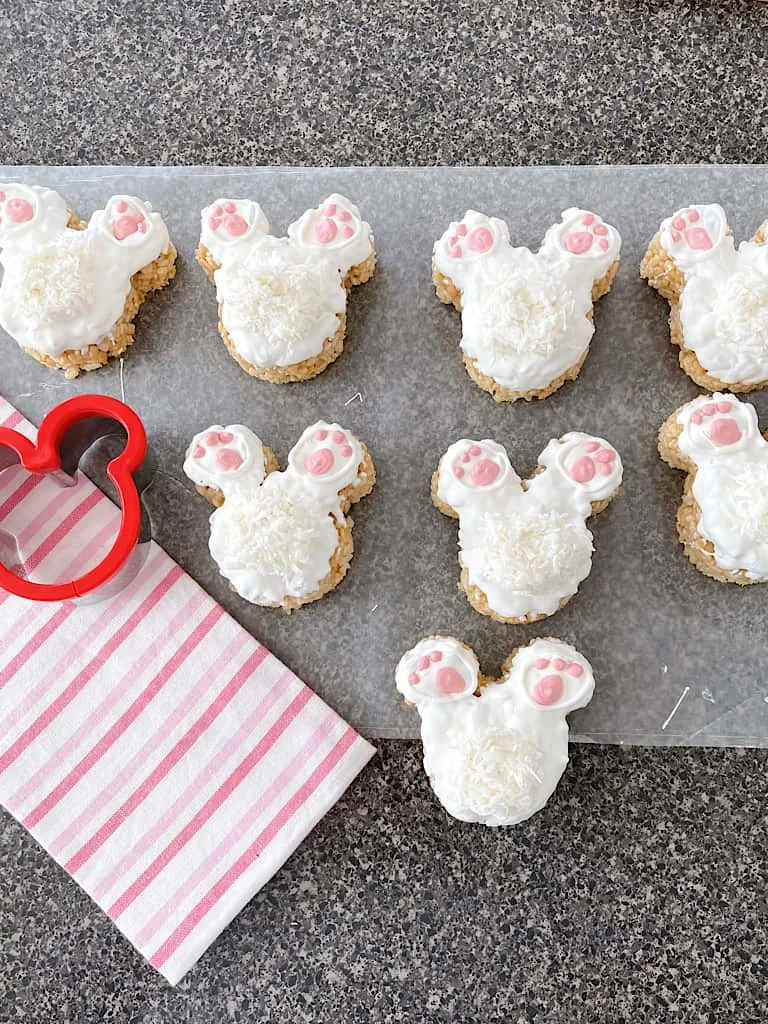 Coconut Flakes: Sweetened coconut flakes will be used to help create the tail of the bunny. You can find them at your local grocery store.
How to Make Bunny Tail Easter Rice Krispie Treats
Make the Rice Krispie Mixture
Step 1: Prepare the Rice Krispie Treats by melting the butter over low to medium heat in a large saucepan. Add the marshmallows to the melted butter and stir with a rubber spatula until the mixture is smooth. Remove from the heat and stir in the vanilla extract.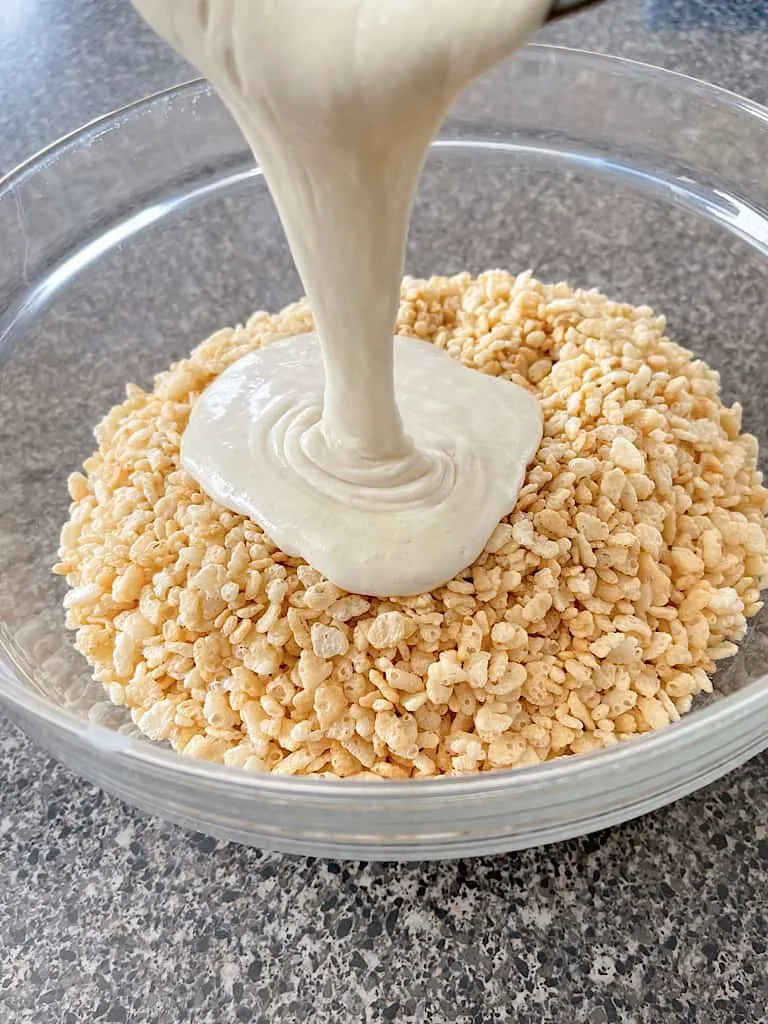 Step 2: In a large bowl, pour the marshmallow mixture over the Rice Krispies and mix until completely combined.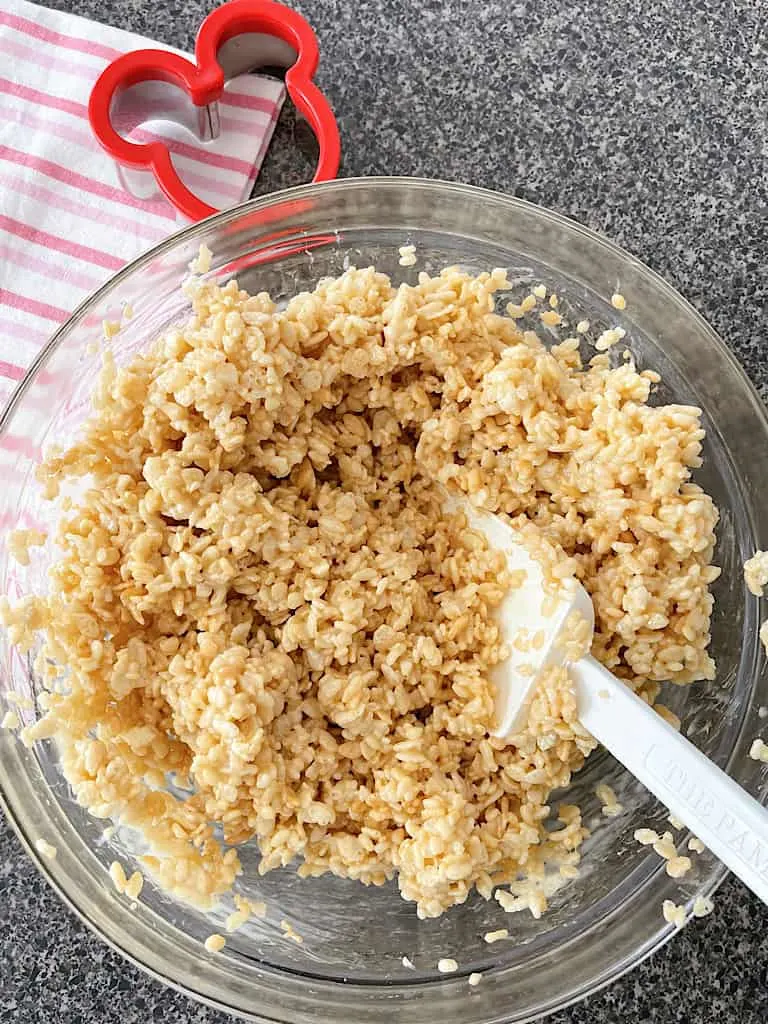 Shape the Rice Krispie Treats
Step 3: Grease a baking sheet with butter or nonstick cooking spray and flatten the Rice Krispie mix. Use a Mickey Mouse cookie cutter to shape the treats. Use your hands to add more of the cereal mixture to the mold, if needed. (Watch the video down below to see how to do this).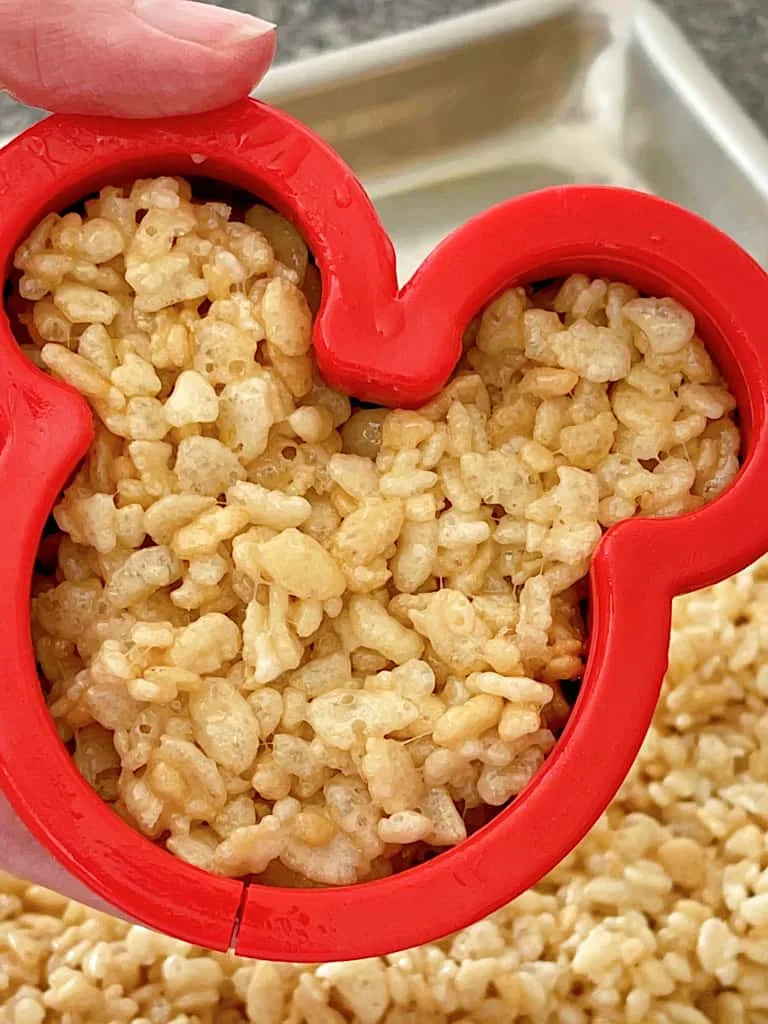 Step 4: Transfer the Mickey-shaped treats to a sheet of parchment paper or wax paper and allow them to cool.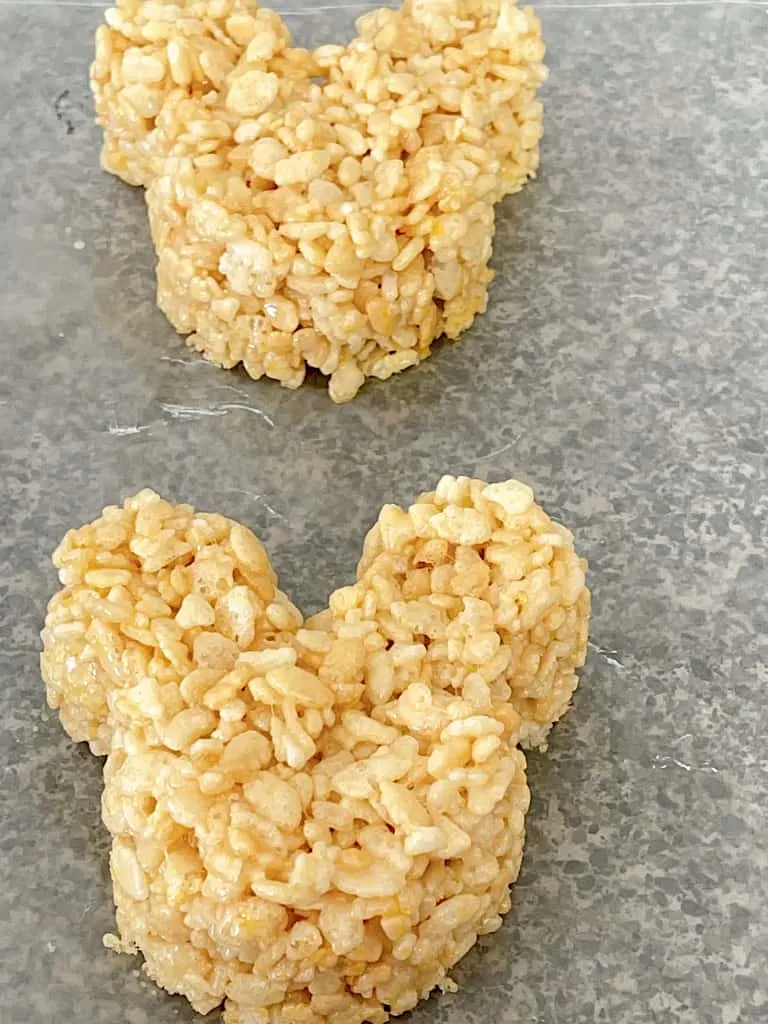 Decorate the Easter Rice Krispie Treats
Step 5: While the treats are cooling, begin melting the white candy melts in a microwave safe bowl. Follow the package directions for your microwaves wattage.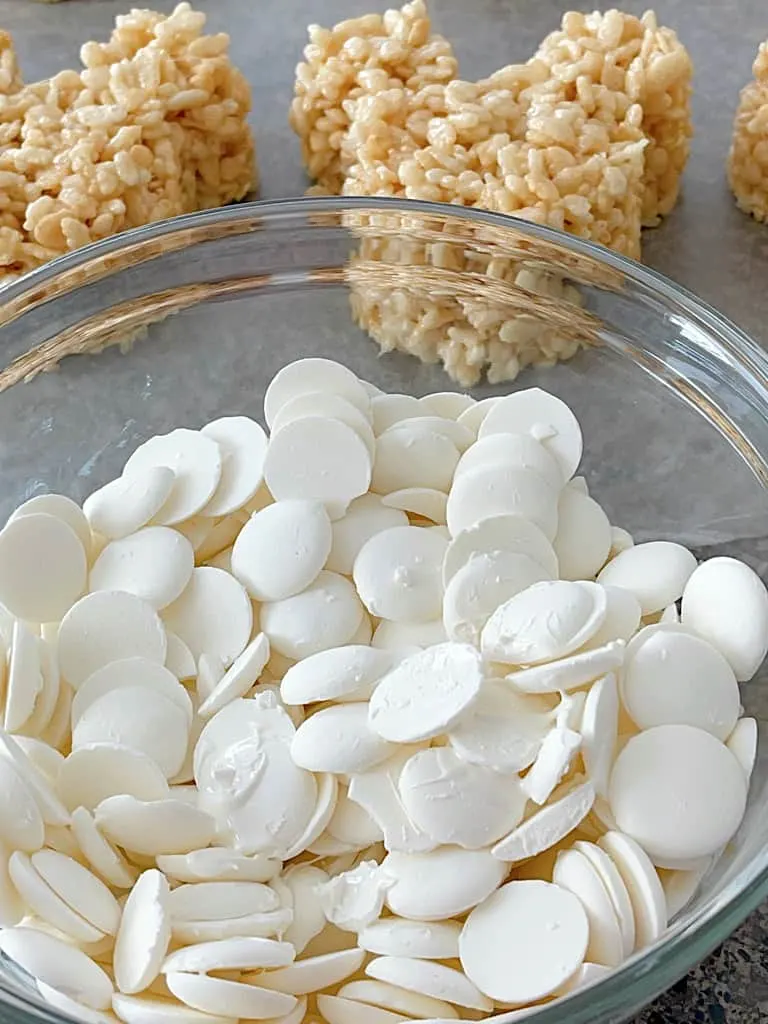 Step 6: When the white candy is melted, dip the front of each Mickey treat in the candy to completely cover the front. Place the treat back on the wax paper.
Step 7: After you have dipped the Rice Krispie Treats, cut each jumbo marshmallow in half.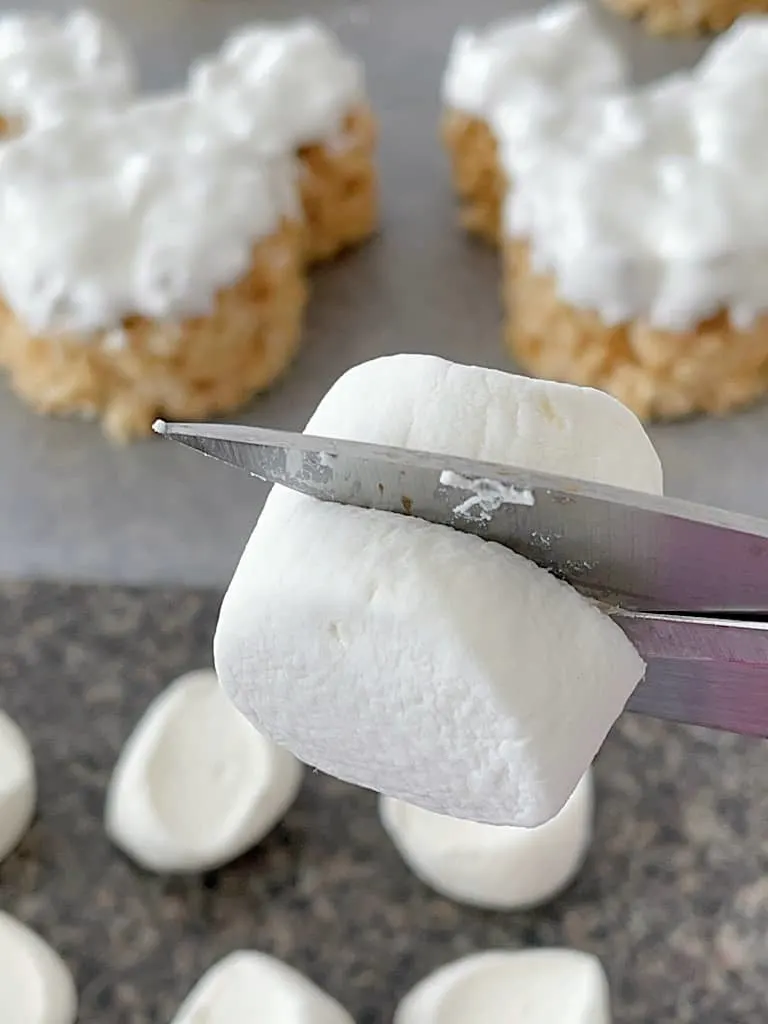 Step 8: Use a fork to dip the outside of the marshmallow half in the white candy melt, then roll it in coconut flakes.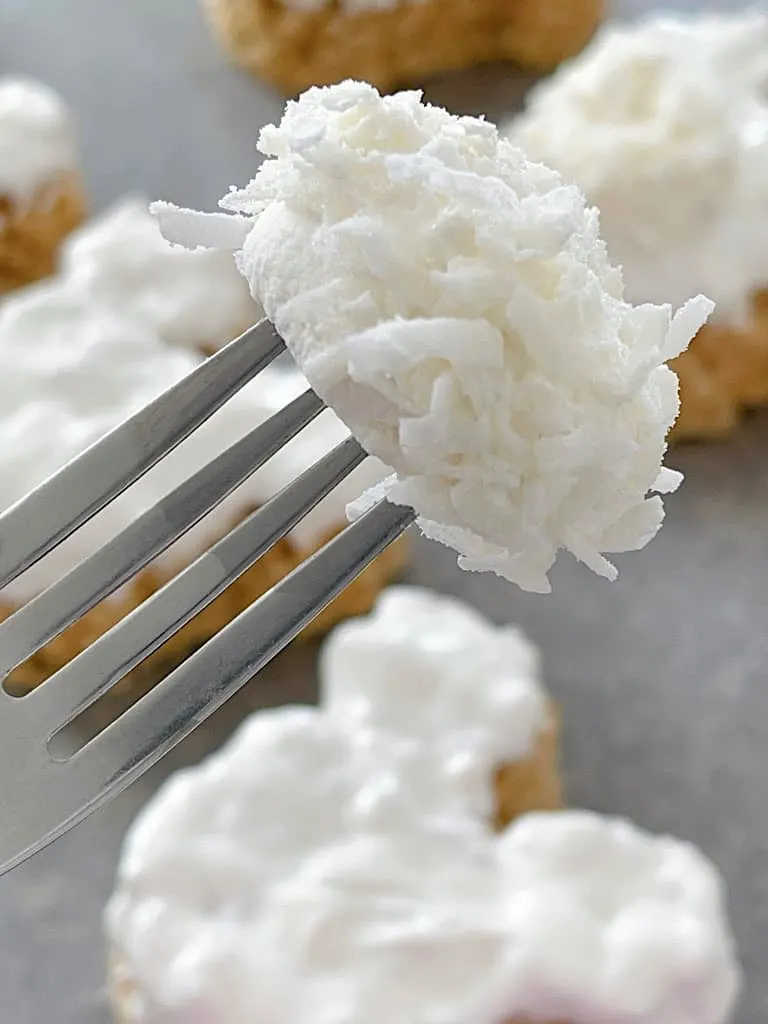 Step 9: Attach the marshmallow tail to the bunny treat (the white layer on the treat should still be wet).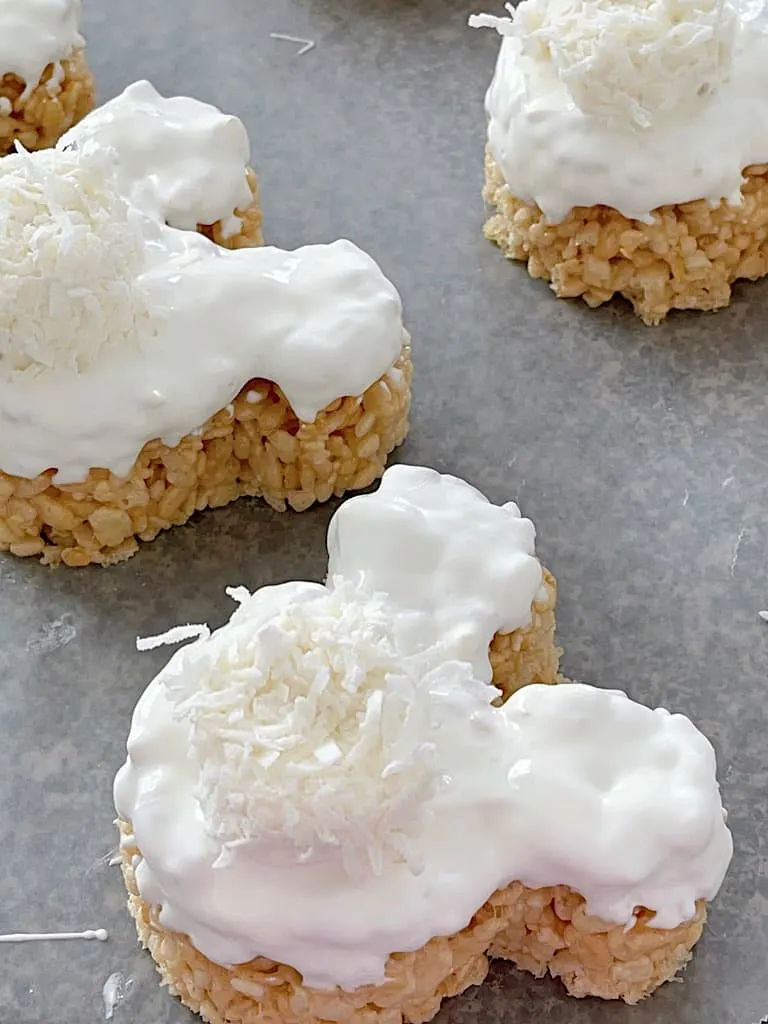 Step 10: Add the remaining melted white candy to a piping bag, and pipe a white circle around each of Mickey's ears to create the outline of the bunny's paw.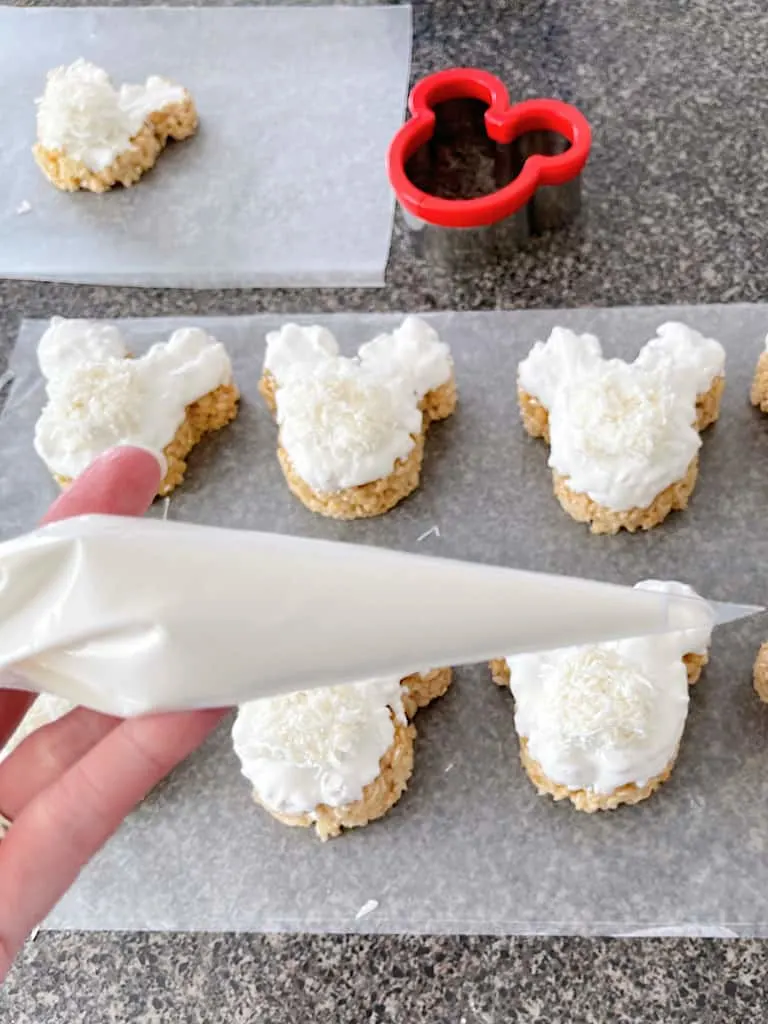 Step 11: Melt the pink candy melts according to the package directions. Add the melted candy to a piping bag and pipe on the rest of the bunny paw.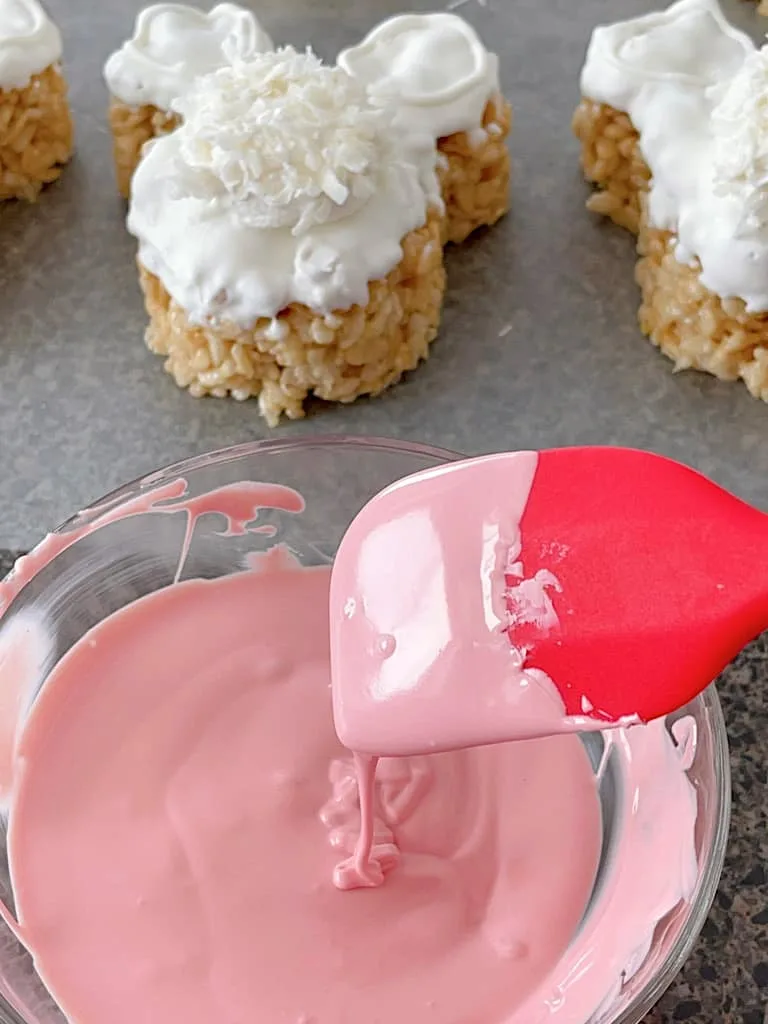 Step 12: Allow the candy melts to harden, then you can serve to your friends and family! Store them in an airtight container for up to two days.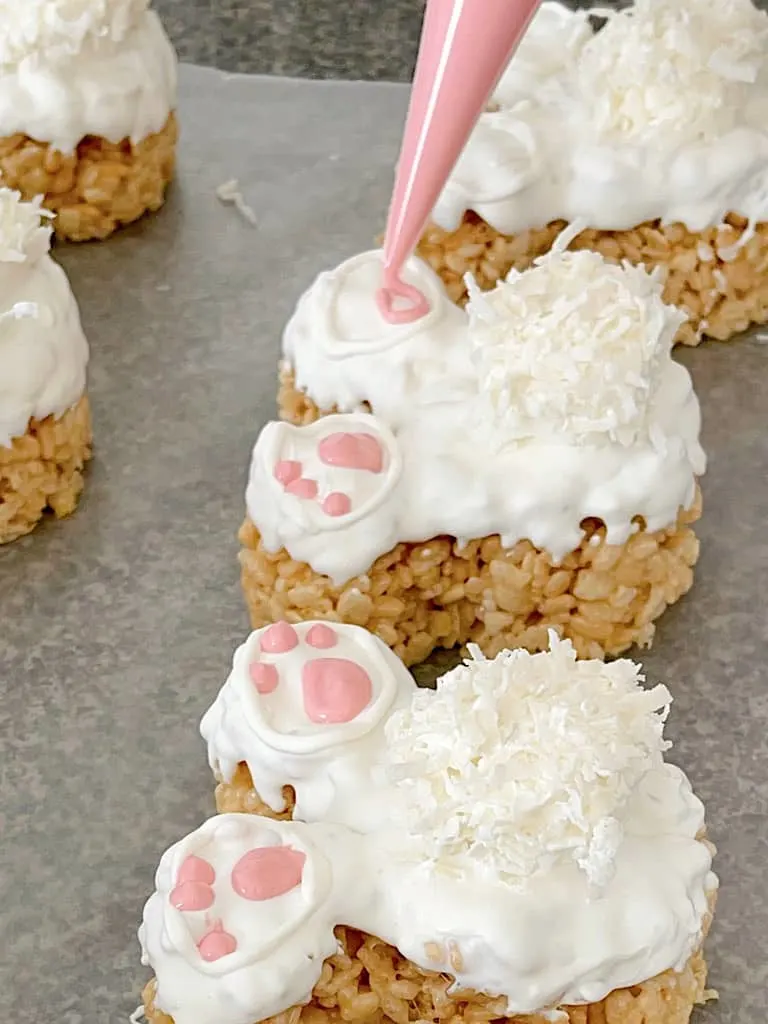 Helpful Kitchen Tools
How to Store Rice Krispie Treats
Rice Krispie Treats should be stored in an airtight container or covered with plastic wrap and kept at room temperature for 2-3 days. If you would like to store them longer, you can put them in the refrigerator or freezer.
Storing Rice Krispie Treats in the fridge will make them last for about a week while storing them in the freezer will make them last for up to two months. Make sure that the container is sealed tightly to help prevent the treats from getting stale.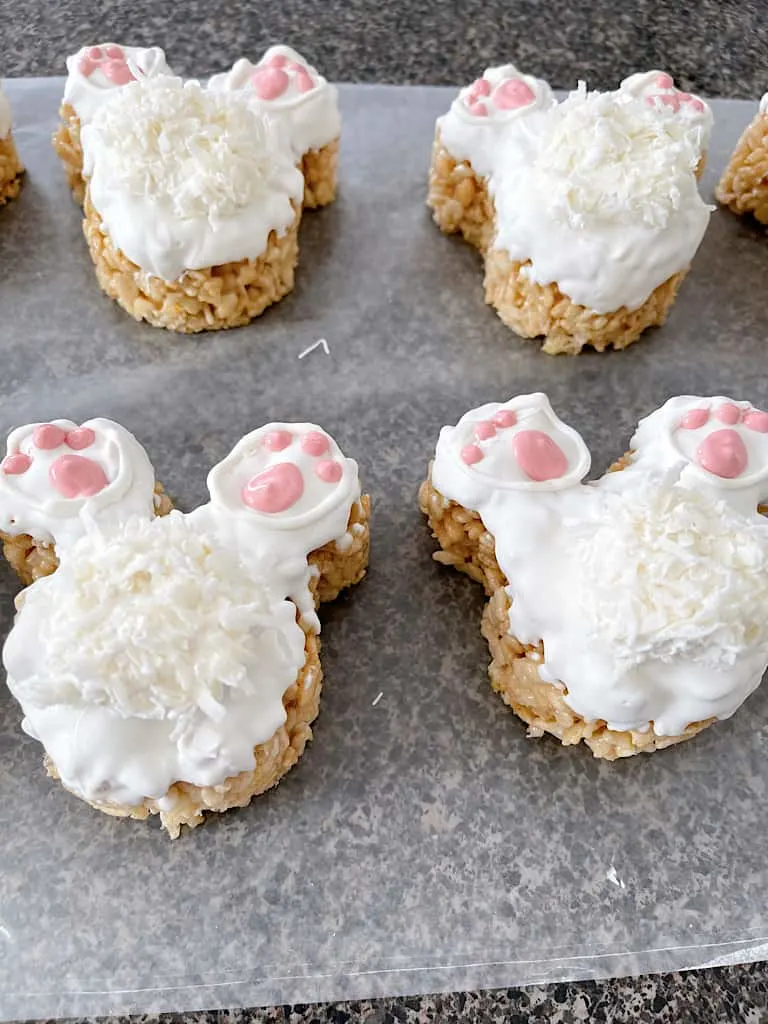 Rice Krispie Easter Treats Tips & Tricks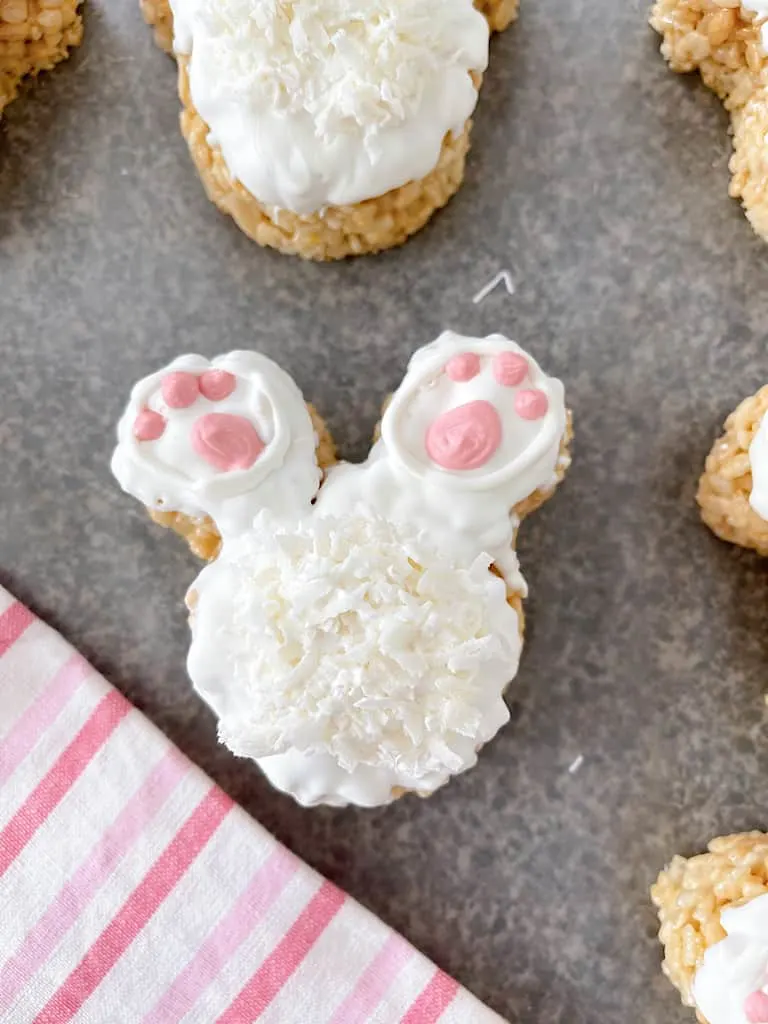 Frequently Asked Questions
How far in advance can I make rice crispy treats for a party?
You can make this easy Easter dessert up to two days in advance. Be sure to store them in an airtight container and keep them in a cool, dry place until you're ready to serve them.
Is it possible to substitute the candy melts for something else?
Yes, you can use white chocolate chips or almond bark instead of candy melts. However, keep in mind that the texture and flavor will be slightly different than using candy melts.
Can I use a different type of cereal instead of Rice Krispies?
Yes, you can definitely use other types of cereal like Cheerios or Corn Flakes for this recipe. The key is to make sure that you mix the cereal with the marshmallow mixture until it is completely combined.
Can I freeze these Easter Rice Krispy Treats?
Yes, you can place them in a freezer-safe container or bag and store for up to 3 months. To thaw, leave at room temperature for 1 hour before serving. Enjoy!
What can I use instead of marshmallows in Rice Krispie treats?
Marshmallow cream can be substituted for mini marshmallows. You can also use Easter-themed Marshmallow Peeps for a fun twist.
Final Thoughts
Making Easter Rice Krispie Treats is a fun and easy dessert to help you celebrate the holiday with friends and family. With just a few simple ingredients and some kitchen tools, you can whip up these sweet treats in no time! Have fun decorating your treats with candy melts, coconut flakes, or sprinkles for an extra special touch. Enjoy!
More Rice Krispies Treats Recipes: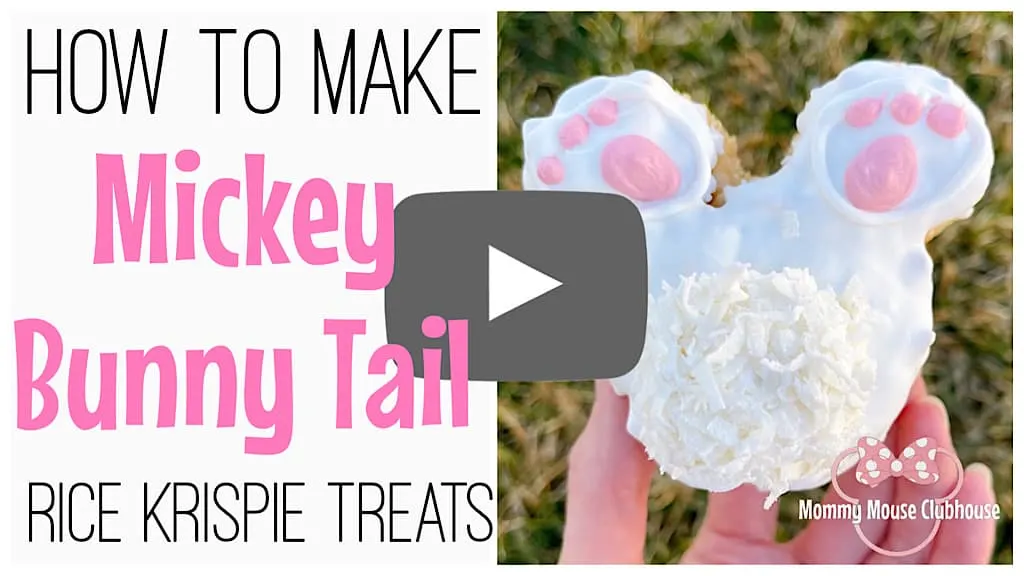 Pin for Later: