This is one of the cutest Easter treats ever! Especially if you are a Disney fan like me. Find out how to use a Mickey Mouse cookie cutter to make these cute Bunny Tail Rice Krispie Treats that are a copycat of the treats that are found at Disneyland!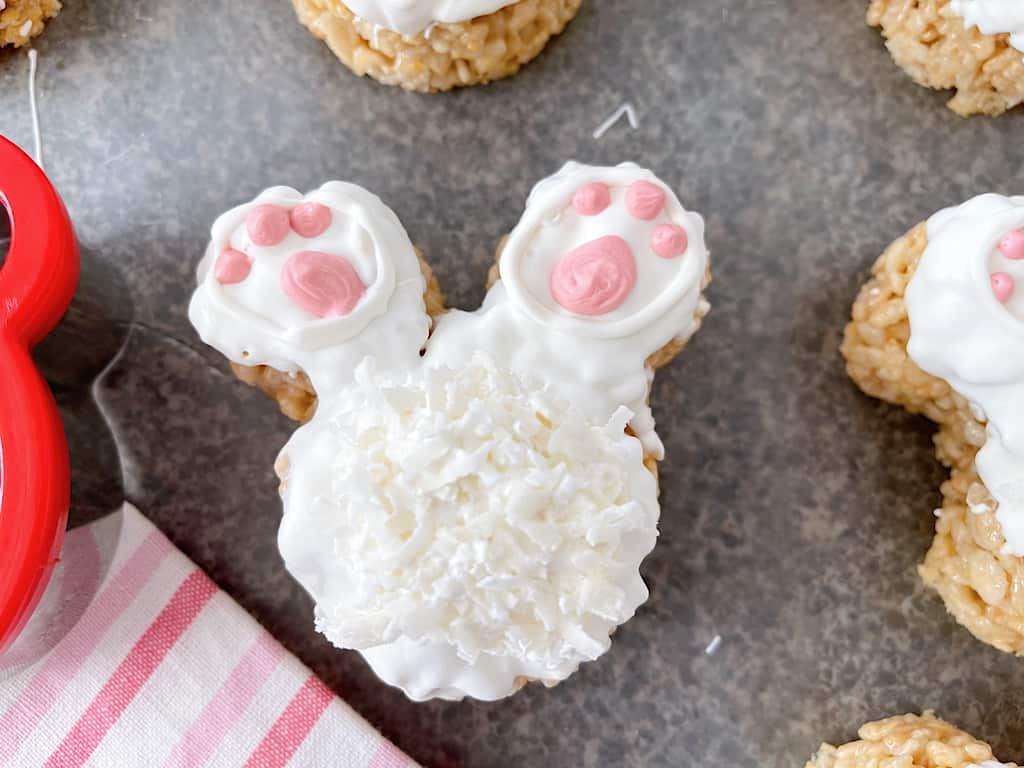 This post may contain affiliate links. When you click on these links, I get a small percentage back at no cost to you! For more information see my disclosure policy.
I am a big fan of re-creating fun Disney treats at home. Especially when I can't get to the parks as much as I would like.
So when I saw these Mickey Bunny Tail Rice Krispie Treats from Disneyland all over Instagram, I knew I had to make them at home.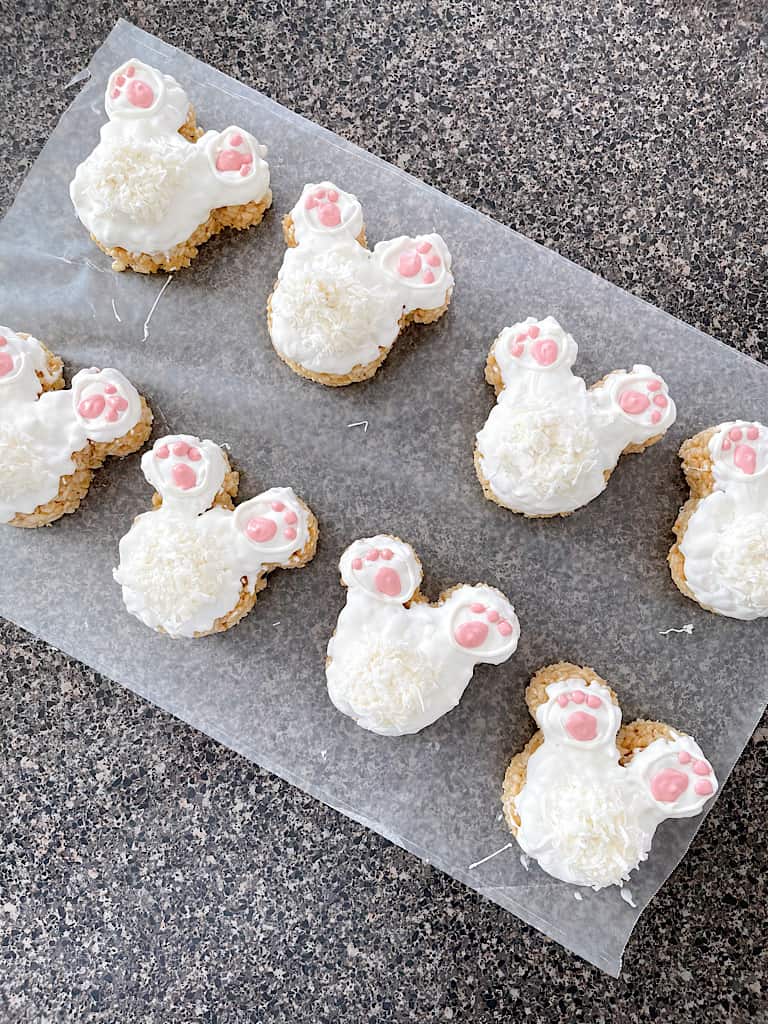 These treats are available at Marceline's Confectionery at Downtown Disney at Disneyland. Unfortunately, I haven't been able to travel to California, so off to the store I went!
Check our the recipe for Mickey & Minnie Gingerbread Rice Krispie Treats!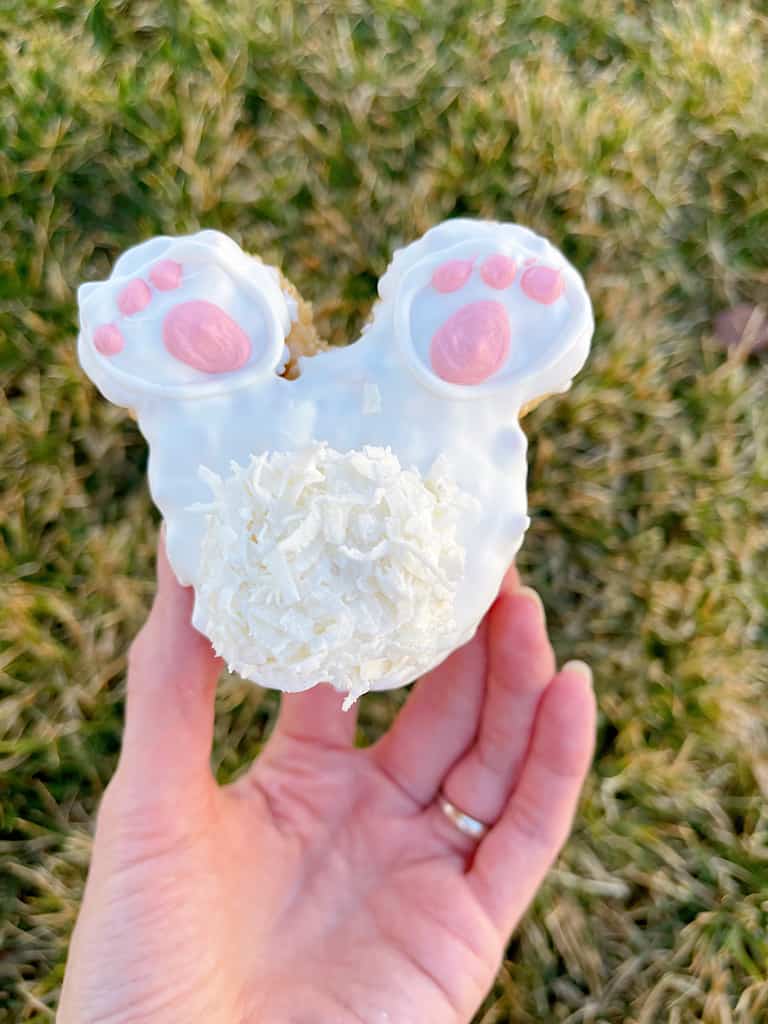 Ingredients for Mickey Bunny Tail Rice Krispie Treats
I have used my favorite Rice Krispie Treats Recipe to create these bunny tails. You might have many of these items already in your, but if not, these items are more than likely available at your favorite grocery store, Walmart, Michael's, or Amazon.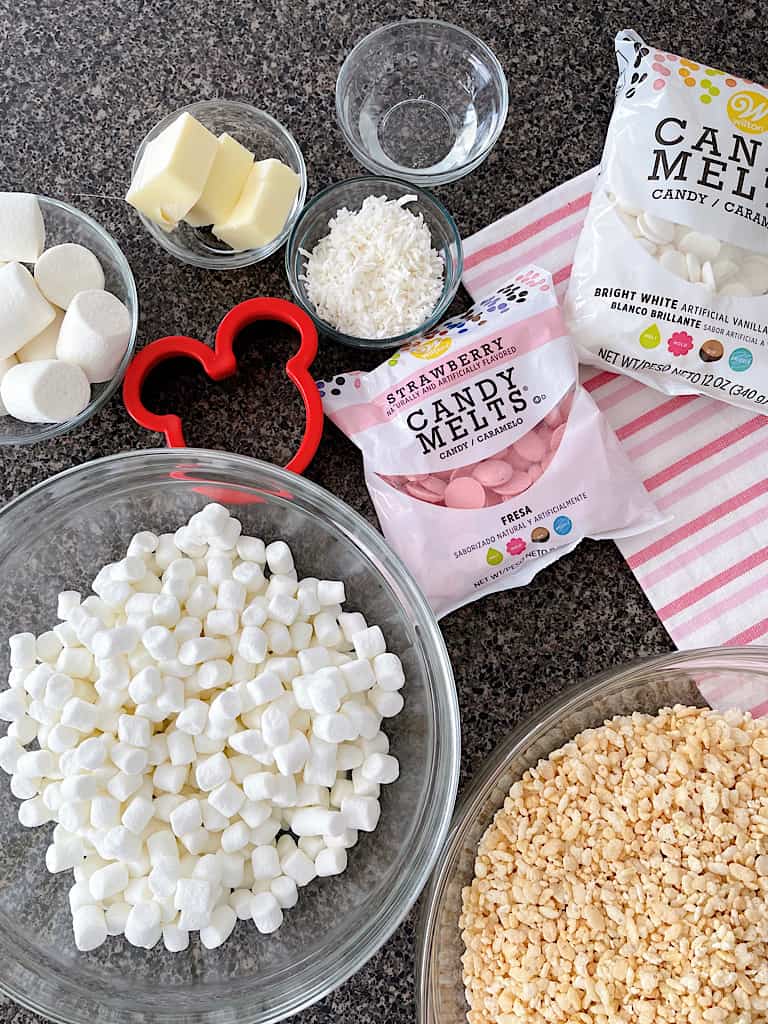 Butter-For this recipe, salted or unsalted butter can be used. It is your preference. I like to use salted butter in baked goods and sweets because the salt tends to bring out the sweet flavor.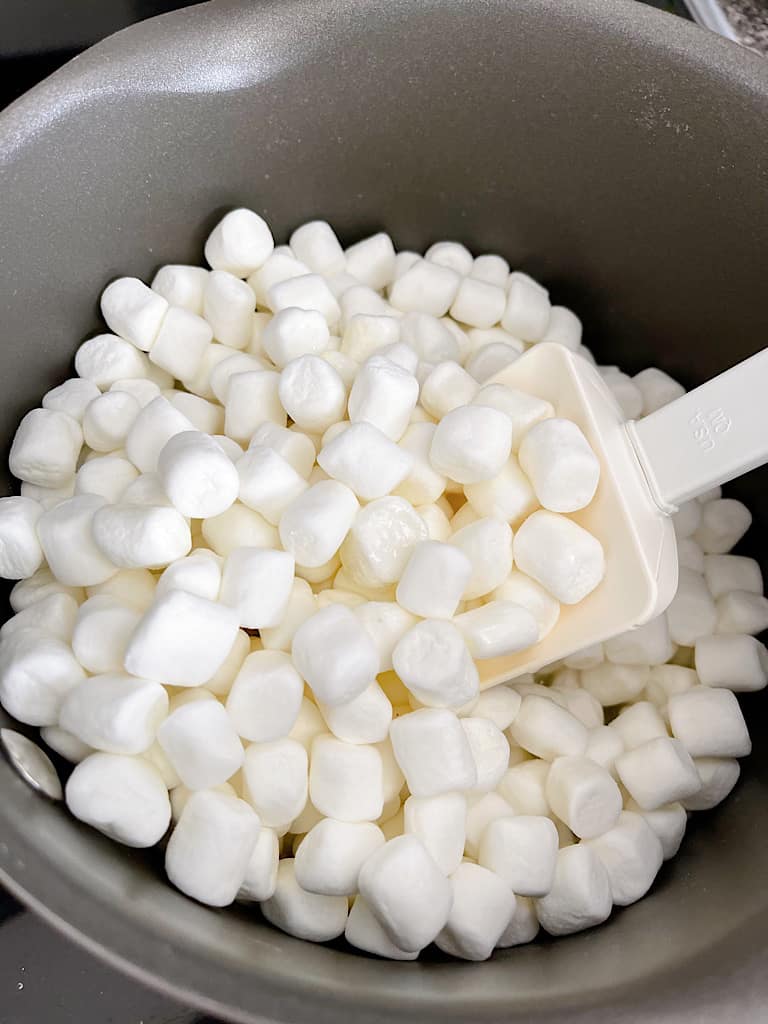 Mini Marshmallows-I have found that mini marshmallows work best when making Rice Krispie Treats. They tend to melt quickly and with fewer lumps. My favorite brand is Kraft Jet Puffed Marshmallows. However, you can use larger marshmallows or marshmallow creme as well.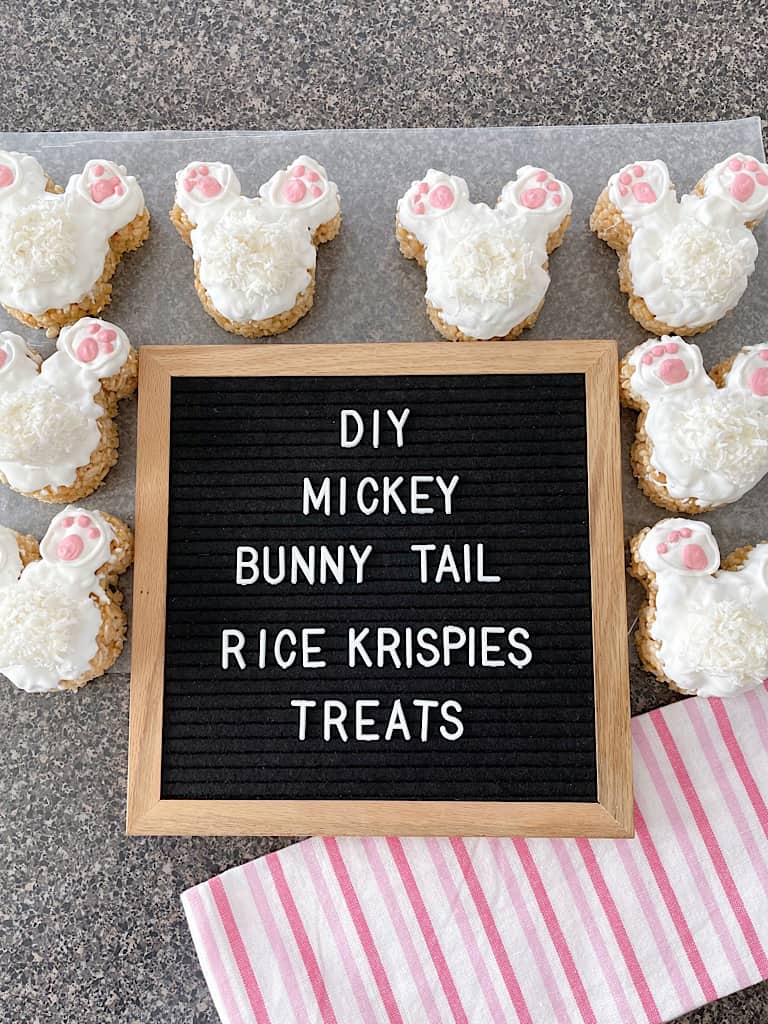 Vanilla Extract-Vanilla Extract really enhances the flavor of these Mickey Bunny Tail Rice Krispie Treats. You can use imitation vanilla extract, but you will definitely see a difference when using pure vanilla. You can get a pretty good deal on it at Costco.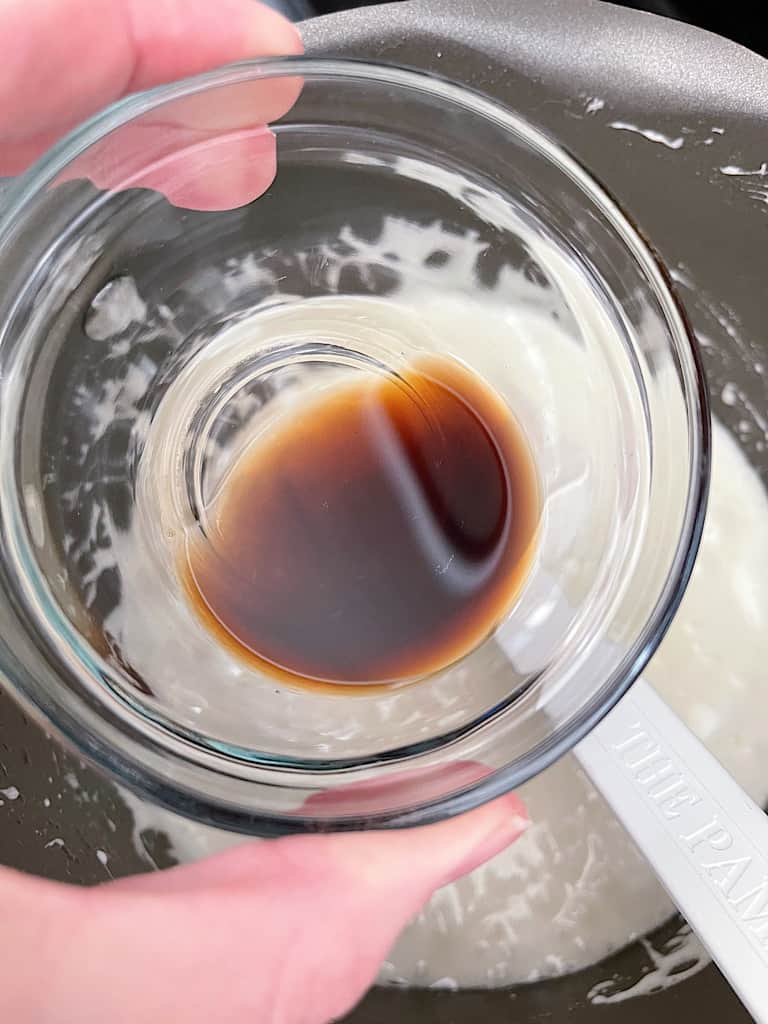 Rice Krispies Cereal-For the cereal, you can use name brand Rice Krispies or you can use your favorite store brand. I haven't noticed a difference between the two.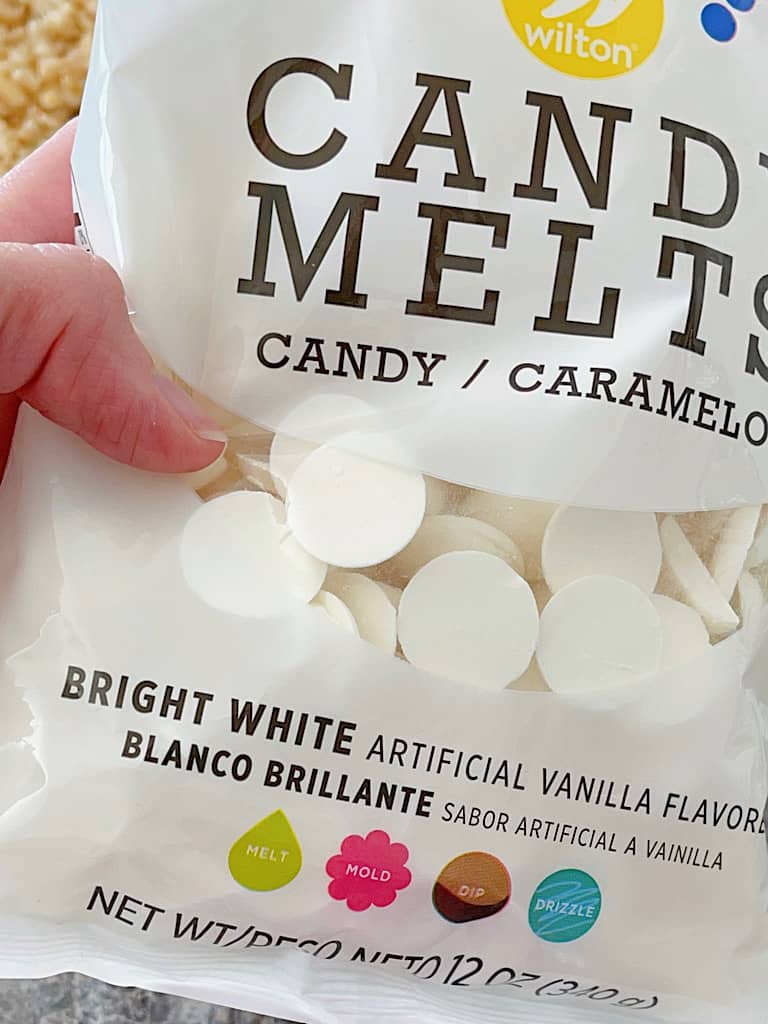 White Candy Melts-To get the Bunny Tail treats to look just like Disneyland's I used Wilton Candy Melts in Bright White. You will be dipping one side of the Mickey Rice Krispie Treat in white candy melts to create the base of the bunny. You will also dip the jumbo marshmallows in order to get the coconut flakes to stick.
Pink Candy Melts-These pink candy melts will be used for the bunny paws. In this recipe I used Wilton Pink Candy Melts. The bag I purchased happened to be strawberry flavored, but they are generally vanilla flavored. Either flavor will work.
Jumbo Marshmallows-You will use jumbo marshmallows to make the bunny tails on the Rice Krispie Treats.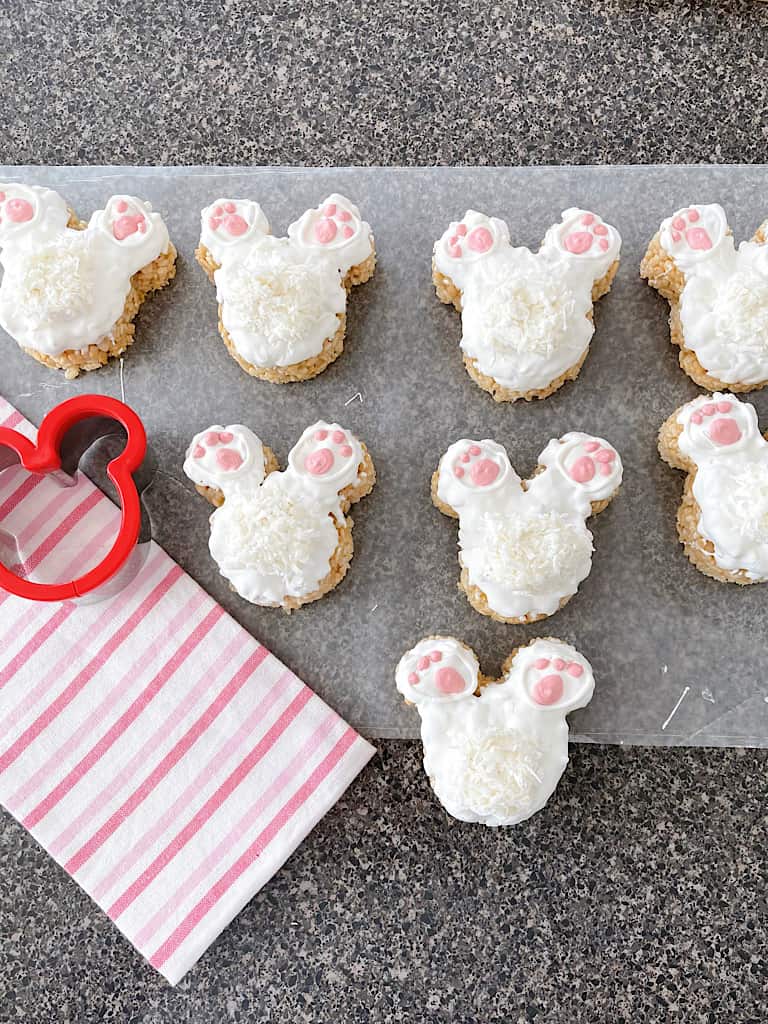 Coconut Flakes-Sweetened coconut flakes will be used to help create the tail of the bunny. You can find them at your local grocery store.
How to Make Mickey Bunny Tail Rice Krispie Treats
Begin by preparing the Rice Krispie Treats. I used my favorite Rice Krispie Treats recipe here, because it uses extra butter and vanilla and is so delicious!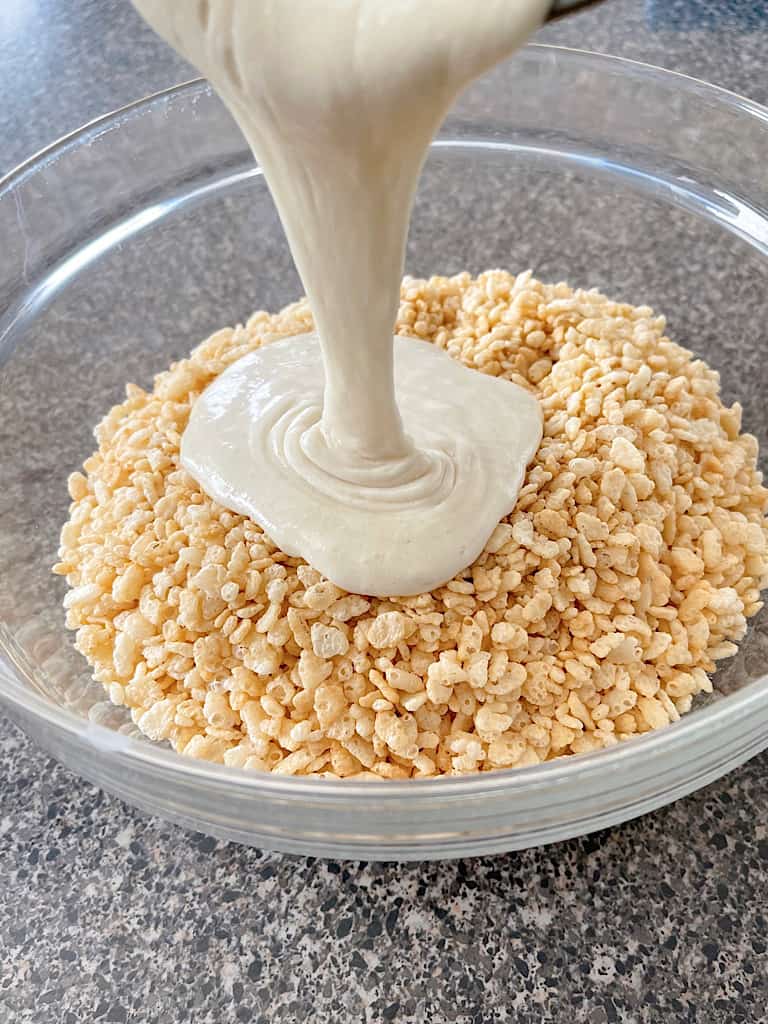 Step 1: Prepare the Rice Krispie Treats by melting the butter over low heat. Once melted, stir in the marshmallows until the mixture is smooth. Remove from the heat and stir in the vanilla extract.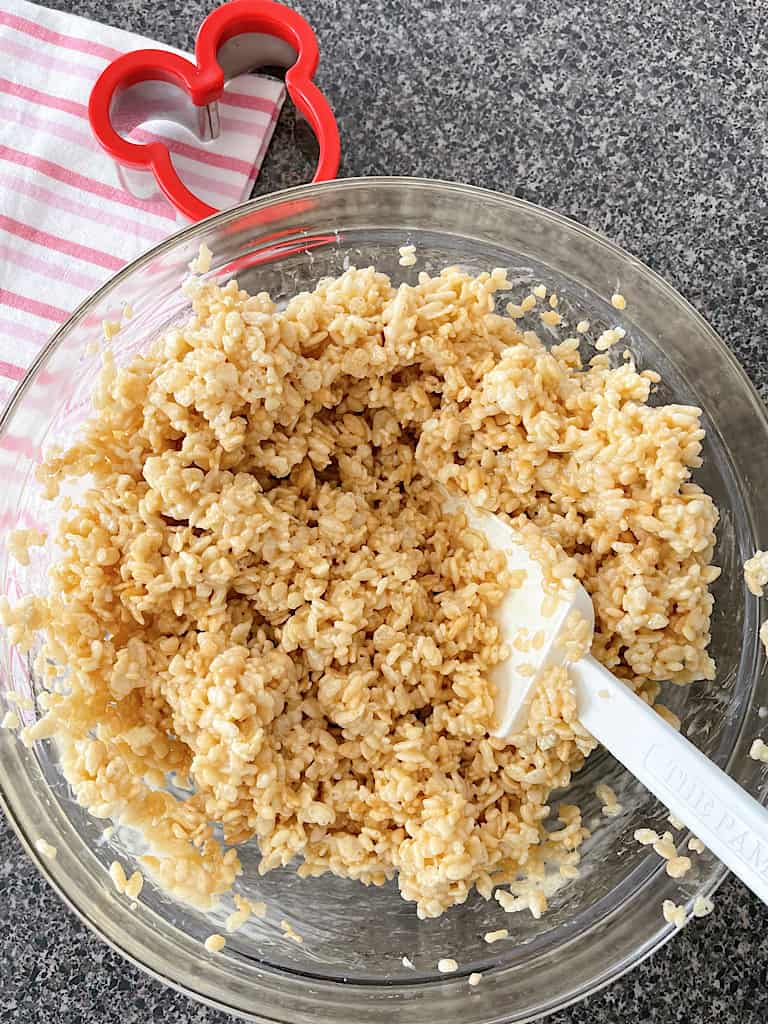 Step 2: In a large bowl, pour the marshmallow mixture over the Rice Krispies and mix until completely combined.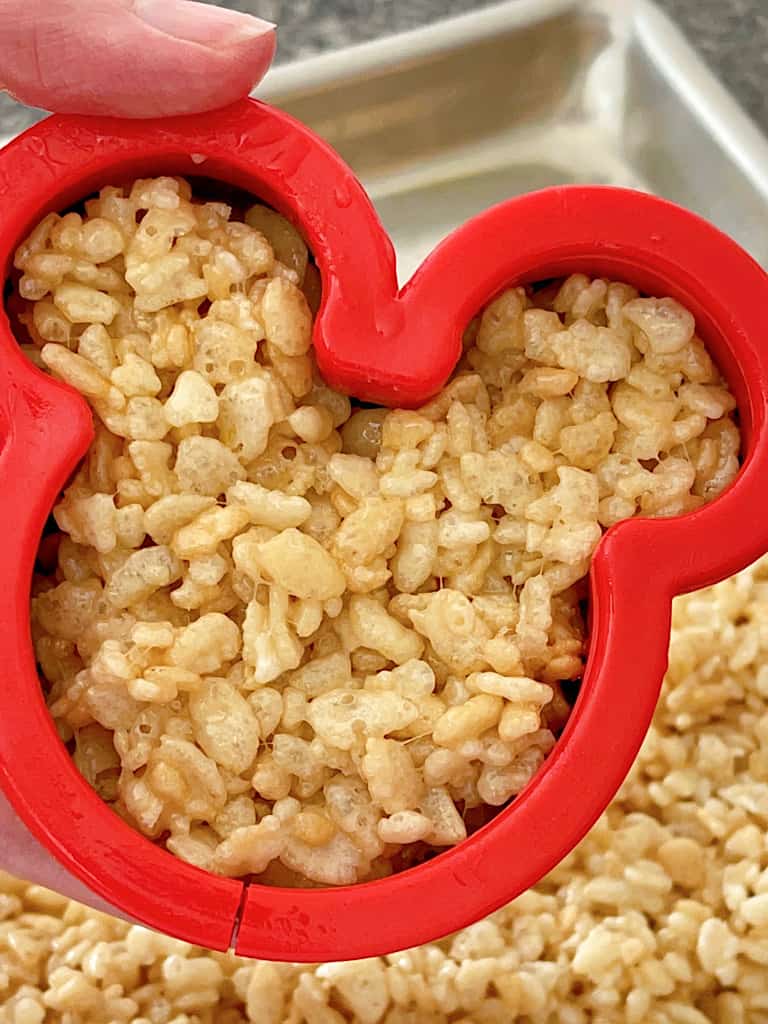 Step 3: Grease a baking sheet and flatten the Rice Krispie mix. Use a Mickey Mouse cookie cutter to shape the treats. Use your hands to add more of the cereal mixture to the mold, if needed. (Watch the video down below to see how to do this).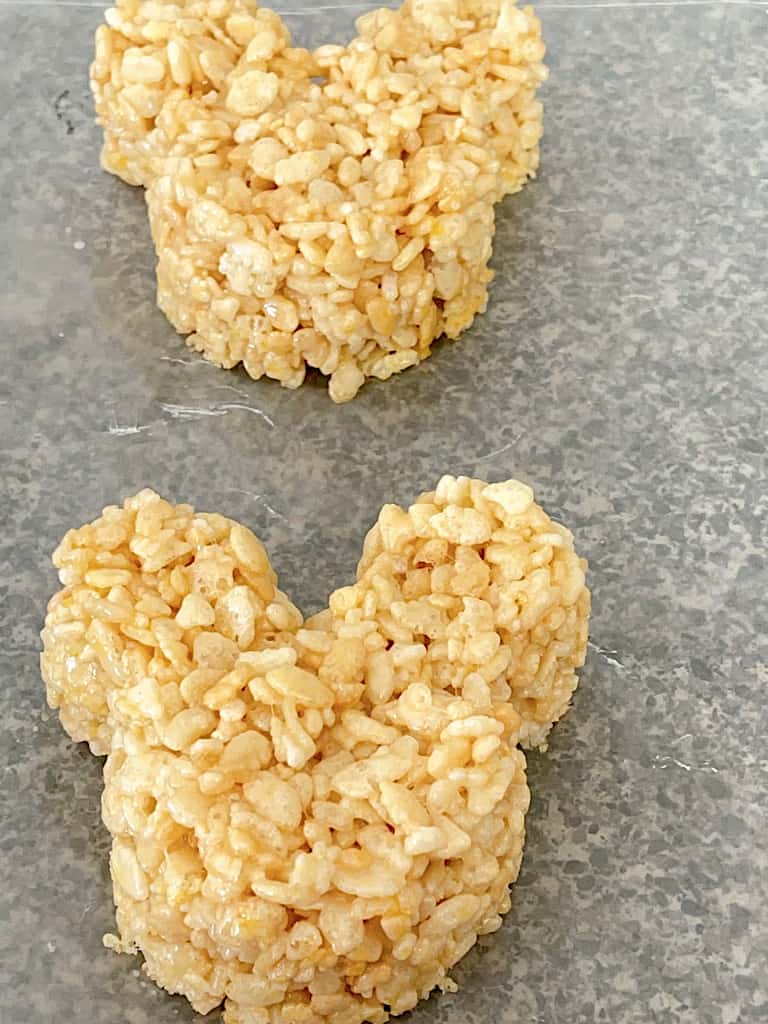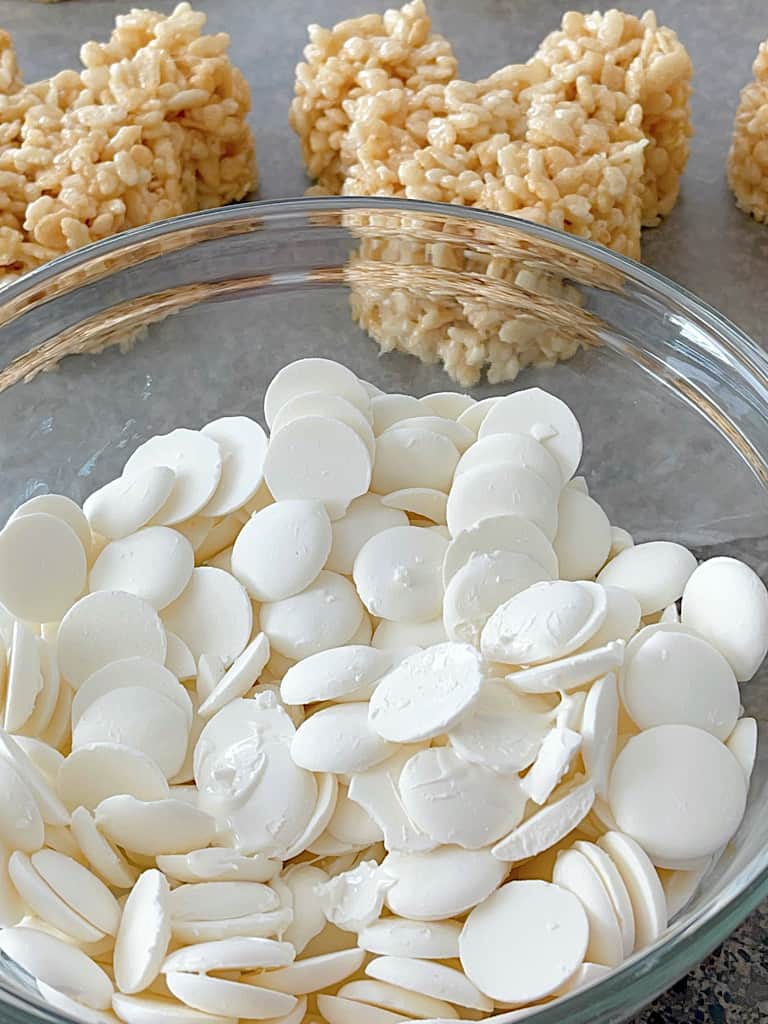 Step 5: While the treats are cooling, begin melting the white candy melts. Follow the package directions for your microwaves wattage.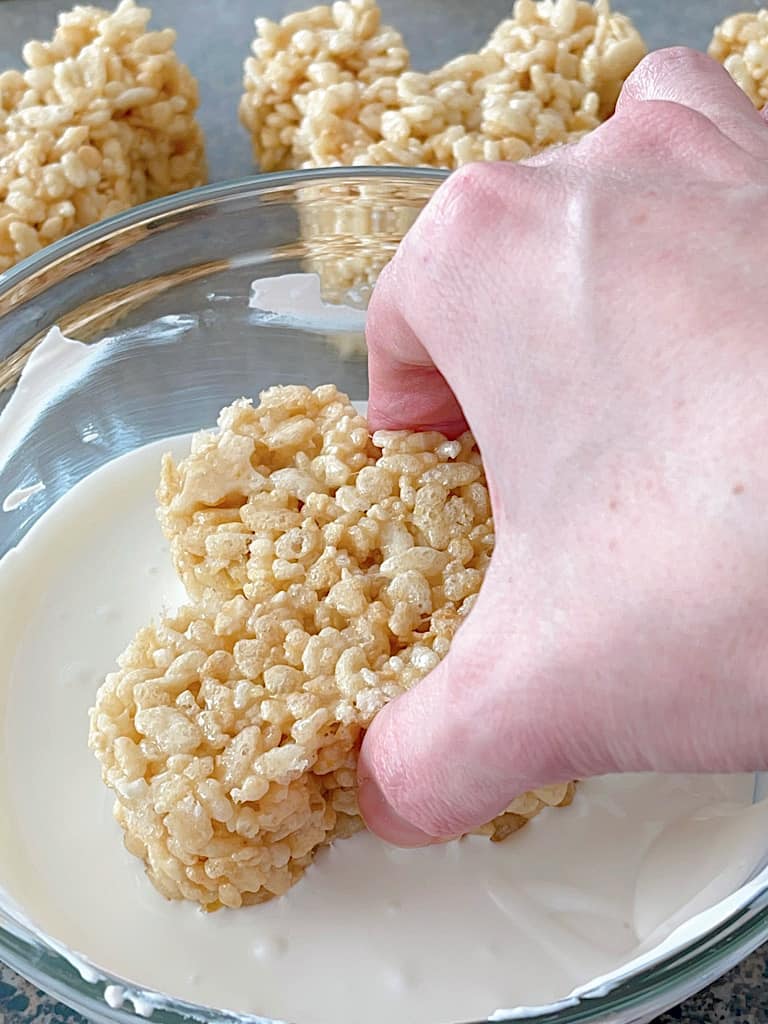 Step 6: When the white candy is melted, dip the front of each Mickey treat in the candy to completely cover the front. Place the treat back on the wax paper.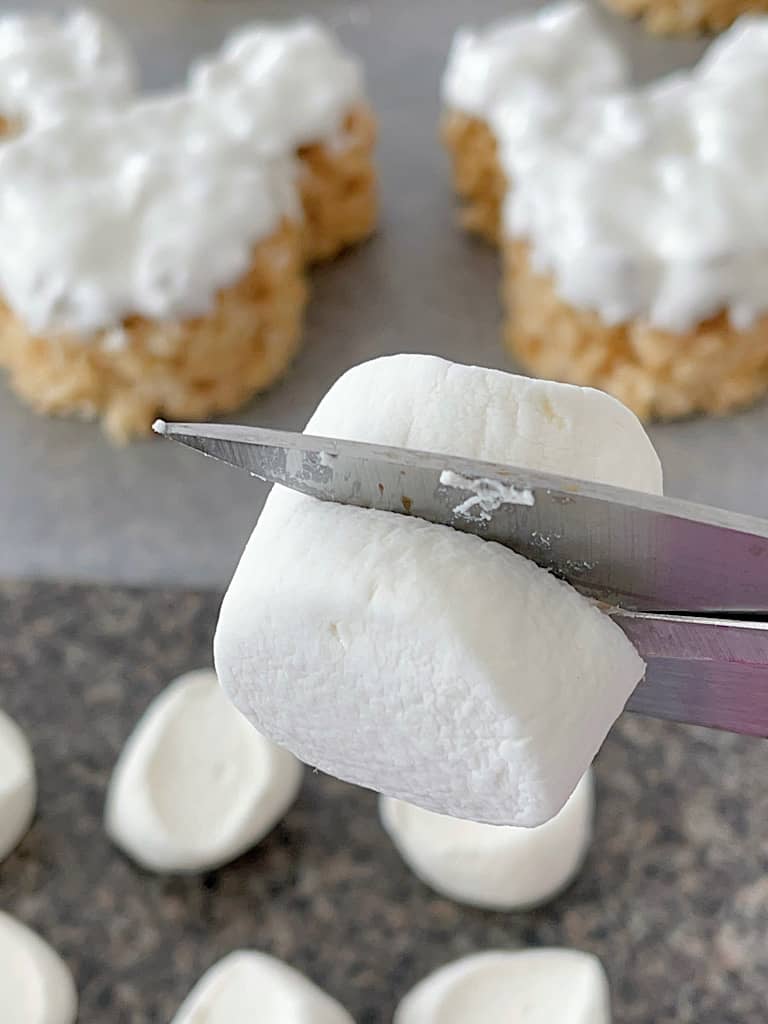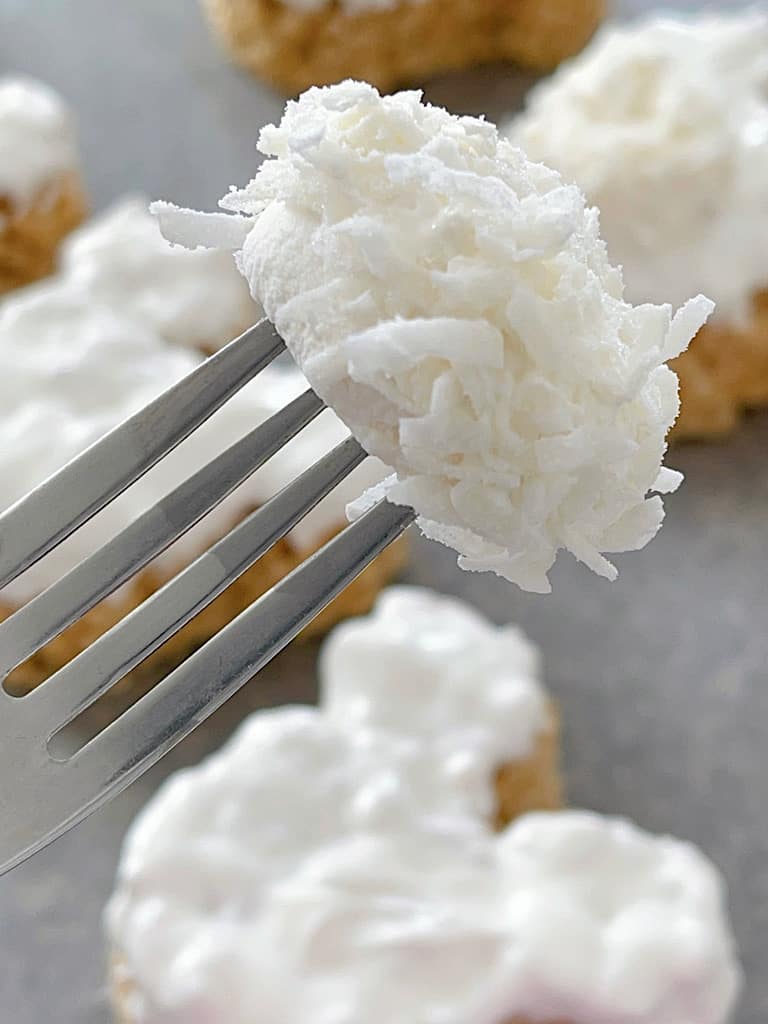 Step 8: Use a fork to dip the outside of the marshmallow half in the white candy melt, then roll it in coconut flakes.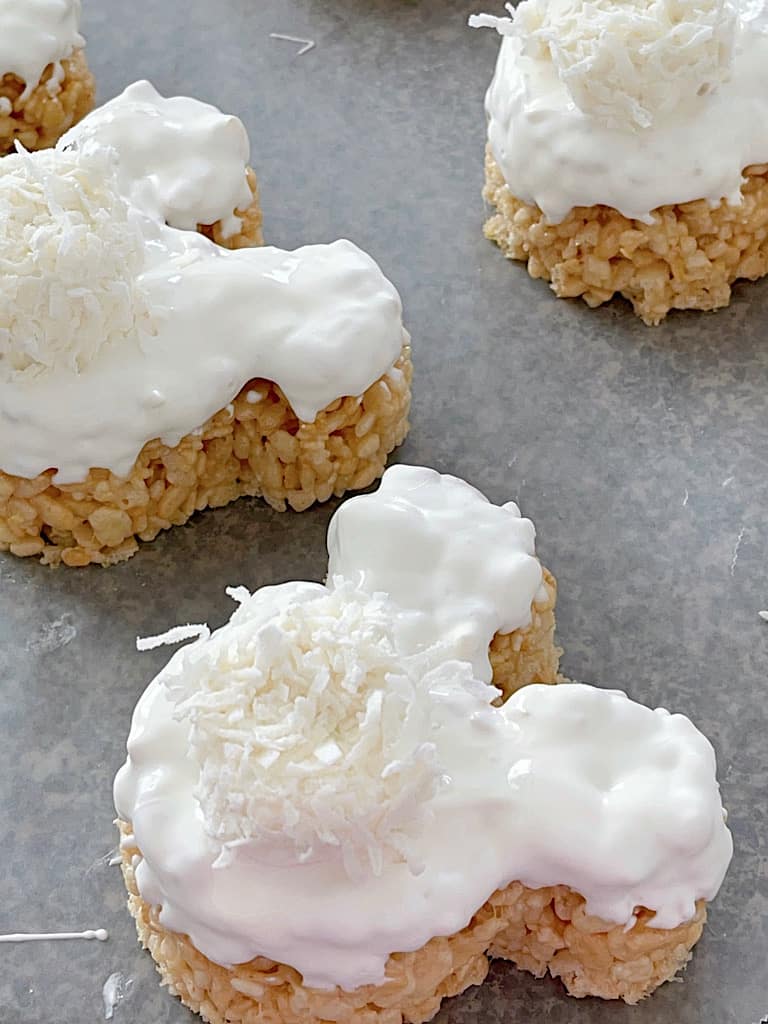 Step 9: Attach the marshmallow tail to the bunny treat (the white layer on the treat should still be wet).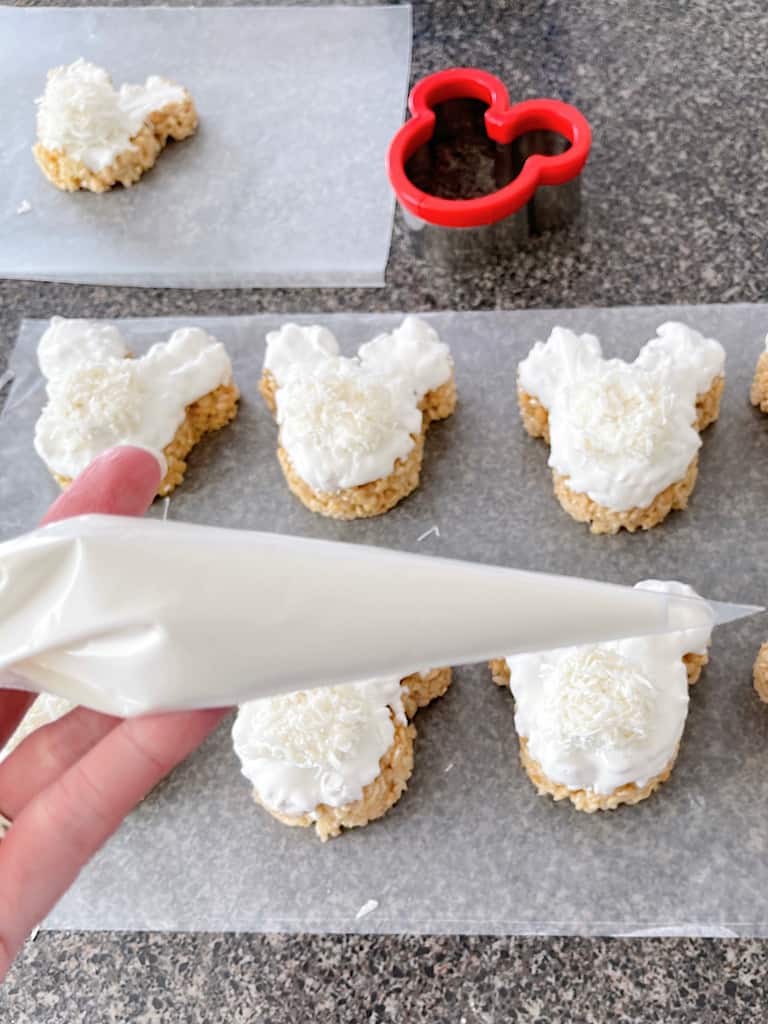 Step 10: Add the remaining melted white candy to a piping bag, and pipe a white circle around each of Mickey's ears to create the outline of the bunny's paw.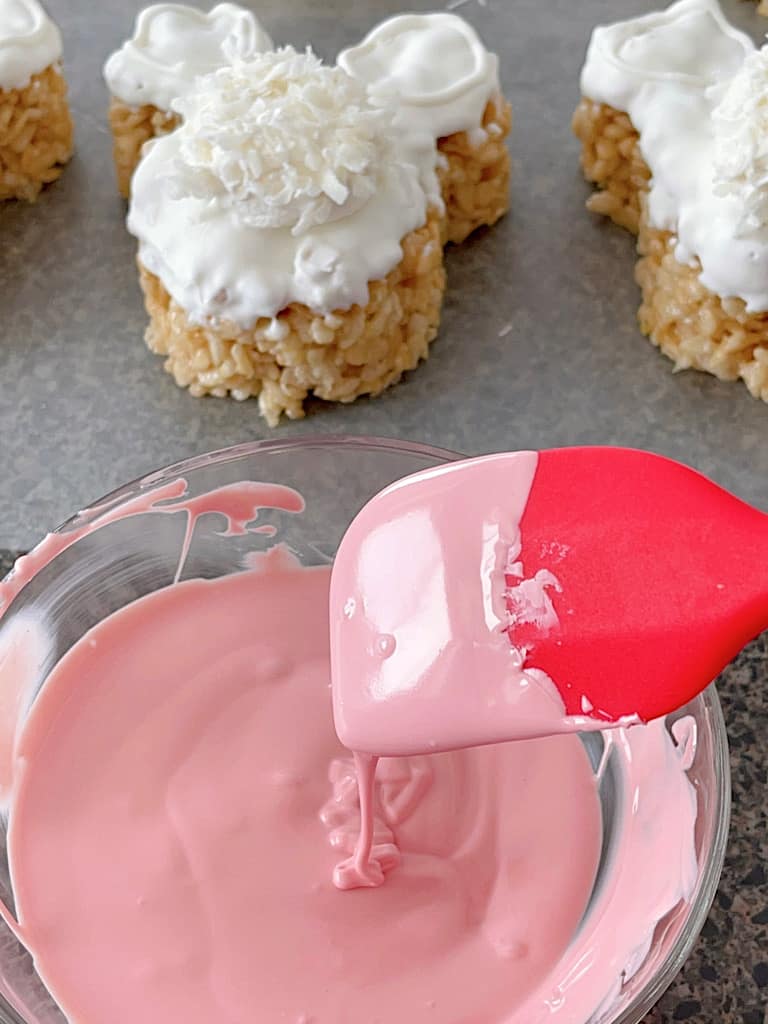 Step 11: Melt the pink candy melts according to the package directions. Add the melted candy to a piping bag and pipe on the rest of the bunny paw.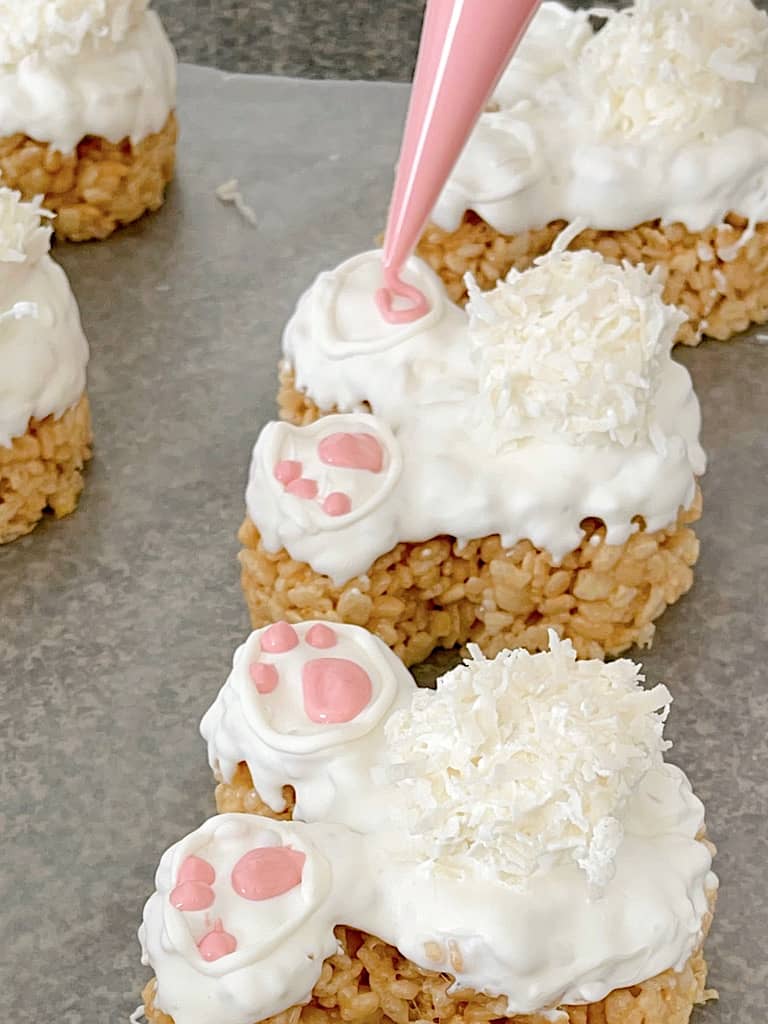 Step 12: Allow the candy melts to harden, then you can serve to your friends and family! Store them in an airtight container for up to two days.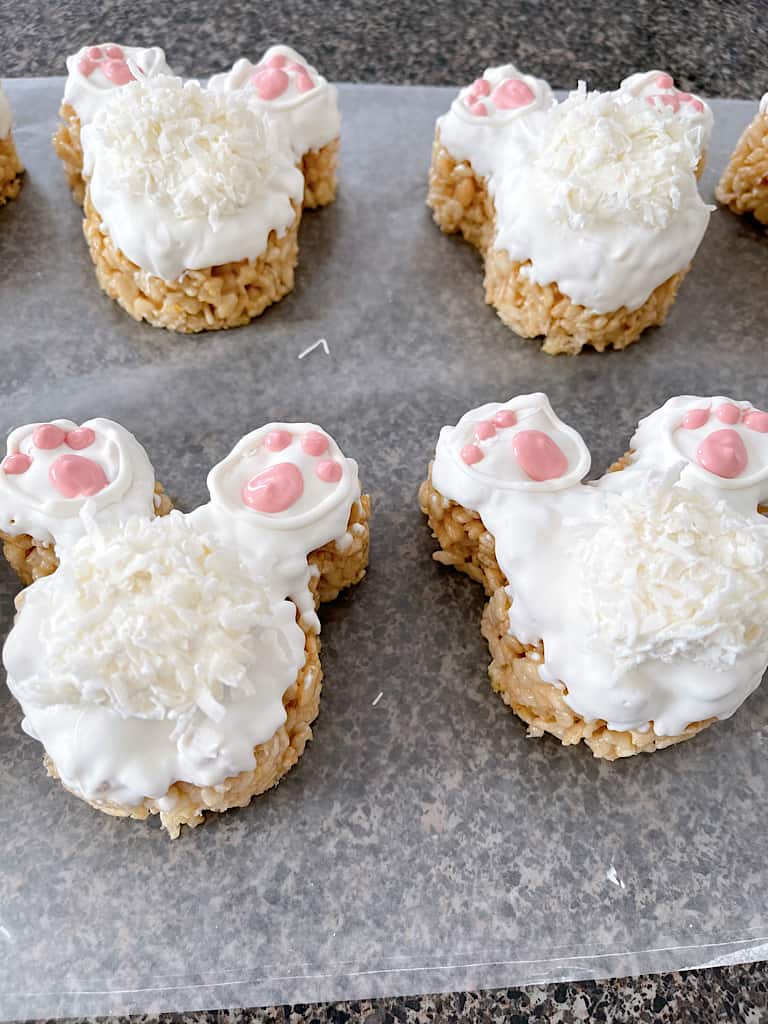 Helpful Kitchen Items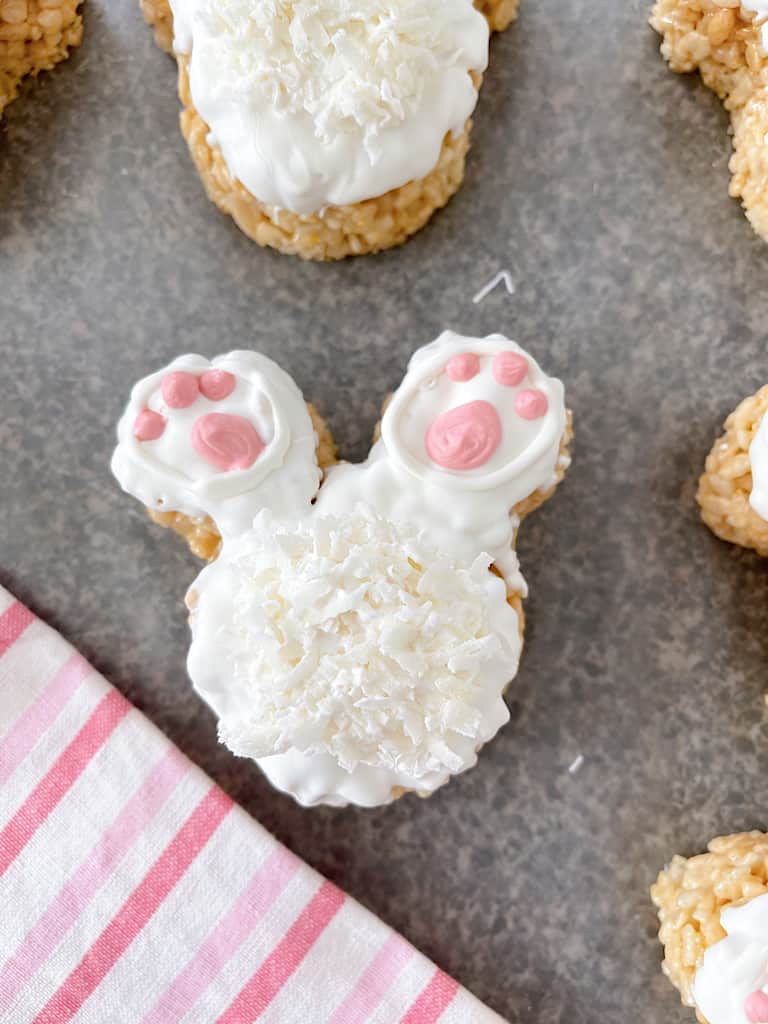 Other Easter Recipes: