Adorable Easter Nest Cupcakes made with SPLENDA®. Enjoy a delicious Easter treat with less sugar! This post is sponsored by SPLENDA® but all opinions are my own.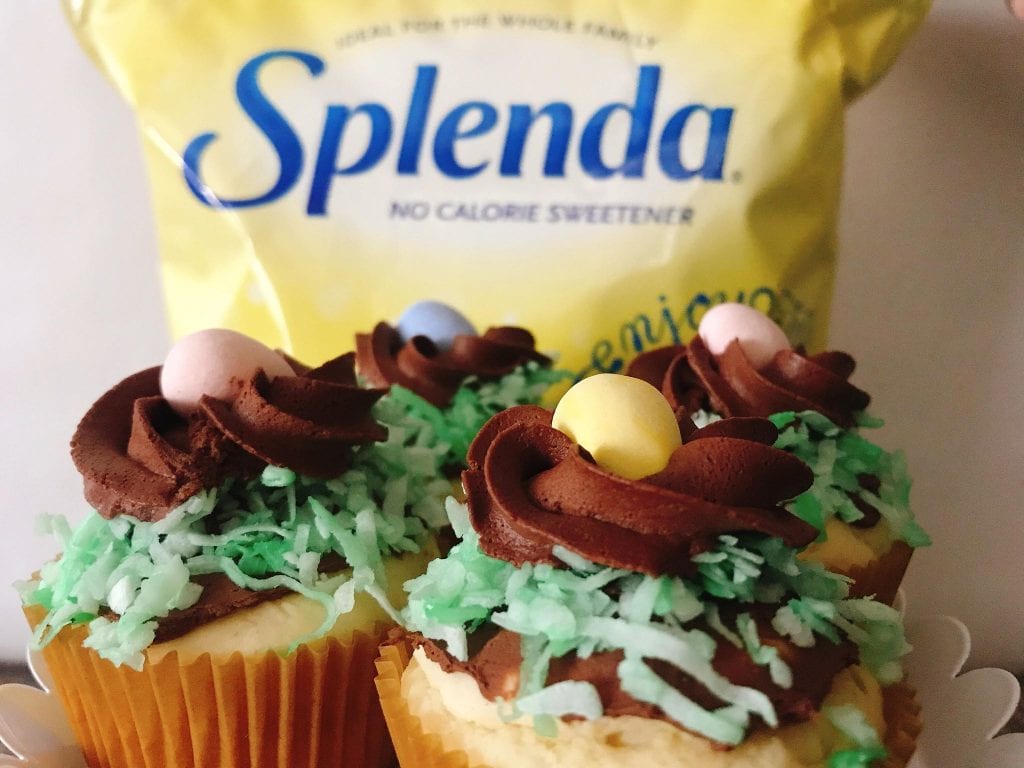 Easter is just around the corner and Spring is definitely in the air! I am so ready for tulips, birds singing, and yummy baked Easter treats!
That's why, with the help of SPLENDA®, I have created these easy and delicious Easter Nest Cupcakes that will become a favorite of the whole family!
For the cupcakes, I used this yellow cupcakes recipe. The cupcakes are made with real butter, buttermilk and SPLENDA® in place of sugar. They are very flavorful and dense, which make the perfect base for the Easter nest.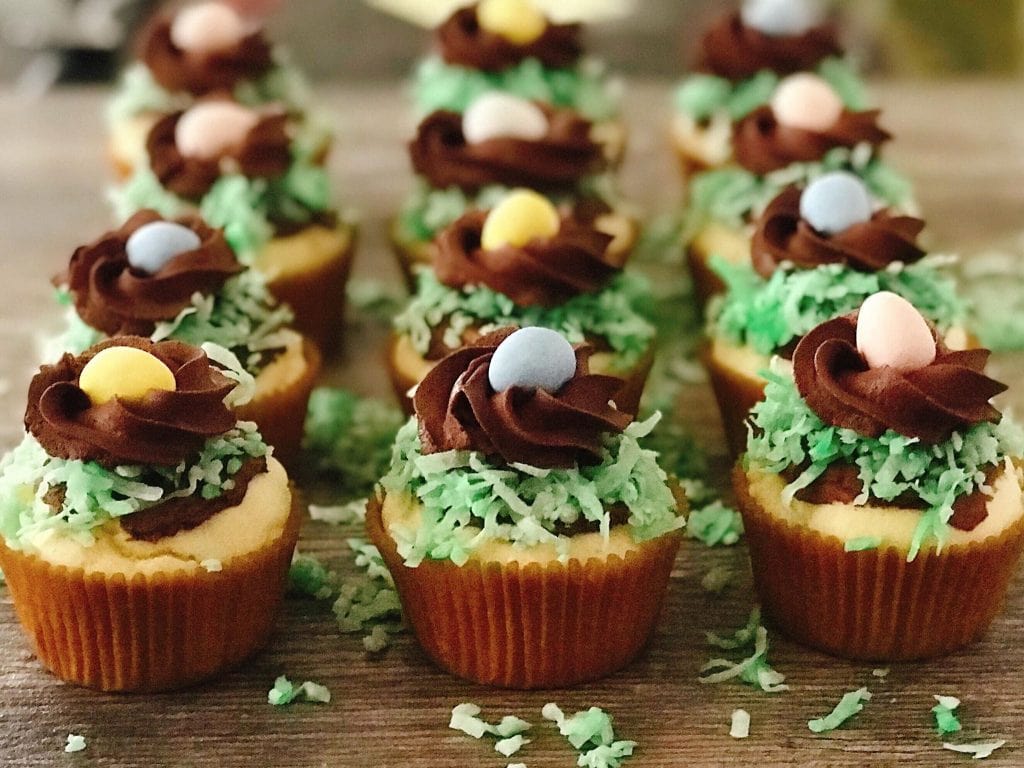 The great thing about using SPLENDA® in this recipe, is that it is a no calorie sweetener that can be used anywhere sugar is used.
This is great to help decrease the number of calories consumed when eating a yummy treat like these cupcakes! In fact, it has 678 fewer calories per cup than sugar!
How to Make Easter Nest Cupcakes
Cupcakes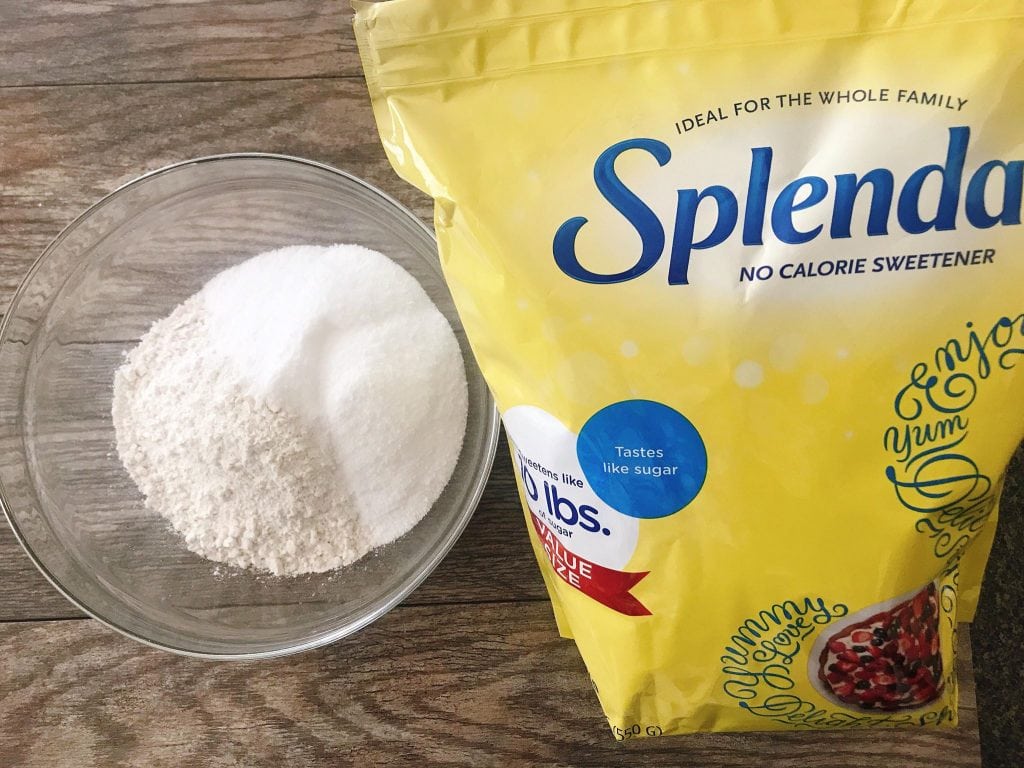 To Make Easter Nest Cupcakes, begin by gathering all of the ingredients needed to make the cupakes:
2 1/4 cups Cake Flour
3/4 Cup SPLENDA® No Calorie Sweetener, Granulated
1/4 Cup Sugar
3/4 Cup Softened Unsalted Butter
1/2 Cup Nonfat Dry Milk
2 Teaspoons Baking Powder
3/4 Teaspoon Baking Soda
1/4 Teaspoon Salt
3/4 Cup Buttermilk
3 Eggs
2 Teaspoons Vanilla Extract
1/2 Teaspoon Almond Extract
After all of the ingredients have been collected, head to the yellow cupcakes recipe and follow the directions given to prepare.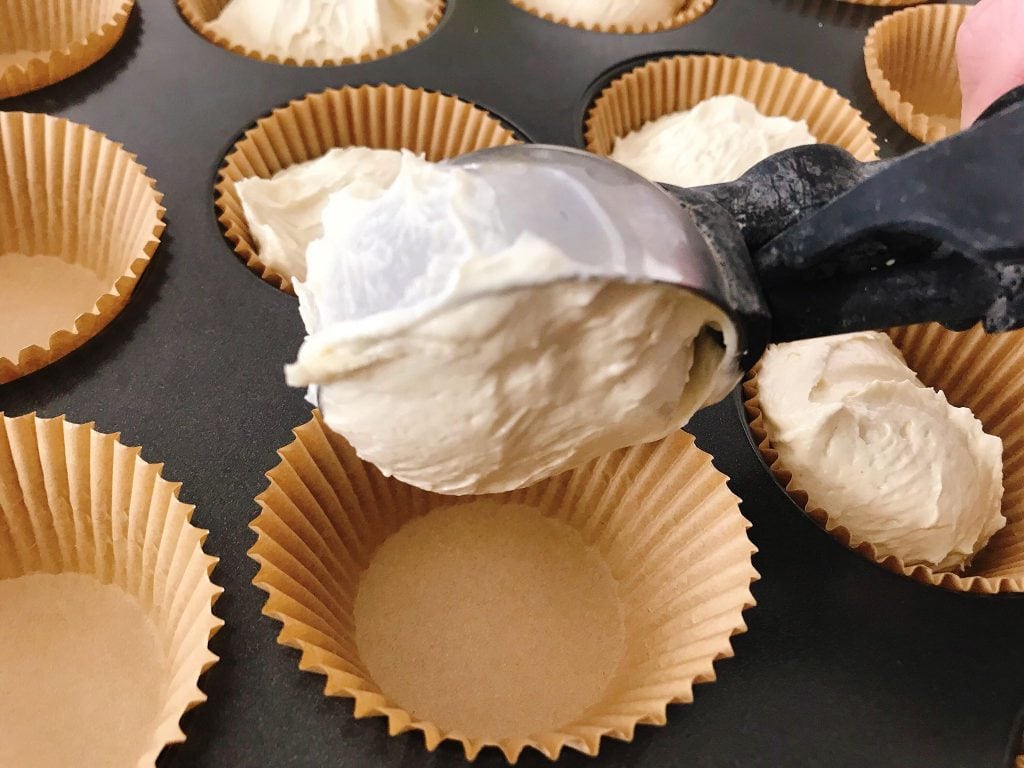 Chocolate Sour Cream Frosting
The tanginess of this Chocolate Sour Cream Frosting compliments the dense sweetness of the yellow cupcakes and makes the perfect cupcake pair!
Here are the ingredients you will need to prepare the frosting:
*Ingredient amounts are located in the recipe card at the end of this post.
3/4 Cup Light Sour Cream
1 Cup Semisweet Chocolate Morsels
1 Tablespoon Butter, softened
1/4 Cup SPLENDA® No Calorie Sweetener, Granulated
1/4 Teaspoon Vanilla Extract
Follow the directions listed here to prepare this delicious frosting.
Once the frosting is the correct consistency, use a hand mixer to whip it.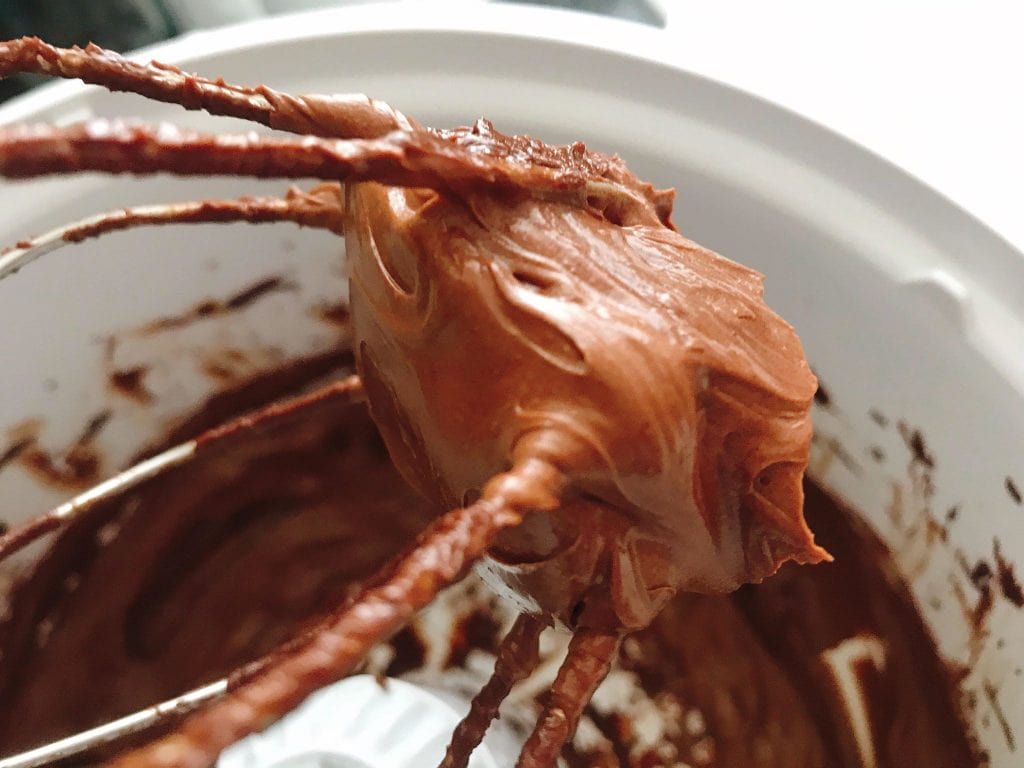 Because these Easter Nest Cupcakes are a lower-sugar option, you are left with plenty of room to be creative when decorating!
Easter Decorations
Now comes the fun part! To decorate these Easter Nest Cupcakes, you will need:
How to Make Green Coconut Flakes
To create the green "grass" or green coconut flakes for the cupcakes, add one tablespoon of water and two drops of green food coloring to a mason jar and stir.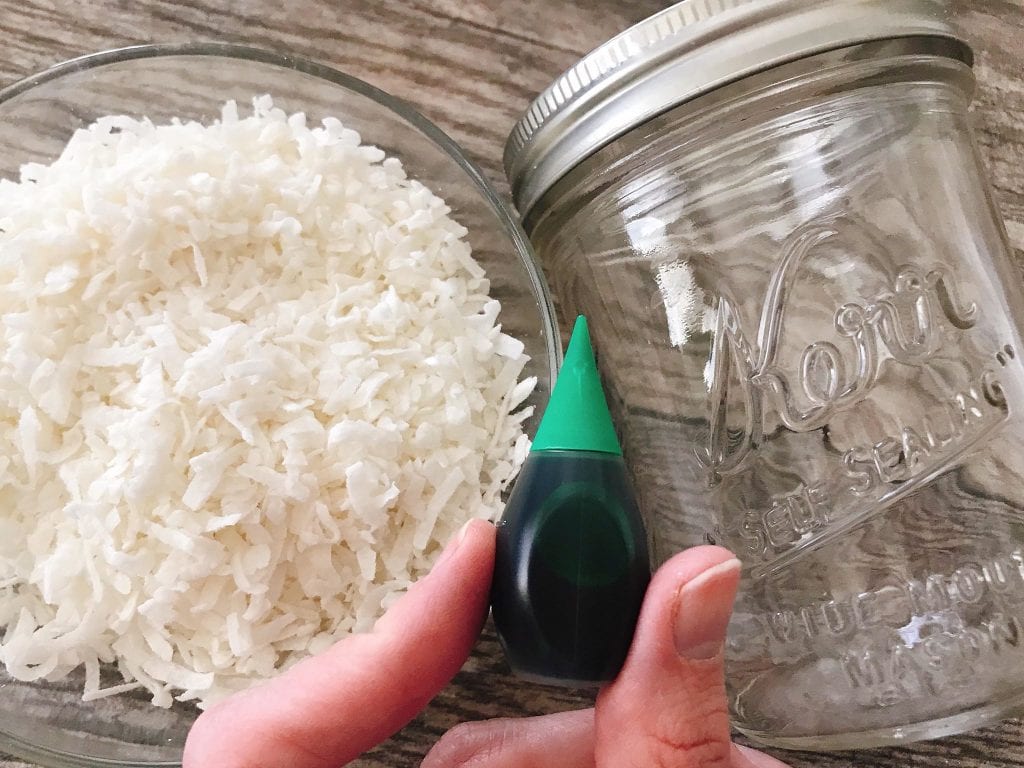 Then add one cup of coconut flakes. Cover the jar with a lid and shake it to coat the coconut with the green food coloring. Pour the coconut onto a paper towel to allow the excess liquid to drain.
Easter Nest Cupcake Assembly
Once the cupcakes have cooled, the frosting has been prepared, and your green coconut grass is ready, it is time to assemble these adorable cupcakes!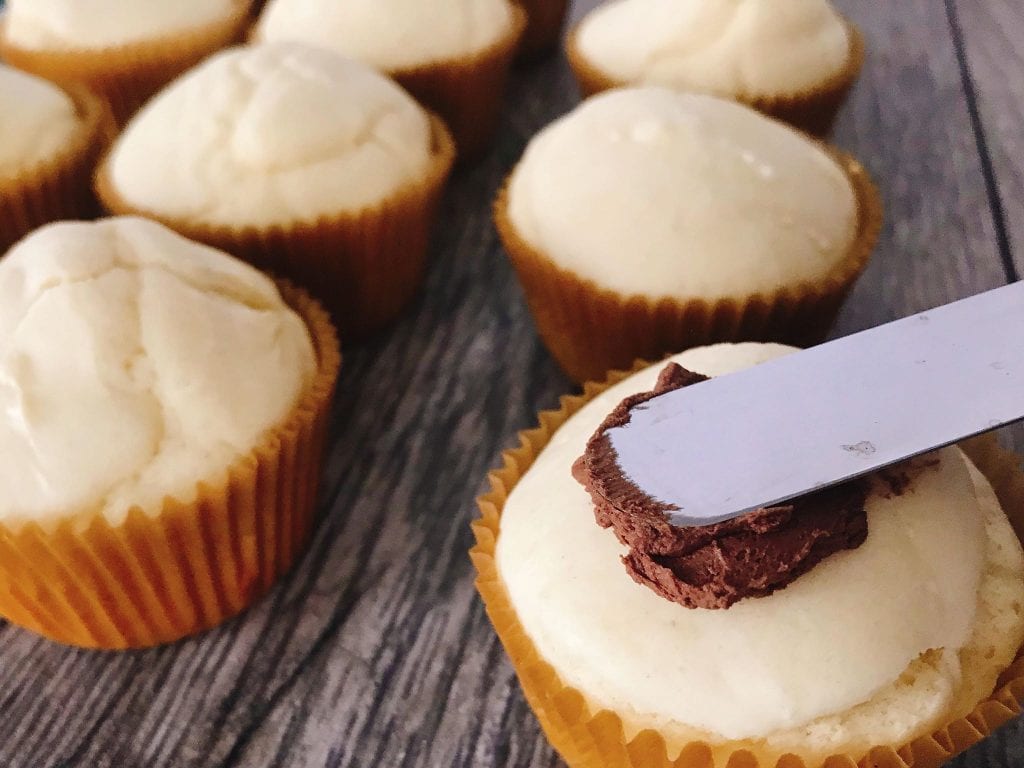 Begin by using a knife or a frosting spatula, to spread a thin layer of chocolate frosting over the top of each cupcake.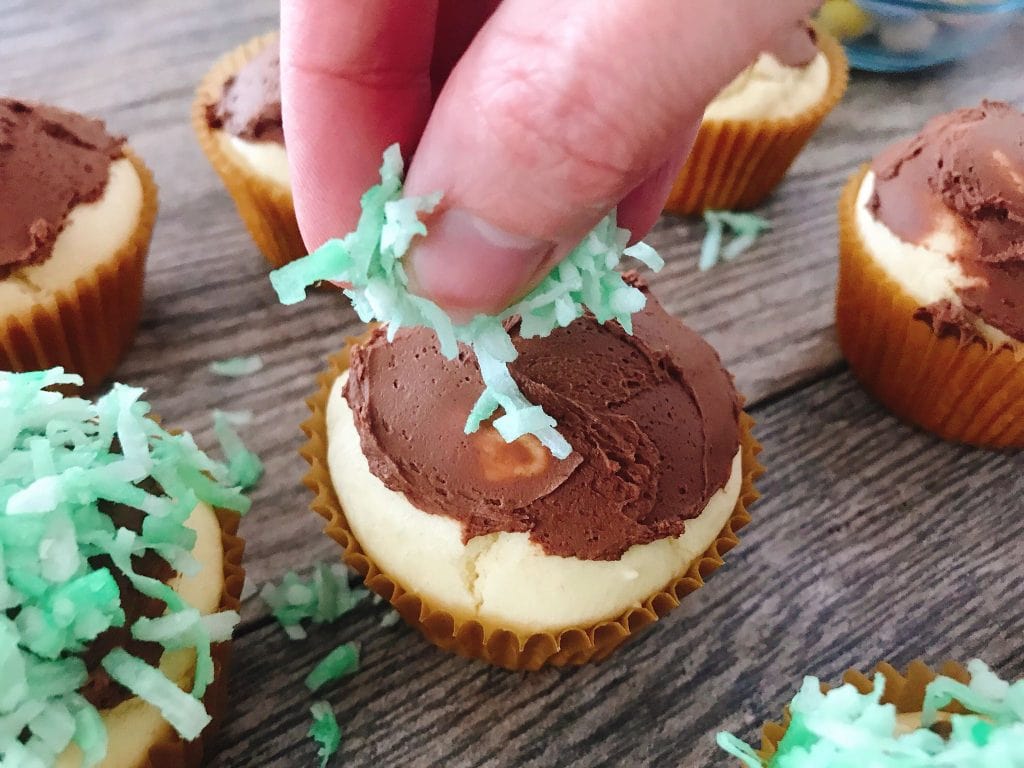 Press some of the green coconut flakes on top of the frosting with your fingers to ensure that it sticks.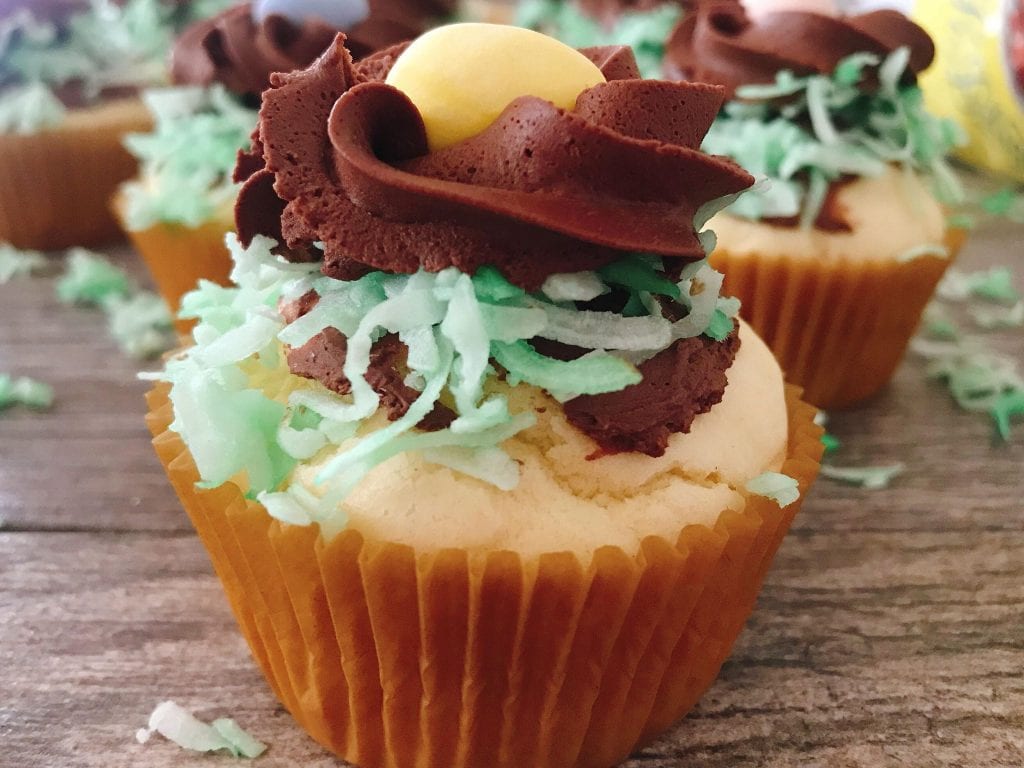 Use the Chocolate Sour Cream Frosting that you have added to a piping bag and pipe a circle on top of the grass.
Then place one, two, or three Easter egg candies inside the "nest".
That's it! That is all you need to do to make adorable Easter Nest Cupcakes using SPLENDA® to impress your friends and family!
Head here to download a coupon to use in store when you purchase SPLENDA® for this recipe! Happy Easter!