Sharing is caring!
Soft Eggnog Christmas Cookies topped with creamy eggnog frosting and sprinkled with ground nutmeg are a delicious way to enjoy a favorite holiday drink!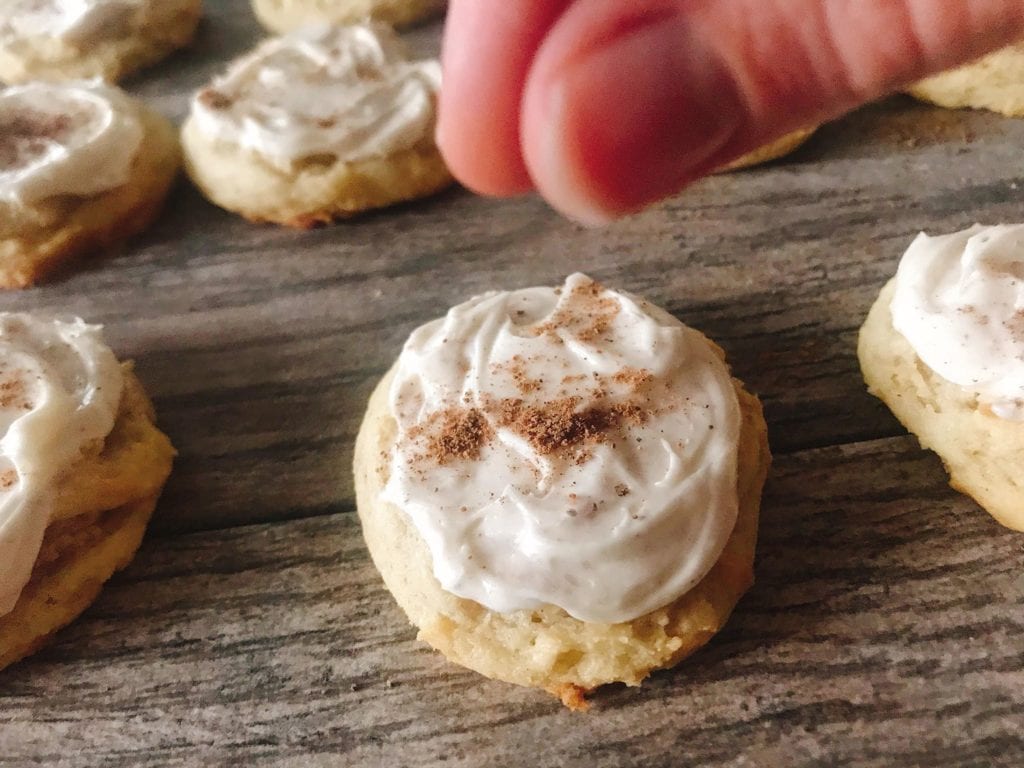 This post may contain affiliate links. When you click on these links, I get a small percentage back at no cost to you! For more information see my disclosure policy.
I don't know about you, but to me, Christmas and eggnog go hand in hand. Drinking a cold glass of eggnog definitely helps jumpstart the Christmas season.
My boys love it just as much, if not more, than I do. Once I bring a carton home from the grocery store, it's almost always gone! Just like that!
Just like eggnog, Christmas cookies are a big deal at my house. I remember my grandmother baking cookies each holiday season, and giving us a big box of assorted cookies to munch on.
I'm trying to keep that tradition alive with my boys so that Christmas cookies have a warm place in their hearts as well.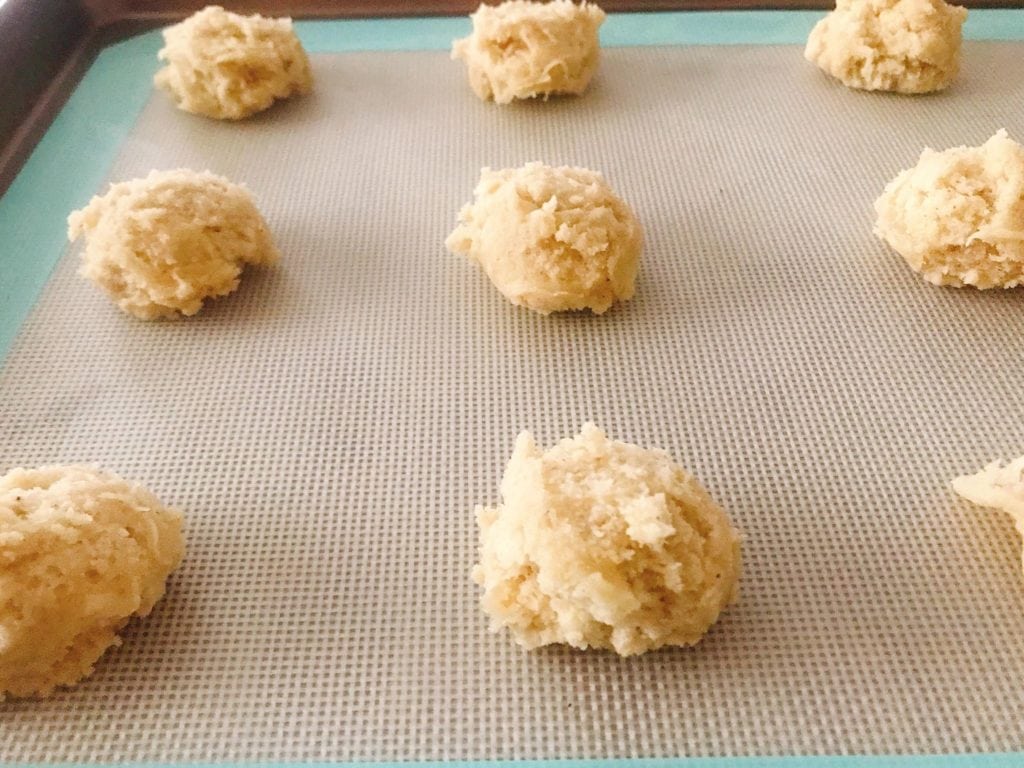 With our love of eggnog and cookies, I knew that I wanted to combine the two and thus this delicious cookie was born.
The cookies themselves are pretty good alone, but putting some eggnog frosting and ground nutmeg on top, just takes them to the next level! I hope you love them just as much as we do.
Ingredients
Cookies
1 Cup Butter, softened

2 Cups Sugar

1 Egg Yolk

1 Cup Eggnog

1 Teaspoon Vanilla Extract

5 1/2 Cups All-Purpose Flour

1 Teaspoon Baking Soda

1 Teaspoon Ground Nutmeg
Eggnog Frosting
1/4 Cup Butter, softened

3 Cups Powdered Sugar

1/3 Cup Eggnog

1 Teaspoon Nutmeg, divided
Helpful Kitchen Tools
How to Make Frosted Eggnog Christmas Cookies
Eggnog Cookies
Begin by adding the softened butter and the sugar to the bowl of a stand mixer.
Beat together until it is light and fluffy. Add the egg yolk and beat until incorporated.
Turn the mixer on low and slowly pour in the eggnog and vanilla.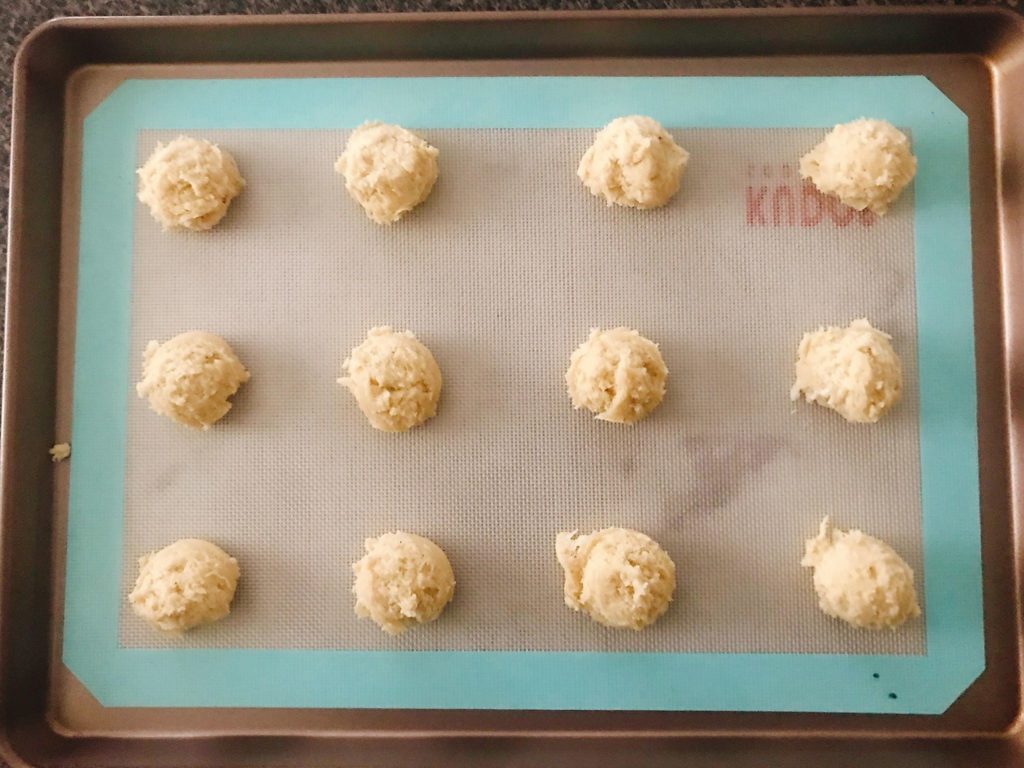 In a separate bowl, whisk or sift together the flour, baking soda and nutmeg.
Add the flour mixture one cup at a time, mixing in between.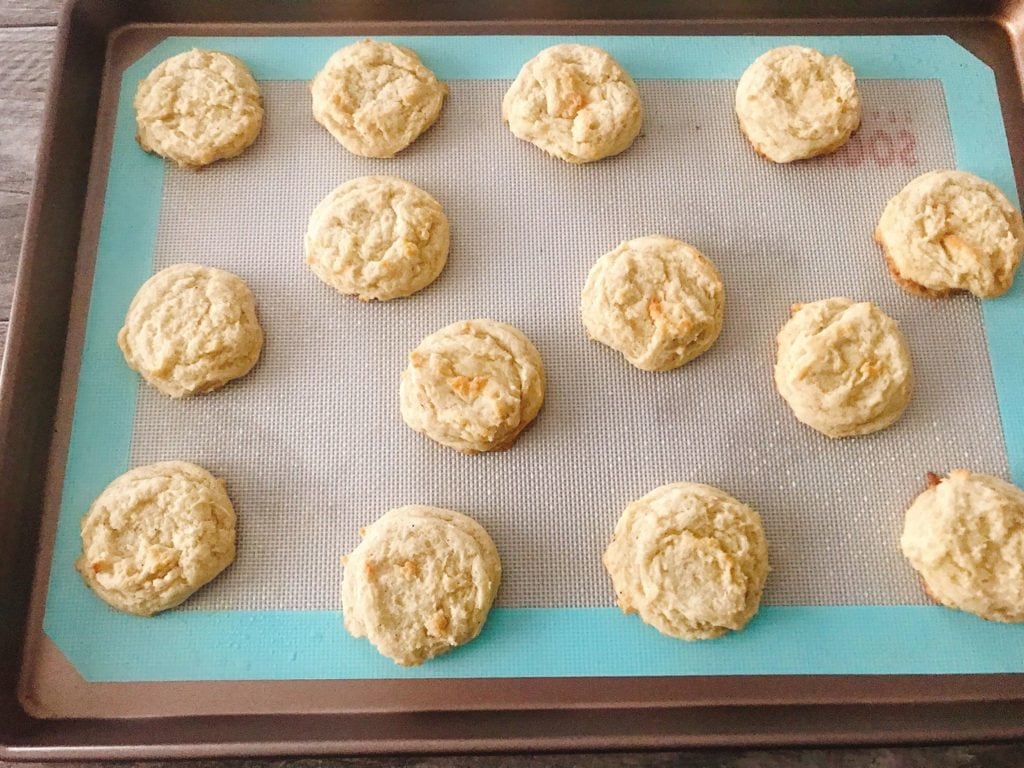 Bake the cookies at 375 degrees for 8-10 minutes. They are done baking when the edges begin to brown.
Let the eggnog cookies rest on the baking sheet for a minute or two before transferring them to a cooling rack.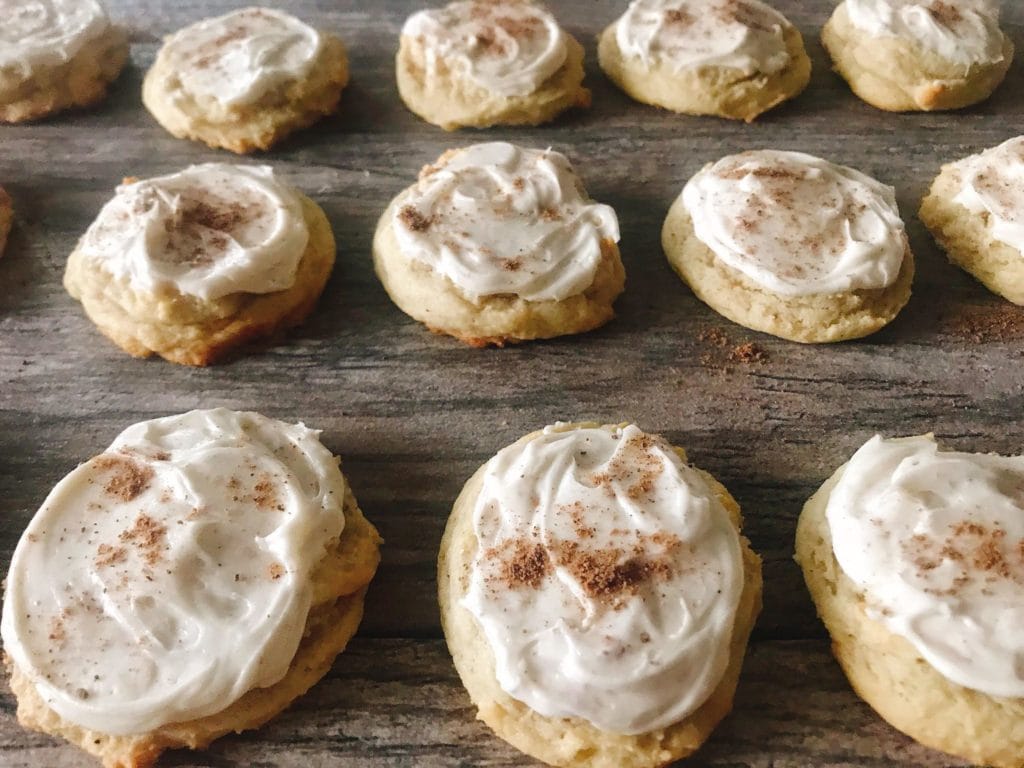 Eggnog Frosting
While the cookies are cooling, begin to prepare the eggnog frosting. Use your stand mixer or hand mixer to beat the butter until light and fluffy.
Add the powdered sugar, one cup at a time, and mix until smooth.
Beat in the vanilla, nutmeg, and eggnog. Use a spatula or butter knife to spread the eggnog frosting on the cookies and sprinkle the tops with nutmeg, if desired.
Merry Christmas!
More Cookie Recipes:
Sharing is caring!