This easy Eggnog Bundt Cake recipe is fluffy and tastes just like everyone's favorite holiday drink! Made with a cake mix, this cake can come together quickly to make the perfect holiday dessert any Christmas gathering or family dinner.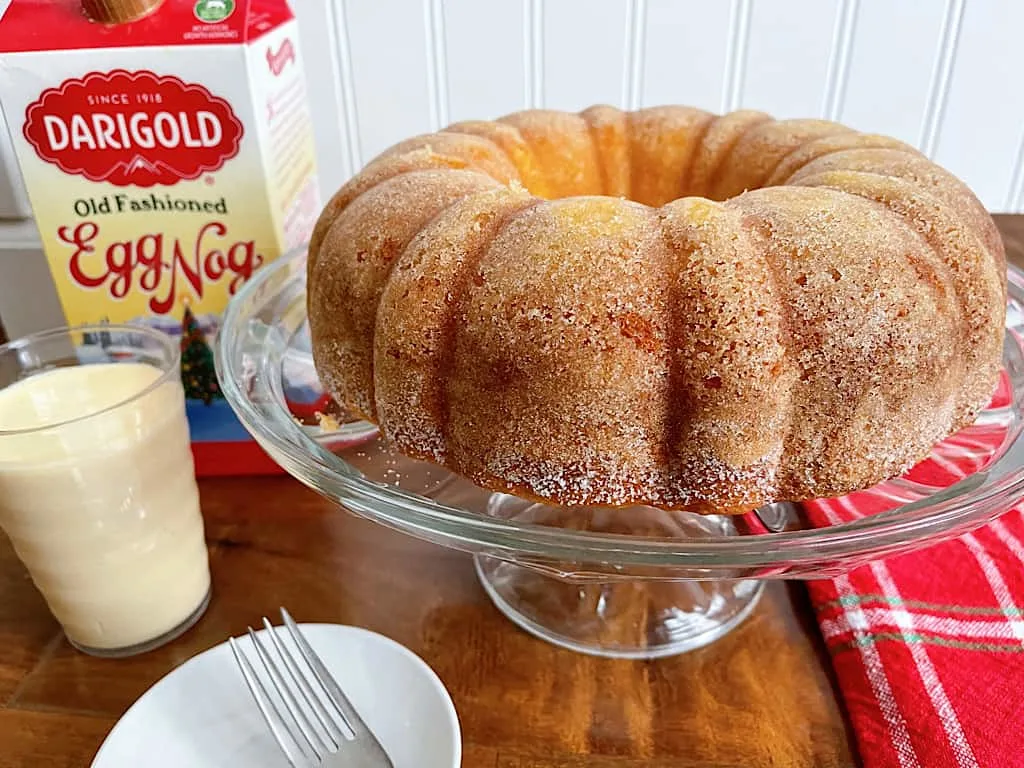 This post may contain affiliate links. When you click on these links, I get a small percentage back at no cost to you! For more information see my disclosure policy.
Below you will find tips, tricks and helpful hints for making this recipe including step by step instructions with pictures. If you would like to go directly to the recipe, scroll down to the recipe card or tap "Jump to Recipe" at the top of the page.
Why You'll Love This Eggnog Bundt Cake
There are many reasons why this cake is great for the holiday season and I believe you will absolutely love it! This cake is easy to make because you use a boxed cake mix, eggnog and a few other ingredients that you probably already have on hand.
The addition of nutmeg and rum or vanilla extract adds an amazing flavor that perfectly complements the creamy eggnog flavor.
And, this cake is perfect for holiday parties, potlucks, or just as a treat for your family on a cold winter night.
So what are you waiting for? Try this Eggnog Bundt Cake today and discover why it's a holiday favorite!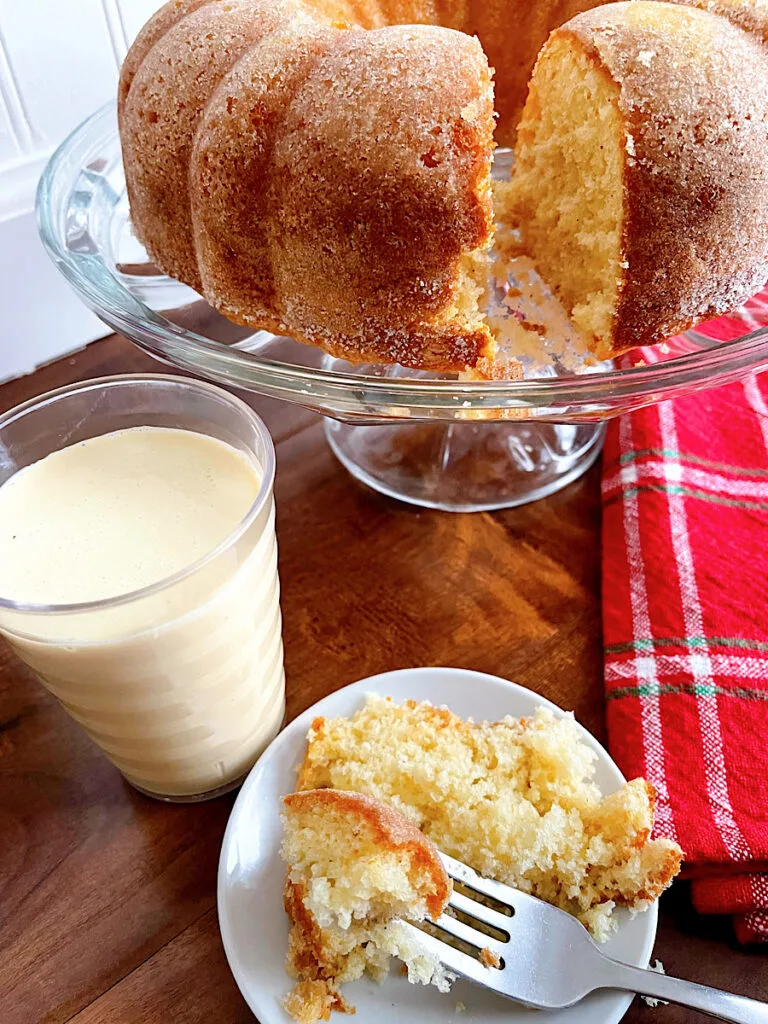 What is Eggnog?
Eggnog is a holiday drink made from eggs, milk or cream, sugar, and spices. It can be served hot or cold and is commonly enjoyed during the winter months as a festive and indulgent treat.
Depending on the recipe, eggnog may also contain spirits such as brandy, whisky, rum, or bourbon, which adds additional flavor and richness to the drink.
Despite its rich and creamy texture, eggnog is actually quite nutritious, as it is high in protein, calcium, and other essential vitamins and minerals.
Because of this, many people choose to incorporate eggnog into their holiday baking and cooking traditions as a way to add some festive flair to their favorite recipes.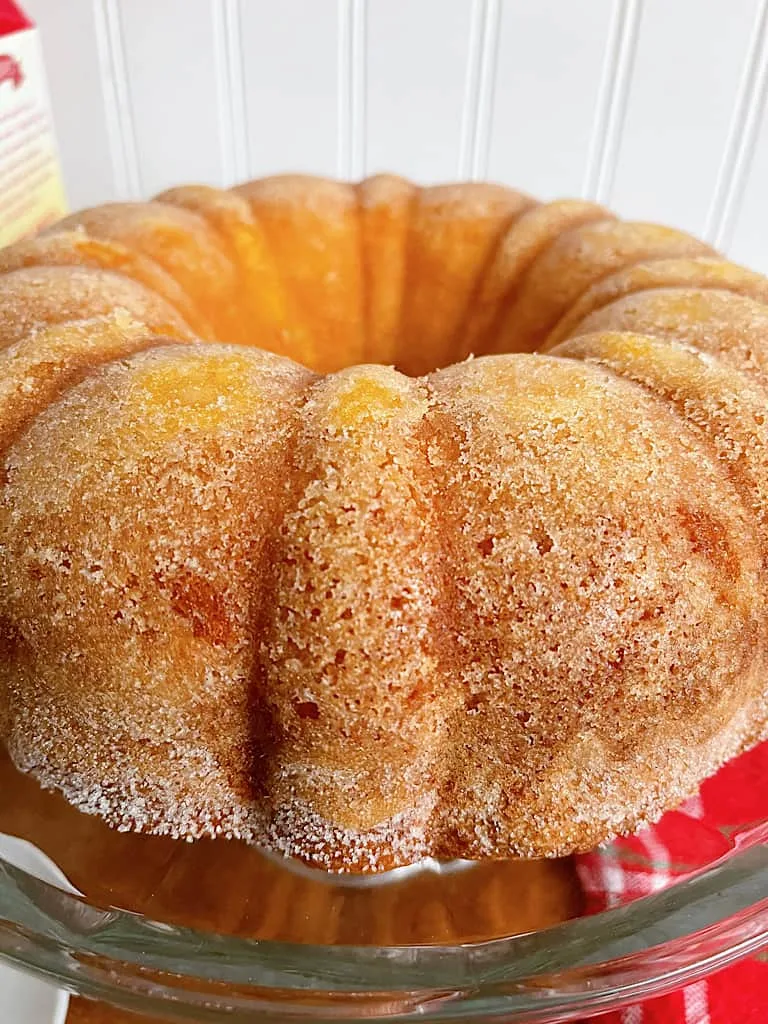 Where Can I Purchase Eggnog?
Eggnog should be available at your local grocery store during the holiday season including Costco, Walmart, and Target. You can also purchase it online from many retailers and specialty food suppliers.
If you are unable to find eggnog, you can substitute almond milk or heavy cream in your recipe, although this may change the final flavor and texture of the cake.
What is a Bundt Cake?
A bundt cake is a type of cake that has been baked in a special pan shaped like a ring or Bundt.
This allows for the cake to bake evenly and also creates decorative ridges on the top, making it an ideal choice for serving to guests at parties or holidays.
Bundt cakes are usually made from scratch with a combination of butter, flour, sugar, and eggs. However, some recipes may also use cake mixes or other premade ingredients to make the process quick and easy.
Regardless of your method, bundt cakes are a delicious and versatile dessert for any occasion. You may also like one of my favorite bundt cake recipes, Ultimate Chocolate Bundt Cake, found here.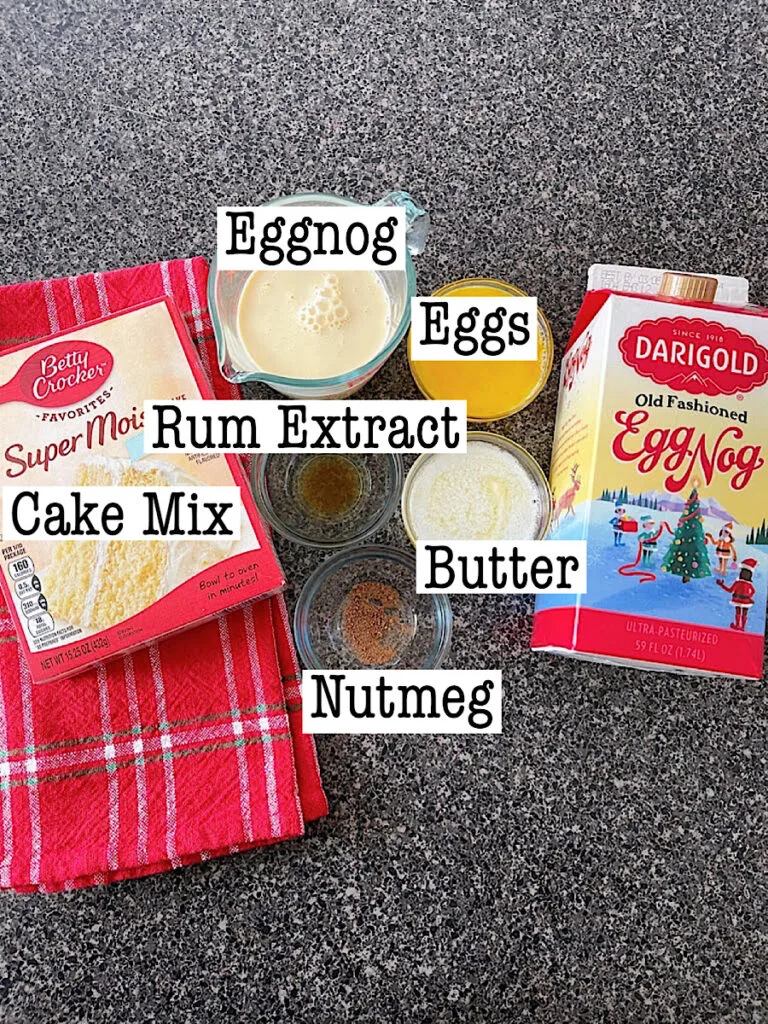 Eggnog Bundt Cake Ingredients
*Ingredient amounts are located in the recipe card at the end of this post.
Cake Mix: I like to use a yellow cake mix, but you can also use vanilla or white cake.
Eggs: Beaten eggs help bind the batter and make the cake light and fluffy.
Butter: Melted butter helps keep the cake moist as it bakes.
Eggnog: This is a key ingredient in this recipe, so be sure to use good-quality eggnog that you enjoy drinking. You can use homemade eggnog or store-bought eggnog.
Nutmeg: Nutmeg is a traditional holiday spice that adds wonderful flavor to this cake.
Rum or Vanilla Extract: Either of these extracts will add a delicious, boozy flavor to the cake.
Sugar: Use your favorite type of sugar for dusting the pan and topping the finished cake. The sugar creates a delicious sweet crust on top of the cake.
How to Make Eggnog Bundt Cake
[1] Add the cake mix, eggs, melted butter, Eggnog, nutmeg, and rum extract to the bowl of a stand mixer.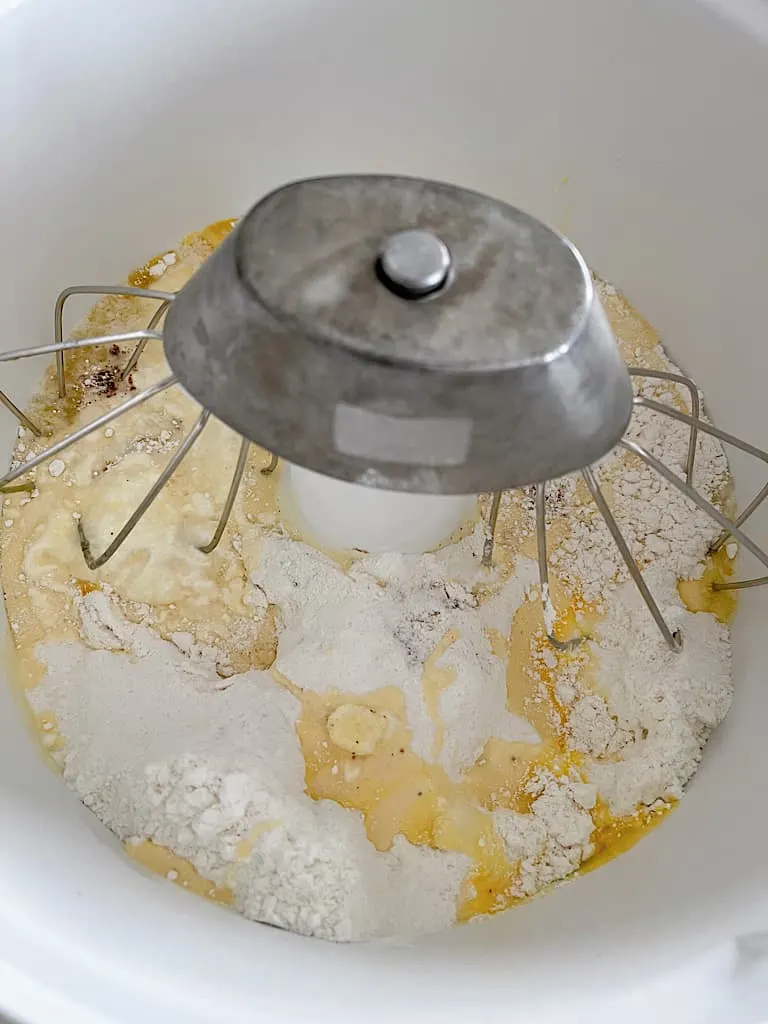 [2] Use the whisk attachment to mix the ingredients for 2-3 minutes at medium speed until the batter is light and fluffy.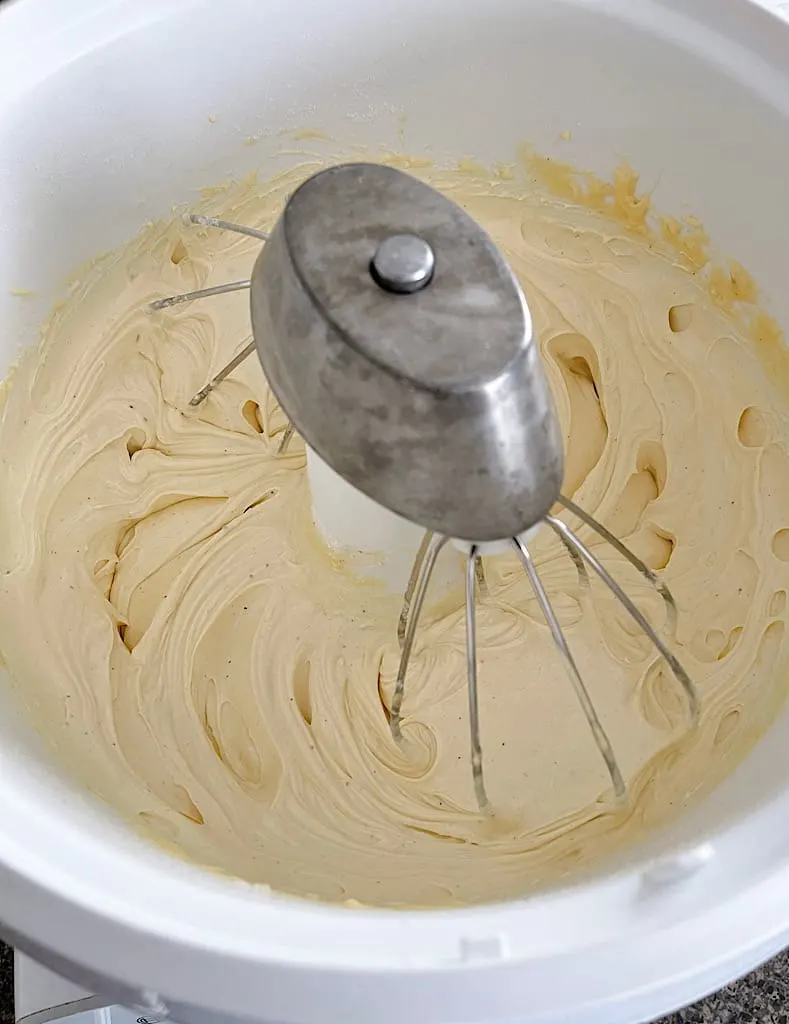 [3] Prepare the bundt pan by spraying it with nonstick cooking spray, then sprinkle with sugar, completely coating the bottom, middle, and sides of the pan.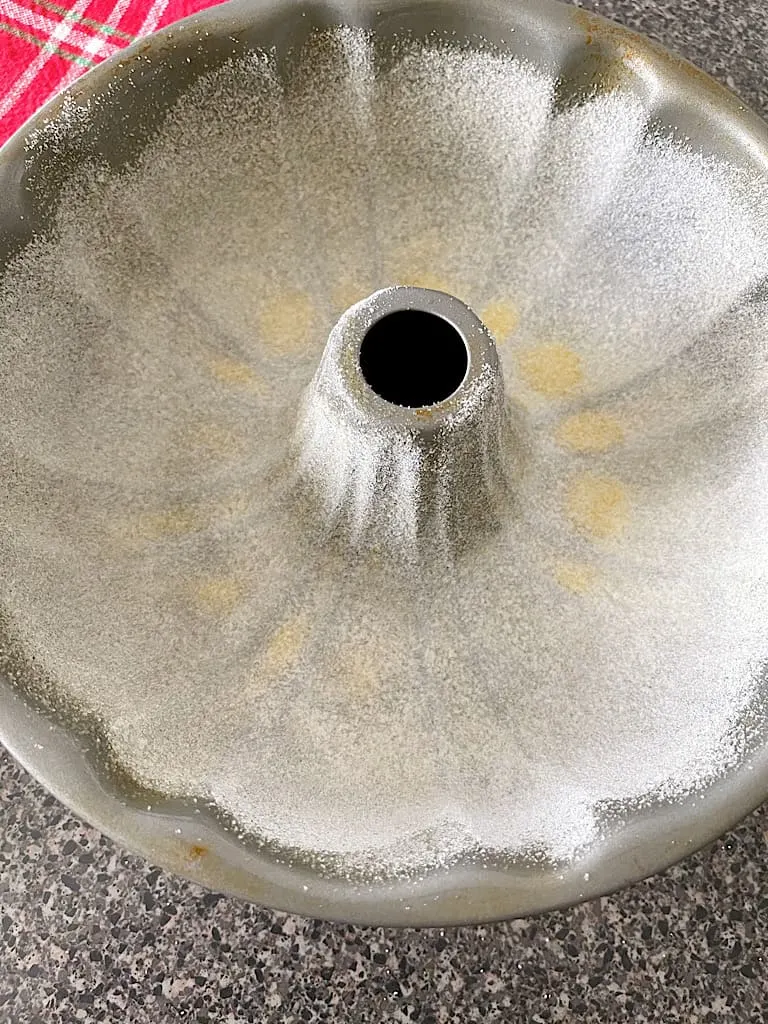 [4] Pour the eggnog cake batter into the prepared pan and bake at 350 degrees for 35-40 minutes or until a toothpick or cake tester inserted into the middle of the cake comes out clean.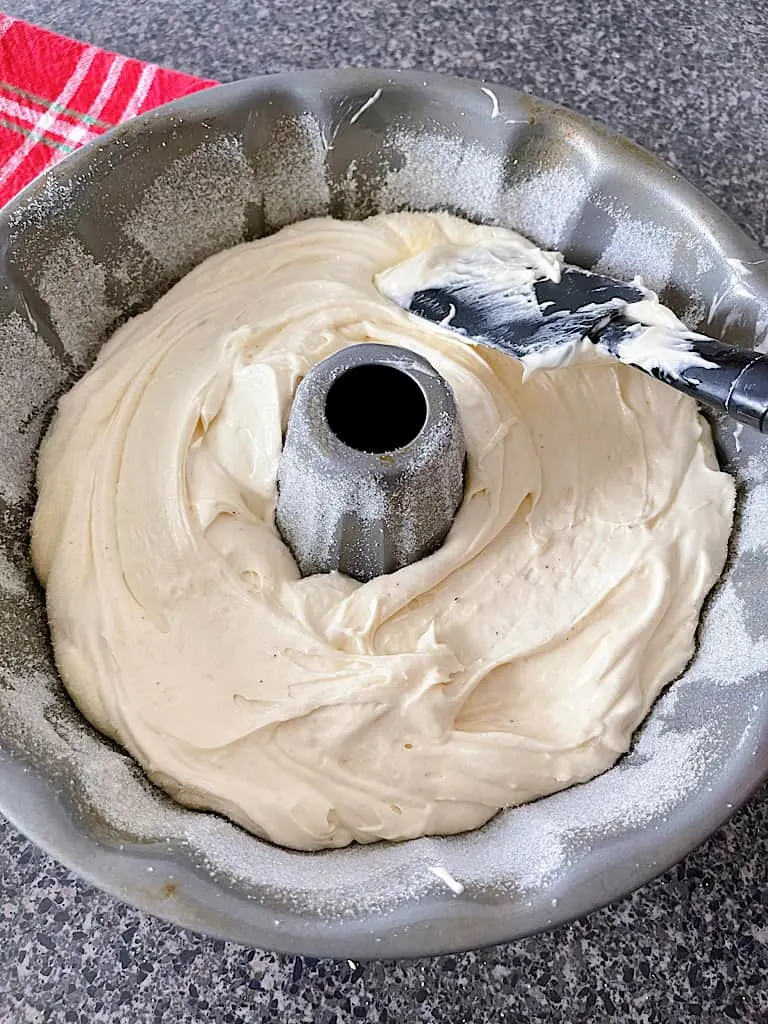 [5] Remove the cake from the oven and allow it to cool in the pan on a cooling rack for about 20 minutes.
[6] Place a cooling rack over the pan and invert to remove the cake from the pan.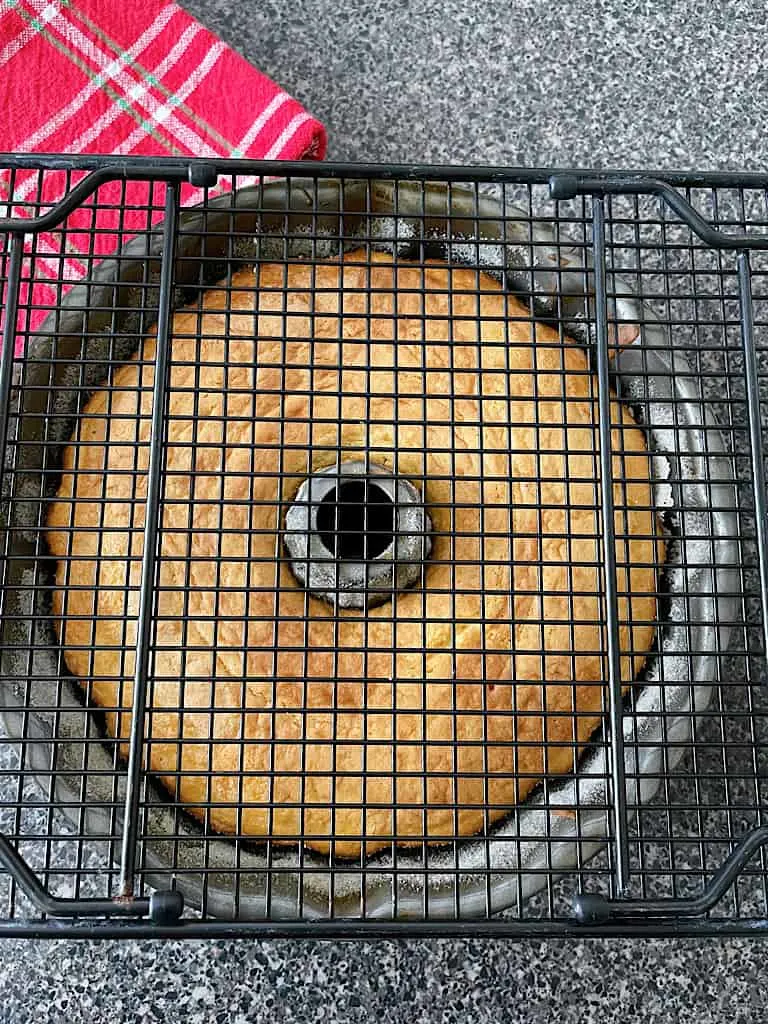 [7] Allow the cake to completely cool, then transfer to a serving plate.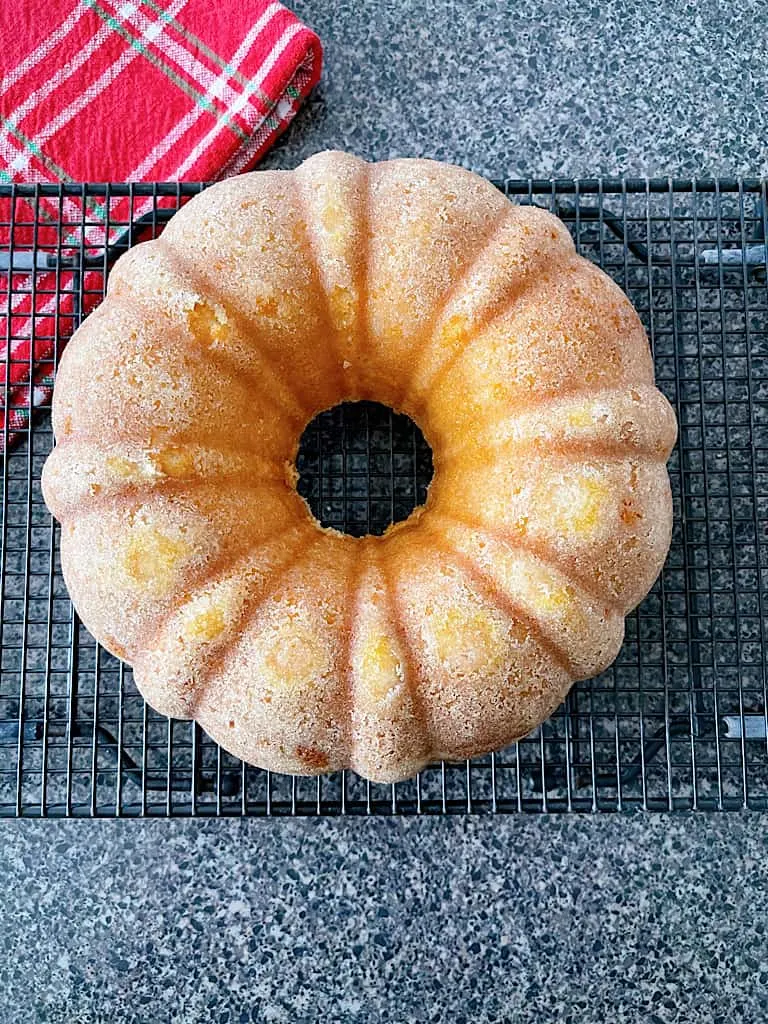 Helpful Kitchen Tools
How to Store this Cake
This cake can be stored at room temperature in an airtight container, or covered with plastic wrap, for up to 3 days. You can also store it in the refrigerator for up to 1 week, or freeze it for up to 2 months.
To thaw the frozen cake, allow it to come to room temperature before serving.​
More Eggnog Recipes to Try:
Frequently Asked Questions
Why does this cake have nutmeg?
The nutmeg adds a delicious, festive flavor to this cake and complements the creamy eggnog. You can also use rum or vanilla extract for even more holiday flavor.​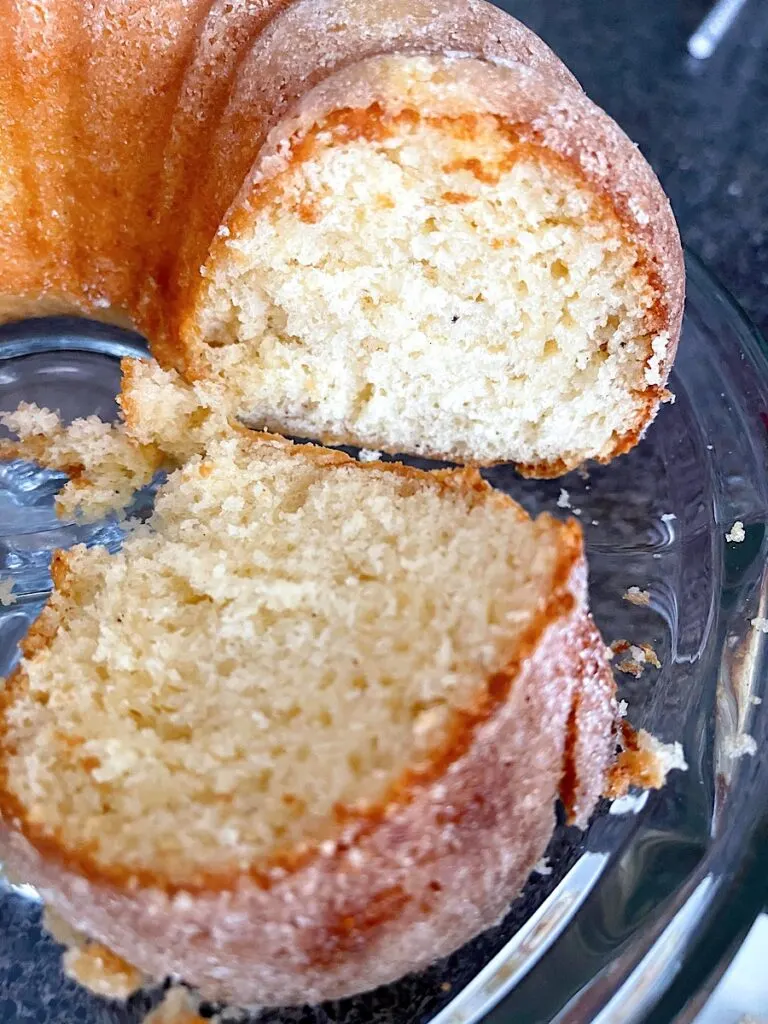 How to release cake from Bundt pan?
To release the cake from the Bundt pan, place a cooling rack over the pan and invert it. The cake should slide out easily onto the cooling rack for serving.​
Is this an easy recipe to make?
Yes, this is a very simple cake recipe that only takes a few common ingredients and just a few minutes to prepare. With the use of a boxed cake mix, it comes together quickly and easily for any holiday gathering.​
More Holiday Dessert Recipes:
Final Thoughts
If you love the classic holiday flavors of eggnog, then this easy and delicious Eggnog Bundt Cake is perfect for you.
This holiday cake recipe is easy and simple to make with basic ingredients and can be enjoyed any time of the year by eggnog fans. So why wait? Try it today!​ ​​
Eggnog Bundt Cake Video: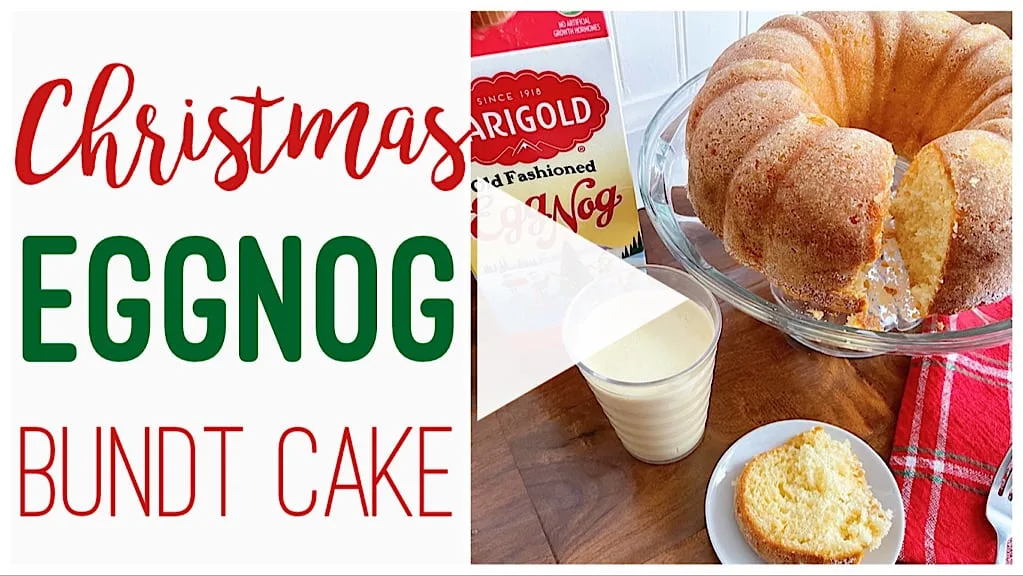 Pin for later: