This recipe will show you how to make delicious red velvet cinnamon rolls using a cake mix shortcut, plus the most creamy, delicious cream cheese frosting! These cinnamon rolls are great for holidays and a special occasion like Christmas, Valentine's Day, and the 4th of July!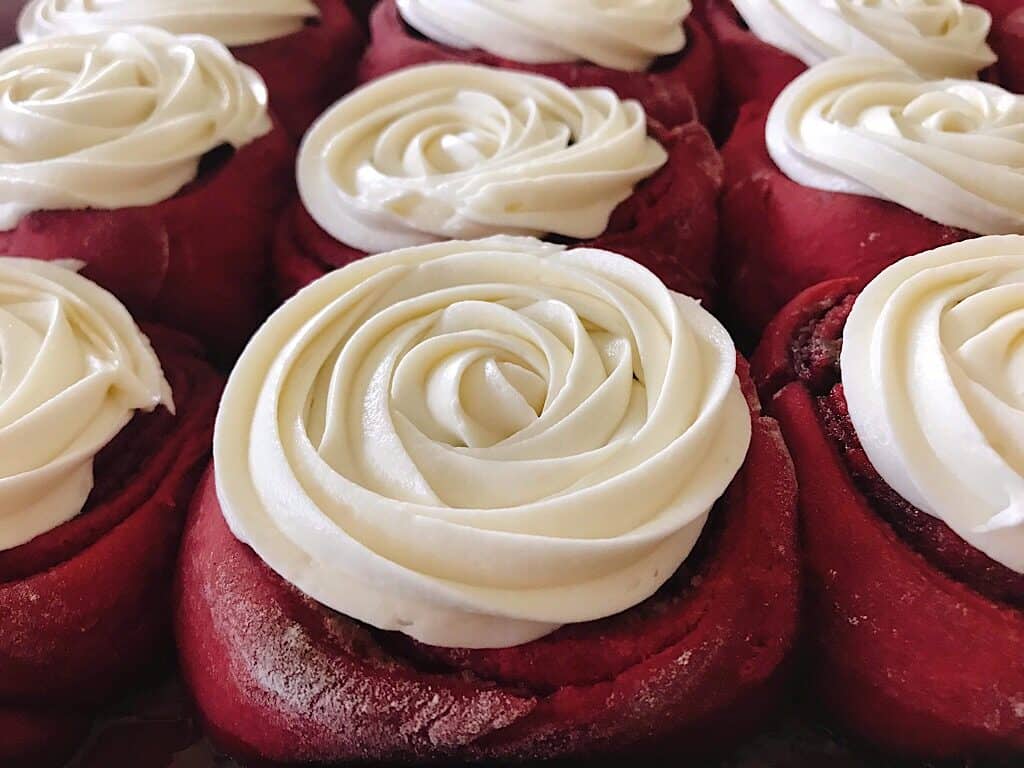 This post may contain affiliate links. When you click on these links, I get a small percentage back at no cost to you! For more information see my disclosure policy.
Below you will find tips, tricks and helpful hints for making this recipe including step by step instructions with pictures. If you would like to go directly to the recipe, scroll down to the recipe card or tap "Jump to Recipe" at the top of the page.
Why You'll Love this Cake Mix Cinnamon Rolls Recipe
Cinnamon rolls are something that I make almost weekly for my family. My kids love them!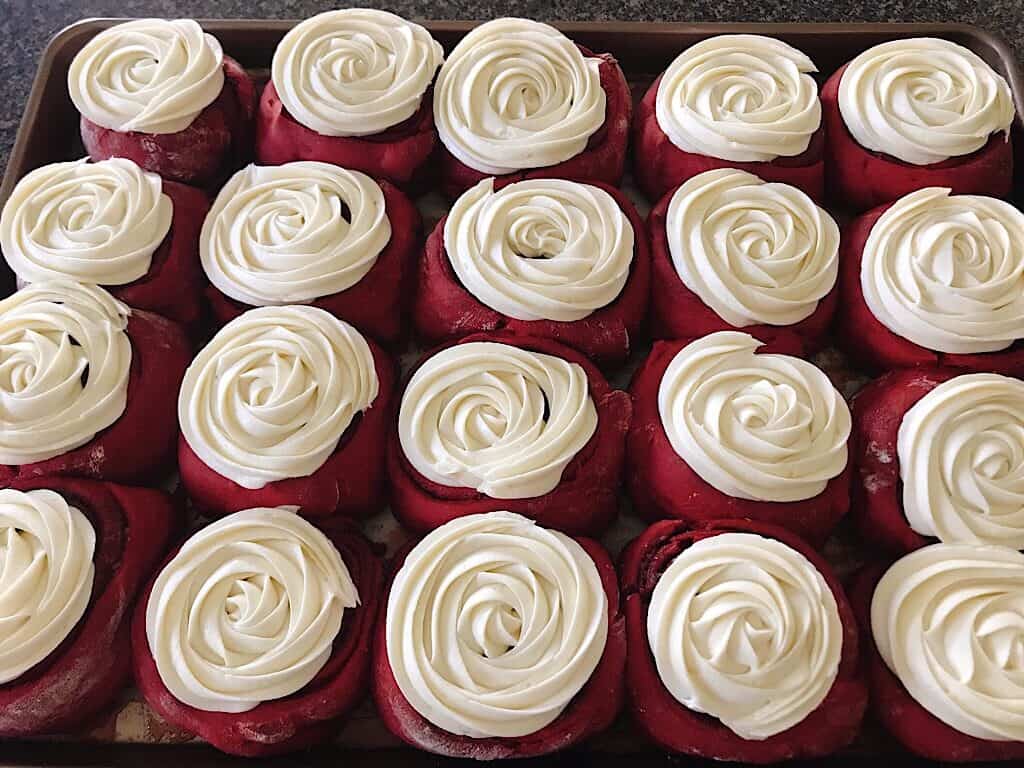 So, using a boxed cake mix as a shortcut to make homemade cinnamon rolls is a win in my book.
The beauty about using a cake mix is that you can vary the flavor combinations like these Butter Pecan Cinnamon Rolls with Salted Caramel Glaze.
Red Velvet Cinnamon Rolls with Cream Cheese Frosting
A couple of weeks ago, I needed to make a breakfast item for my neighborhood 4th of July party. I wanted to take something festive and colorful.
I decided to use one of my favorite flavor combinations, red velvet cake and cream cheese frosting and make cinnamon rolls!
I topped the cinnamon rolls with red, white, and blue sprinkles to celebrate the holiday.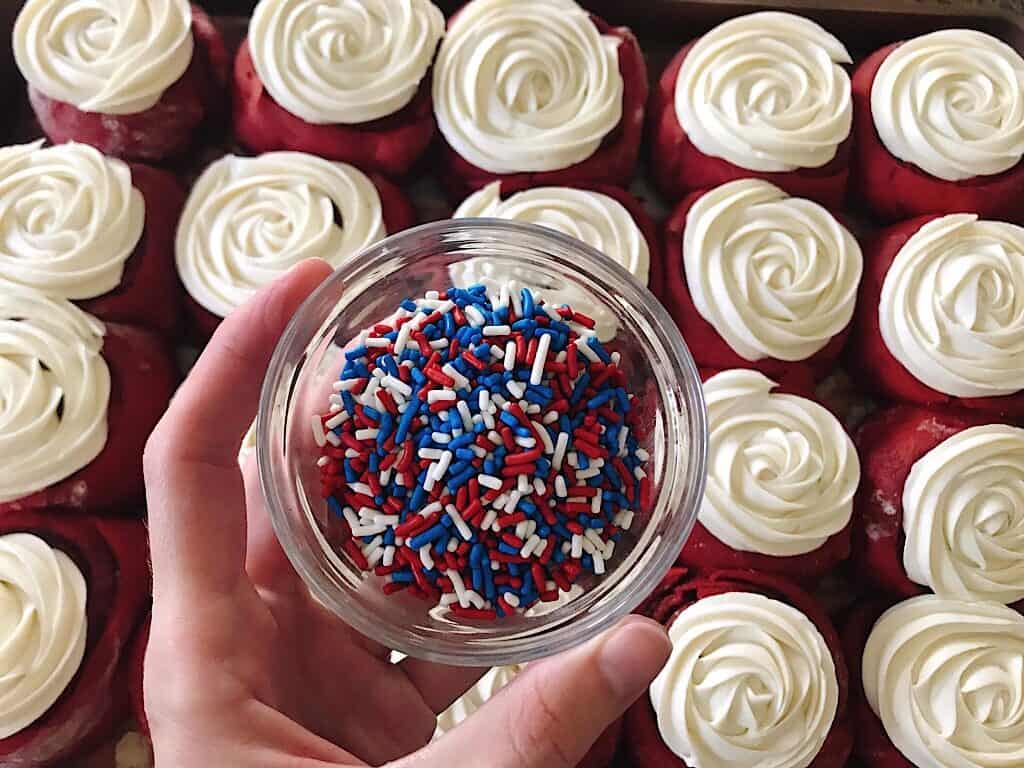 Because of the red and white color of these cinnamon rolls, they would make a great breakfast for Christmas morning!
More Red Velvet Recipes
Cake Mix Cinnamon Roll Ingredients
*Ingredient amounts are located in the recipe card at the end of this post.
Red Velvet Cinnamon Rolls
Yeast: I used 2 packets of active dry yeast. Make sure to use yeast that is not expired, for best results.
Warm Water: This will be used to help proof the yeast before adding it to the dough. Warm milk can also be used.
Red Velvet Cake Mix: My favorite brand of cake mix is Betty Crocker, but feel free to use your favorite brand.
Flour: The best flour for these cinnamon rolls is all-purpose flour.
Salt: This is added to help balance the sweetness of the cinnamon rolls.
Vanilla Extract: The vanilla extract is used to add a little bit of sweetness to the rolls.
Butter: I recommend using unsalted butter in this recipe. You will want to have the butter softened to room temperature, or use melted butter.
Brown Sugar: Brown sugar is what helps create a caramel-like flavor in these rolls, as well as give them that nice and gooey texture.
Cinnamon: Cinnamon is what makes these rolls cinnamon rolls, so don't skip it!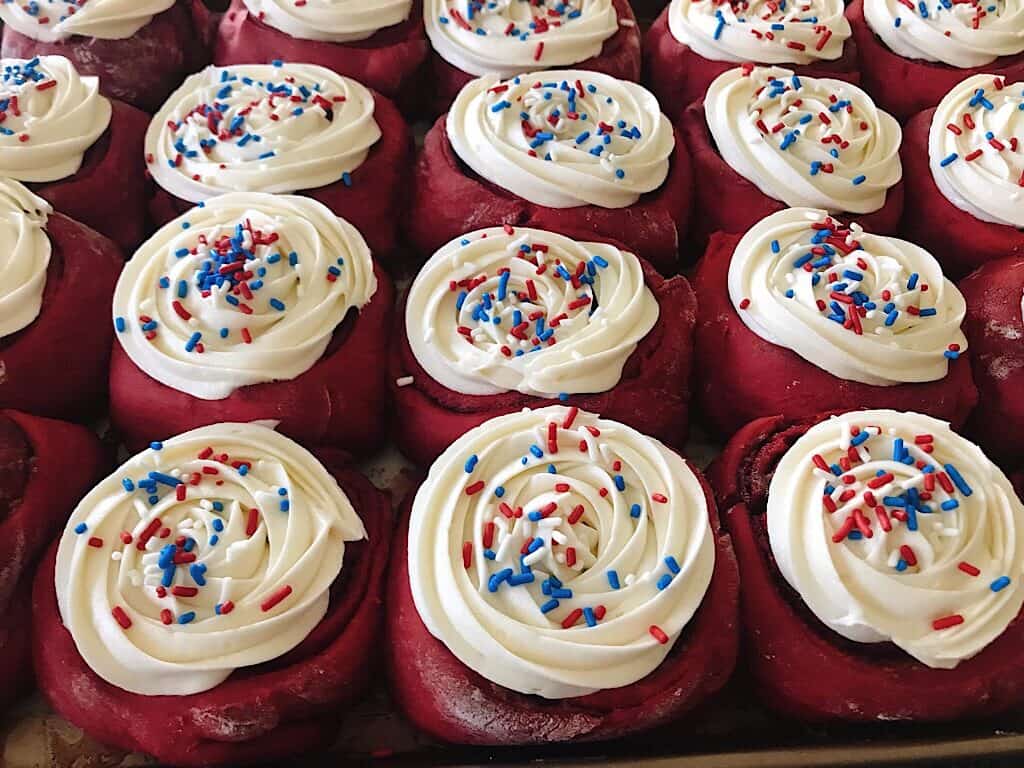 Cream Cheese Frosting Ingredients
Cream Cheese: The cream cheese is what makes the most amazing and rich cream cheese frosting for these cinnamon rolls. When making this frosting, make sure to use full-fat cream cheese for best results.
Butter: To help make some of the best frosting ever, use unsalted butter.
Vanilla Extract: The vanilla extract helps to give the cream cheese frosting a great flavor and adds a little bit of sweetness as well.
Powdered Sugar: This is what helps make the frosting light and fluffy! I don't recommend skipping this ingredient.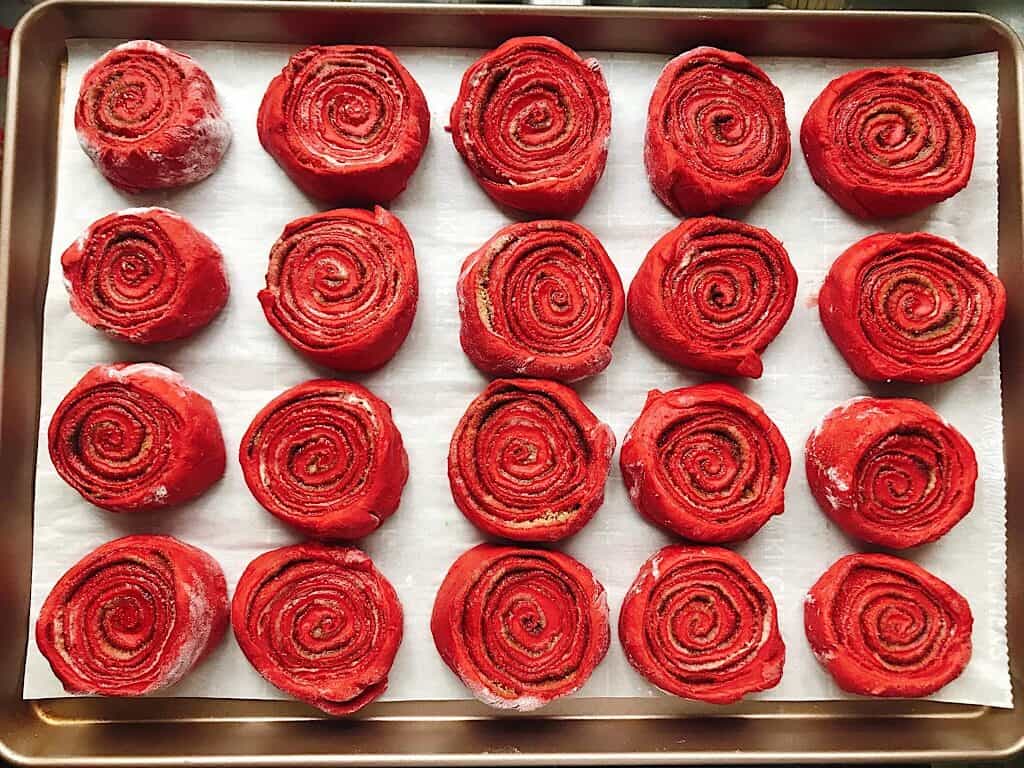 How to Make Red Velvet Cake Mix Cinnamon Rolls
[1] Sprinkle the yeast over the warm water and gently stir. Set aside to proof.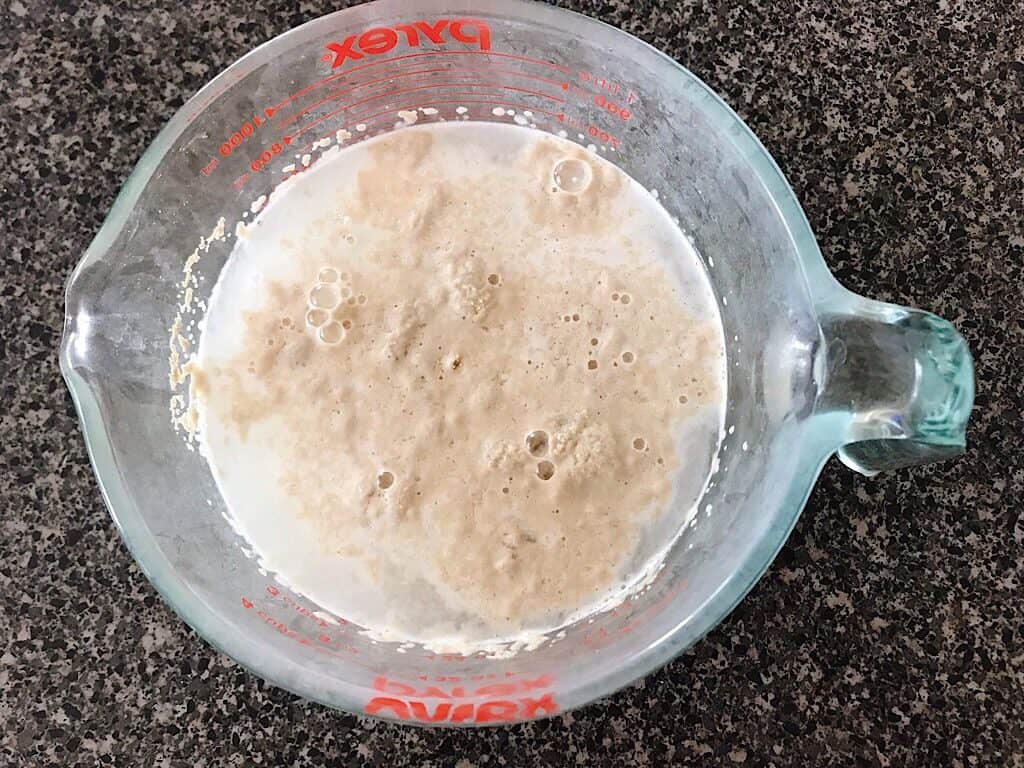 [2] Place the cake mix, flour, and salt in the bowl of a stand mixer with the dough hook attachment and turn on for 10-15 seconds.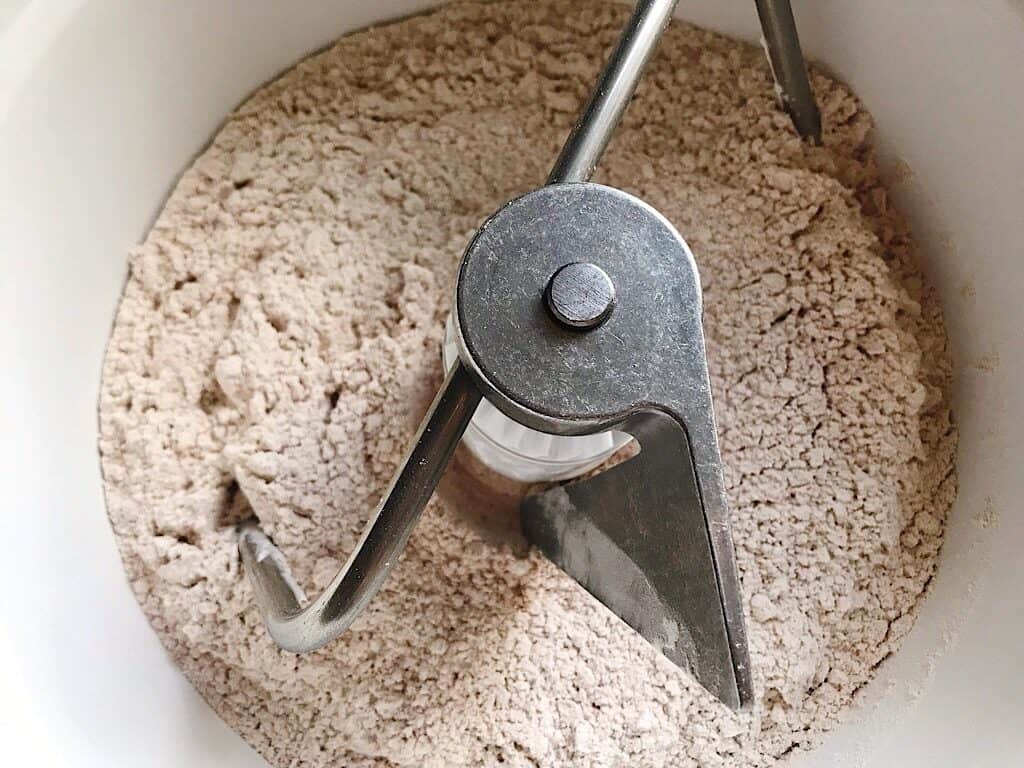 [3] Pour in the yeast mixture and mix.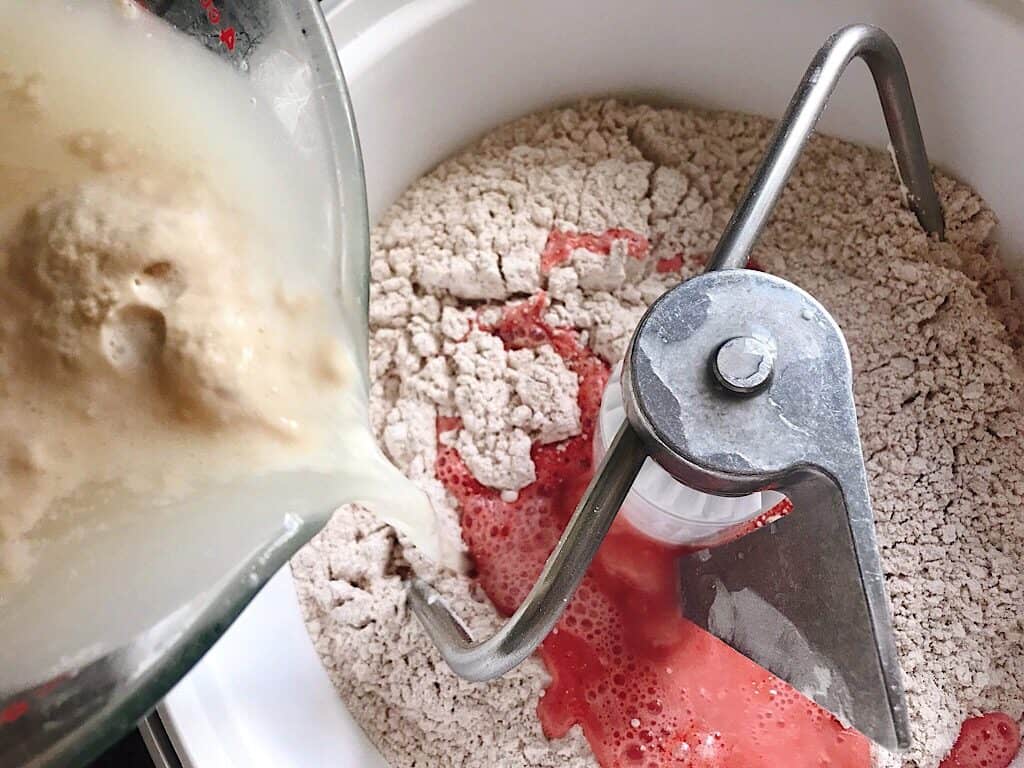 [4] Add the beaten eggs and vanilla extract.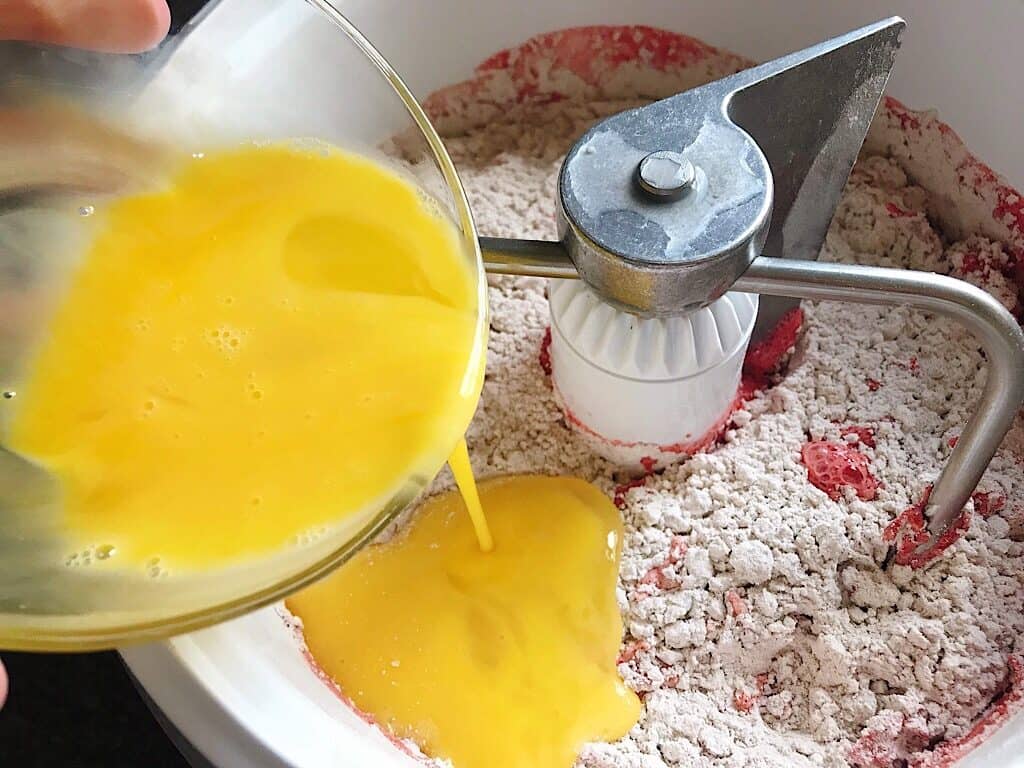 [5] Knead the dough for 3-5 minutes until the dough begins to pull away from the side of the bowl.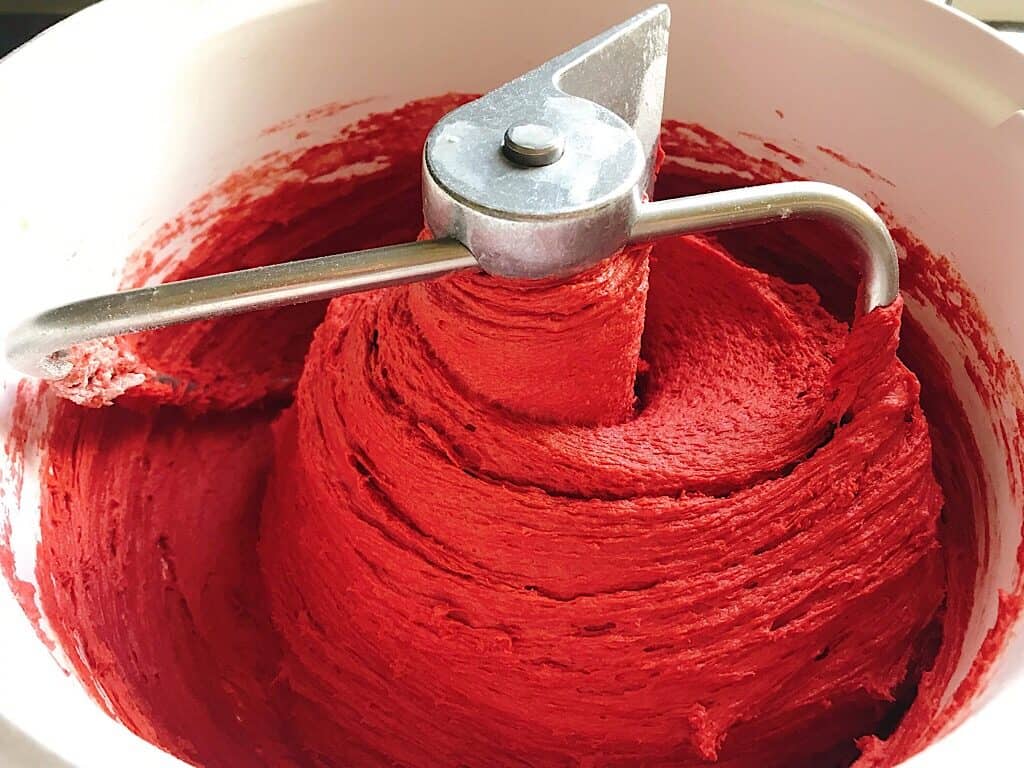 [6] Spray a large mixing bowl with cooking spray and place the red velvet dough in the bowl, turning once to coat.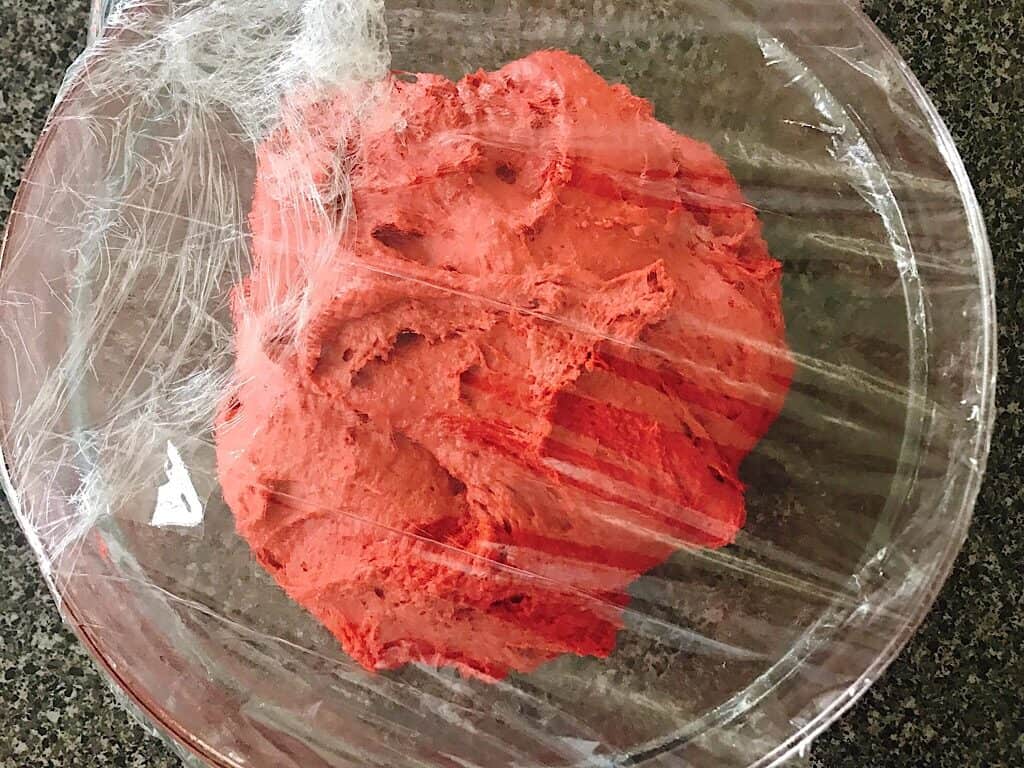 [7] Spray a square of plastic wrap, large enough to cover the bowl, and place it over the bowl to cover the dough.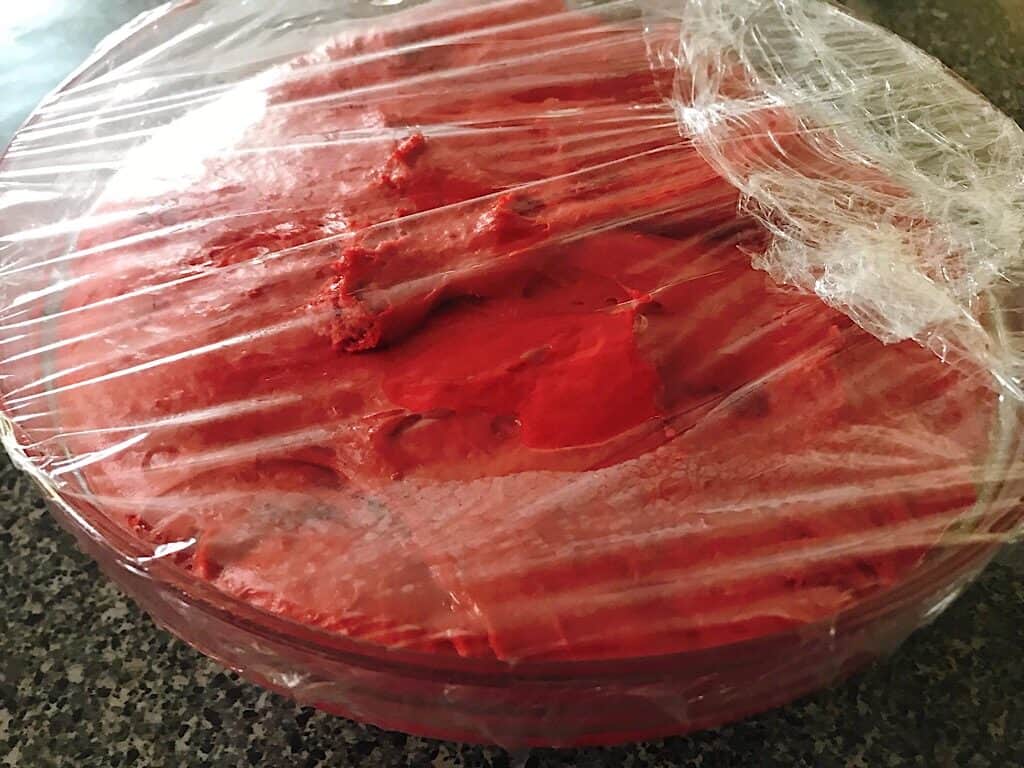 [8] Place the bowl in a dry, warm place and let the dough rise until double in size.
[9] When the dough has risen, remove the plastic wrap and punch down the dough.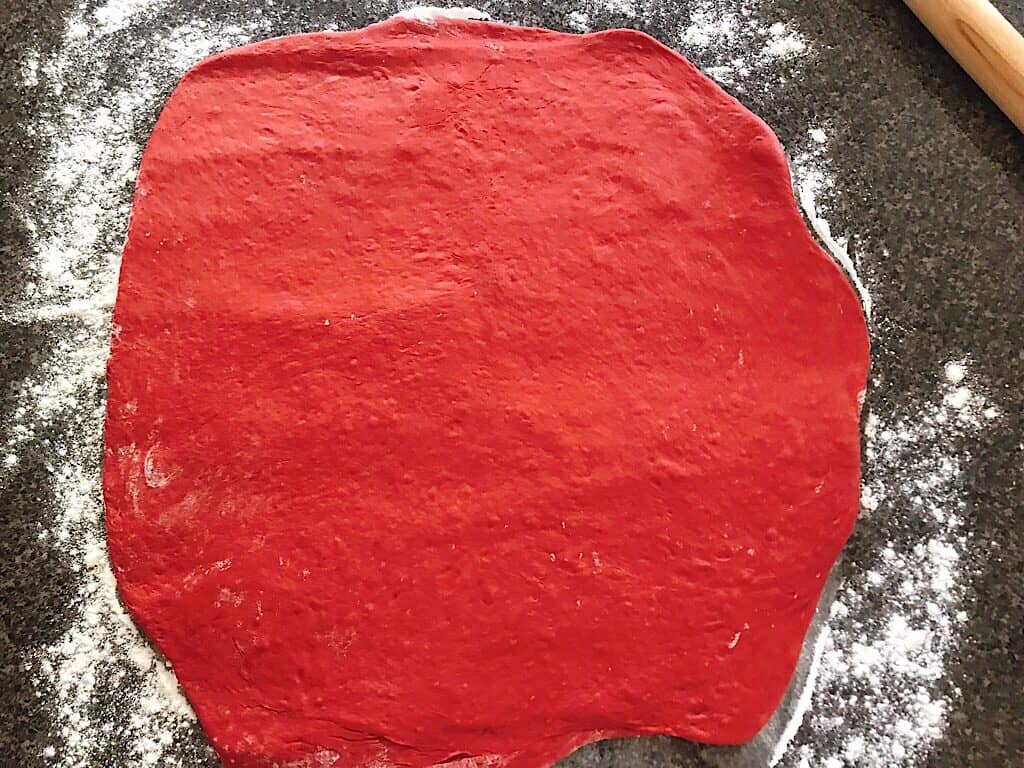 [10] Place dough onto a lightly floured surface and sprinkle the top with flour.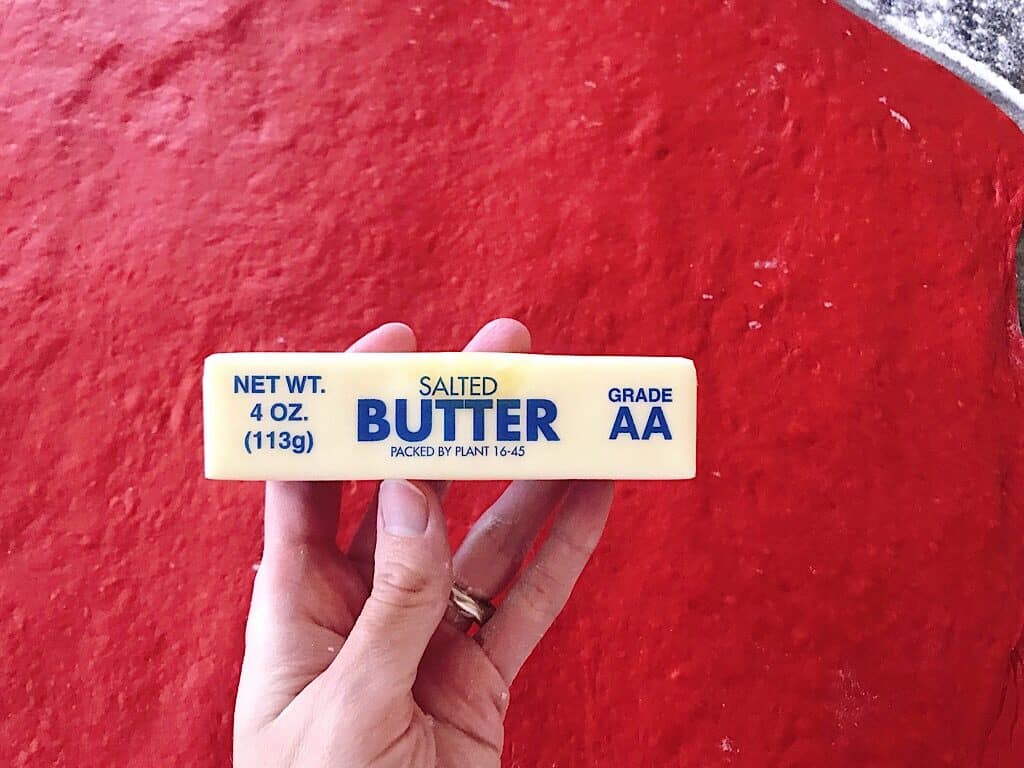 [11] Use a rolling pin to roll dough into a large rectangular shape.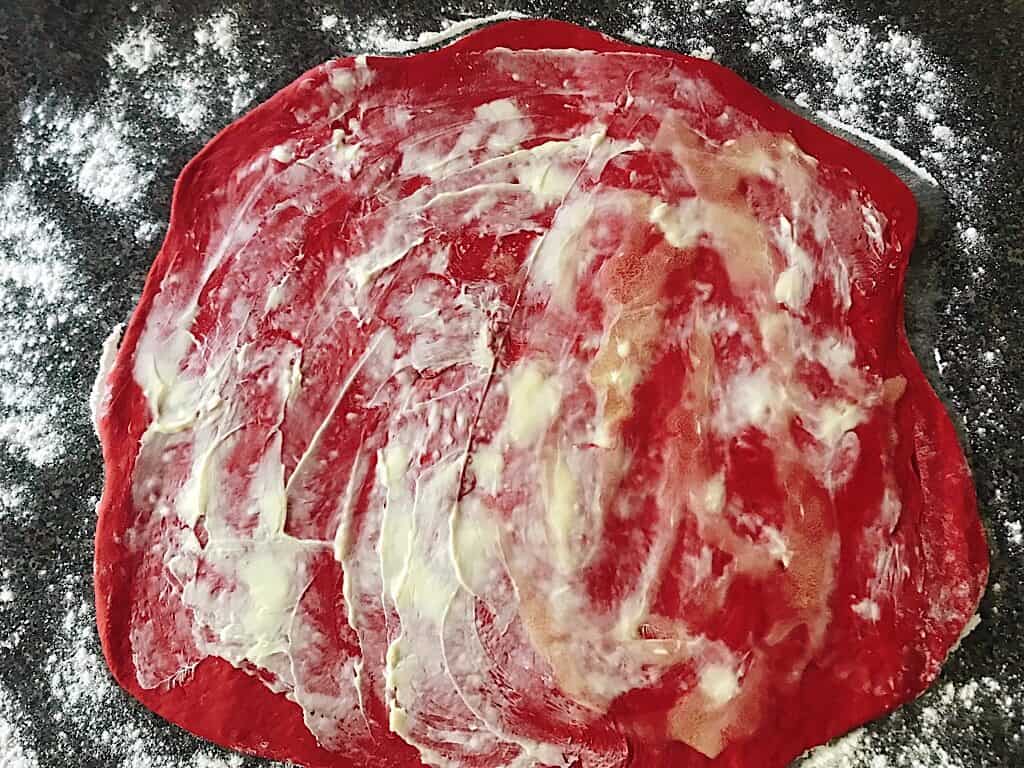 [12] Use a silicone spatula to gently spread softened butter over the rectangle.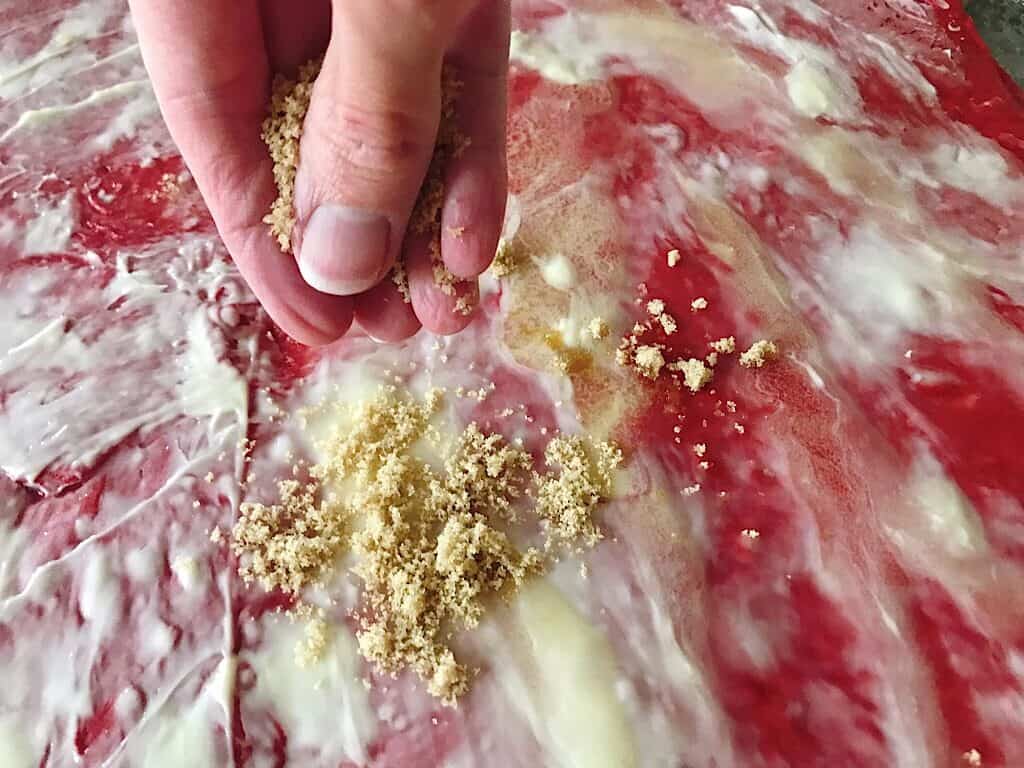 [13] Cover the top of the dough evenly with the brown sugar.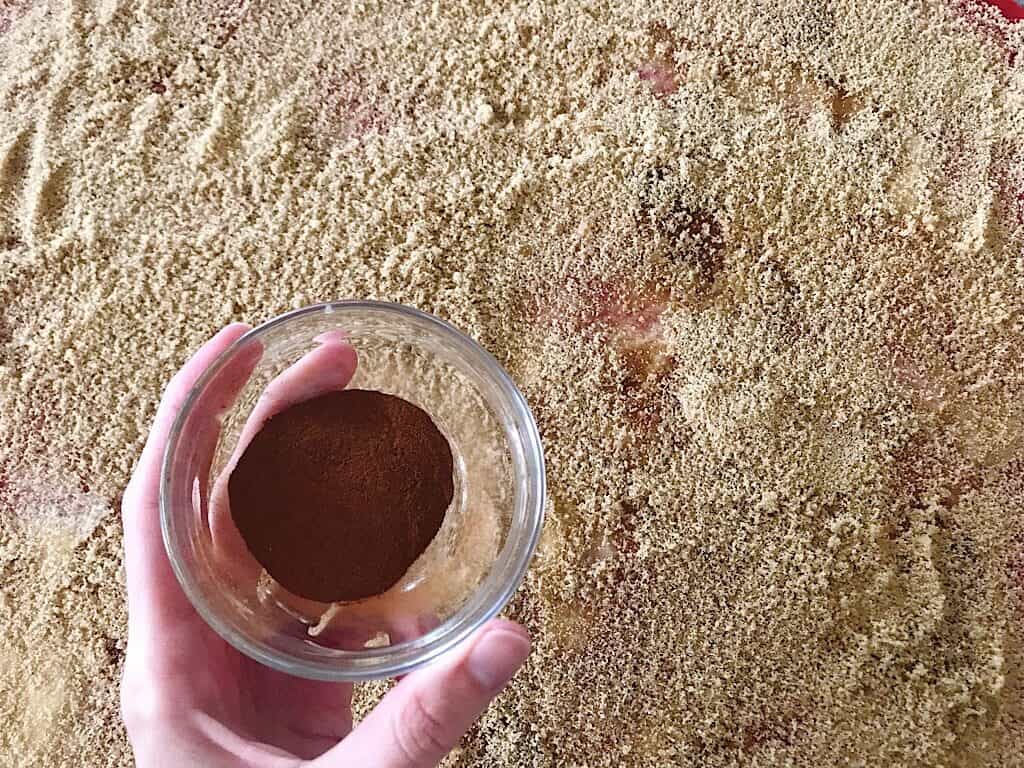 [14] Sprinkle the cinnamon over the brown sugar.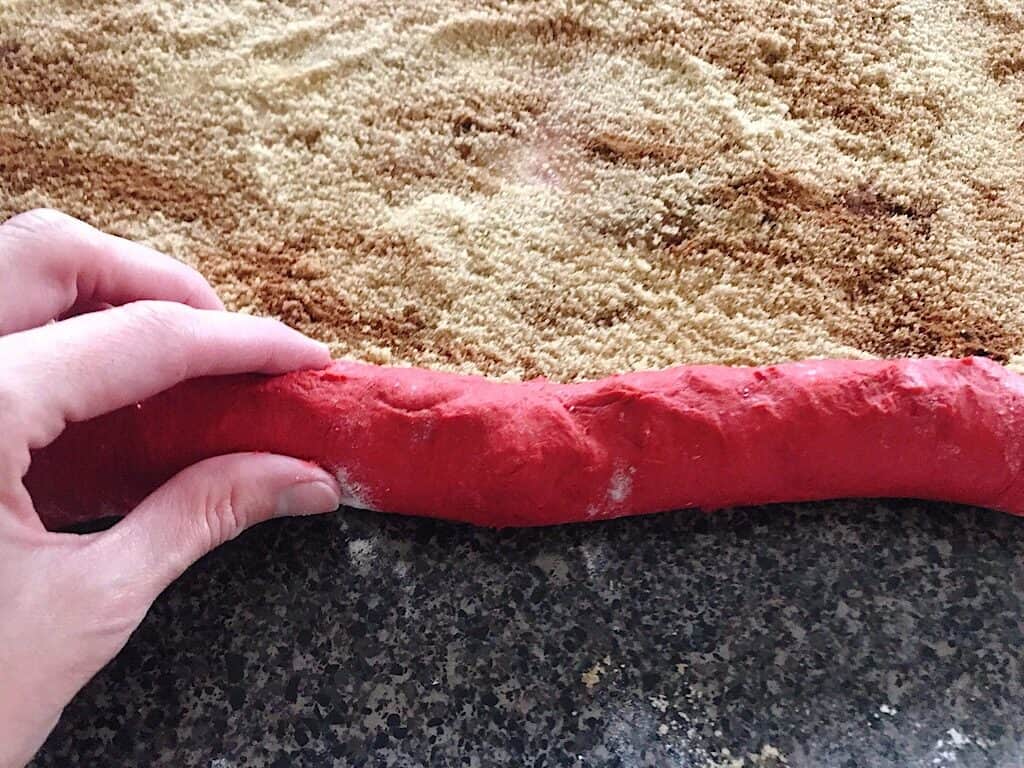 [15] Roll the dough up tightly starting with the long side of the dough.
[16] To cut the rolls, gently slide a piece of unwaxed dental floss under the roll.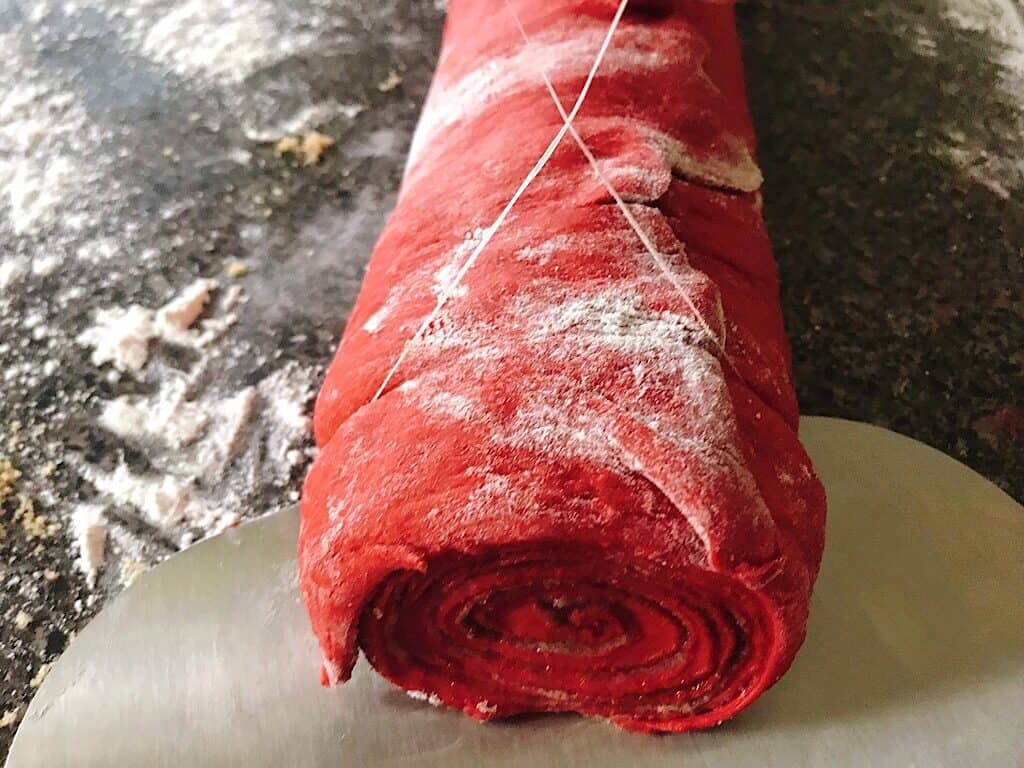 [17] Find your desired place to cut (about two inch slices) and pull the two ends of the floss up over the roll and cross them. Pull them tight around the roll and the floss will cut through.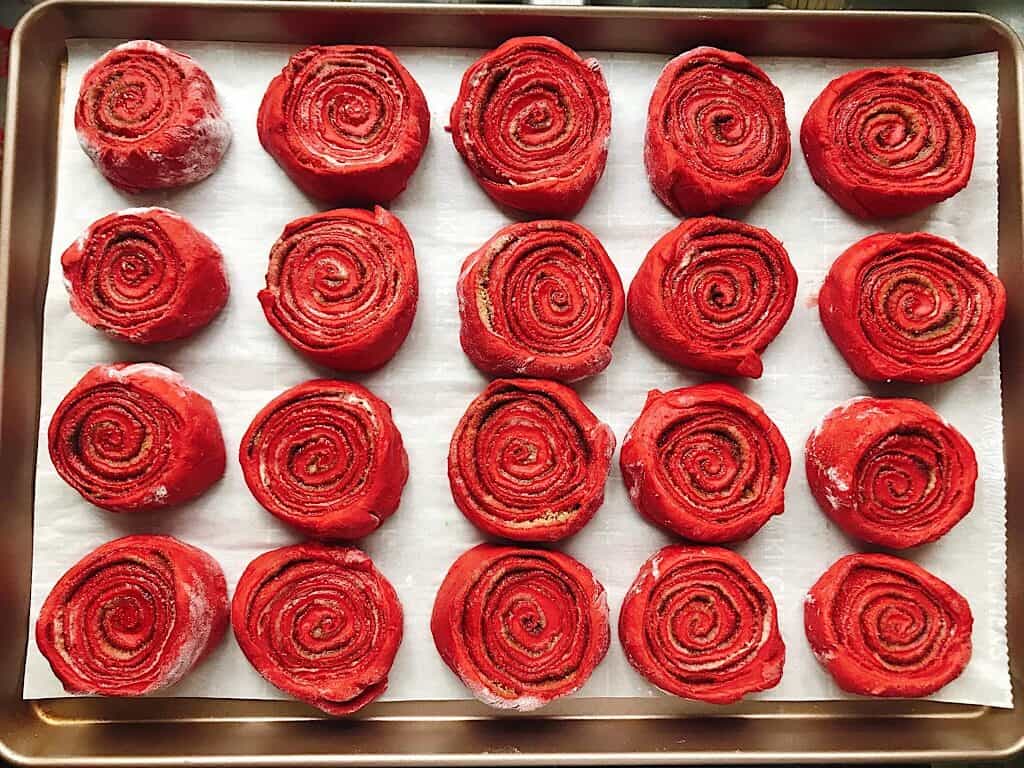 [18] Place the rolls on a baking sheet lined with parchment paper and bake at 375° for 20-25 minutes.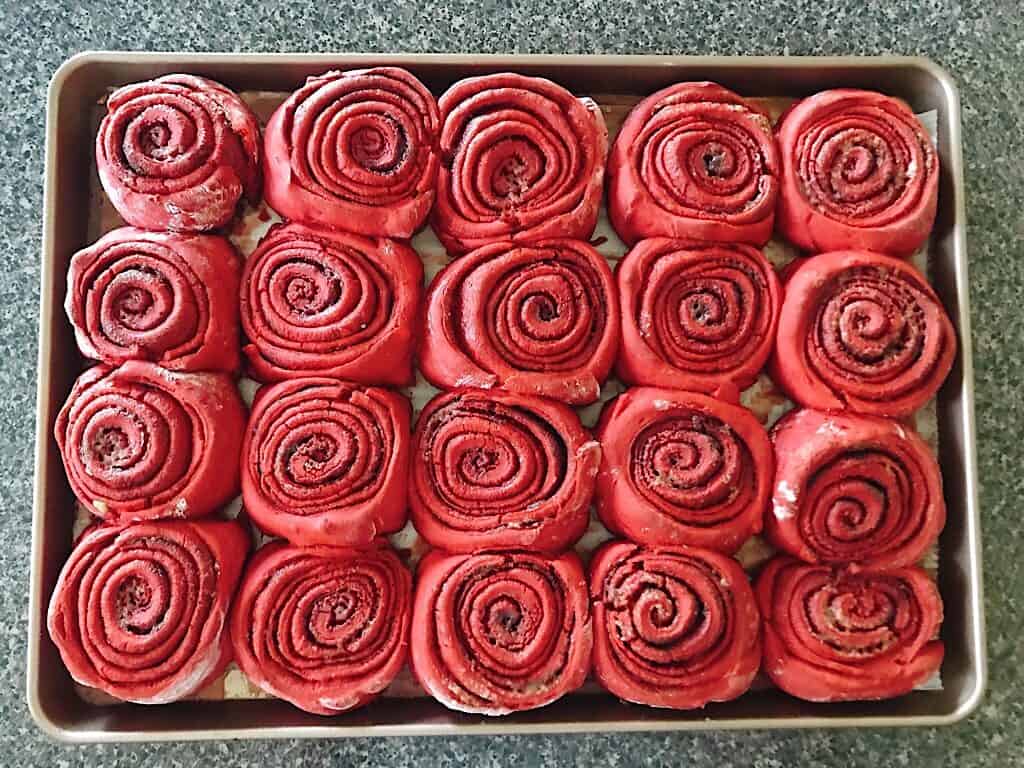 How to Make Cream Cheese Frosting
[1] Place the softened butter in the bowl of a stand mixer and beat for 1 minute.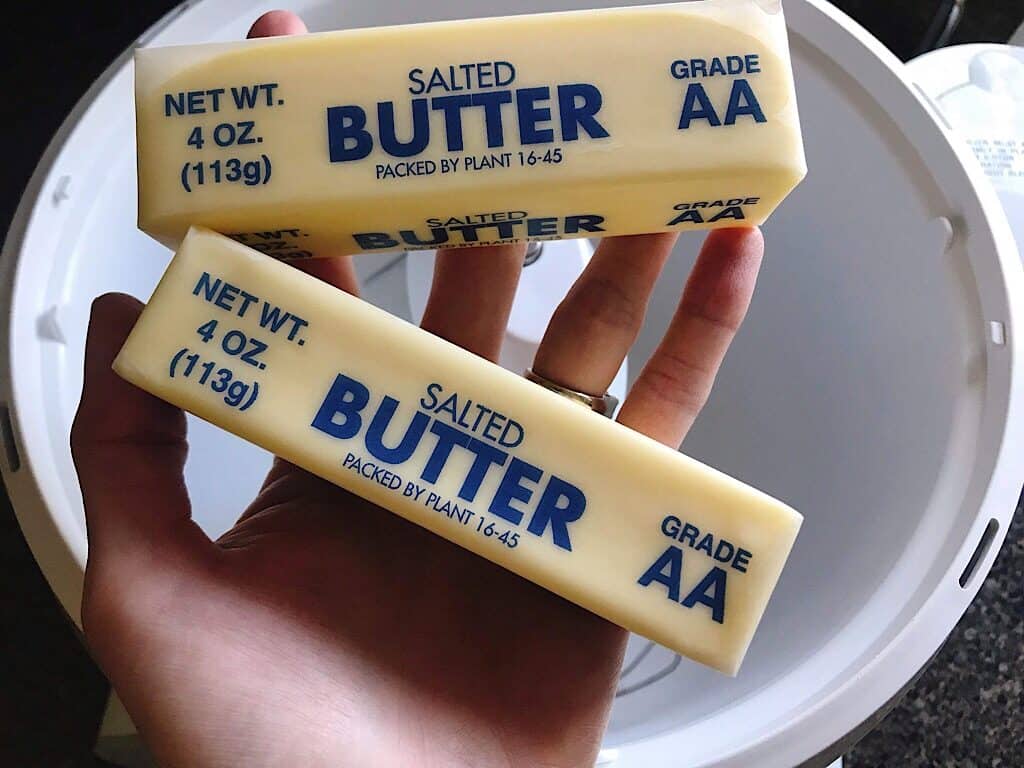 [2] Add the softened cream cheese and beat with the butter for another 2 minutes.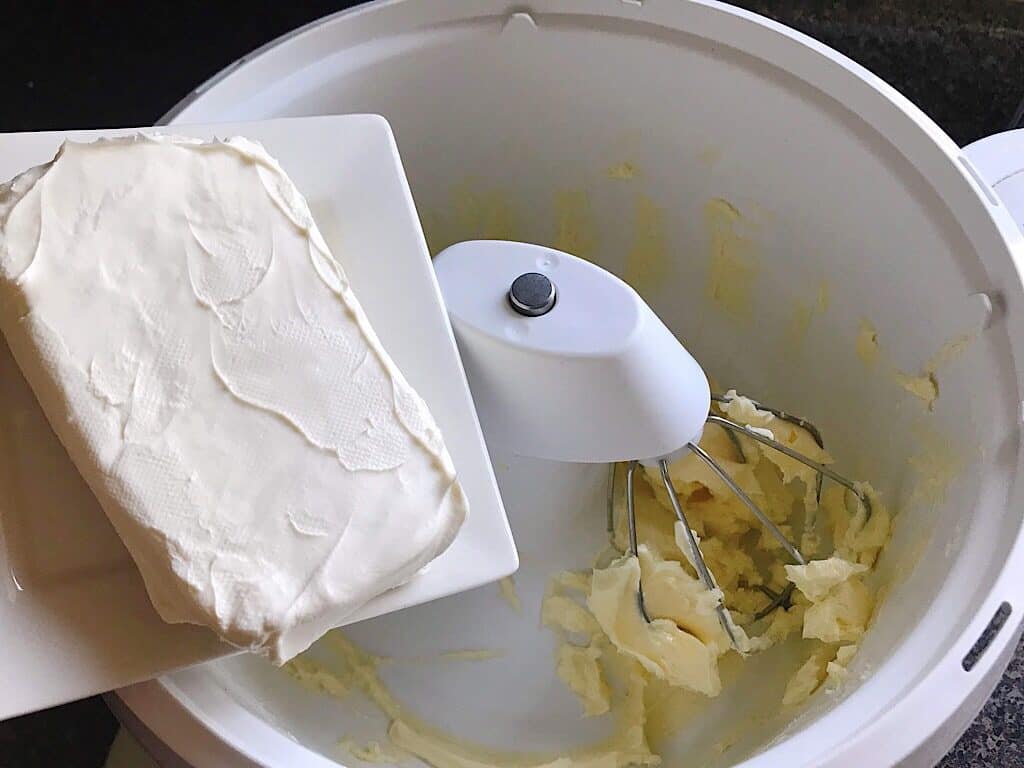 [3] Measure 2 cups of powdered sugar and add the the bowl along with the vanilla extract. Cover and mix for 1 minute.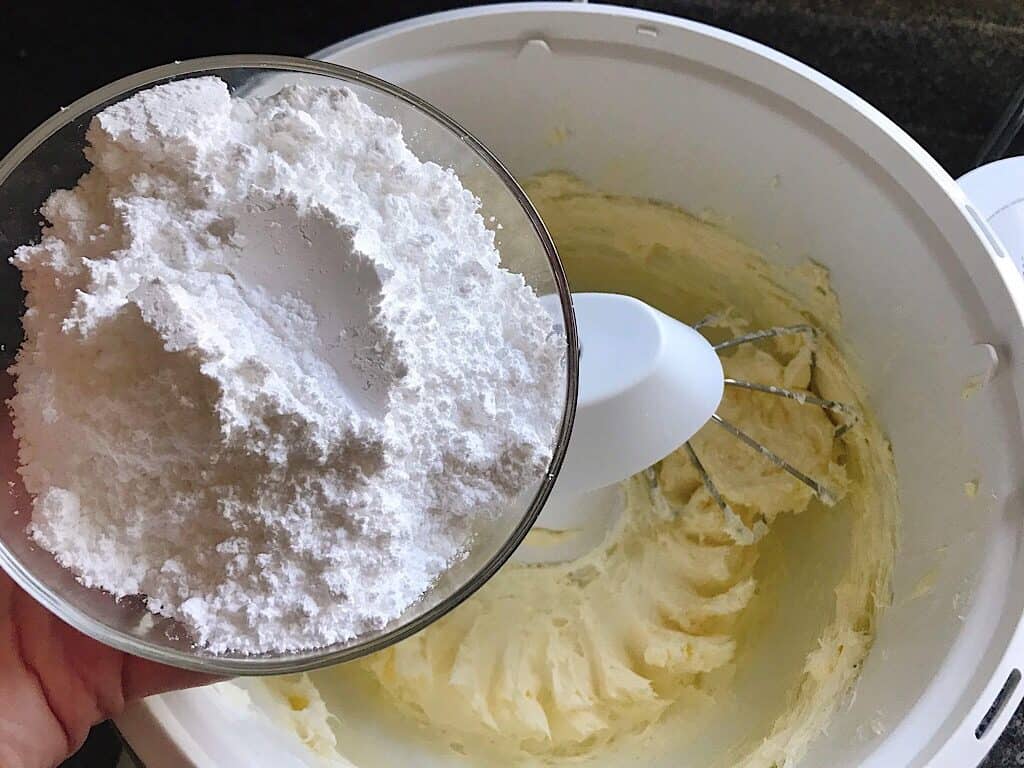 [4] Add the remaining powdered sugar and whip the frosting for 2-3 minutes, until it is light and fluffy.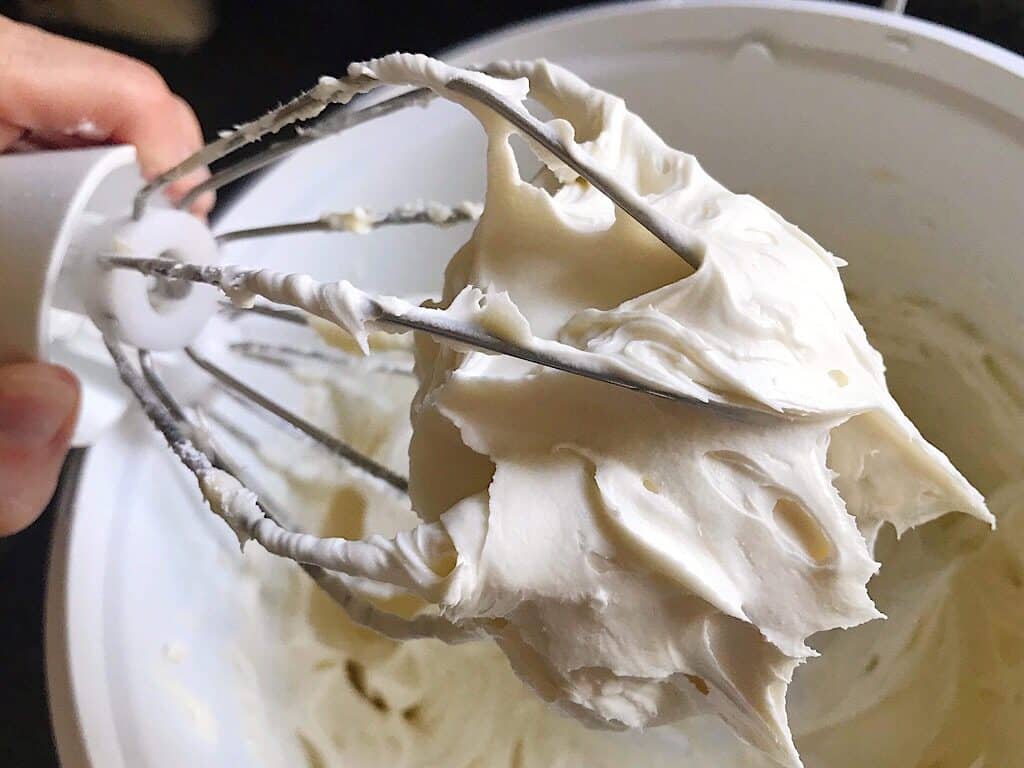 Cake Mix Cinnamon Roll Frosting Options
When adding the frosting to this easy cinnamon roll recipe, there are a few things you can do.
First, you can spread the frosting over the warm cinnamon rolls and let it melt a little bit, kind of like a glaze.
Second, you could wait until the rolls have cooled and them use a spatula to spread the frosting over the top.
The third option is what I choose to do for our picnic because it looks so good!
How to Pipe Frosting on the Cinnamon Rolls
I used a large star tip and a piping bag to pipe the cream cheese frosting on top of the cake mix cinnamon rolls!
It is really easy to do and makes your cinnamon rolls look professional! Here are some step by step instructions:
[1] Place the star tip into a piping bag (I like to use disposable bags for easy clean up).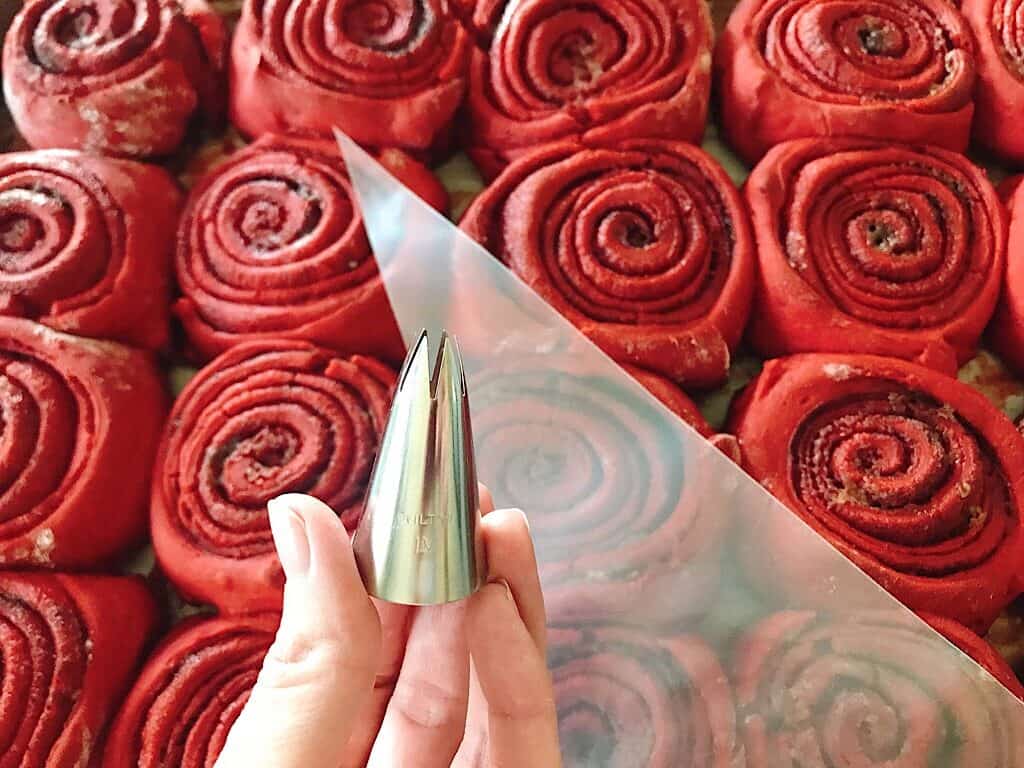 [2] Put the bag into a large cup and open the bag around the edges.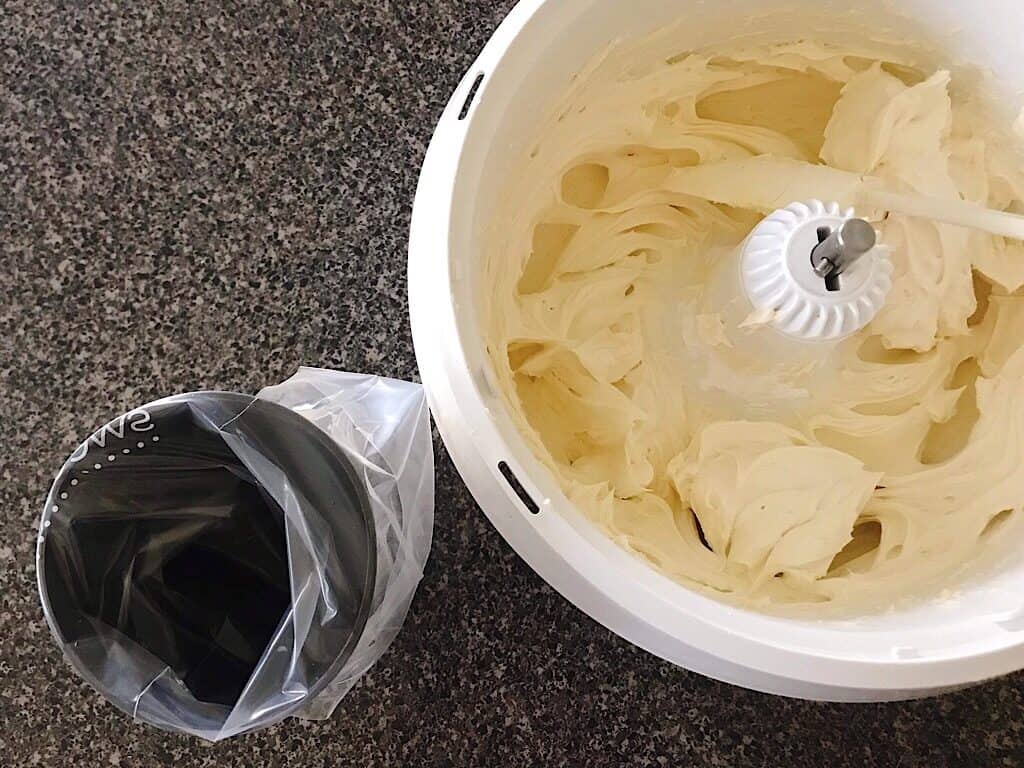 [3] Add the frosting to the piping bag and twist the end.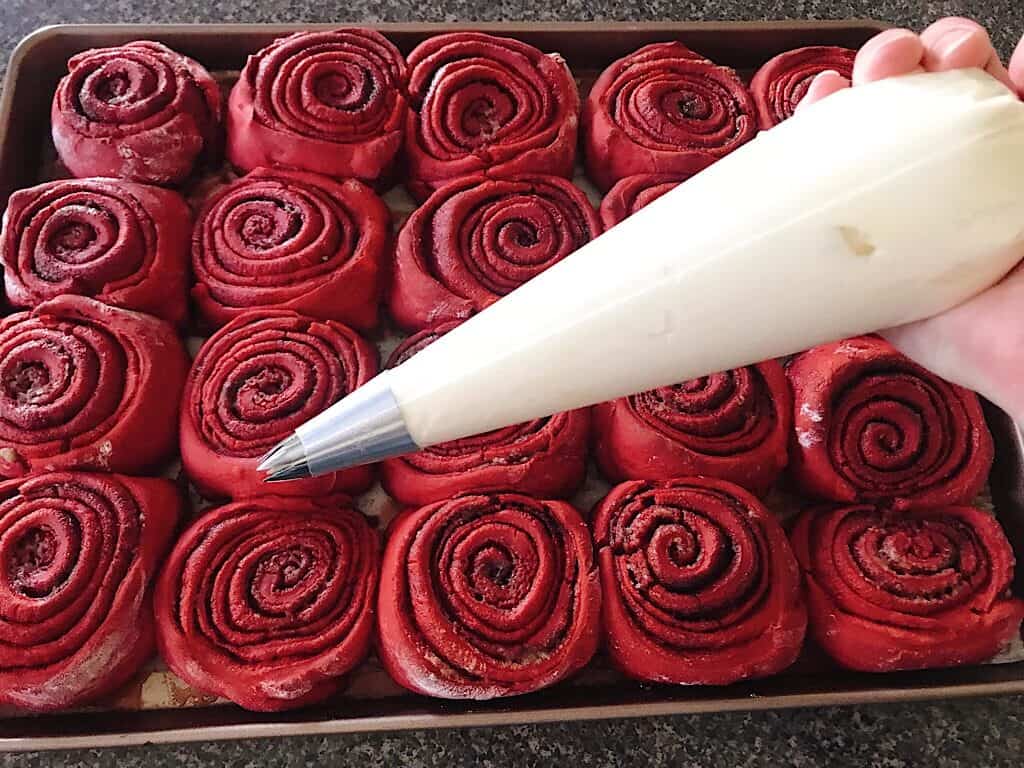 [4] Place the tip in the center of the cinnamon roll and go in circular spiral until you get to the edge of the cinnamon roll.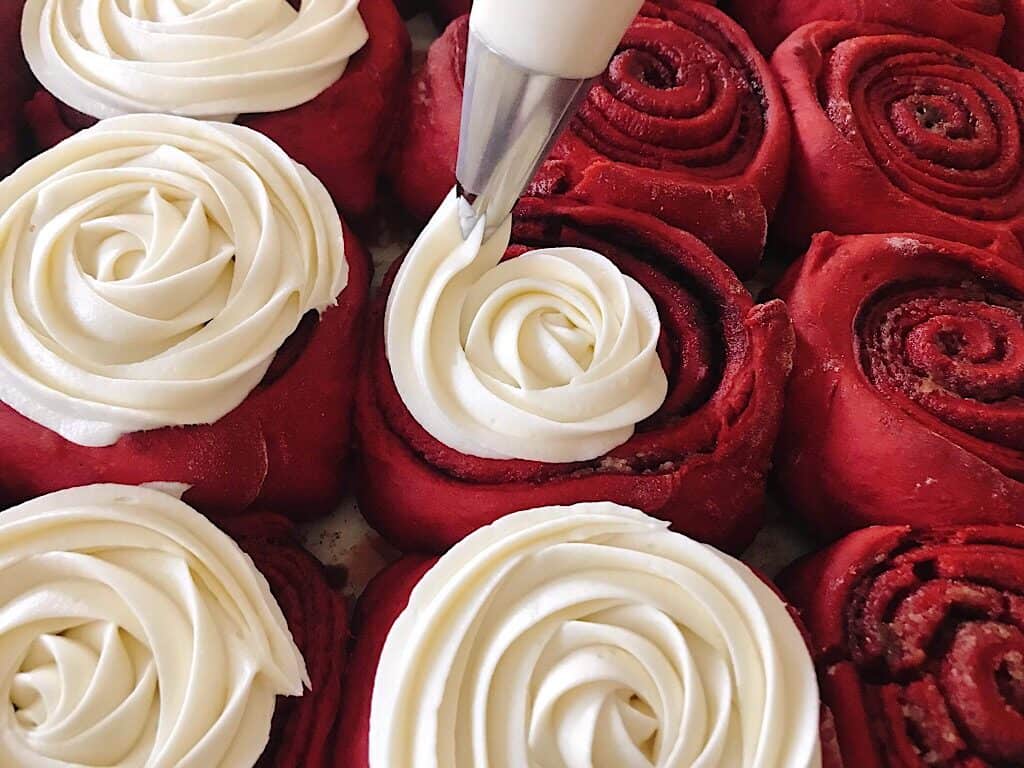 [5] Add festive sprinkles, if desired.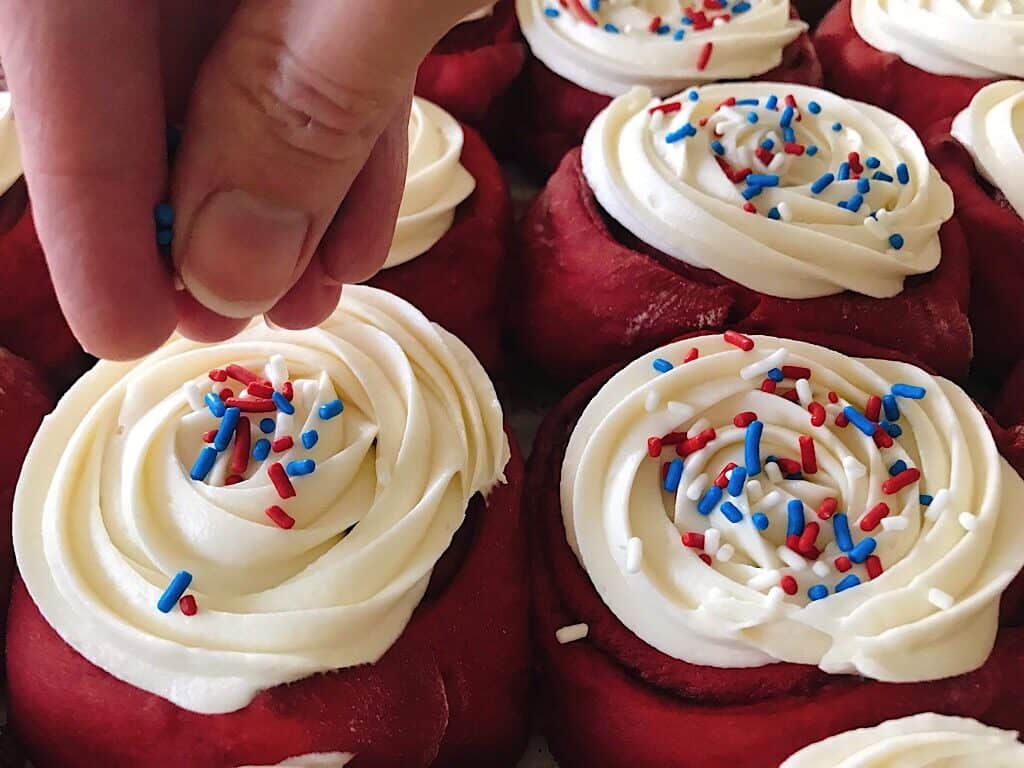 Helpful Kitchen Tools: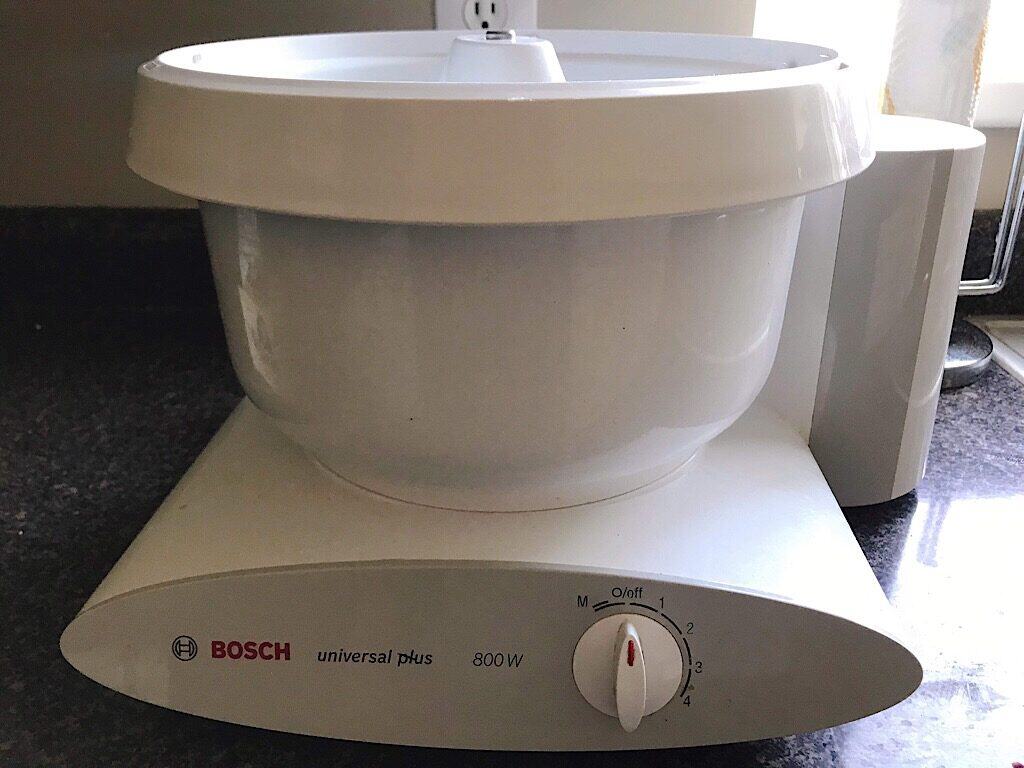 How to Freeze Cinnamon Rolls
Freezing these Red Velvet Cake Mix Cinnamon Rolls is a great way to make a batch of these go a long way. Here's how I do it:
Prepare the cinnamon roll dough according to the included directions.
Once you have cut the dough into rolls, place rolls on a baking sheet.
Put the baking sheet in the freezer and freeze the rolls for one hour.
Transfer the frozen cinnamon rolls to a freezer-safe ziplock bag.
To bake, remove the rolls from the freezer and place them on a baking sheet.
Allow them to thaw/rise for one hour then bake according to the directions.
How to Store Leftover Cake Mix Cinnamon Rolls
Cake Mix Cinnamon Rolls can be stored at room temperature in an airtight container for up to 4 days.
To extend their shelf life, you can also store them in the refrigerator or freezer.
If refrigerating or freezing the rolls, make sure to remove them from the baking sheet and place them in a sealed container before storing them.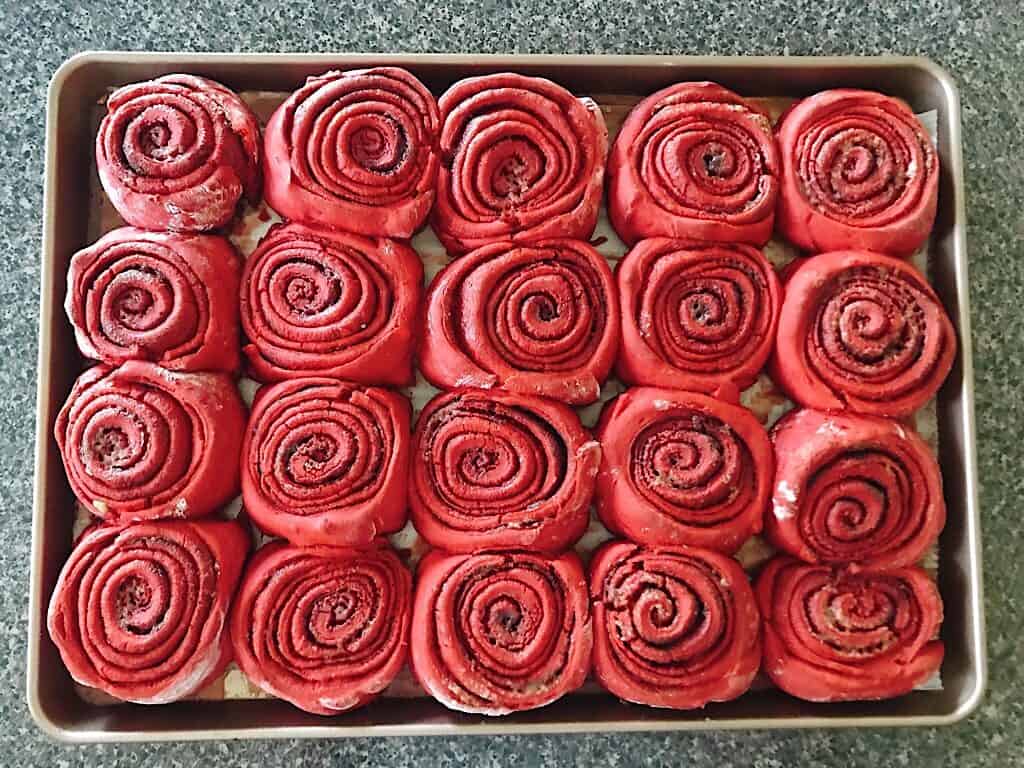 Frequently Asked Questions
Can You Make Cinnamon Rolls Ahead of Time?
The answer is yes! You can definitely make these red velvet cinnamon rolls ahead of time. I make them a day ahead all the time. To do this, follow all of the directions to make the cinnamon rolls and then store them for a day in an airtight container before serving.
Can You Freeze Cake Mix Cinnamon Rolls?
Yes! I love to freeze these red velvet cake mix cinnamon rolls. Simply follow all of the directions up until you place them on the baking sheet.
Then, put the baking sheet in the freezer and freeze the rolls for an hour. When they have frozen solid, transfer them to a freezer-safe ziplock bag and return them to the freezer. To bake, remove the rolls from the freezer and place them on a baking sheet. Allow them to thaw/rise for an hour before baking according to recipe instructions.
What brand of cake mix is best for cinnamon rolls?
There is no definitive answer to this question, as different brands of cake mix can vary in flavor and texture. Some popular options include Duncan Hines, Betty Crocker, and Pillsbury. Ultimately, the best brand of cake mix for cinnamon rolls will depend on your personal preferences and what is available in your area. You may want to try out a few different brands to find your favorite. However, many bakers do prefer using store-brand cake mixes for their cinnamon rolls, as these tend to produce more consistent results.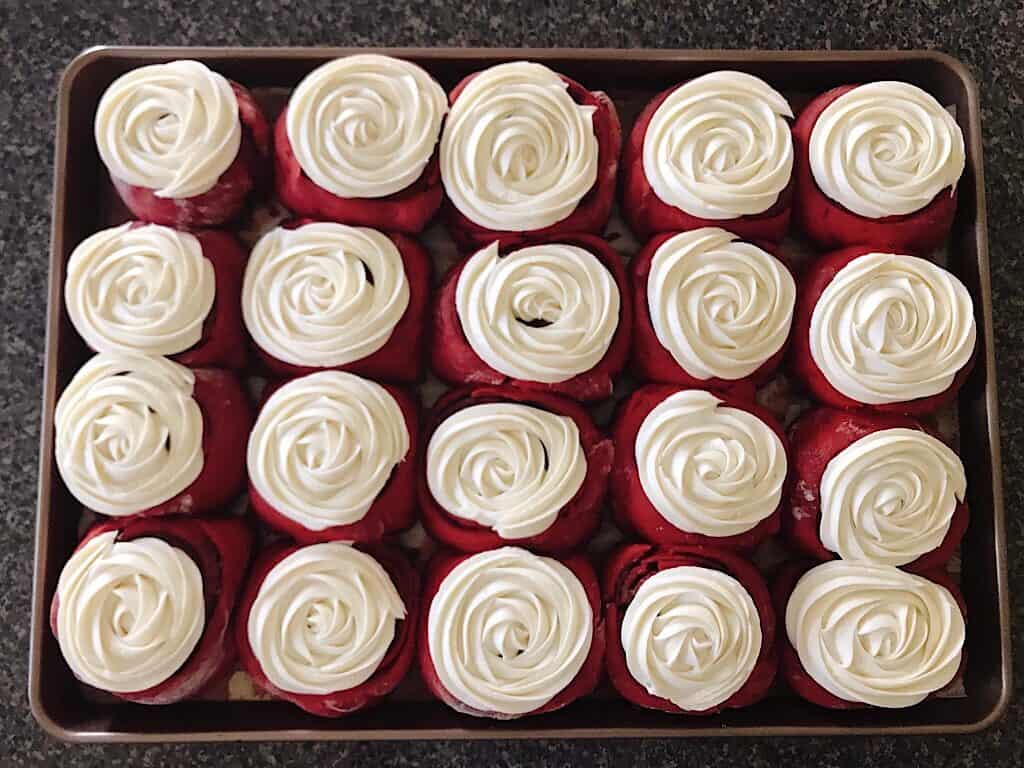 Final Thoughts
Cake mix cinnamon rolls are a delicious and easy way to make your favorite homemade treat in less time. It is one of the easiest cinnamon rolls recipes to make!
Whether you choose to freeze them for later or enjoy them right away, these red velvet rolls are sure to be a hit with family and friends. So why not give them a try today?
More Cake Mix Recipes:
Pin for later: