If you're looking for a delicious and easy dessert or side dish that combines the best of both worlds, look no further than cornbread cake recipe made with Jiffy cornbread muffin mix and a box of yellow cake mix. This delightful treat takes the beloved flavors of sweet traditional cornbread and moist yellow cake and brings them together in perfect harmony. The Jiffy cornbread muffin mix adds a hint of savory sweetness, while the yellow cake mix provides a soft and fluffy texture. Whether enjoyed on its own, drizzled with honey, or paired with a dollop of whipped cream, this cornbread cake is sure to satisfy your cravings.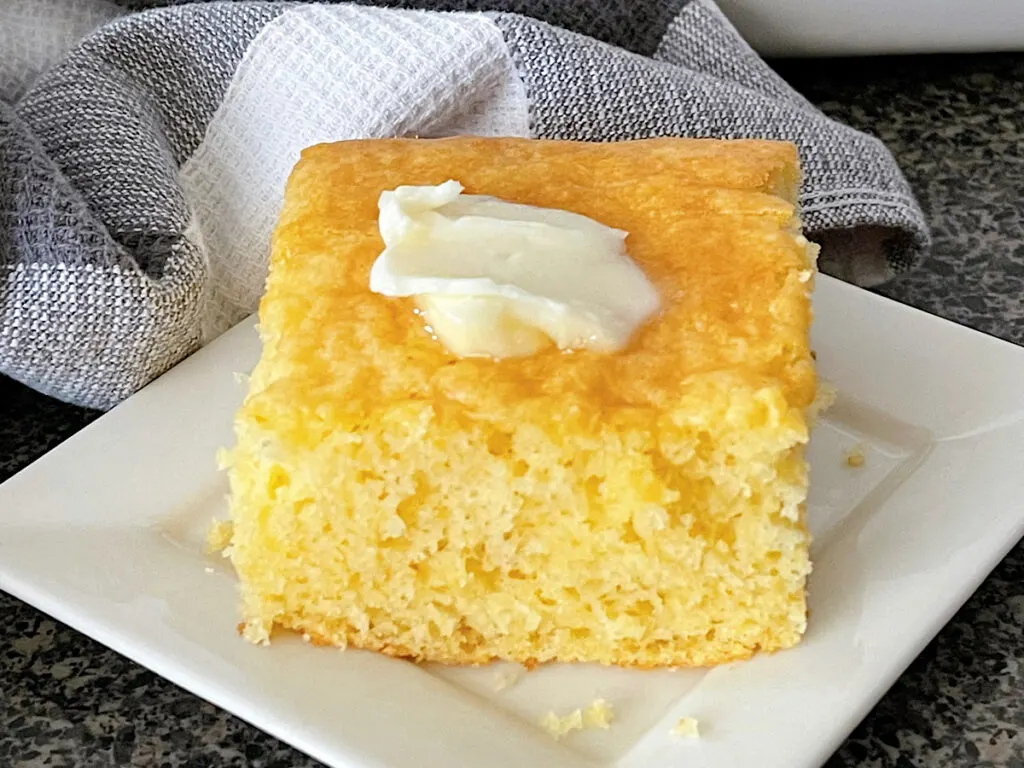 This post may contain affiliate links. When you click on these links, I get a small percentage back at no cost to you! For more information see my disclosure policy.
Below you will find tips, tricks and helpful hints for making this recipe including step by step instructions with pictures. If you would like to go directly to the recipe, scroll down to the recipe card or tap "Jump to Recipe" at the top of the page.
Why You'll Love This Sweet Cornbread Cake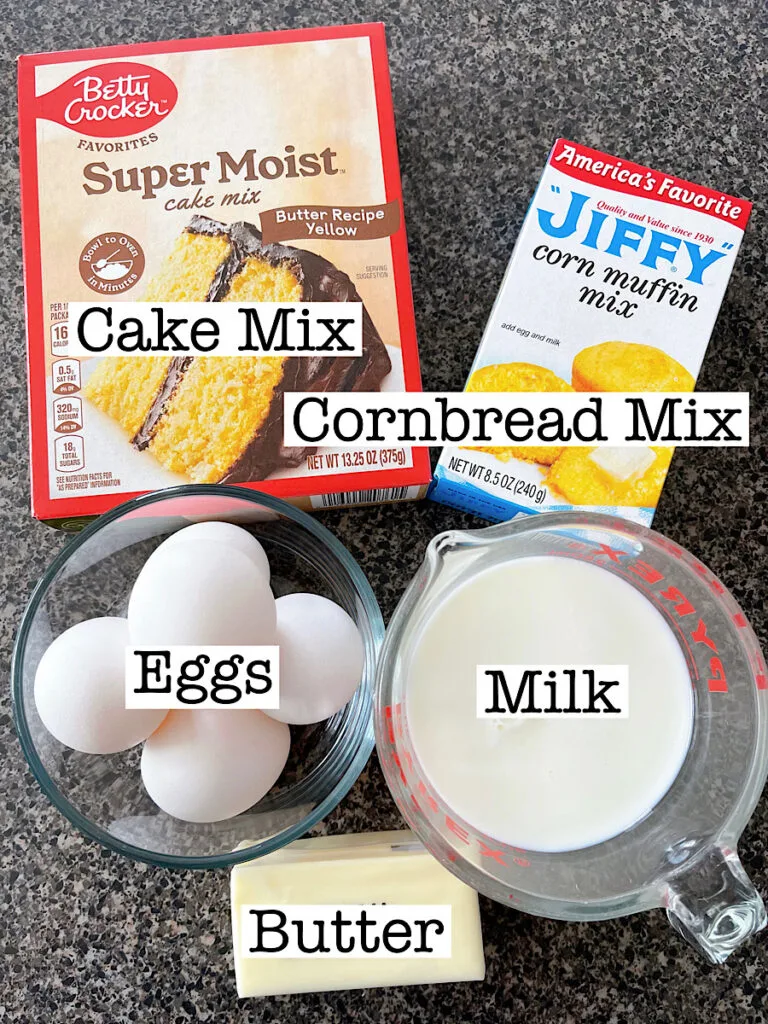 Cornbread Cake Ingredients
*Ingredient amounts are located in the recipe card at the end of this post.
Jiffy Corn Muffin Mix: This classic mix is made with real corn and provides the perfect base for this recipe. It can be found in most grocery stores and is affordable as well.
Yellow Cake Mix: This adds a soft, moist texture to the cake and complements the flavors of the cornbread mix. I a box of Betty Crocker brand yellow cake mix.
Eggs: Eggs help bind everything together and add richness to the cake.
Milk: Milk adds moisture and helps create a light and fluffy texture. I recommend using whole milk for the best results.
Butter: Melted butter adds richness and flavor to the cake. You can substitute it with vegetable oil if preferred, but I highly recommend using butter for the best taste.
How to Make This Sweet Cornbread Cake Recipe
[Step 1] Beat the eggs in a large bowl with an electric mixer or in a stand mixer. Then add the rest of the ingredients and beat for about one minute, until light and fluffy.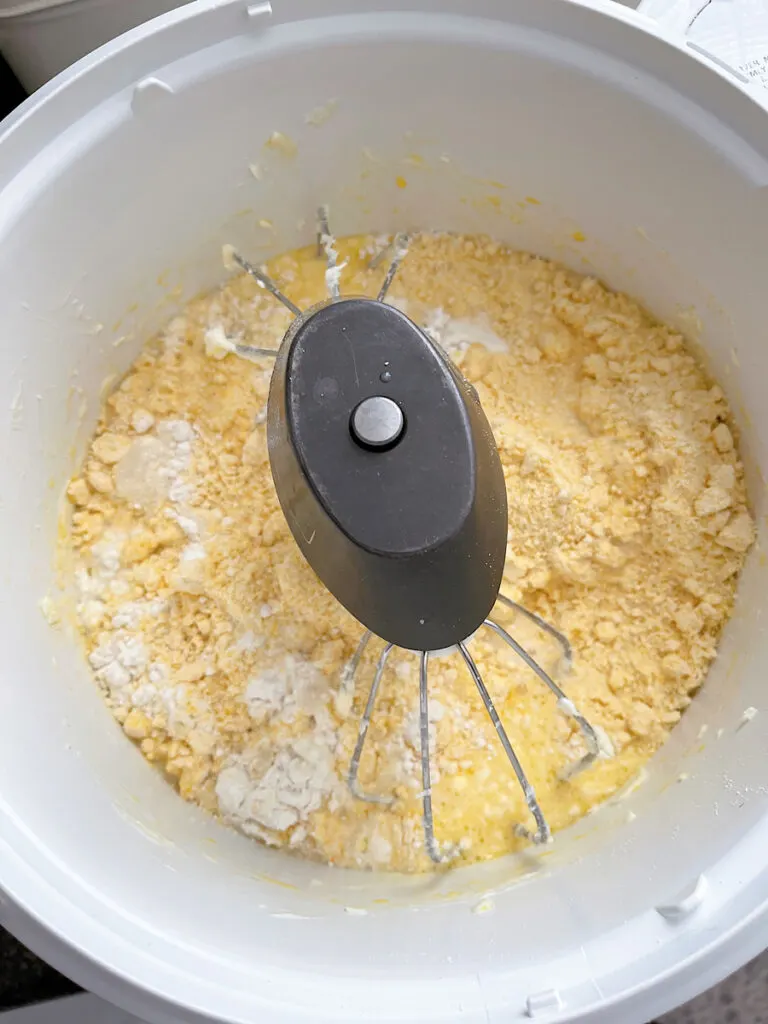 [Step 2] Pour the cornbread batter into a prepared pan (9×13 pan or cast iron skillet) that has been sprayed with nonstick cooking spray. Bake at 350 degrees for 30 – 35 minutes, until a toothpick inserted comes out clean (toothpick test).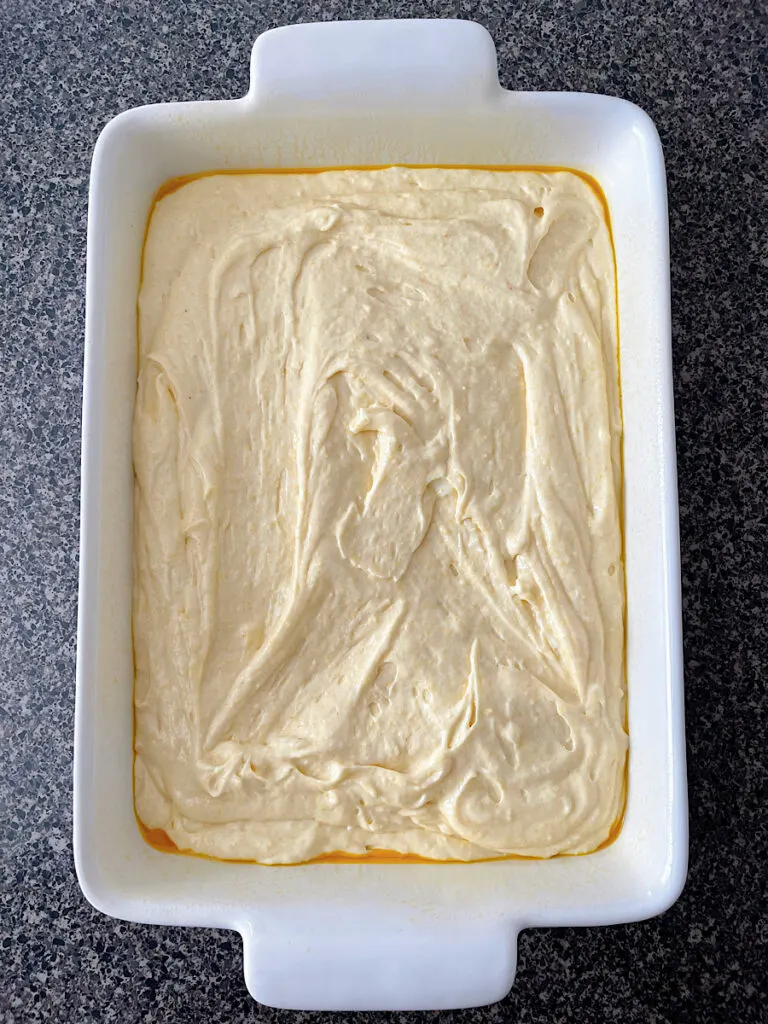 [Step 3] Allow the corn cake cool, then cut into 12 slices and serve with butter and a drizzle of honey or try this whipped honey butter recipe.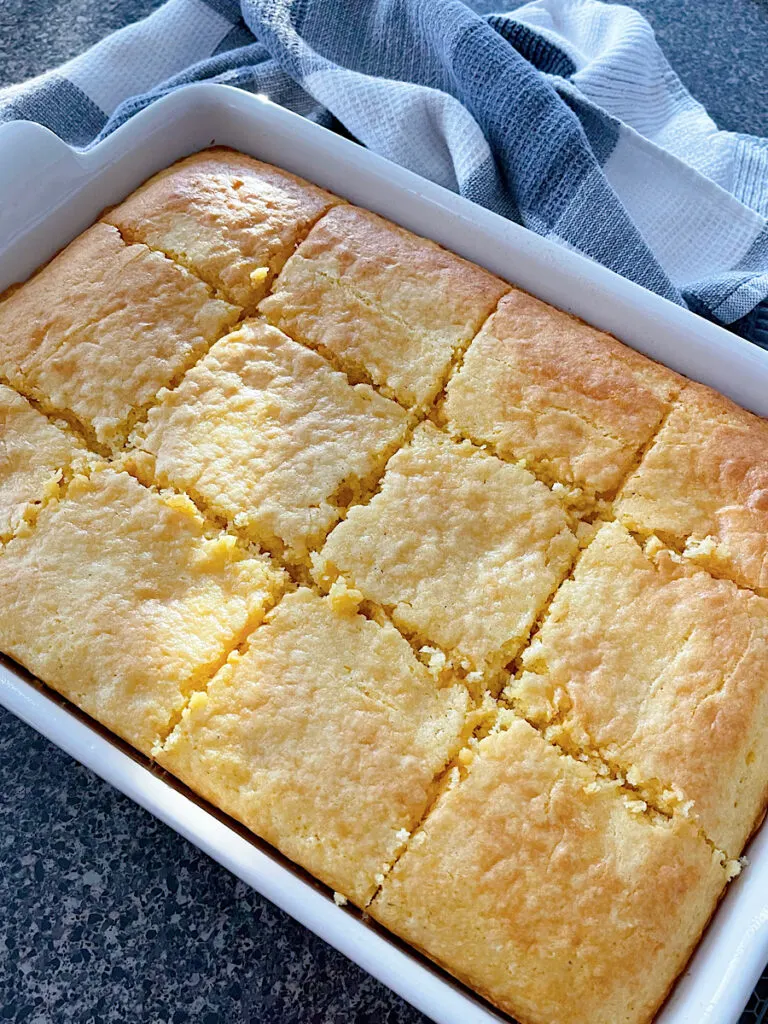 Helpful Kitchen Tools
How to Store Leftover Cornbread Cake
If you have any leftover cornbread cake, you can store it in an airtight container, or covered with plastic wrap, at room temperature for up to 3 days. You can also freeze the cake and reheat it in the microwave or oven when ready to enjoy.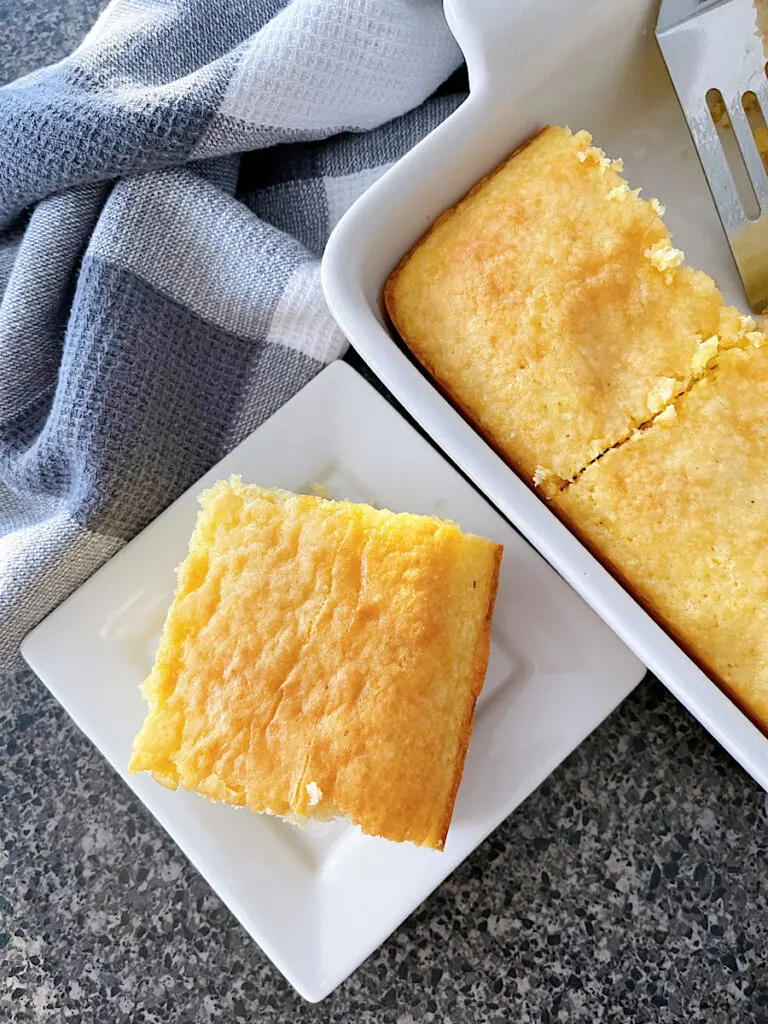 Cornbread Recipe Baking Tips & Tricks
Frequently Asked Questions
Can I use a different flavor cake mix?
Yes, feel free to experiment with different flavors of cake mix such as chocolate, vanilla, or even lemon for a citrus twist.
Can I add other ingredients to the batter?
Absolutely! You can mix in corn kernels, jalapeños, cheese, or any other add-ins you prefer. Just make sure to adjust the baking time as needed.
Can I make this recipe dairy-free?
Yes, you can use a non-dairy milk and vegan butter substitute to make this recipe dairy-free.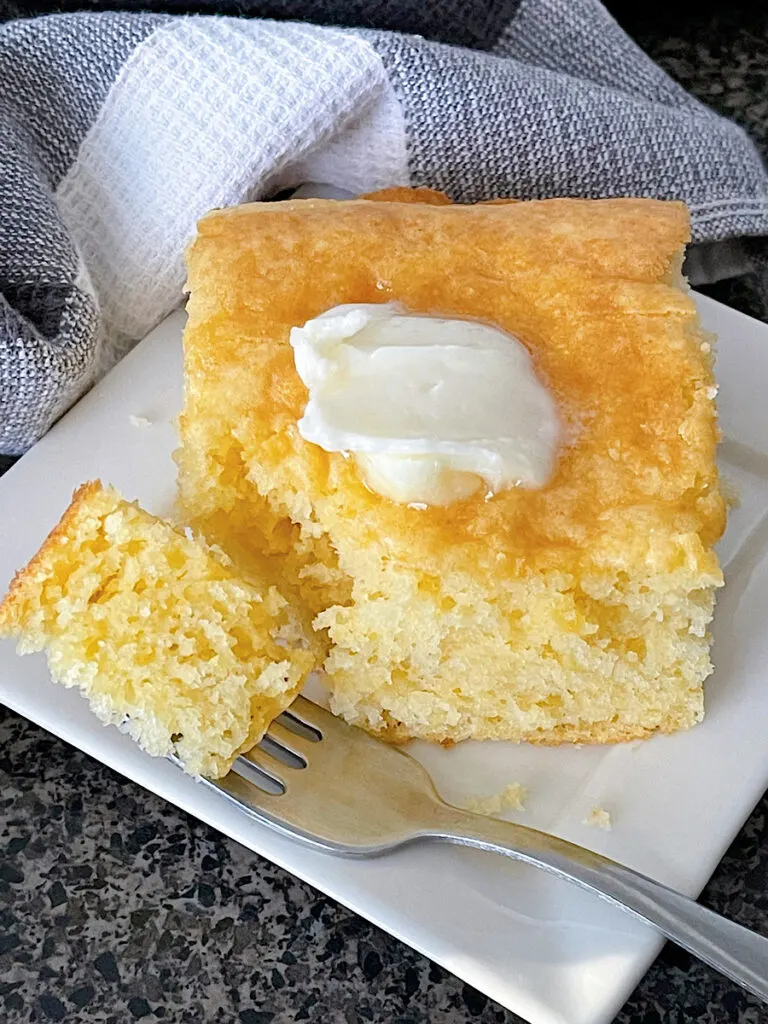 Final Thoughts
This easy cornbread cake recipe is a delicious and versatile treat that is sure to be loved by all! With just a few simple ingredients and minimal prep time , you can have a homemade dessert or side dish that tastes like it took hours to make. So why not give this recipe a try and enjoy the best of both worlds – cornbread and cake together in one delightful treat!
More Cornbread & Cake Recipes