This cornbread recipe is super easy to make and is sweet and moist and is made with ingredients you most likely already have in your pantry. It reminds me of the fluffy texture of the cornbread served at Disneyland's Big Thunder Ranch BBQ and is a favorite cornbread recipe at my house. My kids say it is the best cornbread recipe ever! It is a great recipe as a side dish for barbecues, soups, chili and Thanksgiving dinner!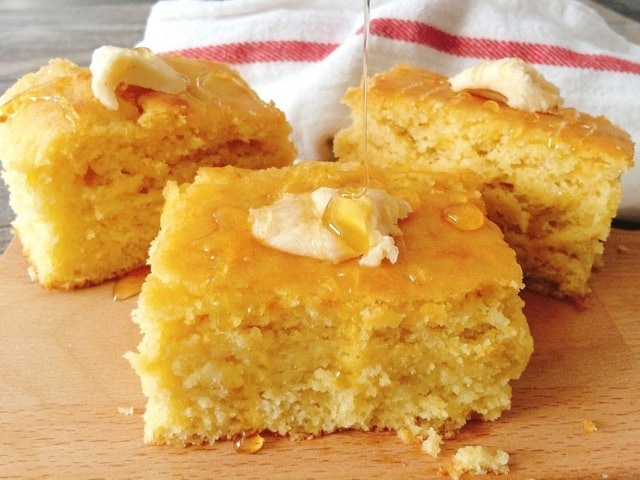 This post may contain affiliate links. When you click on these links, I get a small percentage back at no cost to you! For more information see my disclosure policy.
Below you will find tips, tricks and helpful hints for making this recipe including step by step instructions with pictures. If you would like to go directly to the recipe, scroll down to the recipe card or tap "Jump to Recipe" at the top of the page.
Why I Love this Cornbread
Have you ever had something at a restaurant that you could never make better at home, no matter how hard you tried? That was me with cornbread.
Disneyland used to have a delicious restaurant in Frontierland called Big Thunder BBQ and they had the most amazing sweet cornbread. I have been trying to recreate this sweet cornbread recipe at home because it was so delicious. And, I think I have done it with this recipe!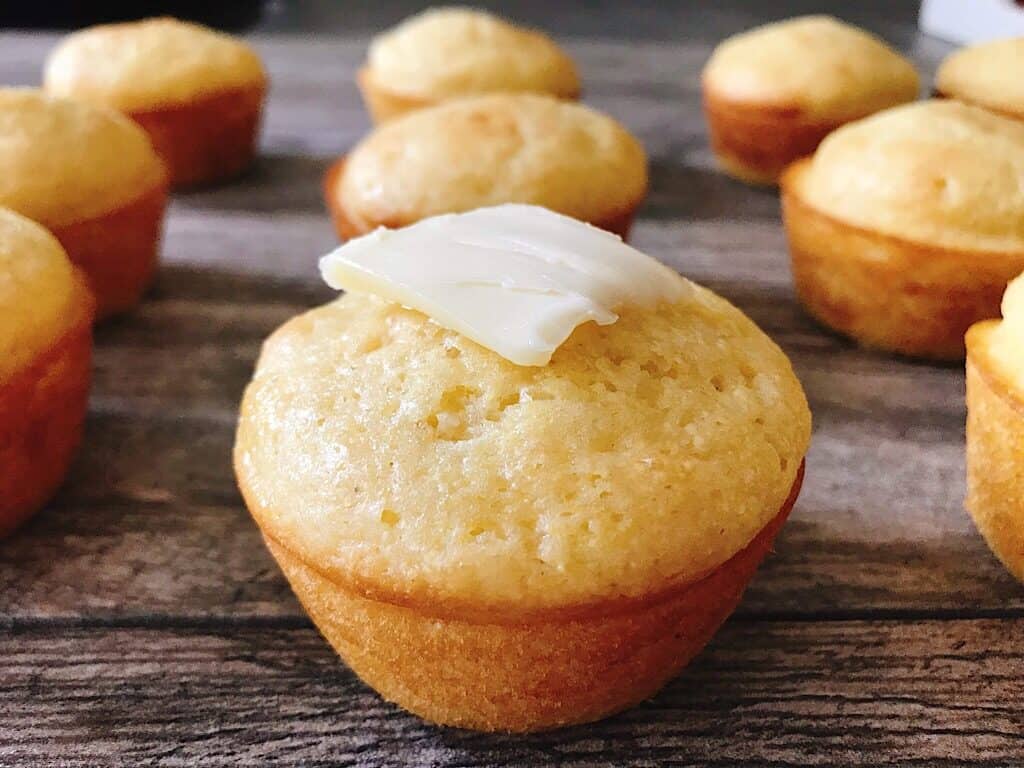 I love a good cornbread recipe, but so many times it can be dry and crumbly. But not this one. This cornbread is moist, it is sweet, and it is so easy to make!
Tips for Moist Cornbread
One of the things that I love about this easy cornbread recipe is how moist it is. And, it seems to get even more moist the next day! Because of this, sometimes I will make it the day before I need it and hope that my family doesn't eat it all first!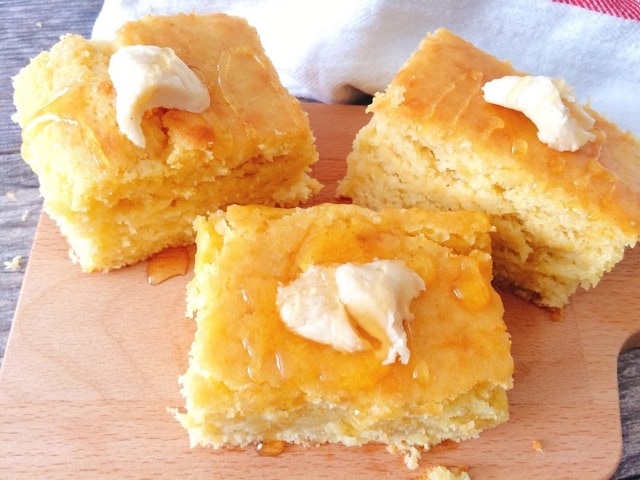 I also love that it has just a hint of honey. My mouth is watering just thinking about this buttery, sweet, moist cornbread.
This perfect cornbread is also super easy to throw together and comes out perfectly every time! Most of the ingredients you will need to make this cornbread are probably already in your pantry.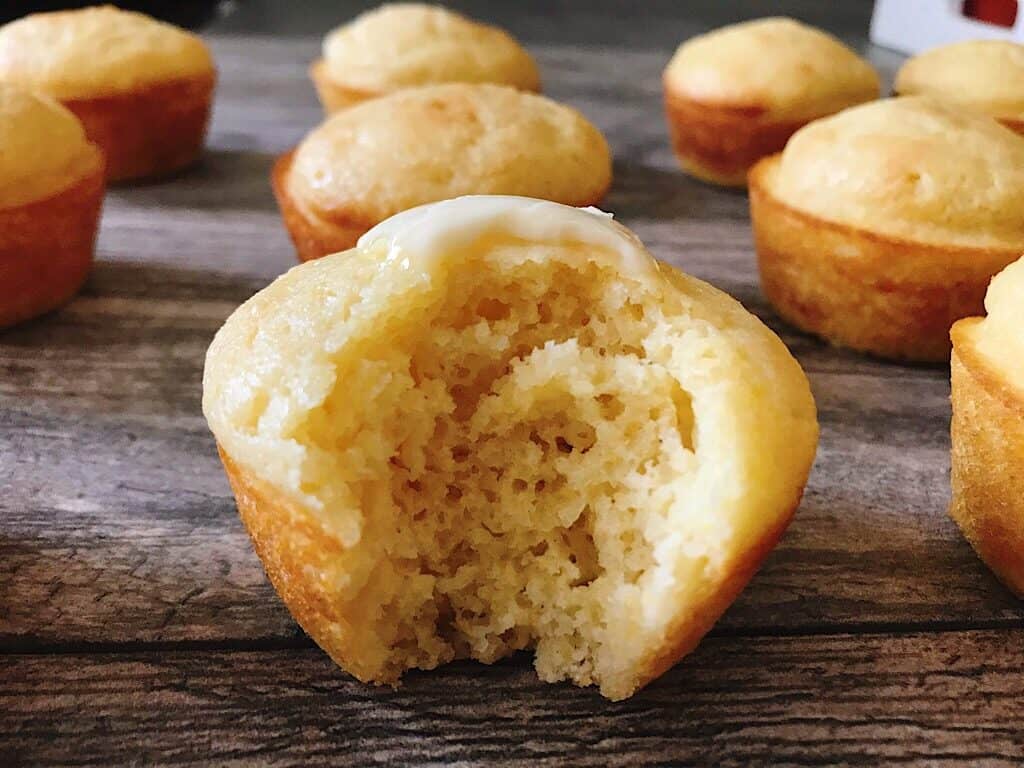 This recipe already produces the most moist cornbread, but if you want to take it up a notch, you can spread softened butter over the top of the cornbread immediately after removing it from the oven.
Another trick is to make sure that you store the cornbread in an airtight container. When you do this, the cornbread can last up to 5 days.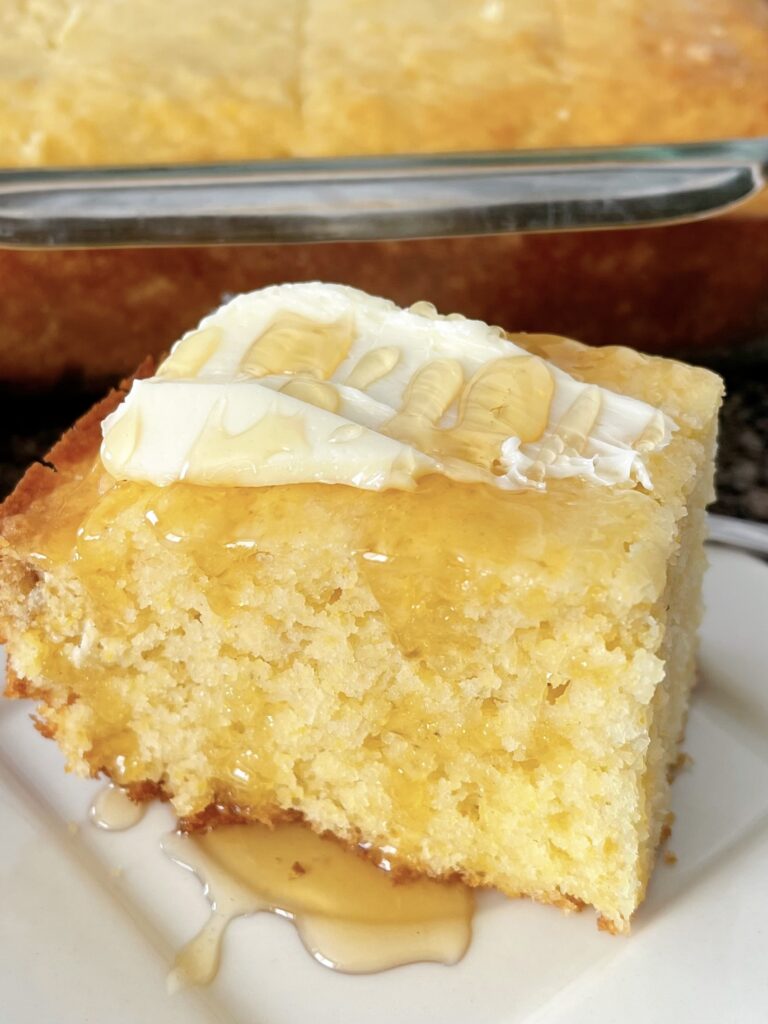 Is Cornbread Supposed to be Sweet?
To me, classic cornbread is meant to be sweet. This is because of the sugar content in the recipe. Cornbread also tends to be really moist and cake-like with the right amount of sweetness which makes it even more flavorful!
Southern-style cornbread tends to be sweeter than other recipes and I actually prefer it that way, especially topped with whipped honey butter!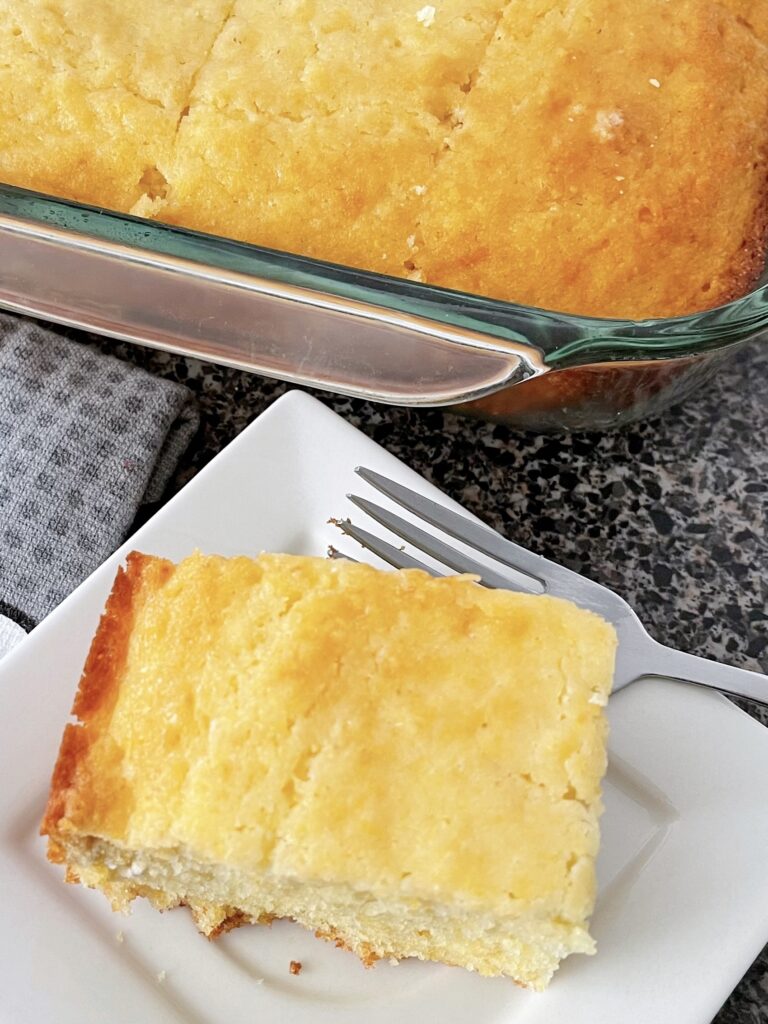 What Goes With Sweet Cornbread
Cornbread is amazing when paired with soup or chili. It is also great served as a side dish on Thanksgiving. Here are some dishes I serve this sweet cornbread with: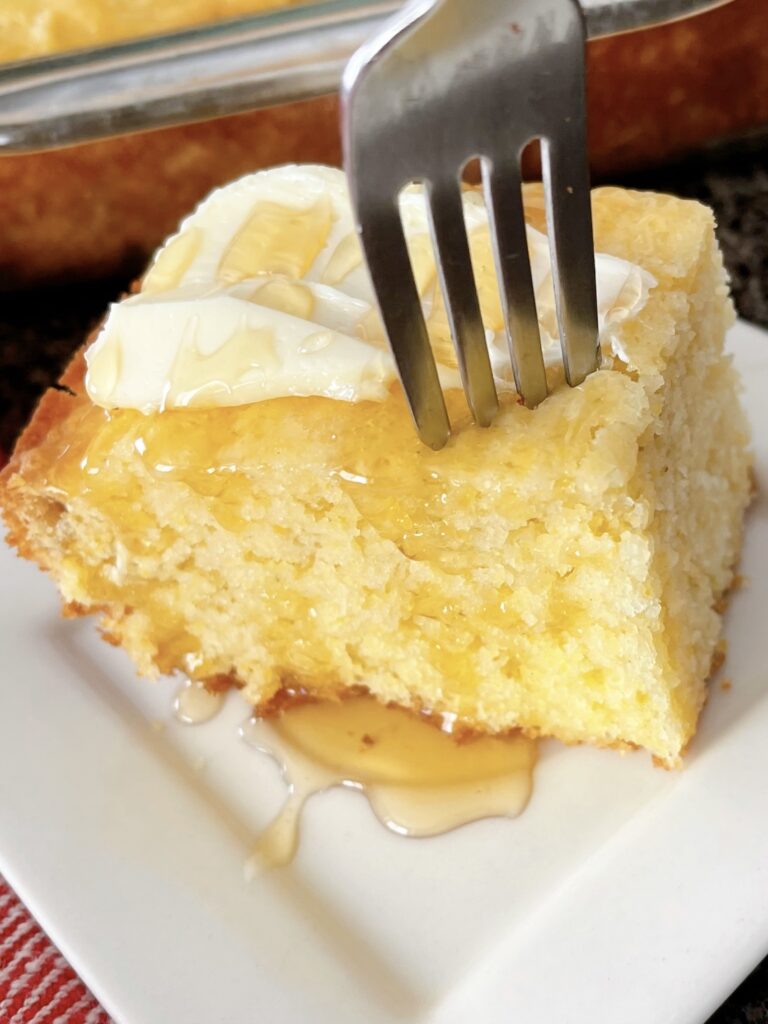 Sweet Moist Cornbread Ingredients
*Ingredient amounts are located in the recipe card at the end of this post.
Cornmeal- Cornmeal is the star of the show and is necessary to make sweet moist cornbread. You can use yellow or white cornmeal, but Yellow produces the most visually appealing result.
All-Purpose Flour- The next ingredient needed to make this cornbread is flour. You can use all-purpose or self-rising, but I prefer to use all-purpose because that is what most people have in their cabinets.
Sugar– Sugar is what makes this cornbread recipe sweet!
Baking Powder- Baking powder is one of the most important ingredients in this recipe because it is what helps the cornbread to rise and be fluffy. Baking soda is not needed.
Salt– The following ingredient that makes this cornbread recipe is salt. Salt brings out all of the flavors in a dish, which makes it really important when baking.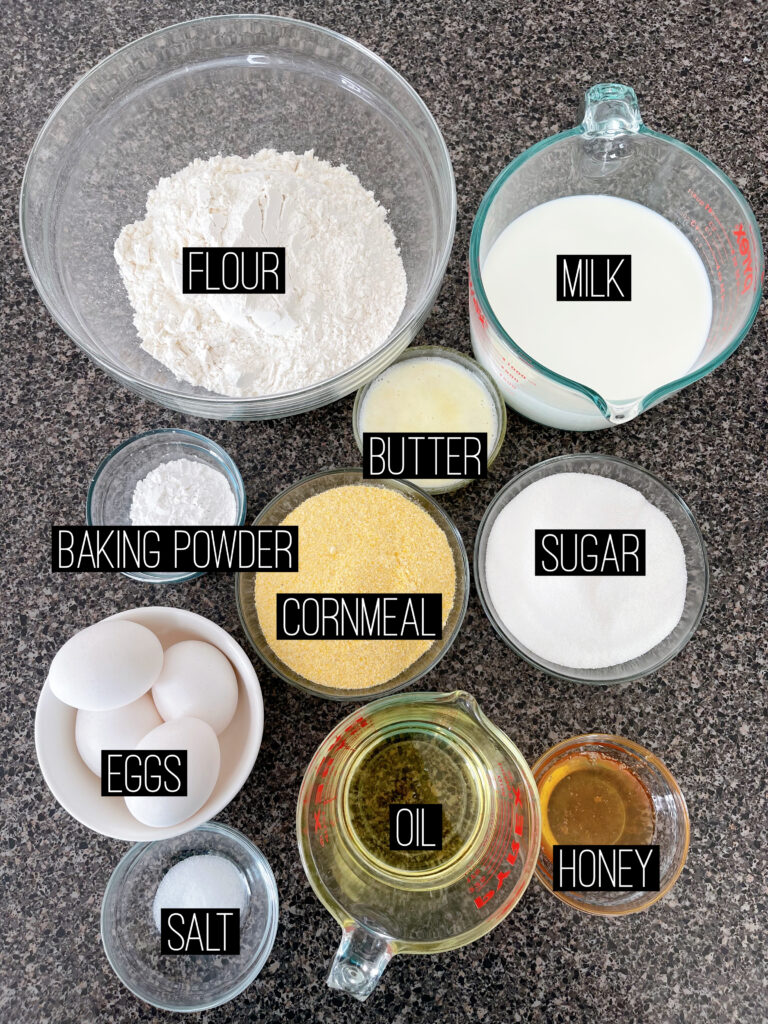 Oil- The oil helps keep the cornbread moist. Feel free to use any neutral tasting oil such as vegetable oil or canola oil.
Butter- One of my favorite ingredients to use when baking sweet cornbread is butter! The butter in this recipe helps to enhance the buttery flavor and contributes to its moistness.
Honey- The last ingredient that needs to go into this cornbread recipe is honey. This versatile sweetener helps give this cornbread sweetness and brings out the flavor of the other ingredients!
Eggs- Eggs are what binds the cornbread ingredients together. I use 4 large eggs instead of three because it produces a more dense cornbread.
Milk- Milk brings all of the ingredients together and creates a creamy batter that bakes into moist, sweet cornbread. Buttermilk can also be used instead of regular milk.
How to Make Sweet Moist Cornbread
[1] First, grease a 9×13 dish and preheat your oven to 350 degrees.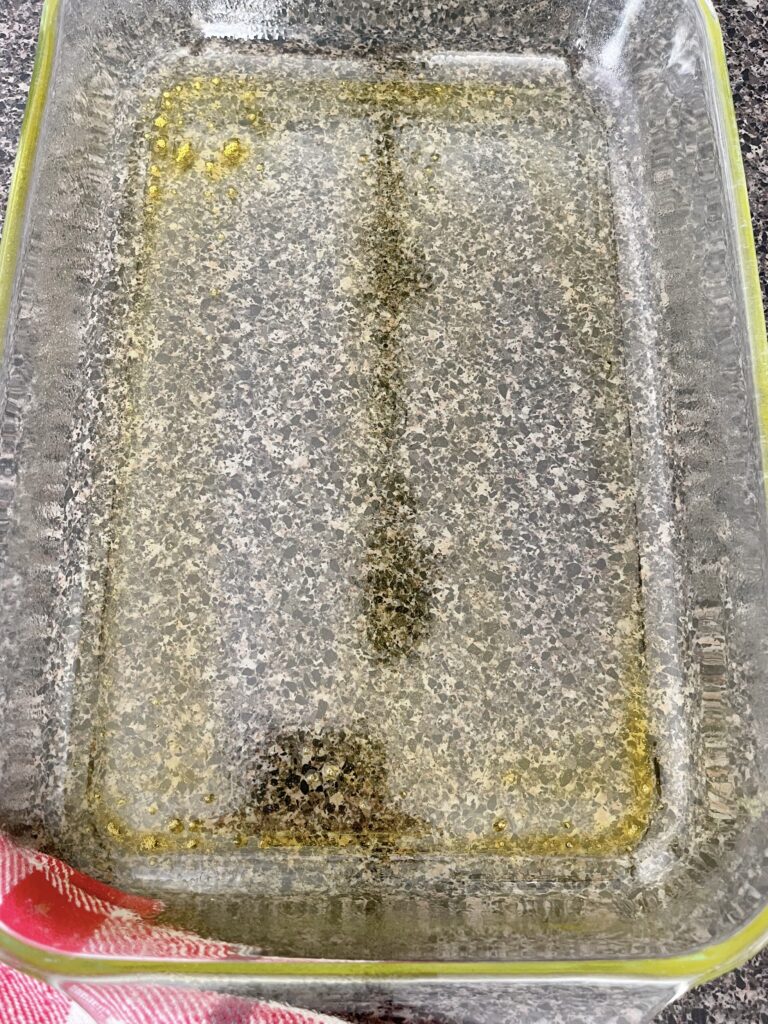 [2] Add the cornmeal, flour, baking powder, and salt to a large bowl. Sift or mix them together with a whisk.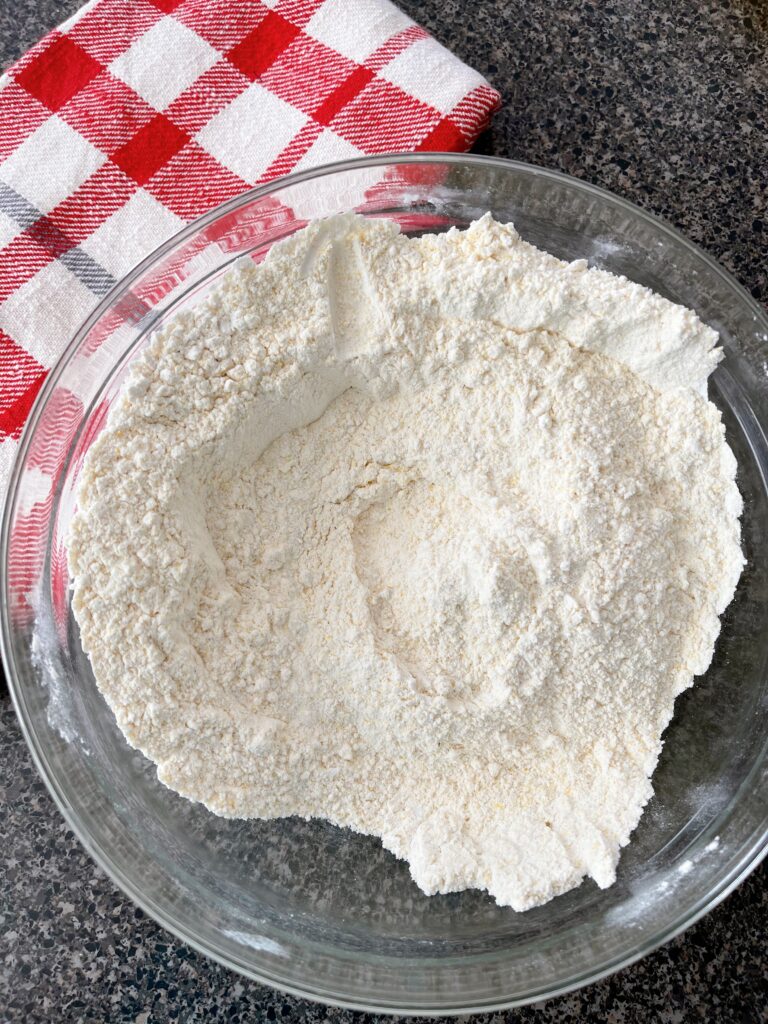 [3] In a separate bowl, combine the eggs, melted butter, oil, butter, milk, sugar and honey.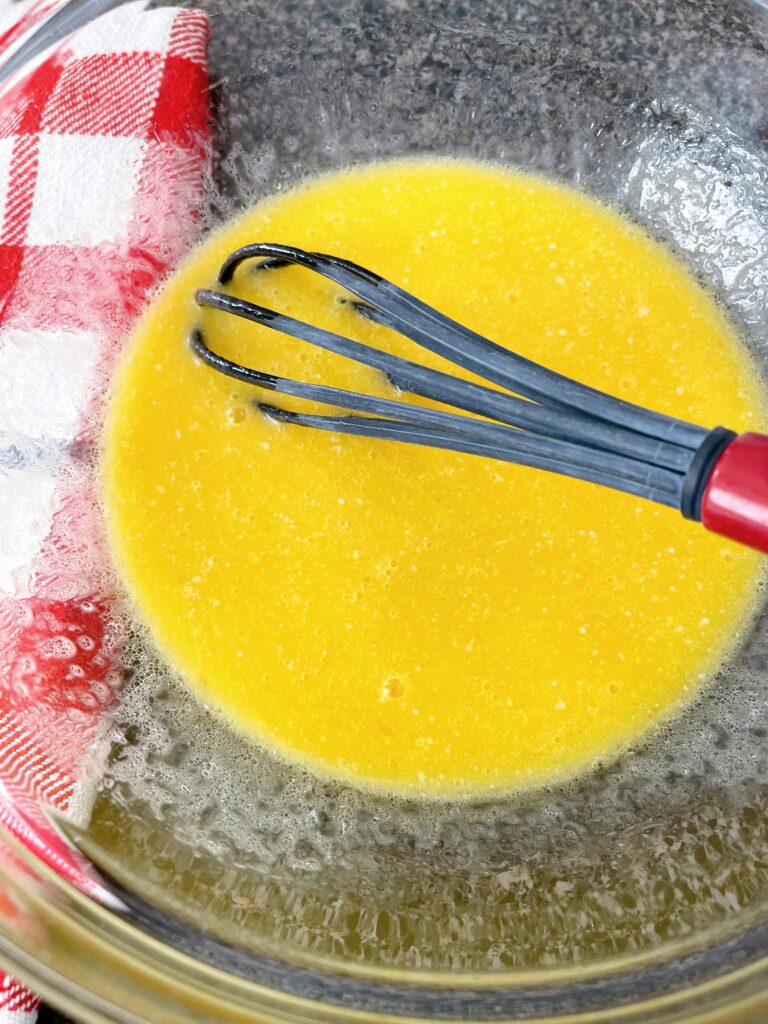 [4] Add the wet ingredients to the dry ingredients and stir together, just until moistened.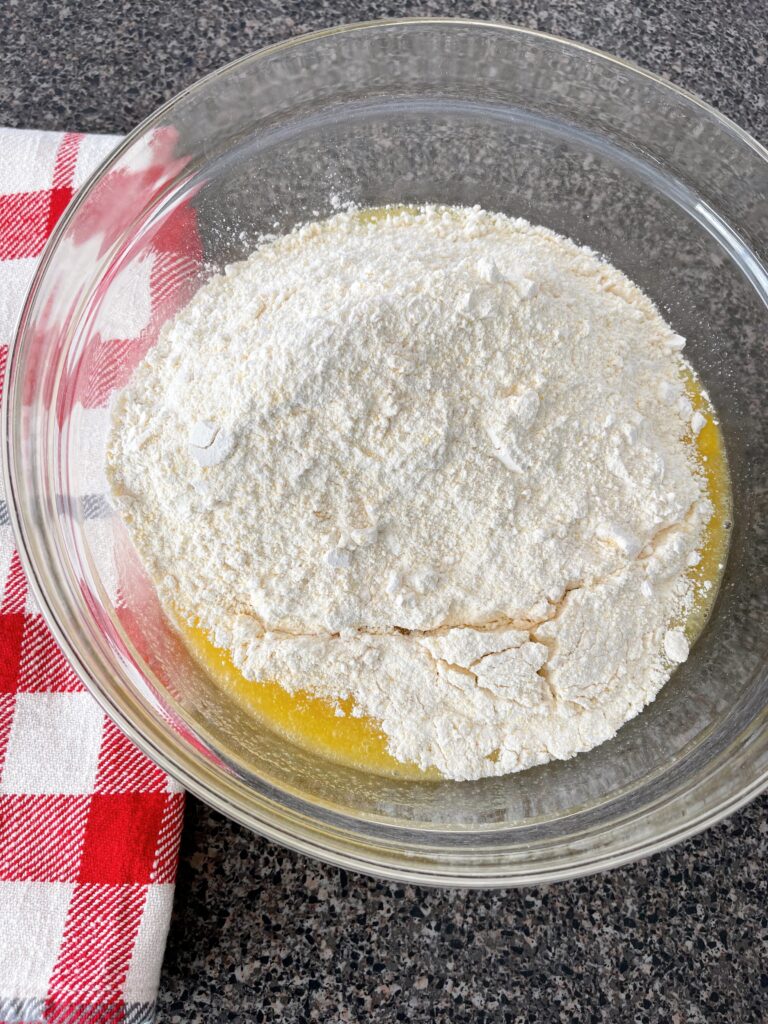 [5] Pour the sweet cornbread batter into the 9×13 pan and place it in the oven for 45-50 minutes until it is golden brown.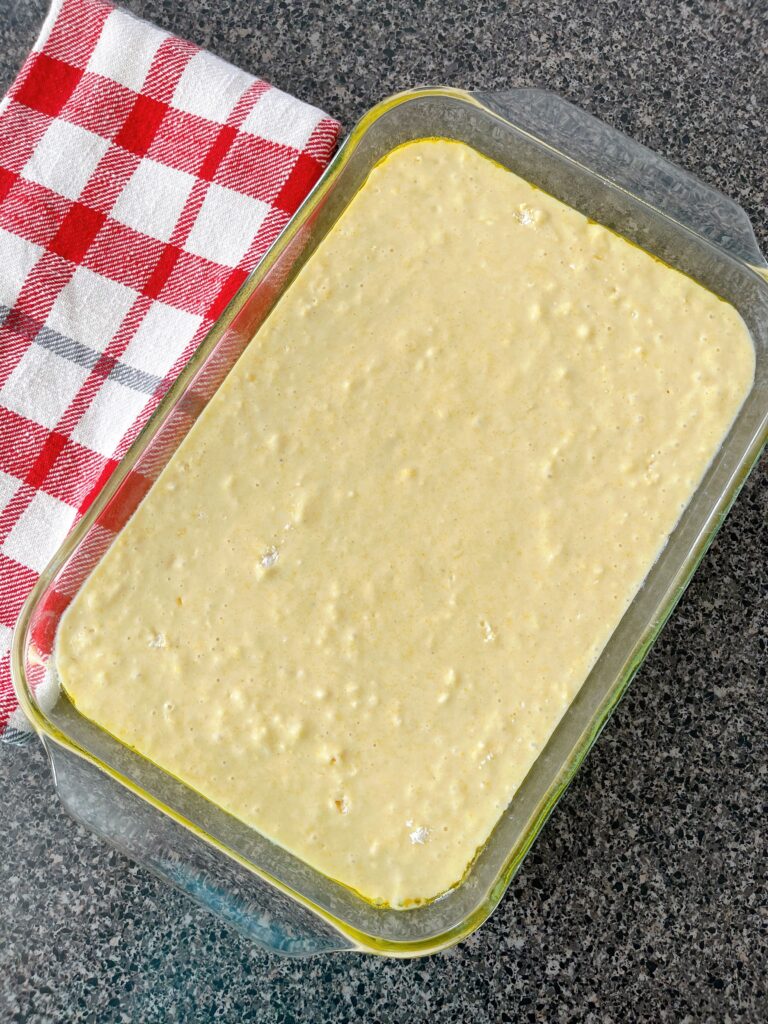 [6] Cover the cornbread loosely with aluminum foil for the last 10-15 minutes of baking time so the top doesn't brown too much. Use the "toothpick test" by inserting a toothpick to see if it comes out clean.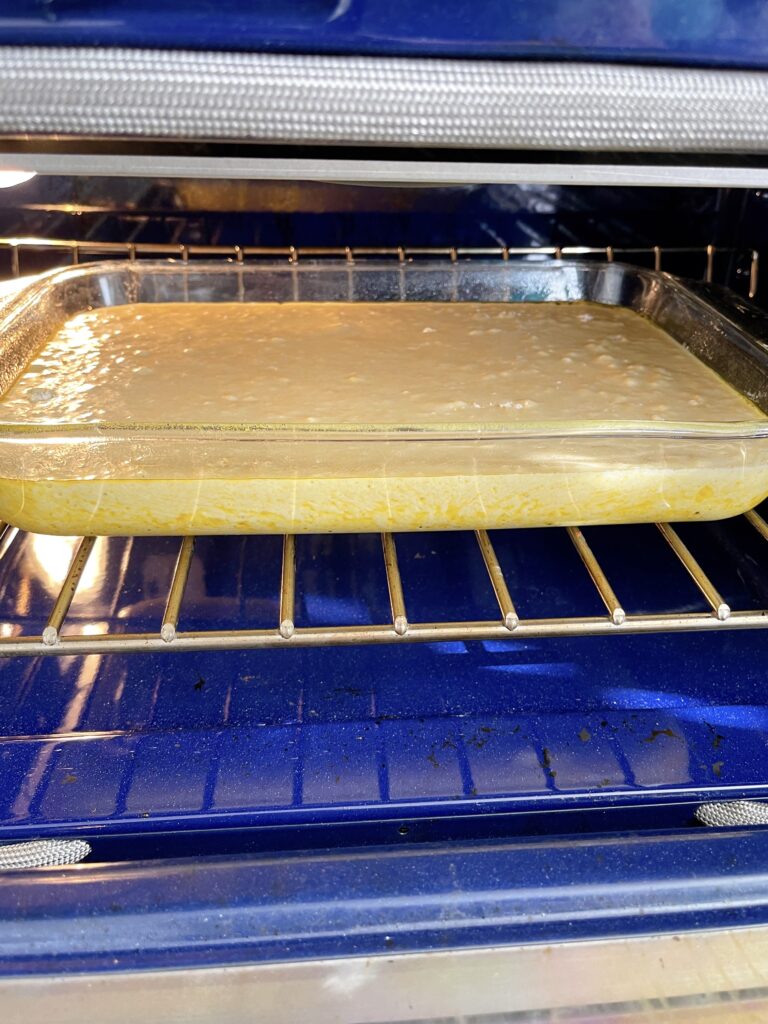 [7] Remove the pan from the oven and allow to cool slightly before serving.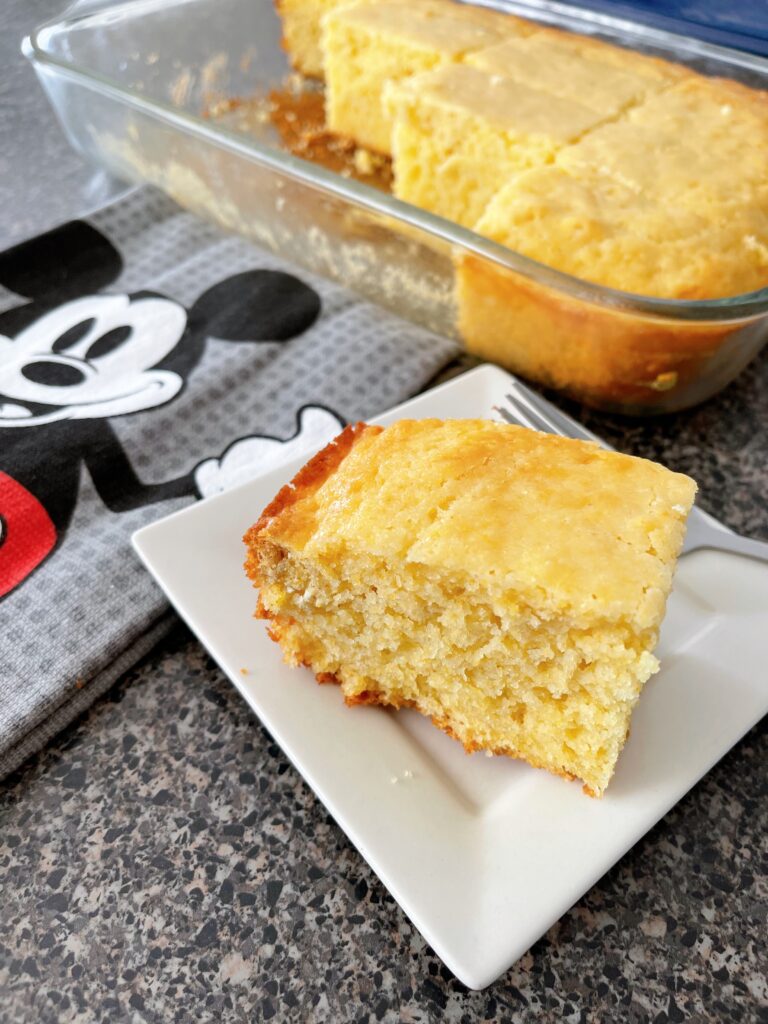 [8] Don't forget to add some butter and a drizzle of honey when you serve this yummy cornbread!
How to Make Cornbread Muffins
The great thing about this moist cornbread recipe is that it is so versatile and it tastes like sweet cornbread cake! You can use the cornbread batter to create cornbread muffins!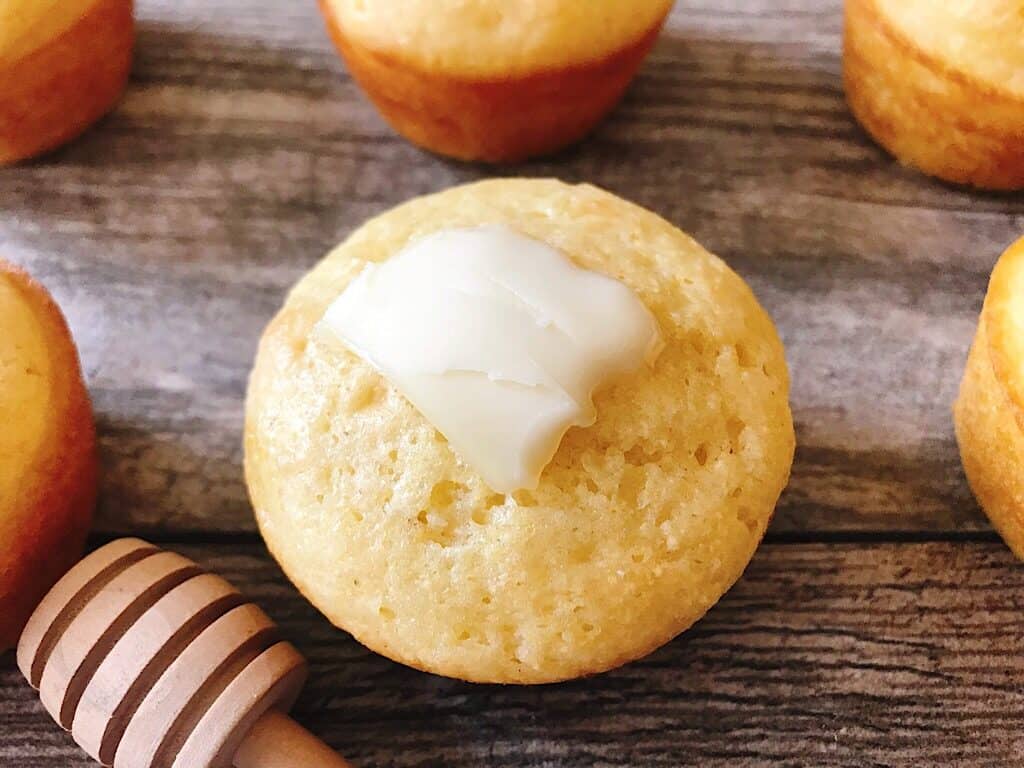 My kids love when I make cornbread muffins because they fit right in their little hands.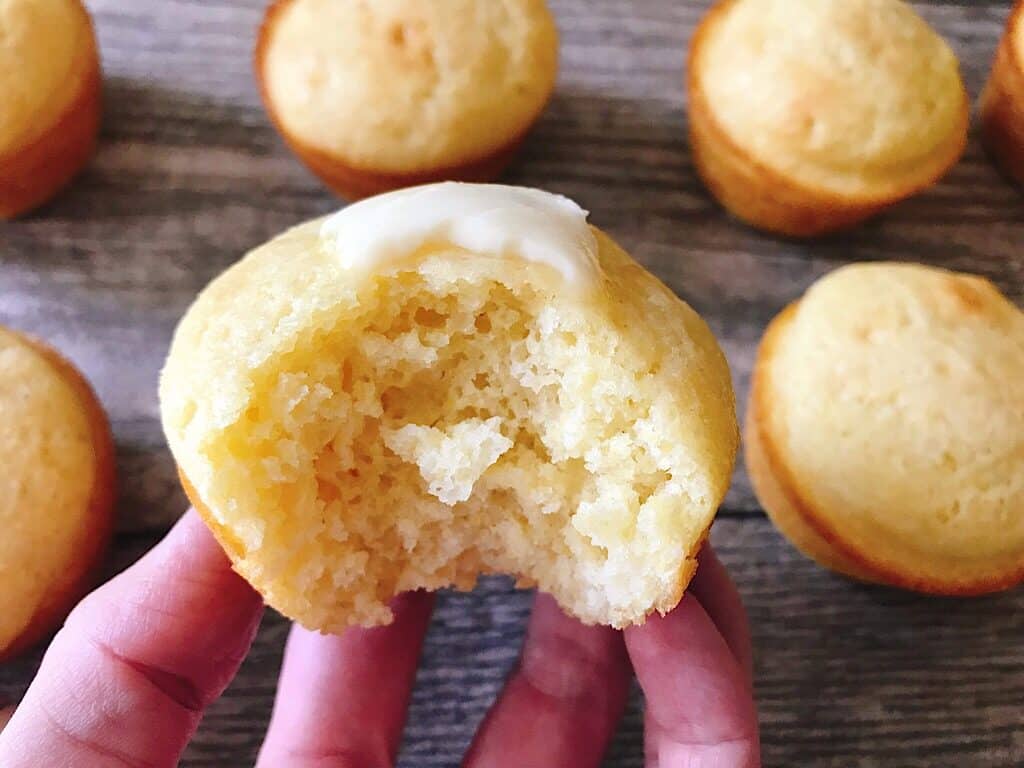 I love making fluffy cornbread muffins because they bake faster and they are portion controlled!
[1] After mixing the batter, line a muffin tin with paper liners.
[2] Use a 1/4 cup cookie scoop to add the batter to each cup.
[3] Bake the muffins at 350° for 20 minutes.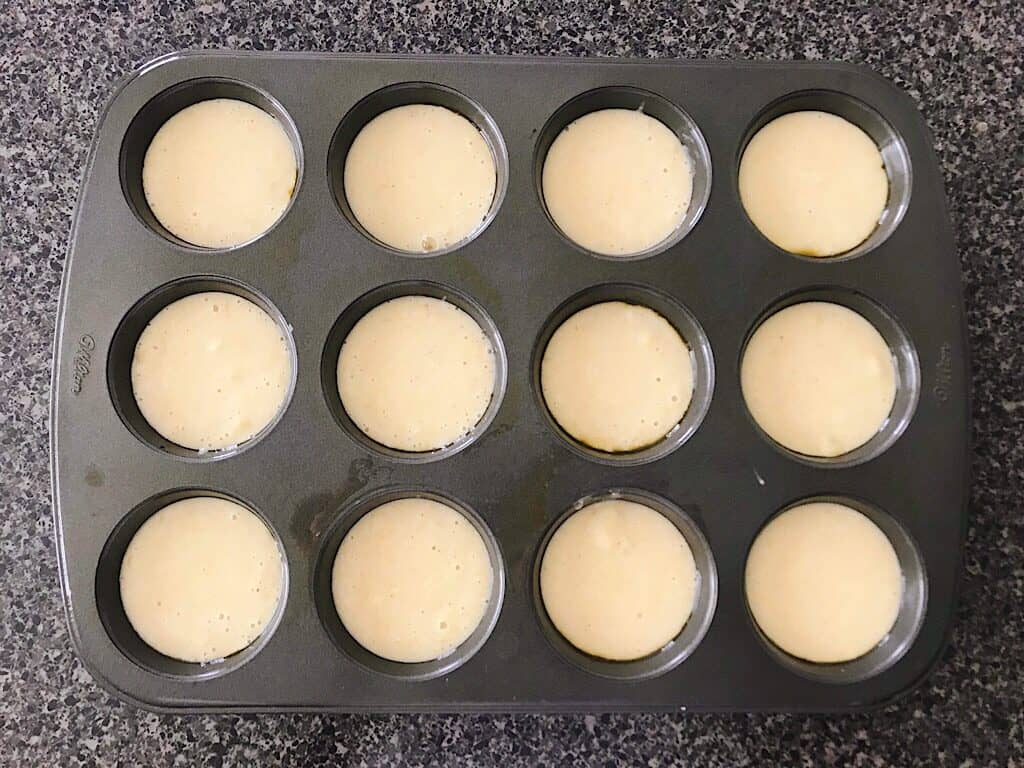 Watch the Video Here: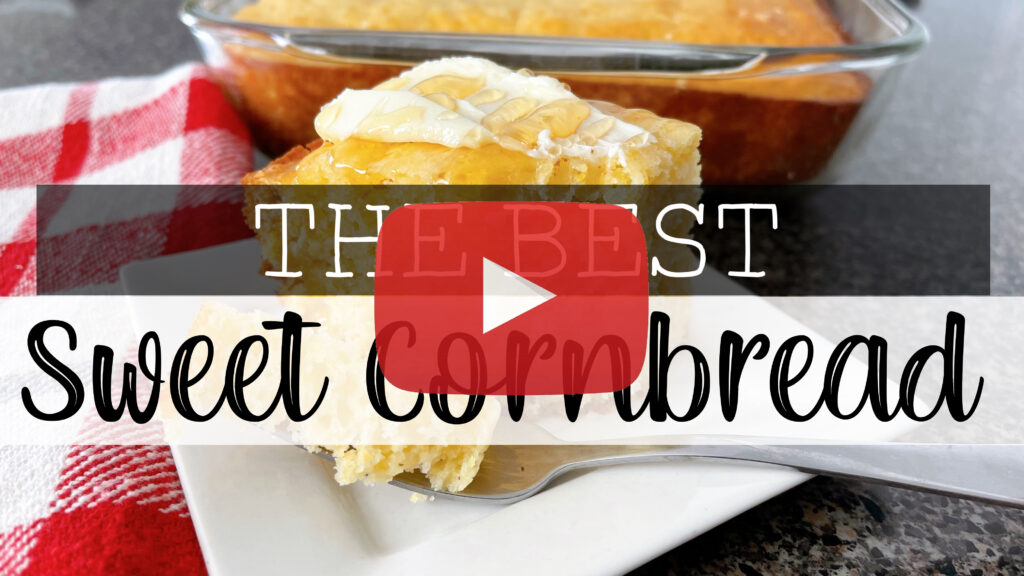 Helpful Kitchen Tools
Frequently Asked Questions
Can Cornbread be Made in a Cast Iron Skillet?
Yes, this easy homemade cornbread recipe can be made in a cast iron skillet! I love baking cornbread in a cast iron skillet for two reasons. First, it creates crispy edges on the cornbread that is my favorite part! Second, it looks really pretty when you serve it straight from the skillet.
What is Southern Cornbread?
Southern cornbread is typically made with white or yellow cornmeal, buttermilk, sugar and bacon fat. It is usually baked in a cast iron skillet and is considered to be a side dish.
Dessert Ideas:
How to Store Leftover Cornbread
Leftover cornbread can be stored in an airtight container at room temperature or in the fridge for up to 3 days.
Cornbread can also be frozen for up to 2 months. I like to slice the cornbread into individual pieces and wrap each one tightly in plastic wrap before freezing.
Can I Reheat Cornbread?
Yes, cornbread can be reheated!
To reheat cornbread, wrap it in foil and place it in a 350° oven until warmed through.
You can also reheat cornbread in the microwave. Place the cornbread on a plate and heat it for 30-45 seconds.