Kneaders is a popular restaurant chain known for their delicious cinnamon French toast. If you're craving this breakfast treat but don't live near a Kneaders, never fear! With this copycat recipe, you can easily make your own Kneaders-style cinnamon French toast at home.
This post may contain affiliate links. When you click on these links, I get a small percentage back at no cost to you! For more information see my disclosure policy.
Below you will find tips, tricks and helpful hints for making this recipe including step by step instructions with pictures. If you would like to go directly to the recipe, scroll down to the recipe card or tap "Jump to Recipe" at the top of the page.
Why I Love Kneaders Cinnamon French Toast
I have loved Kneader's French Toast for a very long time. I think it is the best breakfast food!
Kneader's Bakery opened up in my town years ago and since then, I have not been able to get enough of the chunky cinnamon bread, dipped in amazing batter, cooked to perfection, and topped with whipped cream and the most delicious signature caramel syrup.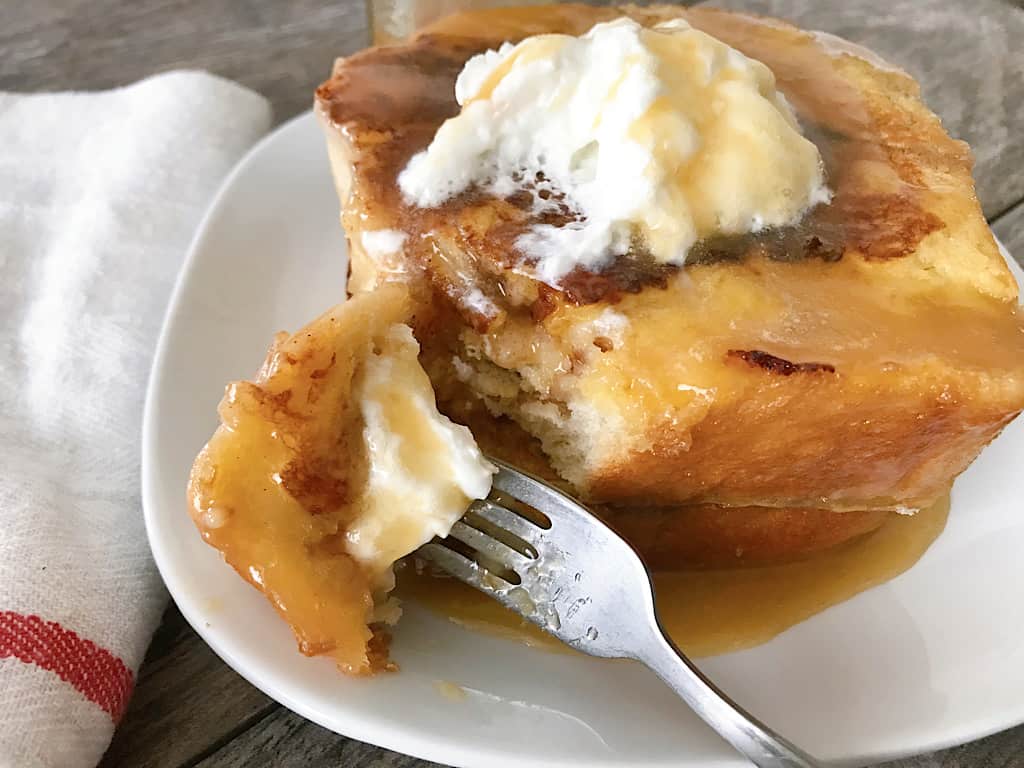 Trust me. It will change your life.
I don't have the time or budget to go to Kneader's for breakfast every day, especially because all of my boys, including my husband, are just as addicted to this wonderful breakfast as I am.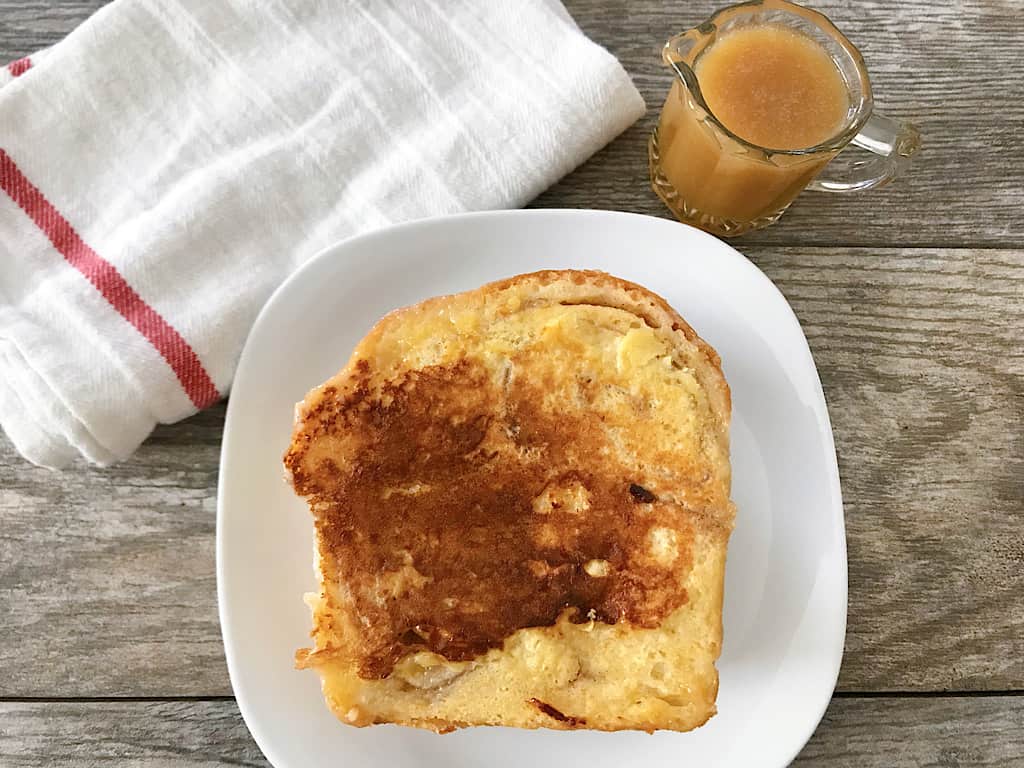 Kneader's French Toast at Home
So I wanted to create a copycat version of Kneader's French toast that I could make at home for weekend brunches and a special occasion.
I created my own version of Kneaders Chunky Cinnamon Bread, which I think makes this recipe taste almost exactly like the original. You can find that recipe here, but you can also head to the restaurant to pick up a loaf Kneaders chunky cinnamon bread.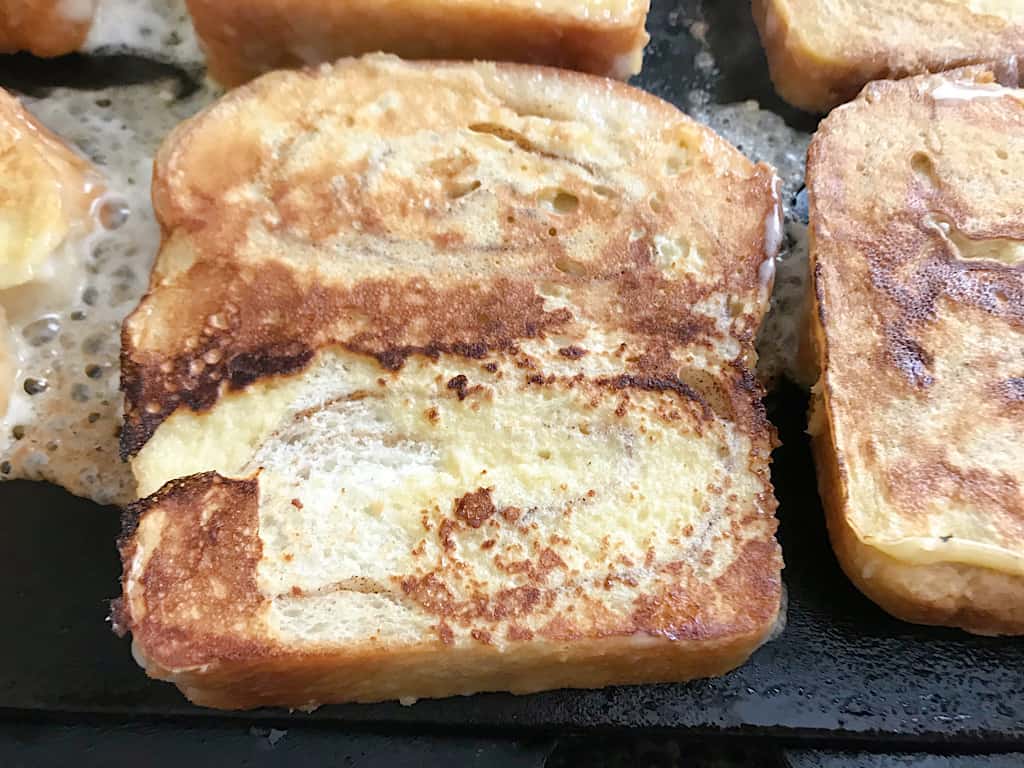 As far as the batter, I have not been able to use a different French Toast batter since I first made this Amazing French Toast.
I adapted that recipe just a little for my version of Kneader's Chunky Cinnamon French Toast by swapping the white sugar for brown sugar and omitting the cinnamon.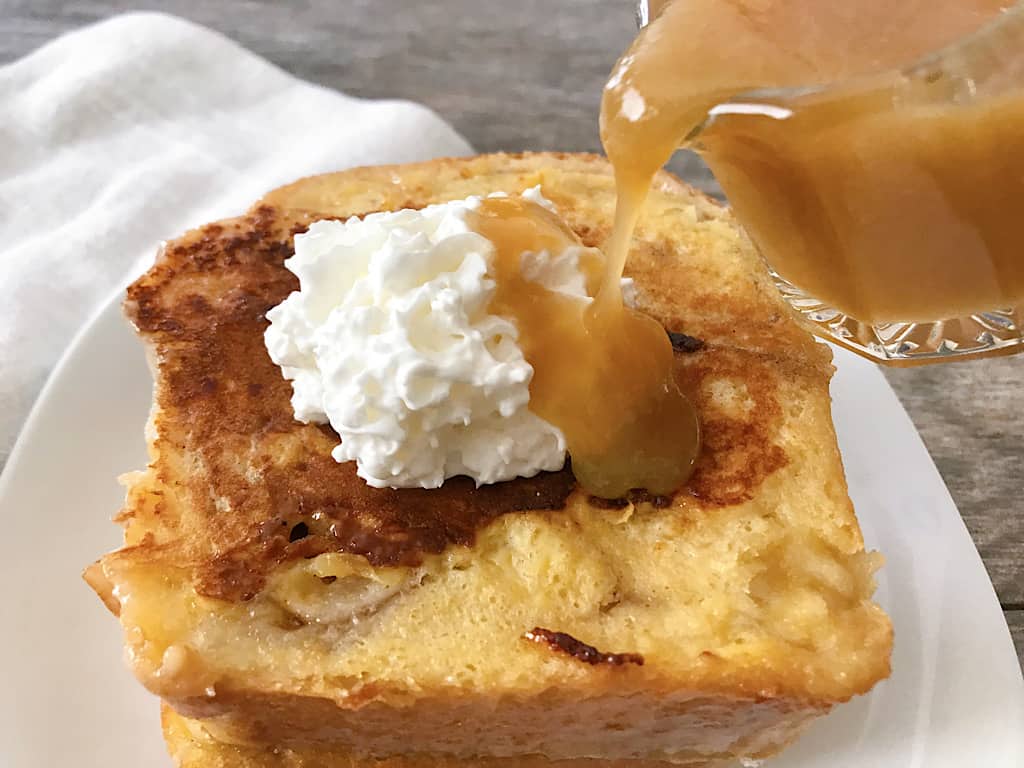 Kneaders French Toast and Caramel Syrup
To enjoy this French Toast to the fullest, I highly recommend that you don't skip the caramel syrup. It really takes this dish to the next level.
When I make this breakfast, we usually have leftovers, even with 3 boys living at my house!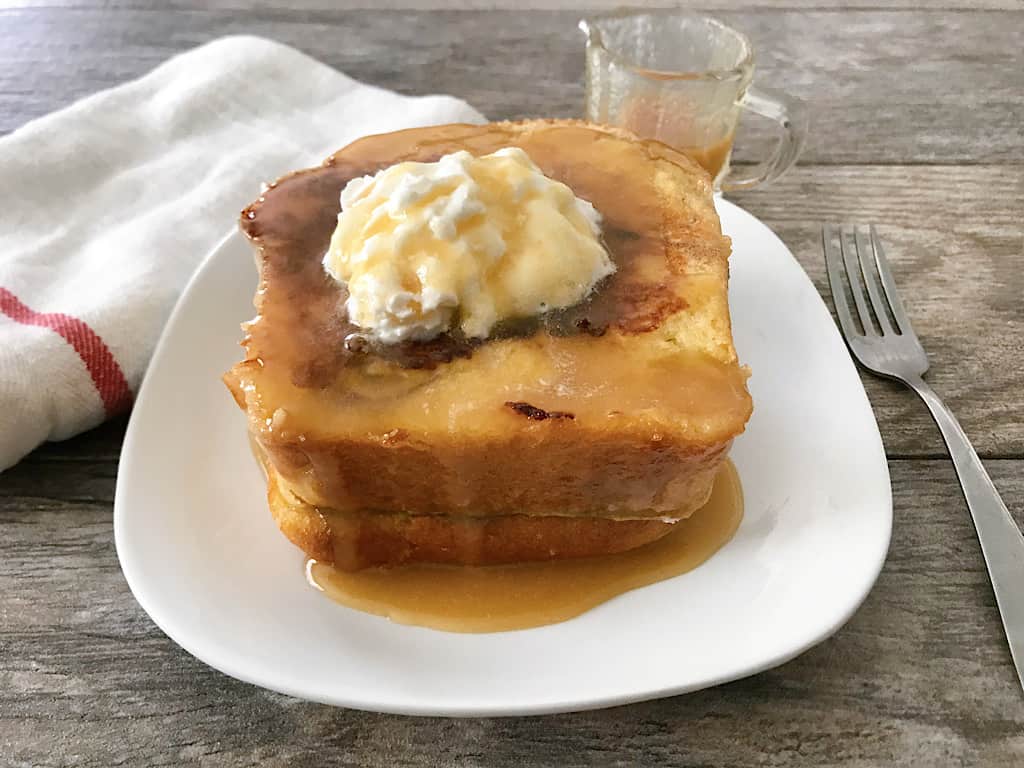 It's easy to pop the extra pieces into the freezer and use them another day when we need a quick breakfast.
This Kneaders French Toast recipe is great served with a side of perfect scrambled eggs and bacon cooked perfectly in the oven!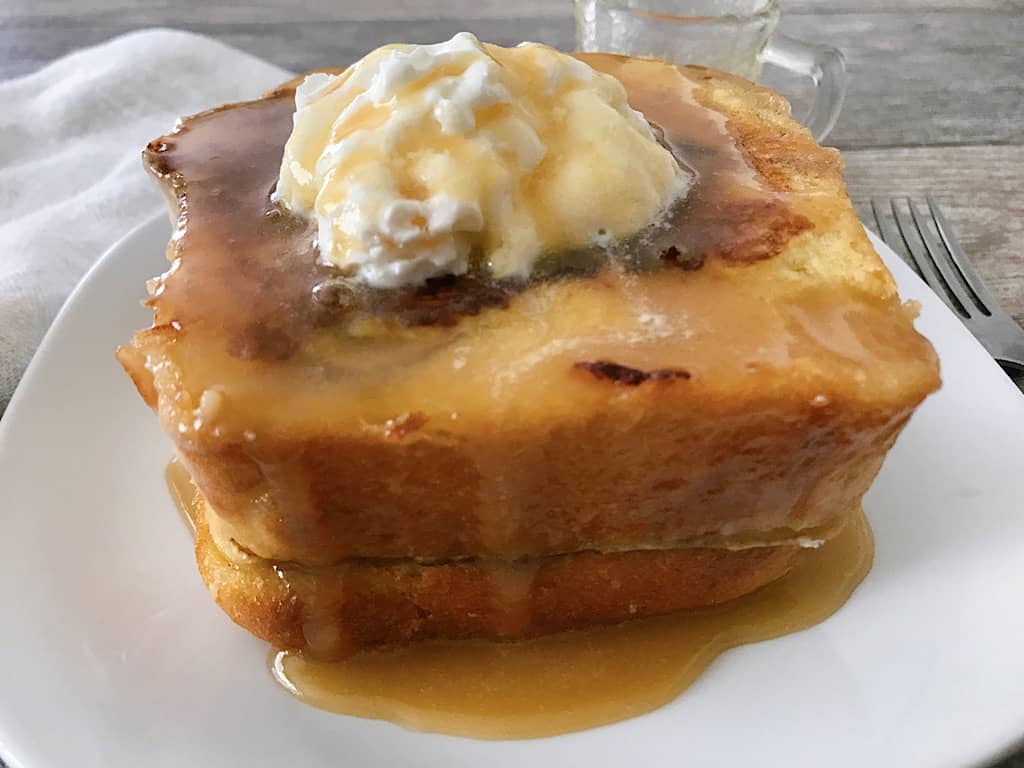 Copycat Kneaders Cinnamon Swirl French Toast Ingredients
*Ingredient amounts are located in the recipe card at the end of this post.
French Toast
Kneaders Chunky Cinnamon Bread: You can purchase this bread from your local Kneaders location, use this recipe here, or use your favorite brand of cinnamon bread.
Large Eggs: Eggs are a necessary ingredient for French toast batter.
Milk: Any type of milk will work for this recipe. I usually use 2%.
Brown Sugar: Brown sugar gives the French toast a little more flavor than using white sugar.
Vanilla Extract: Vanilla extract is a classic ingredient in French toast batter. It adds a great flavor to the dish.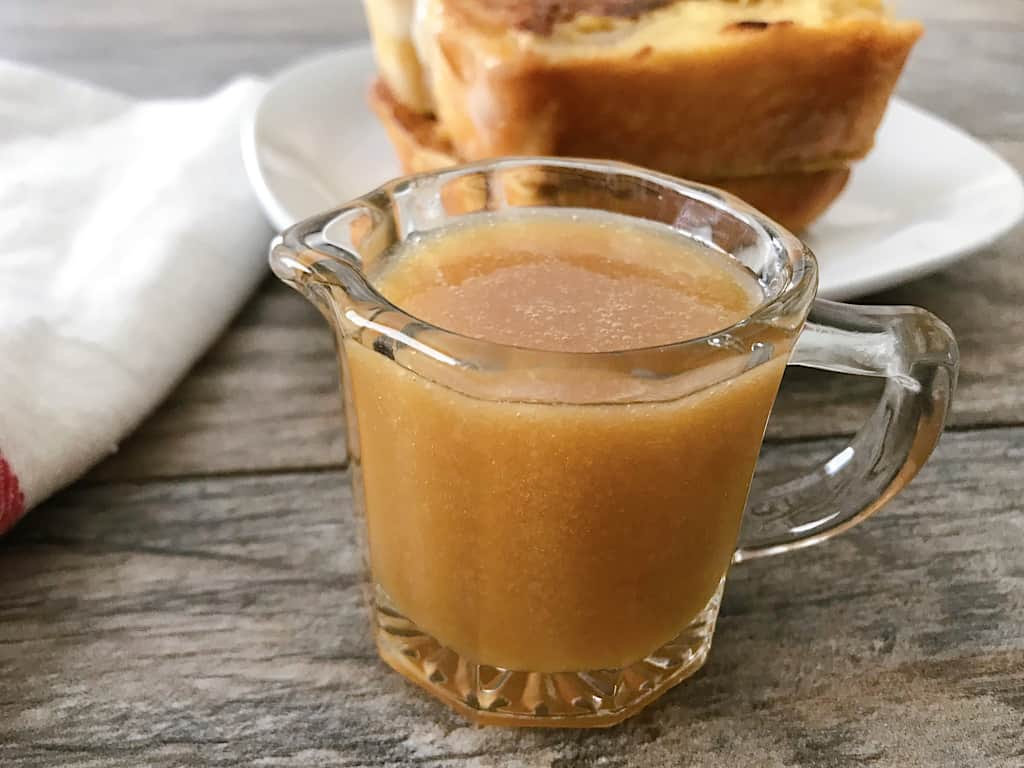 Caramel Syrup
Light Corn Syrup: You can find this near the pancake syrup in your local grocery store.
Brown Sugar: Brown sugar is used in the syrup to give it a deeper flavor.
Heavy Cream: Heavy cream makes the syrup nice and thick. You could also use half and half, but the syrup will be thinner.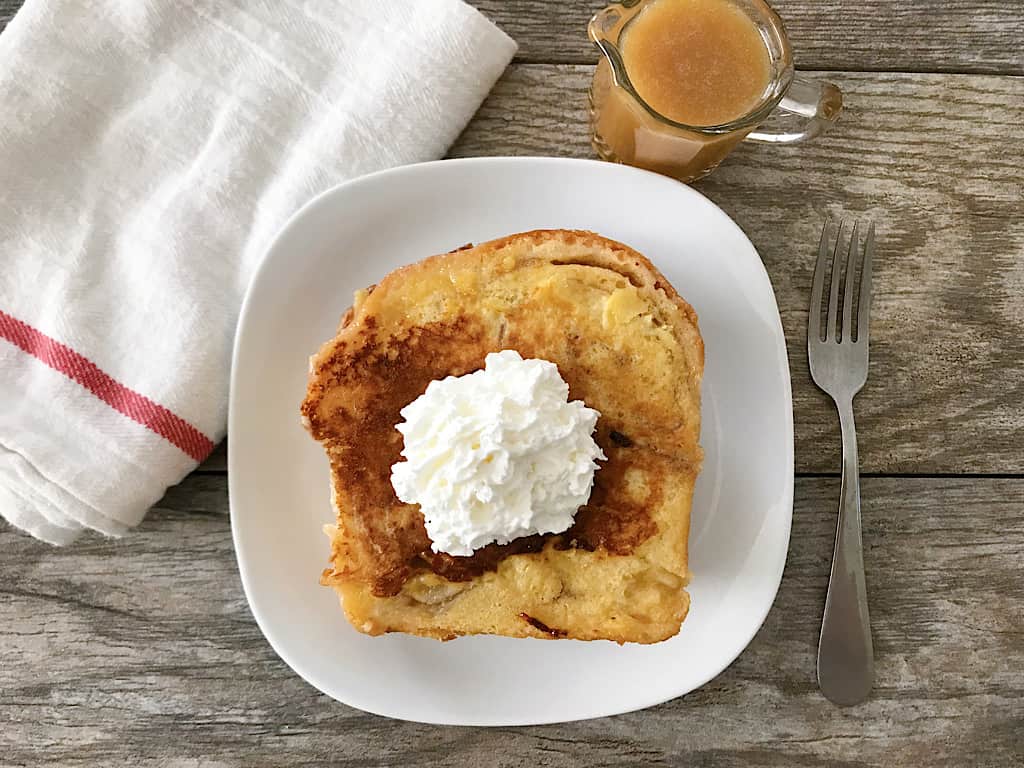 Helpful Kitchen Tools
How to Make Kneader's Chunky Cinnamon French Toast (Step by Step Instructions)
[1] Make this cinnamon swirl bread or purchase a loaf of Chunky Cinnamon Bread and cut into 8 thick slices.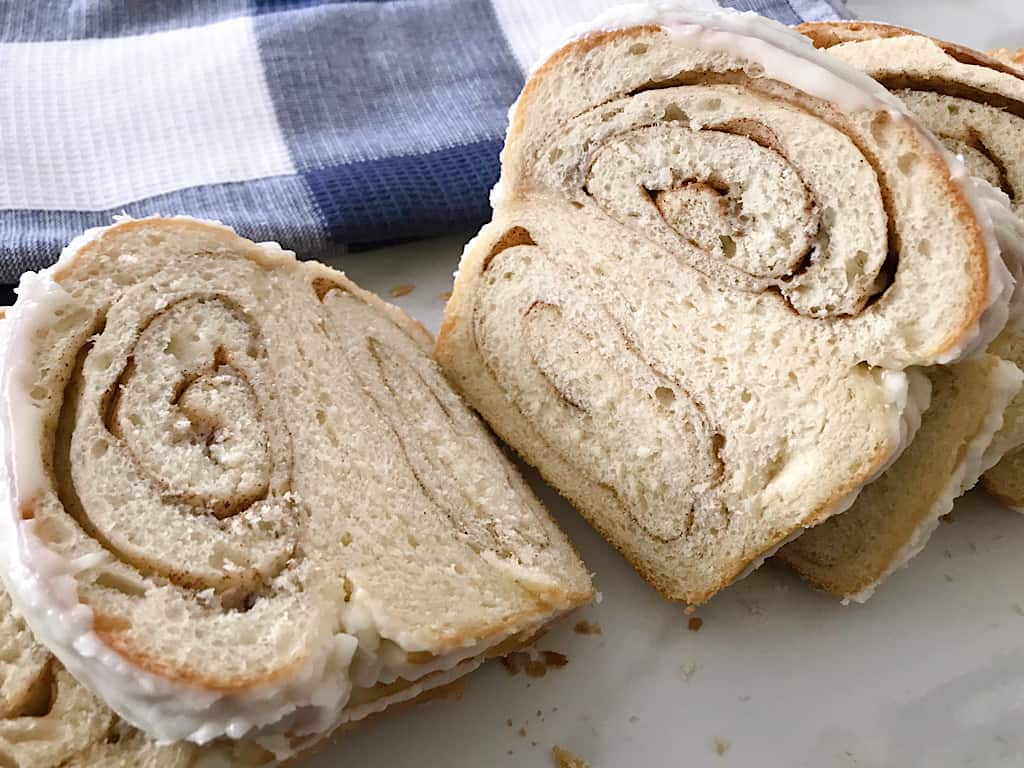 [2] Mix eggs, milk, brown sugar, flour, and vanilla in a blender or food processor and blend until smooth.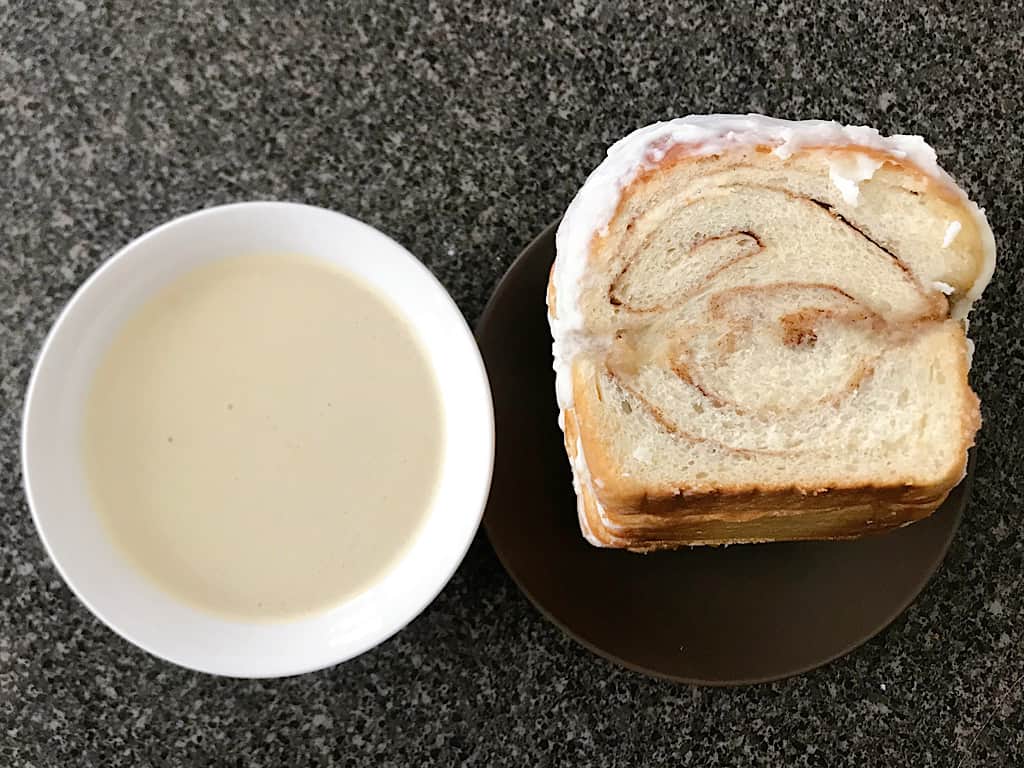 [3] Pour the batter into a shallow bowl, and dip each piece of cinnamon bread in the batter, covering both sides.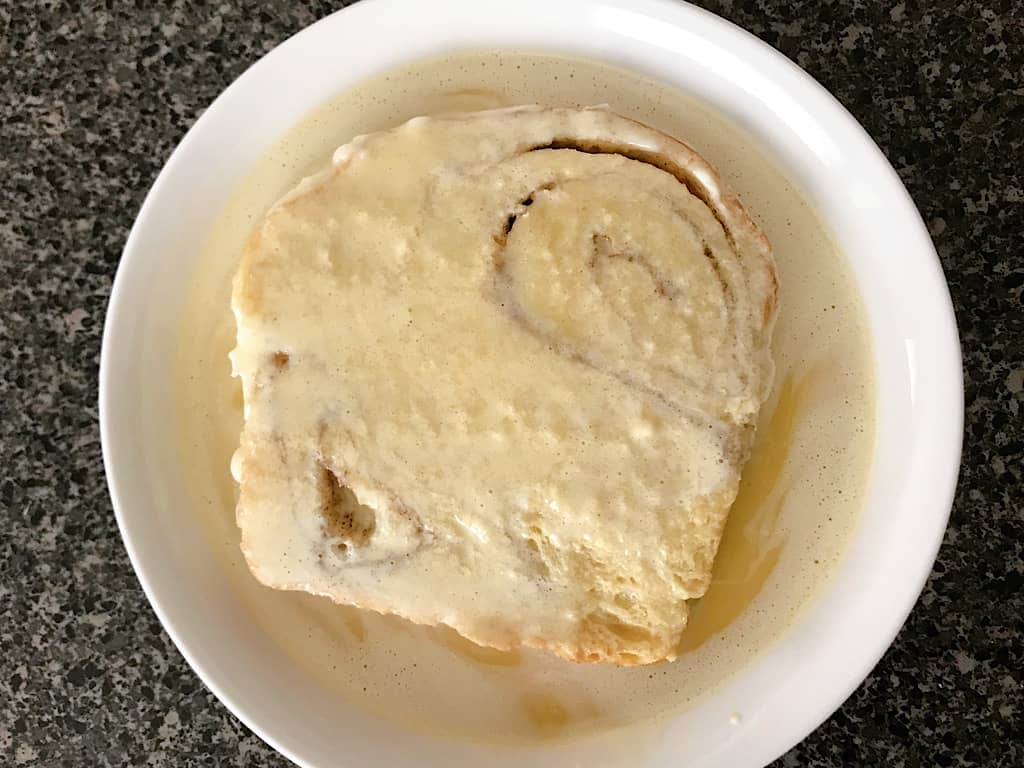 [4] Place the French Toast pieces on a greased griddle that has been preheated to medium high heat.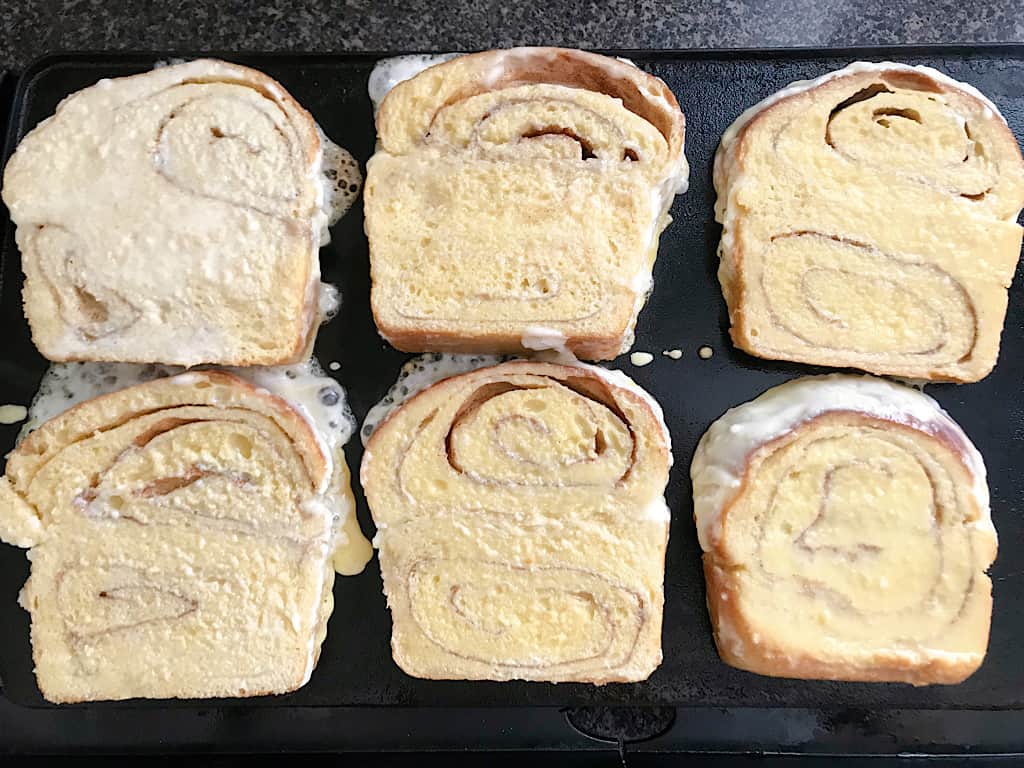 [5] Cook on both sides for 2-3 minutes until golden brown.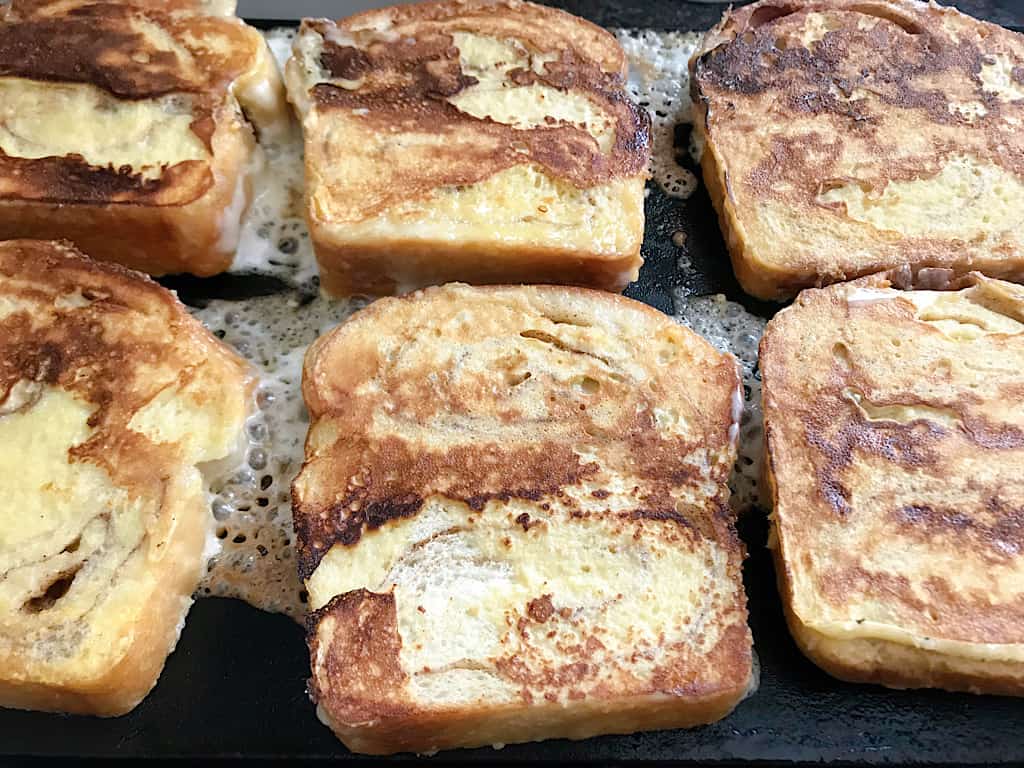 [6] Caramel Syrup: Heat the corn syrup, brown sugar, and heavy cream over medium heat until the sugar has dissolved. Keep warm in the oven on a cookie sheet until ready to serve.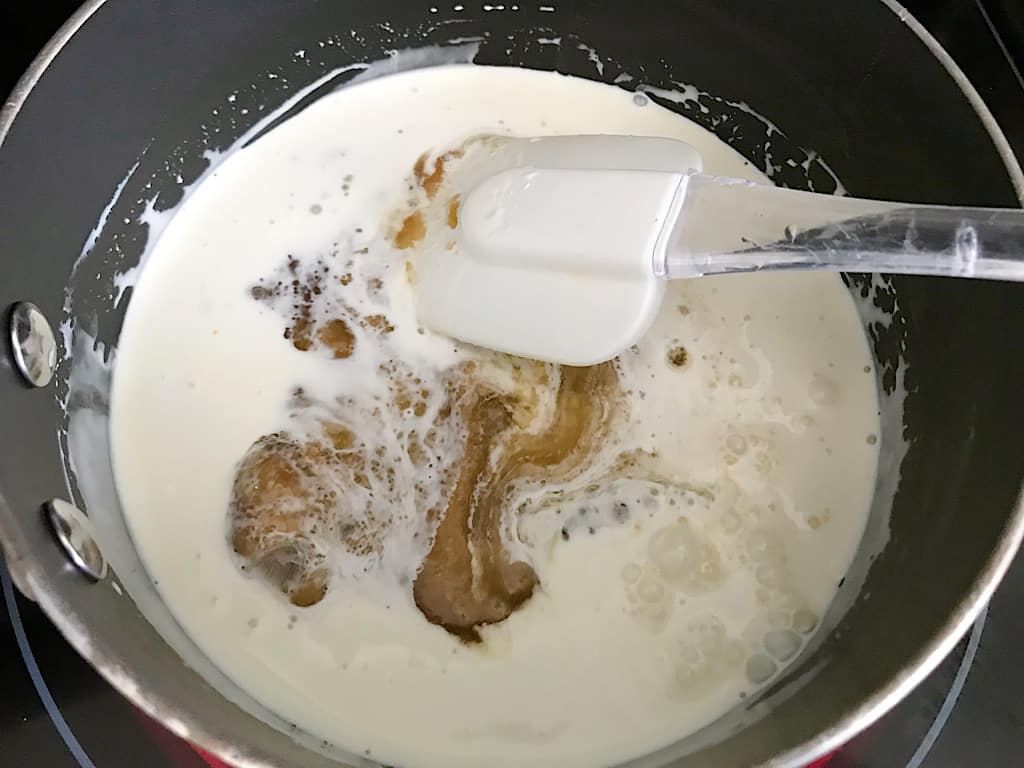 [7] Top the Chunky Cinnamon French Toast with whip cream, fresh strawberries, and caramel syrup. It's also delicious when dusted with powdered sugar!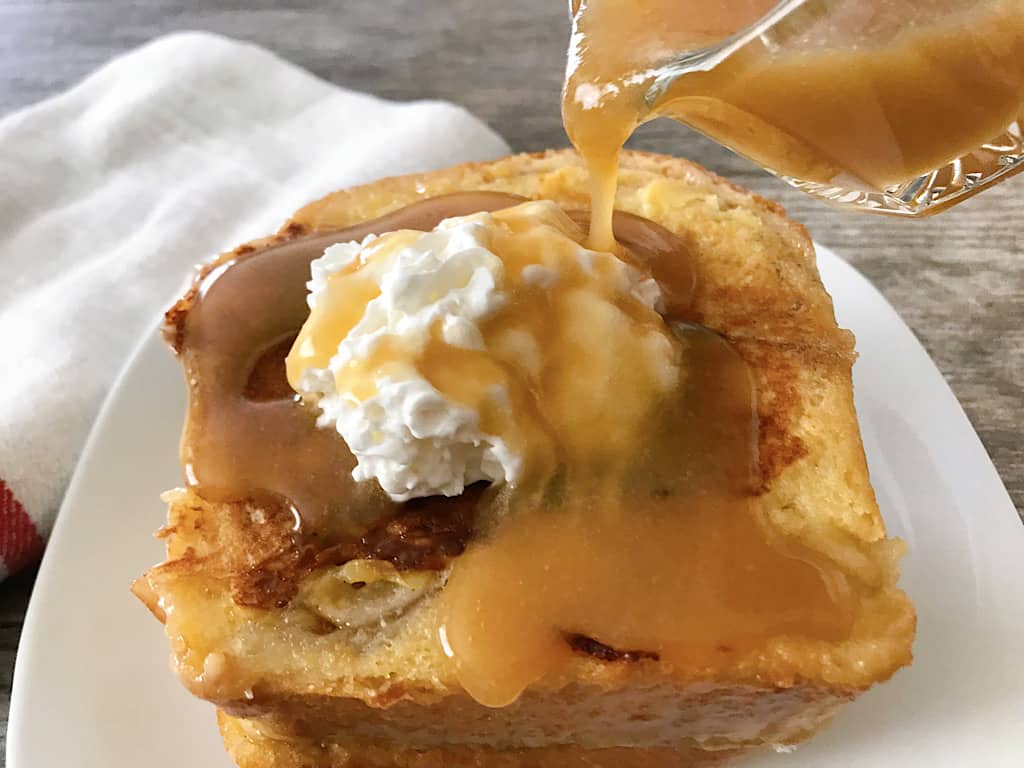 Kneaders Overnight French Toast
This delicious French toast recipe can also be made ahead of time with this overnight version. If you want to make this breakfast the night before (like on Christmas Eve to be enjoyed Christmas morning), here is what you need to do:
[1] Grease a 9×13 baking dish with butter or cooking spray.
[2] Lay slices of cinnamon bread in the baking dish, making sure to cover the bottom. Cut the bread into small pieces, if necessary to fill in gaps.
[3] In a medium mixing bowl, whisk eggs, milk, brown sugar, salt, and vanilla together. Pour egg mixture over the bread.
[4] Cover with tin foil and refrigerate overnight or for at least 4 hours.
[5] When ready to bake, cut 1 tablespoon of butter into small pieces and place on the French toast.
[6] Baked uncovered for 45=50 minutes at 350 degrees. Enjoy with caramel syrup, whipped cream, and strawberries! This French Toast is also great with classic maple syrup as well.
Recipe FAQs and Expert Tips
Does Kneaders sell their syrup?
Yes! You can purchase bottles of caramel syrup in store or online.
How long does kneaders serve French toast?
French toast and other breakfast items is served until 11:00 am daily at Kneaders. Check their website for Kneaders locations.
How many calories are in Kneaders French toast?
When ordered at the restaurant, Kneaders Cinnamon French Toast has 1050 calories plus 186-450 calories for the caramel syrup. See the recipe card below for calories when made at home.
Can Kneaders cinnamon bread be frozen?
Yes! This bread can be frozen for up to 3 months. Thaw overnight in the refrigerator before using.
I don't have a Kneaders near me, what can I use instead?
If you don't have a Kneaders Bakery & Cafe near you, you can use another brand of cinnamon bread or make your own with this recipe.
I hope you love this Kneaders French Toast Recipe as much as I do! If you make it, let me know what you think in the comments.
More Breakfast Recipes To Try:
Watch the video here: