Delicious Crispy Oven Bacon is an easy, stress-free, less mess way to cook a breakfast favorite! Crispy bacon can be on your table in less than 25 minutes!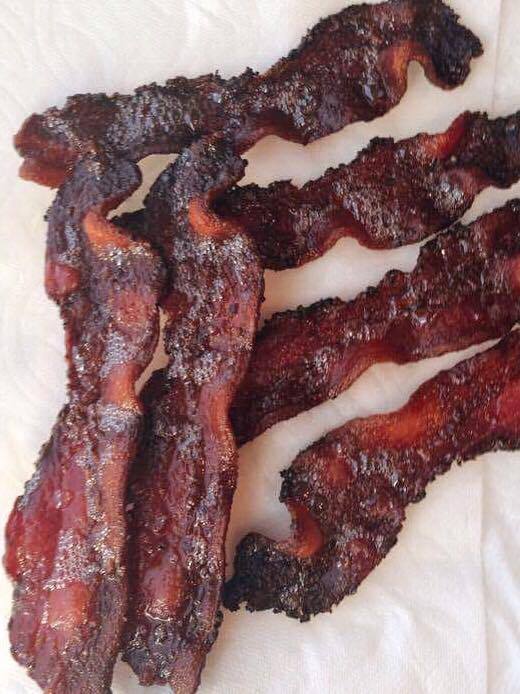 This post may contain affiliate links. When you click on these links, I get a small percentage back that helps me run my blog at no cost to you! For more information see my disclosure policy.
The weekend is here!  Who wants some delicious Crispy Oven Bacon for breakfast?  I pretty much want bacon for breakfast, lunch and dinner (and everything in between), but my pants probably wouldn't agree with me.  On the weekend, who really cares what our pants think of us?
I have discovered an awesome way to cook bacon, that is stress-free and almost mess-free!  A long time ago, I used to cook bacon in a frying pan on the stove.  It worked, but you had to stand there constantly and bacon grease would fly everywhere!  Then came the invention of the George Foreman Grill.  This life changing appliance made cooking bacon a breeze, but I have to admit that cleaning the grill was kind of a pain.
So I searched the internet and low and behold, you can cook bacon in the oven.  Mind blown.  It is really quite easy, there is no bacon grease splattered everywhere and clean up is simple and easy.  Because the bacon is in the oven, you don't need to stand over it while it cooks, freeing up your time to do other things like make delicious scrambled eggs or fluffy buttermilk pancakes.  The possibilities are endless.
My favorite bacon is thick cut peppered bacon.  We may have a slight obsession with black pepper at my house.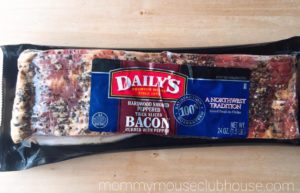 How to make Crispy Oven Bacon
All you need to do to have Crispy Oven Bacon on your table is preheat your oven to 400 degrees, line a baking sheet  with parchment paper and place your bacon strips on top.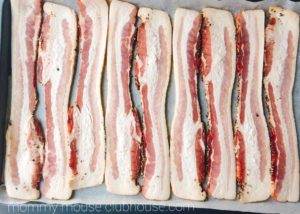 Bake for 18-22 minutes, depending on the thickness of your bacon and how crisp you it.  My bacon was thick and I like it crispy so 22 minutes was perfect for me!
Place the bacon on a paper towel to absorb the grease and you're ready to serve.  Need more breakfast inspiration? Check out the recipe for Melt in Your Mouth Sweet Cream Pancakes, Amazingly Perfect French Toast, and Butter Pecan Cinnamon Rolls!

Preheat oven to 400 degrees.

Line a baking sheet with parchment paper.

Lay the bacon out on the baking sheet.

Bake for 20 minutes until crispy. Will be longer for thick cut bacon.

Remove from oven and place on a paper towel. Serve.