This Thanksgiving, try something new with your stuffing by adding sausage! This recipe is easy to make and can be cooked right on the stovetop using Stove Top Stuffing. The sausage will add a delicious savory flavor to the stuffing that your whole family will love. So why not give this Thanksgiving staple a new twist? Try making Thanksgiving Stove Top Stuffing with sausage today at your Thanksgiving table this year!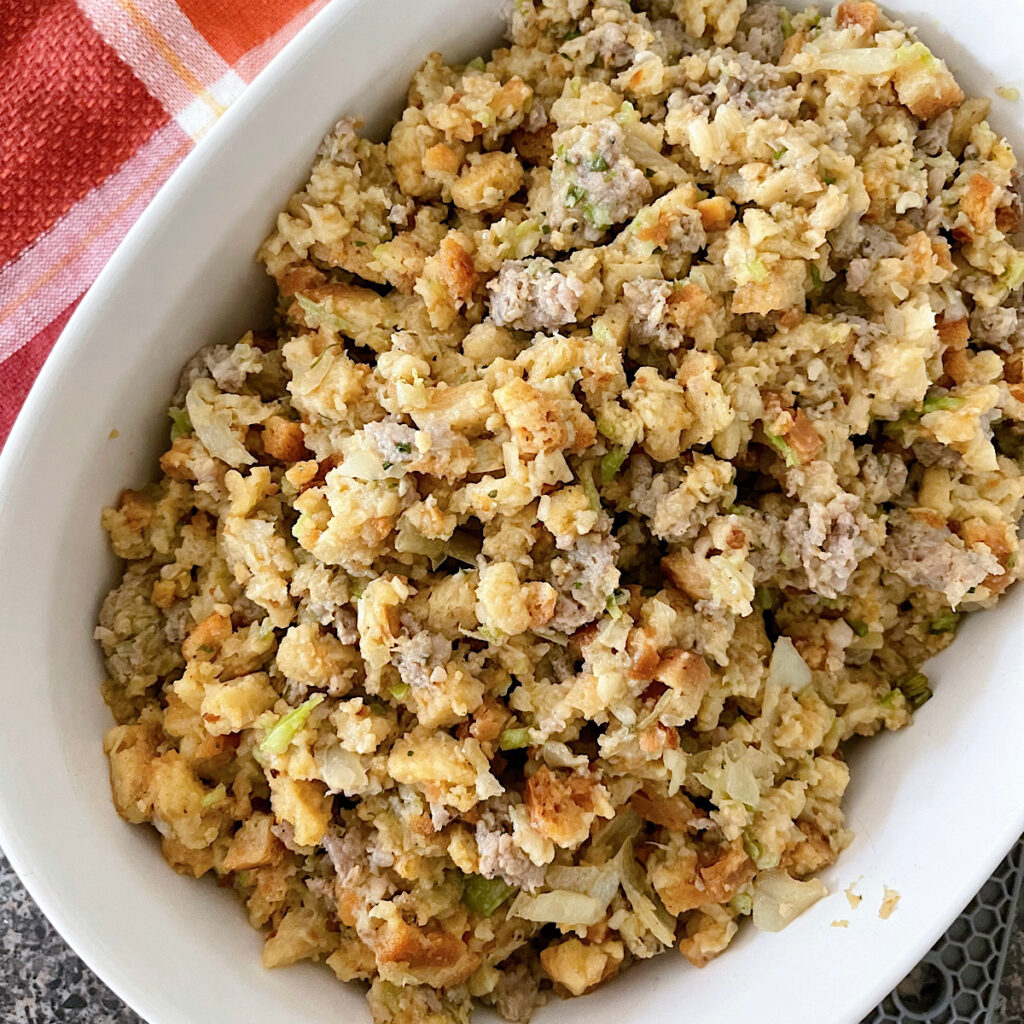 This post may contain affiliate links. When you click on these links, I get a small percentage back at no cost to you! For more information see my disclosure policy.
Below you will find tips, tricks and helpful hints for making this recipe including step by step instructions with pictures. If you would like to go directly to the recipe, scroll down to the recipe card or tap "Jump to Recipe" at the top of the page.
Thanksgiving Stuffing Cheat Using Stove Top
Cooking Thanksgiving dinner can be stressful with all of the different items that need to be made at the same time. There never seems to be much oven space.
That's why using a couple of boxes of Stove Top Stuffing is a great way to make your to make this favorite side dish to your holiday dinner table.
How do you spruce up Stove Top?
If you are wanting to take regular Stove Top stuffing to the next level, this is the simple recipe for you! With the great addition of a few ingredients like onions, celery, chicken broth, and sausage, your Stove Top stuffing will definitely be spruced up.
What is Stove Top Stuffing?
Stove Top Stuffing is a pre-packaged boxed stuffing mix of dried bread crumbs, seasonings, and spices. It was introduced in 1972 by the General Foods Corporation and has become a popular way to make stuffing quickly and easily.
Ingredients for Thanksgiving Stove Top Stuffing with Sausage
Ground Sausage: You can use any type of ground sausage you want. I used mild country pork sausage by Jimmy Dean. Italian Sausage or Sage Sausage are also good choices.
Onion: White onion or Yellow onion are the best choices for this stuffing and will give you the right amount of flavor.
Celery: I used three stalks of celery that I chopped in my food processor.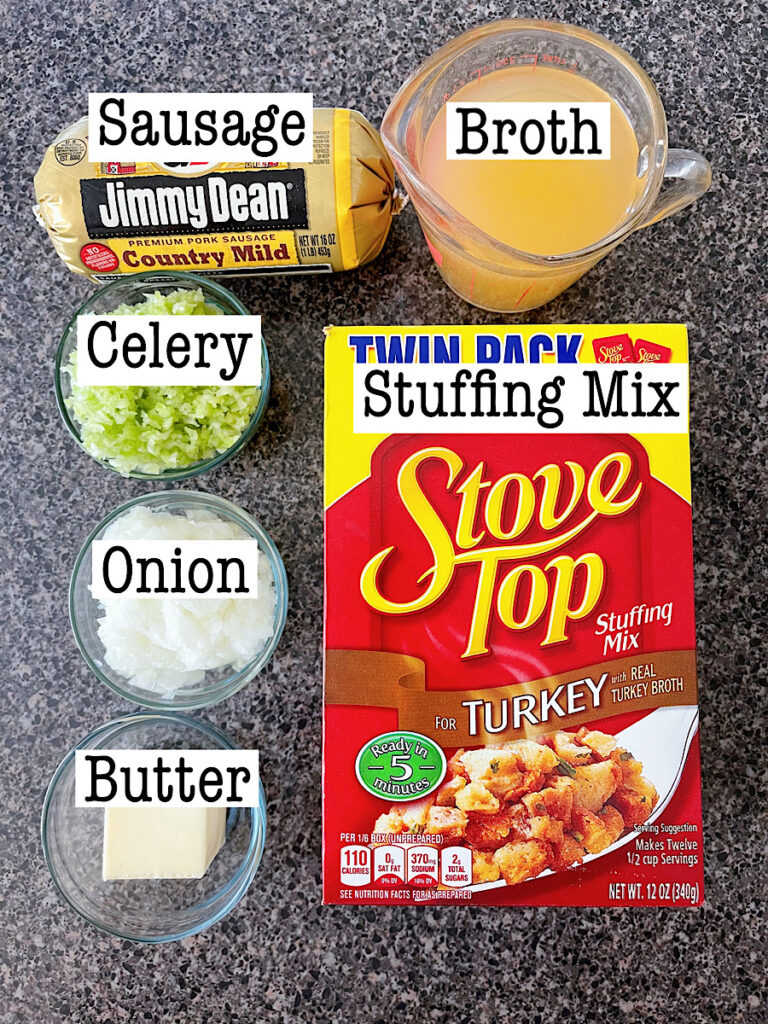 Chicken Broth: This is used in place of water to add more flavor to this Thanksgiving stuffing recipe. Vegetable broth can also be used, according to your personal taste. Turkey stock can also be used.
Butter: Salted or Unsalted butter can be used.
Stove Top Stuffing: I used two 6 oz packages of Turkey-flavored Stove Top Stuffing.
How to Make Thanksgiving Stovetop Stuffing
[1] Melt one tablespoon of butter in a large saucepan over medium high heat, then add the chopped onion and chopped celery. Saute for 2 minutes.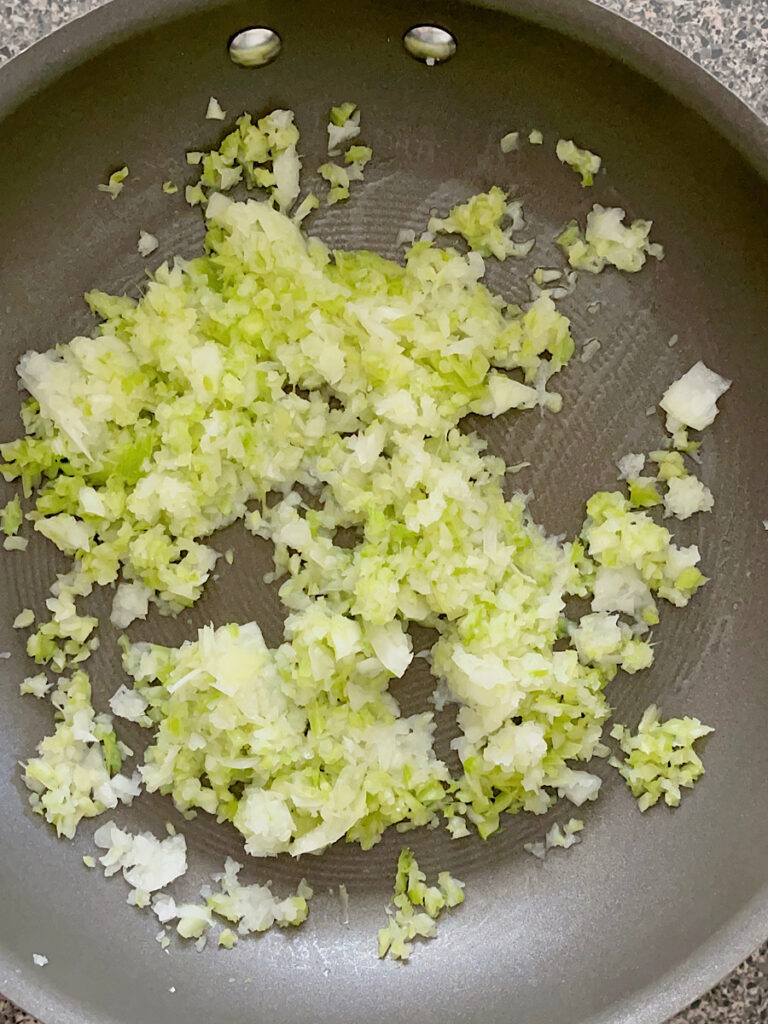 [2] Crumble the ground sausage over the vegetables mixture and cook over medium heat until the sausage is cooked through and no longer pink.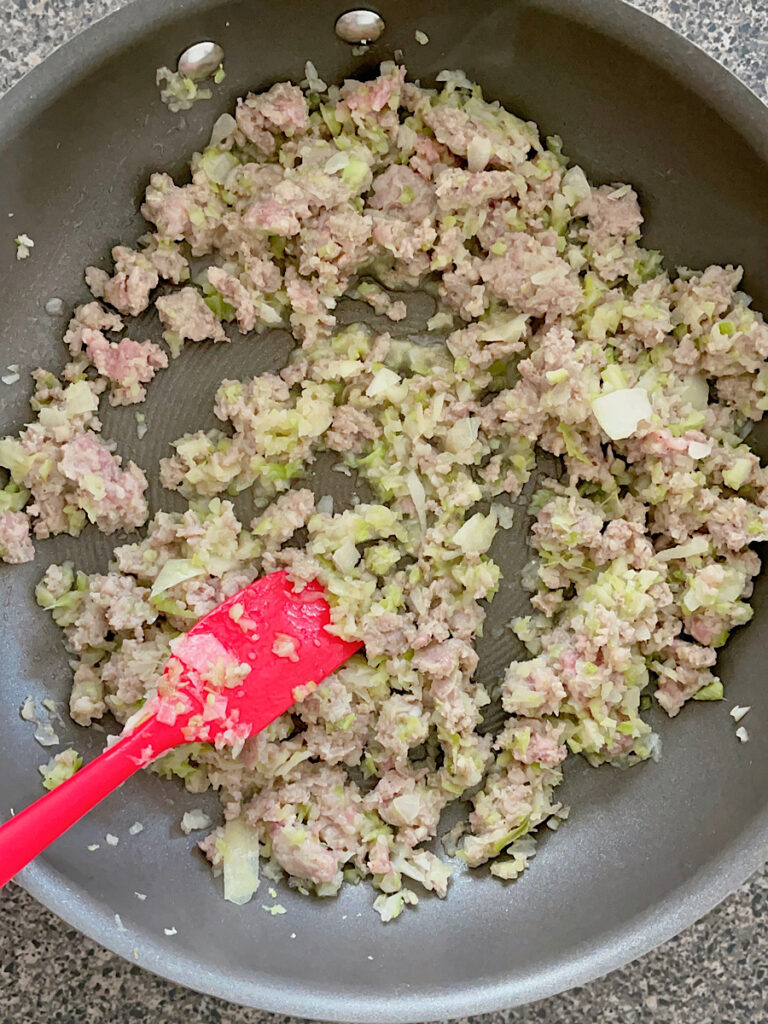 [3] Add the chicken stock and butter to the sausage mixture then sprinkle the packages of Stove Top stuffing over the top. Stir to combine.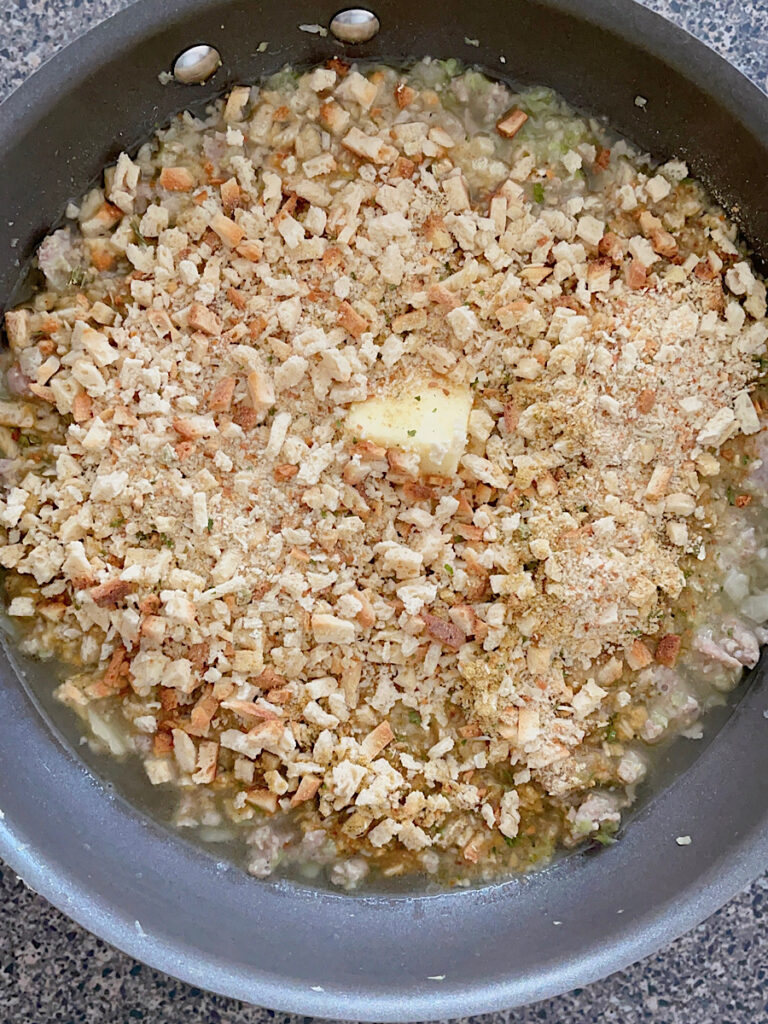 [4] Continue to gently stir until the butter has completely melted, then cover the pan and allow the liquid to be absorbed for 10 minutes.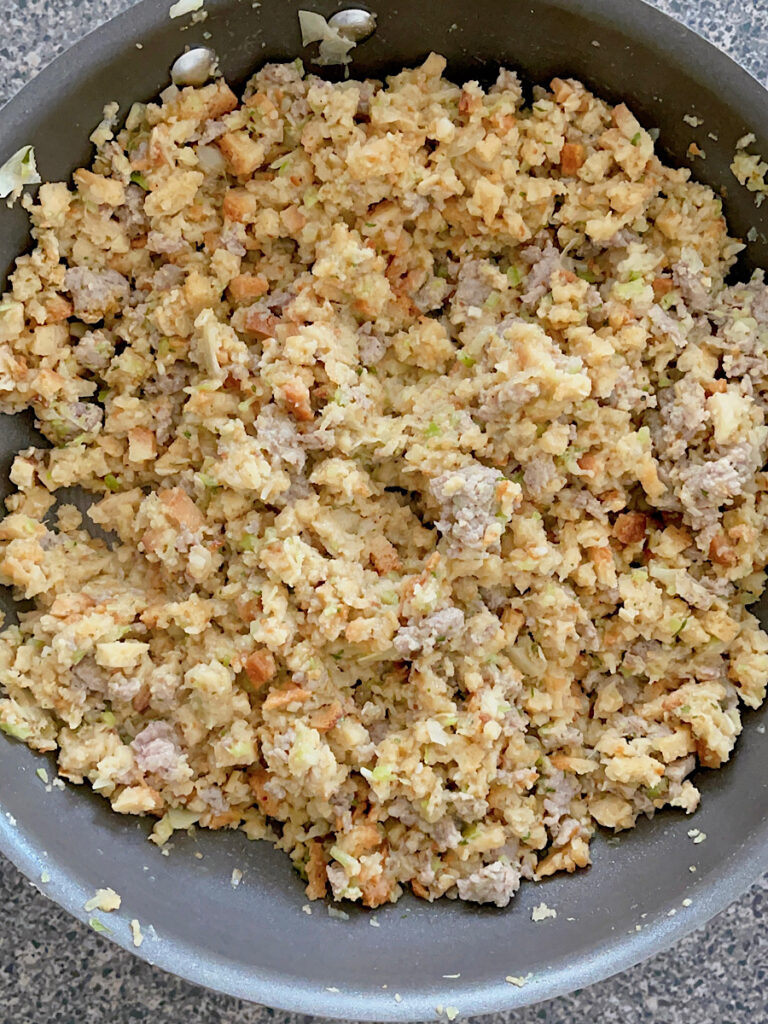 [5] Serve immediately, or transfer to an oven-safe dish and cover with foil. Keep warm in the oven set to 200 degrees until ready to serve.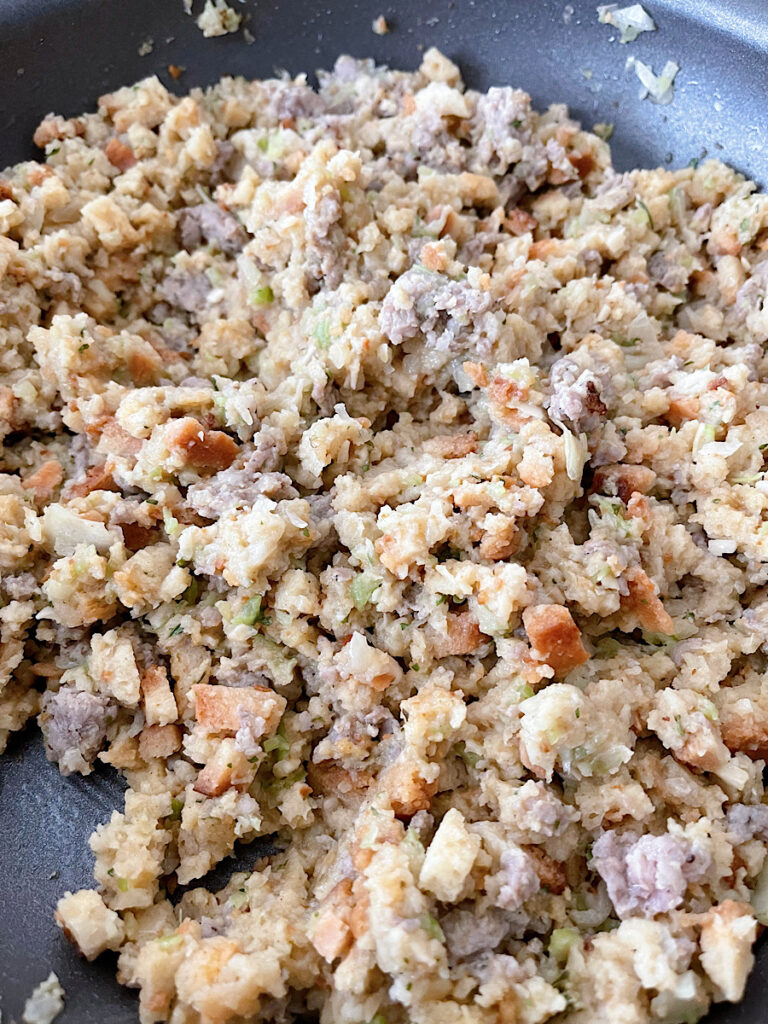 Helpful Kitchen Tools
Sauce Pan
Baking Dish
Aluminum Foil
How to Store Leftover Stuffing
Leftover stuffing can be stored in an airtight container in the refrigerator for up to 4 days. Reheat in the oven set to 350 degrees until warmed through or in the microwave for 60 seconds.
What to Serve with Stove Top Stuffing
Chicken Breasts
Pork Chops
Rotisserie Chicken
Chicken Cordon Bleu Casserole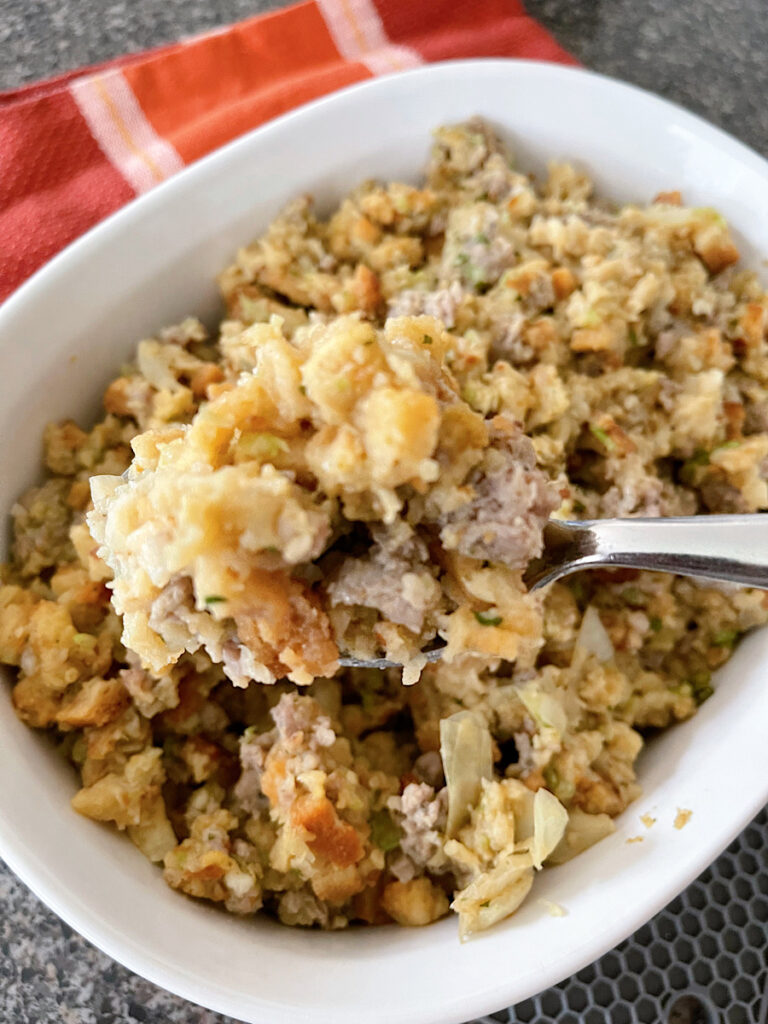 Frequently Asked Questions
What is the most popular Stove Top Stuffing?
The most popular Stove Top Stuffing is the Chicken flavor stuffing mix.
Can I use homemade bread crumbs for this recipe?
Yes, you can use homemade bread crumbs in place of the Stove Top stuffing mix. Just add 1 teaspoon of poultry seasoning to the breadcrumbs.
Can I make this recipe ahead of time?
Yes, you can make this delicious stuffing ahead of time and bake it when you are ready to serve. Just follow steps 1-4, then transfer the stuffing to an oven-safe dish, cover with foil, and store in the refrigerator. When you are ready to bake, preheat the oven to 350 degrees and bake for 20 minutes, or until heated through.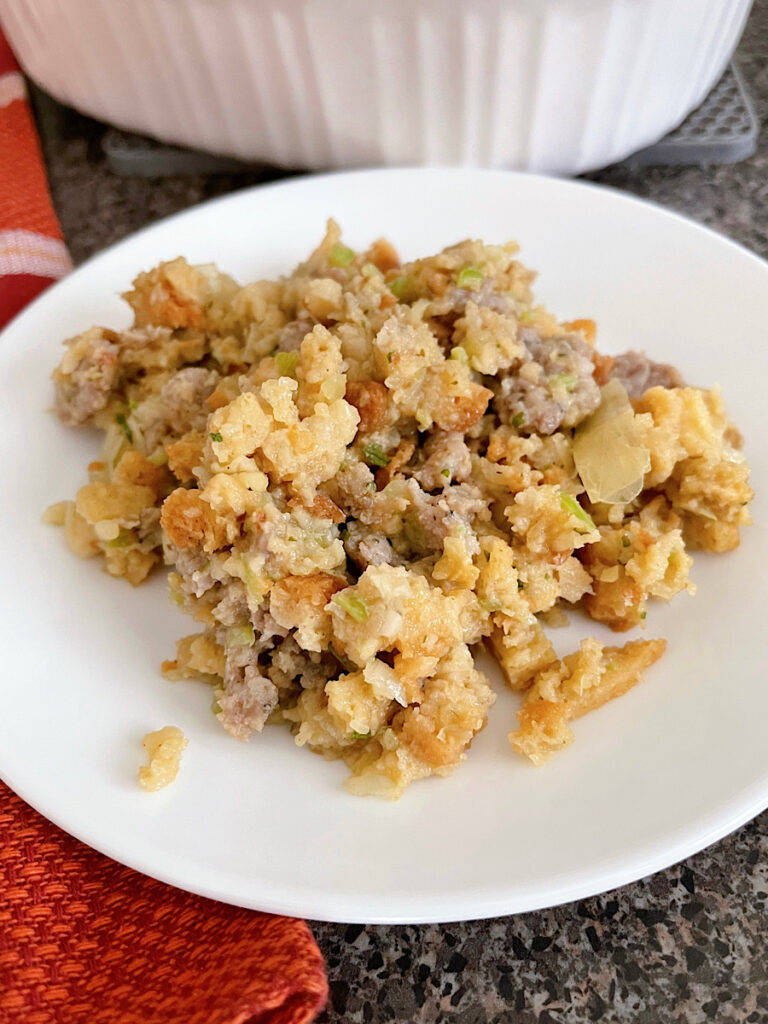 Does the stuffing need to be cooked in the oven?
No, the stuffing does not need to be cooked in the oven. You can cook it on the stovetop then transfer to an oven-safe dish and keep warm in the oven set to 200 degrees until you are ready to serve.
Do you put eggs in Thanksgiving stuffing?
No, there are no eggs in this stuffing recipe.
Why is Stove Top Stuffing So Good?
Stove Top Stuffing is so good and popular because it comes pre-seasoned and is very easy to make. It is great to use for Thanksgiving because it can be made on the stove instead of taking up precious oven space.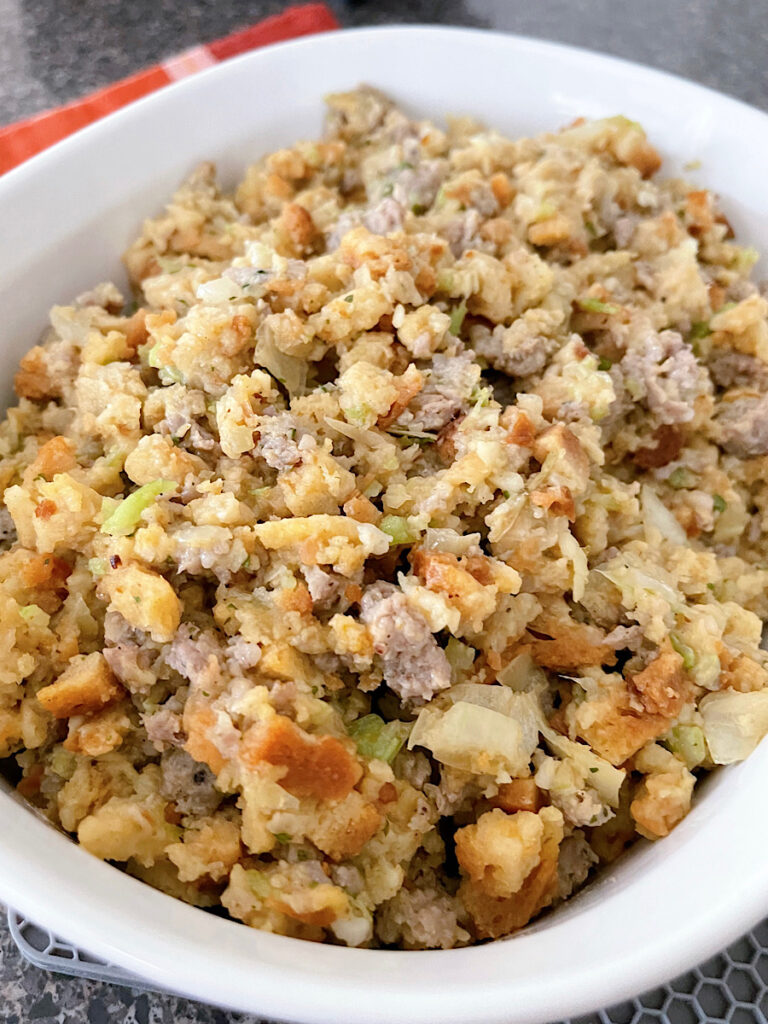 I hope you will try this recipe for Thanksgiving Stove Top Stuffing recipes with sausage. It is one of my favorite recipe and I think you will love the delicious savory flavor it adds to the stuffing.
If you do make it, please leave a review and let me know what you think. Thanks for reading!
More Thanksgiving Recipes to Try:
Watch the video:
Pin for later: