This baked cheese potato recipe is packed with flavor and three kinds of cheese. Sometimes called Funeral Potatoes, this side dish is the perfect comfort food to serve at a family dinner or on holidays like Thanksgiving, Christmas, and Easter.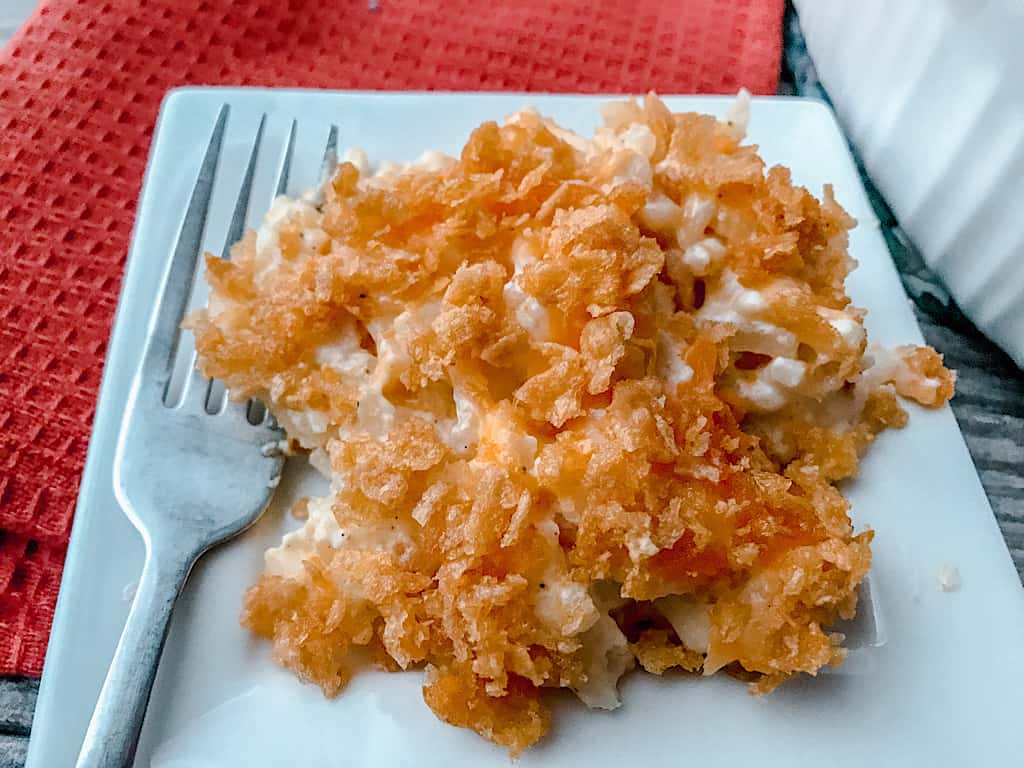 This post may contain affiliate links. When you click on these links, I get a small percentage back at no cost to you! For more information see my disclosure policy.
Below you will find tips, tricks and helpful hints for making this recipe including step by step instructions with pictures. If you would like to go directly to the recipe, scroll down to the recipe card or tap "Jump to Recipe" at the top of the page.
Why You'll Love These Potatoes
If you're looking for a recipe for cheesy potatoes that will wow your family and friends, look no further than this cheese potato bake.
Packed with three different kinds of cheese, this classic side dish is sure to please everyone at the table.
Plus, it's easy to make and only takes about an hour to bake. So if you're looking for a delicious side dish to serve on Thanksgiving, Christmas, or Easter, this cheese potato bake is definitely the recipe for you.
Potato Shortcut
One of the things I love about this recipe, is that you can use a package of frozen hash browns. This will save you prep time, because you won't have to worry about peeling, cutting, and precooking potatoes.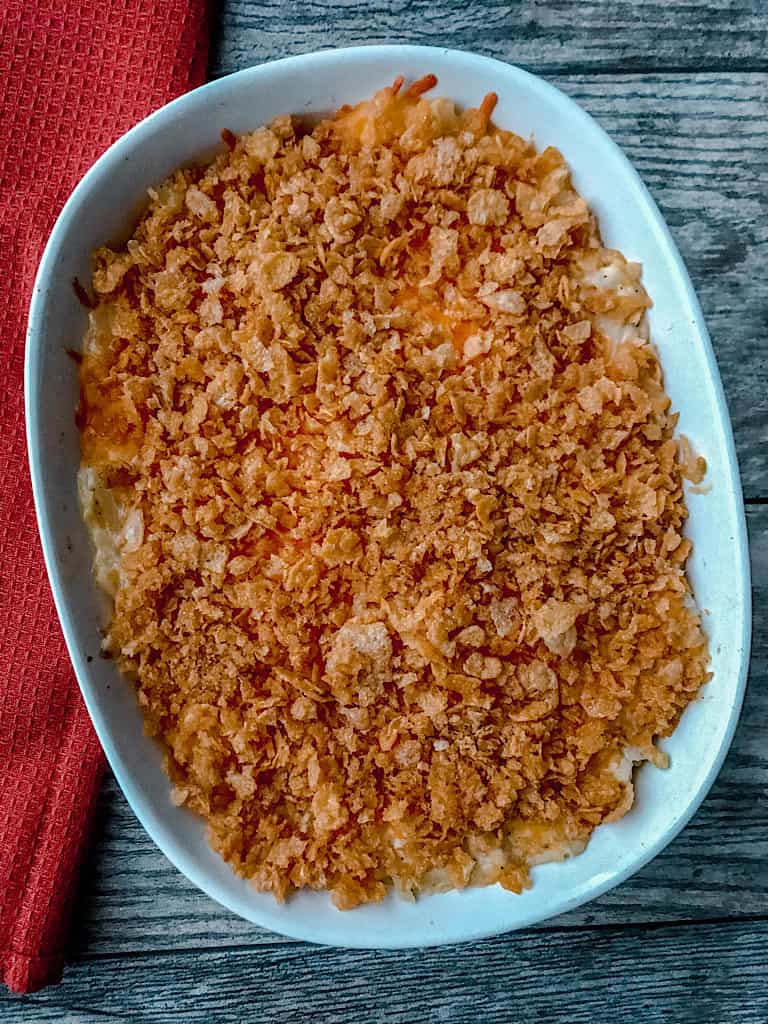 Cheesy Potato Bake Ingredients:
*Ingredient amounts are located in the recipe card at the end of this post.
Frozen Hash Brown Potatoes: Using frozen potatoes saves you time and energy making this side dish. You can use shredded or diced hash browns.
Cream of Chicken Soup: This soup is used to make a creamy sauce for the cheesy potato casserole and can be found on the soup aisle at any local grocery store.
Sour Cream: This adds creaminess and tang to the dish.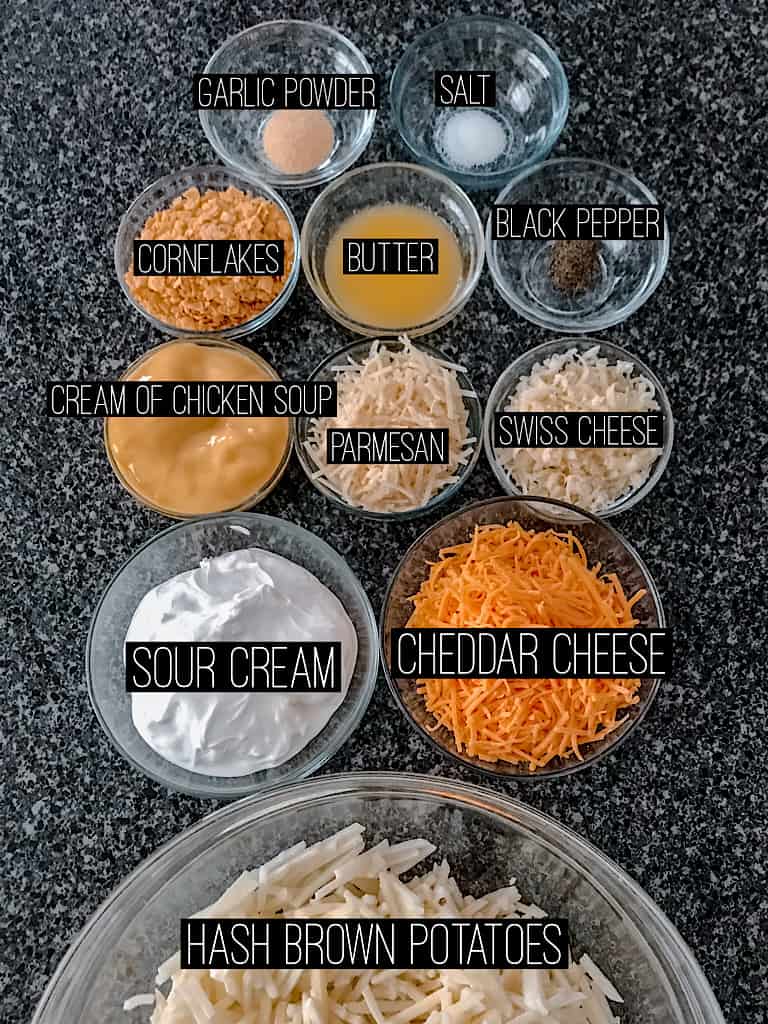 Sharp Cheddar Cheese, Parmesan Cheese, Swiss Cheese: These three kinds of cheese add a ton of flavor and make this dish extra cheesy. Feel free to experiment with using different types of cheese if you prefer.
Corn Flakes: The crushed corn flakes add a crunchy topping to the cheesy potato bake.
Butter: The melted butter helps the corn flakes crisp up in the oven and adds a delicious flavor to the dish.
Fresh Chives: This would make a great optional garnish for this easy side dish.
How to Make Cheesy Potato Bake
[1] Heat oven to 350 degrees.
[2] In a large bowl, mix together the hash brown potatoes, cream of chicken soup, sour cream, salt, black pepper, 2 cups of sharp cheddar cheese, parmesan cheese, and Swiss cheese.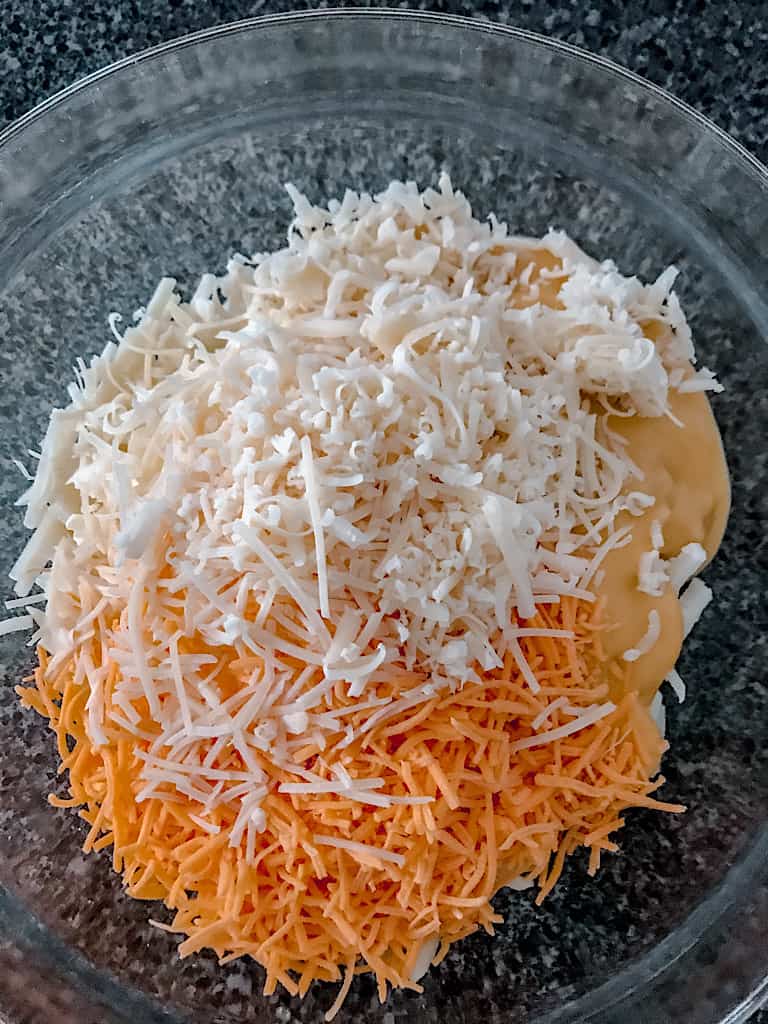 [3] Spray a 9×13 casserole dish with nonstick cooking spray. Add the potato mixture.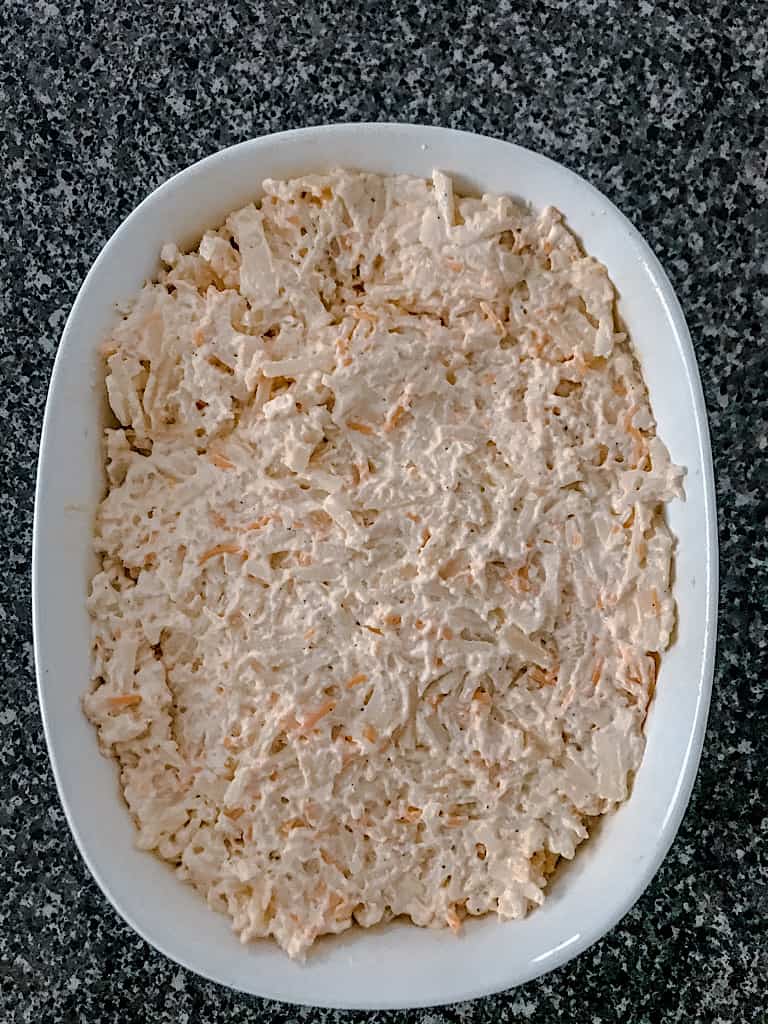 [4] Place the cornflakes in a ziplock bag and use a rolling pin to roughly crush them.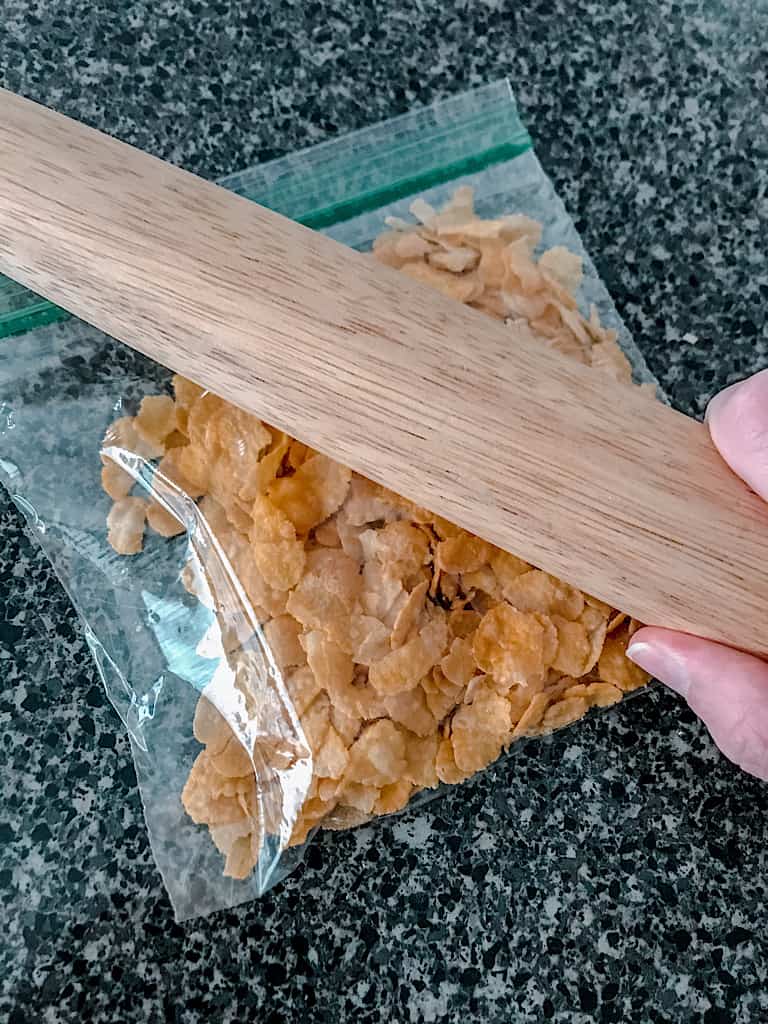 [5] In a small mixing bowl, combine the cornflakes with the melted butter.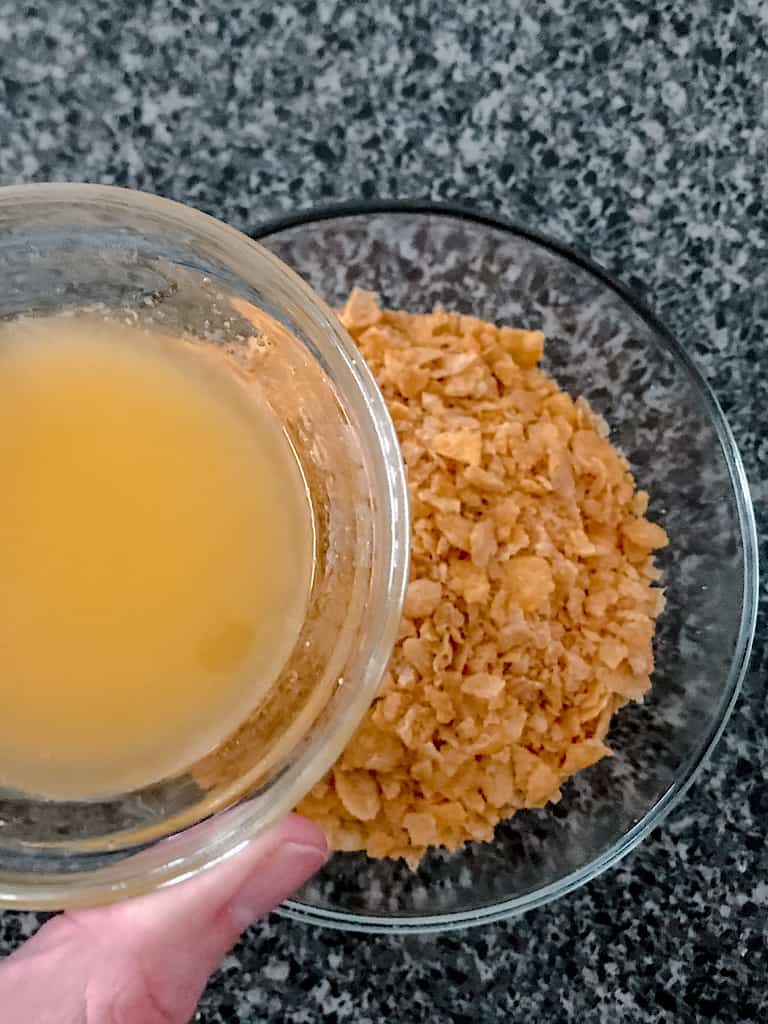 [6] Sprinkle the remaining cheese over the potato mixture and top evenly with the crushed cornflakes.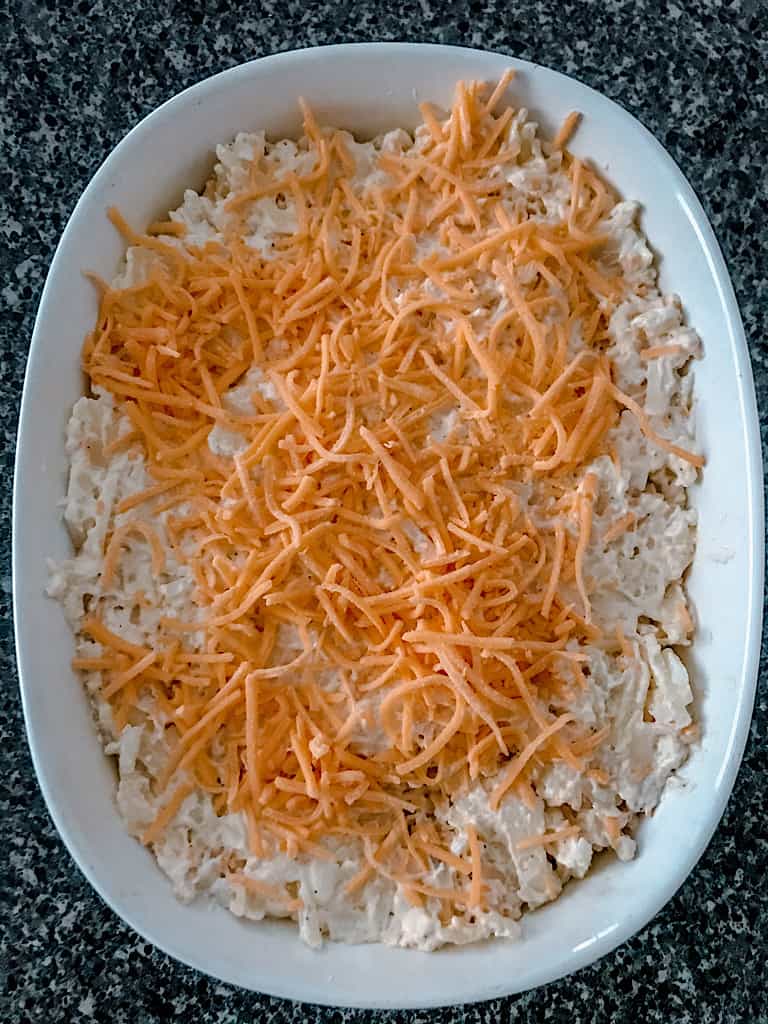 [7] Cover the baking dish with aluminum foil and bake at 350 degrees for 55-65 minutes. Let stand 10 minutes before serving.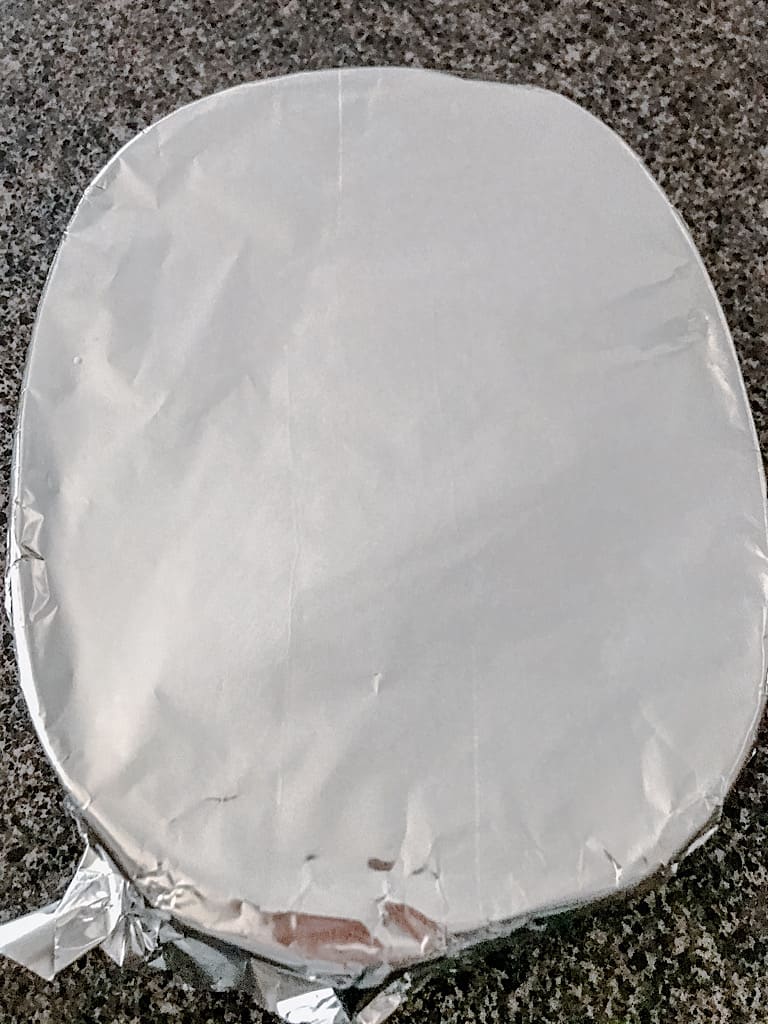 Helpful Kitchen Tools
Make Ahead Instructions
If you want to make this tasty cheese potatoes recipe ahead of time, assemble all the ingredients in the baking dish, cover with foil, and refrigerate for up to 24 hours before baking.
You may need to add a few extra minutes onto the baking time if it is cold going into the oven.
How to Store Leftovers
Store any leftovers in the fridge in an airtight container or topped with foil for up to four days. Reheat in the microwave or oven until warmed through.
You can also freeze leftovers for up to 3 months. Thaw overnight in the refrigerator before reheating.
Serving Suggestions
Serve this cheesy potato recipe as a side dish with roasted chicken, pork tenderloin or steak, alongside a salad and some crusty bread.
You can also make it a main course by adding some cooked and crumbled crispy bacon, chicken, or diced ham to the potato mixture before baking.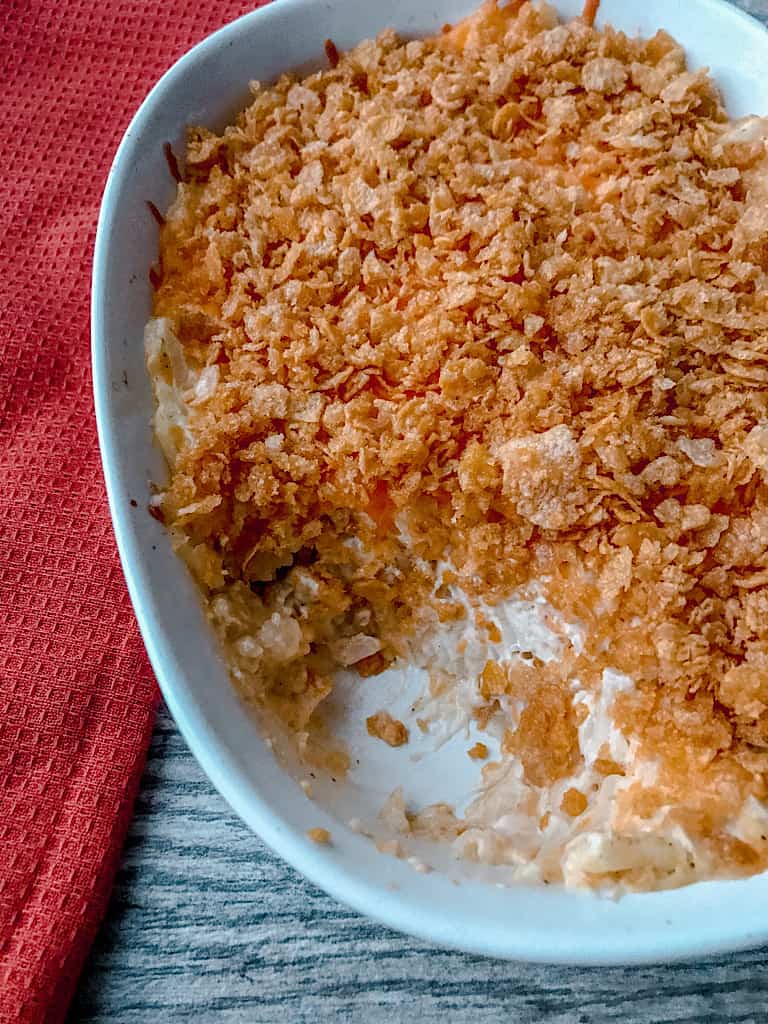 Frequently Asked Questions
Can I use fresh shredded potatoes instead of frozen hash browns?
Yes, you can definitely use fresh shredded potatoes in place of the hash browns. Using frozen potatoes just saves time. Some good potato options are Yukon Gold Potatoes, Russet Potatoes, Red Potatoes, or Yellow Potatoes
Can I substitute different types of cheese in this potato bake recipe?
Feel free to experiment with different cheeses in this dish. Some tasty options could be Gruyere, Gouda, or Monterey Jack cheese.
Use a combination that you like or have on hand. Just make sure to use about 2 1/4 cups total of shredded cheese in the recipe.
Can I make this cheesy potato bake without the cornflakes topping?
Yes, you can leave out the cornflake topping if desired. The dish will still be tasty without it. Alternatively, you could try using crushed Ritz crackers or bread crumbs as a crunchy topping instead.
Why is it sometimes called Funeral Potatoes?
This cheesy potato side dish is often served at potluck dinners after a funeral, hence the name Funeral Potatoes.
This dish also likely became popular because it can be easily made in a large batch to feed a crowd, making it the perfect side dish to serve at funerals.
However, it can still definitely be enjoyed and appreciated as a comforting side dish at any family gathering or Christmas Dinner
Final Thoughts
Experience flavor overload with every bite of this cheesy potato bake. It's the perfect addition to any family dinner or holiday meal. Enjoy!
More Side Dishes:
Pin for Later: