Start your morning off with a delightful, yet easy-to-make recipe for sour cream pancakes. These light, fluffy homemade pancakes are bursting with flavor from the hint of tangy sour cream and the sweetness of extra vanilla extract! Everyone in your family will love it!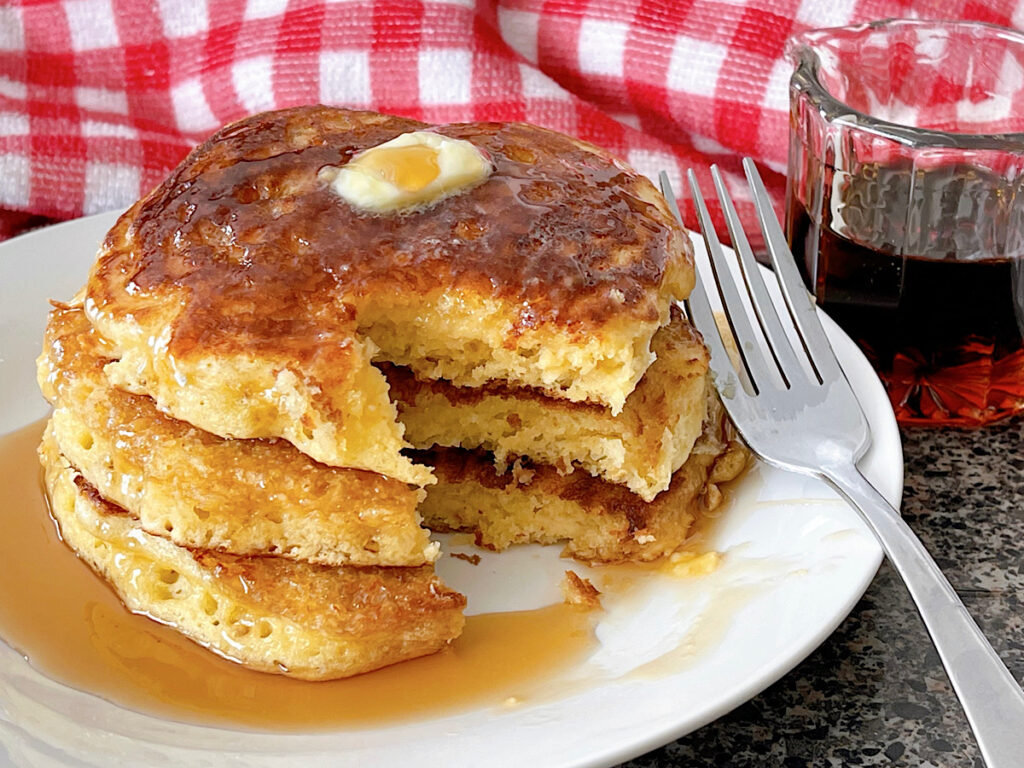 This post may contain affiliate links. When you click on these links, I get a small percentage back at no cost to you! For more information see my disclosure policy.
Below you will find tips, tricks and helpful hints for making this recipe including step by step instructions with pictures. If you would like to go directly to the recipe, scroll down to the recipe card or tap "Jump to Recipe" at the top of the page.
Why You'll Love These Fluffy Pancakes
The first time I tried sour cream pancakes was at a diner called, Penny Ann's Cafe, in Salt Lake City. At Penny Anne's they are called "Heavenly Hot Cakes" and they truly are heavenly perfect pancakes!
These Fluffy Sour Cream Pancakes are so delicious and easy to make. The sour cream gives them a tangy flavor, while the extra sugar and vanilla extract add sweetness.
The pancakes come out thick and fluffy, making them perfect for piling on toppings like fresh fruit and syrup! Plus, this simple recipe is easy to whip up, so you can enjoy them any morning of the week. Serve them with a side of perfect scrambled eggs and oven bacon for an easy breakfast menu!
For more restaurant-inspired pancakes, try my Sweet Cream Pancakes from Black Bear Diner here.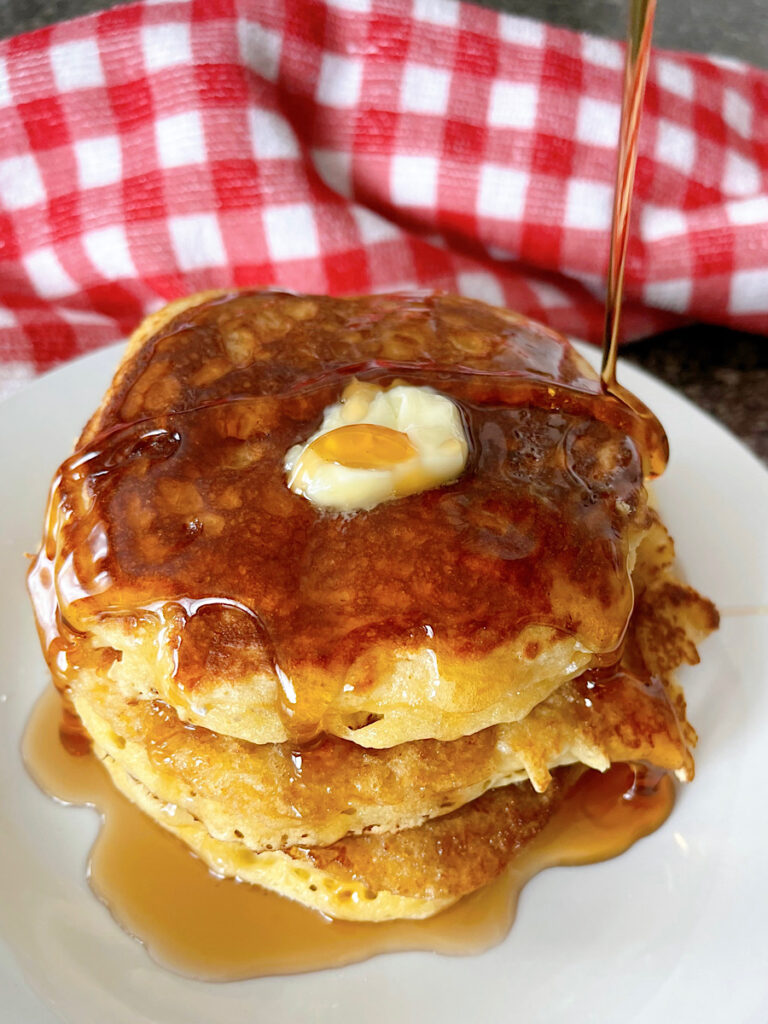 How to Get Fluffy Pancakes
The secret to getting fluffy pancakes every time is to make sure all the ingredients are at room temperature before you start. This ensures that the delicious pancakes will have a light and airy texture.
Also, don't over-mix the pancake batter. Mix just until everything is combined. Over-mixing will cause the pancakes to become dense.
Follow these tips and you will be enjoying the fluffiest pancakes for your
Sour Cream Pancakes vs. Buttermilk Pancakes
Both sour cream pancakes and buttermilk pancakes are fluffy and delicious, but there is a slight difference in taste. The addition of sour cream pancakes are slightly tangier than buttermilk pancakes, while buttermilk pancakes may have a slight hint of sourness.
Both types of pancakes work well with a variety of toppings, so you can customize them to your liking.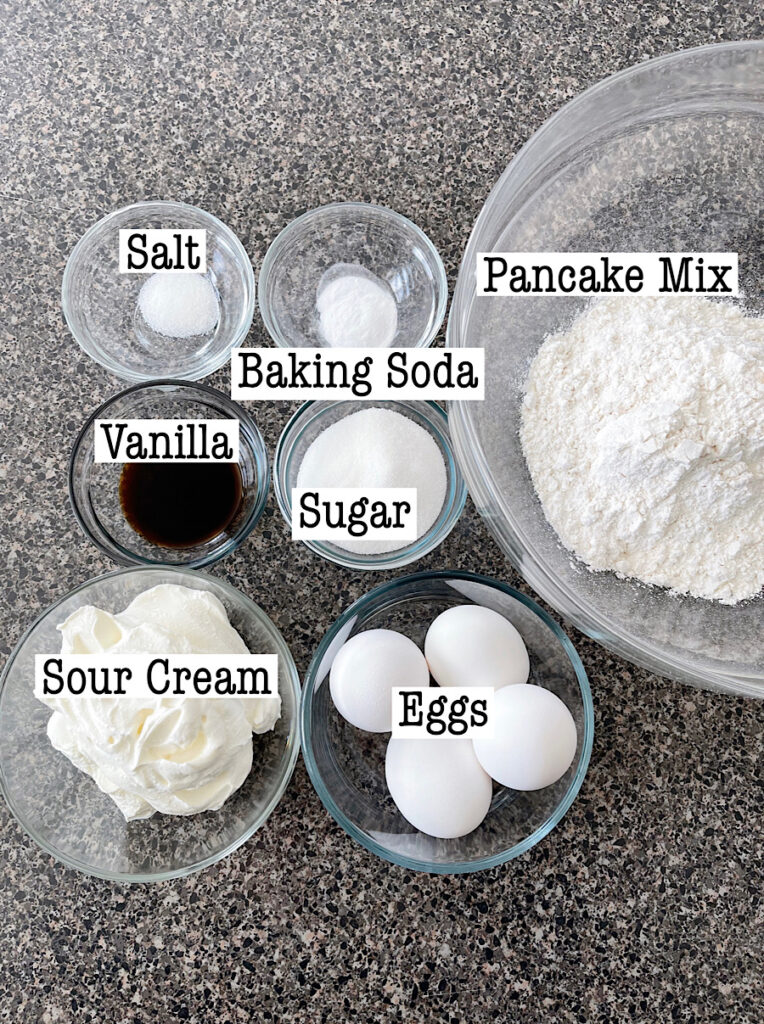 Sour Cream Pancake Ingredients
*Ingredient amounts are located in the recipe card at the end of this post.
Pancake Mix: Use 1 and a half cups of pancake mix to make your batter. I used Krusteaz brand pancake mix.
Baking Soda: This helps the pancakes rise and become nice and fluffy.
Salt: A little bit of salt brings out all the flavors in the recipe.
Eggs: You will need 4 eggs for this recipe. The eggs help with the fluffiness of the pancakes.
Sour Cream: This adds a slight tanginess to the pancakes, as well as moisture.
Sugar: For some natural sweetness, add 3 tablespoons of sugar to the batter.
Vanilla Extract: Adding 2 teaspoons of vanilla extract brings out the flavor even more.
How to Make Sour Cream Pancakes
[1] Whisk together the pancake mix, baking soda, and salt in a medium bowl.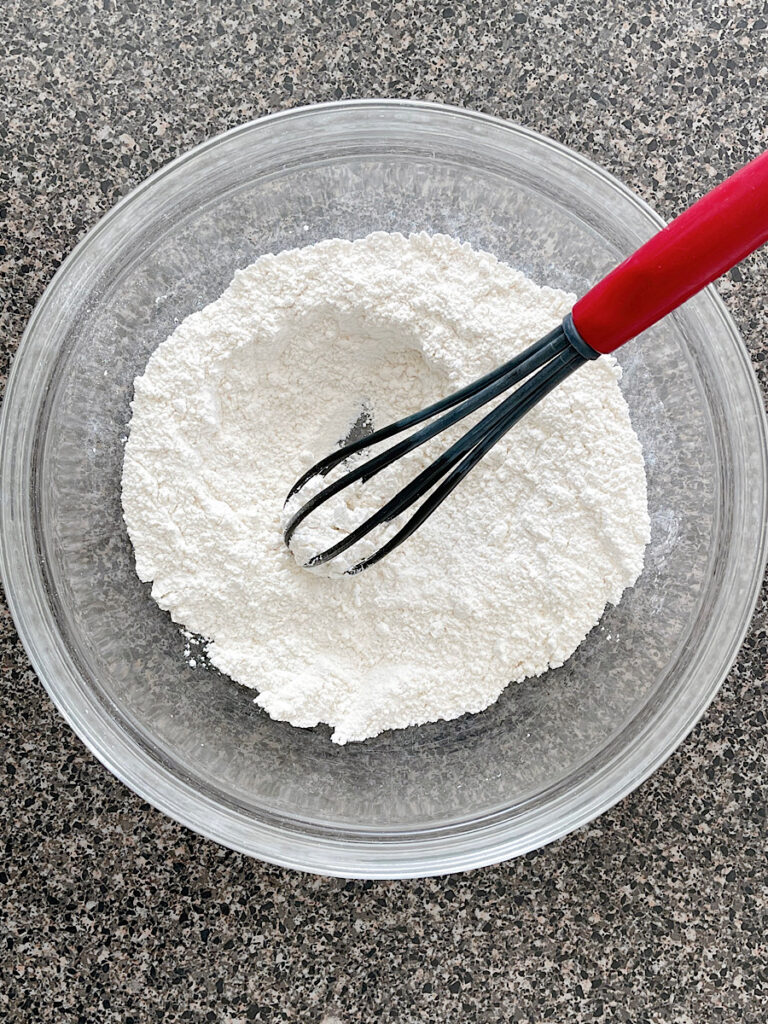 [2] In a large bowl, mix eggs, sour cream, sugar, and vanilla together.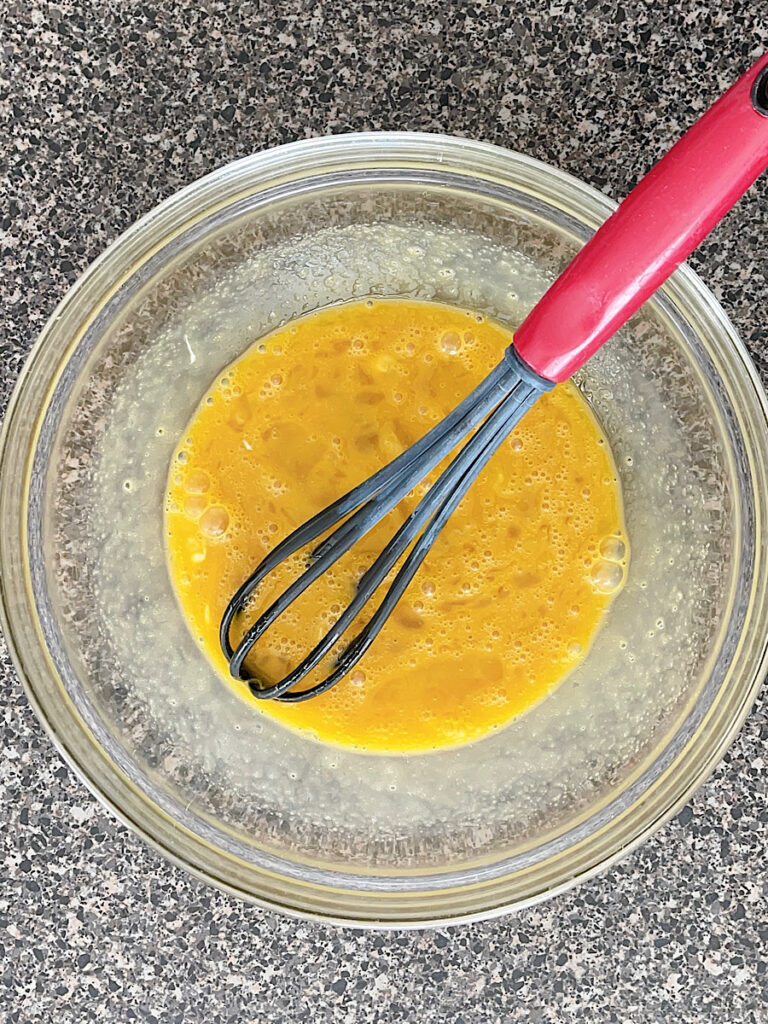 [3] Add the wet ingredients to the dry ingredients and stir until moistened. There may be small lumps, but do not over-mix.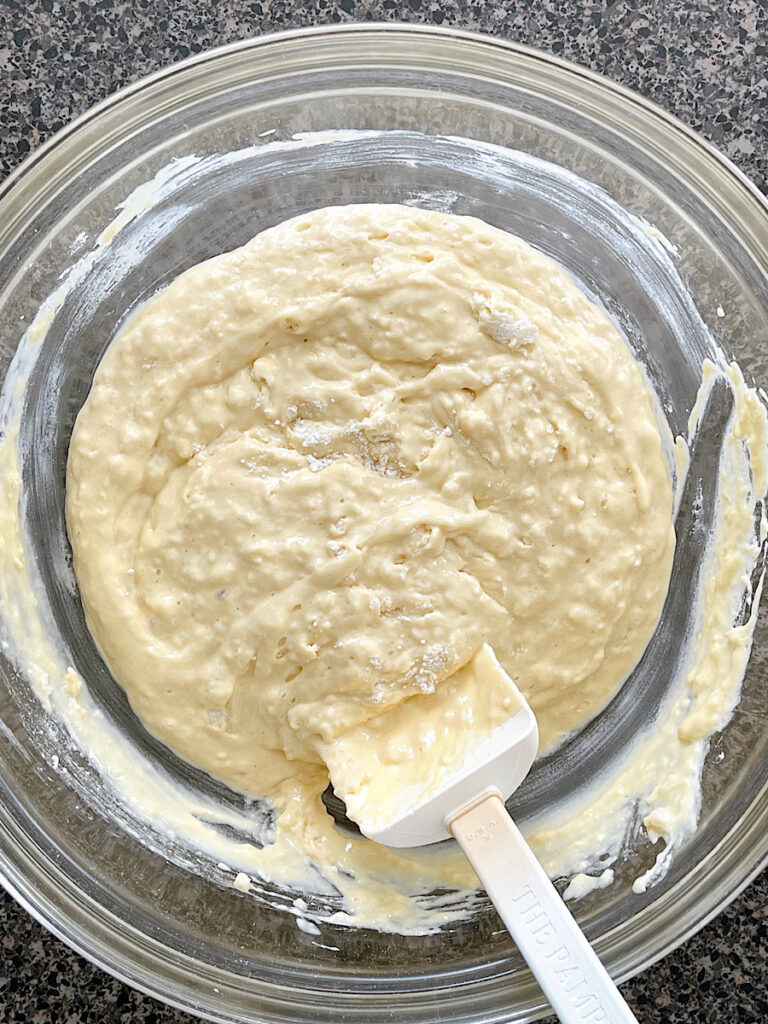 [4] Heat a griddle to medium heat, about 300-325 degrees. Spray with nonstick spray or brush with one tablespoon of butter.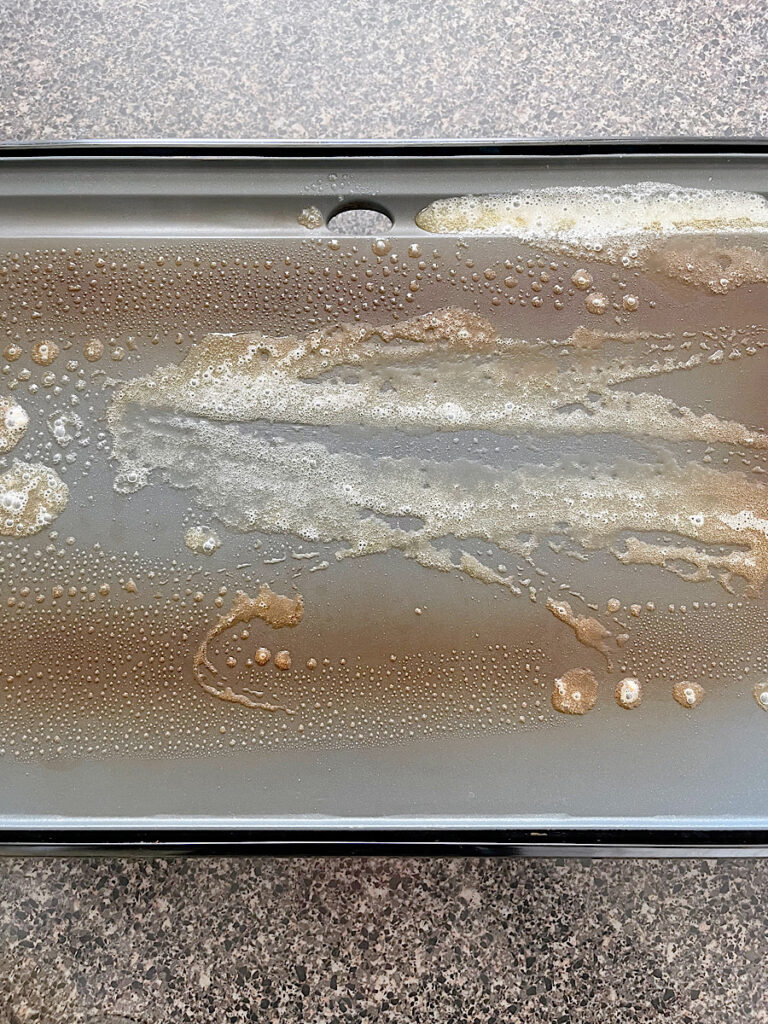 [5] Add 1/4 cup of batter for each pancake to the hot griddle or hot skillet. Cook the first side for 2-3 minutes.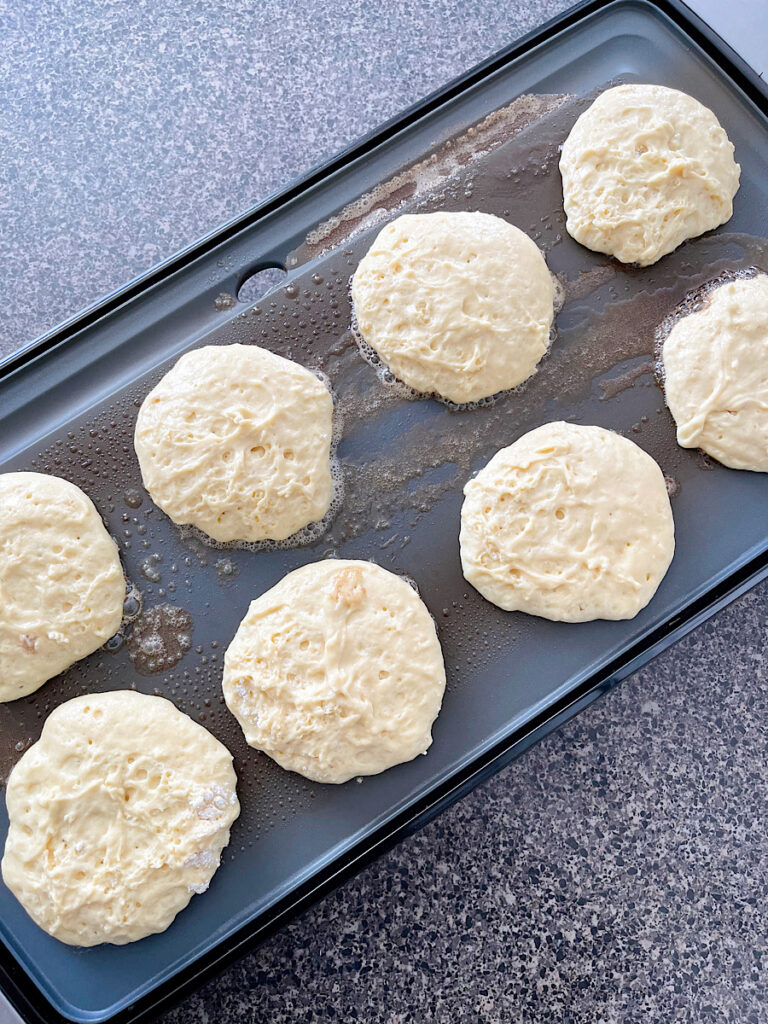 [6] When the edges begin to bubble and the center of the pancake is set, flip the pancakes and cook for 1-2 minutes on the second side.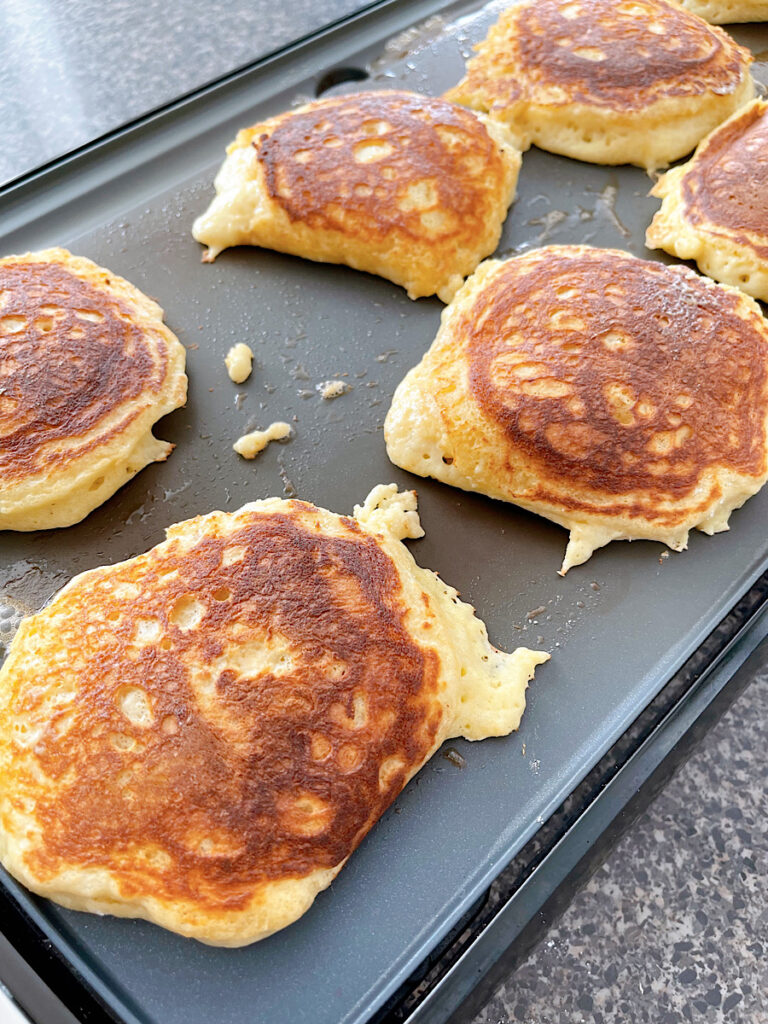 [7] Serve with your favorite toppings like butter and warm syrup.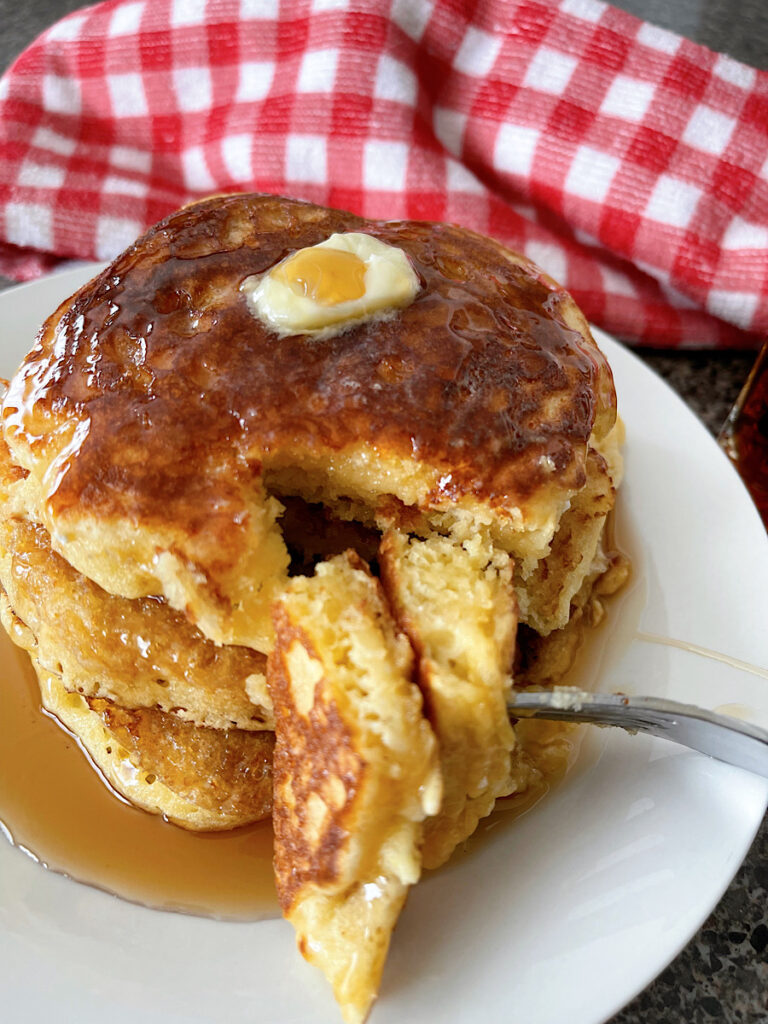 Helpful Kitchen Tools
How to Keep Pancakes Warm
If you are serving these pancakes to a crowd, you might need to keep them warm while cooking more. The best way to do this is to preheat the oven to 200°F and place a cooling rack on top of a baking sheet.
Place the cooked pancakes on top of the cooling rack, then transfer them to the oven until ready to serve. This keeps them warm but not soggy!
How to Store Leftovers
If you have leftovers, store them in an airtight container in the refrigerator for up to 3 days. To reheat, place on a plate and microwave for 30-second intervals until heated through.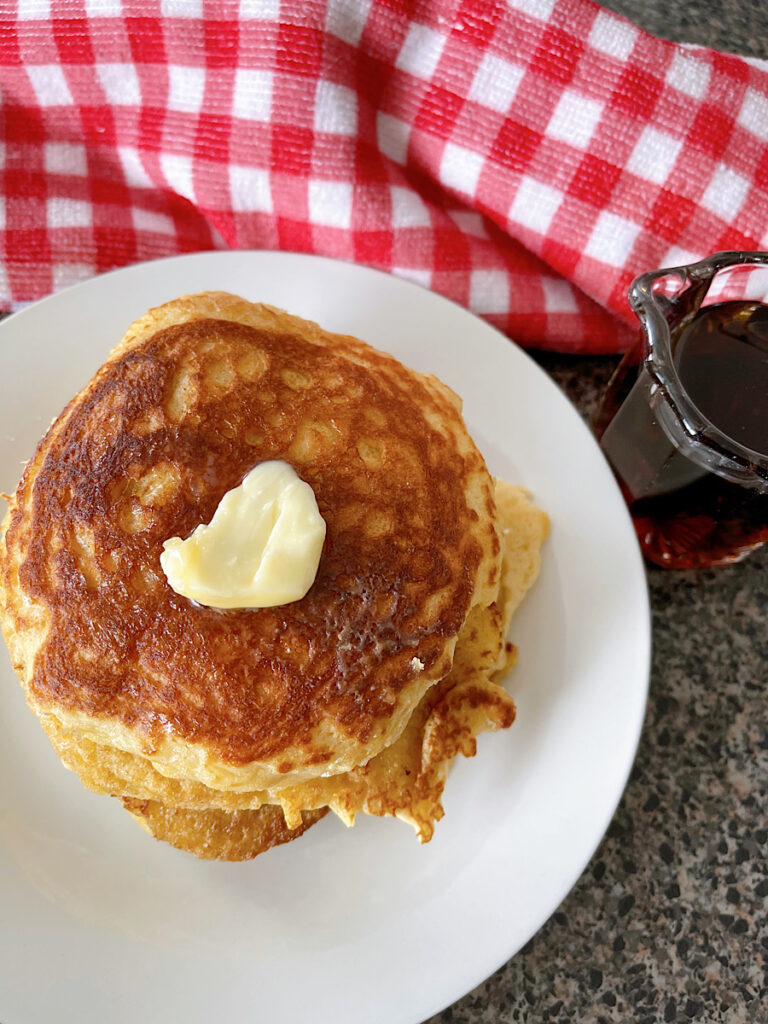 How to Freeze Pancakes
To freeze your pancakes, place them in a single layer on a baking sheet lined with parchment paper. Put the baking sheet in the freezer for 1-2 hours until the pancakes are frozen solid.
Transfer to an airtight container and store in the freezer for up to 3 months. To reheat, thaw overnight in the refrigerator and then heat
Can Greek Yogurt Be Substituted?
Yes, you can substitute yogurt for sour cream in this recipe. Both will give you a light and fluffy texture, but the pancakes made with yogurt may have a slightly tarter flavor than those made with sour cream.
When to Flip Pancakes
To get the perfectly cooked pancakes each time, wait until the edges of the pancakes start to bubble and the center looks slightly set before flipping them over.
Use a large spatula to make flipping easier. Then cook for another minute or two on the other side.
Sour cream pancakes tend to be pretty fragile, so you need to flip them carefully. To see my technique, make sure to watch the video at included with this recipe!
Pancake Topping Ideas: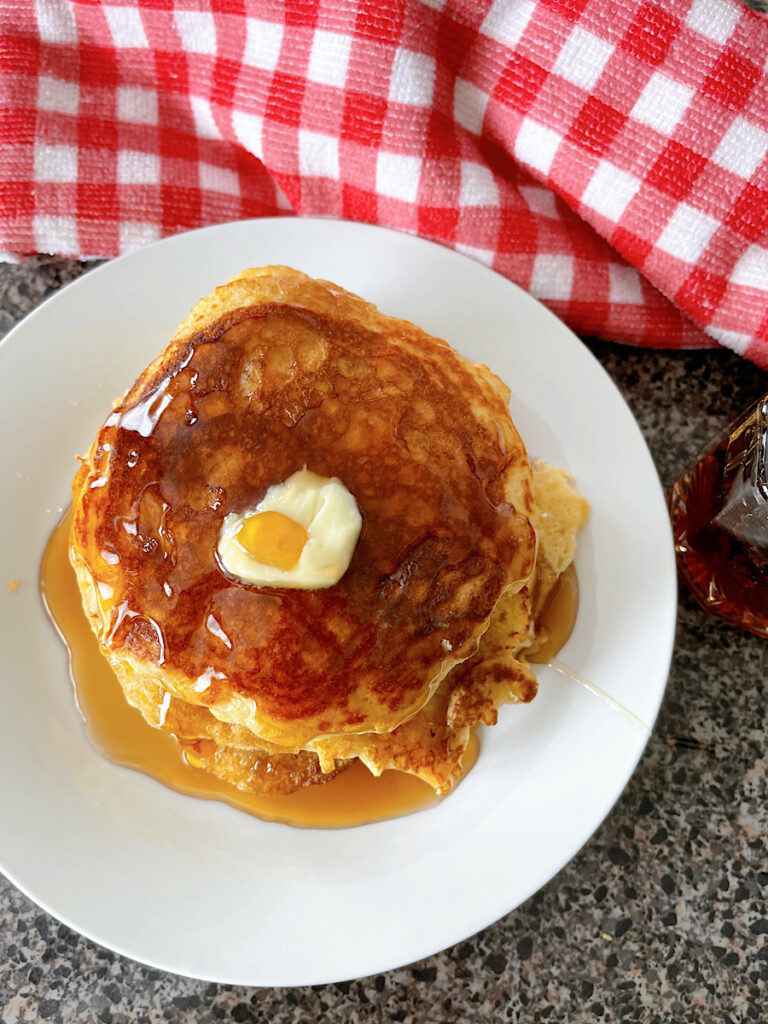 Frequently Asked Questions
Can I make these pancakes in advance?
Yes, you can make the batter ahead of time and store it in an airtight container in the refrigerator for up to 24 hours. When ready to cook, heat your griddle and follow the same instructions for making the pancakes.

Can gluten-free pancakes be made with this recipe?
Yes, you can use a gluten-free pancake mix in place of regular pancake mix. Just make sure to check the ingredients for any other potential allergens.
What else can I add to my pancakes?
You can stir in chopped fresh fruit, chocolate chips, or nuts to your batter for some added flavor and texture. You can also top them with melted butter, nut butters, or cream cheese.
How can I make my pancakes fluffier?
To make your pancakes even fluffier, separate the eggs and beat the egg whites until stiff peaks form. Then, fold the egg whites into the batter before adding it to the griddle. This will help them rise and become nice and fluffy.
Is this the best pancake recipe?
This recipe for sour cream pancakes is definitely delicious and can be customized with different toppings or add-ins. It's up to you to decide if it's the best!
When to Serve Sour Cream Pancakes
Christmas Morning
Easter
Mother's Day
Father's Day
4th of July
Birthdays
Weekends
Final Thoughts
This Sour cream pancake recipe is a great way to start your day. With the added tartness and sweetness, they will be a huge hit with your guests and become an instant family favorite.
The best part is that they can be made ahead of time so you don't have to worry about making breakfast in the morning. Have fun experimenting with different flavors and toppings! Enjoy!
More Pancake Recipes
Sour Cream Pancakes Video: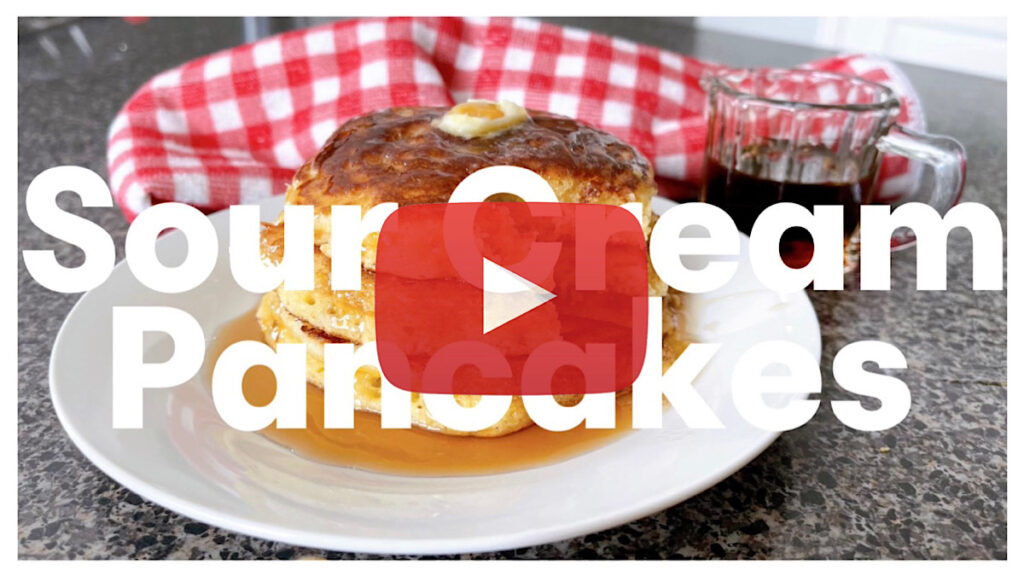 Pin for later: