Start your day off right with this delicious, fluffy and creamy scrambled eggs recipe. All you need are eggs, butter and a bit of seasoning to make the perfect breakfast dish. In no time at all, you'll have a flavorful dish that is sure to impress your family and friends. Making scrambled eggs without milk has never been easier! So get cracking on this quick and easy scrambled eggs recipe today!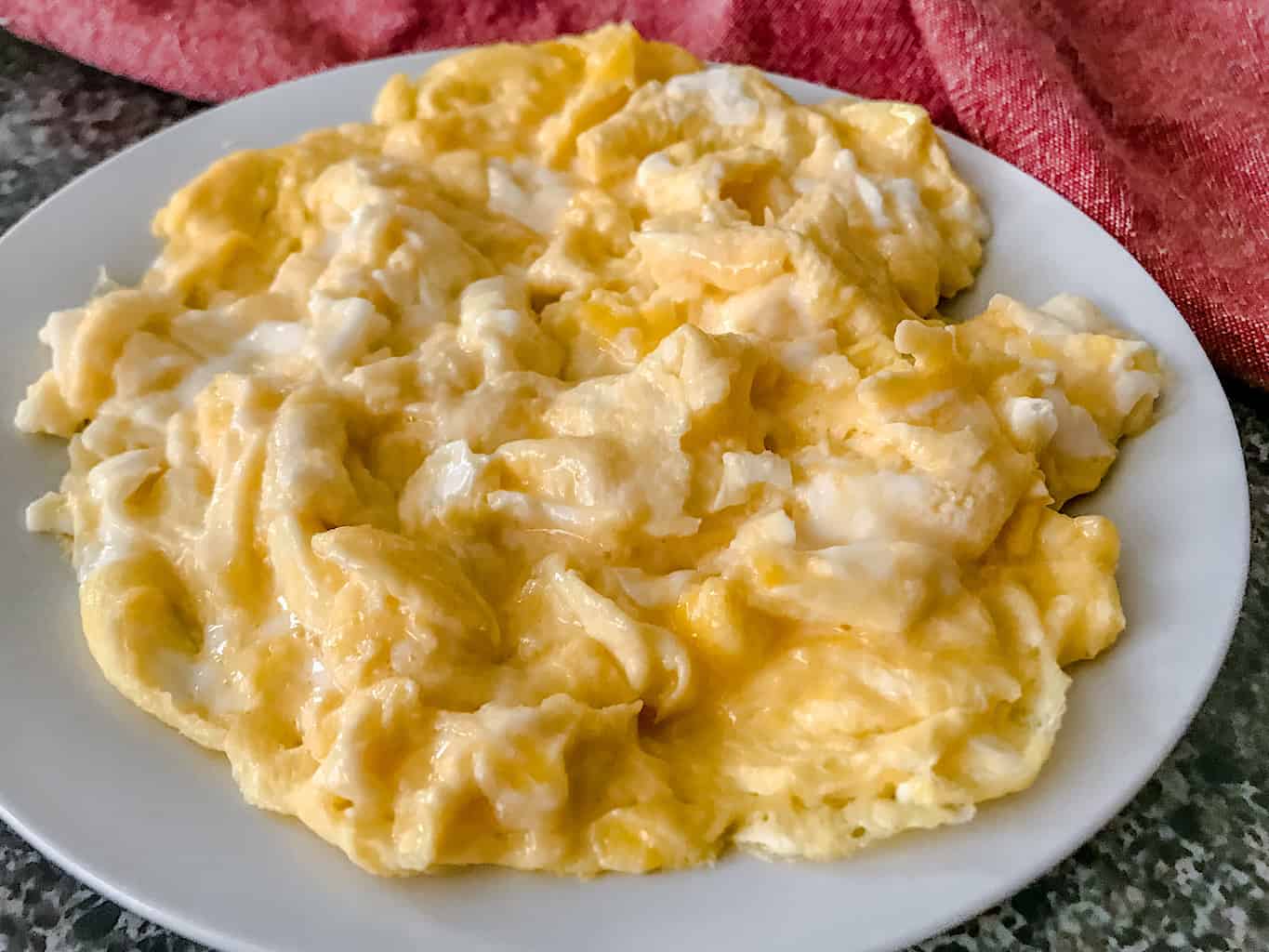 This post may contain affiliate links. When you click on these links, I get a small percentage back at no cost to you! For more information see my disclosure policy.
Below you will find tips, tricks and helpful hints for making this recipe including step by step instructions with pictures. If you would like to go directly to the recipe, scroll down to the recipe card or tap "Jump to Recipe" at the top of the page.
Why You 'll Love This Recipe
• It's delicious: This recipe is sure to please everyone in the family. The creamy texture and subtle flavor of the eggs combine perfectly with the butter for a delicious, fluffy scramble that is perfect for breakfast.
• It's quick and easy: Who doesn't love a dish that can be put together in minutes? With just two ingredients and minimal effort, you can have a delicious breakfast ready to go in no time.
• It's versatile: Scrambled eggs without milk can be served as is or used as an ingredient in other recipes. They can also be spiced up with your favorite herbs and spices or served with other breakfast favorites such as bacon, sausage, or cheese.
• It's nutritious: Eggs are a good source of protein, vitamins and minerals that can help keep you full throughout the day. Plus, they're low in calories and fat so you don't have to worry about over-indulging. With this recipe, you can enjoy a nutritious breakfast without feeling guilty!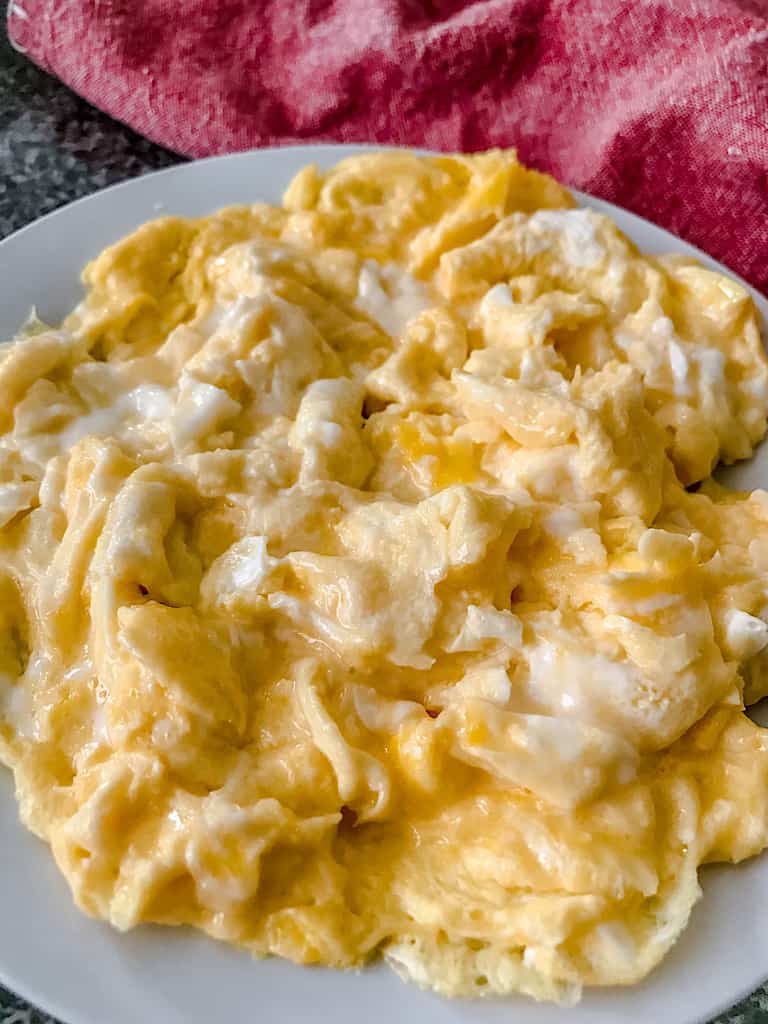 Fluffy Scrambled Eggs Without Milk
Scrambled eggs are a breakfast staple. I eat them almost every single day. But there is definitely a trick to getting them just right and using the right cooking process.
Making perfect eggs is kind of an art and requires the right technique.. If you have the perfect storm of heat and patience, you can come out with spectacular, creamy, deliciously fluffy eggs.
Here are the secrets to making scrambled eggs, with the perfect texture, every single time.
#1 Tip for Perfect Scrambled Eggs: Patience
The number one tip for making perfectly fluffy scrambled eggs is PATIENCE! To make perfect scrambled eggs, you are going to need a lot of it.
Cooking scrambled eggs too quickly on medium or high heat will make your eggs spongy. That is not the right texture for eggs, trust me.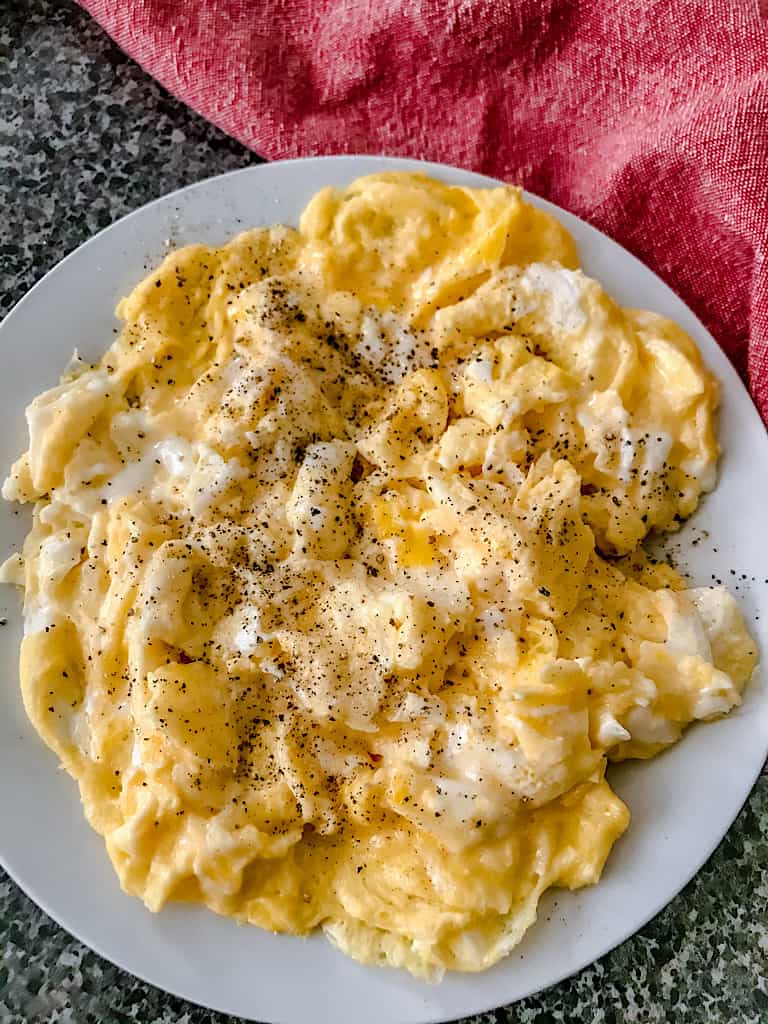 Why You Don't Need Milk for Scrambled Eggs
Milk is not necessary to make delicious, fluffy scrambled eggs. Milk can sometimes cause your eggs to be gummy and tough because there is too much liquid. It is best to just stick with the basics – eggs and butter!
Scrambled Eggs Ingredients
*Ingredient amounts are located in the recipe card at the end of this post.
Eggs: To make the best scrambled eggs, choose a high-quality product in whatever size eggs you like.
Butter: Butter is used in this recipe to add flavor and help the eggs not stick to the pan. You will need 1/2 tablespoon of butter per two eggs. Olive oil can be used in place of butter if you prefer.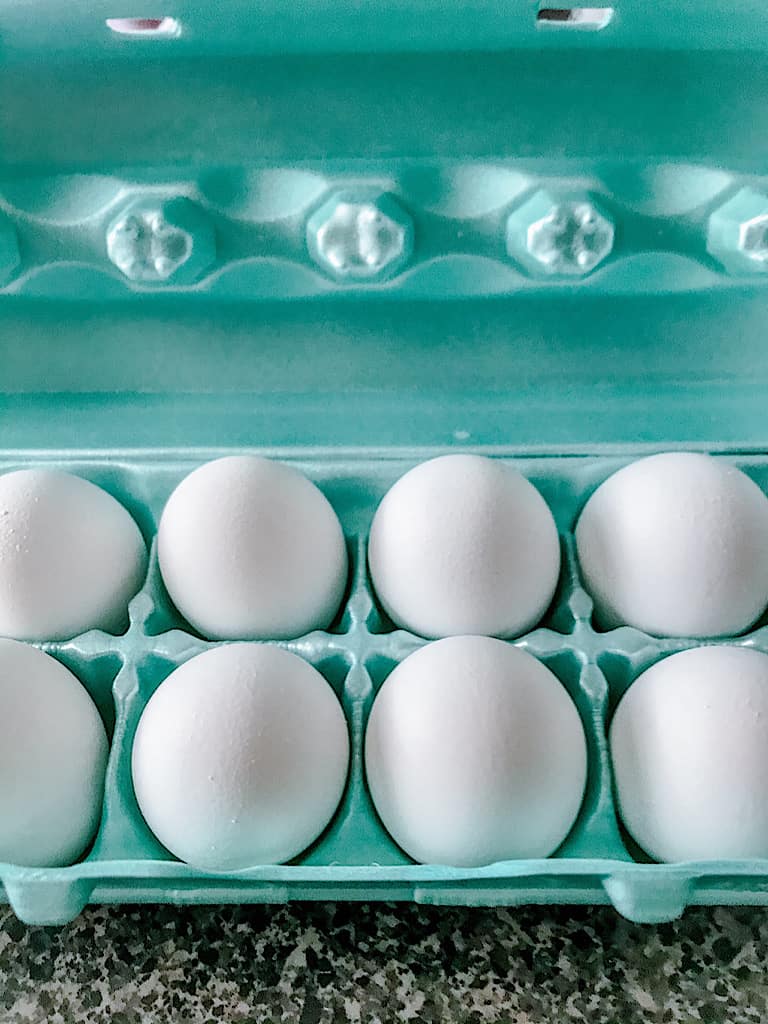 How to Make Perfect Scrambled Eggs Without Milk
[1] Begin by cracking the eggs into a small mixing bowl.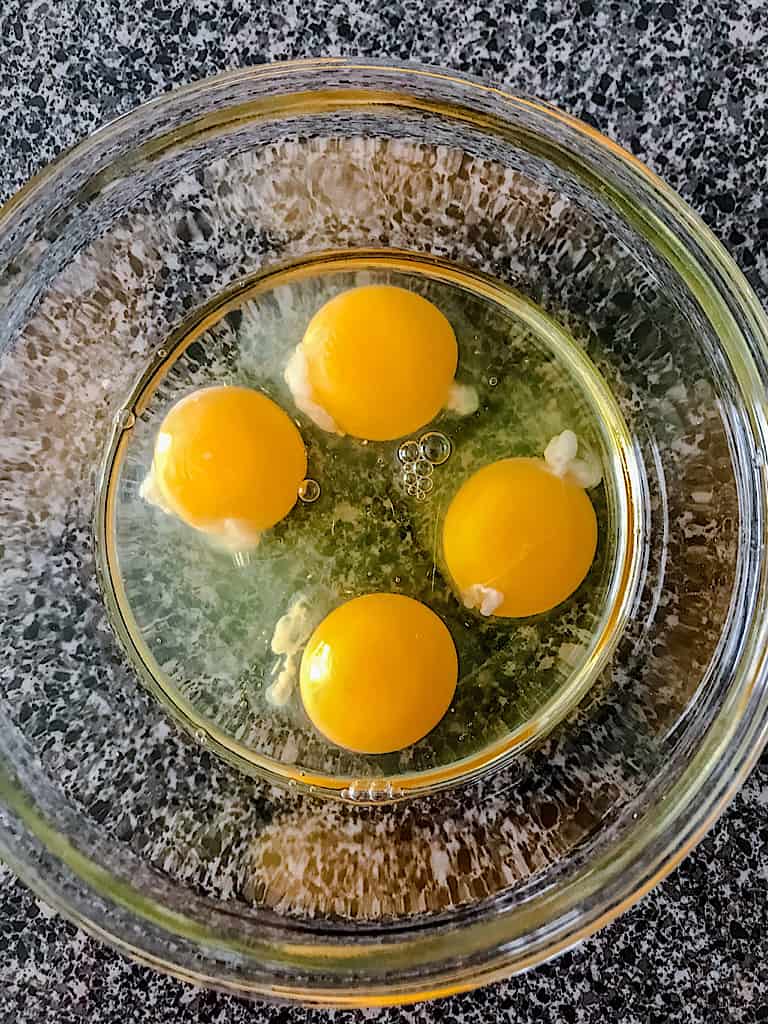 [2] Use a whisk to beat the eggs together and combine the egg yolks with the egg whites. You can add a pinch of salt, if desired.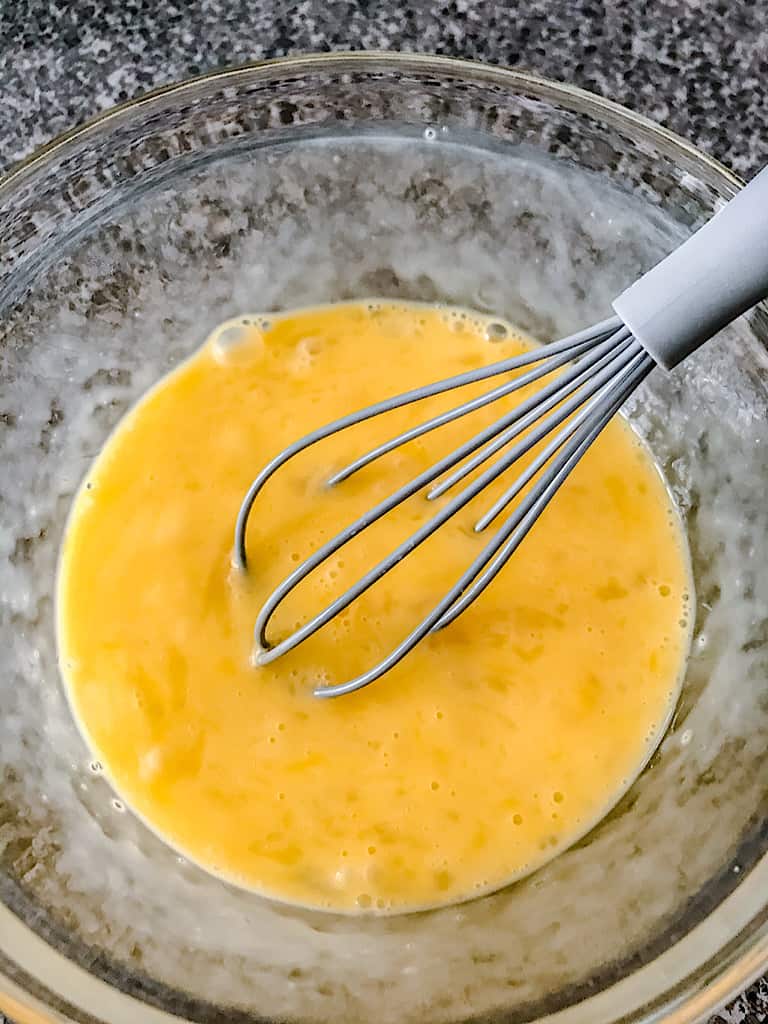 [3] Preheat a nonstick pan over medium-low heat.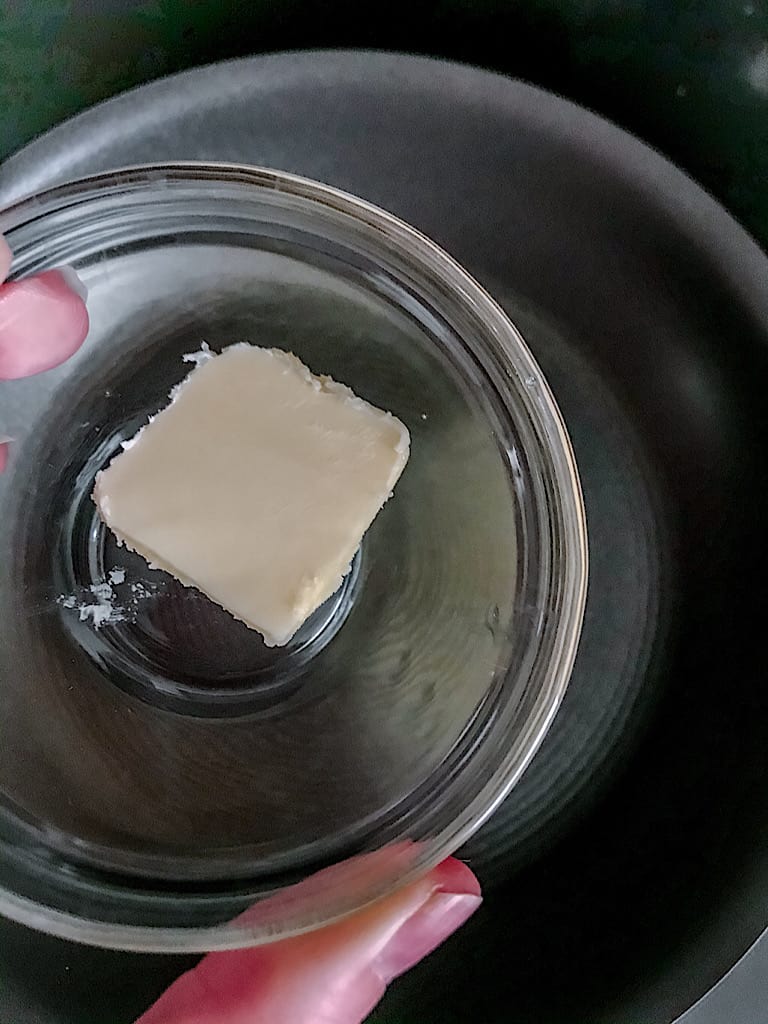 [4] Add the butter to the hot pan and spread the butter around the bottom and sides while it melts.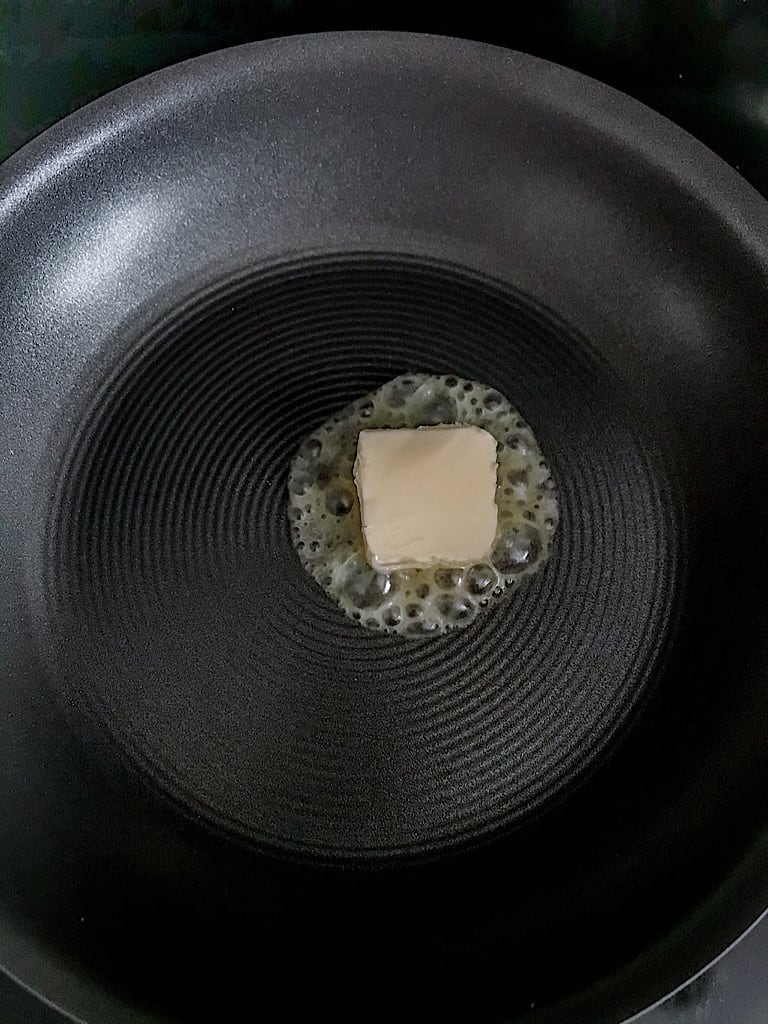 [5] When the butter is melted, pour the beaten egg mixture into the frying pan.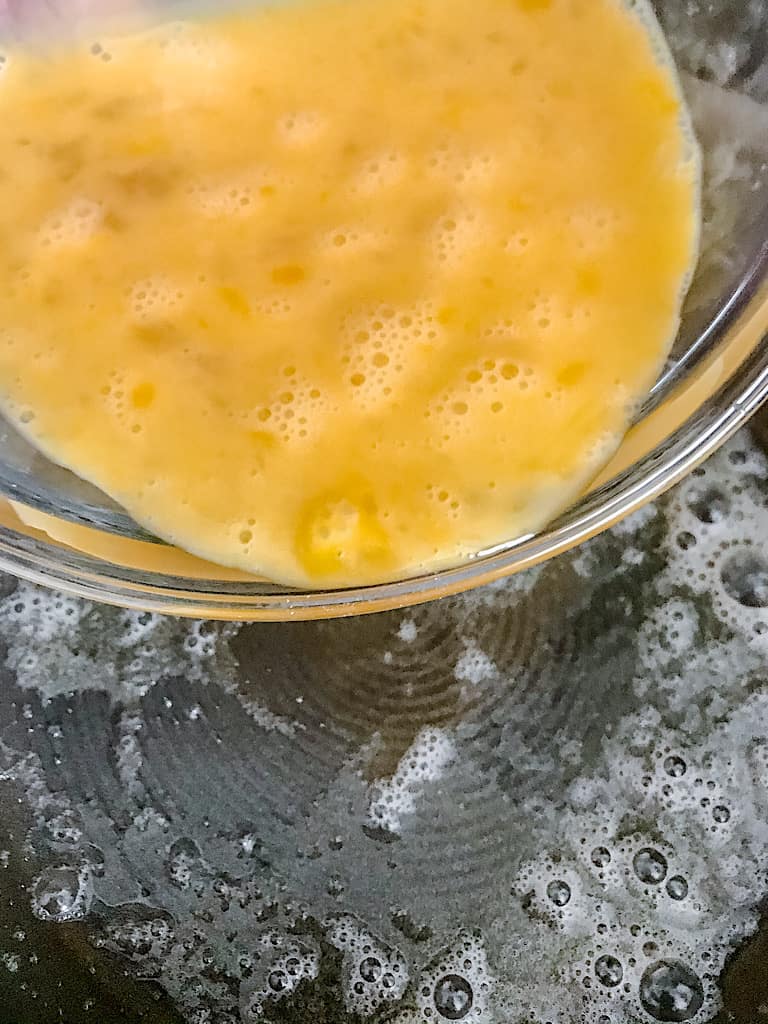 [6] Here is where the patience comes in. Leave the eggs alone in the pan over medium low heat until the egg whites begin to solidify and turn white.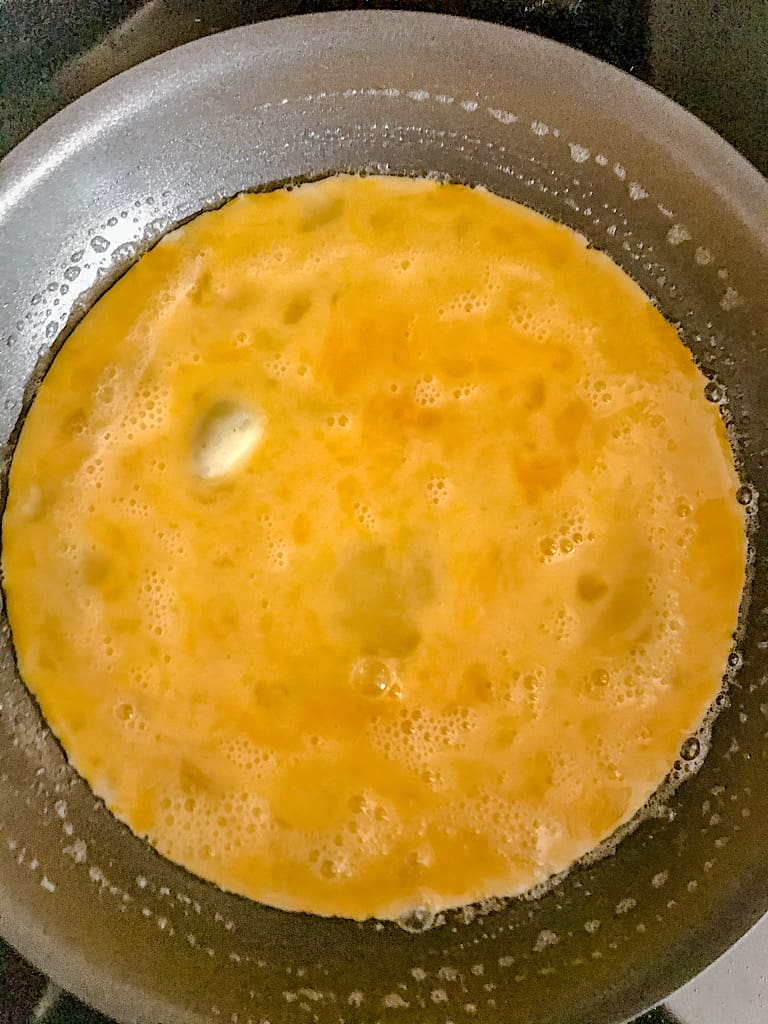 [7] Once they begin to turn white, run a spatula all the way around the edge of the pan and along the bottom of the pan then allow the liquid egg to touch the pan and begin to cook. Do not flip the eggs.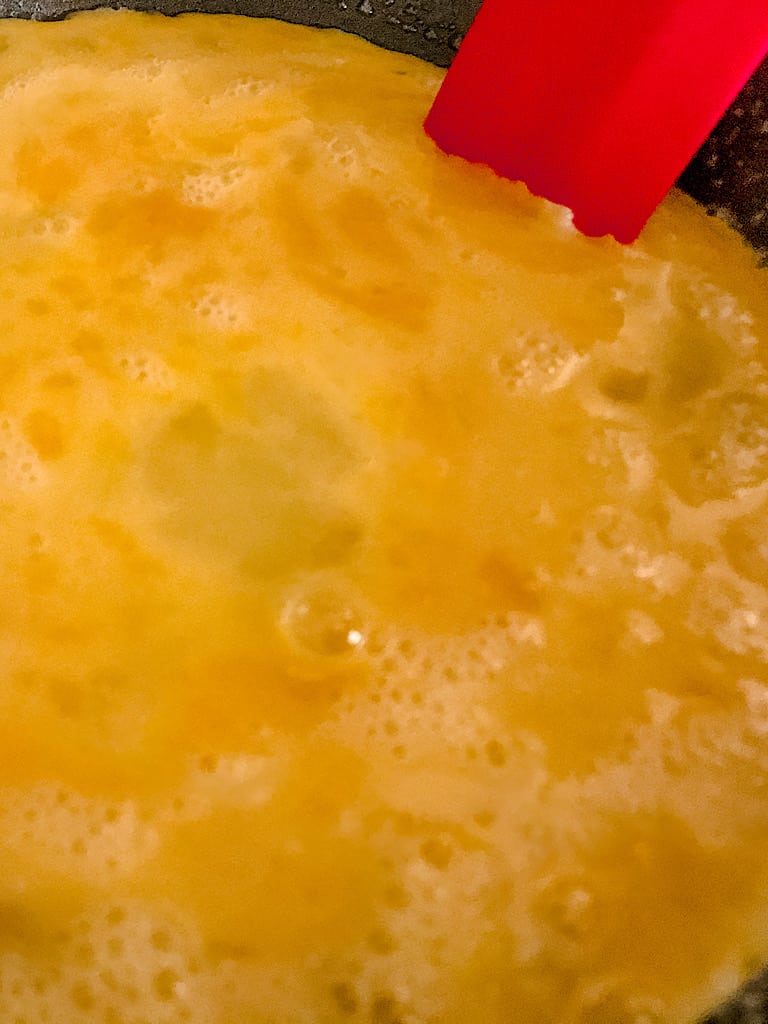 [8] Wait again for about a minute until those eggs begin to solidify, and run the spatula through the eggs again to allow the liquid to touch the pan.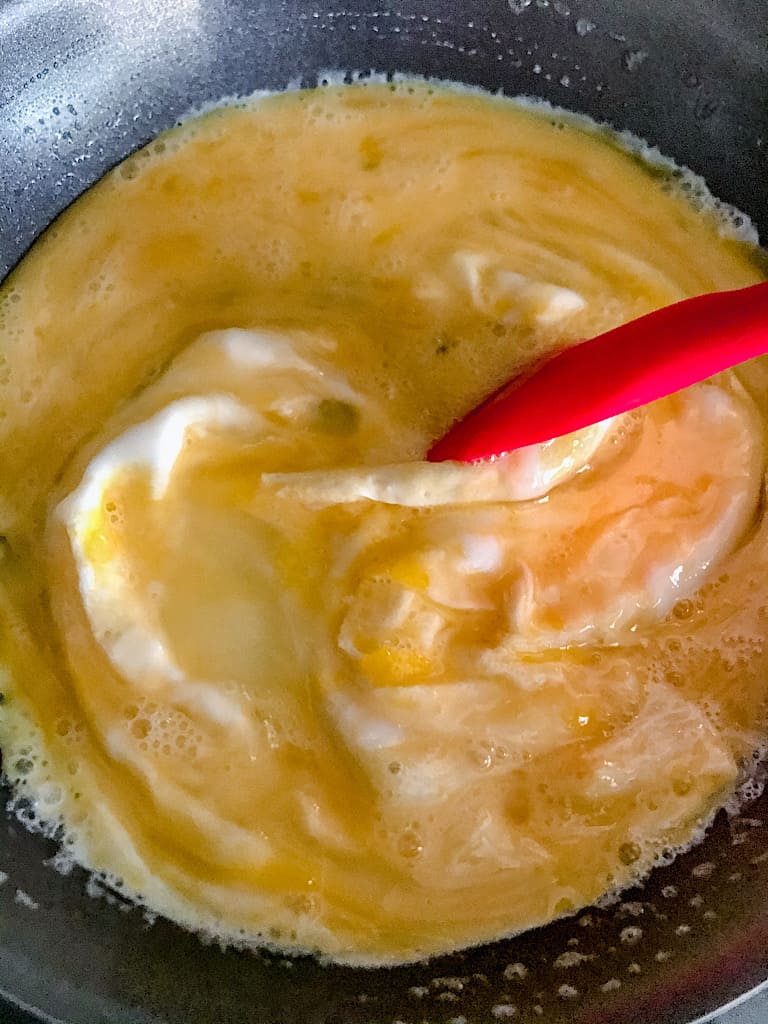 [9] Repeat this process until all of the liquid is cooked.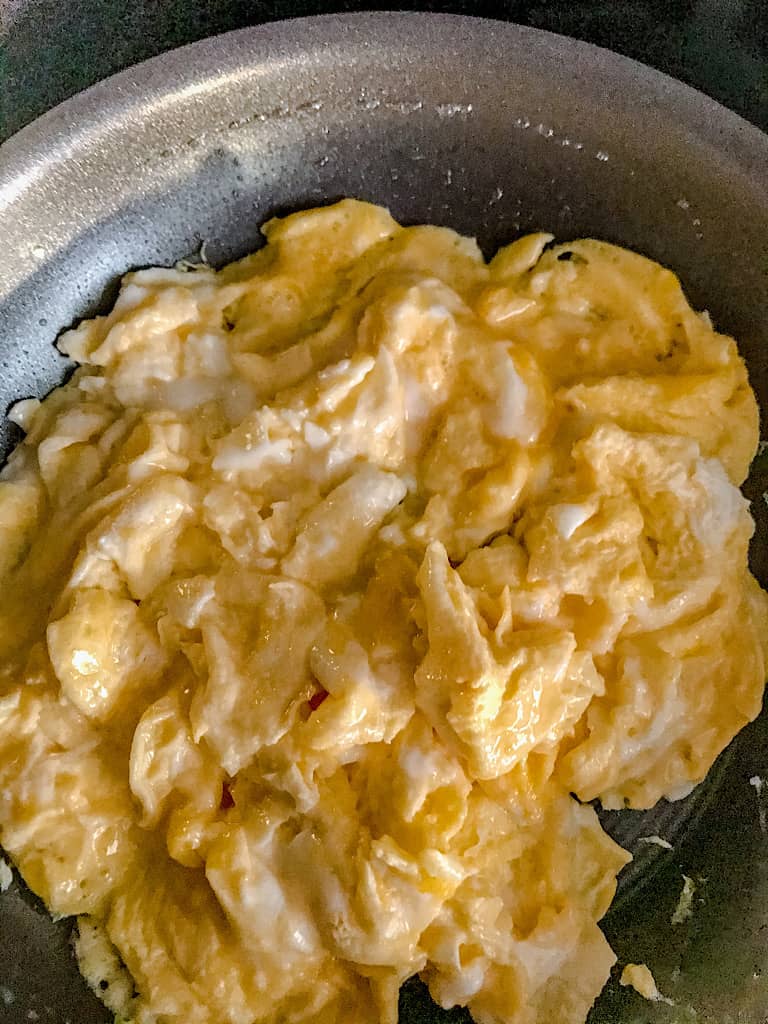 [10] Immediately remove the eggs from the heat and serve with your desired amount of salt and black pepper. Yum!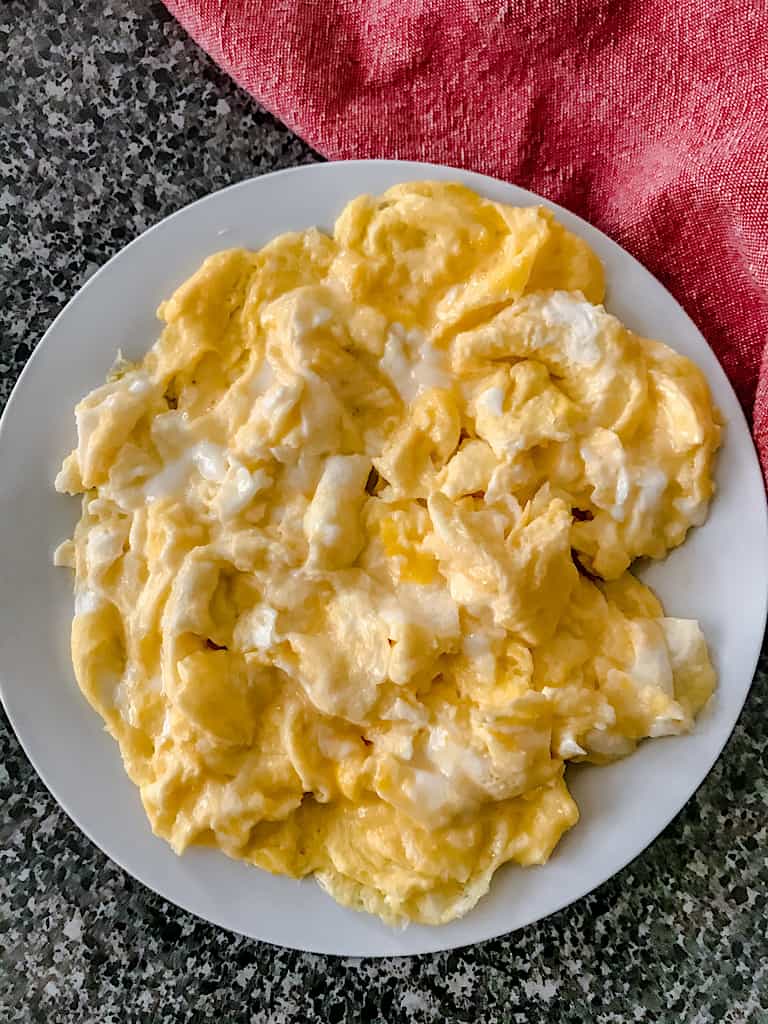 Helpful Kitchen Tools
Optional Spices for Scrambled Eggs
Salt and Pepper are obvious spice choices when making scrambled eggs, but you can also add a little bit of garlic powder, onion powder, chili powder, red pepper flakes, cayenne pepper or even paprika. Experiment with different spices and flavor combinations to find your favorite!
How Many Eggs Per Person
Typically, two large eggs is enough for a single serving of scrambled eggs. For larger appetites or hungrier guests, you can increase the number of eggs accordingly.
How to Store Leftover Scrambled Eggs
Leftover scrambled eggs can be stored in the refrigerator in an airtight container for up to four days.
When reheating, make sure to gently warm them in the microwave or stovetop with a small amount of butter or oil to ensure they stay fluffy and moist.
Optional Add-Ins for Scrambled Eggs
Shredded Cheese (Cheddar, Monterey Jack, Pepper Jack, etc)
Diced Tomatoes
Jalapenos
Onions
Mushrooms
Ham
Fresh Chives
Bacon Bits
Spinach
Diced Bell Pepper
Fresh Herbs
Hot Sauce
How to Serve Scrambled Eggs
The best way to serve scrambled eggs is alongside some crispy bacon and a delicious piece of oven toast!
Frequently Asked Questions
What can I substitute for milk in scrambled eggs?
Milk is actually not a necessary ingredient to make scrambled eggs. All you need are eggs, a little bit of butter, and some patience!
Can you scramble eggs without milk?
Yes, absolutely! Milk is not necessary to scramble eggs and there are plenty of delicious scrambled egg recipes that don't call for it.
How do you keep scrambled eggs fluffy?
The key to making eggs with a fluffy texture is patience! Cook the eggs on low/medium heat and take your time letting them cook through without flipping them too often.
Can you add water to eggs instead of milk?
Adding water is not necessary to make scrambled eggs.
Final Thoughts
Scrambled eggs are a classic breakfast staple that everyone enjoys. With the right ingredients and a little bit of patience, you can make fluffy, delicious amazing eggs every time!
Try experimenting with different add-ins to create your own unique twist on this dish. Bon appétit!
More Breakfast Recipes To Try: