Imagine waking up to the tantalizing aroma of make-ahead waffles that are crispy, made with yeast, and taste just like a funnel cake. These delightful overnight yeast waffles offer all the goodness of a classic funnel cake but with less guilt. With the perfect balance of sweetness and a satisfyingly crisp texture, these waffles are a breakfast dream come true.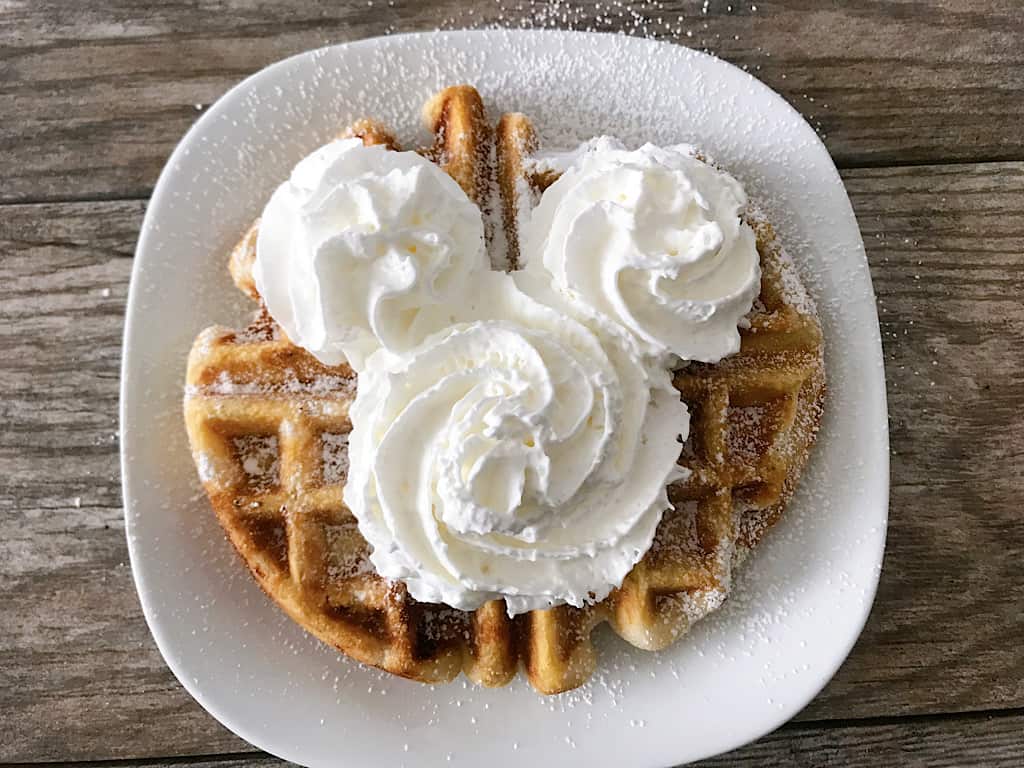 This post may contain affiliate links. When you click on these links, I get a small percentage back at no cost to you! For more information see my disclosure policy.
Below you will find tips, tricks and helpful hints for making this recipe including step by step instructions with pictures. If you would like to go directly to the recipe, scroll down to the recipe card or tap "Jump to Recipe" at the top of the page.
Why You'll Love These Waffles
Funnel cakes are one of my favorite treats to get at Disneyland. There is something about the delicious fried goodness, topped with a variety of toppings that makes our trip that much better!
If you are craving a funnel cake at home, you can make a classic funnel cake, like this copycat Disneyland Funnel Cake recipe, or you can make these delicious waffles.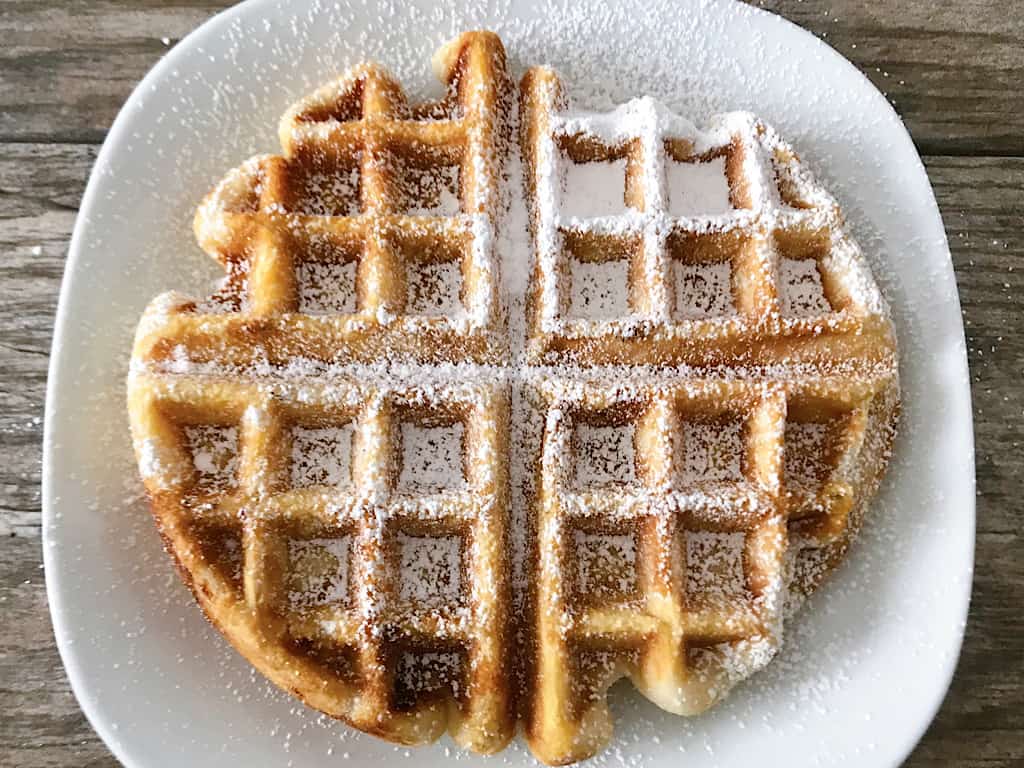 These funnel cake Belgian waffles are crispy on the outside, are made with yeast, and taste just like a funnel cake without the guilt of eating something fried in oil. They are the perfect waffles to make for your family on a lazy weekend morning.
Another perk, is that you make them ahead of time, generally the night before you plan to serve them, so there is less work to do in the morning!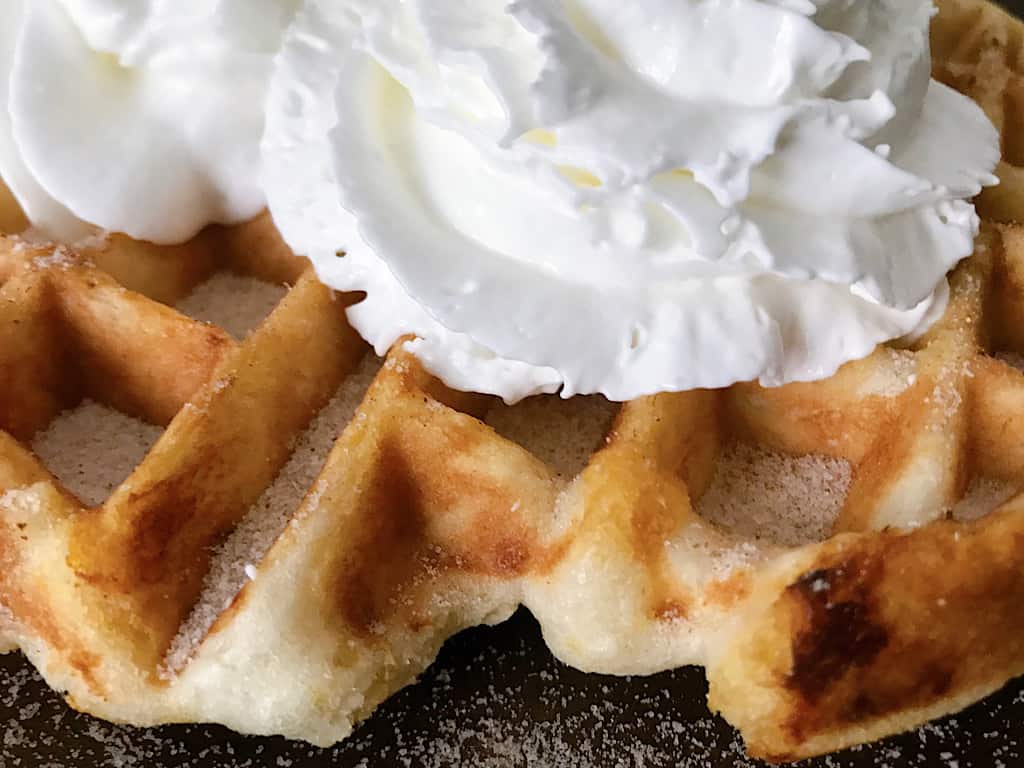 Yeast Waffle Ingredients
*Ingredient amounts are located in the recipe card at the end of this post.
Warm Water: Yeast needs to be activated in warm water.
White Sugar: Just a little bit of sugar helps activate the yeast.
Active Dry Yeast: The key ingredient that helps make these waffles rise overnight, as well as giving them a hint of flavor.
All-Purpose Flour: You will need 3 cups! This is important for the structure of your waffles.
Water: 2 cups are needed to provide moisture for the dough.
Melted Butter: This gives the waffles a great flavor and helps them crisp up nicely.
Salt: Salt is important for balancing out the sweetness in this recipe.
White Sugar: A little bit more sugar for extra sweetness.
Vanilla Extract: A teaspoon of vanilla extract helps add a depth of flavor to the waffles.
Baking Soda: This is important for getting that nice crispness on the outside.
How To Make Yeasted Funnel Cake Waffles
[Step 1] In a small bowl, combine 1/2 cup warm water, 1 teaspoon sugar, and yeast. Set the mixture aside for 10 minutes.
[Step 2] In a very large bowl (larger than you think) mix together the flour, melted butter, water, and yeast mixture. Cover with plastic wrap and refrigerate over night.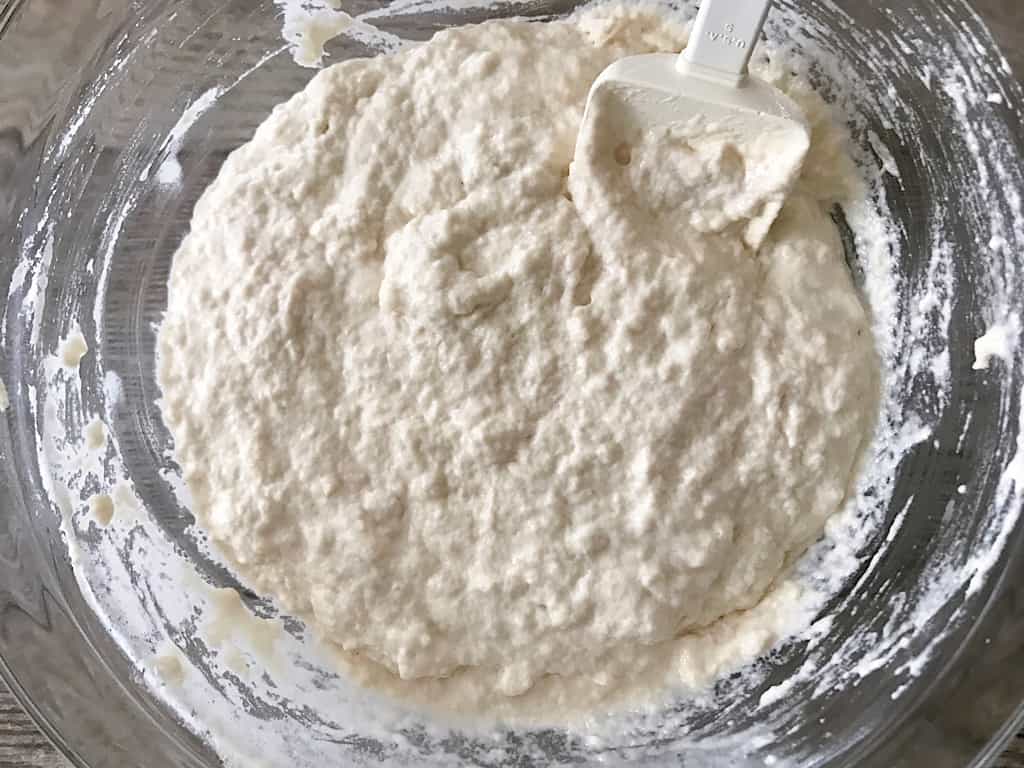 [Step 3] The next morning, preheat your Belgian waffle iron and remove the batter from the refrigerator and stir in 1/4 cup sugar, vanilla extract, and baking soda.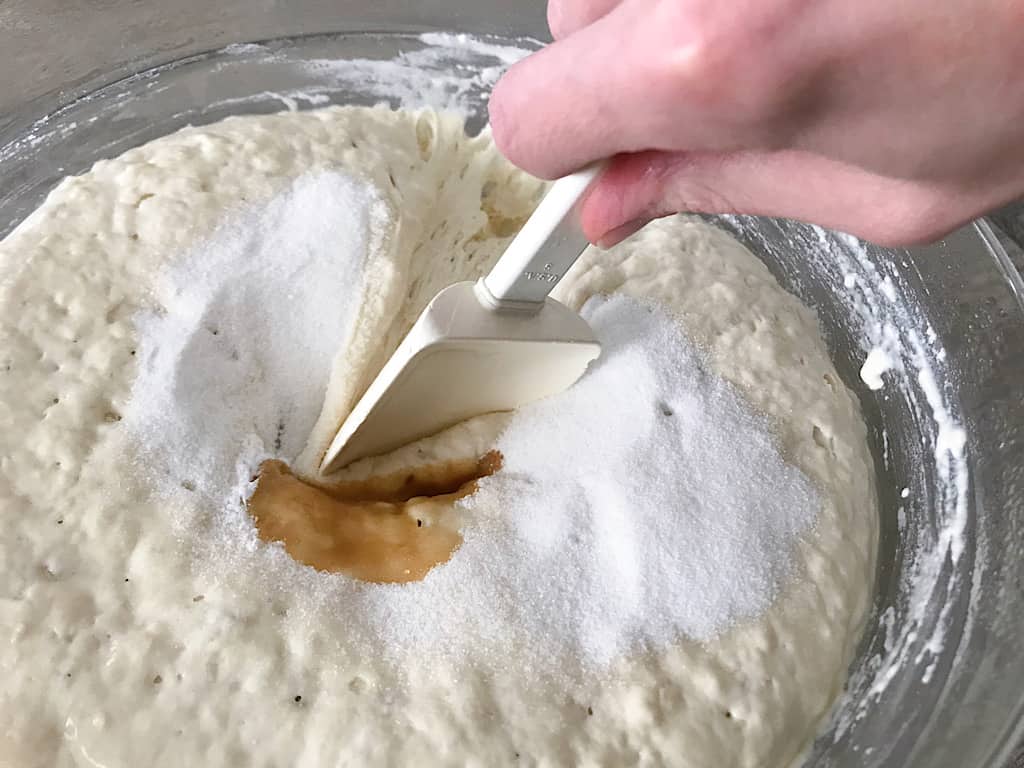 [Step 4] Add 1/4 cup – 1/2 cup of waffle batter (1/2 cup for mine) to the hot waffle iron that has been sprayed with cooking spray. Bake until golden brown.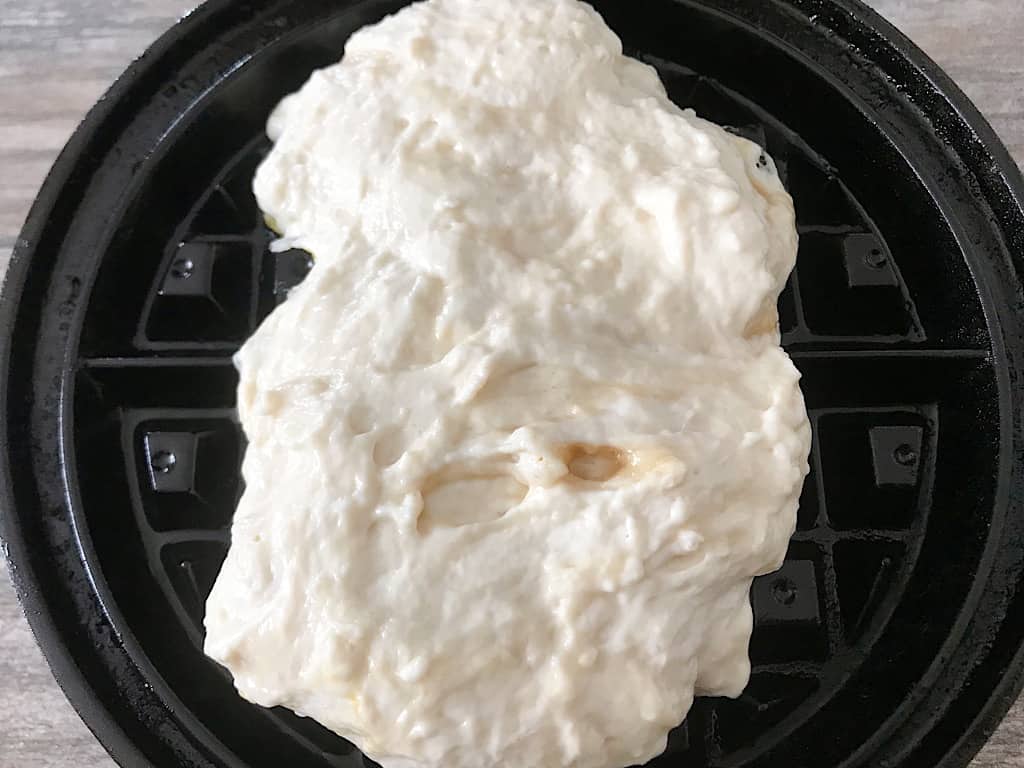 Helpful Kitchen Tools:
How to Keep Funnel Cake Waffles Warm
Turn your oven to the lowest temperature setting and place a baking sheet in the oven. Place each cooked waffle on the pan and keep warm until ready to serve.
What To Serve With Overnight Waffles?
Perfect Scrambled Eggs: Want to serve perfect scrambled eggs with your waffles? Definitely try this recipe!
Fried Chicken Benedict: A unique take on eggs benedict, this version is served on fried chicken and topped with a delicious chipotle hollandaise sauce. Get the recipe here.
Crispy Oven Bacon: Who doesn't love bacon? This oven-baked version is perfect for breakfast. Get the recipe here.
Biscuits & Gravy Casserole: If you're looking for something a little heartier, this delicious casserole is the perfect accompaniment to waffles. Get the recipe here.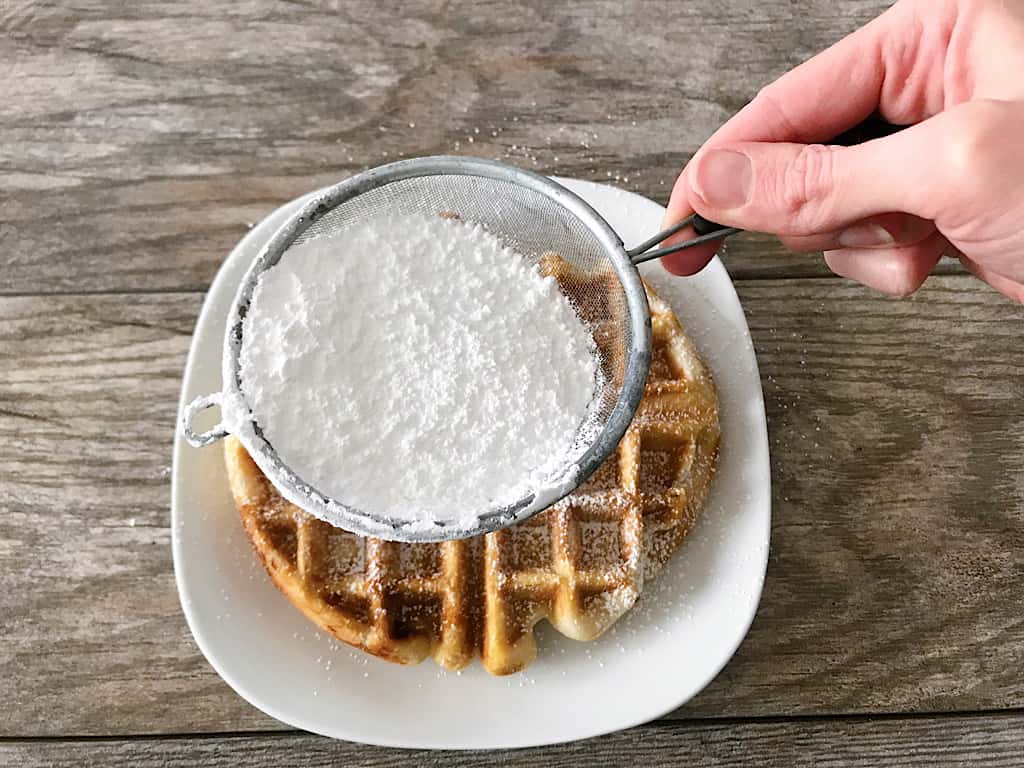 Waffle Topping Ideas:
How to Store Leftover Waffles
Leftover yeasted waffles can be stored in an airtight container or bag for up to 3 days. Reheated the waffles in the microwave or oven when ready to eat.
How to Freeze Waffles
To freeze, let the cooked waffles cool completely and place them in a single layer between parchment paper in an airtight container. Freeze for up to 3 months. When ready to eat, remove the parchment paper and reheat in the microwave or oven until warmed through.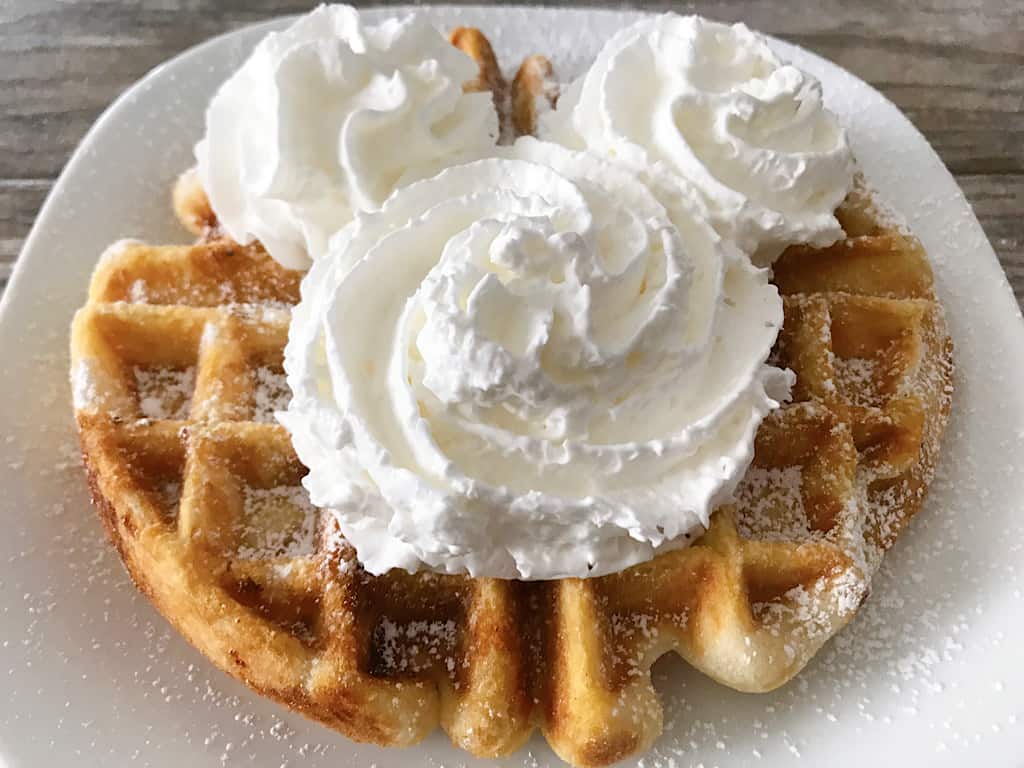 Frequently Asked Questions
Can I make these waffles without yeast?
Unfortunately, no. Yeast is essential for making a fluffy texture in the waffles. The batter needs time to rise and develop structure which is something that baking powder or baking soda cannot do.
Are yeasted waffles better?
Yes! Yeasted homemade waffles are much fluffier, have a better flavor, and stay crispy on the outside for longer than regular batter waffles.
How long does yeasted waffle batter last?
Yeasted Belgian waffle batter will last up to two days in the refrigerator. If it smells sour or off, discard immediately.
What makes a Belgian waffle different from a regular waffle?
Belgian waffles are made with a leavening agent such as yeast, which makes them tall and fluffy. Regular waffles use baking powder or soda to get them light and crispy. Belgian waffles are also typically served with a variety of toppings such as fresh fruit, syrup, or whipped cream.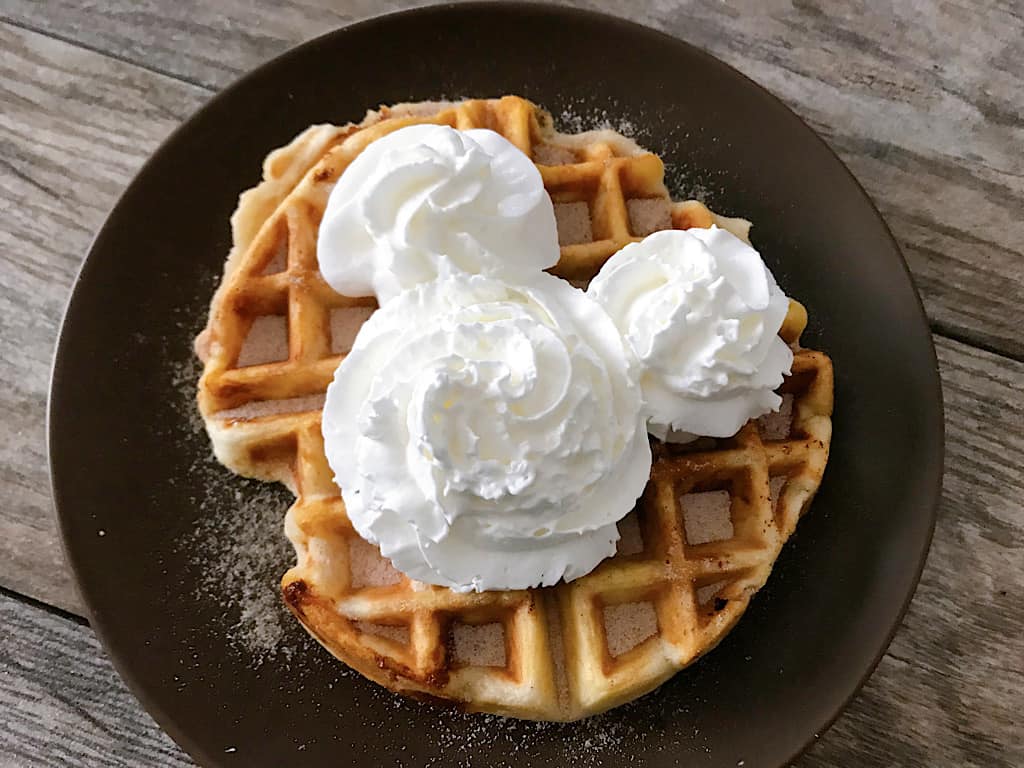 Final Thoughts
This overnight yeasted waffles recipe is the perfect balance between sweet and savory. A delicious way to start your day! Enjoy them with any of the suggested toppings or create your own signature topping combination.
I hope you love these Funnel Cake Waffles as much as we do! If you make them, tag @mommymouseclubhouse on Instagram so I can see your creation!
More Waffle Recipes to Try:
Watch the video here: