An easy and delicious funnel cake recipe topped with apple pie filling, caramel sauce and whipped cream. Just like the funnel cake from The Hungry Bear Restaurant at Disneyland.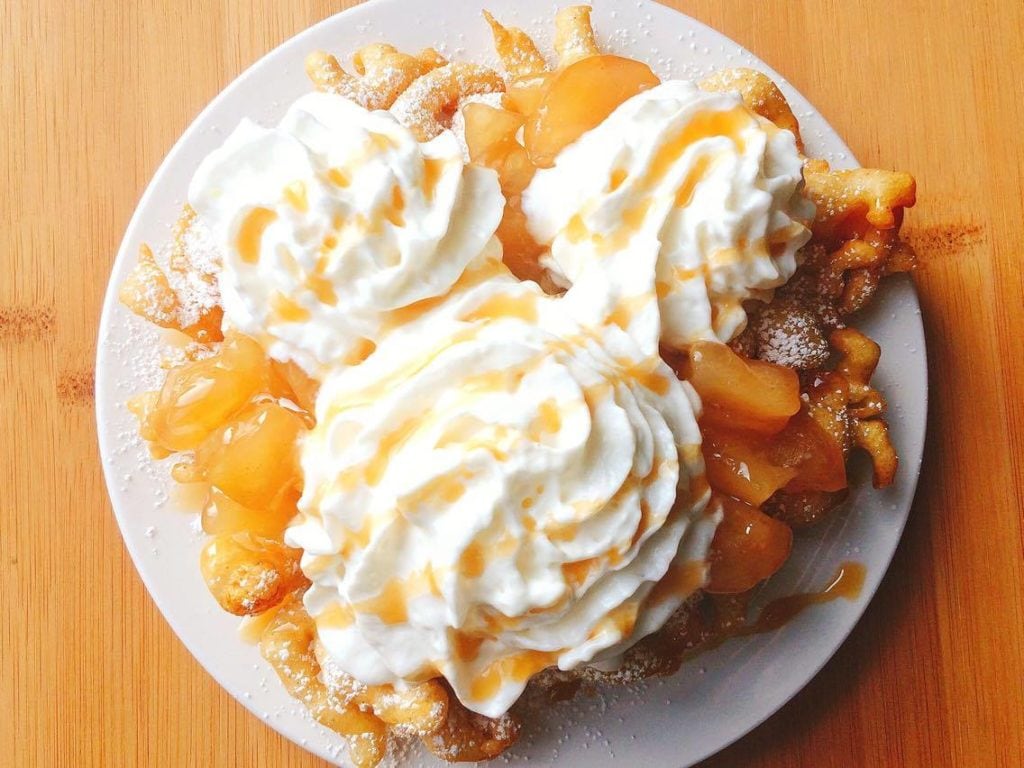 This post may contain affiliate links. When you click on these links, I get a small percentage back at no cost to you! For more information see my disclosure policy.
Below you will find tips, tricks and helpful hints for making this recipe including step by step instructions with pictures. If you would like to go directly to the recipe, scroll down to the recipe card.
I have to admit that I am a total sucker for Disney food. I just love it. It makes me happy 🙂
In the Fall, The Hungry Bear Restaurant in Critter Country, serves these delicious Apple Pie Funnel Cakes.
There is something about a funnel cake that is so comforting. Add in some apple pie filling and the perfect Fall dessert is born.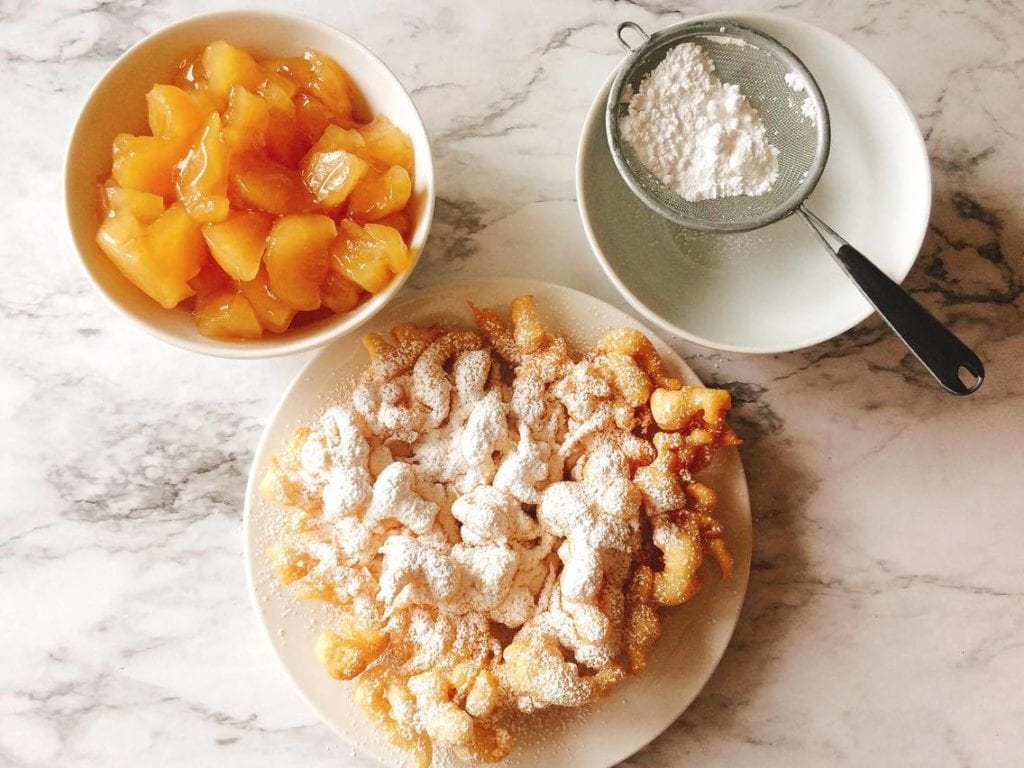 I love eating at the Hungry Bear. There is so much room to spread out and enjoy some of the Disneyland sights and do some people watching.
You can sit at a table in the shade, right by the Rivers of America and enjoy the view of Tom Sawyer Island.
If you happen to be going there this Fall, make sure you stop by and enjoy one of these delicious treats.
If not, use this recipe to bring a little Disneyland Halloween Time magic to your home.
Disneyland Funnel Cakes
Funnel cakes can be a little intimidating, but they are actually really easy. You make a simple dough, fry it in hot oil, add some toppings and you're ready to eat it.
I think part of what makes a funnel cake sound so hard to make is the fact that most recipes call for you to use a funnel. Hence the name, funnel cake.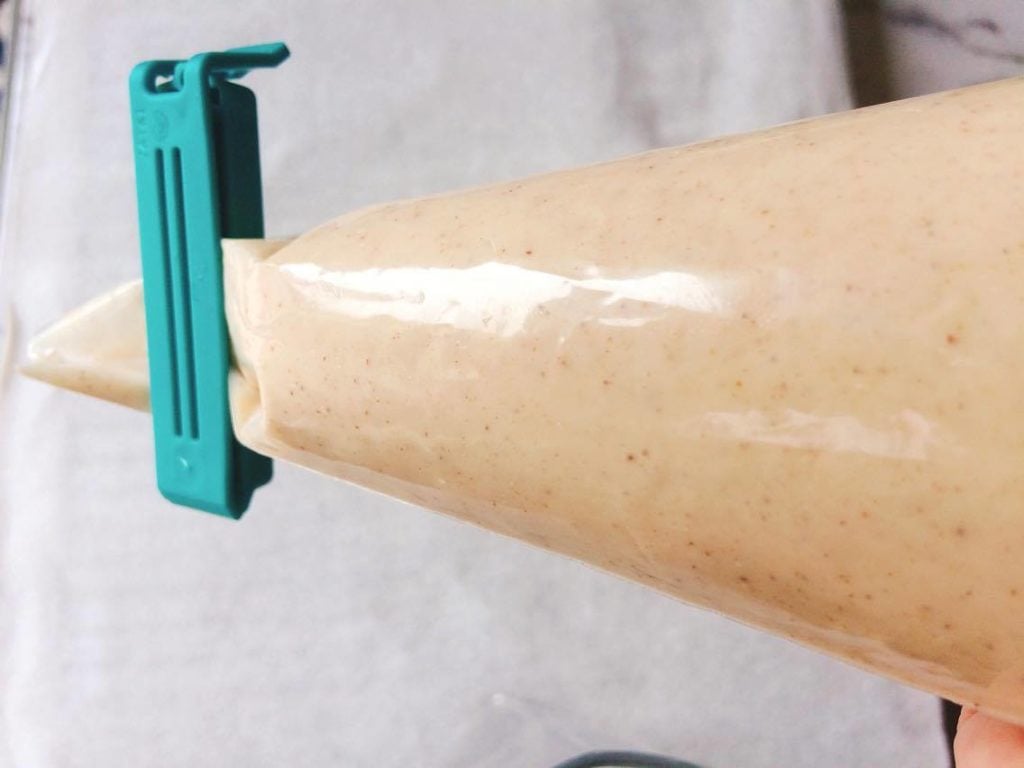 If you're like me, you don't actually own a funnel, so improvisations have to be made. And that's exactly what I did.
Just like when I made Disney Churros, I put the batter in a disposable piping bag and cut off the end. You totally use a gallon size zip top bag as well. So easy.
If you're looking for more Disney recipes that you can make at home including, Mickey Beignets, Dole Whip, Toy Story Land Grilled Cheese, and more, click on the button below 😉
Ingredients
Funnel Cake
1 1/2 Cups Milk

2 Eggs

1 Teaspoon Vanilla Extract

2 Cups All-Purpose Flour

1 Teaspoon Baking Powder

1/2 Teaspoon Cinnamon

1/2 Teaspoon Salt

8 Cups Oil, for frying
Toppings
Powdered Sugar

Apple Pie Filling

Caramel Ice Cream Topping

Whipped Cream
How to Make Disneyland's Apple Pie Funnel Cake
Make the dough by whisking the milk, eggs and vanilla together in a mixing bowl.
In a separate bowl, sift together the flour, baking powder, cinnamon and salt.
Mix the wet and dry ingredients together until they are smooth.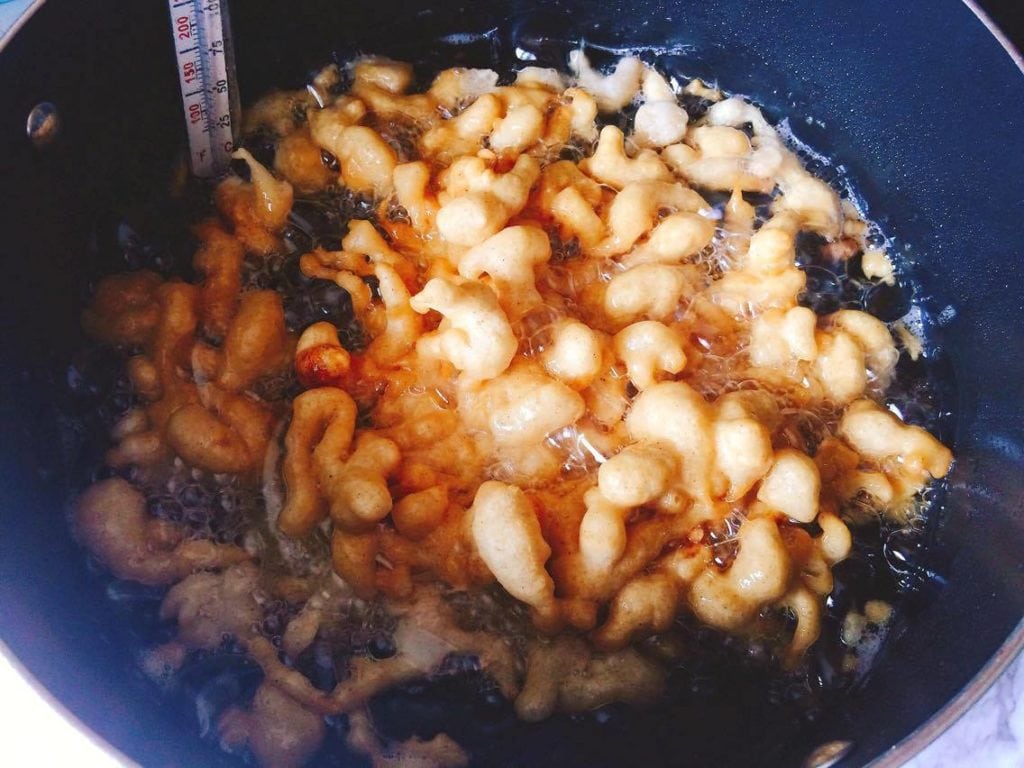 Heat about eight cups of vegetable or canola oil in a large heavy duty pan to about 375 degrees.
Place one cup of batter in a piping bag or gallon size zip top bag. Snip off the end of the bag and pipe the batter into the oil in a circular motion.
Fry the funnel cake for 2-3 minutes and flip over. Cook on the other side for an additional 2-3 minutes until the funnel cake is golden brown.
Remove the funnel cake from the oil and allow it to drain on a paper towel.
To recreate Disneyland's Apple Pie Funnel Cake: Place the cake on a large plate and sprinkle with powdered sugar.
Then top the funnel cake with apple pie filling. I used canned apple pie filling, but if you're feeling ambitious, feel free to make your own.
After spreading on some apple pie filling, pipe on a large whipped cream Mickey Mouse head.
Drizzle caramel sauce over the whipped cream Mickey and enjoy your delicious Disneyland Apple Pie Funnel Cake right in your own home!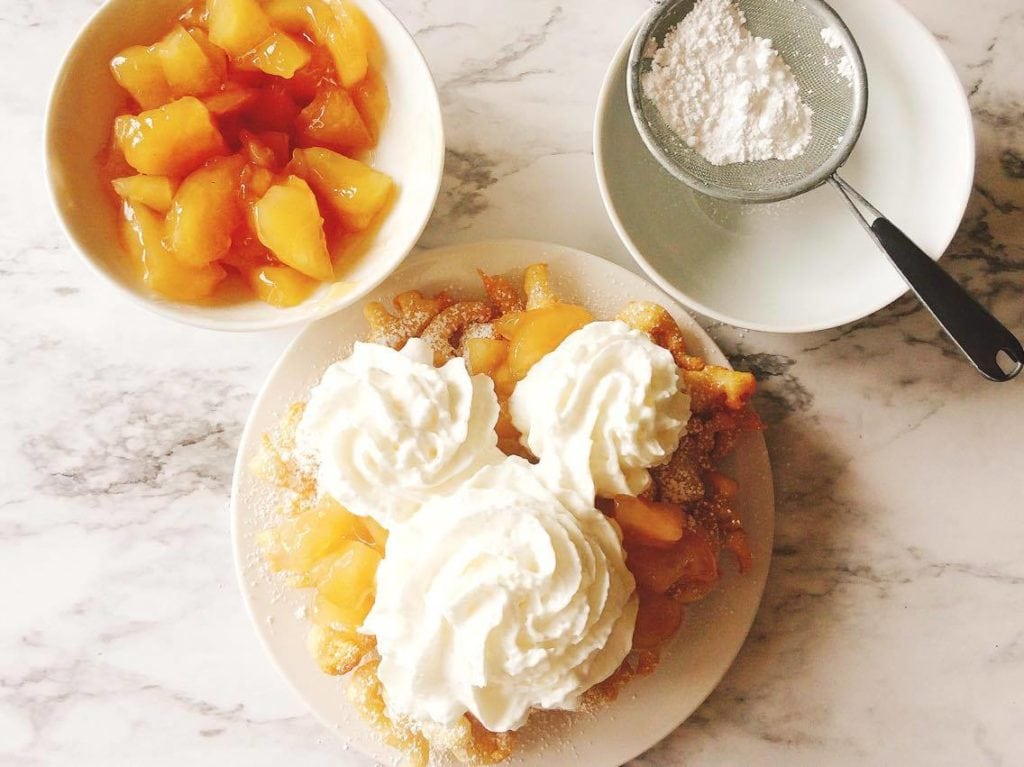 Disney Vacation Savings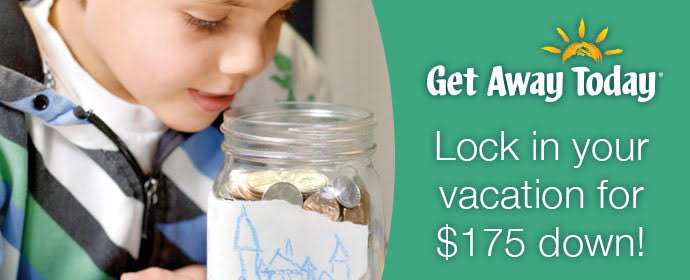 Find out about the Layaway Plan HERE!
If you would like to save money on your next trip to Disneyland or Walt Disney World, my friends at Get Away Today will be able to help you plan an awesome vacation!
My family has been booking our Disney vacations through with them since I was in junior high.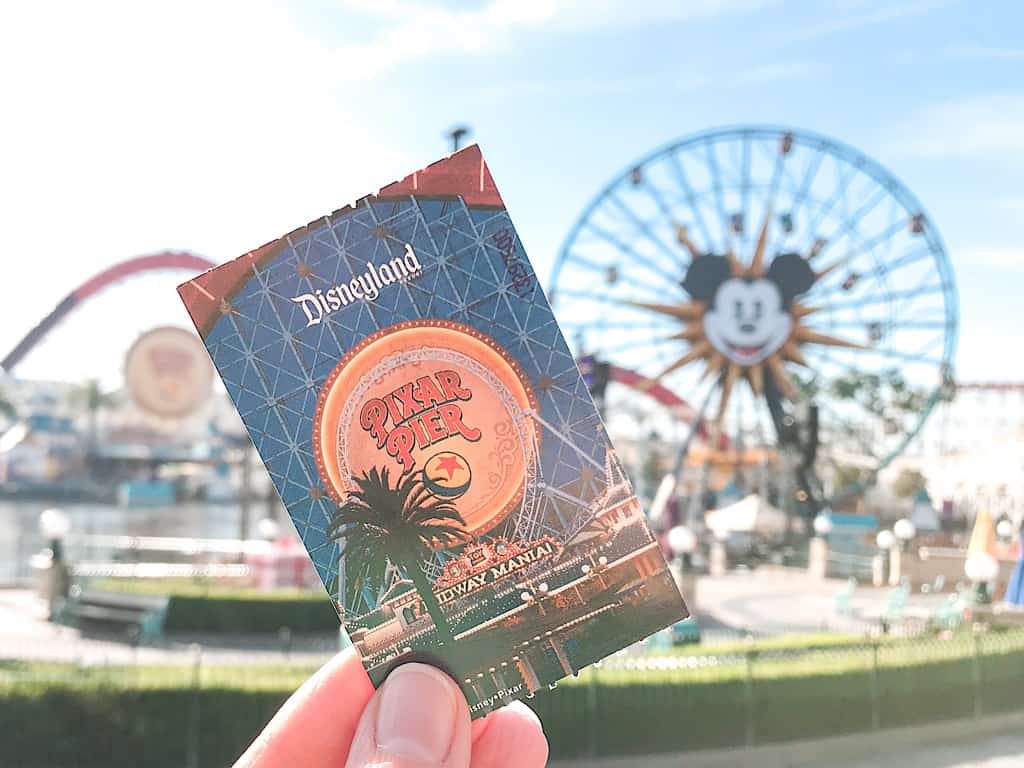 Their customer service is amazing and ticket prices are usually a few dollars cheaper than Disney gate prices.
Disneyland
Get Away Today is almost always running some kind of special on Disneyland tickets and hotel rooms.
And you can book without worry when you use their Peace of Mind Plan and Layaway Plan!
Get Discount Disneyland Tickets HERE!
If you book a 2-night or longer Southern California vacation package including hotel and tickets, you can use the promo code MommyMouse at checkout to save an extra $10 in addition to sales and discounts.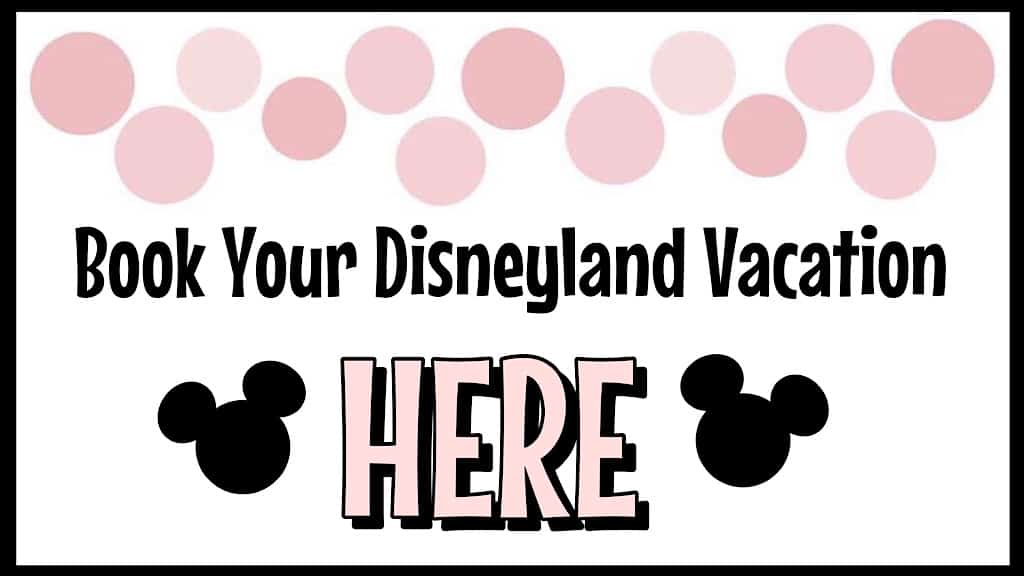 Walt Disney World
If a trip to Disney World is in your future, they can also help you plan an amazing vacation to "The Most Magical Place on Earth!"
Get Discount Disney World Tickets Here
Their customer service is THE BEST and they offer deals like: discounts on rooms, free dining and more!
Visit getawaytoday.com to get a FREE Disney World vacation quote or give them a call at 855-GET-AWAY for current deals!