A collection of recipes put together to make a delicious copycat of Hash House A Go Go's Sage Fried Chicken Benedict. This dish is usually served for breakfast or brunch, but is so amazing you will want to eat it any time of day!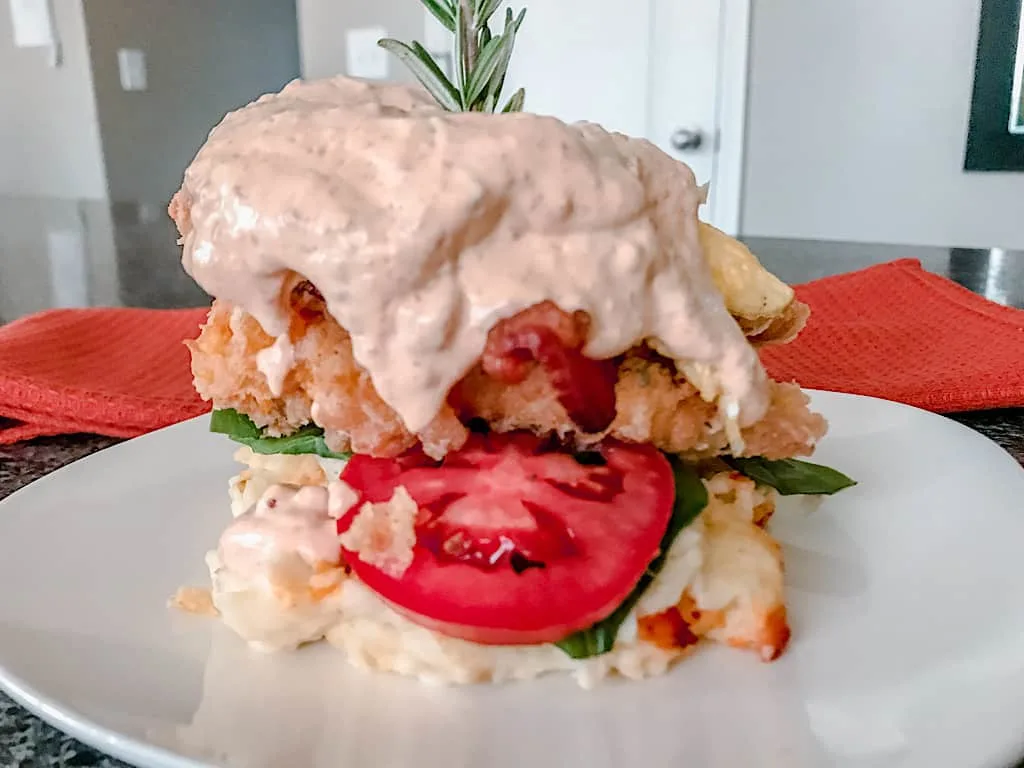 This post may contain affiliate links. When you click on these links, I get a small percentage back at no cost to you! For more information see my disclosure policy.
One of my favorite restaurants of all time is Hash House A Go Go. They are known for their "Twisted Farm Food".
The first time I had dinner there, I was amazed at their large portion sizes, interesting flavor combinations, and gigantic biscuits!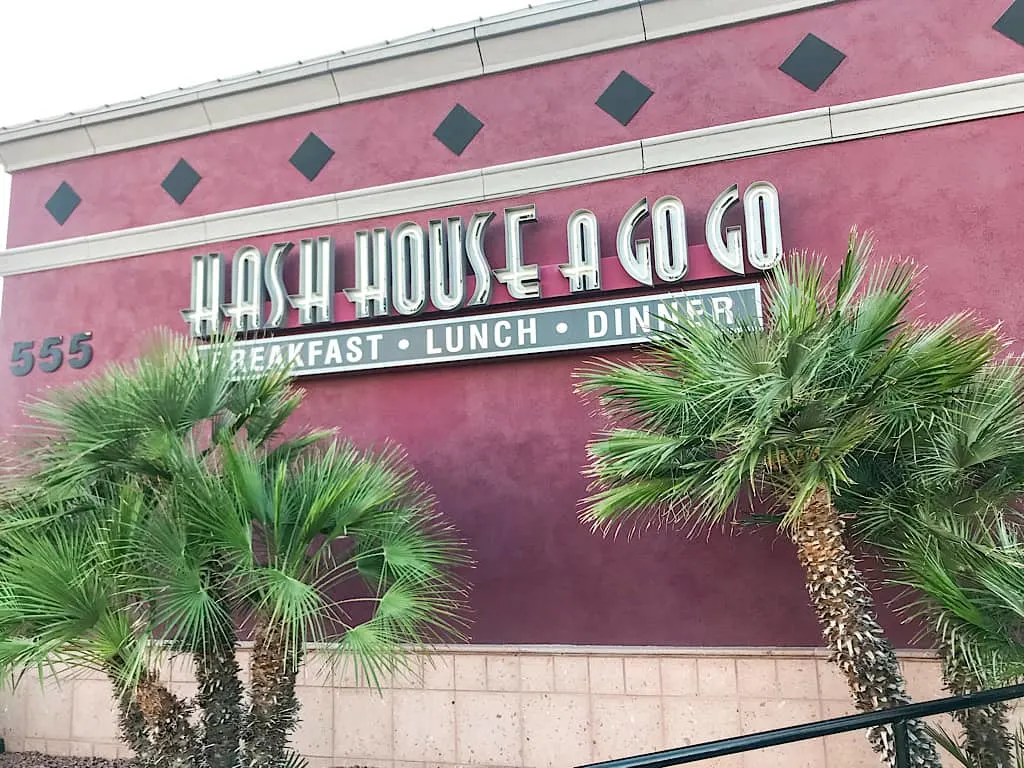 My husband and I found out about this delicious restaurant from the TV show, "Man vs. Food" on the Travel Channel.
On the show, the host has the chance to eat their Fried Chicken Benedict. Once I saw that heavenly dish, I knew that I needed it in my life.
Unfortunately for me, I did not live near a Hash House A Go Go location.
But, fortunately for me, we were going to be visiting Las Vegas soon where Hash House has multiple locations.
Fried Chicken Benedict
Hash House is also famous for their Sage Fried Chicken, and I would say for good reason. It is delicious.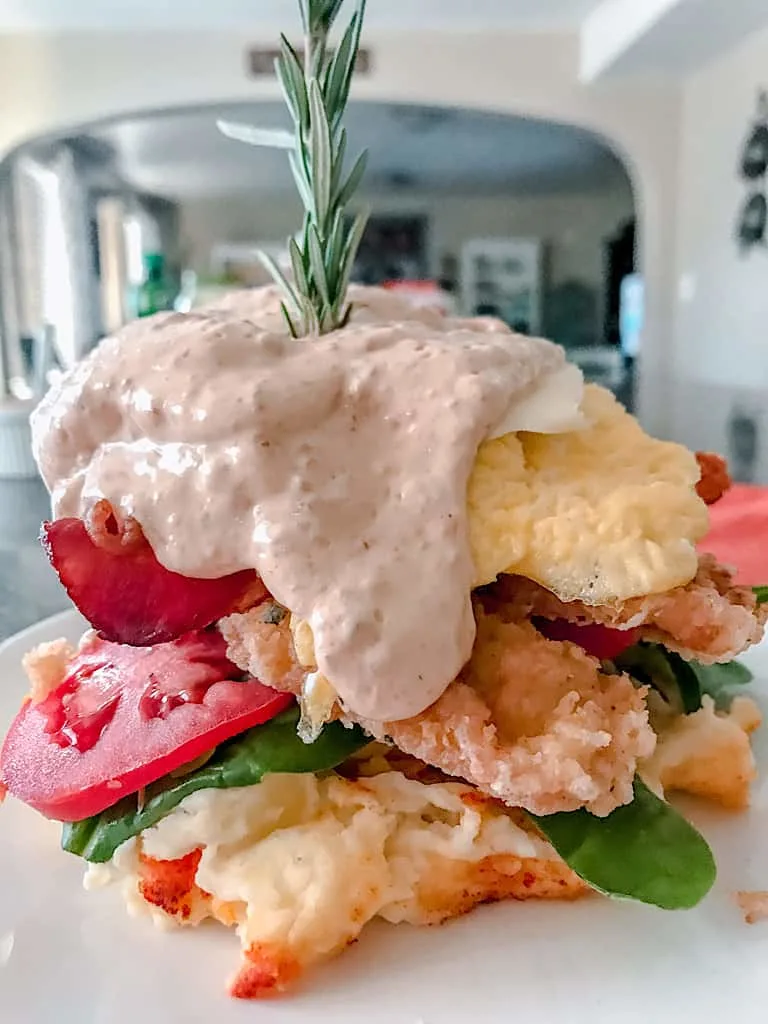 I would like to say that the Sage Fried Chicken is the star of the show in this version of Eggs Benedict, but the star is really the combination of all of the components and flavors of this entree.
Mashed Potatoes Layer
The mashed potatoes in the Fried Chicken Benedict meal are the foundation that holds everything in place.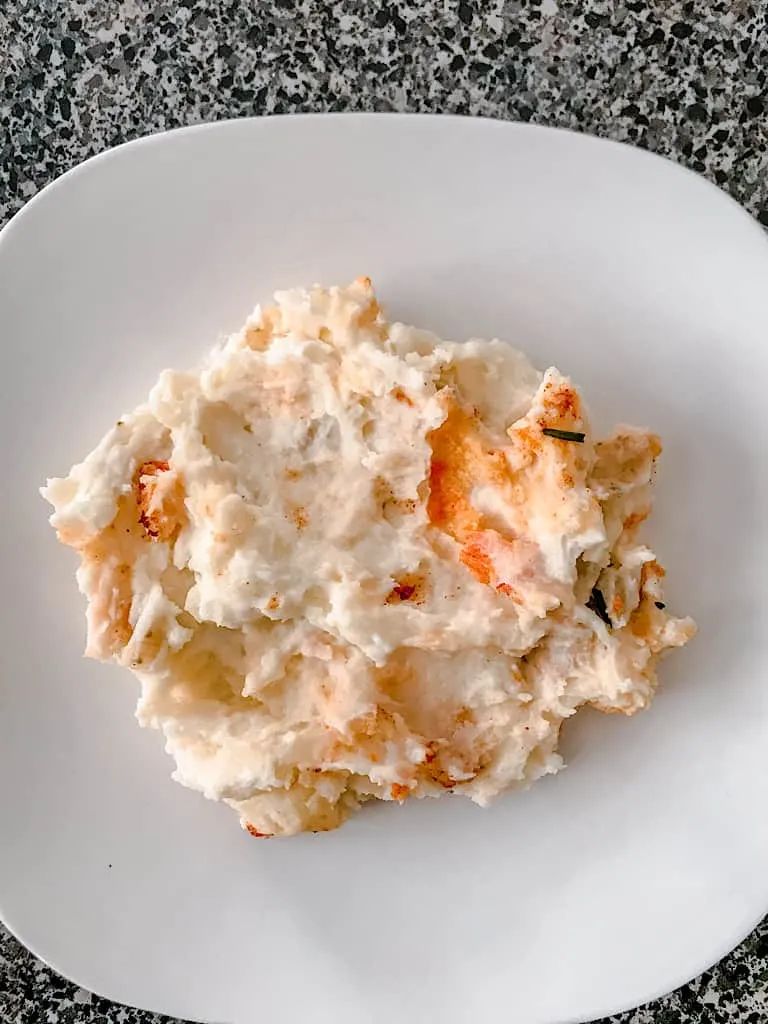 You can use any basic mashed potato recipe for this layer, but I highly recommend using my Make Ahead Mashed Potatoes found here.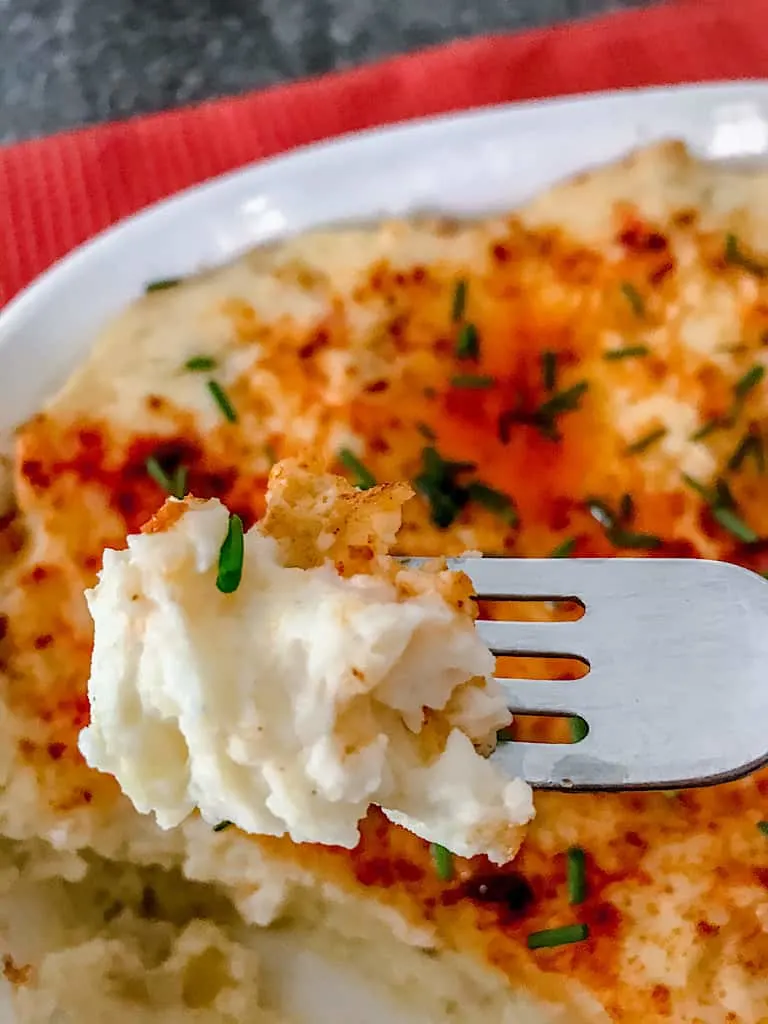 They are the most flavorful mashed potatoes I have ever had and they really help add to the flavors of the dish. It's also great that you can make them ahead of time!
If you don't want to go through the hassle of mashing your own potatoes, you can totally use potato flakes instead.
You can "doctor them up" by using my Copycat KFC Mashed Potatoes found here.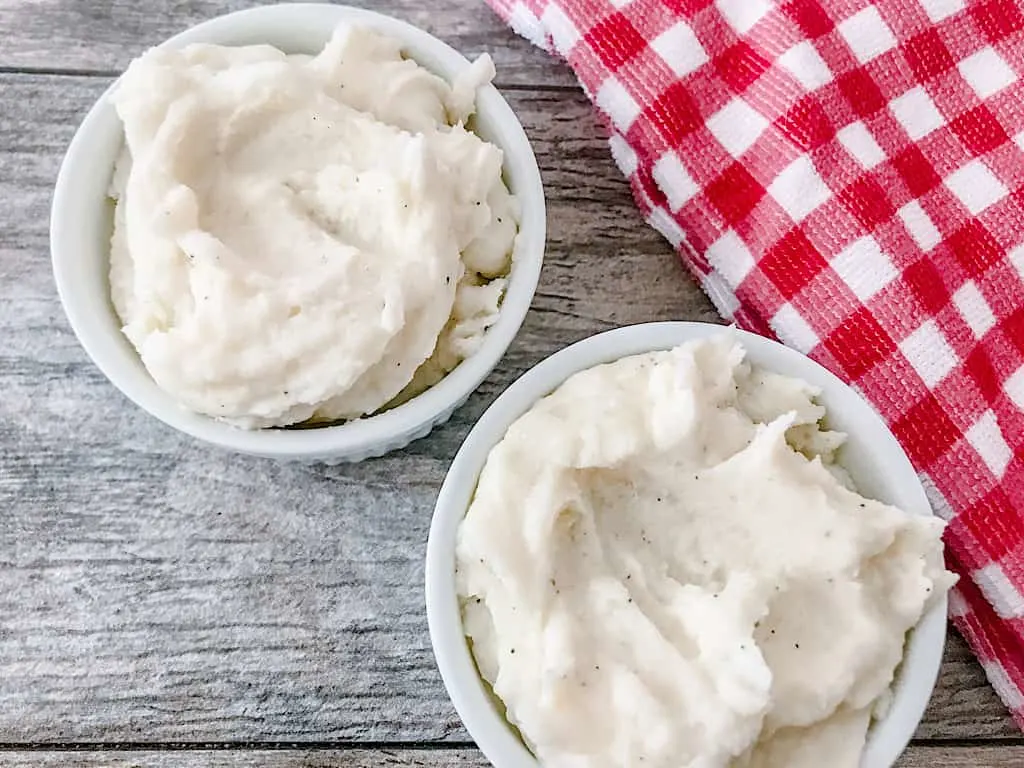 Biscuits
The biscuits you can get at Hash House A Go Go are absolutely to die for. They drizzle them with honey and they are amazing!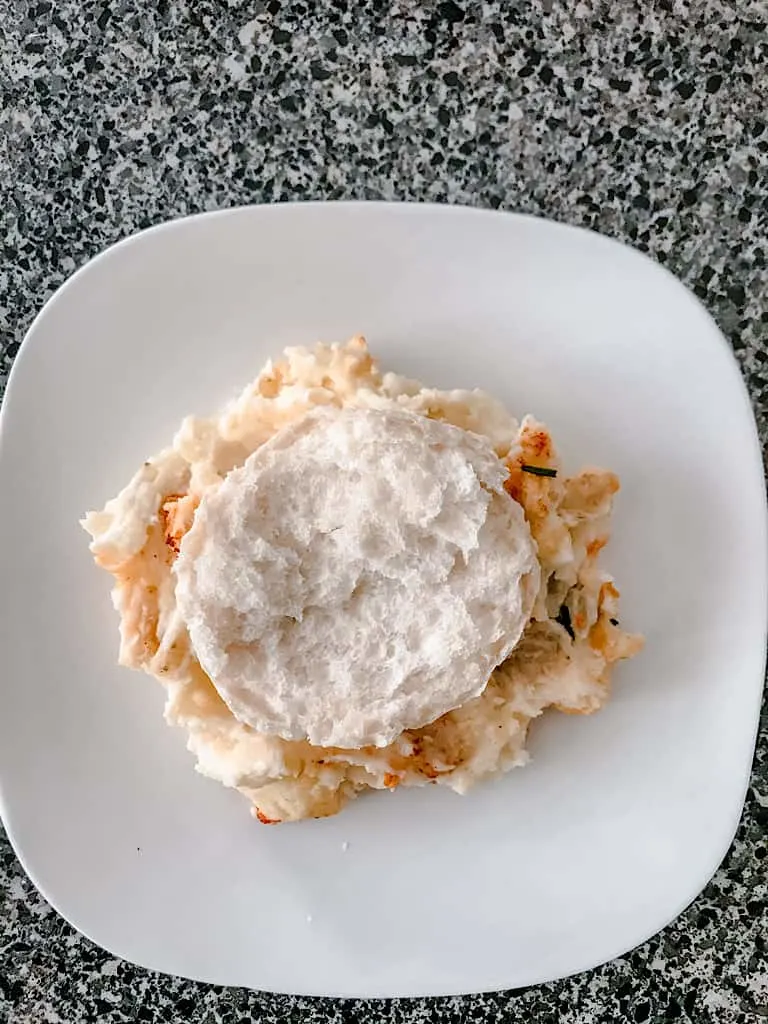 When I made my copycat Fried Chicken Benedict, I used my Honey Buttermilk Biscuit recipe found here. I have to say, that they are just as good and only take about 20 minutes to make from scratch!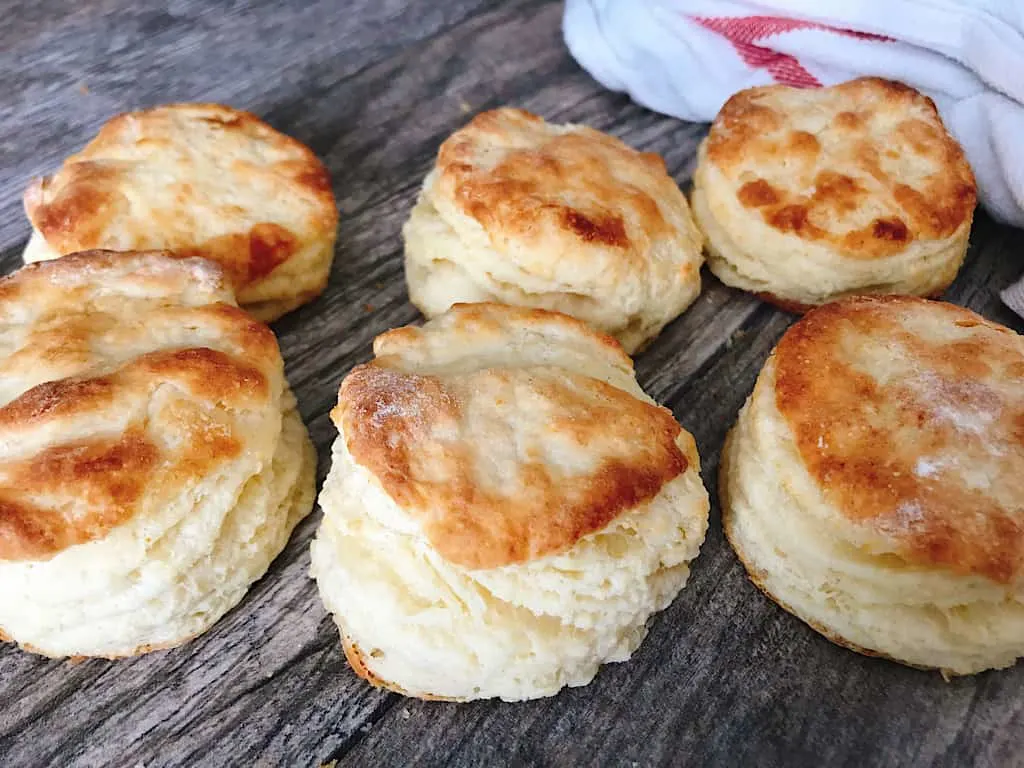 But, just as with the mashed potatoes, if you don't have time to make all of these components from scratch, you can totally use refrigerated biscuit dough and the finished product will still be great.
Vegetable Layer
For this layer, place 5-6 spinach leaves on top of the biscuit.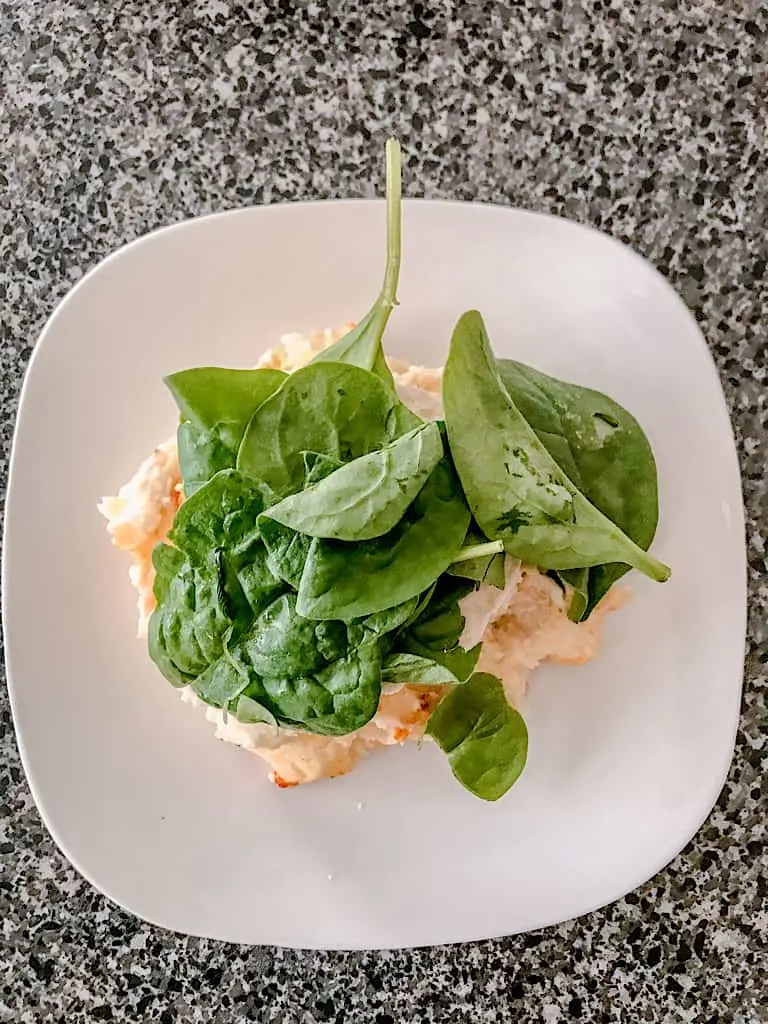 Add 2 or 3 tomato slices on top of the spinach.
Sage Fried Chicken
The Sage Fried Chicken is definitely what makes this dish.
At Hash House A Go Go, you can order this chicken as a sandwich, in a salad, and even with bacon waffles.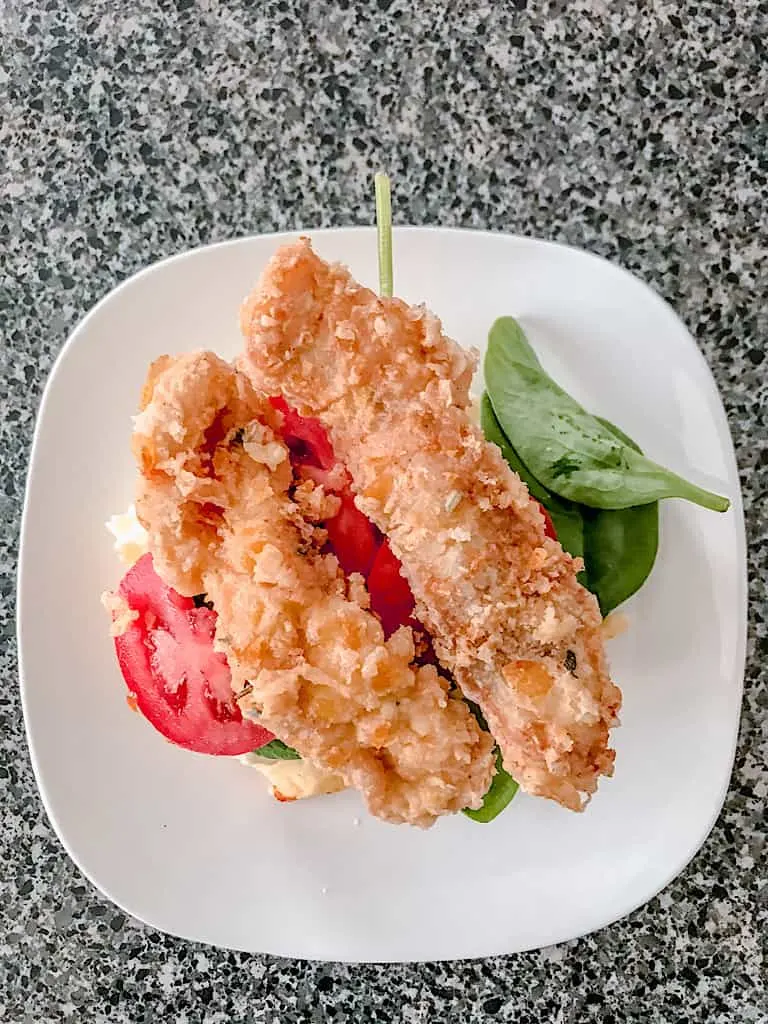 This copycat recipe will help you recreate it right at home! Here are the ingredients you will need:
Oil, for frying

1 1/4 Cup Flour

1 Cup Corn Starch

1/2 Cup Corn Flakes, crushed

1 Tablespoon Seasoned Salt

2-3 Tablespoons Fresh Sage, chopped

6 Eggs, beaten

8 Chicken Breasts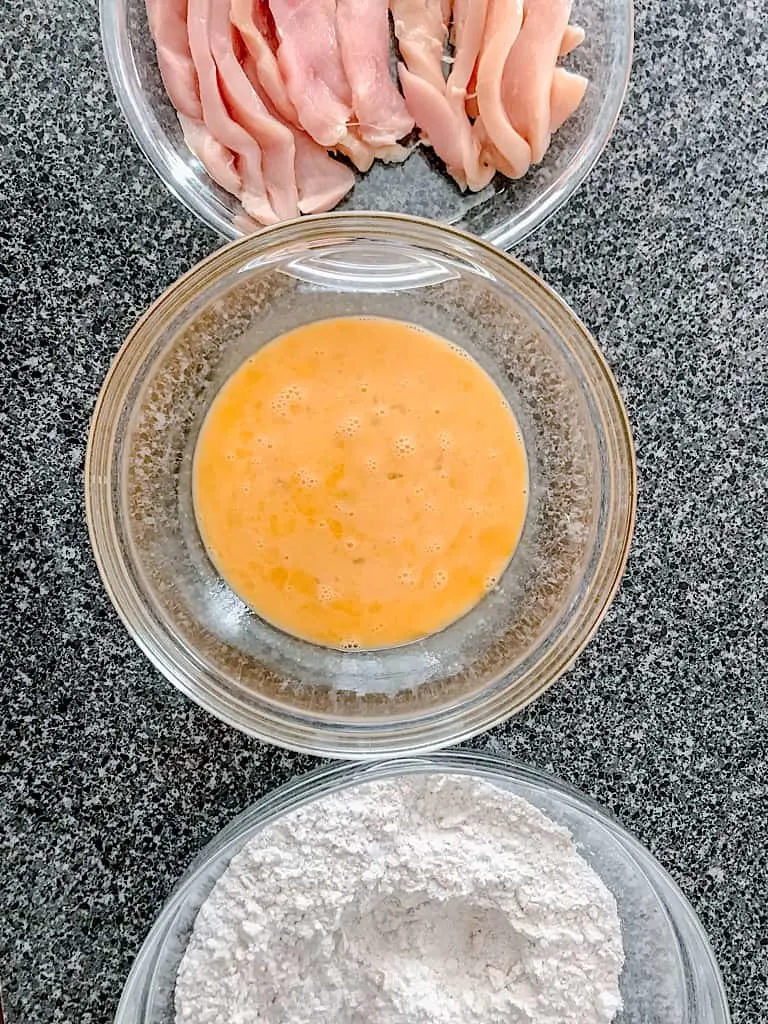 Directions
Mix together the flour, cornstarch, cornflakes, seasoned salt, and sage.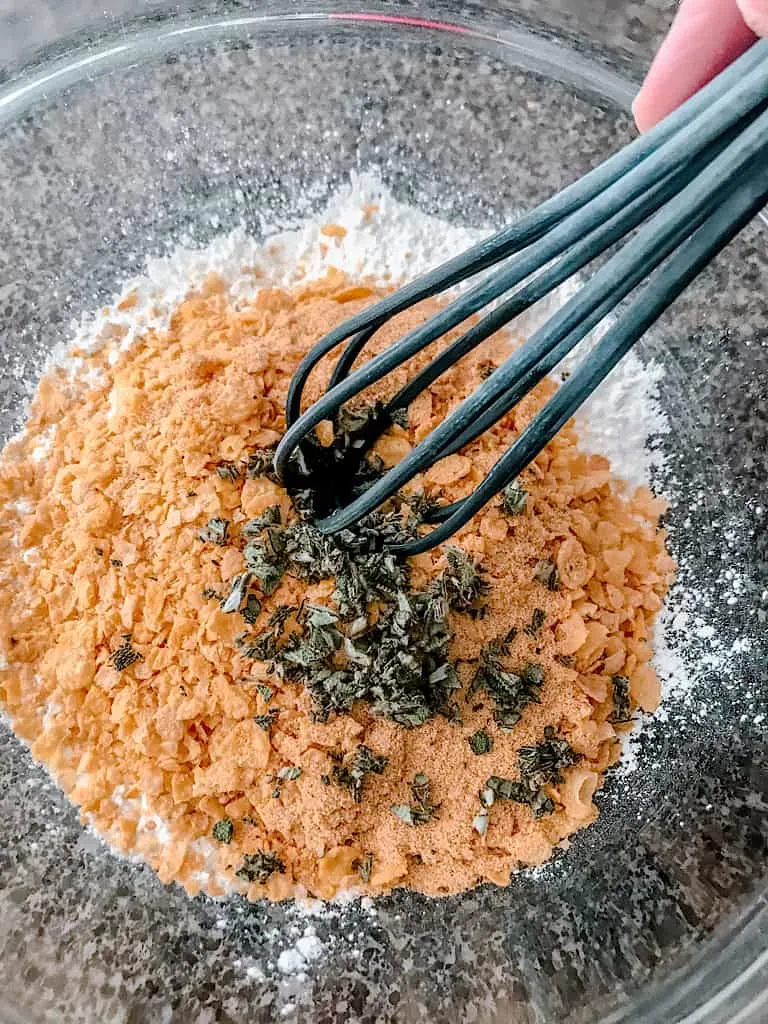 Whisk the eggs together to create an egg wash and place in a shallow dish.
Heat the oil to 360 degrees.
Dip the chicken in the egg wash.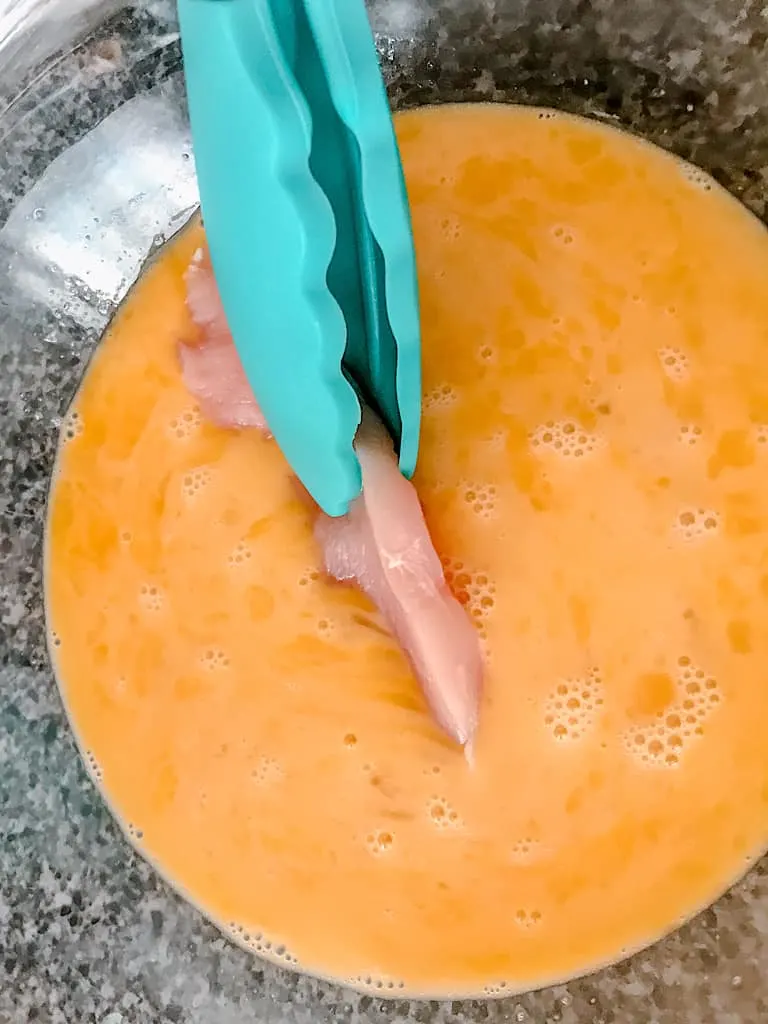 Then dip the chicken in the flour mixture.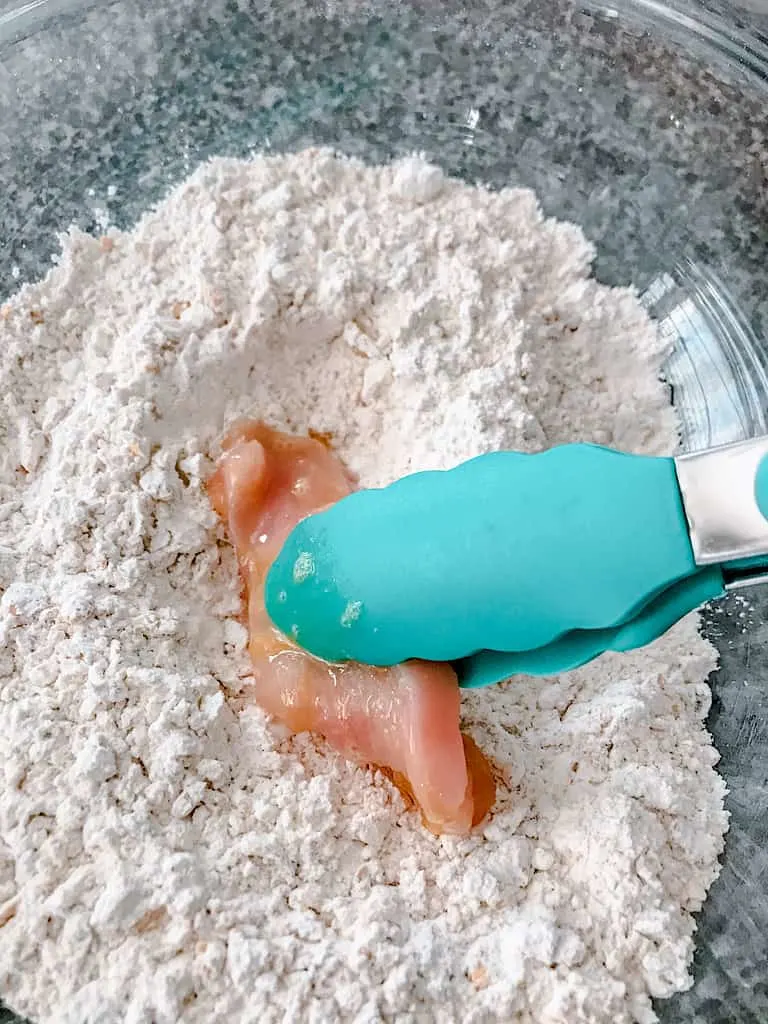 Deep fry the chicken for 6-7 minutes or until it is cooked through.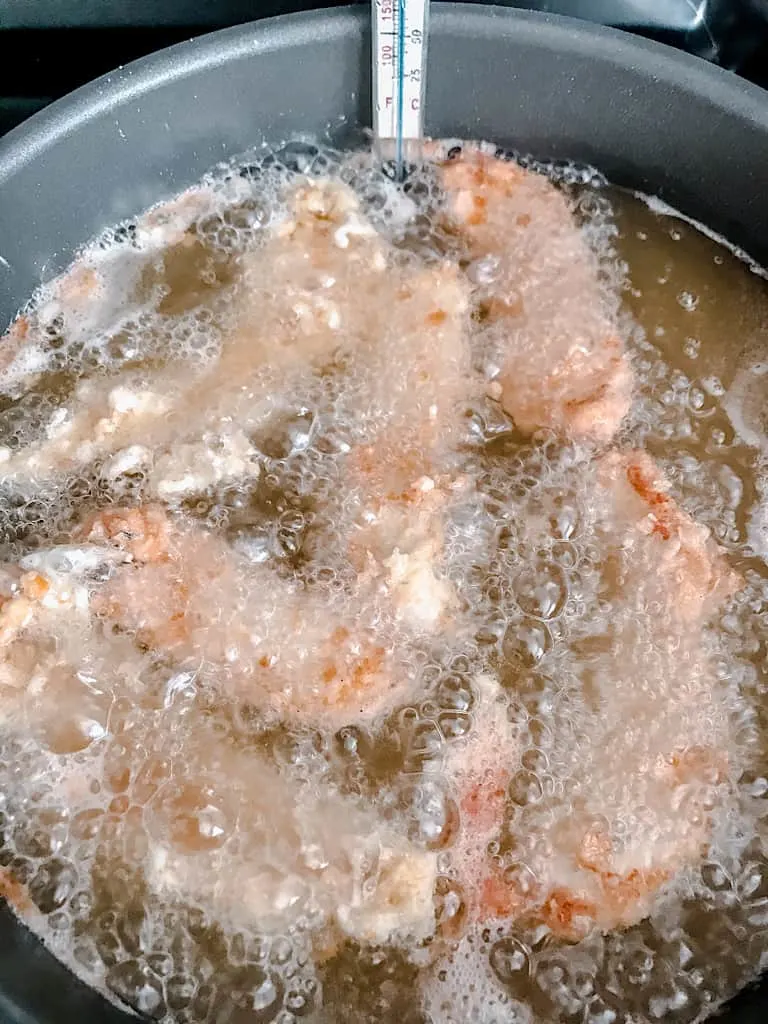 Bacon Layer
My favorite way to make bacon for the bacon layer in Fried Chicken Benedict is to make it in the oven.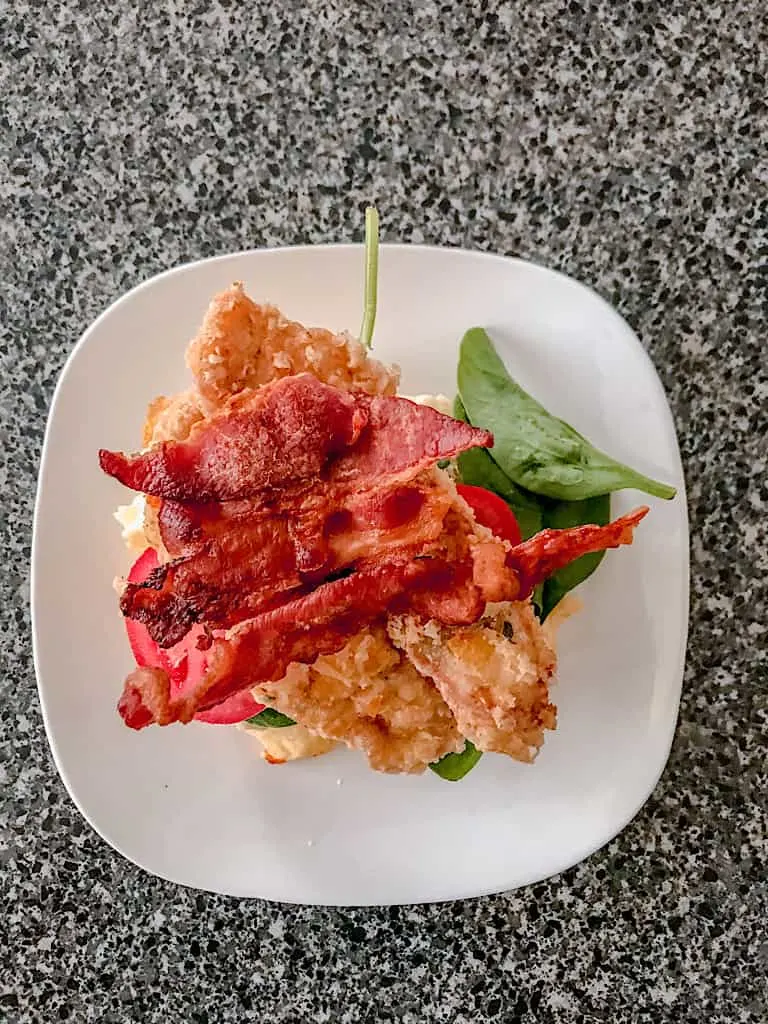 You can find my instructions for cooking perfect crispy bacon in the oven here.
If you want a short cut for the bacon layer, you can purchase pre-cooked bacon and warm it up.
Scrambled Eggs
The next layer of Fried Chicken Benedict is scrambled eggs. You can't make this dish without eggs!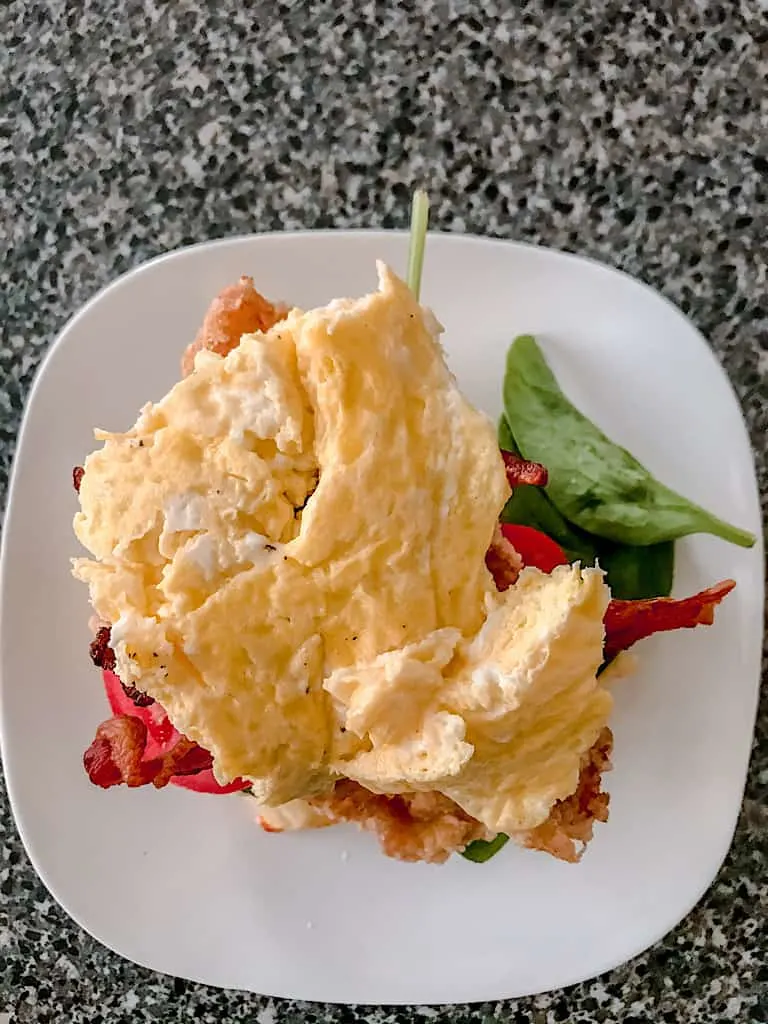 I am kind of a perfectionist when it comes to making scrambled eggs.
They have to be cooked just right or they may be runny or spongey. Not good.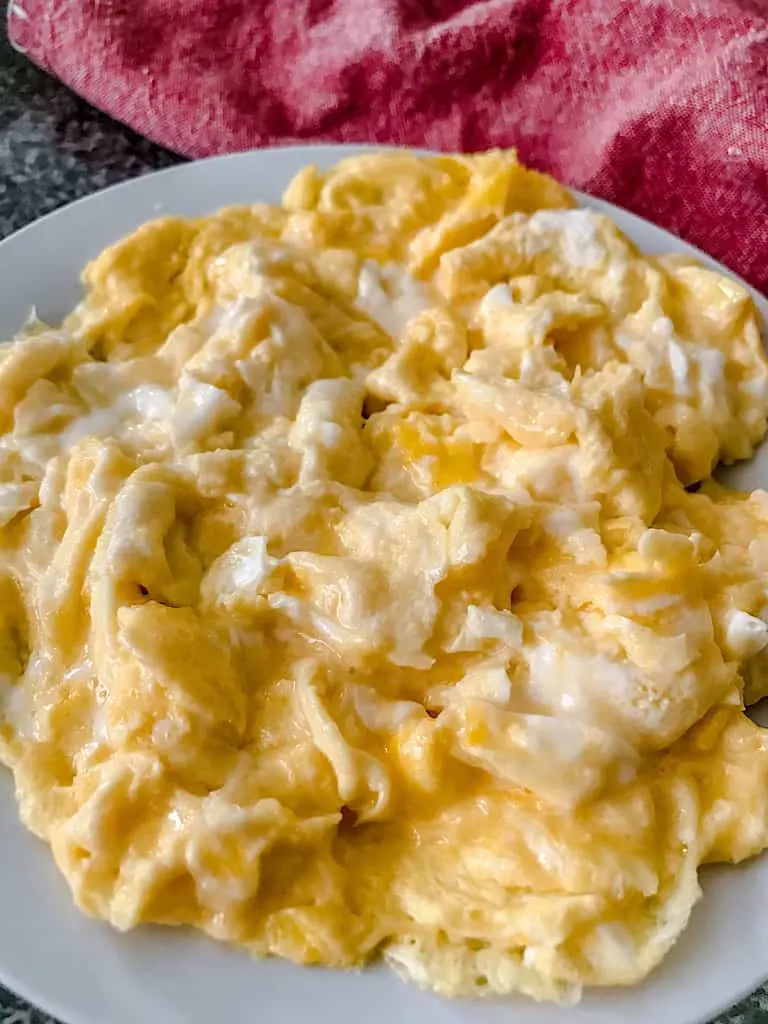 If you want to know how to make perfect scrambled eggs every time, check out my recipe tutorial here.
Mozzarella Cheese
On top of the scrambled eggs is a couple of slices of Mozzarella Cheese.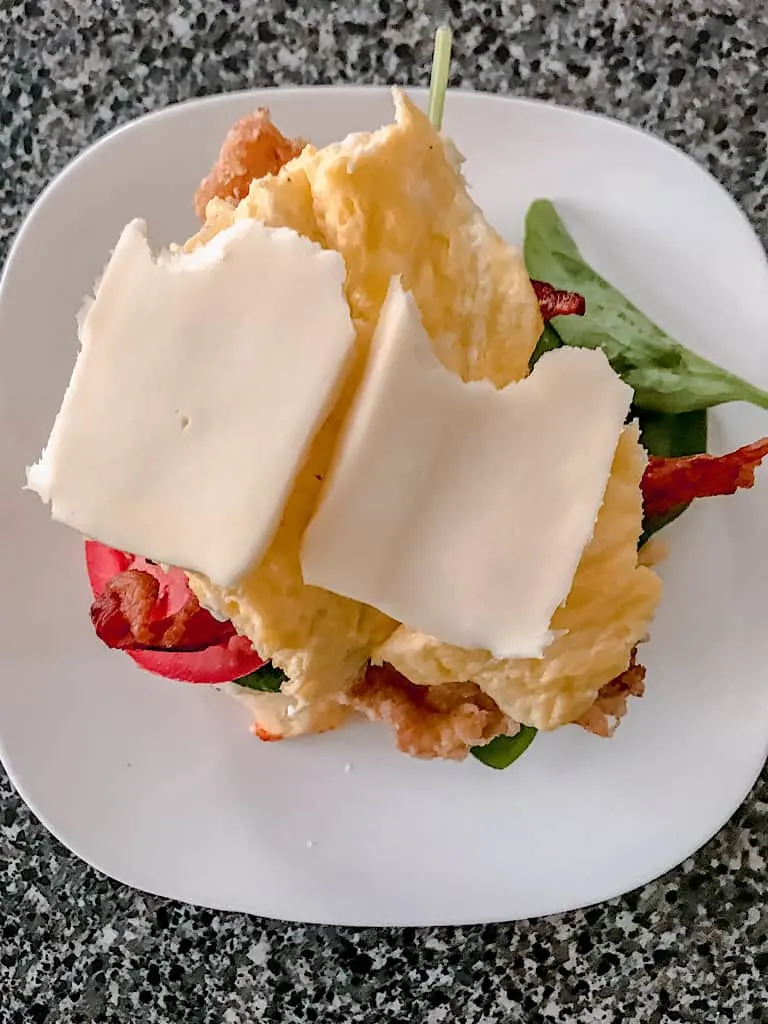 If you place the cheese on the eggs when they are still hot, the mozzarella will melt a little and it is heavenly!
Creamy Chipotle Sauce
The grand finale of Hash House A Go Go's Fried Chicken Benedict is the Creamy Chipotle Sauce.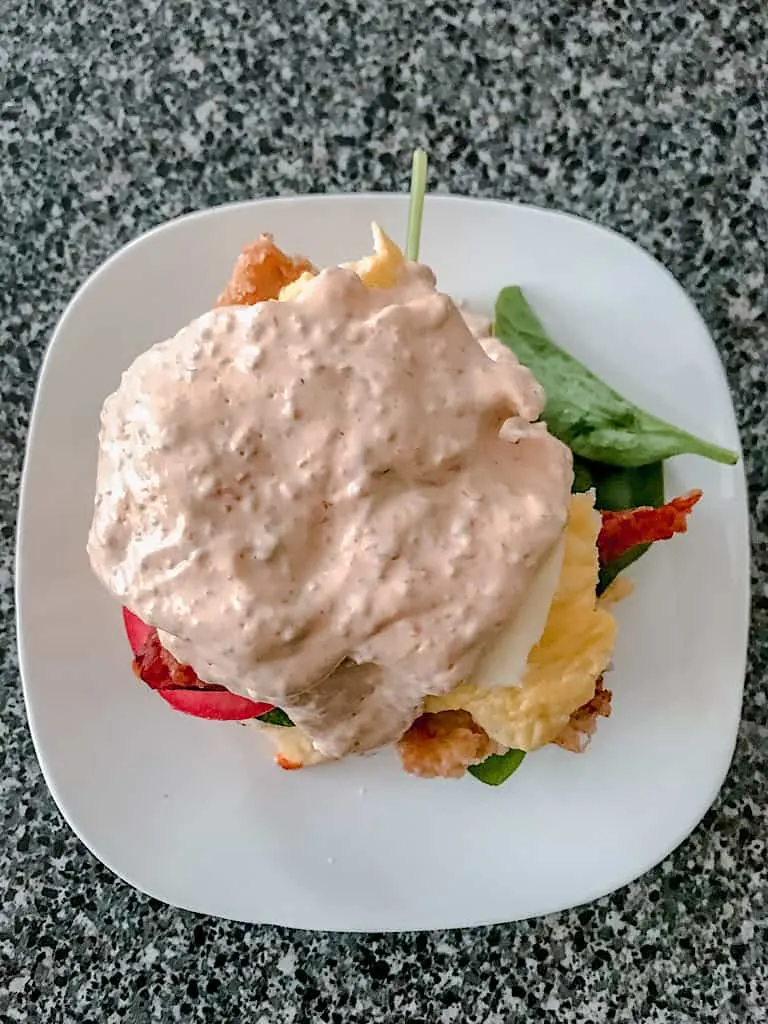 This sauce is dreamy and is what holds this entire meal together.
When I eat Sage Fried Chicken Benedict at the restaurant, I always ask for extra chipotle sauce.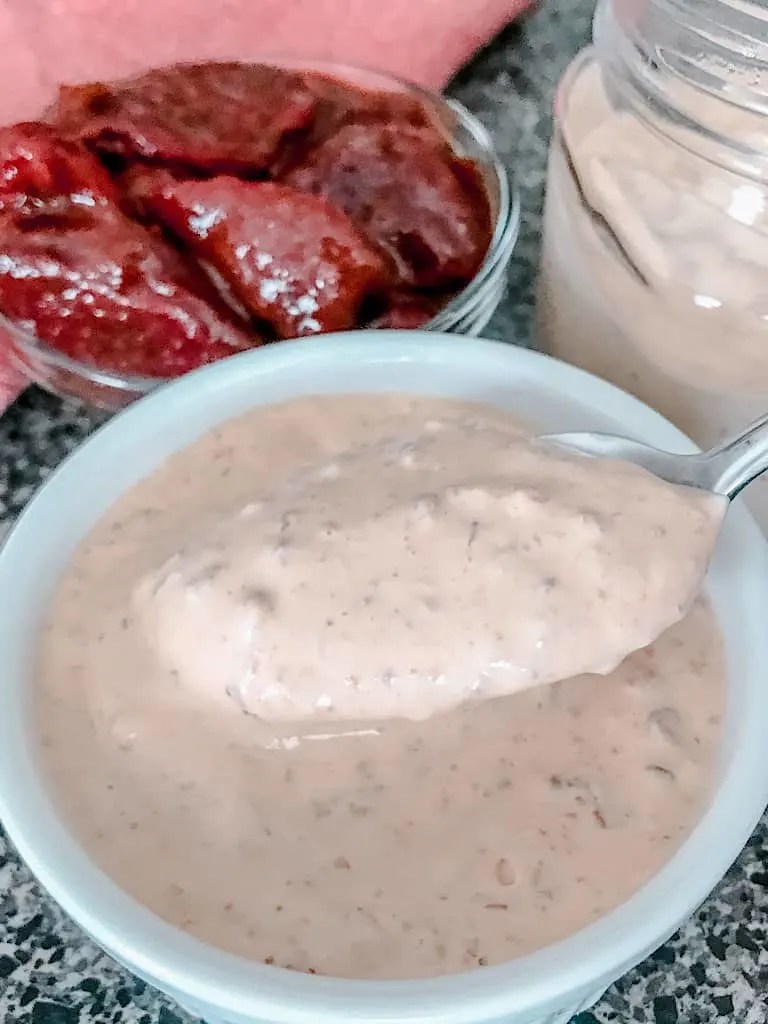 The great thing about making this at home, is that you can have as much sauce as you want!
Garnish
If you want to take your Fried Chicken Benedict to the next level, add a sprig of fresh Rosemary to the top.
It makes it look and feel like you are eating at Hash House A Go Go!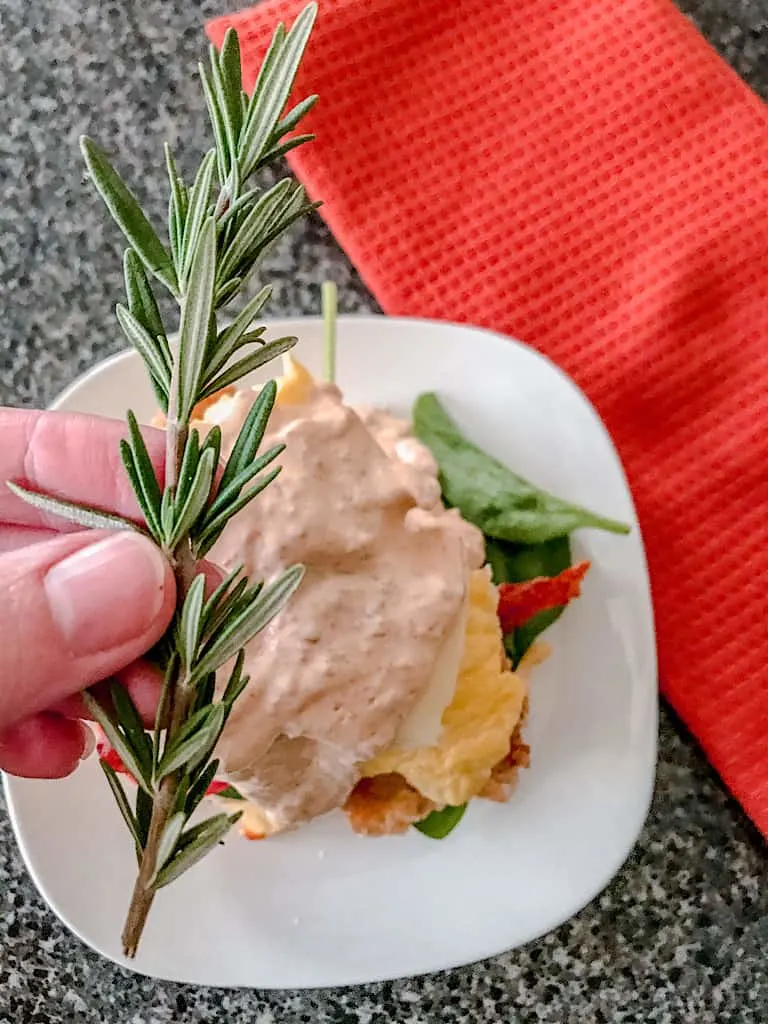 I hope that you love this dish as much as we do and get the chance to eat the real thing some time!
Click here to see if there is a Hash House A Go Go location near you.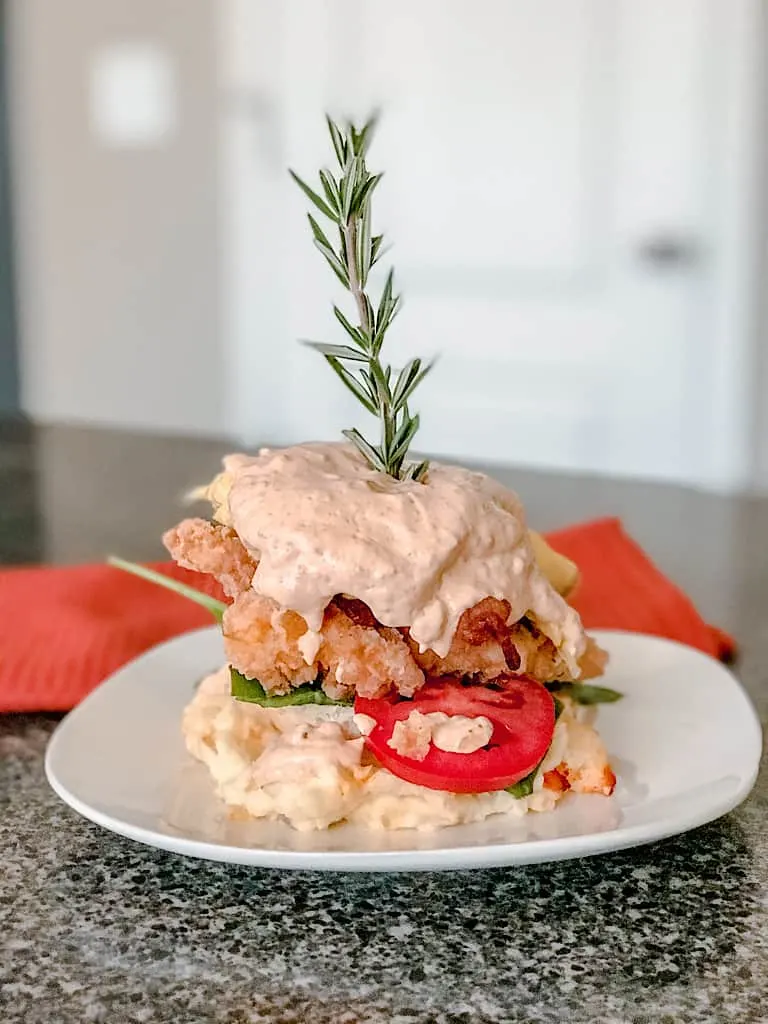 More Breakfast Recipes To Try: