Craving something sweet and fruity? Look no further than this simple yet flavorful strawberry compote! All you need are three ingredients and a few minutes to make a delicious topping that's perfect for cheesecakes, cakes, and ice cream. Put this easy strawberry compote recipe together today to enjoy the refreshing flavor of strawberries in every bite!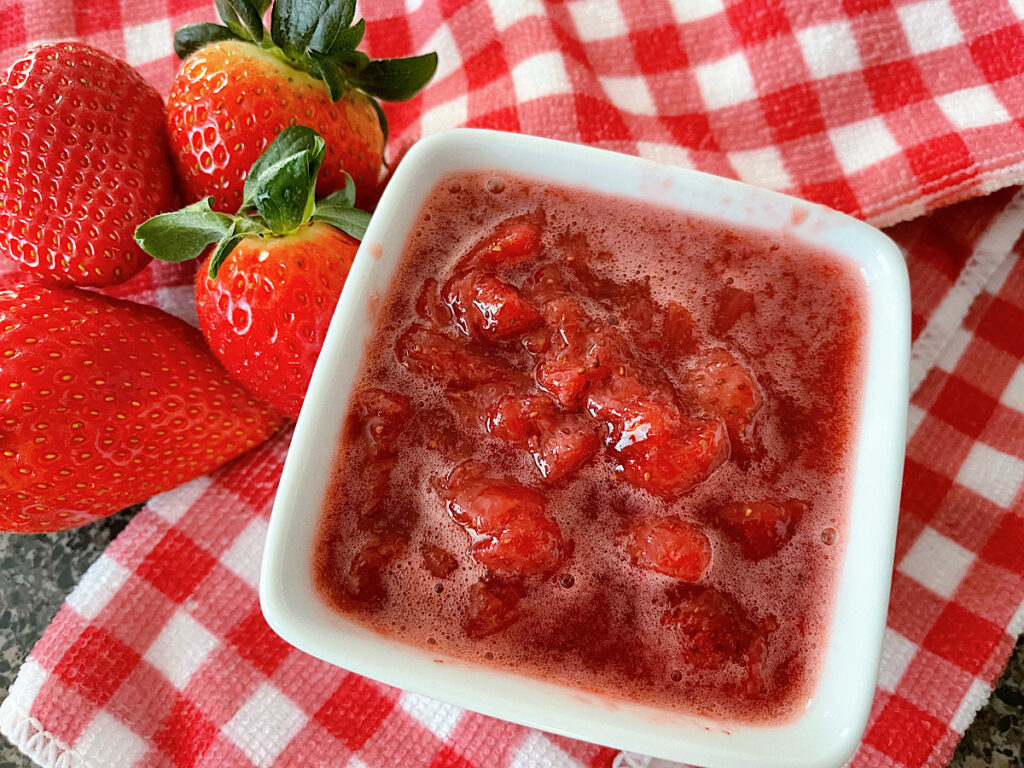 This post may contain affiliate links. When you click on these links, I get a small percentage back at no cost to you! For more information see my disclosure policy.
Below you will find tips, tricks and helpful hints for making this recipe including step by step instructions with pictures. If you would like to go directly to the recipe, scroll down to the recipe card or tap "Jump to Recipe" at the top of the page.
Why You'll Love this Recipe
Made with only three ingredients and minimal prep time
Bursting with sweet, tangy, and fruity flavors
Versatile topping for breakfast, desserts, and more
What is Compote?
Compote is a type of dessert or chunky fruit sauce made from stewing fruits with sugar and sometimes spices. It's popular in European cuisine, but it can be found all over the world! Compote recipes vary widely, depending on the ingredients used and their proportions.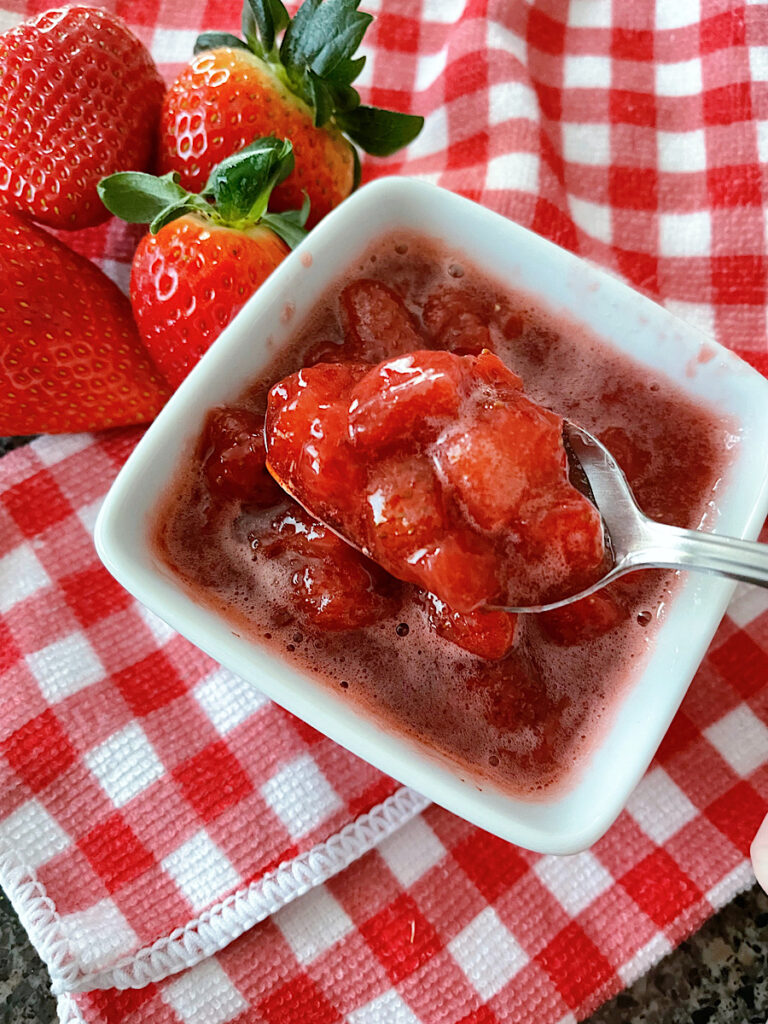 What Is the Difference Between Fruit Compote and Jam?
Fresh fruit compote is made by simmering fruit with sugar and water, while jam is made with a combination of crushed or pureed fruit, sugar, and pectin.
Jams are thicker in consistency than compotes, which have a more liquid texture. Compotes have a more intense flavor because they contain whole pieces of the cooked fruit, rather than a puree.
Additionally, compotes are meant to be served warm or cold, while jams are typically served chilled.
How to Thicken Strawberry Compote or Strawberry Sauce
If you'd like a thicker compote, you can add a little cornstarch. To do this, place 1 tablespoon of cornstarch in a small bowl and mix with 2 tablespoons of cold water to make a cornstarch slurry.
Stir until the mixture is smooth, then add the cornstarch mixture to the compote while on the stove, stirring constantly. The result is a thick strawberry compote.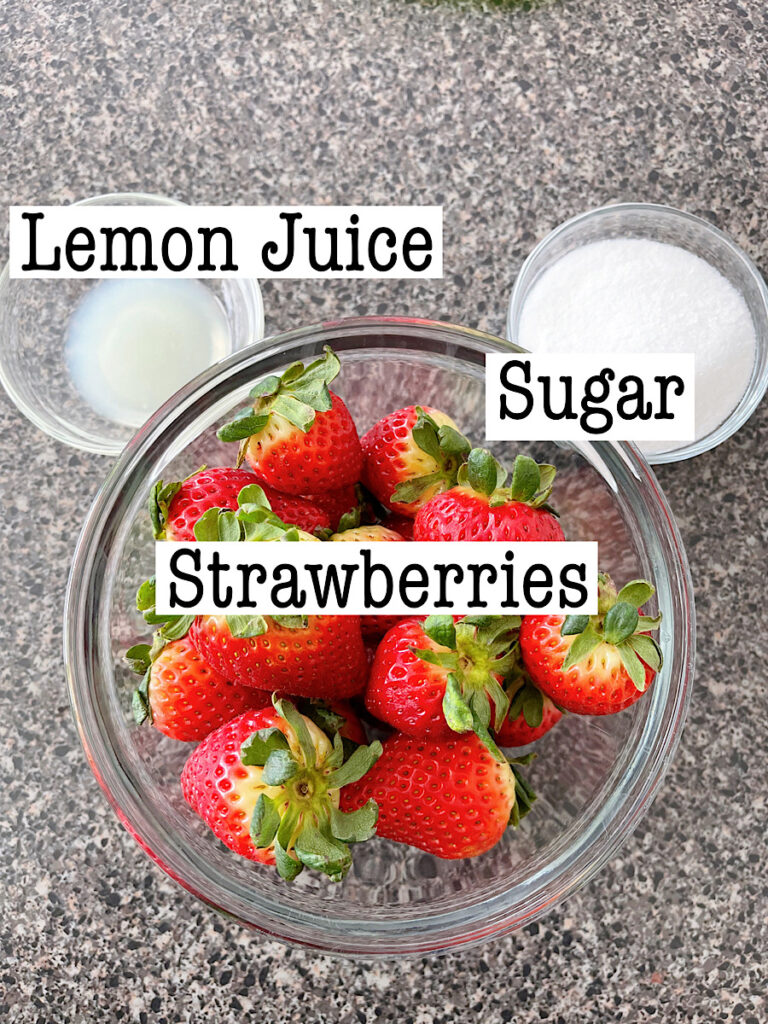 Strawberry Compote Ingredients
*Ingredient amounts are located in the recipe card at the end of this post.
Fresh Strawberries: You will need 16 ounces of fresh ripe strawberries, sliced and with the stems removed.
Sugar: To sweeten your compote, add 1/3 cup of sugar. Feel free to add more or less sugar, according to your taste.
Lemon Juice: A squeeze of lemon juice will give the compote a nice tartness and help balance out the sweetness. Fresh lemon juice or bottled lemon juice will work. A little bit of lemon zest can also be a great addition to this simple strawberry compote, if desired. Orange juice can be substituted.
How to Make Strawberry Sauce
[1] Prepare the strawberries by cutting off the stems and then slicing so that you will have smaller pieces of fruit in your compote.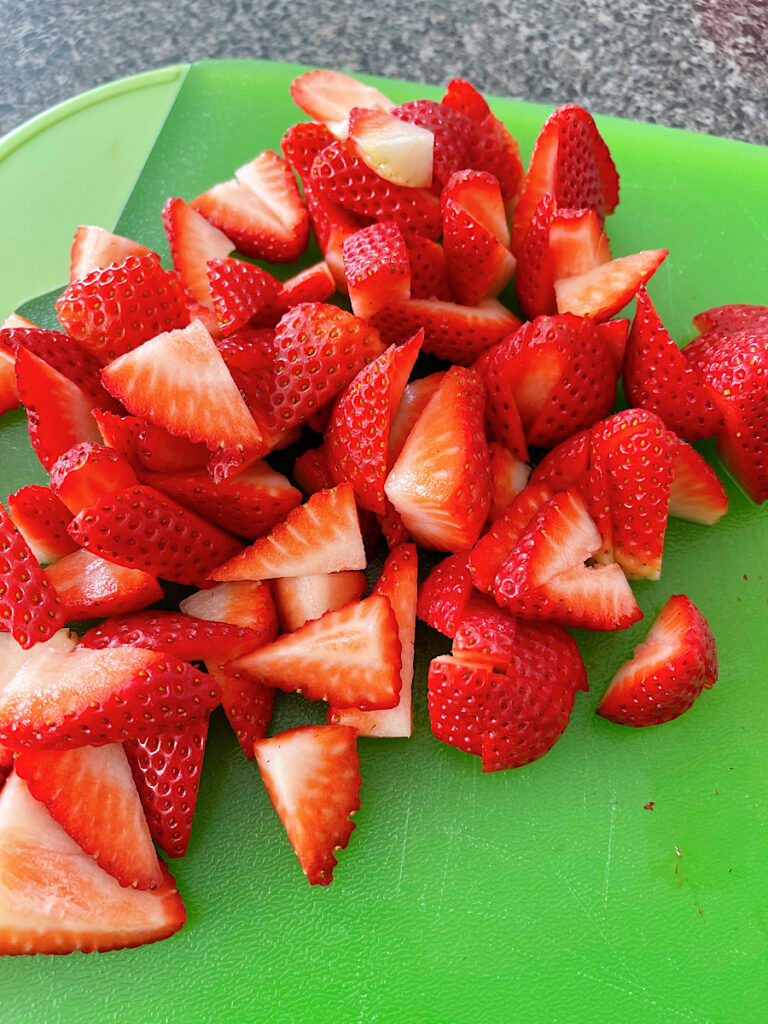 [2] Add the strawberries, sugar, and lemon juice to a medium saucepan and heat over medium-high heat until it begins to boil, stirring often.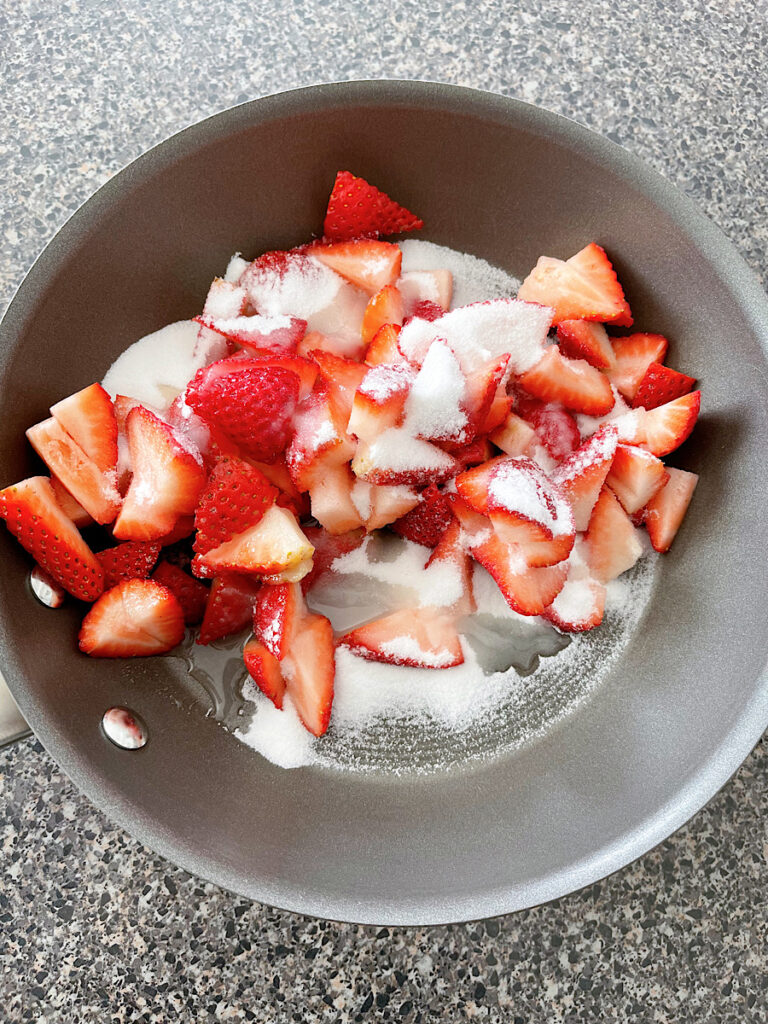 [3] Once boiling, turn the heat down and let the strawberry mixture simmer for 20-25 minutes until the strawberries begin to break down and the sauce thickens. Continue to stir occasionally as it simmers.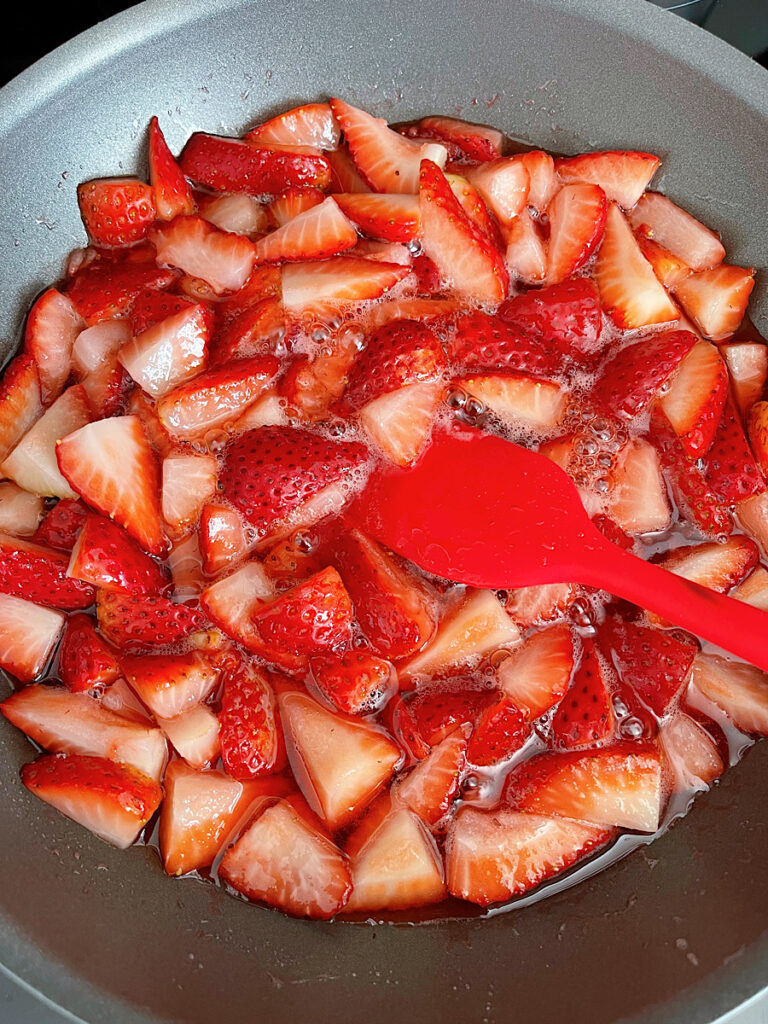 [4] Remove from heat and allow it to cool to room temperature. The sauce will continue to thicken as it cools.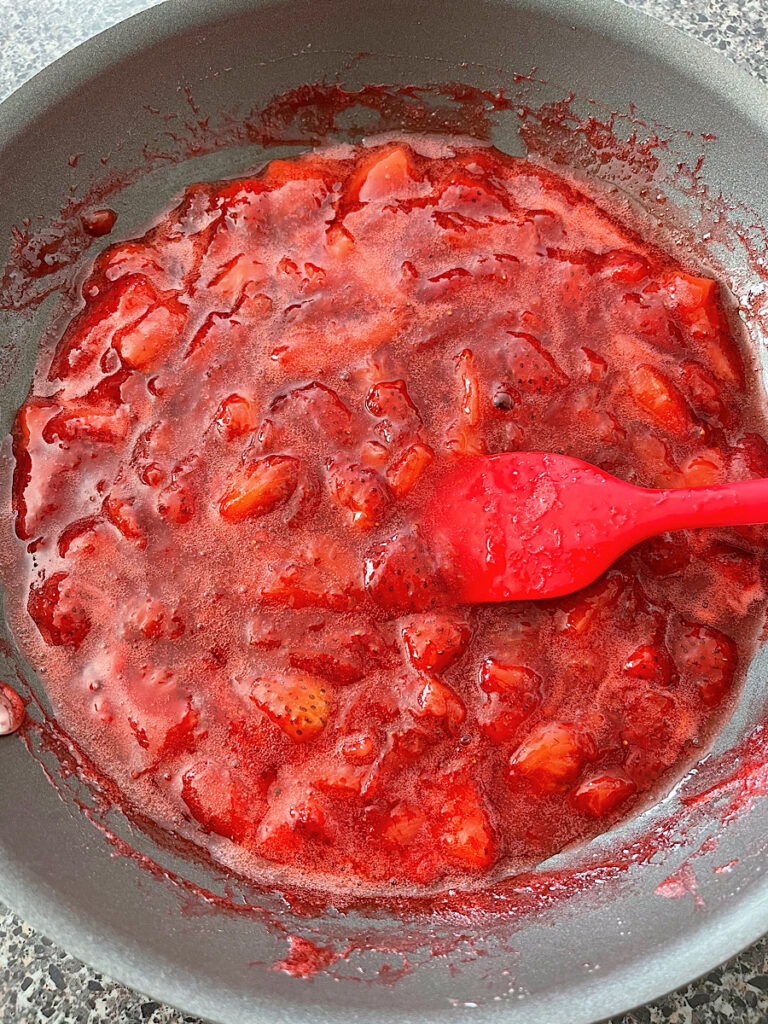 Helpful Kitchen Tools
How to Store and Reheat
Store this delicious strawberry sauce in an airtight container, like a glass jar, in the refrigerator for up to 5 days. To reheat, simply place the desired amount of compote in a saucepan over low heat, stirring occasionally until warmed through.
How to Use Strawberry Compote
New York Cheesecake
Philadelphia No Bake Cheesecake
Sweet Cream Pancakes
Amazing French Toast
Crispy Waffles
Angel Food Cake
Chia Pudding
Pound Cake
Vanilla Ice Cream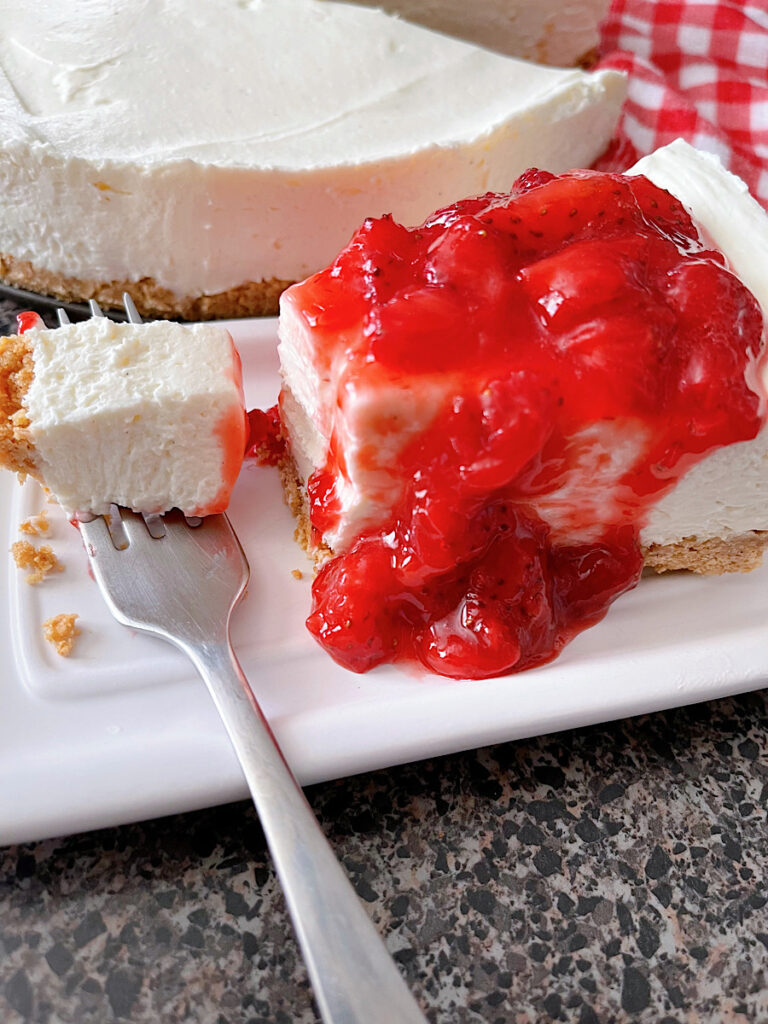 Frequently Asked Questions
Can I make the compote ahead of time?
Yes, you can make this delicious strawberry compote ahead of time and store it in an airtight container in the refrigerator for up to 5 days.
Can I use frozen strawberries for this recipe?
Frozen strawberries can be used, but will not yield as intense of a flavor as fresh strawberries.
Do I need to use sugar in this recipe?
Yes, sugar is necessary for the compote to reach its proper consistency and sweetness. You can adjust the amount based on your taste preferences. A sugar substitute, like Splenda, may also be used.
Can I use other fruits for this recipe?
Yes, you can substitute other fruits such as raspberries, blueberries, blackberries, or peaches to make variations of this delicious compote.
Final Thoughts
This easy homemade strawberry compote recipe is a great way to enjoy the flavor of strawberries any time of year! With only three simple ingredients and minimal prep time, you can have a delightful topping for your favorite breakfast and desserts in minutes.
Enjoy a sweet and tangy treat with every bite!
More Sauce & Syrup Recipes
Pin for later: