This Croissant French Toast Bake is the perfect breakfast dish for any occasion! Made with flaky croissants layered in a casserole dish, with sweet French toast batter is poured over the top and baked to golden perfection in the oven. The result is a decadent and indulgent dish that's perfect for breakfast or brunch.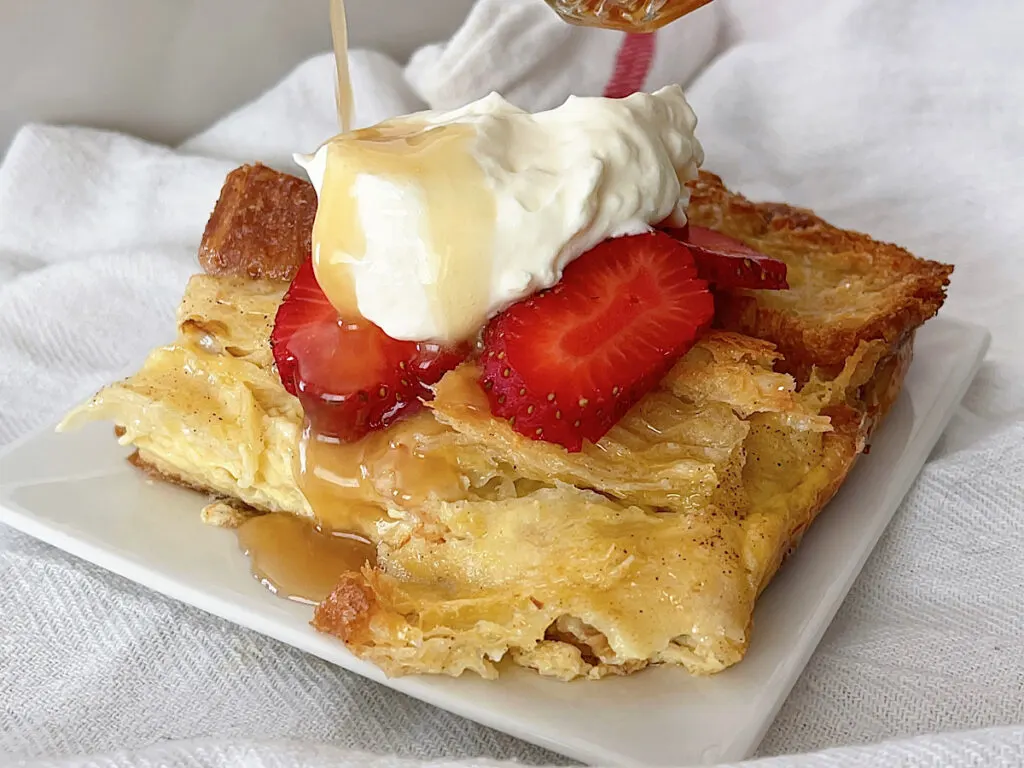 This post may contain affiliate links. When you click on these links, I get a small percentage back at no cost to you! For more information see my disclosure policy.
Below you will find tips, tricks and helpful hints for making this recipe including step by step instructions with pictures. If you would like to go directly to the recipe, scroll down to the recipe card or tap "Jump to Recipe" at the top of the page.
Why You'll Love This Overnight French Toast Casserole
This Croissant French Toast Bake is an incredibly easy and delicious recipe and is a great alternative for regular French Toast. With just a few simple ingredients, it comes together quickly to make one delicious dish!
The croissants give this French toast bake a buttery and crispy texture that pairs perfectly with the creamy and sweet custard-like batter. This dish is easy to prepare, making it a great option for busy mornings or weekend brunch when you want to enjoy a delicious and satisfying breakfast without a lot of hassle.
Serve with a drizzle of homemade caramel syrup and a dusting of powdered sugar for an extra touch of sweetness!
Topping Ideas
Fresh Berries
Bananas
Pure Maple Syrup
Cinnamon Sugar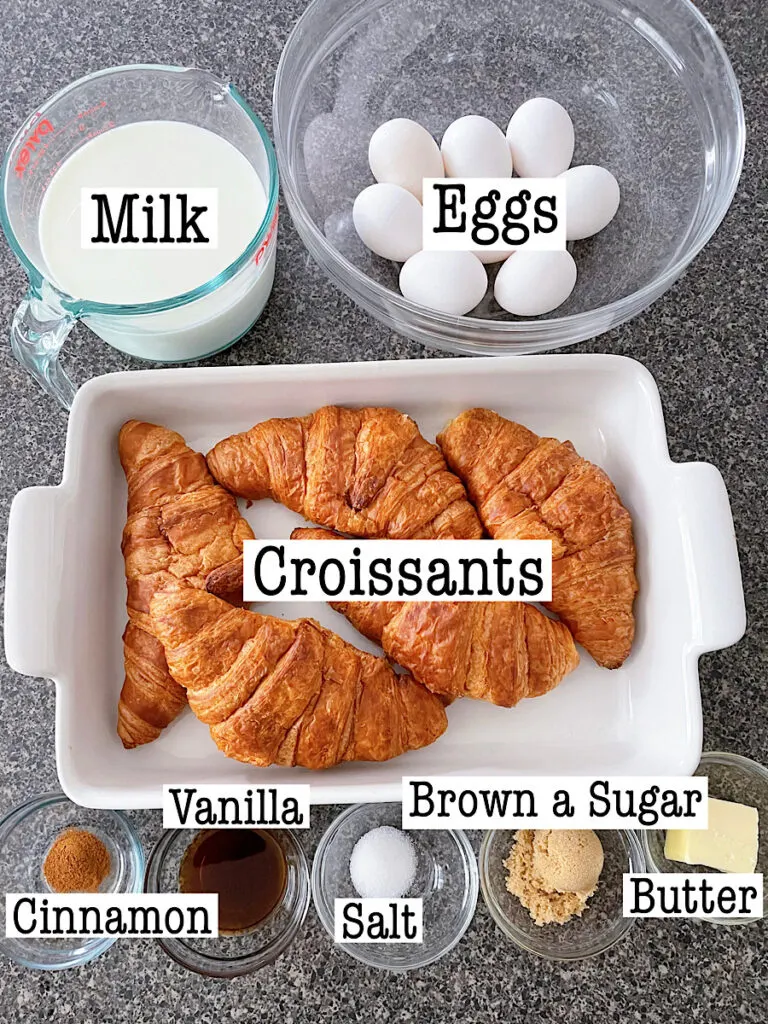 Croissant French Toast Bake Ingredients
*Ingredient amounts are located in the recipe card at the end of this post.
Croissants: You will need 4-5 large buttery croissants. I used leftover croissants I purchased from Costco. Feel free to use any bakery croissants purchased rom the grocery store.
Eggs & Milk: These are the base for the French Toast batter, similar to a custard. Use large eggs and whole milk or 2% milk.
Brown Sugar: I used light brown sugar, but you can also use dark brown sugar.
Salt & Vanilla Extract: To enhance the flavor of the French Toast Bake.
Cinnamon: A must in a delicious French Toast recipe!
Butter: Slices of butter will be placed over the croissant casserole before baking.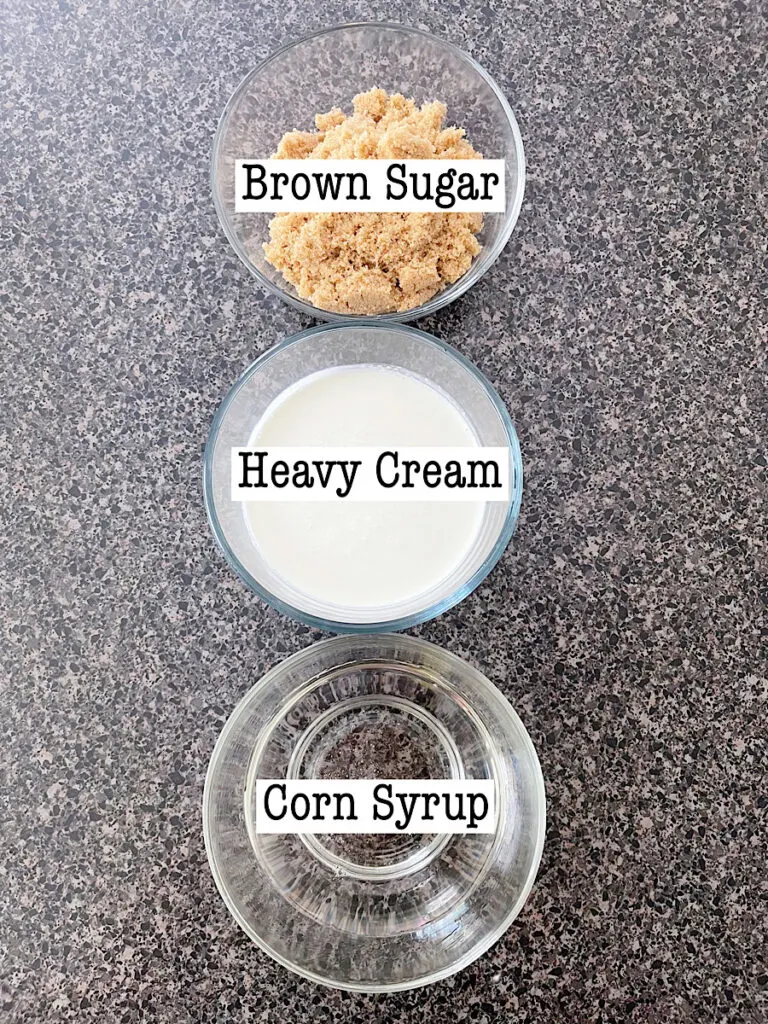 Caramel Syrup Ingredients
Corn Syrup: This is used to help thicken the syrup.
Brown Sugar: I prefer using light brown sugar, but you can use dark brown sugar if desired.
Heavy Cream: For a creamy and thick texture.
Croissant French Toast Recipe Instructions
[1] In a large bowl, whisk eggs, milk, brown sugar, salt, vanilla, and cinnamon. Or, mix these ingredients together in a blender.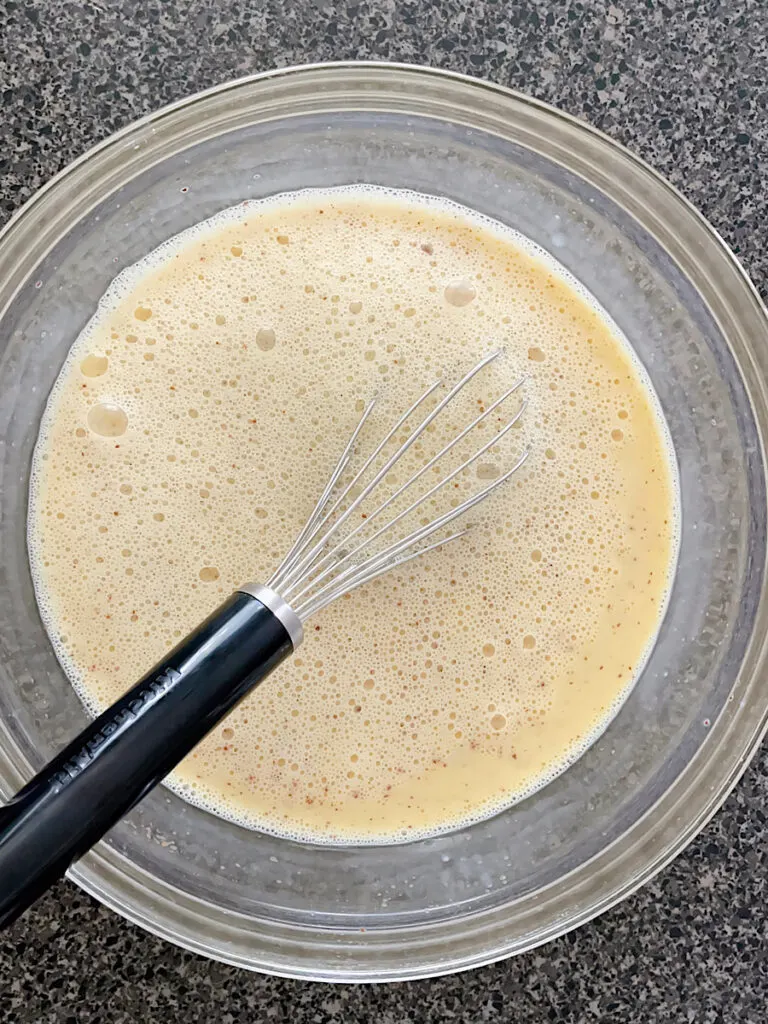 [2] Cut the croissants in half and arrange them in a 9×13 baking dish sprayed with nonstick cooking spray in a single layer. Cut the croissants into smaller pieces to fill in any gaps, if necessary.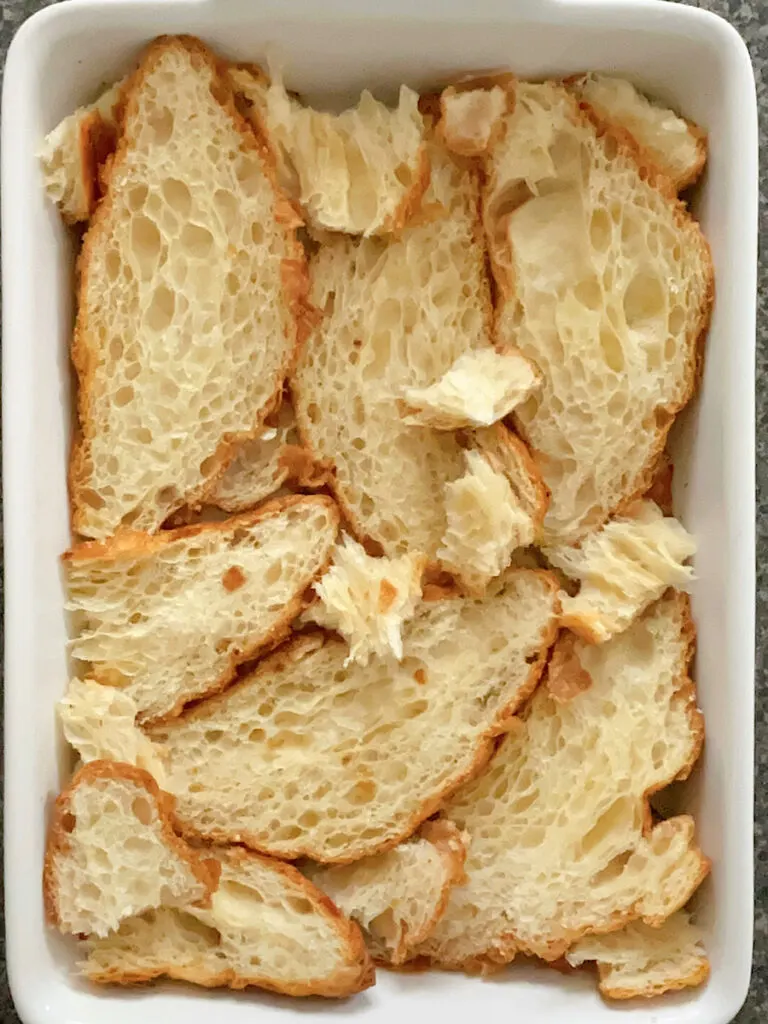 [3] Pour the custard mixture over the top of the croissants.
[4] Cover the casserole dish with plastic wrap or aluminum foil and refrigerate for at least 4 hours to overnight.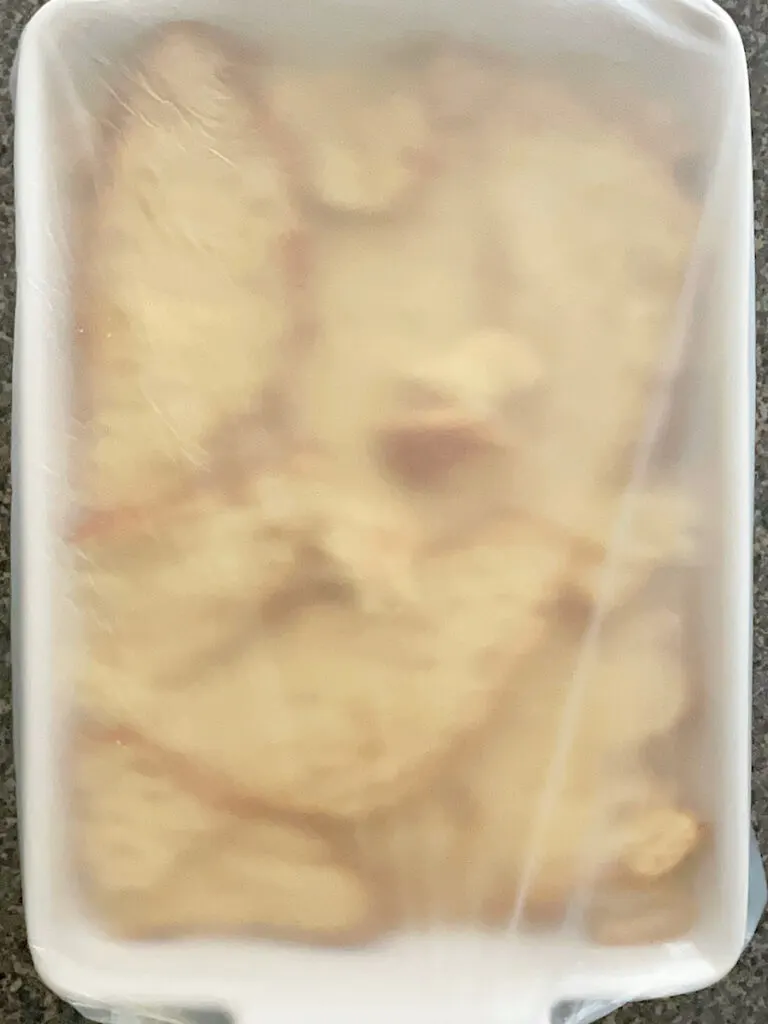 [5] When ready to bake, remove the French toast bake from the refrigerator and allow it to sit for 30 minutes. Bake uncovered at 350 degrees for 45-50 minutes until it is a deep golden brown.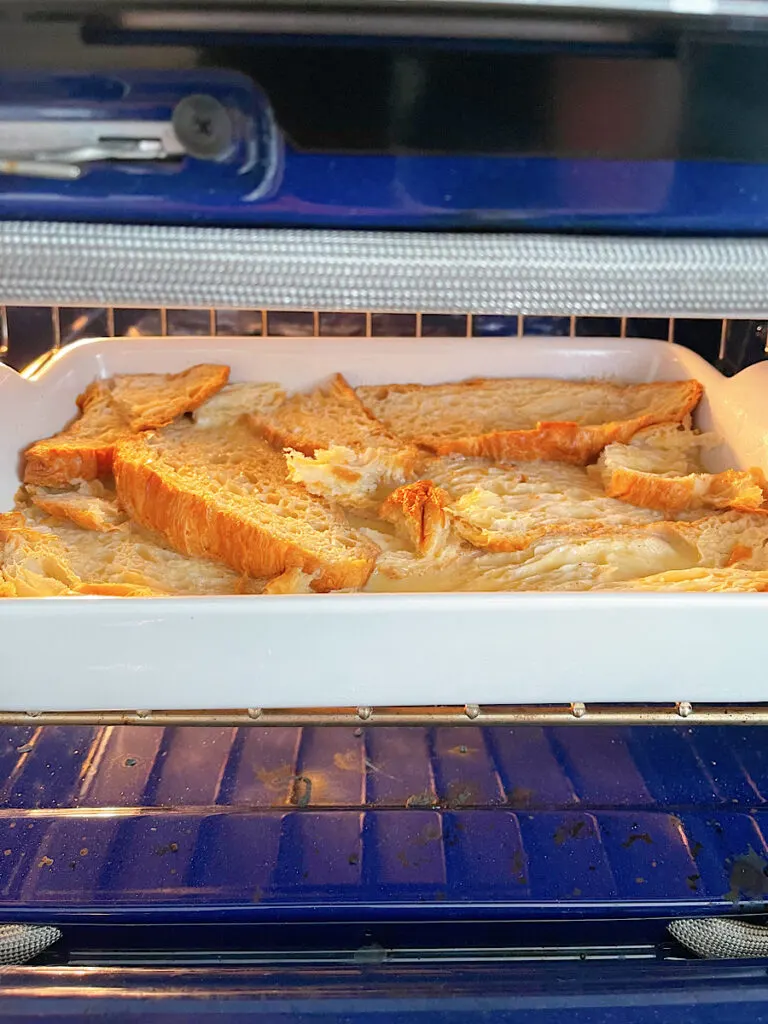 [6] Remove from the oven and brush with melted butter. Serve with homemade caramel syrup, sliced strawberries, and whipped cream!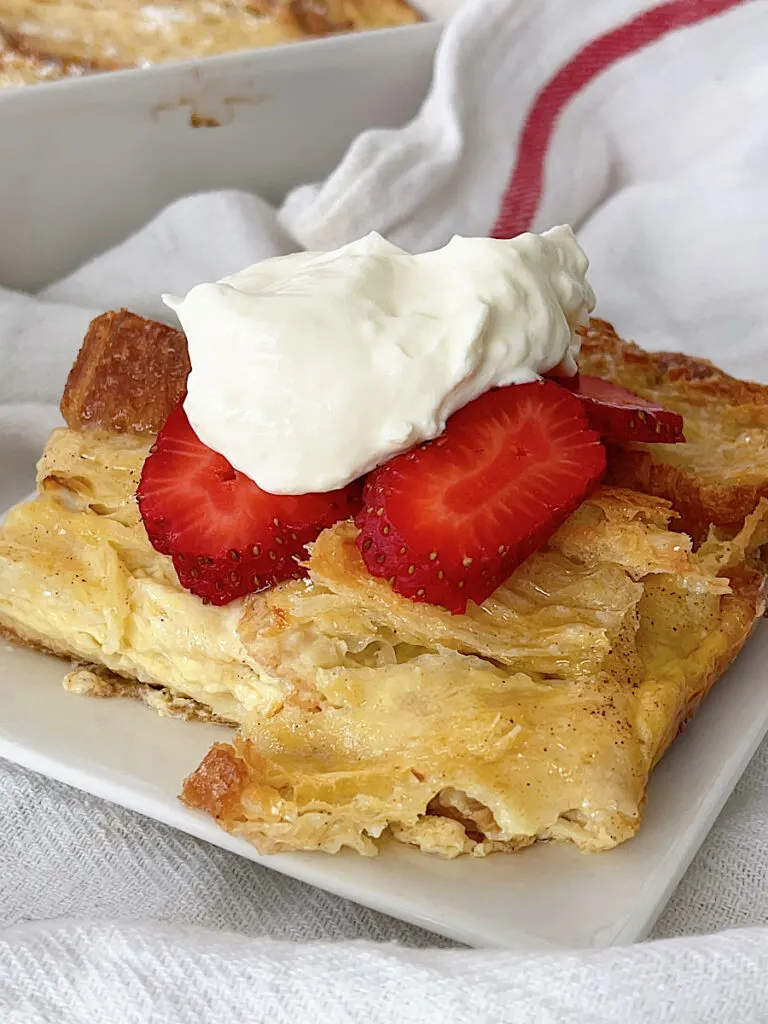 Caramel Syrup Recipe
[1] In a saucepan, whisk the corn syrup, brown sugar, and heavy cream over medium-high heat until the sugar dissolves.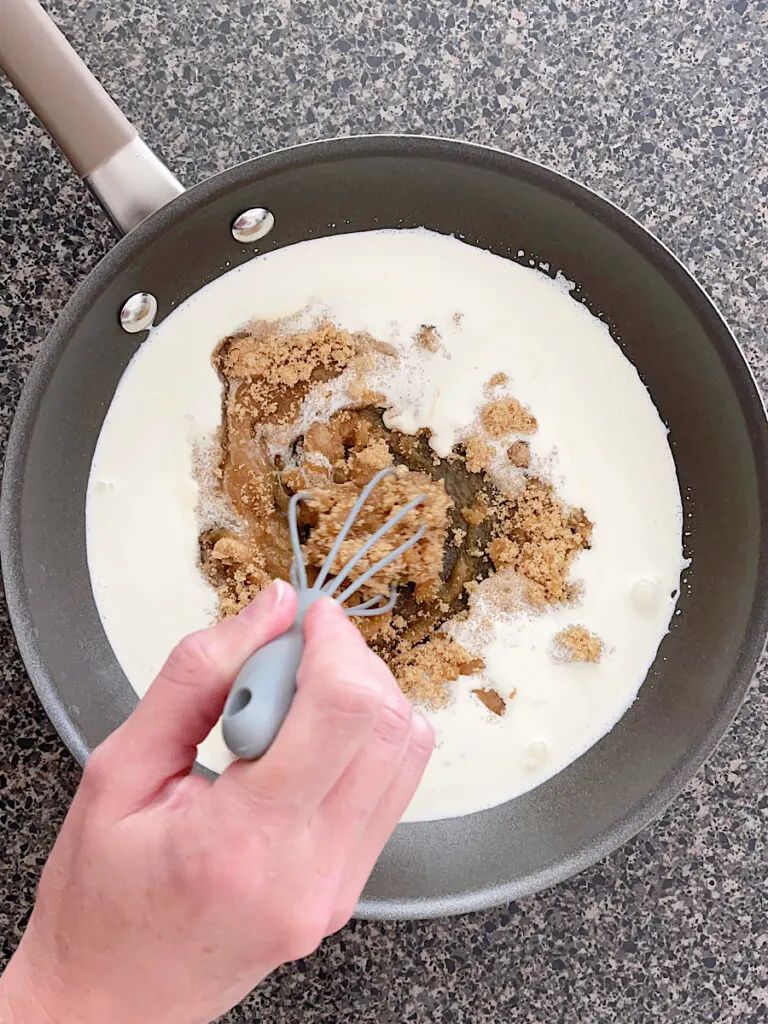 [2] Keep warm on the stove until ready to drizzle over the Croissant French Toast Bake.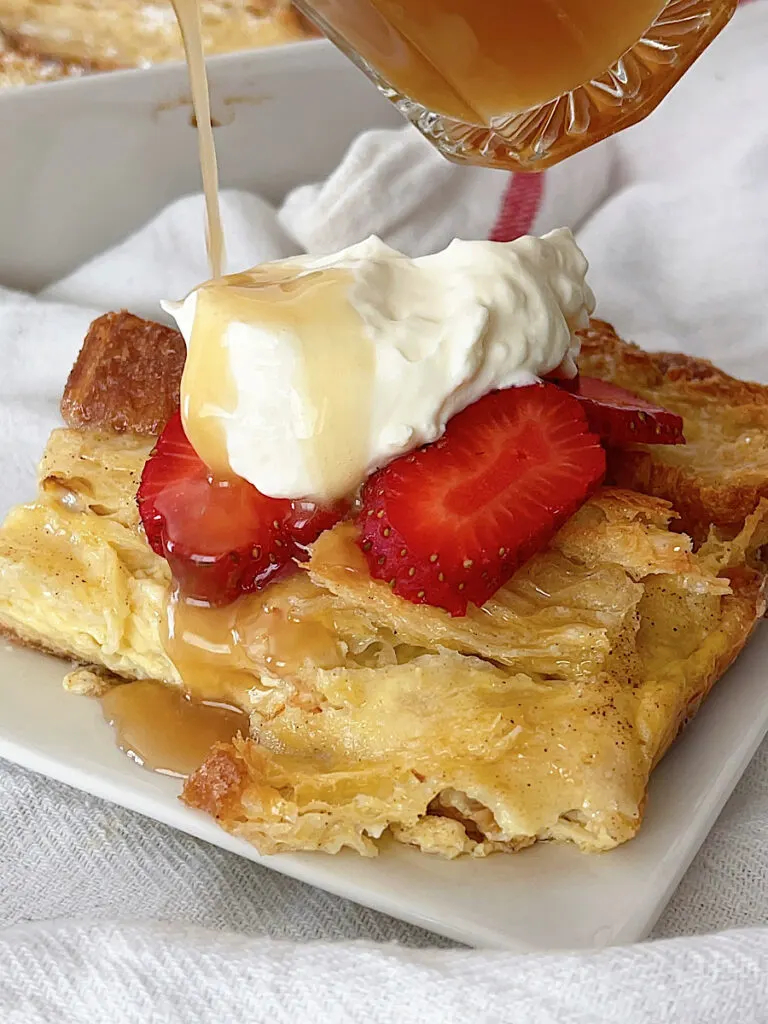 Helpful Kitchen Tools
How to Store Leftovers
Leftover Croissant French Toast Bake can be stored in the refrigerator for up to 3 days. Reheat in the oven for 10-15 minutes at 350 degrees, or microwave individual servings as needed. The Caramel Syrup will keep in the refrigerator for up to a week.
When to Serve Croissant French Toast
​Weekend Brunch
Christmas Morning
Easter
Mother's Day
Other Special Occasions
Baking Tips
If the casserole is turning brown too quickly, cover it with foil and continue to bake.
If you don't have any croissants, you can also substitute French bread or regular bread like Texas Toast.
For a bit of extra flavor, add in some chopped nuts or dried fruit to the batter.
Make sure to refrigerate the dish for at least 4 hours before baking so that the croissants can absorb most of the custard.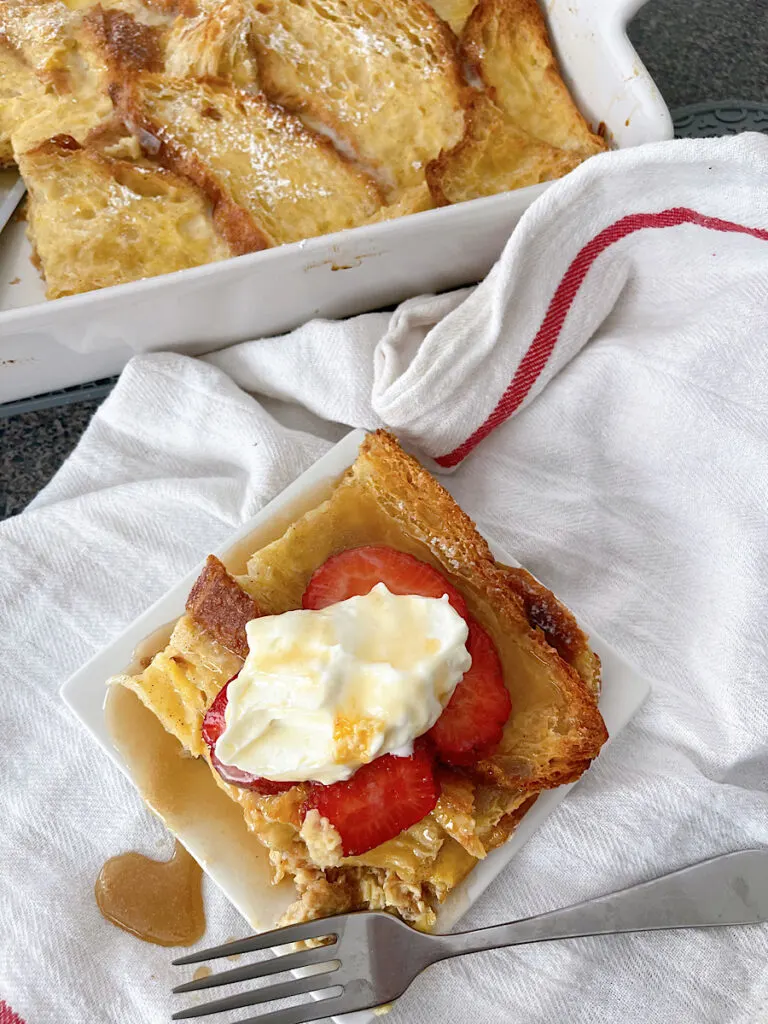 Frequently Asked Questions
Can I make this recipe ahead of time?
Yes, you can prepare the Croissant French Toast Bake up to a day in advance. Store it in the refrigerator overnight and bake as directed in the morning.
Can I use day-old croissants for this recipe?
Yes, day-old croissants work perfectly in this recipe. The stale croissants will help them to absorb the custard more easily.
Can I freeze this Croissant French Toast Bake?
Yes, you can freeze the Croissant French Toast Bake for up to 3 months. Thaw overnight in the refrigerator and bake as directed.
What can I serve with Croissant French Toast Bake?
Serve this dish with a dollop of whipped cream, sliced strawberries, and homemade caramel syrup for a decadent and delicious breakfast! You can also pair breakfast casserole with the best scrambled eggs and oven-baked bacon.
How many servings does this recipe make?
This Croissant French Toast Bake recipe makes 8-10 servings. It's perfect for a large family breakfast or brunch.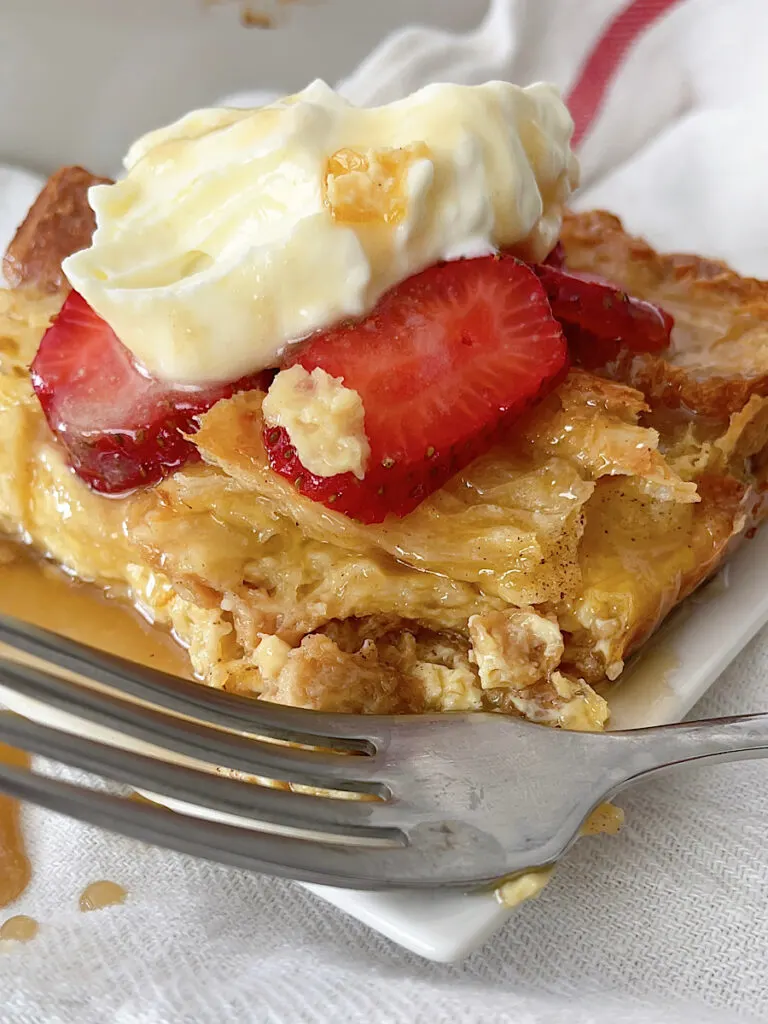 Final Thoughts
I hope you enjoy this Croissant French Toast Bake with Caramel Syrup! It's an easy and delicious way to start your morning off right! Don't forget to top it with some fresh fruit and a dollop of cream for an extra special touch. Enjoy!
More Breakfast Recipes to Try:
Watch the Video: