The perfect French Toast recipe that is easy to make and cooks perfectly every time. By coating the bread in a sweet batter, each slice of French Toast cooks up slightly crispy on the outside and soft on the inside! This recipe is great for experts and beginner cooks alike!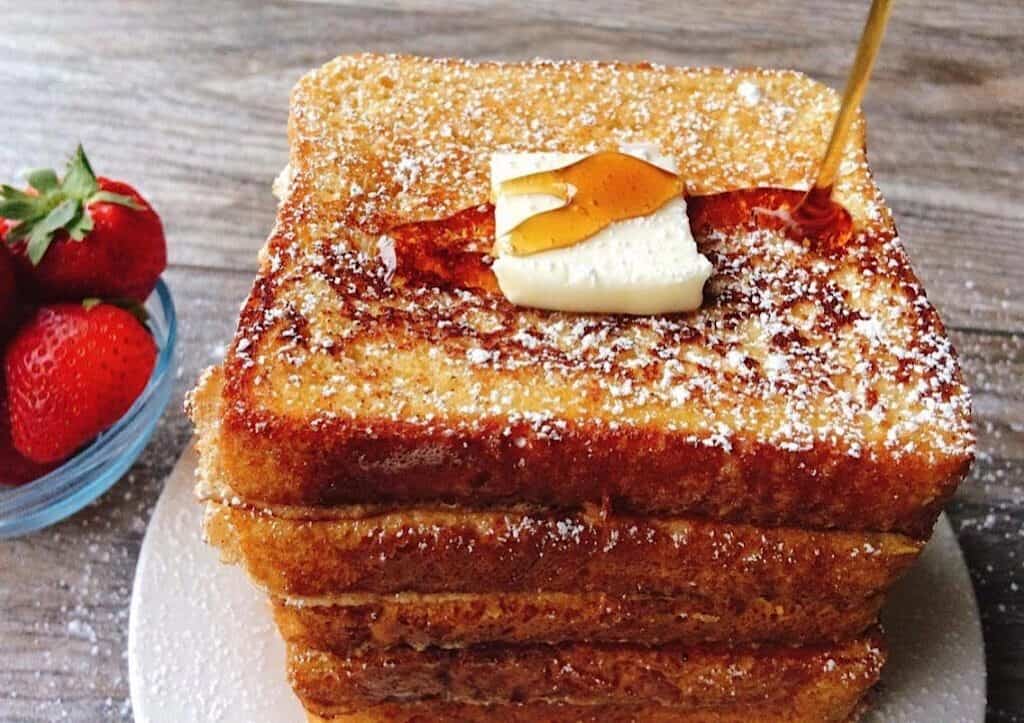 This post may contain affiliate links. When you click on these links, I get a small percentage back at no cost to you! For more information see my disclosure policy.
Below you will find tips, tricks and helpful hints for making this recipe including step by step instructions with pictures. If you would like to go directly to the recipe, scroll down to the recipe card or tap "Jump to Recipe" at the top of the page.
Why This French Toast is Amazing
I'm noticing a trend with my recipes lately. They are heavy on the breakfast like Sweet Cream Pancakes and Crispy Waffles!
I love breakfast because it is usually one of the easiest and yummiest meals to make!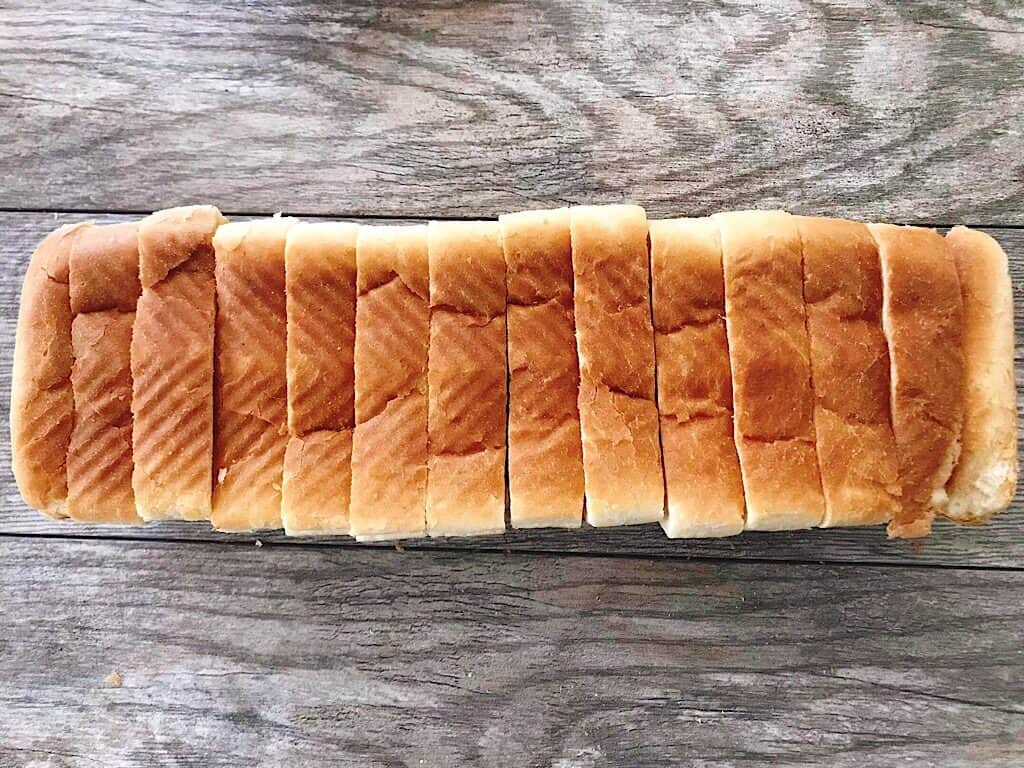 It is also great because you can have breakfast any time of the day. Even for dinner!
We do that a lot at my house, which is why it is important to me to have a variety of recipes to choose from.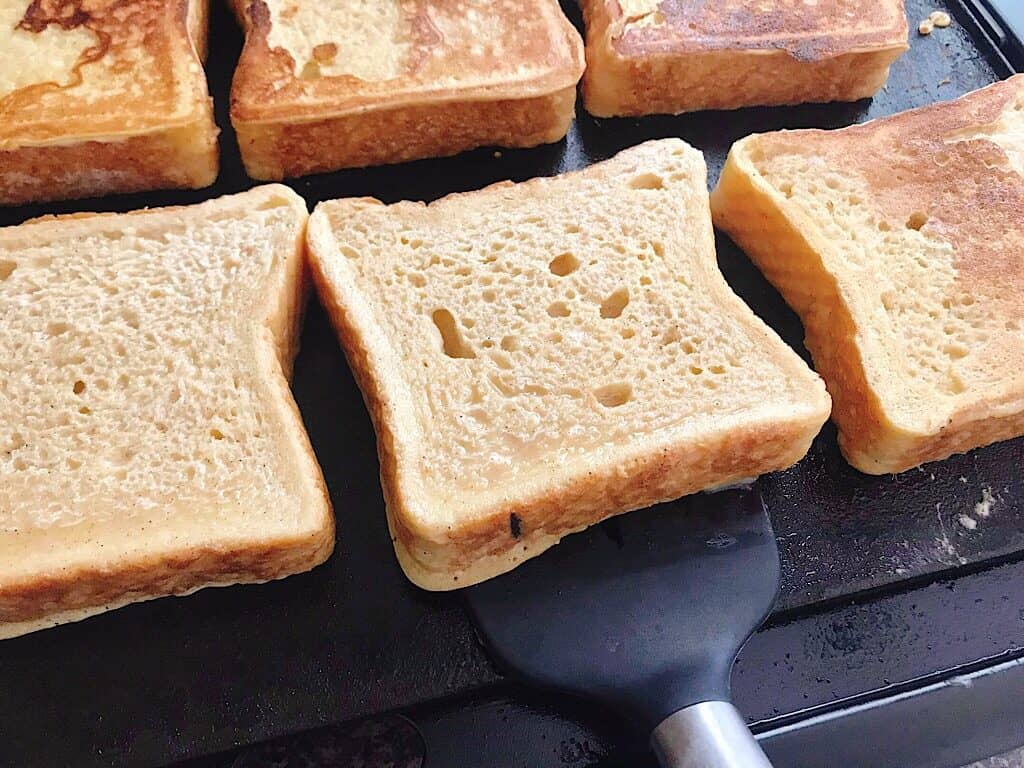 I also tend to create a lot of breakfast recipes because my husband makes breakfast for his crew at the fire station.
He is always asking me to come up with new and classic things he can make.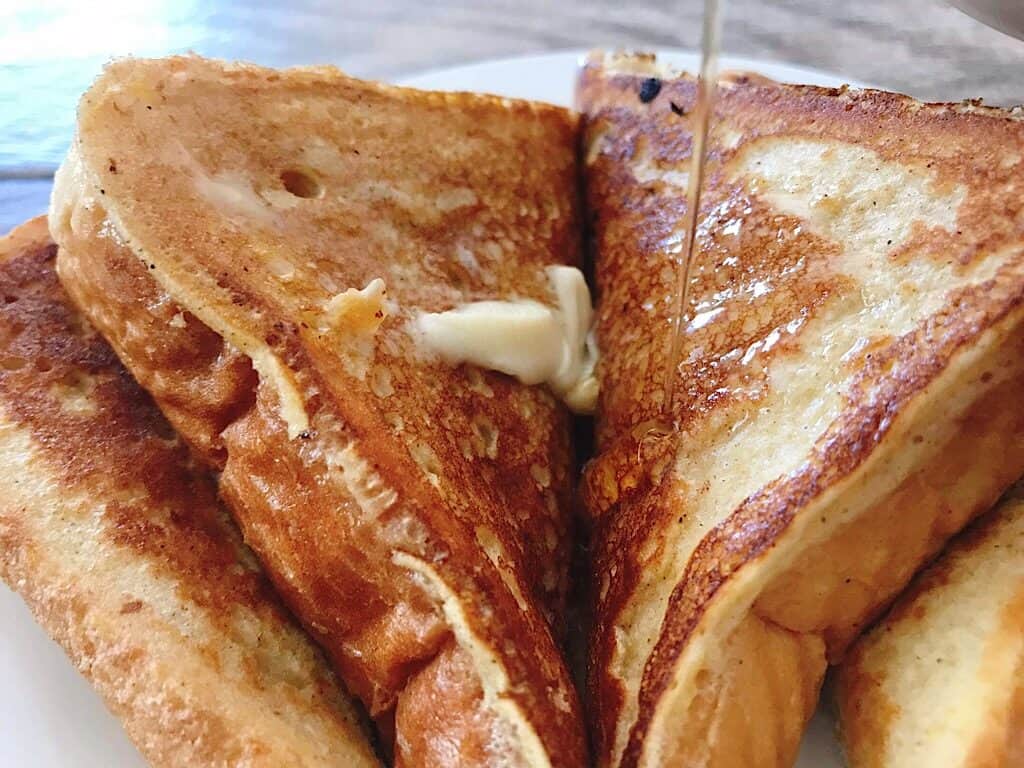 Perfect French Toast
That's where this French Toast recipe comes in. It is pretty much the best French Toast EVER!
This recipe has never failed me and i make it all the time!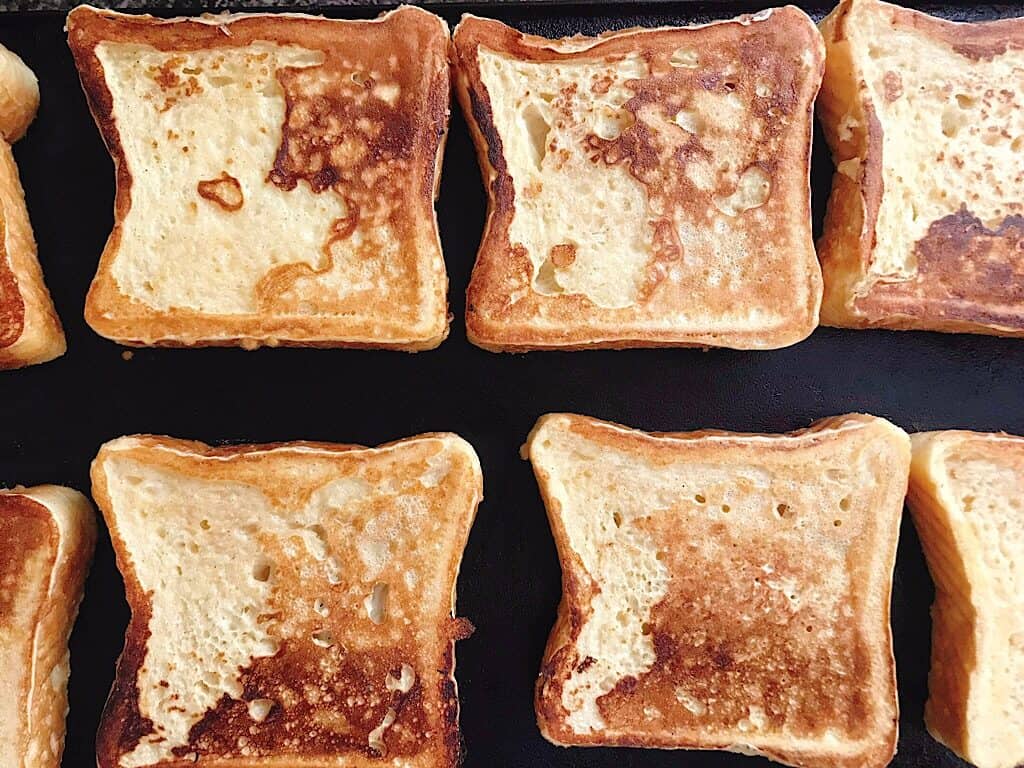 The flour in the batter really helps to make the outside a little crispy while the inside is soft and yummy, but not soggy.
This is our go-to recipe because I know my kids will eat it up! It also tastes like the delicious French Toast you would get at many restaurants like IHOP or Denny's.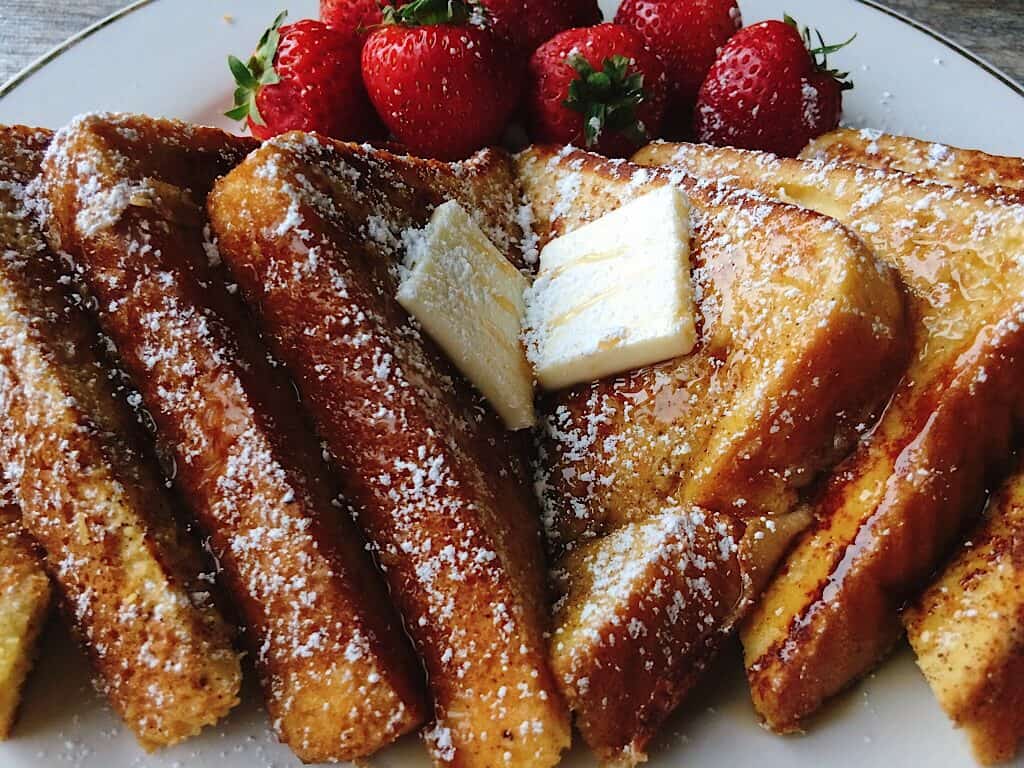 How to Freeze French Toast
When I make this recipe, I usually do a really large batch. I freeze the slices on a baking sheet and then put them in a ziplock freezer bag when frozen.
When it's time to eat, just pop a piece or two in the microwave for 20-30 seconds or use the toaster to heat it up.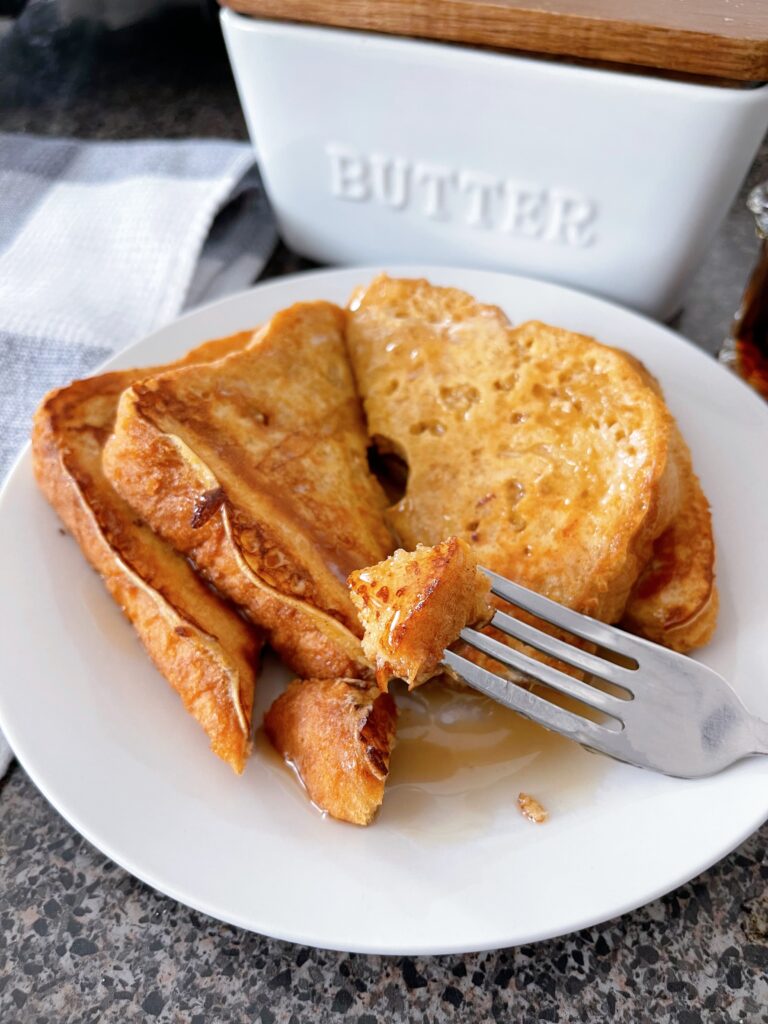 French Toast Topping Ideas
Pure Maple Syrup
Sliced Bananas
Fresh Berries like: Strawberries, Raspberries, and Blueberries
Fresh Fruit
Powdered Sugar
Cinnamon/Sugar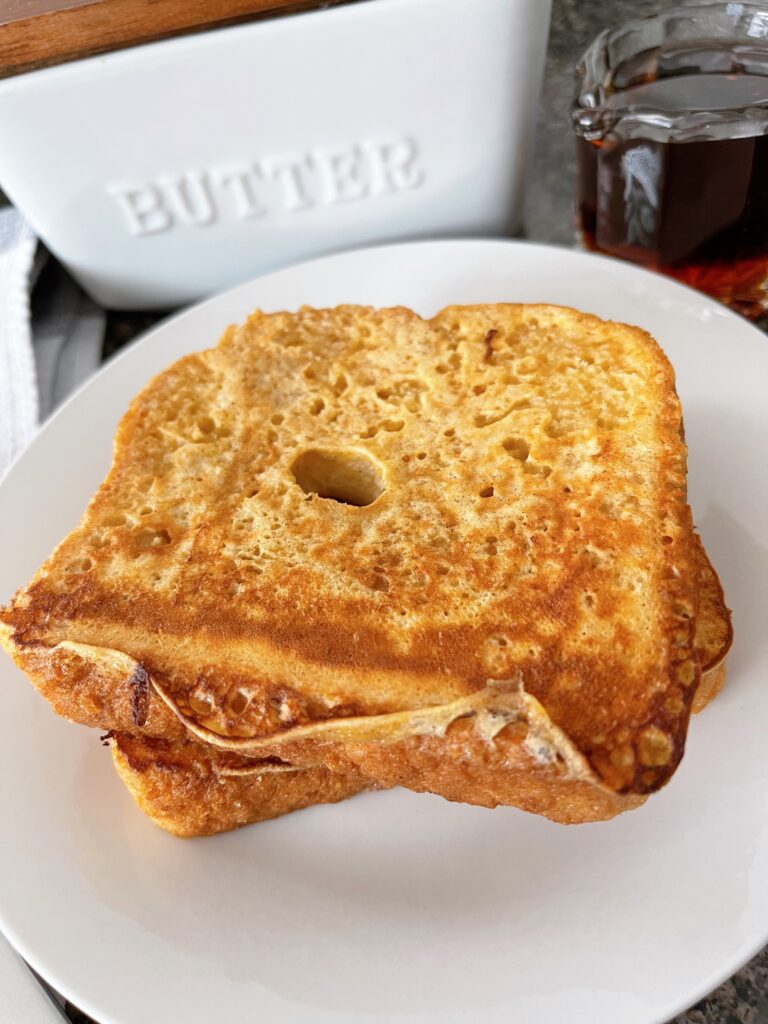 What is French Toast Batter Made Of?
Eggs- For this French Toast batter, I like to use large eggs. The egg is what binds the batter to the bread.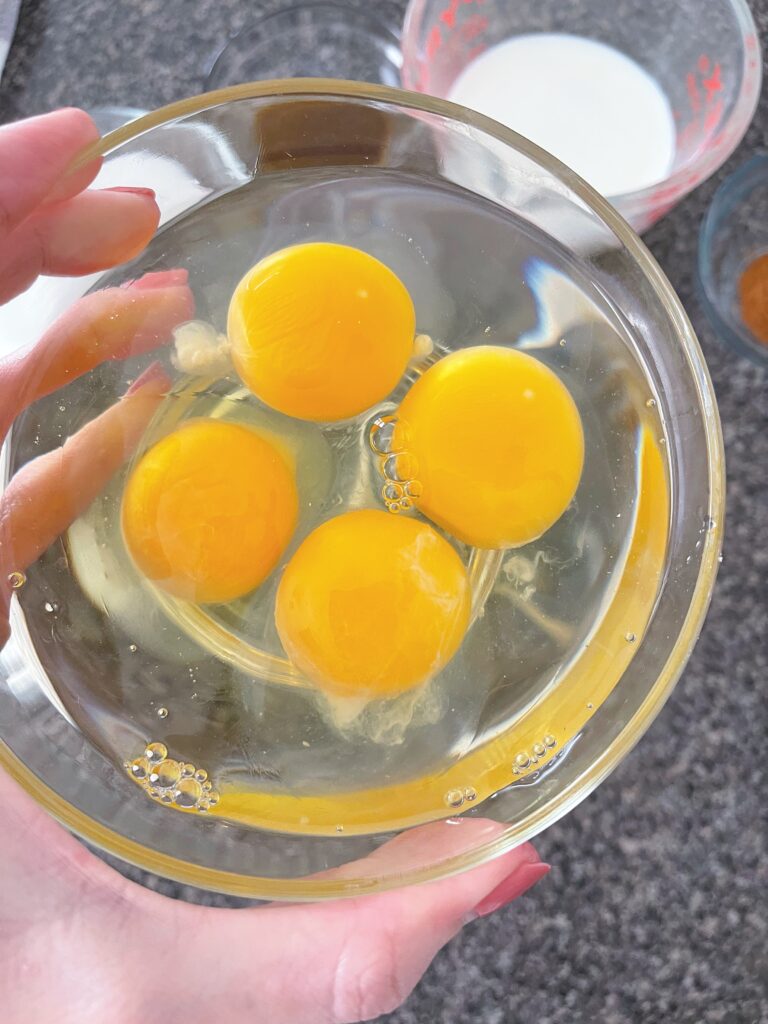 Milk- Milk is what makes the French Toast batter nice and creamy. It also sweetens it a bit. The more milk you add, the creamier your French toast will be. I like to use whole milk.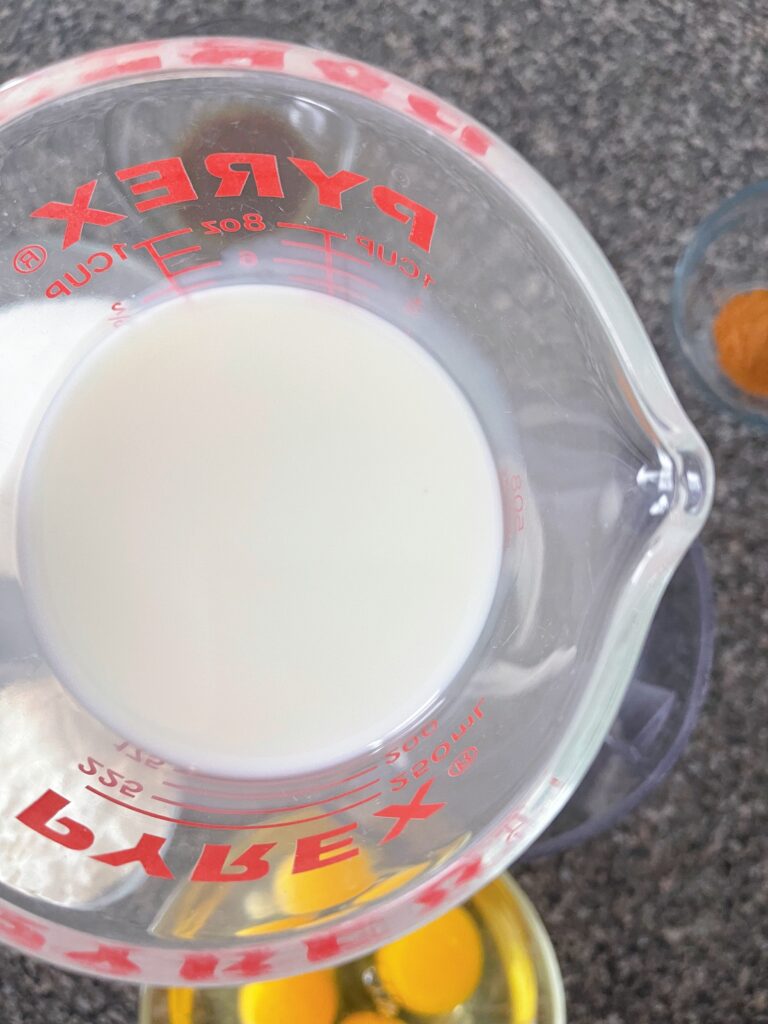 All-Purpose Flour- In this recipe, I used 1/3 cup of all-purpose flour to thicken up our French Toast batter. The more flour you use the thicker your French Toast will be.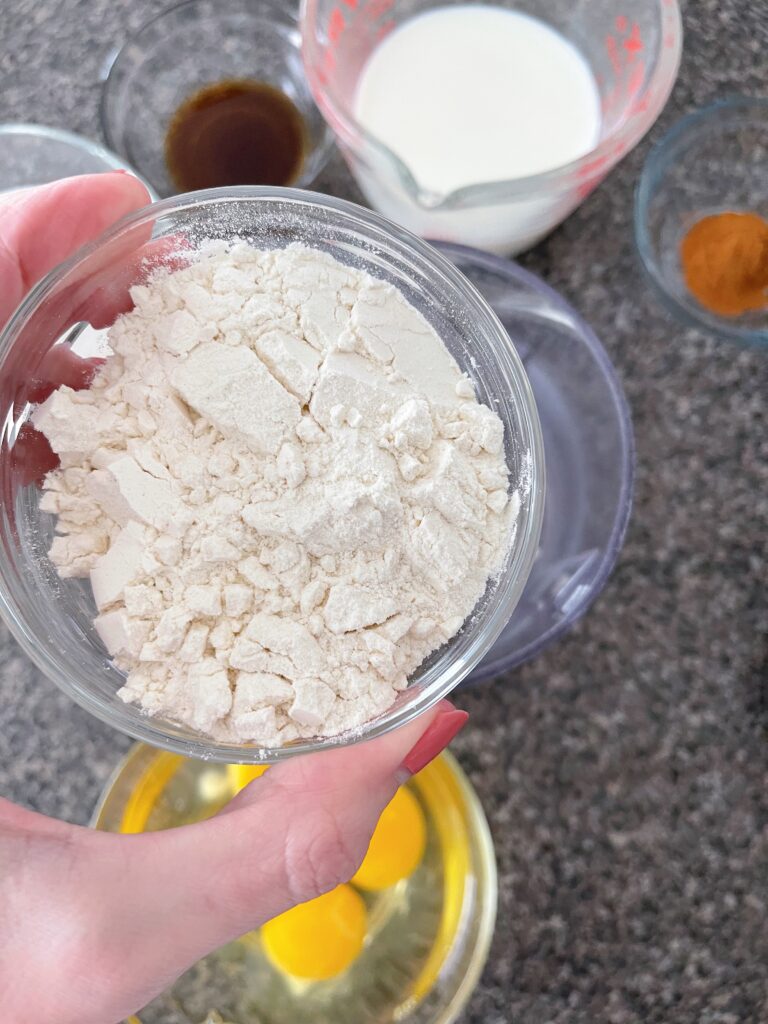 Sugar- Sugar sweetens our French Toast batter and enhances the flavor of the cinnamon. It also acts as a tenderizer, making sure that your bread won't be too tough after cooking it.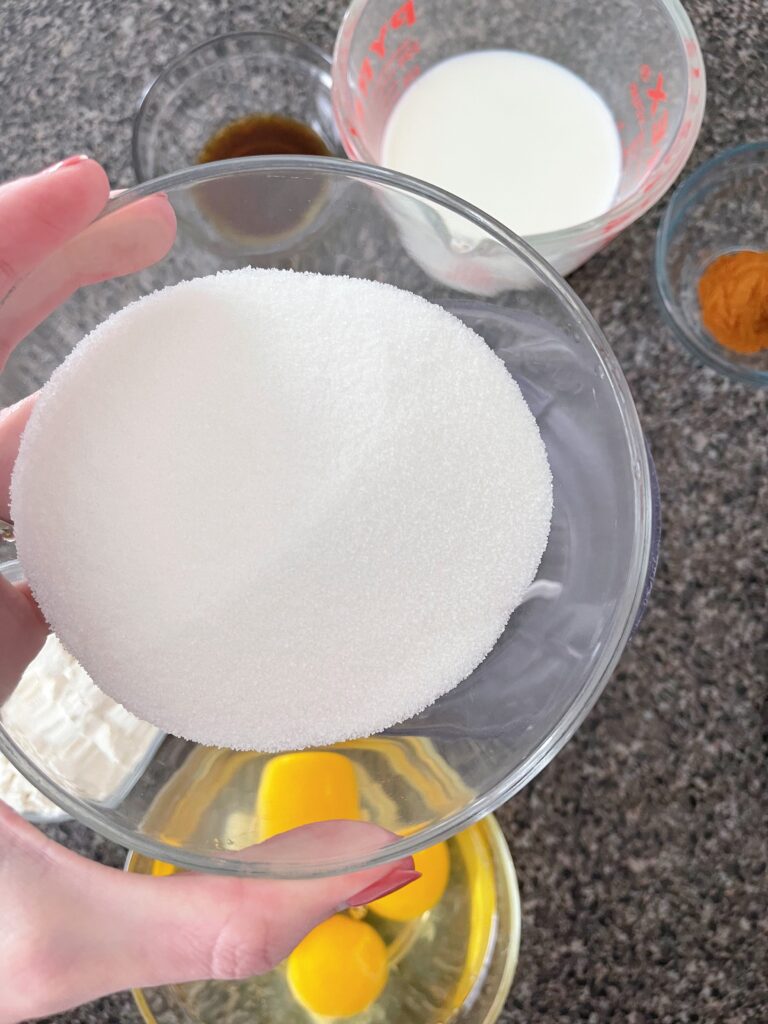 Vanilla Extract- Vanilla extract is what gives our French toast its amazing smell and flavor.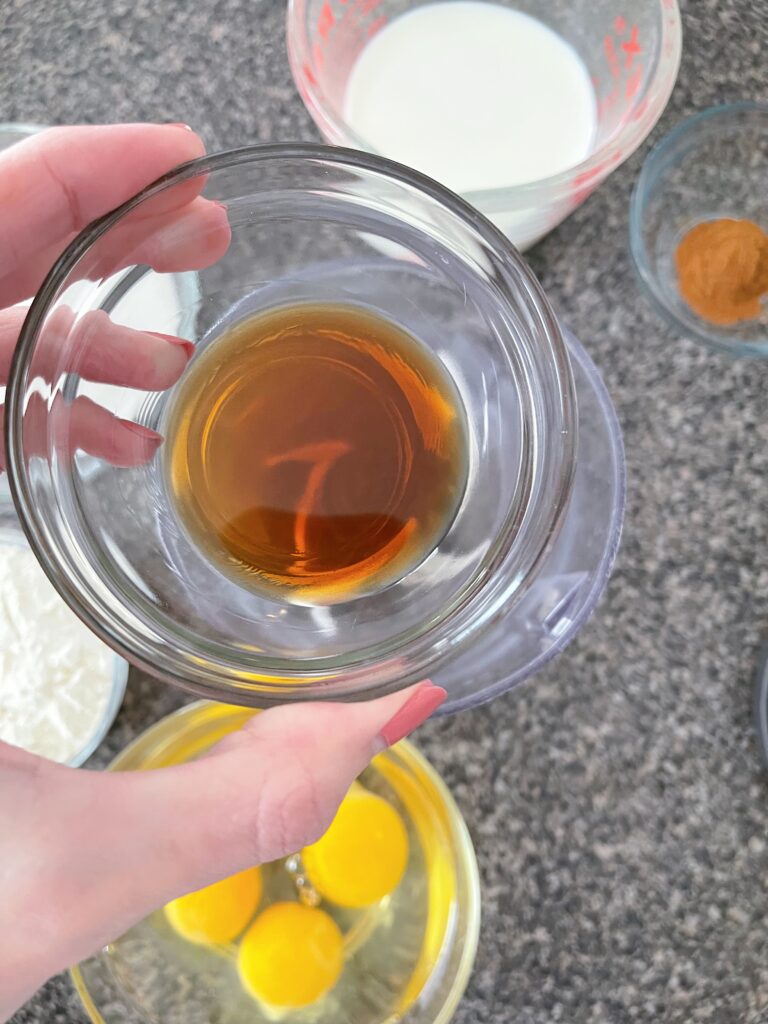 Cinnamon- Cinnamon is what gives our French toast its delicious taste! It is also a really strong spice that will enhance the flavor of your batter.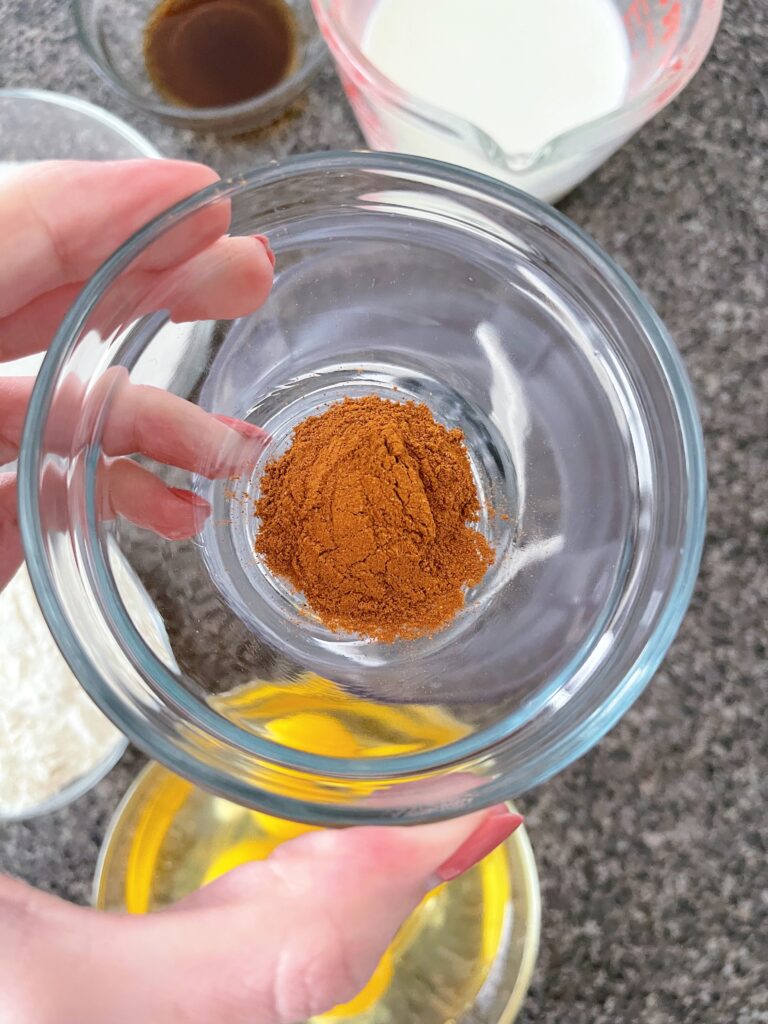 Loaf of Texas Toast- I use Loaf of Texas Toast to make my French Toast because it has a thicker consistency than typical bread, so it can hold up to the batter. To me, it is the best bread for French Toast!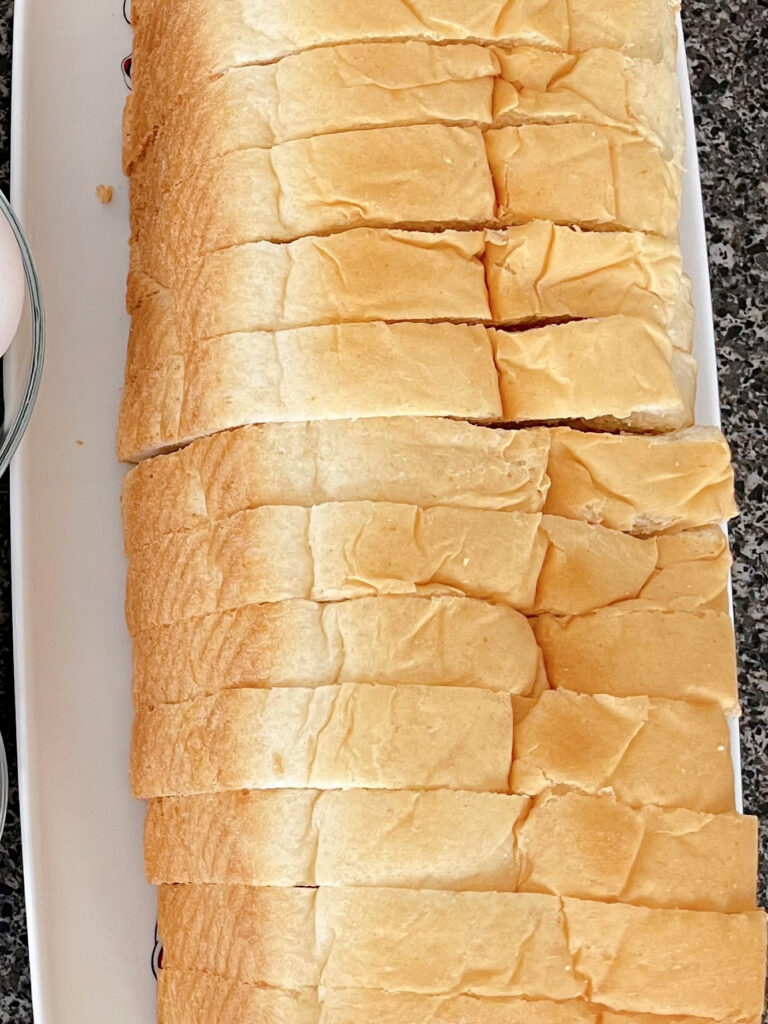 Butter- Use butter to spread on the griddle to keep the French Toast from sticking.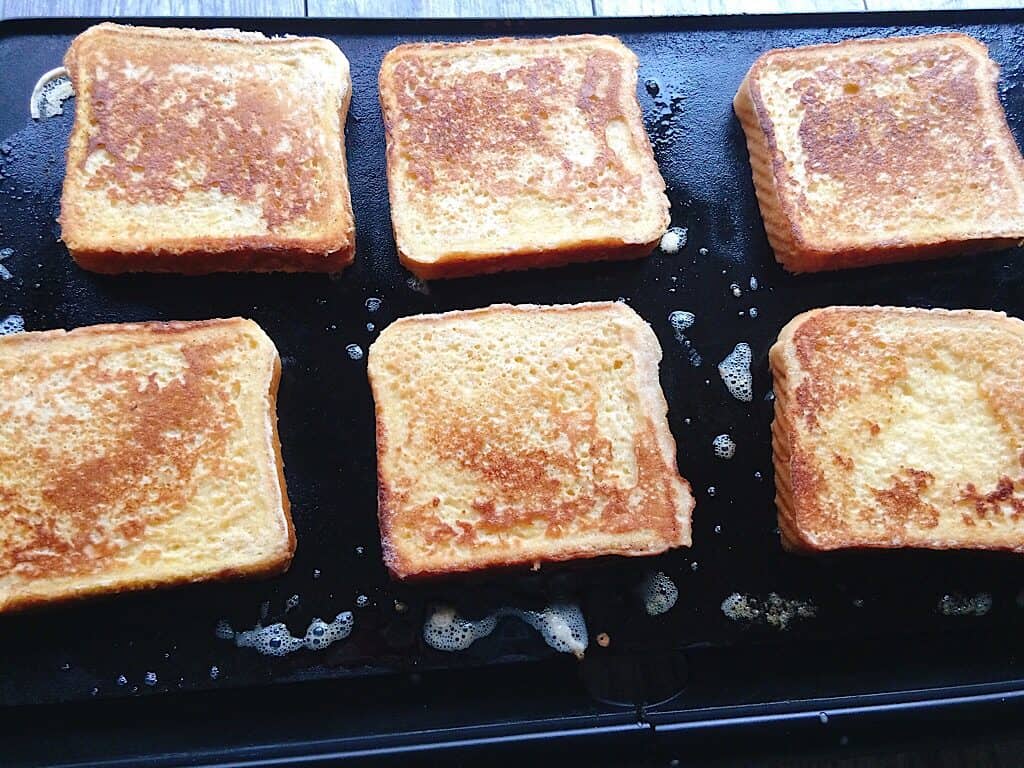 What Kind of Bread is Best for French Toast?
Brioche Bread- Brioche Bread is what most restaurants use to make their French Toast. It's especially good for French Toast because it's so thick and fluffy, which makes each piece of bread absorb more of the batter!

Texas Toast Bread- Thick Slices of Texas toast is another great choice for French Toast because its thick consistency absorbs more of the batter than typical bread.
Challah Bread- Challah is another great bread to use for French Toast!
Hawaiian Bread- Another good choice for French Toast is Hawaiian Bread, because it's so thick and buttery!
French Bread: Crusty French bread is a great option for making French Toast. Make sure it is thick-sliced bread for best results.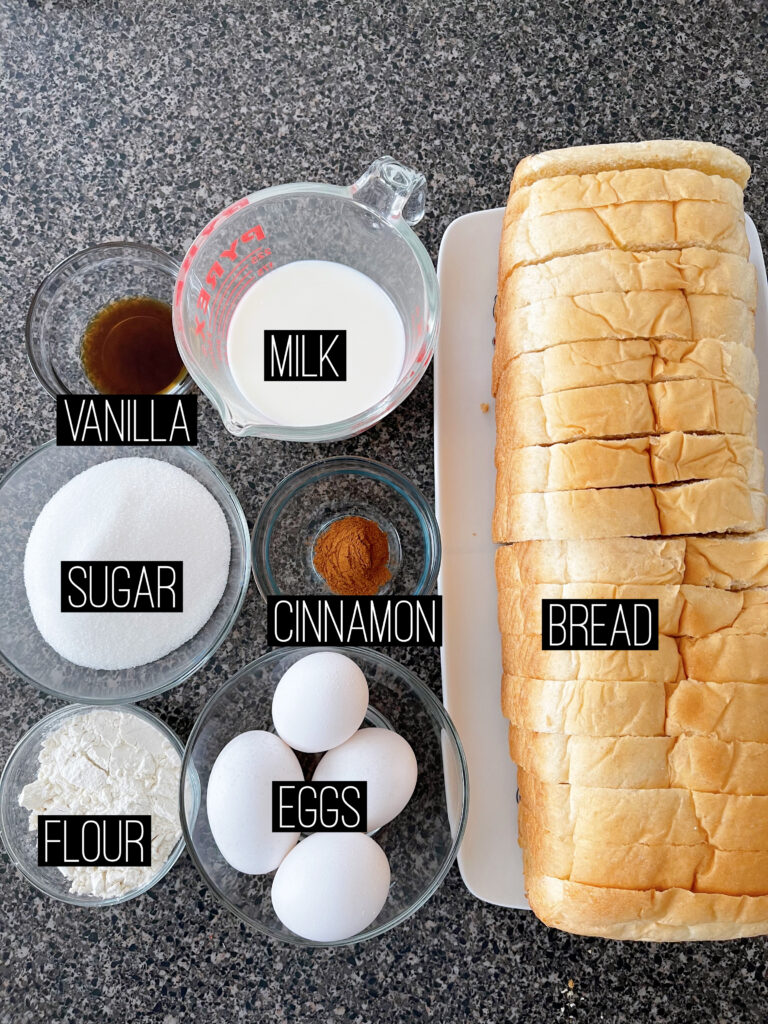 How Long Should French Toast Soak?
For a really creamy French Toast, you should let it soak for at least thirty minutes! But, if you're short on time, a couple of minutes per side should do the trick.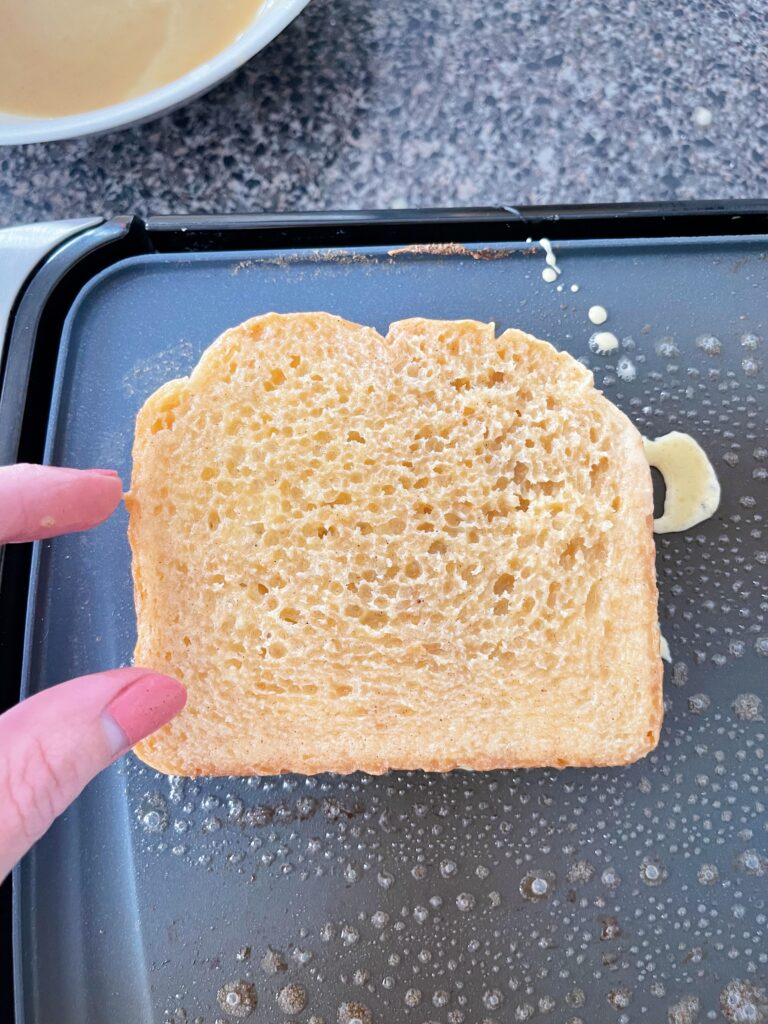 How to Tell When French Toast is Cooked
Check the color of your French Toast. When cooked, it will be golden brown and crispy on the outside! You can also test your French toast by sticking a fork into it and making sure that steam no longer comes out.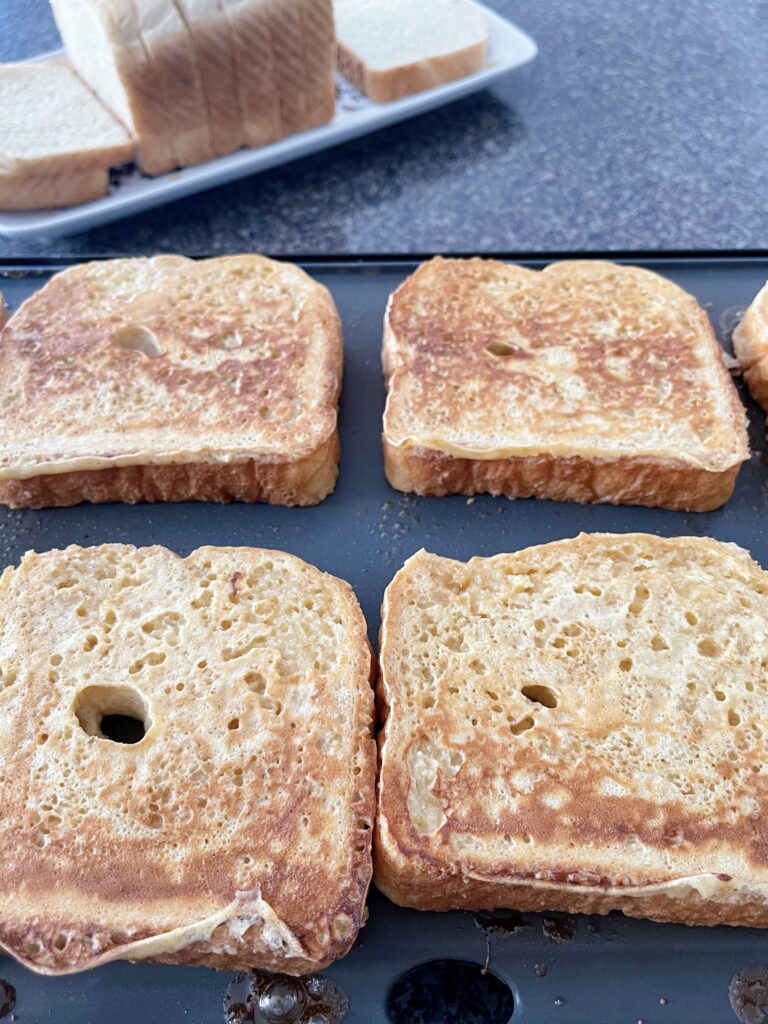 When will my French Toast be ready?
After cooking your French toast, you should let it sit for a minute so the batter can thicken on the inside of the bread . Then serve with syrup! Yummy!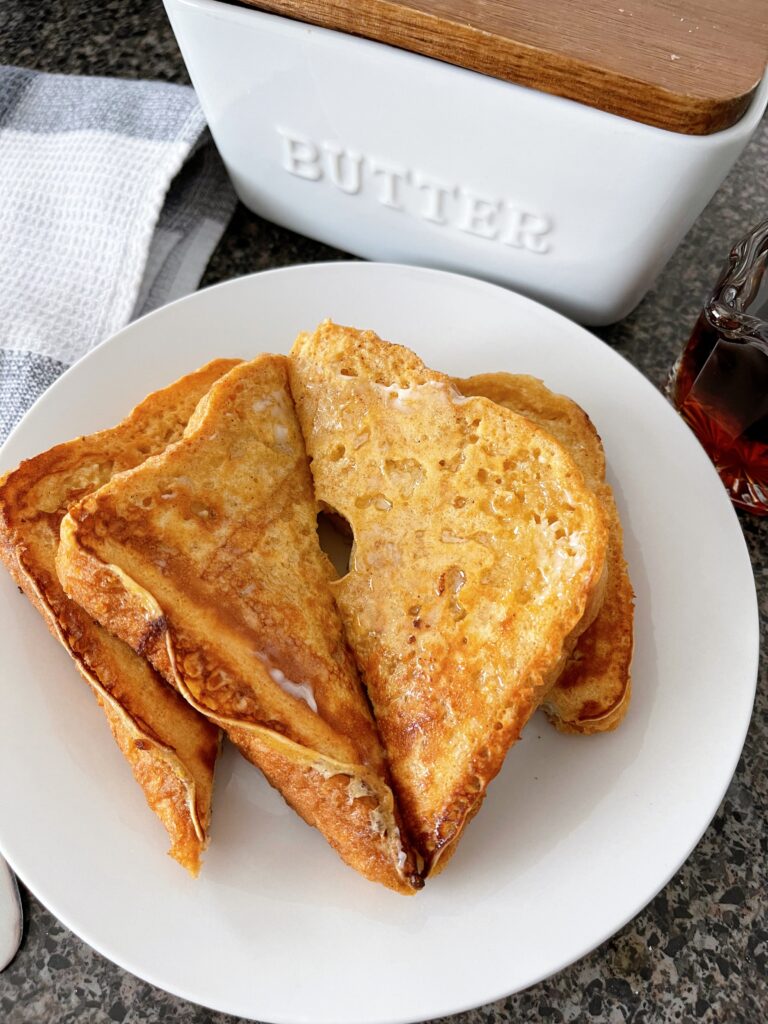 More French Toast Recipes to Try: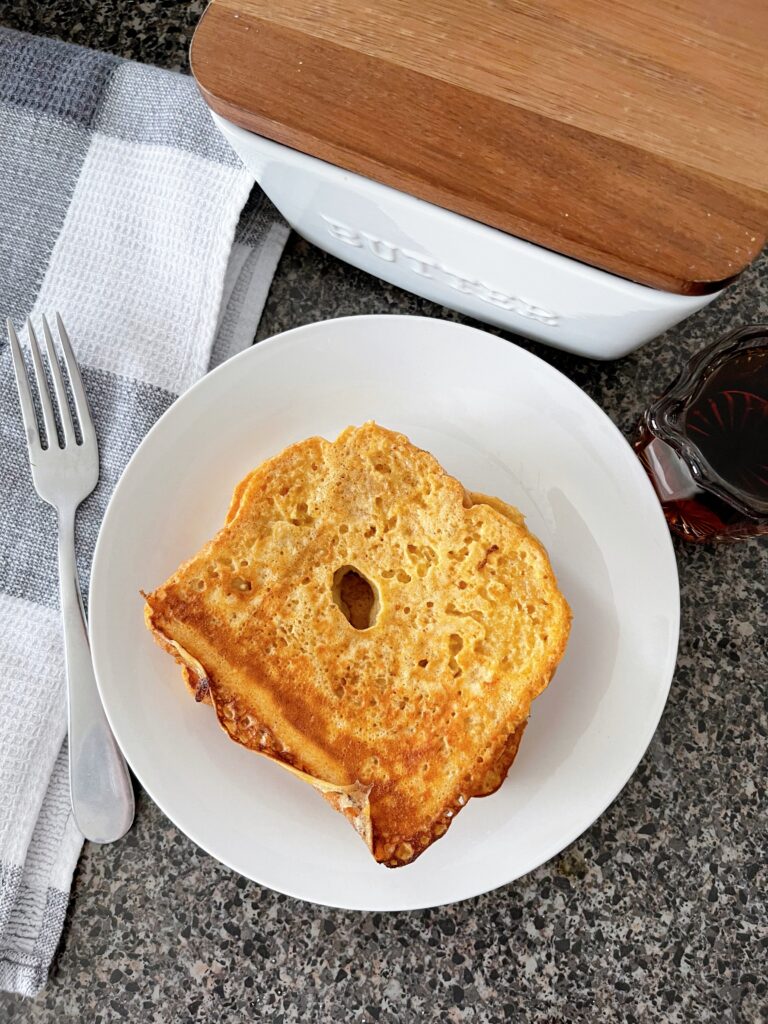 How to Make Perfect French Toast
[1] First, make the batter by adding the eggs, milk, flour, sugar, vanilla, and cinnamon to a bowl and whisk together in a small bowl. I like to add these ingredients to my blender to mix.
[2] Next, pour the egg mixture in a shallow dish, such as a pie pan.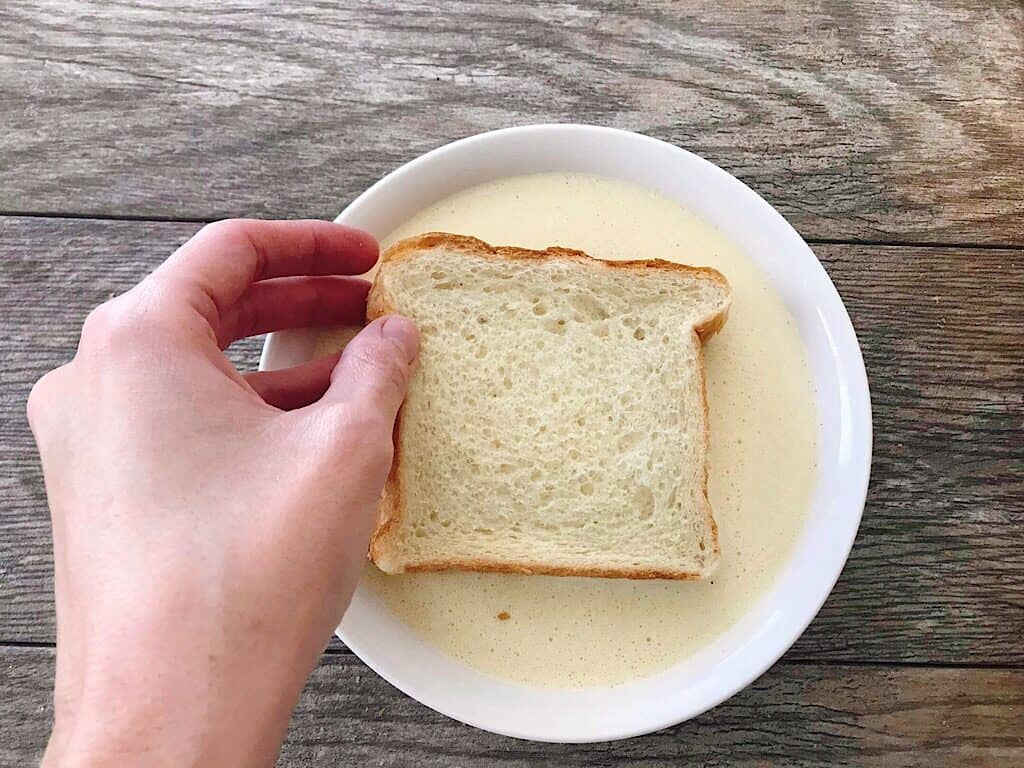 [3] Heat a griddle or large skillet to medium heat, around 350 degrees.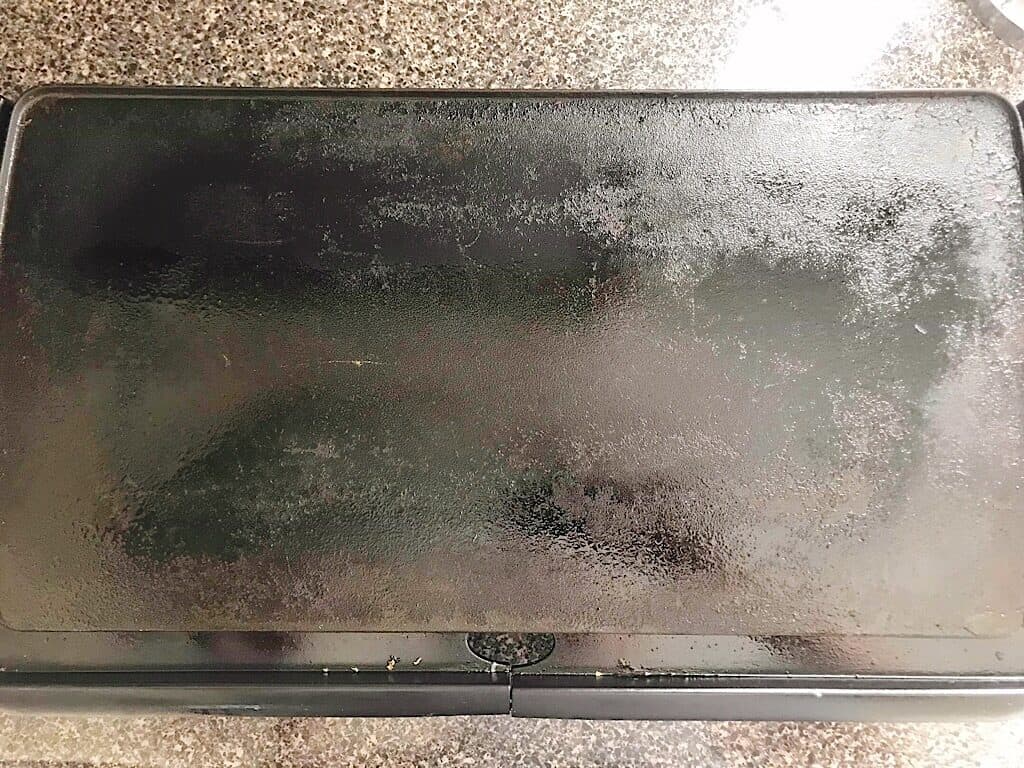 [4] Add a slice of Texas Toast to the pie plate and allow it to soak for 10-15 seconds on each side of the bread.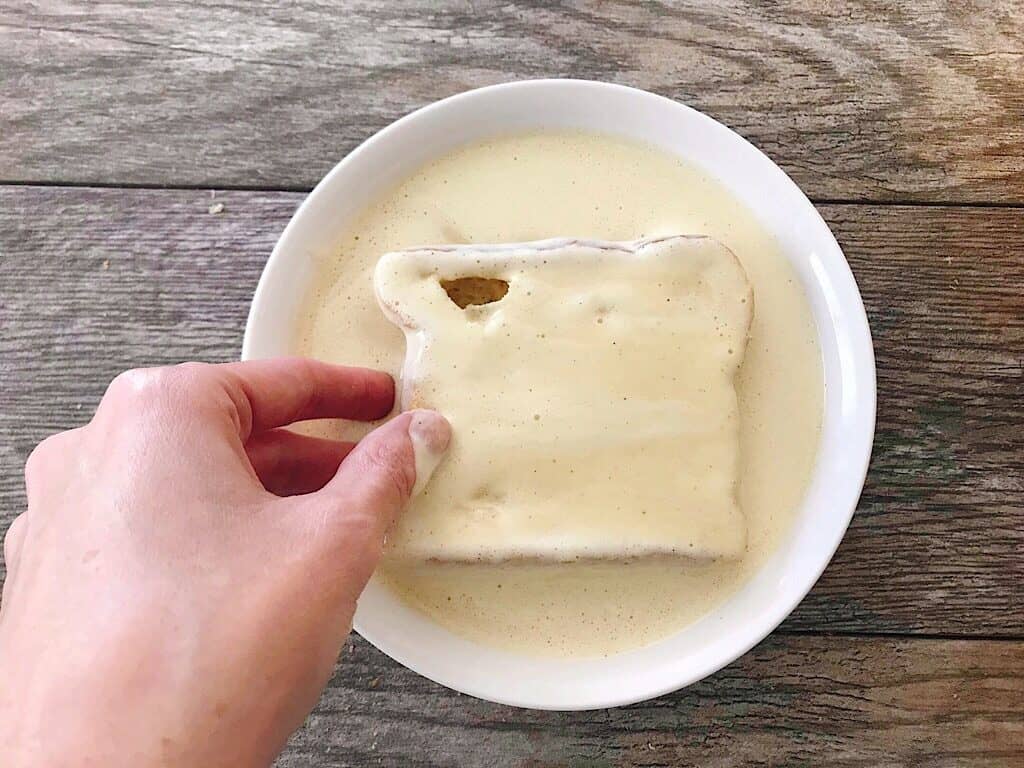 [5] Place the bread slice on the hot griddle and cook for 2-3 minutes on each side until it is golden brown.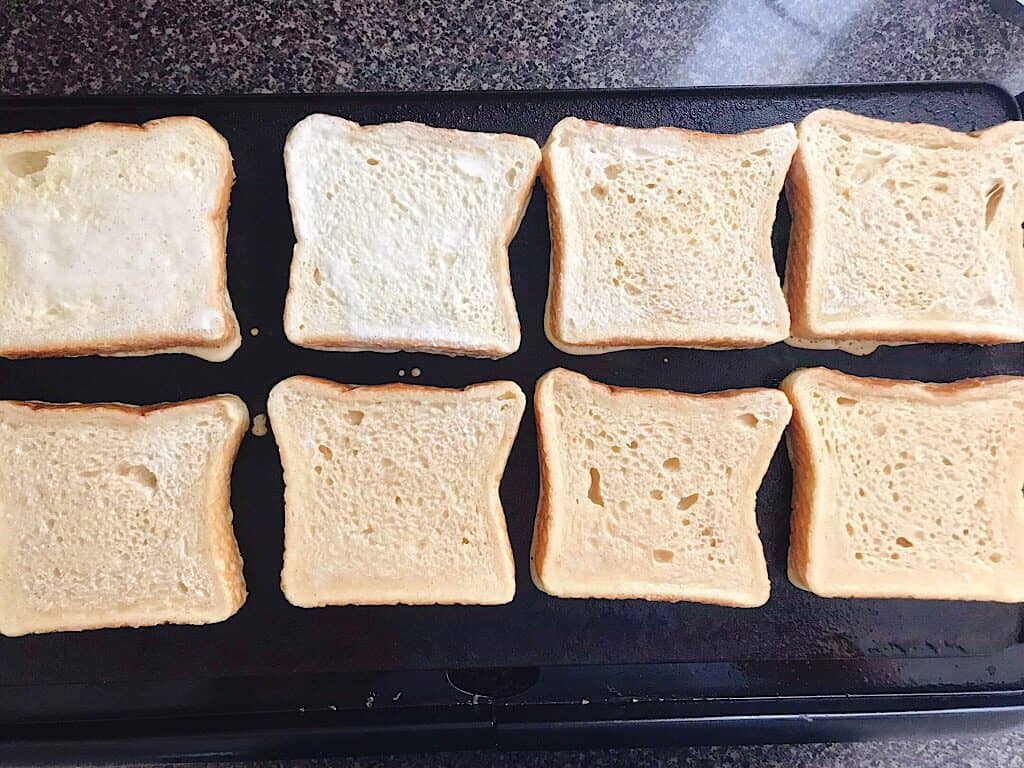 [6] Remove the french toast from the griddle and serve immediately, store on a wire rack, or keep warm in the oven until ready to serve.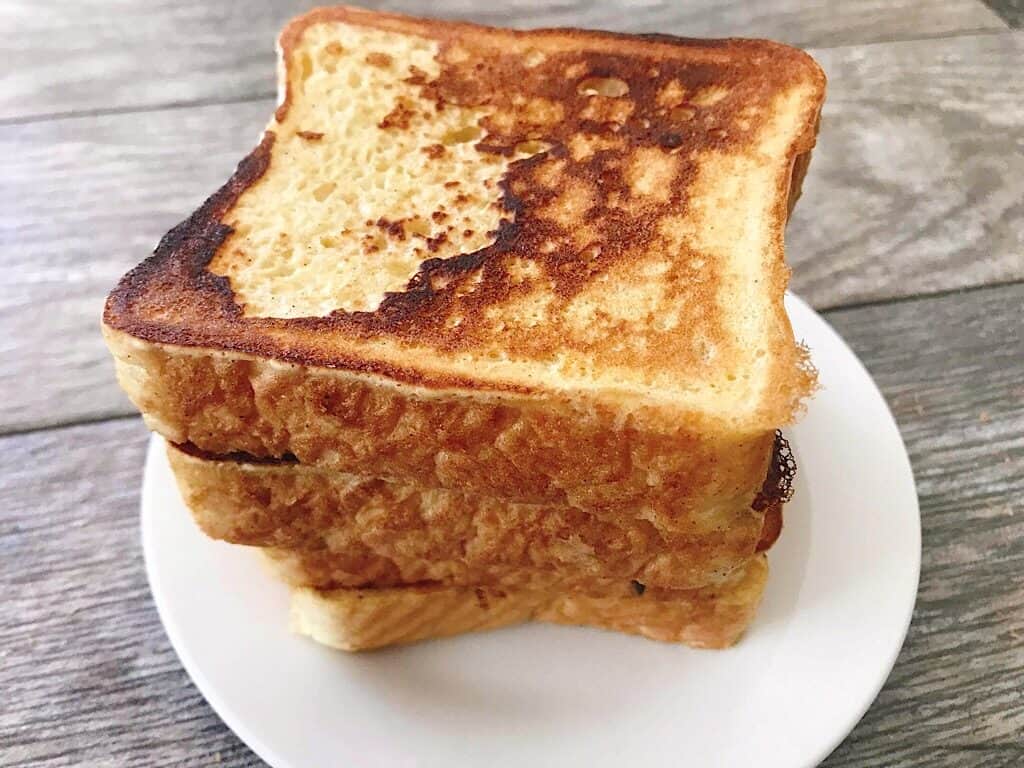 Helpful Kitchen Tools
Make sure you Pin this recipe for Amazingly Perfect French Toast so you'll have it when you need it!
More Breakfast Recipes To Try:
Watch the video here: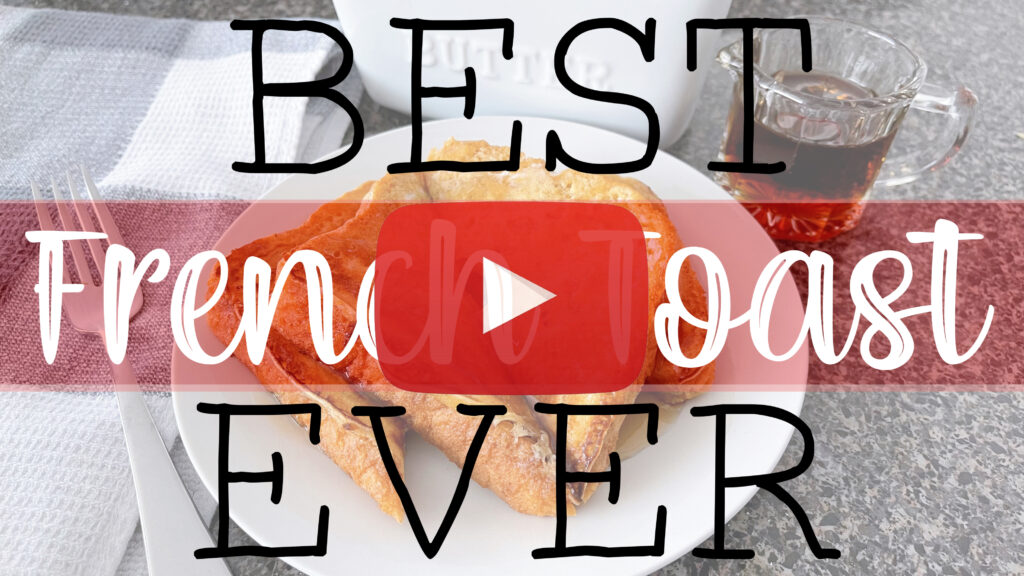 Pin for later: