Are you looking for an easy, but decadent breakfast or brunch recipe? This Chocolate Peanut Butter Banana French Toast Bake is for you! This easy brioche French Toast casserole is based on a dish available at PCH Grill at Disney's Paradise Pier Hotel and is just like eating dessert for breakfast!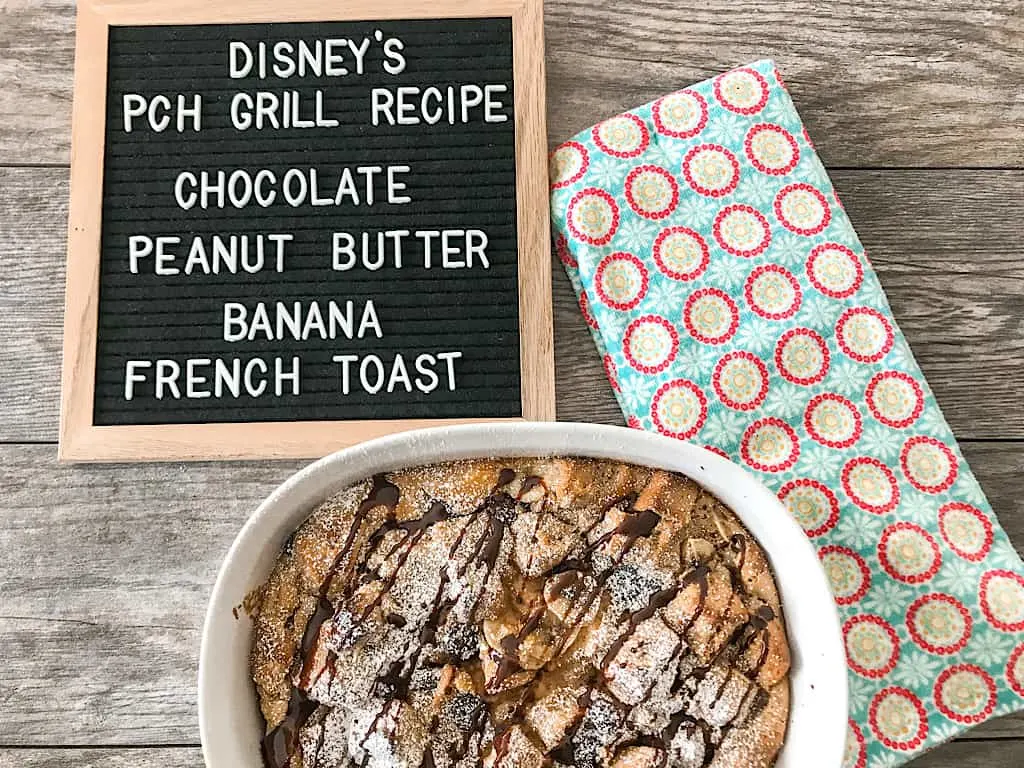 This post may contain affiliate links. When you click on these links, I get a small percentage back at no cost to you! For more information see my disclosure policy.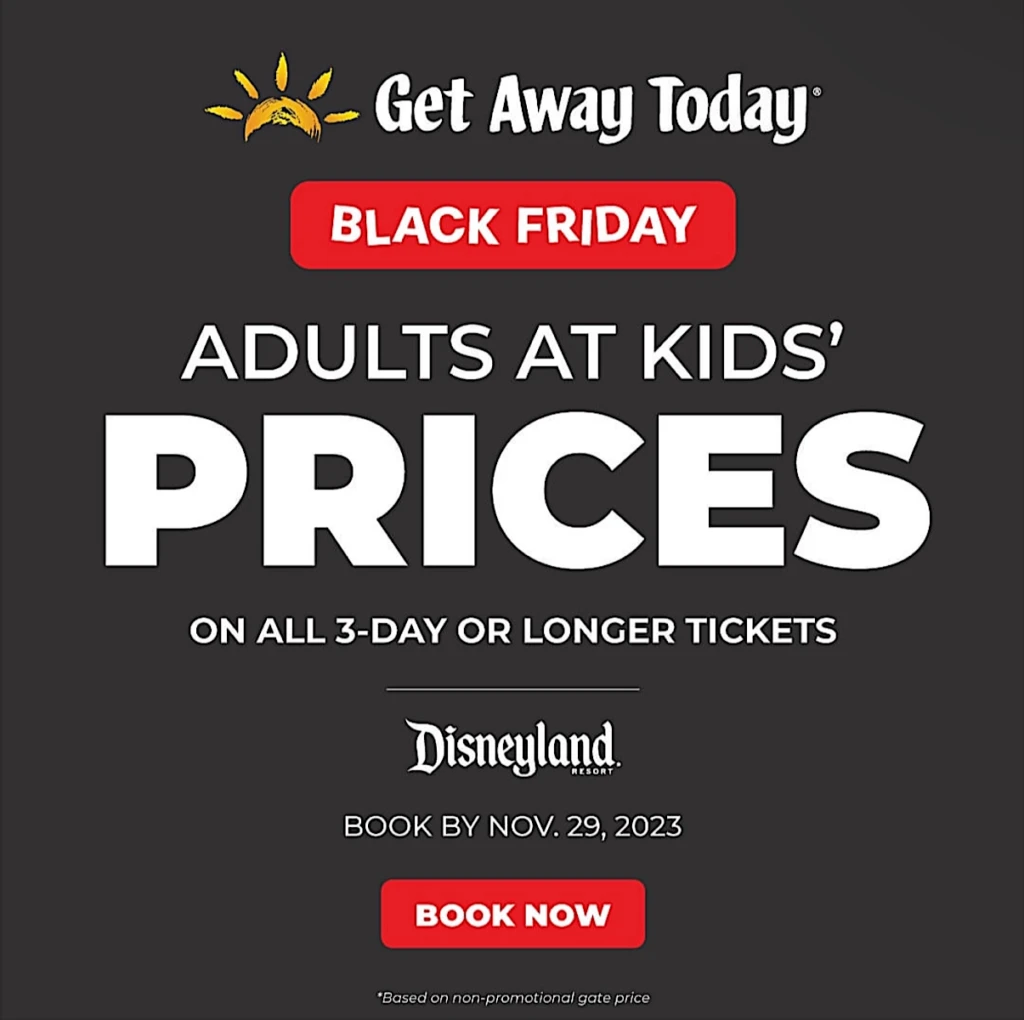 Get Adult tickets at Kid's Prices with this Disneyland Black Friday Ticket Sale from Get Away Today! Tickets are valid through December 31, 2025. Combine this deal with a hotel stay and use code: Clubhouse10 to save even more!
Below you will find tips, tricks and helpful hints for making this recipe including step by step instructions with pictures. If you would like to go directly to the recipe, scroll down to the recipe card or tap "Jump to Recipe" at the top of the page.
Why I Love This Recipe
Whenever I am missing Disney (which is whenever I am not at the parks) I like to figure out ways to bring some Disney magic home. And what better way to do that, than to make Disney recipes at home?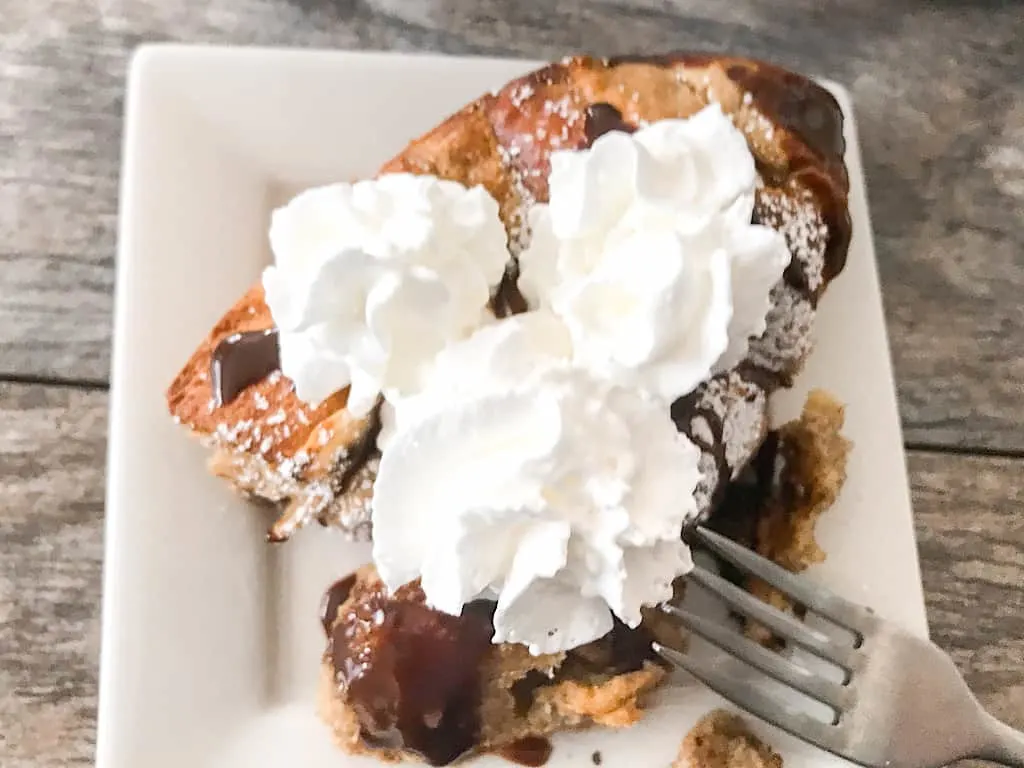 This Chocolate Peanut Butter Banana French Toast is a dish that is available when you experience Donald Duck's Seaside Breakfast or Brunch at Disney's PCH Grill.
Find out where to get Breakfast at Disneyland here!
I think the combination of chocolate, peanut butter, and banana is one of the greatest flavor medley's ever! This baked French Toast Casserole Bake highlights that.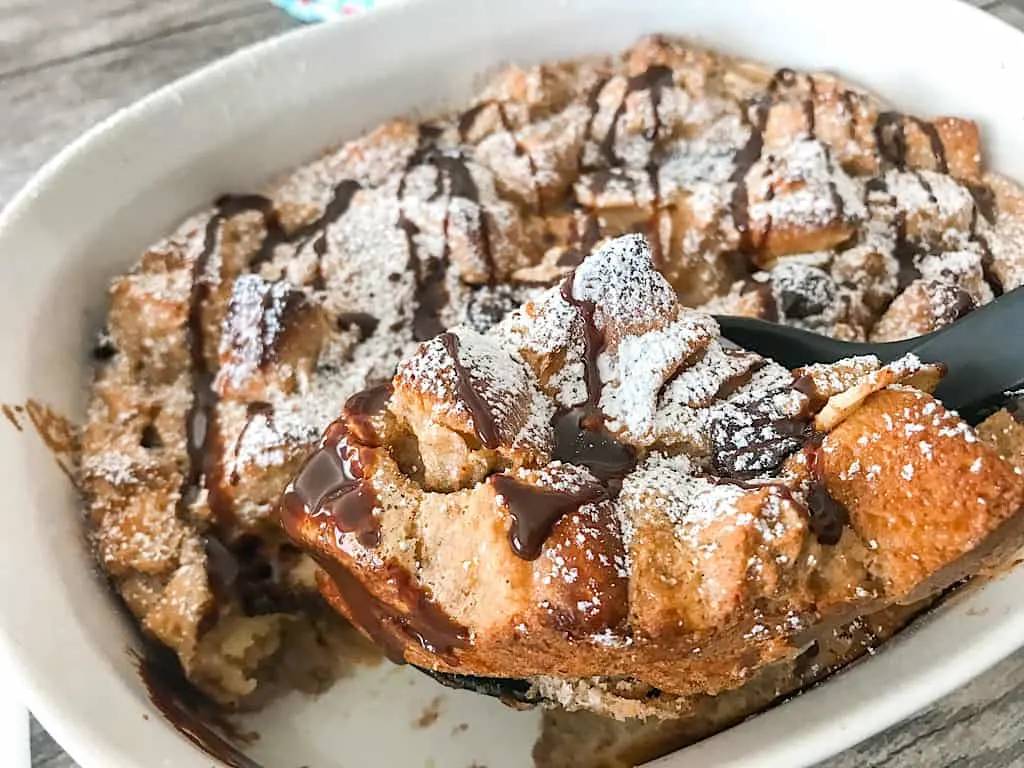 This breakfast bake is also one of the easiest things to put together as well. Instead of coating individual pieces of bread with batter and frying them, you put all of the bread together and bake!
This easy French Toast bake is very rich and decadent and is the perfect breakfast for weekend mornings and special occasions.
Try my most popular French Toast recipe here!
How is a French Toast Bake Different than French Toast?
A French Toast Bake utilizes the same ingredients as French Toast, it is just prepared a little differently. When making French Toast, you make batter, dip bread slices of in the batter, and grill the bread on both sides.
When making a French Toast Bake, you will break the bread into small pieces, place in a baking dish, and pour the French Toast batter over the top. Then you will bake it in the oven.
The benefit of making a French Toast Bake is that it can be easily made for a large family or crowd and at one time, and you can even make it ahead of time.
Can You Make This Brioche French Toast Casserole Recipe the Night Before
Yes! This is a great overnight French Toast recipe! I like to make this the night before Easter, Christmas or Mother's Day, then pop it in the oven when I wake up the next morning. It makes those mornings stress-free!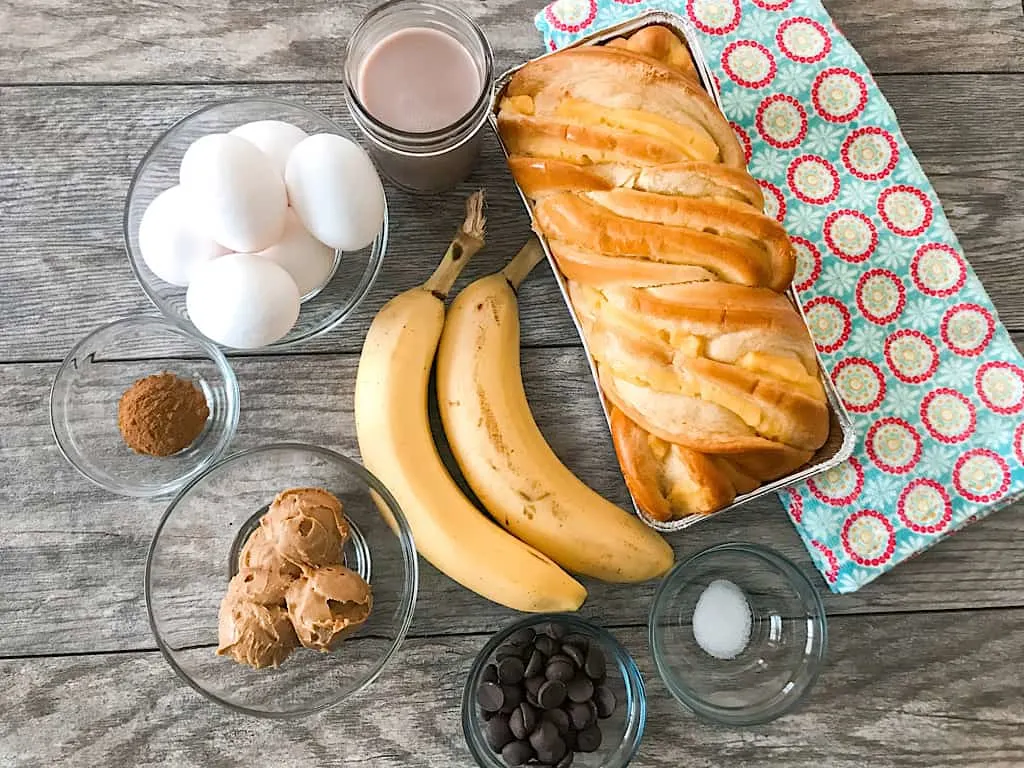 When to Serve This Easy Breakfast Casserole
Christmas Morning
Sunday Mornings
Easter Morning
Mother's Day Brunch
Any Time of Year
Ingredients
*Ingredient amounts are located in the recipe card at the end of this post.
Challah Bread or Brioche Bread- For this recipe you will want to use a strong bread like Challah or buttery Brioche bread. You could also use French Bread, but I find that it gets a little soggy.
Ripe Bananas- You will want to use ripe bananas for this recipe. If your bananas are not ripe enough, they will not be as sweet and you may need to add a little extra sugar to the recipe.
Chocolate Chips- I like to use milk chocolate chips, but you could also use semi-sweet or dark chocolate chips.
Creamy Peanut Butter- I like to use creamy peanut butter for this recipe, but you could also use crunchy peanut butter if that is what you have on hand.
Eggs- You will need eggs for the French Toast batter used in this French Toast Bake.
Chocolate Milk- I like to use chocolate milk for this recipe, but you could also use regular whole milk or heavy cream.
Cinnamon- Just a little bit of cinnamon enhances the flavor of this dish. And is it really French Toast without cinnamon?
Salt- You will need just a pinch of salt for the French Toast batter.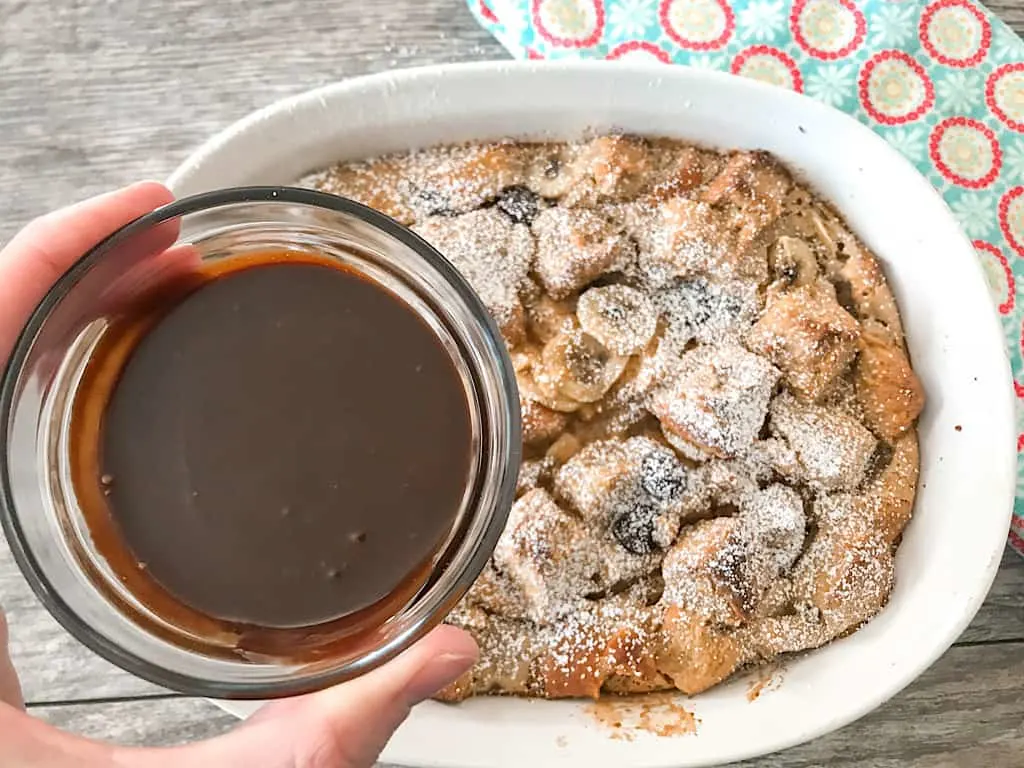 Optional Toppings
Hot Fudge
Chocolate Ganache
Powdered Sugar
Maple Syrup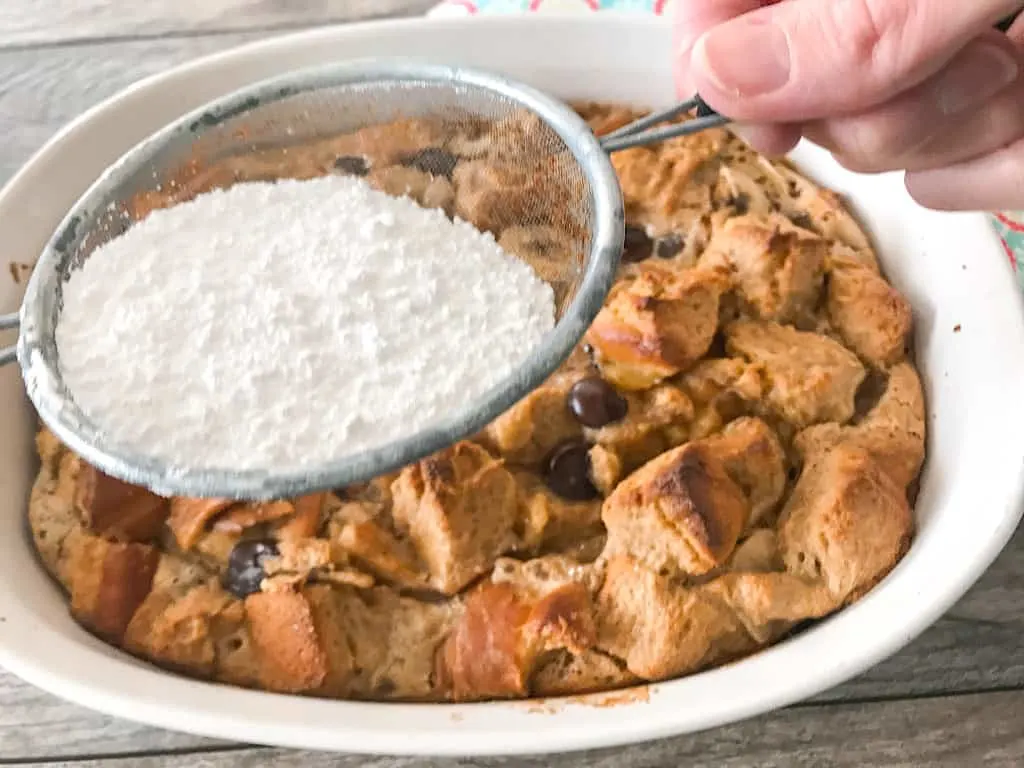 Helpful Kitchen Tools
Directions
[1] Cut the bread into 1-inch cubes and put into a large mixing bowl.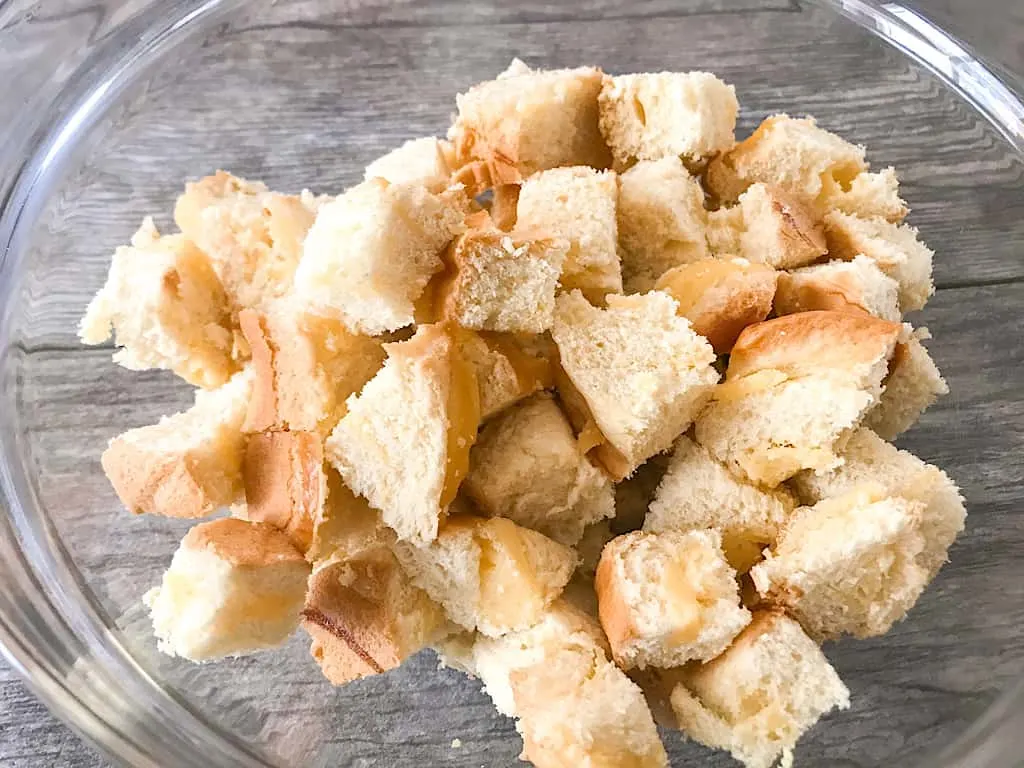 [2] Slice the bananas and add them to the large bowl with the bread cubes.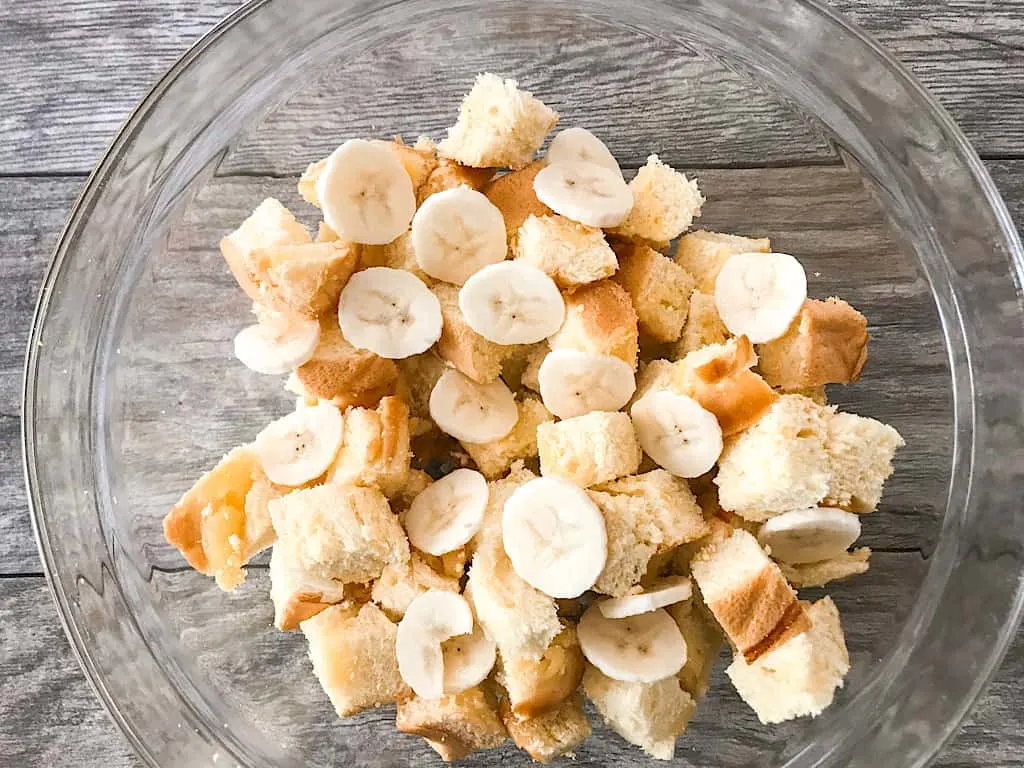 [3] Sprinkle the chocolate chips over the cubed bread and bananas and stir to mix.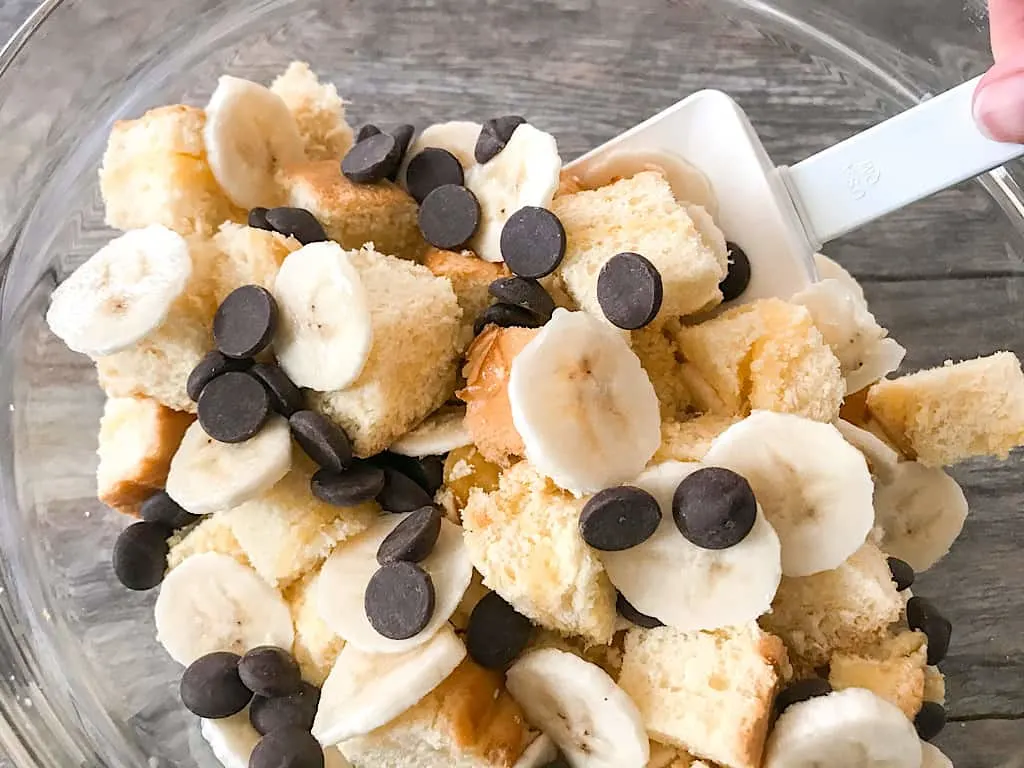 [4] In a blender, mix together the peanut butter, eggs, chocolate milk, cinnamon, and salt until fully combined.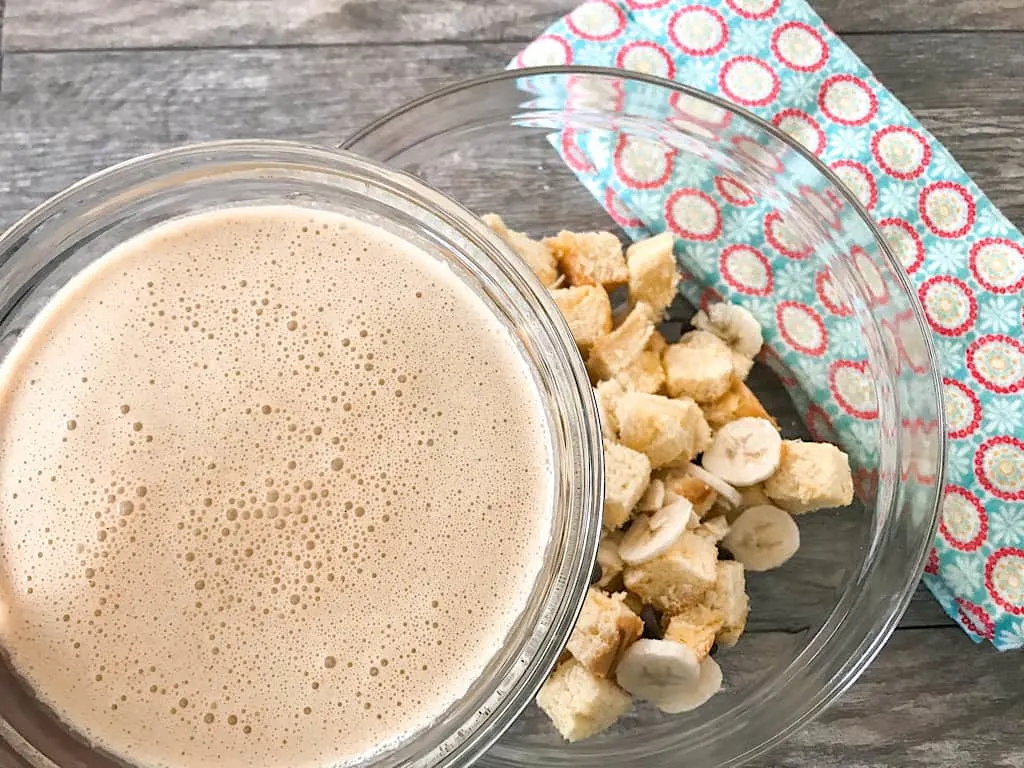 [5] Pour the peanut butter custard mixture over the bread and banana mixture and stir softly until the bread has absorbed the liquid.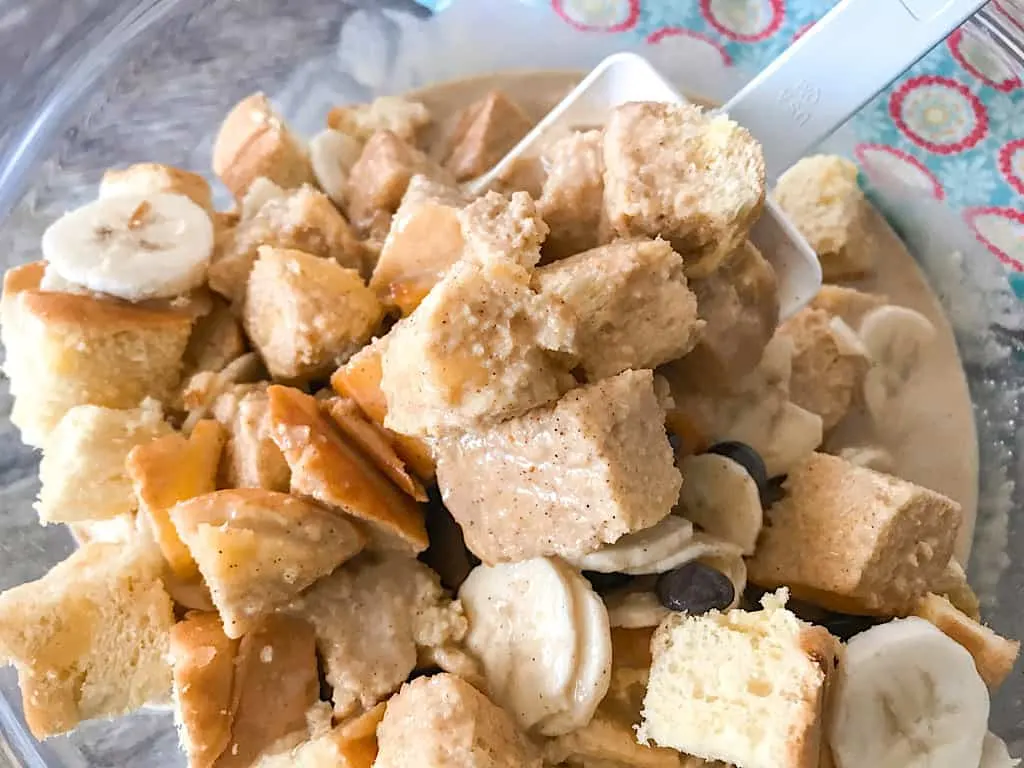 [6] Spray an 9×13 casserole dish with nonstick cooking spray and pour in the French Toast mixture.
[7] Bake at 350 degrees for 34-40 minutes.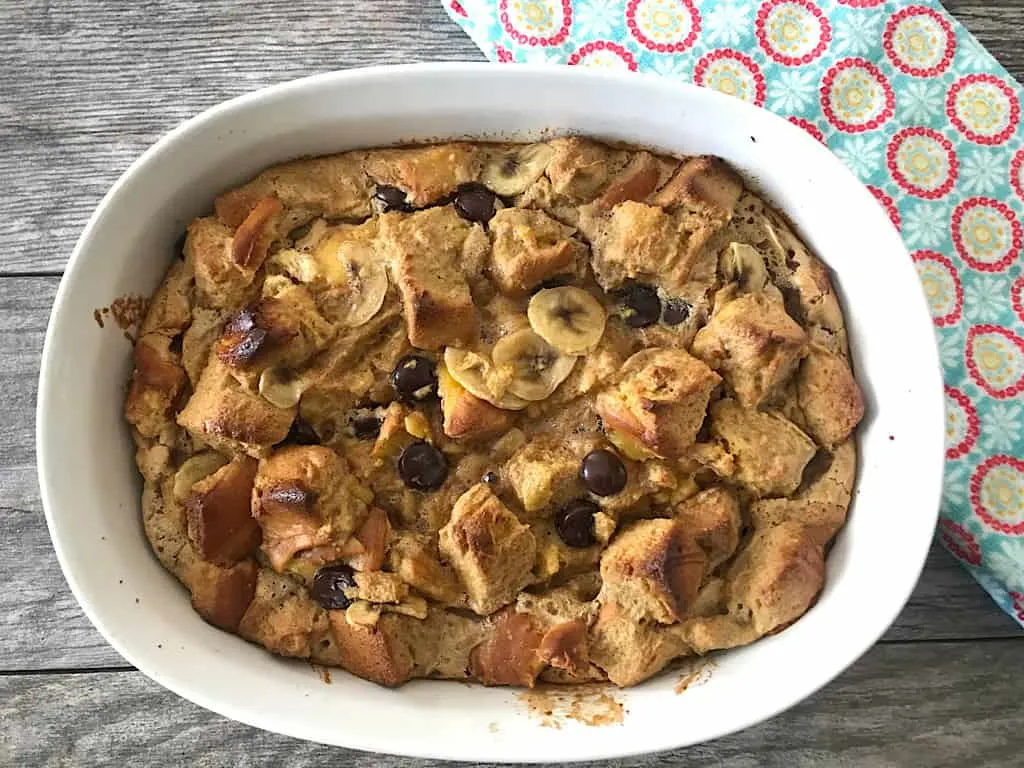 [8] Remove from the oven and serve with your favorite toppings (We used hot fudge, powdered sugar, and whipped cream)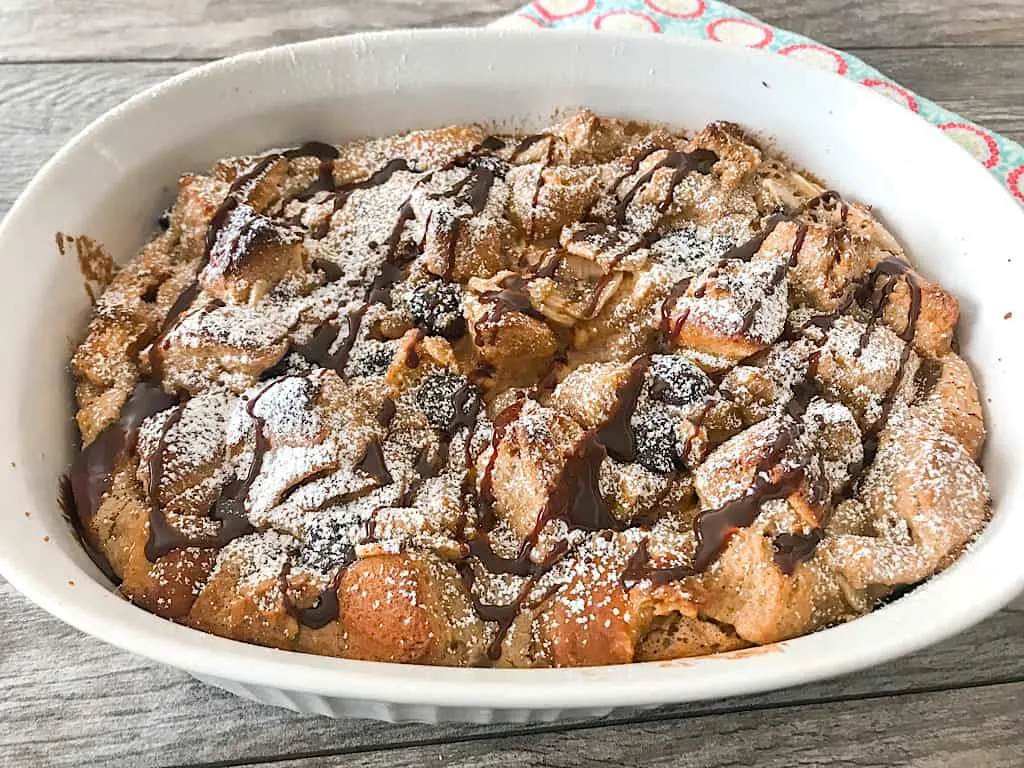 How to Store Leftovers
You can store leftover French Toast Casserole in an airtight container or covered tightly with plastic wrap or aluminum foil.
More Disney Recipes to try:

Disneyland Ticket Savings
My travel partner, Get Away Today, offers park tickets that are always a few dollars less than what you can purchase directly from Disney. I have been buying my tickets for them for many years and their customer service can't be beat! You can check ticket prices here.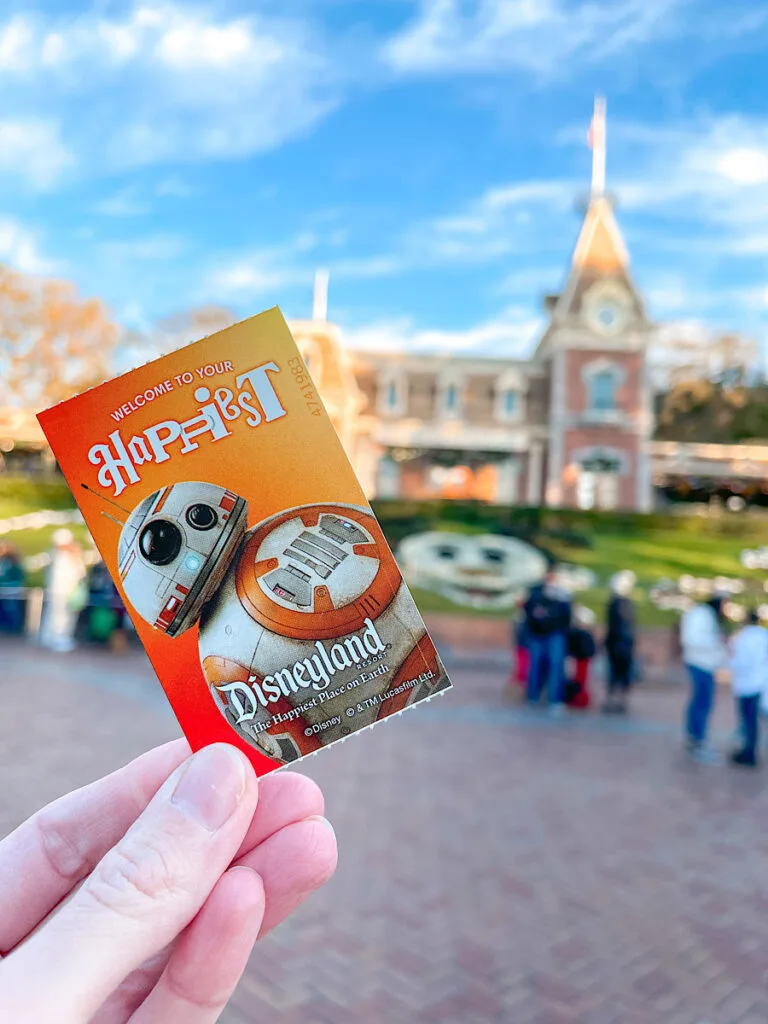 You can save even more when booking your tickets in a vacation package combined with a hotel stay. Get Away Today often offers deals through many Disneyland Good Neighbor hotels where you can get a 3rd or 4th night free! And they offer amazing layaway plans!

And, my readers can use the coupon code: Clubhouse10 to save even more on a 2-night or longer Southern California vacation package! You can check package prices for your next trip here or give them a call at 855-GET-AWAY and tell them Mommy Mouse Clubhouse sent you.