Sharing is caring!
If you're looking for an amazing rolled sugar cookie recipe without milk that will never let you down, you've come to the right place! These sweet, chewy cookies are soft but are still firm enough to hold up to being decorated. This is the best sugar cookie recipe and is simply delicious!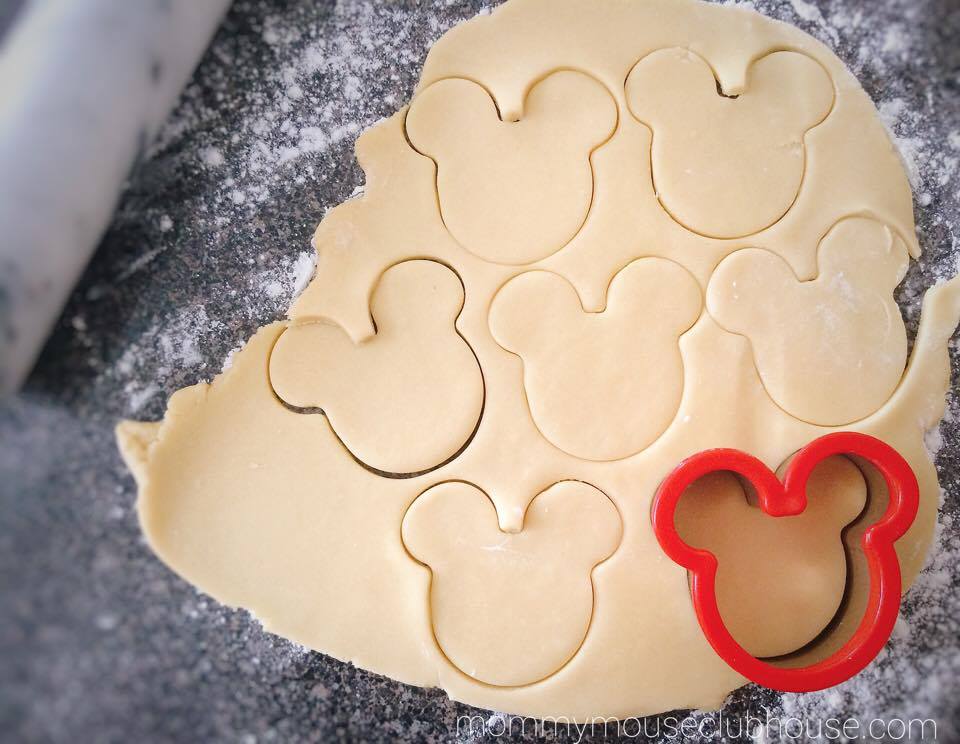 This post may contain affiliate links. When you click on these links, I get a small percentage back at no cost to you! For more information see my disclosure policy.
Below you will find tips, tricks and helpful hints for making this recipe including step by step instructions with pictures. If you would like to go directly to the recipe, scroll down to the recipe card or tap "Jump to Recipe" at the top of the page.
Why I Love this Recipe
There are certain things that you just have to make each Christmas, and for my family it's sugar cookies.
Every year we make sugar cookies with Santa Claus faces to leave for the "Big Guy" on Christmas Eve.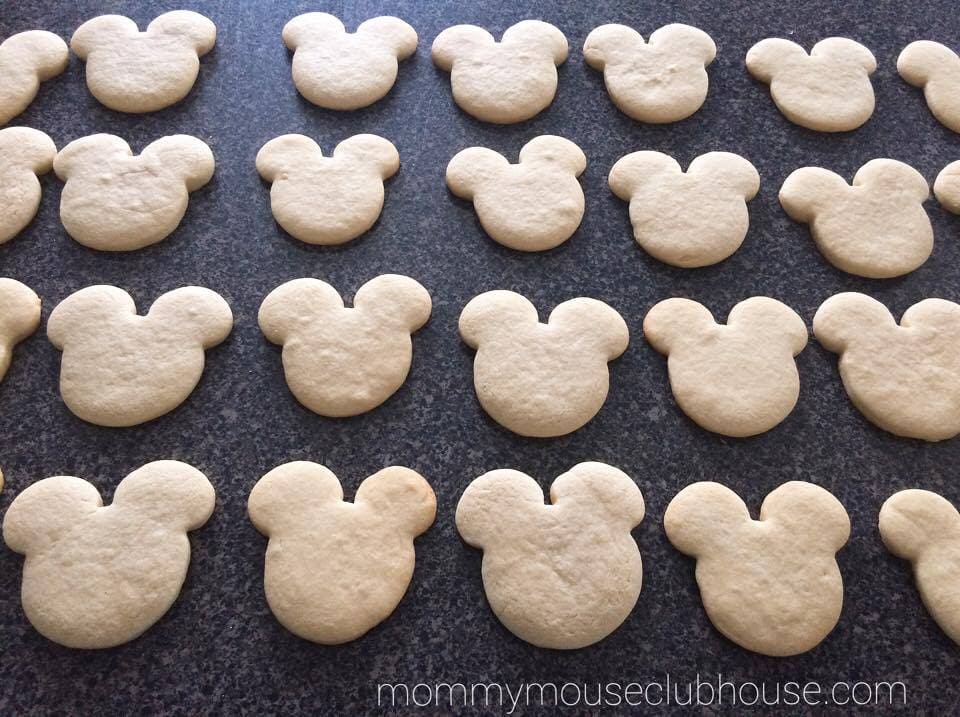 I've been using this sugar cookie recipe for many years and it has never failed me, and it makes the best sugar cookies. The only problem that I've run into is that sometimes I eat too much of the dough before I have the chance to bake them.
I call it The Best Sugar Cookie Recipe because I have found it to be just that. Sweet, chewy, soft, but still firm enough to hold up to being decorated.
What is a Rolled Sugar Cookie?
A rolled sugar cookie is a type of sugar cookie that is made by rolling out the dough, using cookie cutters to cut out shapes, and then baking.
This type of sugar cookie is often decorated with icing or other decorations. If you are looking for regular sugar cookies that can be topped with buttercream frosting, check out my easy sugar cookies recipe here.
Can You Make Sugar Cookies without Milk and Butter?
Yes, you can make sugar cookies without milk and butter. Just substitute vegetable shortening, vegan butter, coconut oil, or dairy-free butter in place of the butter.
Instead of milk, you can use any dairy free milk like almond milk or soy milk. Using these ingredients can help you make diary-free sugar cookies or vegan sugar cookies.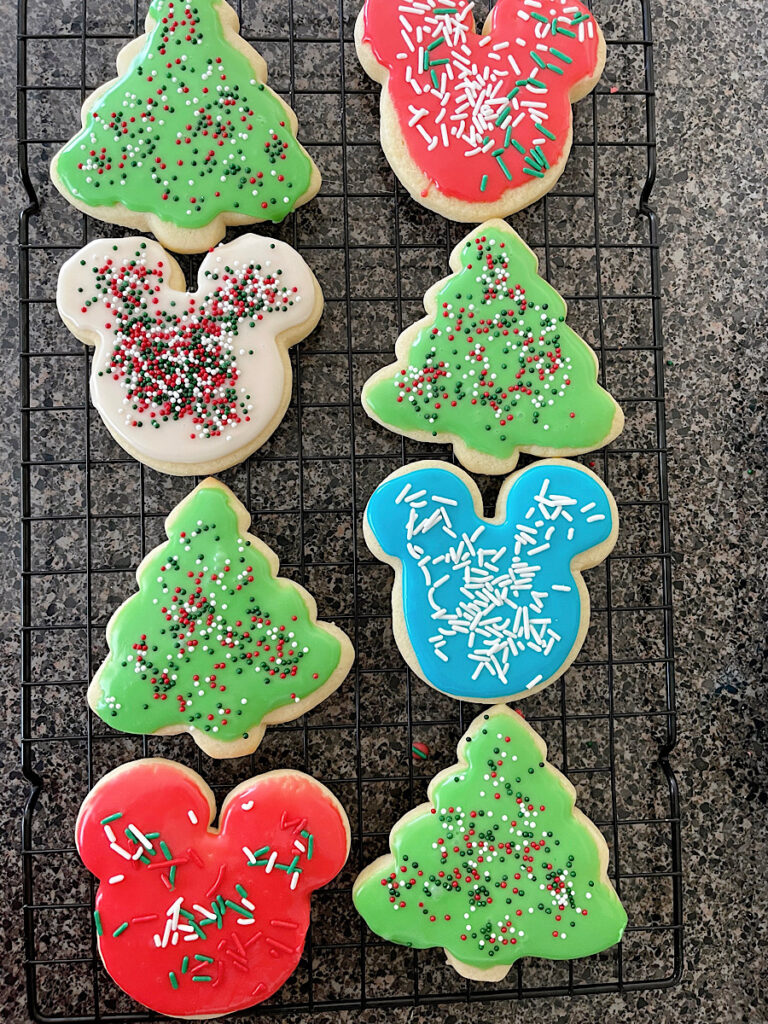 When to Make Cut Out Sugar Cookies
Sugar cookies are great to make any time of year, but holidays, especially the holiday season, seem to be the most popular time.
I love to make them for Easter, Christmas, and Halloween. Here are some ideas for holiday sugar cookies.
Ingredients for the Best Sugar Cookie Recipe
*Ingredient amounts are located in the recipe card at the end of this post.
Butter: You can use either salted or unsalted butter, just make sure that it is at room temperature.
Sugar: Use granulated white sugar in this recipe.
Vanilla Extract: This is for flavor, you can use either clear or regular vanilla extract.
Almond Extract: You can use this in addition to the vanilla extract, it just adds a little bit of almond flavor to the cookies.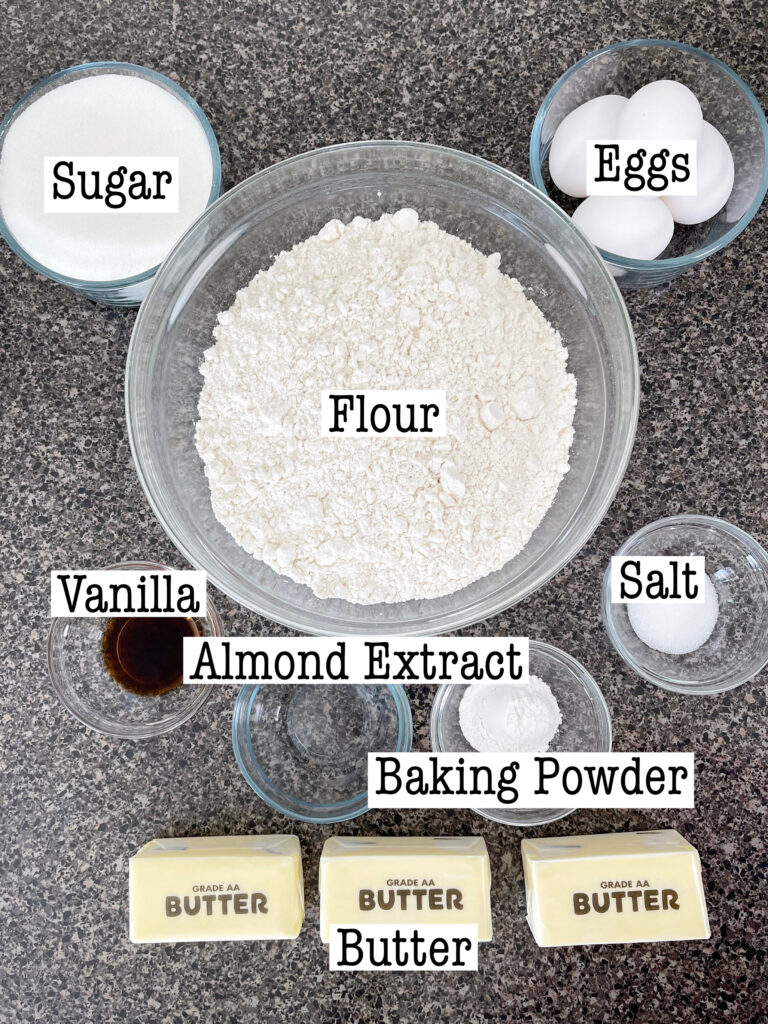 Eggs: Make sure that the eggs are at room temperature so that they mix in well with the other ingredients.
Flour: All purpose flour is what you'll need for this recipe.
Baking Powder: This helps the cookies to rise just a bit.
Salt: This also helps with the flavor of the cookies.
How to Make the Best Sugar Cookie Recipe
[1] Begin by creaming the butter and sugar together in the bowl of a stand mixer at medium-high speed or use and hand held electric mixer.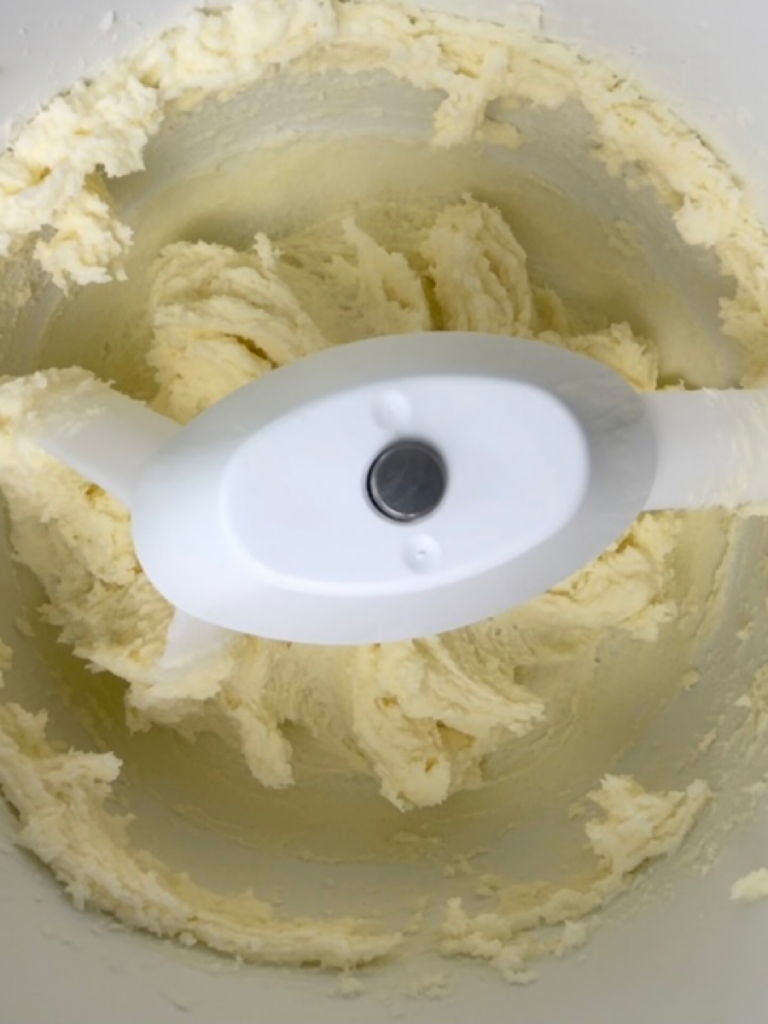 [2] Add the eggs and vanilla and continue mixing.
[3] Combine the dry ingredients: flour, baking powder, and salt in a medium bowl. Add the flour mixture to the butter mixture at low speed, stopping to scrape down the sides of the bowl.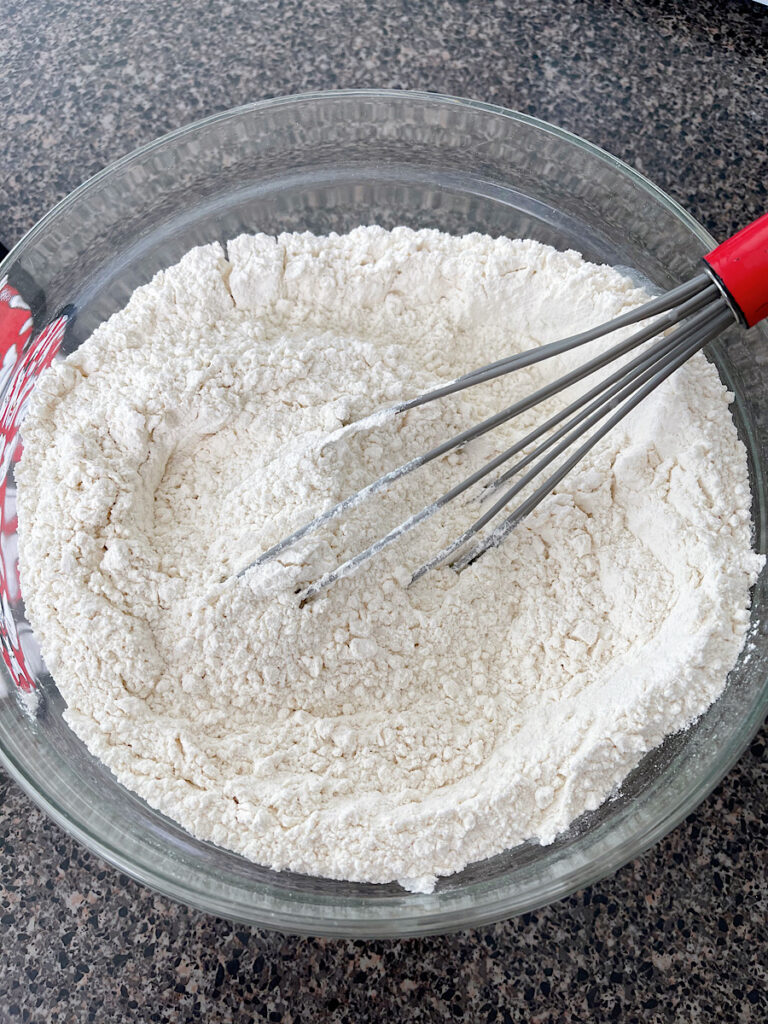 [4] When the dough is combined, cover with plastic wrap and refrigerate it for at least an hour to overnight. Don't skip this step! Having cold dough will ensure that your cookie holds it shape and doesn't flatten when baked.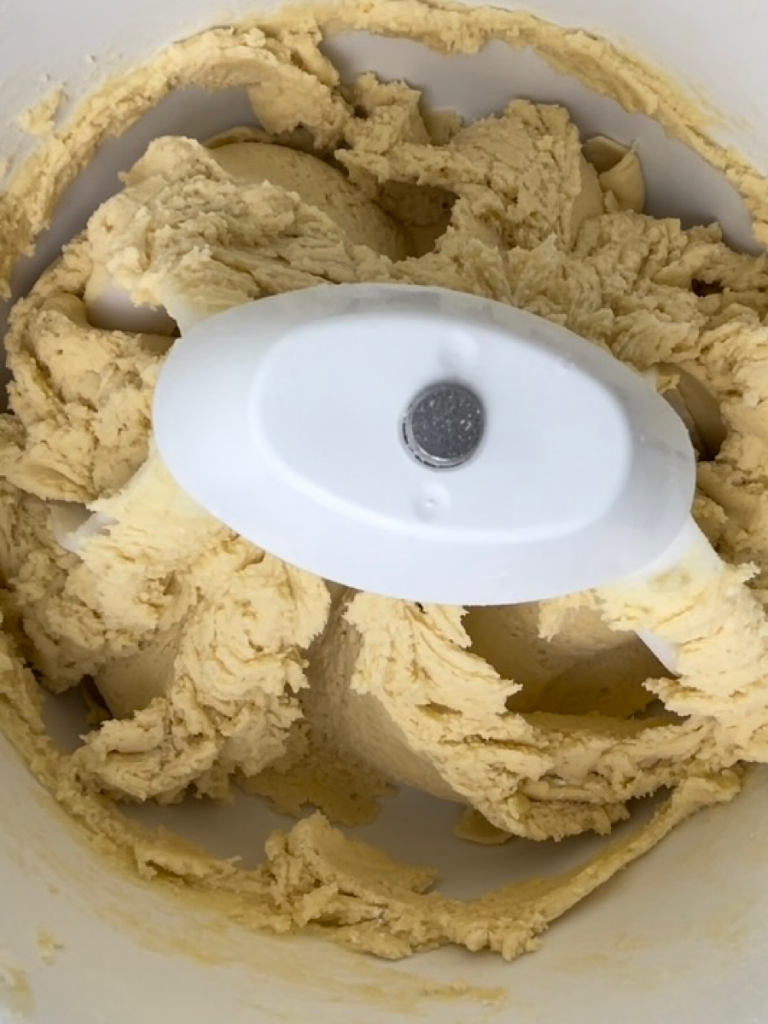 [5] Roll out your dough with a rolling pin on a floured surface until the dough is about 1/4 – 1/2 inch thick.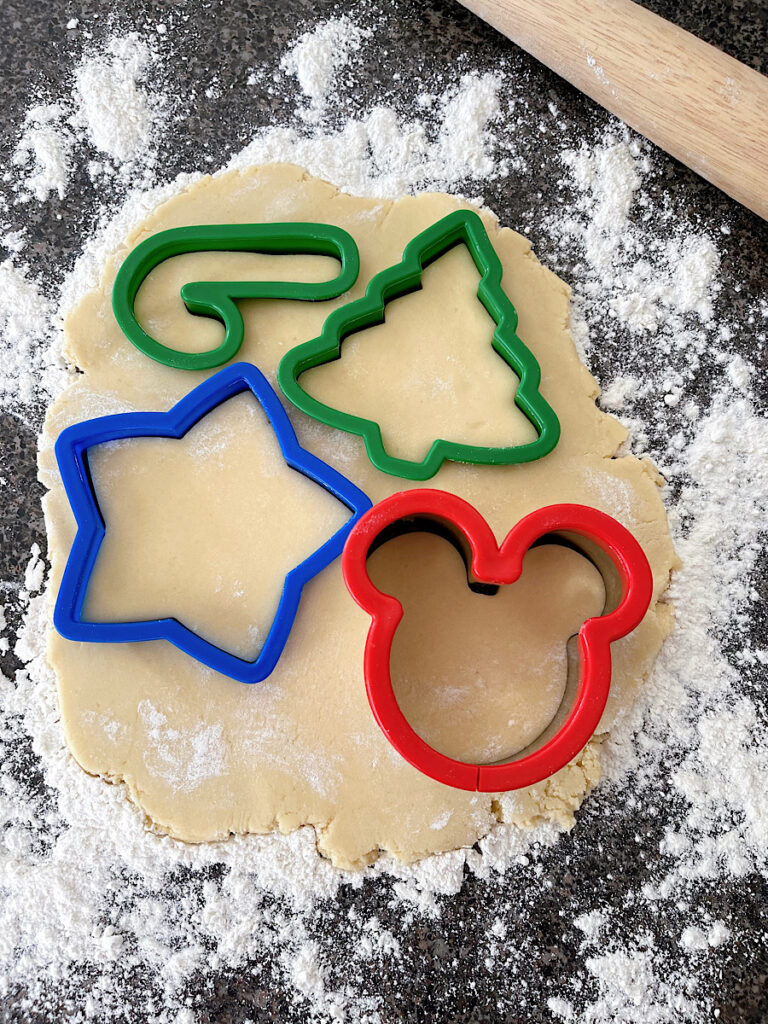 [6] Use different cookie cutters (Mickey Mouse) to cut out shapes. I picked up my Mickey Mouse cookie cutter at the cute little gift shop outside Splash Mountain at Disney World, but you can find one HERE on Amazon.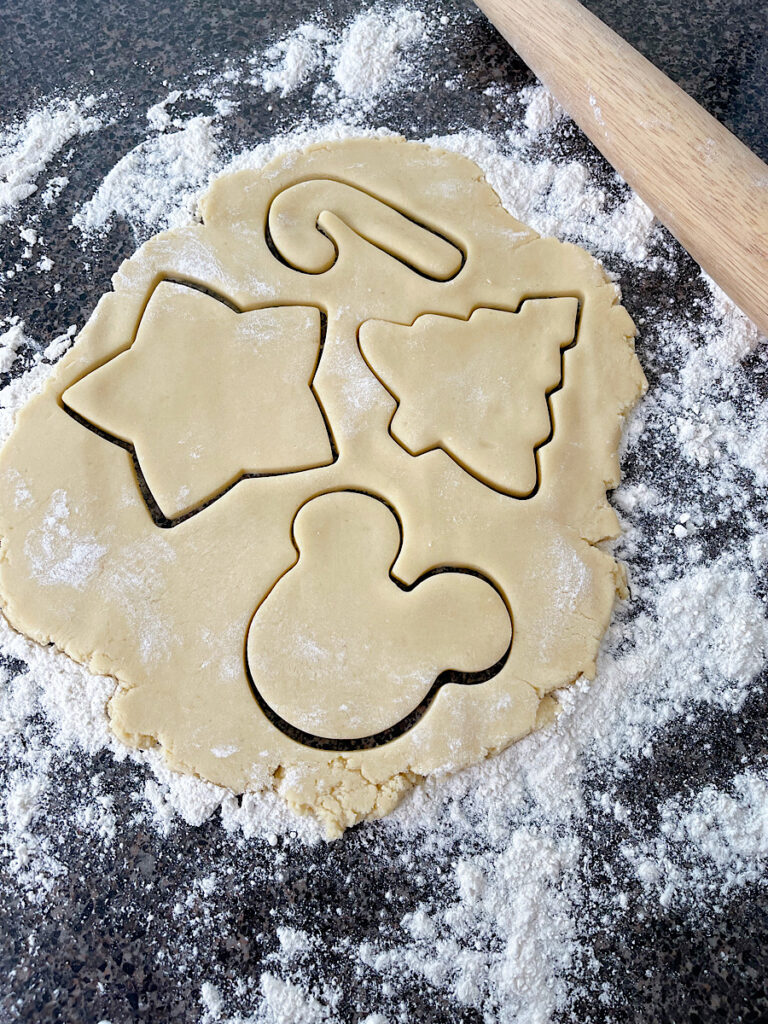 [7] Place the cookies on a parchment lined baking sheet and bake the cookies at 400 degrees for 6 – 8 minutes.
[8] Allow them to rest on the baking sheet for 1 minute before transferring to a cooling rack.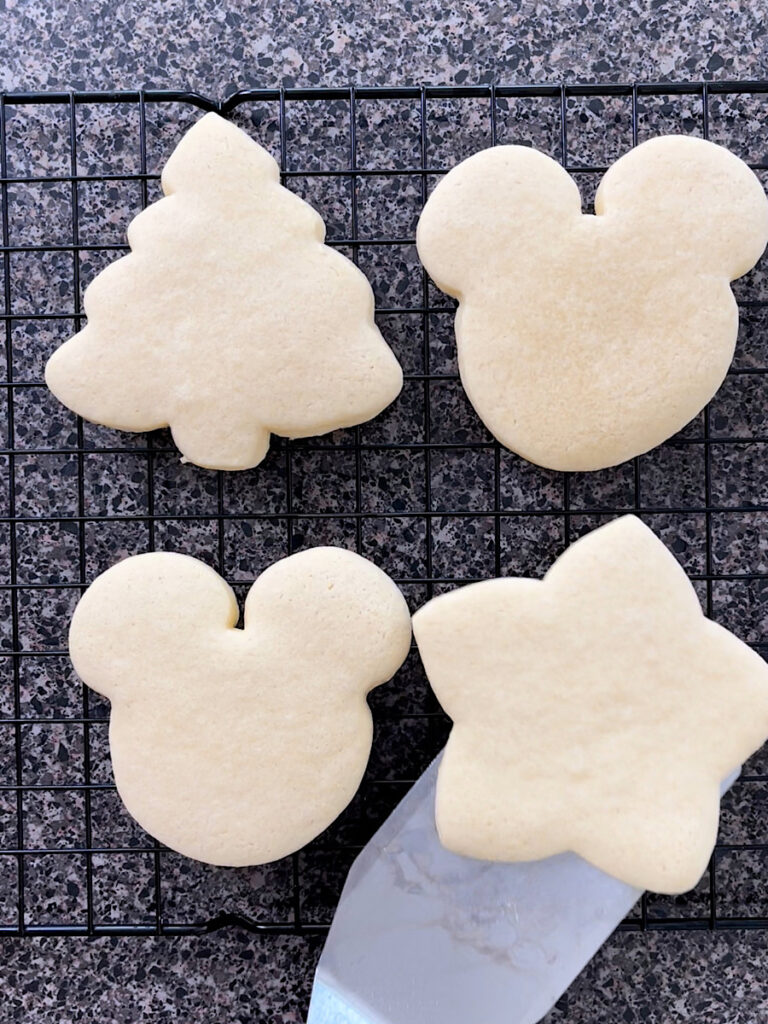 How to Decorate Mickey & Minnie Christmas Cookies
After baking the cookies, the fun really begins! That's when you get to make your yummy little cookies into beautiful creations.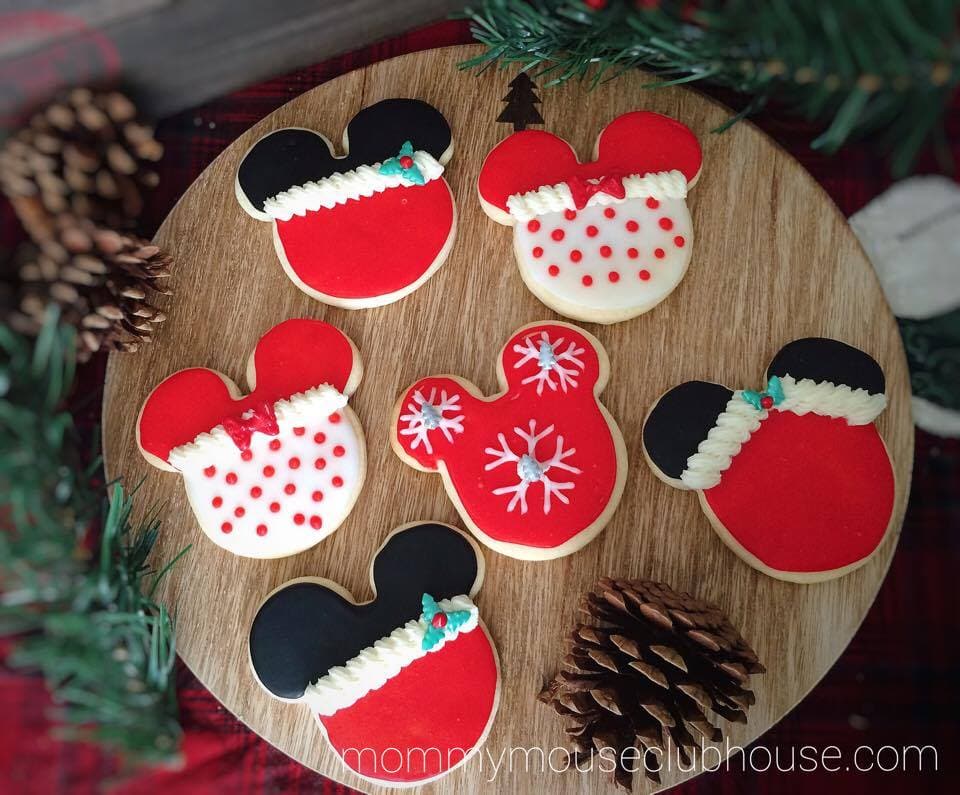 The icing for these cookies couldn't be easier to make with items you probably already have in your pantry!
Sugar Cookie Icing Ingredients
Powdered Sugar, Milk, Light Corn Syrup, Vanilla Extract, Gel Food Coloring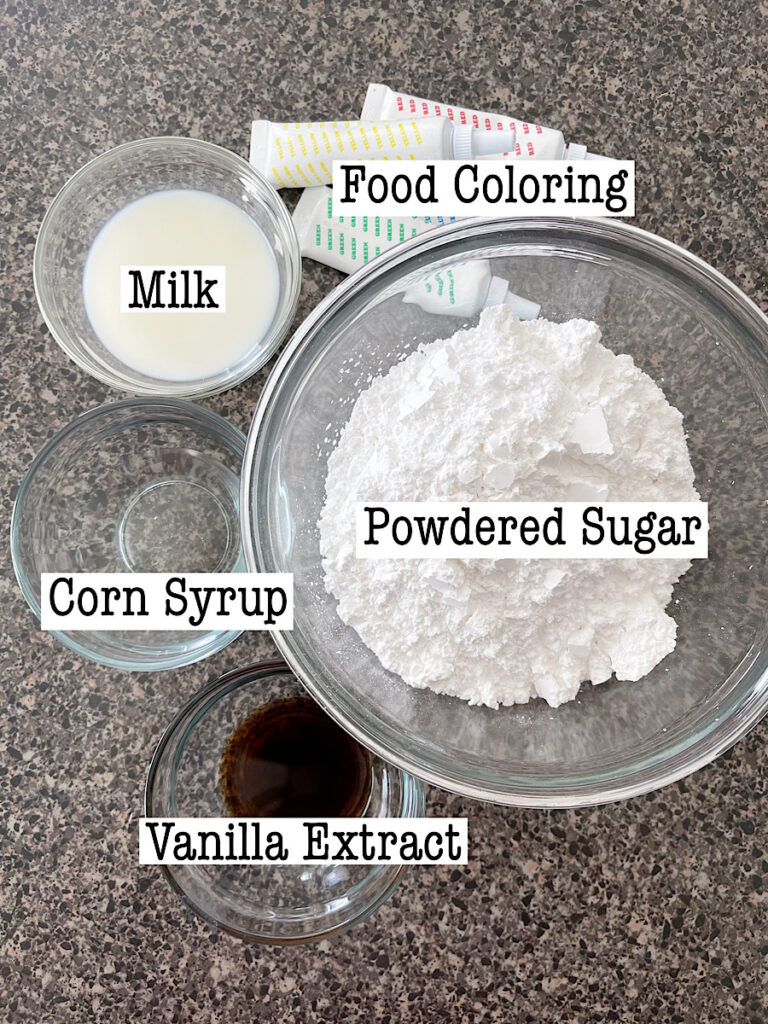 How to Make Sugar Cookie Decorating Icing
[1] Mix together the powdered sugar and 1/4 cup milk.
[2] Add in the vanilla and corn syrup and mix well.
[3] The outline icing should be the consistency of toothpaste.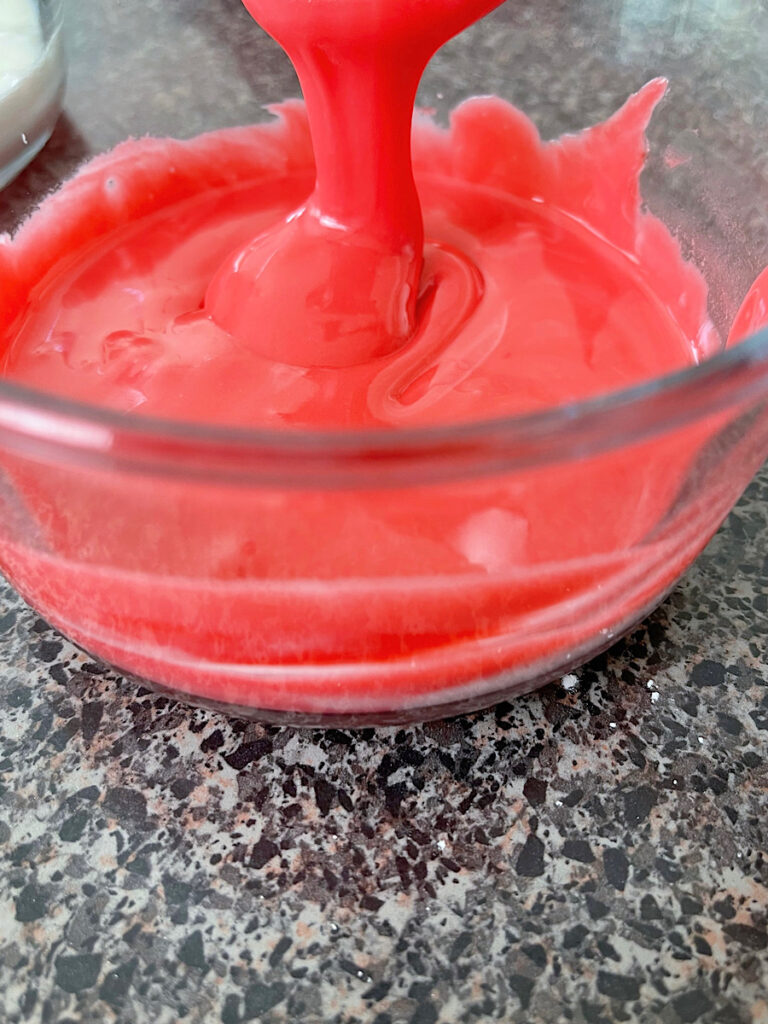 [4] To make the flood/fill icing, add more milk, one tablespoon at a time until the icing is the consistency of syrup.
[5] Color your icing with gel food coloring in your desired colors.
If you're going to make your cookies for a special occasion, I would suggest making them at least the day before to allow the icing to harden. Just store the cookies in an airtight container placed in a cool dry place.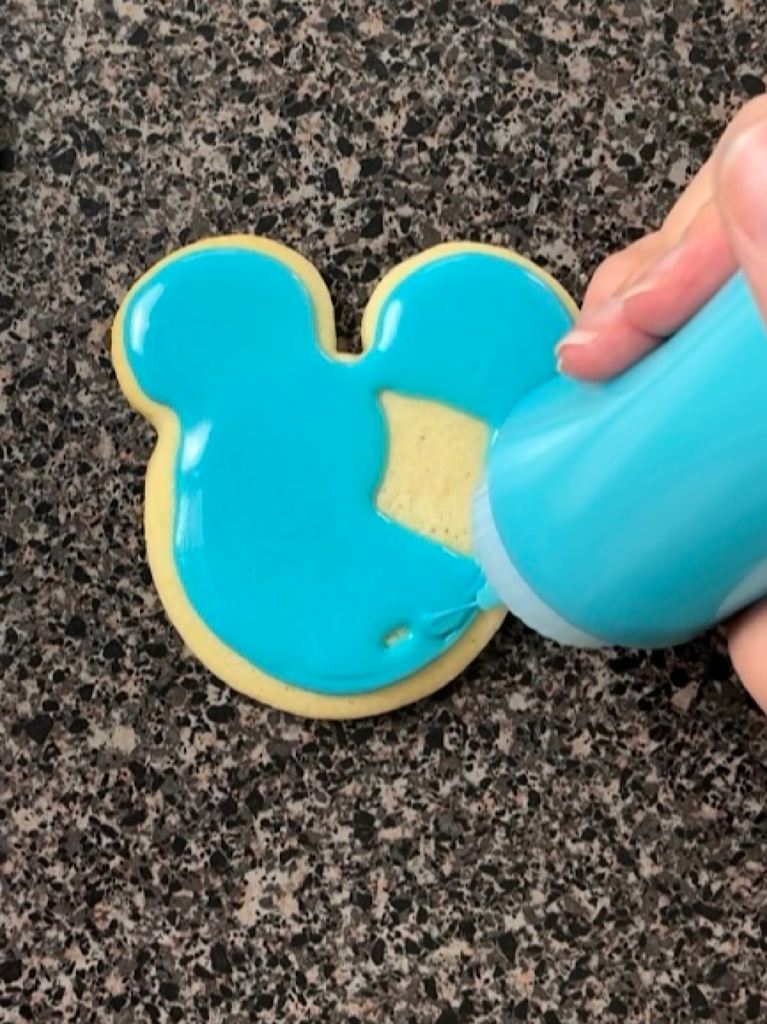 Helpful Sugar Cookie Tools
Sugar Cookie Variations:
Frequently Asked Questions
How Thick Should I Roll Sugar Cookies?
I like to roll my sugar cookie dough to be about 1/4 – 1/2 inch thick. This thickness allows the cookies to hold their shape well and prevents them from being too thin and crisp.
Can I Use a Different Type of Flour?
The recipe as written calls for all-purpose flour, but you could use a gluten-free flour blend if you need to make these cookies gluten free. You could also use whole wheat pastry flour for a slightly healthier cookie.
Do I Need to Refrigerate the Dough?
Yes, you should refrigerate the dough for at least an hour, or overnight if possible. This will help the cookies keep their shape when baked.
Can I Freeze the Dough?
Yes, you can freeze the dough. Just place it in a freezer safe container and thaw it in the refrigerator when you're ready to use it. You may need to let it sit at room temperature for a bit before you can easily roll it out.
What is the Best Way to Store Sugar Cookies?
Sugar cookies are best stored in a cool, dry place. They will last for several days, although they may start to get a little hard after a few days. You can also freeze sugar cookies, just make sure to wrap them tightly so they don't get freezer burn.
How Do I Get Perfectly Round Cookies?
There are a few things you can do to get perfectly round cookies. First, make sure you're using a good quality cookie cutter. Second, chill the dough well before cutting out the cookies. Finally, don't twist the cookie cutter when you're cutting out the shape, just press straight down.
How Do You Prevent Sugar Cookies from Spreading?
There are a few things you can do to prevent sugar cookies from spreading. First, make sure you use butter that is at room temperature, not melted. Second, don't over-mix the dough. Third, chill the dough well before baking. Finally, don't put too many cookies on one baking sheet.
What are other ways to decorate sugar cookies besides icing?
There are many different ways to enjoy sugar cookies. You can use a small cookie scoop to measure a dough ball, then roll it in extra sugar.
Another idea would be to press sprinkles into the cut out cookie dough shapes before baking.
You can also top them with classic buttercream frosting or cream cheese frosting.
More Christmas Cookies: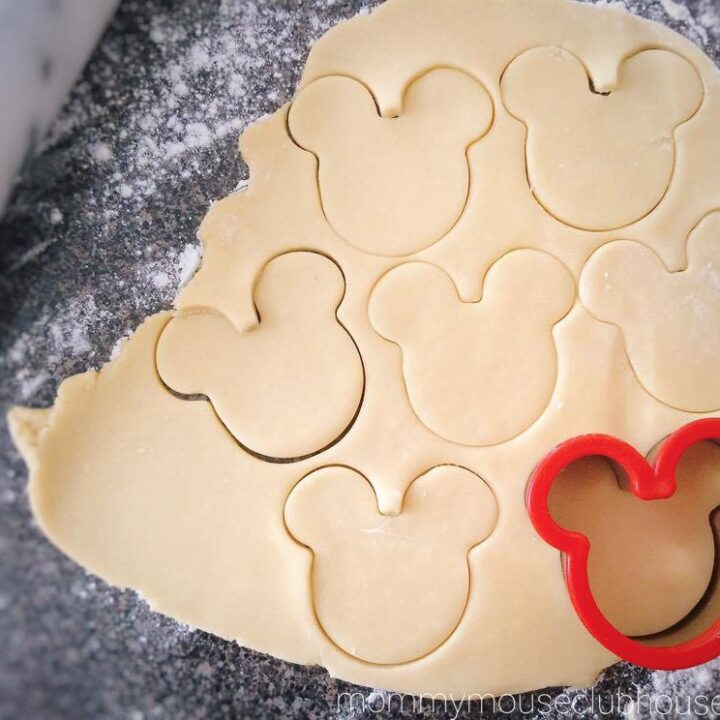 The BEST Sugar Cookie Recipe
Total Time:
1 hour
28 minutes
The BEST Sugar Cookies that are sweet, chewy, soft yet firm enough to be decorated. Simply delicious!
Ingredients
Sugar Cookies
1 1/2 Cups Butter, softened
2 Cups Sugar
1 Teaspoon Vanilla Extract
1/2 Teaspoon Almond Extract, optional
4 Eggs
5 Cups All-Purpose Flour
2 Teaspoons Baking Powder
1 Teaspoon Salt
Decorating Icing
3 Cups Powdered Sugar
2-4 Tablespoons Milk
2 Tablespoons Light Corn Syrup
1 Teaspoon Vanilla Extract
Gel Food Coloring
Instructions
Cream the butter and sugar together in the bowl of a stand mixer. Beat in eggs and vanilla. Stir in flour, baking powder and salt. Cover and chill the dough for at least one hour to overnight.
Preheat oven to 400 degrees. Roll out the dough on a floured surface 1/4-1/2 inch thick. Cut into shapes with cookie cutters. Place cookies 1 inch apart on a parchment lined baking sheet.
Bake 6-8 minutes. Cool completely before decorating.
Decorating Icing
Mix together the powdered sugar and 1/4 cup milk.
Add in the vanilla extract and corn syrup. Mix well.
Make the outline icing the consistency of toothpaste.
Add milk, one tablespoon at a time, to make the icing the consistency of syrup for the fill icing.
Add gel food coloring to achieve desired colors.
Notes
Make sure you chill the dough
Nutrition Information:
Yield:

24
Serving Size:

1
Amount Per Serving:
Calories:

334
Total Fat:

13g
Saturated Fat:

8g
Trans Fat:

0g
Unsaturated Fat:

4g
Cholesterol:

62mg
Sodium:

235mg
Carbohydrates:

52g
Fiber:

1g
Sugar:

32g
Protein:

4g
Sharing is caring!