With this copycat recipe for Crumbl chilled sugar cookies, you can have restaurant-quality cookies in no time! The cookie dough requires minimal effort and minimal ingredients to achieve the perfect taste and texture. The end result is a soft, chewy cookie that will have everyone asking for seconds. So if you're looking for a delicious cookie recipe that just screams "homemade goodness" then this copycat chilled sugar cookie recipe is for you! Try one of my other Crumbl Cookie recipes here.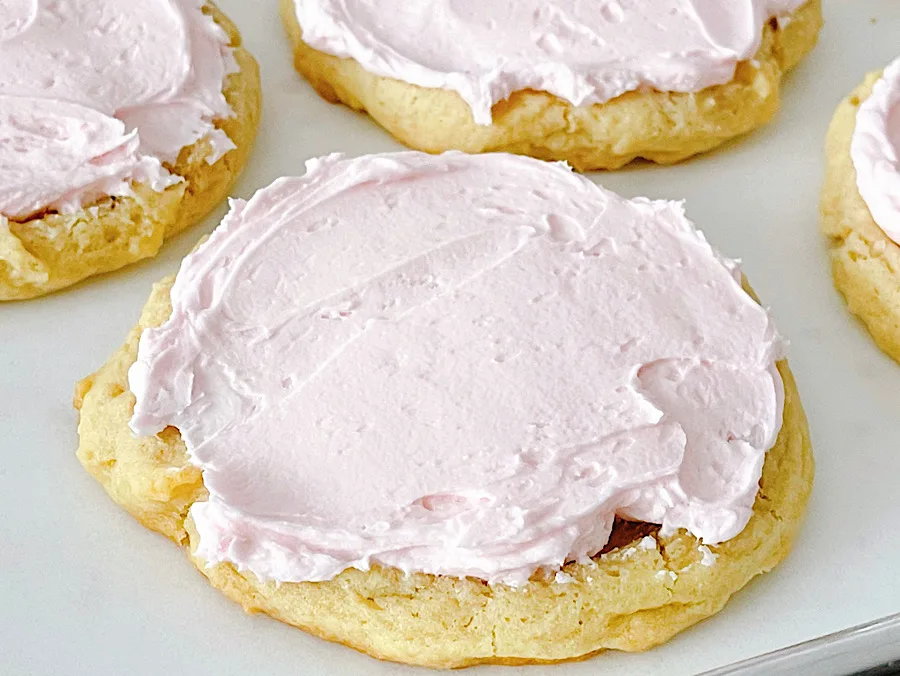 This post may contain affiliate links. When you click on these links, I get a small percentage back at no cost to you! For more information see my disclosure policy.
Below you will find tips, tricks and helpful hints for making this recipe including step by step instructions with pictures. If you would like to go directly to the recipe, scroll down to the recipe card or tap "Jump to Recipe" at the top of the page.
Why You'll Love These Crumbl Sugar Cookies
This copycat Crumbl sugar cookies recipe are so soft and chewy, they melt in your mouth. They have just the right amount of sweetness and a hint of almond flavor that makes them irresistible.
The pink food coloring gives them a fun pop of color. Plus, they stay incredibly soft for days – if you can stop yourself from eating them all in one sitting!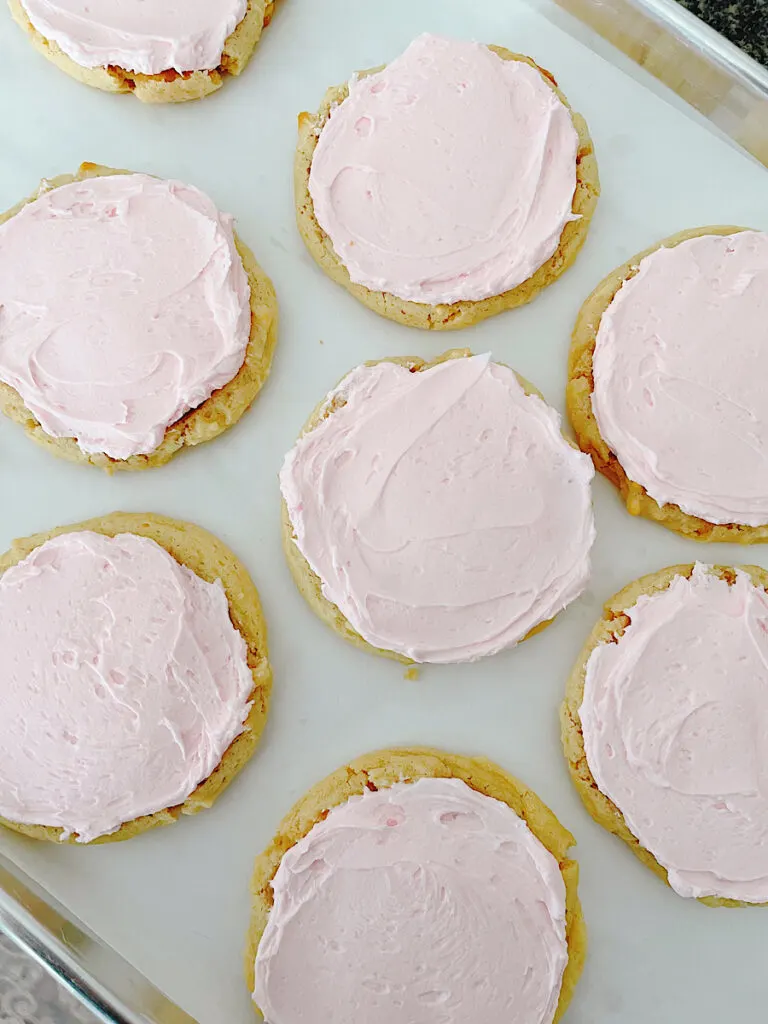 Why These Cookies Are Chilled
Although you don't have to chill the dough before baking, these cookies are best served cold after being frosted. These cookies when warm, or even at room temperature, are not firm enough to hold up with frosting.
Chilling the cookies before frosting and serving them chilled results in a firm enough cookie that will hold up to the creamy frosting. Plus, after being chilled the cookies become incredibly soft and chewy.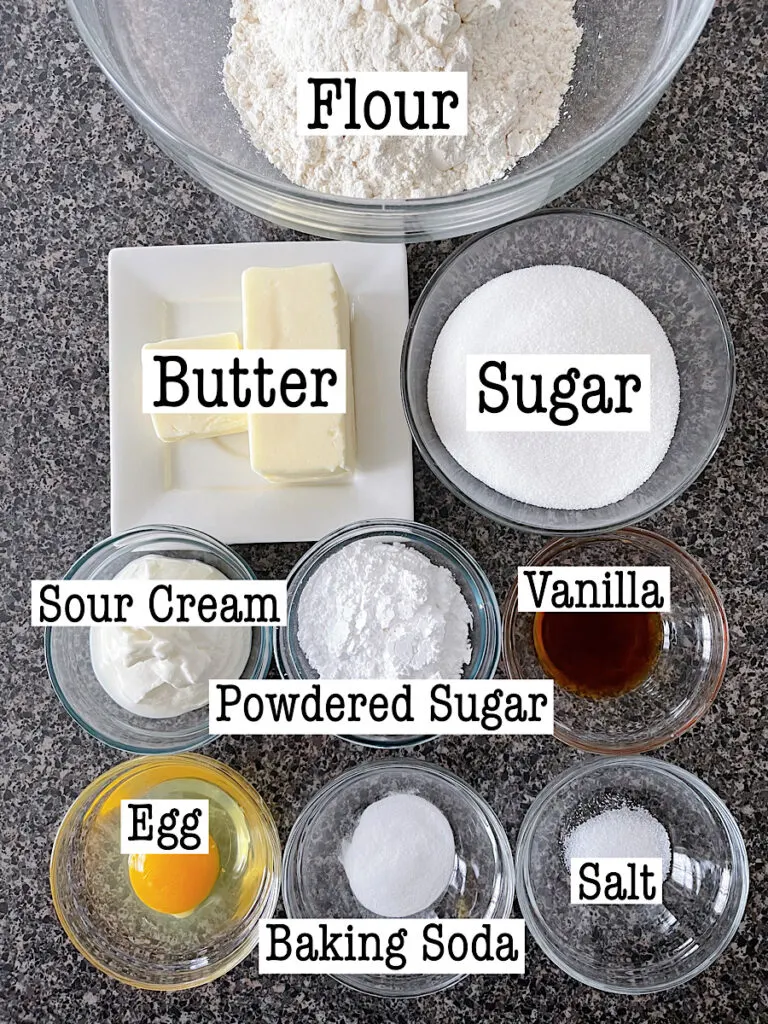 Chilled Sugar Cookie Ingredients
*Ingredient amounts are located in the recipe card at the end of this post.
Butter: I used salted butter in these cookies because I prefer the taste, but feel free to use unsalted butter if you wish.
Sugar: A classic ingredient in sugar cookies used to sweeten these baked goods.
Powdered Sugar: Adding powdered sugar to the cookie dough helps make the cookies extra soft and chewy.
Egg: This helps bind all the ingredients together and adds structure to the cookie dough.
Sour Cream: Helps keep the cookies soft and moist.
Vanilla Extract: Enhances the flavor of these cookies.
All-Purpose Flour: The main component in most baked goods, flour gives structure and stability to cookie dough.
Baking Soda: Acts as a leavening agent in these cookies, helping them to rise while baking.
Salt: Balances out the sweetness of the cookie and adds flavor.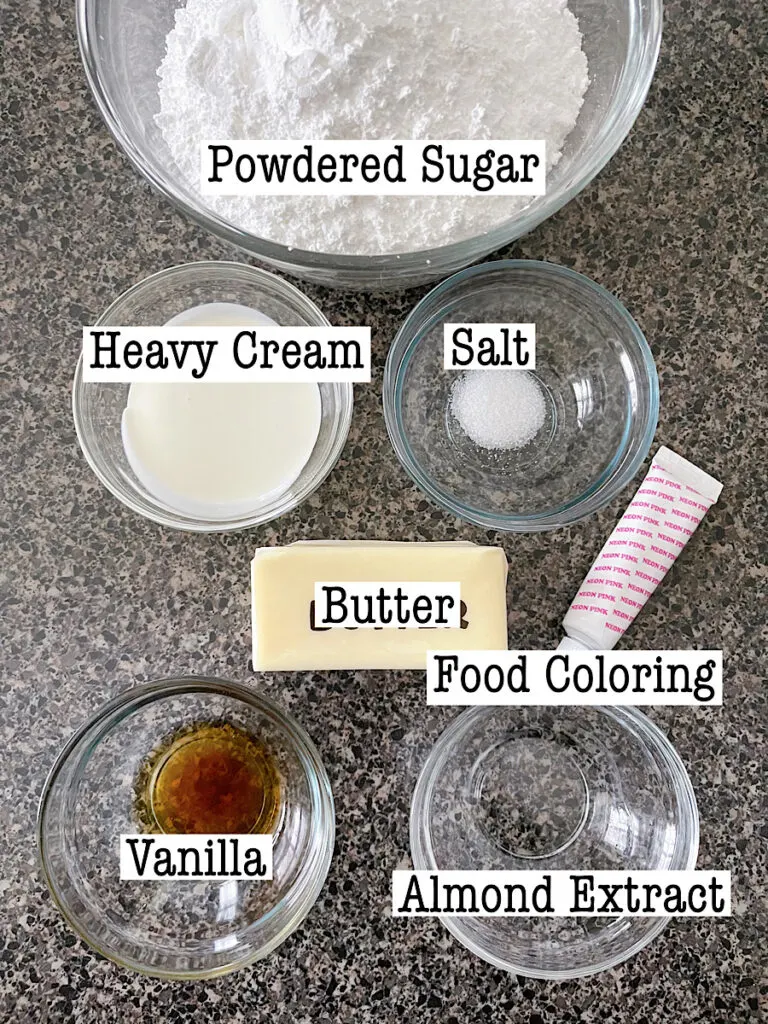 Frosting Ingredients
Butter: Softened butter is key for making a creamy frosting.
Heavy Cream: This liquid helps thin out the frosting, giving it a smooth texture.
Almond Extract: Adds a hint of almond flavor to the frosting.
Vanilla Extract: Enhances the flavor of these cookies even further.
Salt: Balances out the sweetness and adds depth of flavor.
Powdered Sugar: Gives this frosting its classic sweet taste, along with a thick consistency.
Pink Food Coloring: Adds a fun and festive pop of pink color. For best results, use neon pink food coloring.
How to Make Crumbl Sugar Cookies
[1] Whisk together the flour, baking soda, and salt in a medium mixing bowl and set aside.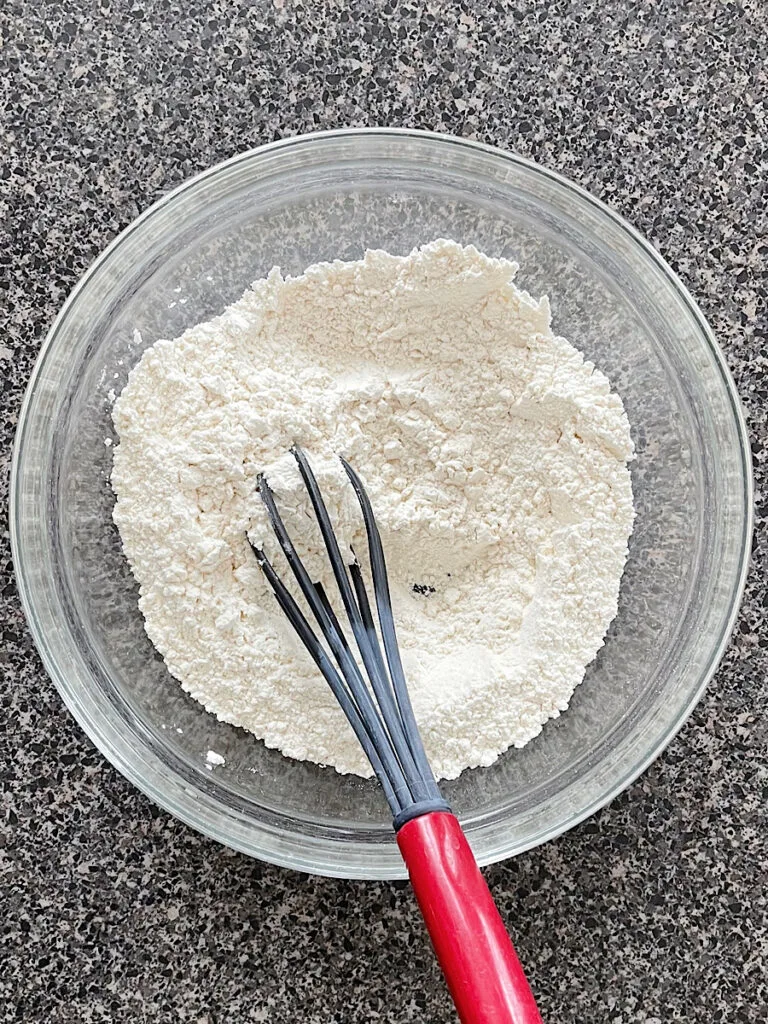 [2] Cream butter and granulated sugar together for one minute. Add the powdered sugar and mix for an additional 30 seconds.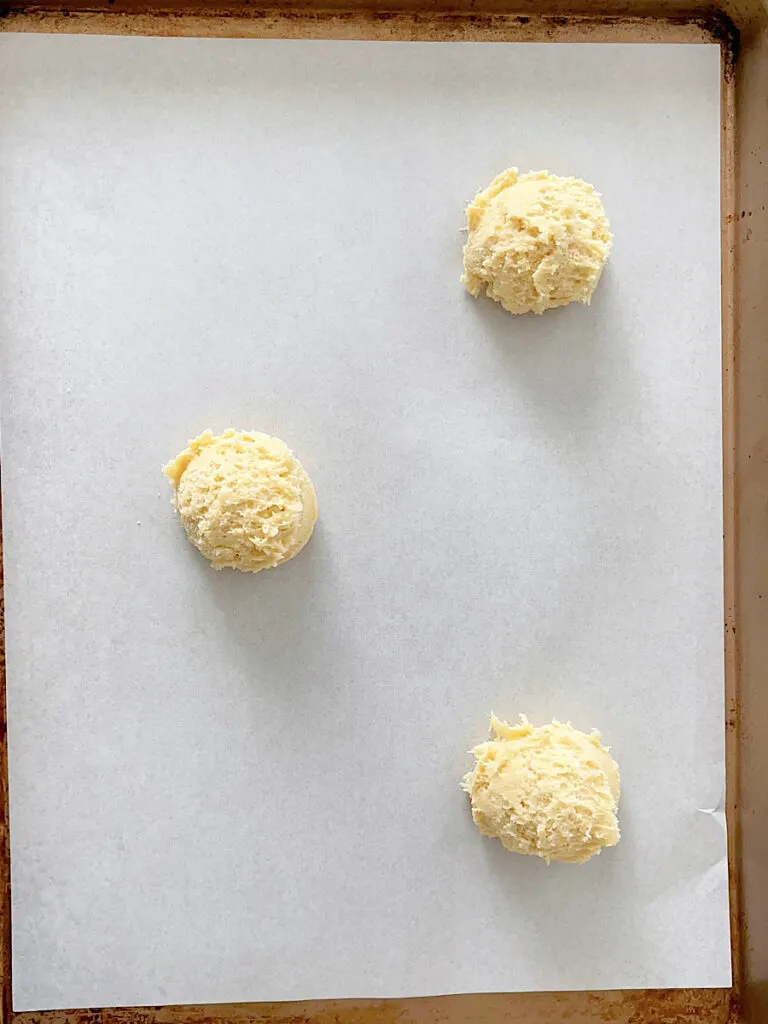 [3] Add the egg, sour cream, and vanilla extract. Mix for about 30 seconds in between each addition.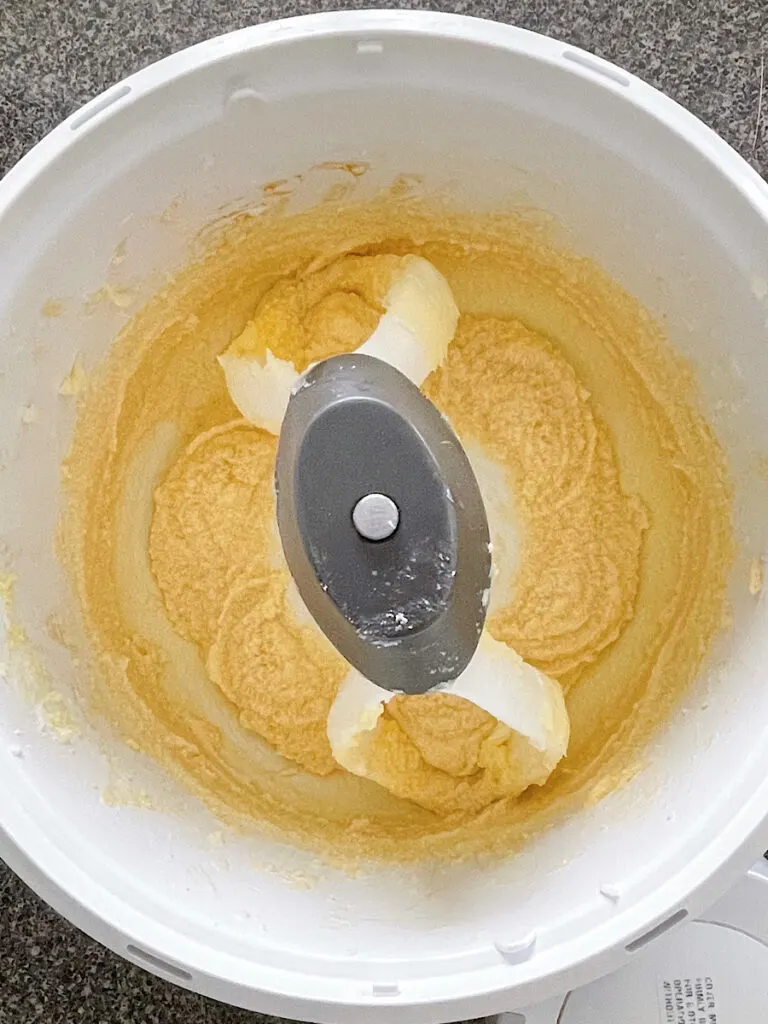 [4] Mix the dry ingredients into the wet ingredients a little at a time, until fully incorporated, scraping the sides of the bowl as necessary.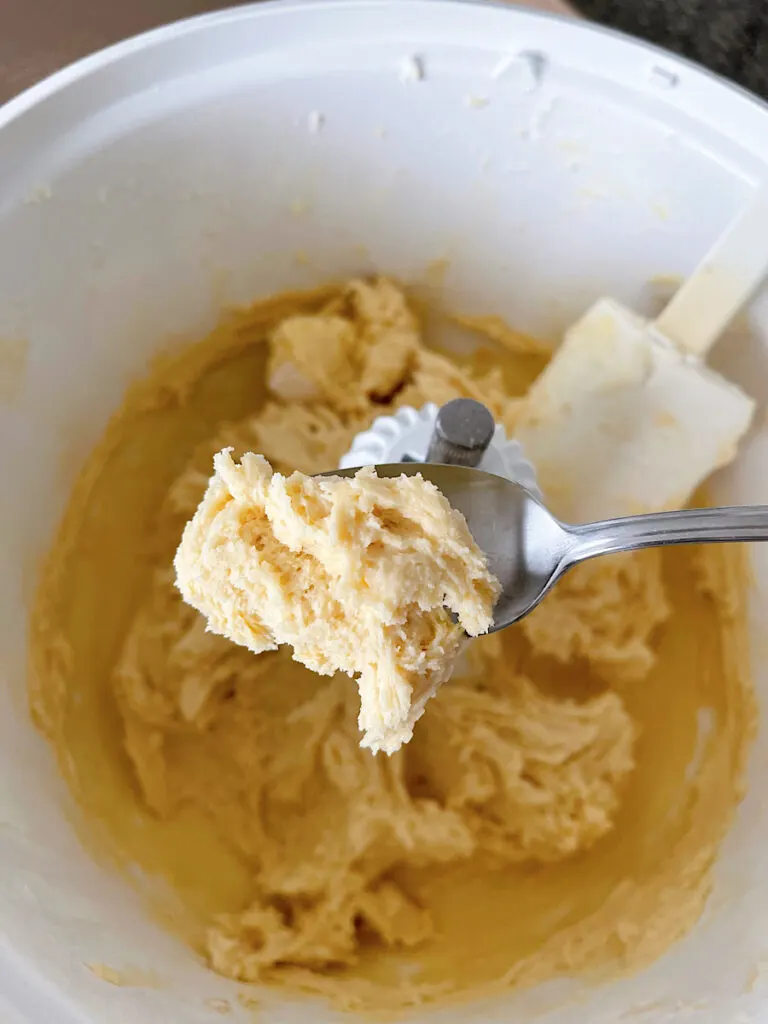 [5] For giant cookies, scoop the dough into a 1/4 cup cookie scoop and place it on a parchment lined baking sheet with about 2 inches in between each ball of cookie dough.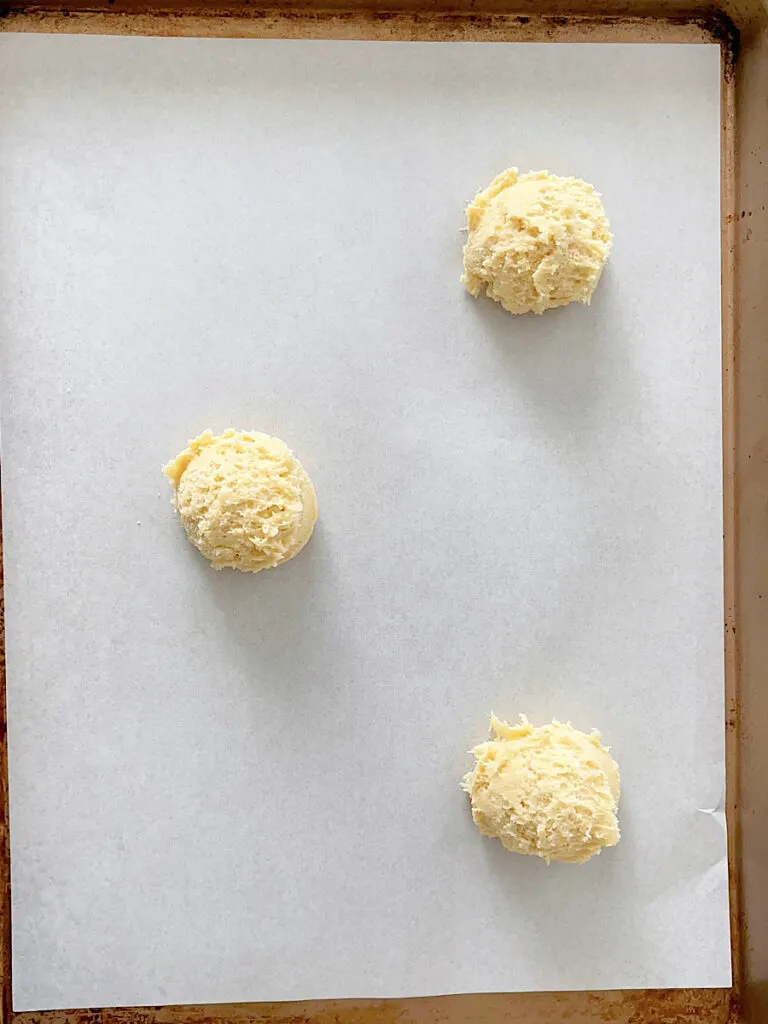 [6] Bake cookies at 375 degrees for 10-12 minutes until the center looks set, but the cookies have not begun to turn brown.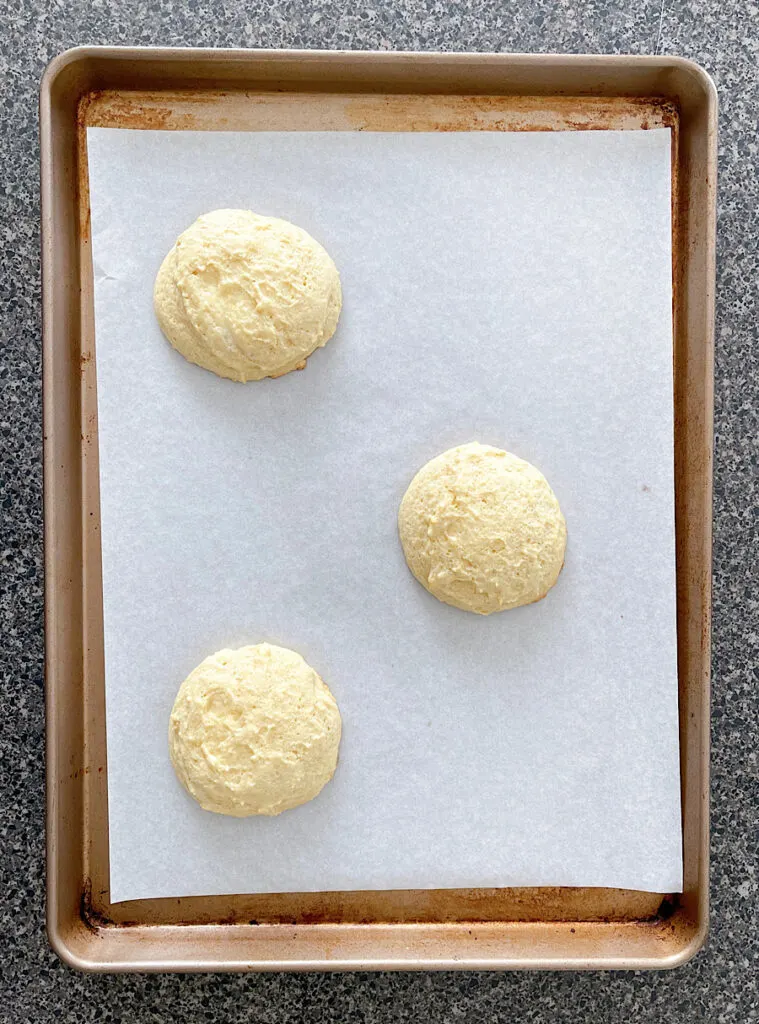 [7] Remove from the oven and immediately press a flat measuring cup on the warm cookies to flatten the top (I used a one-cup-sized measuring cup). Allow the cookies to rest on the large baking sheet before transferring to a cooling rack for 30 minutes. Chill the cookies in the refrigerator while making the frosting.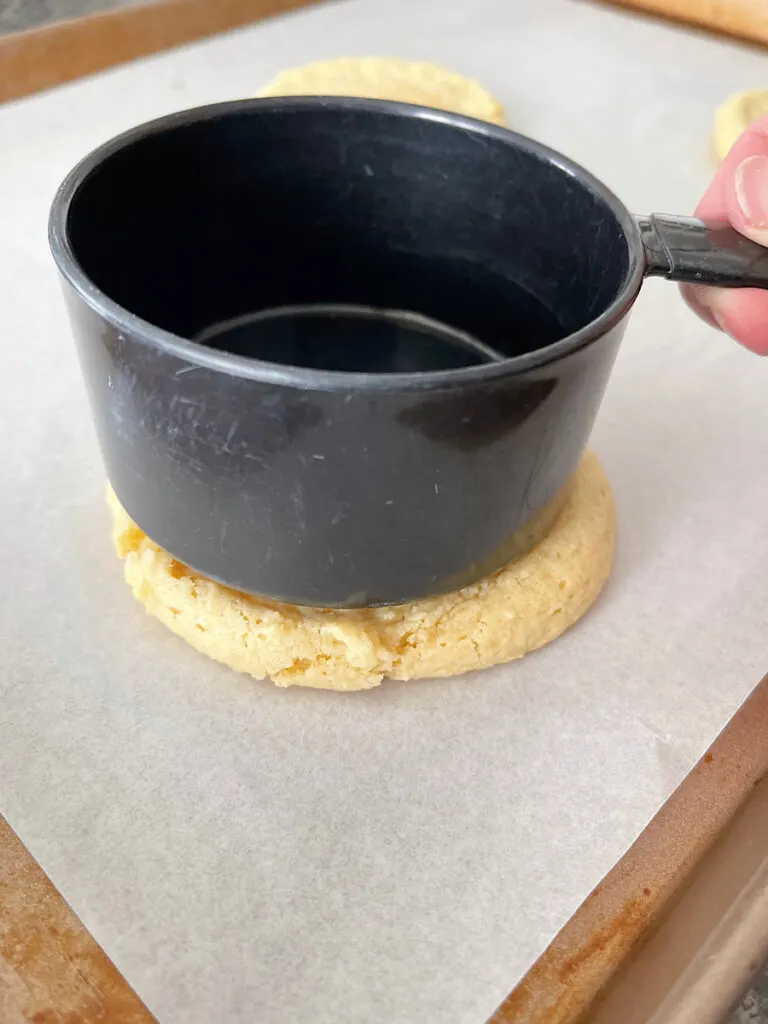 [8] Frosting: Mix the butter until light and fluffy. Add 2 tablespoons of heavy cream, almond extract, and vanilla extract and mix. Mix in the powdered sugar one cup at a time and mix for one minute. Add more heavy cream, one teaspoon at a time, until the frosting is creamy. Sprinkle in a few drops of neon pink food coloring until your desired pink frosting color is reached.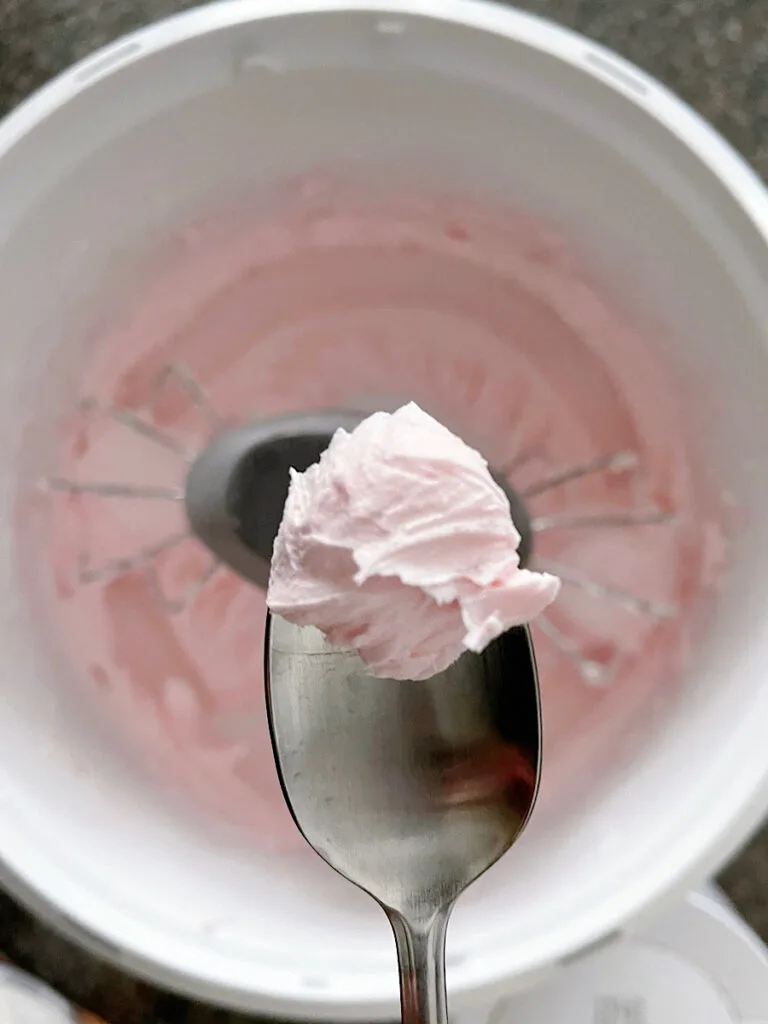 [9] Add about two tablespoons of frosting on top of the cookies and use an angled spatula to spread the frosting evenly over the cookies. Keep refrigerated.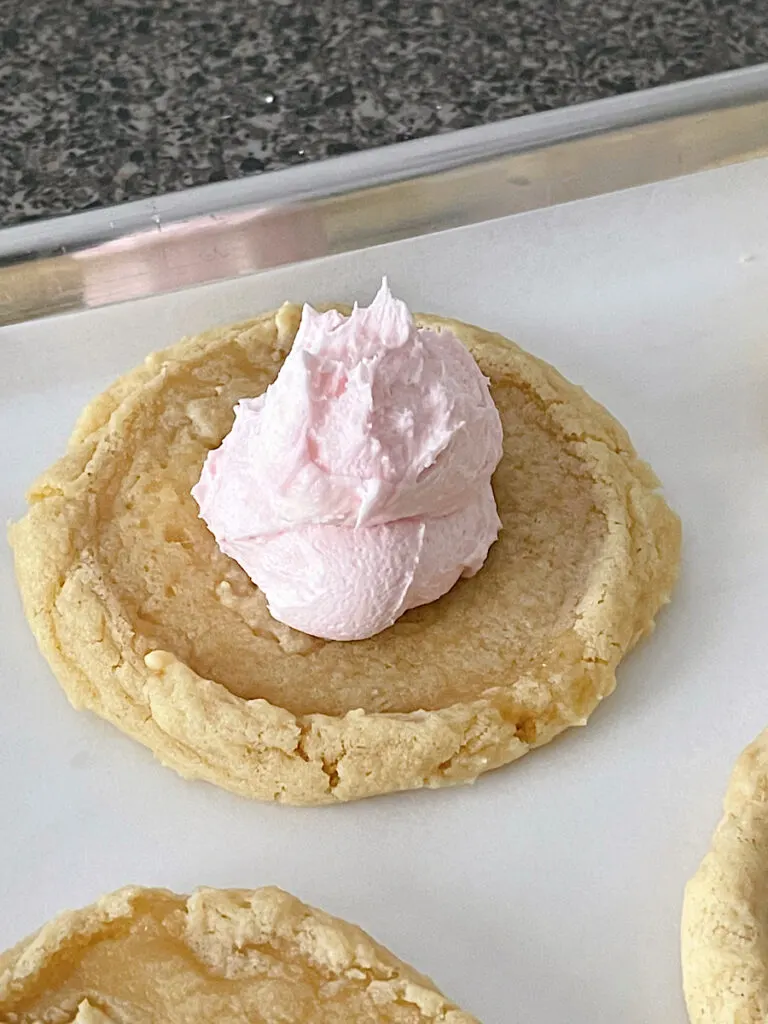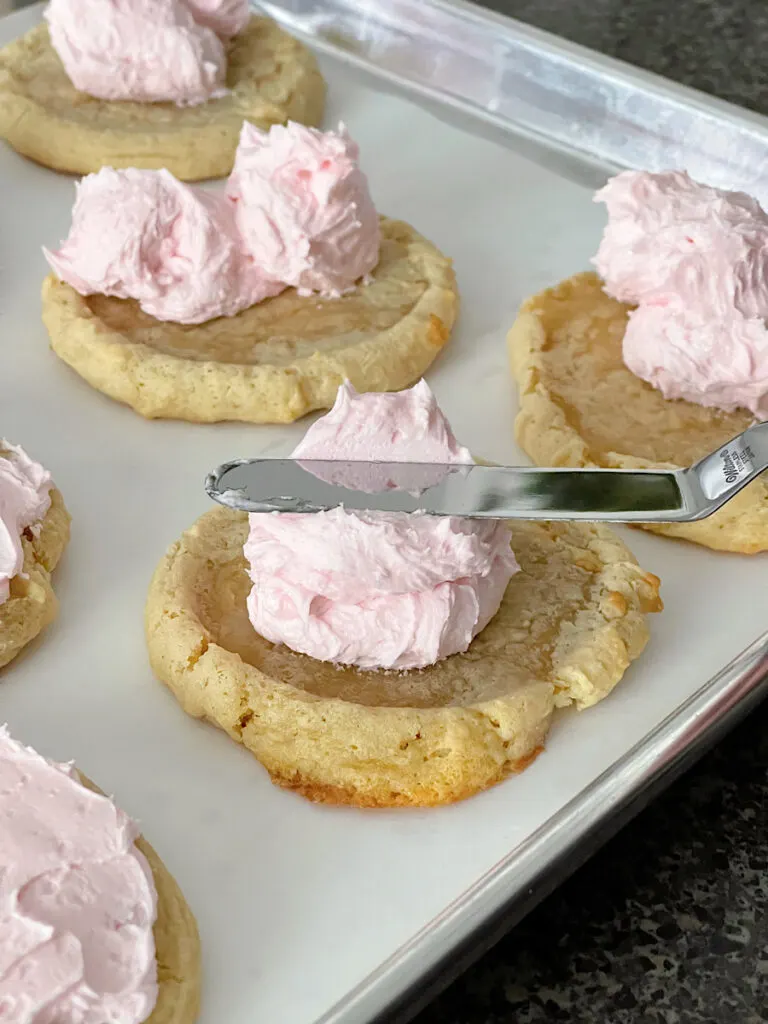 *Note: For a smaller cookie, use a 2 Tablespoon cookie scoop and adjust the baking time to 9-11 minutes.
Helpful Kitchen Tools
How to Store Sugar Cookies
Store the cookies in an air-tight container and keep them chilled. They will stay fresh for about one week.
How to Freeze Crumbl Sugar Cookies
If you have leftover cookies, you can freeze them for up to three months.
Place the cookies in a single layer on a baking sheet and freeze for 1-2 hours until hardened.
Once completely frozen, place a piece of wax paper or parchment paper between each cookie and put them in an airtight container or freezer bag to store in the freezer.
Thaw in the refrigerator overnight before serving.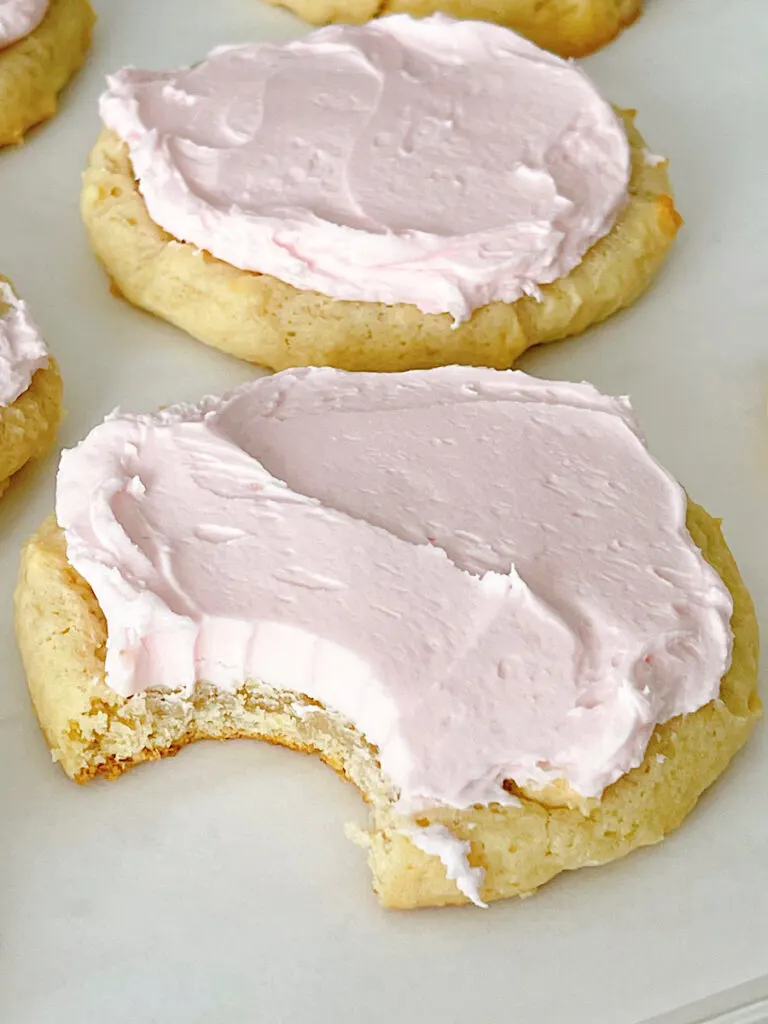 Frequently Asked Questions
What's the secret to perfect Crumbl cookies?
The key to making the perfect Crumbl Sugar Cookies is to use high-quality ingredients and not over-bake them. The cookie dough should be scooped into 1/4 cup balls and baked for just 10-12 minutes so they have a soft, chewy center.
Can I make these cookies without frosting?
Yes, absolutely! These cookies are just as delicious without frosting. Simply bake the cookie dough according to the instructions and enjoy them with a glass of cold milk.
Can I use a different type of extract in the frosting?
Yes, you can use any type of extract you like in the frosting, such as lemon or almond extract. The flavor will be slightly different, but still delicious!
What is the frosting on Crumbl sugar cookies?
The frosting on Crumbl Sugar Cookies is a classic buttercream frosting made with butter, powdered sugar, heavy cream, almond extract, and vanilla extract. It adds the perfect amount of sweetness and adds depth of flavor.
Does the dough need to be chilled before baking?
For this recipe, the dough does not need to be chilled before baking. For most rolled sugar cookie recipes, like my favorite recipe here, the dough should be chilled so the cut-out shapes will not spread too much when baking.
How can I tell if my sugar cookies are done baking?
The sugar cookies are done baking when the center looks set but they have not begun to turn brown. To test, press lightly on the top of a cookie and if it is firm but still slightly soft to the touch, it is done.
Can I freeze my homemade sugar cookie dough?
Yes. For best results, freeze the dough after you have measure the dough into 1/4 cup of cookie dough and place on a baking sheet. Freeze the dough for 2 hours, then transfer to a freezer bag for up to 3 months.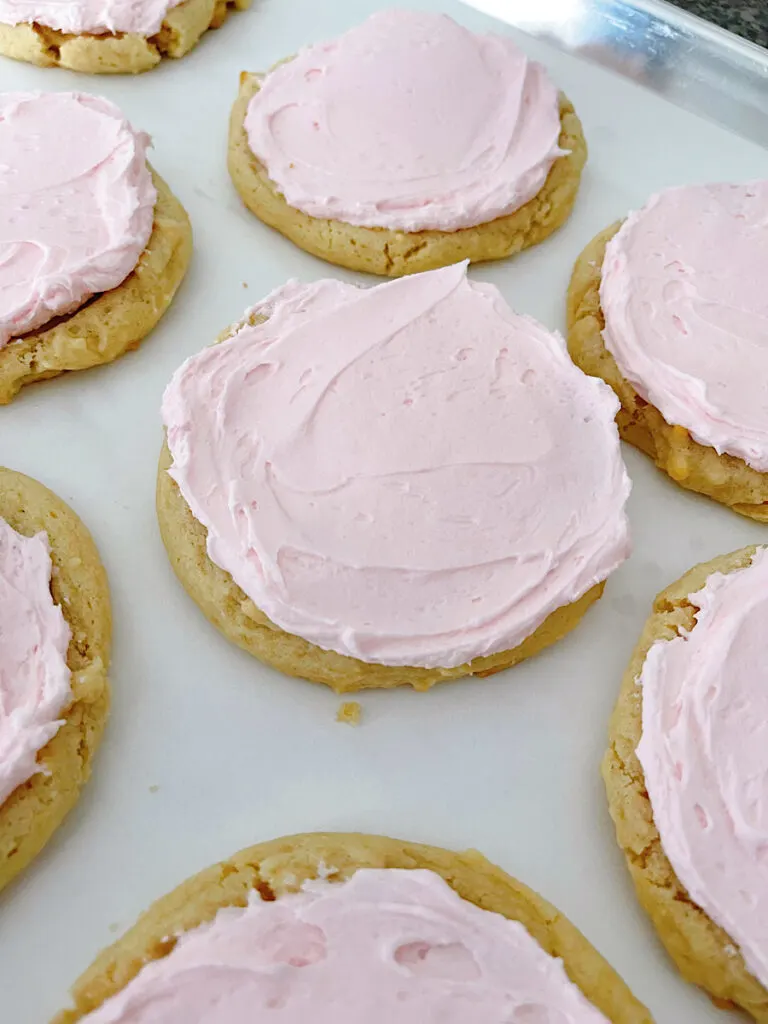 Final Thoughts
Making Crumbl Sugar Cookies at home can be a fun and rewarding experience. With the right ingredients, equipment, and technique, you can make this delicious copycat Crumbl Sugar Cookie recipe that are sure to impress friends and family.
The key is to not over-bake them and use high-quality ingredients. Have fun experimenting with different flavors of extract or frosting to customize your signature delicious cookies.
More Sugar Cookie Recipes
Pin for Later: