Delicious and easy Almond Joy Chocolate Chip Cookies are decadent and loaded with chocolate chips, coconut, and almonds.
Dip them in melted chocolate and you definitely have a winner!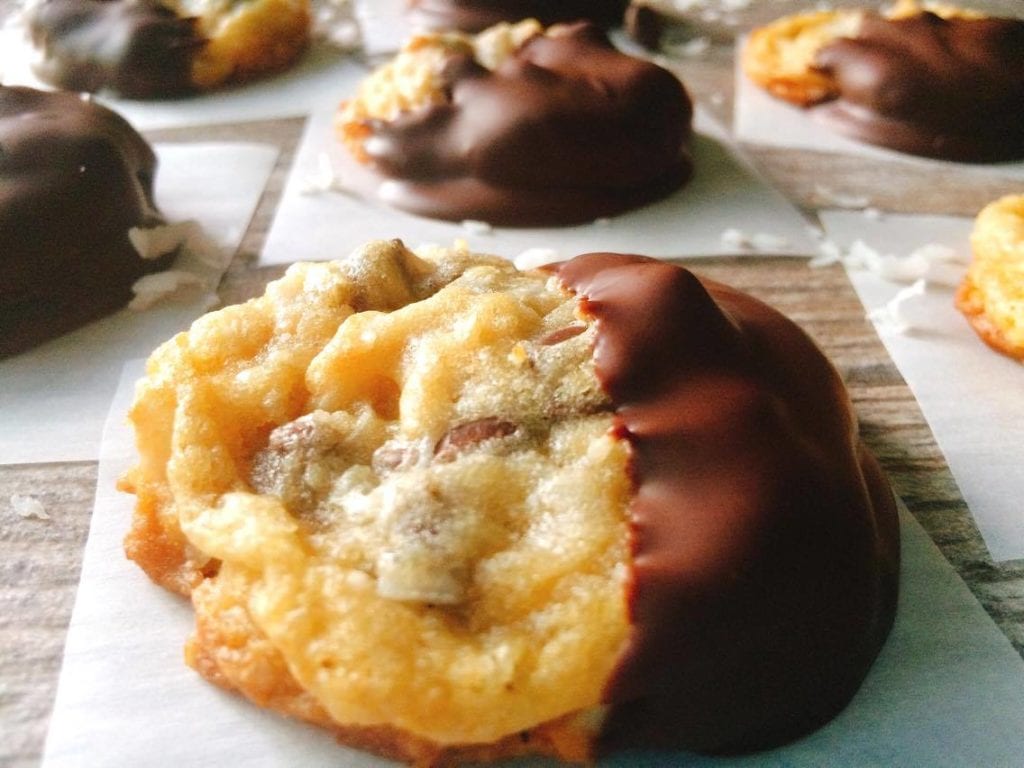 This post may contain affiliate links. When you click on these links, I get a small percentage back at no cost to you! For more information see my disclosure policy.
I don't know about you, but I would like to take this opportunity to thank the genius who put chocolate, coconut, and almonds together.
If I could hug that person, I totally would. I mean, there are not many things that are better in this world, than the combination of those three things.
I decided that I wanted to take the deliciousness that is an Almond Joy candy bar and transform it into a cookie.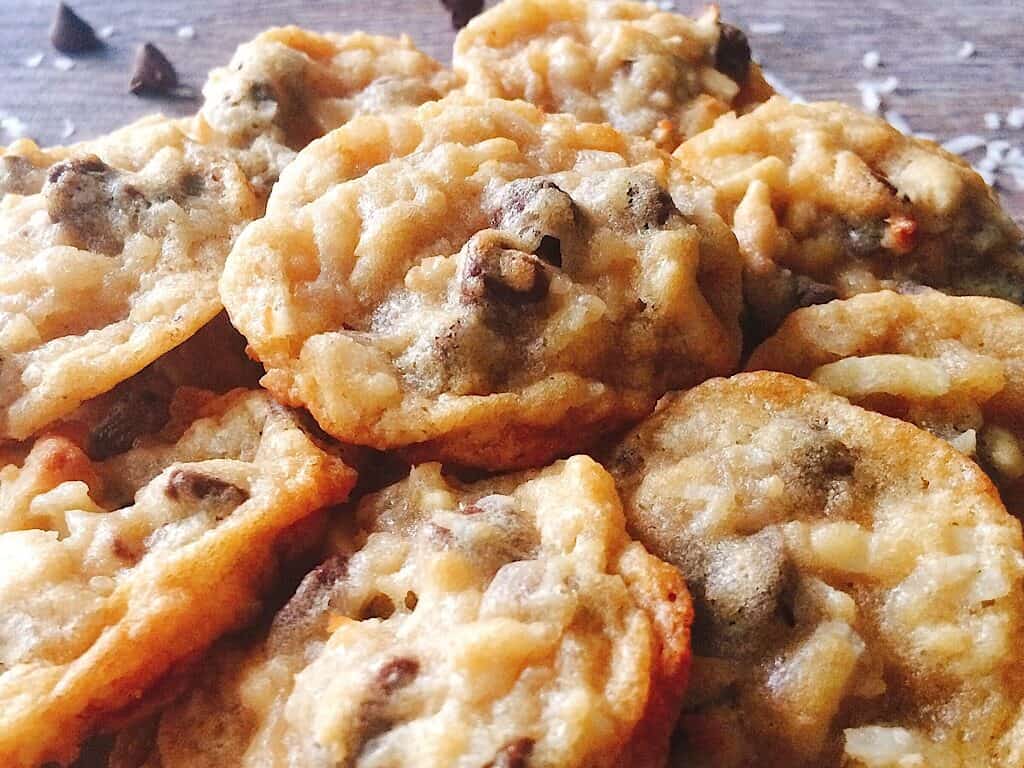 What Are Almond Joy Chocolate Chip Cookies?
The cookie dough for this recipe is a basic moist, chocolate chip cookie. But, it is taken to a whole new level with the addition of coconut flakes, coconut extract, and almonds.
My favorite way to enjoy these cookies is dipped in melted chocolate. It is so good!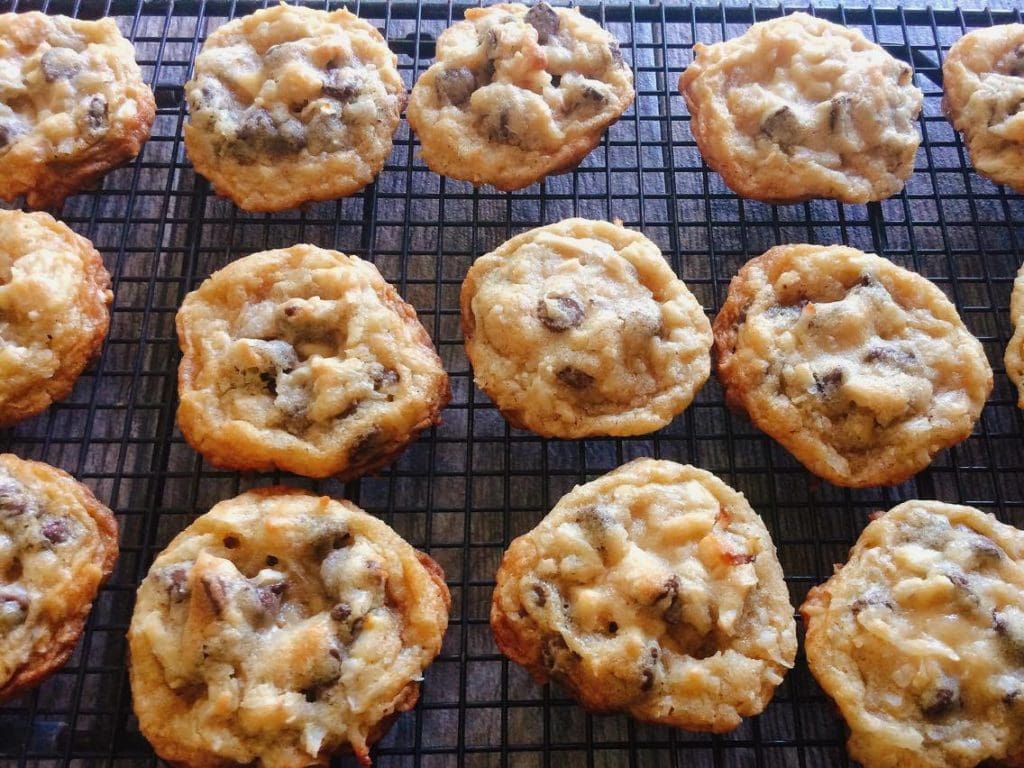 Trust me when I say that if you like Almond Joy candy bars, then you are going to LOVE these delicious cookies.
They are the perfect ratio of chocolate, coconut, and almonds and are chewy and delicious. The "crunch" part of the cookies comes from the flaked coconut.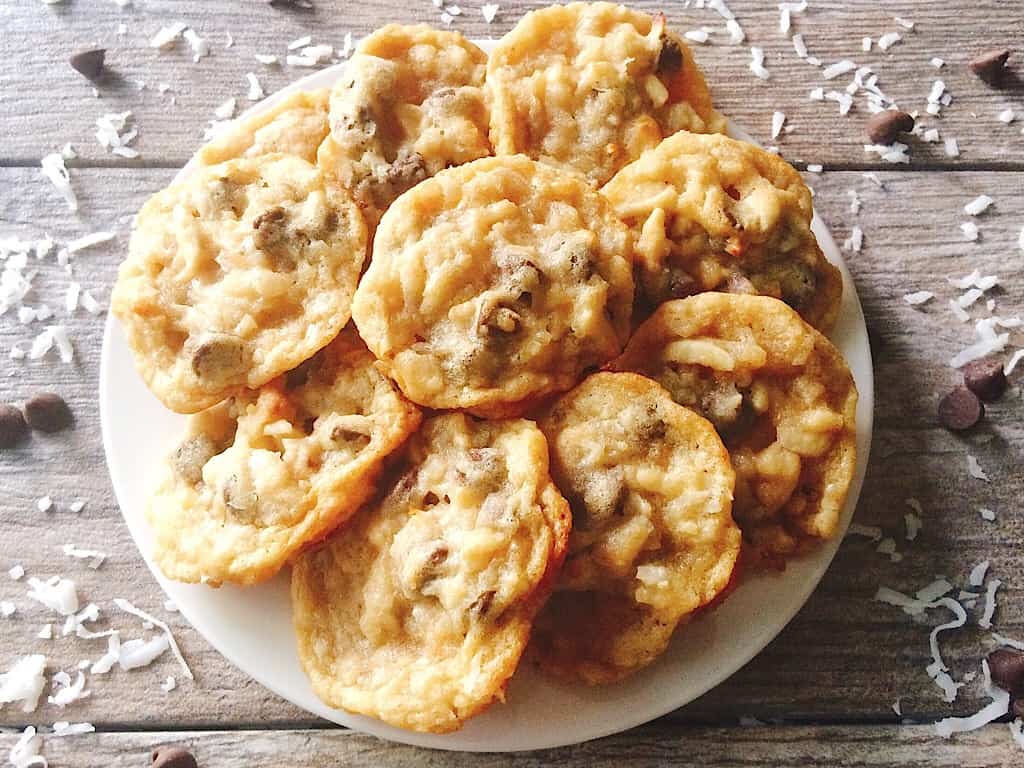 Ingredients
1 Cup Butter

3/4 Cup Sugar

3/4 Cup Brown Sugar

2 Eggs

1 Teaspoon Vanilla Extract

1 Teaspoon Coconut Extract

2 Cups All-Purpose Flour

1 Teaspoon Baking Soda

1/2 Teaspoon Salt

2 Cups Coconut Flakes

2 Cups Chocolate Chips

1 1/2 Chopped Almonds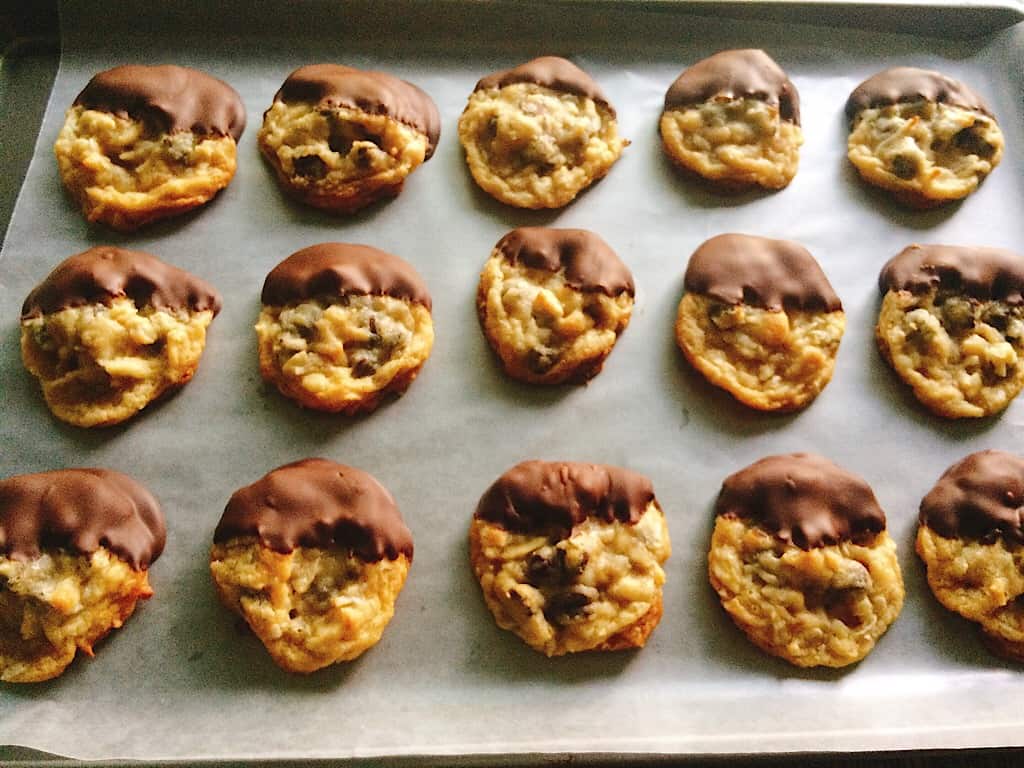 How to Make Almond Joy Chocolate Chip Cookies
First, begin by adding the softened butter, sugar, and brown sugar to the bowl of a stand mixer.
Beat them together until light and fluffy.
Mix in the eggs, vanilla extract, and coconut extract.
In a separate bowl, sift together the flour, baking soda, and salt.
Add the dry ingredients to the wet ingredients and mix until combined.
Stir in the coconut flakes, chocolate chips, and almonds.
Bake the cookies at 375° for 9-11 minutes. Keep an eye on them at the end of the baking time because they can become over done quickly.
Allow the cookies to rest on the cookie sheet for 1-2 minutes before transferring them to a cooling rack.
If desired, melt 1/2 cup of chocolate chips in the microwave at 50% power in 30 second increments until it is melted.
Dip half of the cookie in the chocolate and allow it to cool on wax paper.
Helpful Kitchen Tools
I hope you enjoy these delicious Almond Joy Crunch Cookies with a tall glass of milk and make sure to pin this recipe for later!
More Cookie Recipes: