If you're looking for a delicious, chewy and gooey cookie recipe to satisfy your sweet tooth, then you'll want to try this copycat version of Chocolate Chip Crumbl Cookies. This recipe will be sure to bring a smile to everyone's face when set out at your next gathering. So if you have a love of Crumbl cookies like I do, don't wait any longer to make your own batch of Crumbl Chocolate Chip Crumbl Cookies today!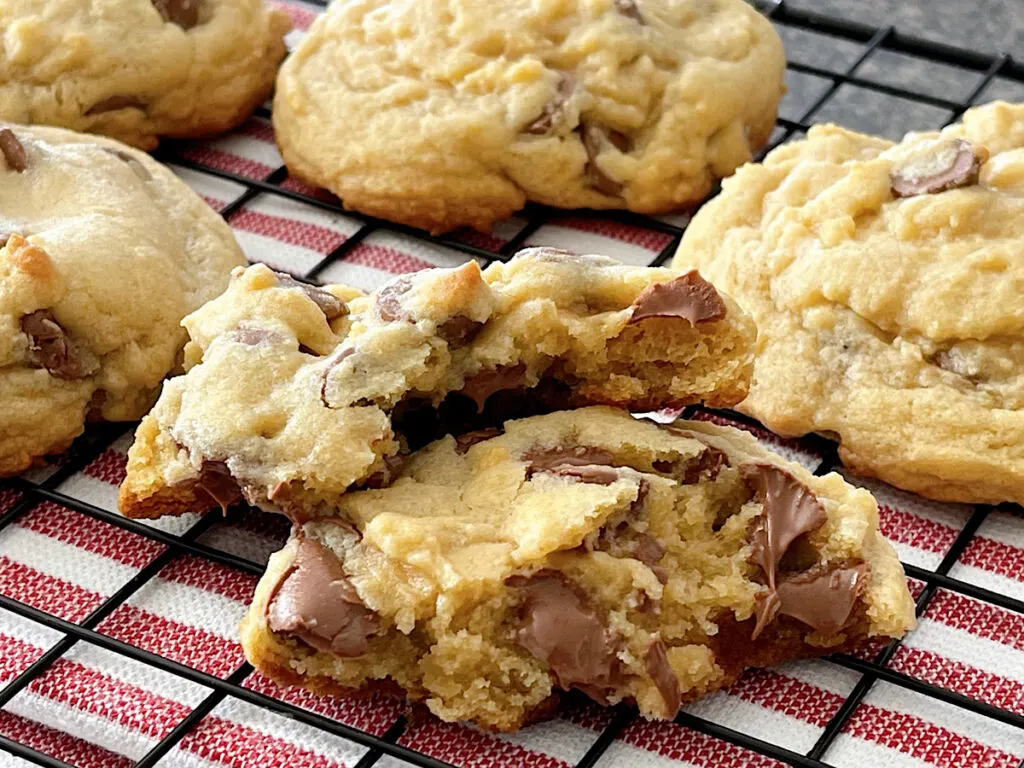 This post may contain affiliate links. When you click on these links, I get a small percentage back at no cost to you! For more information see my disclosure policy.
Below you will find tips, tricks and helpful hints for making this recipe including step by step instructions with pictures. If you would like to go directly to the recipe, scroll down to the recipe card or tap "Jump to Recipe" at the top of the page.
Why You'll Love this Crumbl Cookies Recipe
My family LOVES Crumbl cookies, but there is no way that my wallet can keep up with the number of delicious cookies they would like to consume. That's where this recipe comes in!
I love coming up with dupe recipes for popular items that I can make at home. Like my recipe for Cheesecake Factory's Four Cheese Pasta (recipe here) and Disney's Churros (recipe found here).
If you are a Crumbl Cookies fan, I think you'll be happy with the results of this Crumbl copycat recipe. So grab your apron, gather your basic ingredients, and let's get baking!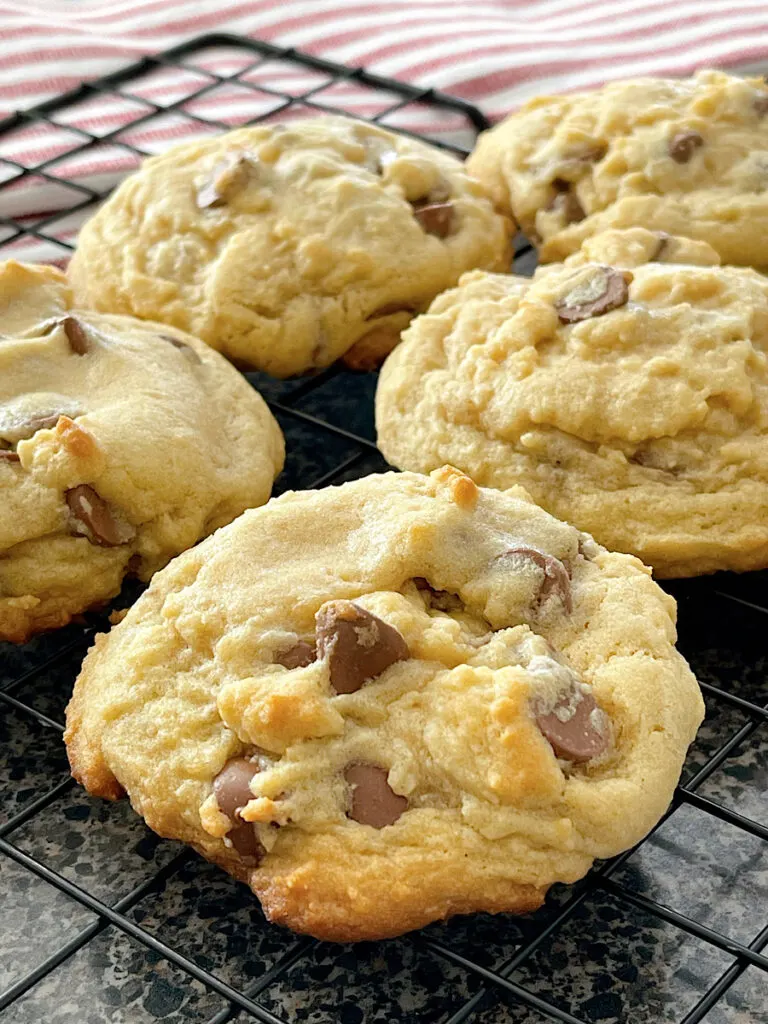 Chocolate Chip Crumbl Cookies Ingredients
*Ingredient amounts are located in the recipe card at the end of this post.
Butter: When making these cookies, the butter should be softened to room temperature. I used salted butter, but unsalted butter will work as well.
Sugar and Brown Sugar: These are used in the cookie base of all chocolate chip cookie recipes. You will need both granulated white sugar, and brown sugar.
Eggs: These will help hold the cookies together and give them structure.
Vanilla Extract: This adds a hint of flavor to the cookies. I always like to add more vanilla than most recipes call for, it makes baked goods taste so much better!
All-Purpose Flour: The base of your cookie recipe is all-purpose flour. You can use an alternative gluten-free flour blend if preferred, but you may need to adjust the amounts used in this recipe.
Powdered Milk: This ingredient helps give a bit of extra chewiness to the cookies and can be found at your local grocery store.
Cornstarch: Adding a little bit of cornstarch will help create that crumbly texture we all love in these cookies!
Baking Soda and Salt: These ingredients act as leavening agents to help them rise when baking.
Milk Chocolate Chips: You can use any type of chocolate chips you like. Crumbl uses milk chocolate chips in the cookies sold at their stores. I used my favorite, Ghirardelli brand for this recipe!
How to Make Crumbl Chocolate Chip Cookies at Home
[1] In a medium bowl, whisk together the flour, milk powder, cornstarch, baking soda, and salt. Set aside.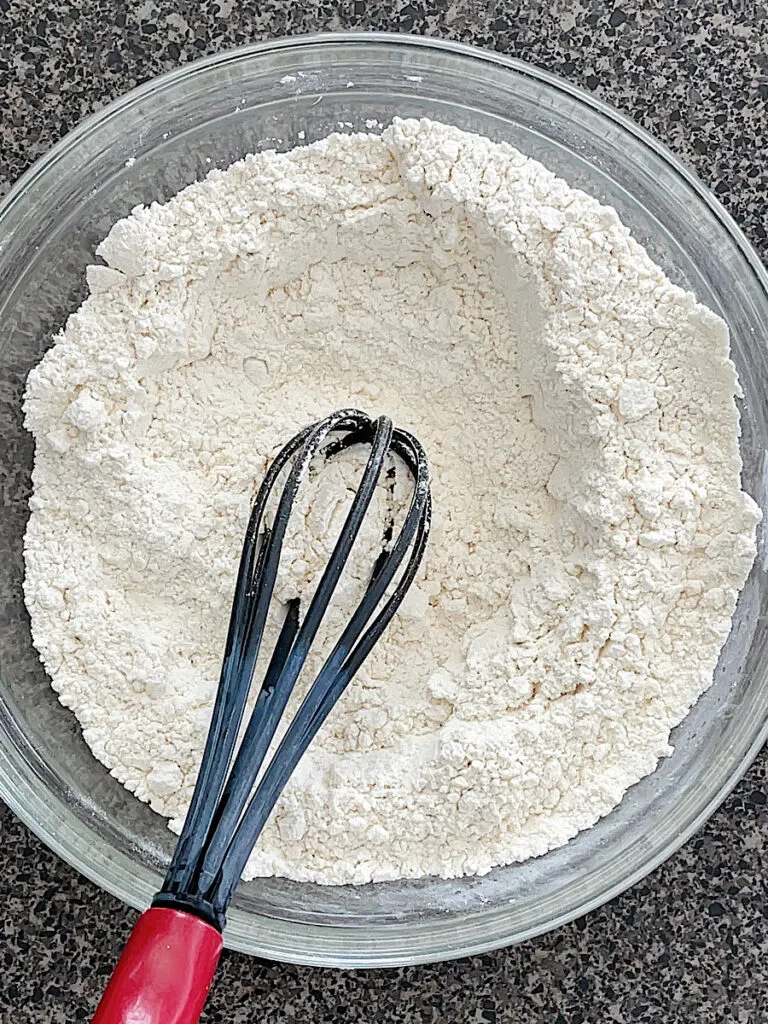 [2] In a separate bowl or stand mixer, beat the softened butter with the sugar and brown sugar at medium speed until light and fluffy, scraping the sides of the bowl as necessary.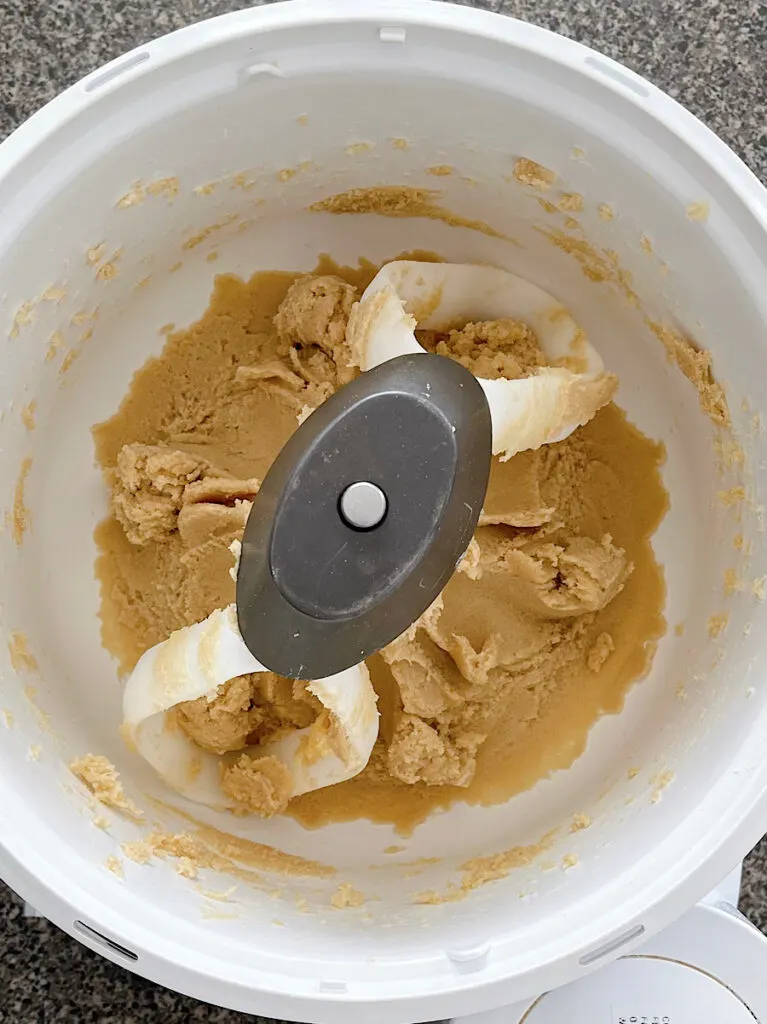 [3] Add the eggs, one at a time, mixing for about 10-20 seconds in between. Add the vanilla extract and mix for an additional 30 seconds.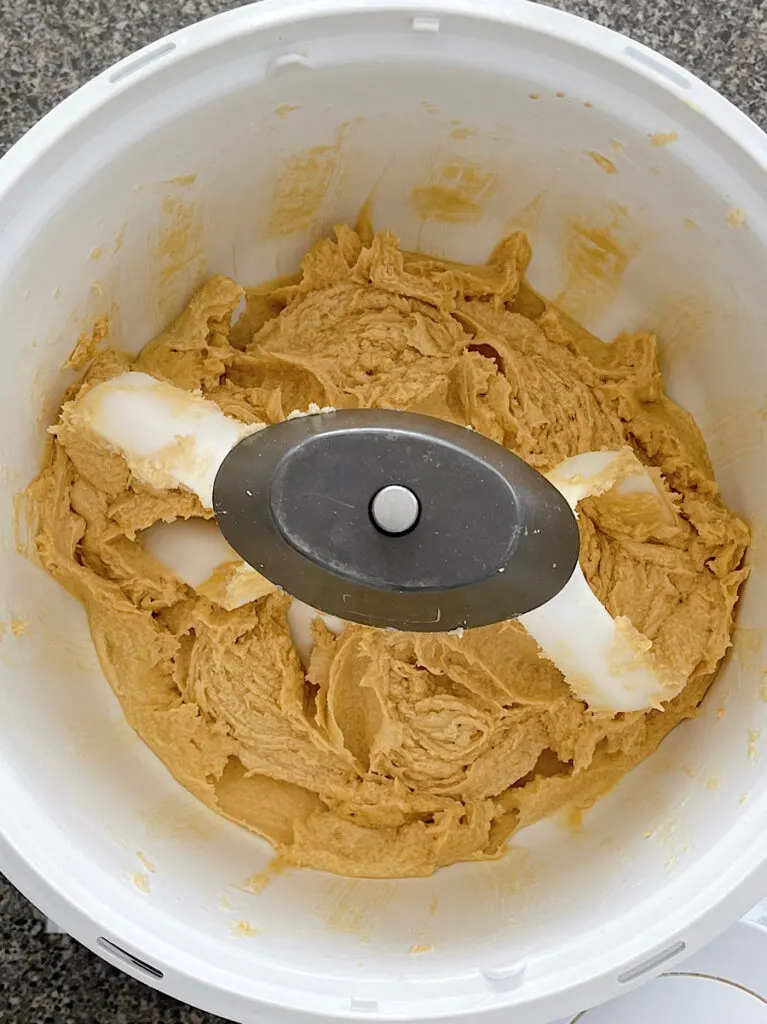 [4] Add the dry ingredients to the wet ingredients and mix, just until moistened. Do not over mix as this will affect the chewiness of the cookies. Stir in the chocolate chips.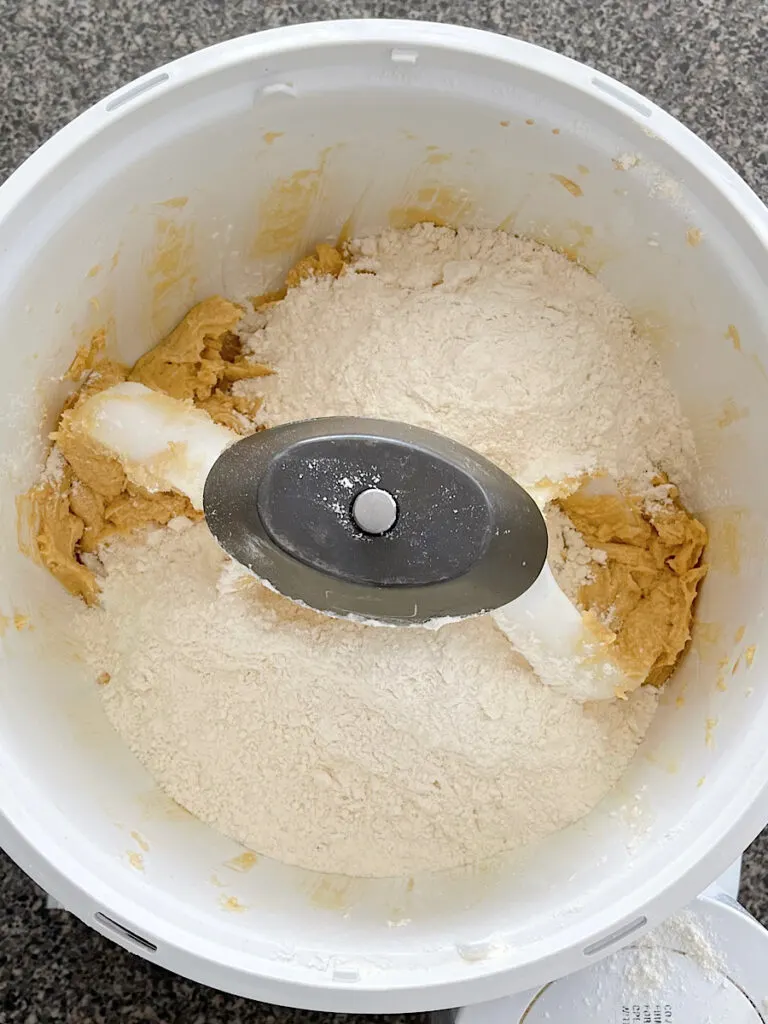 [5] Use a cookie scoop to place the cookie dough balls on a parchment paper lined baking sheet about 2 inches apart.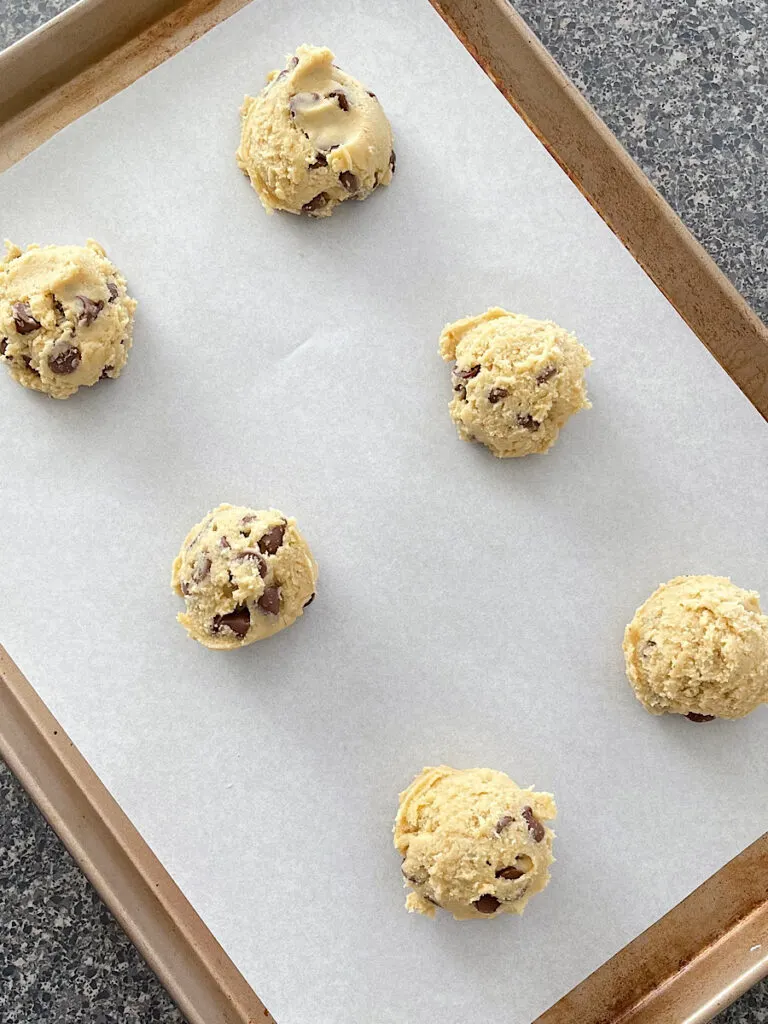 [6] Bake at 375 degrees for 8-10 minutes until the cookies begin to turn golden brown on the edges. Remove from the oven and allow to rest on the baking sheet for 5 minutes, before transferring to a wire rack.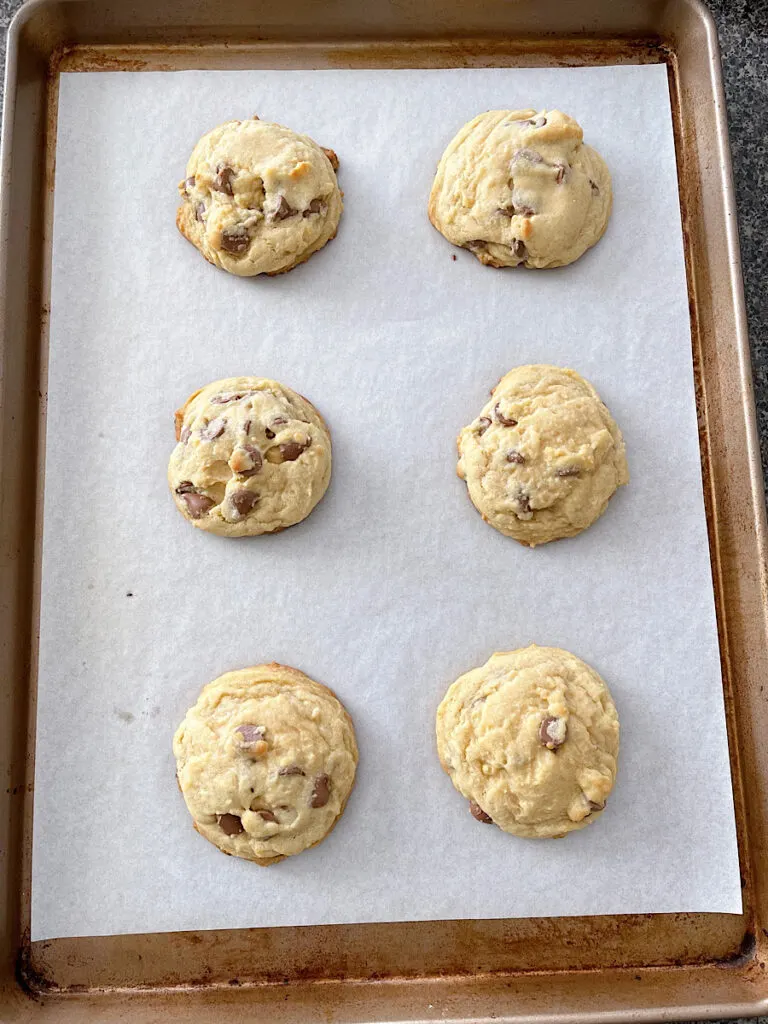 Helpful Kitchen Tools
What Size Cookie Scoop to Use
If you want to make huge cookies, like the ones sold at Crumbl stores, you will want to use a 1/4 cup cookie scoop. If using this size scoop, this recipe will make about 18 giant cookies and the cooking time will be about 10 minutes.
To make smaller cookies, use a 2-tablespoon cookie scoop. This will yield about 36 cookies and the baking time will be 8 minutes.
How to Store Cookies
These cookies are best enjoyed fresh out of the oven but will keep well for a few days when stored in an airtight container or covered with plastic wrap.
If you want to store them for later use, I recommend freezing them in an airtight zip-top bag with all of the air pressed out and placed flat. When ready to eat, allow the cookies to thaw at room temperature, or warm them up in a preheated 350 degree oven for 2-3 minutes.
Tips & Tricks
Make sure the butter and eggs are at room temperature for best results.
Don't over mix the dough, too much mixing will make the cookies tough.
Use a cookie scoop to portion out evenly-sized cookies.
Swap out chocolate chips with other mix-ins like chopped nuts, M&Ms, toffee bits or white chocolate chips.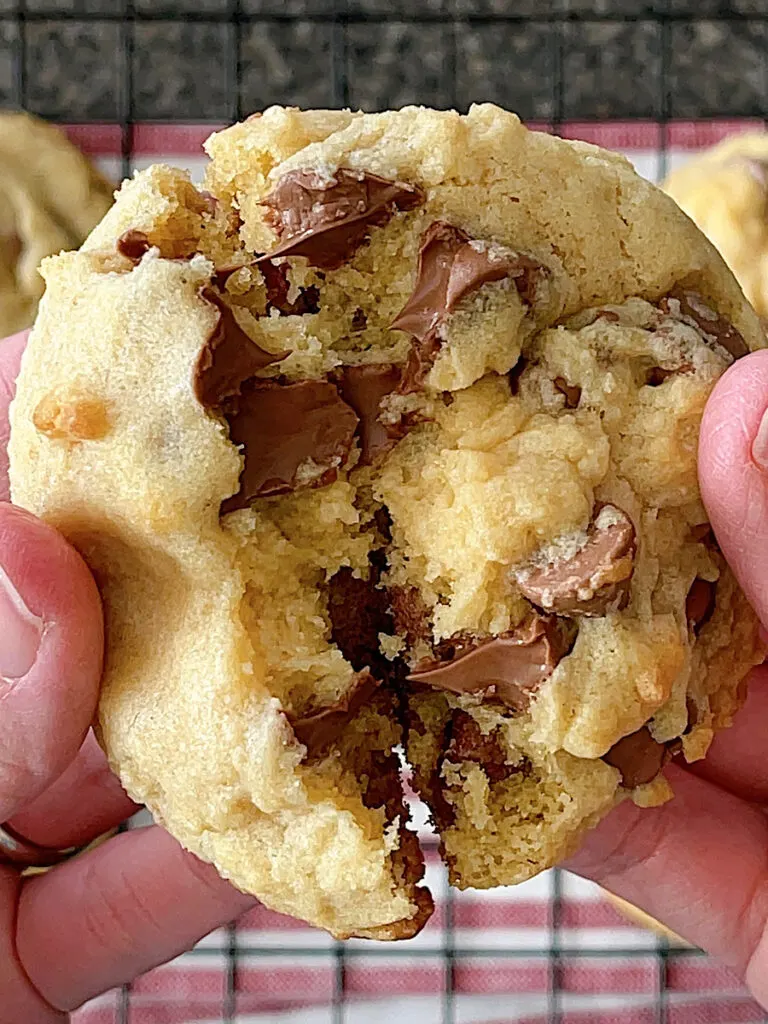 Frequently Asked Questions
Can I use any type of chocolate chips?
Yes, you can use any type of chocolate chips for this recipe. Dark or semi-sweet will work just as well as milk chocolate.
How long do the cookies last?
The cookies will stay fresh for up to 3 days if stored in an airtight container. They can also be frozen for up to 3 months.
Can I use a gluten-free flour blend?
Yes, you can absolutely use a gluten-free flour blend in this recipe. You may need to adjust the amount of the flour used, so it's best to follow the instructions on the gluten-free flour blend you are using.
Can I double this recipe?
Yes, this recipe can easily be doubled. Make sure to adjust the baking time accordingly for larger batches of cookies.
Final Thoughts
Making these homemade copycat Crumbl cookies is a great way to satisfy your sweet tooth! With just a few simple ingredients, you can recreate the delicious taste of Crumbl chocolate chip cookies right in your own kitchen. Whether you use milk or dark chocolate chips, these cookies are sure to be a hit. Enjoy!
More Chocolate Chip Cookie Recipes
Pin for Later: