These chewy White Chocolate Brownies with White Chocolate Chips are a delightful treat that will satisfy your sweet tooth in a unique way. Unlike traditional fudgy brownies, these feature a rich white chocolate base that's infused with more white chocolate chips for an extra burst of flavor that makes it a great recipe for the white chocolate lover. The brown sugar and butter blend together to provide a delightful caramel-like undertone, while the vanilla extract adds a hint of warmth. With a beautifully crispy top and a moist, fudgy center, these brownies offer a perfect balance of textures that will leave you reaching for more. Easy-to-follow and using everyday pantry ingredients, this recipe is perfect for anyone wanting to shake up their baking repertoire. Once you've tried these, you'll find them a wonderful addition to your collection of dessert recipes.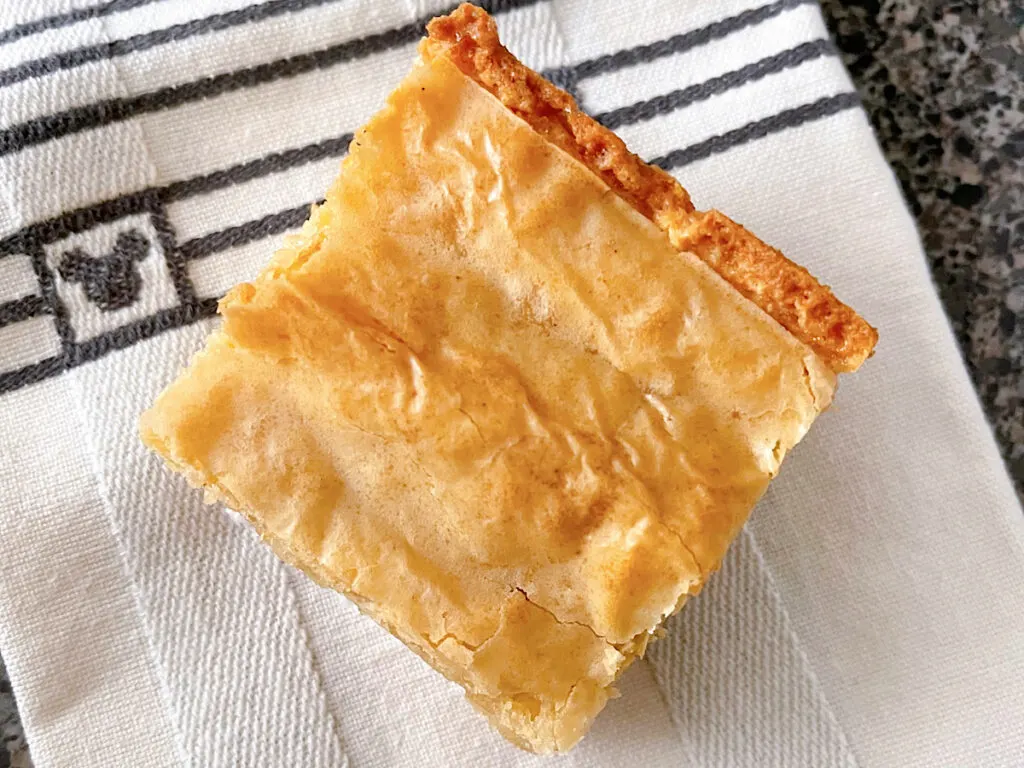 This post may contain affiliate links. When you click on these links, I get a small percentage back at no cost to you! For more information see my disclosure policy.
Below you will find tips, tricks and helpful hints for making this recipe including step by step instructions with pictures. If you would like to go directly to the recipe, scroll down to the recipe card or tap "Jump to Recipe" at the top of the page.
Why You'll Love This Recipe
If you're looking for an alternative to traditional chocolate brownies, you will love these White Chocolate brownies. Rich, fudgy and indulgent in flavor, these brownies will satisfy those with even the most sophisticated sweet tooth.
The combination of white chocolate and white chocolate chips provides a unique and delicious twist on a classic brownie recipe. And because they are quick and easy-to-follow, you'll never have to worry about running out of ideas for your next baking endeavor.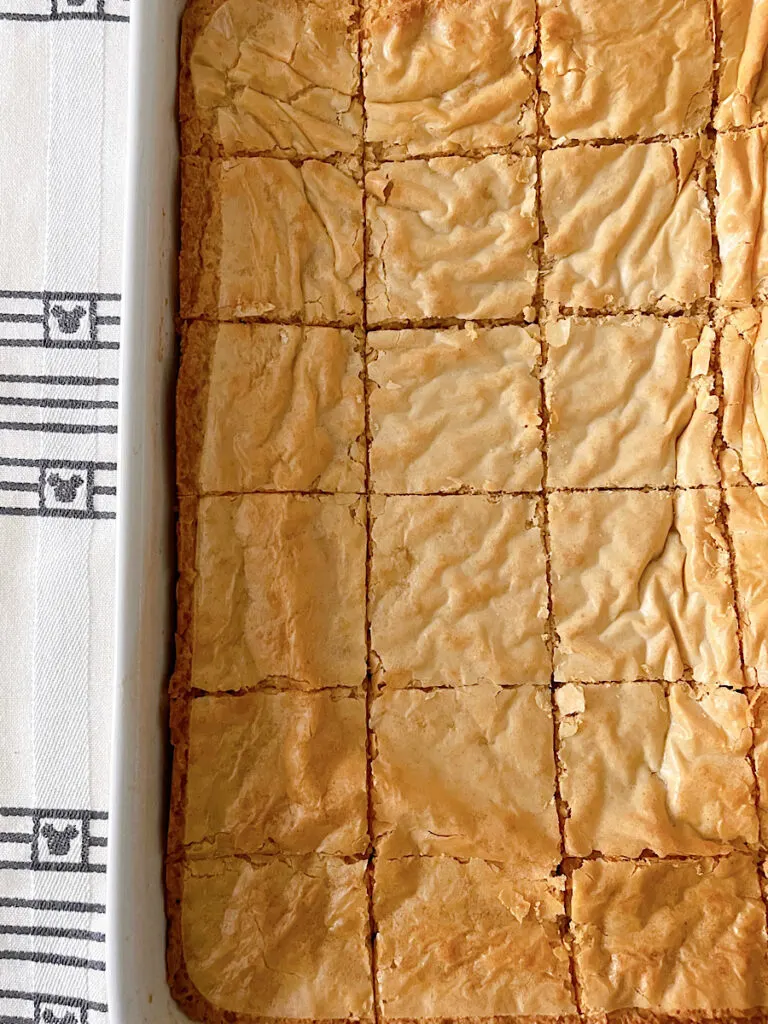 Ingredients & Substitutions
*Ingredient amounts are located in the recipe card at the end of this post.
Flour: All-purpose flour is the foundation of this recipe. You can also substitute it with other gluten-free flours like almond or coconut to make these brownies gluten-free.
Salt: This helps to add flavor and balance out the sweetness of all the ingredients. If you don't have any, feel free to leave it out.
Baking powder: This helps the brownies rise and gives them a lighter texture.
Eggs: Eggs are used to bind all the ingredients together. If you're vegan or have an egg allergy, try using chia seeds or flaxseed meal as an alternative.
Sugars: White and brown sugar are used to sweeten the recipe. You can also substitute with coconut sugar or maple syrup for a different flavor profile.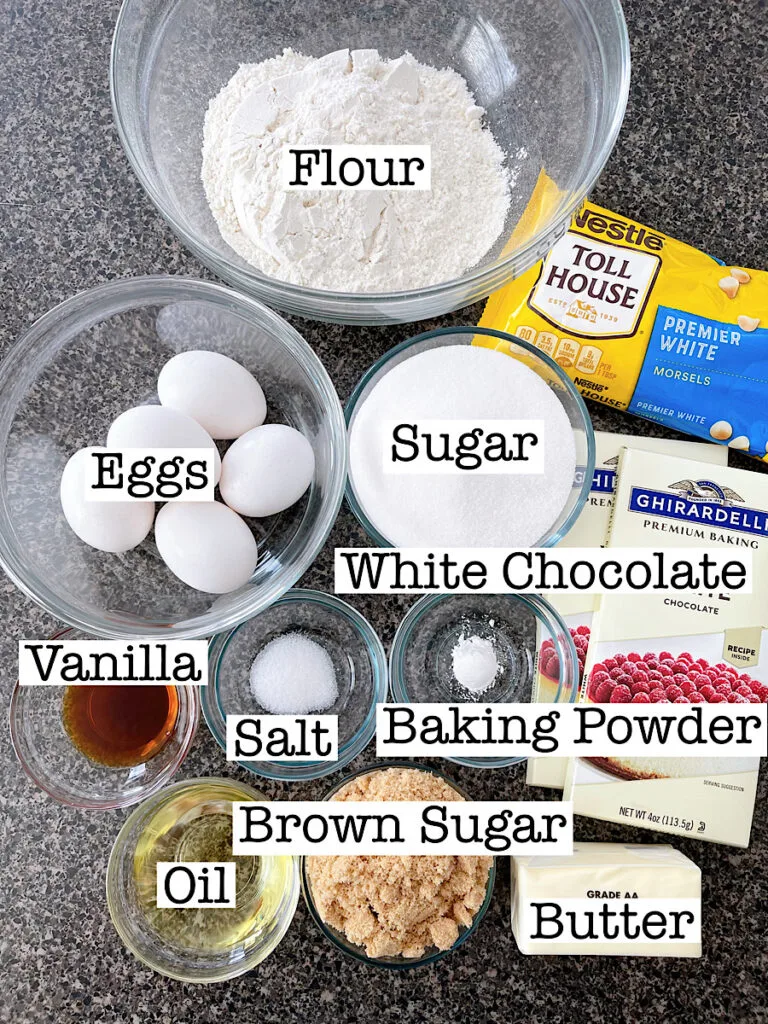 Canola oil: This is the fat source for the brownies, making them moist. You can use any other neutral flavored oil like vegetable or avocado if you don't have any on hand.
Vanilla extract: This adds a wonderful flavor to the brownies. Use pure vanilla extract if possible (I get mine from Costco), but imitation vanilla will work as well. If you don't have any, try using almond or coconut extract; both will give the brownies a unique taste.
White chocolate and white chocolate chips: These are combined to provide more intense white chocolate flavor throughout the entire batch of brownies. I used a good qualitynGhirardelli white chocolate bar for the batter and Nestle Tollhouse white chocolate morsels to mix in and drizzle. You can also use dark or milk chocolate instead, or a combination of all three.
Butter: This adds an extra richness and helps to give the brownies the perfect texture. I used salted butter, but unsalted butter will work as well. You can also use margarine if you don't prefer butter.
Step-By-Step Instructions
Step 1: In a small bowl, whisk together the dry ingredients including flour, salt, and baking powder.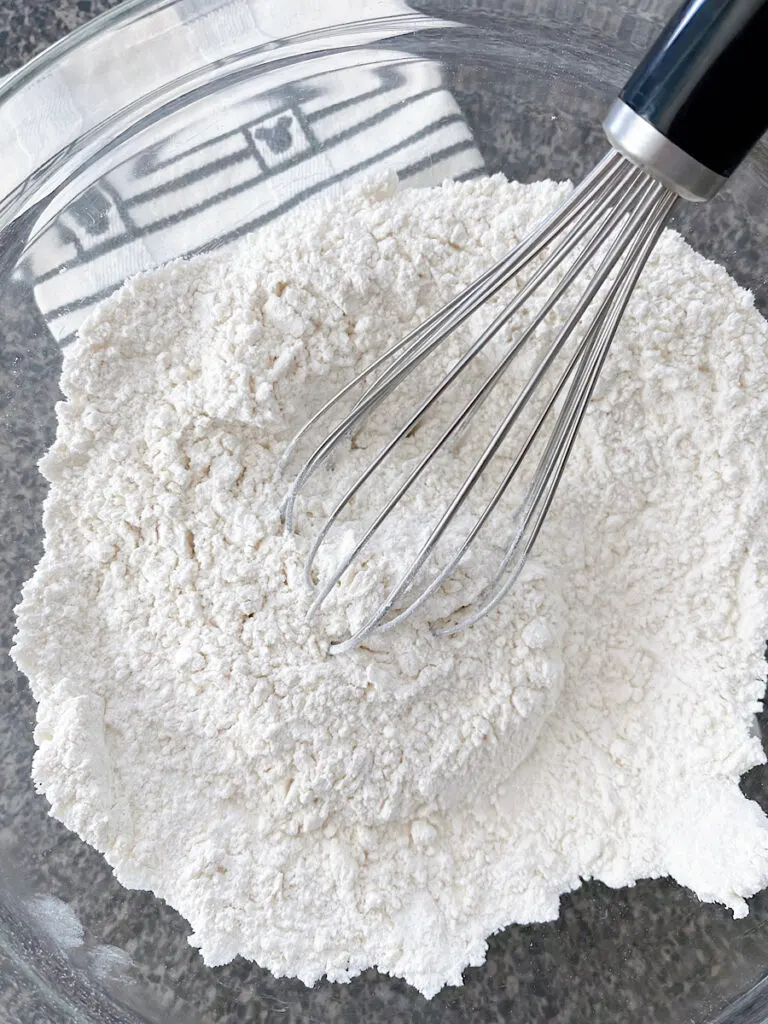 Step 2: In a large bowl, whisk the wet ingredients including eggs, sugar, brown sugar, canola oil, and vanilla extract until smooth.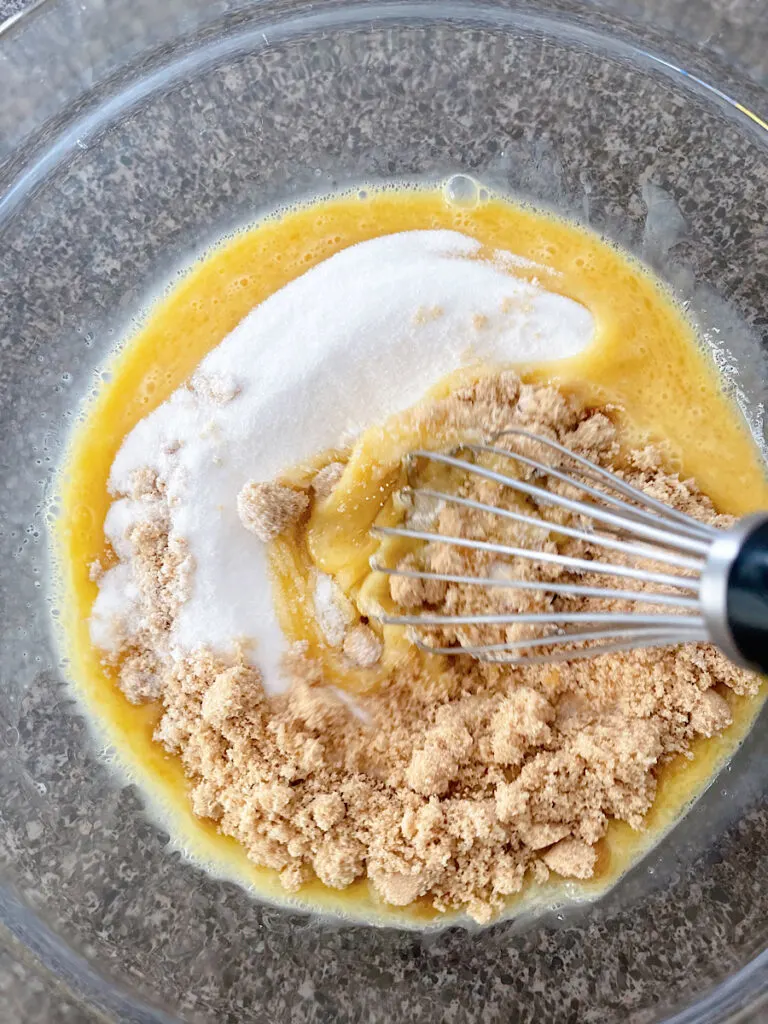 Step 3: Add 1 cup of white chocolate chips to a medium microwave safe bowl with the stick of butter. Microwave at 50% power for one minute, then remove and stir. Continue to microwave at 50% power in 30 second intervals, stirring in between, until the mixture is smooth and the chocolate has melted. You can also melt the white chocolate and butter in a double boiler over low heat.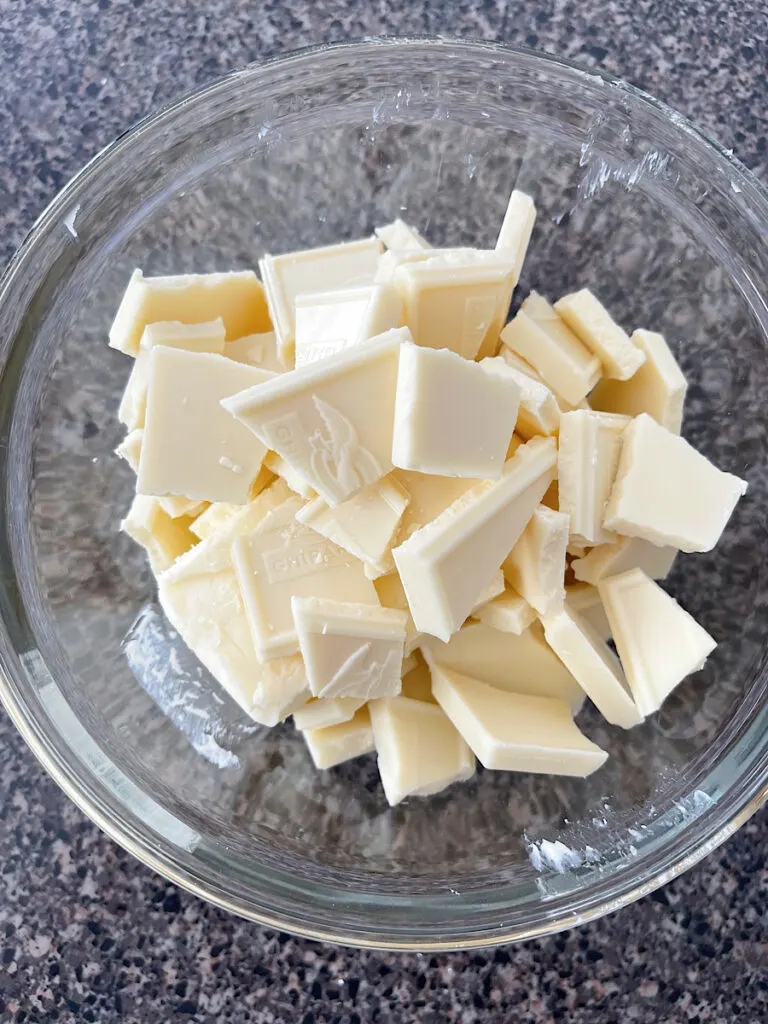 Step 4: Combine the white chocolate butter mixture with the sugar mixture. Stir in the dry ingredients, then gently mix in the white chips.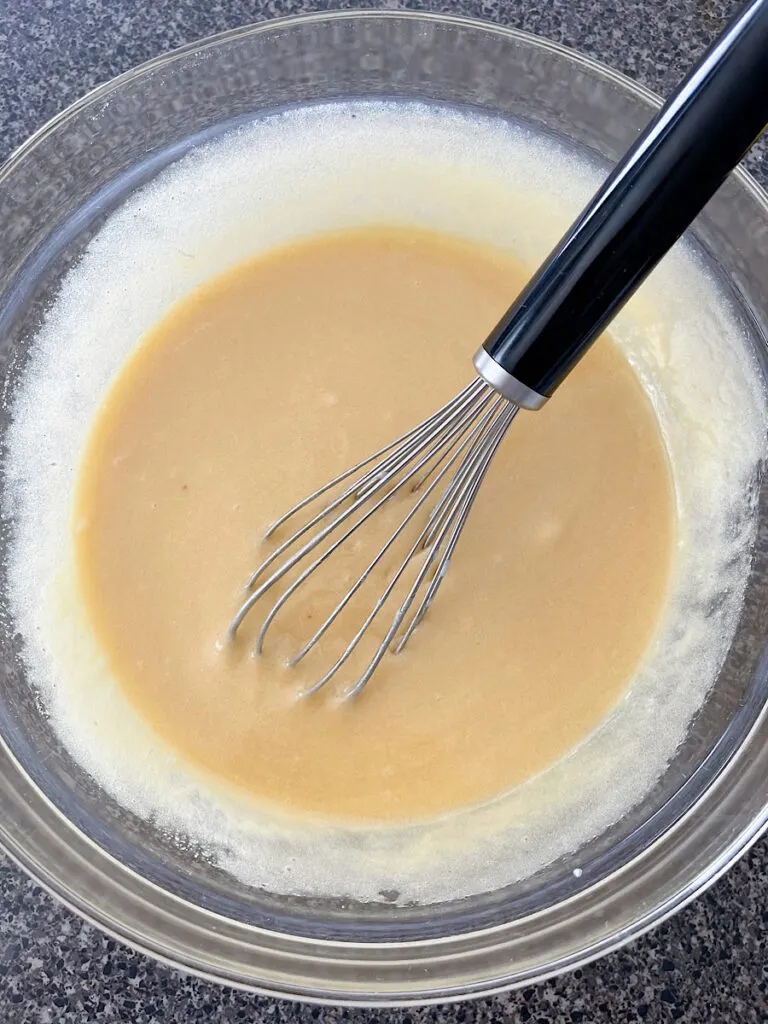 Step 5: Spray a 9×13 Baking dish with nonstick spray and top with a sheet of parchment paper. Pour the white chocolate brownie batter into the prepared pan and bake at 350 degrees for 40-45 minutes. Bake time will vary by oven, so keep an eye on the brownies so they don't over bake.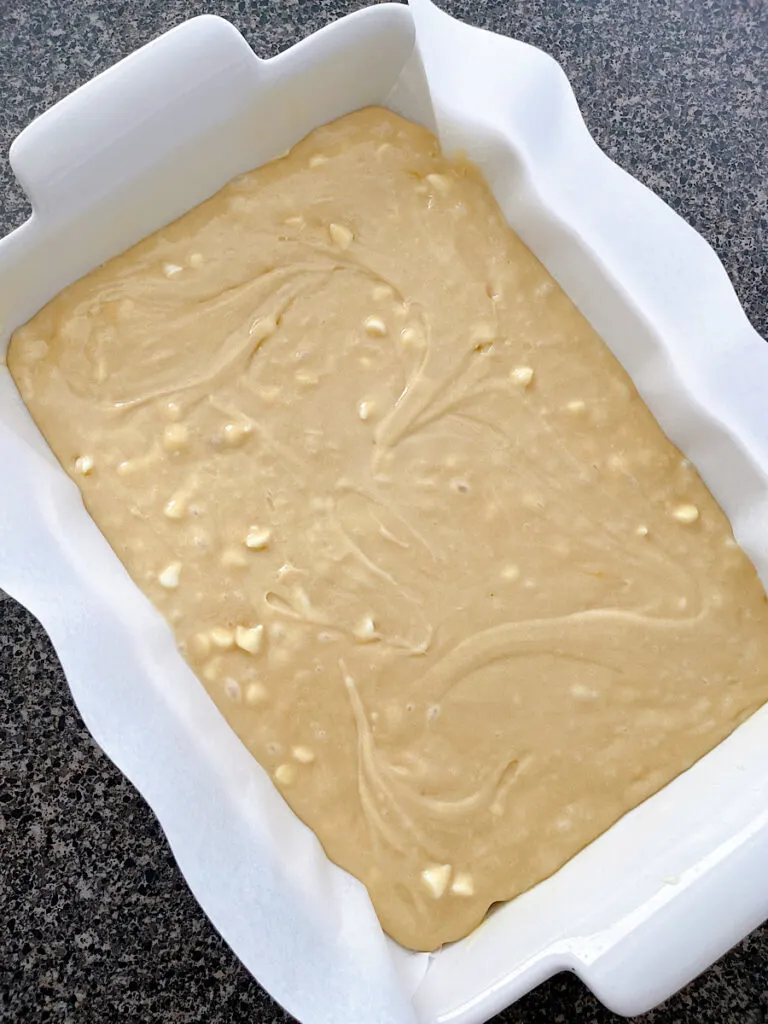 Step 6: Place the baking dish on a wire rack and allow the brownies to cool completely for best results. Cut and serve. Makes 24 white chocolate brownies.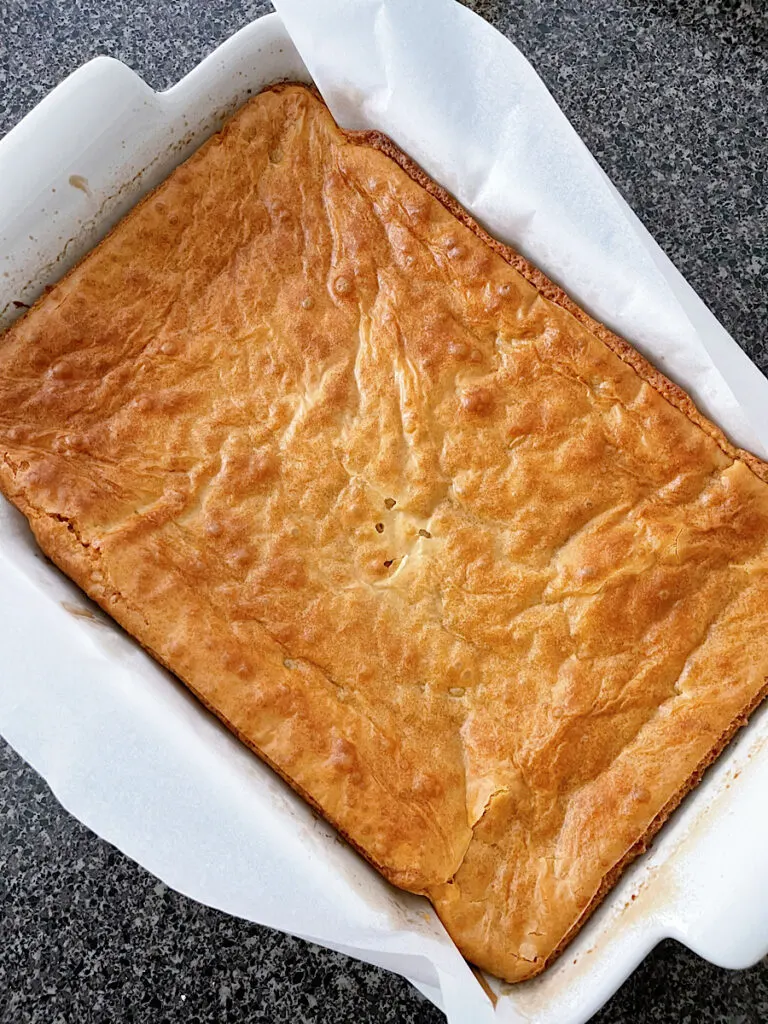 Helpful Kitchen Tools:
White Chocolate Brownie Baking Tips
Use high quality white chocolate for the best flavor.
If you prefer a cakey texture, cook the brownies for an extra 5 minutes.
You can also add mix-ins like nuts or dried fruit to these brownies.
How to Store White Brownies
These fudgy White Chocolate Brownies can be stored in an airtight container for up to three days at room temperature. They can also be frozen and enjoyed for up to two months. To defrost, just place the brownies on the counter until they are thawed.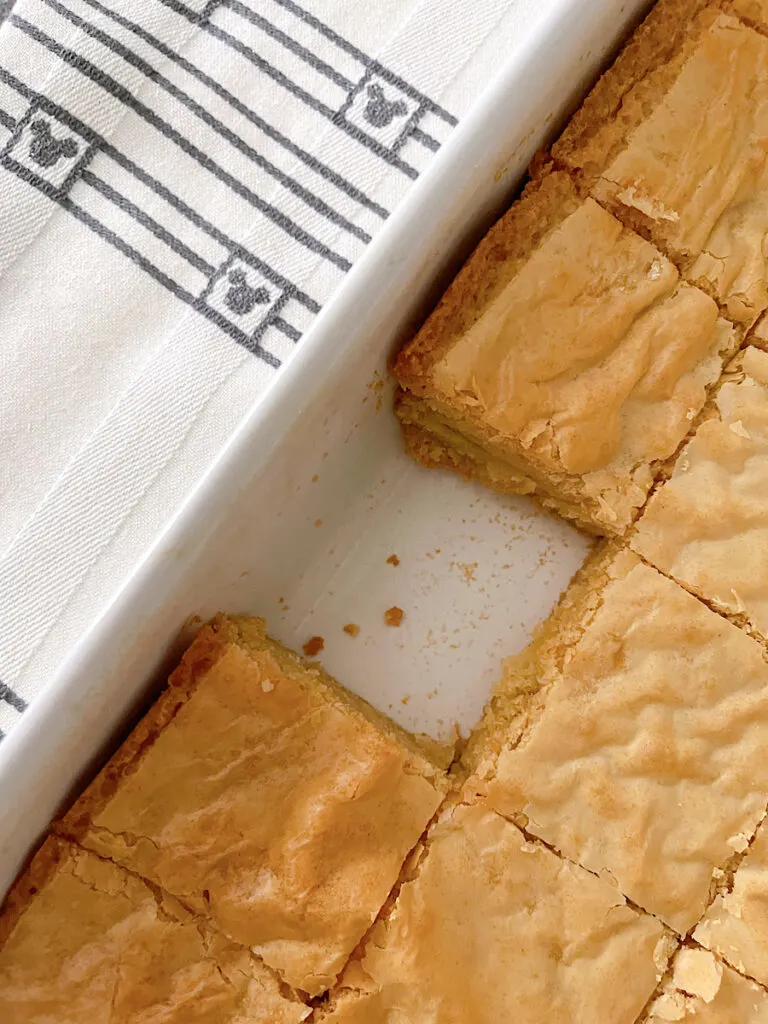 Recipe Variations
Add a layer of cream cheese frosting to the top of the brownies for a sweet and tangy twist.
Use milk or dark chocolate chips instead of white chocolate chips for a delicious flavor combination.
Make them into bar cookies by using a 9×9 baking dish and cooking for an extra 10 minutes.
Sprinkle some sea salt on top before serving to add another layer of flavor.
Top with crushed candy canes for a festive holiday treat.
Make a peanut butter swirl by stirring 1/2 cup of creamy peanut butter into the batter before baking.
Add some toasted macadamia nuts, walnuts or pecans for an extra crunch and nutty flavor.
Substitute the white chocolate chips with chocolate chips for an extra rich brownie.
Serve the brownies warm with a scoop of vanilla ice cream.
Final Thoughts
These gooey White Chocolate Brownies are the perfect treat for any occasion and are sure to become one of your favorite desserts. With their rich and indulgent flavor, they will satisfy even the pickiest of eaters. And with all the delicious variations you can make with them, you're sure to find one that fits your craving. Enjoy!
More Recipes: