Ultimate Thin Mint Brownies are four layers of chocolate mint heaven! A fudge brownie layer, topped with a creamy Thin Mint truffles layer, followed by whipped chocolate ganache frosting, and crushed Thin Mint Cookies.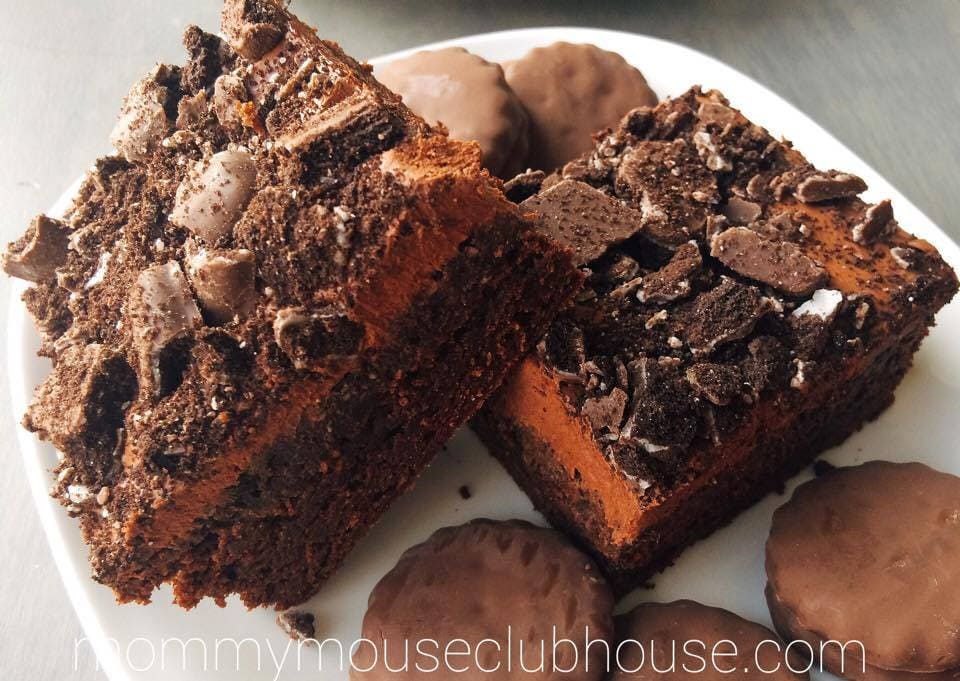 This post may contain affiliate links. When you click on these links, I get a small percentage back at no cost to you! For more information see my disclosure policy.
I love this time of year! Spring is just around the corner and more importantly, Girl Scout Cookies are everywhere!
Although I love the Girl Scouts, and used to be one, I think that the Girl Scout organization should really rethink their cookie model.
They usually begin selling cookies in January when New Year's Resolutions are in full swing and I'm usually trying to eat healthy. Hence, I only order one or two boxes of cookies.
By the time March comes around, delicious Girl Scout Cookies begin to be delivered to those smart people that were ordered them months before.
I'm usually hungry and wishing that I had ordered more. Lucky for me, there are usually little booths set up outside the grocery store with cute little Girl Scouts eager to unload their extra cookies to me!
My favorite Girl Scout Cookies are Samoas, Tag-alongs and Thin Mints. I love taking these cookies, that are already super delicious, and making them into a yummy treat.
That's where the idea came for Ultimate Brownies. These brownies are amazing! They are rich and creamy and have just enough mint flavor to not overpower the chocolate. Yum.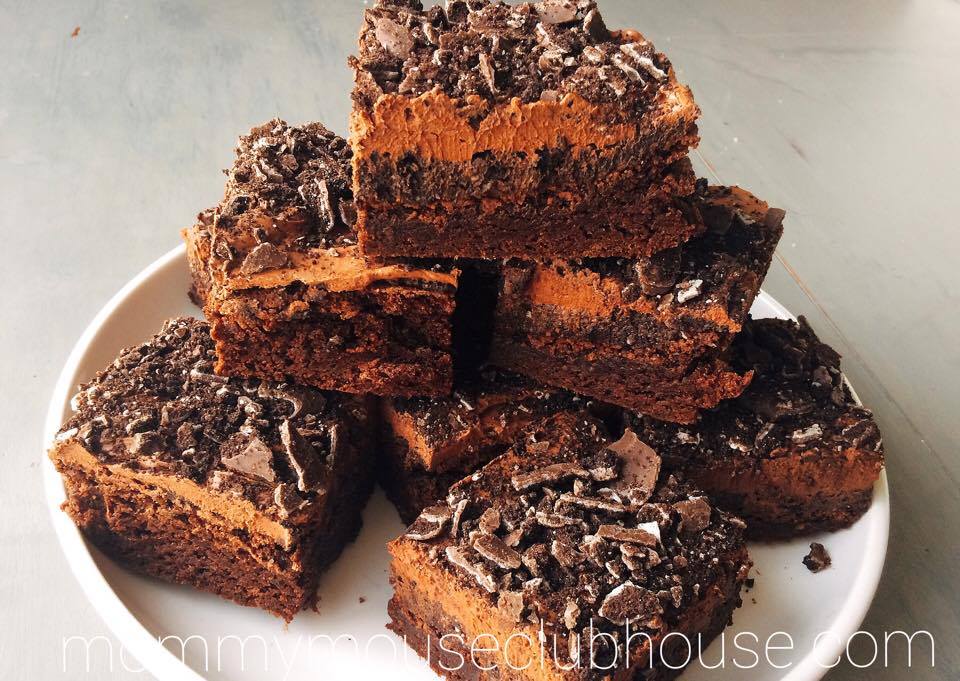 Layers of Thin Mint Brownies
The bottom layer of these brownies is chewy and rich. On top of the brownie is a layer of Thin Mint cookie crumbs mixed with cream cheese. Just like an OREO truffle but with Thin Mints.
The frosting is whipped chocolate ganache that tastes like a super creamy, minty, chocolate whipped cream that is heavenly! Finally, the brownies are sprinkled with crushed Thin Mint cookies.
They aren't too hard to make either. Just follow the recipe step by step and you will be enjoying these delicious, decadent Thin Mint Truffle Brownies with Whipped Ganache Frosting in no time!
Ingredients for Thin Mint Brownies
Brownie Layer
1 Cup Butter, melted

3/4 Cup Cocoa Powder

4 Eggs

2 Cups Sugar

1 Teaspoon Vanilla Extract

1 1/2 Cups All-Purpose Flour

1/2 Teaspoon Salt

1/2 Teaspoon Baking Soda
Thin Mint Truffle Layer
1 Package Thin Mint Cookies, about 14 ounces

8 Ounces Cream Cheese, softened
Whipped Chocolate Ganache
Cookie Topping
1/2 Package Thin Mint Cookies, crushed
Helpful Kitchen Tools
How to Make Thin Mint Brownies
Begin by making the brownie layer. Mix the cocoa powder with the melted butter.
Beat the eggs and slowly add the sugar. Mix in the vanilla and chocolate mixture.
Combine the flour, salt and baking soda together in a separate bowl and then add to the wet ingredients. The batter will be thick.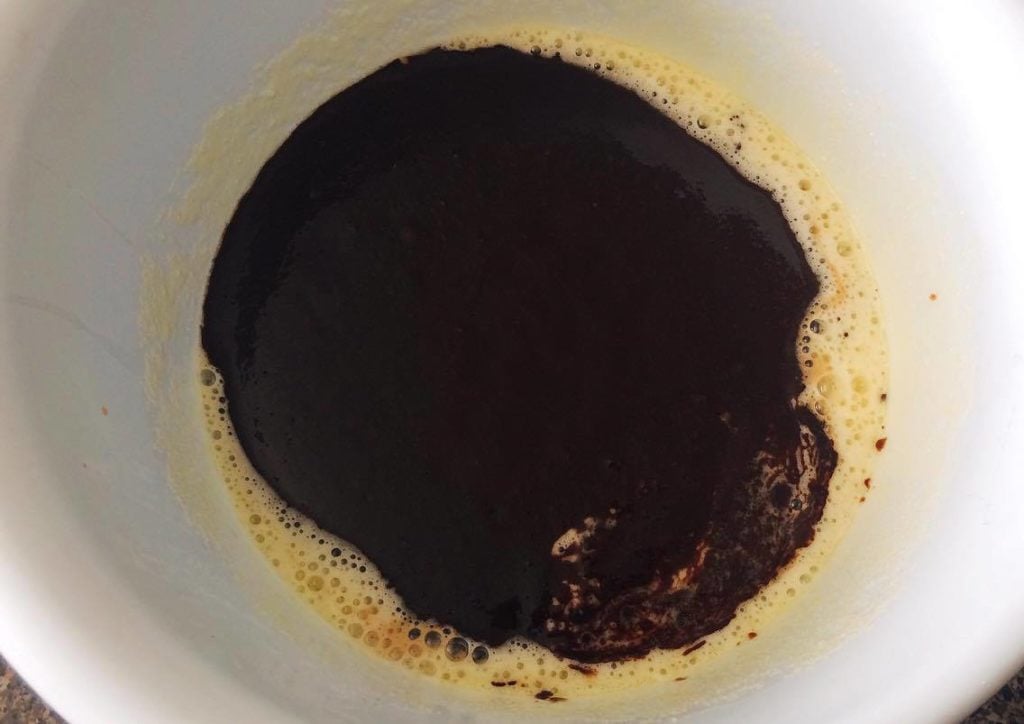 Prepare a 9×13 pan by either spraying it with cooking spray or lining the pan with parchment paper.
Pour in the batter and bake at 350 degrees for about 30 minutes until a toothpick inserted in the middle comes out clean.
Allow the brownies to cool completely.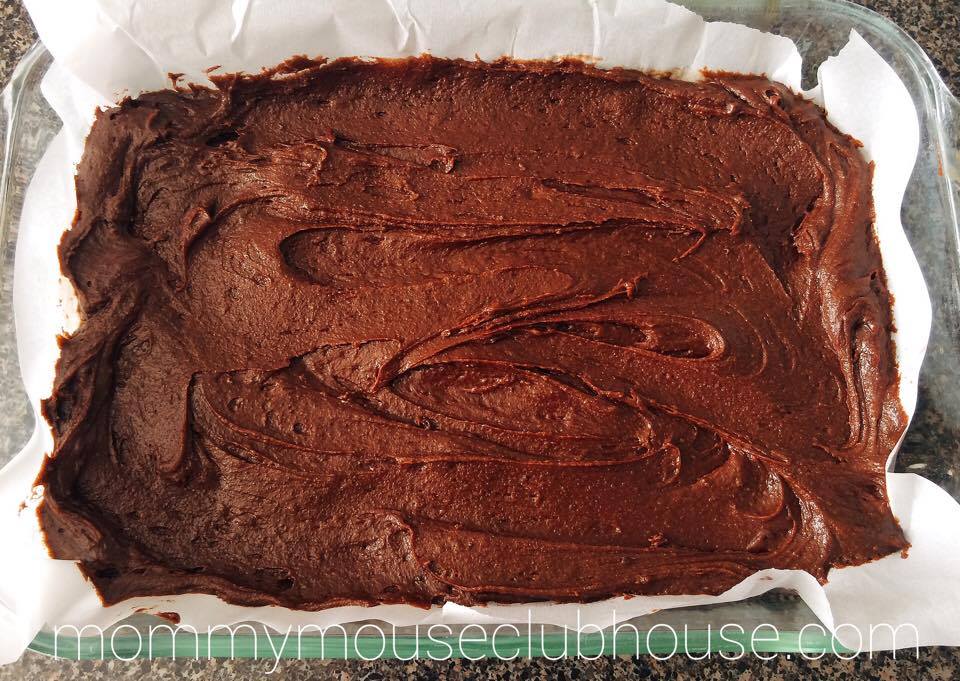 While the brownies are cooling, you can prepare the truffle layer. If actual Thin Mints are not available, most groceries sell some type of chocolate mint cookie which can totally be substituted.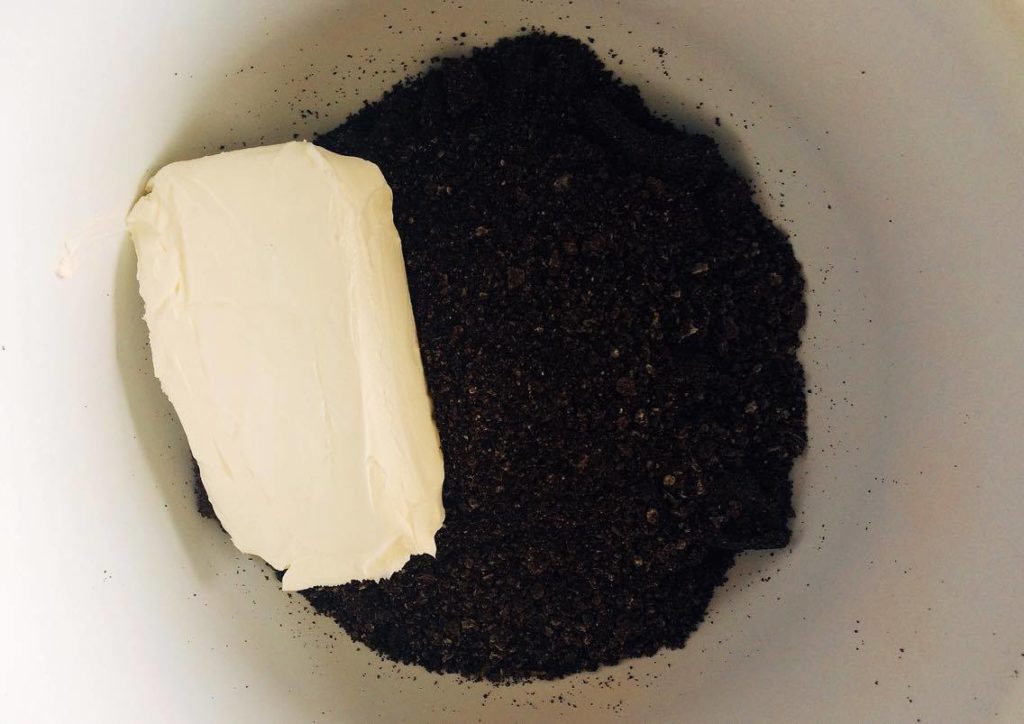 Crush the cookies into fine crumbs by smashing them with a rolling pin, or using a blender (that's what I did) or food processor.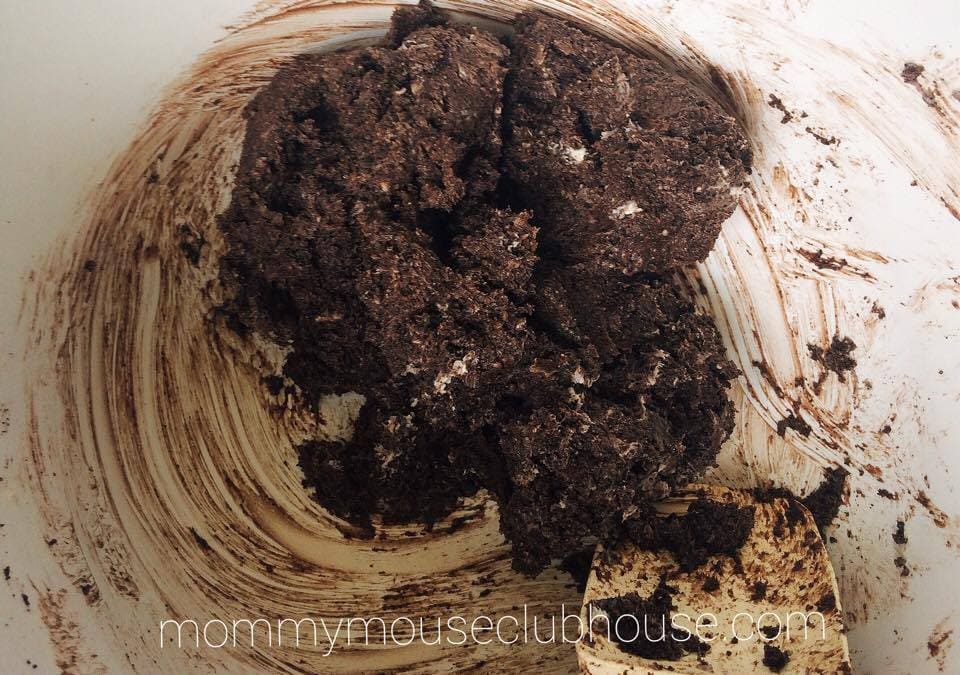 Mix the cookie crumbs together with the softened cream cheese until it is completely moist. Spread on top of the cooled brownies.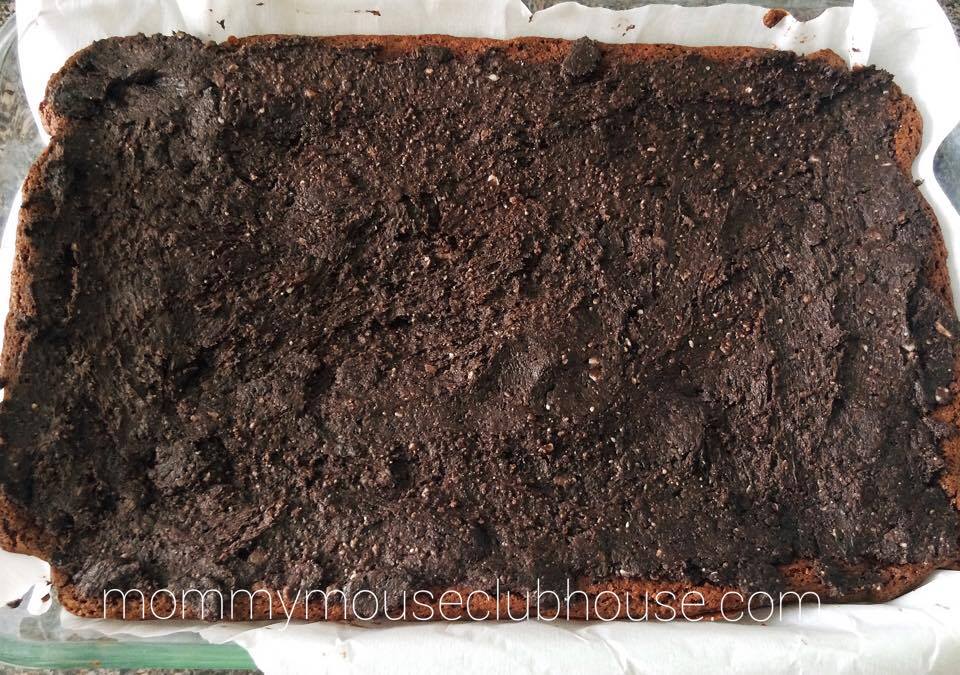 To make the Whipped Ganache, place the chocolate chips in a microwave safe bowl and pour the heavy cream over them.
Microwave them on 50% power for 30 seconds then remove and stir.
Continue to microwave in 30 second increments, stirring in between, until the chocolate is completely melted and incorporated with the heavy cream.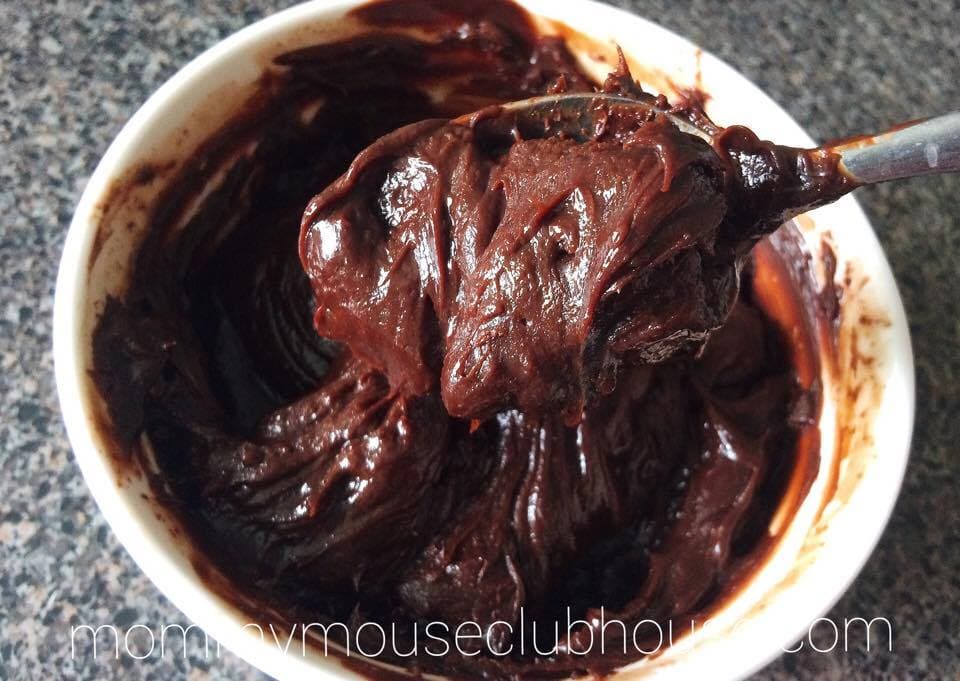 Refrigerate the ganache until it is thick enough to not fall off the spoon. Place the chocolate in the bowl of a stand mixture and whip it until it is light and fluffy.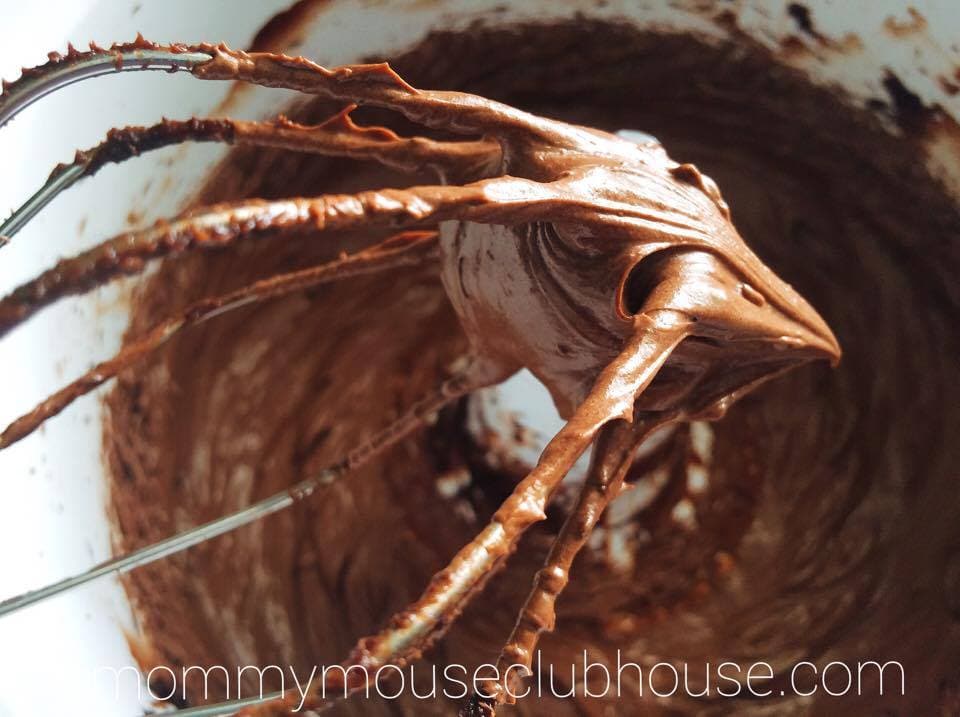 Spread the ganache over the truffle layer.
Sprinkle more crushed cookies over the top and press them down lightly into the ganache. Refrigerate the brownies for 15-20 minutes before cutting.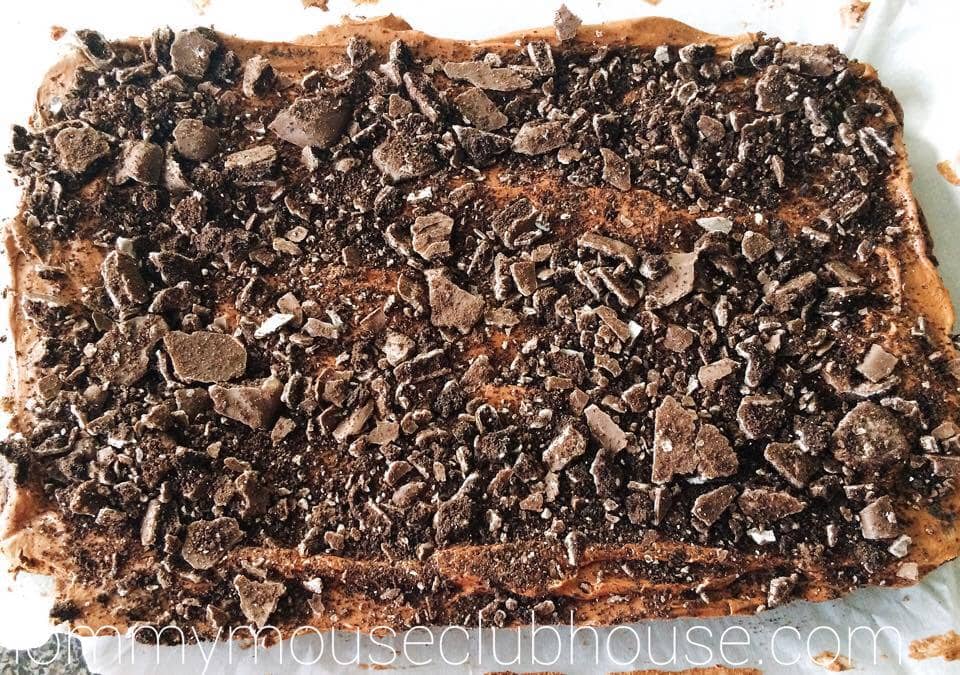 If you lined your pan with parchment paper, use both hands to lift the brownies out of the pan.
Use a sharp knife to cut the edges off the brownies then slice to the desired size. Refrigerate the brownies until you are ready to serve them.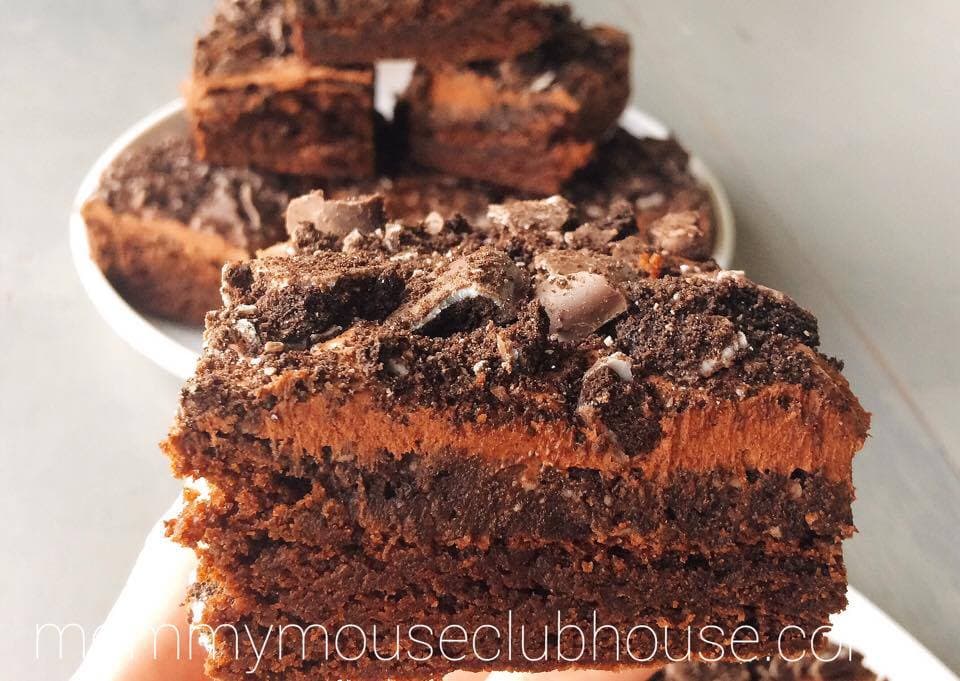 I hope you enjoy Thin Mint Truffle Brownies with Whipped Ganache Frosting!
More Dessert Recipes: