The TikTok Copycat Little Debbie Cosmic Brownies are a delicious and easy dessert that will impress your friends and family. The brownies are fudgy and chocolatey, with a rich ganache frosting on top. They are sprinkled with rainbow chips, making them perfect for any celebration.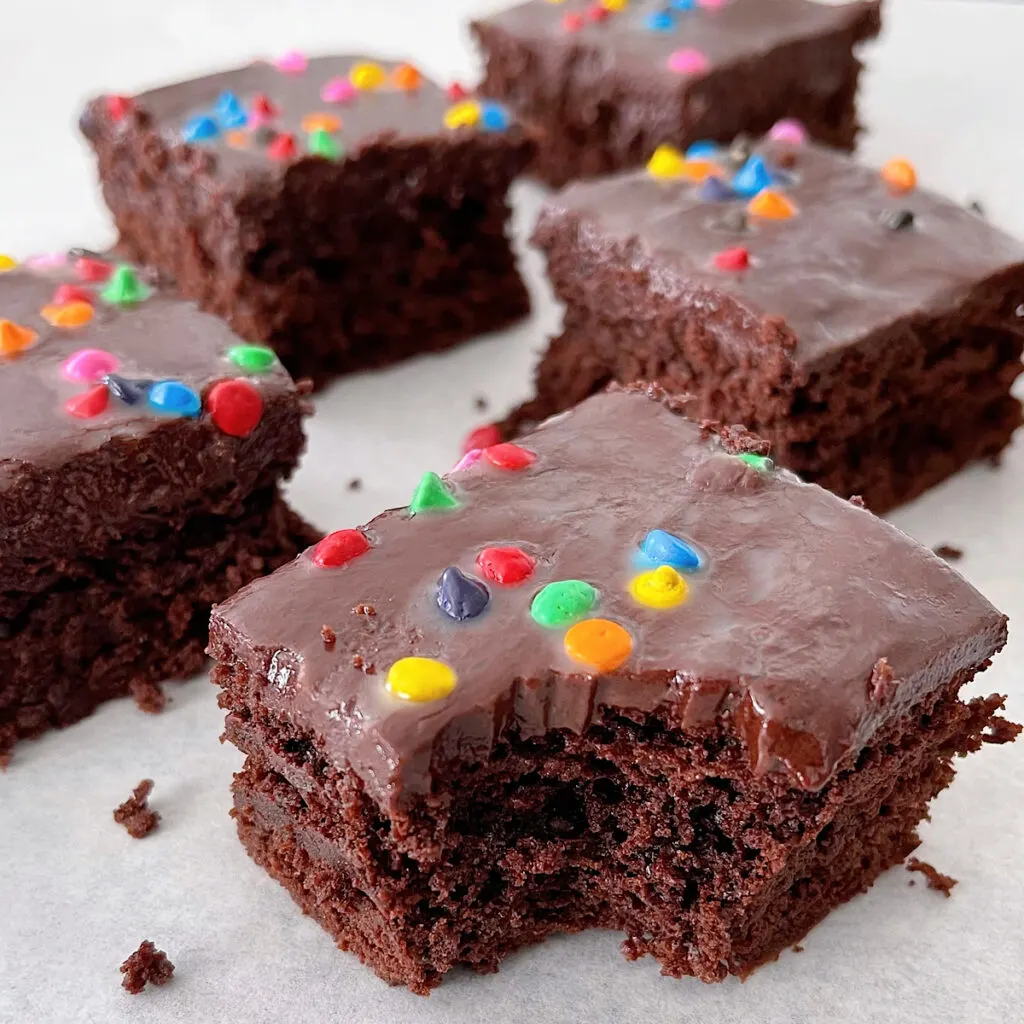 This post may contain affiliate links. When you click on these links, I get a small percentage back at no cost to you! For more information see my disclosure policy.
Below you will find tips, tricks and helpful hints for making this recipe including step by step instructions with pictures. If you would like to go directly to the recipe, scroll down to the recipe card or tap "Jump to Recipe" at the top of the page.
Why you will love making TikTok Cosmic Brownies
The great thing about Cosmic Brownies is that they are SO fudgy and chocolatey! The ganache frosting is rich and delicious, and they bring about a feeling of nostalgia and will hold a special place in your memory.
What are Cosmic Brownies?
Original Cosmic Brownies are made by Little Debbie and sold in most grocery stores. They have been sold for many years and enjoyed by many generations.
The homemade version of Cosmic Brownies are made with cocoa powder, oil, and flour. They are also made with a chocolate ganache frosting and are topped with rainbow chips.
What Makes Brownies Fudgy?
The key to making fudgy brownies is not to overmix the batter. Overmixing will make the brownies tough.
Another tip is to use oil in this homemade cosmic brownies recipe. Oil makes the brownies moist and helps to keep them from drying out.
Why are TikTok Brownies so Popular?
I believe that this recipe is so popular because it is simple to make and reminds people of their childhood and home lunch in elementary school.
They are a huge 90s childhood favorite! Plus, it's fun to make something that looks like you bought it from the store!
TikTok Cosmic Brownie Ingredients
*Ingredient amounts are located in the recipe card at the end of this post.
Butter: I used unsalted butter, but you can use salted if you would like.
Sugar & Brown Sugar: Both used to sweeten the brownies. Use white granulated sugar and light brown sugar.
Eggs: Three eggs plus one egg yolk are used in this recipe. The extra yolk makes the brownies extra fudgy!
Vanilla Extract: Added for flavor. Pure vanilla extract of imitation will both work.
Corn Syrup: This helps to keep the brownies moist and prevents them from drying out.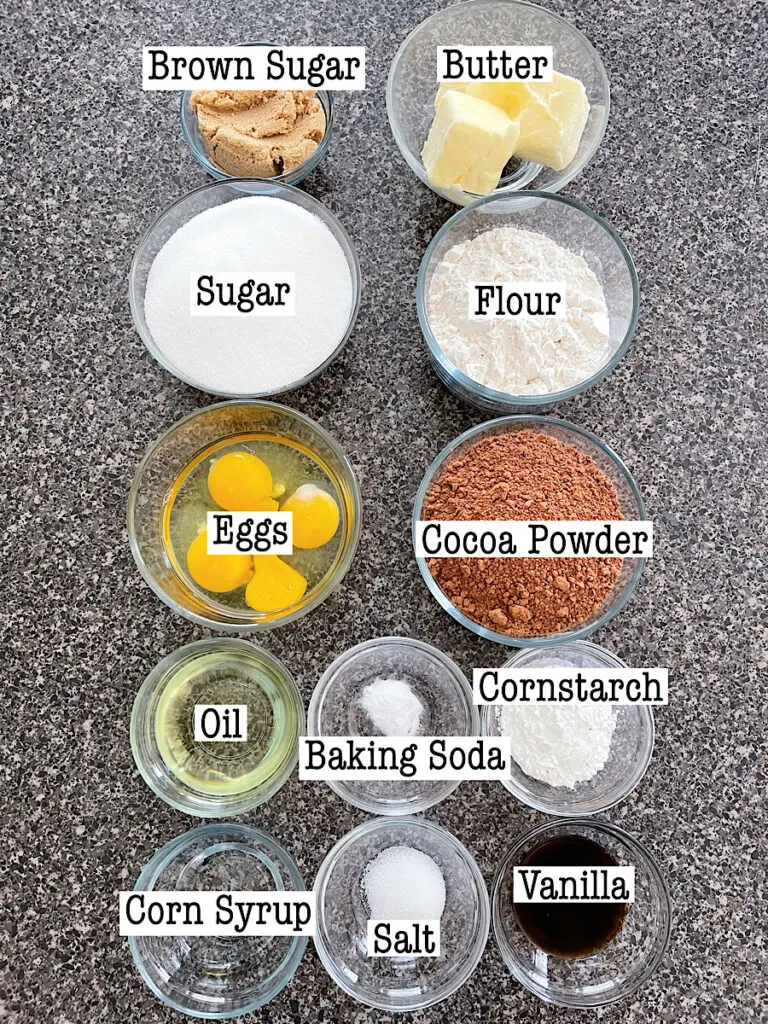 Salt: A little bit of salt helps to enhance the flavors.
Baking Soda: This helps the brownies to rise.
Corn Starch: This is what gives the brownies their fudgy texture.
Unsweetened Cocoa Powder: Use good quality cocoa powder for the best flavor. I used Ghirardelli 100% cocoa powder.
Flour: All-Purpose flour is best for these brownies.
Vegetable Oil: This helps to keep the brownies moist and prevents them from drying out. You can also use canola oil or melted coconut oil.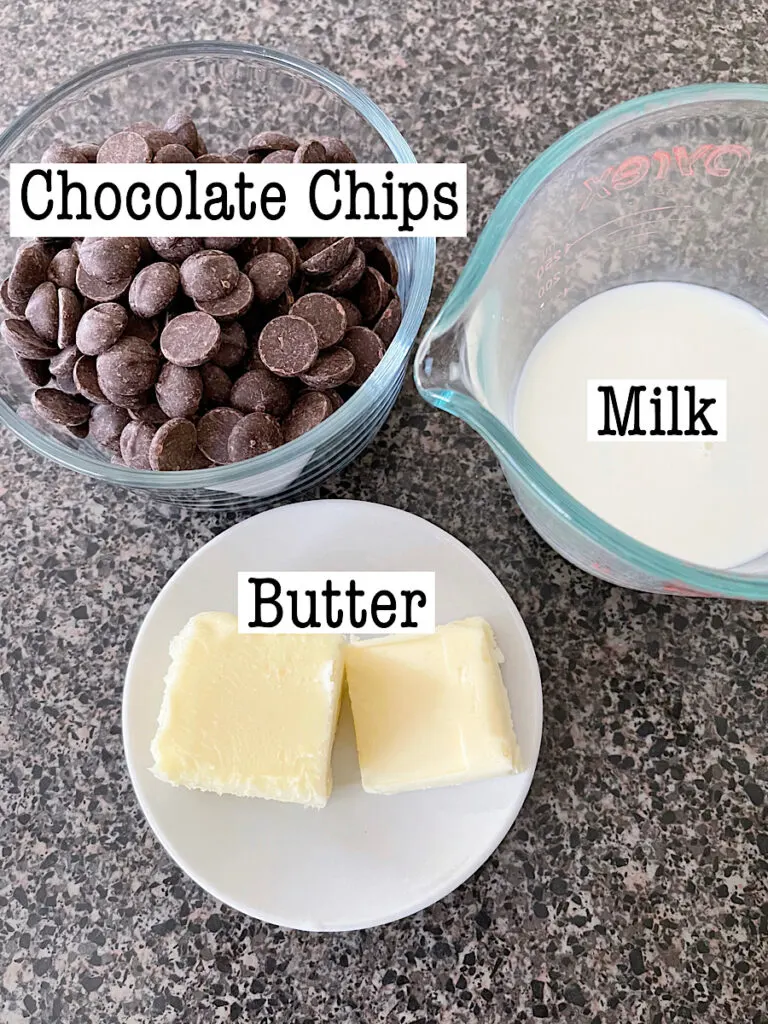 Ganache Frosting Ingredients
Semi-Sweet Chocolate Chips: I used Ghirardelli chocolate chips, but you can use any brand that you like.
Butter: Just like the brownies, I used unsalted butter when making the ganache, but you can use salted butter if you would like.
Whole Milk: You can also use heavy cream, if you prefer. If heavy cream is used, butter is not necessary.
Sprinkles: I used rainbow chip sprinkles, but you can use any type of sprinkle that you like.
How to Make Cosmic Brownies (the TikTok Version)
[1] Add the melted butter, white sugar, brown sugar, eggs, egg yolk, vanilla, oil and corn syrup to a large bowl. Stir to combine.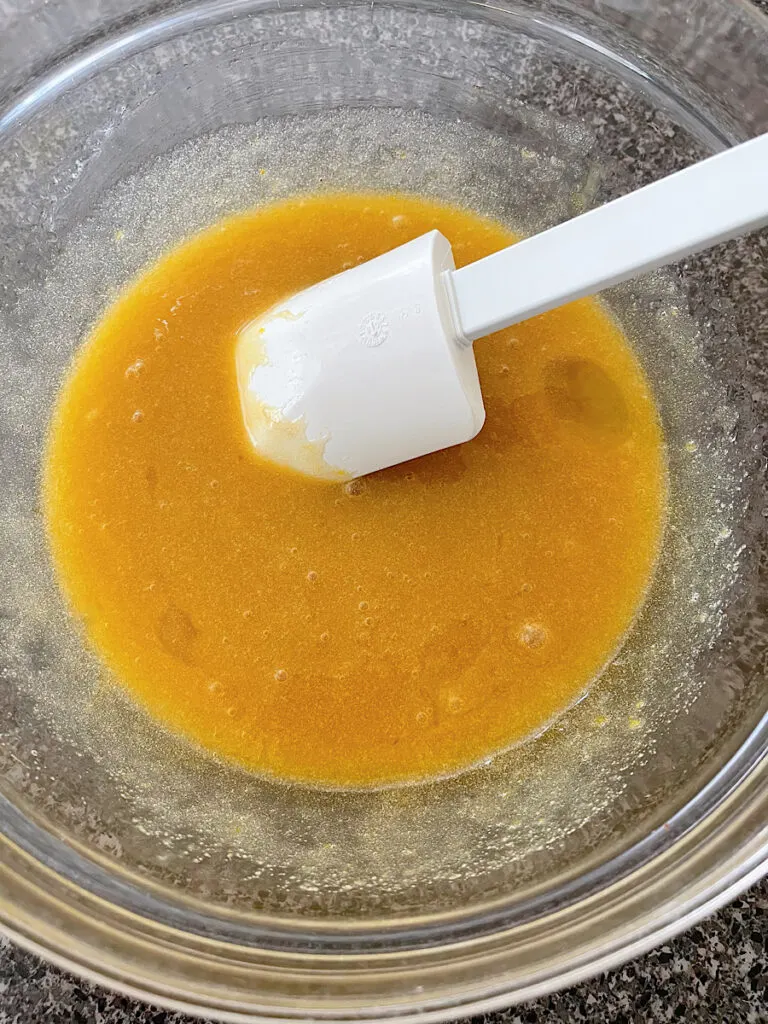 [2] In a separate bowl, whisk together the cocoa powder, flour, cornstarch, baking soda, and salt.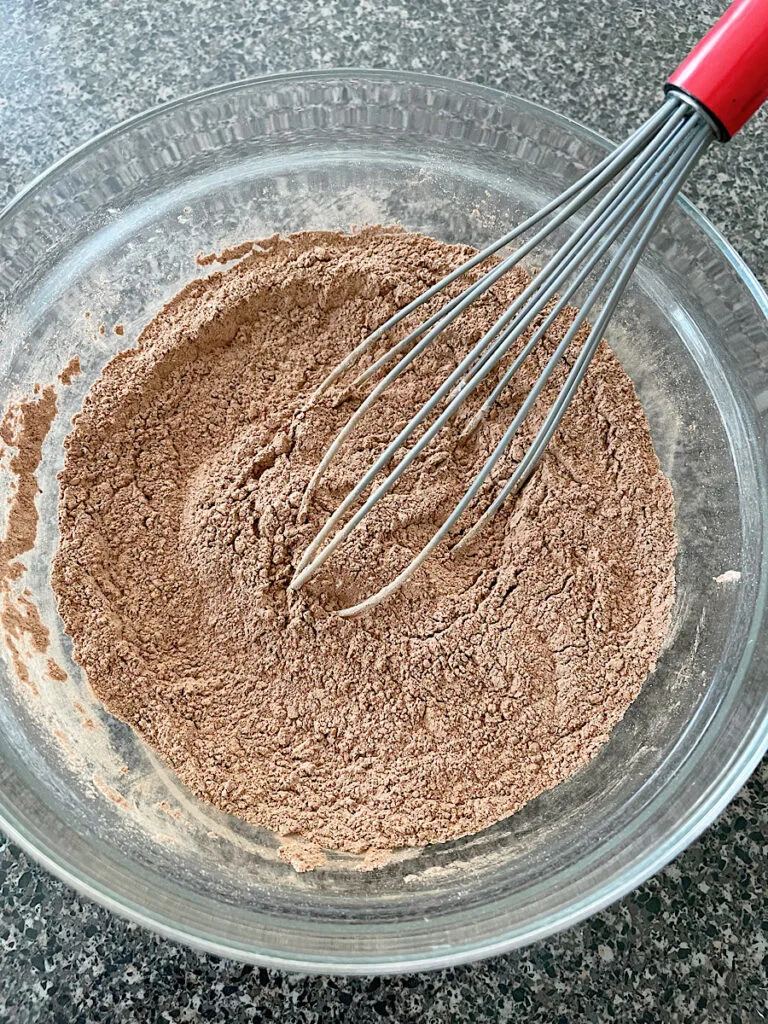 [3] Add the dry ingredients to the wet ingredients and stir until just combined. Do not overmix.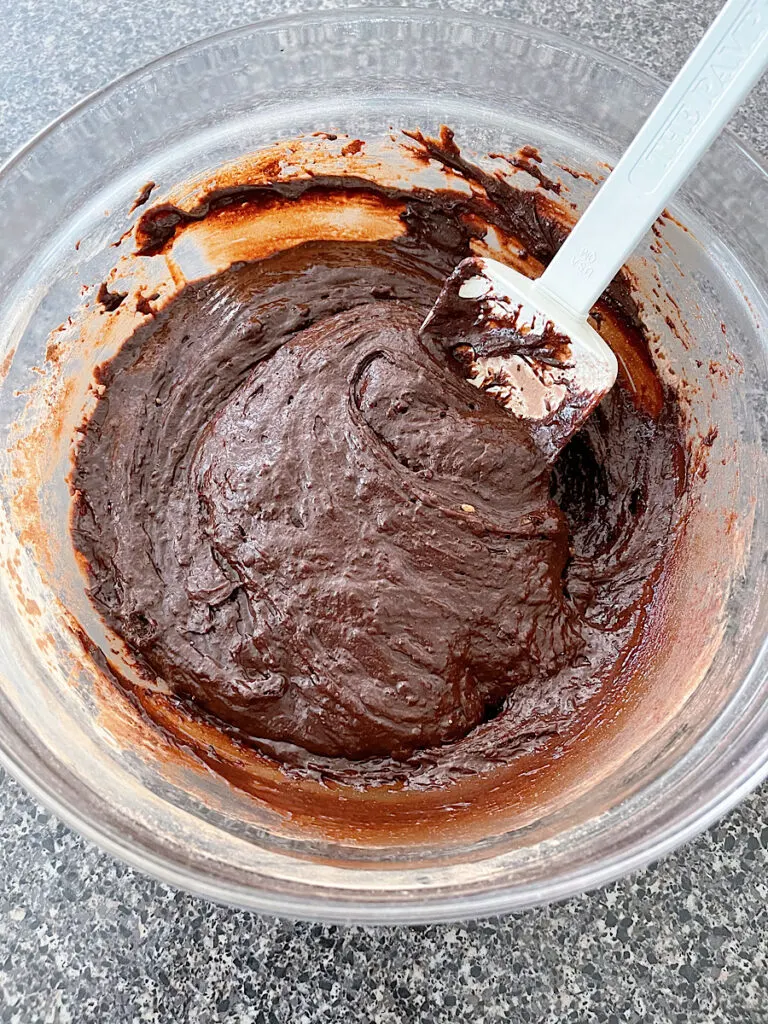 [4] Line a 9×13 baking dish with parchment paper and spread the brownie batter to the edges.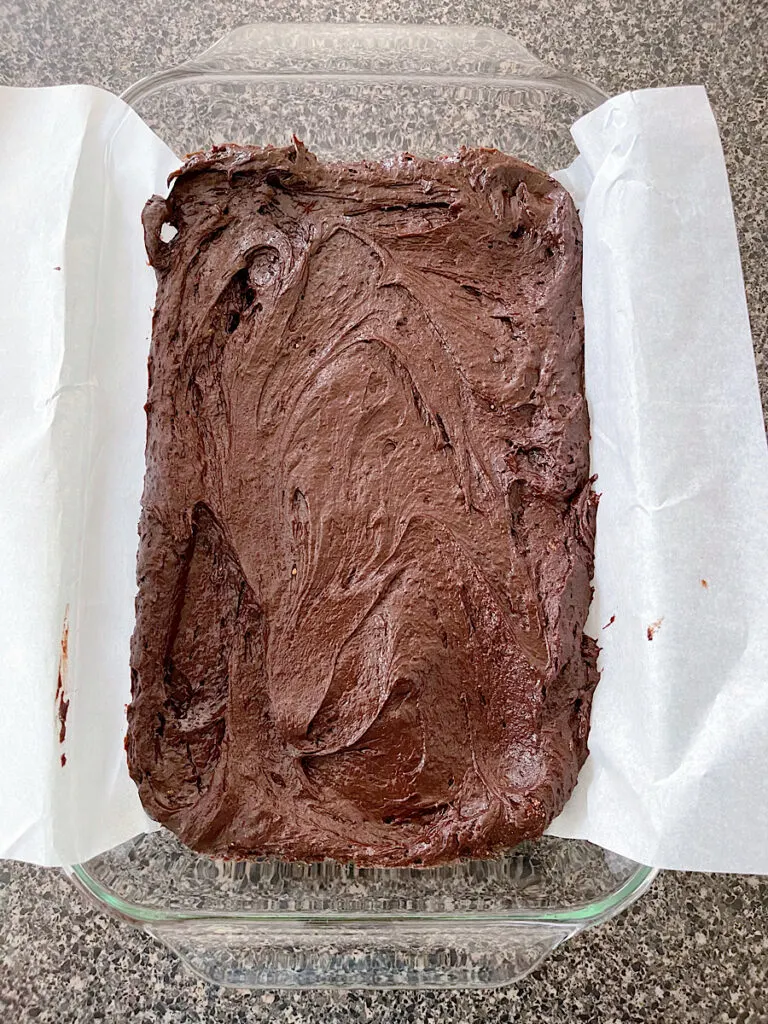 [5] Bake the brownies at 350 degrees for 25 minutes, until the center is set. Do not overbake.
[6] Remove the brownies from the oven and allow them to cool completely.
[7] Ganache Frosting: Place chocolate chips, butter, and milk to a medium saucepan and melt over medium heat, stirring constantly.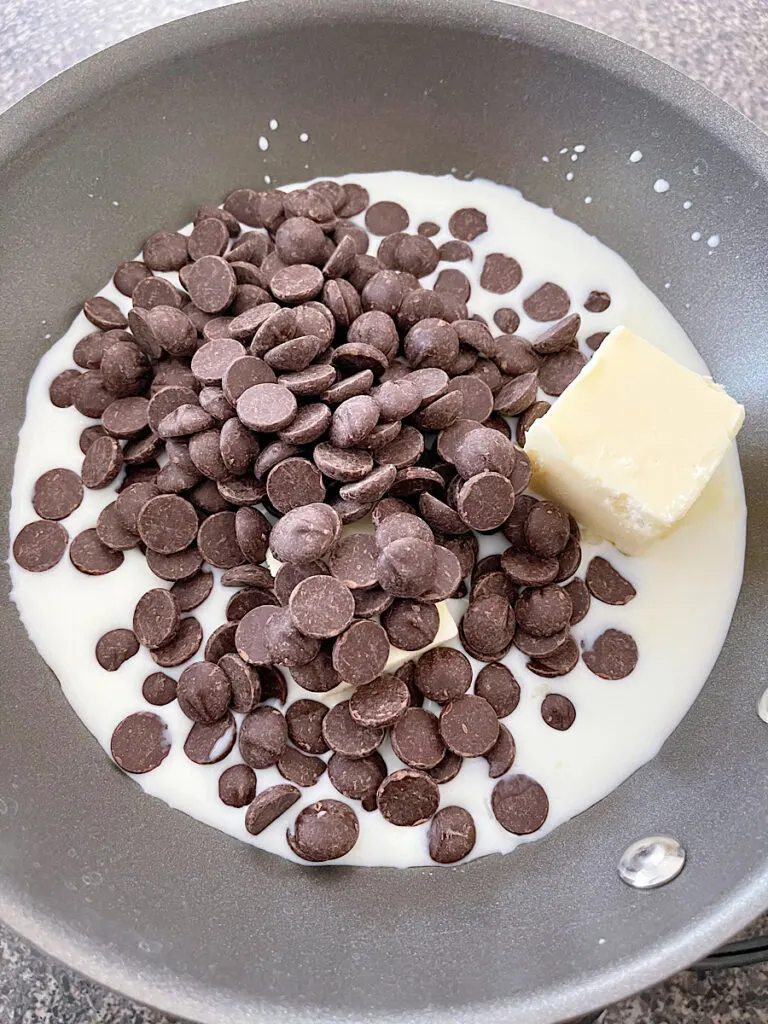 [8] Once the chocolate has completely melted and the ganache is smooth, allow it to cool for 30 minutes before spreading over the top of the brownies. Sprinkle with rainbow chips.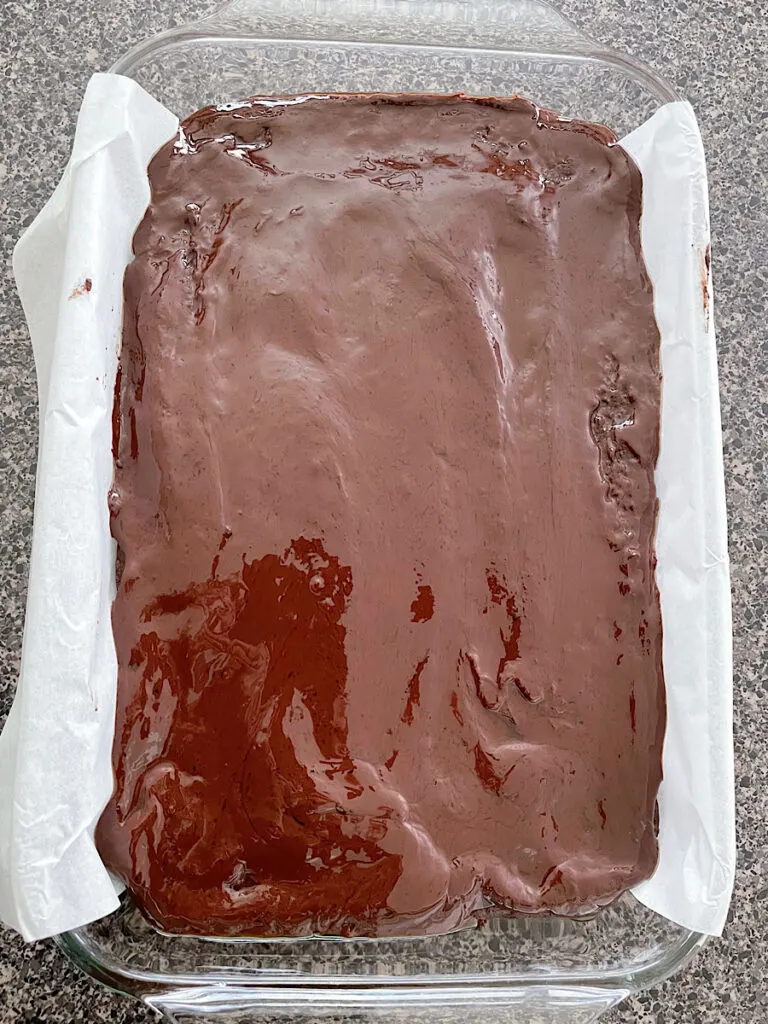 [9] Refrigerate the brownies for 60 minutes before cutting into bars and serving. Yum!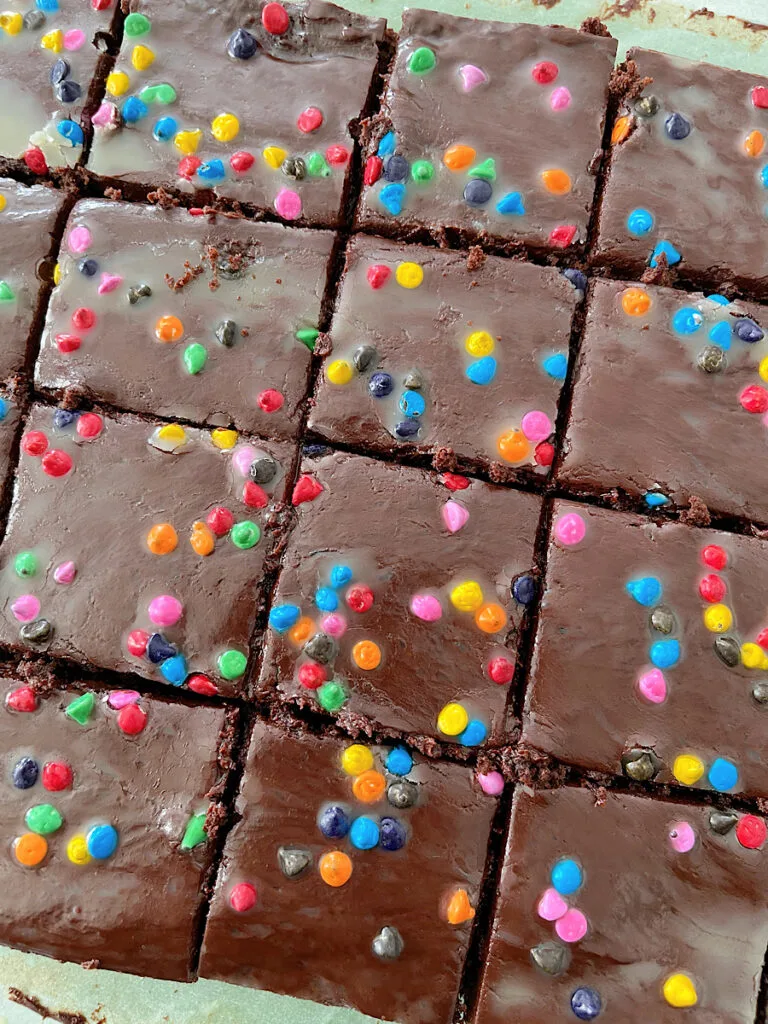 Helpful Kitchen Tools
Where to Buy Rainbow Chips
The rainbow chips that look similar to those on store-bought brownies can be hard to find.
I would start by checking a craft store like Michael's or Jo-Ann for the Wilton brand Rainbow Crunch Sprinkles.
I found mine from Amazon. Check them out here.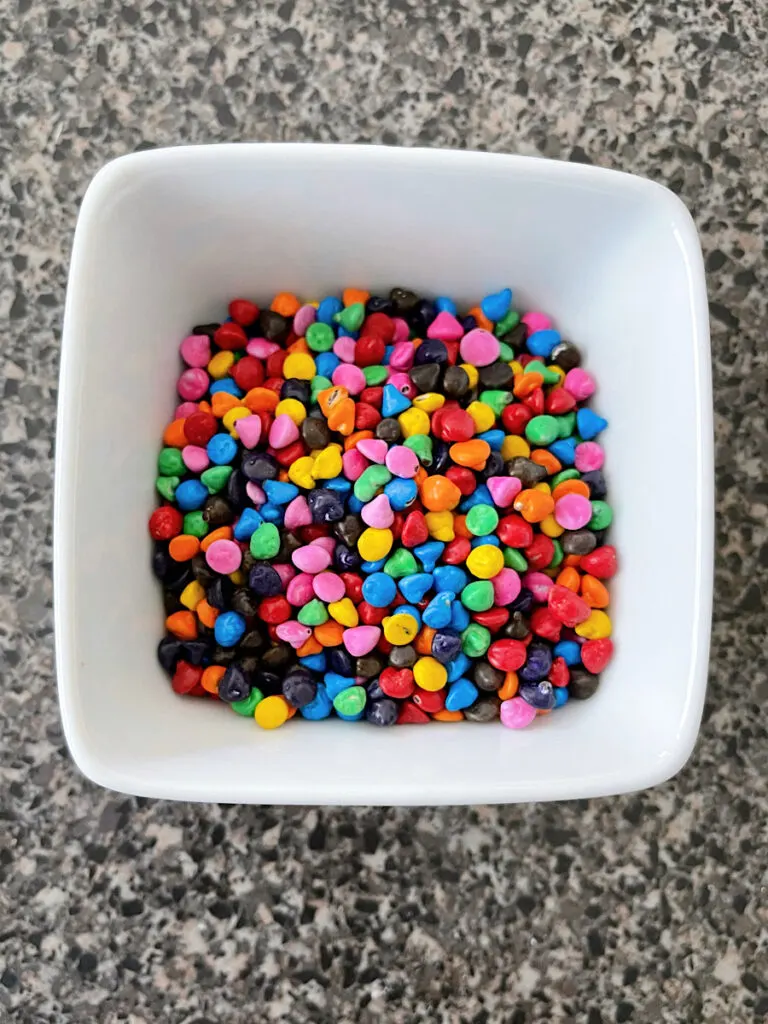 Where to Buy Cosmic Brownies
If making homemade Cosmic Brownies isn't in the cards for you, you can head to almost any grocery store to pick up a box of Cosmic Brownies.
But, if you have the ingredients, I highly recommend making this better fudgy version of the brownie at home!
Frequently Asked Questions
What are Cosmic Brownies made of?
There are a few key ingredients that you'll need to make Cosmic Brownies: butter, sugar, brown sugar, eggs, egg yolk, vanilla extract, corn syrup, salt, baking soda, cornstarch, cocoa powder and flour.
Can I use a different type of chocolate for the ganache frosting?
Yes! You can use milk chocolate, dark chocolate, or even white chocolate. Just be sure to use a good quality chocolate that you enjoy the taste of.
Do I have to use rainbow chips?
No, you don't have to use rainbow chips. You can top the brownies with any type of sprinkle that you like.
Why are cosmic brownies so good?
Cosmic brownies are so good because they are super fudgy and chocolatey, with a rich ganache frosting on top. They are also sprinkled with rainbow chips, which makes them perfect for any celebration.
How long do cosmic brownies last?
Cosmic brownies will last for up to 5 days when stored in an airtight container at room temperature.
What is the best way to cut cosmic brownies?
For best results, cut the cosmic brownies is using a sharp knife to make sure that the brownies are completely cooled before cutting. Otherwise, they will be very difficult to cut and will likely fall apart.
Use the sides of the parchment paper to lift the brownies out of the baking dish and onto a cutting board. I like to cut off the edges and then cut into 24 brownies.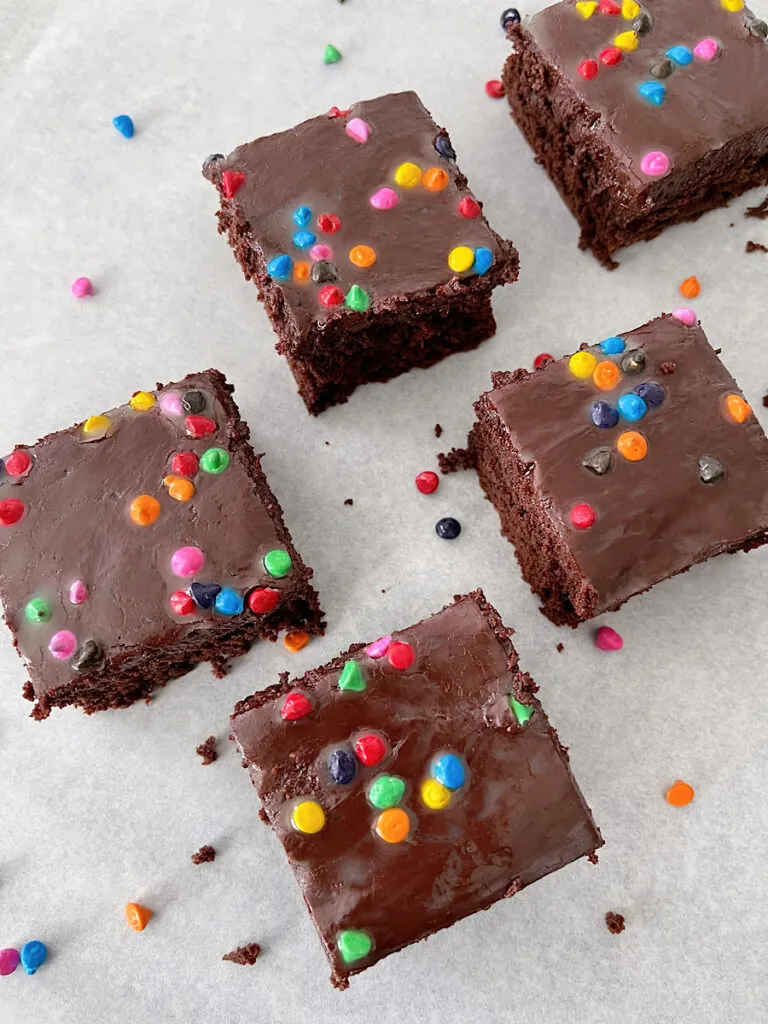 What are the candies in cosmic brownies?
The candies in cosmic brownies are rainbow chips. They are candy-coated chocolate pieces that add a fun and festive touch to the brownies. You can find them at most craft stores or online.
Do I have to refrigerate cosmic brownies?
No, you don't have to refrigerate cosmic brownies. However, I find that they are easier to cut when they are cold. Plus, the ganache frosting sets up nicely in the refrigerator.
Why Do You Need and Extra Egg Yolk?
The extra egg yolk helps to make the brownies nice and fudgy. If you don't have an extra egg yolk, you can just use 2 whole eggs.
Can I Make the Ganache with Heavy Cream?
Yes! If you would like to make the creamy ganache with heavy cream instead of butter, check out my recipe for Microwave Salted Caramel Chocolate Ganache and omit the caramel.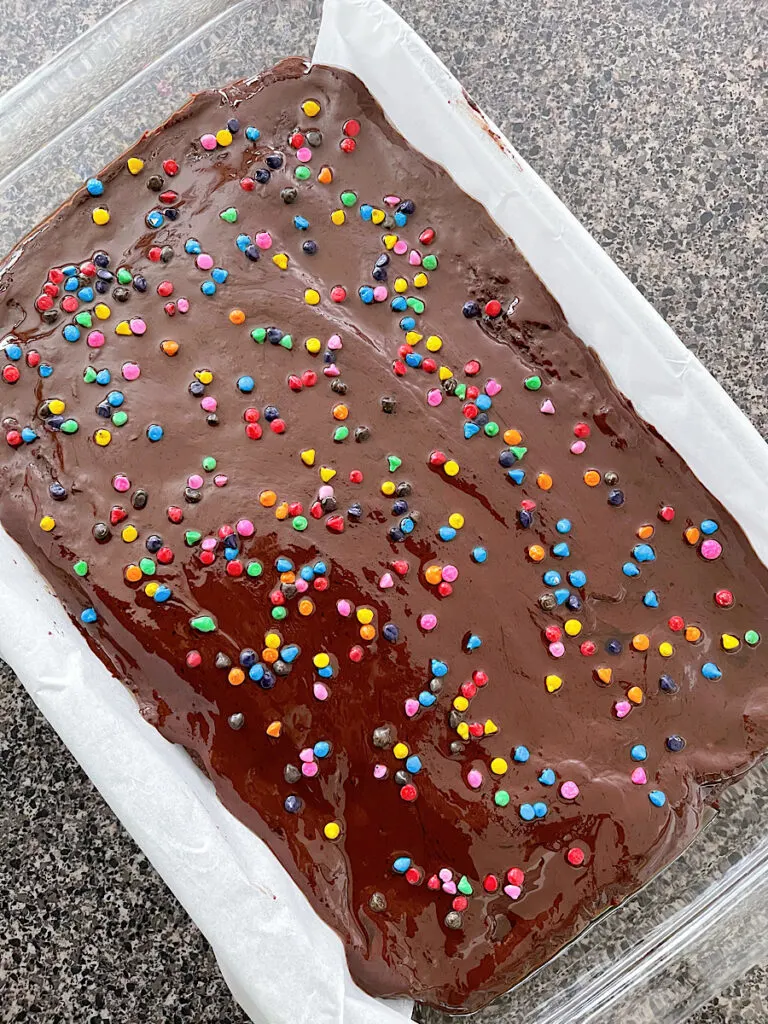 More Viral TikTok Recipes to check out:
If you have any other questions about this Cosmic Brownie recipe, feel free to leave them in the comments and I'll be sure to answer them!
Happy Baking!
Watch the video: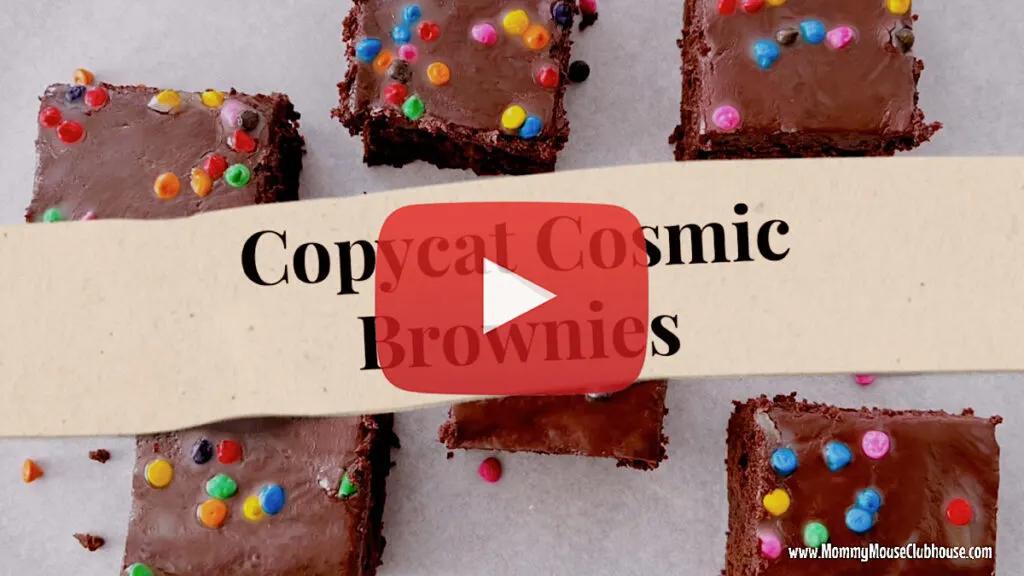 Pin for later: